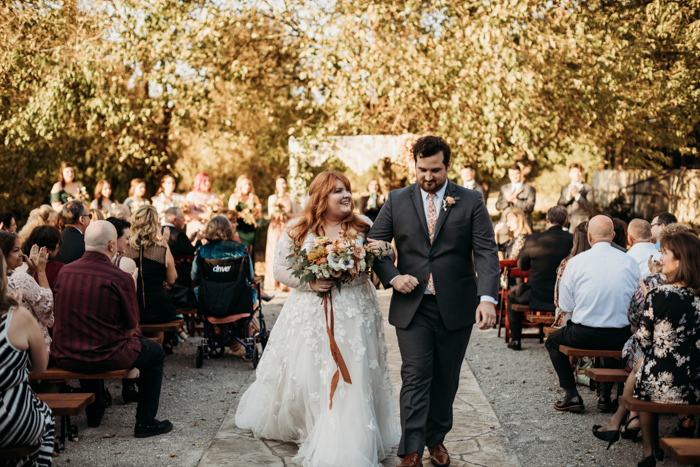 Rebecca and Ryan chose an October wedding at La Cour Venue because they wanted their eclectic blend of witchy and vintage to fit right in to the vibe of the season. Any other Halloween lovers out there? We're in love! This couple had the stellar team at Elite Weddings & Events helping them pull off all their garden party vibes, including autumnal floral arrangements designed by Kate McLeod Studio! Our hearts skipped a beat when we saw how gorgeous Rebecca looked in her romantic dress from David's Bridal—plus, her accessory game was on point! If you get giddy over quirky details and touches of vintage flair, you're going to be feeling inspired as you scroll through these sweet images by Brittany Gilbert Photography.
The Couple:
Rebecca & Ryan
The Wedding:
La Cour Venue, McKinney, Texas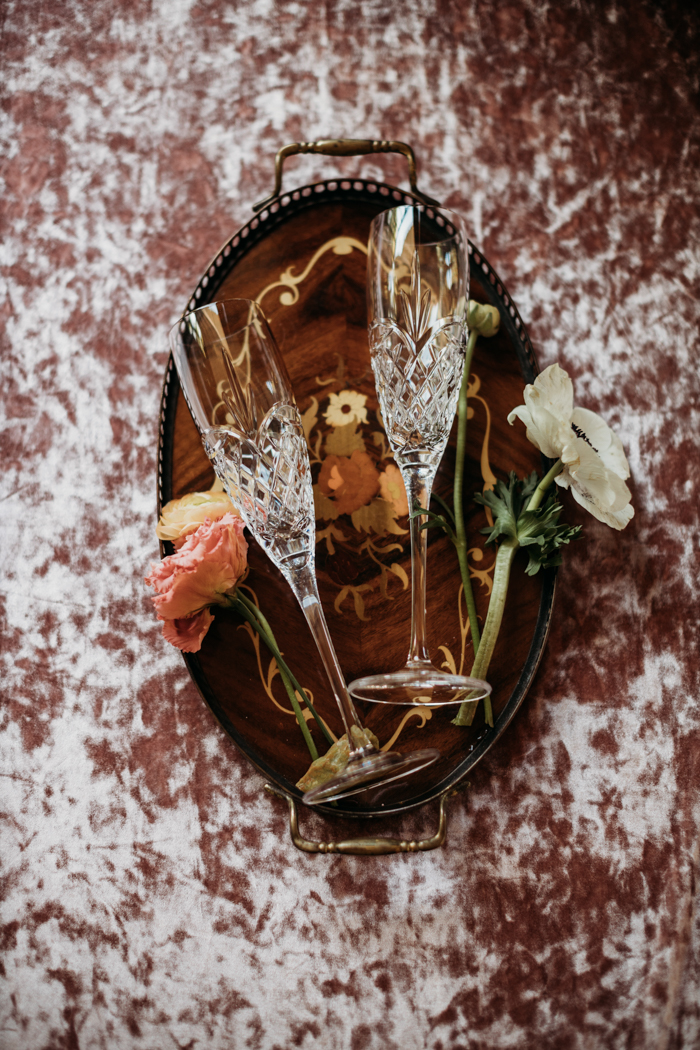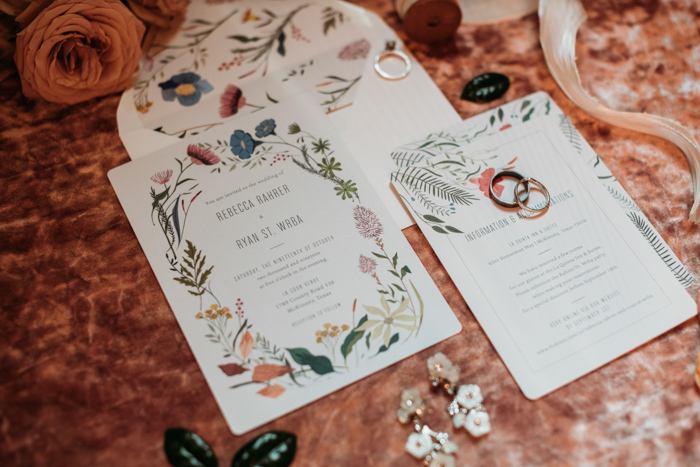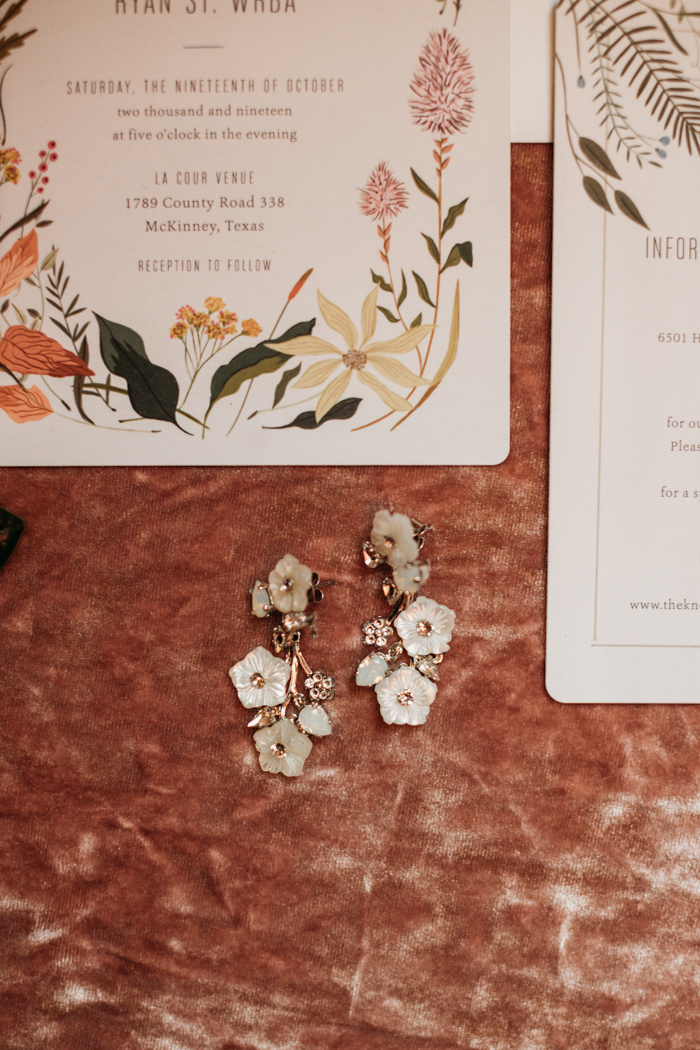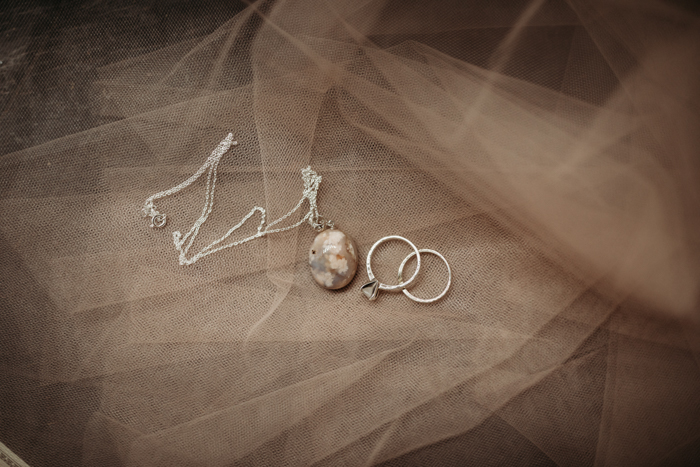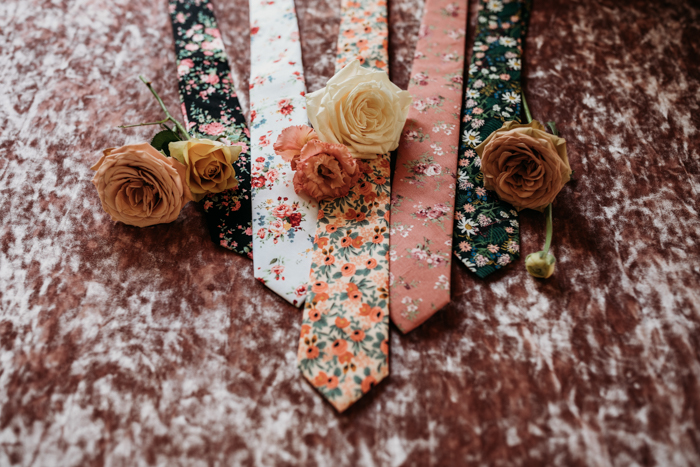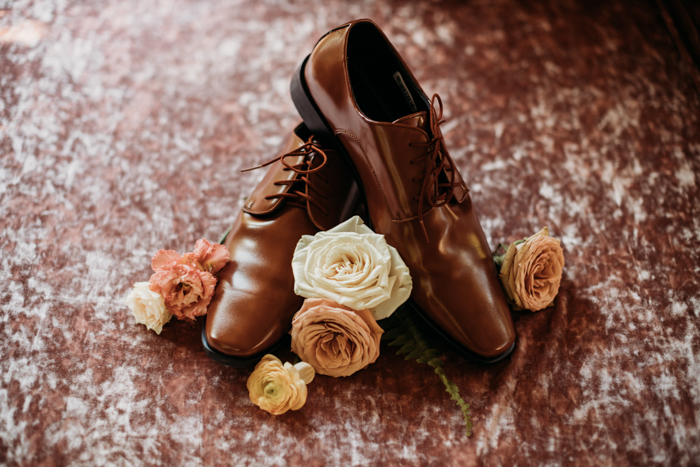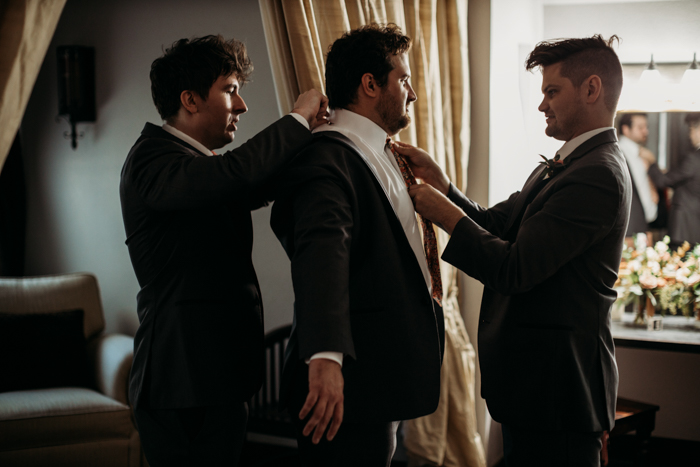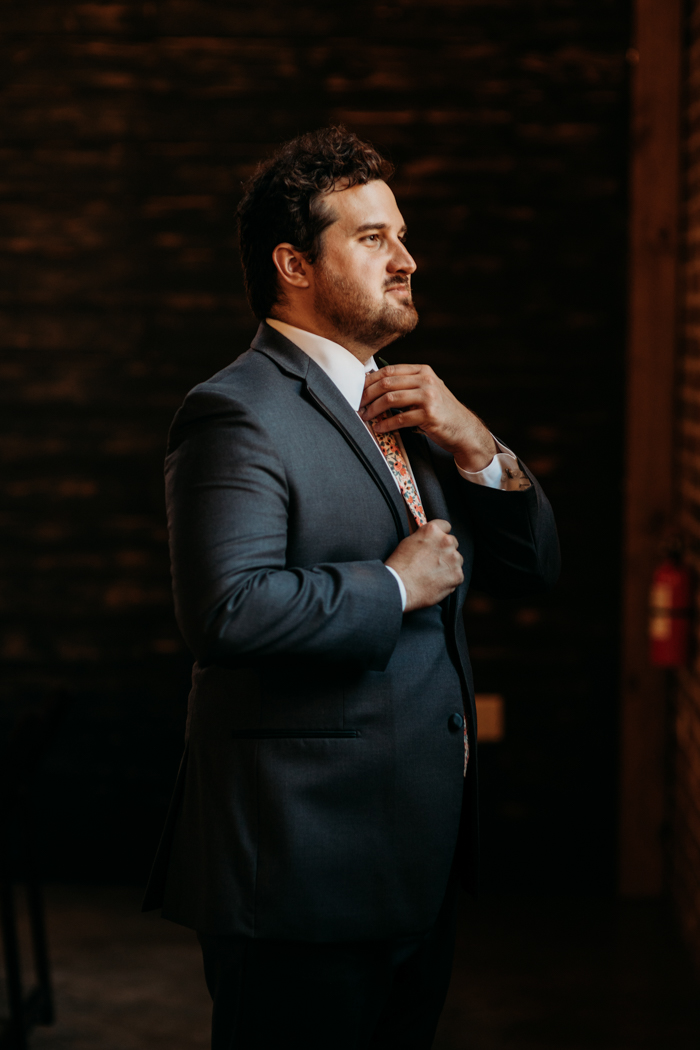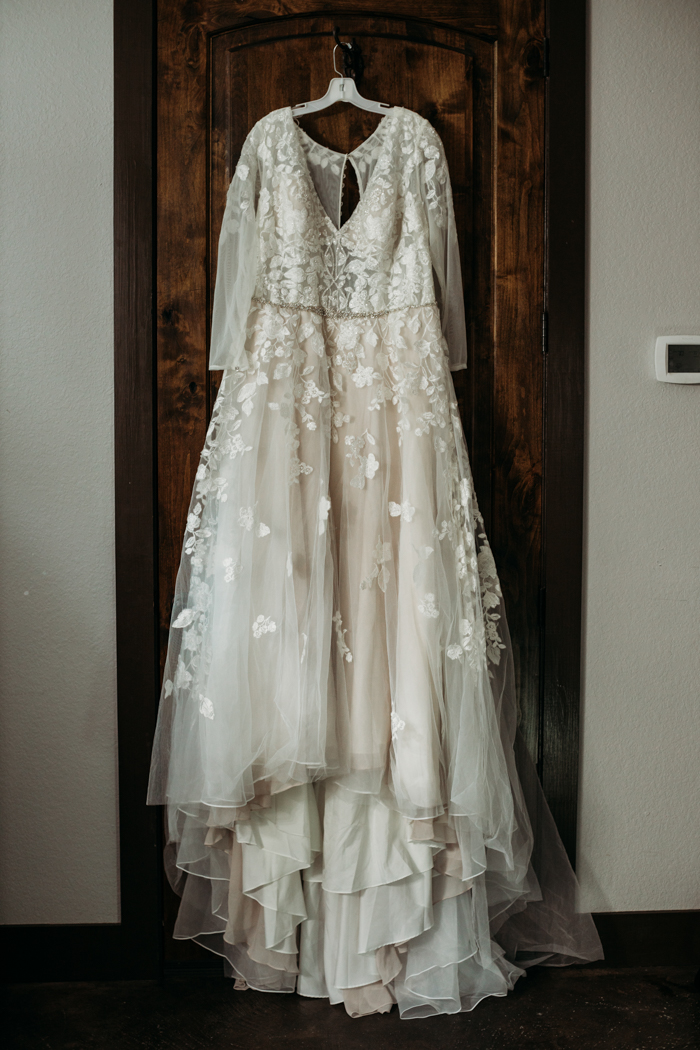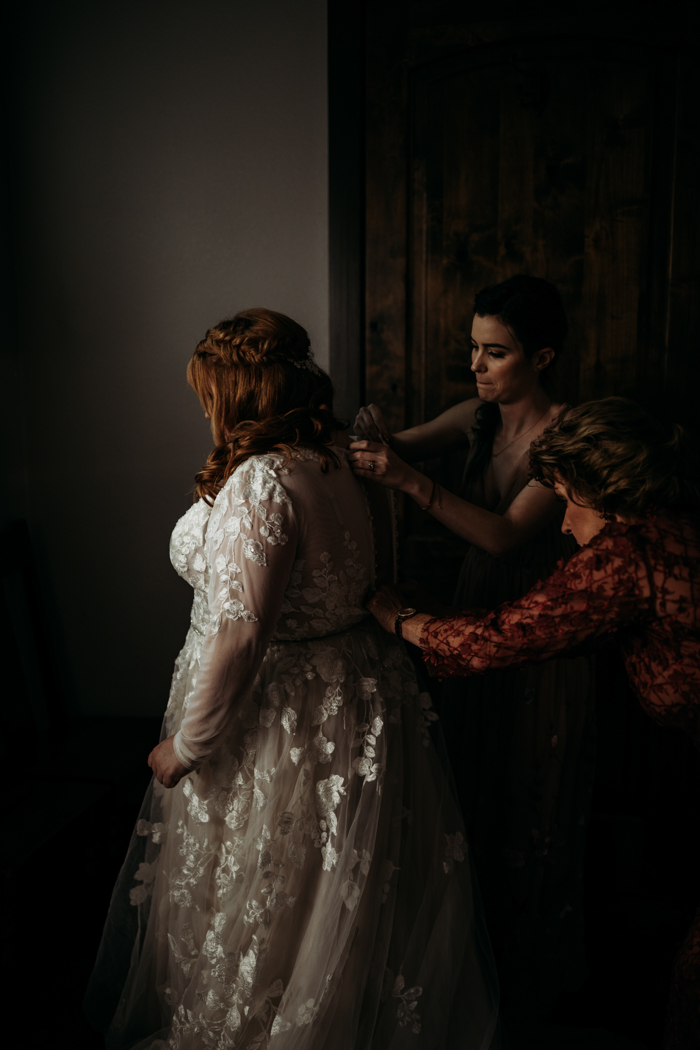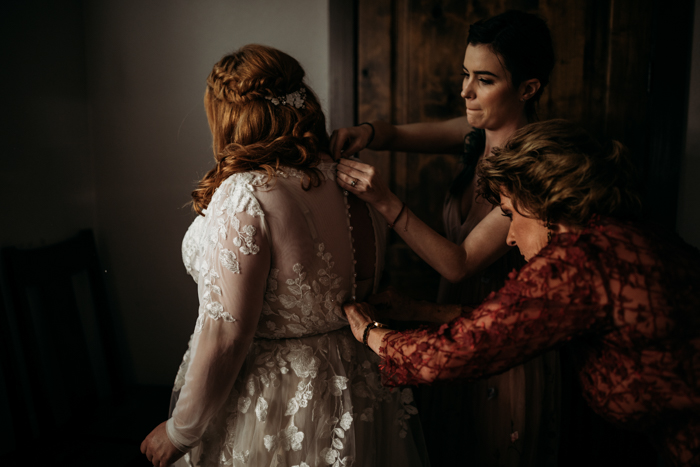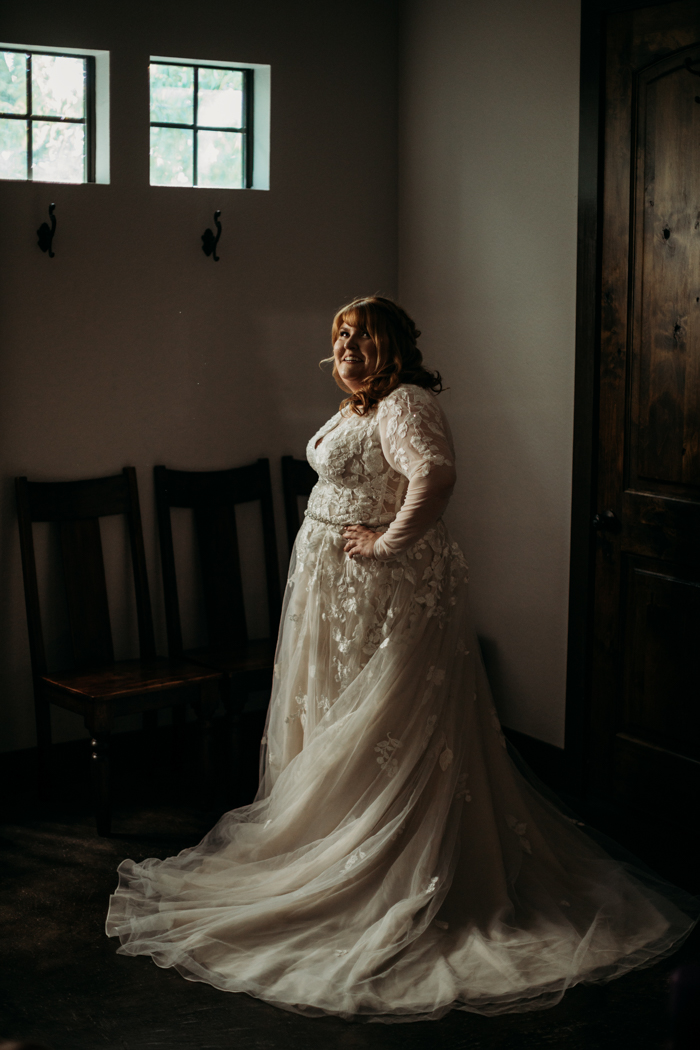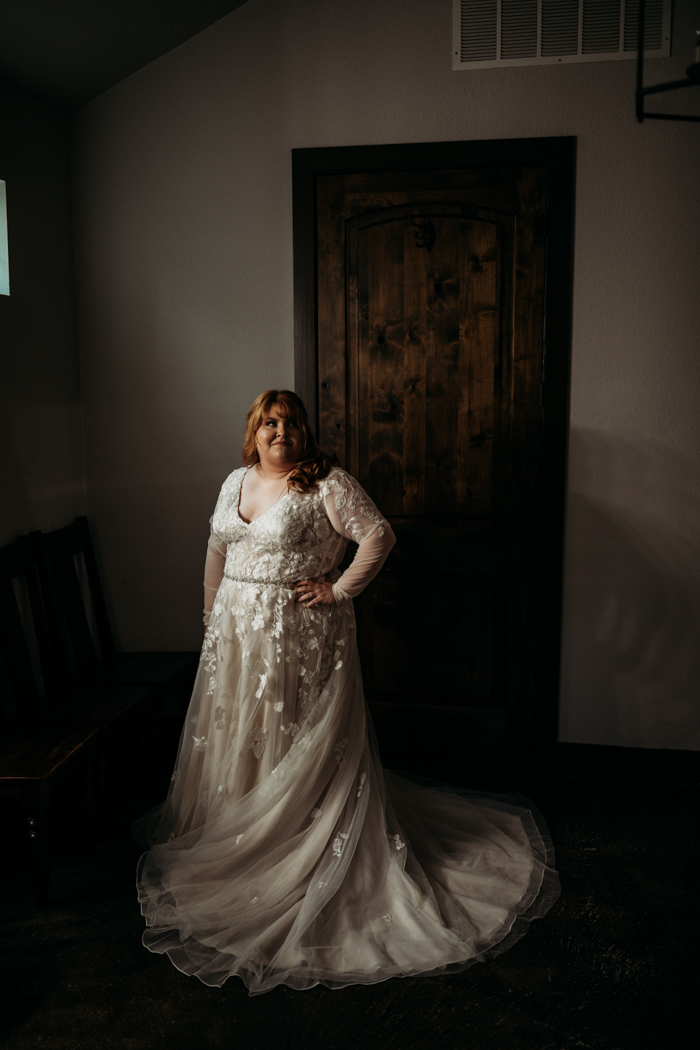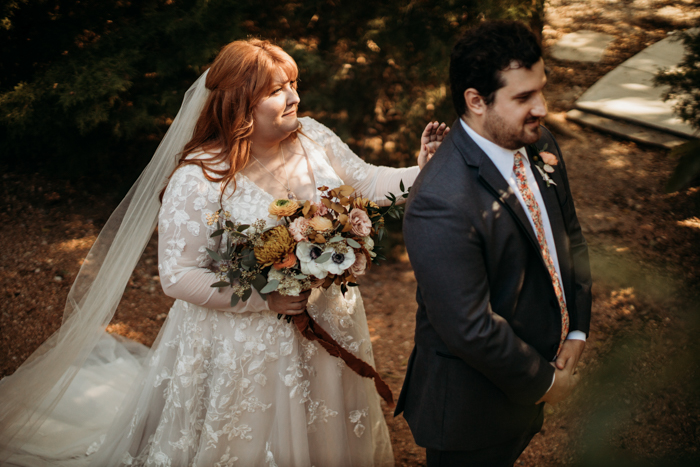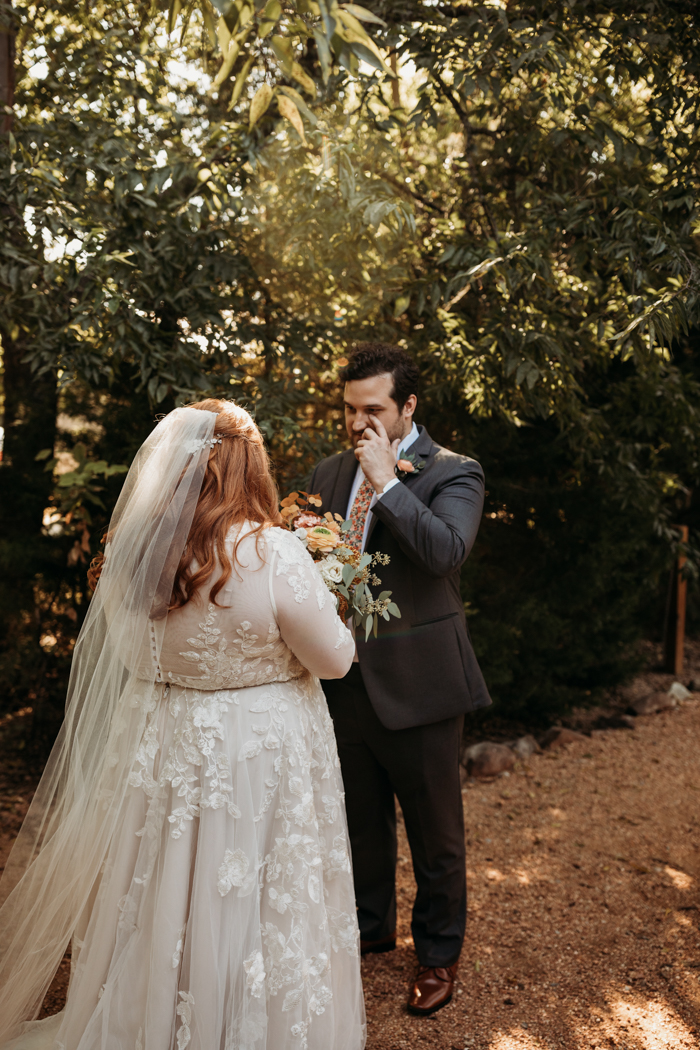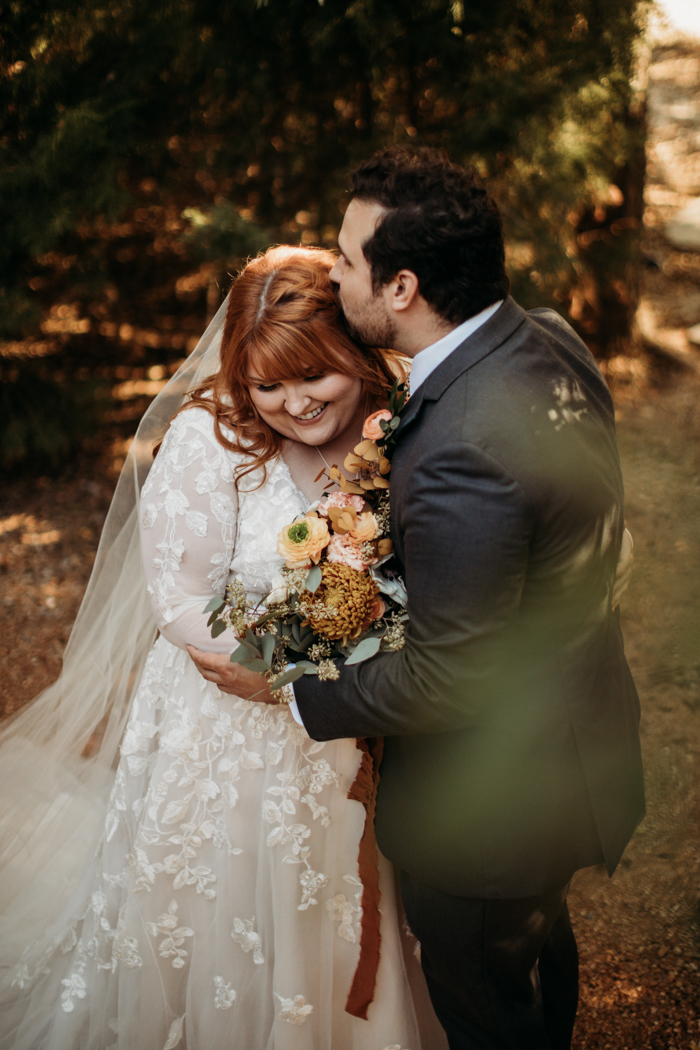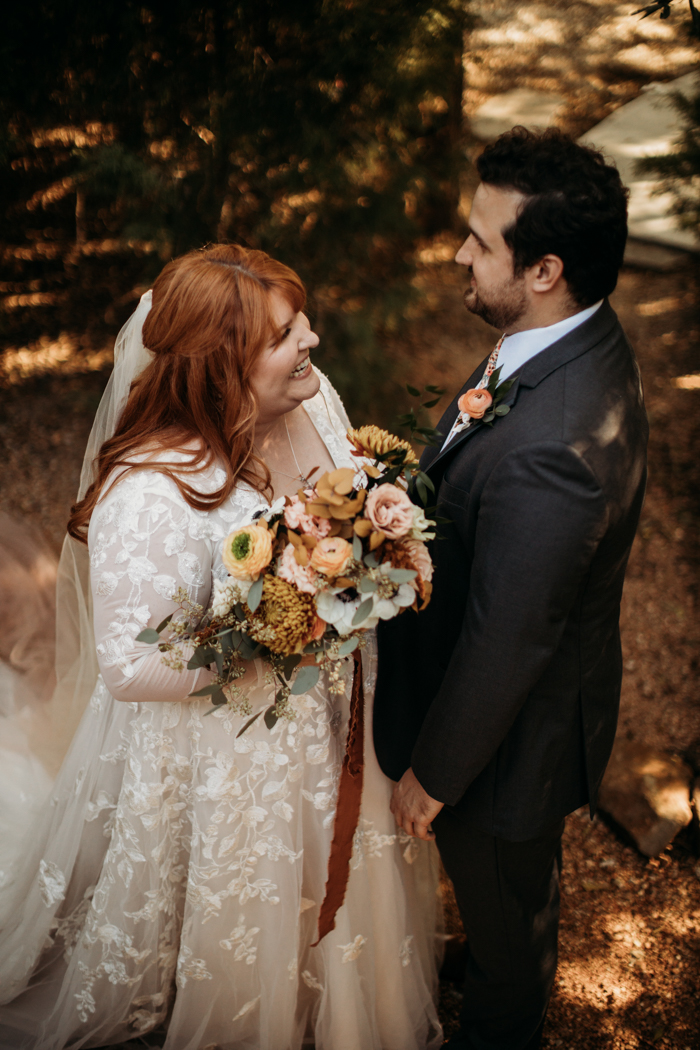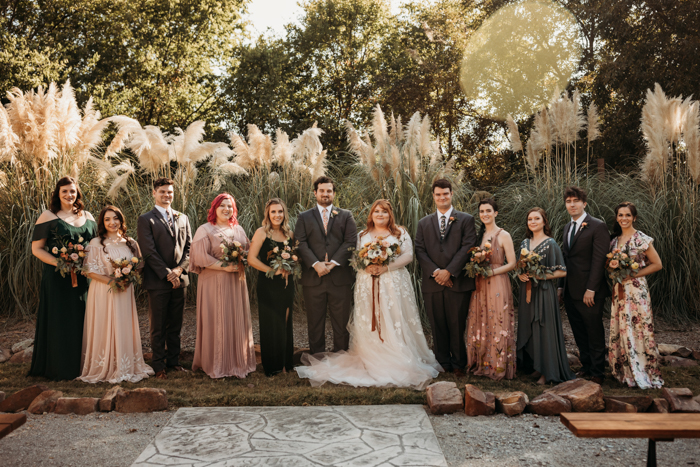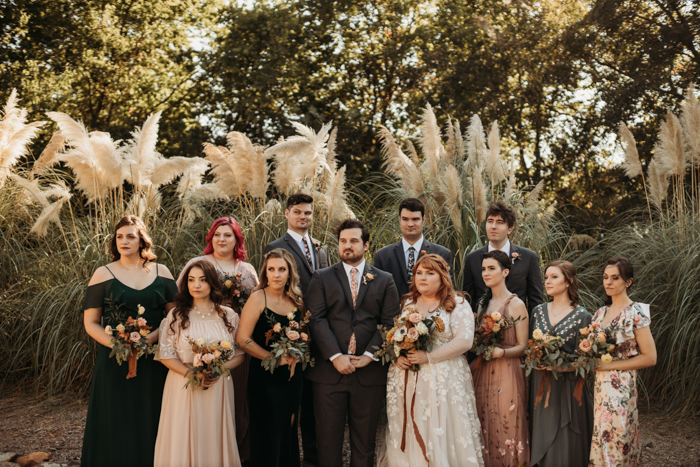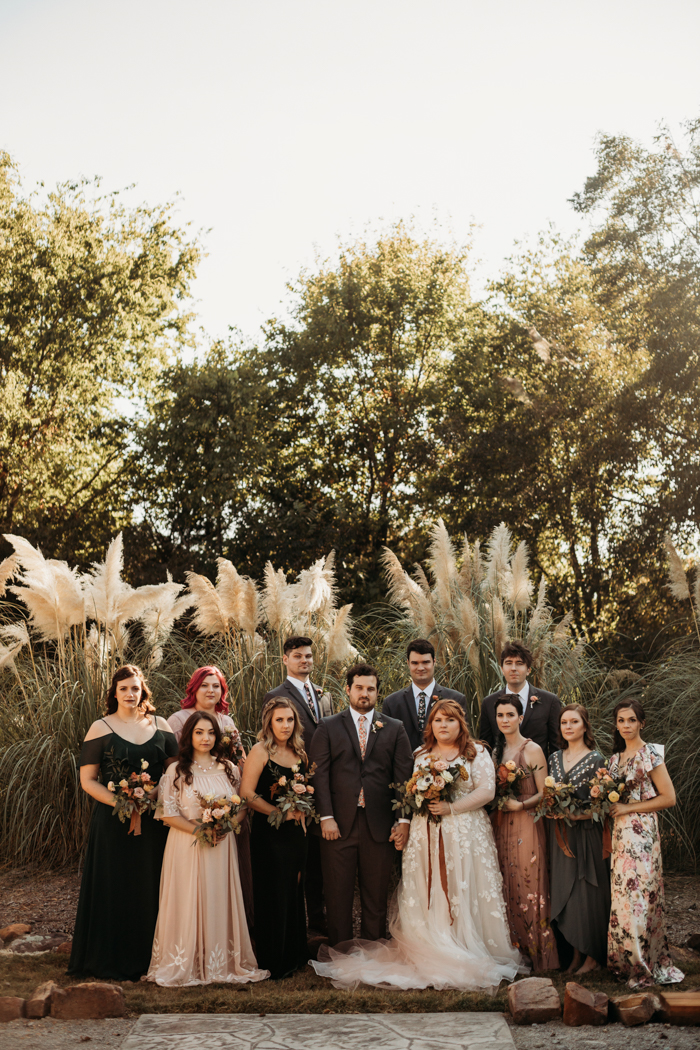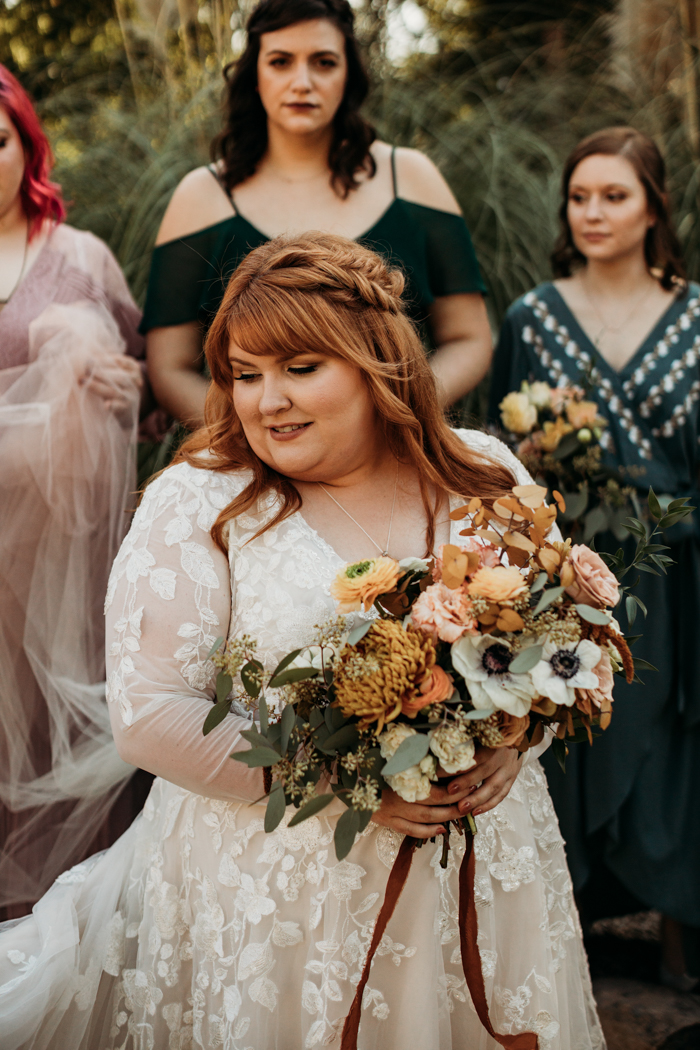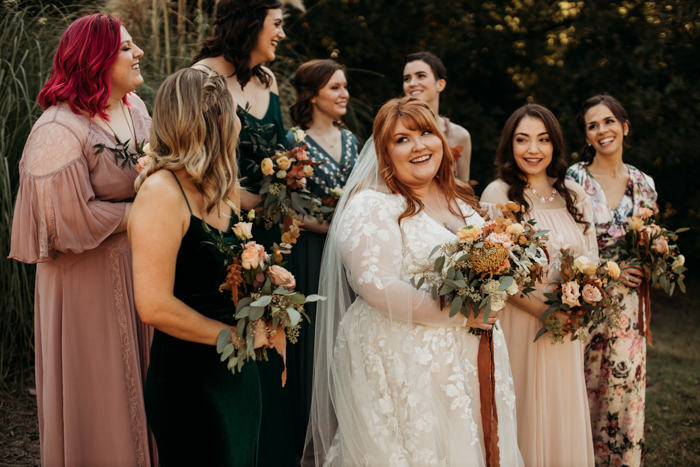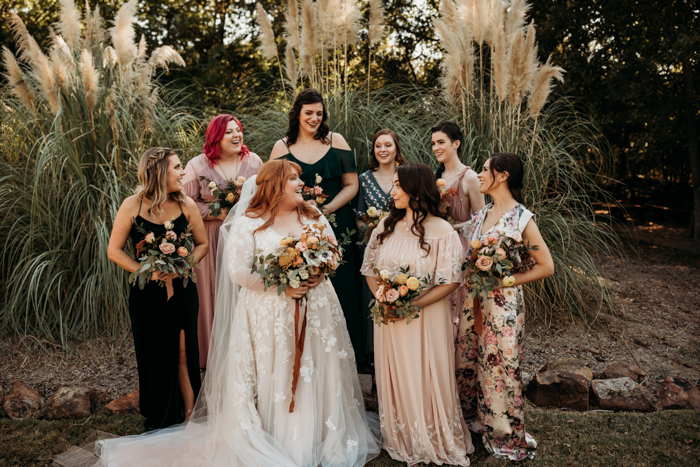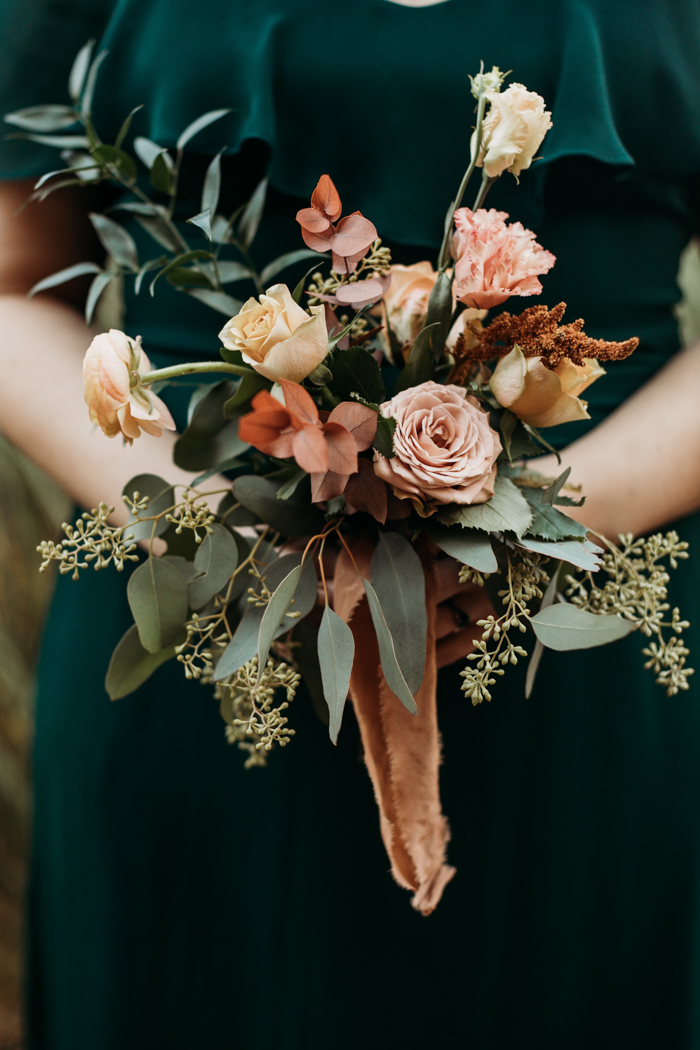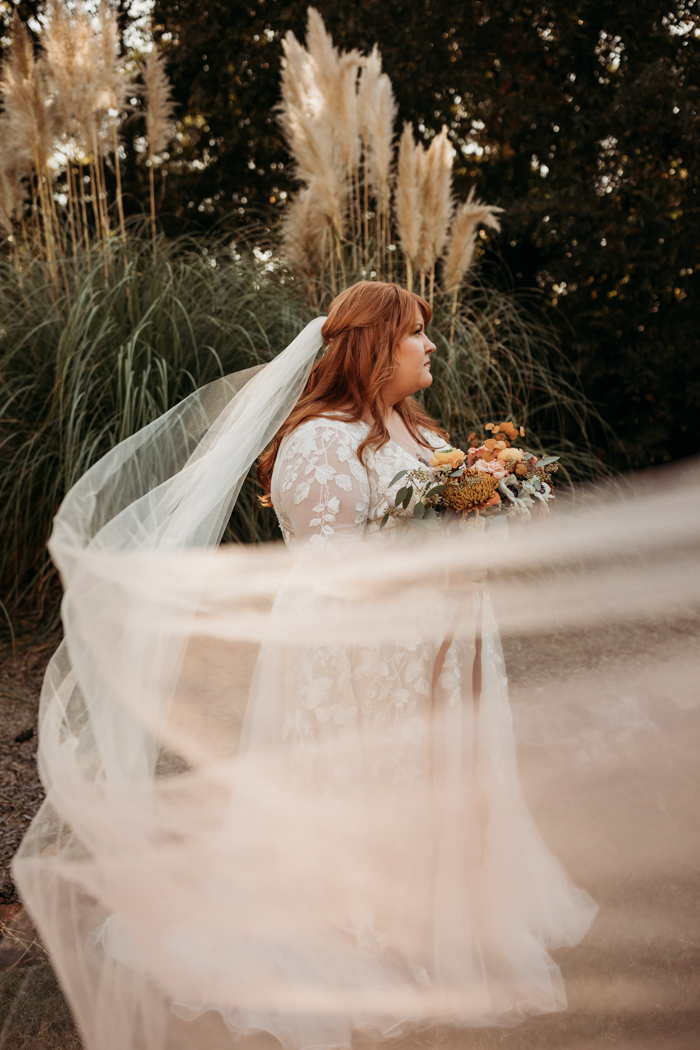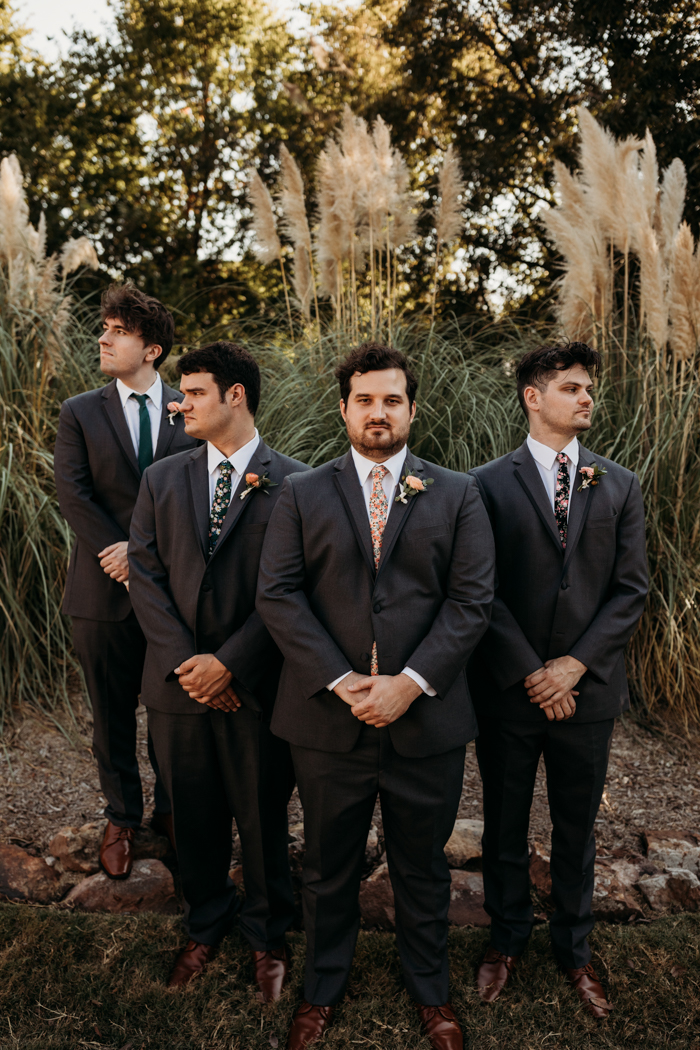 RECOMMENDED READING: The Most Stylish Groom Accessories on Etsy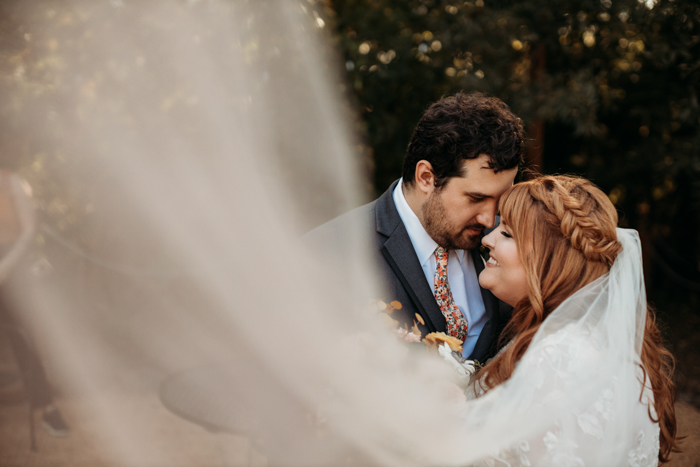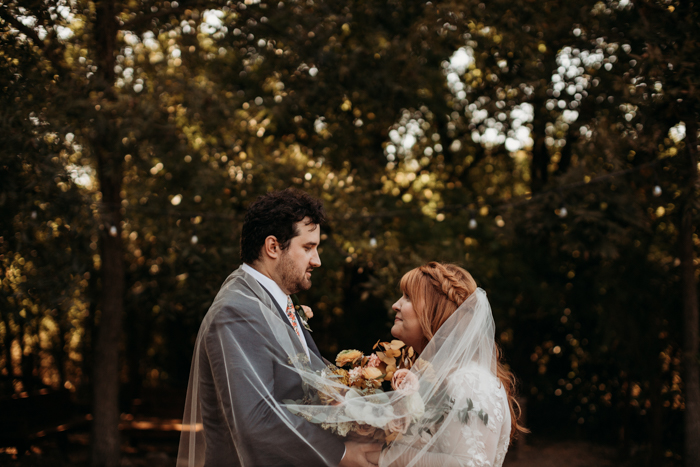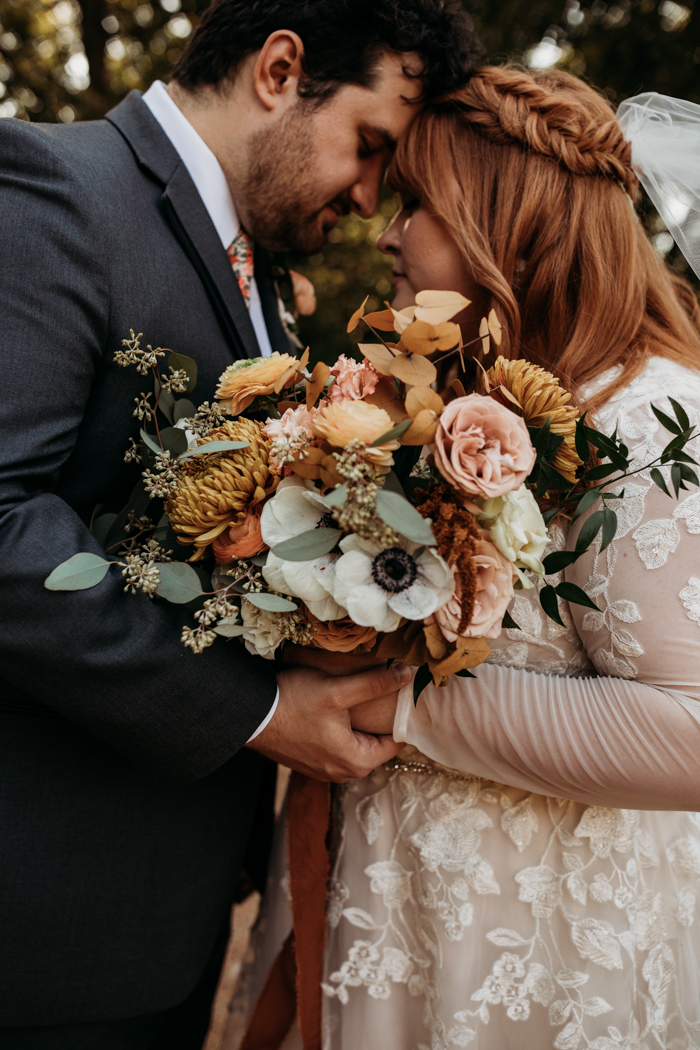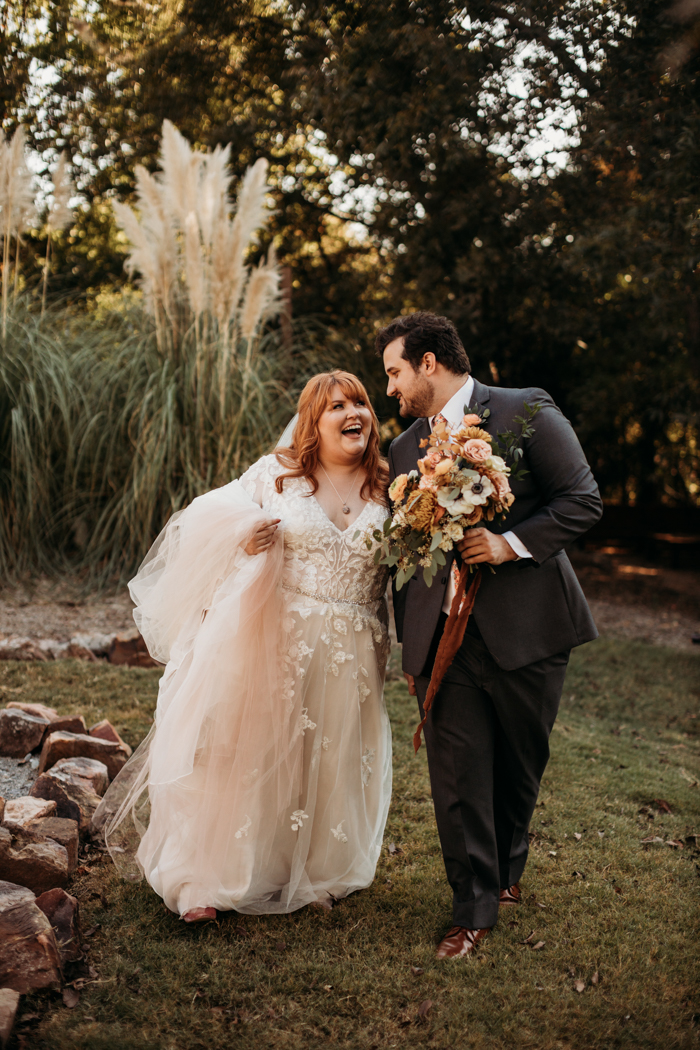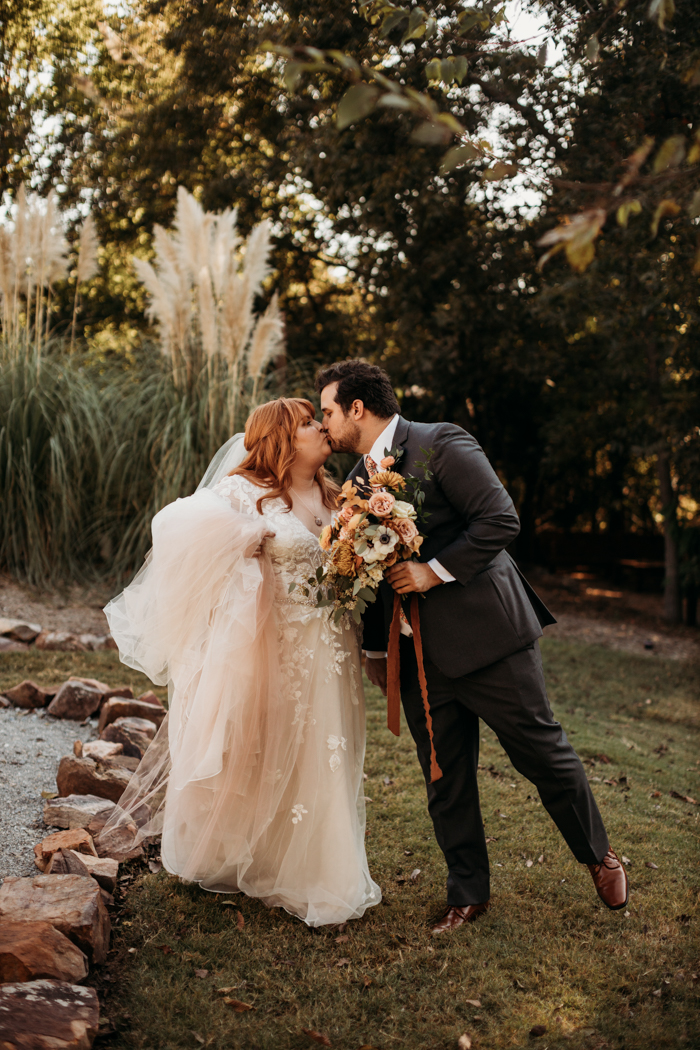 My husband and I both love October and Halloween, but we didn't want to have a themed wedding necessarily. We settled on "fall garden-witch" and boho, which was harder to explain to prospective vendors than I thought it would be. But the vendors who "got it" REALLY got it and ultimately were the amazing people we ended up going with! In addition to sifting through Pinterest, I drew a lot of inspiration from the movie, Practical Magic. It also helps that I'm a huge fan of antiques, old books, crystals and plants so I already had a lot of our decor on hand or knew where I could source more. I wanted everything to feel eclectic and personal but still fairly cohesive.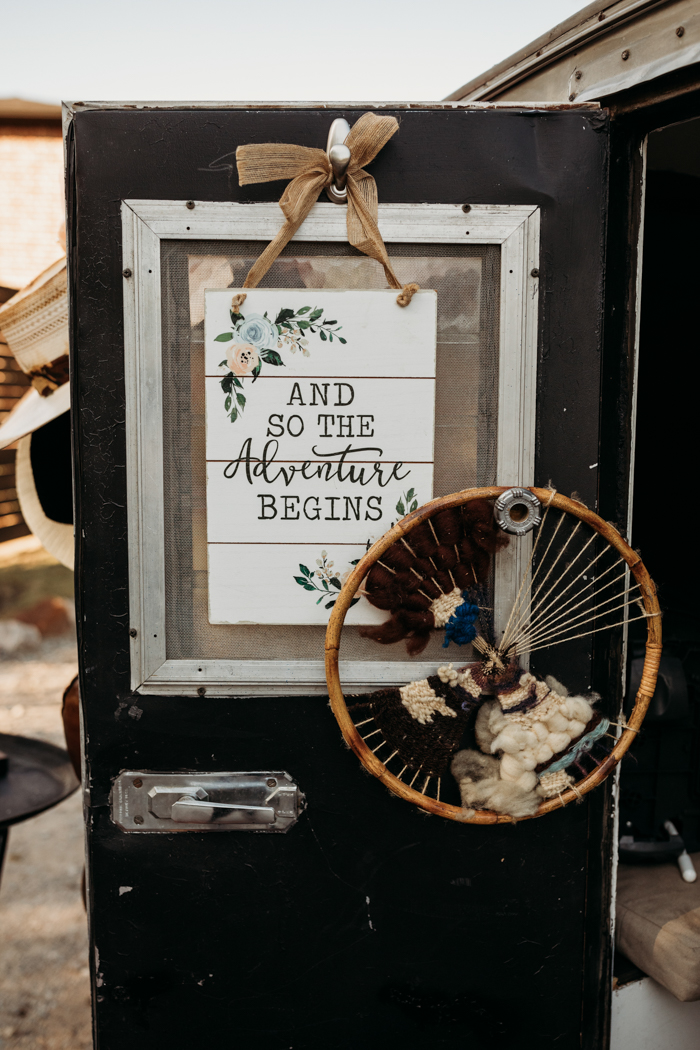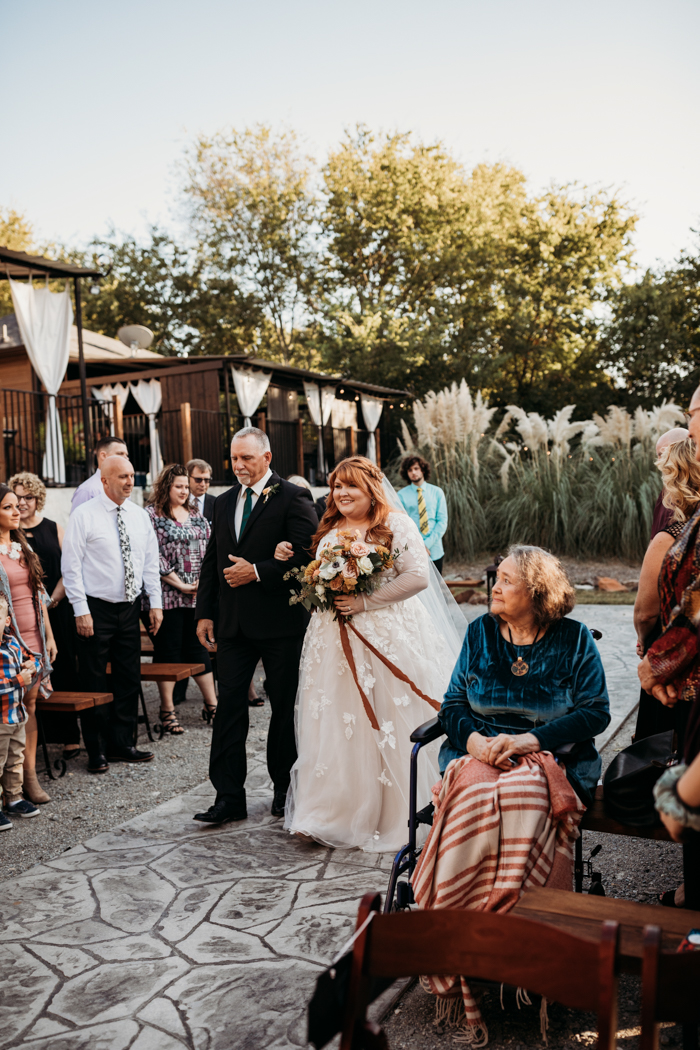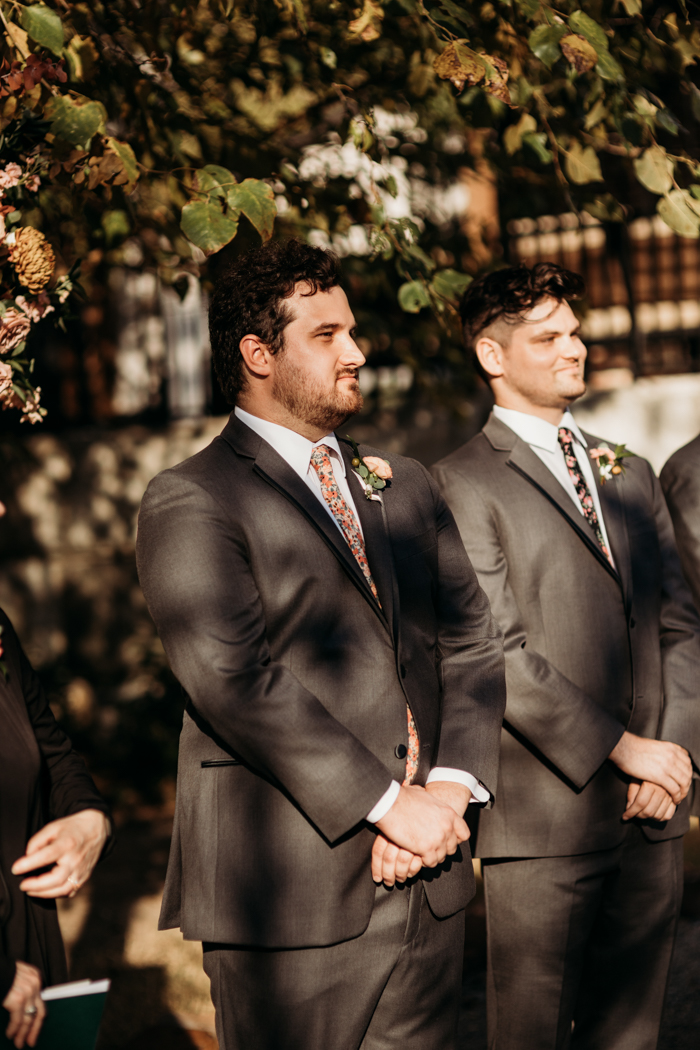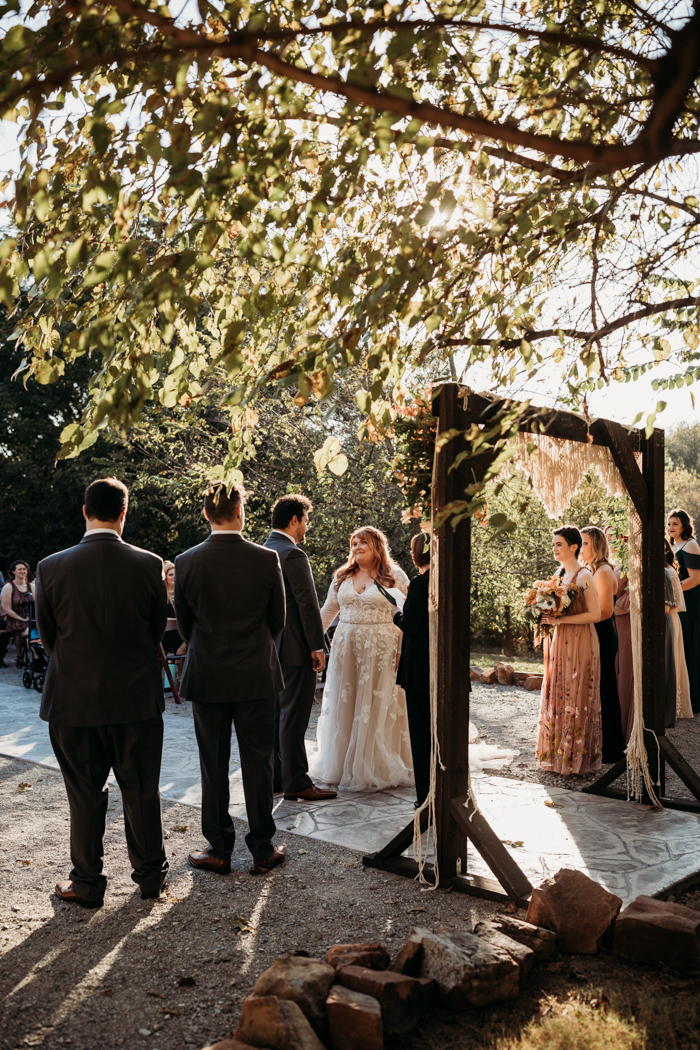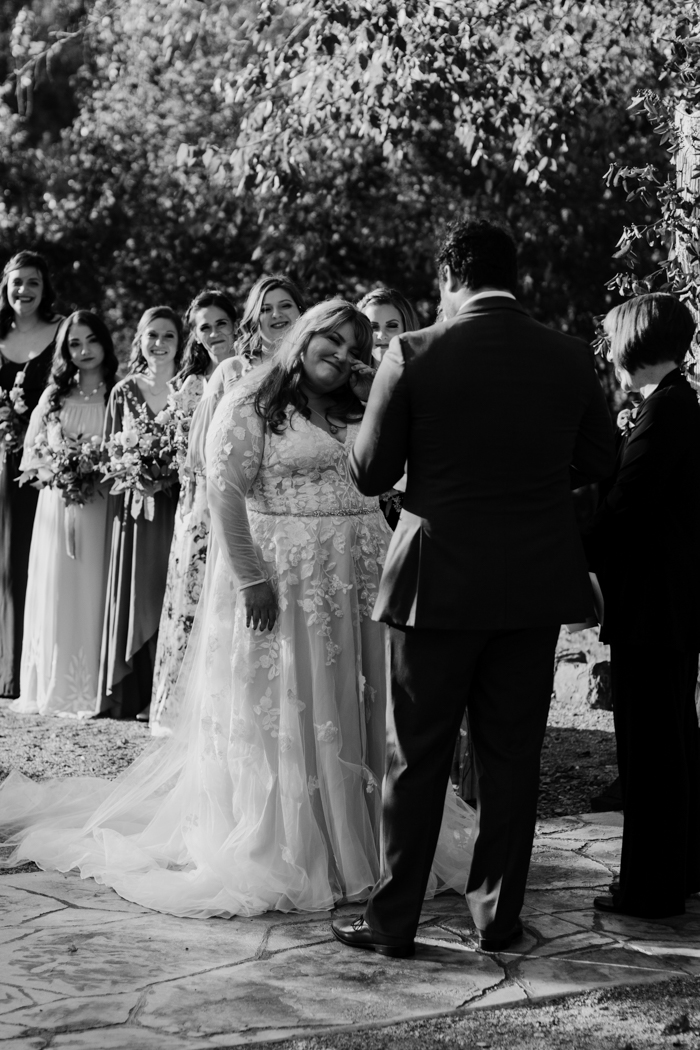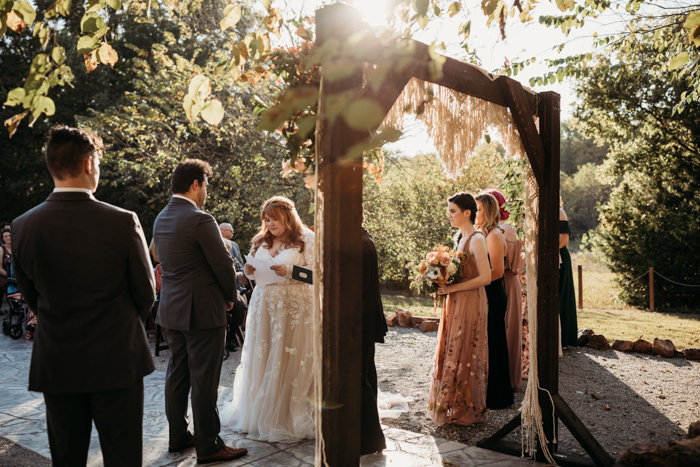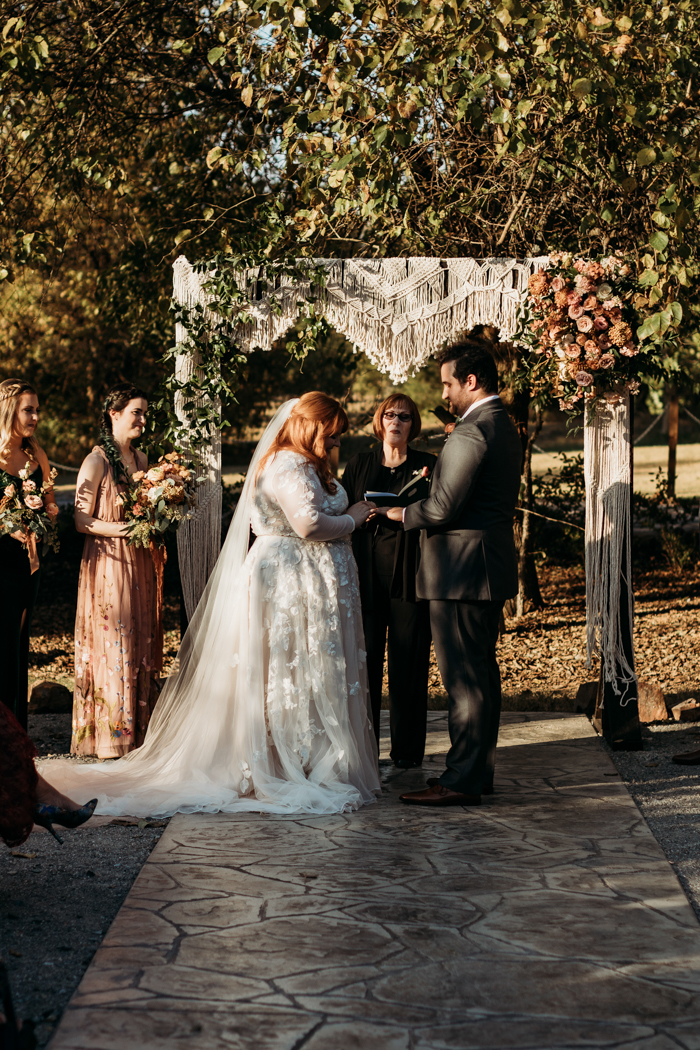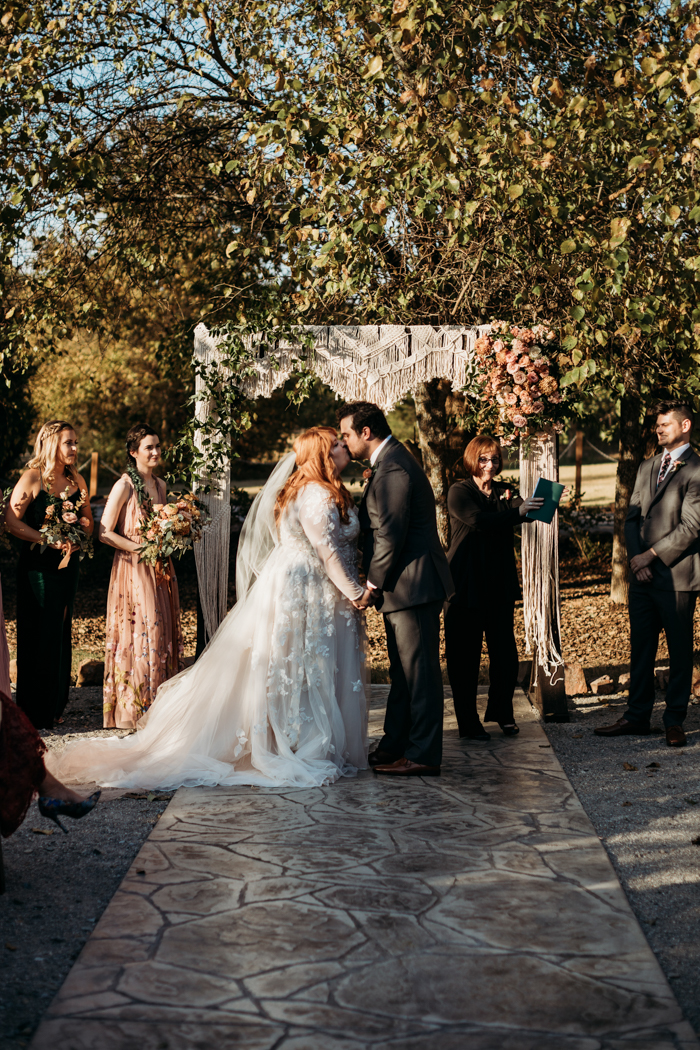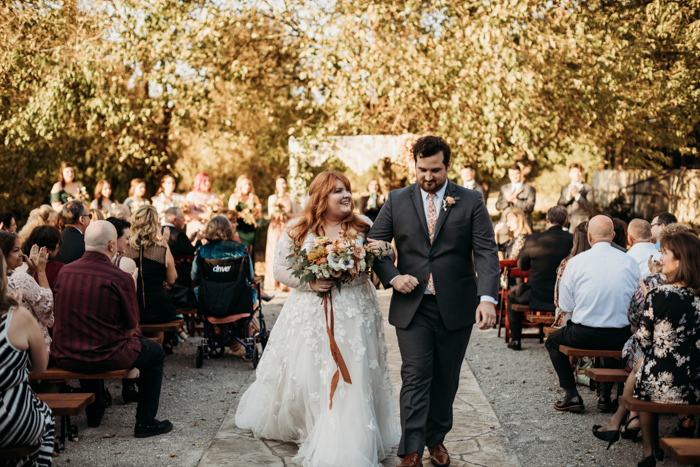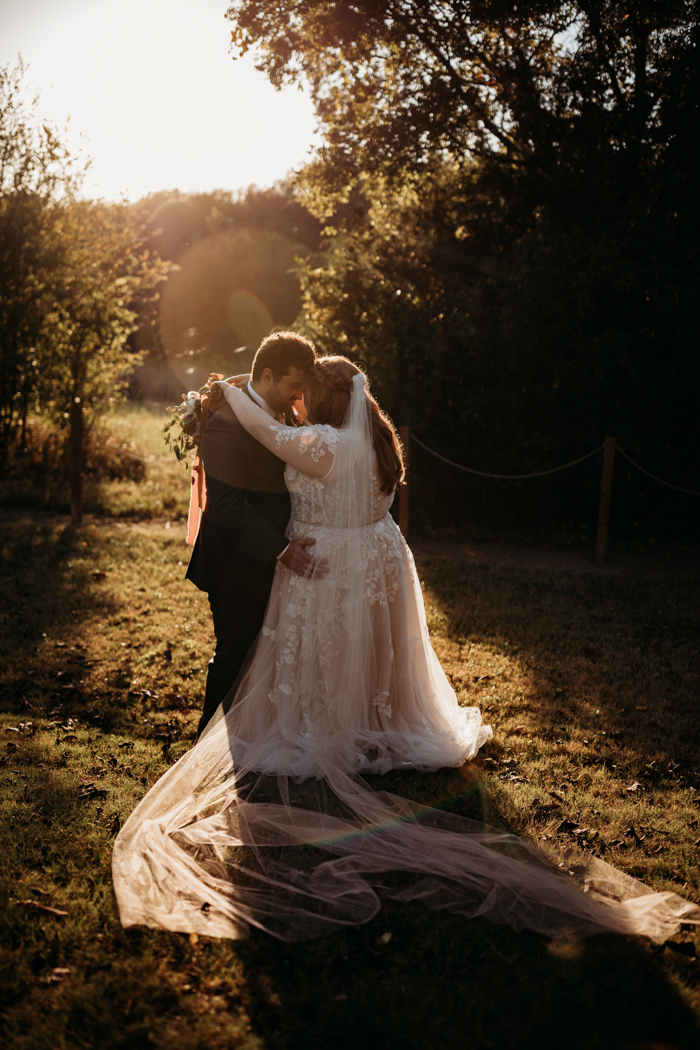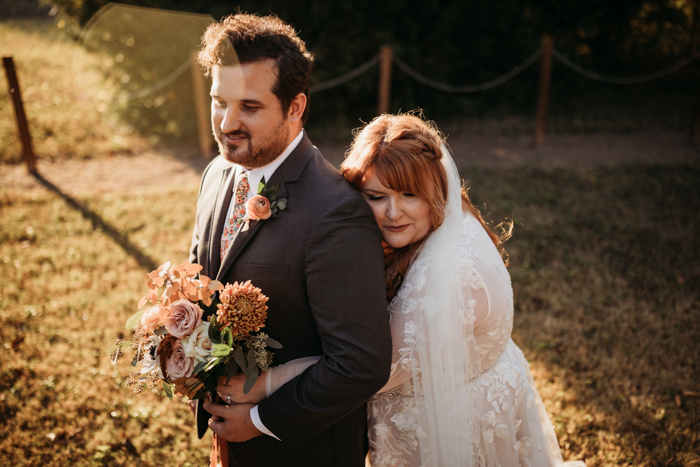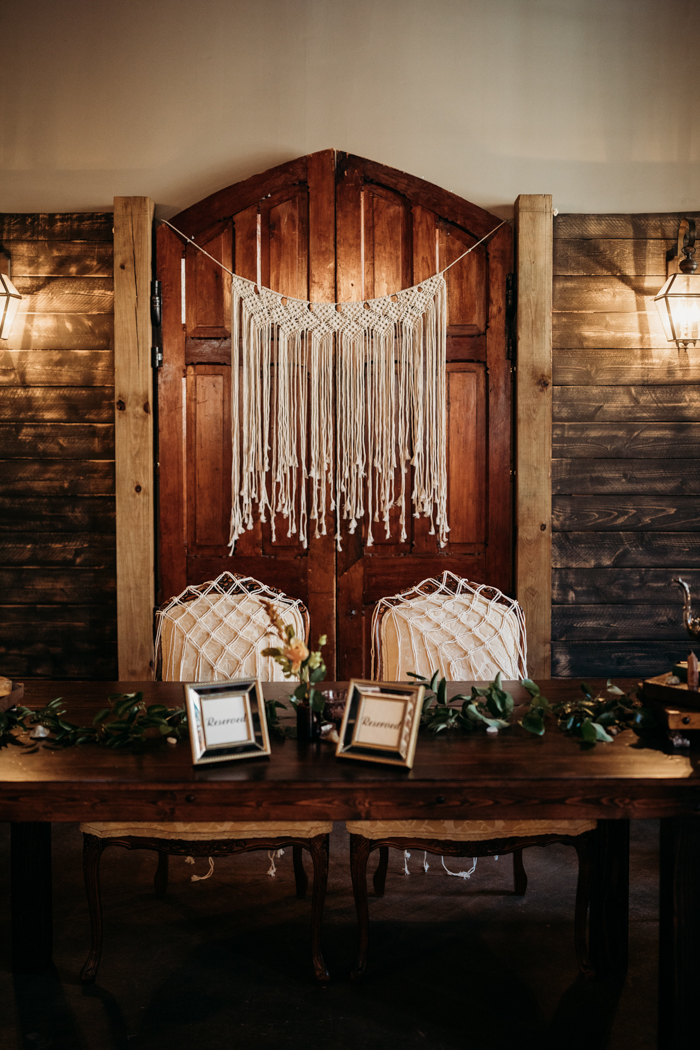 My best friend/matron of honor and I DIYed the acrylic signs! I loved the look of them on Pinterest but I didn't want glass that could shatter and break and I didn't have much left in the budget for it. So we bought some clear polycarbonate window panes in different sizes from a home improvement store, printed out what we wanted each sign to say in a font I liked, taped it to the back and traced the words with gold and white permanent paint pens on the front. For anyone planning on doing this, FYI goo-gone will remove the paint so if you make a mistake, it's not the end of the world. Then after it dried we painted the back of each sign with acrylic paint in the wedding colors. It was a challenging project but I'm really happy with how it turned out!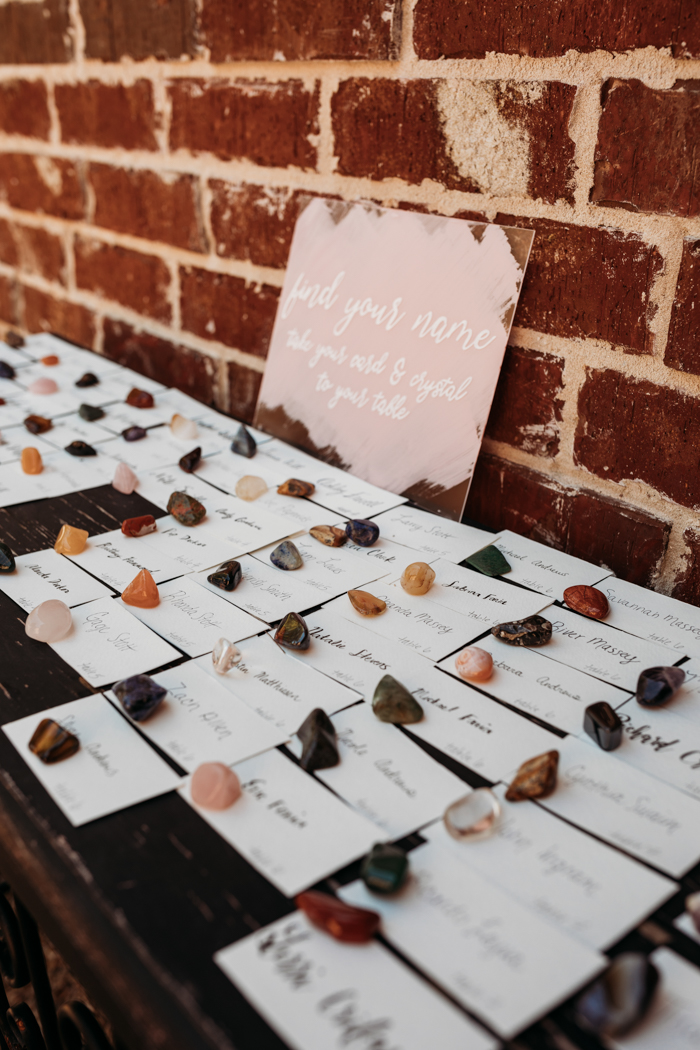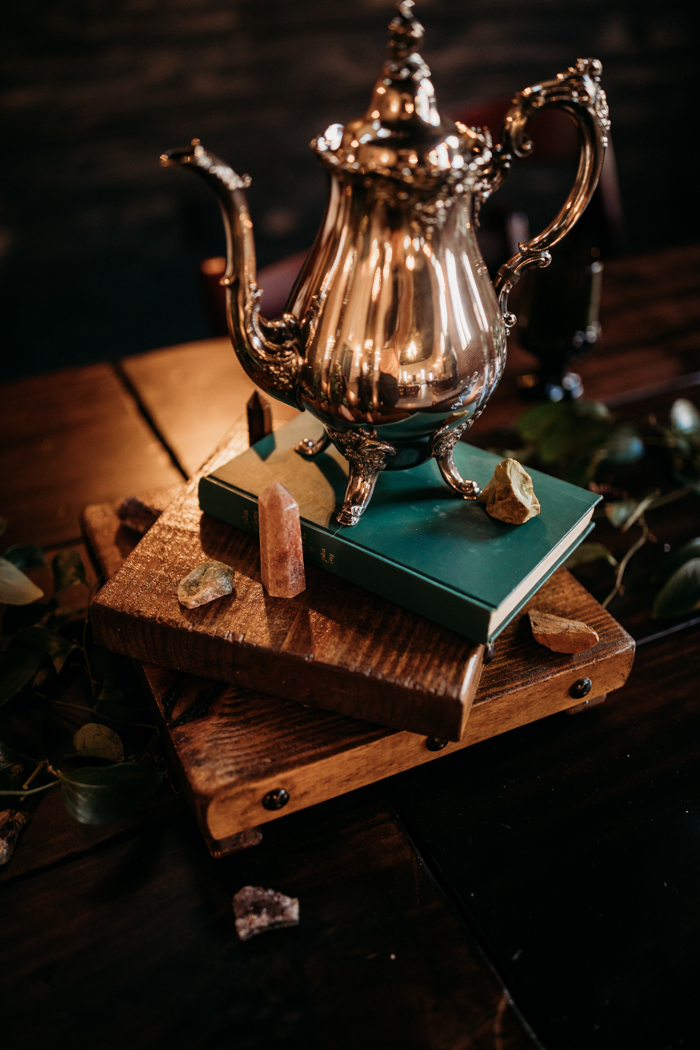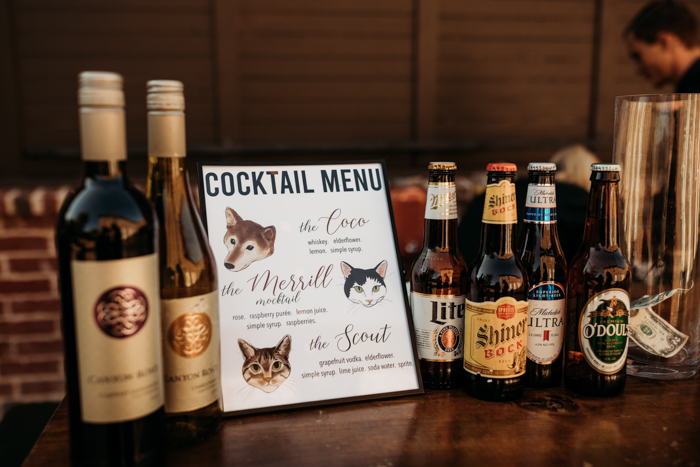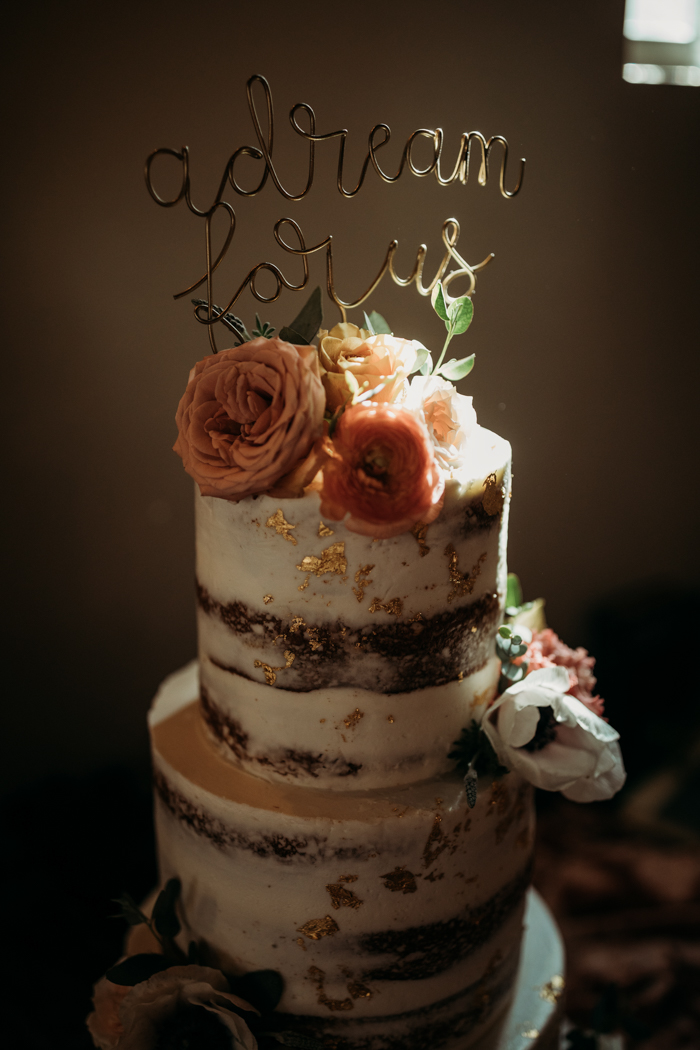 All of our vendors were incredible. The bartender was so kind and saved us the cork from the first bottle of champagne they uncorked that night! Our coordinator was so helpful and incredible and the day was so much easier for so many people because of her help. Our photographer was so fun and adaptable, but she was also incredibly sensitive and willing to listen to my concerns and feelings. The florist took our vibe and truly ran with it. I am still obsessed with our florals. And the La Cour Venue was the perfect beautiful stage for so many amazing artists to come together and collaborate. They all made the day that much more beautiful and special!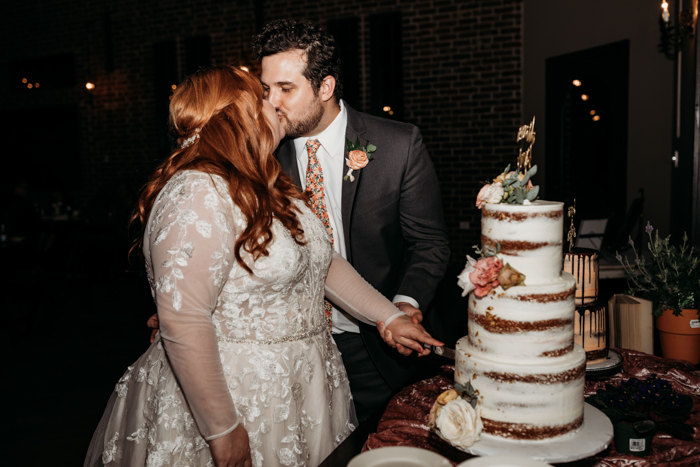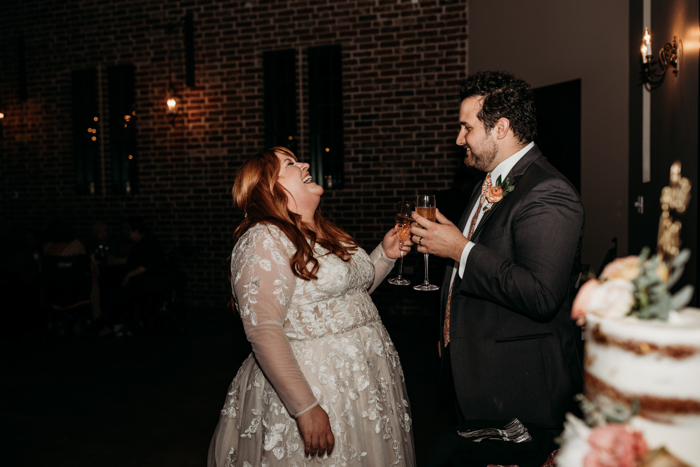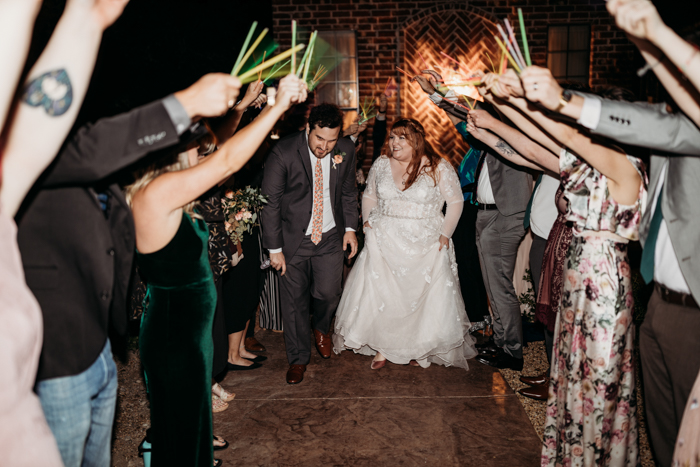 Congratulations, Rebecca and Ryan, and many thanks to Brittany Gilbert Photography for sharing their day at La Cour Venue with Junebug! If you get as excited about October as all of us, you're going to swoon over this Terrain wedding that includes autumnal hues, pumpkins, and quotes from The Office.