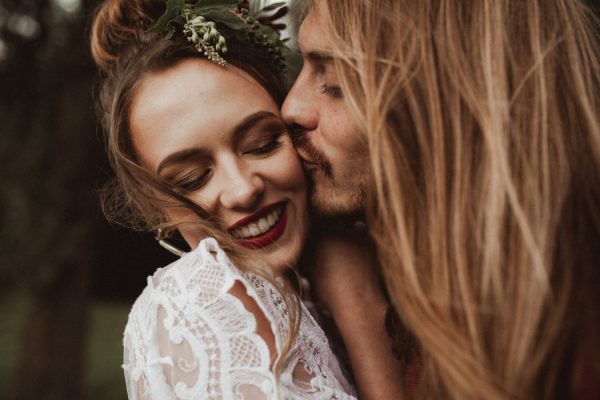 Stefany and Dennis are free-spirited musicians and artists, so when it came to wedding planning, they knew they wanted anything but a traditional event! The couple started their big festival-inspired day with a blindfolded first look that revealed their unique wedding day attire to each other. Stefany wore a vintage handmade boho gown from Laura Dols, while Dennis donned a super cool marsala jacket with floral ankle pants. After their forest ceremony that featured live music, a freeform structure, and tons of Persian rugs, they hosted their reception at Paviljoen Het Buitenhuis. Photographer Martijn Roos captured every amazing moment of this alternative wedding, including some fabulous reception shots of Stefany and Dennis performing music on their floating waterfront stage!
The Couple:
Stefany and Dennis
The Wedding:
Paviljoen Het Buitenhuis, Ewijk, Netherlands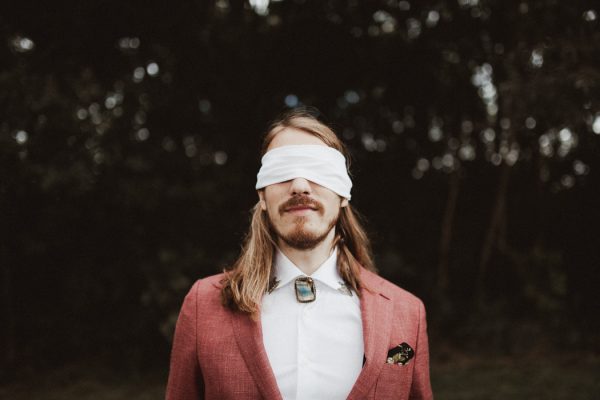 We wanted to have a fun weekend that would feel a bit like holidays with our friends and family. We wanted to do exactly those things we really enjoy, lots of music, jumping into the lake when ever we want to and a relaxed atmosphere. As artists and musicians we wanted to celebrate in a way that would feel natural and relaxed to us. We love to be outside in summer and we love music. So it was pretty obvious we would have a festival wedding vibe.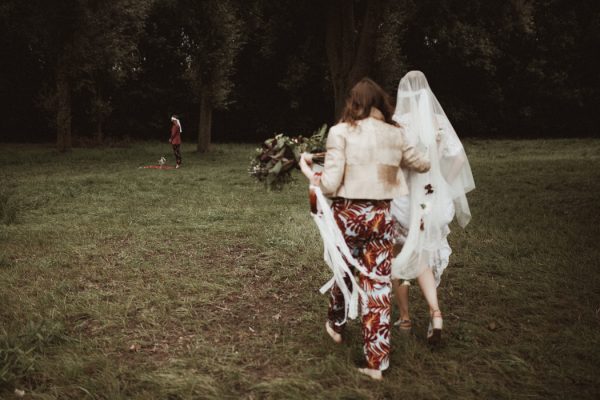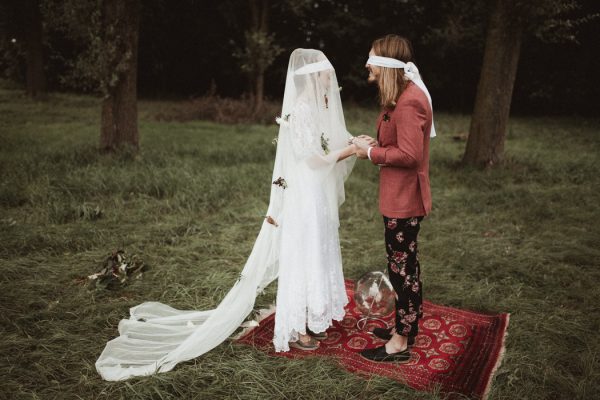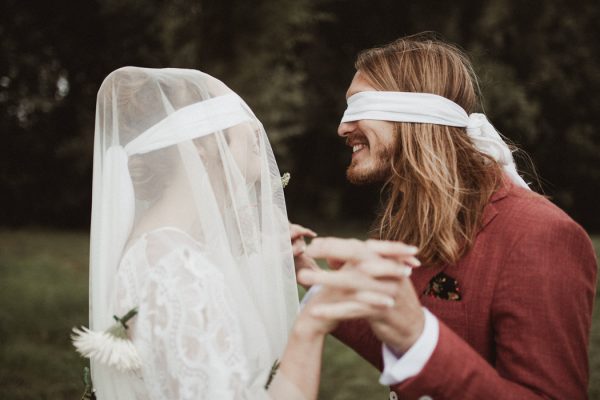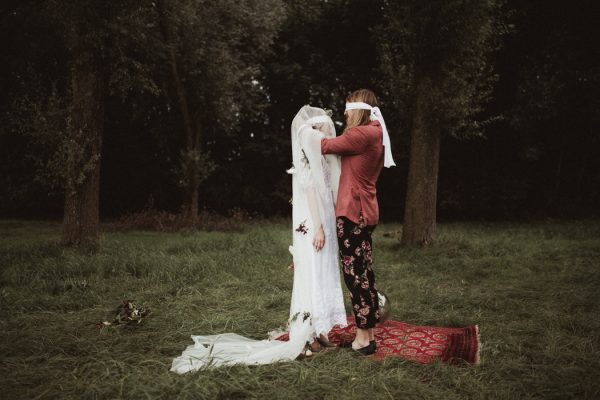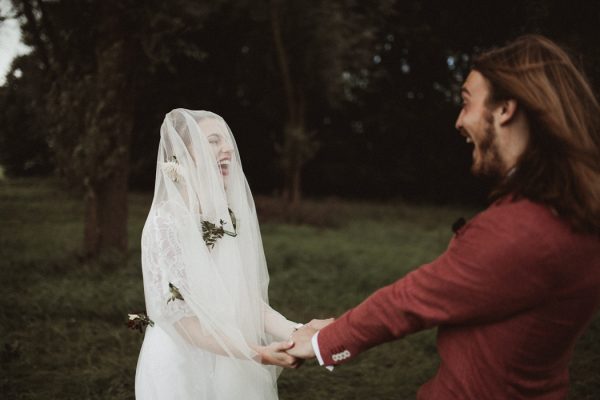 I wore my wedding dress that I had found at an antique brides dress store. A women is traveling the world and collecting the most beautiful bridal dresses she can find. My dress was found in Italy, I loved the idea that there was just one unique piece of my dress and that another women married in this dress more than 50 years ago. I was told this dress must have been completely handmade since there were no machines to work with so fragile material back than. That's insane, cause it had so many details on the lace!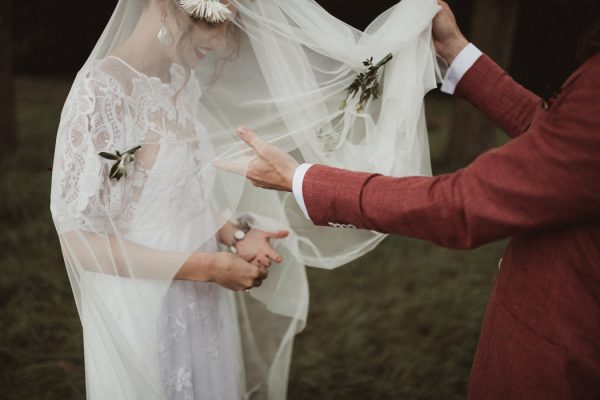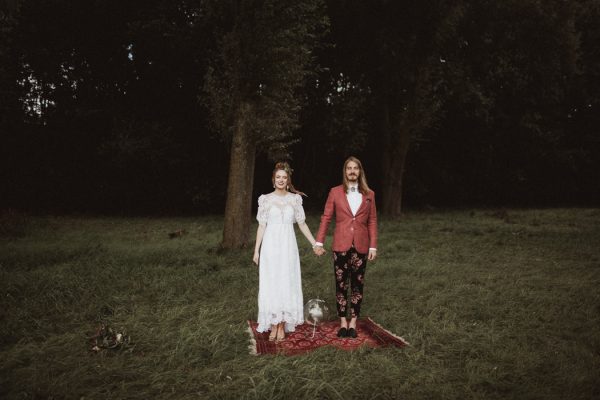 I had the chance and challenge to adjust the dress to make it really me. That was a quiet scary and hard but also fun project. We took out the back of the dress shortened the sleeves a bit. It got a custom-made undergarment and little beads stitched on the lace. For me it was the perfect mix between vintage & modern.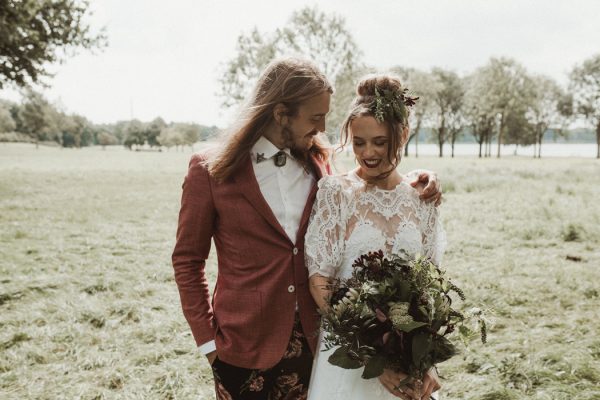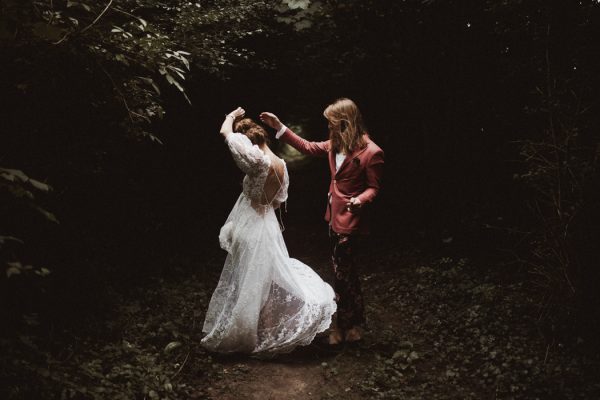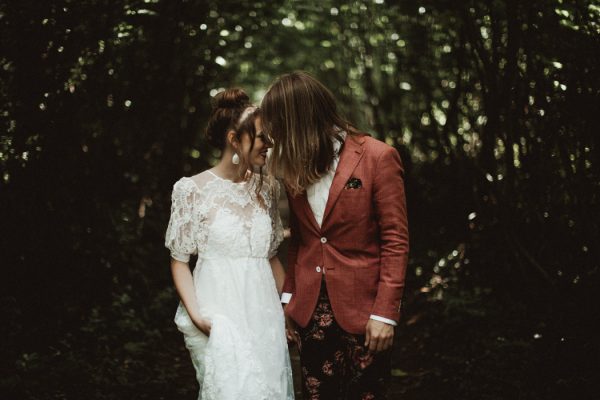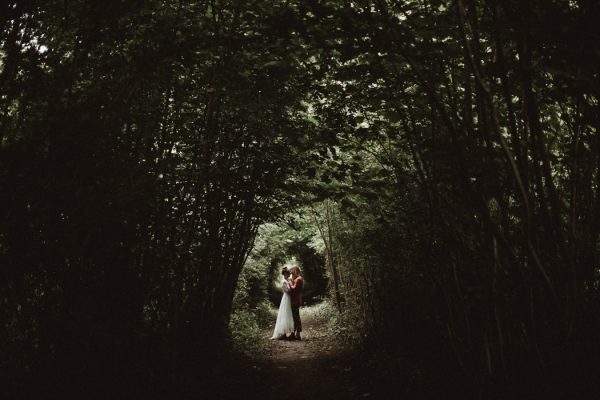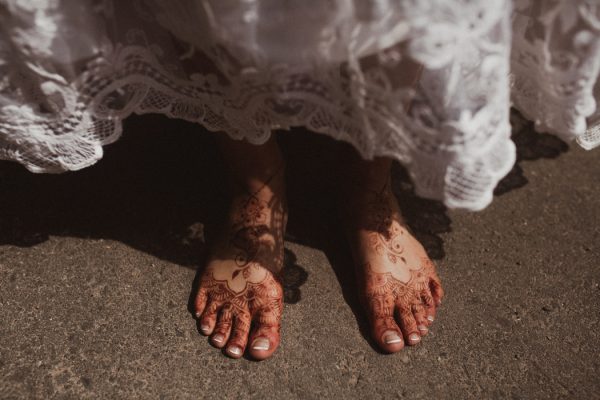 Instead of the typical walking down the aisle, Dennis was walking along the lake with his guitar singing, followed by a bunch of friends and my father and me at the end. We all were singing the song "When I Went Down To The River To Pray." We got this inspiration from the movie "O Brother, Where Art Thou?" Rest of the guests started singing along the closer we got to the circle.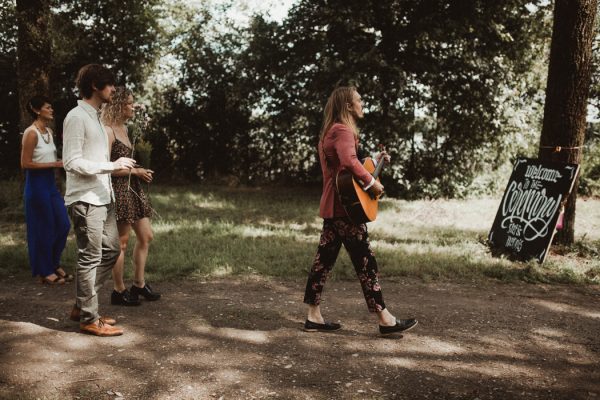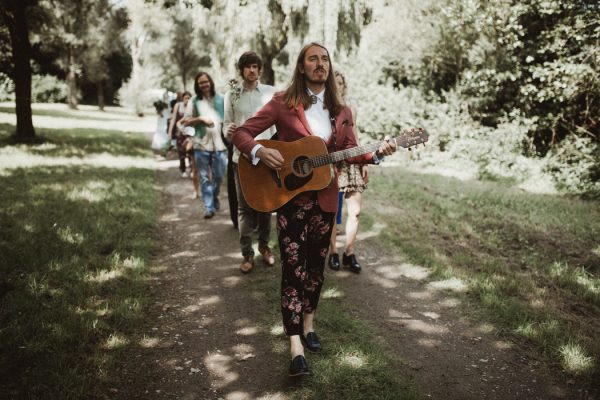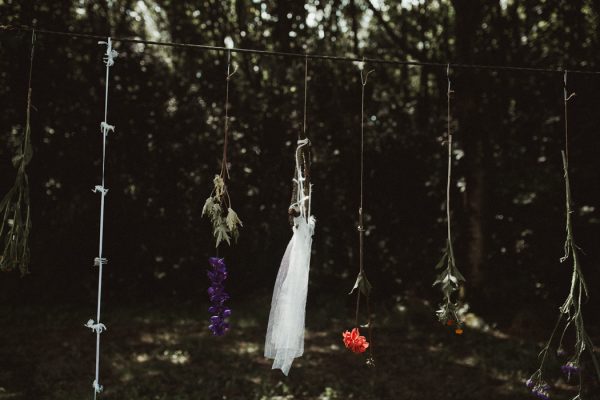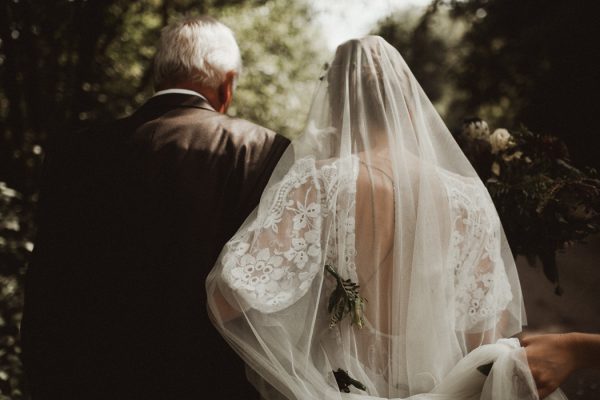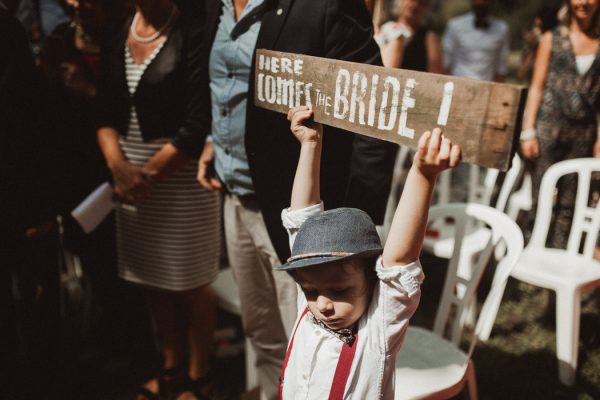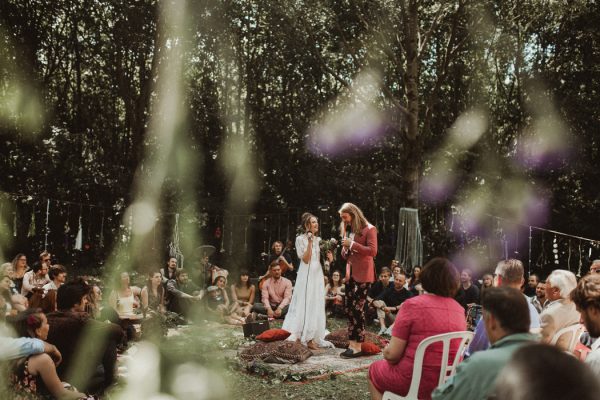 The most memorable part of the wedding weekend was the ceremony. Seeing friends and family from all over the world coming together for us to witness our love still gives me goosebumps.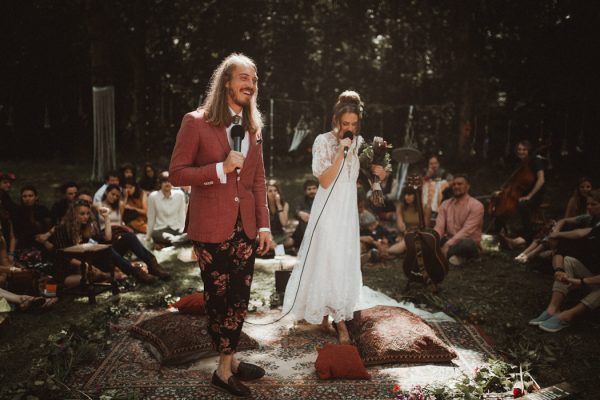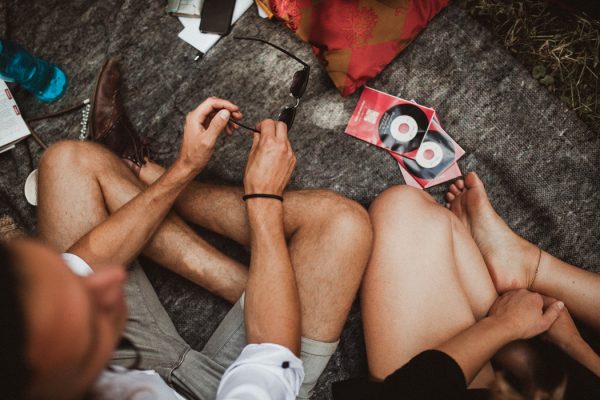 Instead of having a pastor or someone else leading the whole ceremony we started by welcoming our guests ourselves, telling them why we wanted to marry, and thanking our parents for being awesome. Since we were having a bilingual wedding, my husband was speaking English and I translated. Then we had asked several couples who were married for different periods of time about their "golden tip for a happy marriage."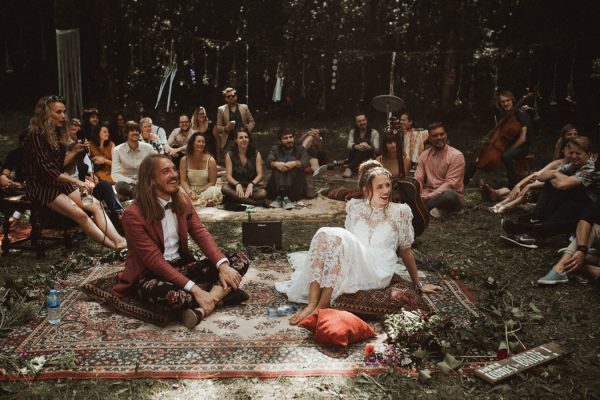 The location was beautiful, between trees next to a lake. Our guests were sitting on Persian carpets on the ground, that were put in a circle around us.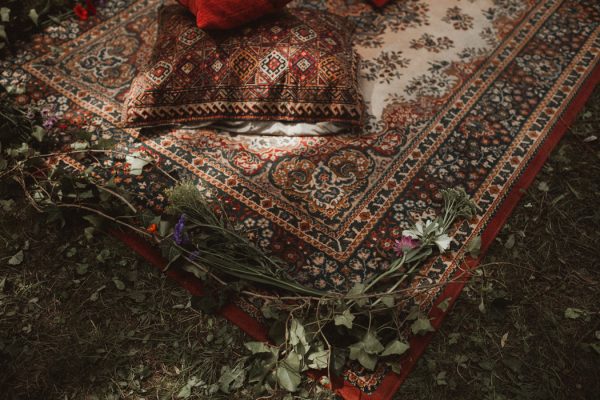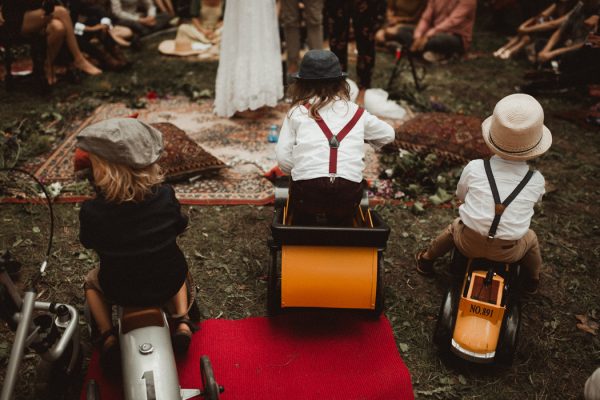 A few musician friends of mine were singing a song by my favorite artist and Dennis and I also sang an old traditional. We had bursting bubbles and DIY shakers for the guests prepared to blow & shake at the kiss.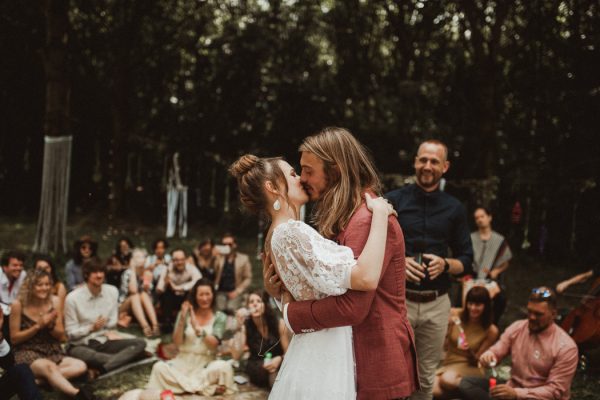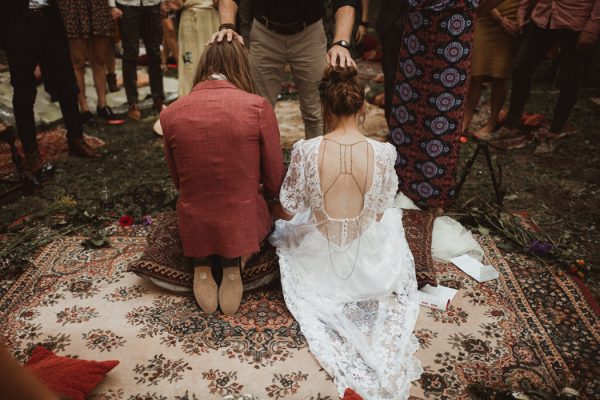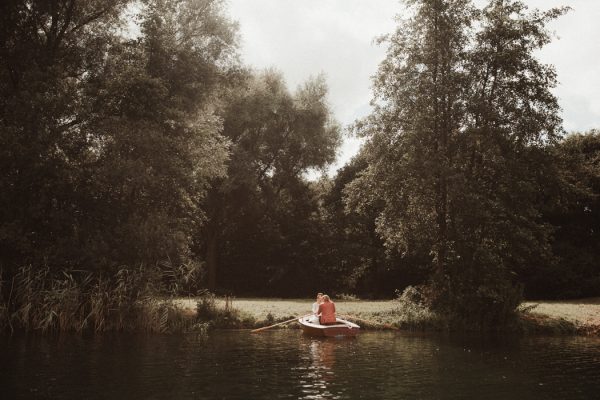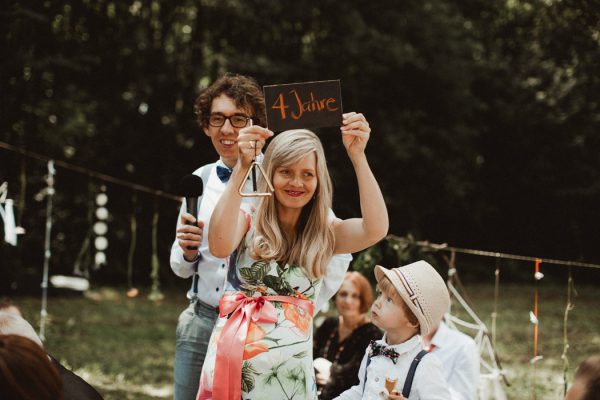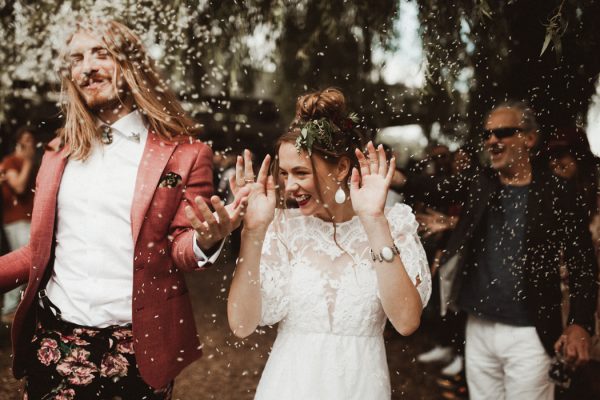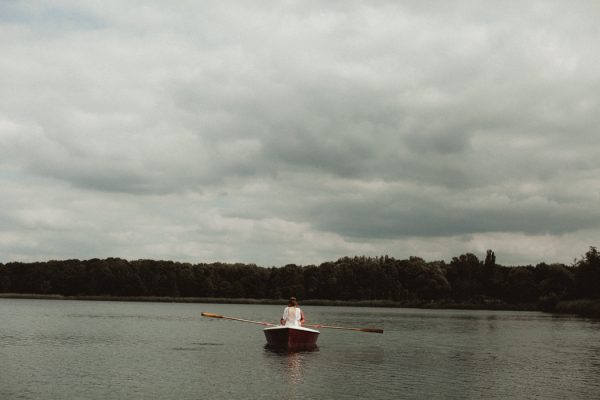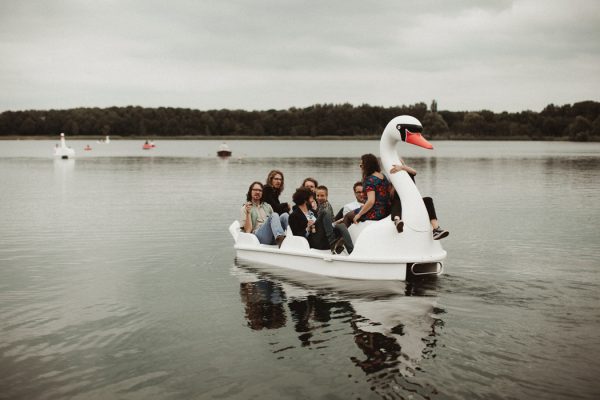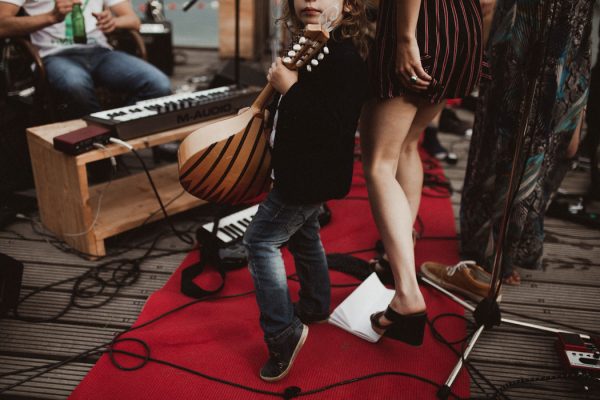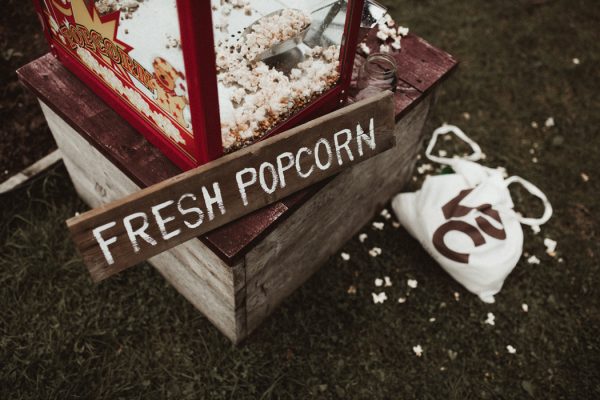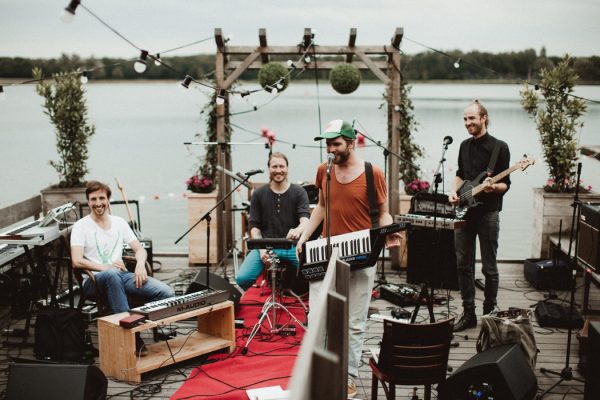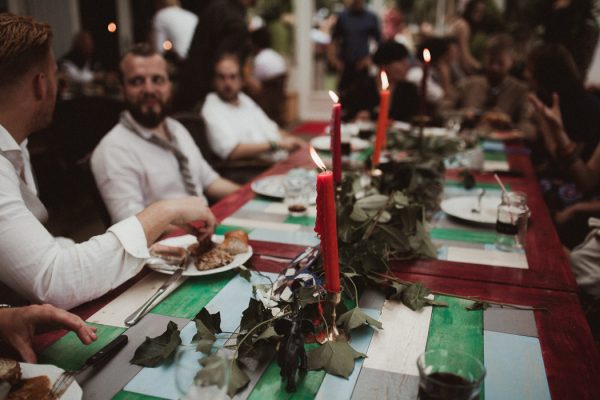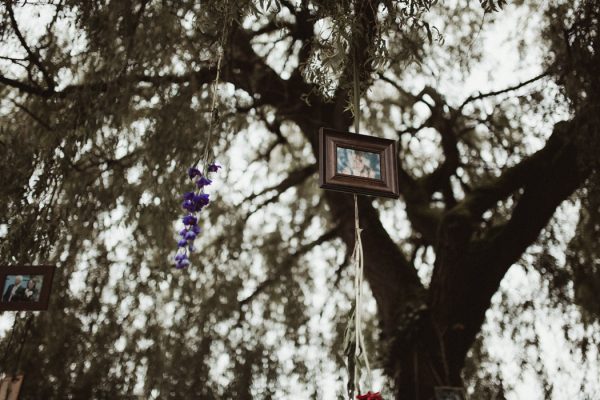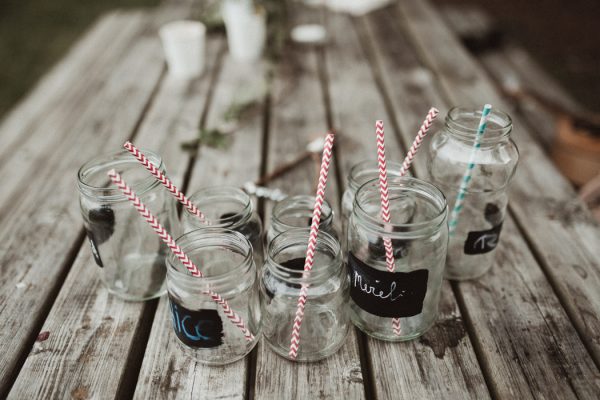 I had a messy bun and went barefoot. In the evening I changed my look to a nude long skirt and a white lace crop top. The rest of our guests were wearing bohemian chic.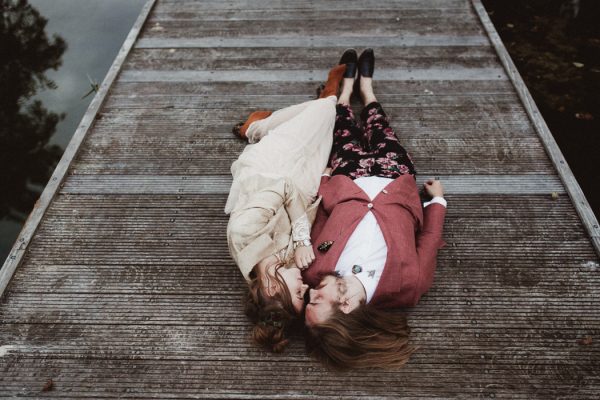 Ask yourself what you really want to do on your special day. No need to feel bad about ditching boring traditions, your family will forgive you once they see how happy you are on your wedding day. If you are planning a DIY wedding and are doing most of the organisation and preparation yourself take time to work in your master of ceremony/day-of coordinator for the wedding itself at least a month before. The person will have to know almost all the details that you already have in your mind for a long time , and those are probably a lot. This will save you and the person who is taking it over for you lots of stress.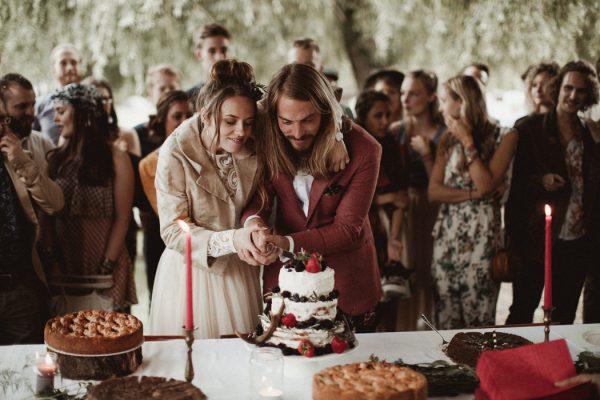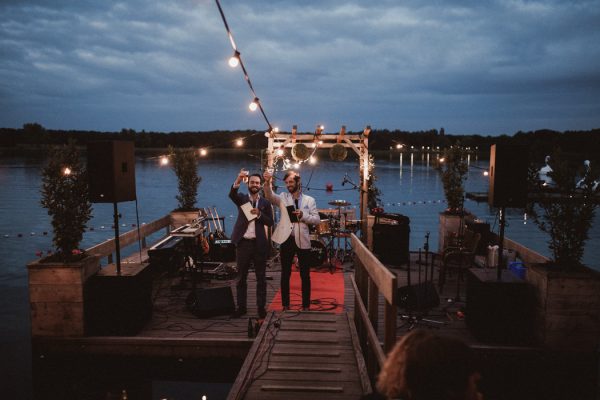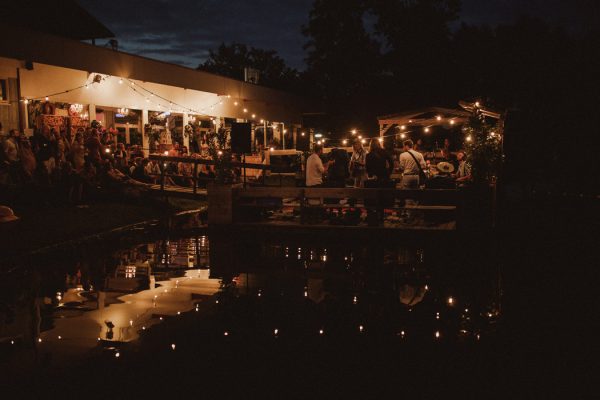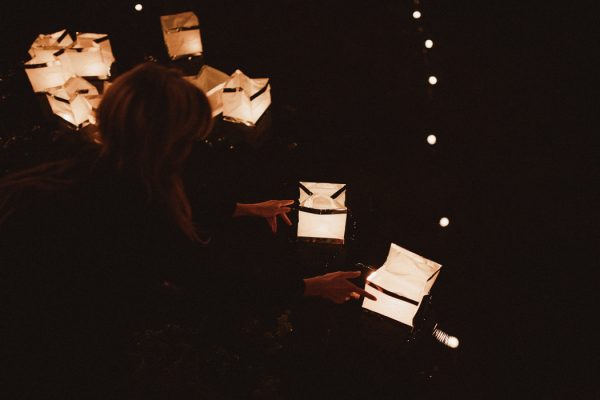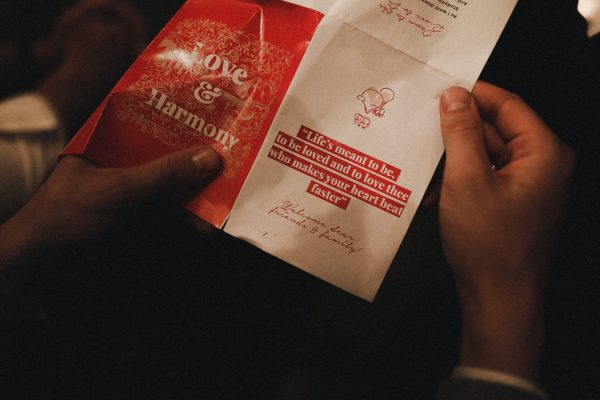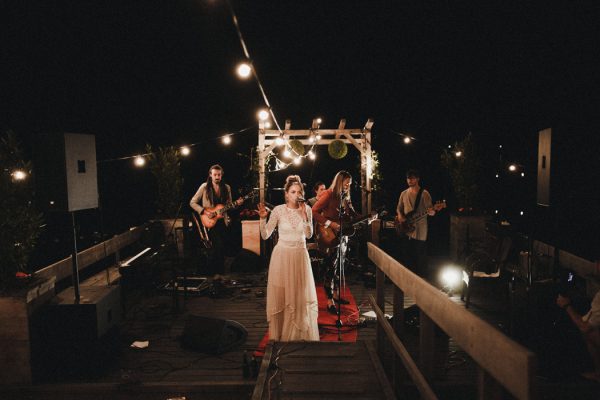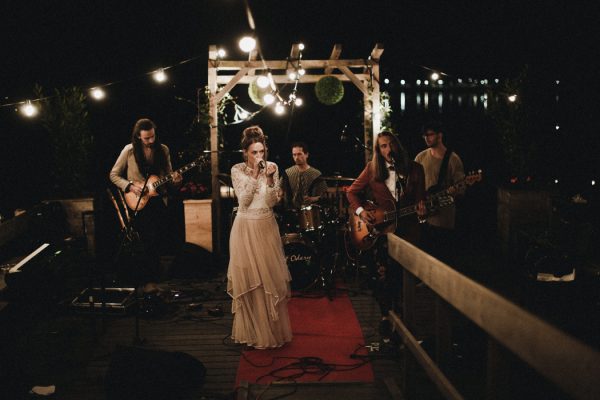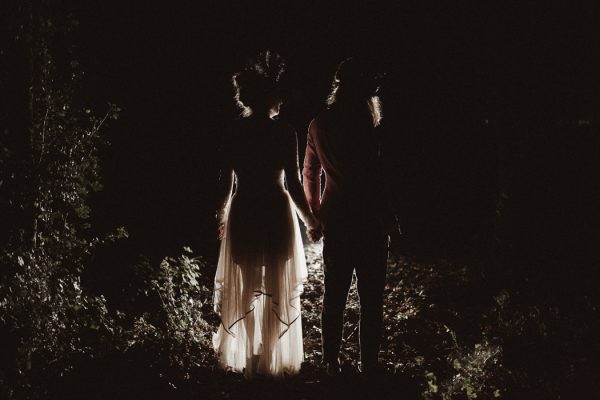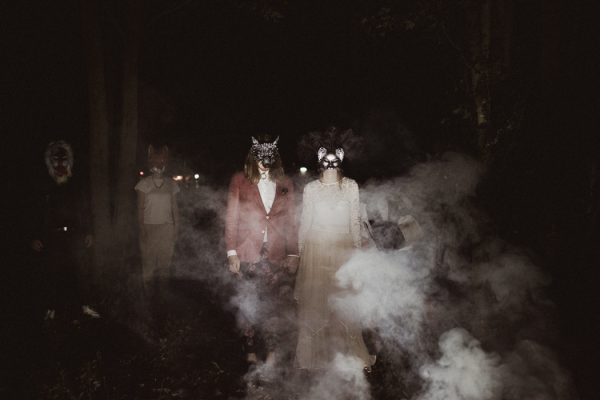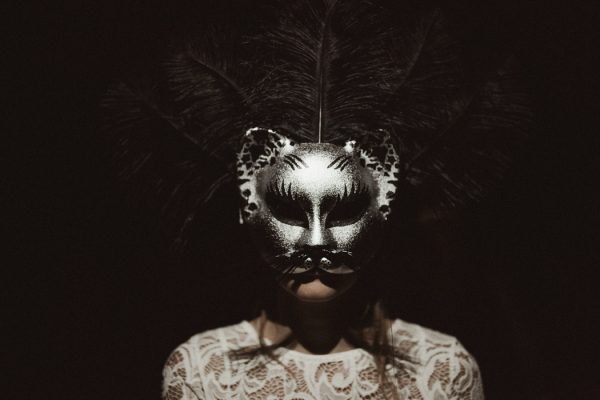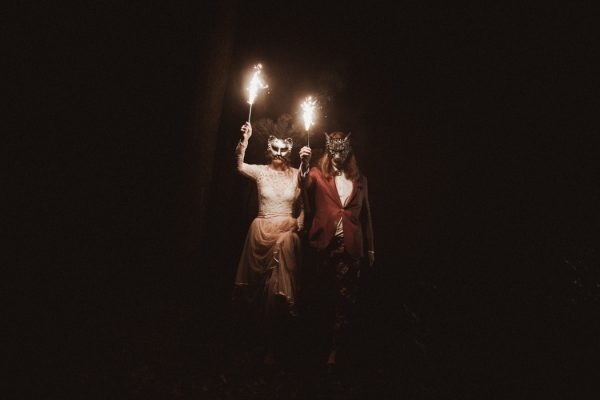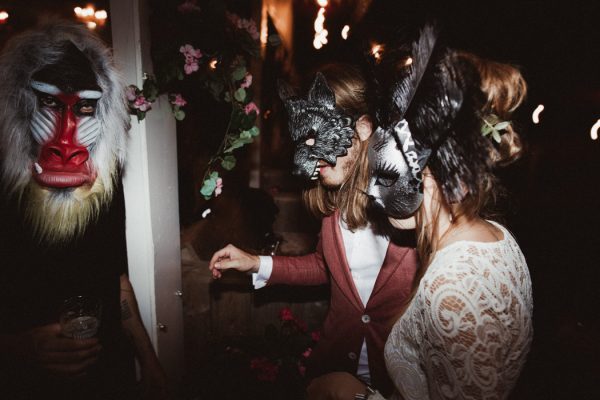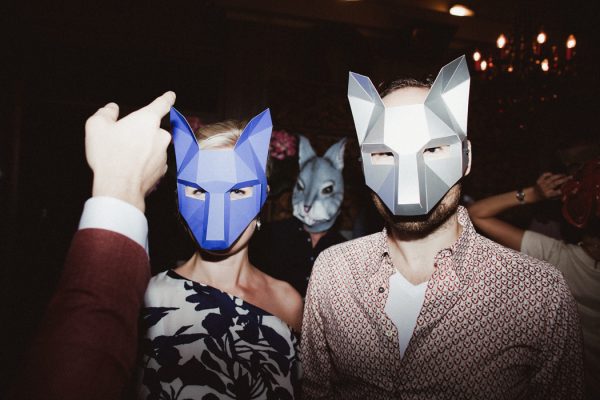 Congratulations to Stefany and Dennis, and a huge thanks to Martijn Roos for sharing their wedding with us. Love this wedding's alternative boho style? Then you've got to see this alternative campground wedding in Arizona!