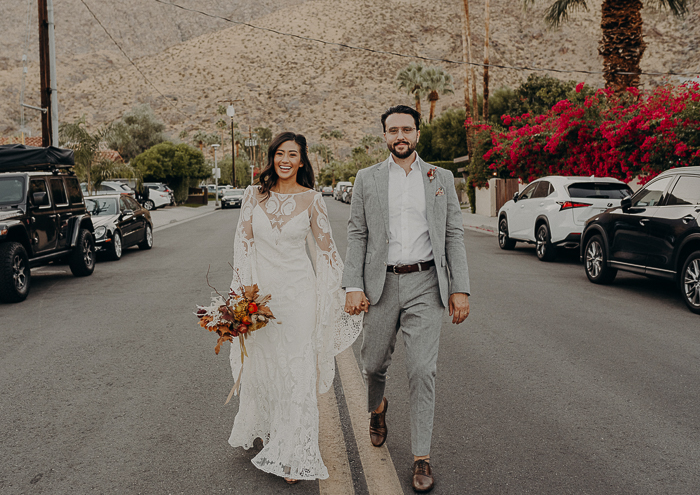 Our midcentury desert dreams have come true! Alisa and Phil celebrated their love with an earthy autumnal wedding at Casa Cody. Bellaru Events absolutely stunned us with every detail of the day–from vintage equipale furniture to the personalized neon sign to the natural warm colored florals from The Little Branch.
Alisa also stepped in to do a little personalization herself. With the help of her parents and their planner, she created a one-of-a-kind seating chart on vintage vases that she found at thrift stores. She filled them with painted palm leaves and pampas grass to add an extra rustic touch.
The couple also named one of their signature cocktails–created by The Whaling Club–after their furry friend, and their cake topper was a small ceramic portrait of themselves. This just goes to show that even the smallest details can make a wedding unique to who you are as a couple!
Keep scrolling to see the stunning photos captured by Isaiah and Taylor Photography—be prepared to be inspired.
The Couple:
Alisa and Phil
The Wedding:
Casa Cody, Palm Springs, CA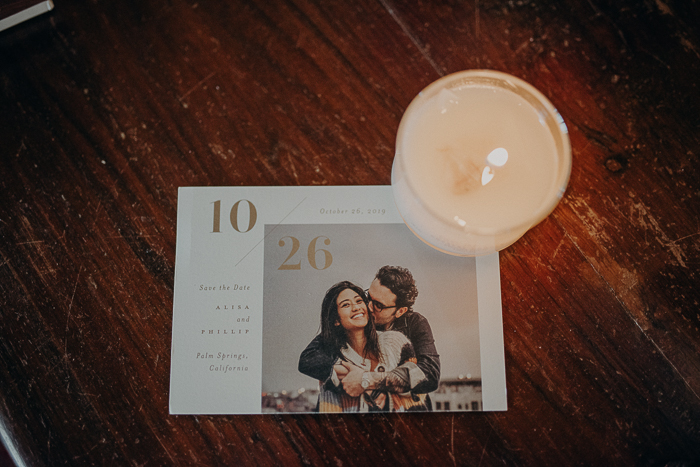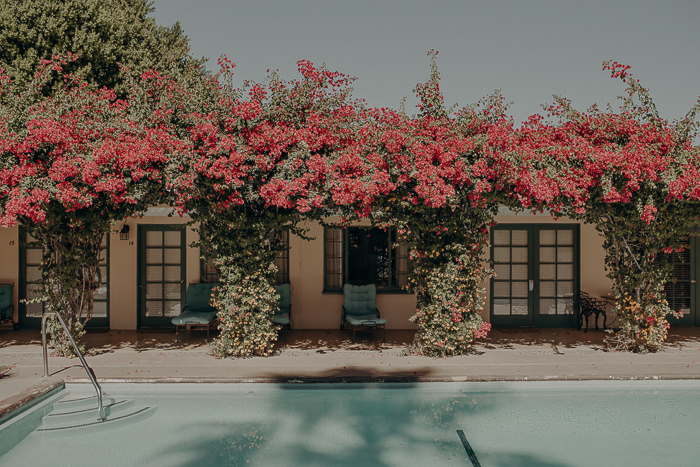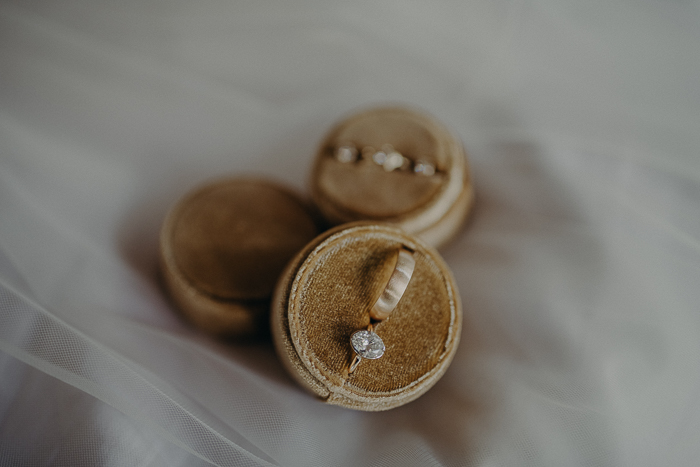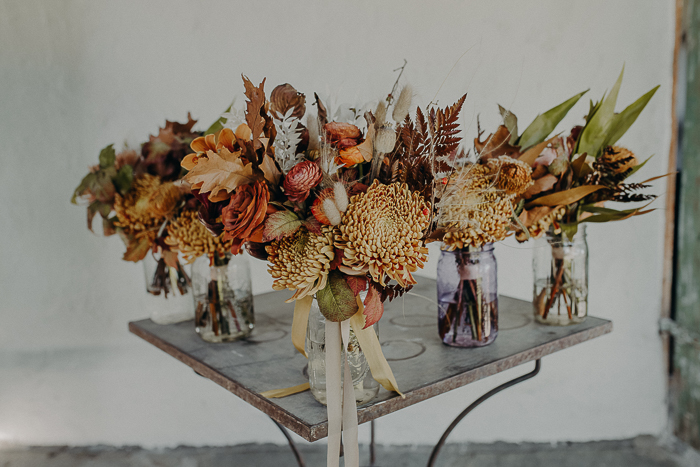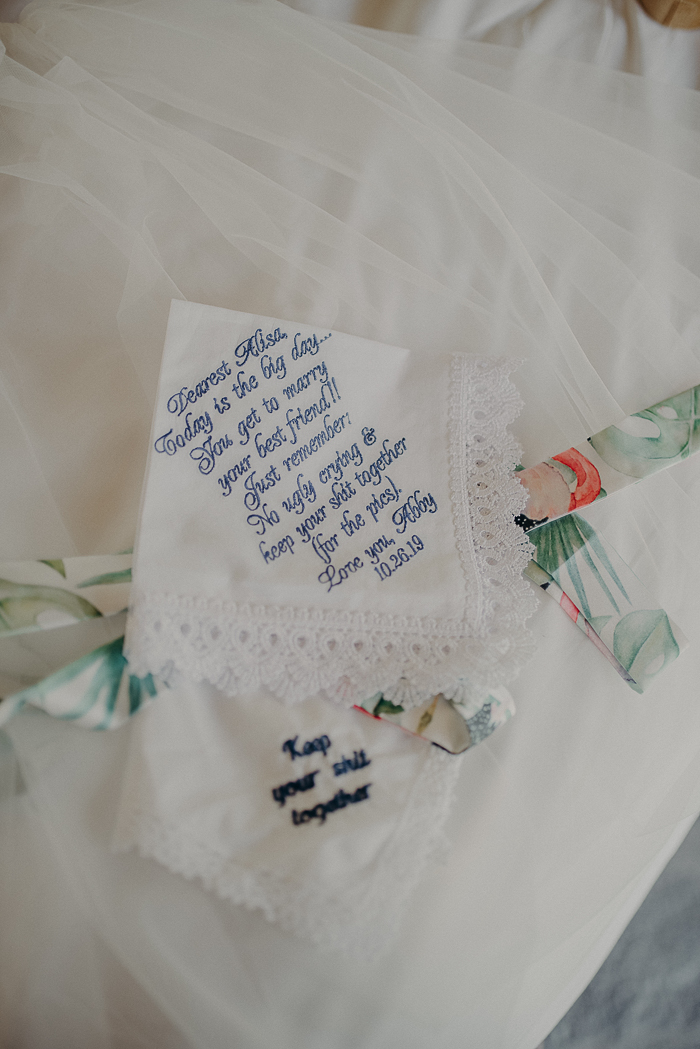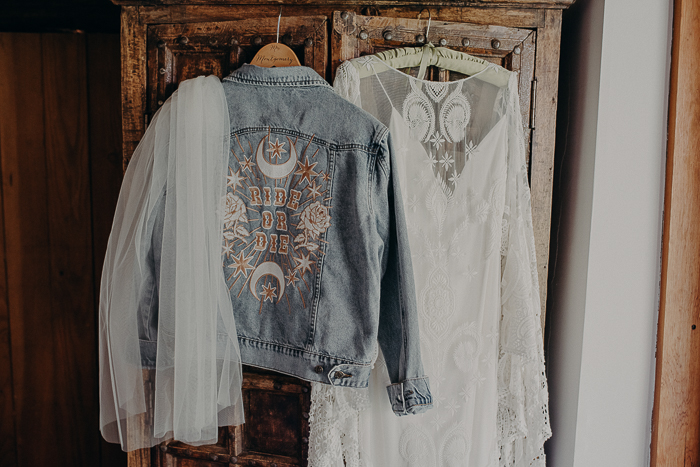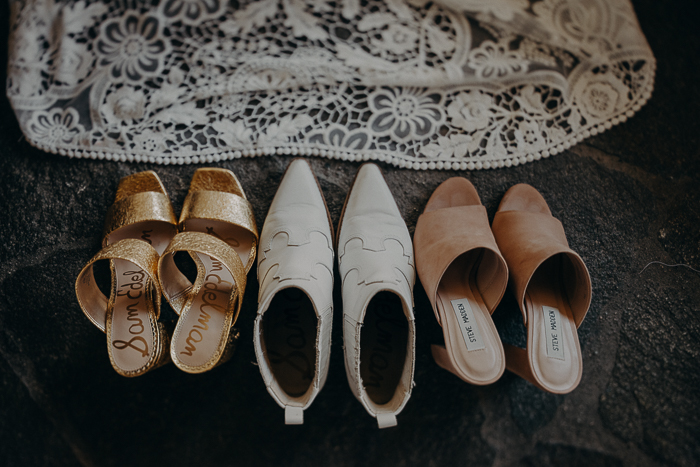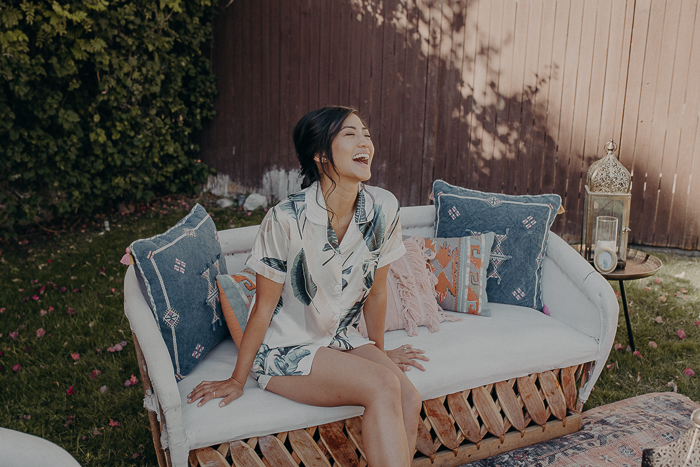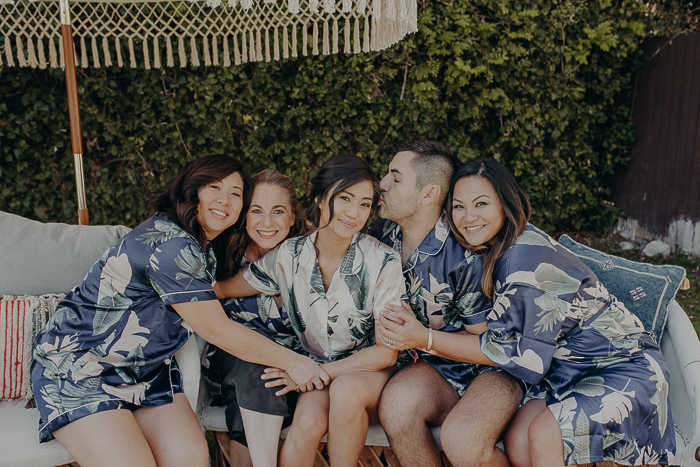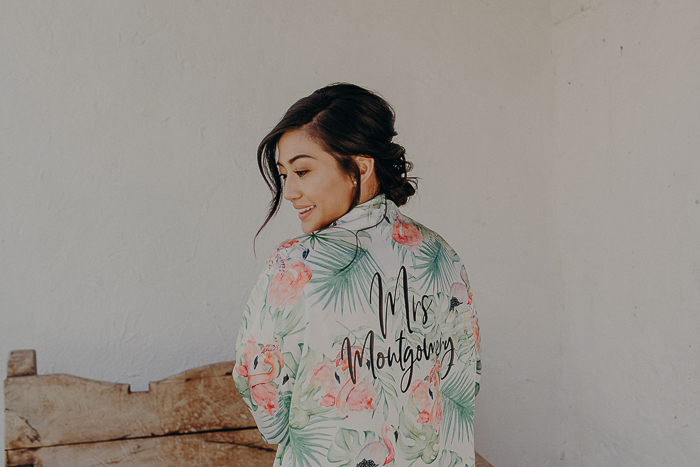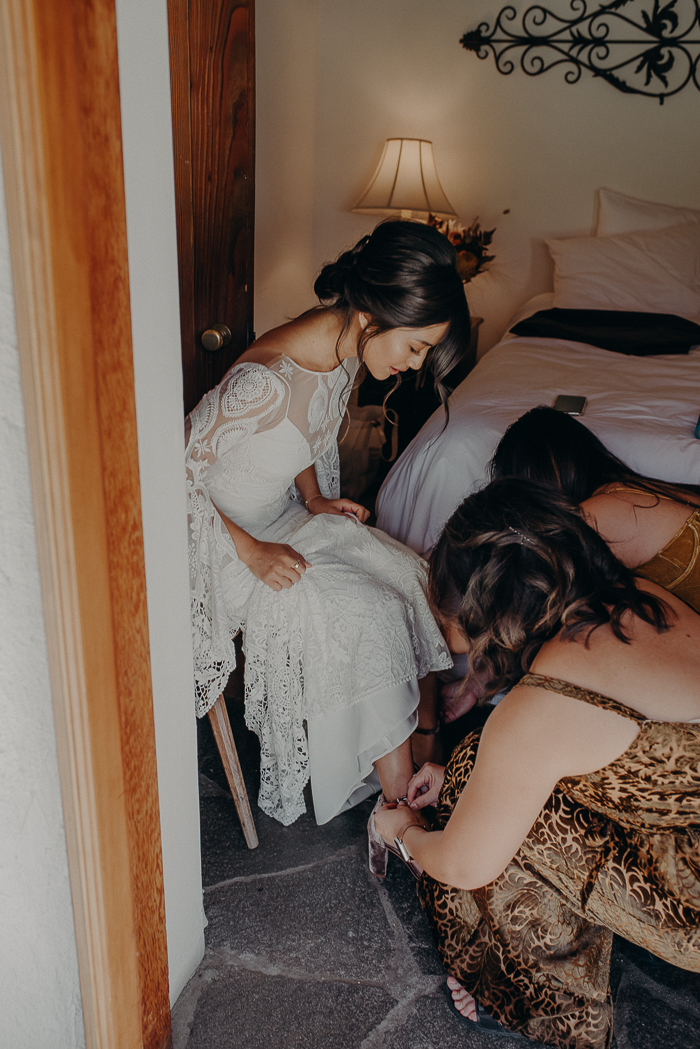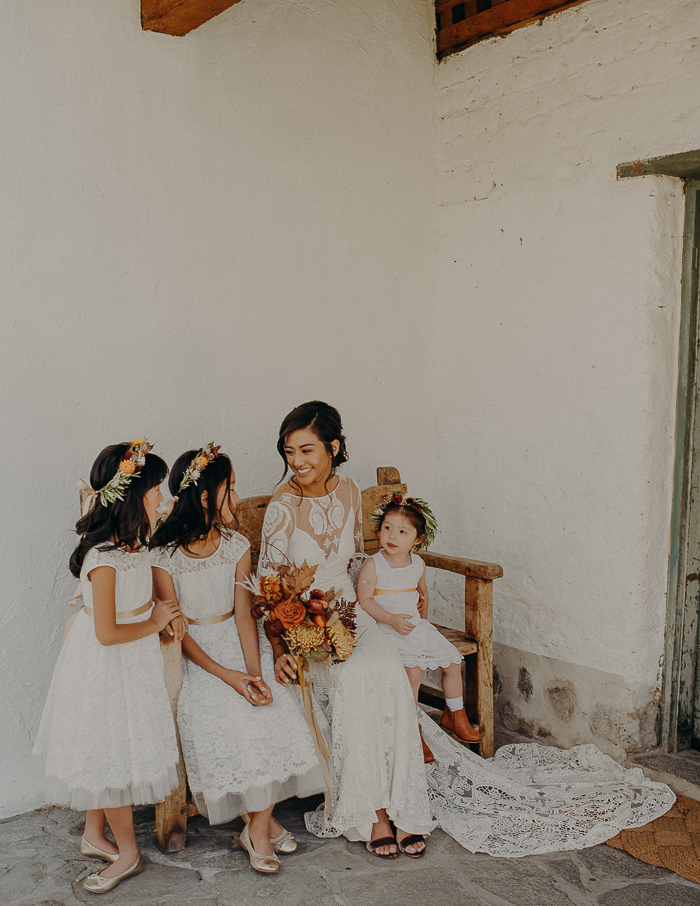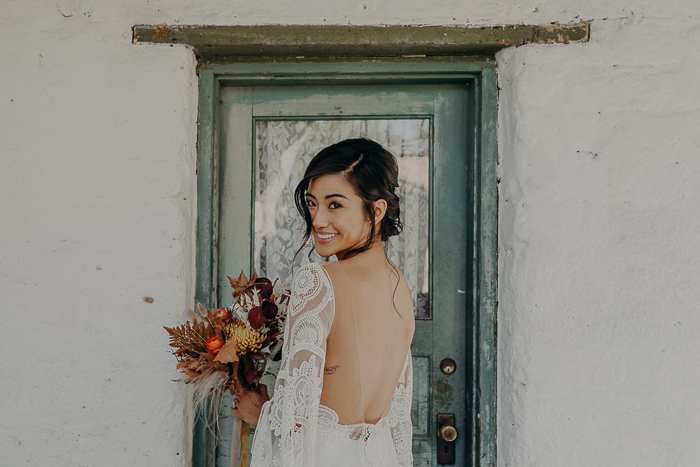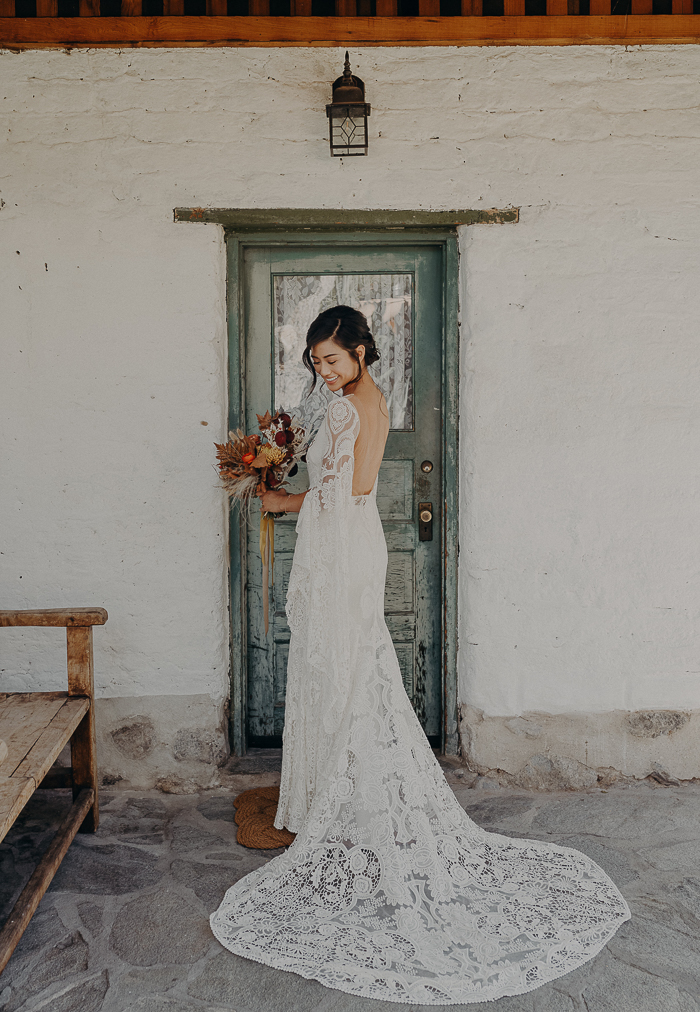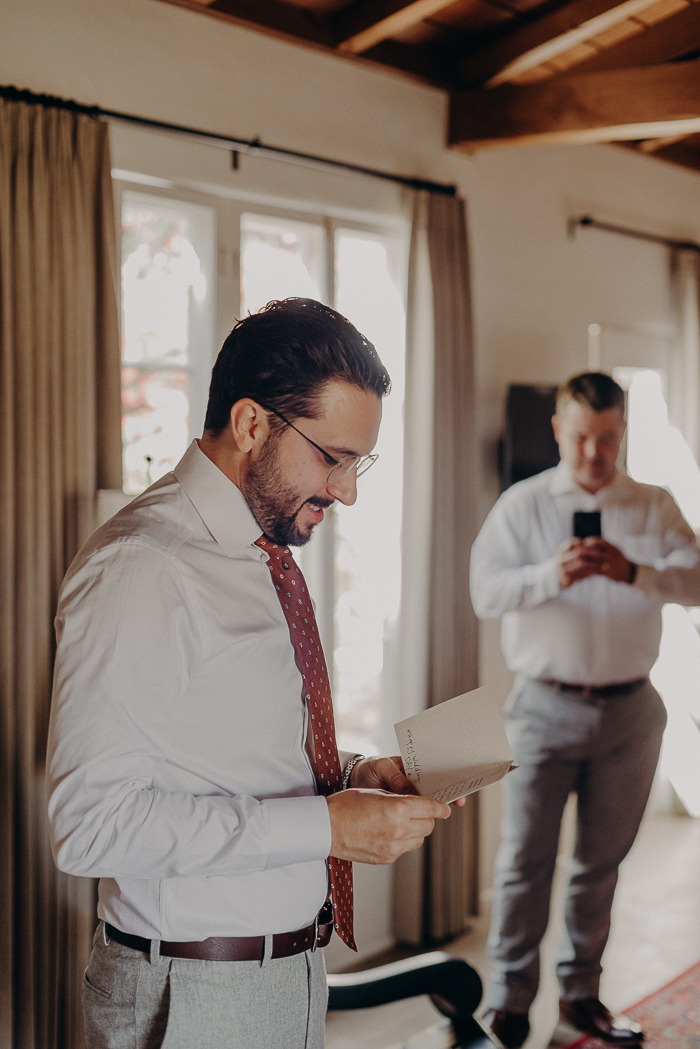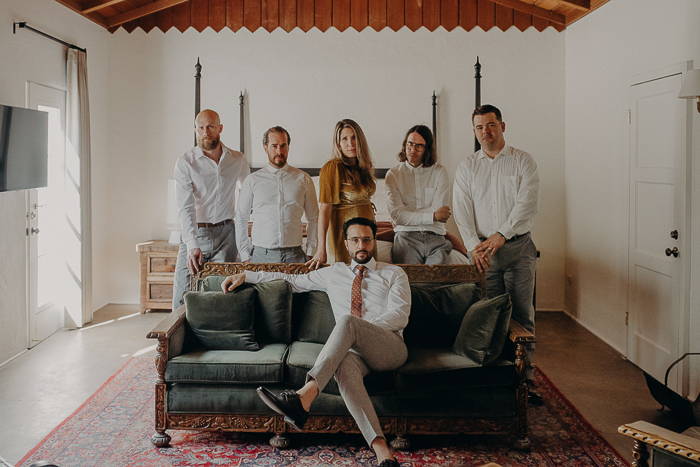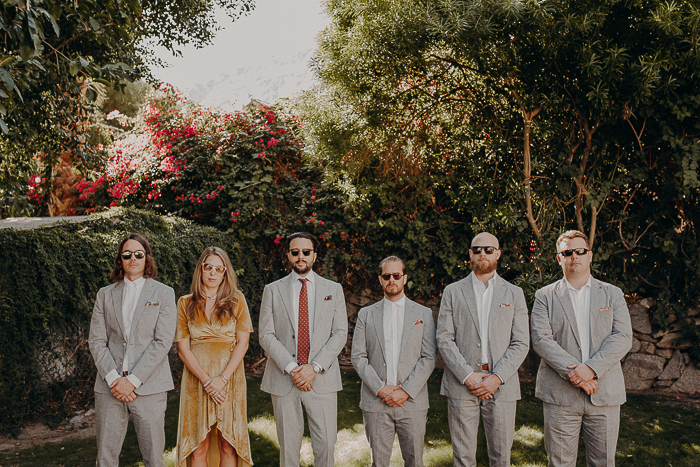 Why Casa Cody
Casa Cody was love at first sight! It was the first venue we visited on a whim, and it was right when the sun was setting. The sky was a perfect violet, and that pretty much sealed the deal for us. The property is so lush, and the grounds are full of beautiful bougainvillea and orange and grapefruit trees, which was a big sell for me! The Adobe House, the main house on the property–where the bride and groom can stay–feels so full of rich history with beautiful antique decor. Fun fact, Casa Cody is the oldest operating hotel in Palm Springs. I love places with meaning and culture, and you definitely get a sense of that when you walk onto the property.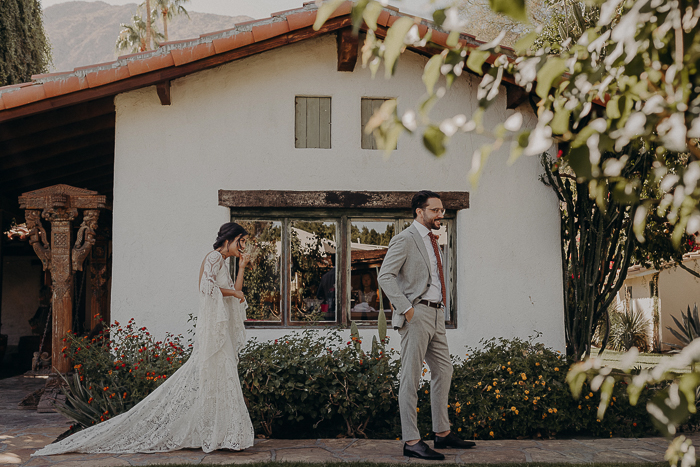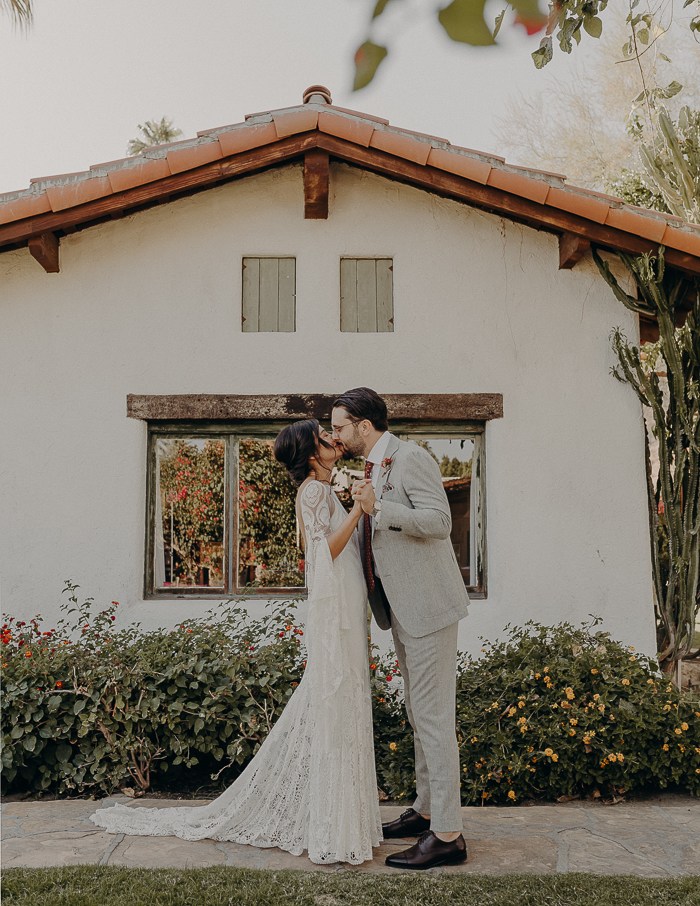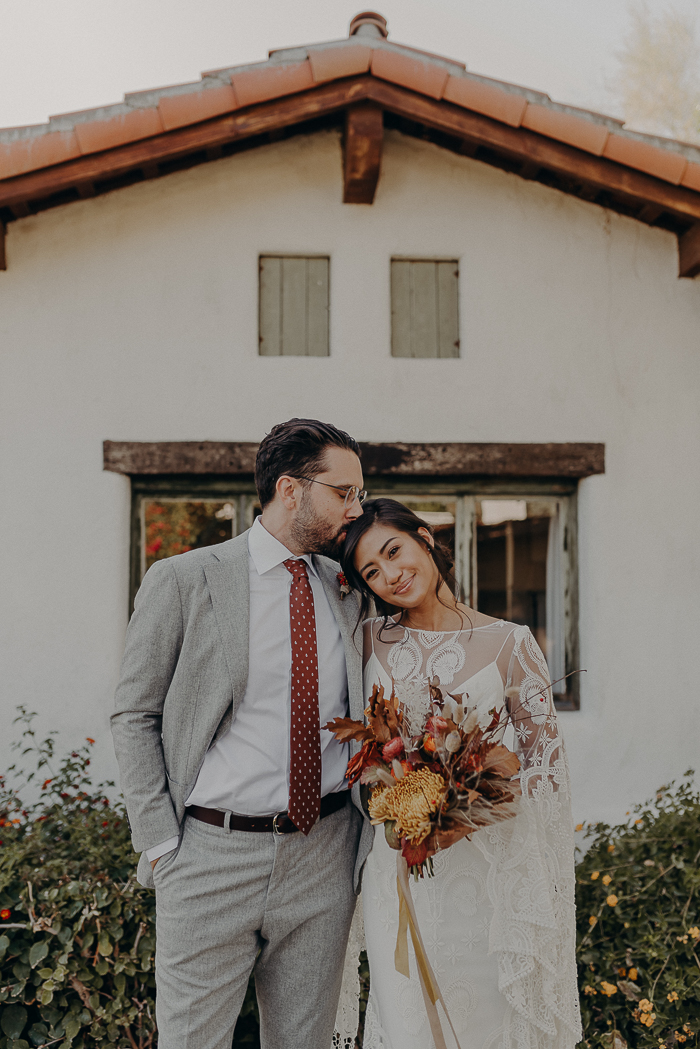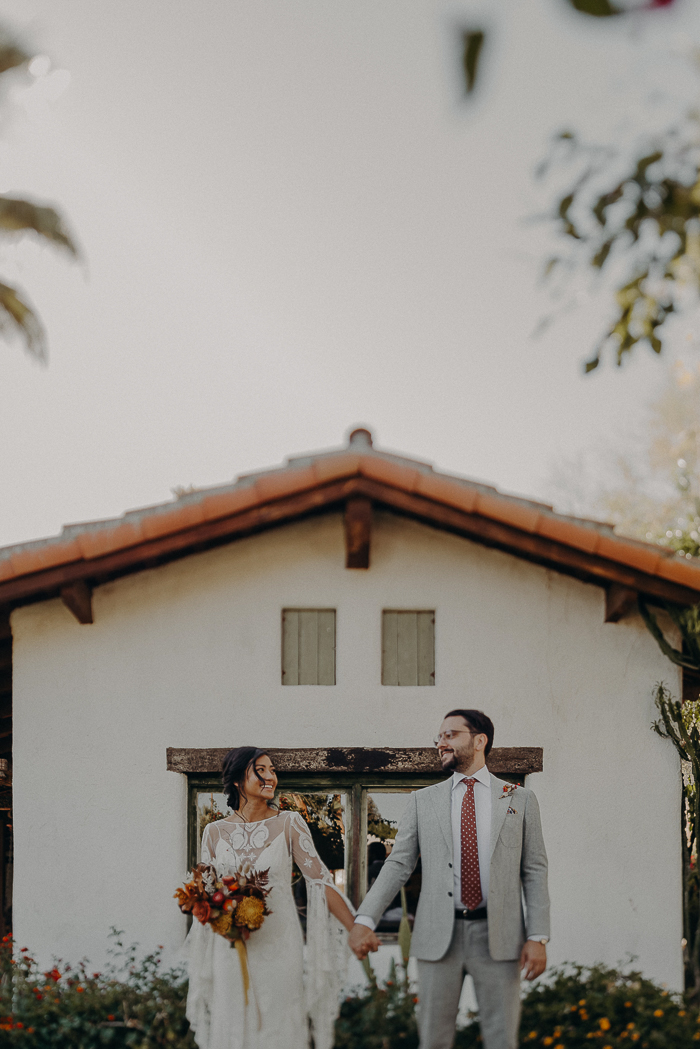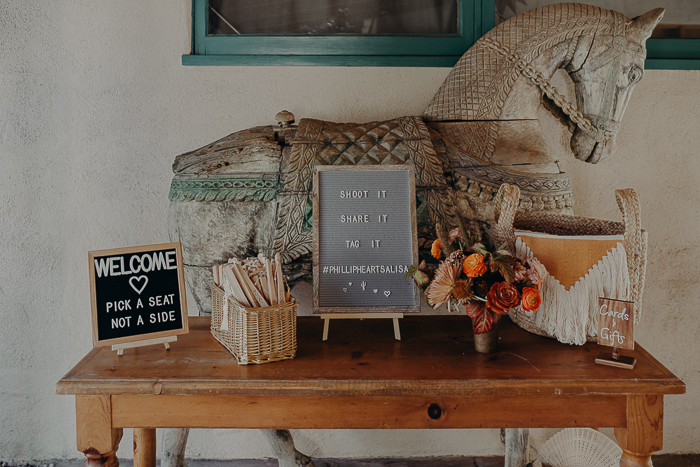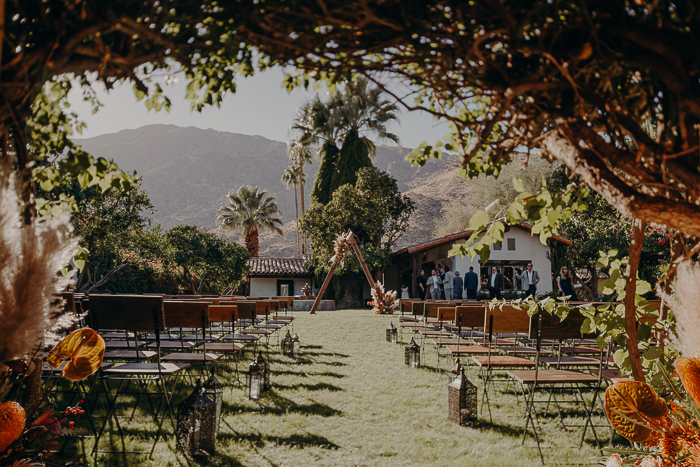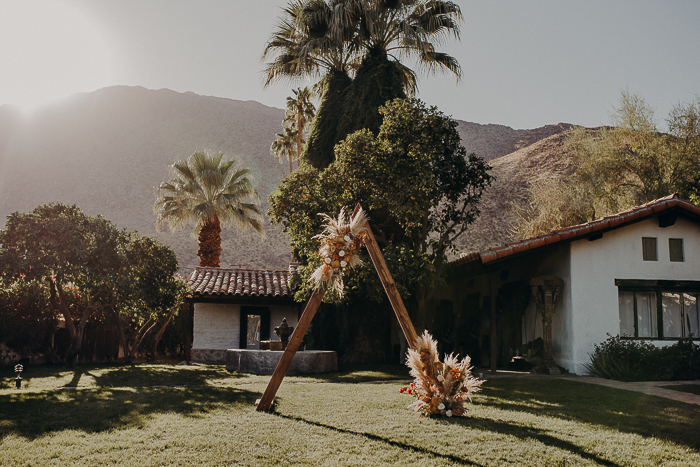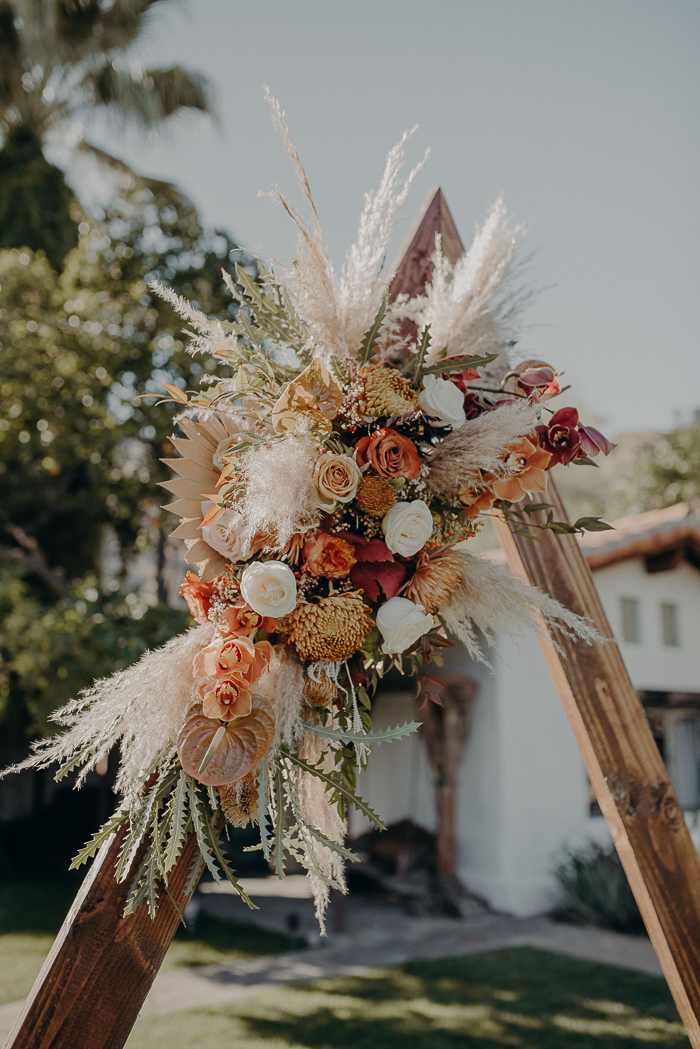 Earthy Autumnal Wedding Day Vibes
We both knew we wanted a desert Palm Springs wedding, so the location really helped form our vibe. The inspiration for the wedding came from my love of all things earthy and rust-colored. I was also influenced by a recent trip to Big Sur, where the coastline was filled with pampas grass. Phillip was the key vision for how our wedding was lit up, so everything you see from the structure of the lights over the tables to the chandelier over the rustic wood dance floor was all my husband!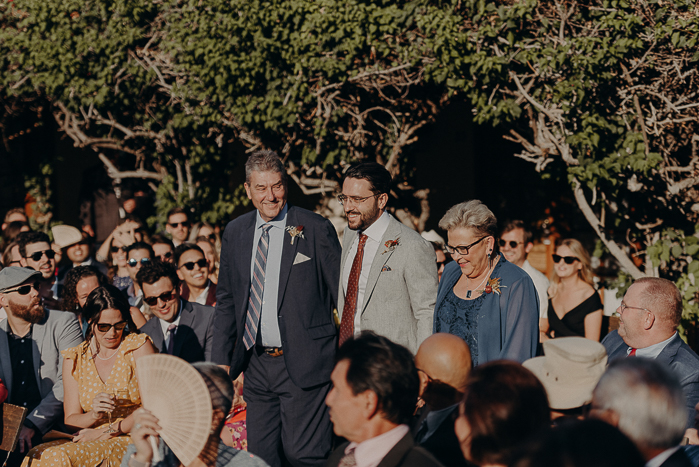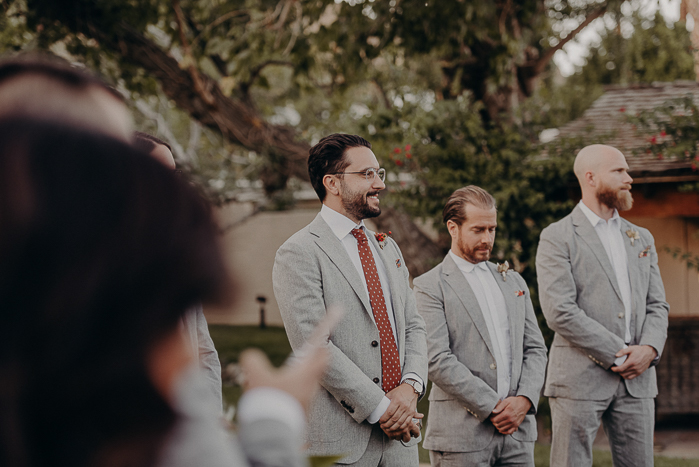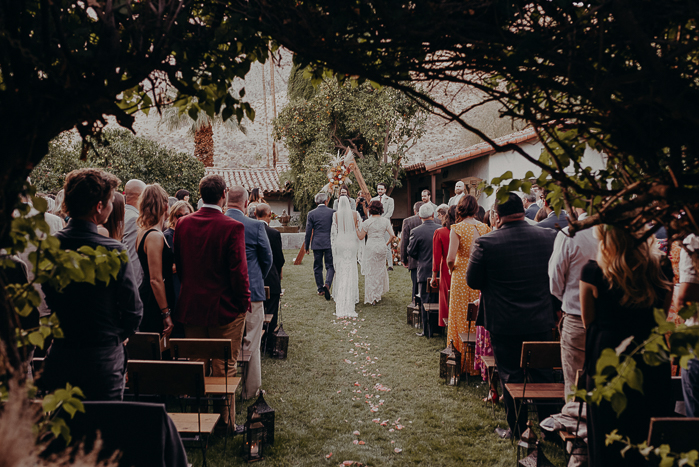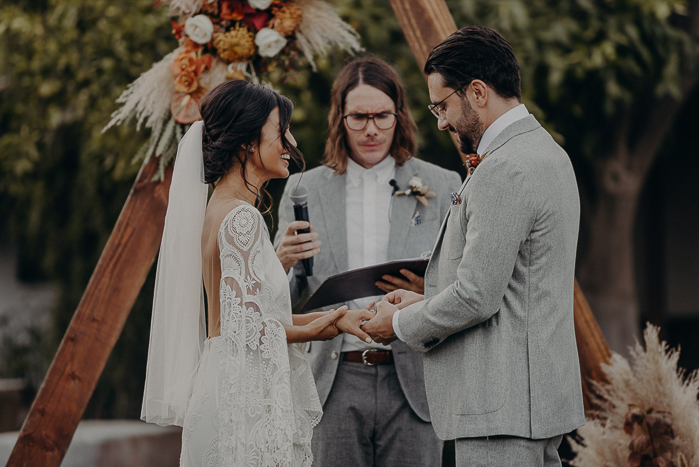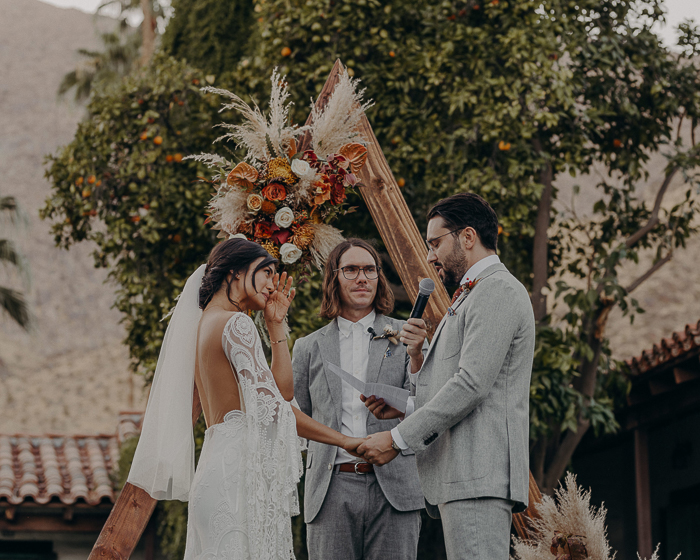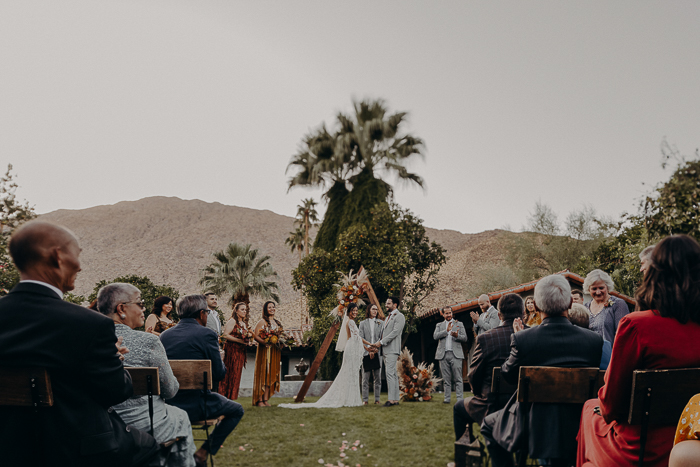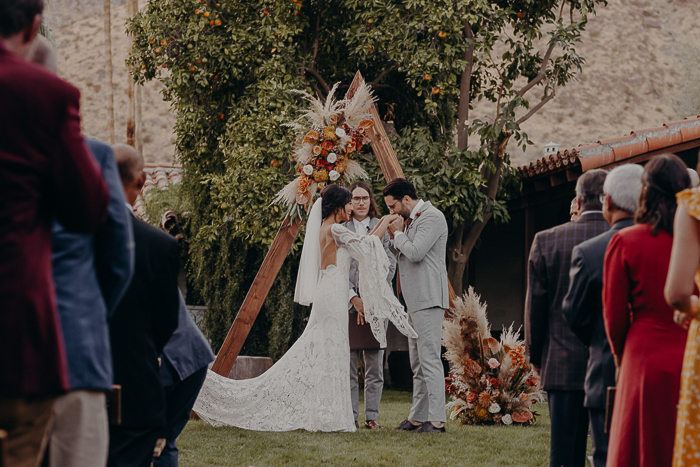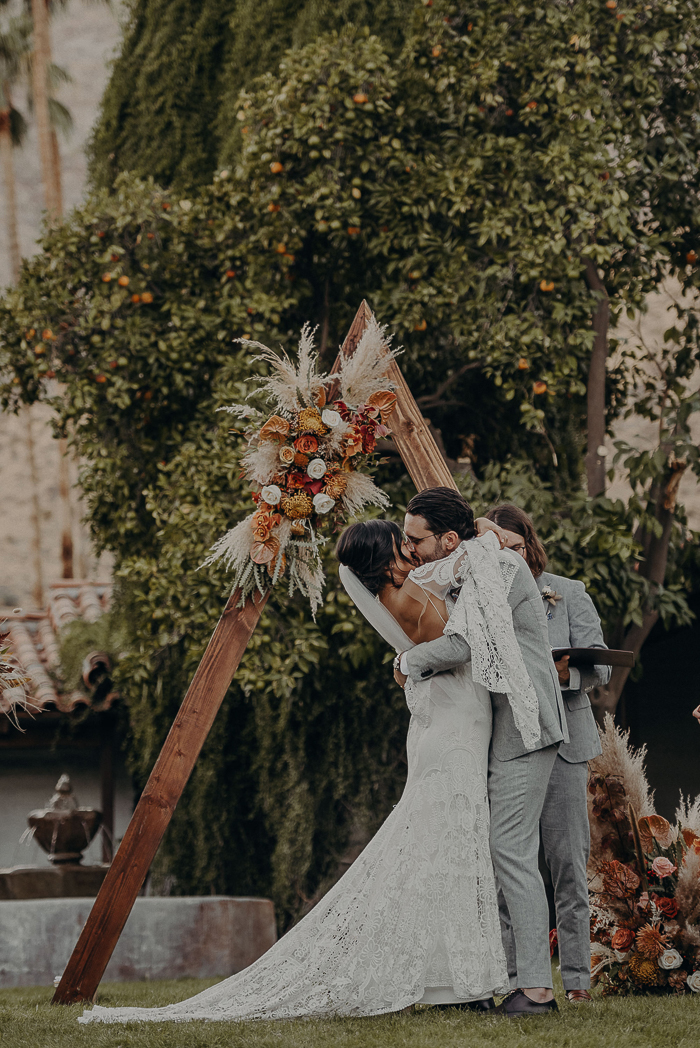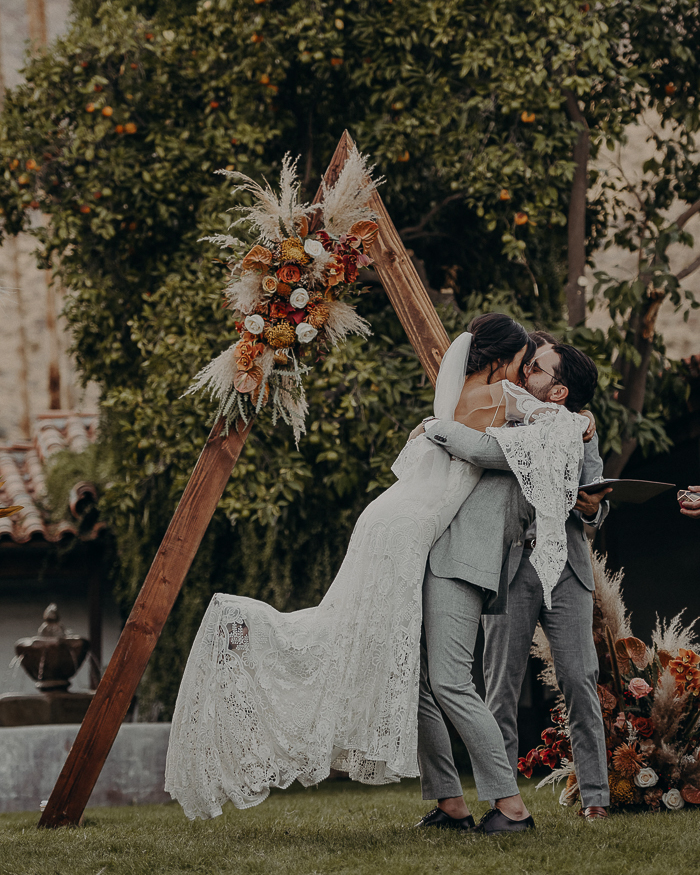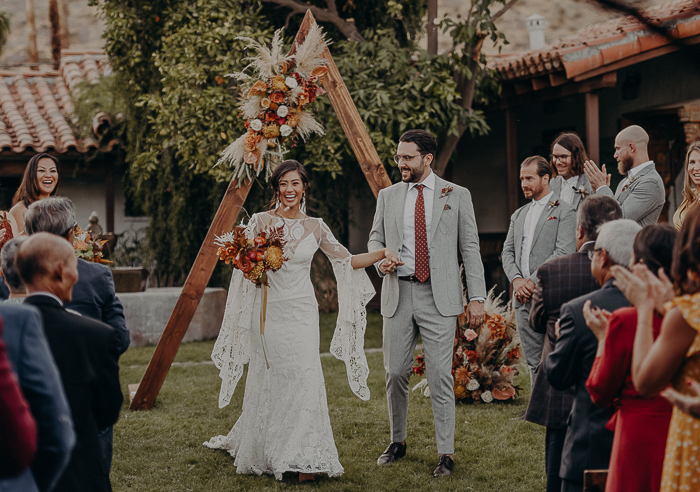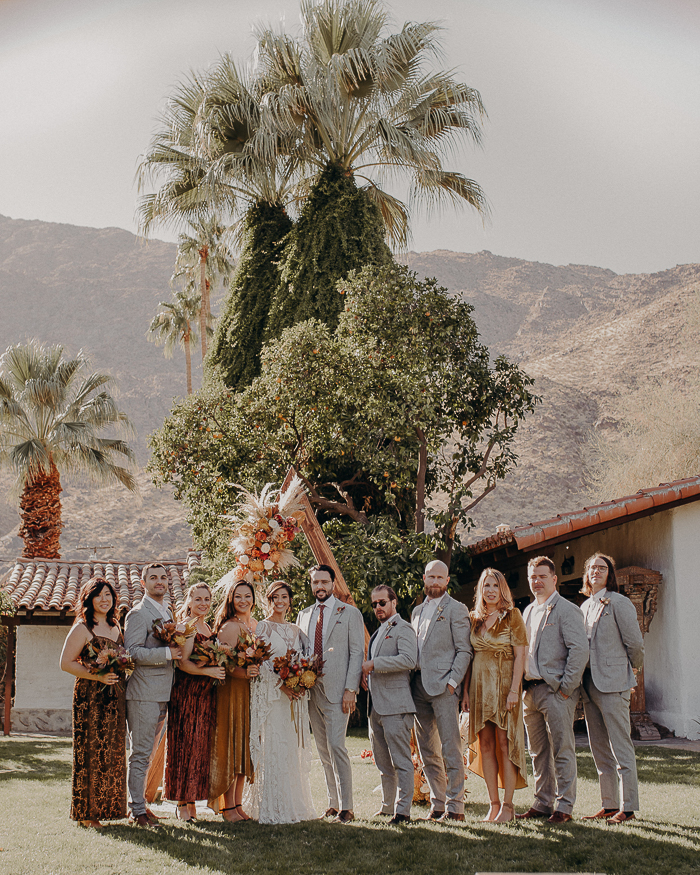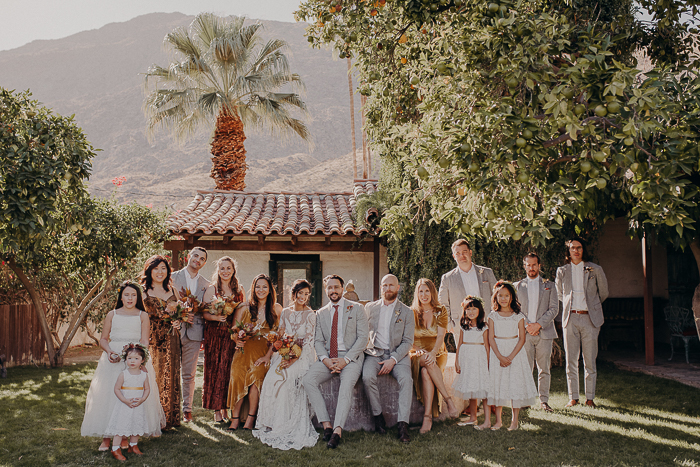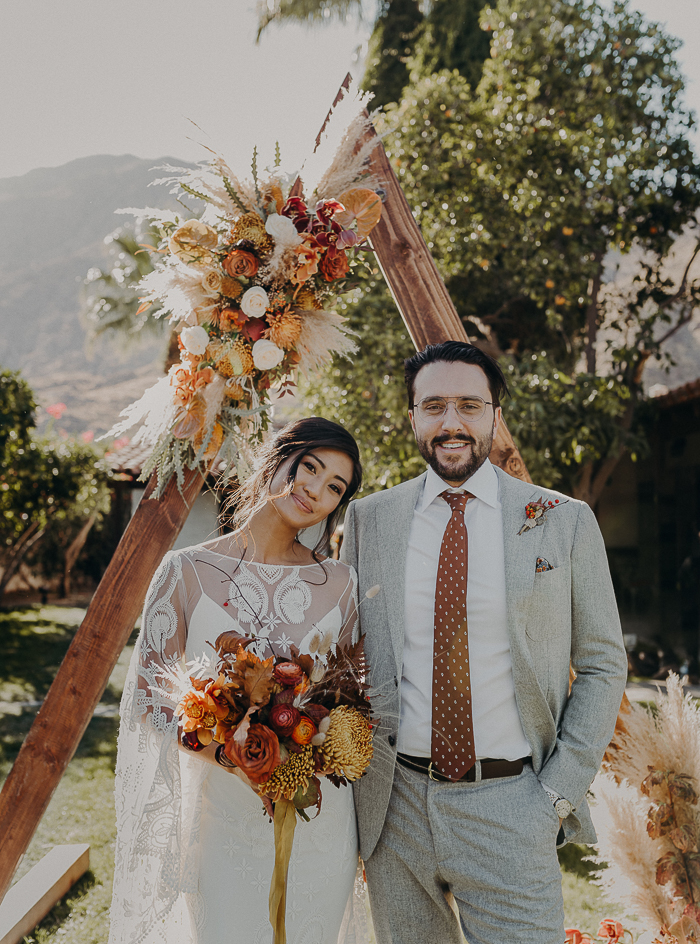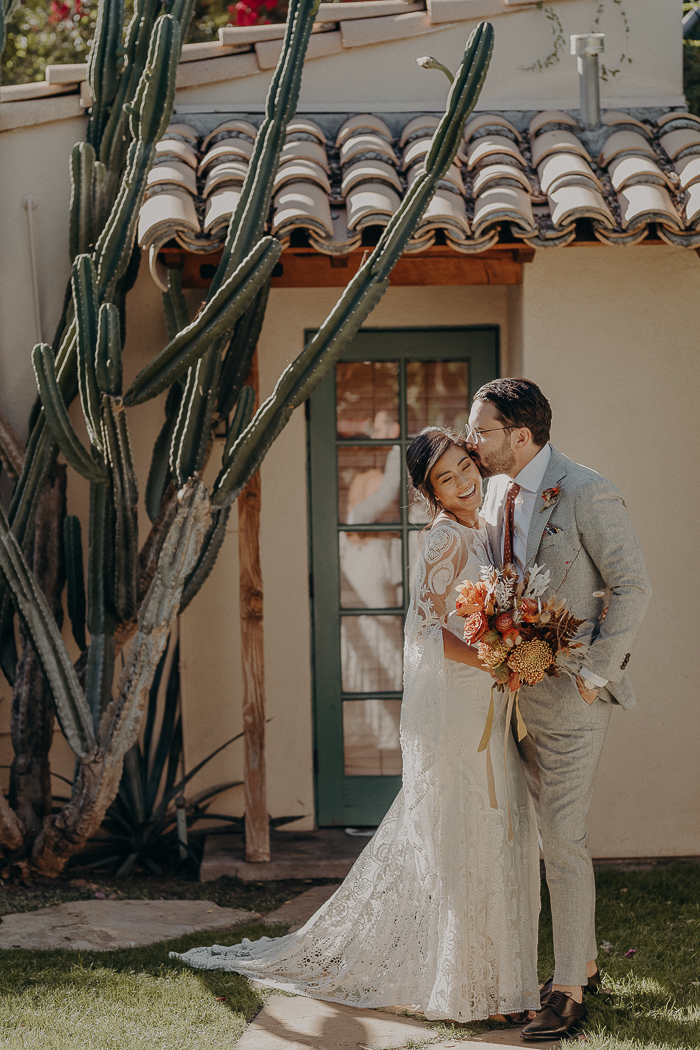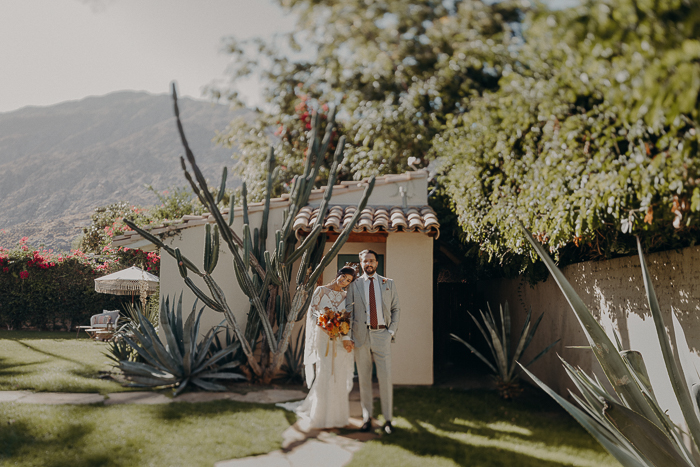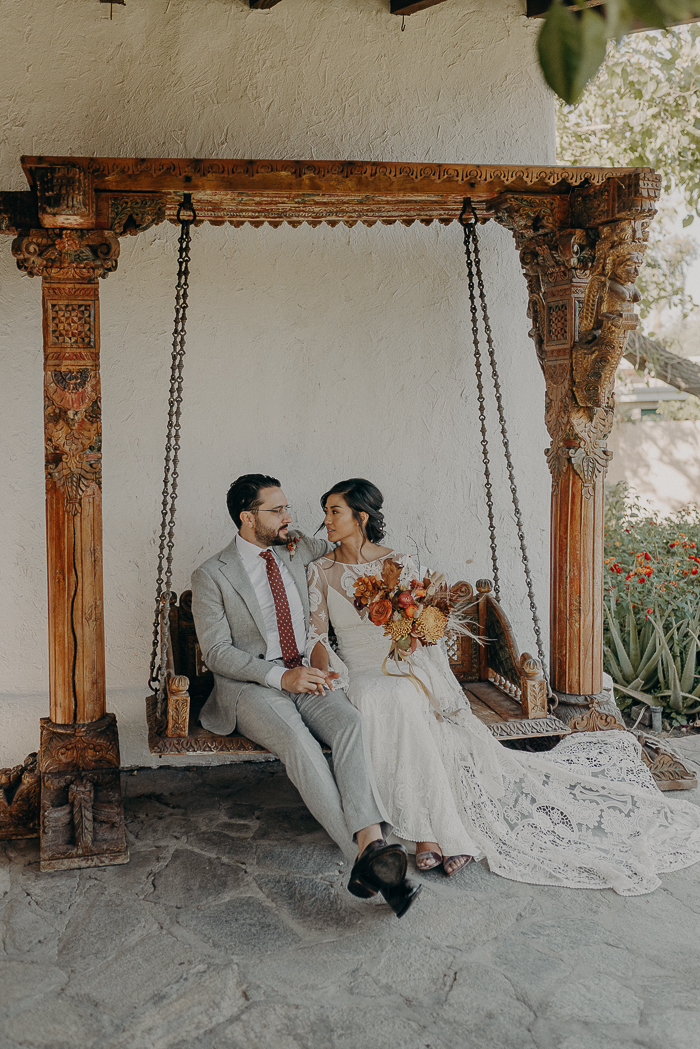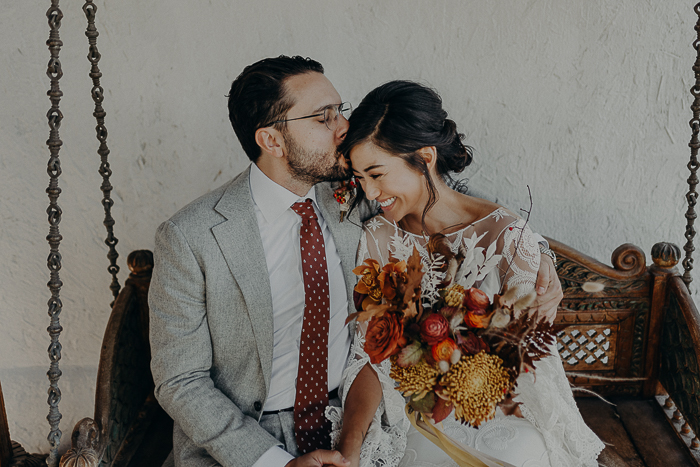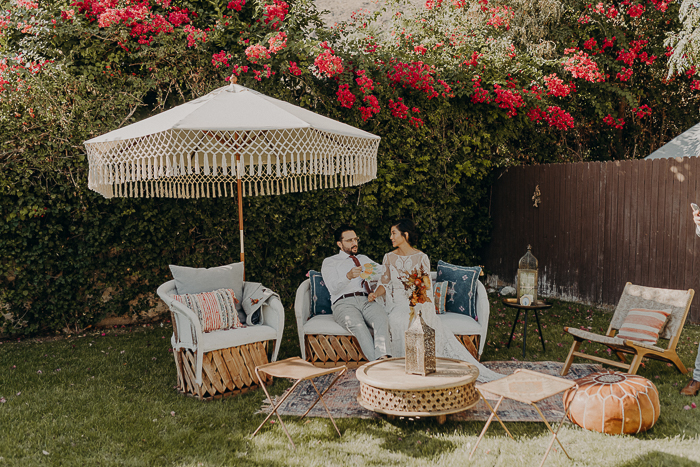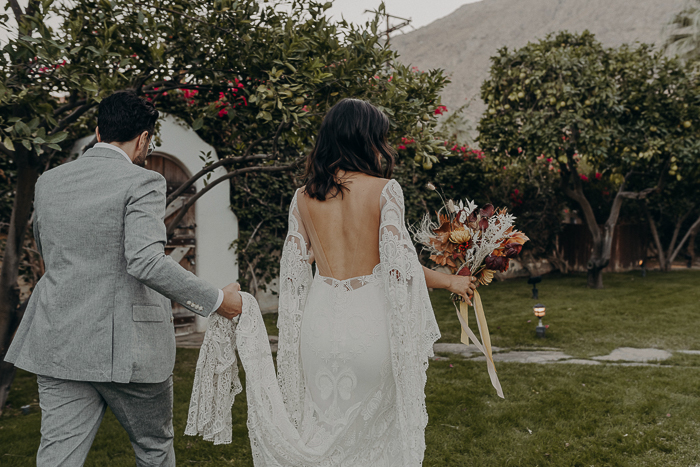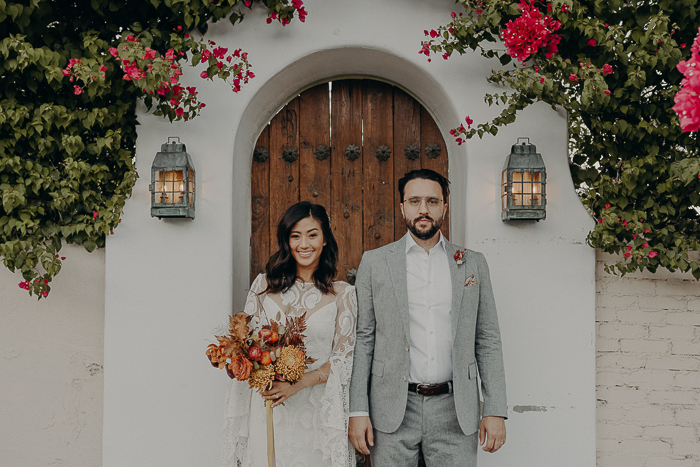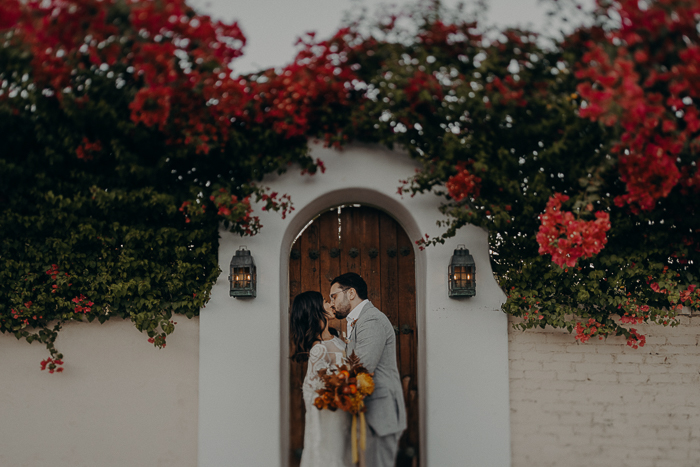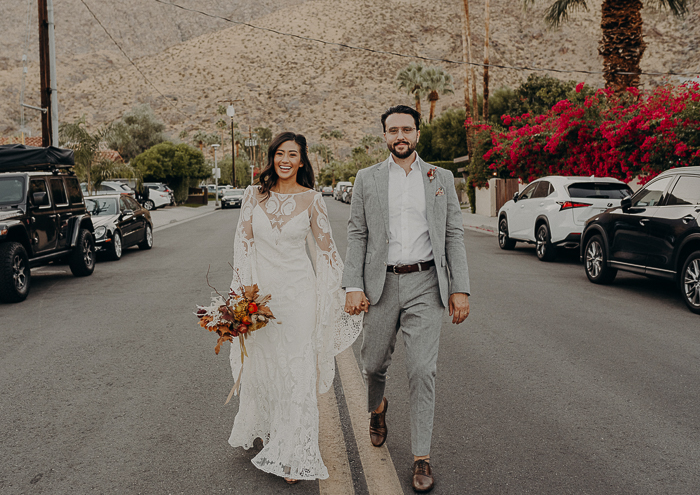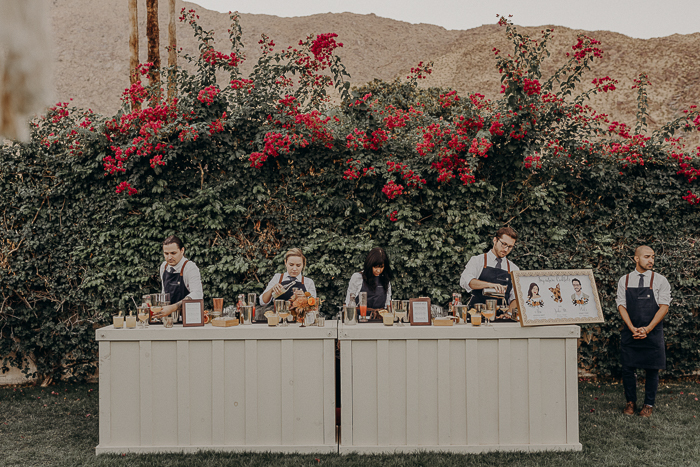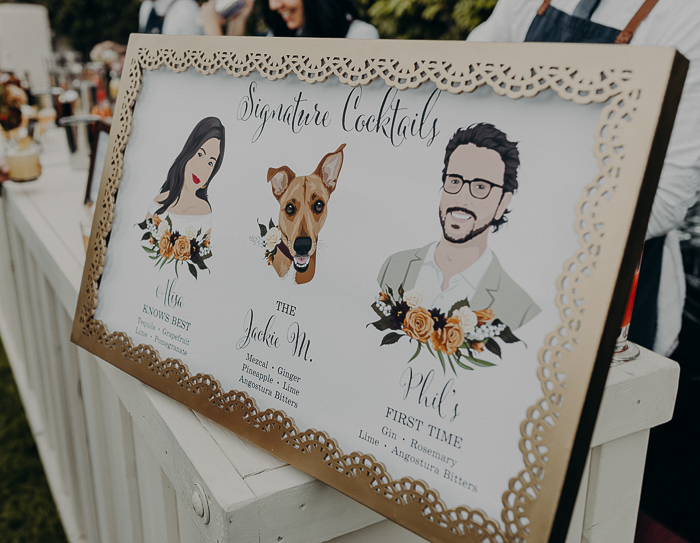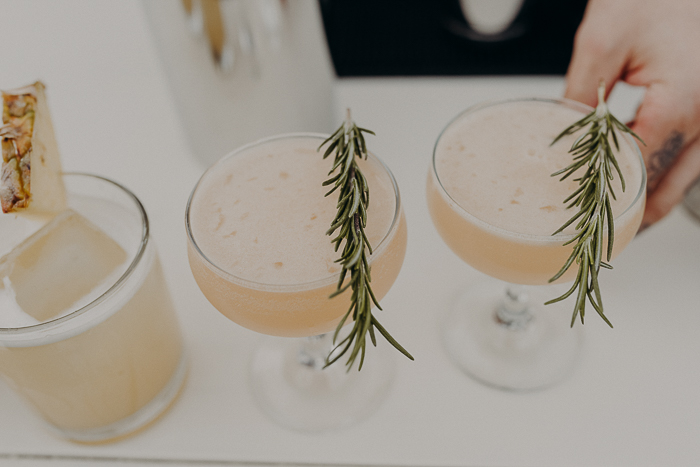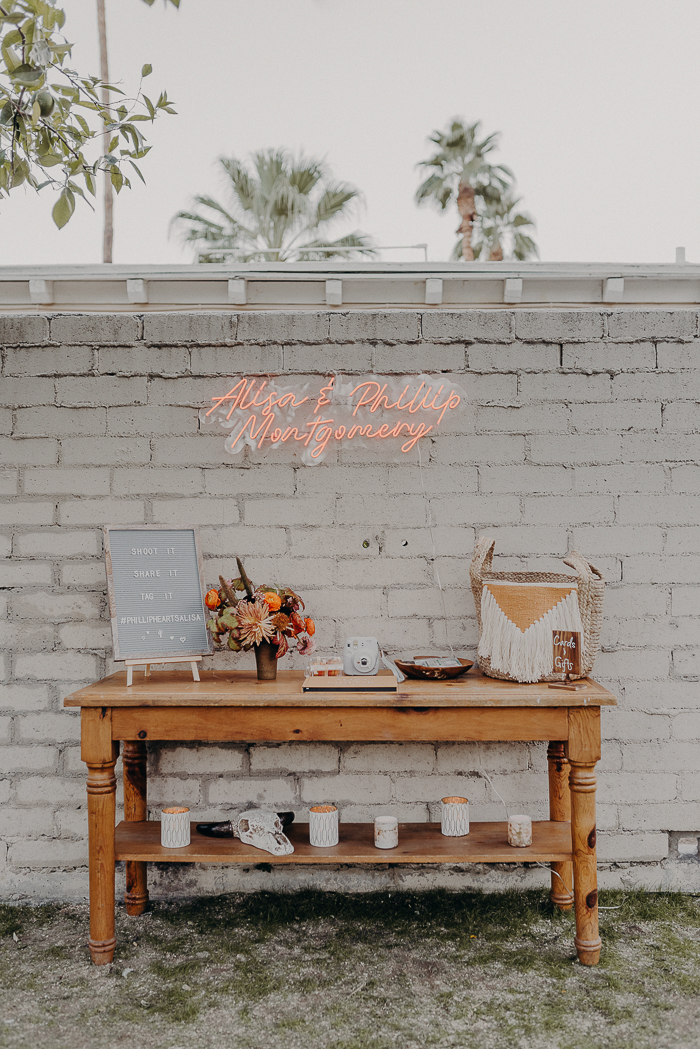 DIYing The Reception
My biggest task was the escort table. I was inspired by a photo of a ceramic vase with the table number and names hand-drawn on. I wrote every single name on each of the glass and ceramic vases. My mom helped spray paint gold palm leaves from my dad's backyard and stain the wood crate boxes we found at Home Goods. My wedding planner even went to a discount store to look for the beautiful glass vases and jugs. It was a lot of work, but I was very pleased with how it turned out.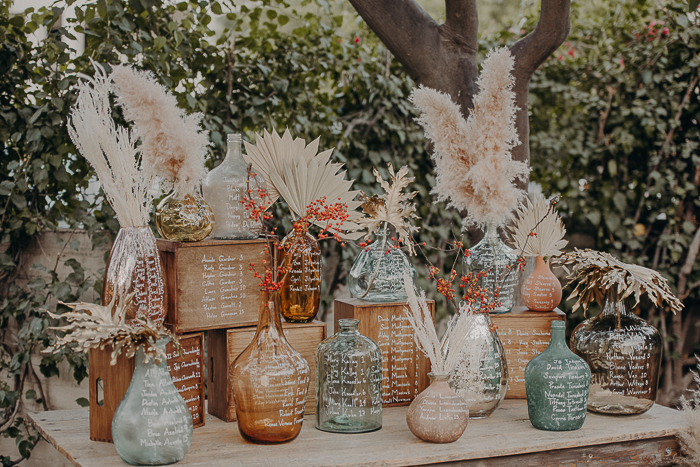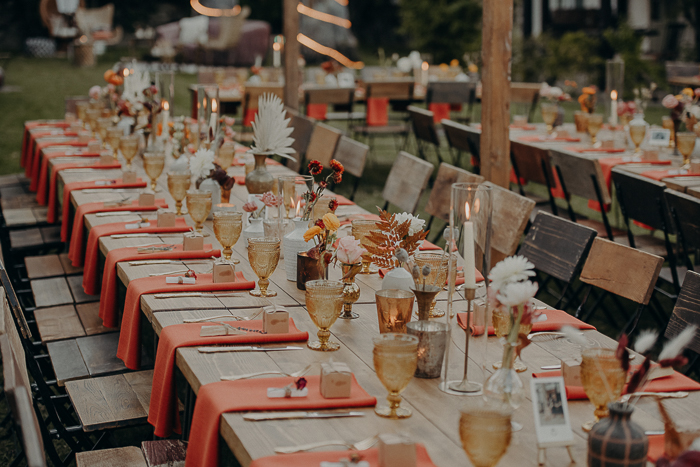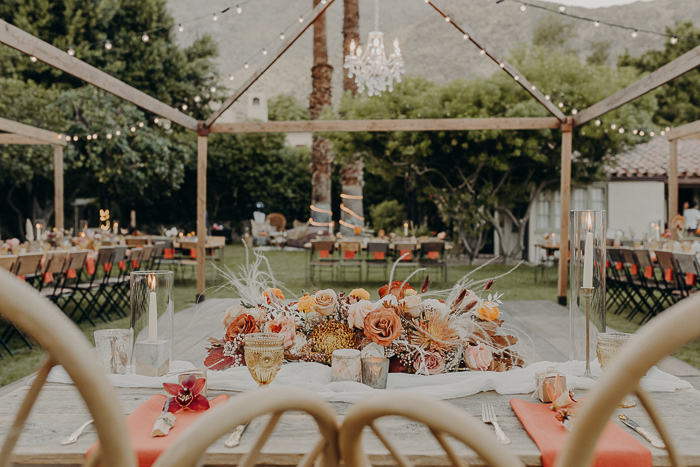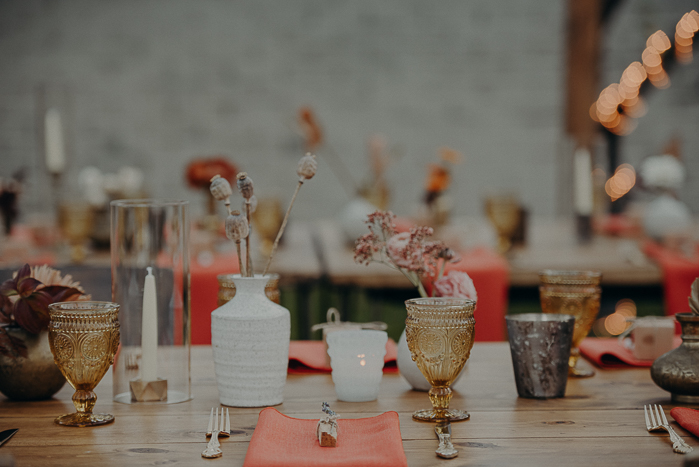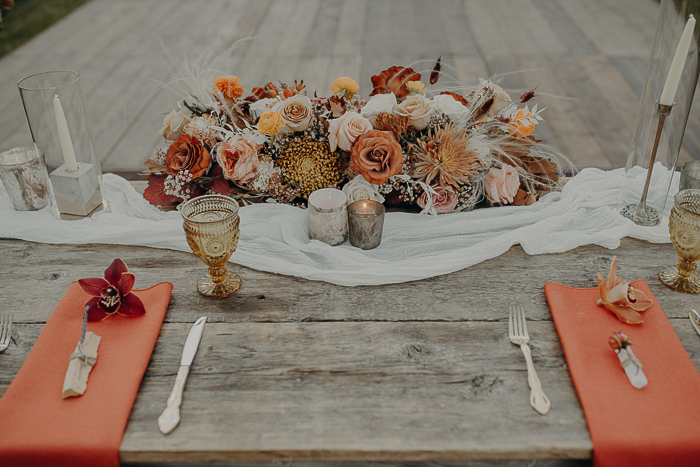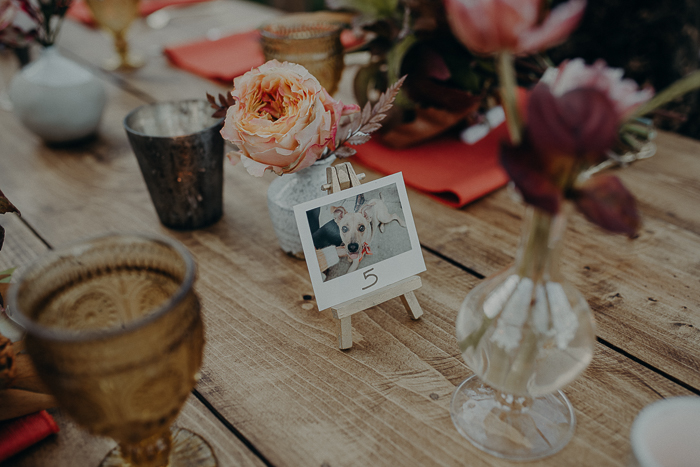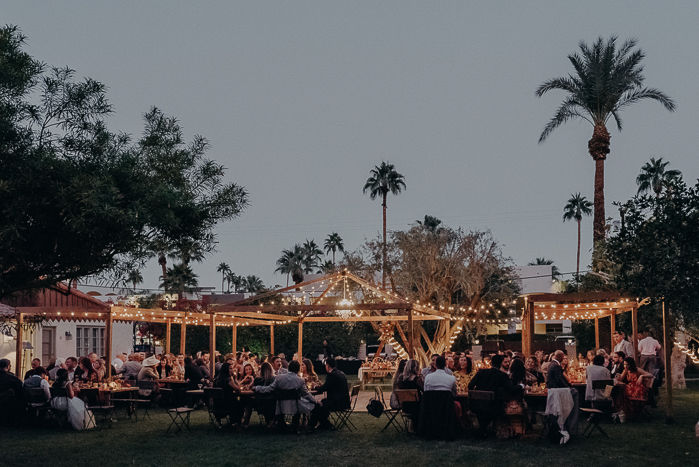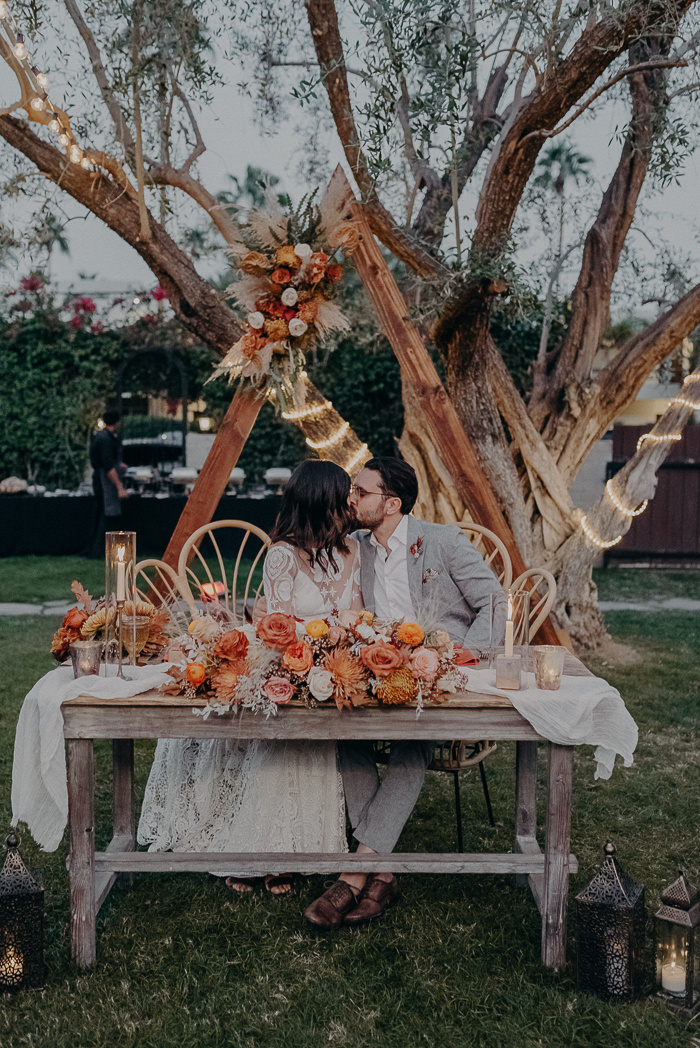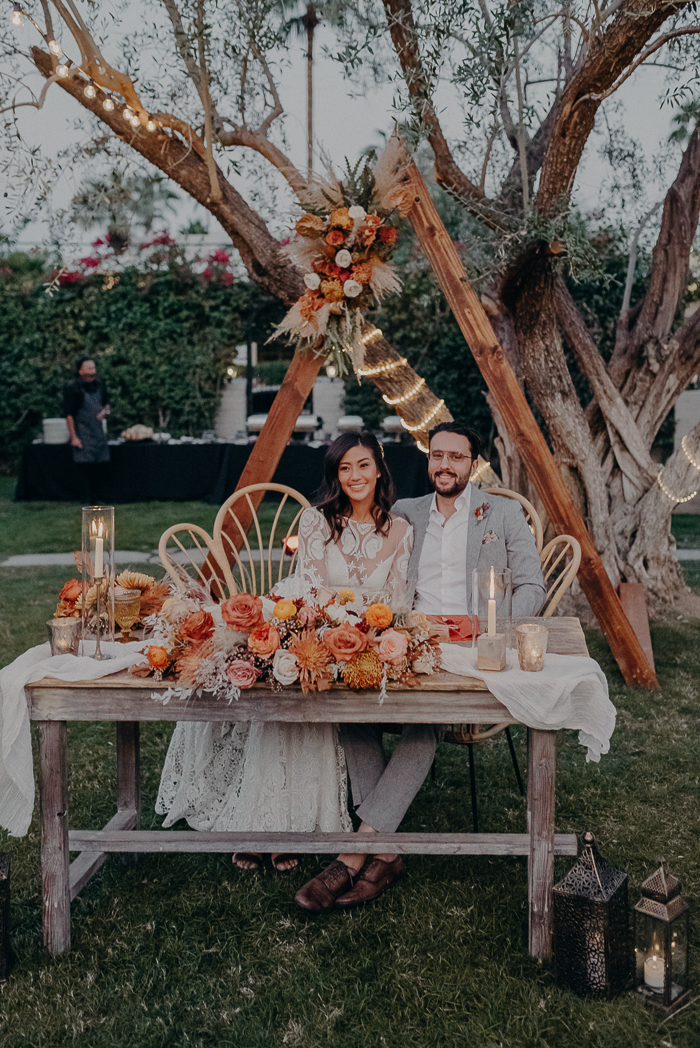 Reminiscing On The Wedding Night
After a wild night with our friends and family at the after-party, Phil and I walked back to Casa Cody, where we were staying as well. The dance floor from our wedding was still lit with the string lights and chandelier. No one was around, considering it was close to 3 A.M. We laid down in the middle of the wood dance floor, staring up at the chandelier and the night sky, and talked about what a fun day we had and shared our favorite moments. It was a wonderful first moment of being alone together as newlyweds! We passed out shortly and were woken up by the sprinklers. It was perfect.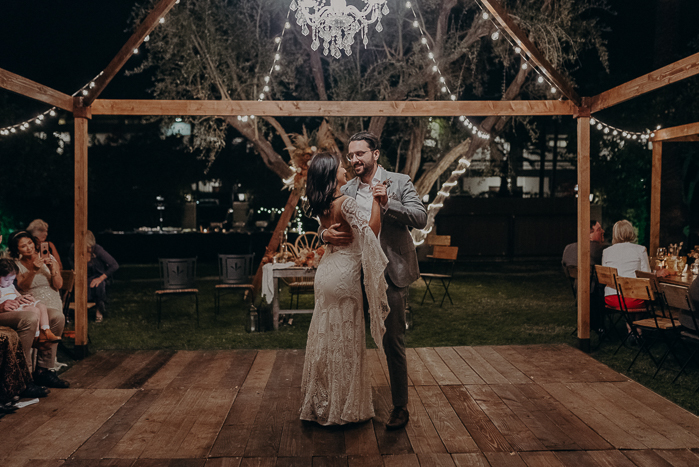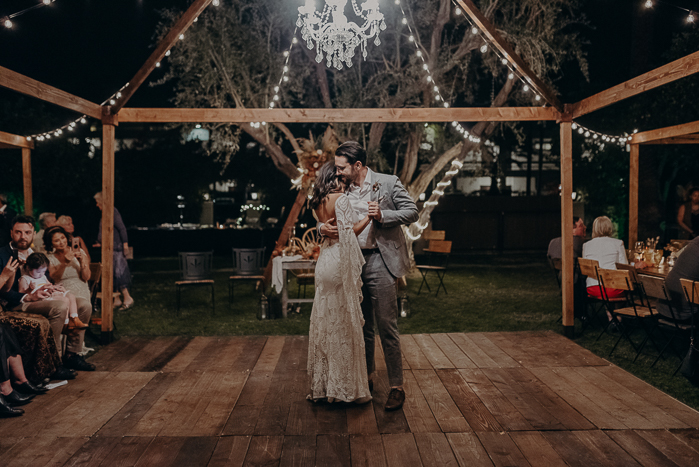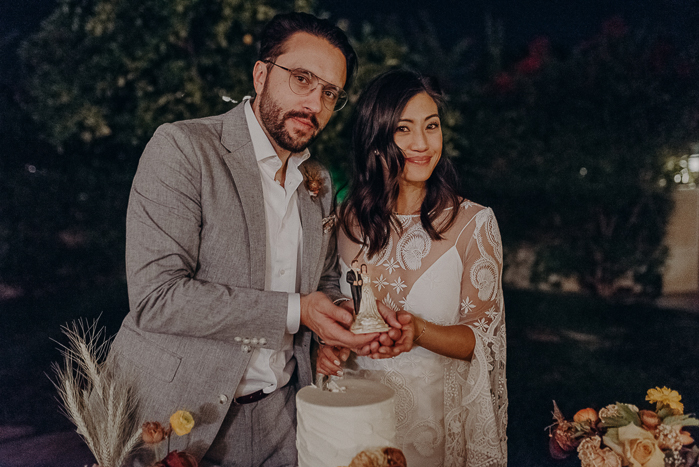 Congratulations again to Alisa and Phil on their earthy autumnal wedding at Casa Cody! We're so glad that Isaiah and Taylor Photography were there to capture the magic of their day. Planning your own southwestern affair? Check out our favorite color palettes for desert-inspired weddings!