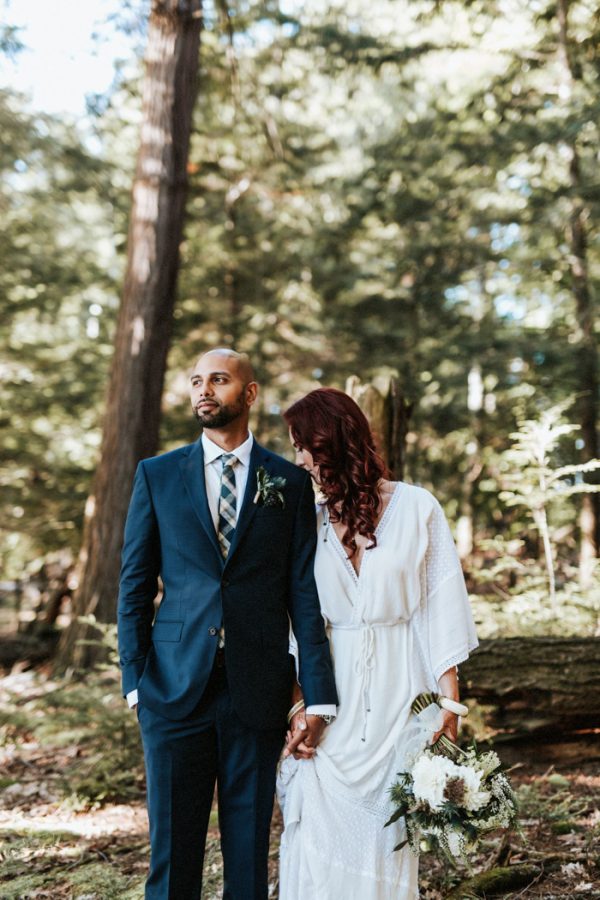 Martha and Liam's wedding on Ontario's Lake Rosseau combines our fave summer camp vibes with woodland sophistication. The couple gathered their friends and family on their family's island on Lake Rosseau for their enchanted forest ceremony, complete with mismatched Persian rugs and a handmade teepee-inspired arbor. We love Martha's Free People boho gown and find her story incredibly inspiring: Martha was diagnosed with leukemia a few months before her wedding, so finding a bridal gown to accommodate her needs was a seemingly daunting task until she found her perfect gown (on sale!) from Free People. Laura Rowe Photography and Kayla Rocca Photography captured every moment of the couple's wedding beautifully, including stunning couple portraits in the forest.
The Couple:
Martha and Liam
The Wedding:
Family Island & Muskoka Lakes Golf & Country Club, Ontario, Canada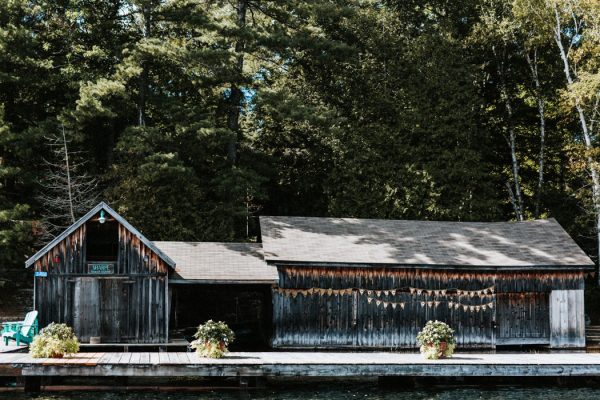 We wanted the day to be really fun and really personal. We just wanted to have a day where our friends and family came together to have a big party in our favourite place in the world.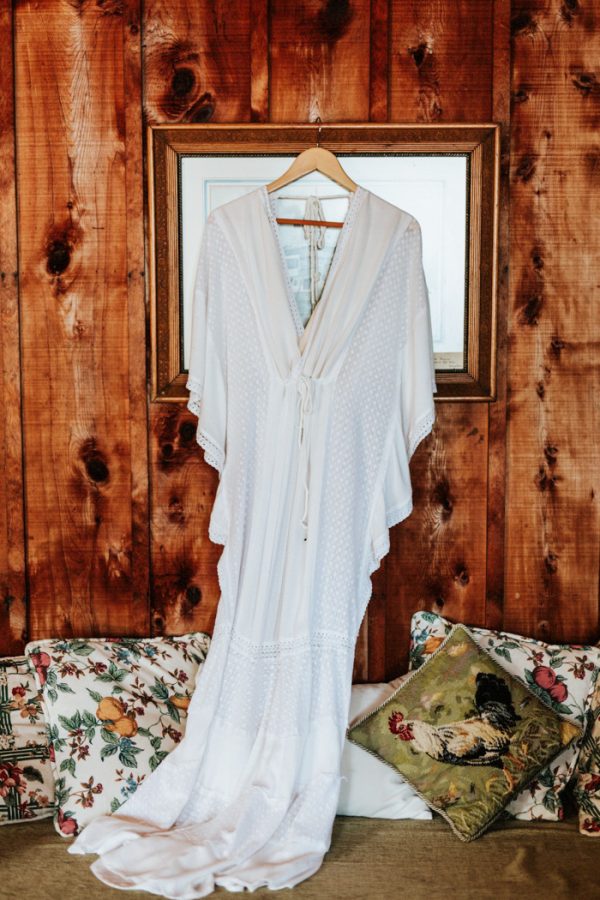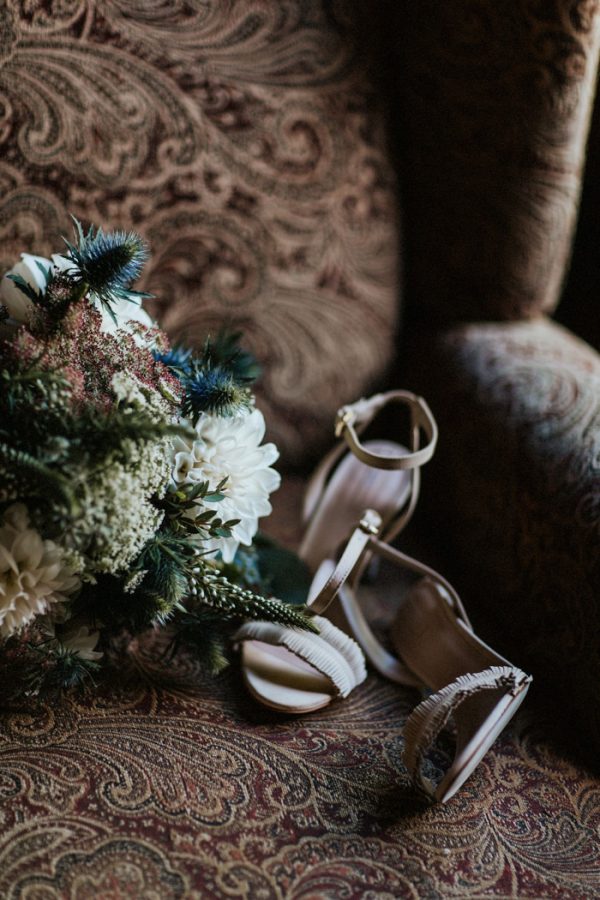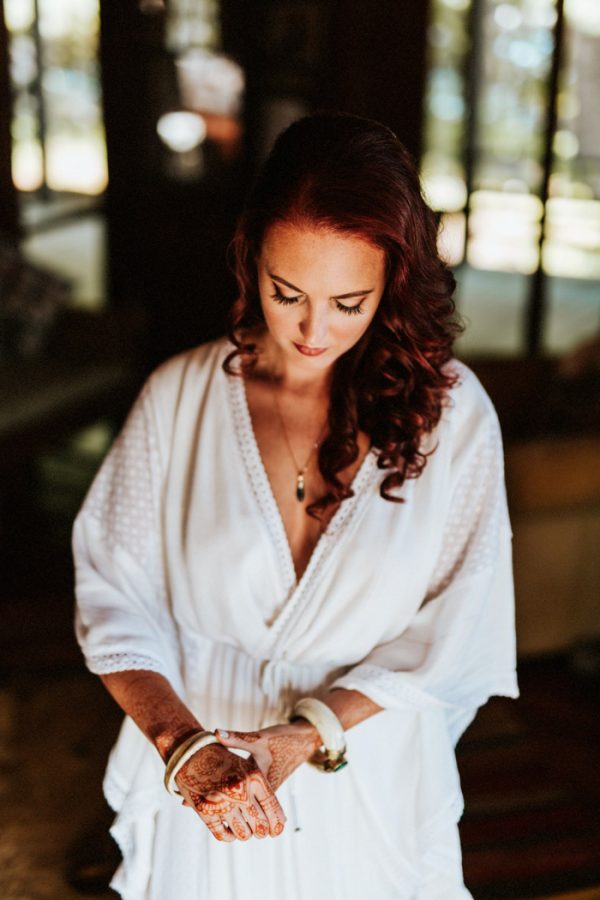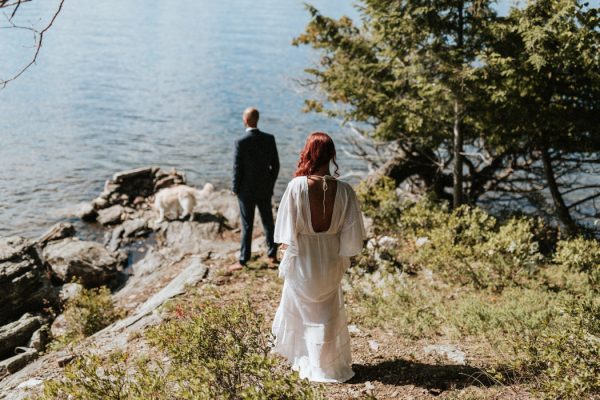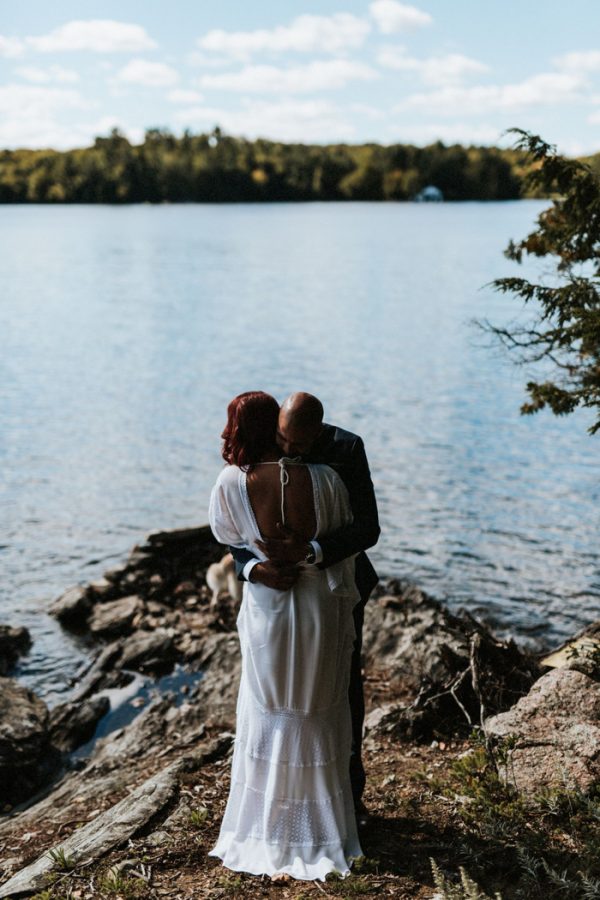 I was very excited about making my dress as there wasn't really anything out there I liked – I wanted something that was comfortable enough to eat lots of burgers and cut a rug in, but also that made me feel beautiful, and was covered in vintage embroidery. A few months before the wedding, leukemia decided to knock at my door, and although the wonderful staff on C6 at Vic may have let me bring a disinfected sewing machine and bolts of fabric into the ward, I didn't really feel up to it.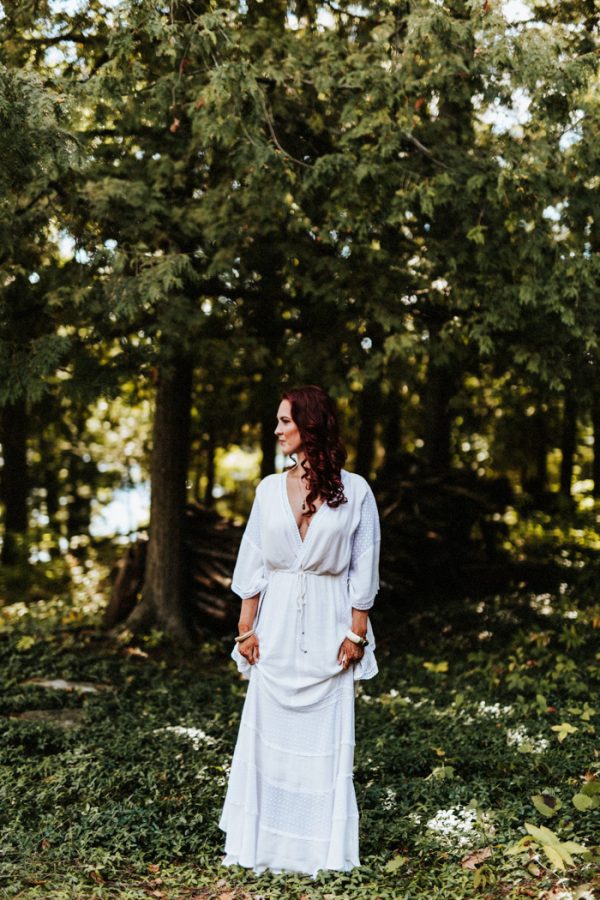 My sister forced me one day to just find something online, but the task seemed impossible as I had a new appendage I preferred to be covered (PICC line) and had gained a few (30) pounds in a few days and had no idea whether I'd gain more or lose it all by the wedding day so needed an adjustable dress. For some incredible reason, Free People had a dress that met ALL criteria above (minus vintage embroidery), on sale! It was perfect in all ways, and still so hilarious I found it. The jewellery was a mix of my mom's and Indian-inspired pieces found in Kensington in Toronto.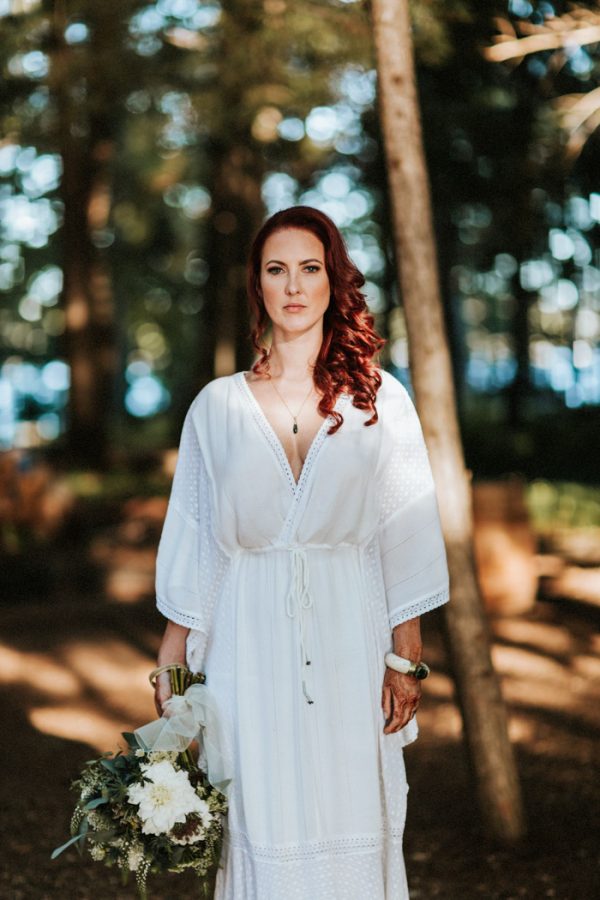 Our family cottage on Lake Rosseau is our favourite place in the world. It's a bit of a magical Fern Gully to me, and a place that makes us feel whole. We wanted all the people we hold closest to see what our love affair with this place was all about, but we were in a bit of a pickle deciding on how to get that many people onto the island, not have our rustic cottage and septic tank blow due to sheer numbers, and then there was the rain contingency plan…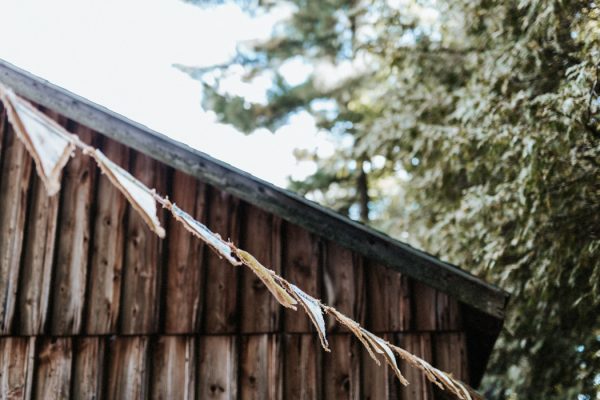 Our cottage was built in the 1800's and they had put a clay tennis court in the middle of the island. It was never kept up, and you couldn't pick it out from the rest of the forest up until last year unless you spotted the big iron posts running along the perimeter, which are amazingly still there. Liam and I spent two summers clearing the space of trees and brush. My brother and dad made the wood benches out of log stumps from trees that had fallen. My sister and mom were on outhouse resurrection duty. It was a family affair getting the space ready, and everything came together!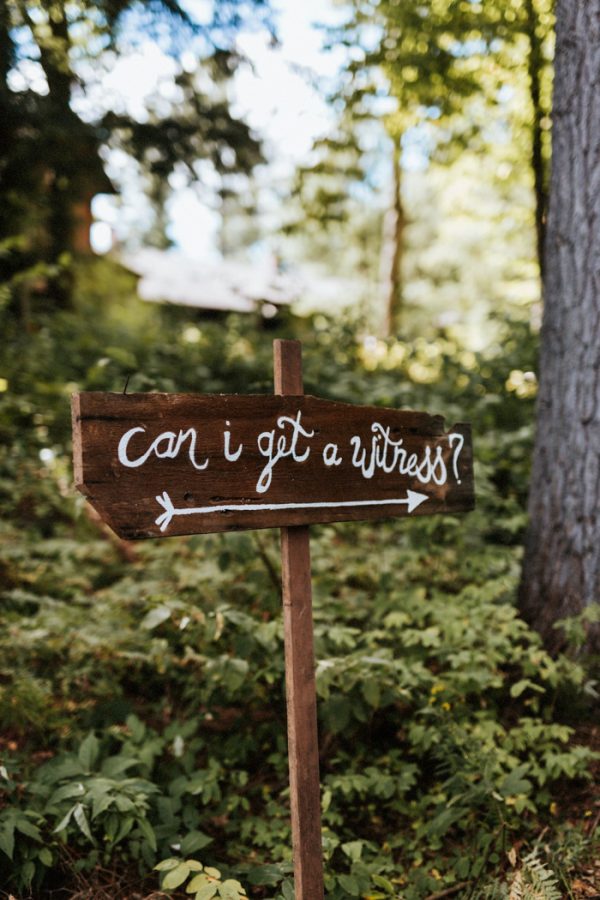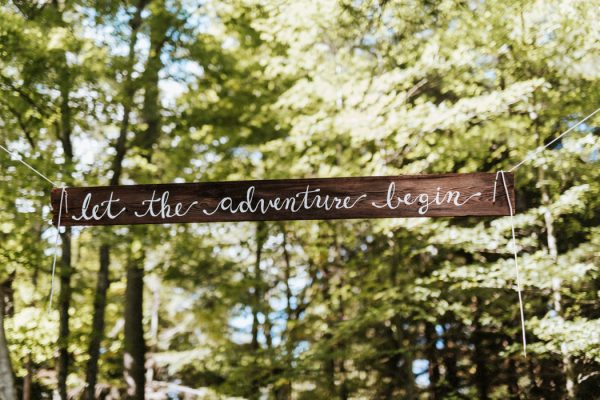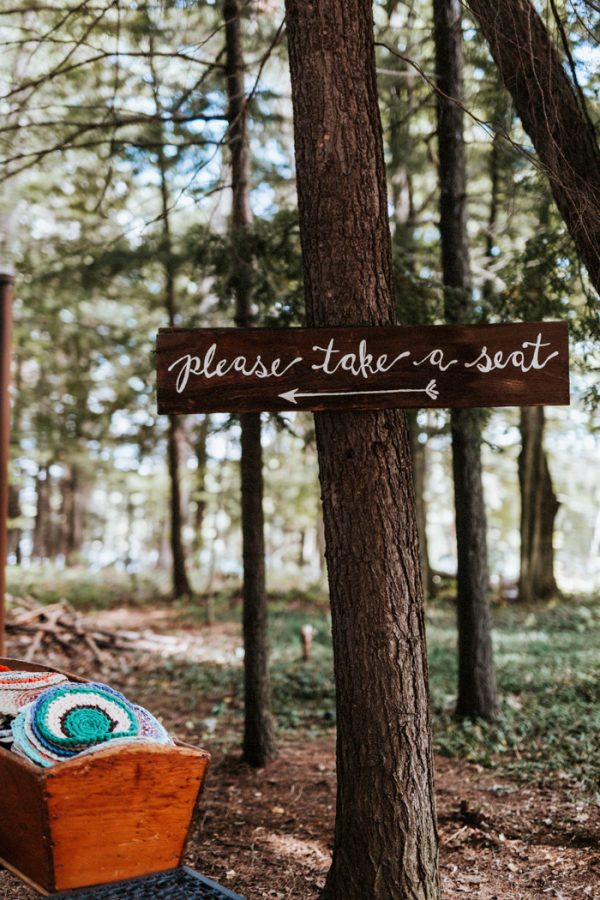 Almost everything was homemade. Birchbark invites, signage, etc. There were lots of components that were done by our friends and family, too, which made the day so much more special and meaningful. We didn't use an event planner, so it was very humbling to have people we love want to help and take part.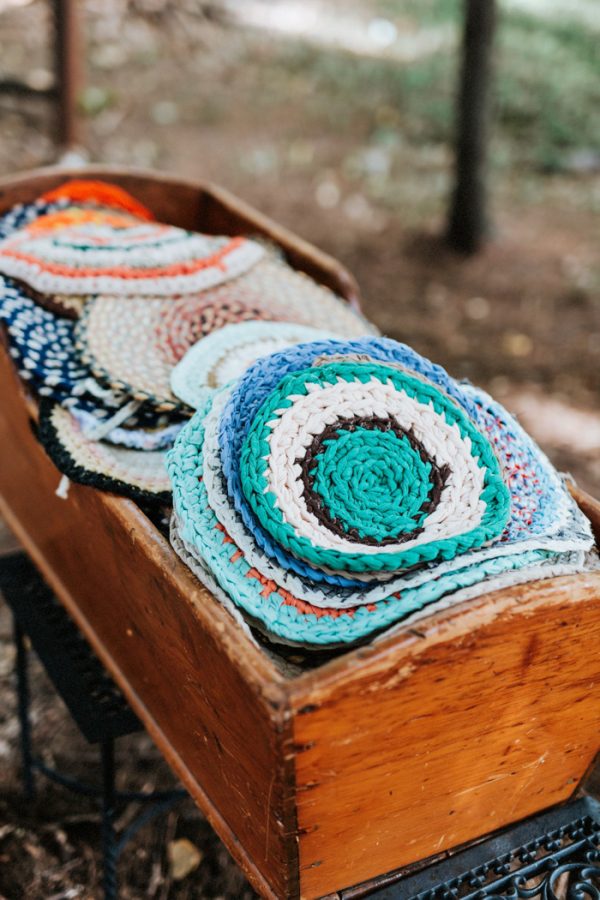 My aunt and cousin did all the bouquets and table arrangements, my dad and brother made log benches and an arbor, aunts and uncles and cousins helped with the ceremony space (and log-rolling!), my brother, dad, and I made the log centrepieces, another cousin chauffeured us to the ceremony in his beautiful boat, people made delicious apps for the ceremony, a 'maid did my henna. My sister made the outhouses pass as legitimate bathrooms, and my mom made an outdoor handwashing station filled with quartz from around the island.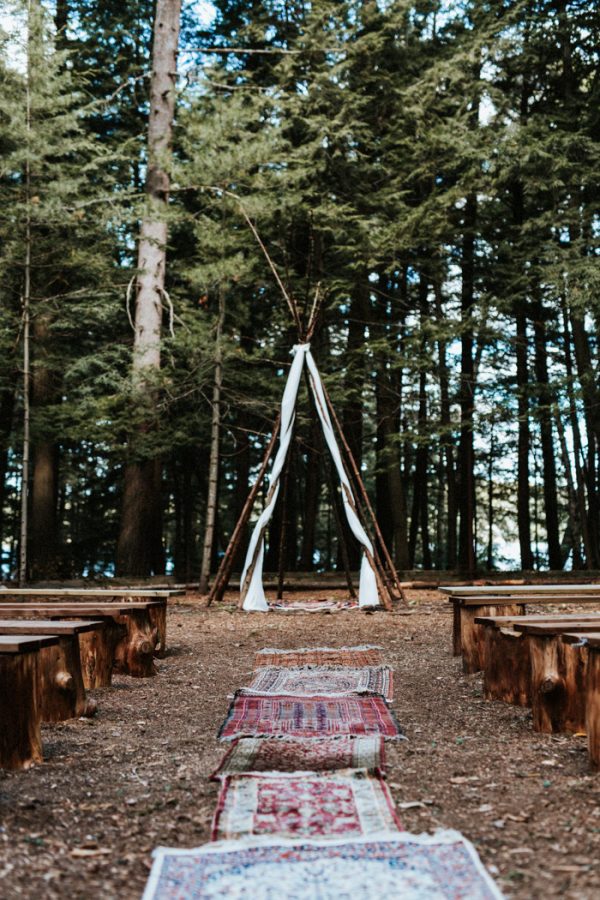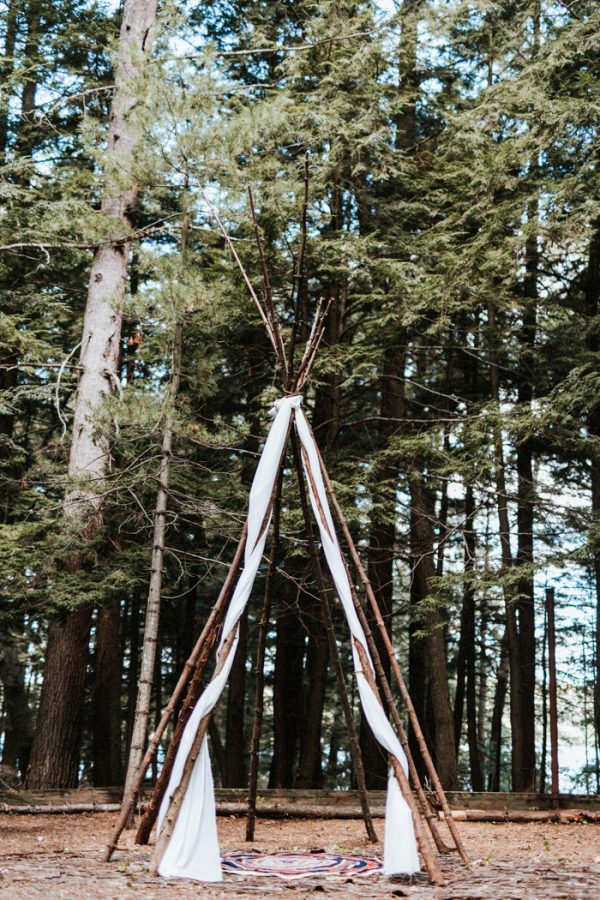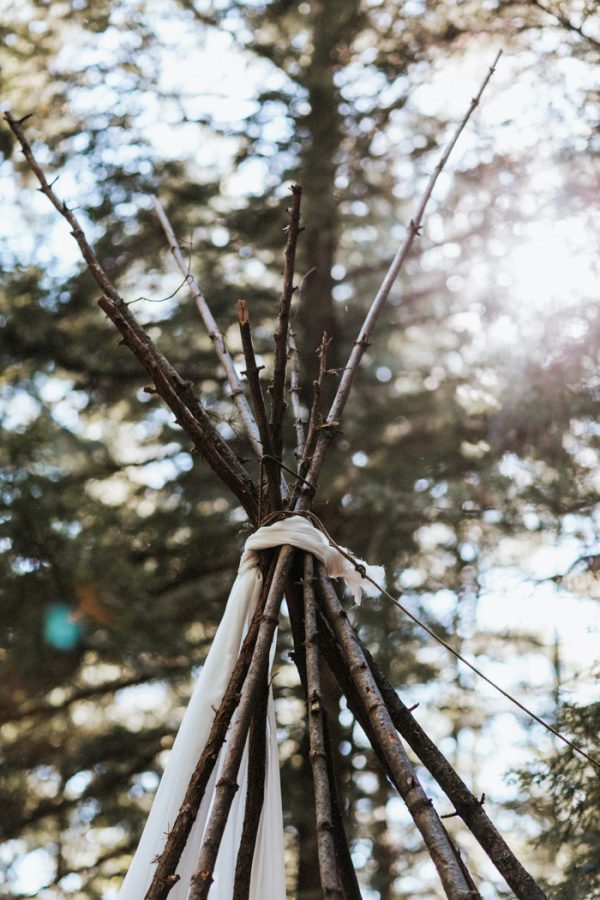 We had an amazing Humanist officiant, Tom Cooke. He was hilarious, down-to-earth, fun, and helped us make it our own. We did our own vows. Our cousin, Caroline Brooks from The Good Lovelies (who is also one of my idols), sang 'Sh-Boom' in her beautiful style during the certificate signing. She got the audience singing, it was so great.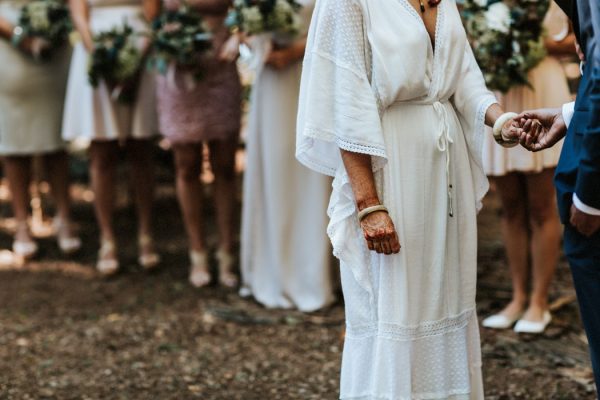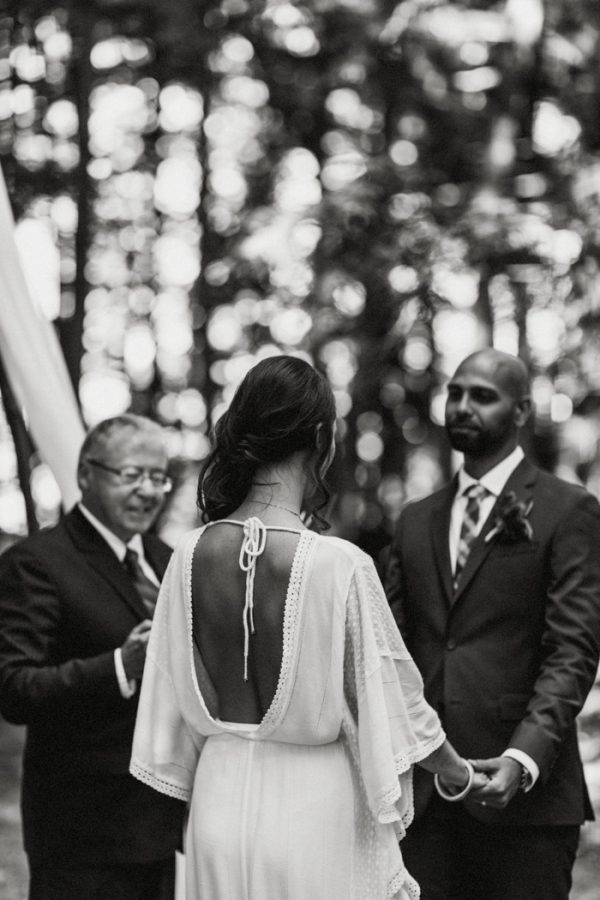 Processional: Can't Help Falling In Love by Elvis Presley (Violin Cover)
Bridal Processional: Harvest Moon by Neil Young (Instrumental) – We couldn't decide on this one for forever, but this was the song Liam danced with me to in the hospital in the previous few months, so it ended up being a solid choice!
Recessional: Lovely Day by Bill Withers
First Dance: You Send Me by Sam Cooke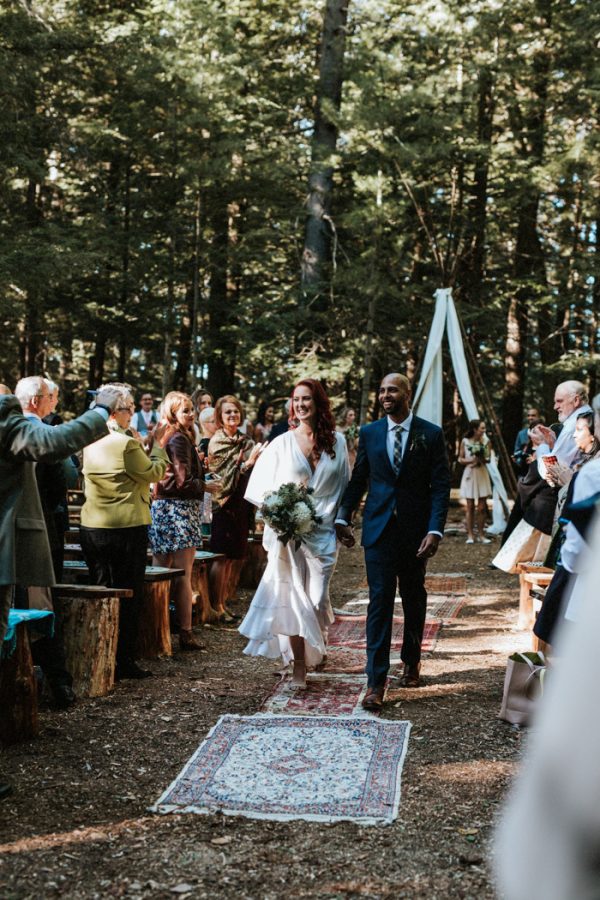 We wanted it to be easy for the wedding parties, and they were told to just wear whatever they wanted – any neutral colour for the 'maids and any shade of grey for the groomsmen. For some other incredible reason, the 'maids' dresses ended up making a perfect ombre (?!), which was also hilarious.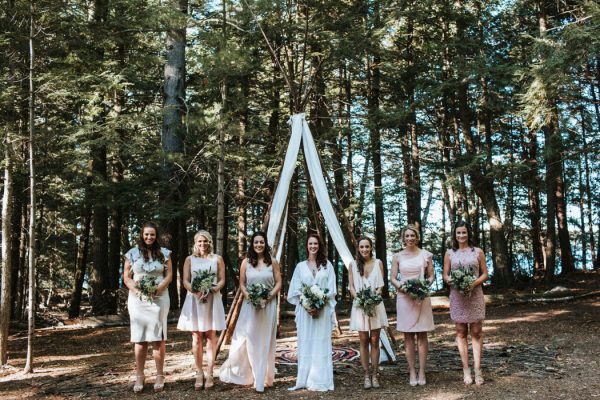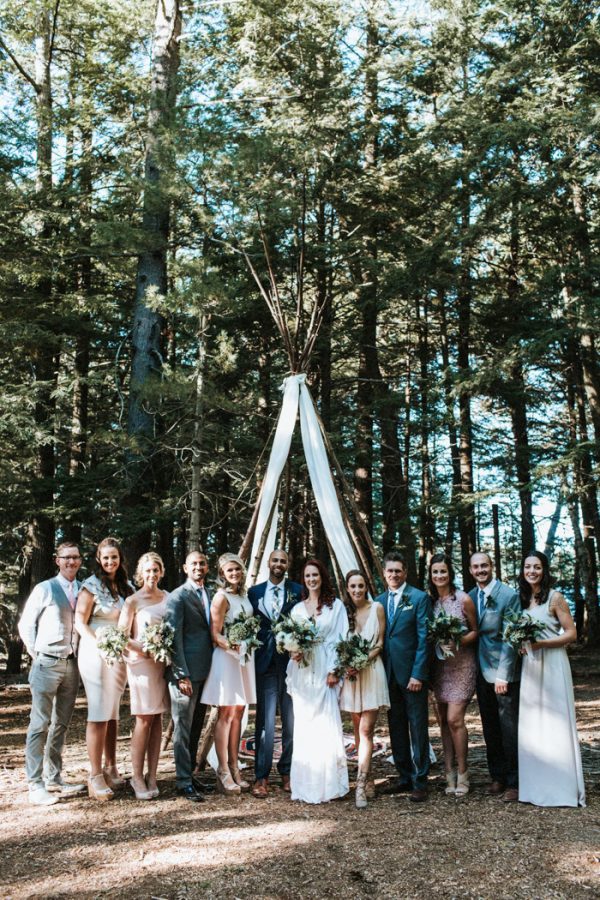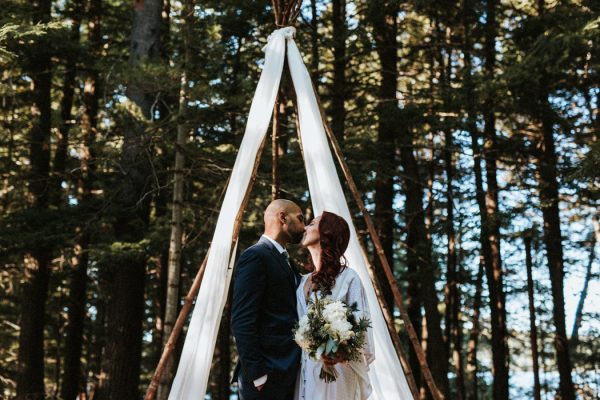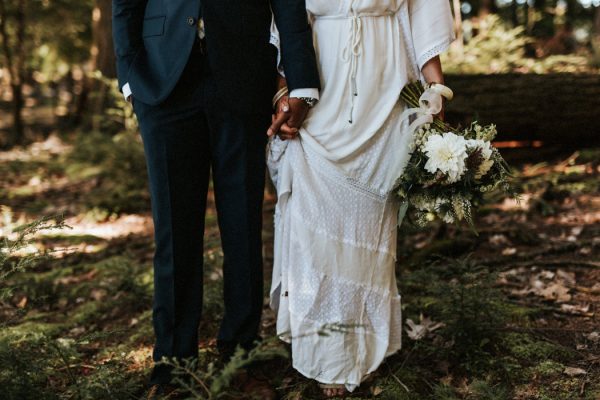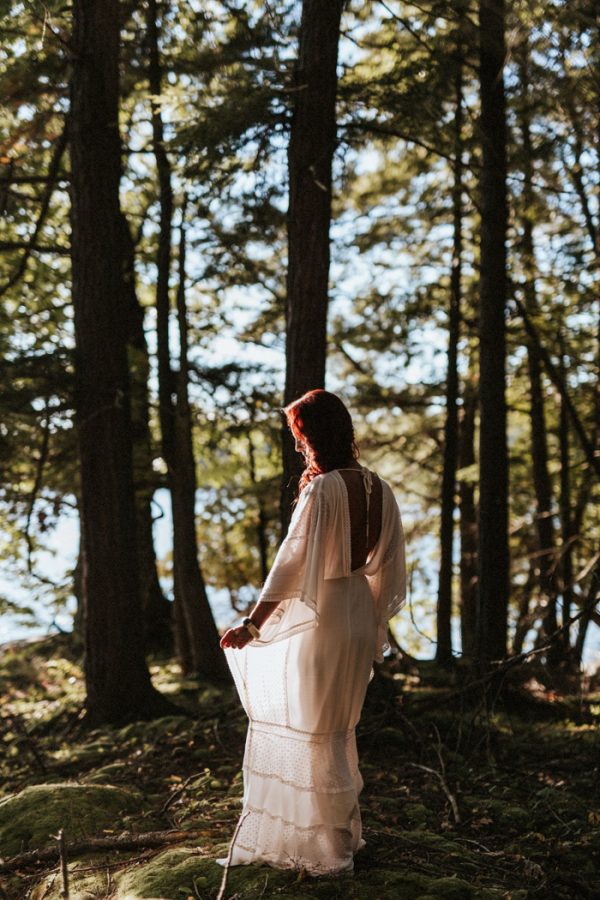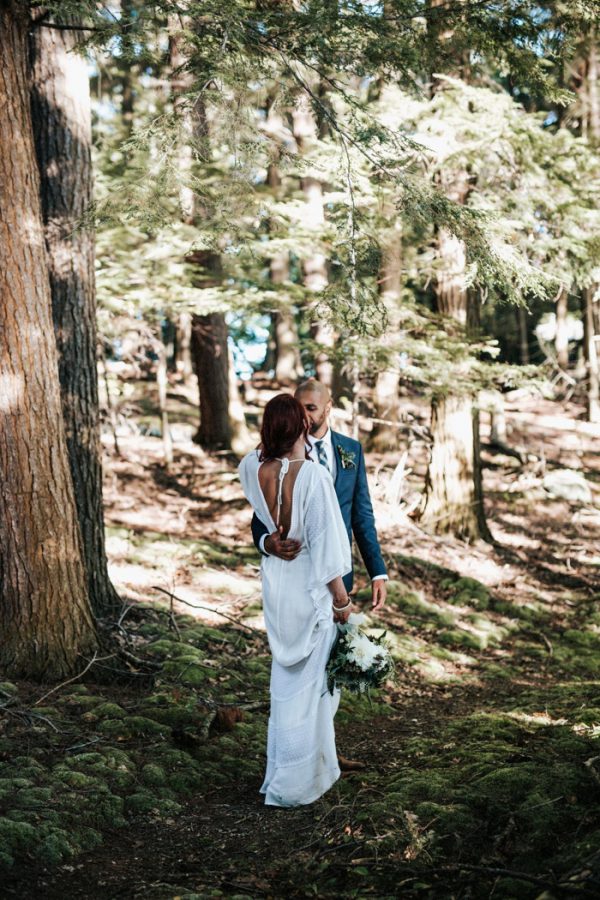 Our photographers Laura and Kayla were a dream team. I'm not just saying that. They were so easy-going and lovely and just the gentlest people. They were so fluid moving around getting candid shots yet somehow could also direct us around to get great shots without us feeling directed in the least. They were incredible. I recommend them both for any event.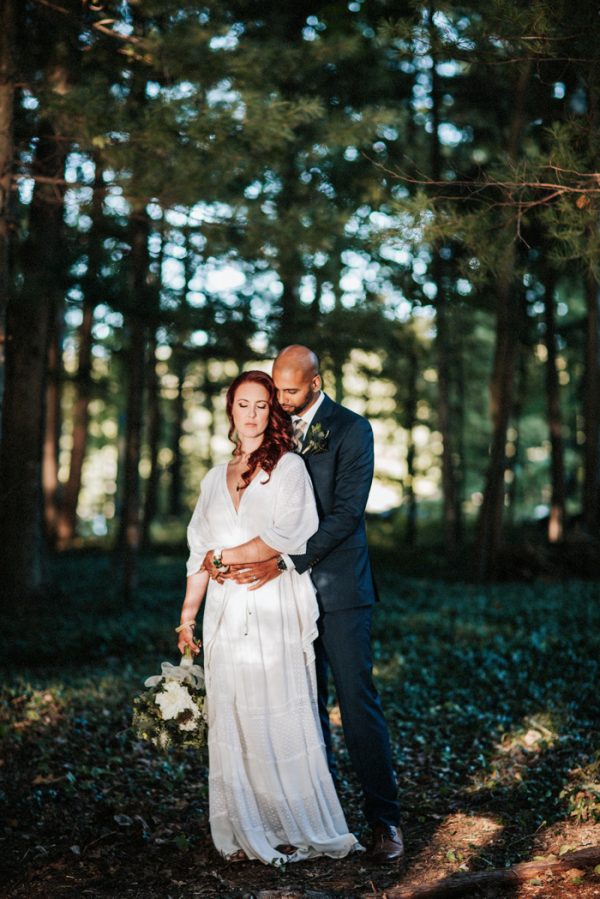 Make the day your own. Everyone said this to me and I'm glad I took their advice – just have fun and enjoy every moment because it will go by so quickly, so pause every now and then and take it all in. Not everything will go as planned, and don't care if it doesn't. If it's not fun, figure out why it's not and change that. Also, get a videographer! It's our biggest regret!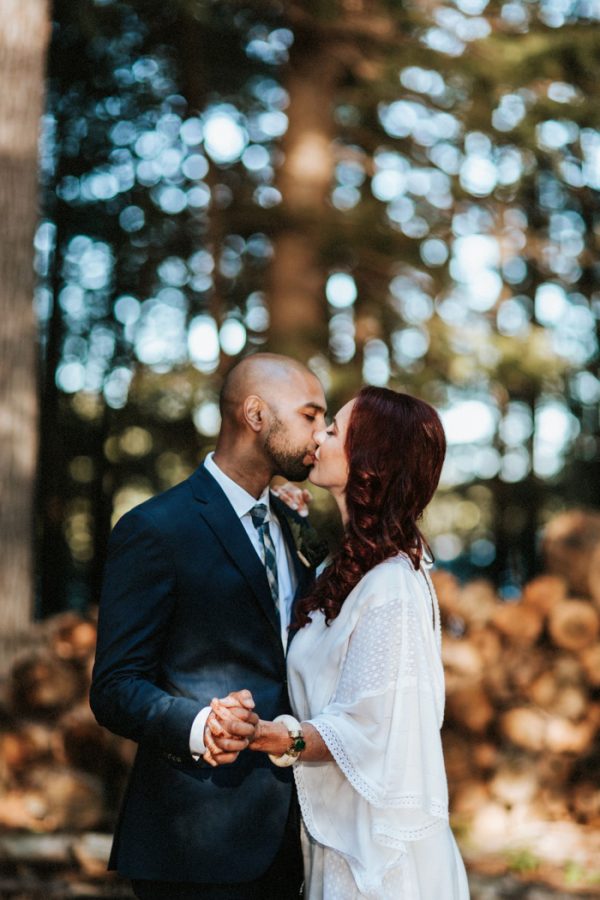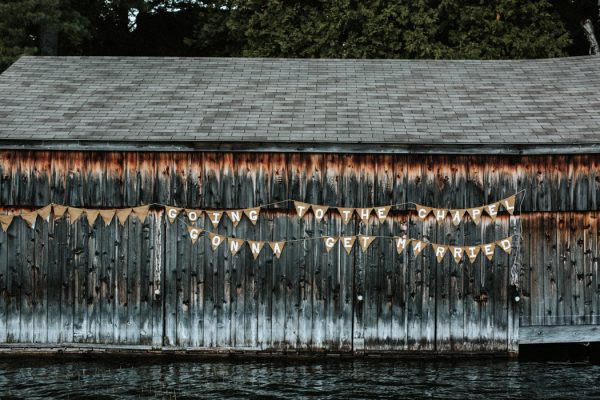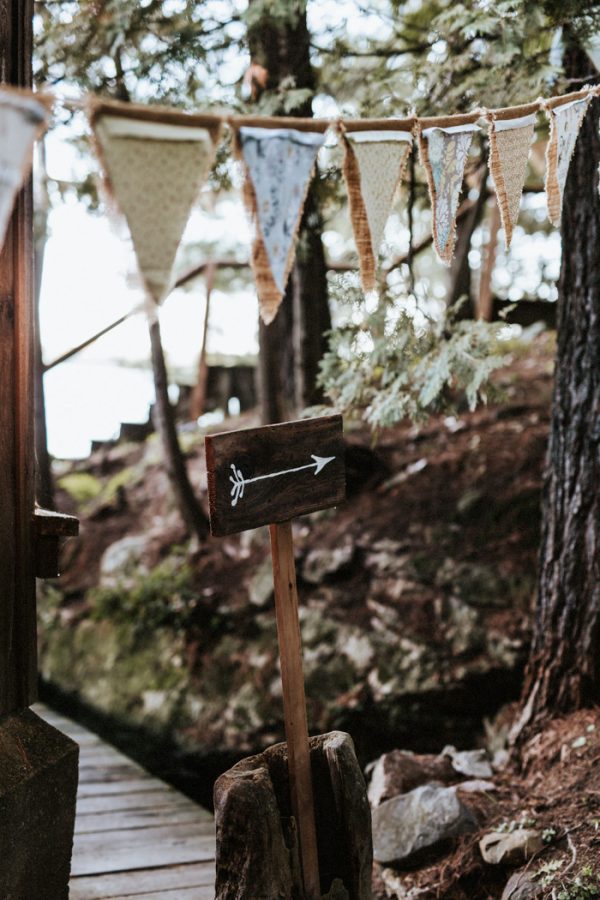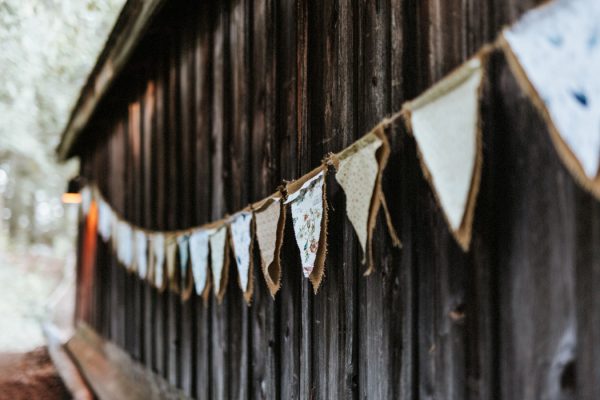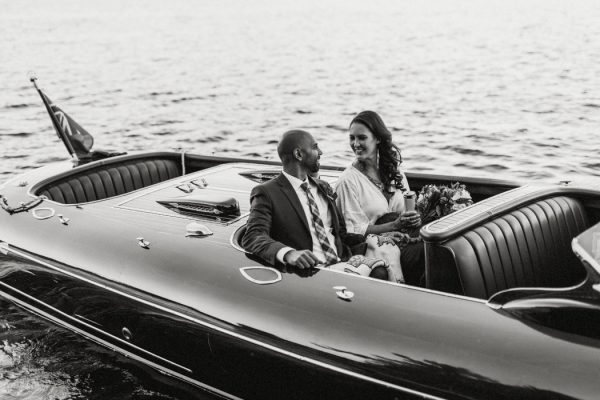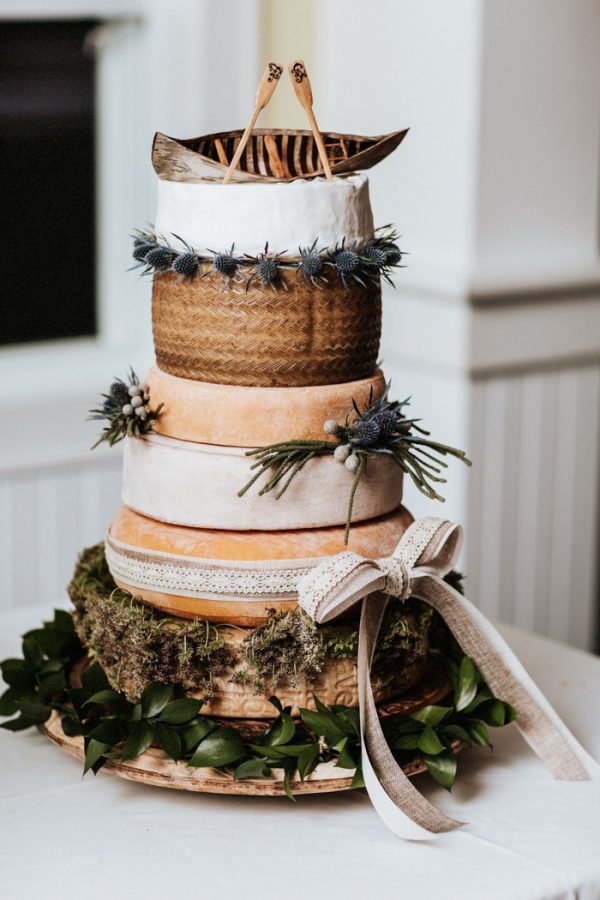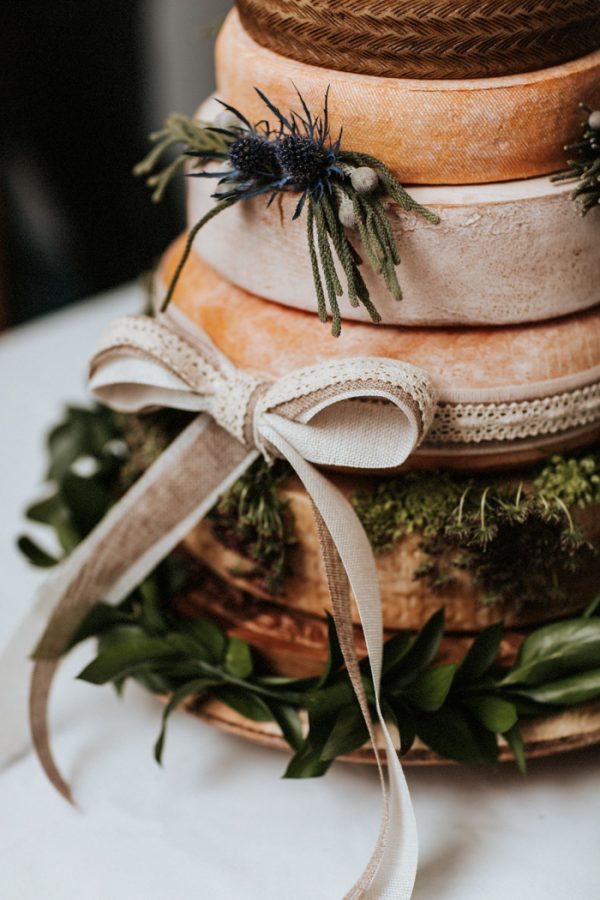 I would say the roasts were the most memorable moment – instead of best man and maid of honour speeches, we opted for roasts by our bridal parties. They were utterly hilarious and completely shocking and rude; they did NOT hold back, and they pushed some questionable truths… I don't think some of our guests really understood the idea behind a roast and were extremely uncomfortable and appalled, but Liam and I (and most others) were crying laughing. I REALLY wish we had videotaped them. It's our biggest regret.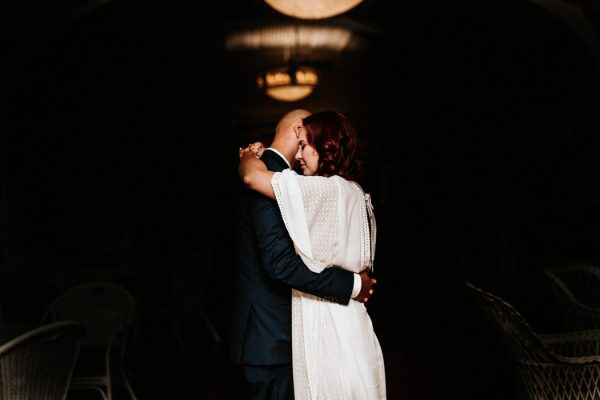 Congratulations to Martha and Liam, and a huge thanks to Laura Rowe Photography for sharing their wedding with us. Love this wedding's summer camp vibes? Then you've got to see this black and white Muskoka wedding at Camp Mini-Yo-We!