From the moment Hung and Mark's destination wedding in Sienna appeared in my inbox, I knew it was going to be a favorite. There is just something magical about a wedding in Italy, where the light simply oozes with romance. Ireland photographer Tim Tooth of This Modern Love captured this stylish London couple as they were wed in the beautiful countryside, in a ceremony that included both Buddhist and Vietnamese traditions. With no detail left forgotten, I'm certain that special touches like the custom engraved silver spoons, personally made by the bride and groom, will forever remind the guests of this beautiful weekend of love.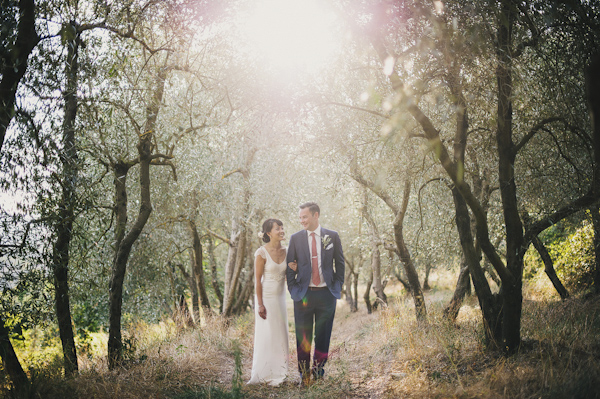 The Couple: Hung and Mark
The Wedding: 9.14.13 – Villa Catignano, Sienna, Italy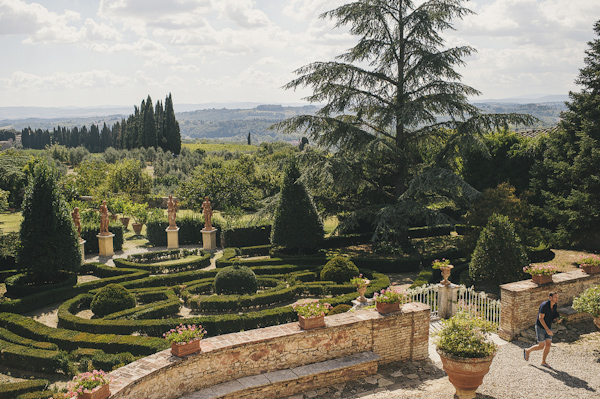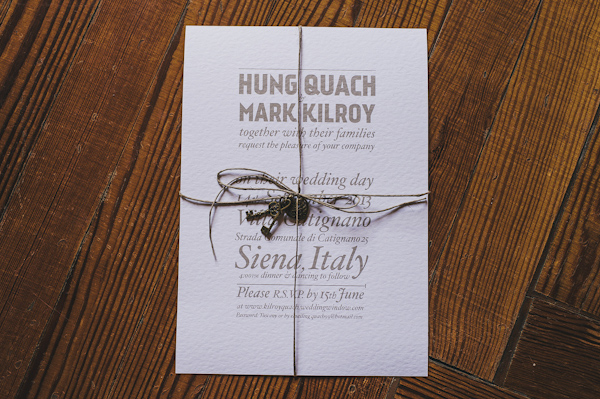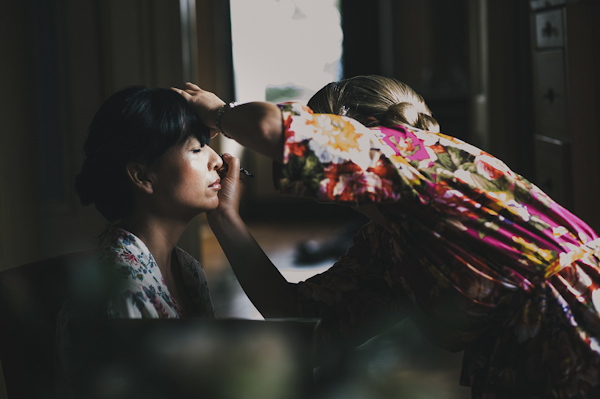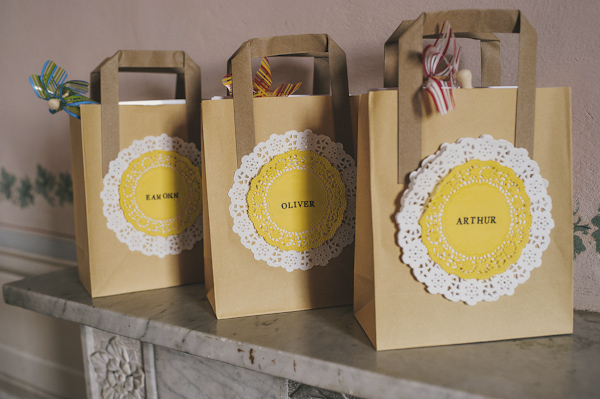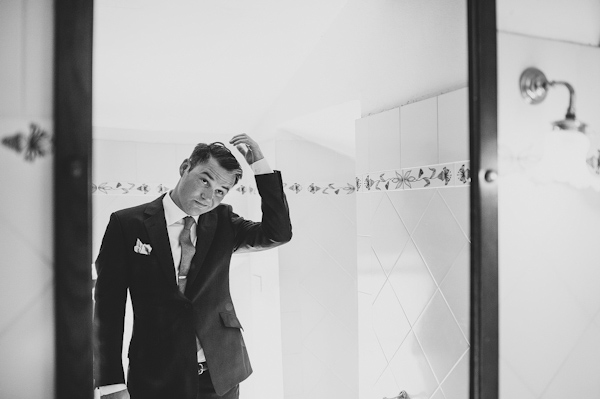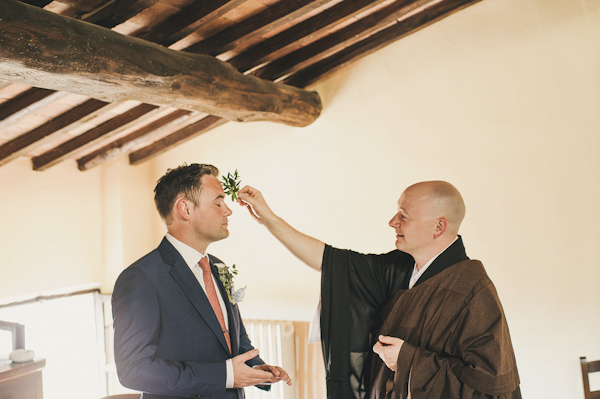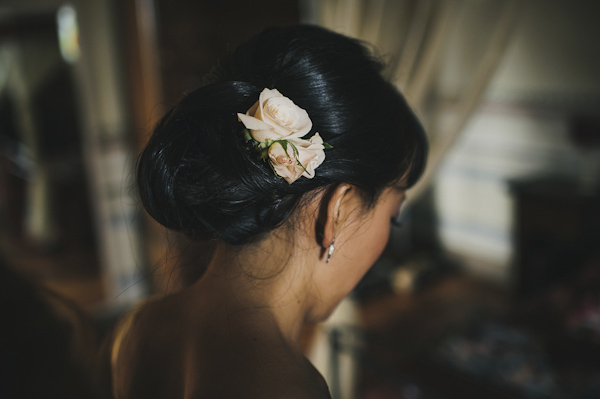 The Goals: Our main priority was to ensure that our guests were well looked after and that they were going to enjoy themselves at our wedding. We also wanted to create a laid-back, holiday vibe. Hence, we decided to have a destination wedding in one of our favourite holiday destinations – Tuscany, Italy. We found the perfect villa with a romantic garden overlooking the Tuscan Hills towards Siena. Best of all, we could have the ceremony and reception take place on site, and it was able to accommodate 95 of our guests. We ended up having a weekend long celebration. By doing it this way, all our guests could attend the wedding and combine it with a holiday. Living in London, the weather is really hit and miss, and even in summer you are never guaranteed sunshine. So we decided to have our wedding in a country we love and knew we would be guaranteed great weather.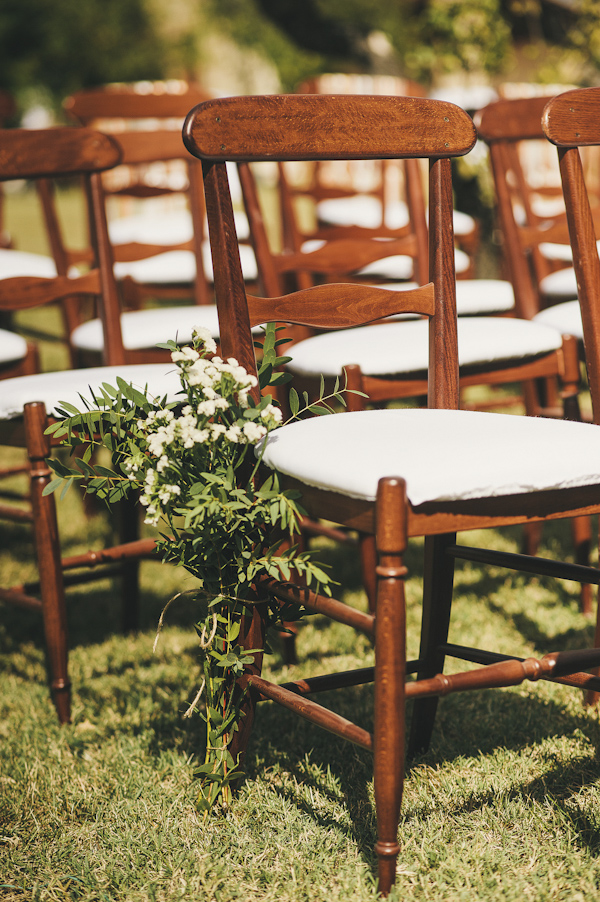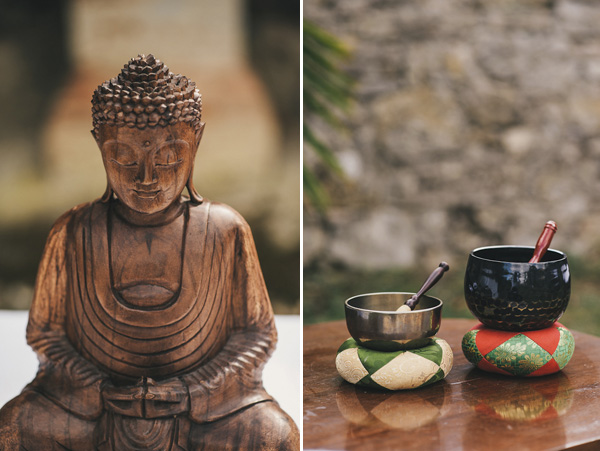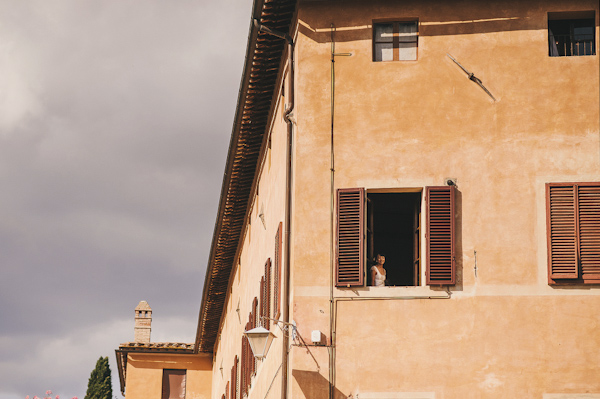 The Moments: The most memorable part of the day was the ceremony, which was incredibly emotional and moving for both us and our guests. There was an incredible amount of love felt that day and a lot of joyful tears. The groom and I both come from very different backgrounds – I am Australian/Vietnamese and the groom is Irish. We wanted a ceremony that would highlight the traditions of both our cultures. The ceremony was broken up into 3 elements – a tea ceremony, unity candle, wisdom water blessing with exchange of vows. It was important to us that we acknowledged our cultures and where we came from. We wouldn't be where we are and be the persons we are today if not for the paths we and our families have taken. A big shout out to Ian Kilroy, our officiant who did a wonderful job in orchestrating the ceremony.
Another memorable moment of the day, but of a different nature was when the groom lost his wedding vows 2 hours before the wedding! Last minute panic set in but after an emergency call out and searching high and low, they were eventually found in the nick of time.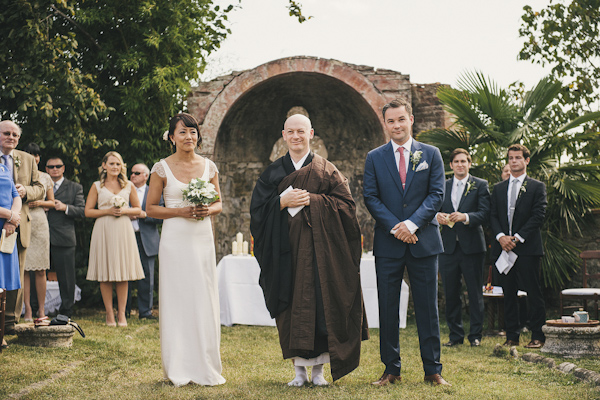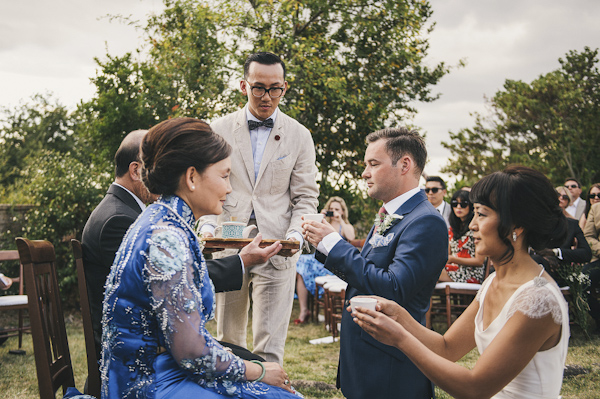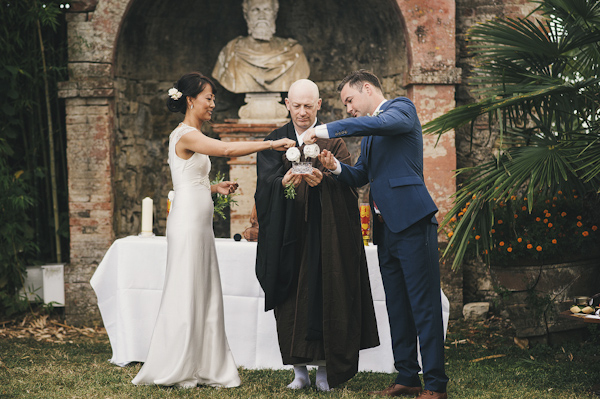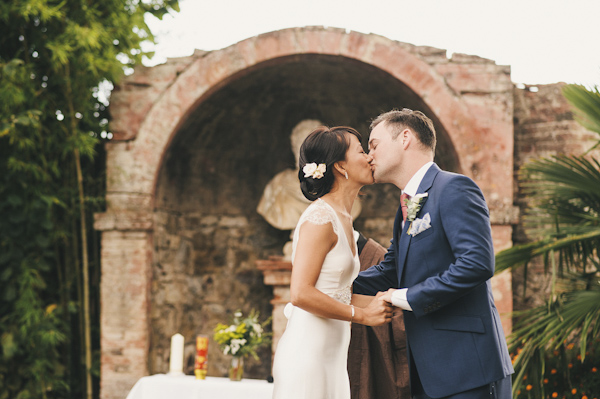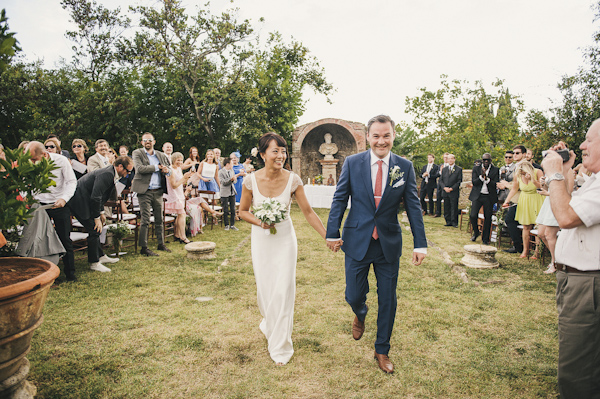 The Look: I have a long standing love affair with all things vintage and my dress and look was inspired by this. I spent weeks shopping around and trying on lots of different styles of dresses. I knew I wanted something that was simple, elegant, had touches of lace, suited my petite frame and had a vintage feel. In the end, I had my dress tailor-made by a local dress-maker because I couldn't find the "perfect dress" and I also wanted something original and unique.
I have a strong aversion to bridesmaids dressing the same. Every person is individual and I believe we should all dress according to our personal tastes and body shapes. I gave my bridesmaids a colour palette of nude and said they could buy their own dresses. I thought they all looked beautiful and their dresses reflected their personalities. Although their dress styles were significantly different they complemented each other really well.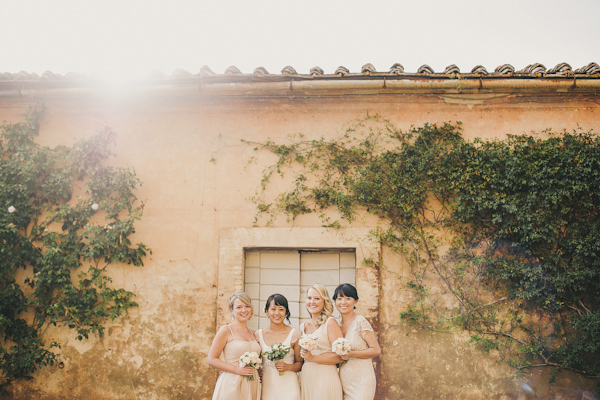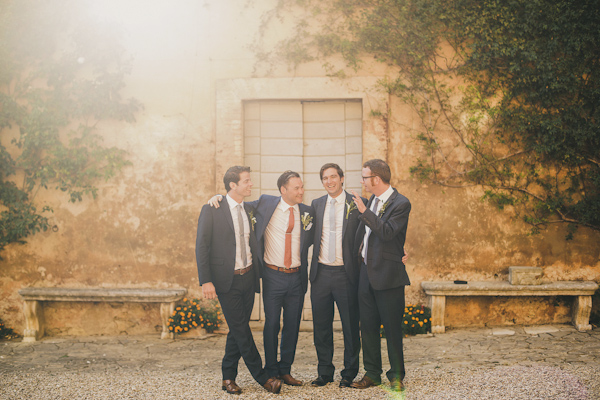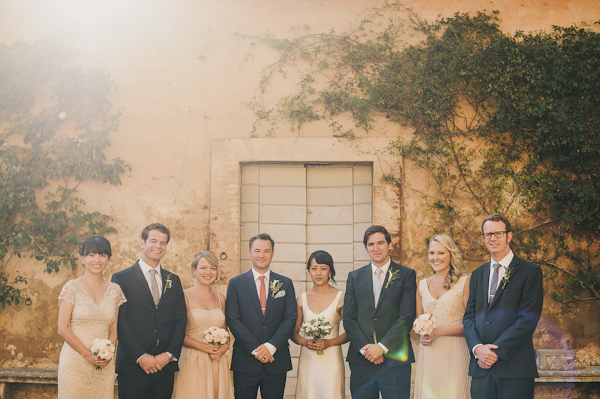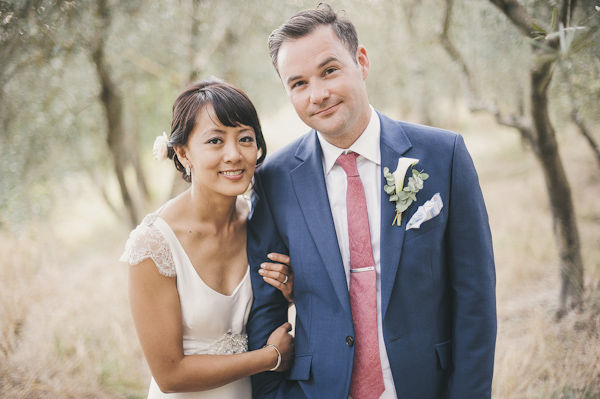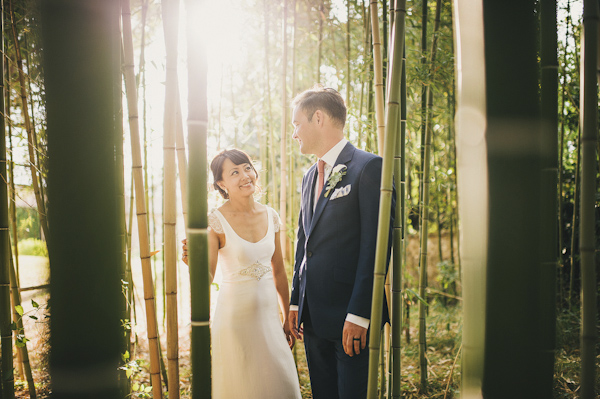 The Design: We wanted to create a vintage feel for the wedding with personal hand-made touches. The wedding venue itself was just stunning and was filled with so much character and rustic charm. The groom designed the wedding invitations and we tried to carry this style throughout the decor of the wedding including the menus and programs, which the groom designed as well.
We were lucky enough to have a friend who is a florist and did a beautiful job with the bouquets. My bouquet was made of white calla lilies and intertwined with eucalyptus leaves adding a sentimental touch to my Australian roots. My mum and brother's girlfriend made doily bunting to decorate the wedding reception hall. We created photo booth props and had an instant camera for our guests to have fun with. The groom and I spent months making personalised metal stamped vintage spoons with all our guests names on it as wedding favours and name tags. I also made the "Find Your Table" board using vintage wallpaper and vintage picture frames sourced from charity shops.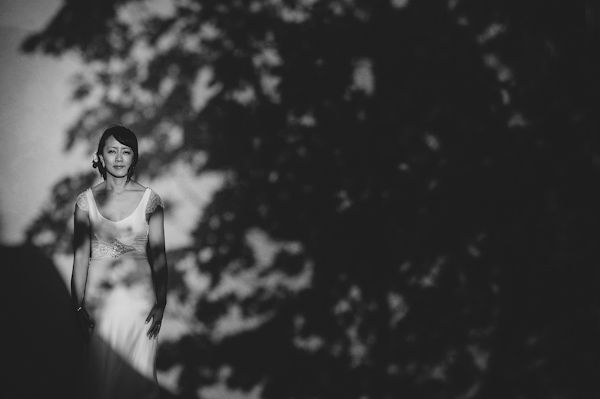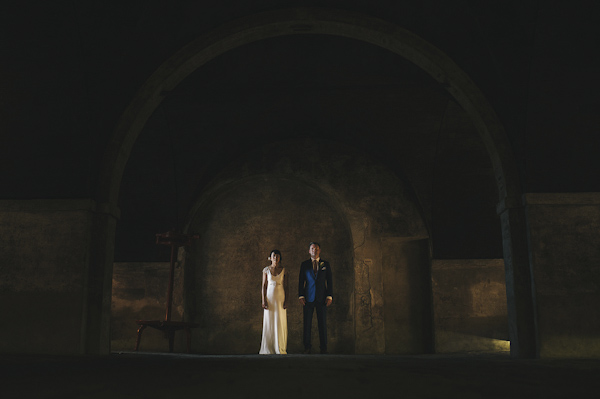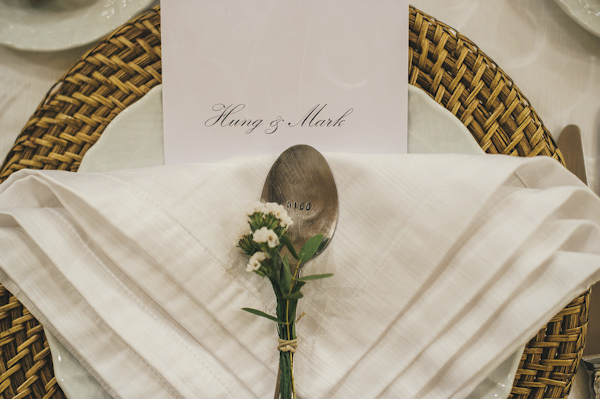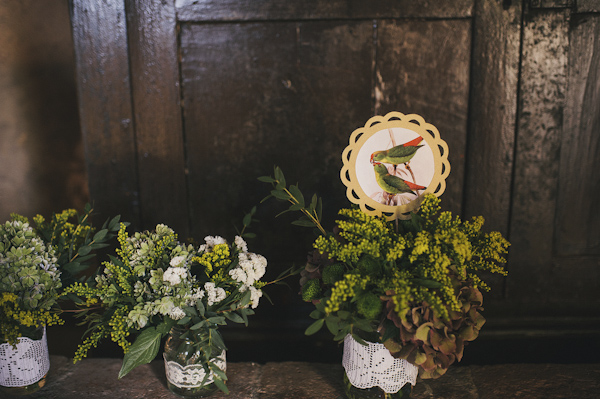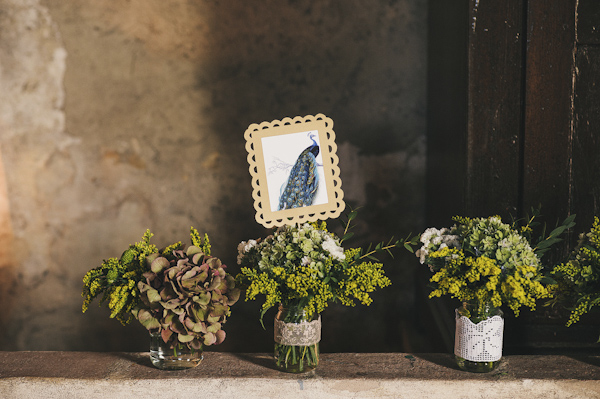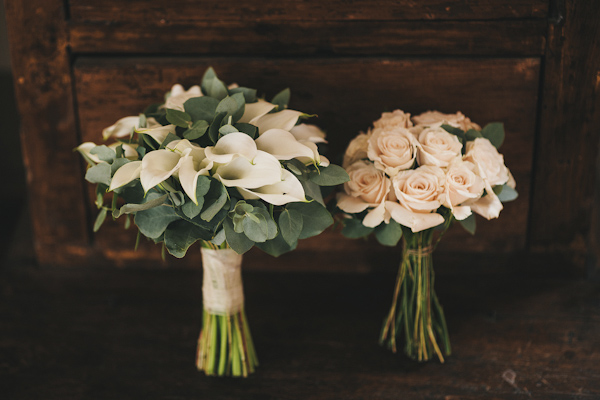 The Advice: Plan and organise as much as you can leading up to the day and delegate jobs to family and friends. That's what they are there for and they would be more than thrilled to help out. We were so grateful we had so many friends and family who helped put the wedding together on the day.
On the day of the wedding, try to take a step back and take it all in because the day will fly by so quickly. I would also recommend couples to take time out on your own as bride and groom after the ceremony to reflect and soak up the moment, even for 5 or 10 minutes.
Our biggest planning success was getting 95 guests from all over the world come together in a villa in Tuscany to celebrate our special day. We felt so blessed and honoured to have those people who meant so much to us, be there to witness our union.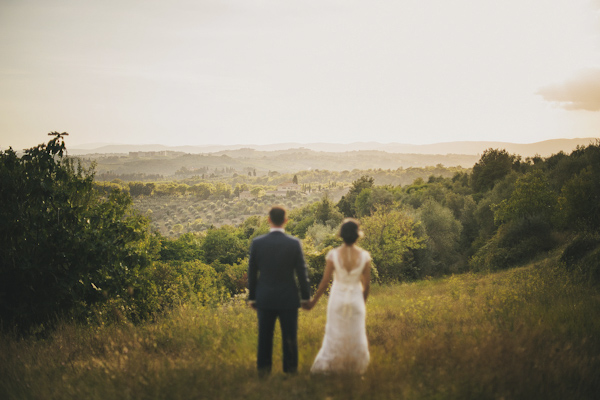 The Wedding Team:
Photographer: This Modern Love
Event Planner: Villa Catignano, Siena, Italy
Ceremony & Reception Venue: Villa Catignano, Siena, Italy
Officiant: Groom's brother, Ian
Invitation Designer: Groom
Catering: Villa Catignano, Siena, Italy
Florist: Dean Lincoln of Paul Thomas Flowers
Cake: Home made, cake topper painted by groom.
Wedding Dress: Tailor made by a local London dress maker
Bridal Accessories: Vintage clips – Etsy, Shoes – Hobbs, handkerchief – vintage, Earrings – Sestras Boutique
Bridesmaids' Apparel & Accessories: Bridesmaids wore different dresses and chose their own dress and accessories.
Groom's Apparel & Accessories: Suit/shoes/tie – Reiss, handkerchief – vintage, Tie clip with Groom's initial – Hardwear Designs
Groomsmen's Apparel & Accessories: Groomsmens wore their own suit and accessories, with personalized tie clip from Hardwear Designs
Hair & Makeup: Villa Catignano, Siena, Italy
DJ: DJ Betty
Favors: Spoon wedding favours were personalised with each guest's names and doubled as name tags. Vintage spoons were sourced from charity shops and they were hand stamped by the bride & groom. Little bags of goodies were also made by mother of bride, bride's brother and bride's brother's girlfriend.
Rings: Bride's ring – Joy Everley, Groom's ring – 21 Diamonds, Ring dish – Unconventional J