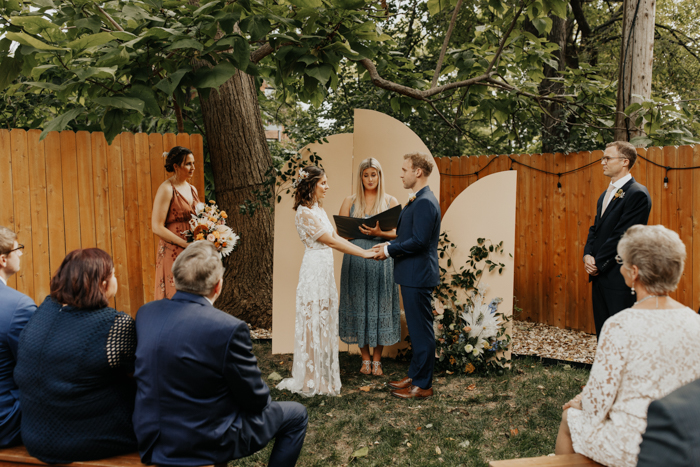 Calling all 2020 wedding trend followers! Check out how Megan and Aaron totally rocked the color-blocking trend for their backyard wedding and reception at El Torreon in Kansas City. Katie Carlson was there to capture every sweet moment — from the couple's emotional ceremony to a special guitar serenade and adorable first dance! We're positively obsessed with Megan's wedding dress, which was custom made by her mother and thoughtfully embroidered with her wedding date on the sleeves. Just wait until you see the modern invitations by MegCo Creative (a.k.a the bride!), perfectly simple floral arrangements by Elizabeth Mckenzie Florals, and even more from Megan and Aaron's El Torreon wedding day!
The Couple:
Megan & Aaron
The Wedding:
El Torreon, Kansas City, Missouri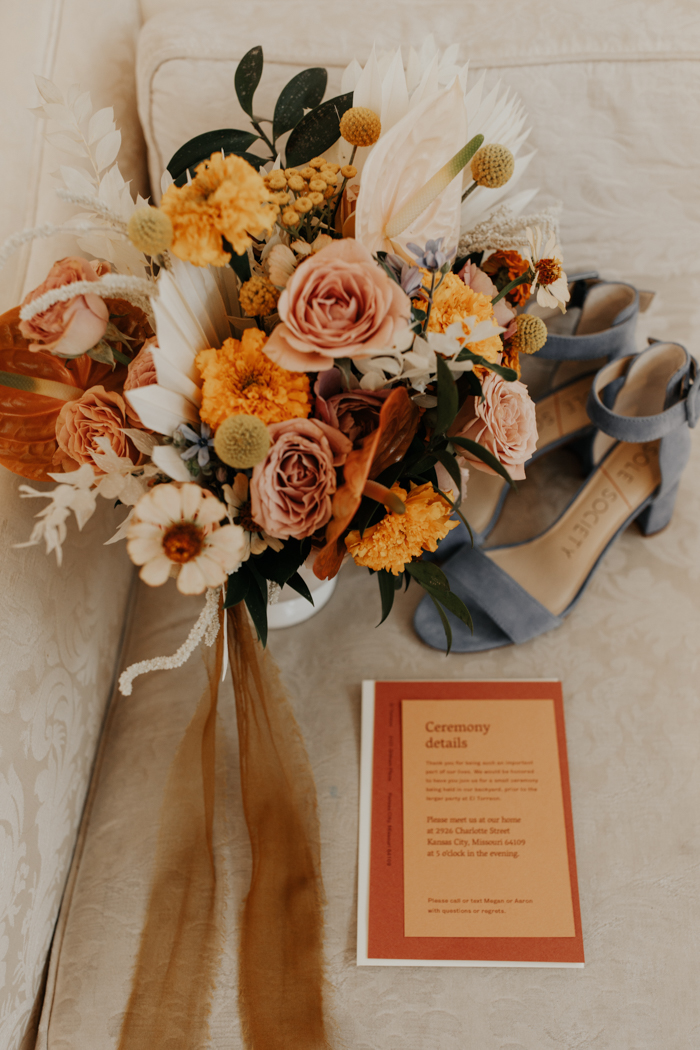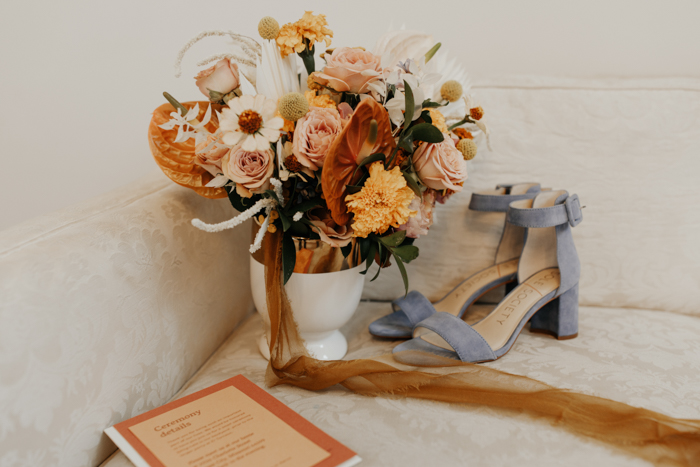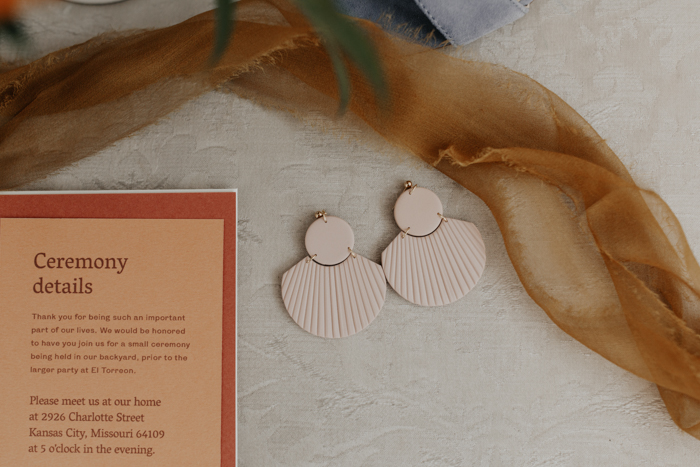 SHOP THIS LOOK: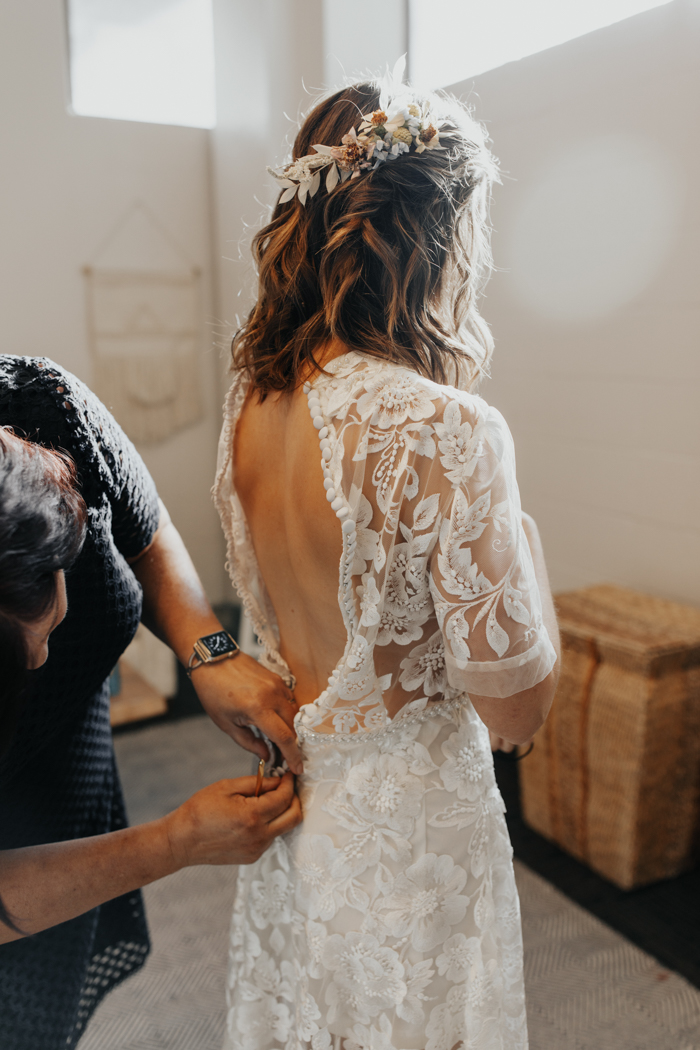 My dress was custom designed and sewn by my mom. It was inspired by an incredible wedding dress designer, Hermoine De Paula. We wanted something that was non-traditional, unique, elegant and true to my style. For the reception, I wore strappy nude sandals and dusty rose polymer clay shell earrings. My hair was simple with a beautiful hairpiece that matched my bouquet. For the reception, I changed into blue block heels and incredible iridescent earrings.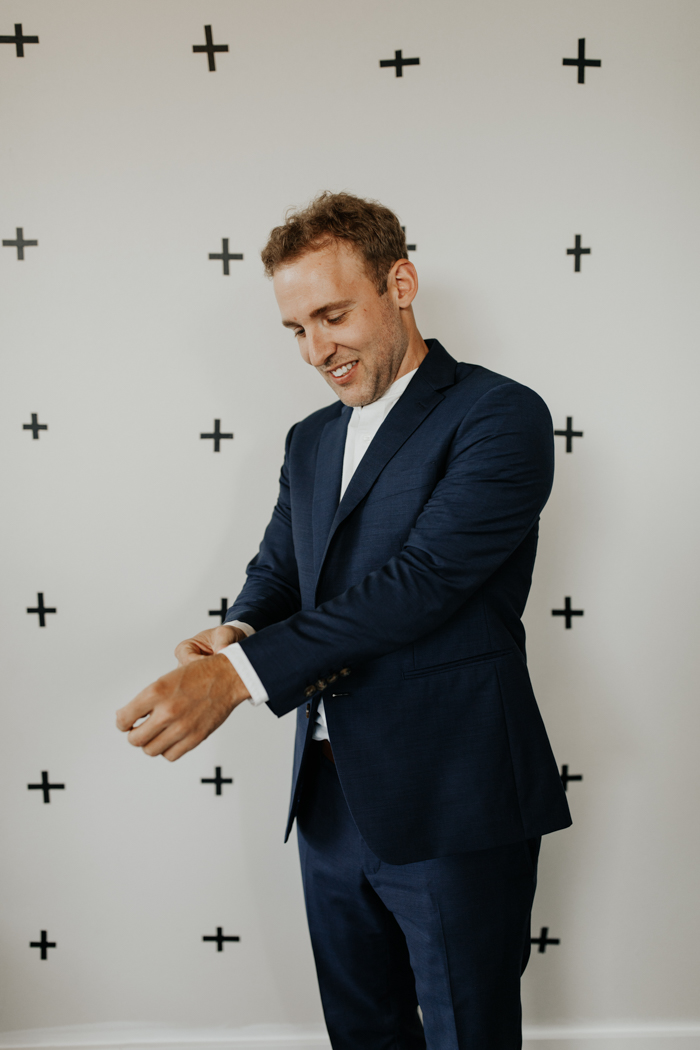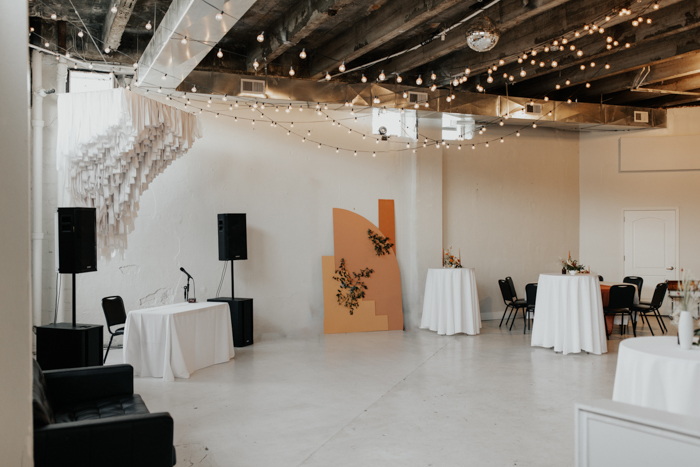 We were both very excited to get married but wanted the day to be simple, fun and nontraditional. As a graphic designer, I had a lot of fun designing the vision for the day. From the color palette to the invitations to the reception decorations, it was all consciously planned and curated.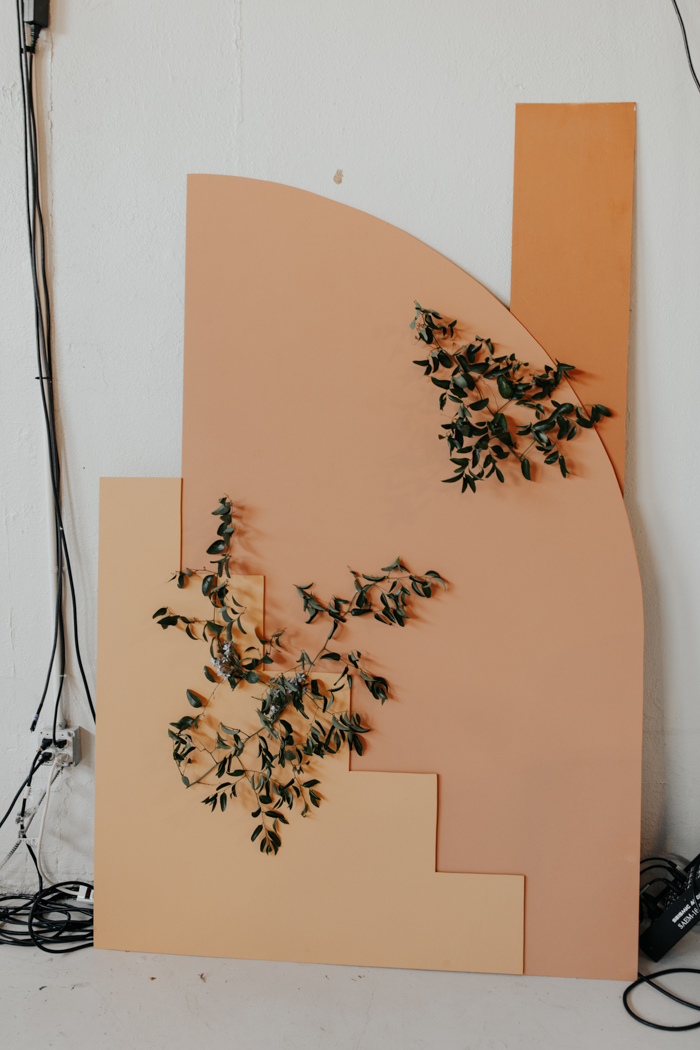 Almost every aspect of the wedding was DIY. I designed and printed the invitations and signage. My mom custom made my dress. My mother in law dried the flowers that we used in the bud vases. We designed, cut and painted the oversized abstract shapes that were used for our ceremony backdrop and throughout the reception.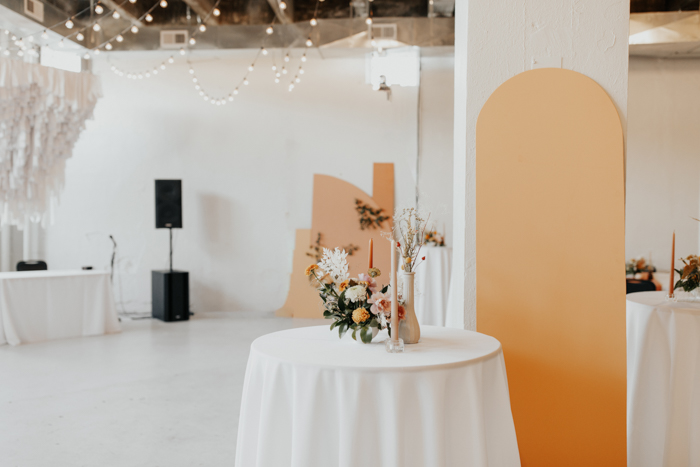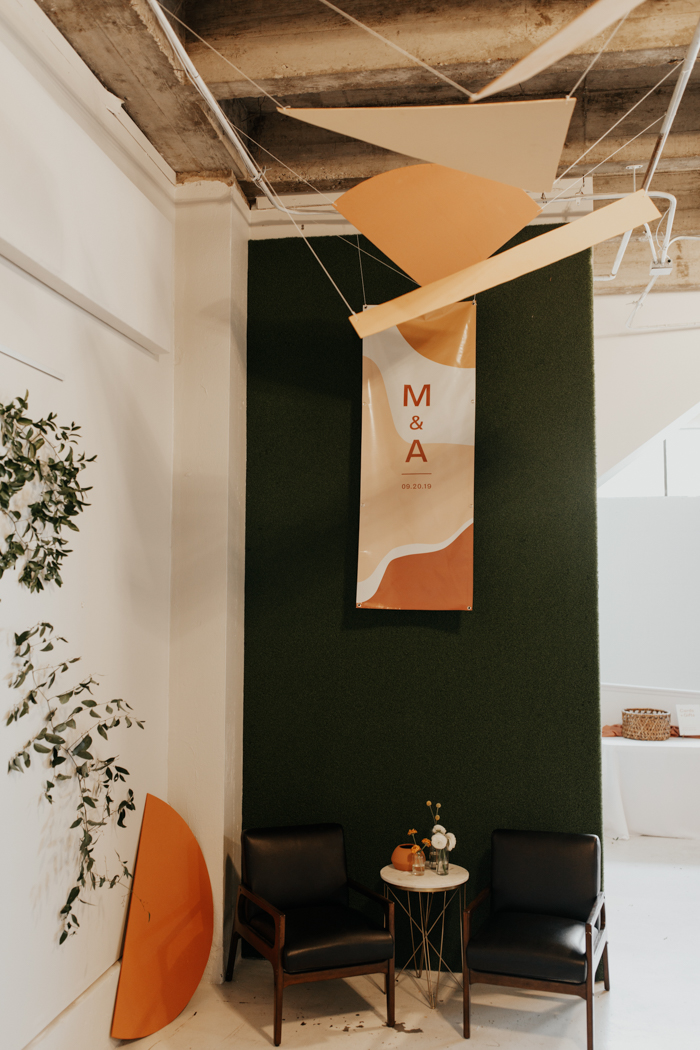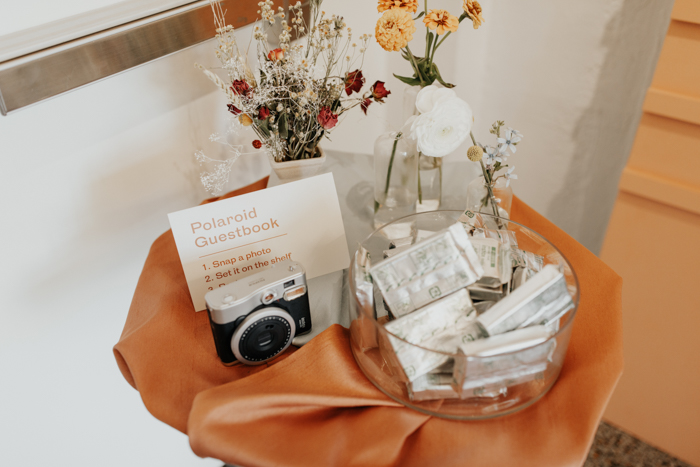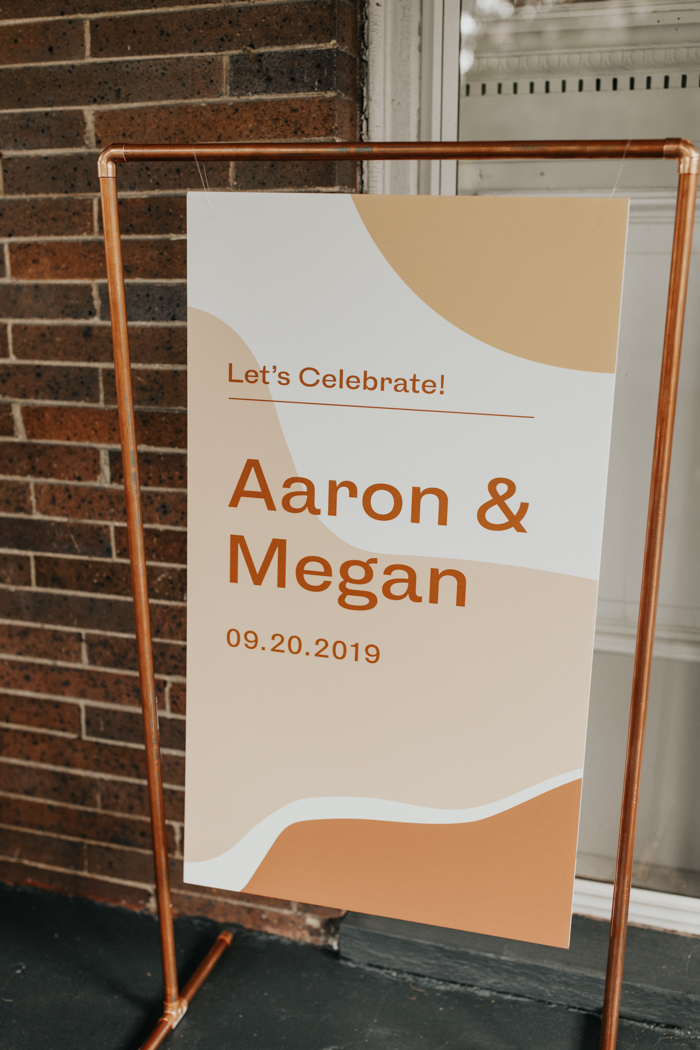 Wedding planning advice from the bride and groom: Try as hard as you can to enjoy it and do as much of it as you can as a team. The way you work together to make decisions and plan this day will set the tone for your relationship moving forward.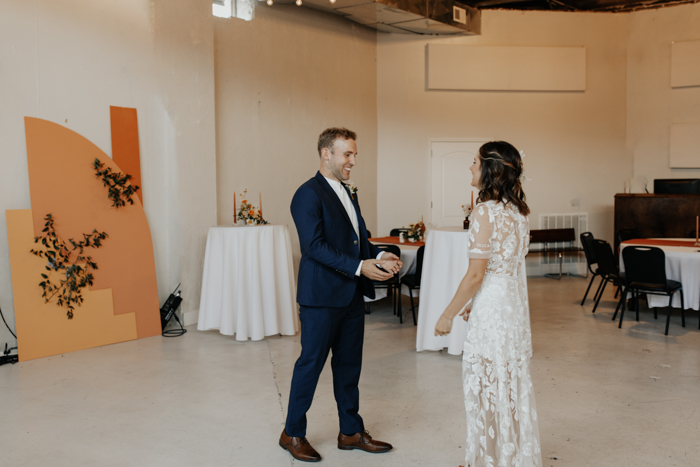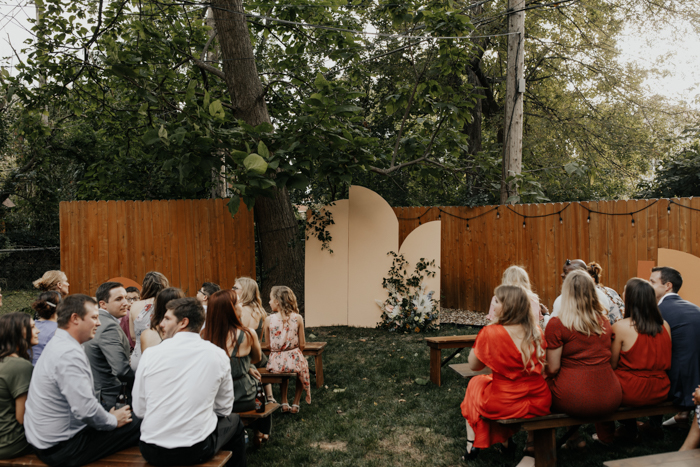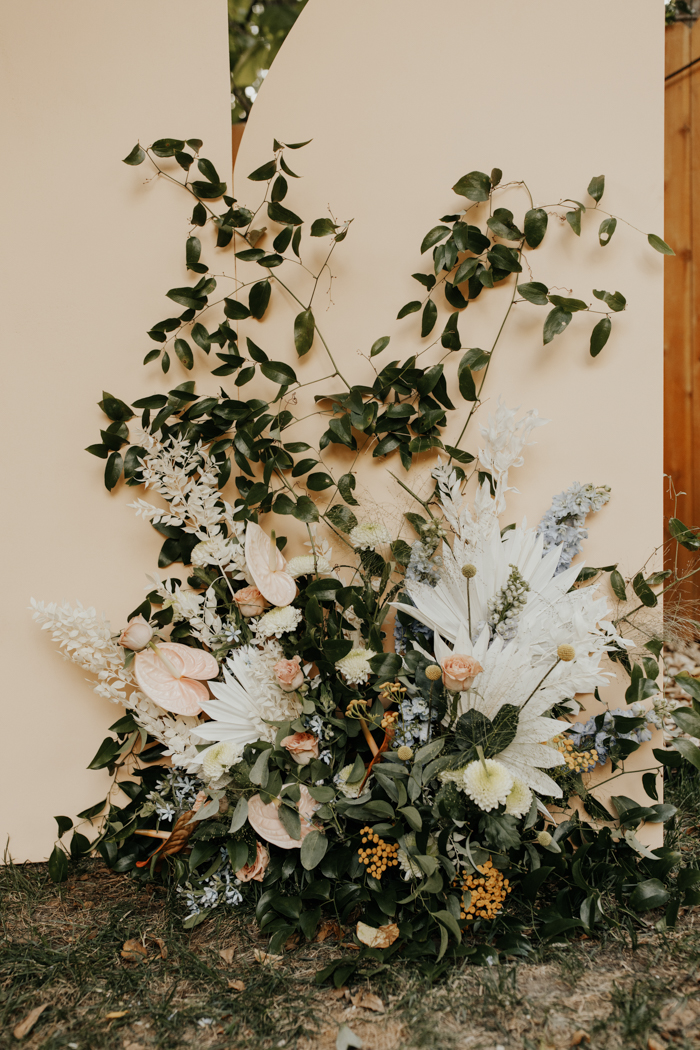 Our intimate ceremony in our backyard was beyond all of my expectations. When you spend so much time planning the catering menu, venue details, and what every person in your family is going to be doing at every moment of the weekend, you don't even think about how overwhelming beautiful your ceremony will be. My best friend was the officiant and she did an incredible job capturing our relationship and making it so meaningful. We also wrote our own vows which were incredibly special and overwhelming.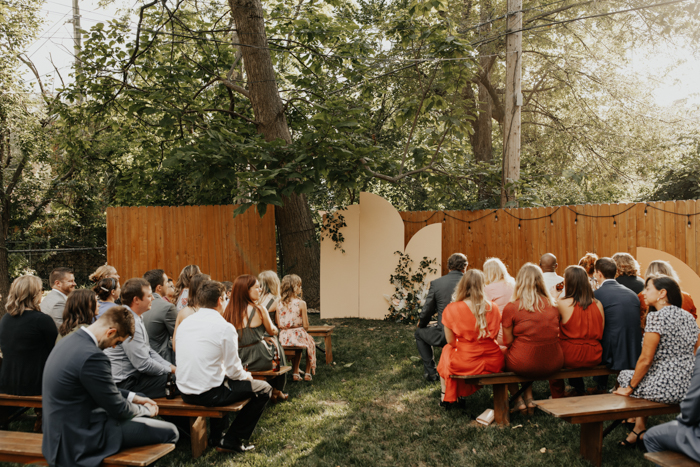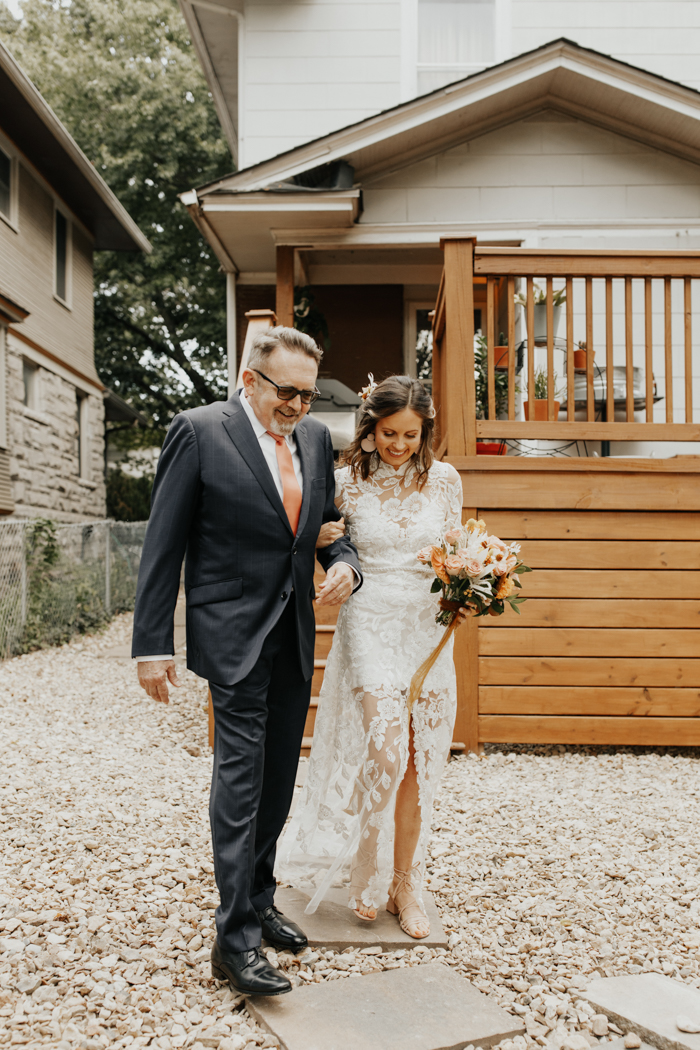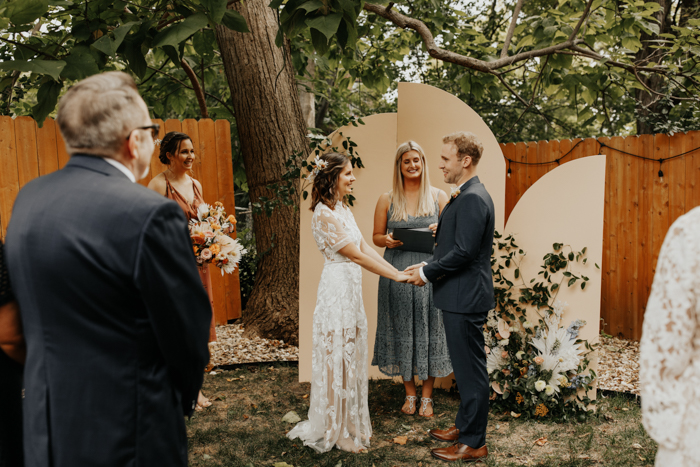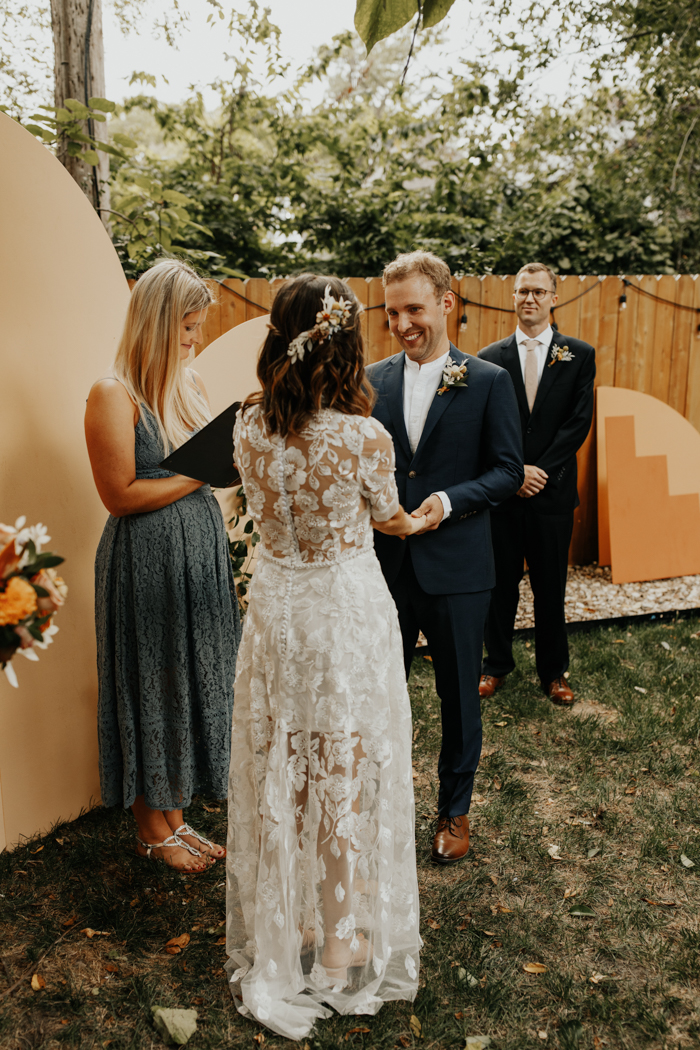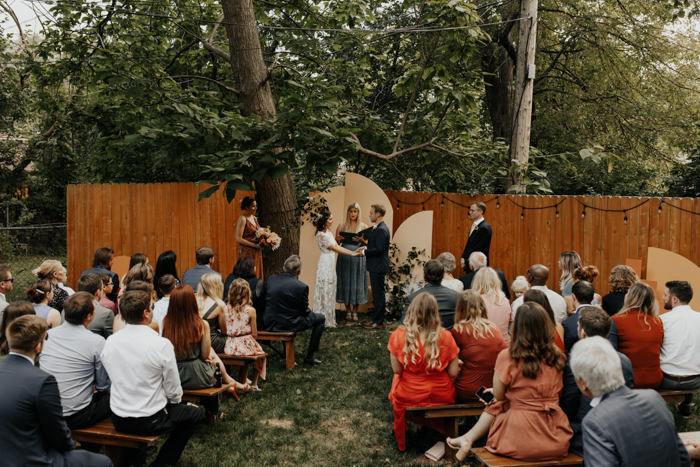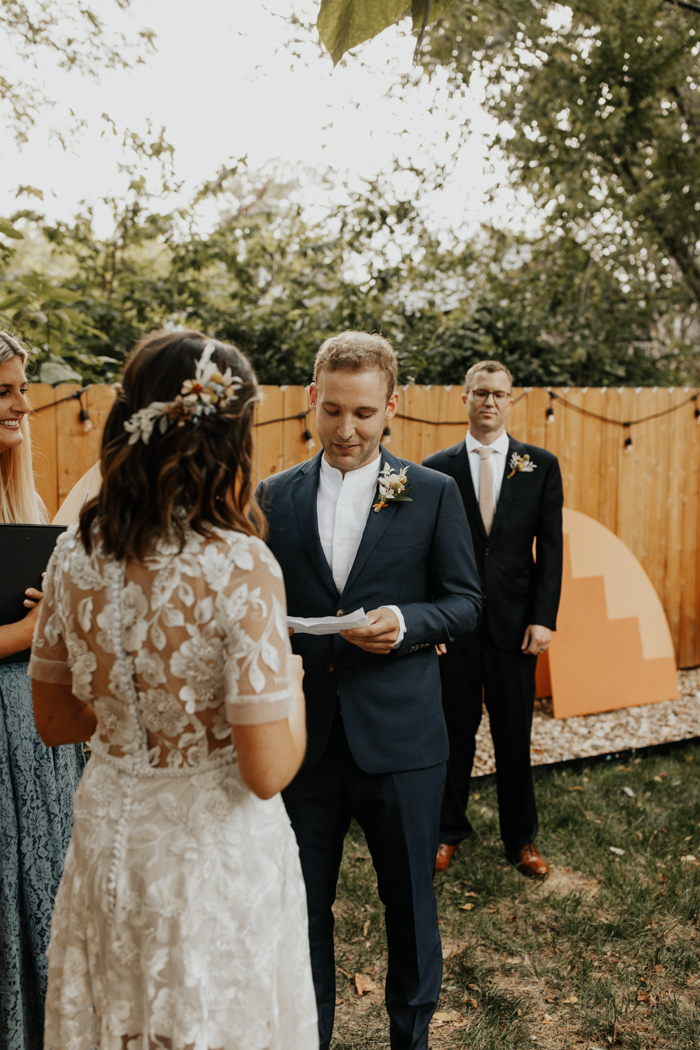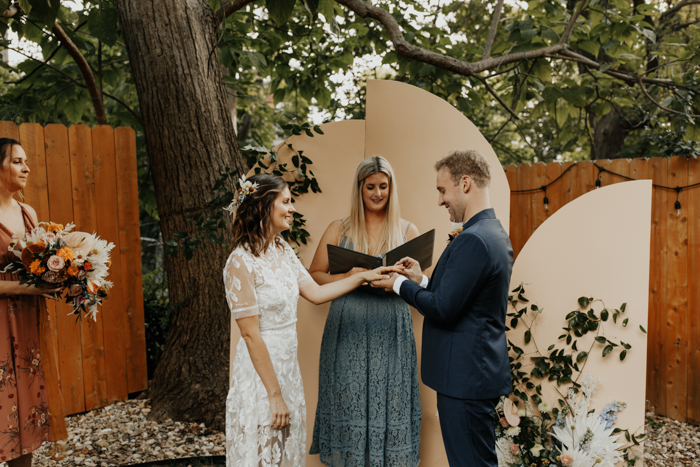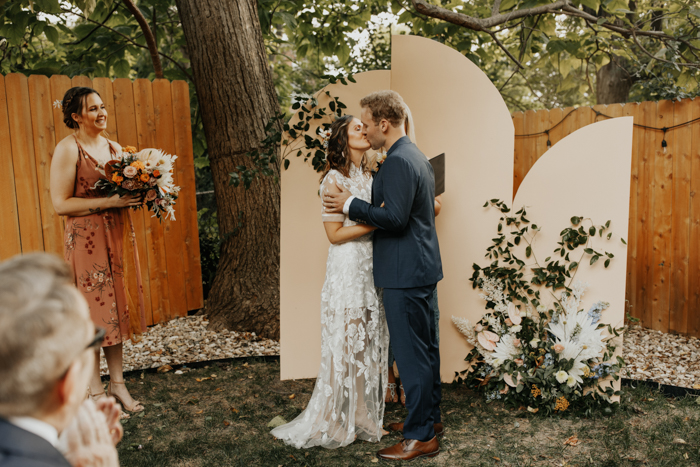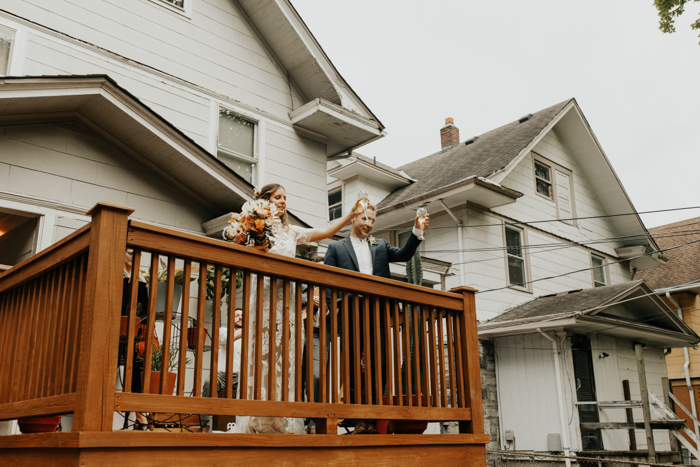 After our backyard ceremony, we signed our marriage license and went back outside to thank and toast our friends and family for coming. Aaron picked up his guitar and surprised me with a serenade of one of our favorite songs, "When U Love Somebody" by the Fruit Bats. He changed the last long of the song to be personalized to us and our relationship. It was a perfect moment that I will never forget.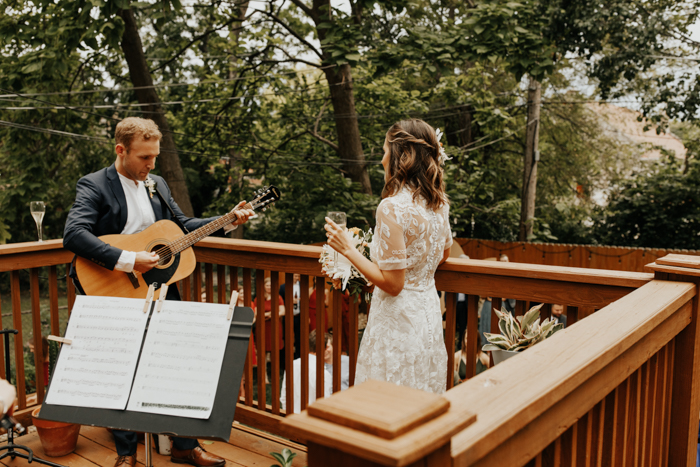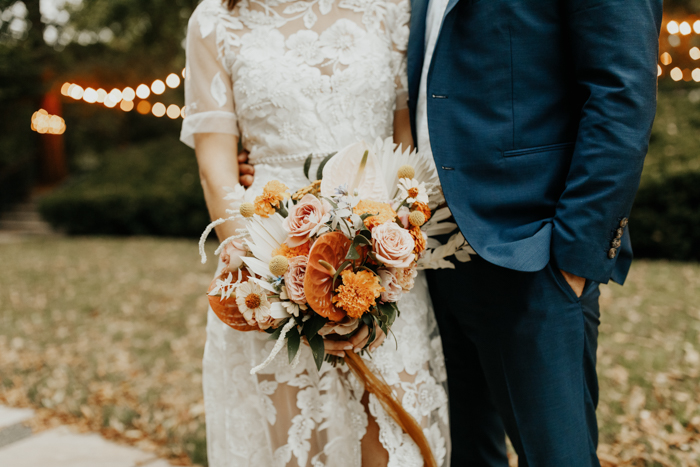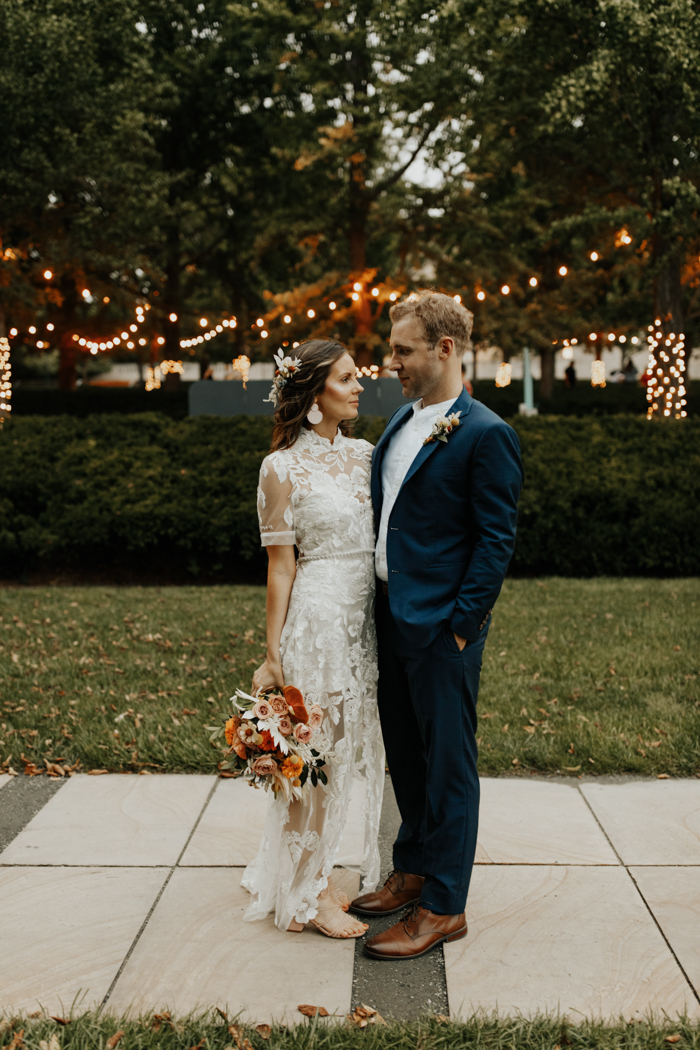 My mom helped me with every big decision AND made me the wedding dress of my dreams. My mom has been a seamstress my whole life, so there was no question that she would make my dress – what I didn't realize is that it would be the most perfect item I've ever worn. The creative collaboration between my mom and me was such a special part of the entire experience. My favorite detail of the dress was the hand-embroidered details on the sleeves that read, "m + a" and "09.20.2019"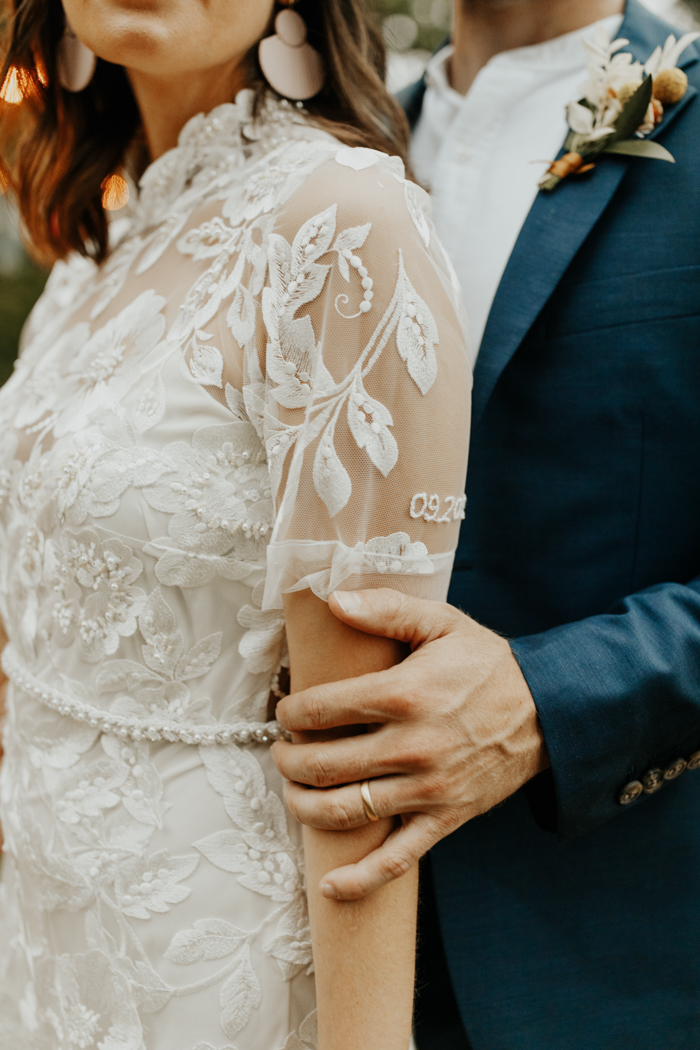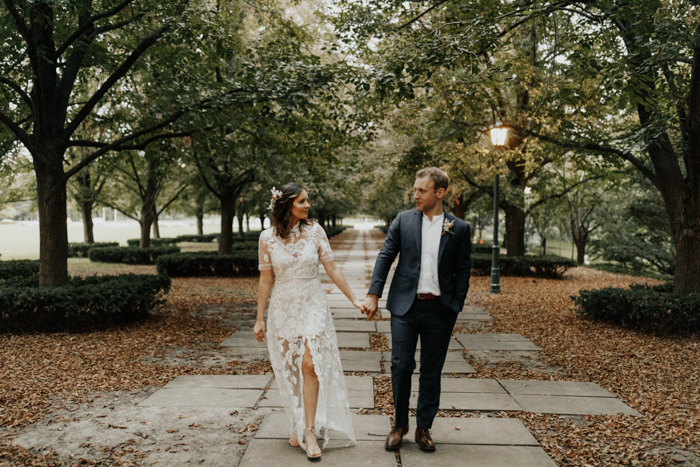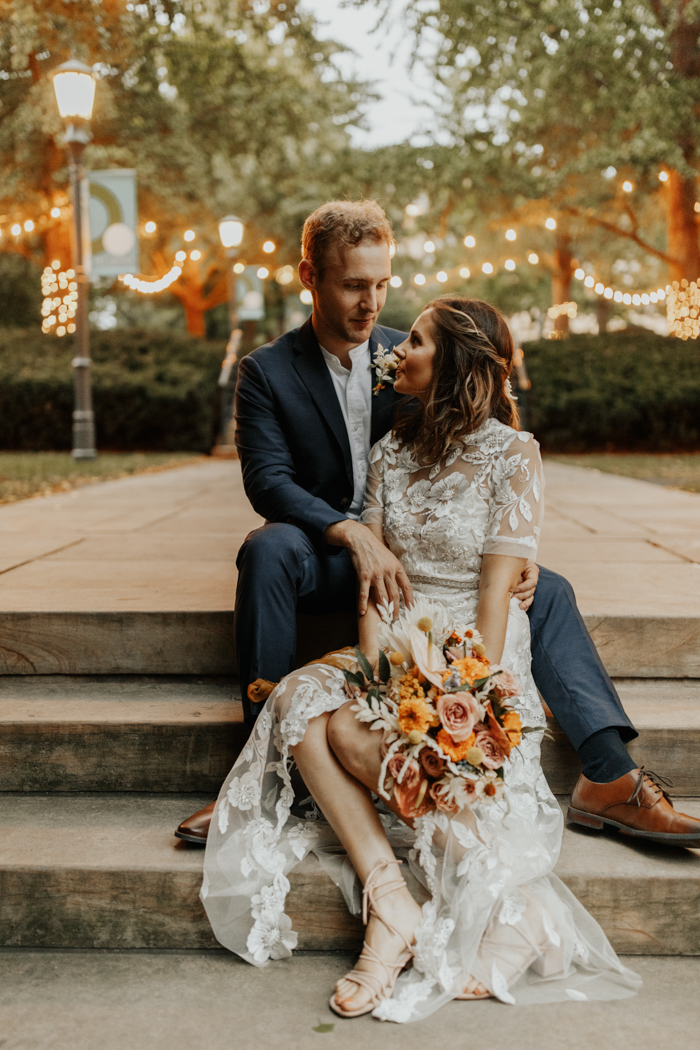 I truly loved everyone that was a part of our day. We really wanted to work with incredibly creative people who could help bring our vision to life. Katie Carlson was an amazing photographer. She quickly understood our style and created the most beautiful engagement photos that truly captured our relationship and our home that we have worked on so hard together. She was easy-going but assertive and it was incredible to see the images she got while we weren't looking. I will cherish our wedding photos for the rest of my life.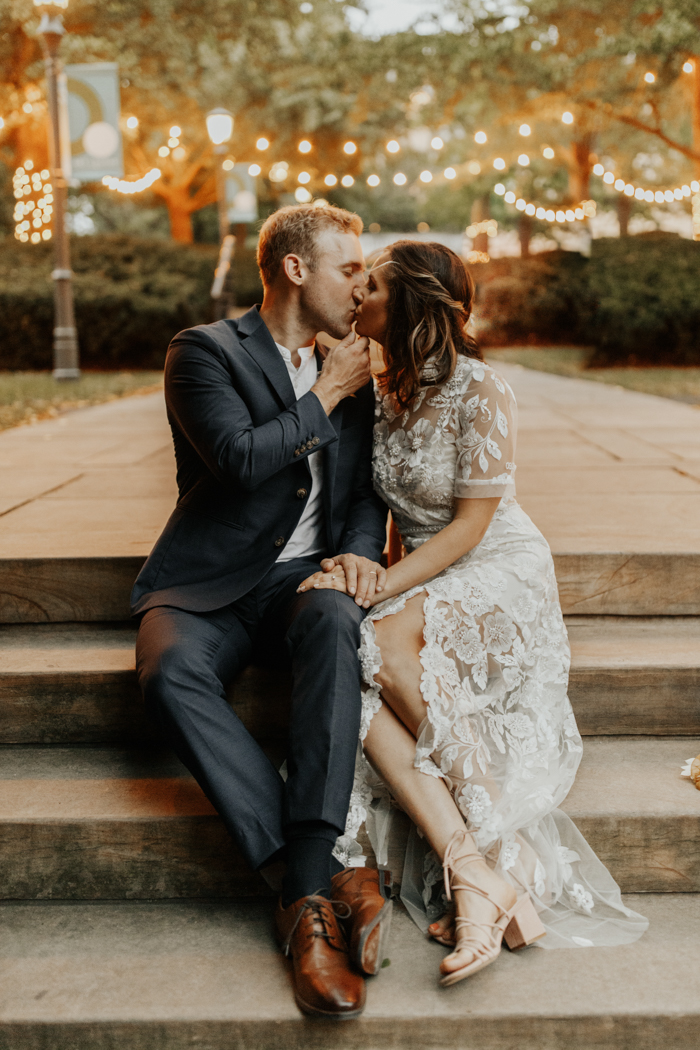 SHOP THIS LOOK: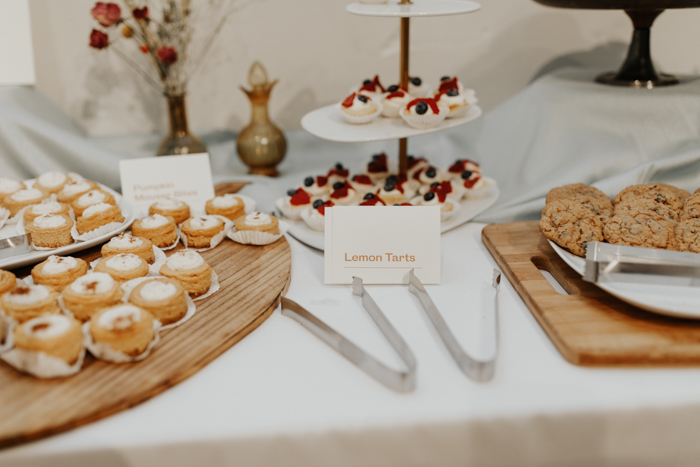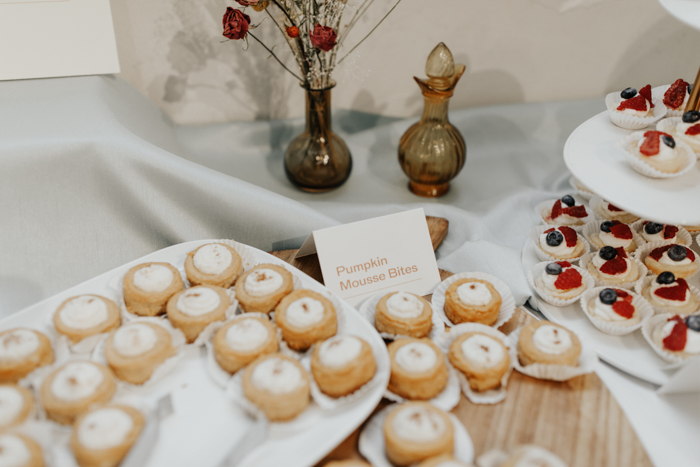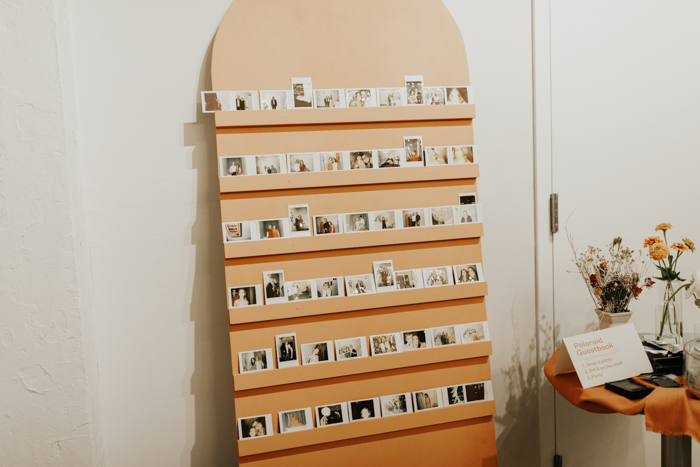 We chose El Torreon because it is in our neighborhood in Kansas City and we wanted everything to feel special and localized to our lives right now. It's also a very historical building where some of the greatest musicians played in Kansas City.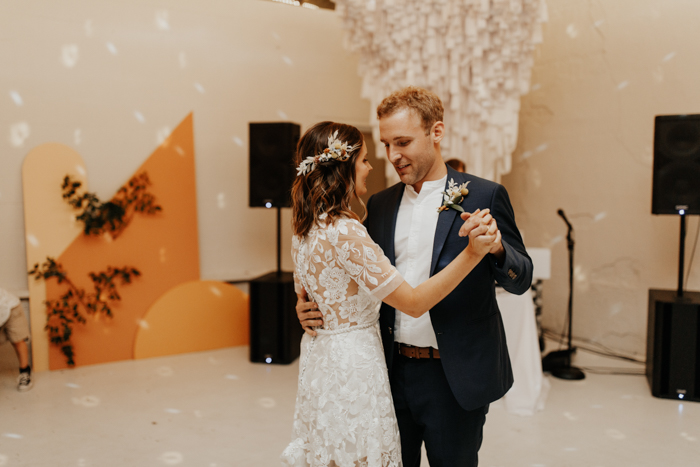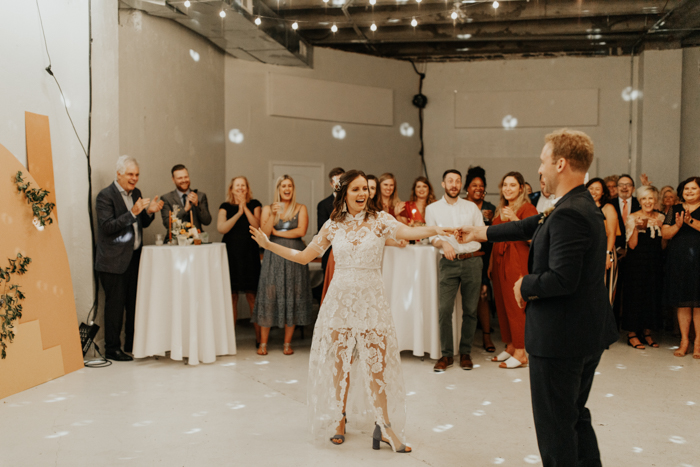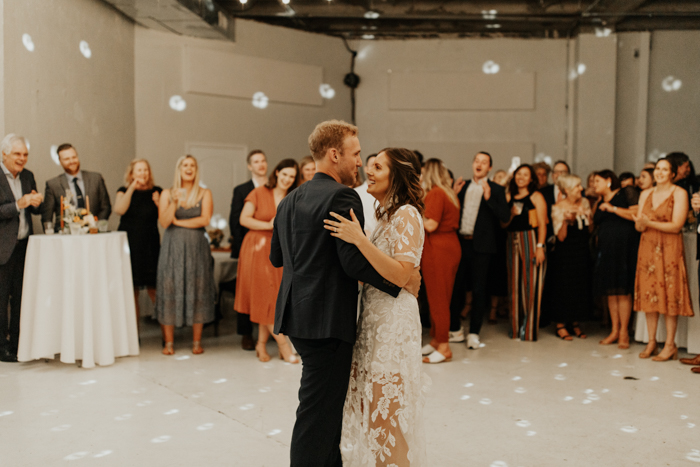 We're so happy for you, Megan and Aaron! Shout out to Katie Carlson for sharing their day at El Torreon with Junebug! To for more 2020 wedding inspo, read about the six wedding themes that are trending in 2020!