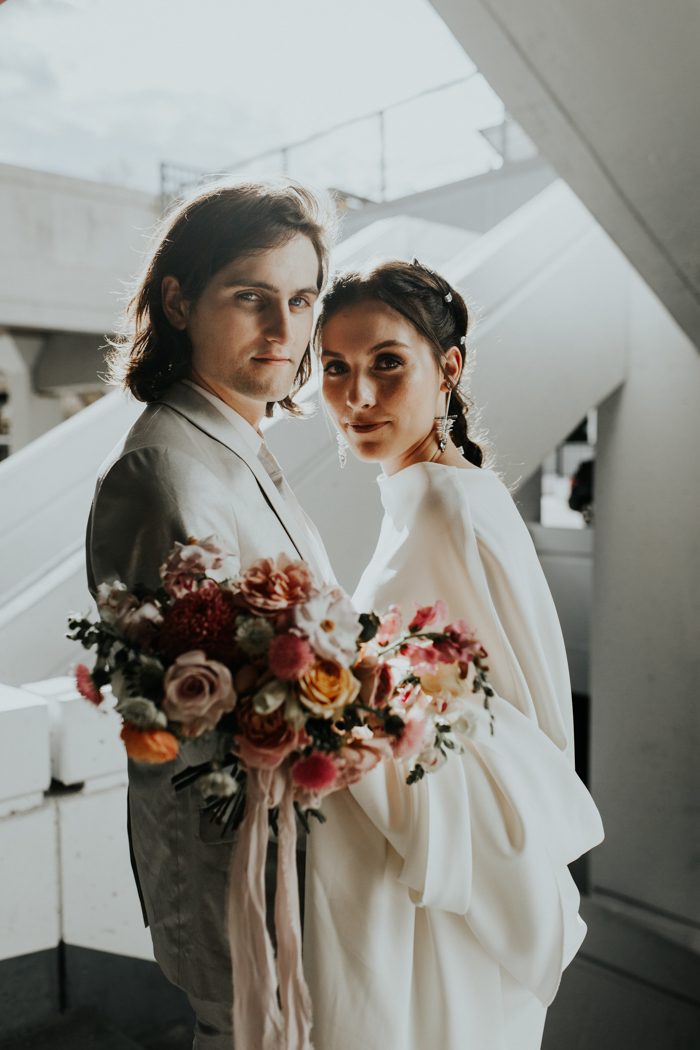 Bailey and Cale's Living Arts Gallery wedding is what dreams are made of. Their vision came to life with their venue being the perfect blank slate for their edgy and modern wedding. We are obsessed with the 3D ceremony backdrop with grids, acrylics, and the most whimsical florals from Anthousai Florals. This fashion-forward couple said "I do" looking as stellar as ever – Bailey is rocking a jumpsuit and cape by Pronovias, and Cale has some major modern vibes in his Noose & Monkey attire. Photographer Chelsea Denise Photography and videographer Lume Tulsa captured the dreamy details of day.
The Couple:
Bailey and Cale
The Wedding:
Living Arts Gallery, Tulsa, Oklahoma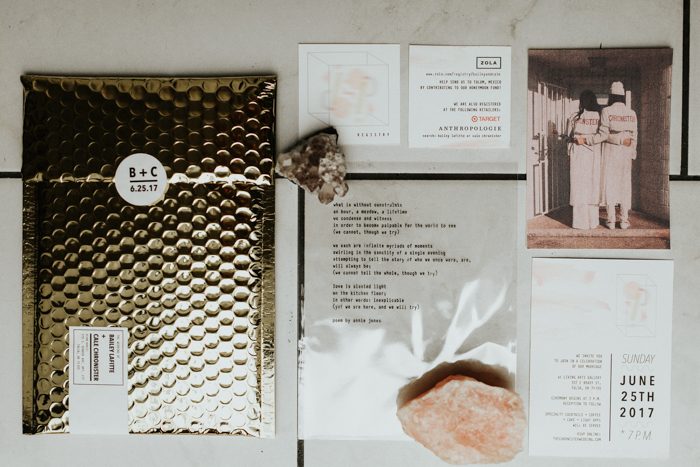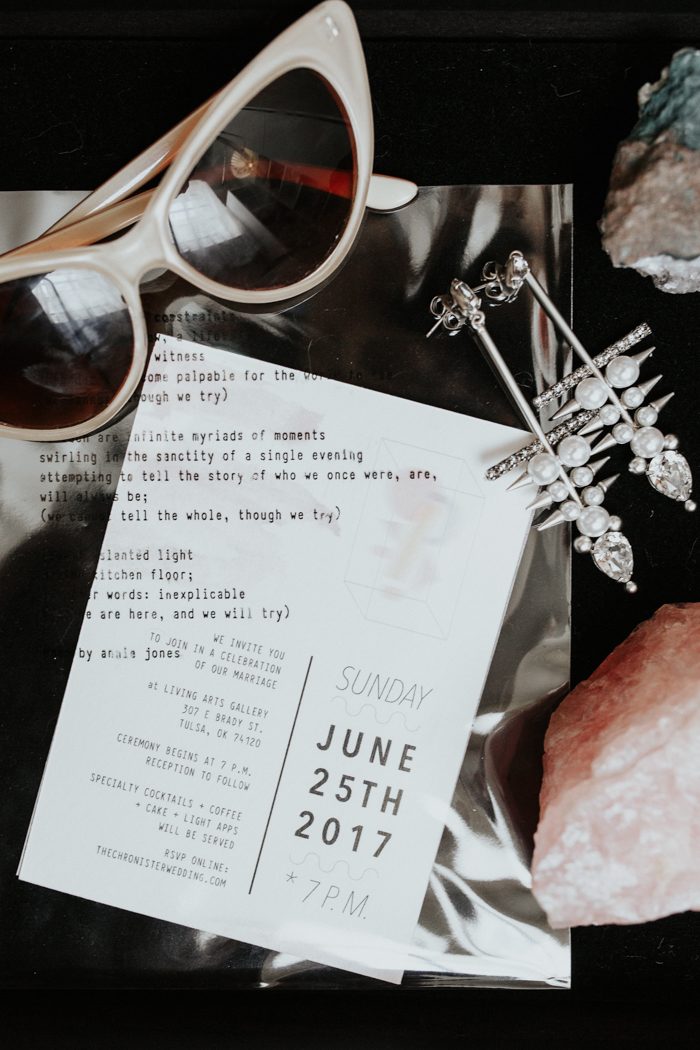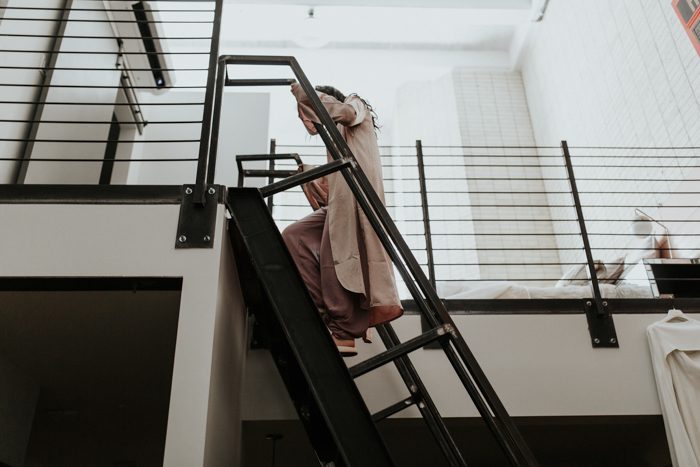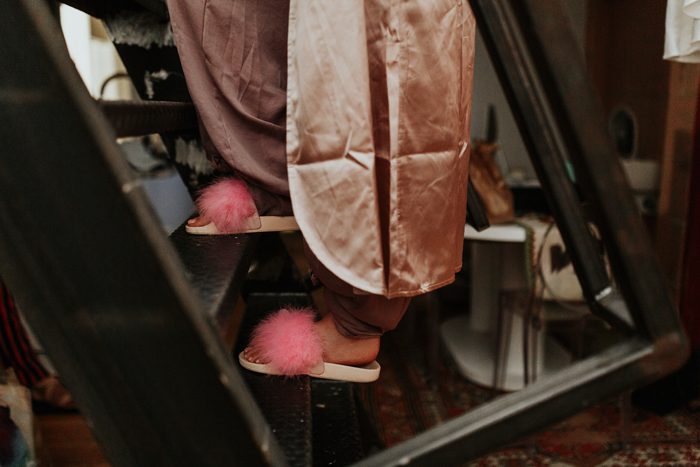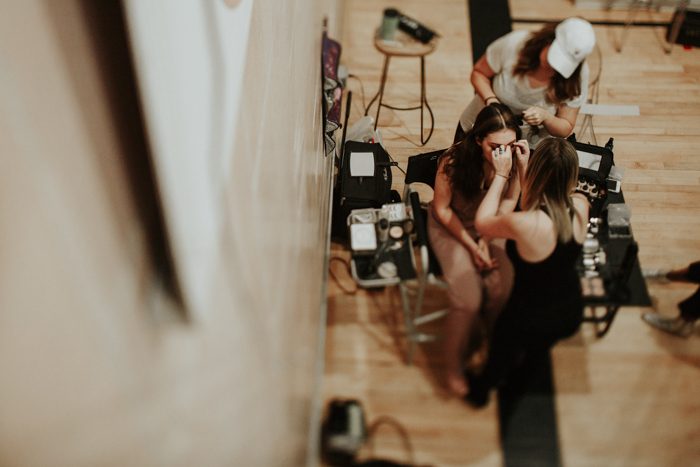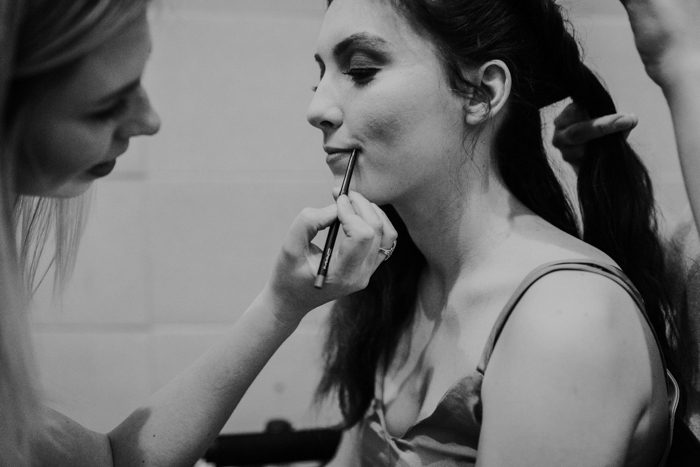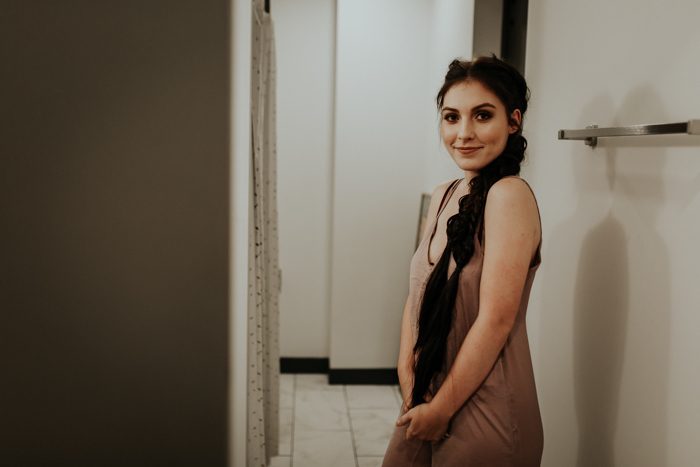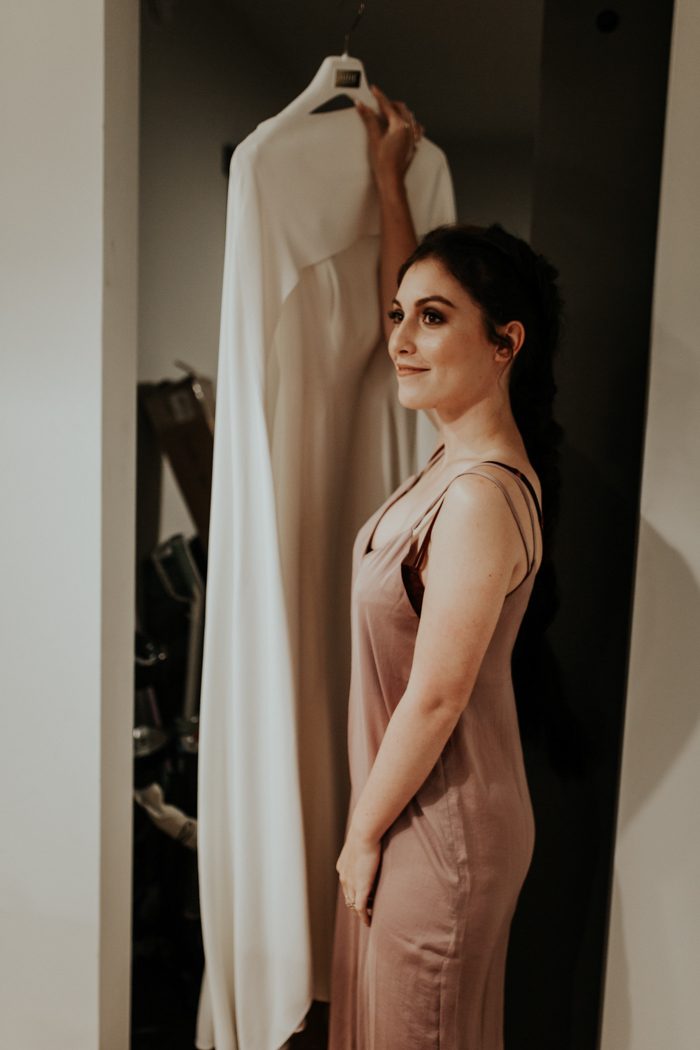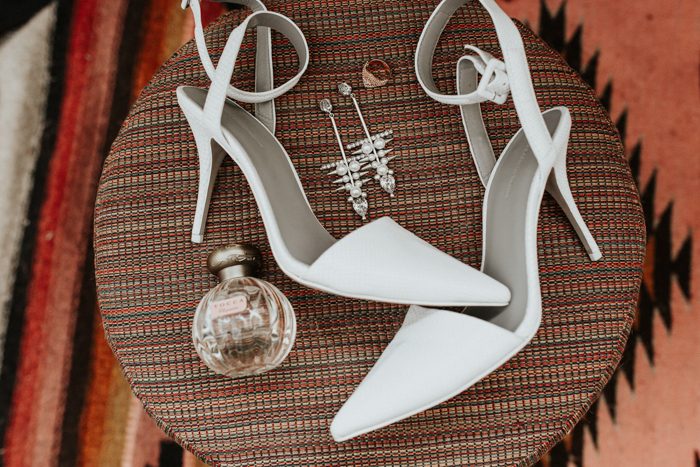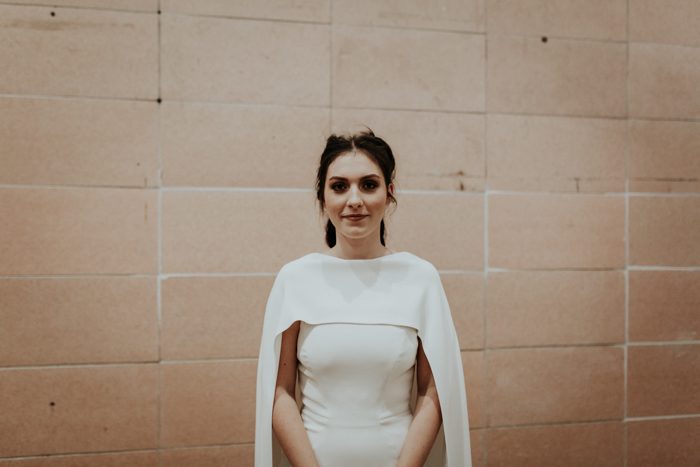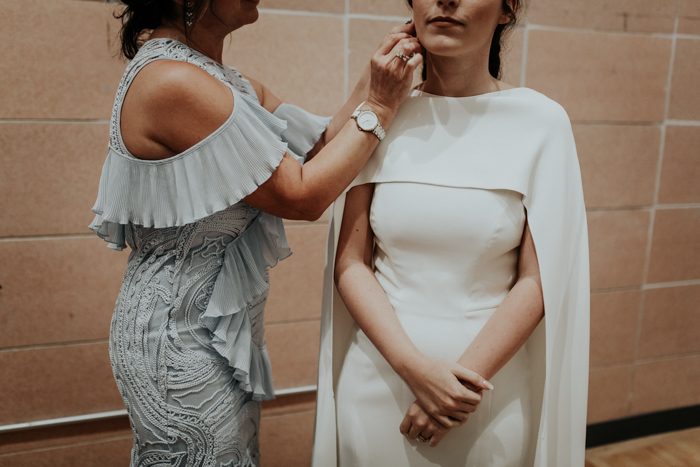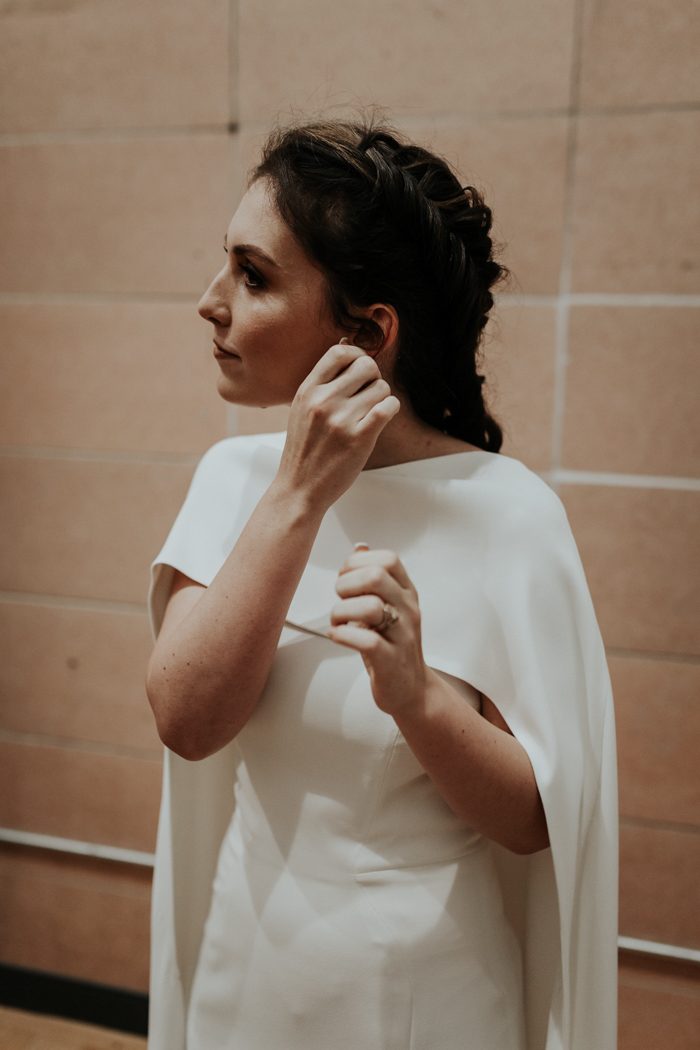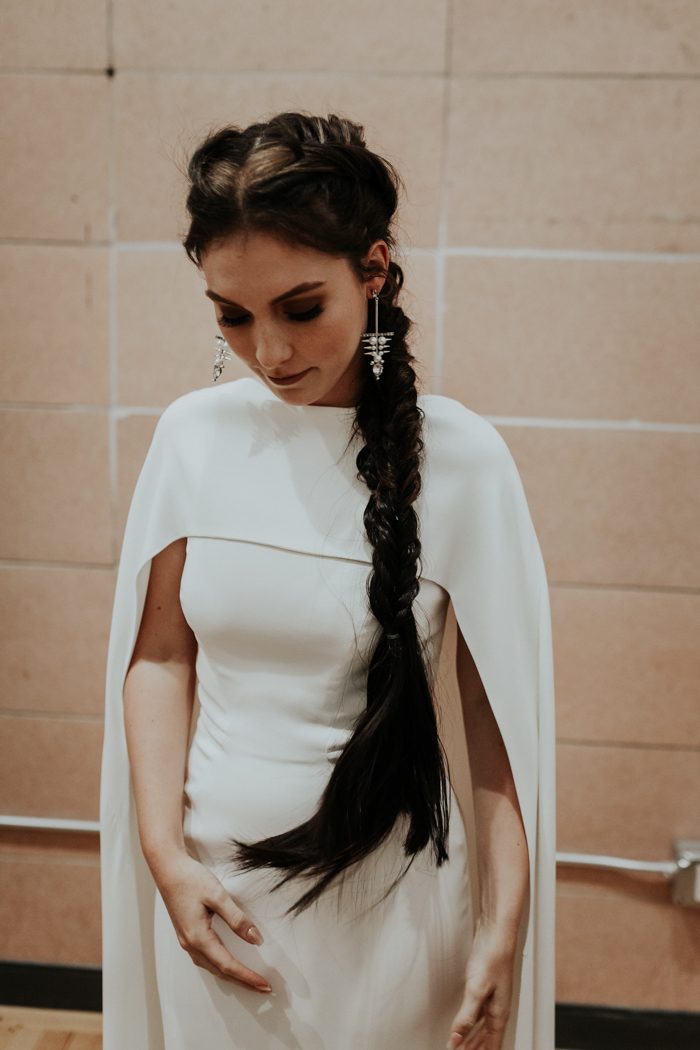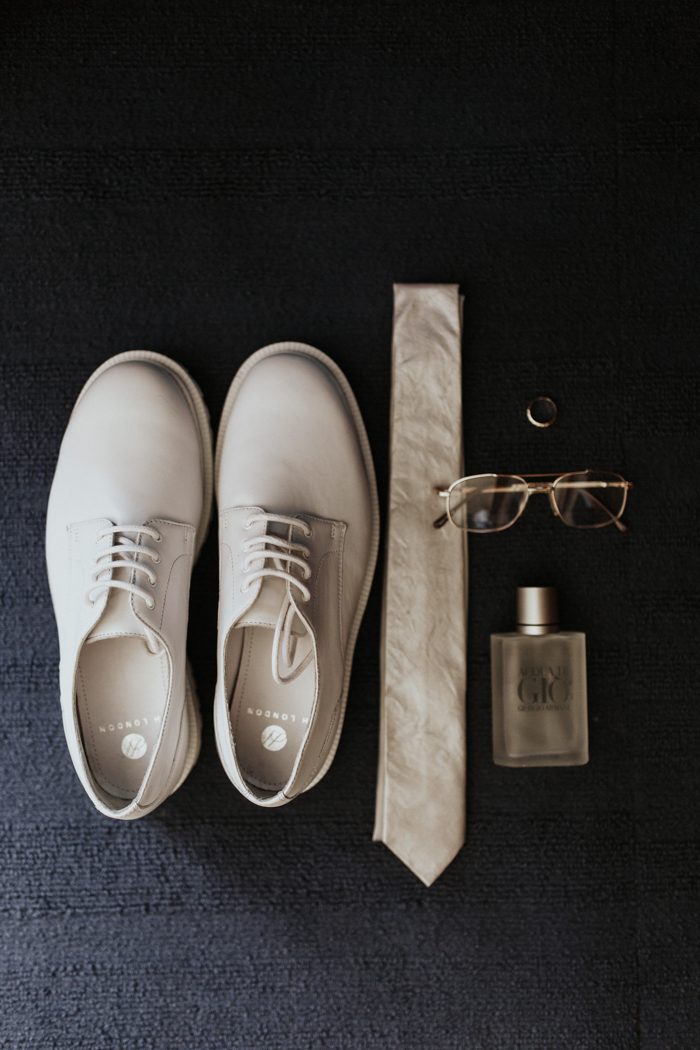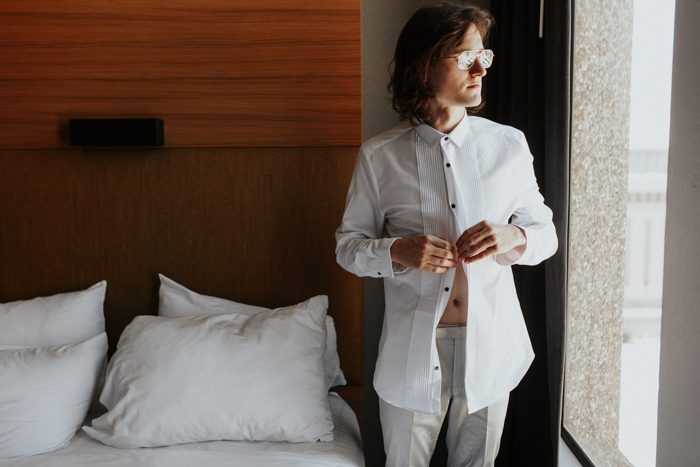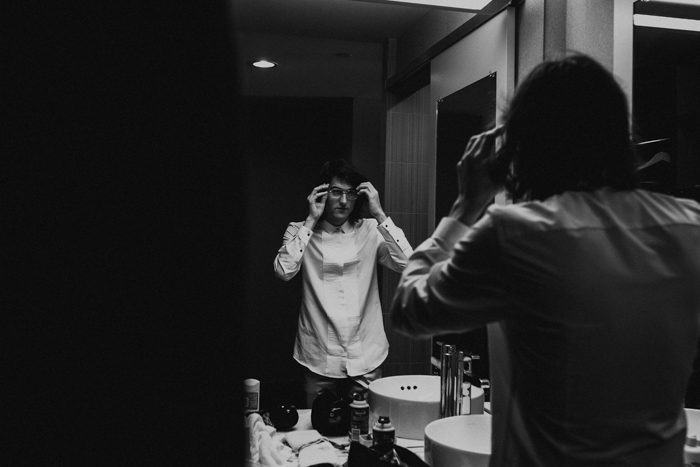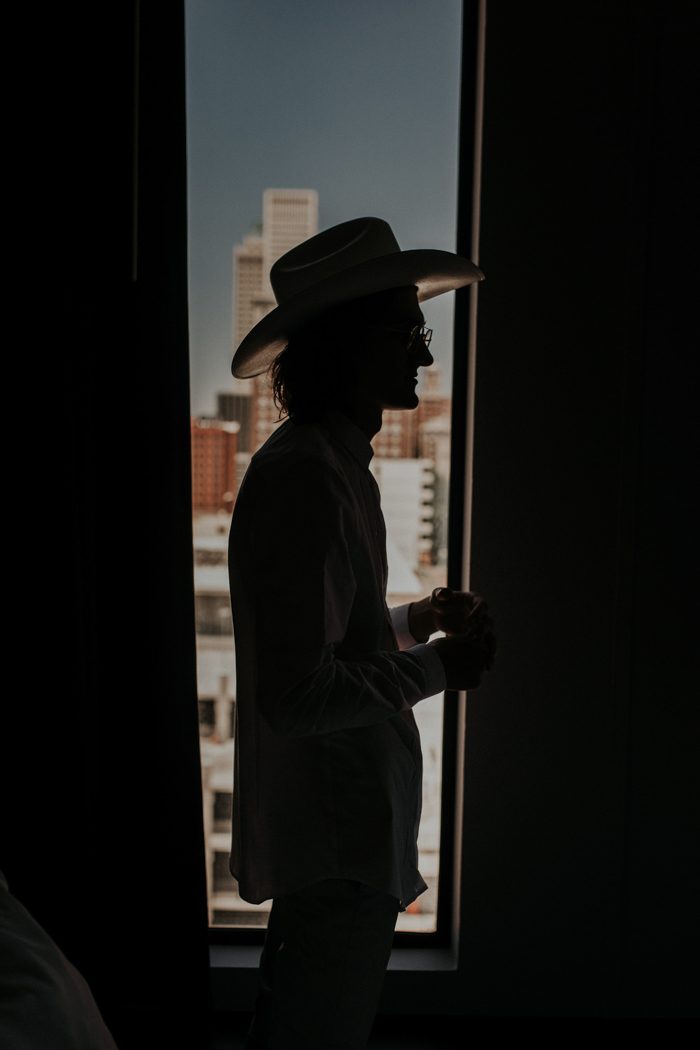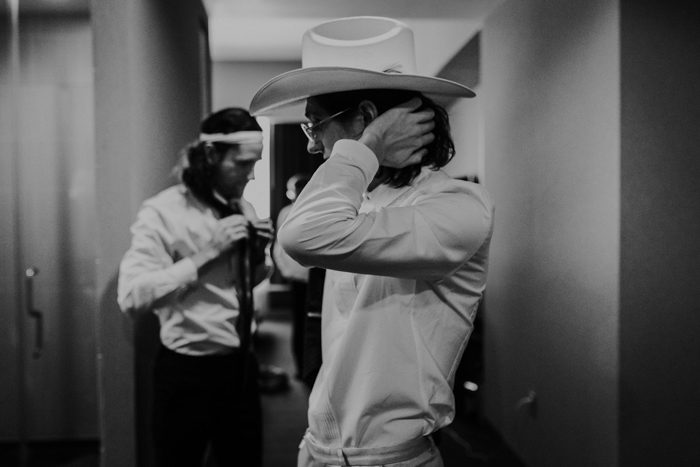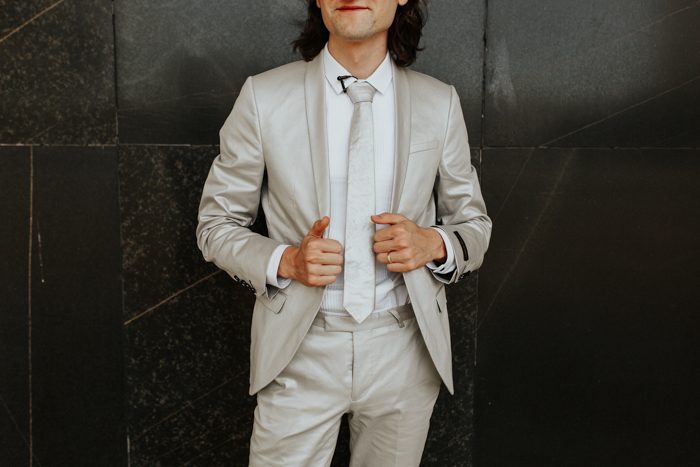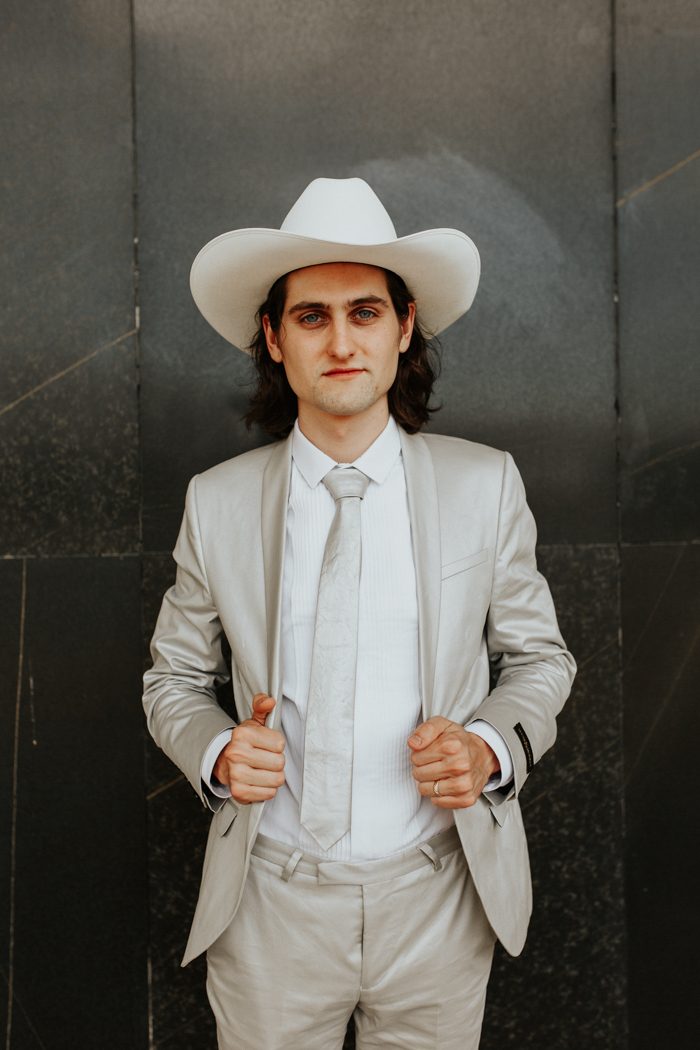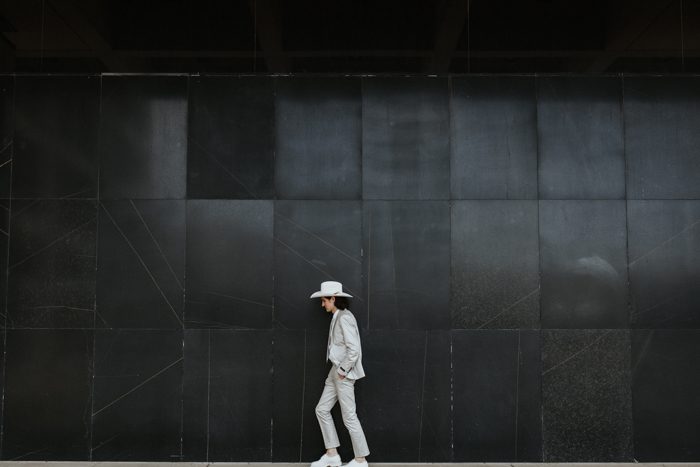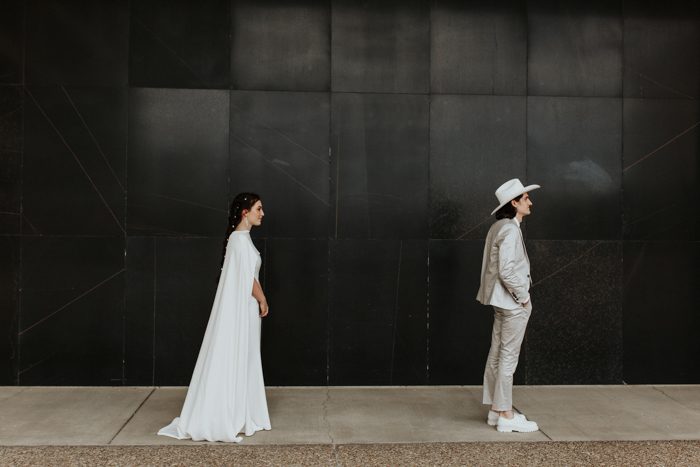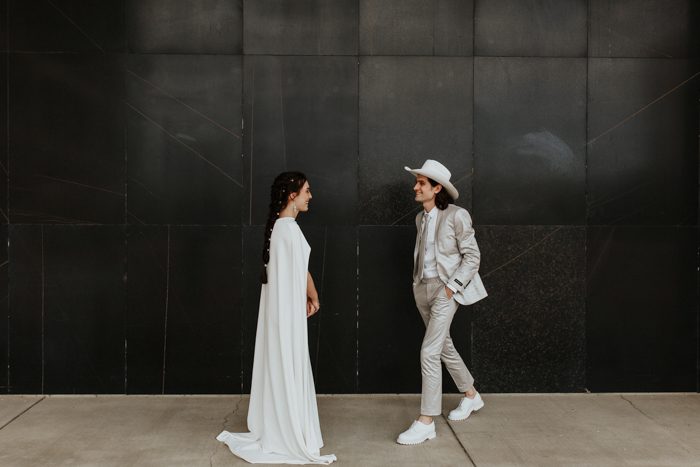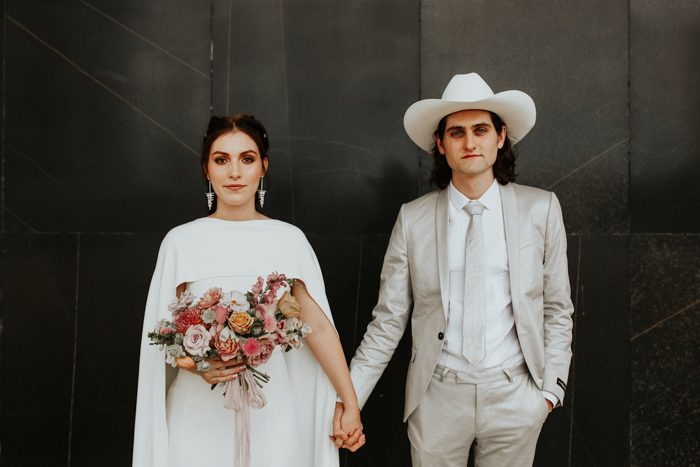 Finding a wedding outfit/dress that fit the vision I had for myself was a struggle. I started the journey totally set on a jumpsuit. I do not wear dresses, and I know the power of a good jumpsuit! However, I kept coming back to the idea that all I wanted was to look sculptural and dramatic—jumpsuit or not. So I broadened my search—and landed on THE CAPE. It was minimalist, yet sooooo maximal at the same time. I wanted to look like a Native American Khaleesi mixed with a Greek Caryatid. I truly loved the ensemble I ended up with. I stayed true to my masculine, queen of world dreams—-and I have no regrets. I, luckily, have a partner in life that wants to dress just as outlandish. Cale donned a silver metallic suit, a gold chain, and a white cowboy hat. It was magic.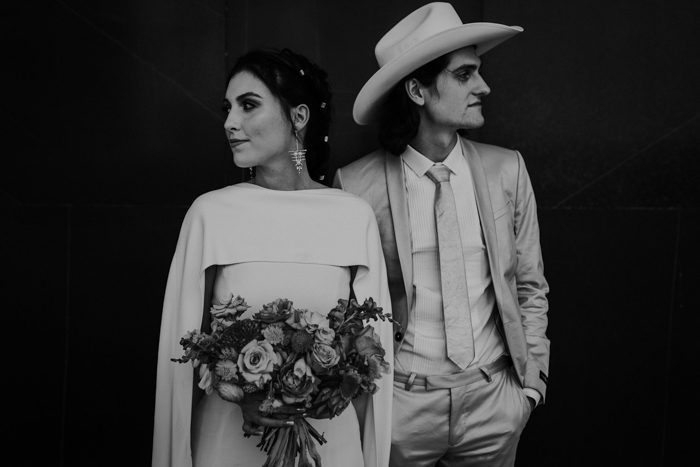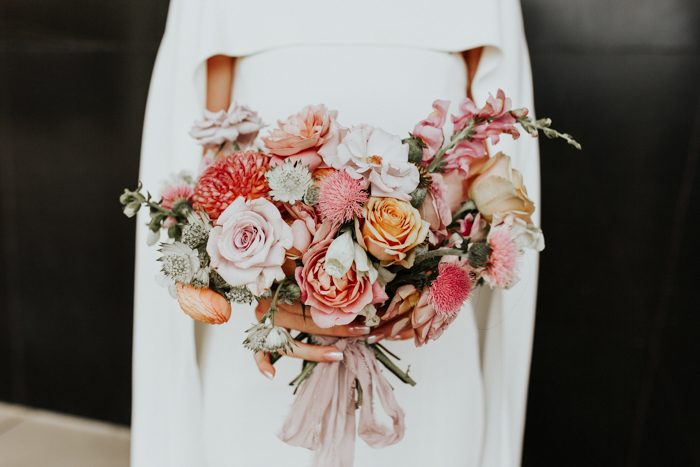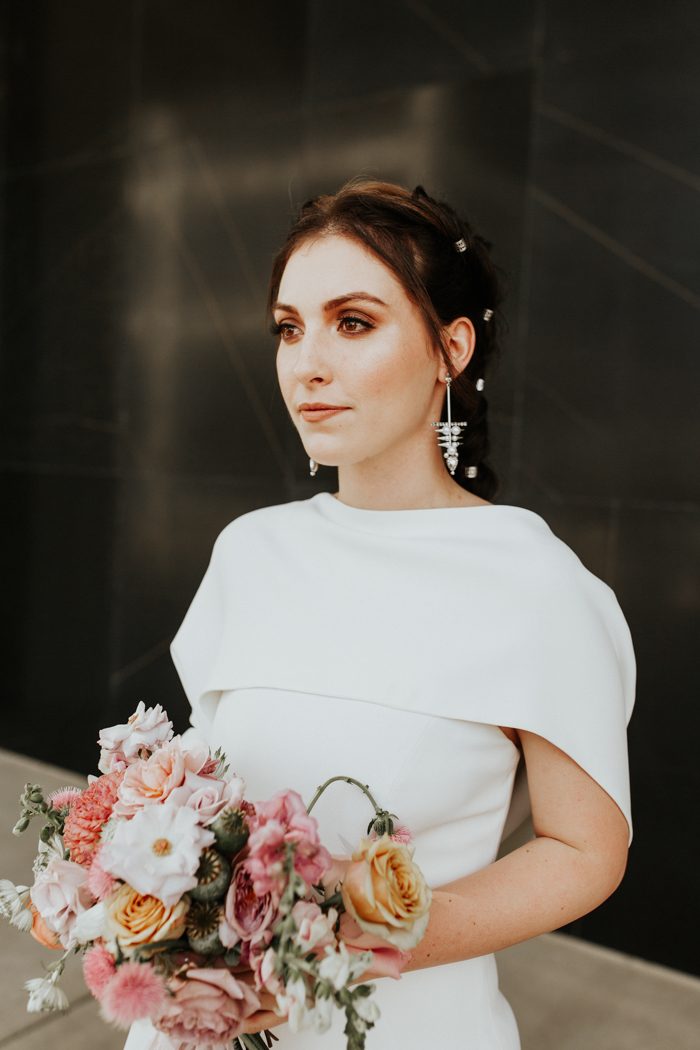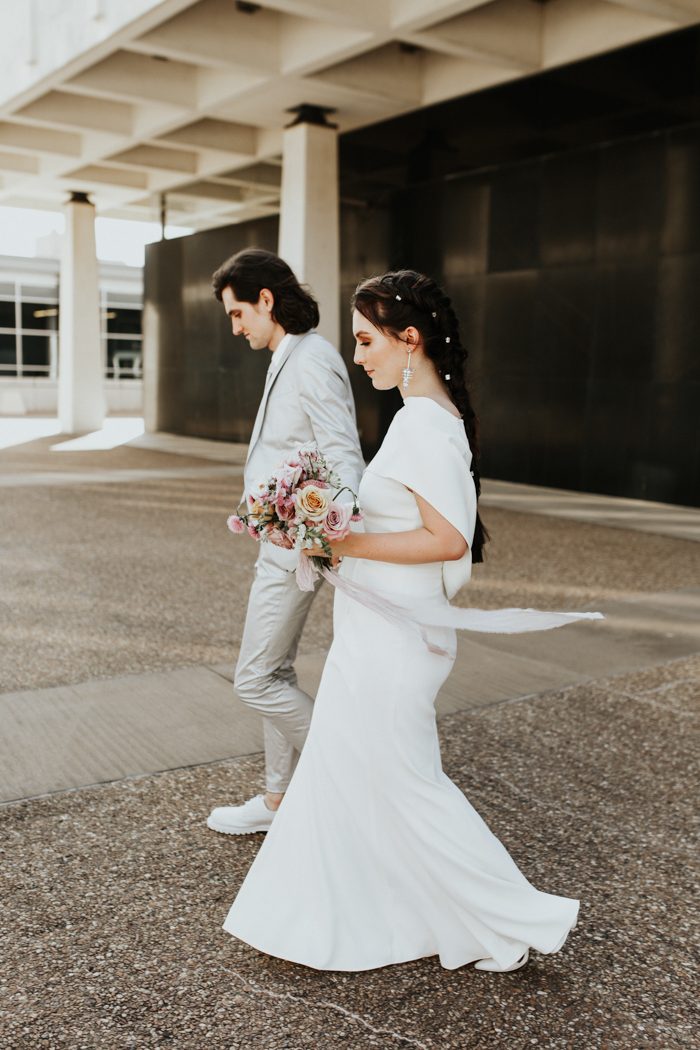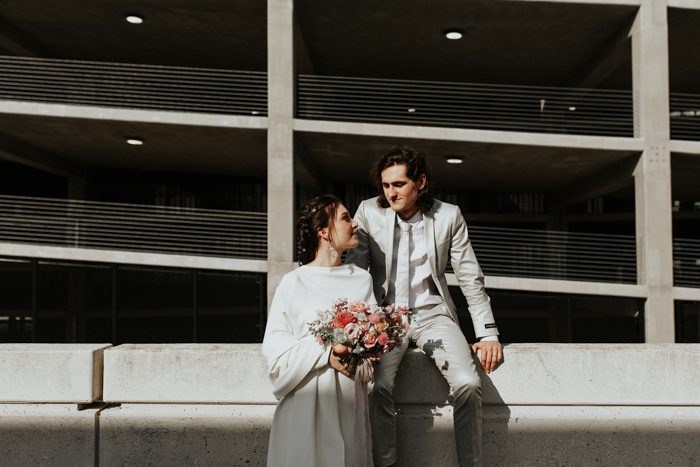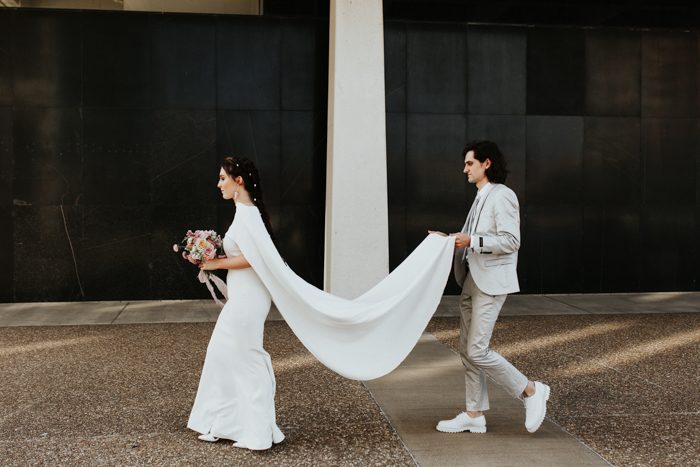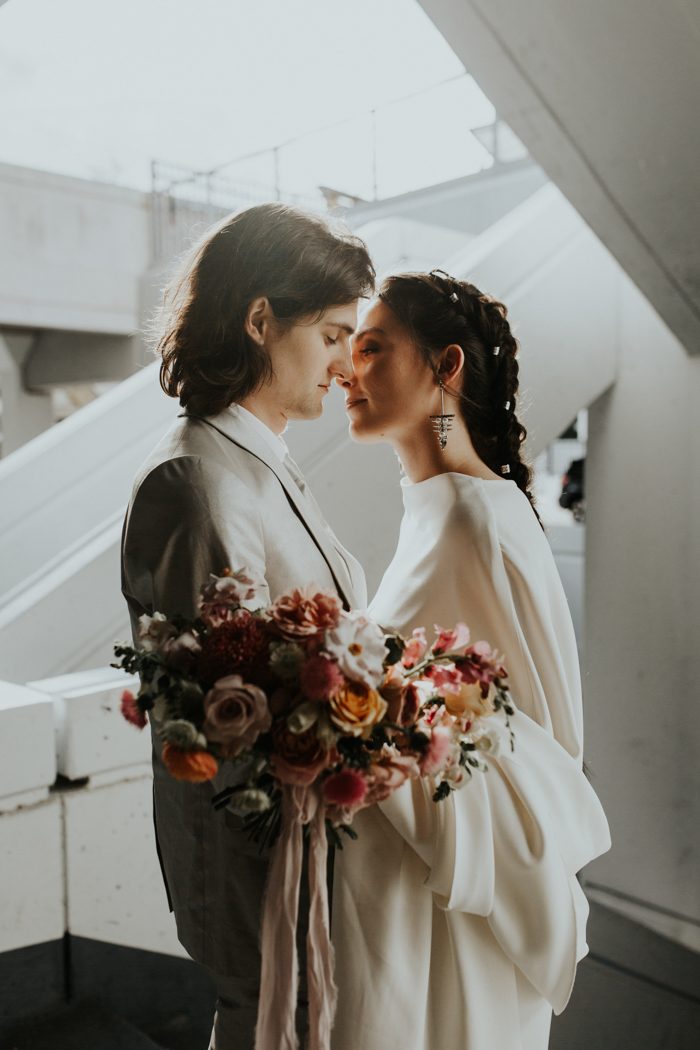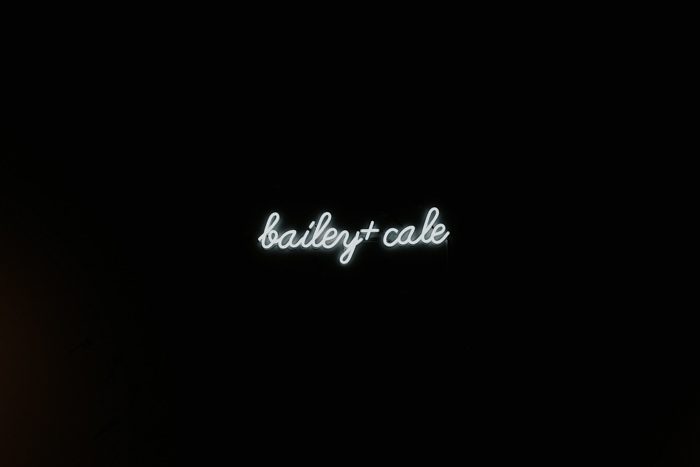 I'm an Interior Designer—so I knew we would be creating custom/DIY installations at every opportunity. I modeled the venue in my 3D Design software and meticulously planned every detail. We curated and built all of the altar installations (white and acrylic boxes, grids, neon lights, giant poem, etc.) ourselves. The gals at Anthousai filled all of our DIY installations with the most beautiful floral arrangements–that's when the vision truly came together. We had a great team of vendors, friends, and family all contributing to our day. We are #blessed.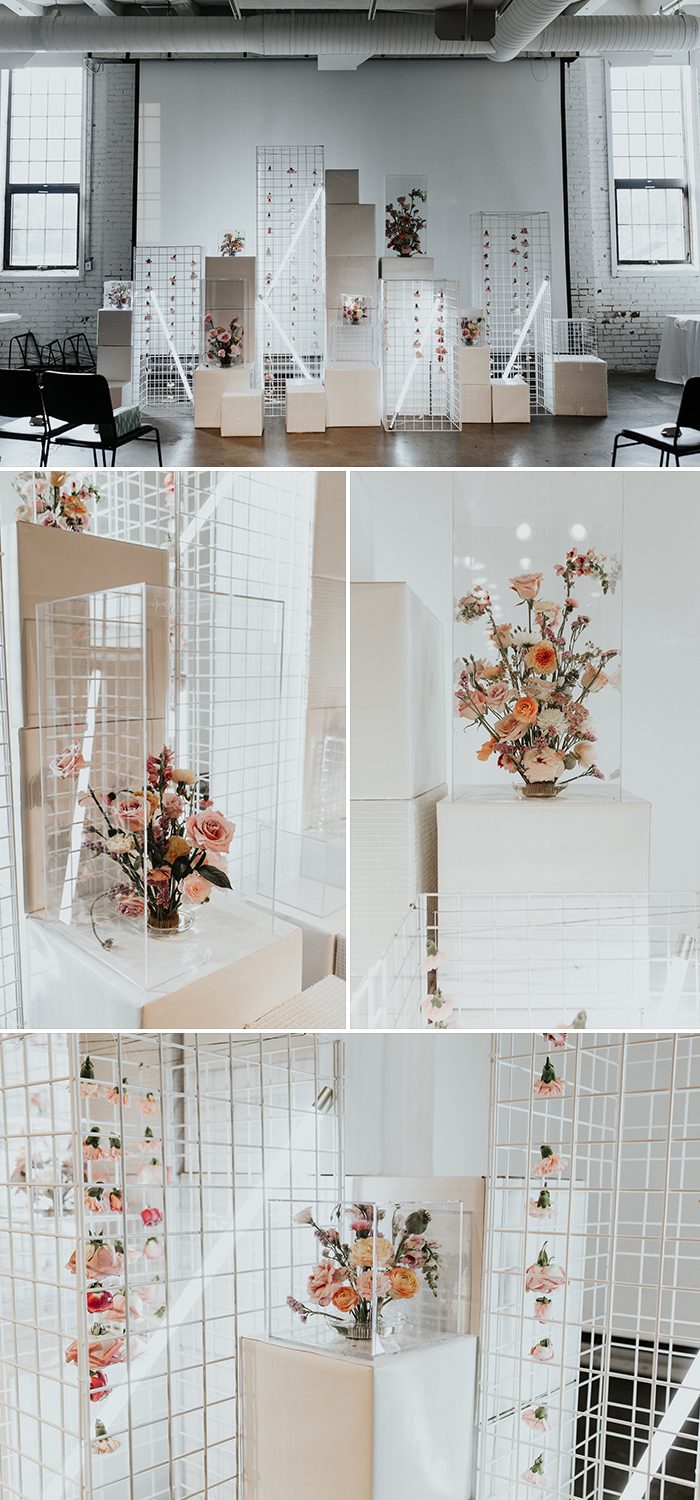 Our advice would be to step outside of what you are taught that a wedding should be. Create your own ceremony; build your own world; approach your wedding as if weddings have never existed and your one goal is to celebrate your love in a way that is meaningful to you.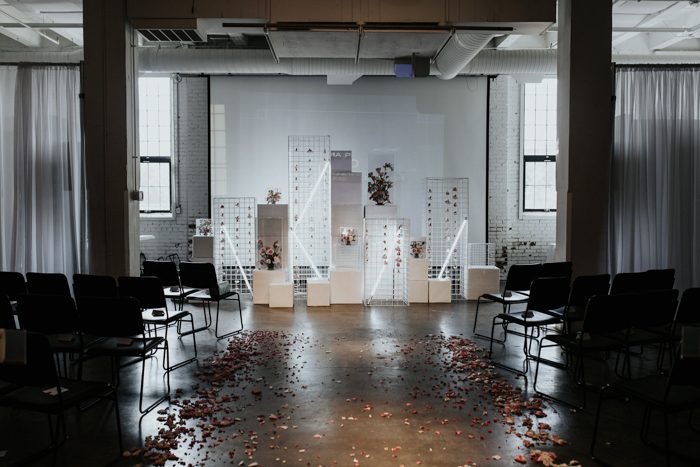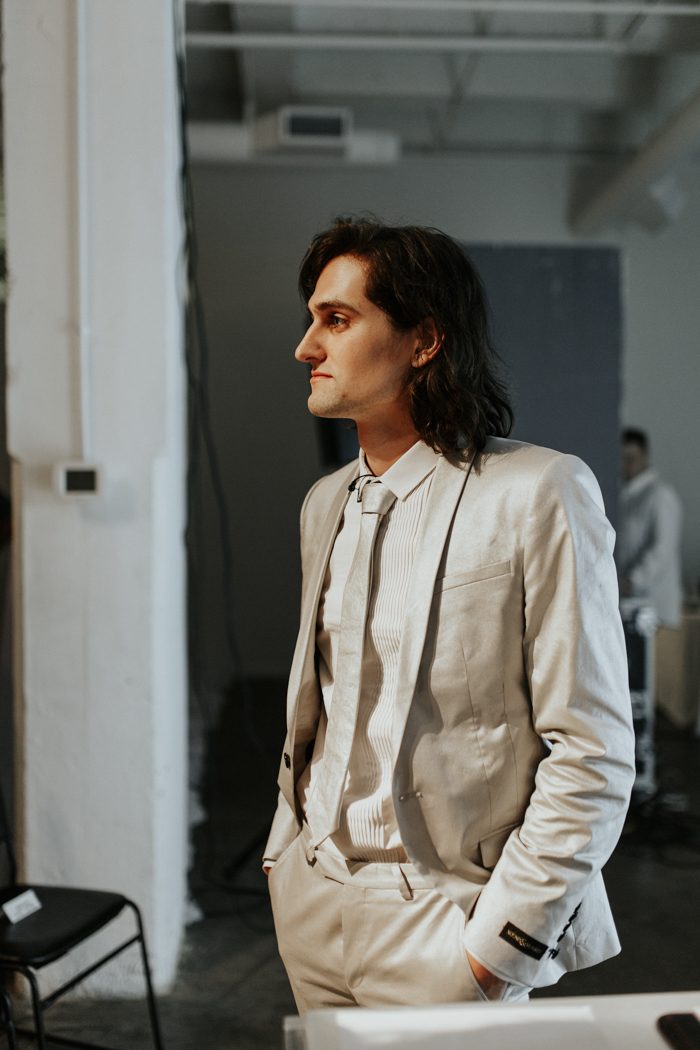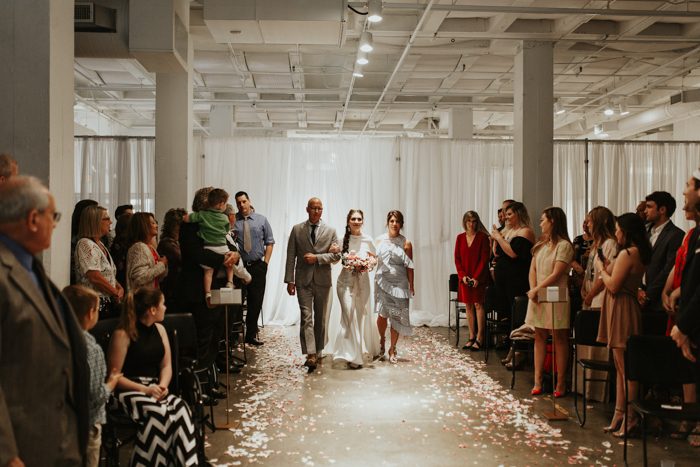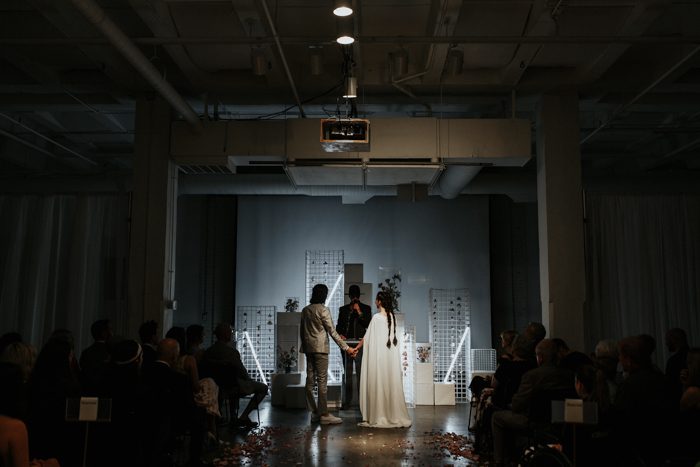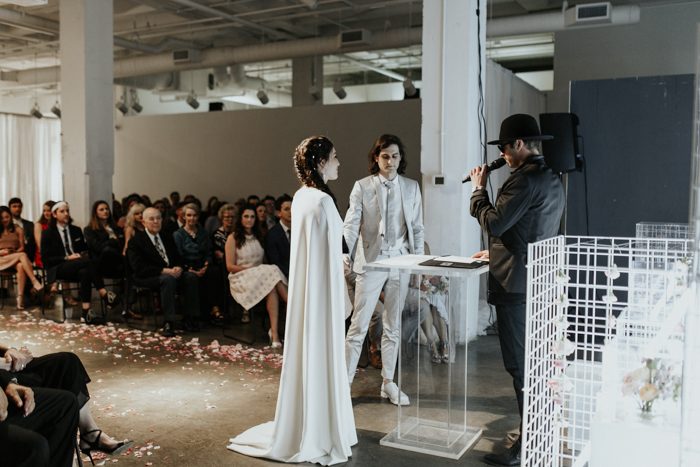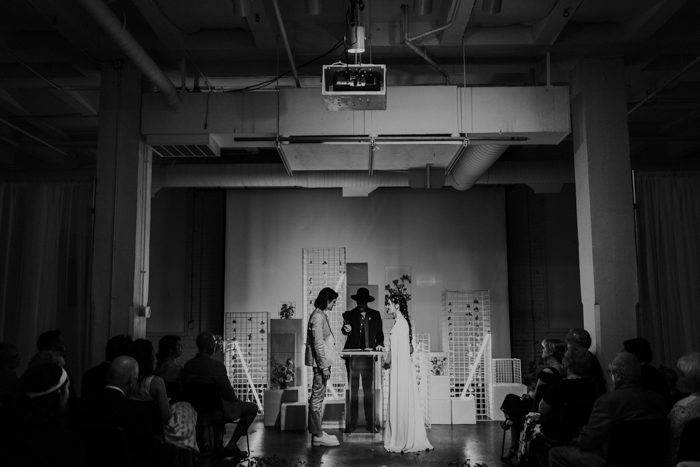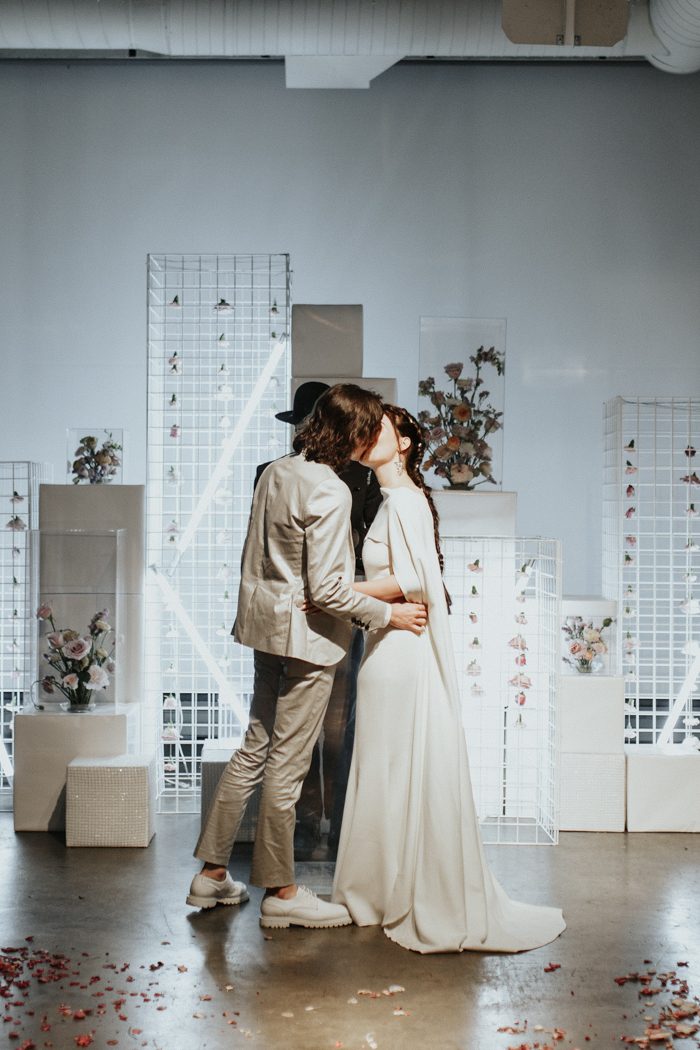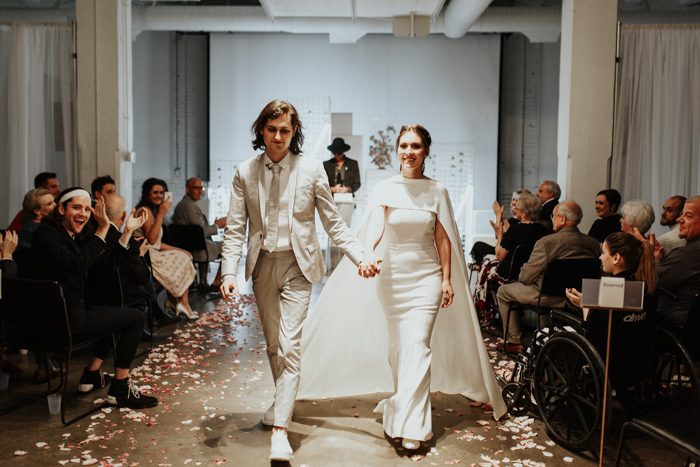 Strangely enough, the most memorable moments for us were the fleeting seconds after the ceremony ended—when we were by ourselves–relishing in feelings of happiness and relief and total bliss. We were married. And it was badass.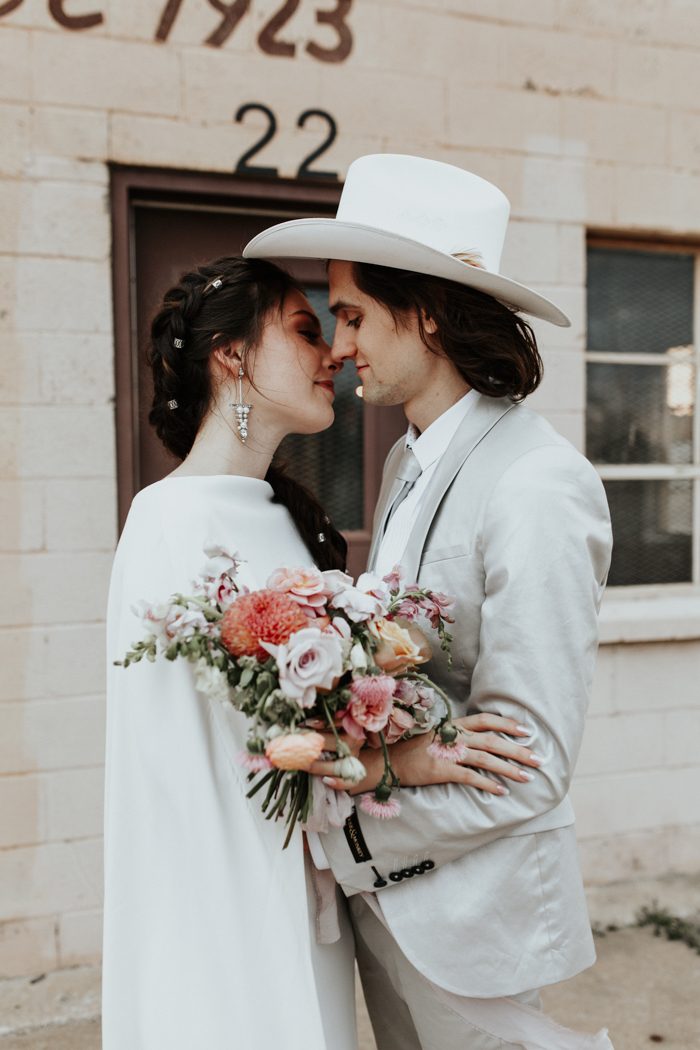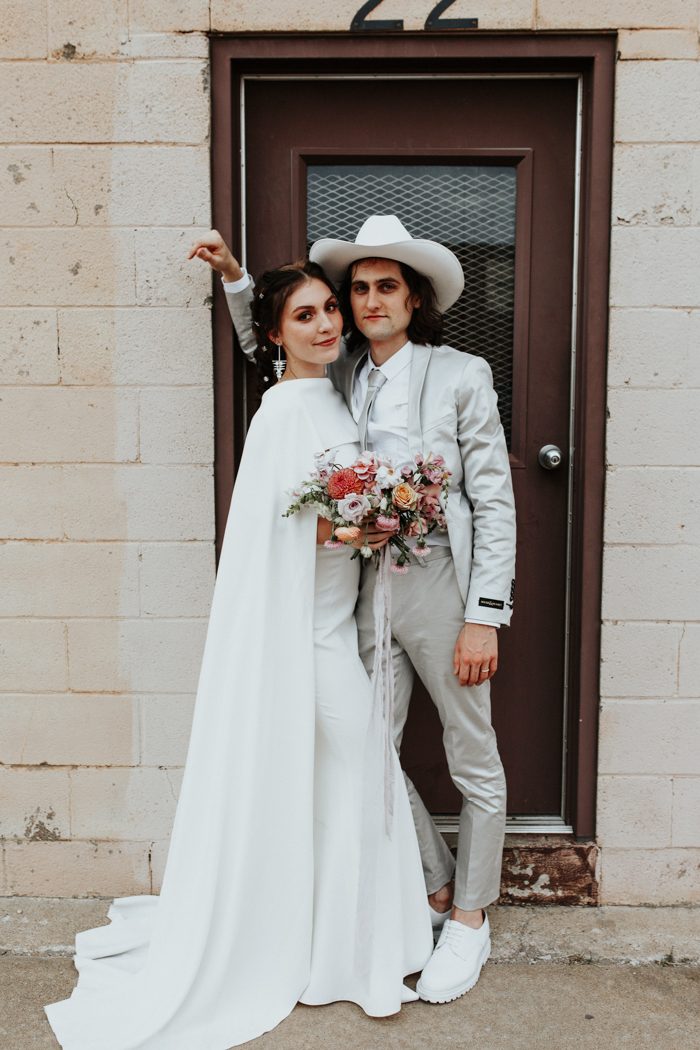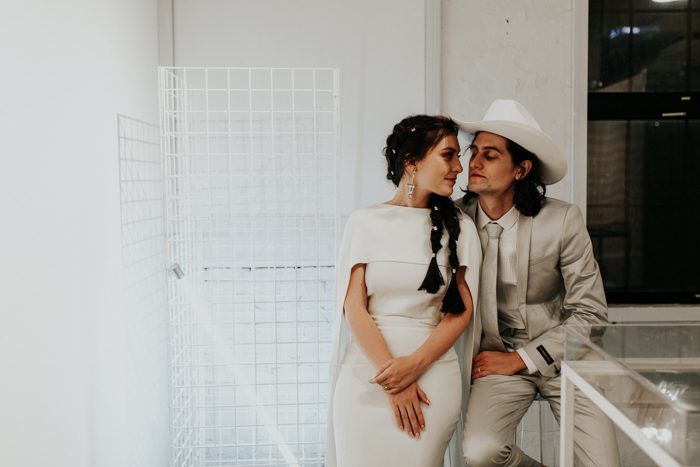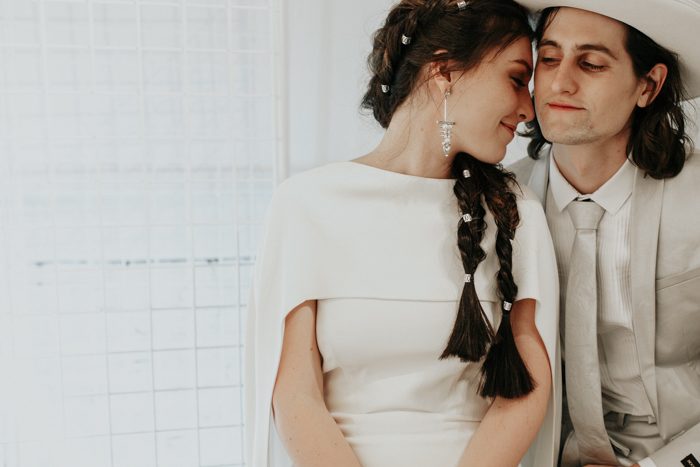 Our primary goal was to curate a world for people to step into for one evening that expressed who we are as a couple. We wanted to give people a glimpse into our minds, allowing them to understand our story and our love in more than one dimension. As artists, we thought of our wedding more as a performance than a ceremony. There will never be another moment with that much magnitude—and we are so happy we created an event exactly the way we wanted.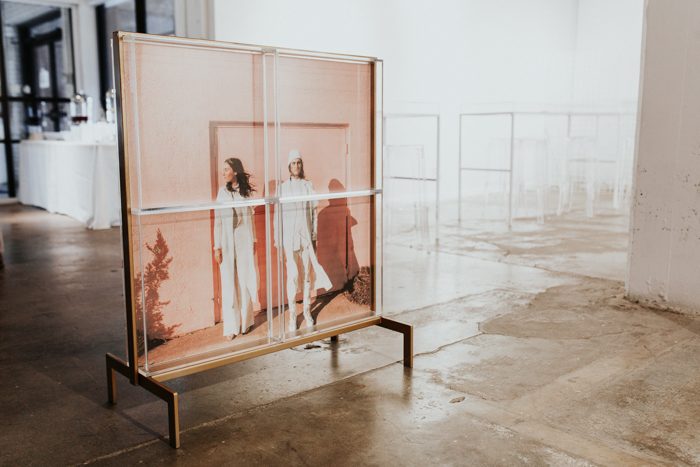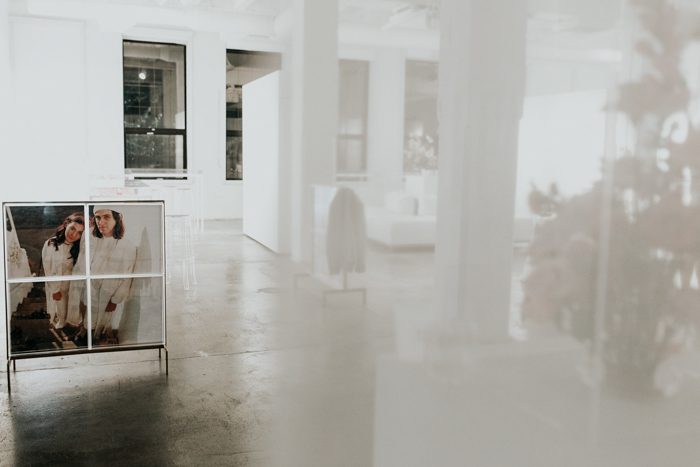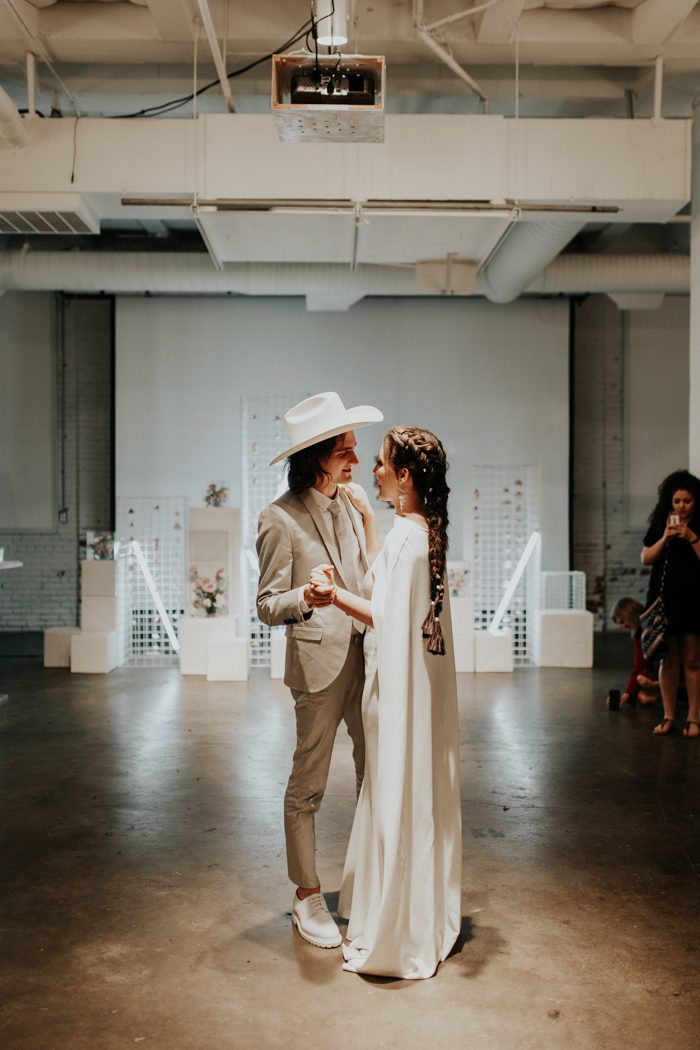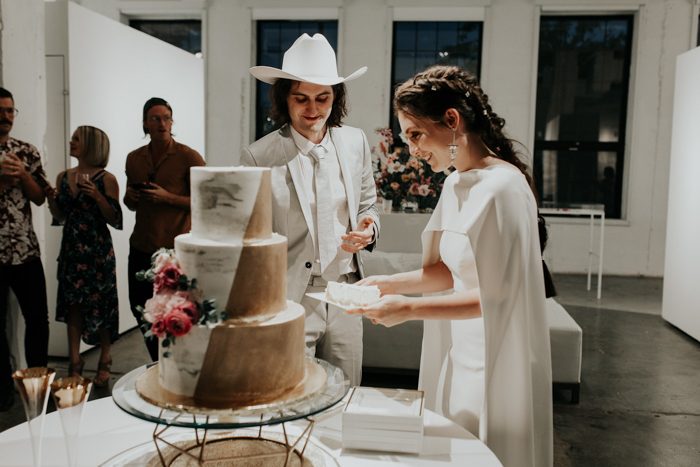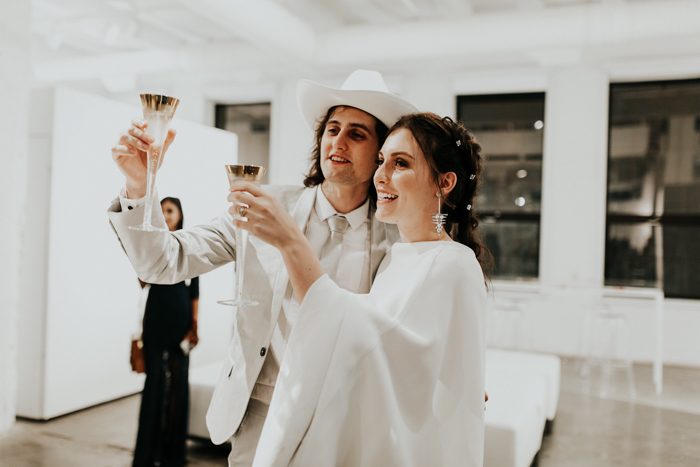 We always knew that we wanted a blank canvas. We knew that it wasn't important to us to find a traditional wedding venue per se, but it was crucial to find a VESSEL for our visions. We wanted a place to build from scratch—a place void of any other energies. We defaulted to art galleries when we started our search, and we ended up choosing a low-key gallery that let us take over the space without constraints. We even selected our date around the gallery schedule—we wanted it to be completely empty–no art at all. We filled it with our own. ;)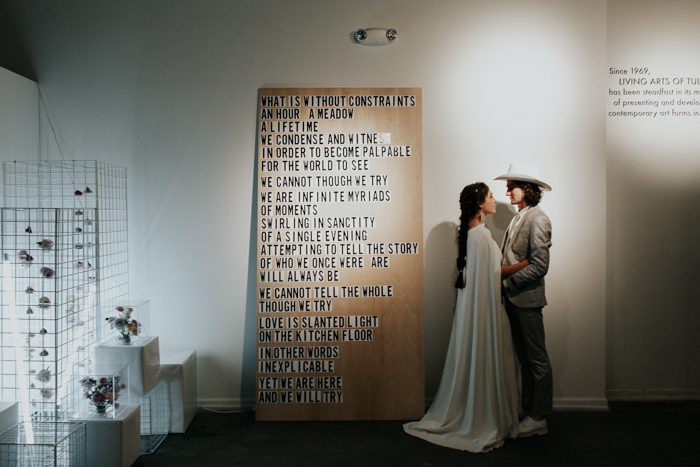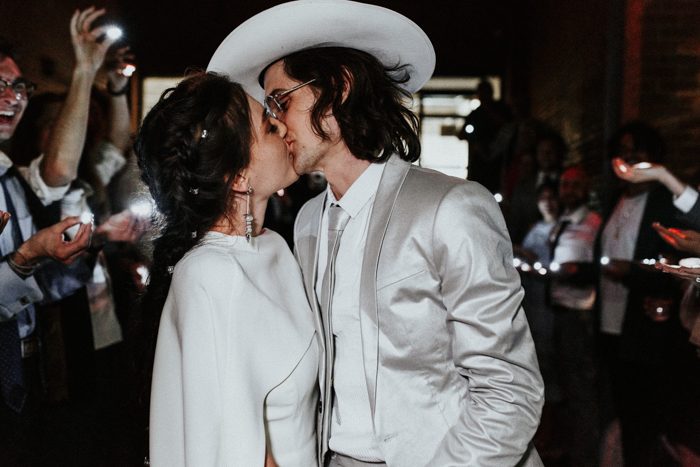 Thank you so much to Chelsea Denise Photography for sharing this edgy Tulsa wedding with us! If you couldn't get enough of this wedding, then check out this gorgeous gray Oklahoma City wedding that Chelsea also photographed.