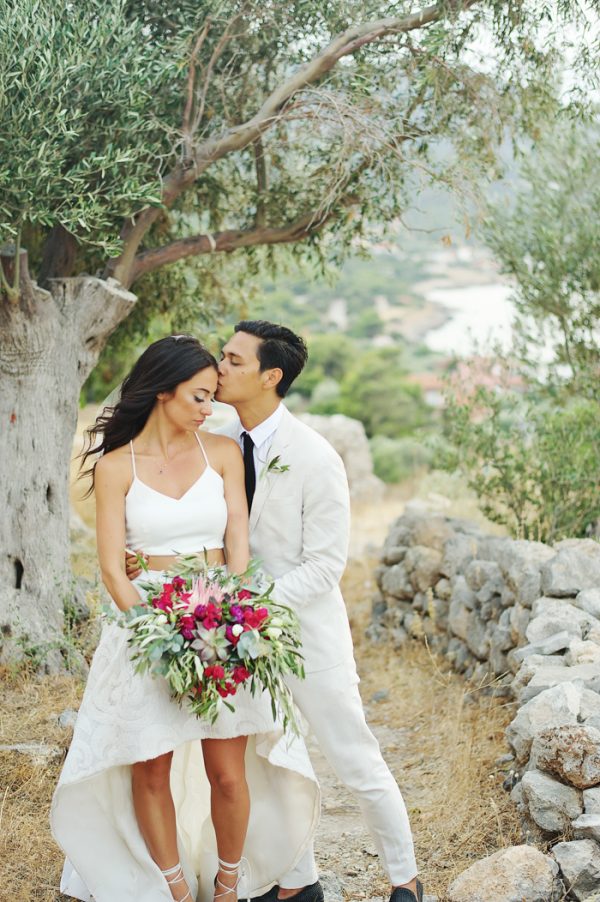 Tina grew up spending her summers with her family in Porto Germeno, a beach town in Greece with stunning shores and authentic small town vibes. After Jared proposed to her during a vacation in Porto Germeno, the couple knew they wanted to share the town's magic with all of their family and friends at their own destination wedding! Since Porto Germeno is so tiny, there weren't any existing venues that could accommodate Tina and Jared's large guest list, so the couple found an old restaurant on the shore that they fully restored to be operational for their big day. We can't get enough of this wedding's chic multicultural vibes, including their natural tropical décor and bilingual ceremony that blended Greek, Jewish, Philipino, and American cultures! We love how photographer Thanasis Kaiafas captured every moment of Tina and Jared's breathtaking Greek wedding.
The Couple:
Tina and Jared
The Wedding:
Nika's Tavern, Porto Germeno, Greece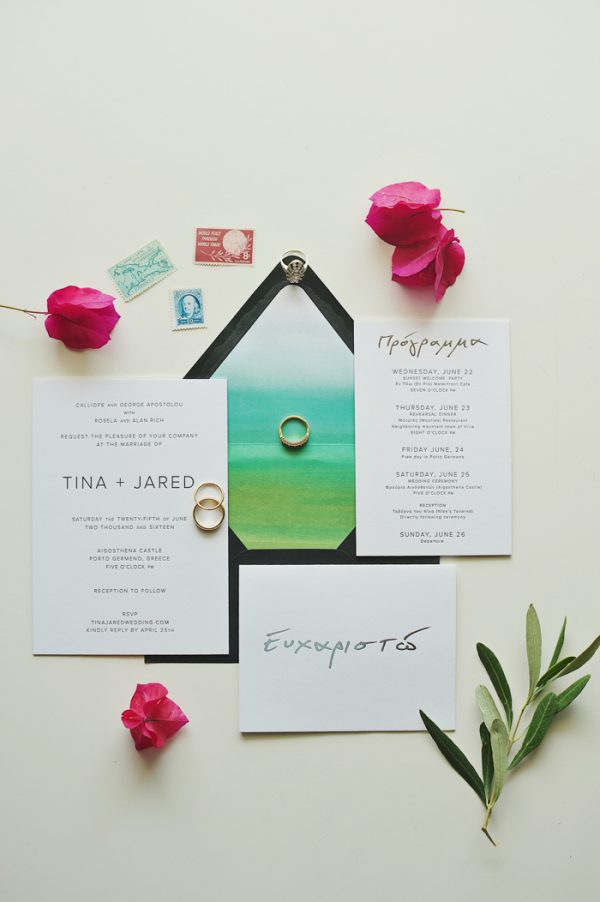 The most important thing to us was for our guests to get to experience Greece in a way that most tourists don't get to. We wanted them to get to experience a small town living, traditional food and music shared with family and friends, the laid back lifestyle of a small beach town, and the great hospitality of the Greeks.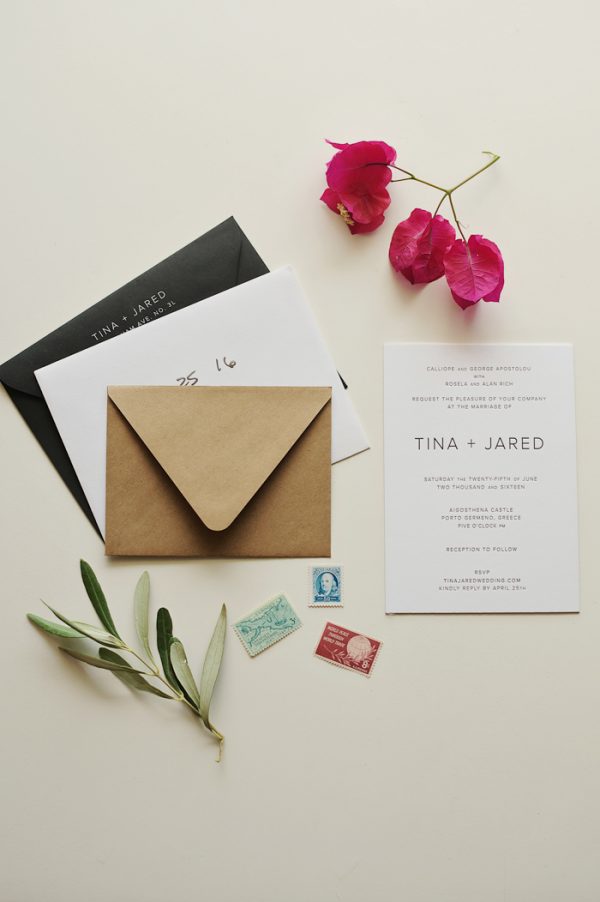 Both of may parents are Greek so I grew up spending my summers in Greece in a small beach town called Porto Germeno which my dad also spent his summers growing up. Our family congregates in two houses over the summer in this town and it's always been my most fondest memories. The town is quaint with only a couple of restaurants, coffee shops, and bed and breakfasts. It's nothing fancy but it has the most amazing beaches which draws people from Athens (about an hour and a half away).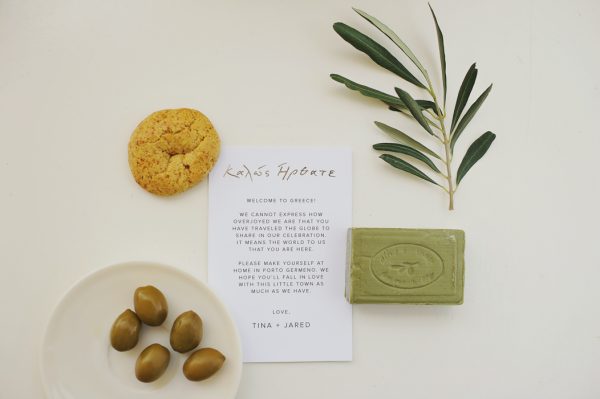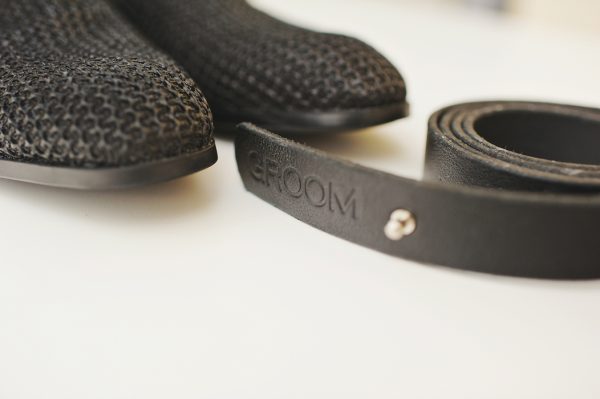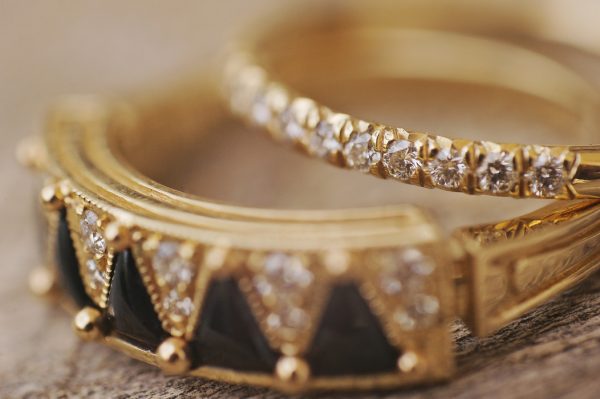 The town has always meant so much to my family and Jared fell in love with it just as much. He proposed to me on a mountain overlooking the town one summer and we knew we wanted all our friends and family to experience this hidden gem of a town. BUT the town is so small it isn't really set up to accommodate a large wedding. We searched and searched for a venue but there just wasn't one. Finally, we found an old restaurant on the water that had been closed for years and fell in love as soon as we saw it. The restaurant wasn't operational so we had to get the power back up, fix the landscaping, add a bathroom, etc. It was truly a labor of love to get the space wedding-ready but it ended up being truly exquisite.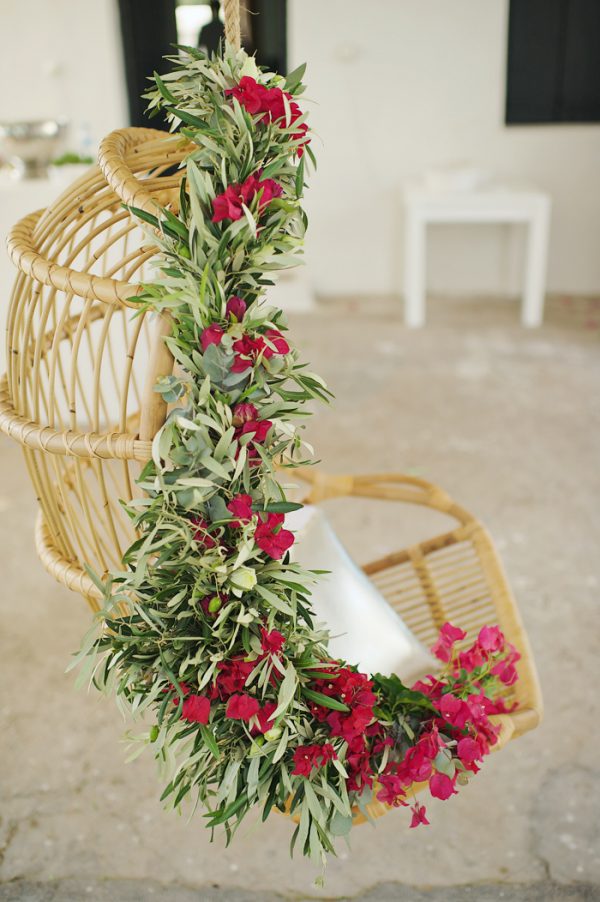 There was a blank wall at the entrance of the venue so Jared and I decided we wanted to paint the names of our guests on the wall as our seating chart. Jared handprinted 200+ names on the wall which took him two full days.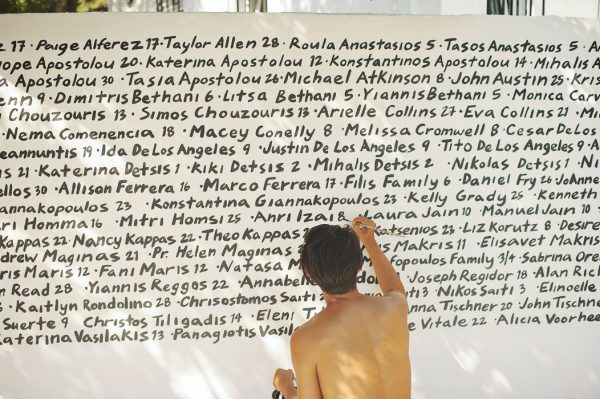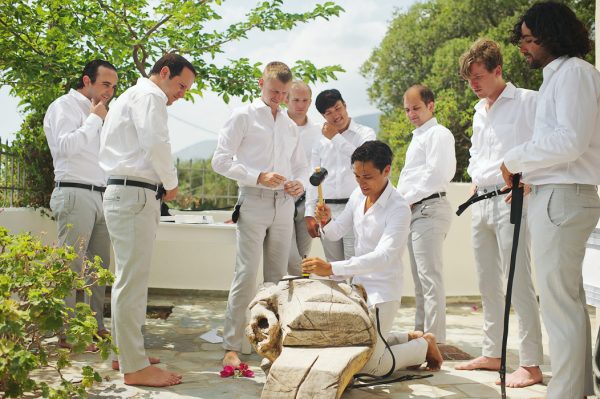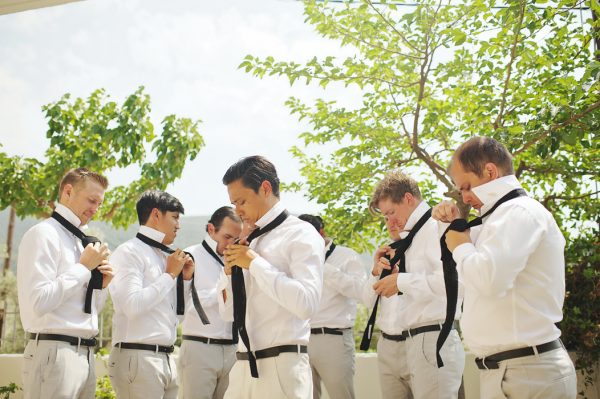 We wanted everything to be neutral and natural and were really inspired by the natural beauty (the mountains, the ocean, the olive trees, etc.) We also wanted our wedding to reflect the laid back lifestyle of Greece. We didn't want anything to be too traditional. We kept everything neutral because we really wanted the landscape of Greece to be the main attraction. The only color was from the bougainvillea flowers which grow wildly all over Greece and are my favorite flower.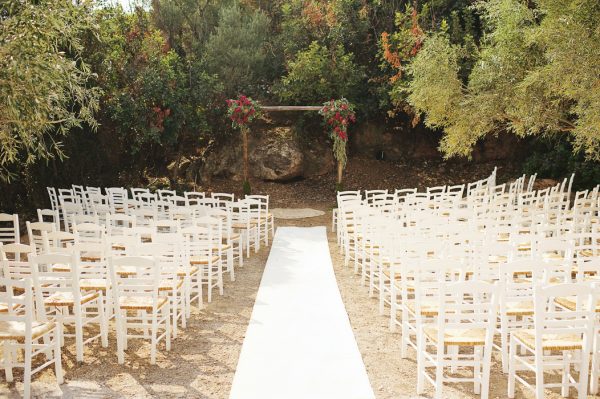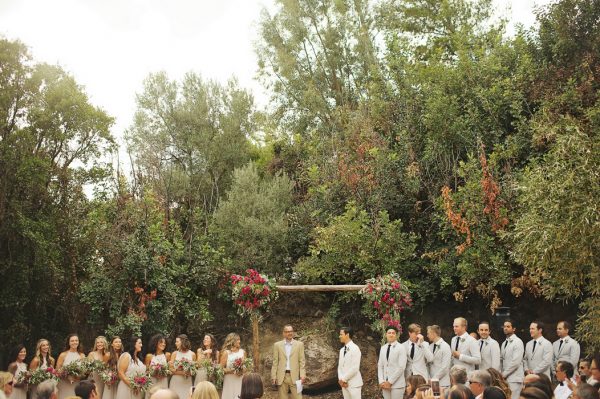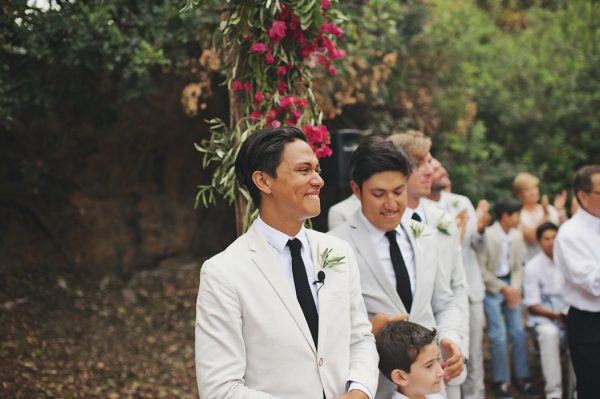 The whole day was incredible but the most memorable part for me was walking down the aisle to Jared. The whole day was a blur of happiness but I'll never forget that moment.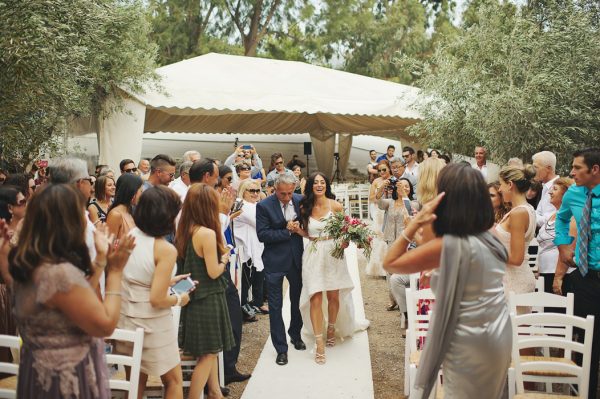 We had a small Greek band play music as I walked down the aisle and as we left. Our first song was Step by Vampire Weekend (not very traditional for a wedding but it was a song that reminded us of falling in love in college).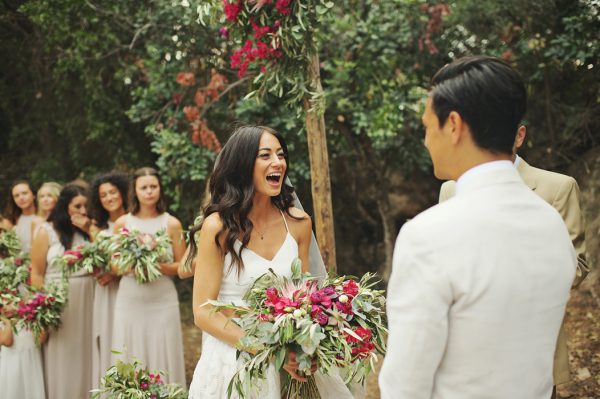 Jared's mother is Philipino and his father is Jewish (and I'm Greek, of course) so we wanted to incorporate the wedding traditions from each culture. We had people from all over the world travel to our wedding and we wanted the theme of our ceremony be one of bringing different cultures together. Jared wrote our ceremony which included exchanging crowns which is a Greek tradition, exchanging coins (a Philipino tradition), and the Jewish tradition of breaking a glass. We also exchanged our own vows. We had my cousin preform the ceremony in both English and Greek.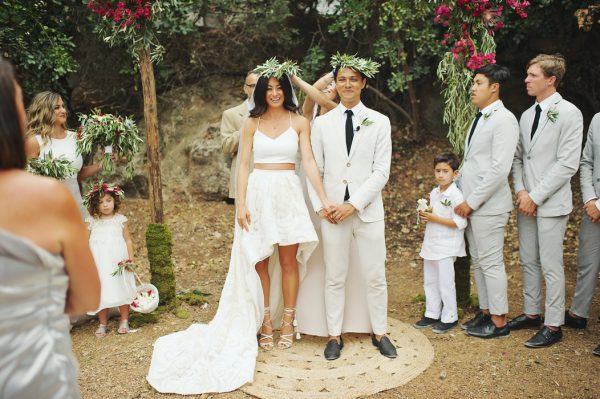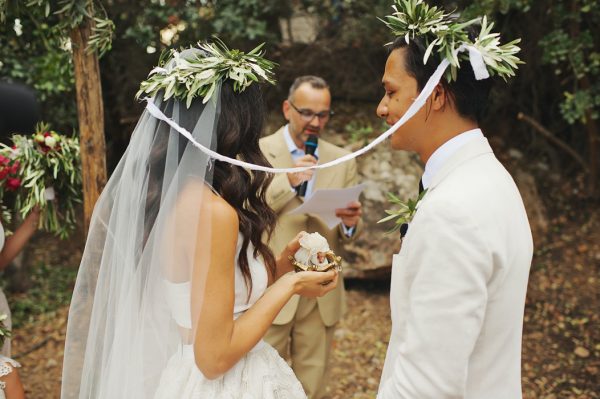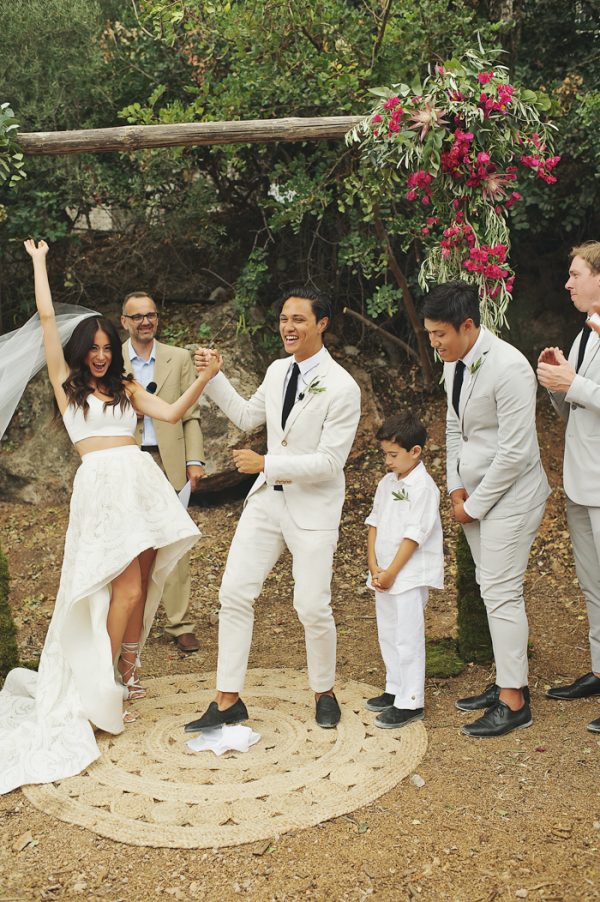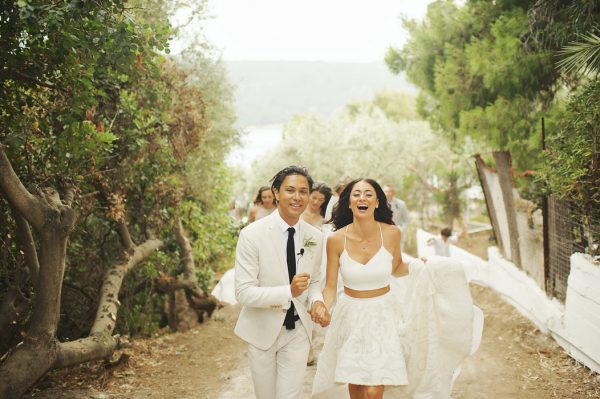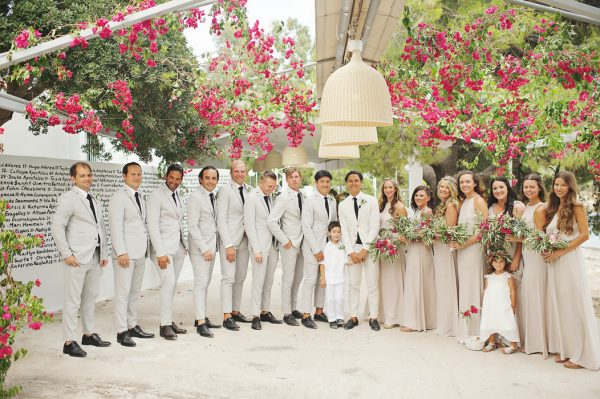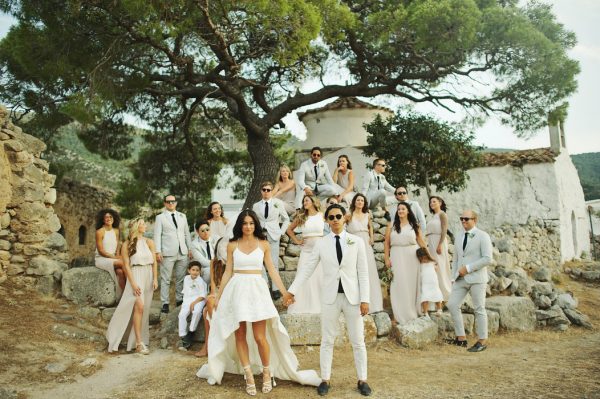 We originally planned to have our ceremony on the mountain overlooking the town which has the ruins of a castle and is where we got engaged. We found out a month before the wedding that the Archeological Society would no longer allow us to get married there because of prolonged construction and we were crushed. It was really special that we went up there after the ceremony for pictures and that our photographer still captured that beautiful location for us.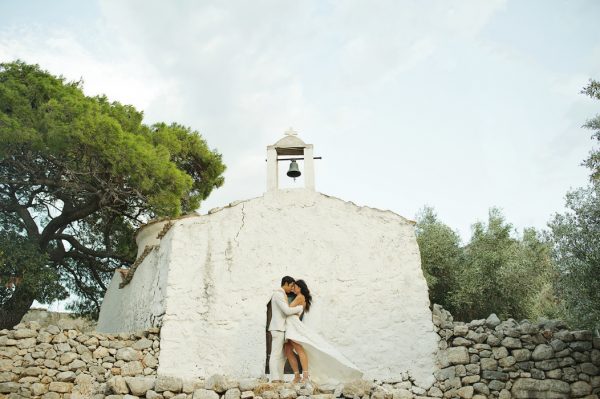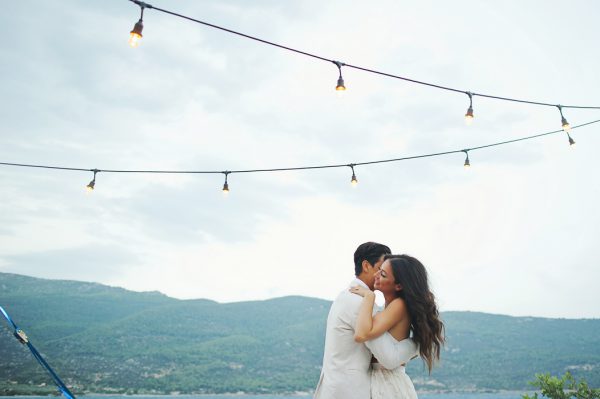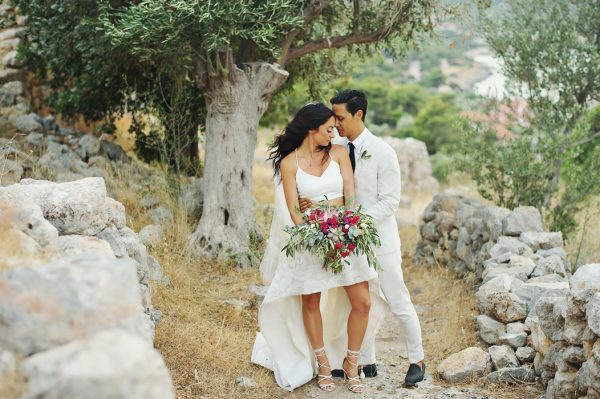 I had the hardest time finding a wedding dress! I had something in my mind that just didn't exist so I worked with Houghton who created my dream dress.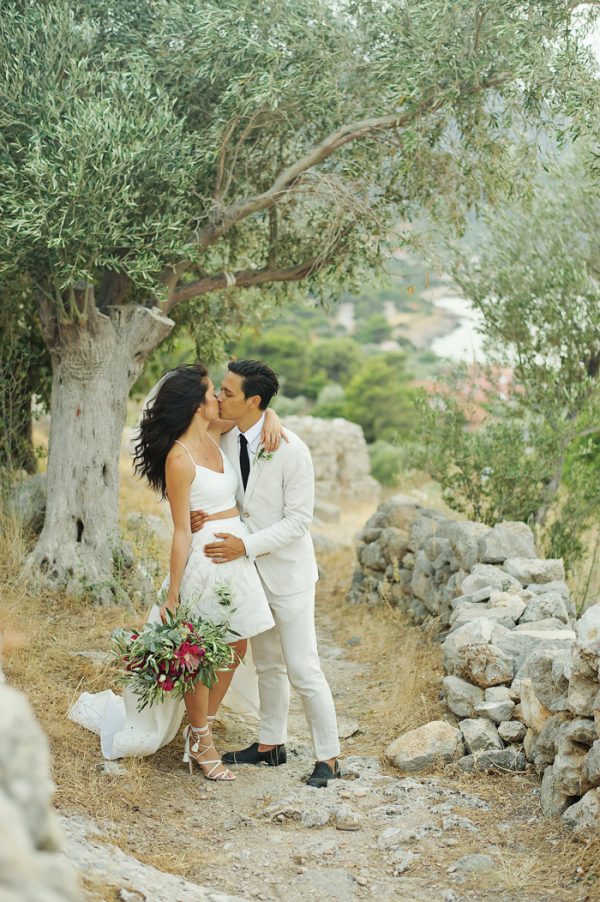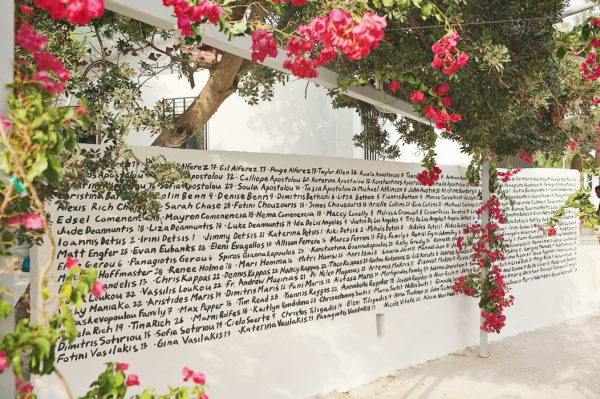 We wanted our dinner to feel like a big family gathering so we served everything family style. We loved the idea of all our guests passing plates and having a good time throughout the dinner. We served a modern Greek menu of whole fish and lamb chops that were grilled out back along with tons of side dishes (roasted potatoes, eggplant salad, greek salad, etc.). We also had a late night snack of souvlaki.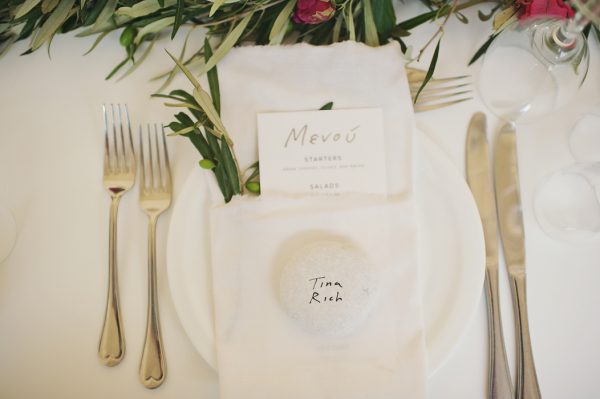 Our wedding favors were small bottles of Mastiha, a traditional Greek liqueur with a note asking guests to take it home with them and in one year, join us from around the world in a toast to our first wedding anniversary.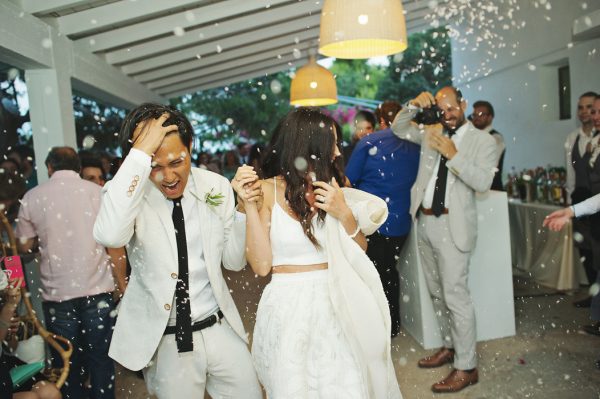 My uncle surprised us with fireworks at the end of the night! We had no idea but it was magical.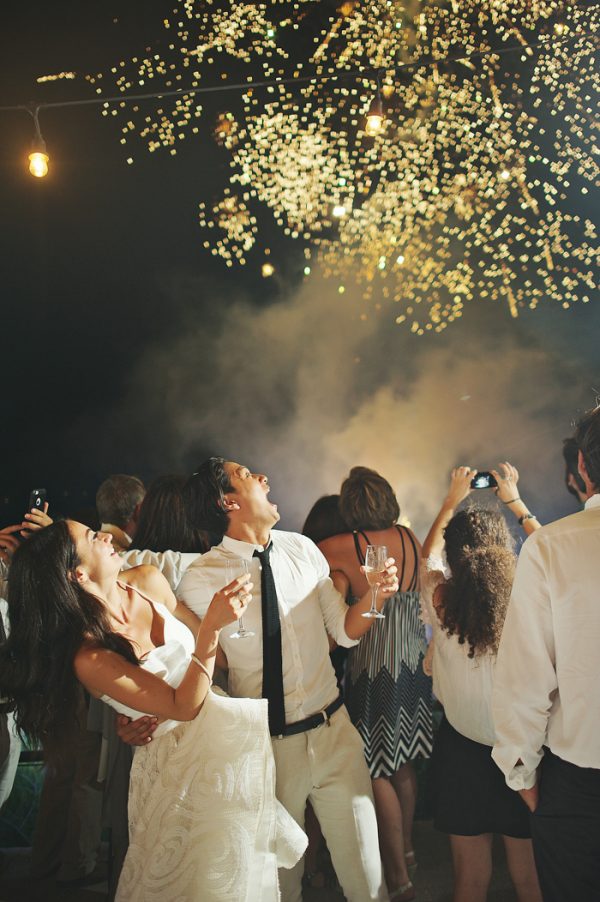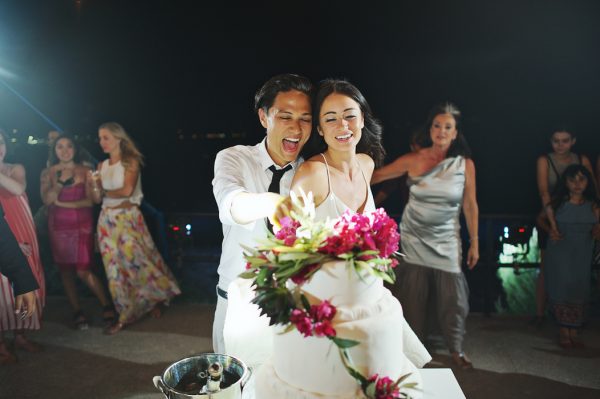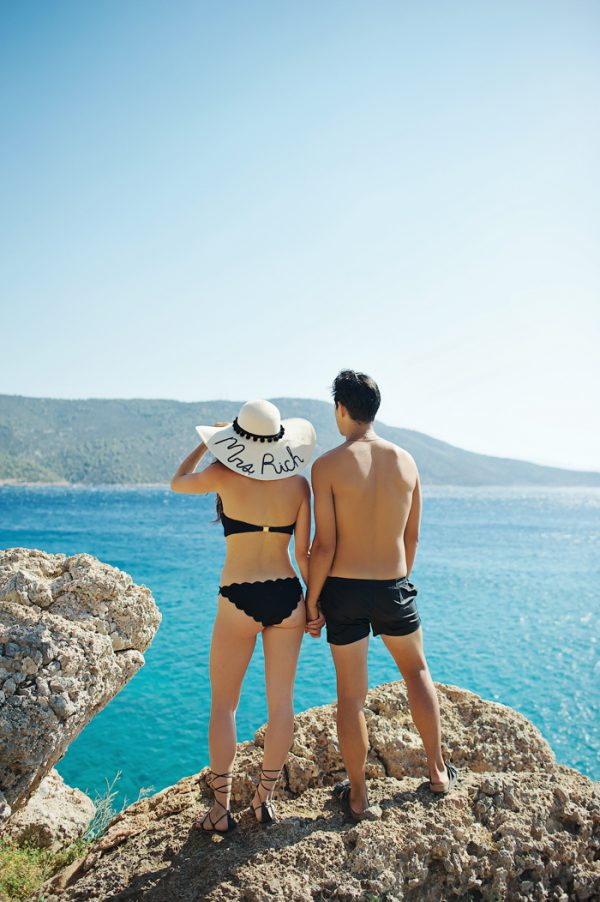 Congratulations to Tina and Jared, and a huge thanks to Junebug member Thanasis Kaiafas for sharing their wedding with us. Can't get enough of the Greek vibes of this couple's destination wedding? Then you've got to see this Santorini, Greece destination wedding also shot by Thanasis Kaiafas!