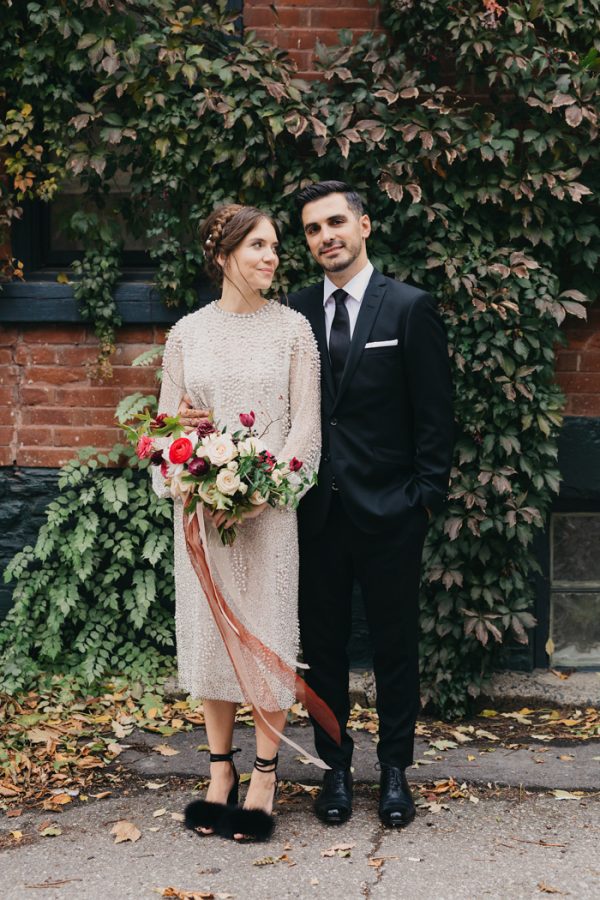 A vintage shift midi dress, black feather heels, and a braided hair crown make Lesley's alternative bridal style one of our all-time faves! Lesley and Matt's wedding at Toronto venue The Burroughes combined the couple's tendencies to enjoy sophisticated vintage-inspired details with all the coolness of an industrial venue. We love how Lesley and Matt made their ceremony special with warm details like candles, Persian rugs, loose florals lining the aisle, and a very personal song list. Kayla Rocca Photography captured every ounce of coolness that the couple's wedding offered, including their relaxed reception's mixed seating and DIY florals.
The Couple:
Lesley and Matt
The Wedding:
The Burroughes, Toronto, Canada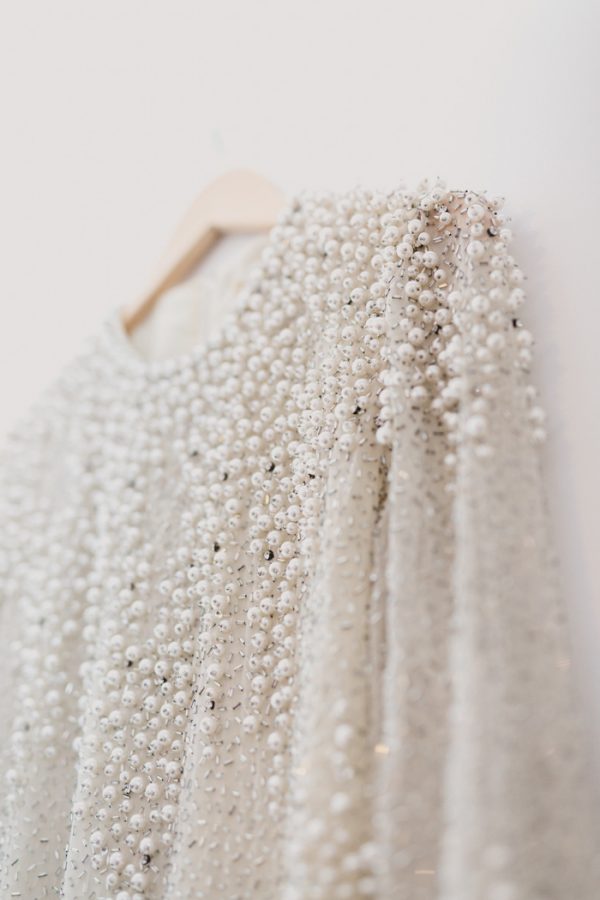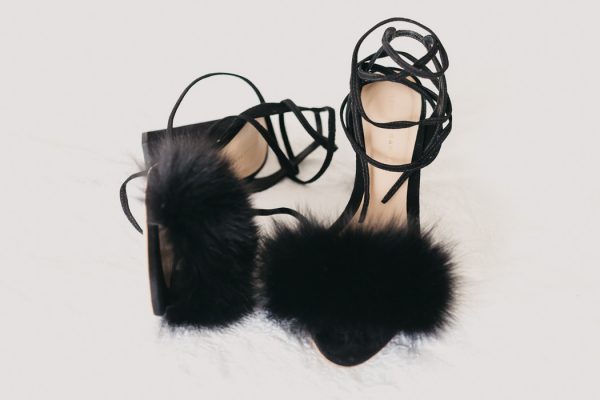 One day, in search of winter boots for a friend, we popped into a local vintage store and left with my wedding dress! I called my mom from the dressing room and let her know that I had found my dress (the first and only dress that I tried on). I wanted her to feel included in the moment, so she raced over to the shop, loved it and that was that!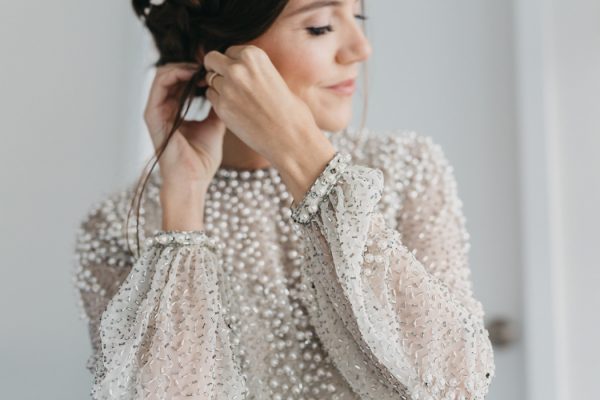 One of the biggest hits of the day were my shoes. The requirements here were comfort and something I would wear again!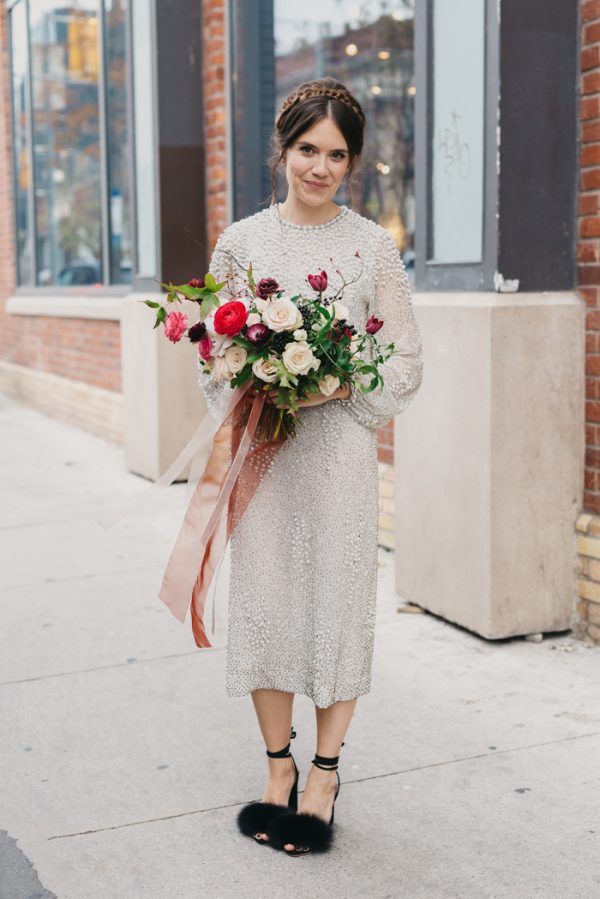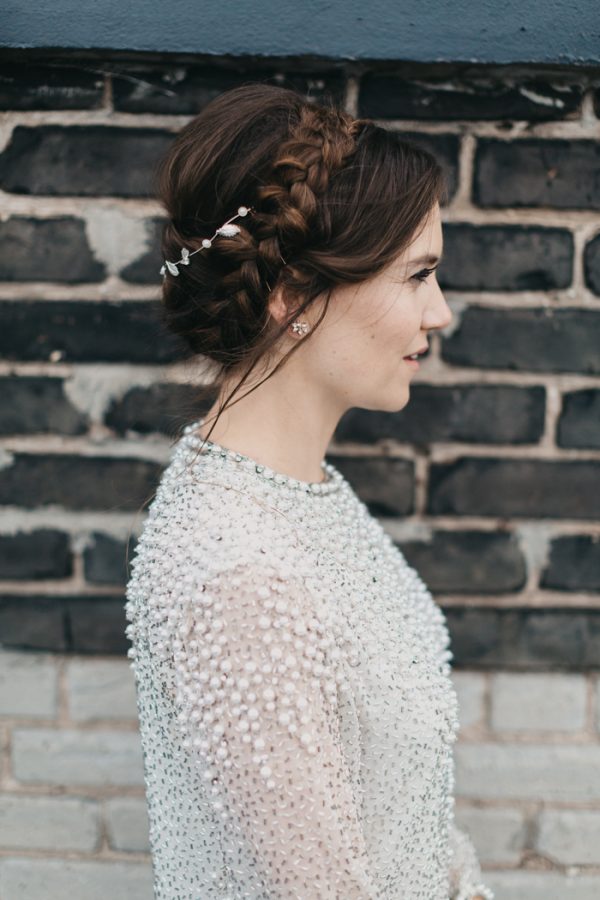 For hair, Justin Rousseau was referred to me by my wonderful hairdresser. All I knew was that I wanted to wear my hair up – the rest was Justin! My hair piece was purchased at a shop in Williamsburg while I was in New York this past summer and was the perfect addition to the look!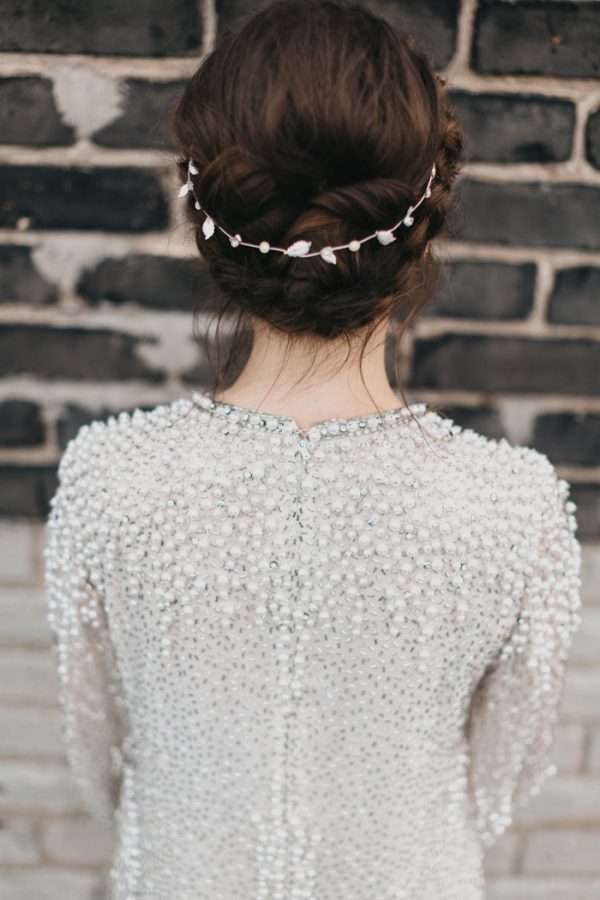 We originally planned on having a backyard wedding, but due to logistical reasons, we switched to a beautiful old factory that has been turned into an event space. We hoped that the stories from our guests would be that the night was memorable and a lot of fun.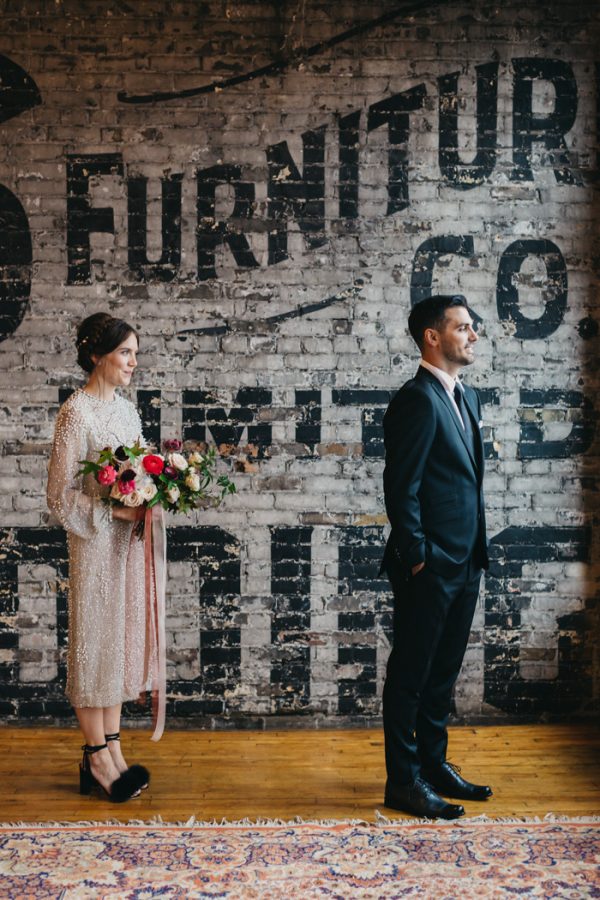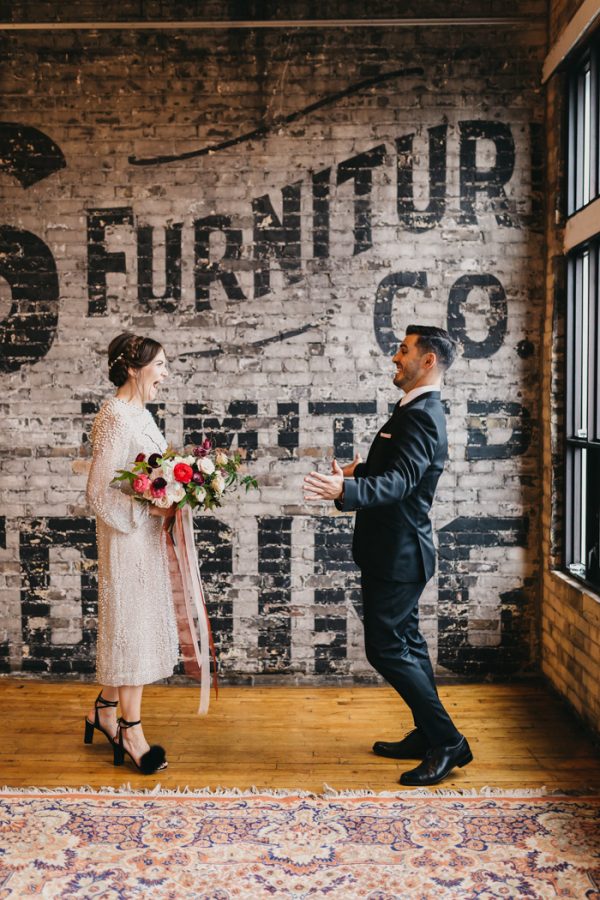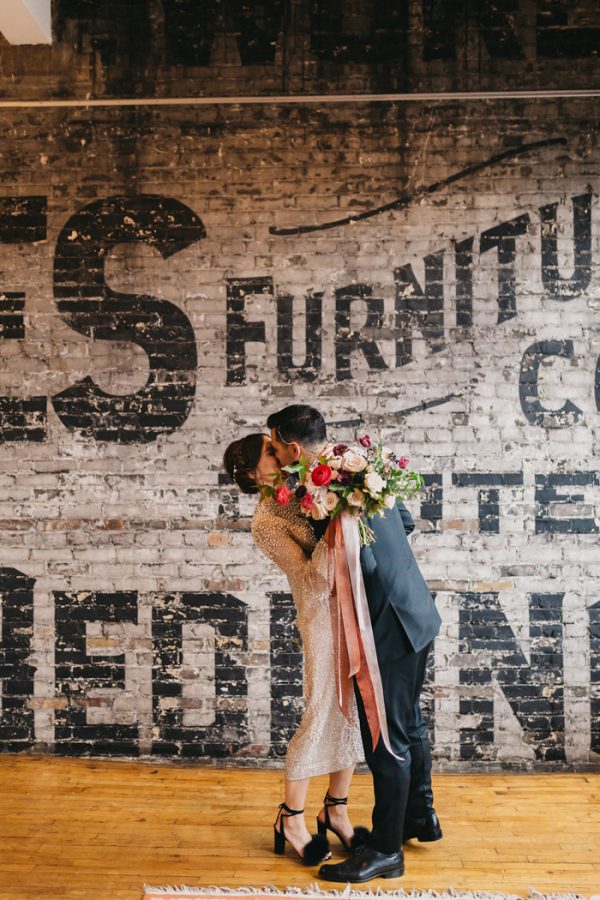 A very important element in finding a photographer was how well we meshed in terms of personality. We prioritized authentic and natural photos, capturing moments, and communicating the energy of the day. We couldn't have been happier to be introduced to Kayla Rocca! In addition to her professionalism, she has a very calming and fun energy, which put us at ease immediately.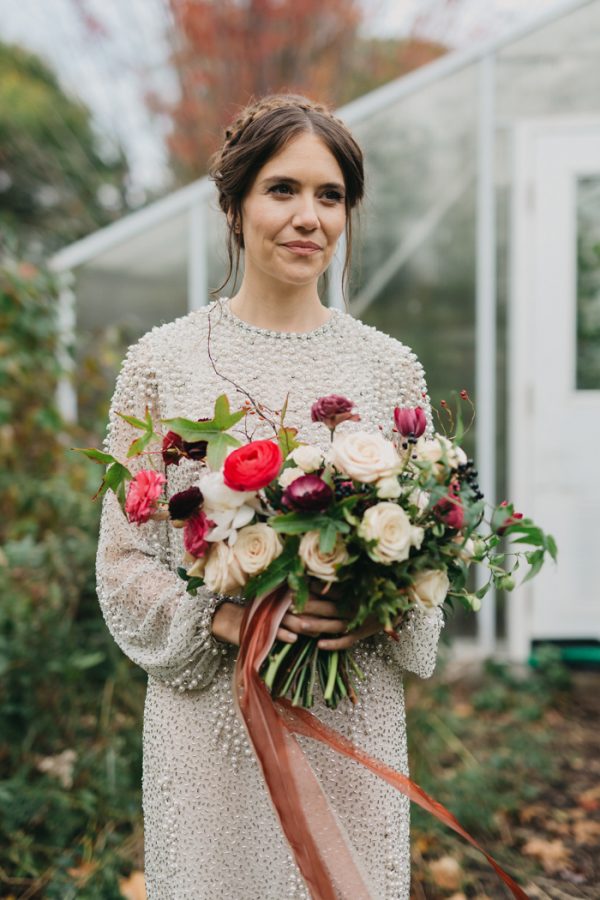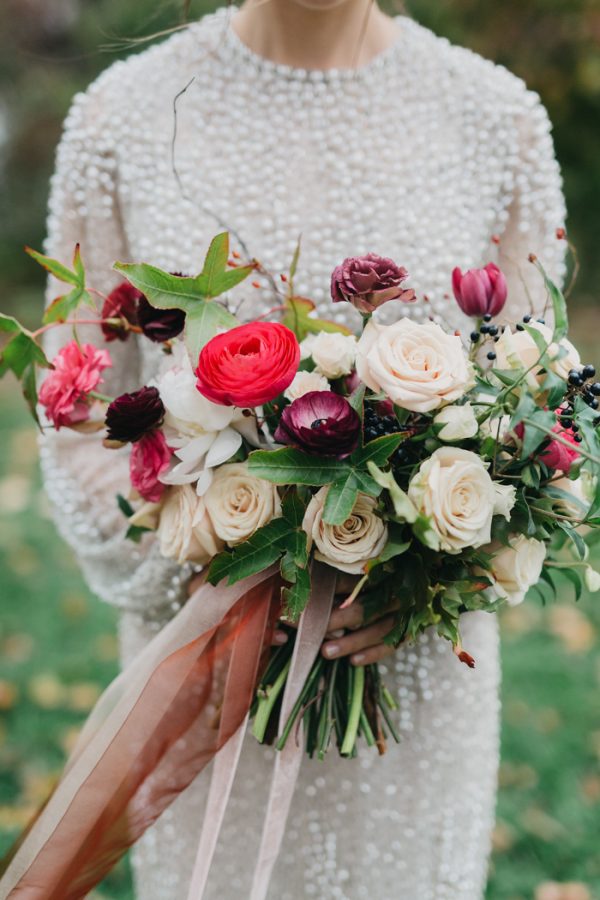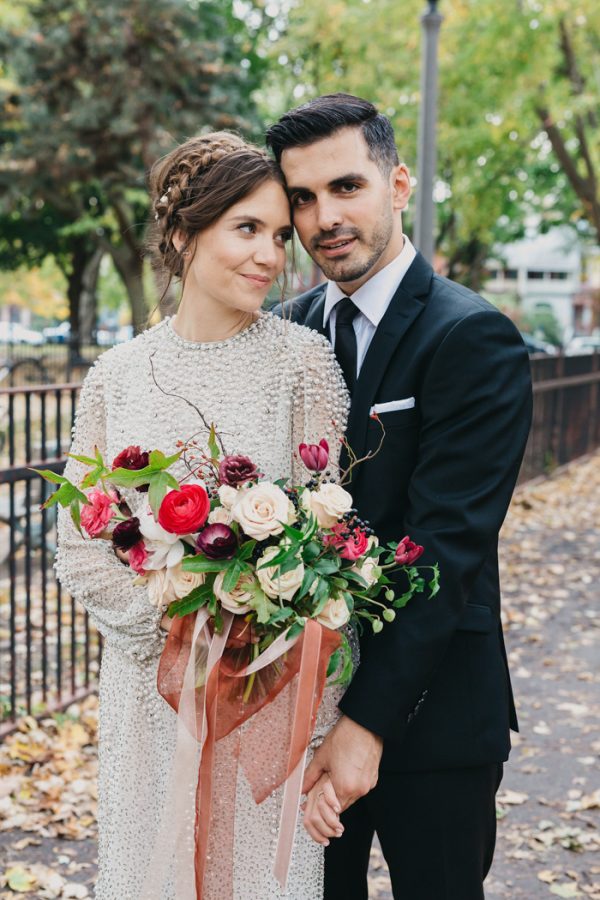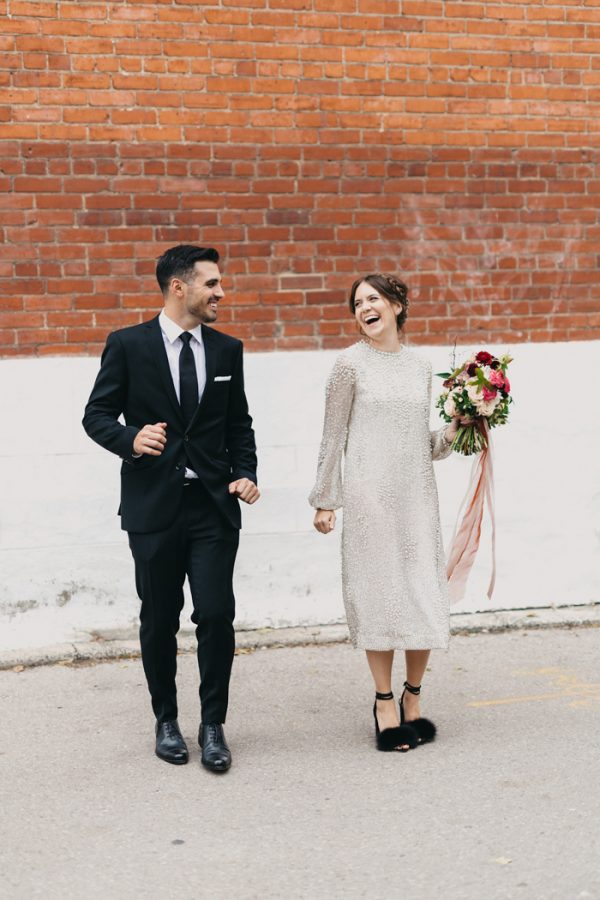 For photos, we chose to have all formal wedding pictures taken in the afternoon, prior to the evening ceremony – we wanted to enjoy the party too! This turned out to be really special because it gave us a few hours to spend together alone and with our wedding party and parents. The majority of these photos were taken in Trinity Bellwoods park in downtown Toronto on a crisp fall day. This turned out to be special because it was the only point in the day when it seemed like time slowed down. We got to really appreciate the moment and soak in what was happening!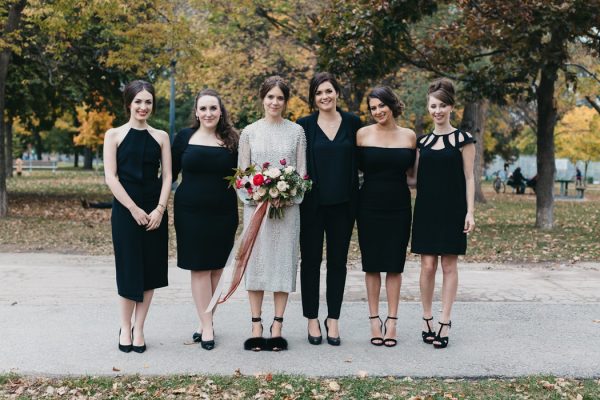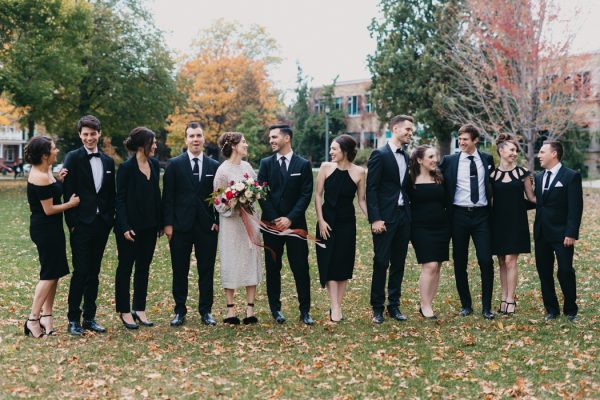 Each song that we chose to play during the ceremony is very near and dear to our hearts. I walked down the aisle to Here Comes the Sun by The Beatles. Every weekend at our cottage, my Dad would play this song to get everyone out of bed. Over the years, Matt and I have brought the same tradition to the home we share. There was no other song for my dad and I to walk down the aisle to.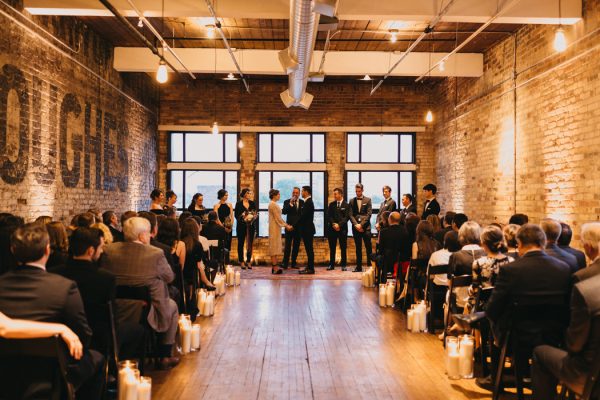 For the ceremony, we chose to keep the atmosphere simple, peaceful, and elegant. We lined the aisle with candles and the windowsills with loose wild flowers and foliage. The architecture of the venue was beautiful and we wanted to allow that to shine through. The result was a magical environment that was more impressive than we had hoped for. Our celebration was light hearted and hilarious, which cultivated a fun and energetic ceremony. By far, the most special moment was sharing the vows that we had written together.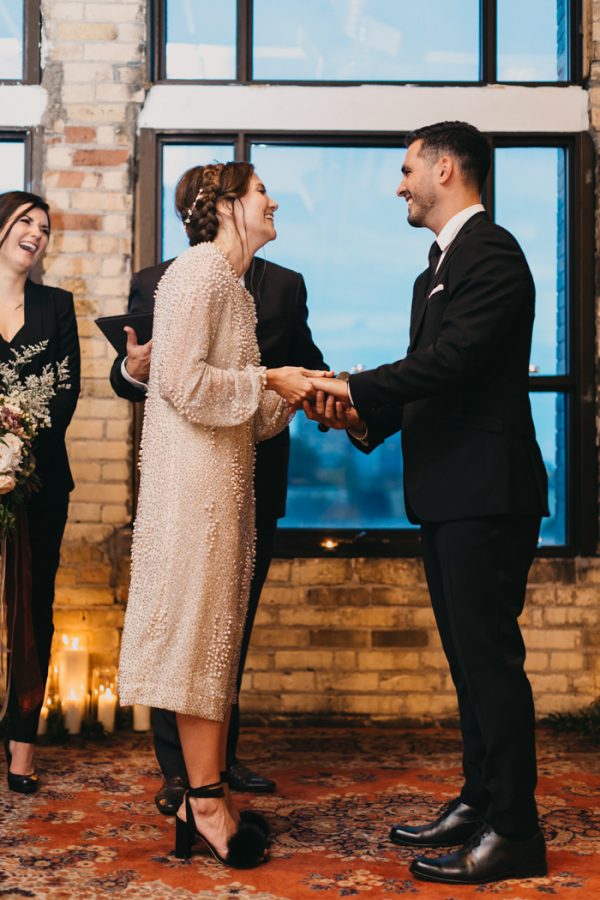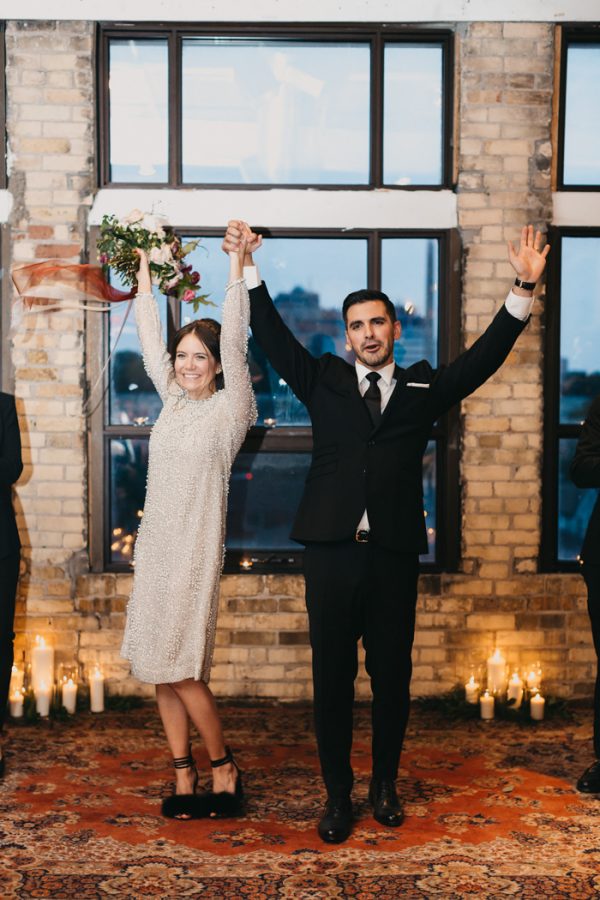 We wanted our wedding vibe to reflect our way of life and personality as a couple. More important than glitz and glamour are the fun moments that we share with our family & friends. In sticking with our vision, we chose not to have formal seating, swapping this for wooden harvest tables, high-top tables, and lounge areas. While there was enough seating for everyone, the environment allowed guests to move around as they pleased, interact, and feel that the party started immediately following the ceremony.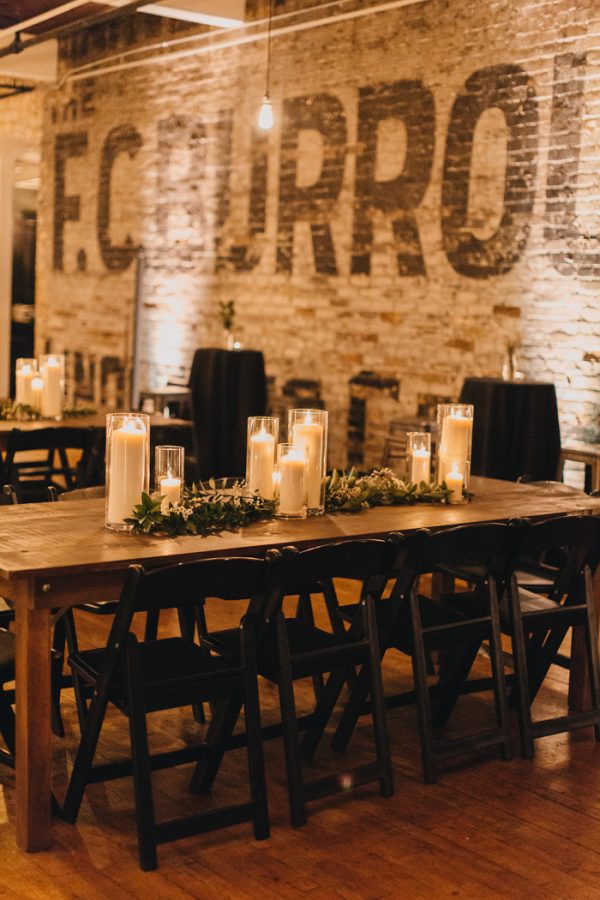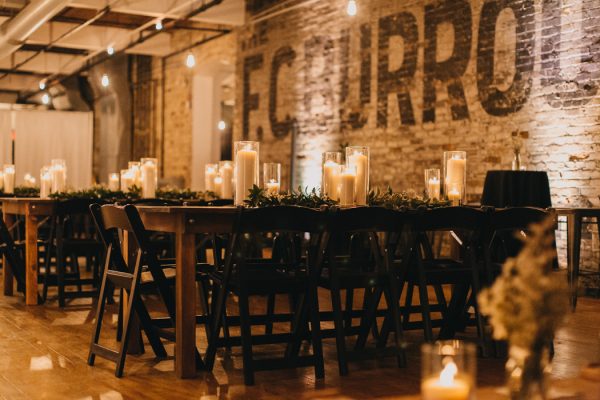 Our advice:
1. The first advice would be to stay true to yourselves and your vision. We chose a less traditional wedding because it was the truest reflection of who we are as a couple.
2. Hire a wedding coordinator for the month leading up to the wedding. We were fortunate enough to meet Lexi Haslam, owner of Lexington & Co. She started working with us from 6 weeks out and her advice and expertise in leading up the event was invaluable! While we had a vision, the reality of executing a party for 150 people is much more complicated than originally thought. Her understanding of wedding coordination, management of vendors, advice on how to ensure proper set-up of the room to amplify the experience, and how to time the different stages of the wedding to flow together was amazing.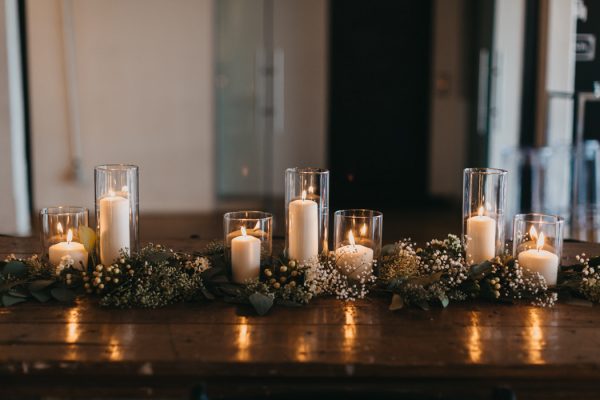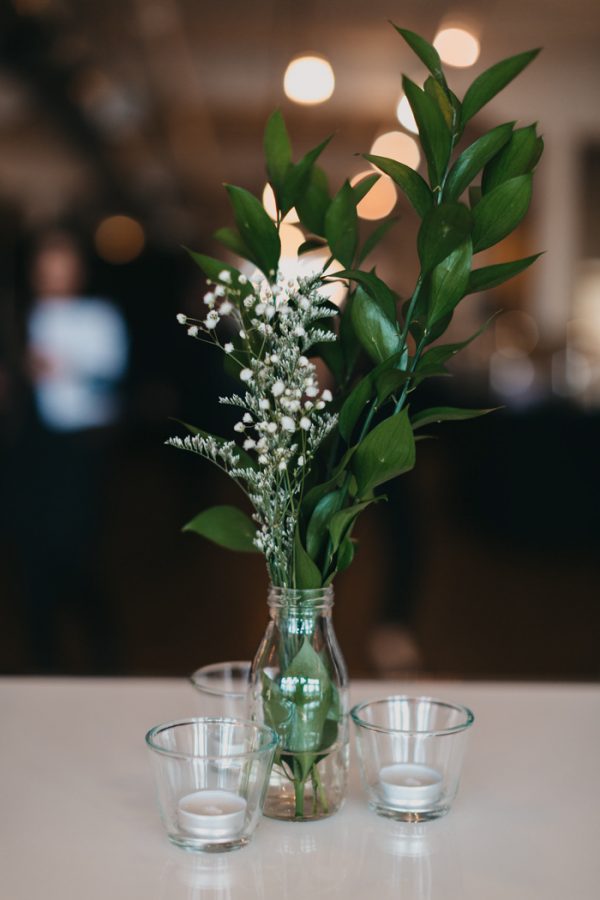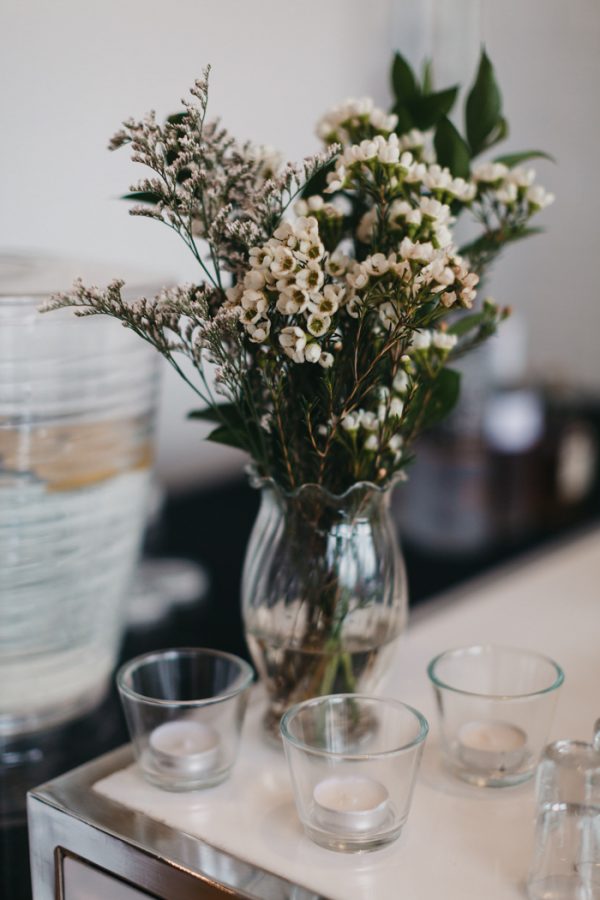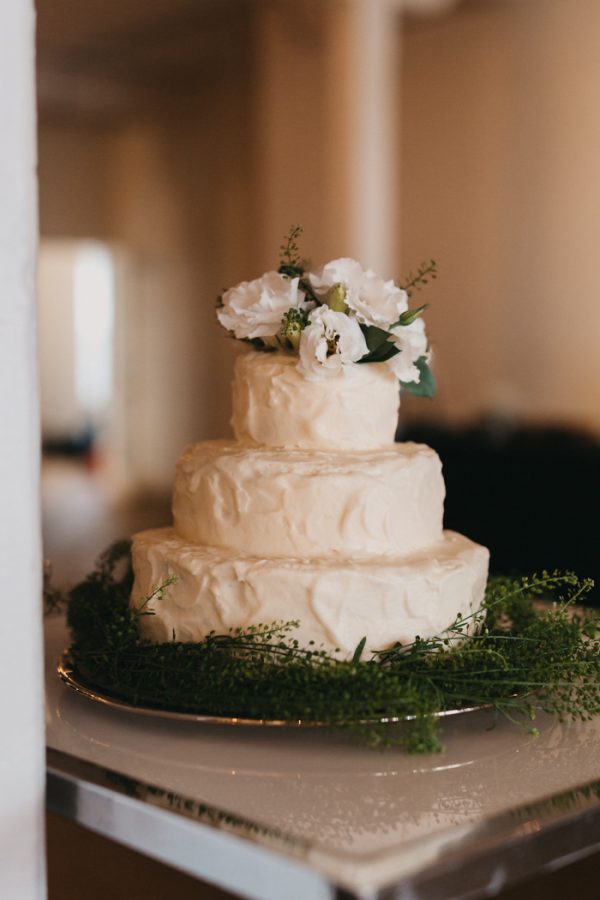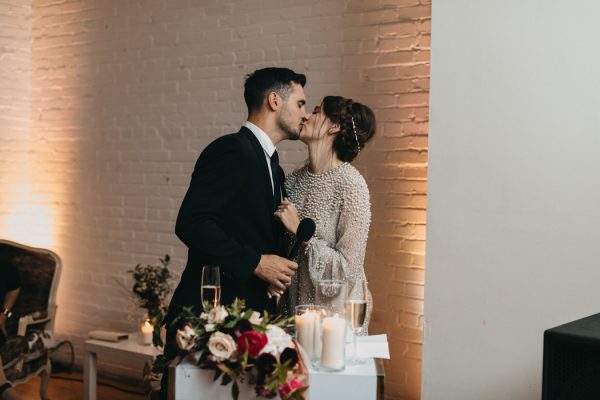 Processional Song for Wedding Party: In My Life by The Beatles
Processional Song for Bride: Here Comes the Sun by The Beatles
Recessional Song: That's What's Up by Edward Sharpe & the Magnetic Zeros
First Dance Song: Catch the Wind by Donovan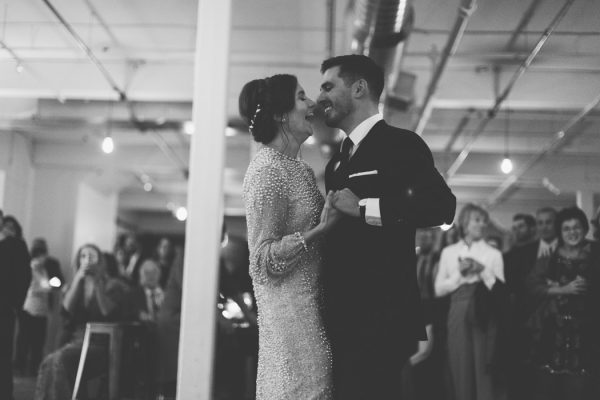 Congratulations to Lesley and Matt, and a huge thanks to Kayla Rocca Photography for sharing their day with us! Can't get enough Lesley's stunning vintage bridal style? Then you've got to check out Amanda's throwback bridal style in her epic and eclectic DIY backyard wedding in Texas!