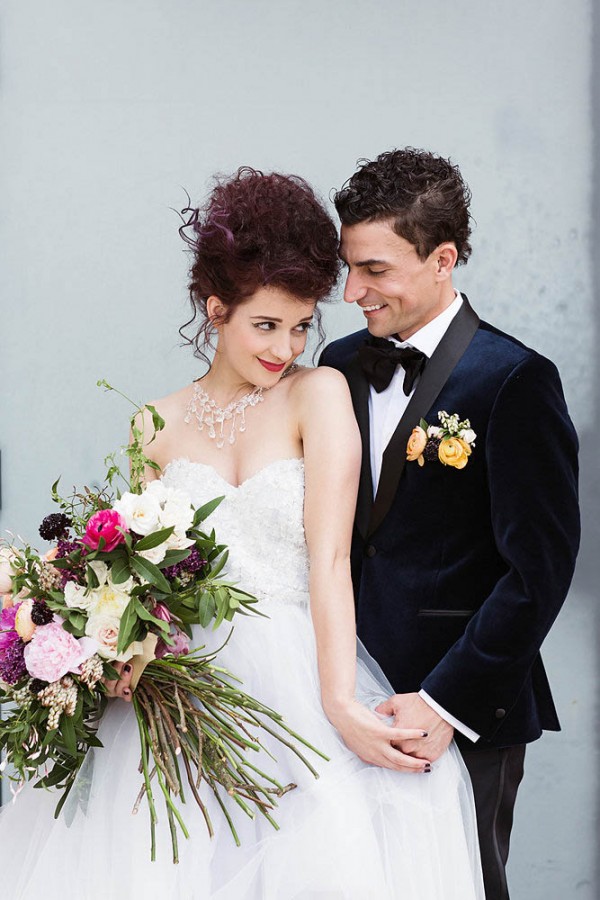 We have such a special treat for you today, and it includes an aerial entrance, ginormo balloons with colorful tassels, and a sprinkle cake adorned with shooting sparklers. If you hadn't guessed yet, Stephanie and Shane's Aria wedding in Minneapolis was inspired by their love of the carnival. The pair enlisted an incredible team of professionals to bring their carnival wedding dreams to life, and wedding planner Ambiente Group truly went above and beyond in ensuring that every detail was exactly right. Cadence and Eli Photography captured the many incredible moments, from the romantic first look to Stephanie's grand entrance from above, to the illuminating cake cutting.
The Couple:
Stephanie and Shane
The Wedding:
Aria, Minneapolis, Minnesota
The Inspiration:
The inspiration for our wedding décor was romantic with a hint of carnival. Aria was the perfect venue to pull this off. We based our color scheme off of a picture of a colorful cake we found online. We chose base colors of black, white, and silver so that the color wasn't overwhelming.
The theme was inspired by our love of all things carnival. We take every opportunity to ride carousels and Ferris Wheels and to have cotton candy and corn dogs. The Minnesota State Fair is always a must and is where we took our engagement photos — which featured cotton candy, carousels, and Ferris Wheels of course!
One of the biggest carnival elements of our day was my entrance into the ceremony. I had gone to a youth circus camp in high school and decided that I would like to be lowered in on a Lyra (aka hoop). So we found a rigger willing to help and I was lowered 40 feet down from the catwalk!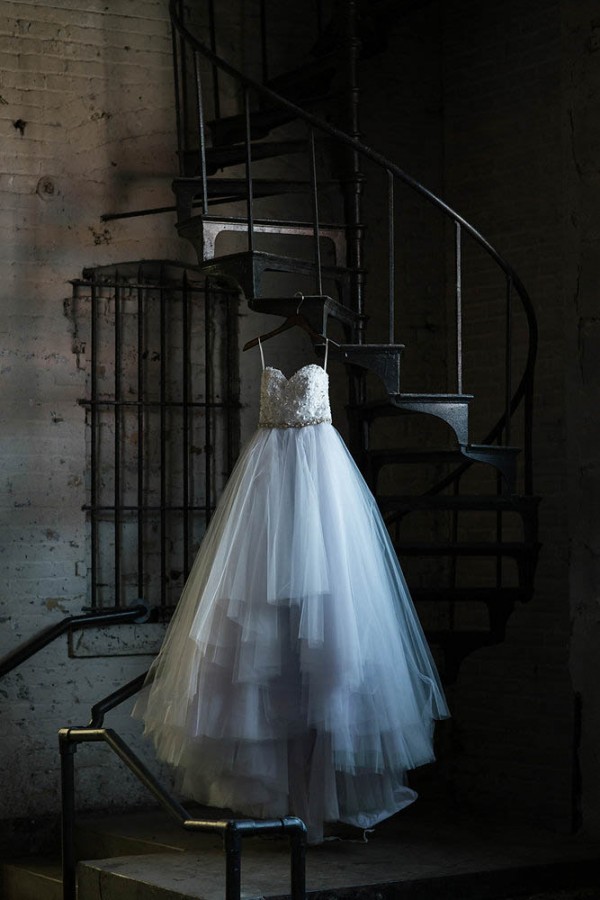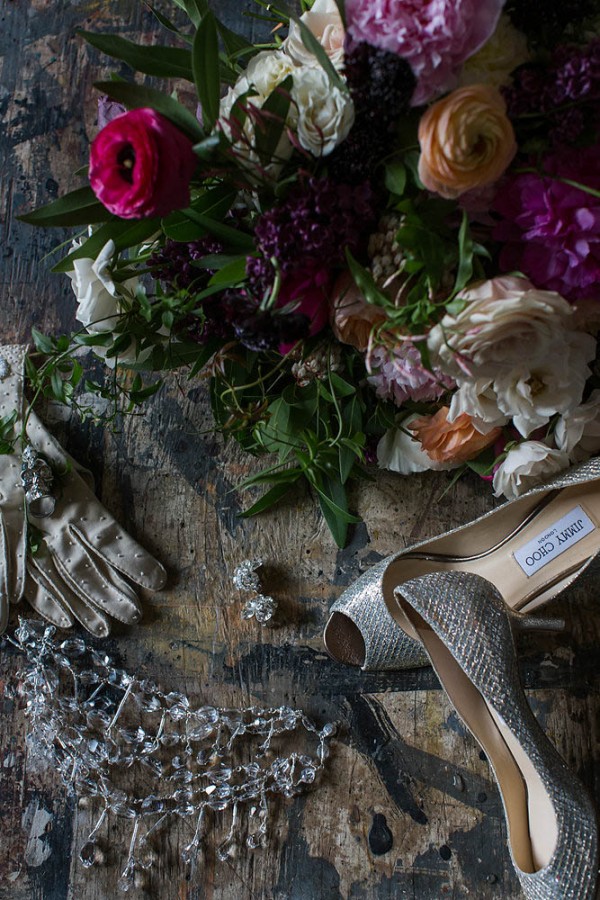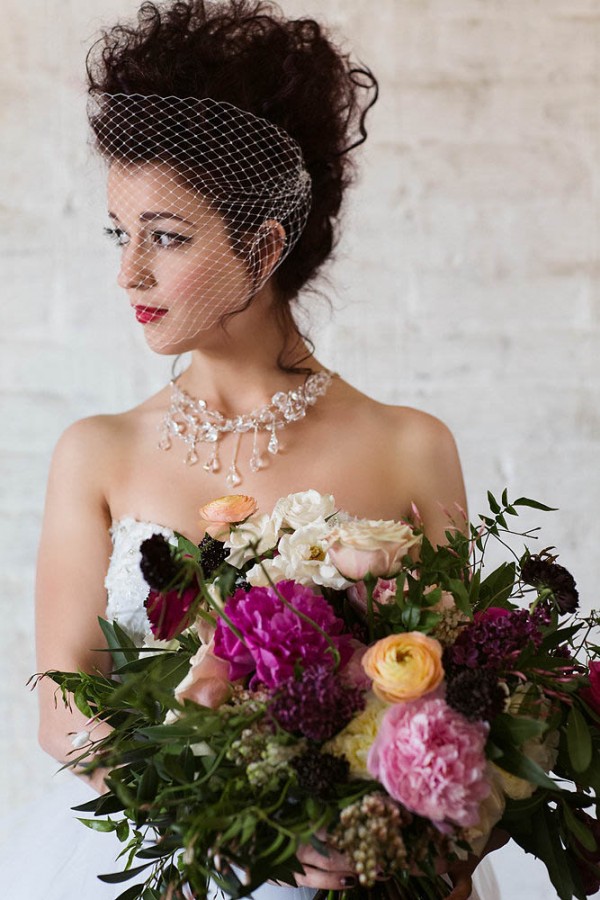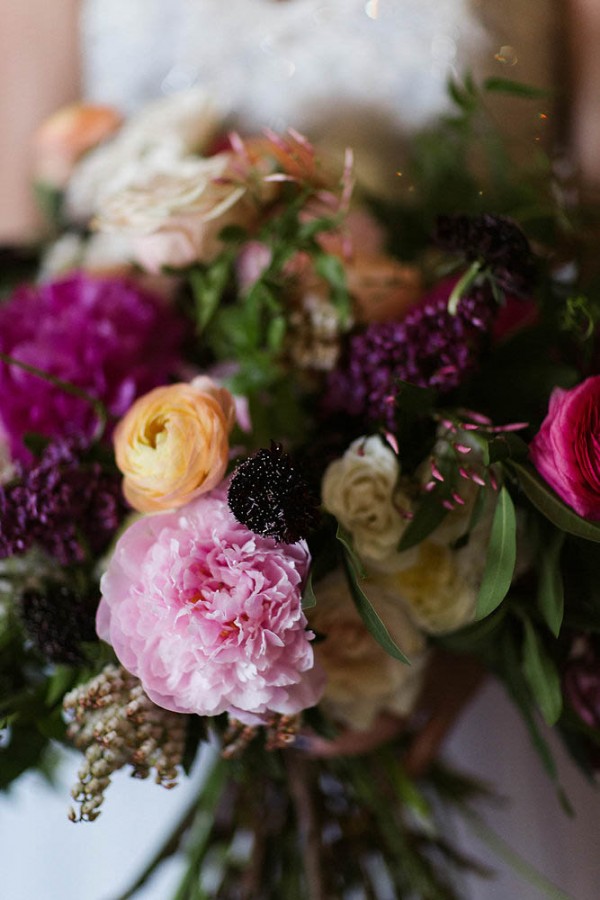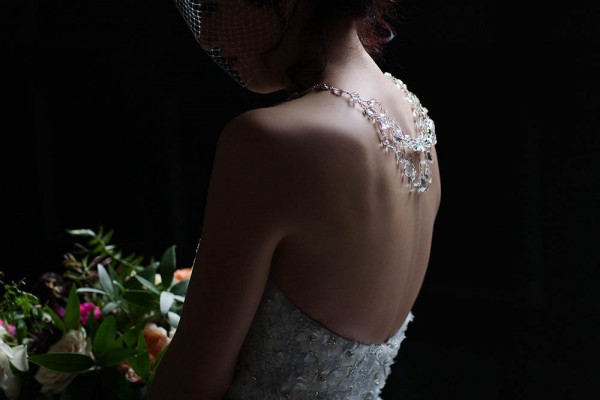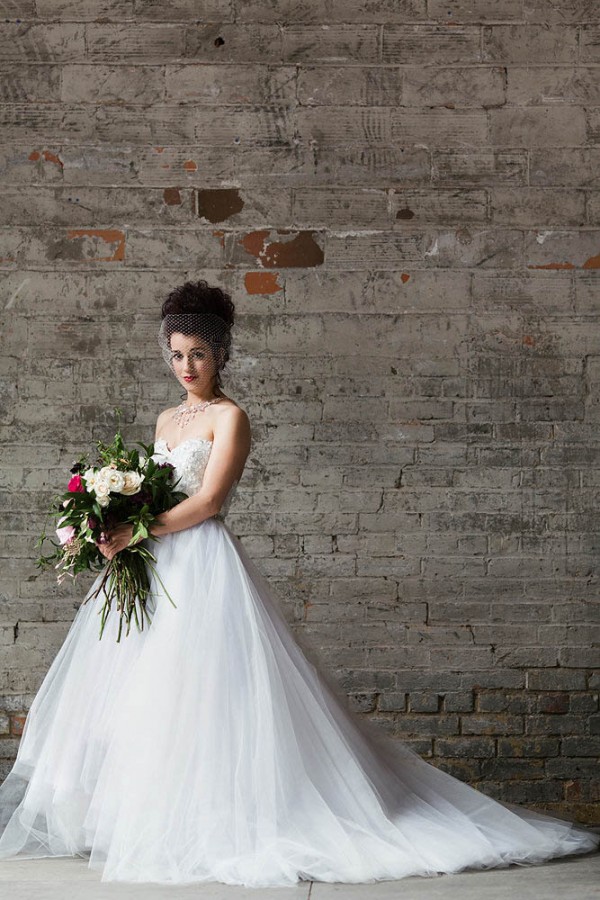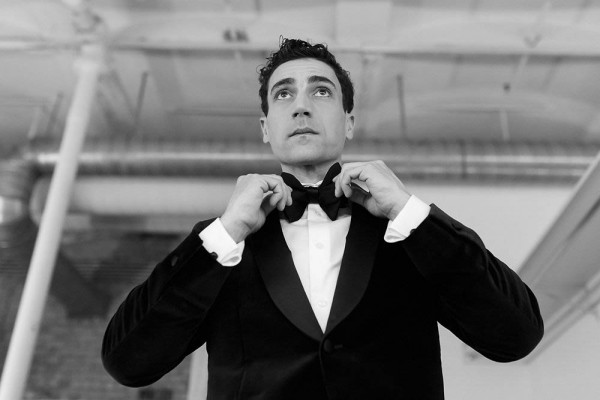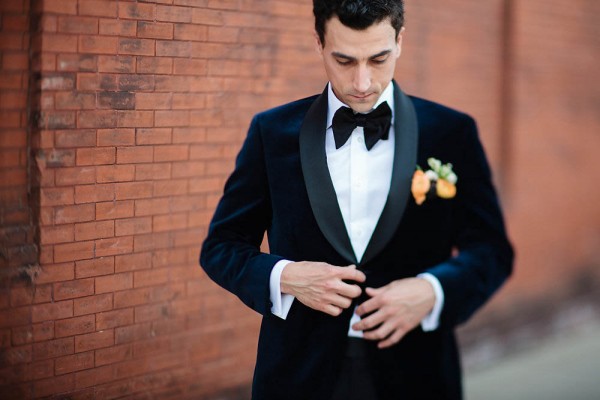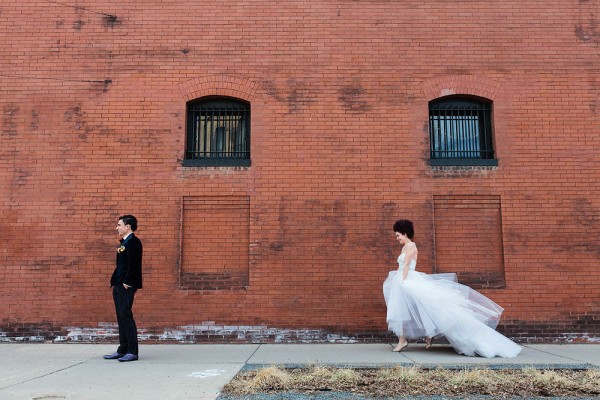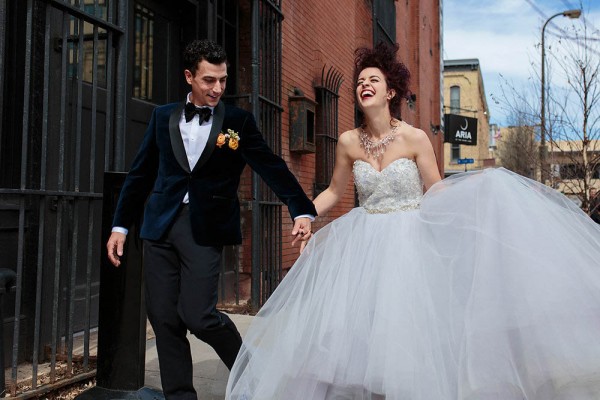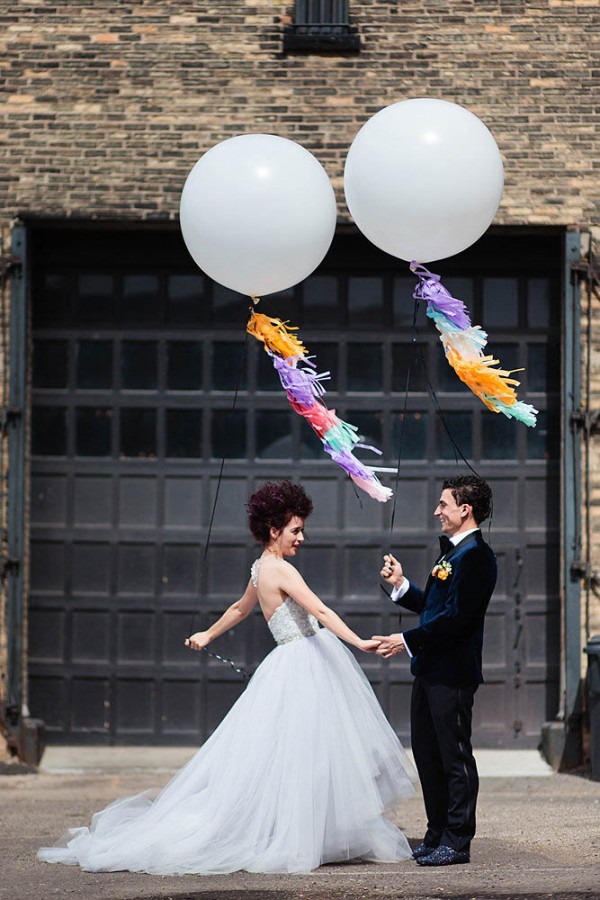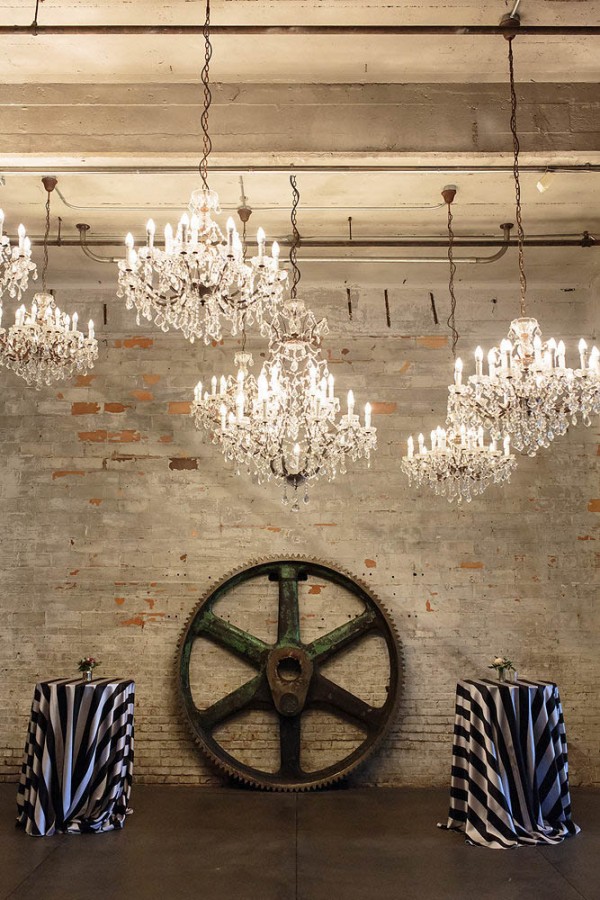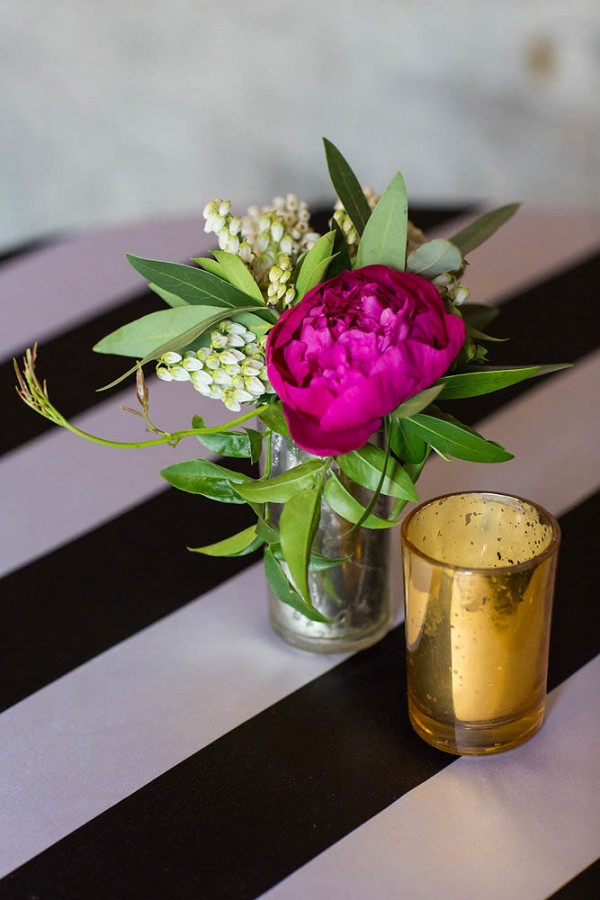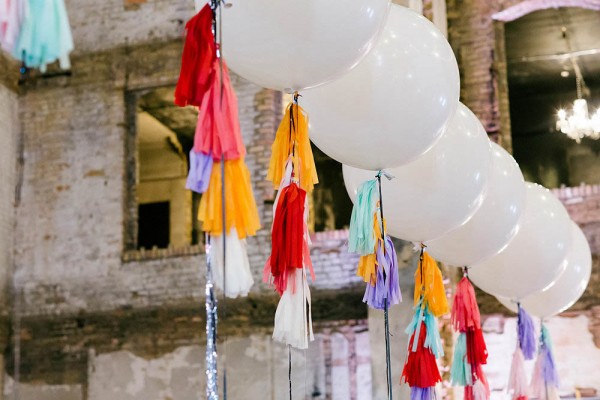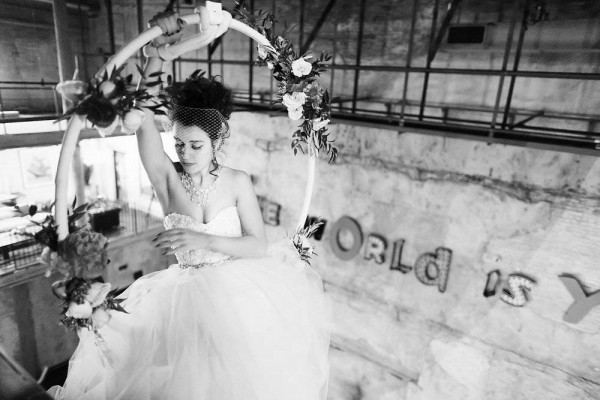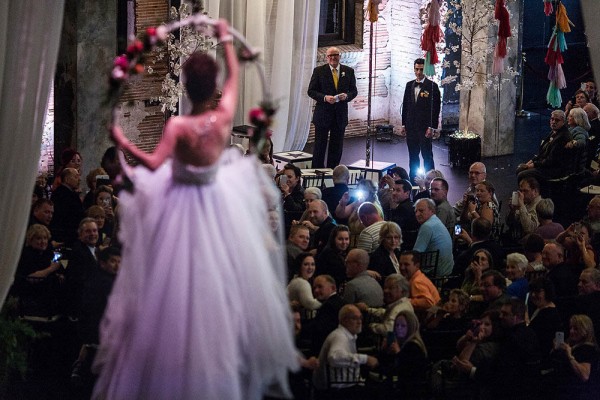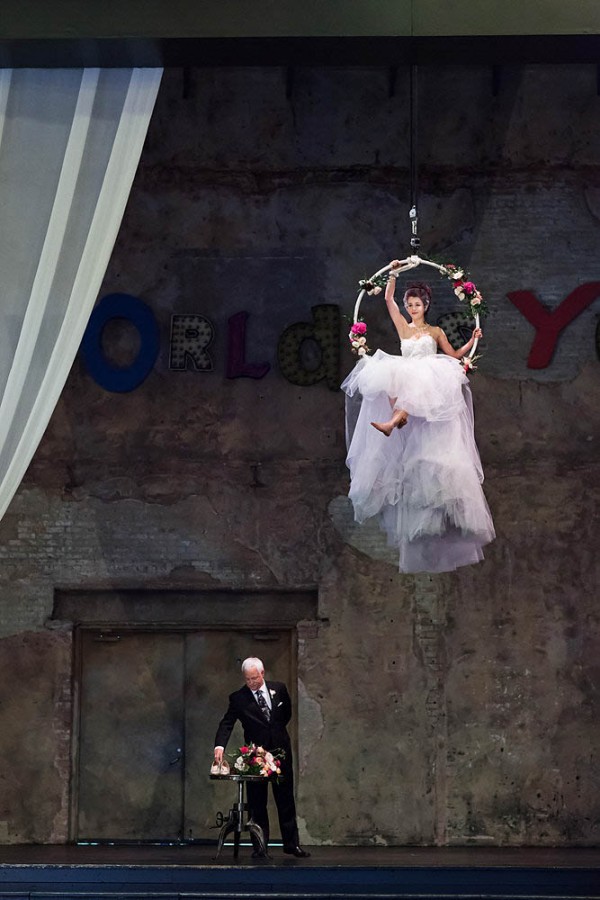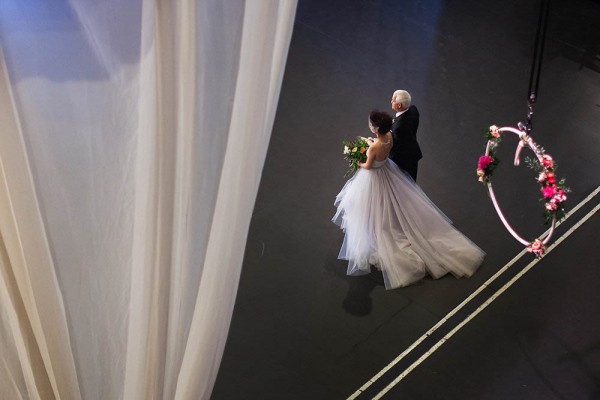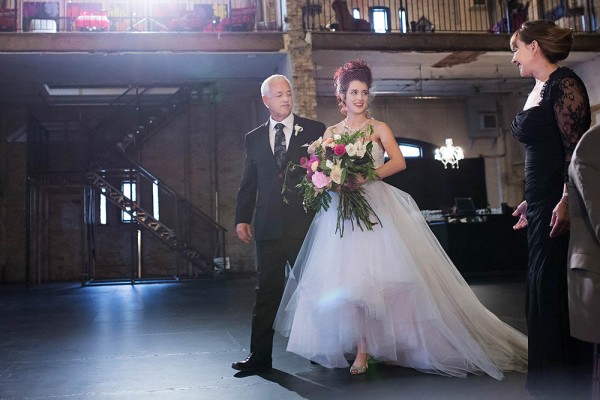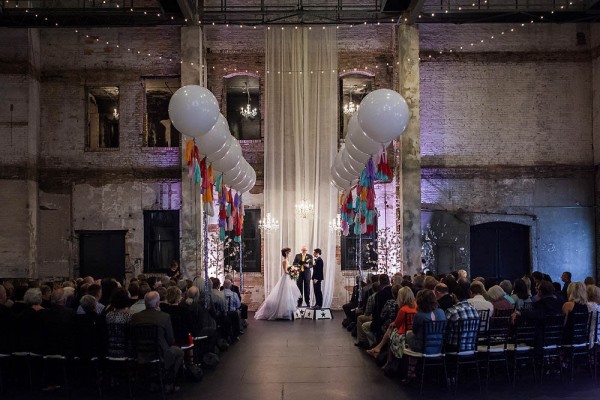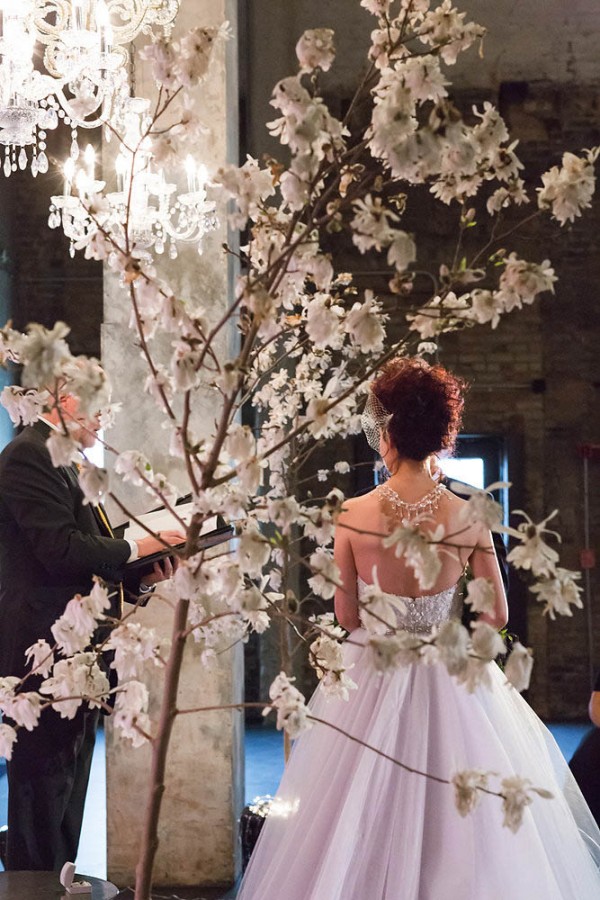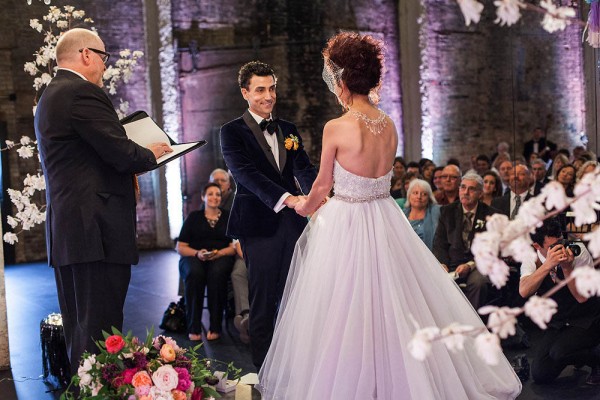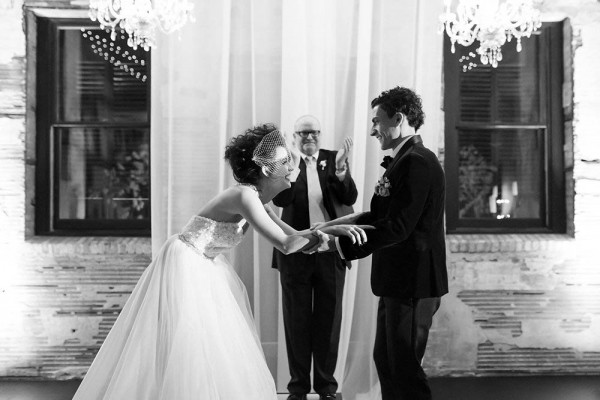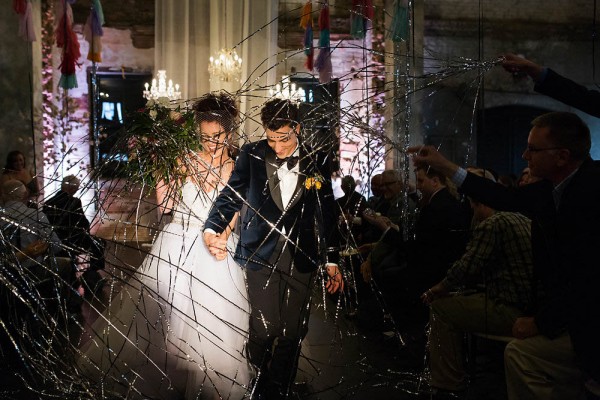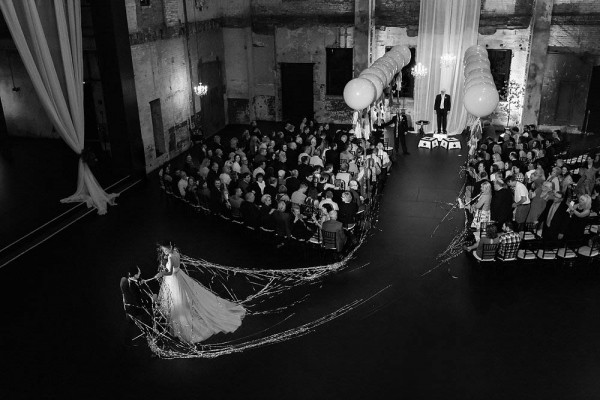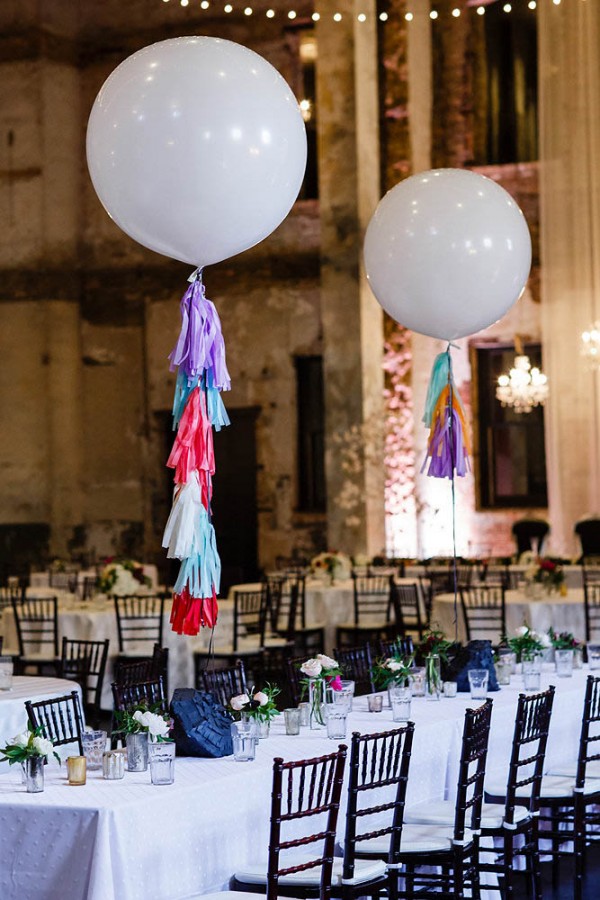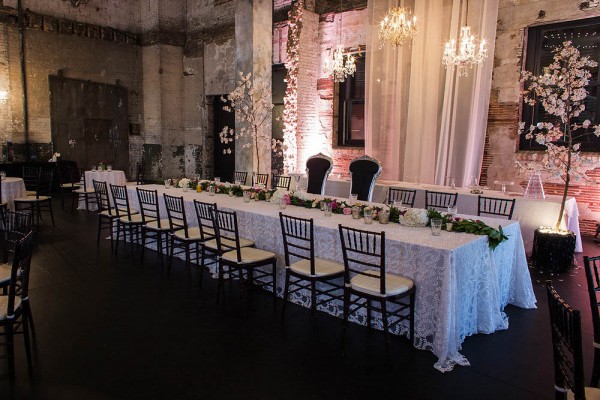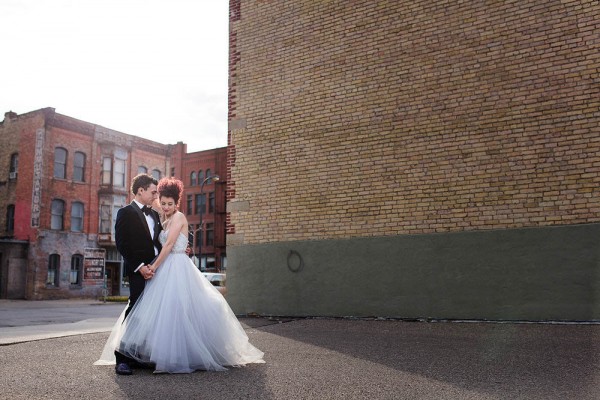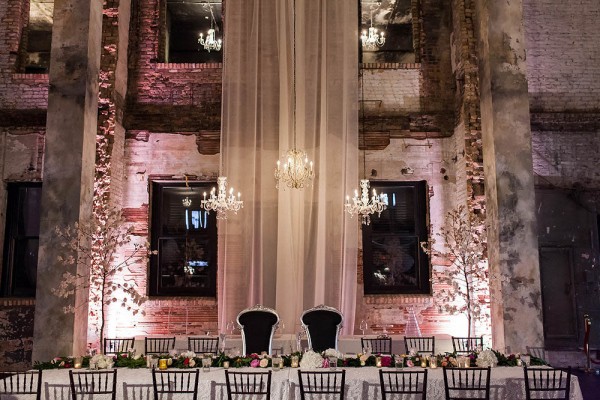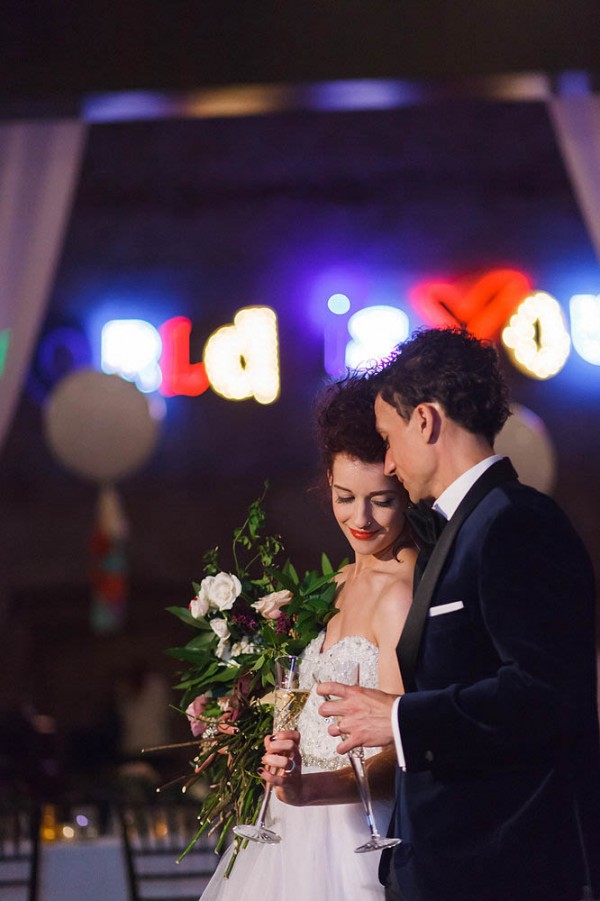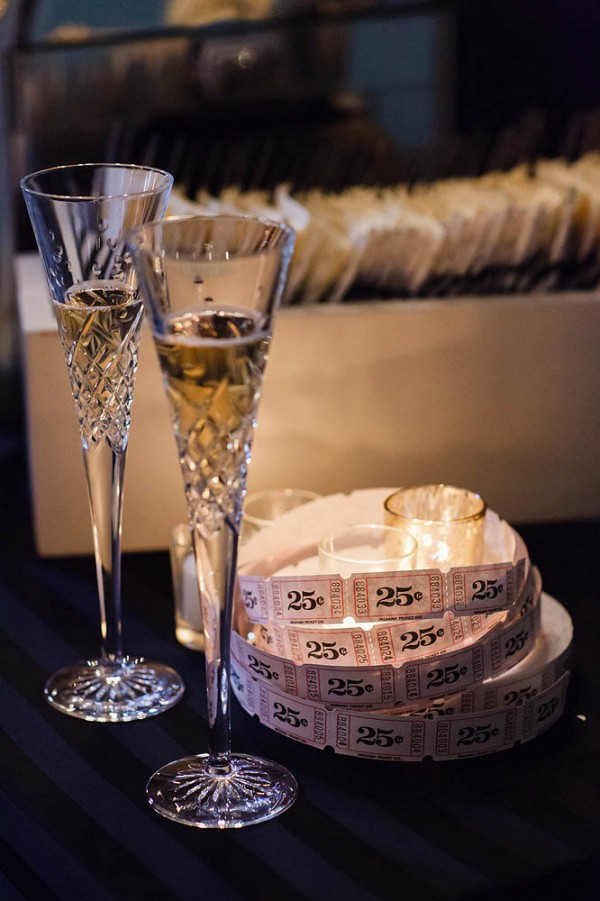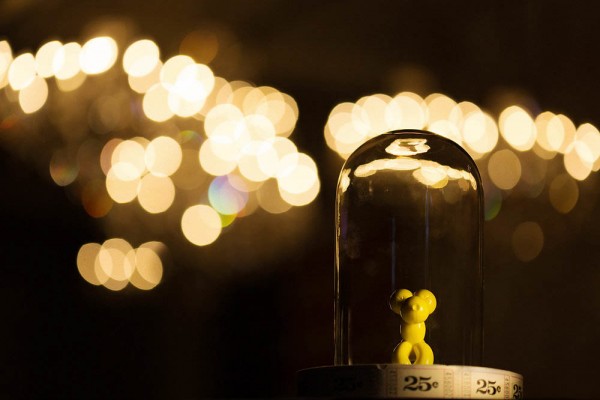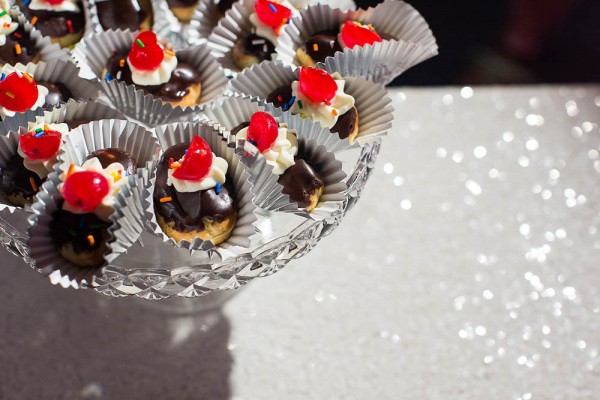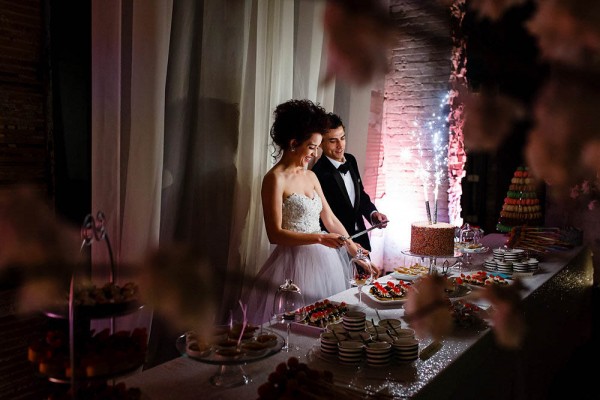 The Moments:
Some highlights were our first look photos, my entrance into the ceremony, and the cake cutting. If we have to choose a favorite, it would be right after the ceremony when we signed our marriage license. We went into the back with our immediate families and our amazing officiant, who was my favorite geography professor. The caterers brought back the hors d'oeuvres that were being served for cocktail hour so we actually had a chance to have some cotton candy, corndogs, and soft pretzels! It was so nice to have a chance to take a deep breath and celebrate with those closest to us while we signed the license.
The Couple Recommends:
Jim Dominick of Xelias Aril Arts, who rigged the Lyra I was lowered down in, was simply amazing. We did trial runs the week of the wedding and he was able to figure out the speed, rotation, and where the hoop should be raised back up to after I was safely off. Without Jim, my dream entrance would not have happened!
Cadence and Eli, our photographers, and their two assistants did such a great job capturing our day! Their photojournalistic style was just what we were looking for and our photos are absolutely stunning. The best thing about Cadence and Eli is that they are so in love with what they do and their enthusiasm is contagious. It was a bonus that there are two of them (plus assistants) capturing the day so nothing was missed!
Aria's team, specifically Kastina, was a dream to work with. They were so organized and professional but it felt like we were working with good friends. Aria was so supportive of my ceremony entrance and helped to ensure everything was safe. I think most of the staff, even if they had the day off, showed up to watch me get lowered down!
Kastina and the rest of Aria's team, along with Cadence and Eli, really stepped up when the unthinkable happened — our wedding planner fell ill and had to go to the hospital the morning of the wedding! They took on her job without a second thought. They cued for the ceremony, made sure the flowers got put on the correct tables, ensured things stayed on schedule as much as possible, and so much more so that we could enjoy our day to the fullest. We cannot thank them enough
The Wedding Team:
Photography – Cadence and Eli Photography
Event Planning – Ambiente Group
Venue – Aria
Floral Design – Munster Rose
Catering – Create Catering
Live Music – Metro Retro Music
Videography – Cadence and Eli Photography
Invitations – Dick and Jane Letterpress
Wedding Dress – Lazaro
Bridal Accessories – Jimmy Choo, Alexander McQueen
Groom's Apparel – Heimie's Haberdashery
Rings – Jeffrey Jewelry Co
Rentals – Linen Effects
Transportation – Renee's Royal Valet
Aerial Assistance – Xelias Aril Arts
A great big thanks to Cadence and Eli Photography for sharing Stephanie and Shane's most festive wedding at Aria Minneapolis! For more carnival inspired wedding ideas, check out Inga and Martin's quirky Cornwall wedding at YHA Treyarnon.