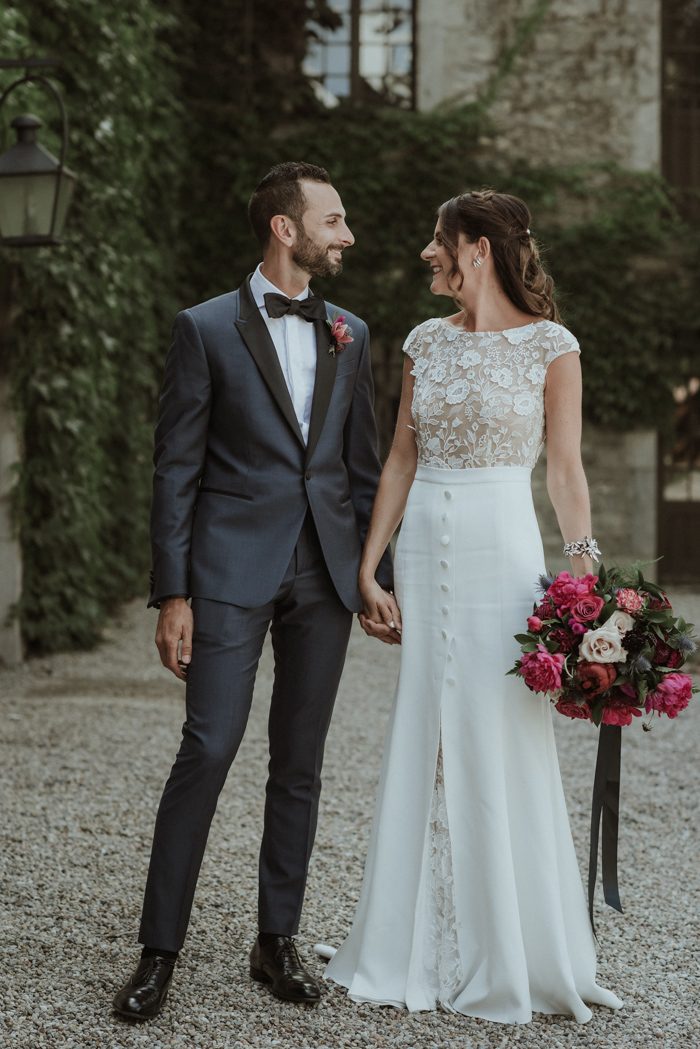 The classic elegance of Elyse and Nick's wedding at Entrepôts Dominion was gorgeous but it was the glamorous touches that really put it over the top! With an emphasis on creating an intimate and memorable ceremony, they had a close friend officiate and filled the outdoor space with vintage rugs, rose gold chairs, candles, and low-level floral arrangements that added pops of color without taking away from the natural character. Their reception, though, was filled to the brim with glamorous details, including black and gold place settings, gold chairs, moody florals designed by Astilbe, and lounge seating. The planners at Le Coeur Bohème did a phenomenal job bringing Elyse and Nick's non-traditional, glamorous vibe to life, and photographer Gabrielle Desmarchais could not have captured it all more perfectly.
The Couple:
Elyse and Nick
The Wedding:
Entrepôts Dominion, Montreal, Quebec, Canada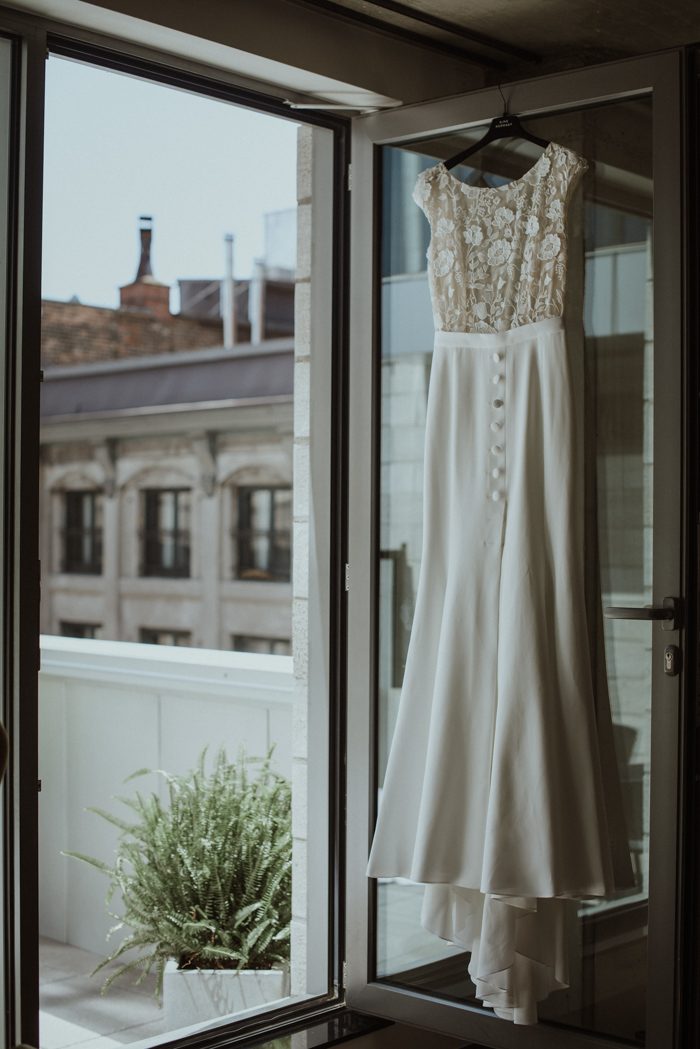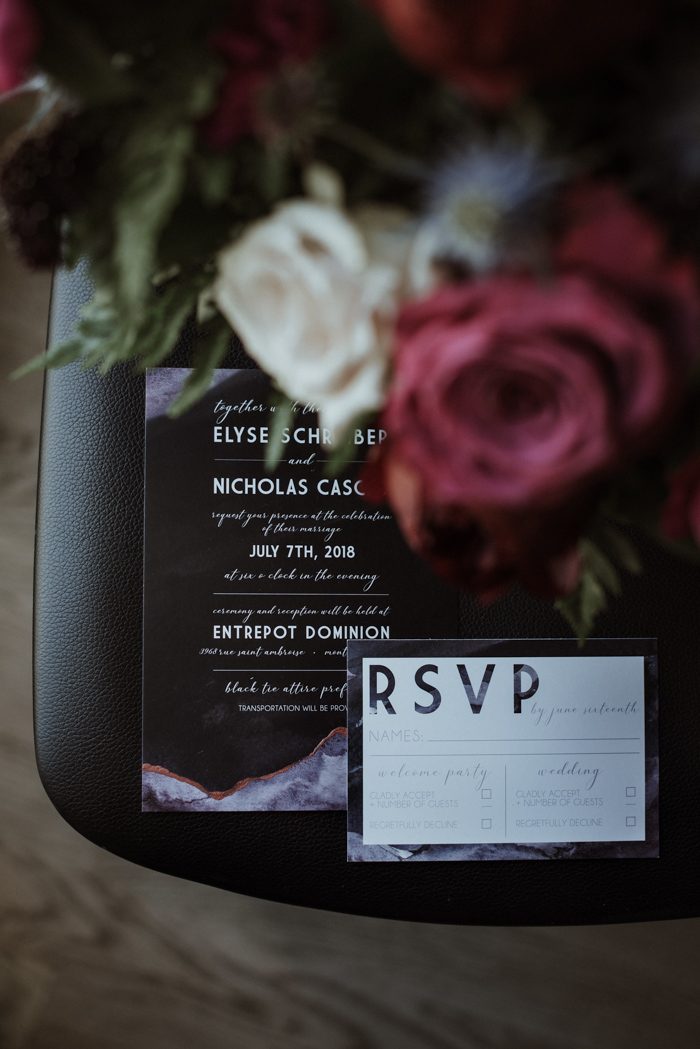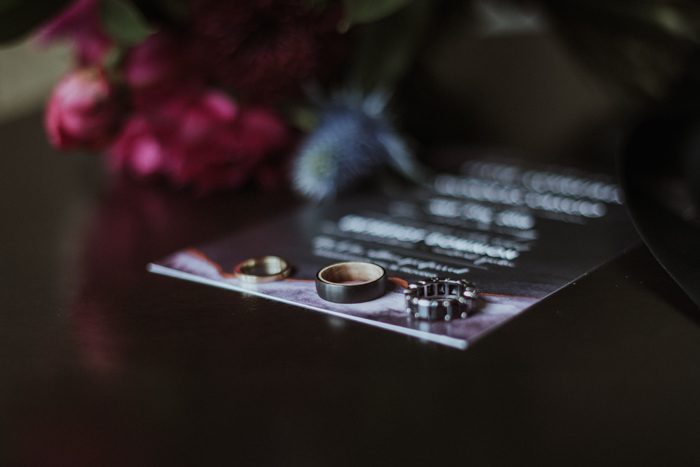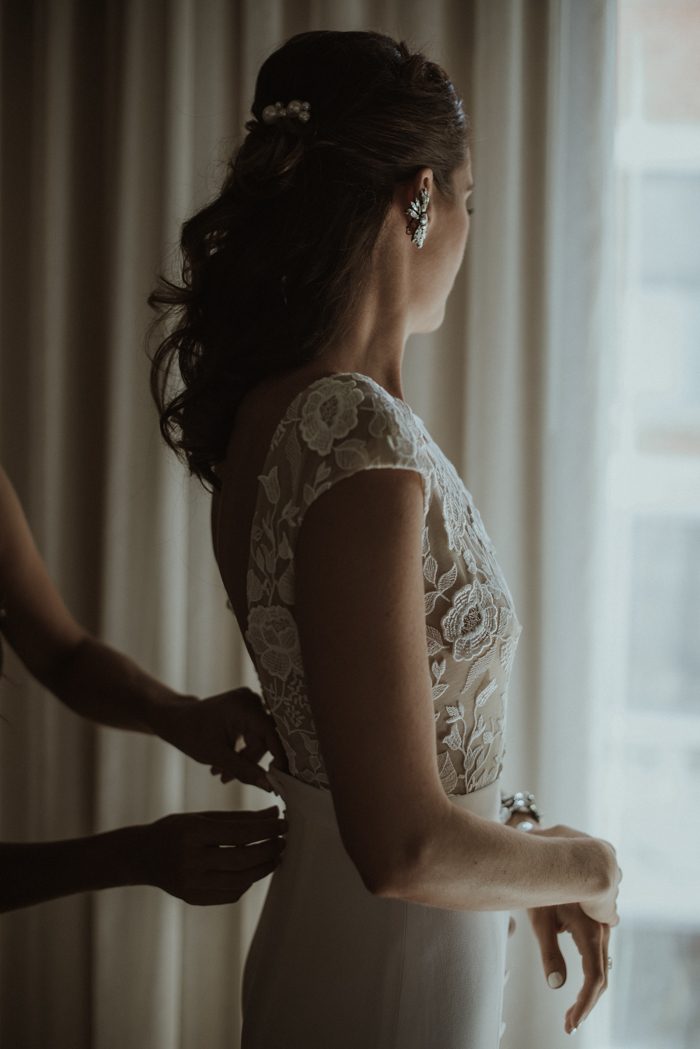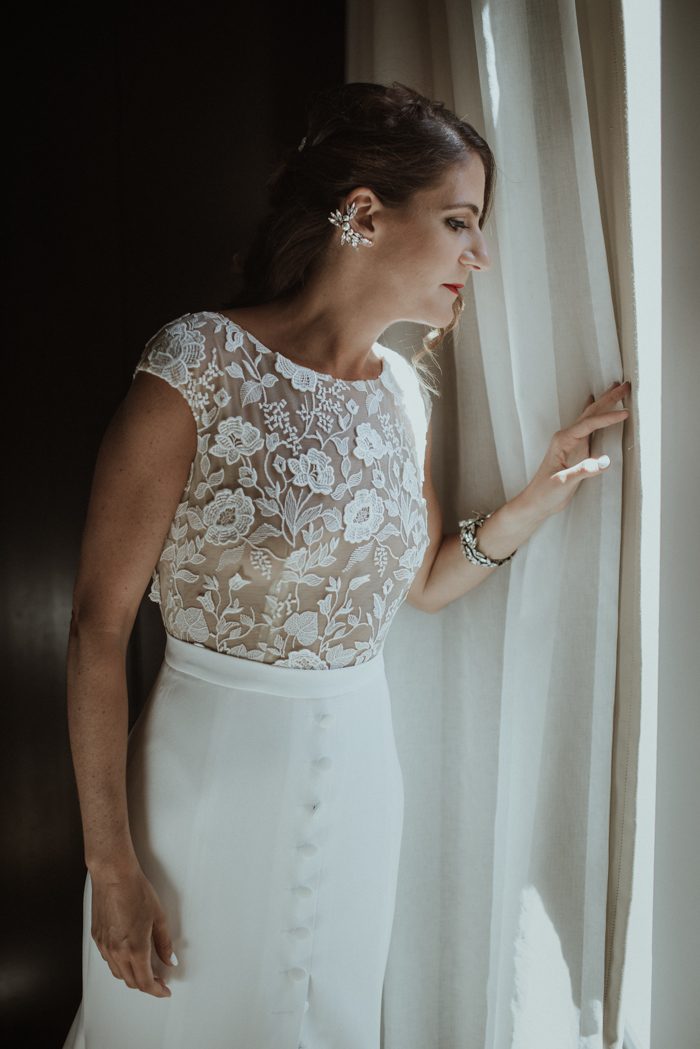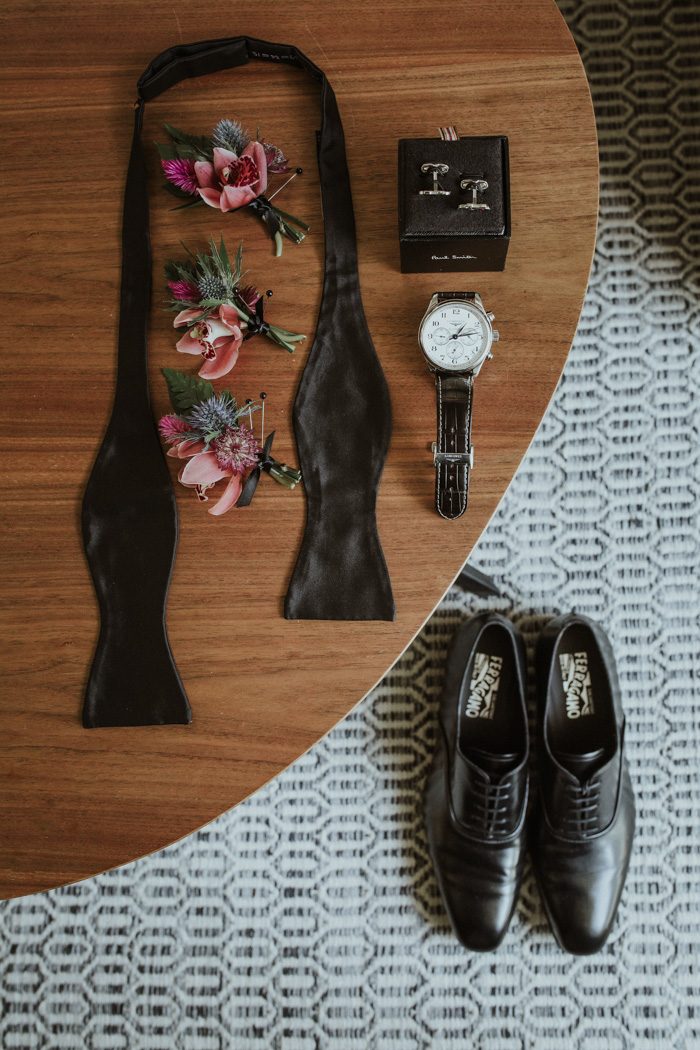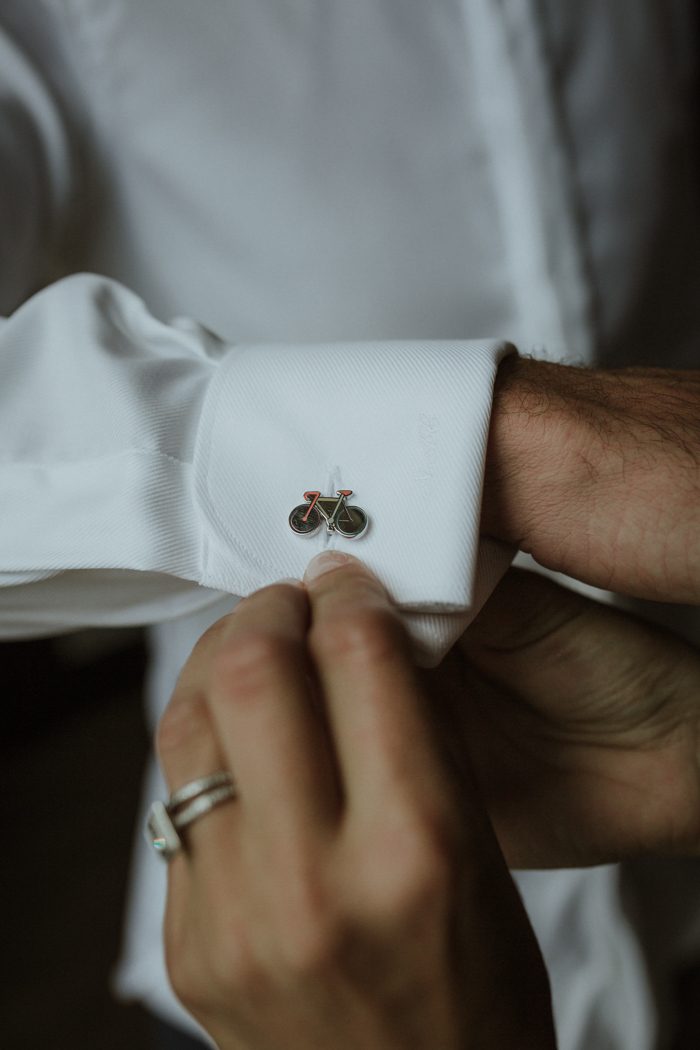 We wanted our special day to be fun, original, creative, and an expression of our style. It was important for us to have a non-traditional ceremony and reception, with the vibe of a big party. We are particular and wanted our wedding to be like no other!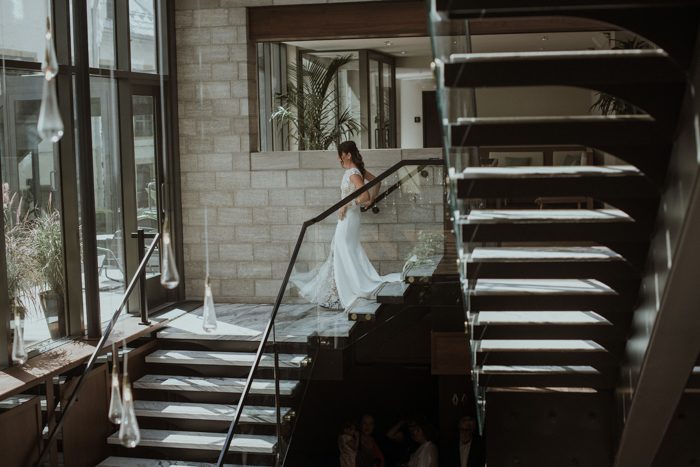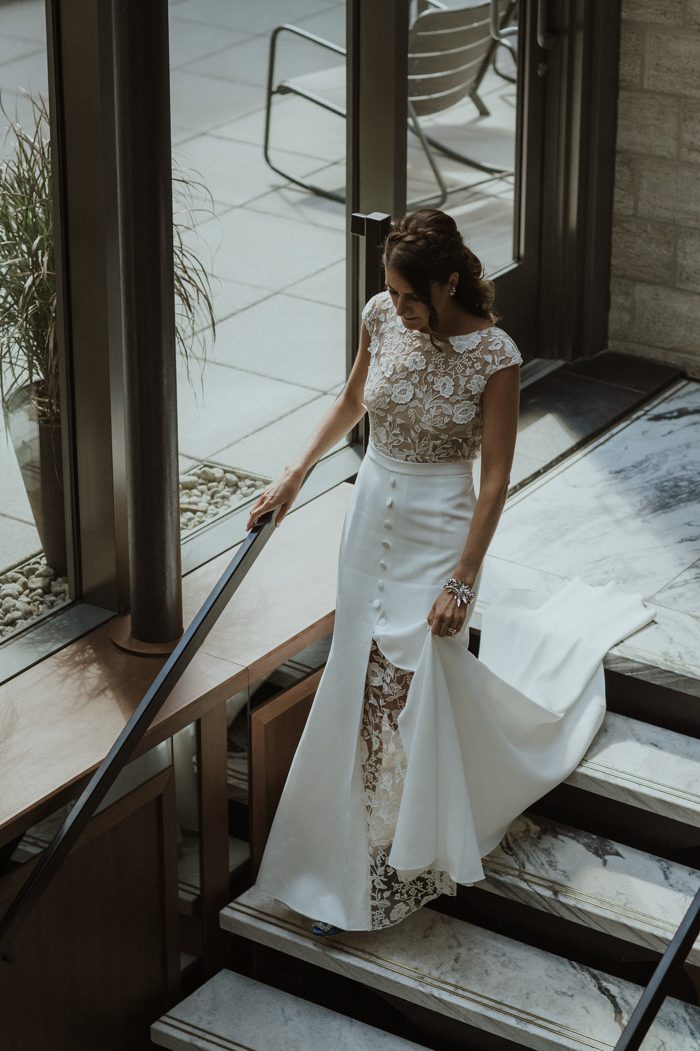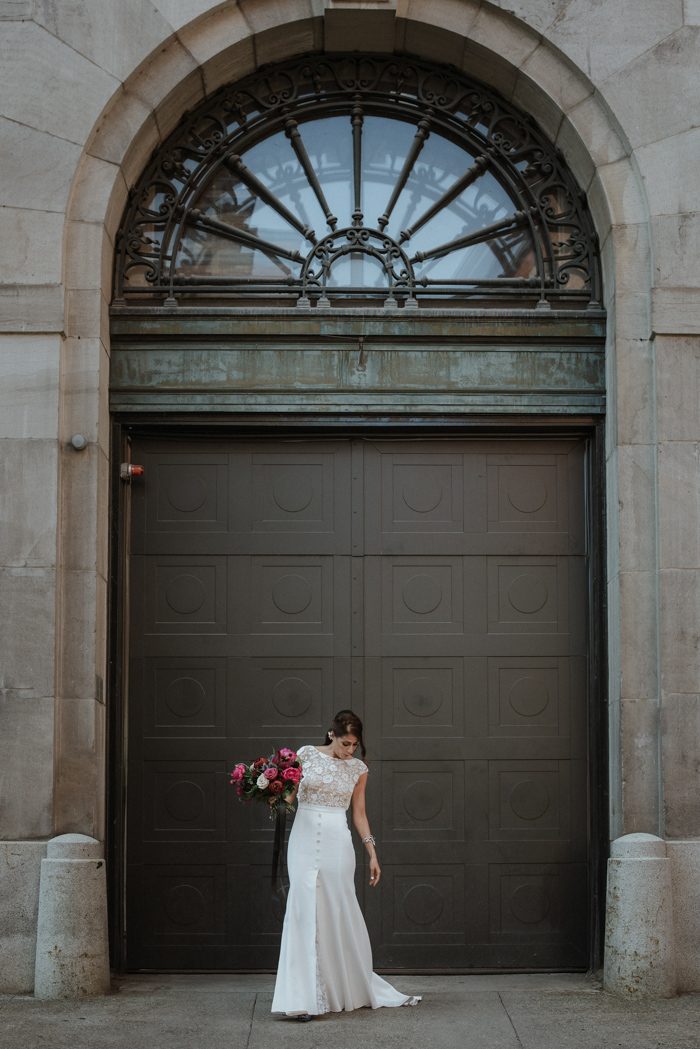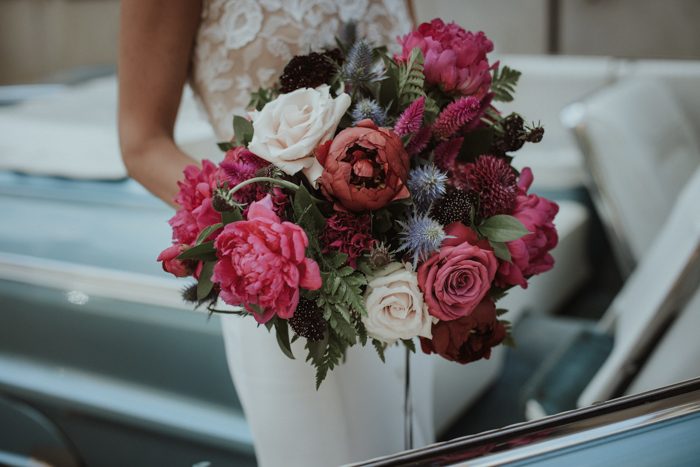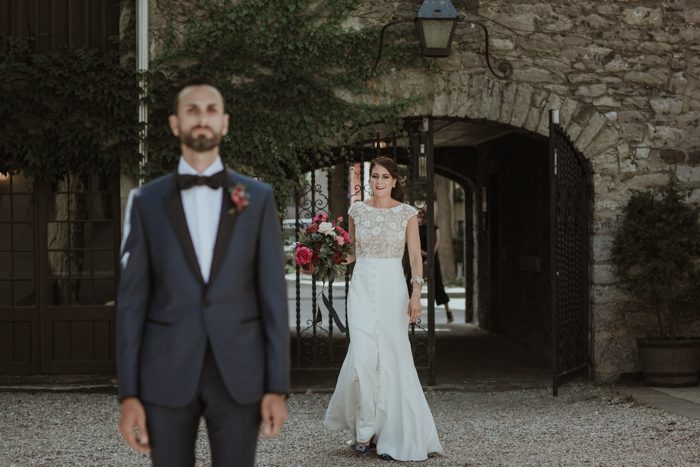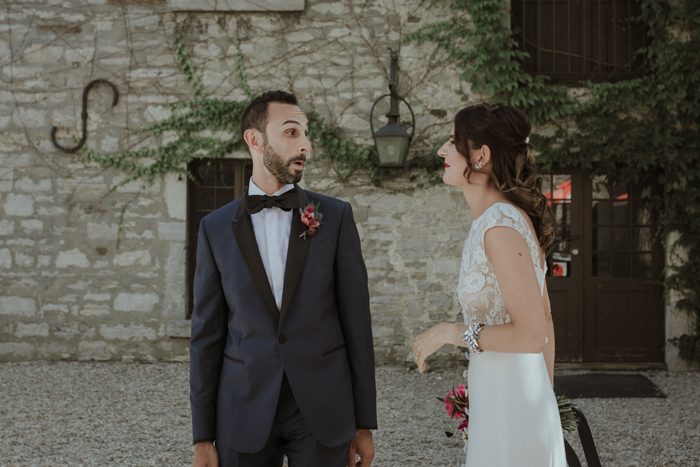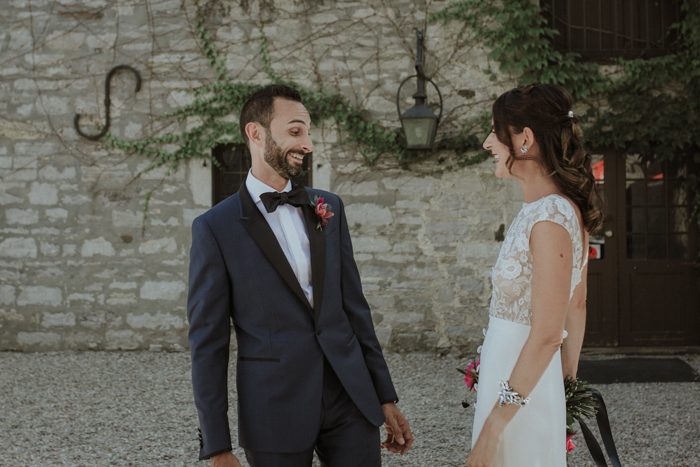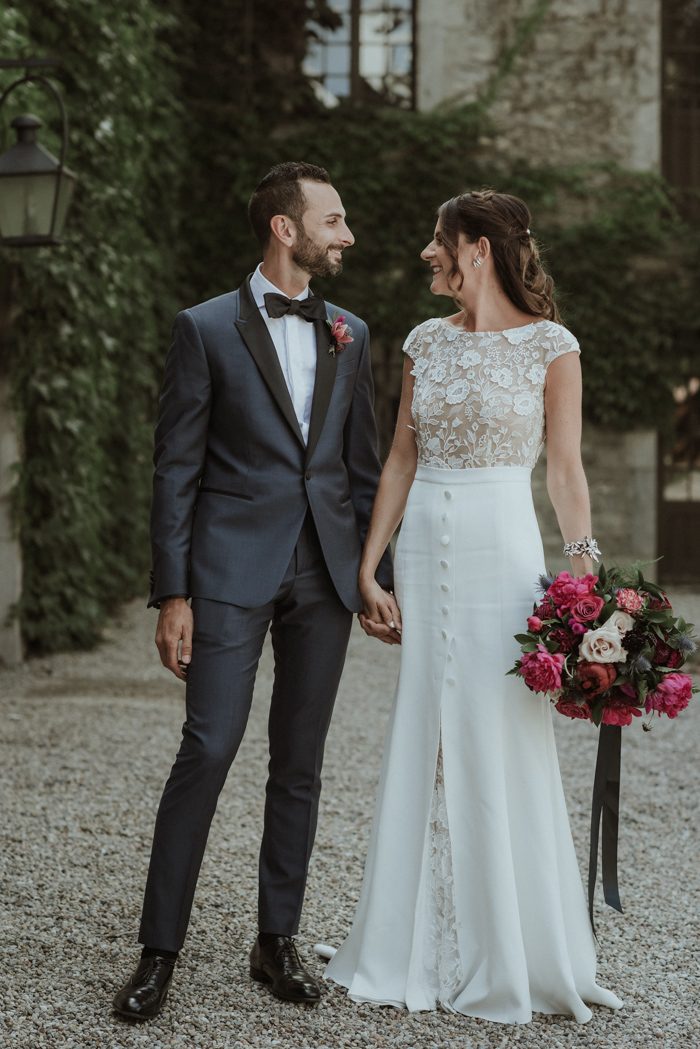 My look was a combination of unique, chic, timeless, and edgy. I wanted my look to be the best expression of myself as it was very important for me to feel like myself on our wedding day. I loved the simple shape of my dress, and that is was both elegant and intricate from the beautiful neckline and cap sleeve to the French lacework on top, to the open back detail, to the buttons down the front of the skirt with the hidden lace underneath. The unique skirt detail allowed for the pop of my cobalt blue shoes to be subtly highlighted. As for my accessories, I decided on two bold statement pieces to add a visual wow-factor and to balance my timeless yet unique dress.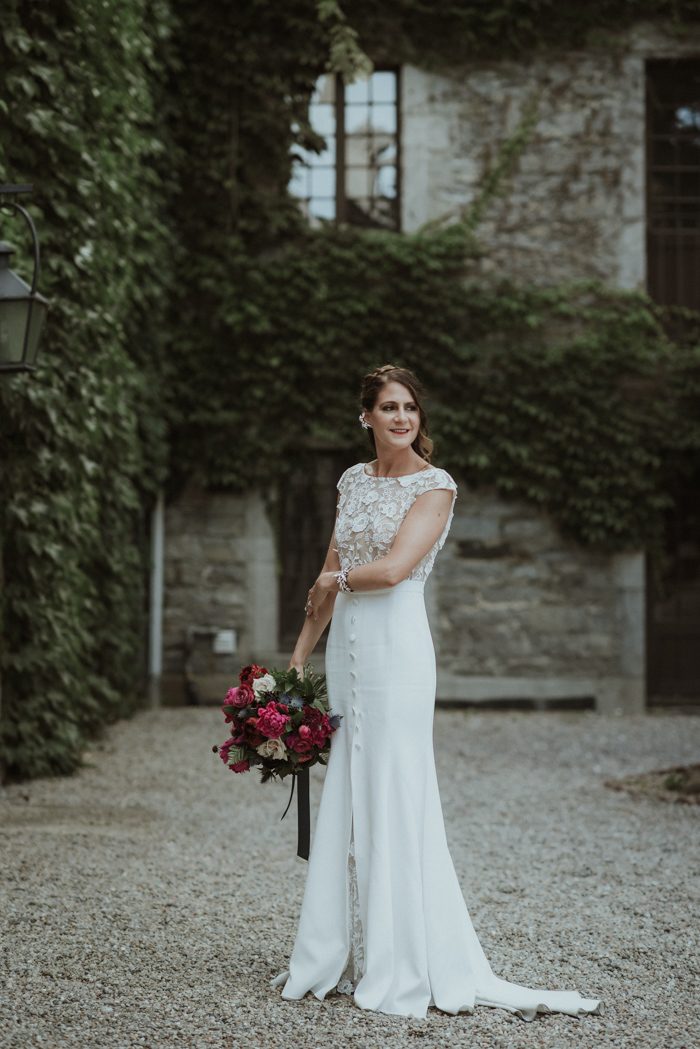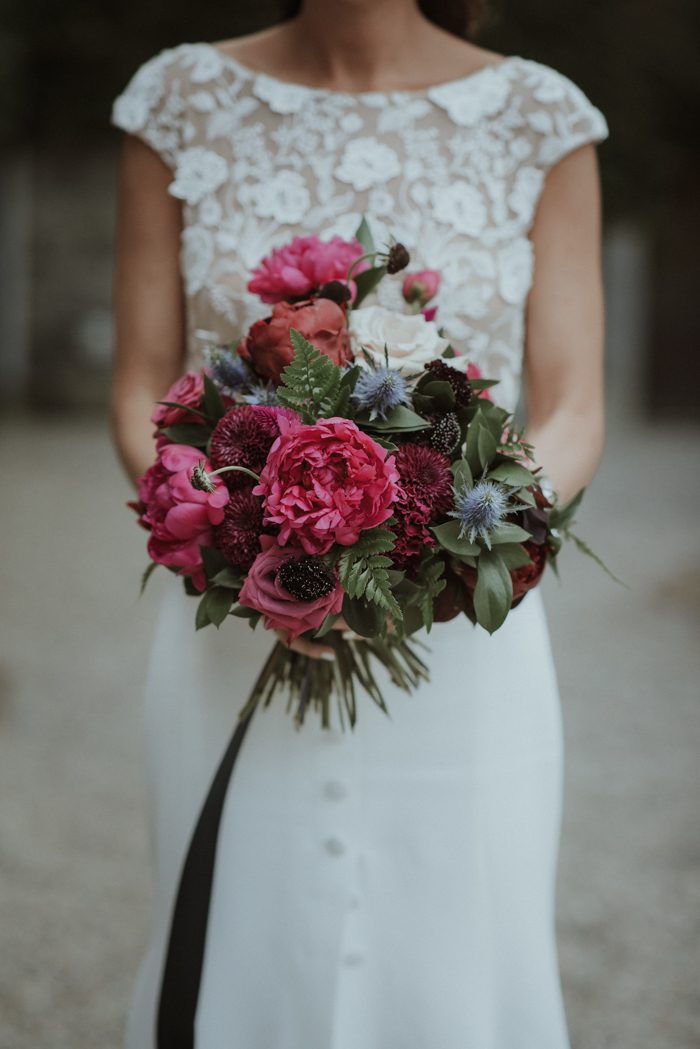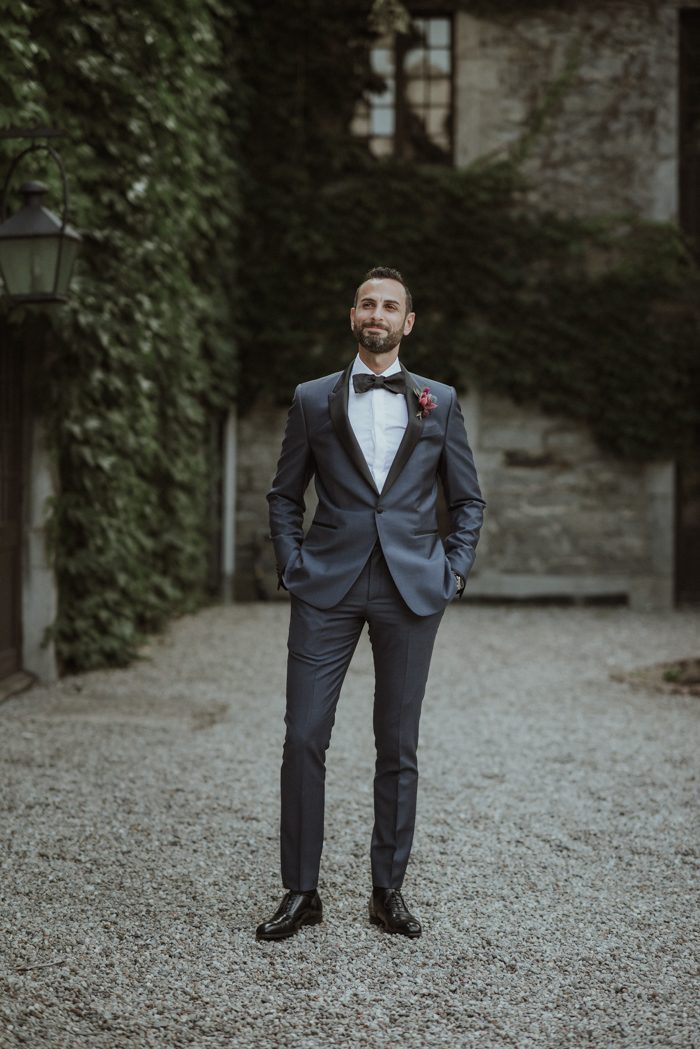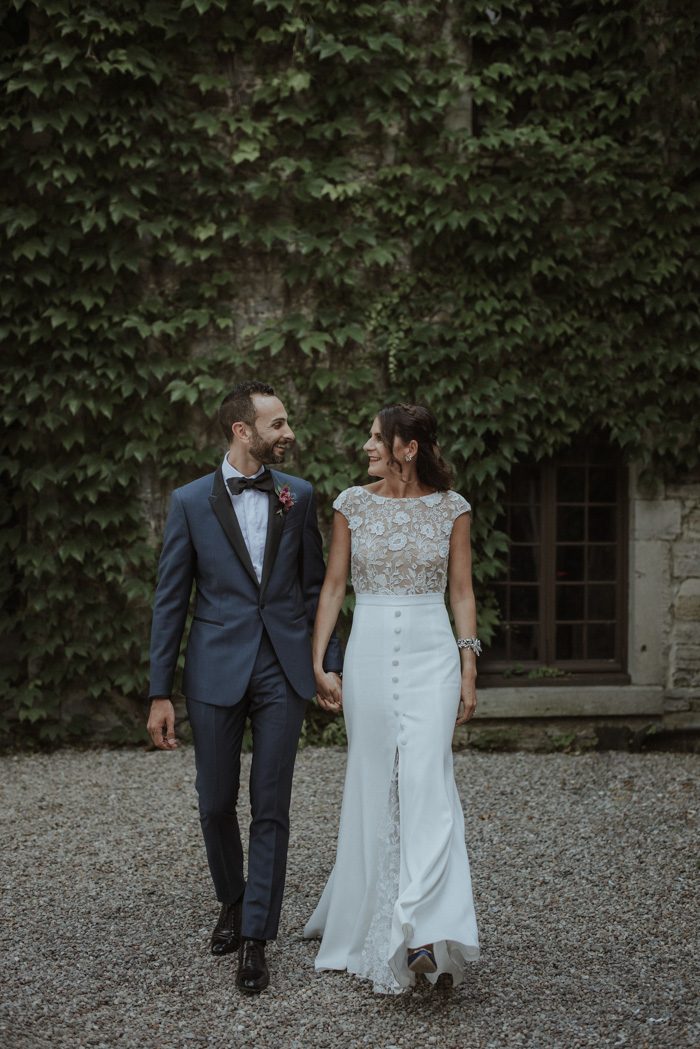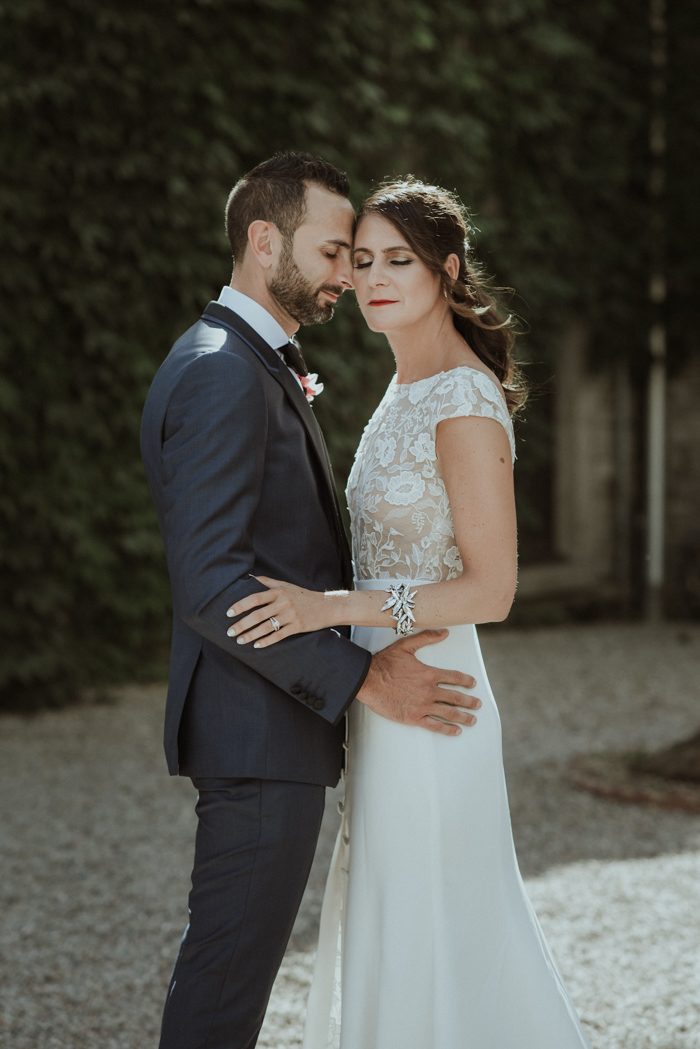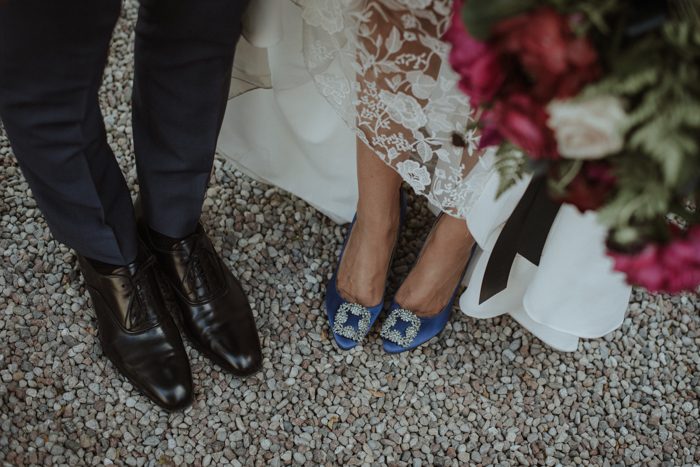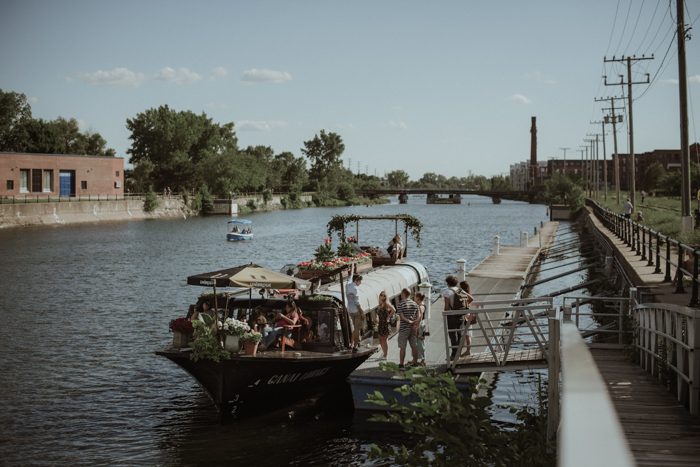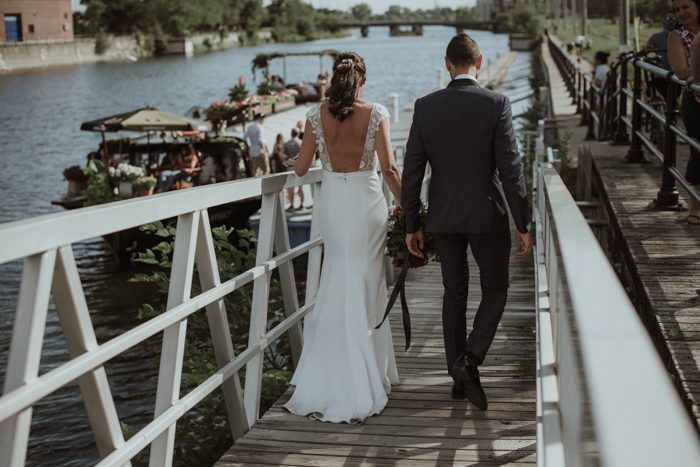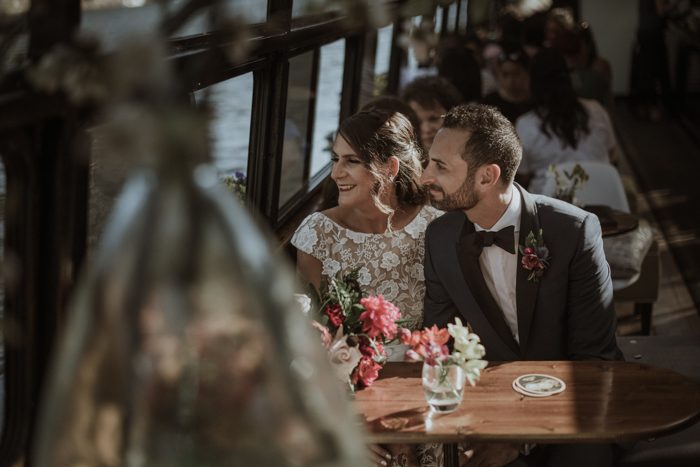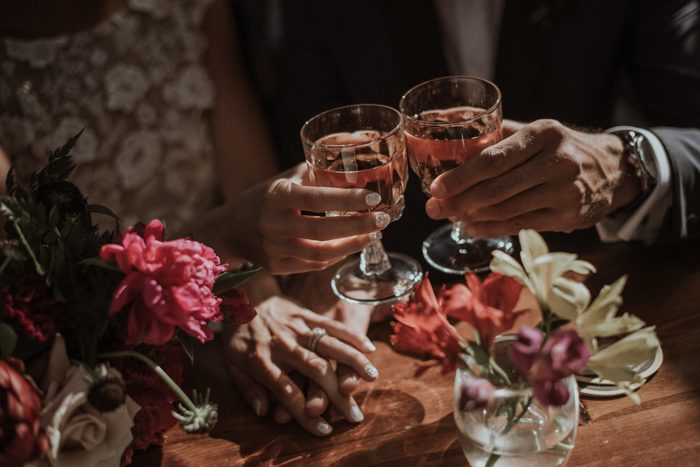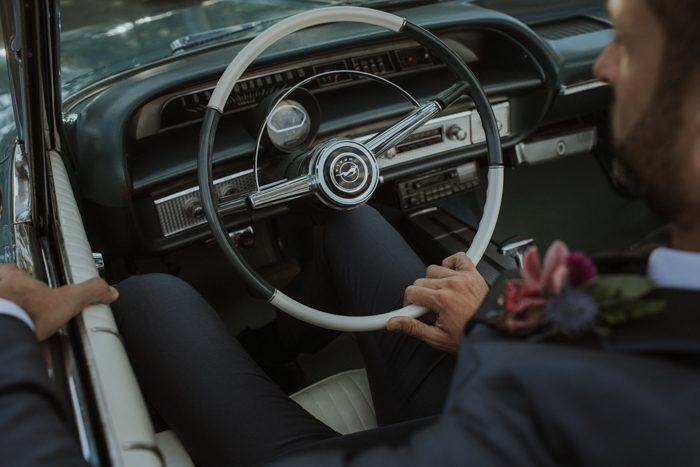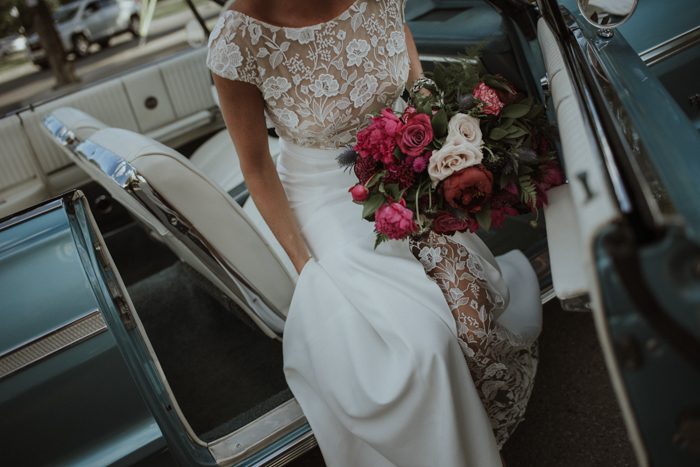 Long before we started the wedding planning process, we both decided that whatever we were to do, we wanted our ceremony to be personal and intimate. Therefore, we knew that the best person to ask to be our officiant was our friend, Marco DeSena. He was the perfect combination of funny and articulate, as well as a friend that knows us both. The only parameters we gave him was to be himself and that we wanted it to be a surprise. We also asked Marco to be our best man. He obliged to have double duty. In lieu of individual best man and matron-of-honor speeches, Marco found a way to incorporate Elyse's sister, Erica Plouffe, into the ceremony, adding an extra layer of specialness to the whole experience.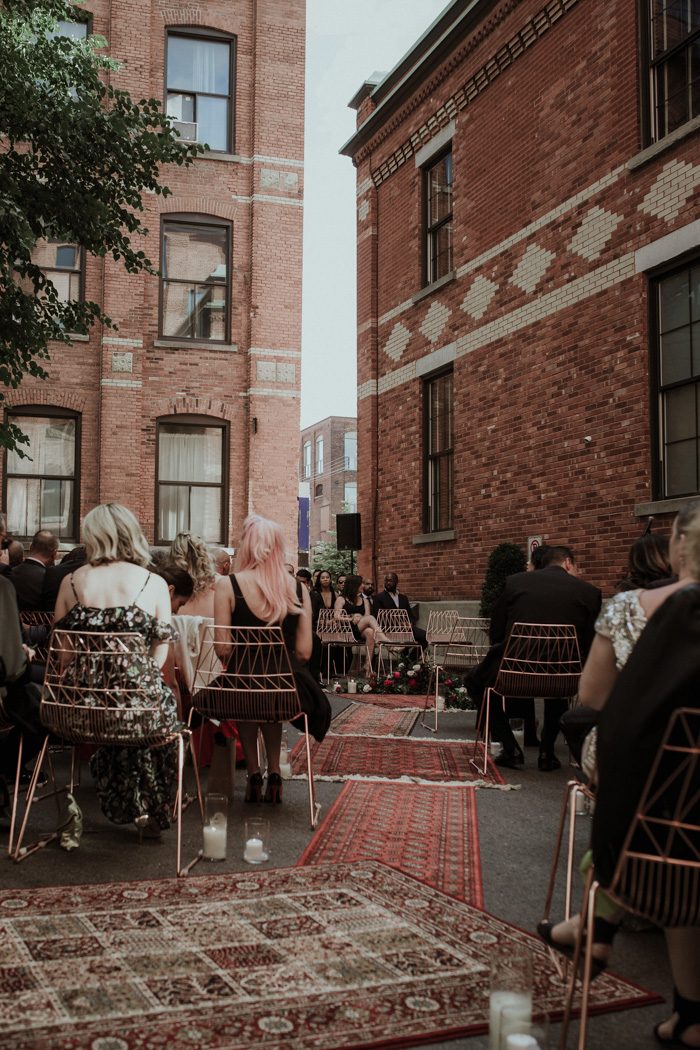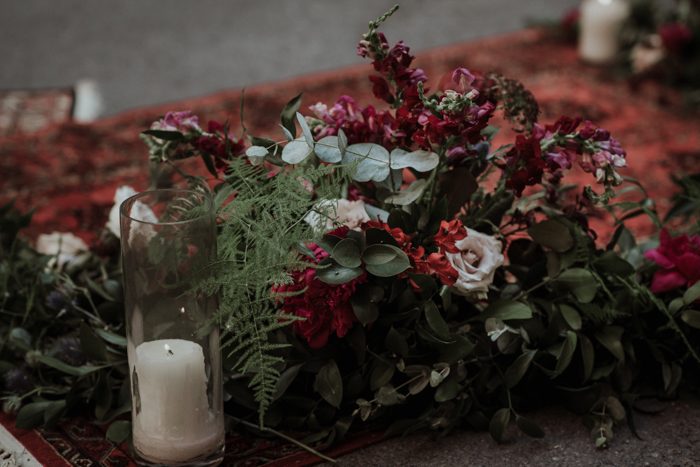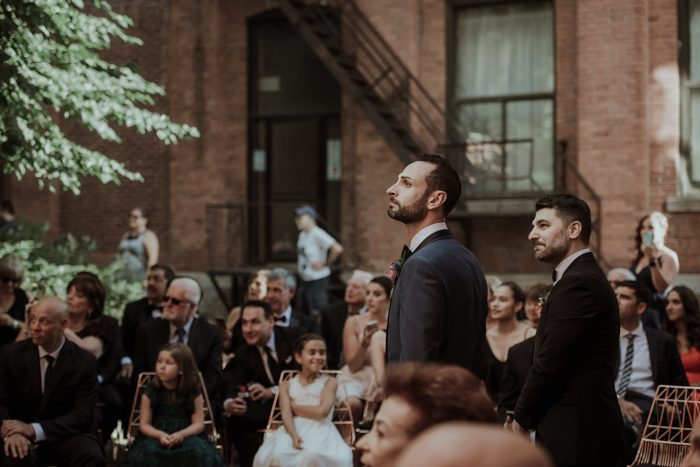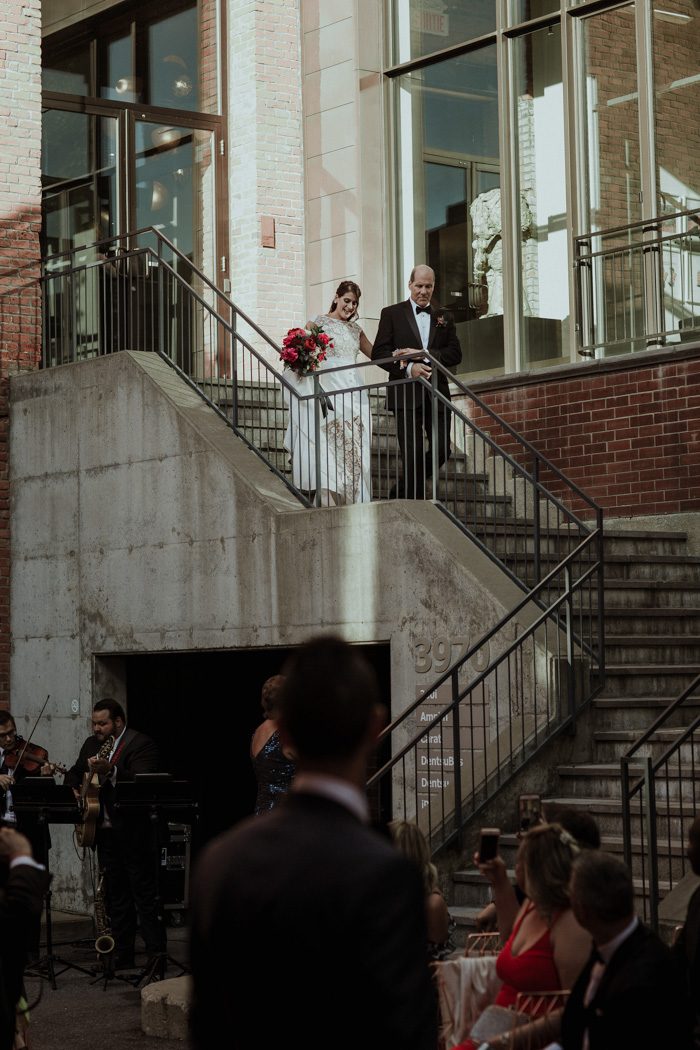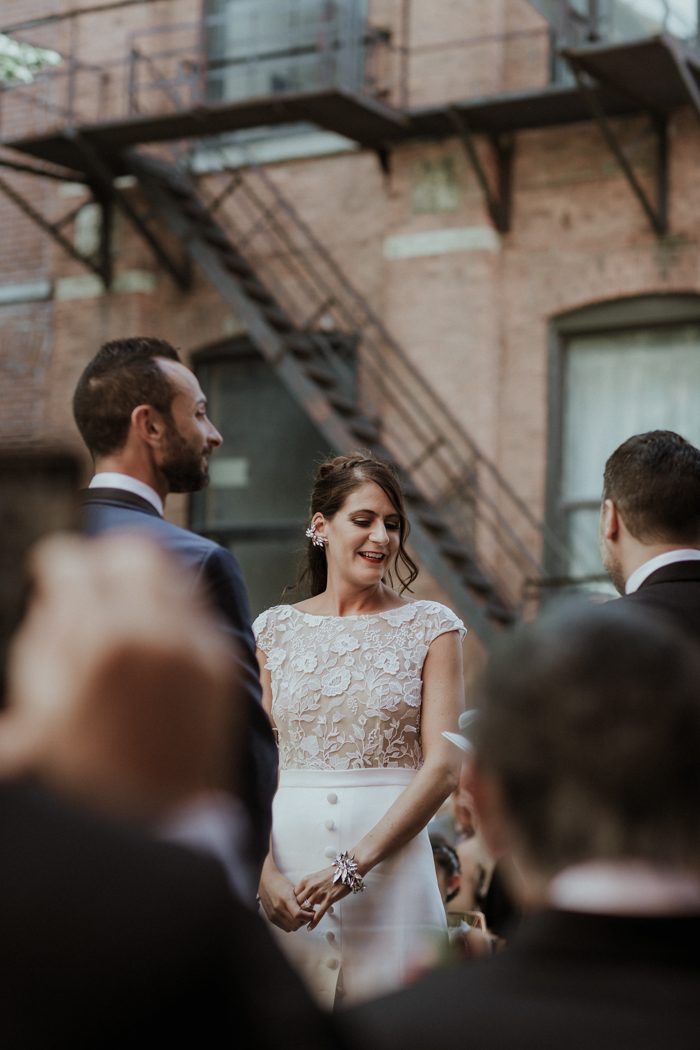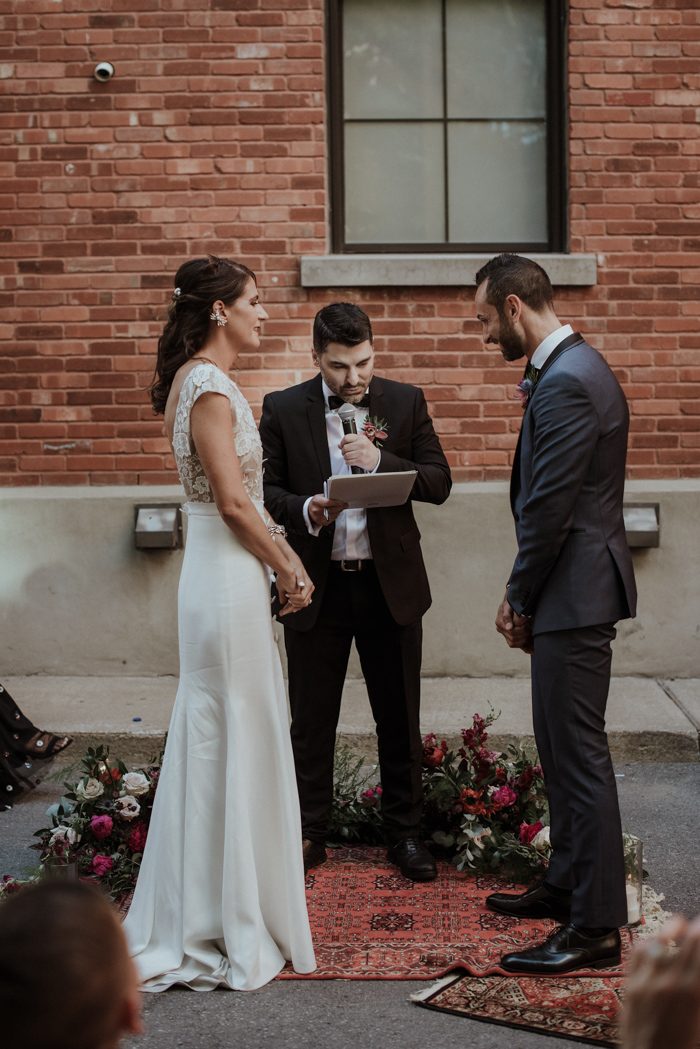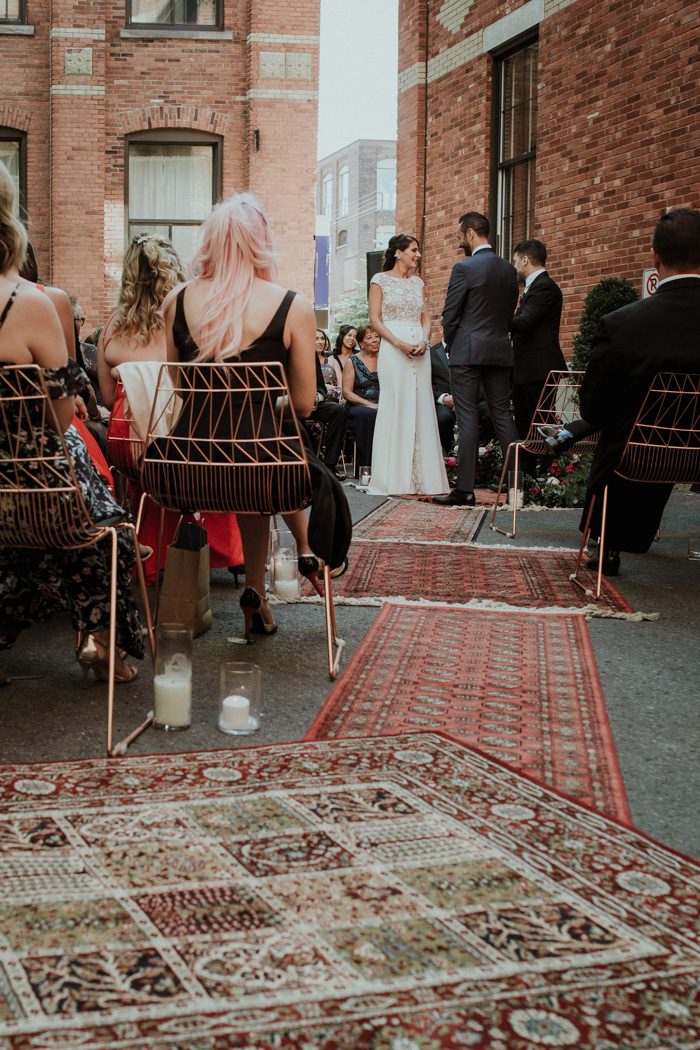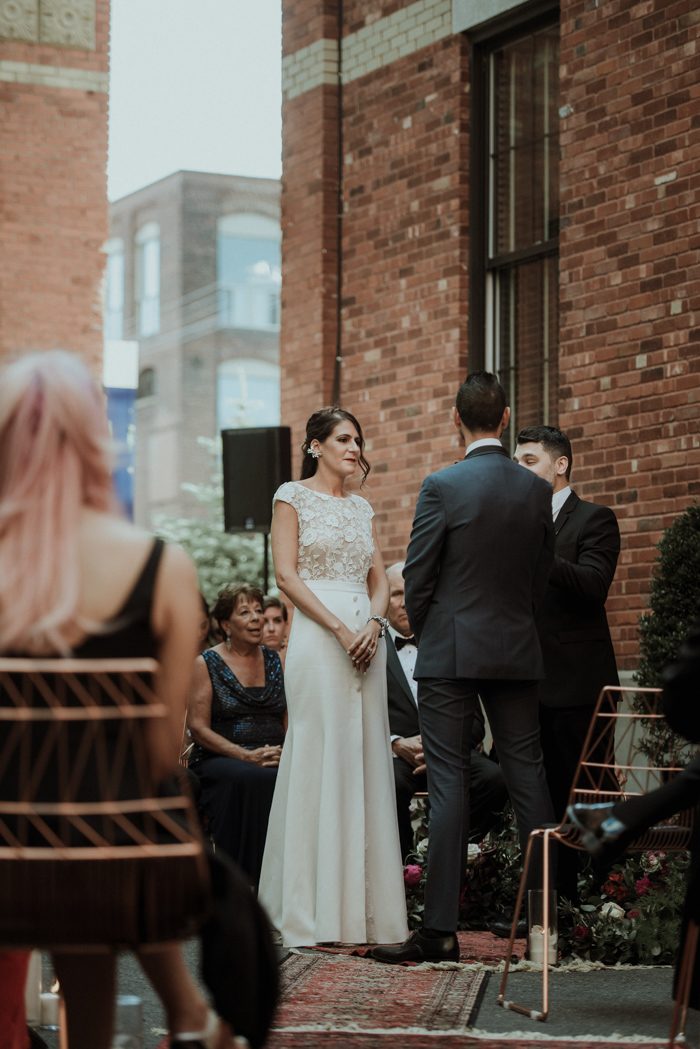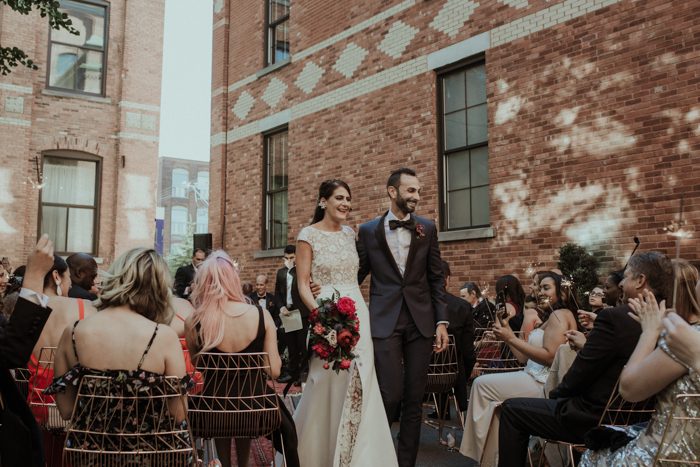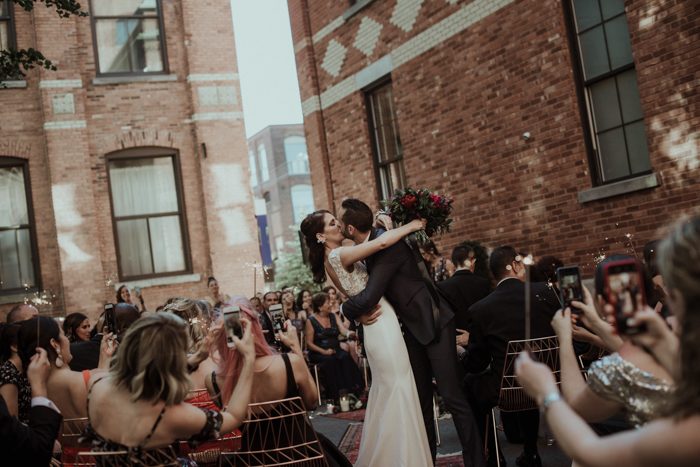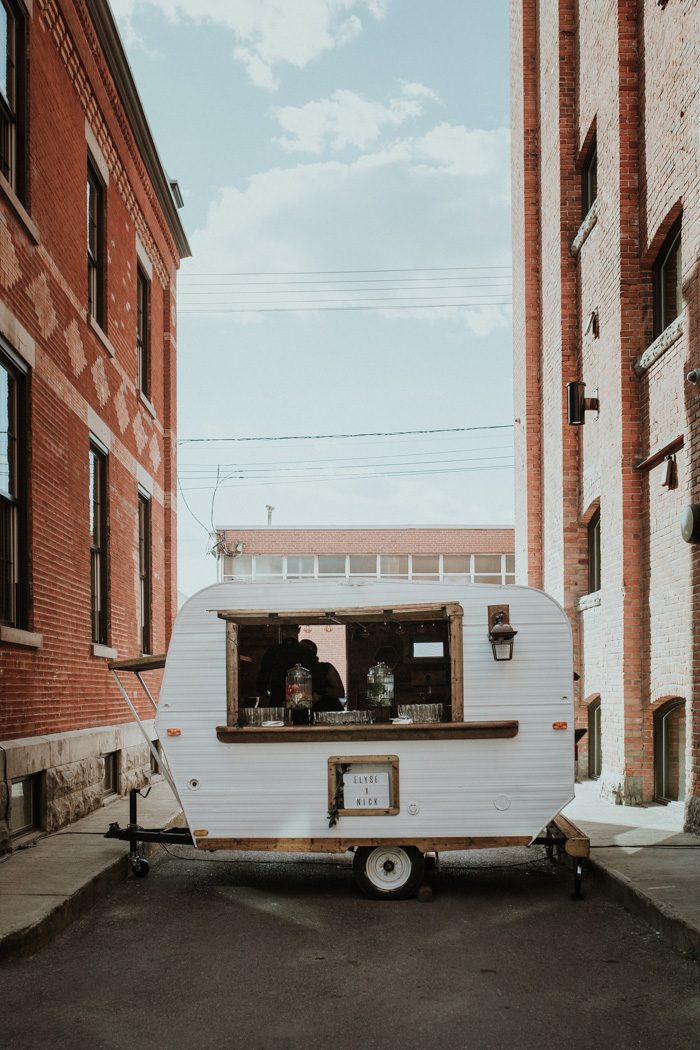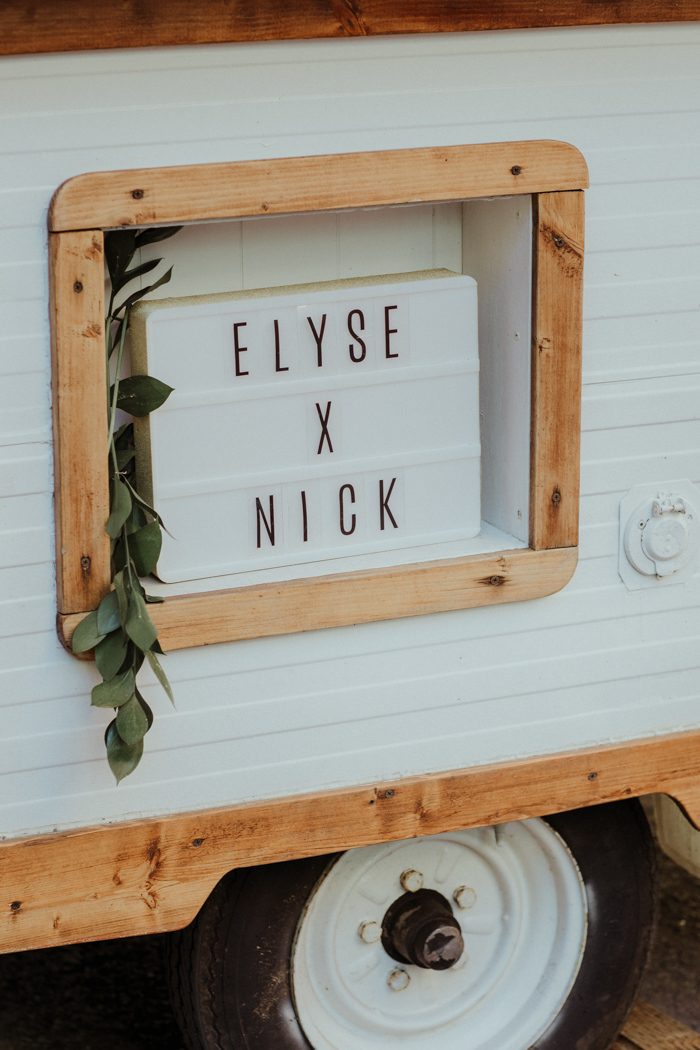 Our wedding had a "moody romantic" vibe. Even though it was in the height of Summer, we preferred dark saturated colors and black to be our main color pallet. We incorporated timeless jewel tones such as navy, emerald, ruby, burgundy, eggplant, in addition to metallics like rose gold and matte black accents. It all worked together beautifully!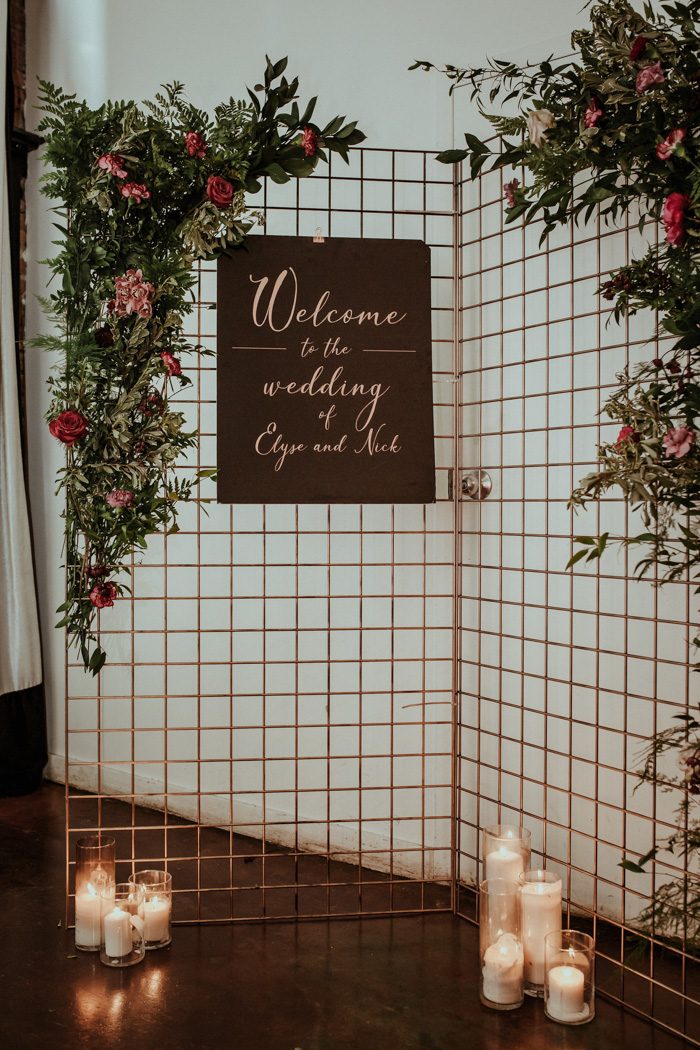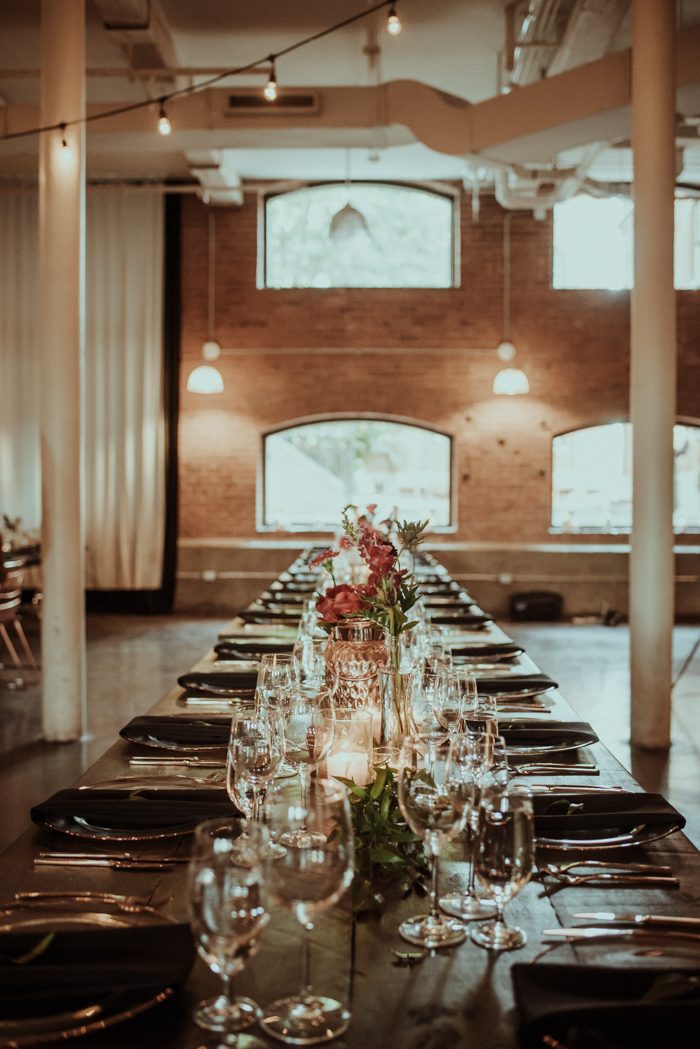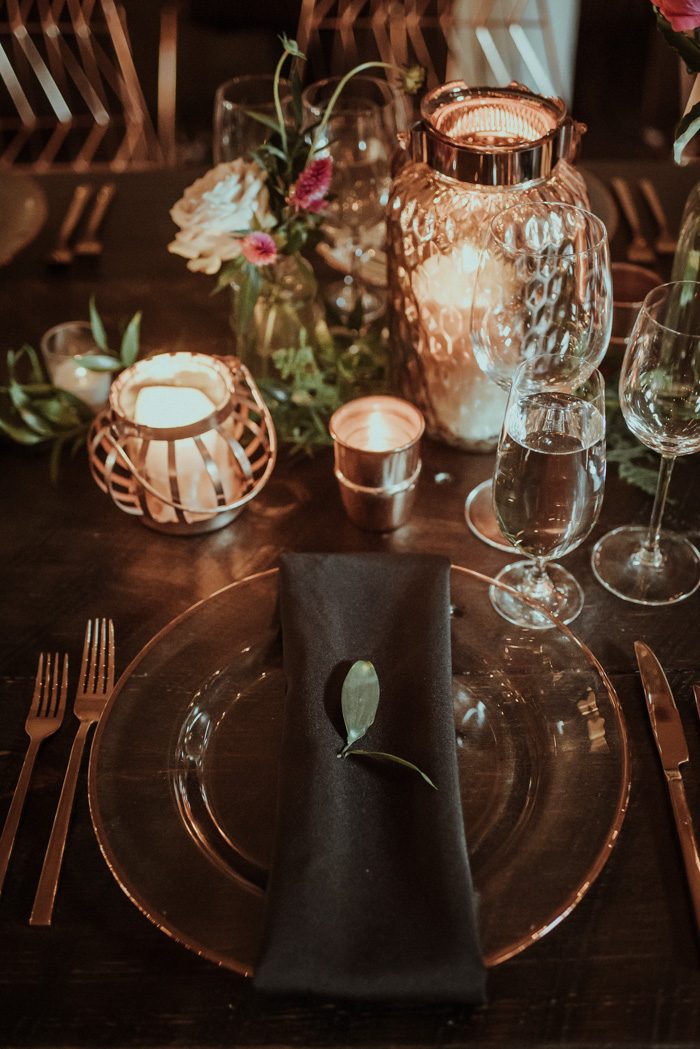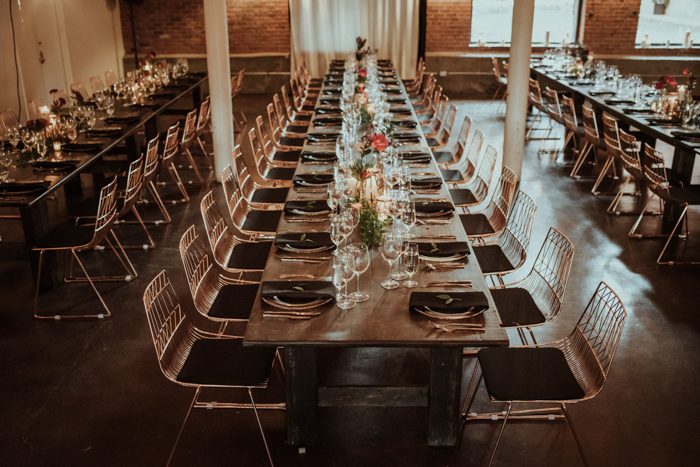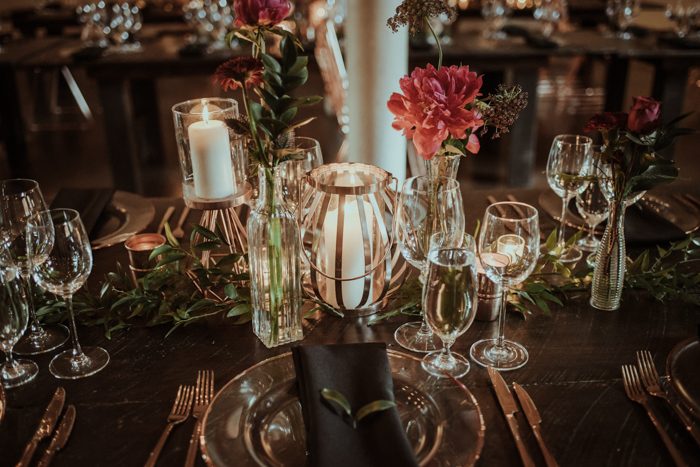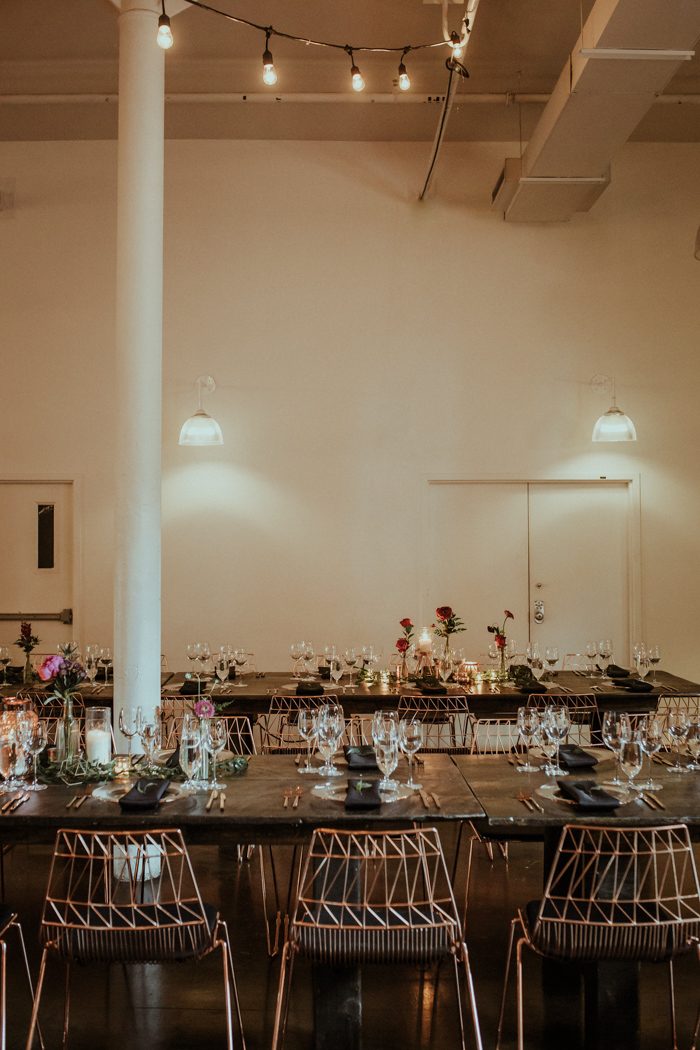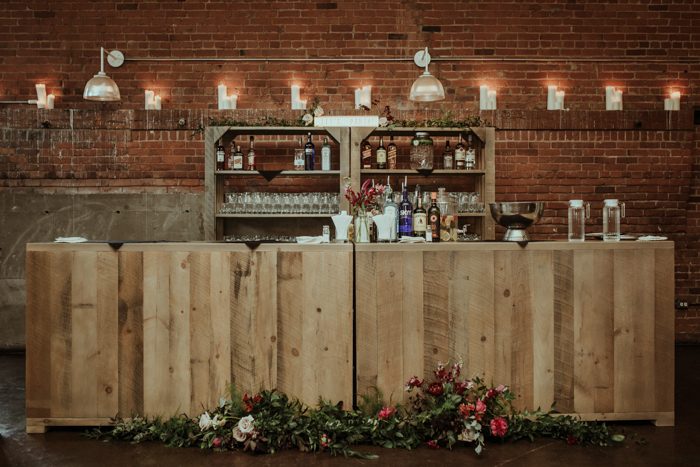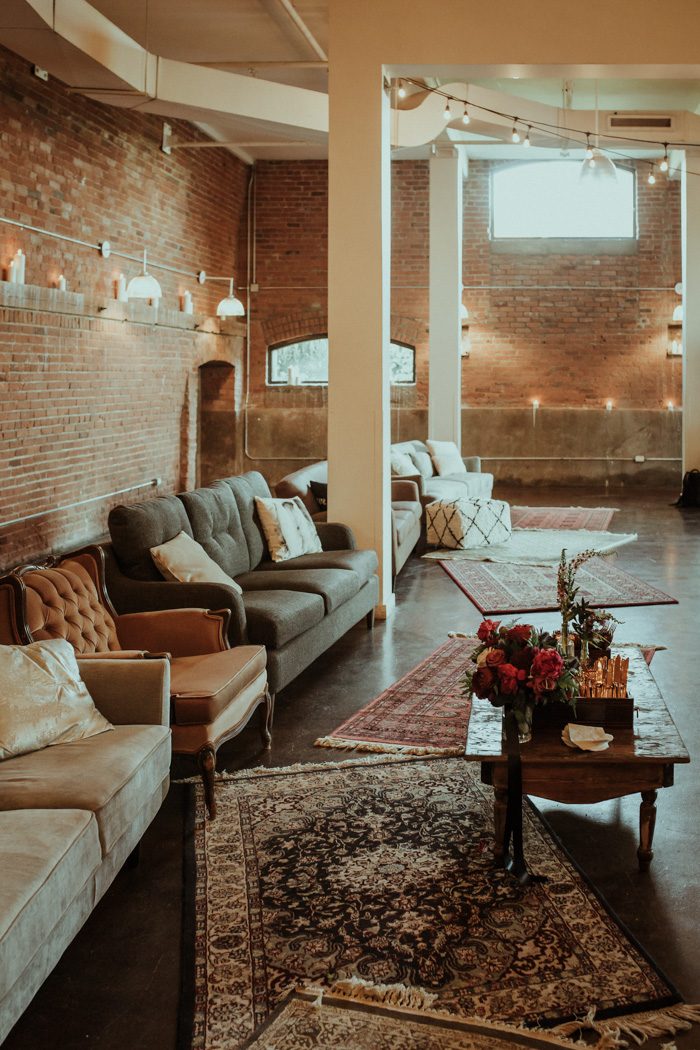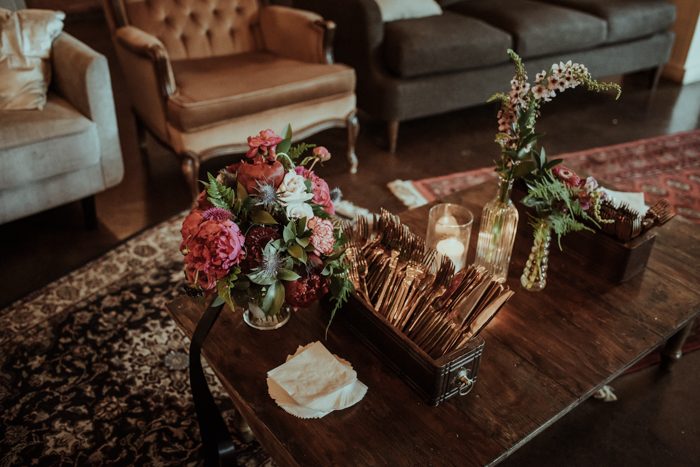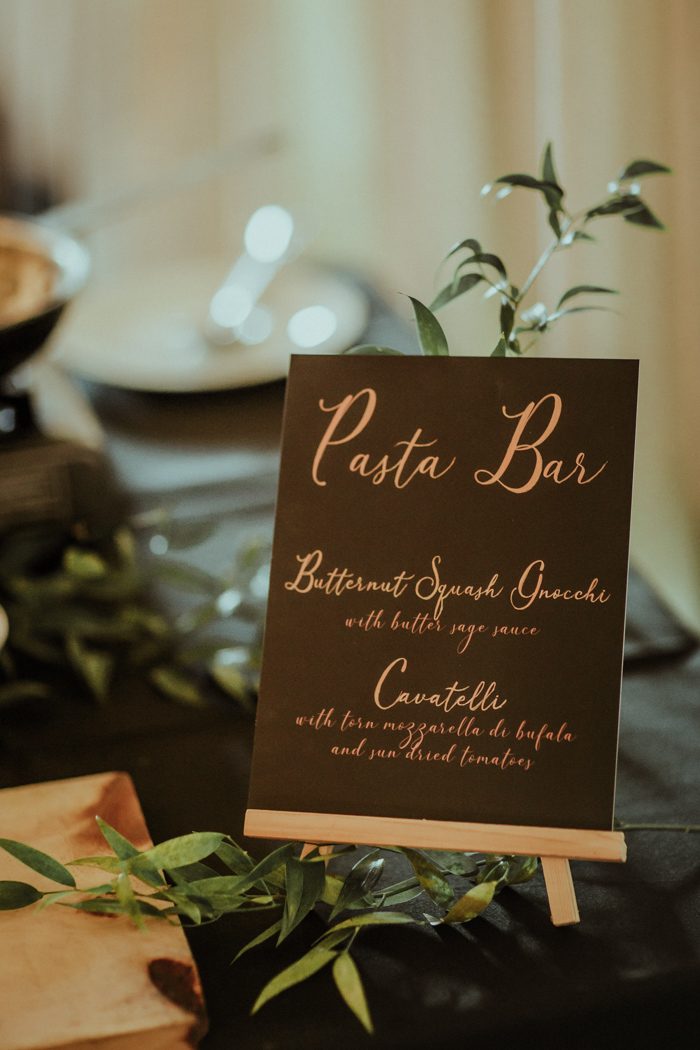 We did not want to have a traditional entrance into our reception, so we decided to ride in on a tandem bike. We love to bike and when our guests saw us, they were so excited and truly loved it! We also rented a Vintage 1964 Chevy Impala to drive us around while taking pictures and drop us at the venue. It was a surprise to everyone, especially the groom's father who has the same car! Lastly, we had a GIF video area where it projected our guests boomerang videos on a wall for everyone to enjoy!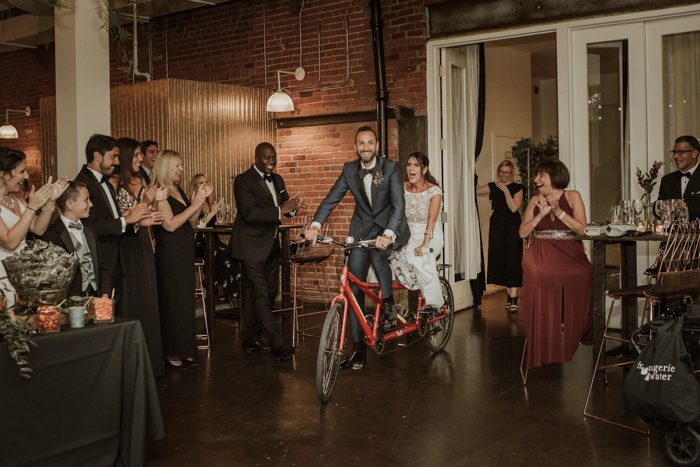 Processional for the Bride – "Bittersweet Symphony" by The Verve
Recessional – "Midnight City" by M83
First Dance – "There Will be Time" by Mumford and Sons, Baaba Maal
Father/Daughter Dance – "In My Life" by The Beatles
Mother/Son Dance – "Here Comes the Sun" by The Beatles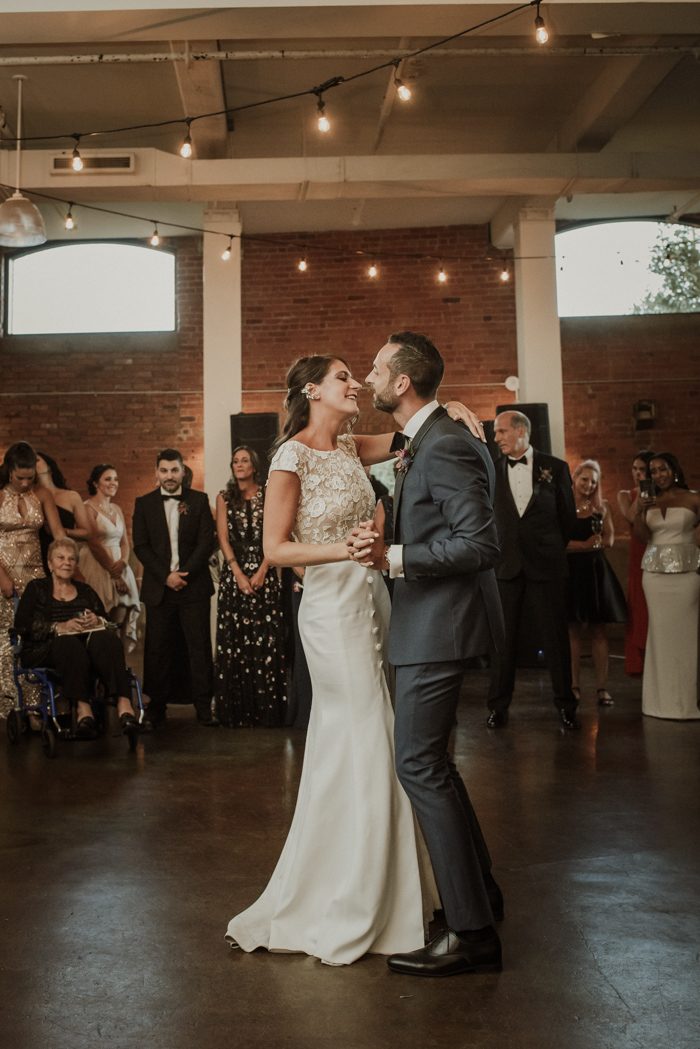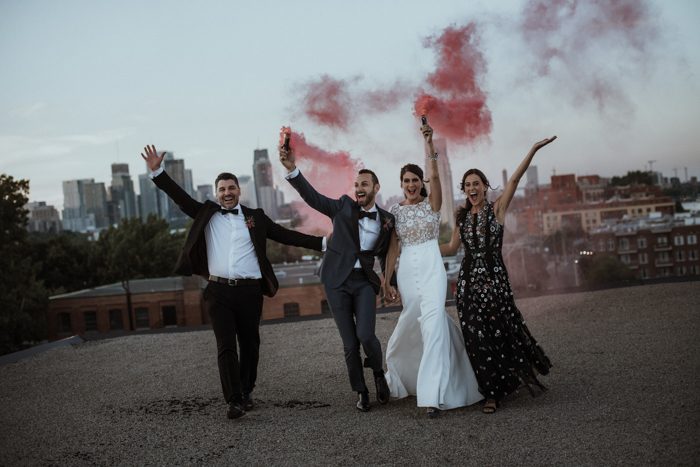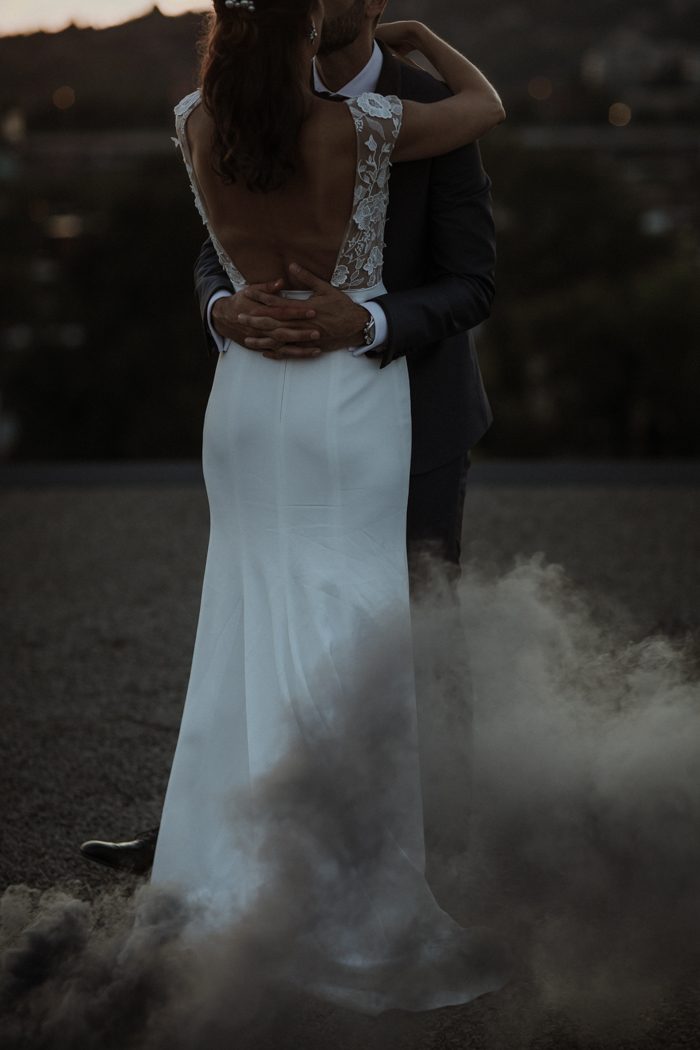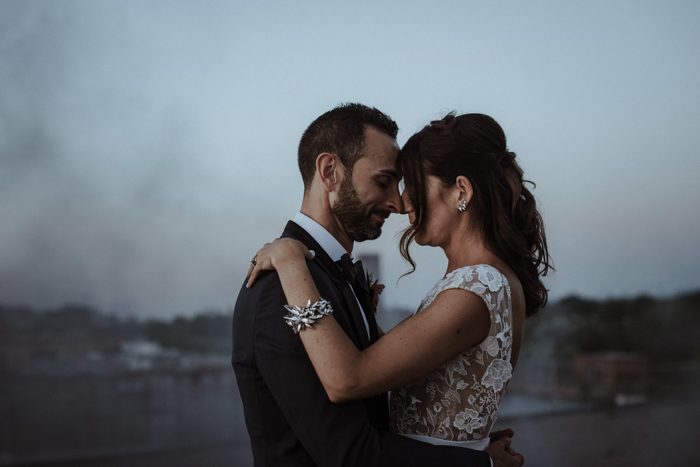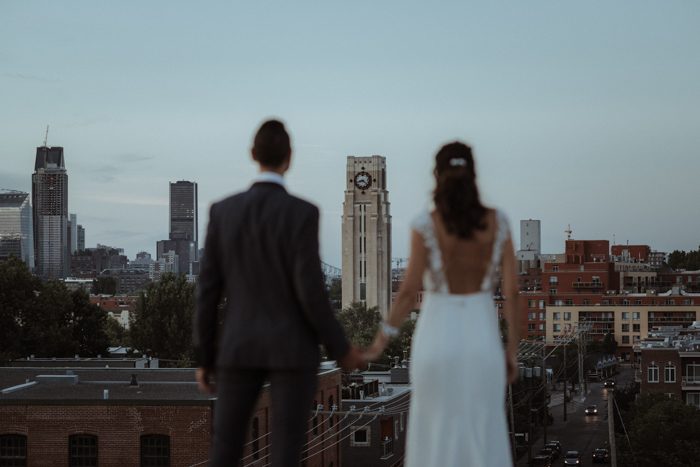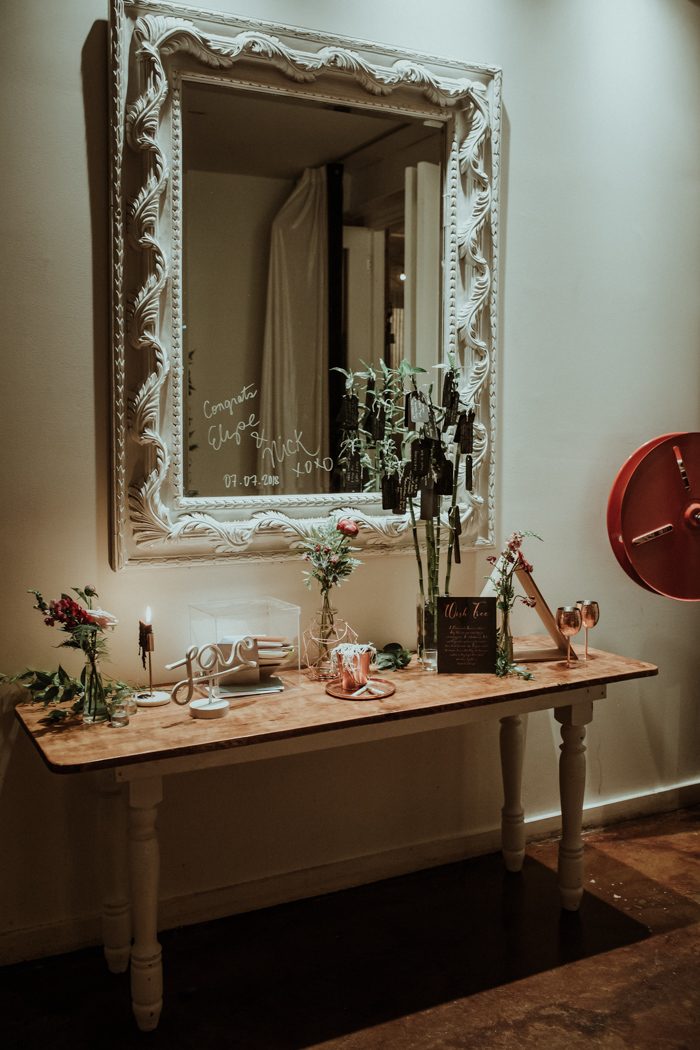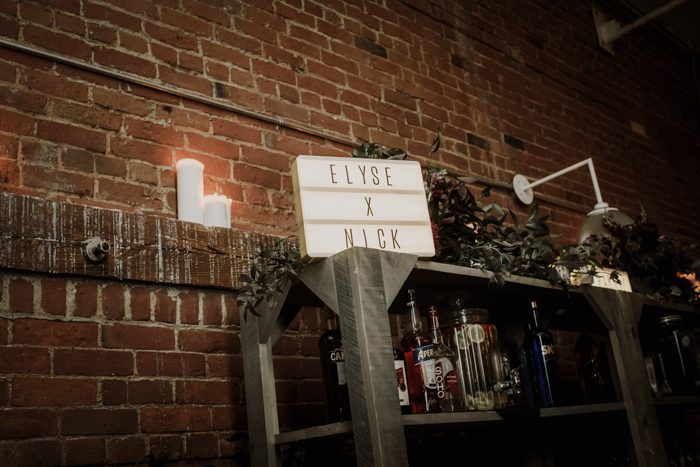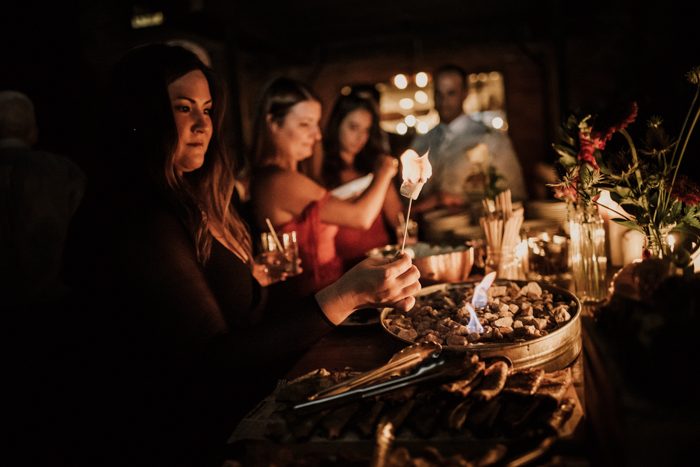 Congratulations to Elyse and Nick, and a big thanks to Le Coeur Bohème for sharing this glamorous Entrepôts Dominion wedding with Junebug! Love the jewel tone color palette they used? Then you have to see this jewel tone North Carolina mountain wedding at The Vineyards at Betty's Creek!