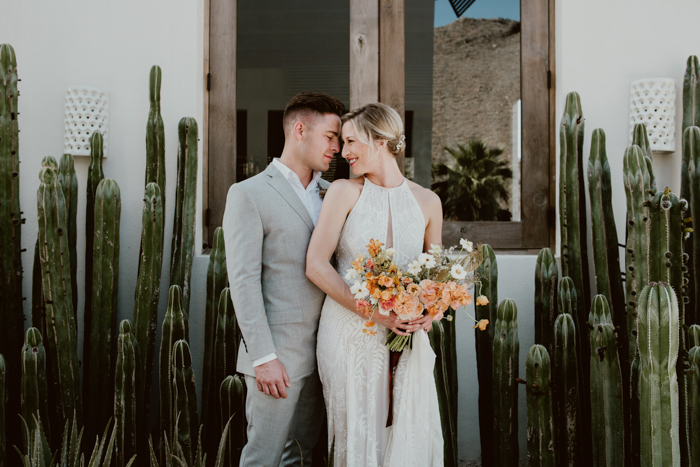 Set it the quaint Mexican town of Todos Santos that provided access to beaches and galleries, Lisa and Sam's wedding at Hotel San Cristobal was the epitome of a dreamy destination wedding! The crisp, eclectic venue was the perfect backdrop for their intimate day and required almost no additional decor to make it look and feel stunning. The tropical-inspired floral design by Pina Cate featured vibrant pops of coral, orange, and pink, and the bride's Karen Hendrix Couture gown was the perfect combination of beachy and chic to match the vibe of the entire day. Los Ébano photography did a truly brilliant job capturing every angle of this beautiful destination wedding!
The Couple:
Lisa and Sam
The Wedding:
Hotel San Cristobal, Todos Santos, Mexico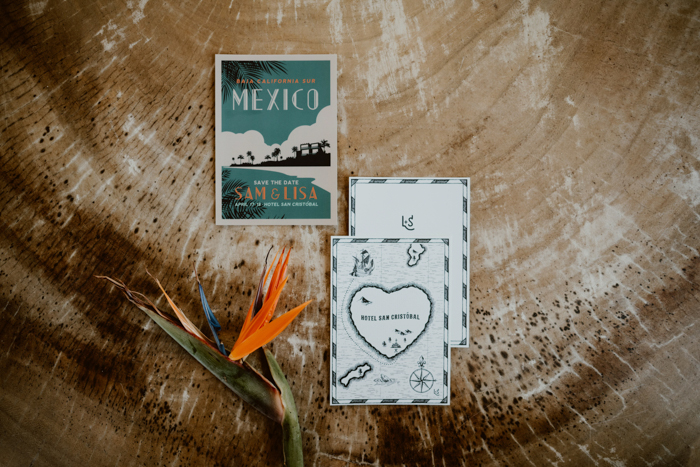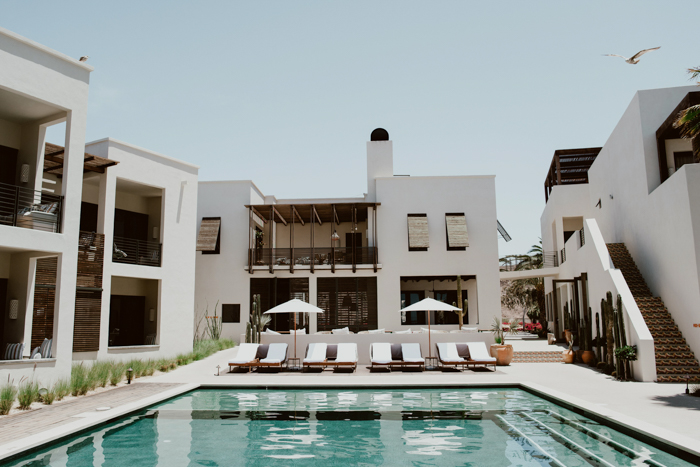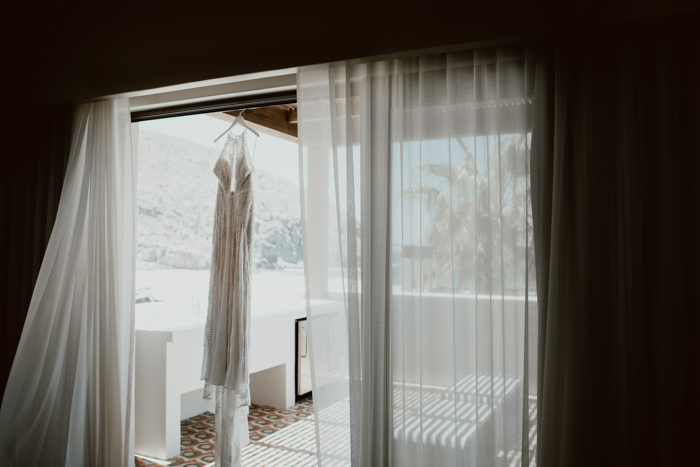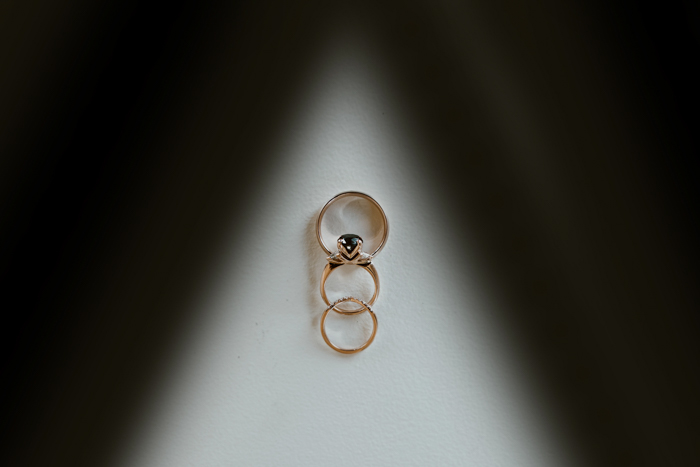 Sam is Australian and I am American, but we've spent time living in both countries with family and close friends spread all over the world. We always knew that we'd have a destination wedding and we had a long list of potential wedding venues: everything from Hawaii to eloping in France. We even considered our favorite local Mexican restaurant. That was when we realized that there were only a few things we wanted at our wedding: good food, good drinks, and good people. Anyone who knows us knows how much we love tacos and margaritas and we couldn't imagine anything better than having those on the beach at our wedding.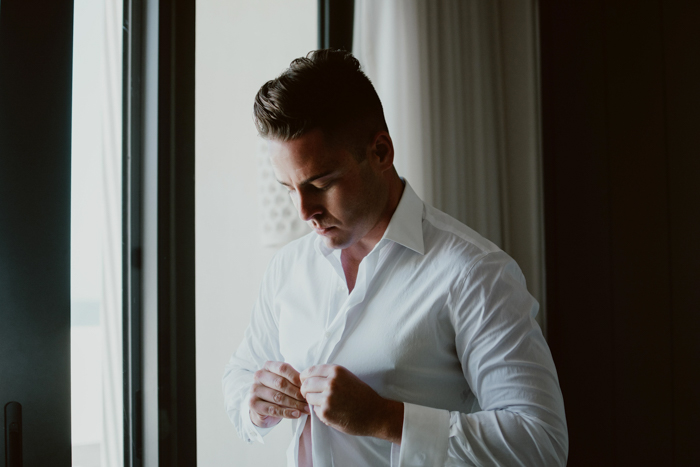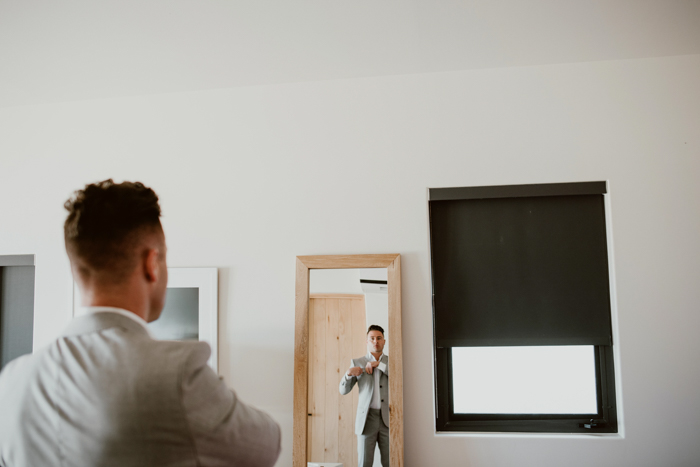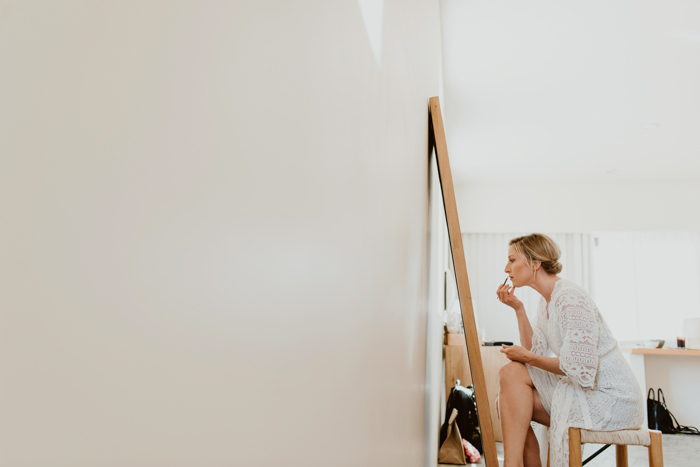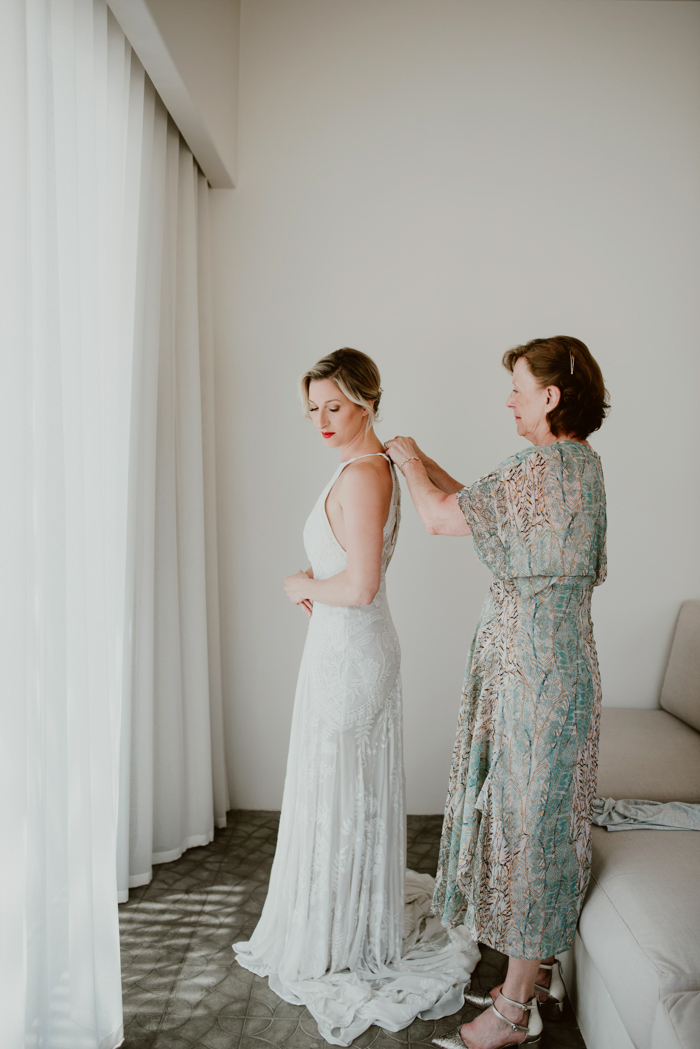 We spent a long time looking at hotels and resorts in Mexico, but we really wanted an intimate location and small wedding. Hotel San Cristobal is absolutely stunning and far away from the crowds of Cabo in a small artistic town called Todos Santos. I think one of my girlfriends said it best: "If there was ever a place that embodies Sam and Lisa, then this is it!" (Spoken with a margarita in hand, of course!) It really was the perfect place for us: there were great beaches for Sam and his mates to go surfing, eclectic shops and art galleries, and fantastic restaurants close by. But most of all, we felt completely relaxed at the hotel and could focus on spending time with our families and friends, and each other.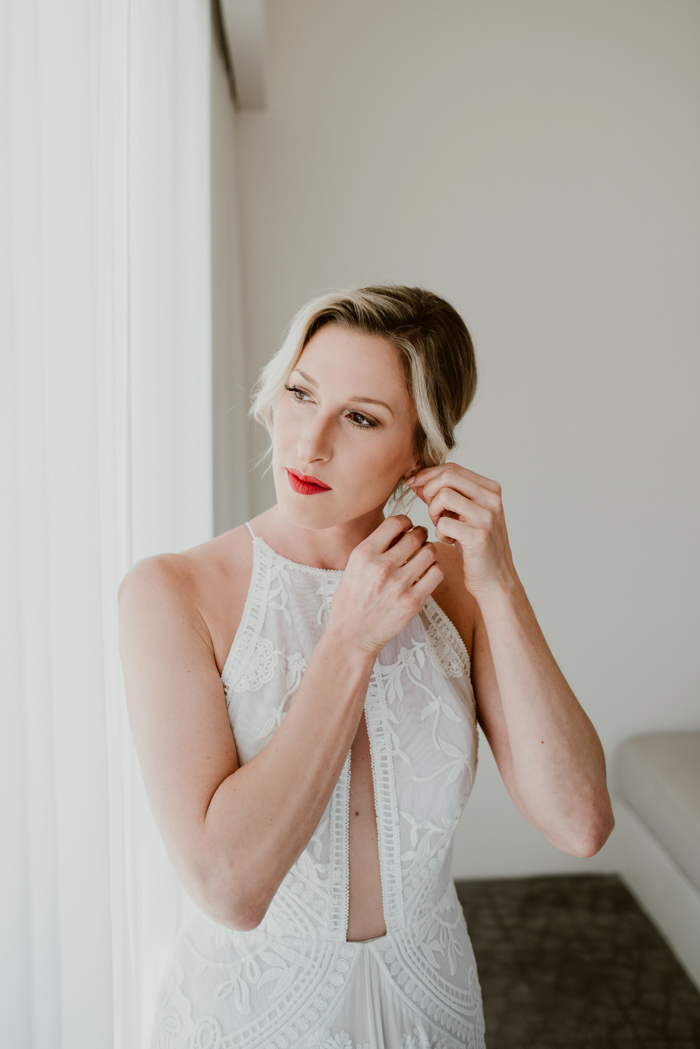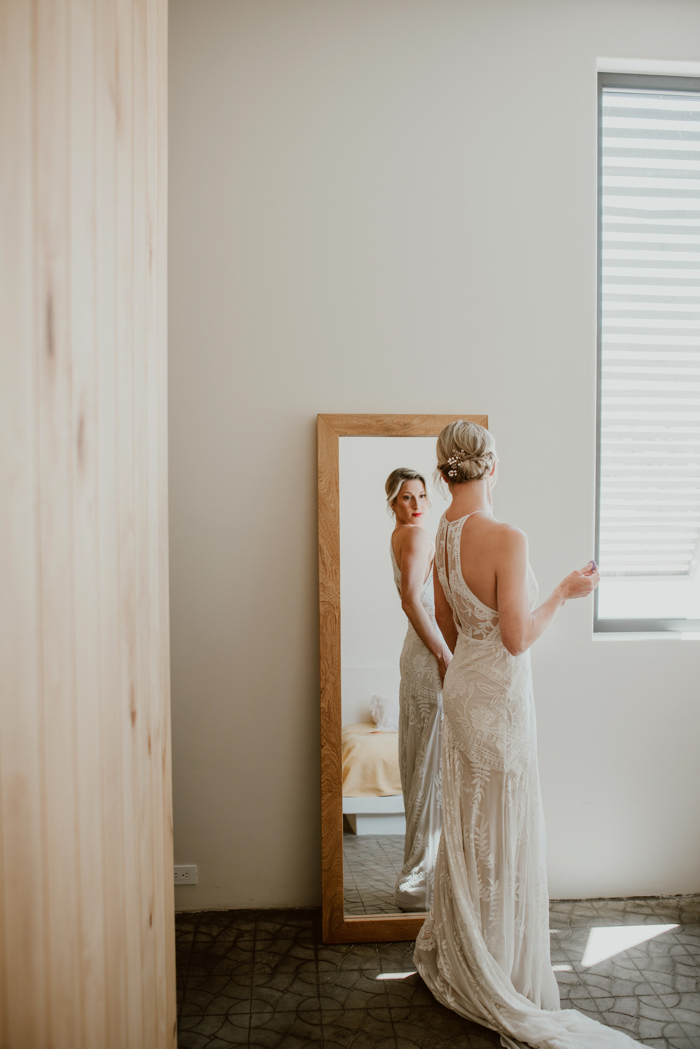 From the groom: My favorite part of the day was just before Lisa walked into the chapel. I was standing up the front waiting for the processional music to start and I remember just feeling so insanely happy. It was perfect: I was surrounded by all my best friends and my family, everyone looked so happy and amazing in their wedding outfits, and I was just about to see my bride enter the chapel in her mystery wedding dress. I wasn't nervous at all, just so happy and centered. Lisa said that it was like time stood still and I think that's true. We'd done it! We'd planned this occasion and asked everyone to travel to Mexico and here they were! All just as excited about our wedding as we were.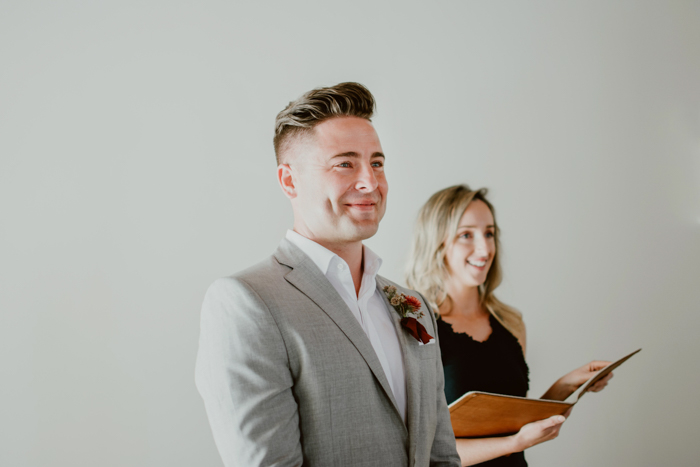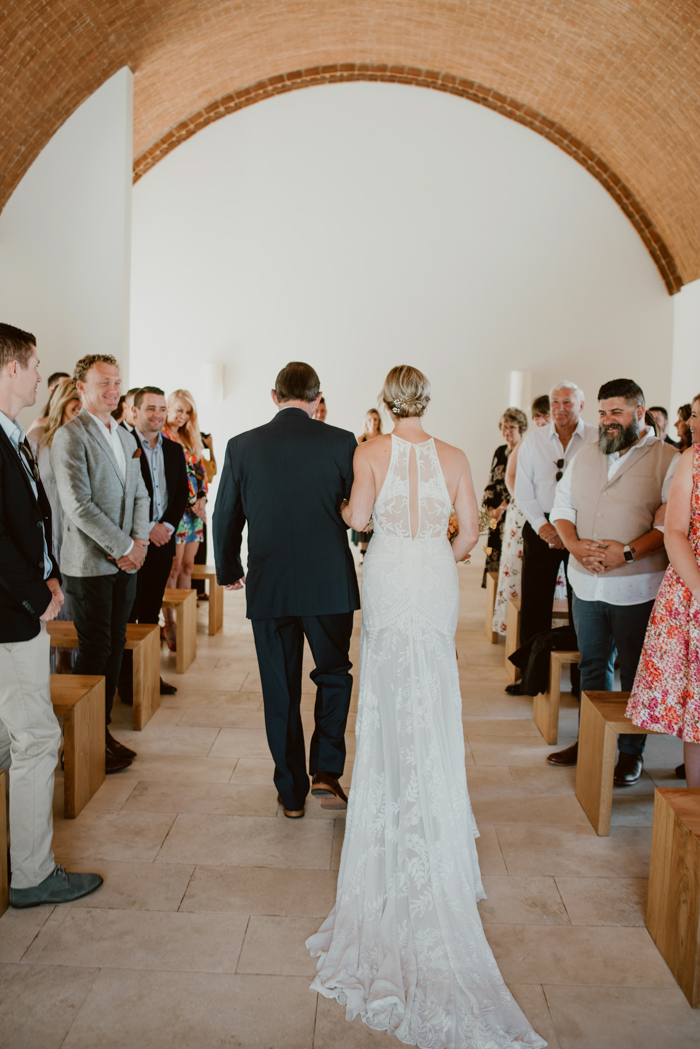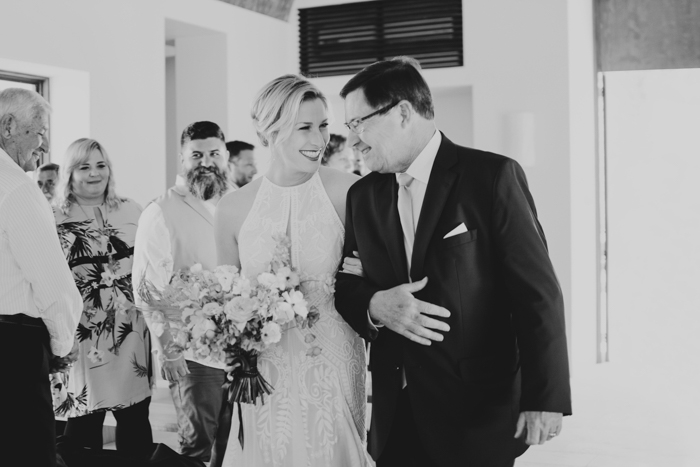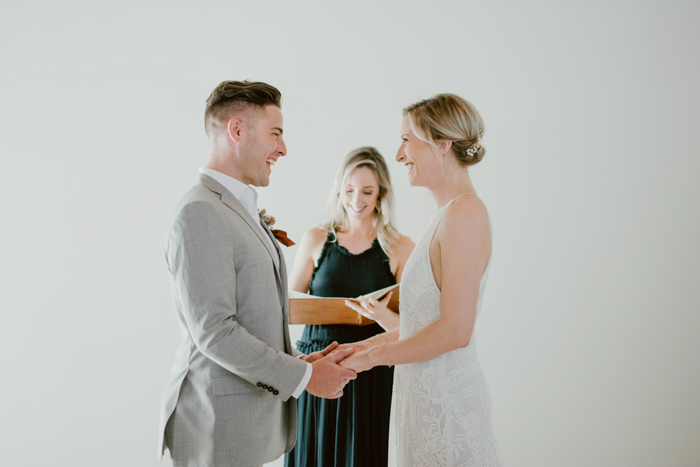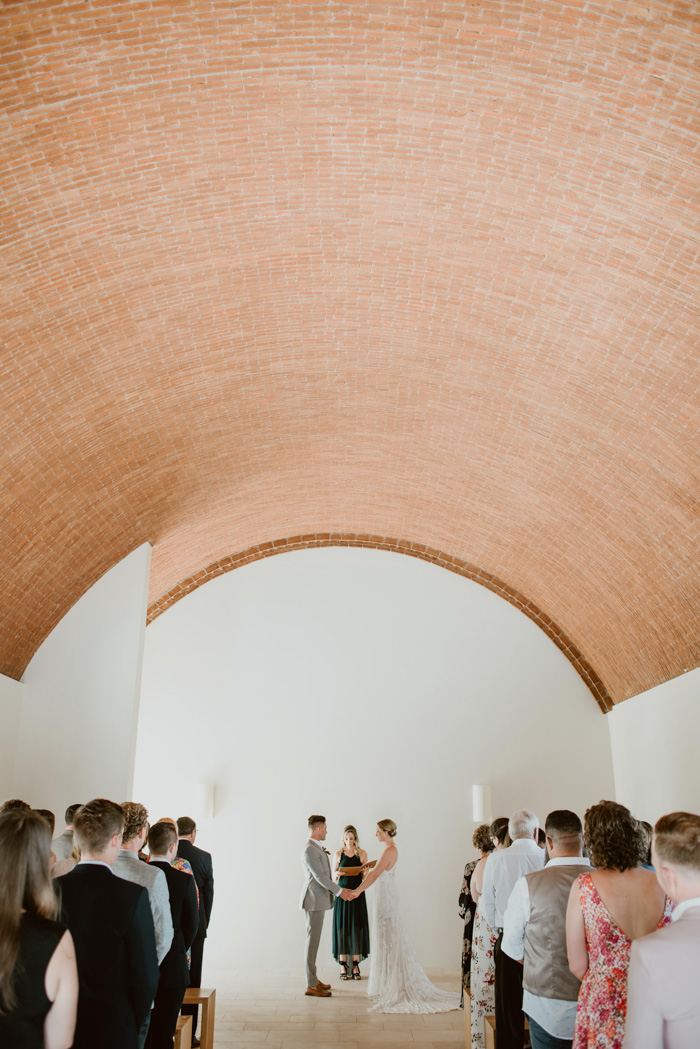 Our ceremony was hand-written by Sam and our officiant, our close friend Amy. They each spent weeks crafting the 30-minute ceremony, which was full of fun stories, memories, and personality. It wasn't overly religious, but it was spiritual. Amidst the personalized ceremony, we wanted to make traditional vows.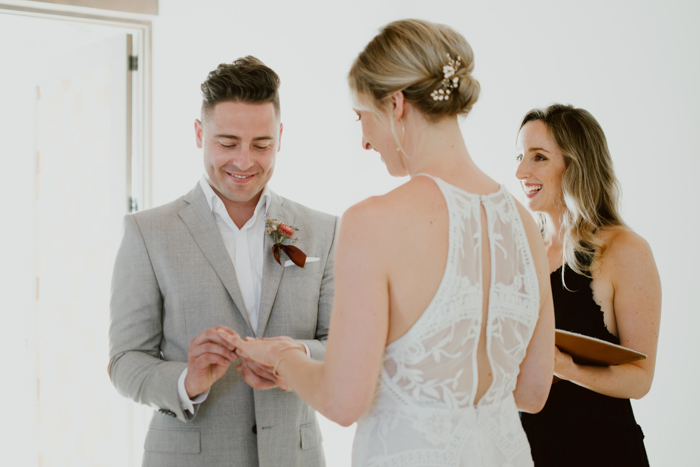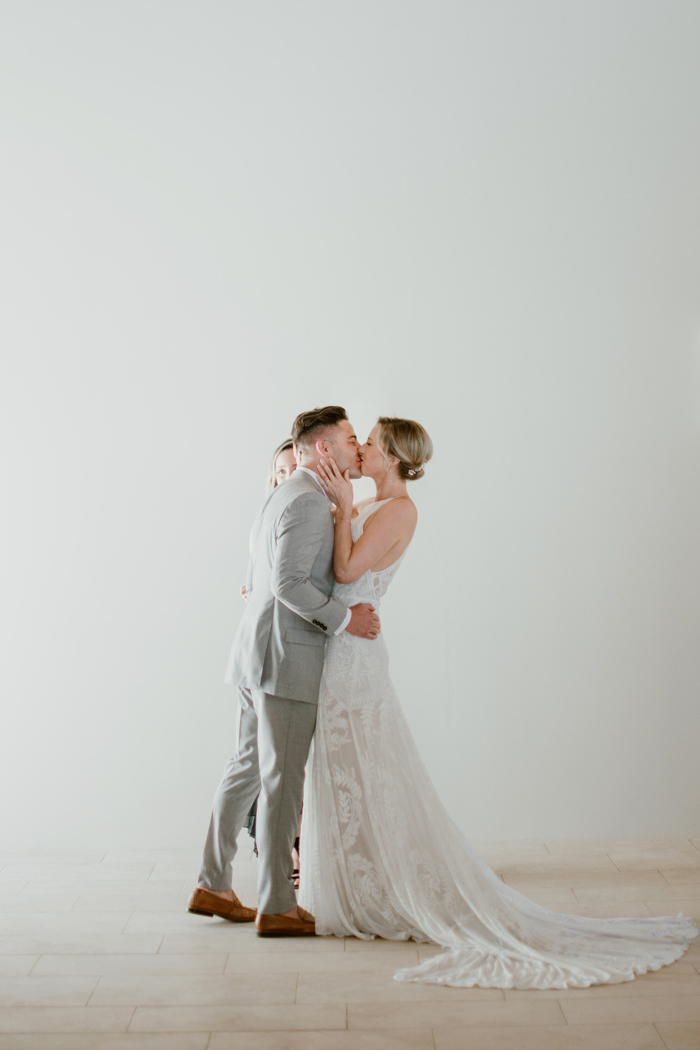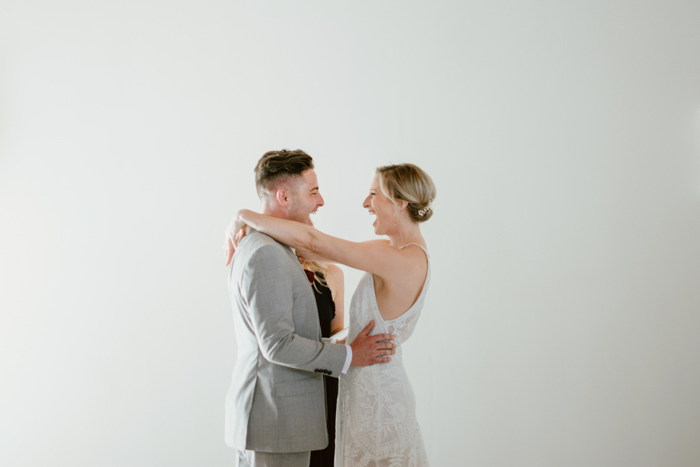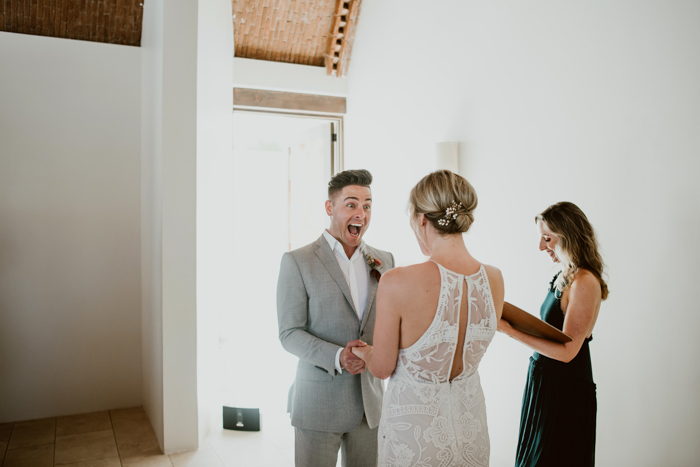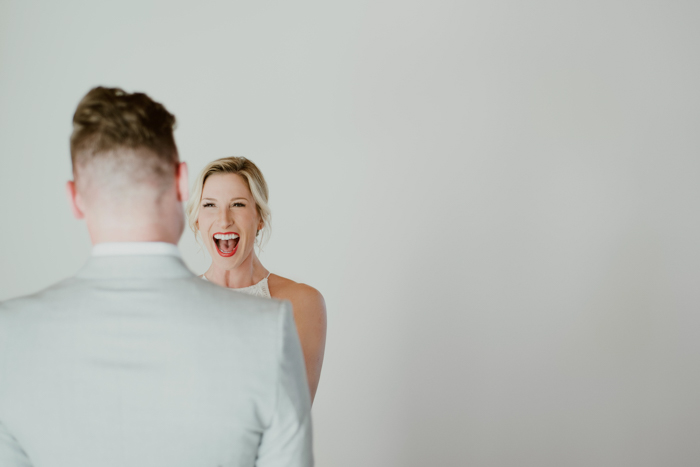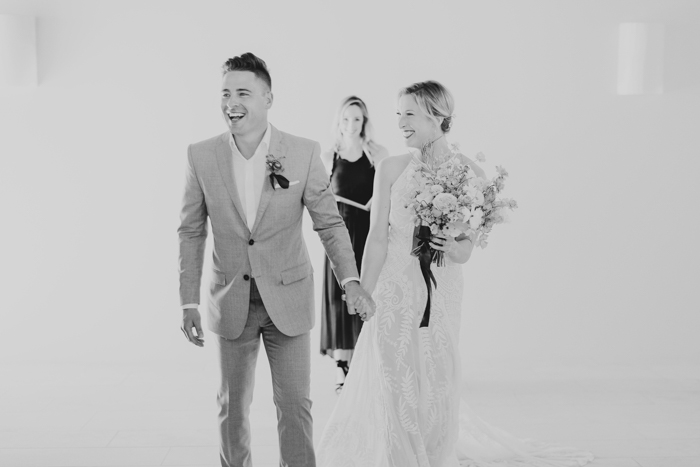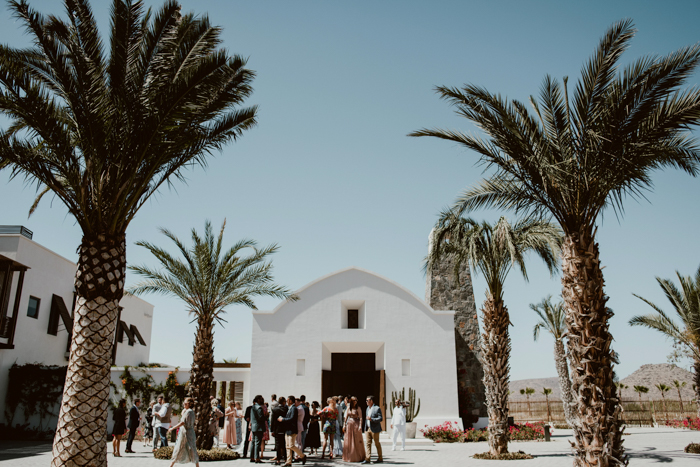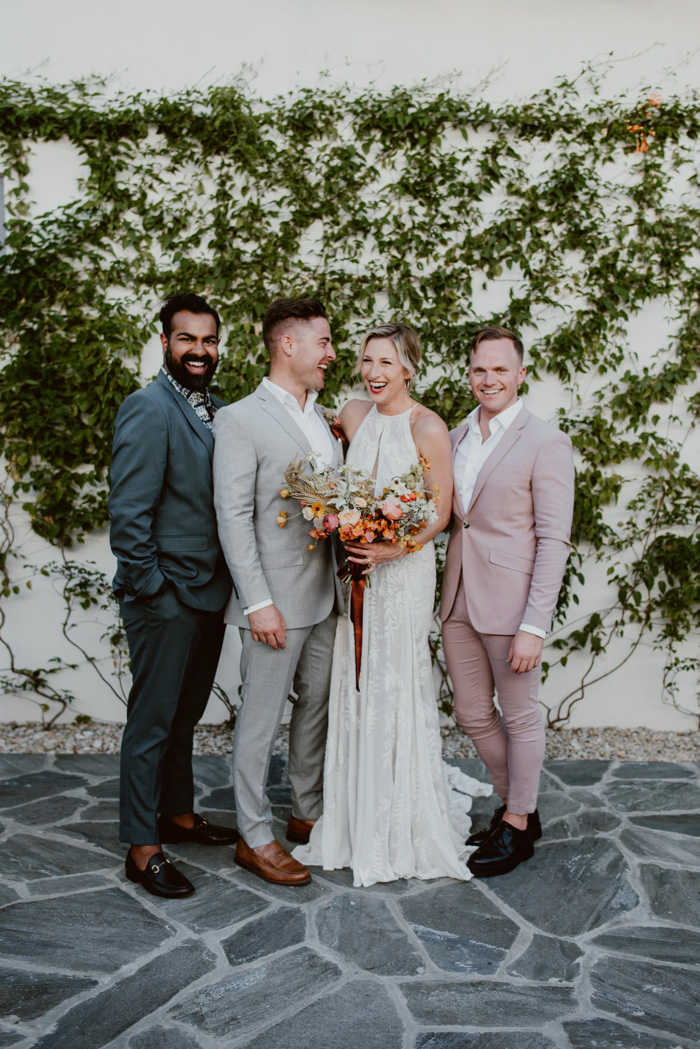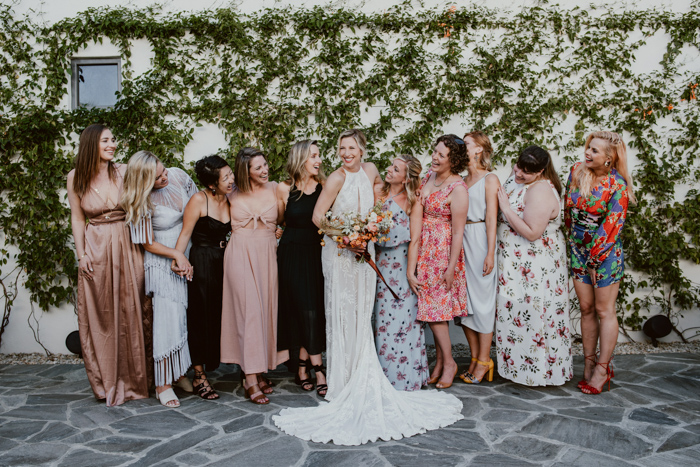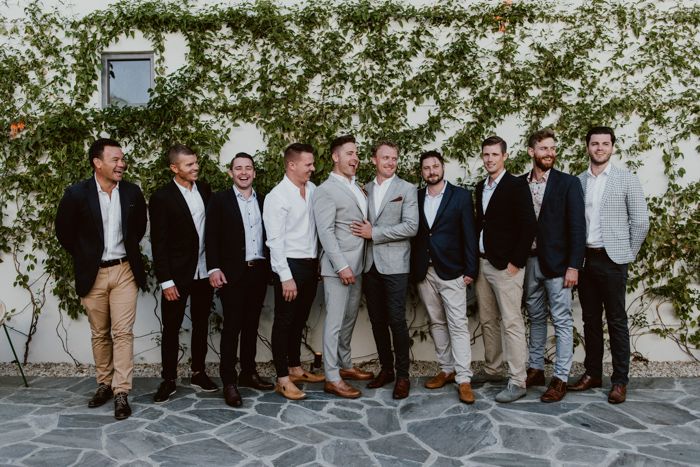 Being photographers ourselves (and shooting countless weddings over the years), we knew what we did and didn't want. Mostly, we wanted intimacy and a stress-free celebration. We skipped so many of the "traditions" that just didn't resonate with us (formal invitations, wedding favors, cake cutting) and focused on spending quality time with each other and our guests. Knowing that we had somehow pulled off a week in paradise with all of our favorite people, the rest didn't seem to matter.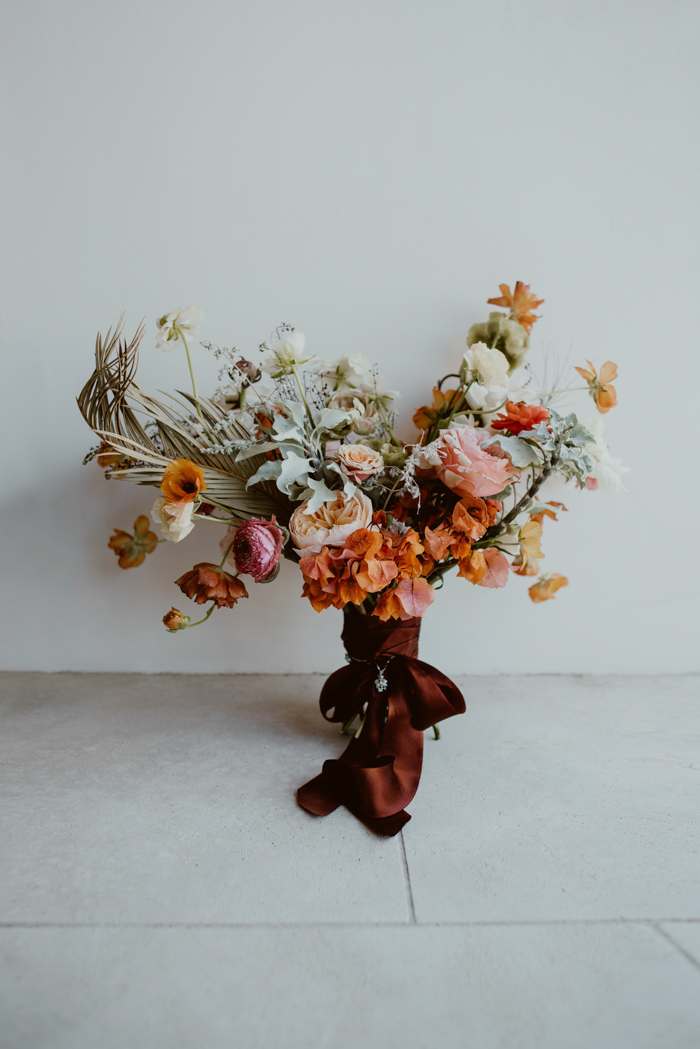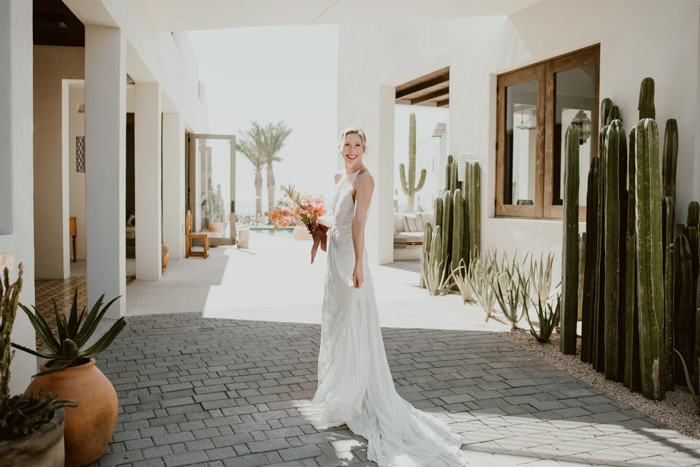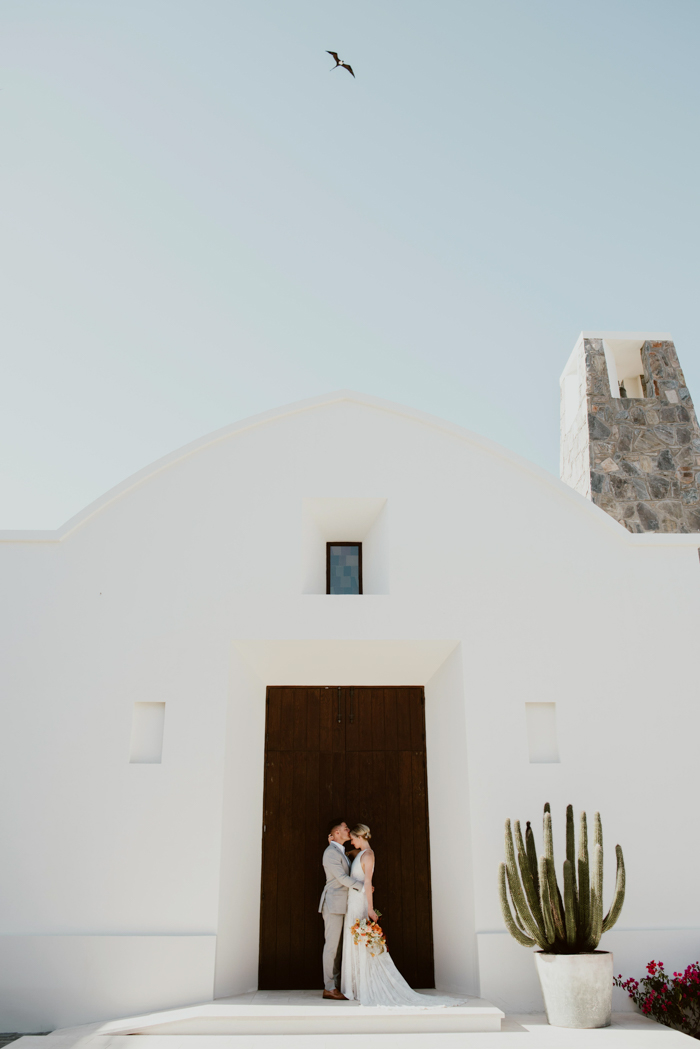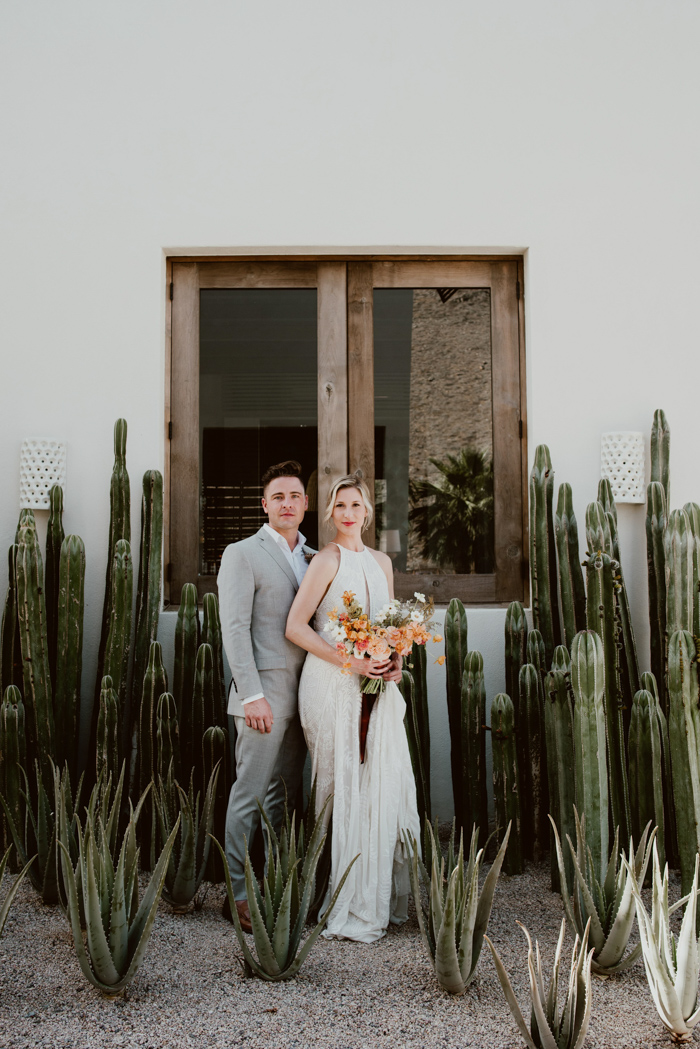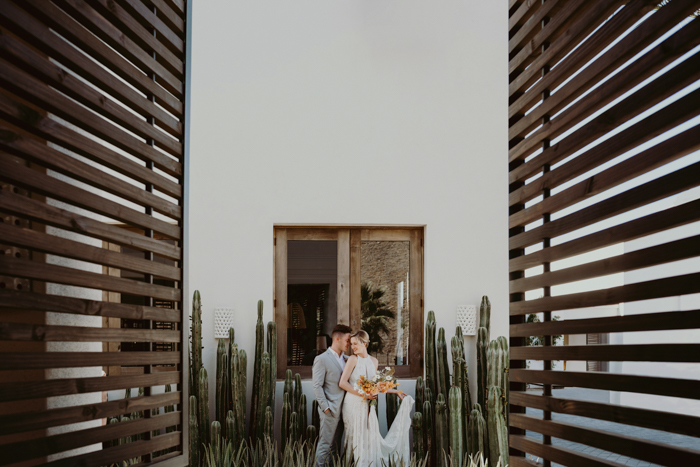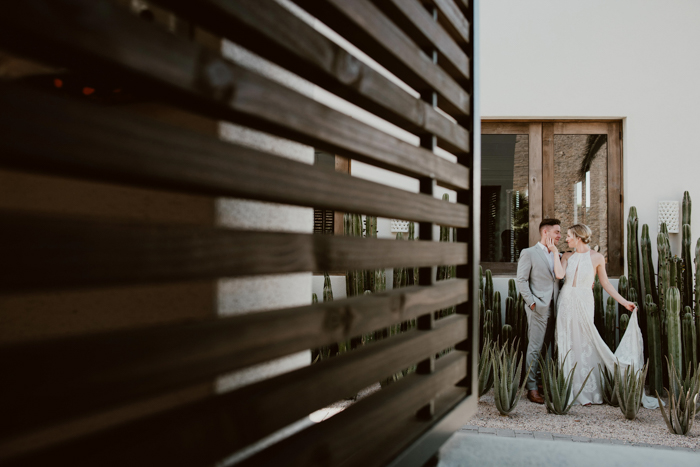 Our #1 piece of advice is to find a venue and vendors who you love and then trust them completely. Let them shine! Our coordinator at Hotel San Cristobal, Judy, did absolutely everything for our wedding. We didn't fuss about rentals or extra vendors – we just embraced what was already there and trusted her to organize everything. When I found our florist, Pina, I told her to "do whatever she wanted" and her work was more magical than I could have ever imagined!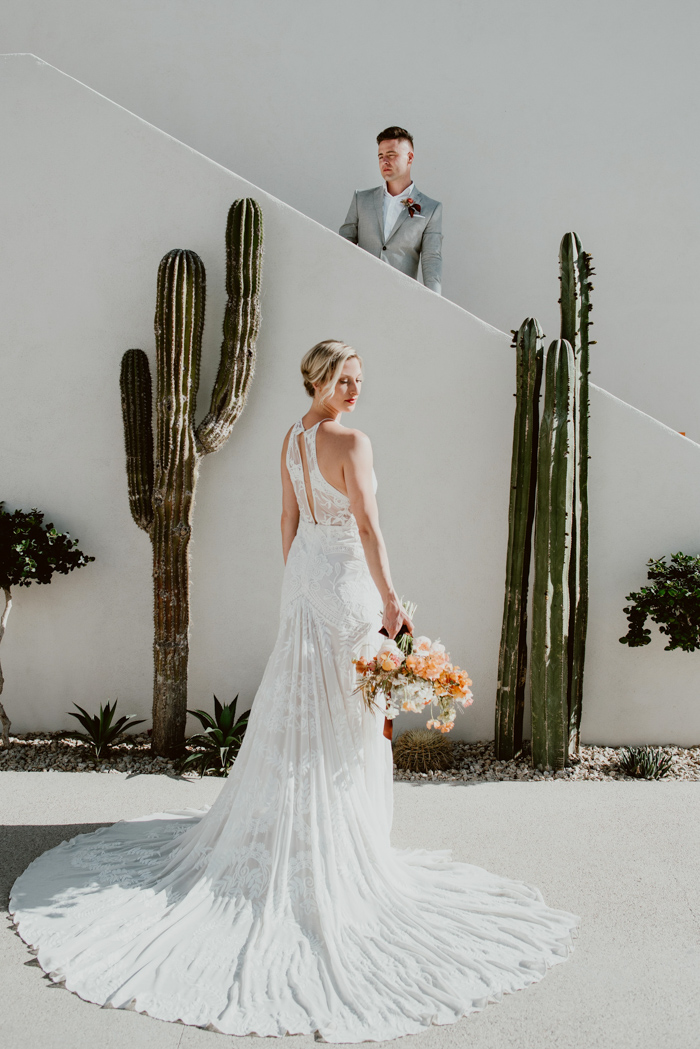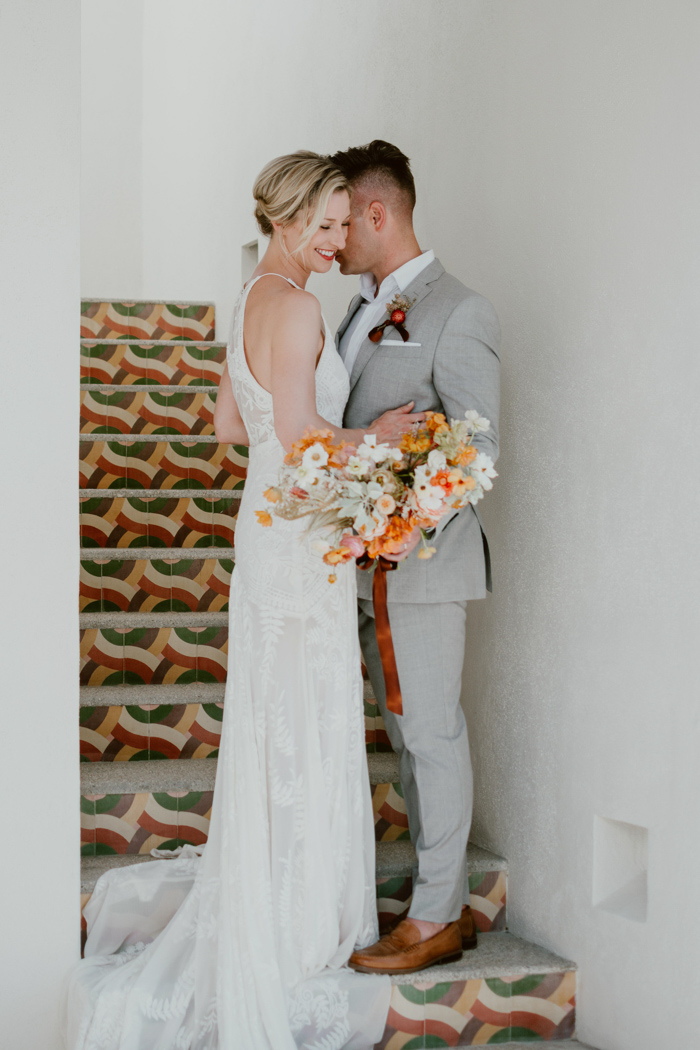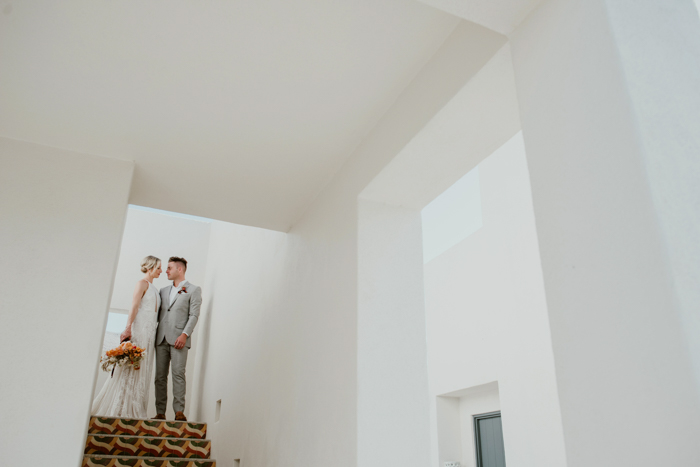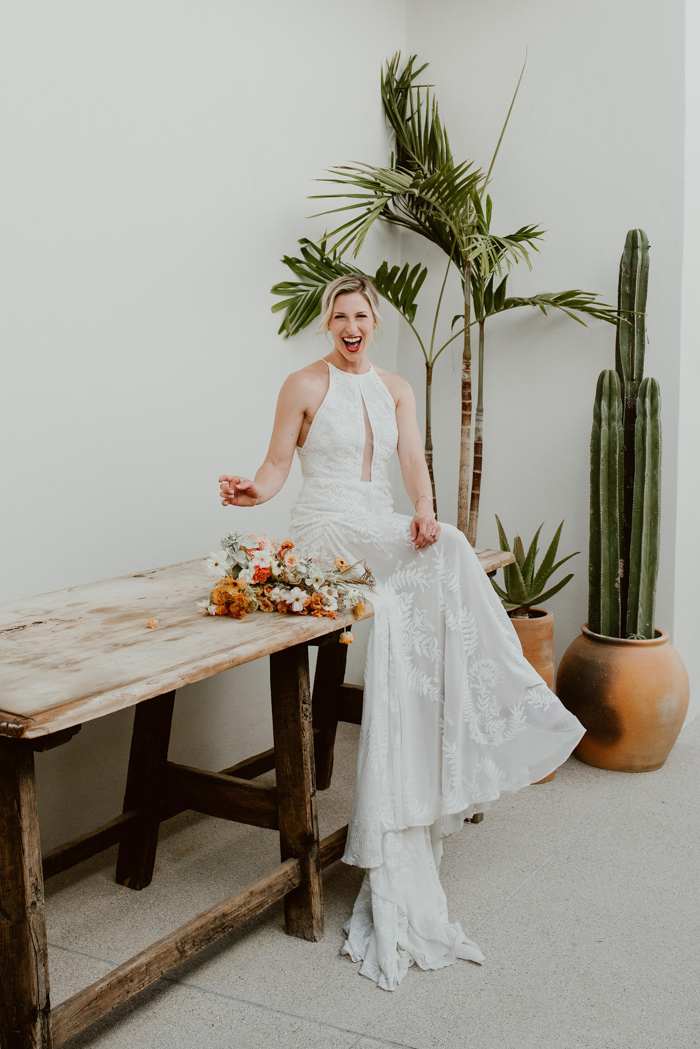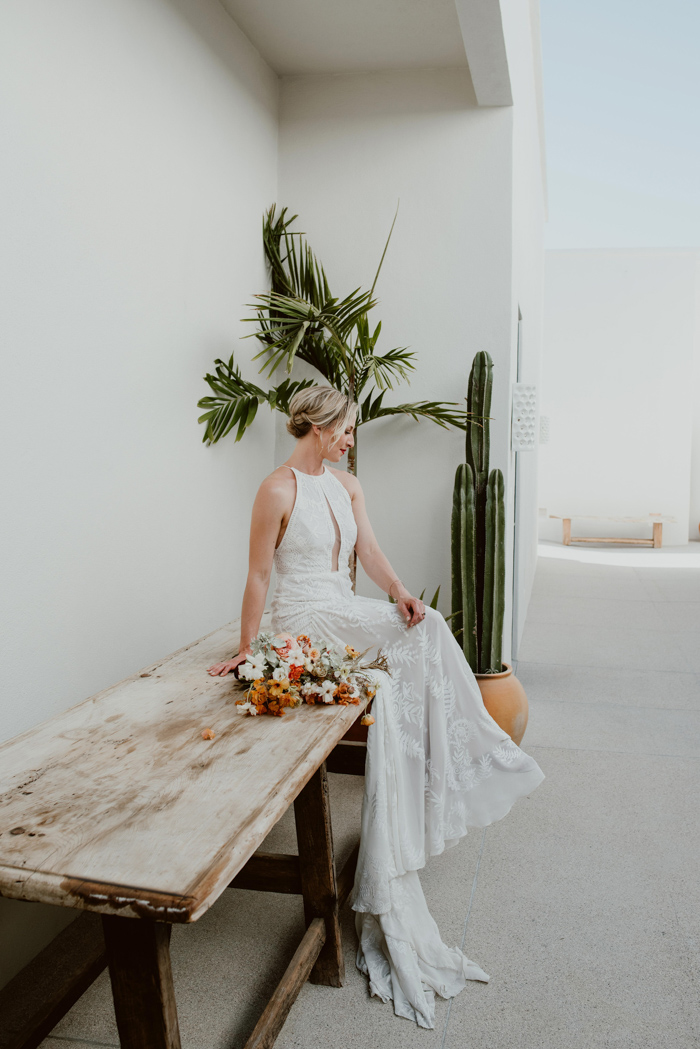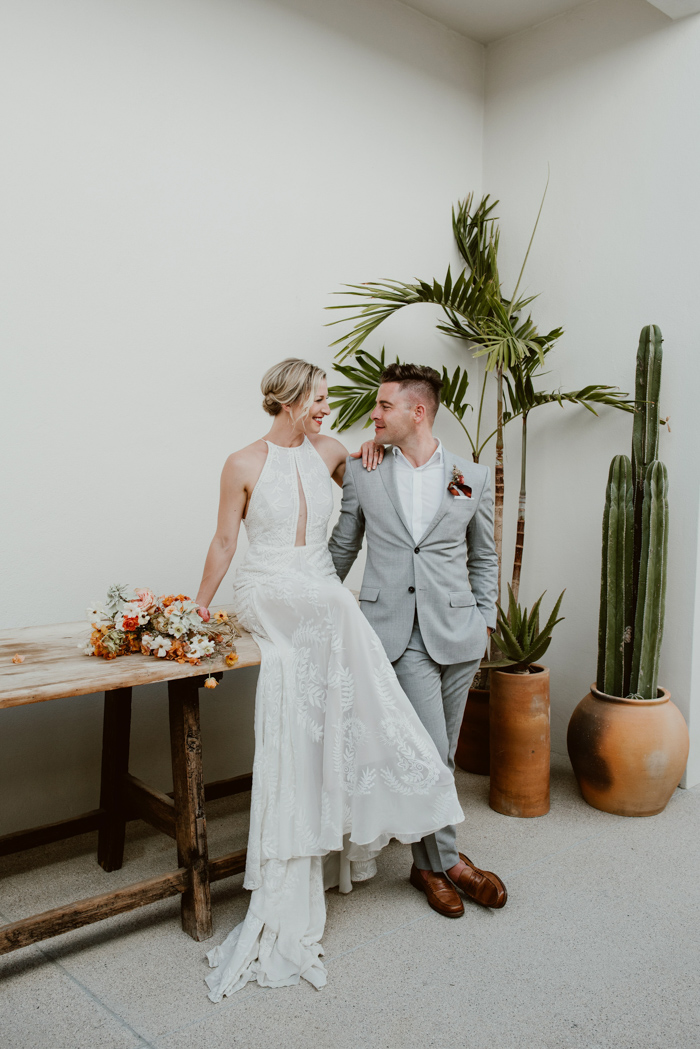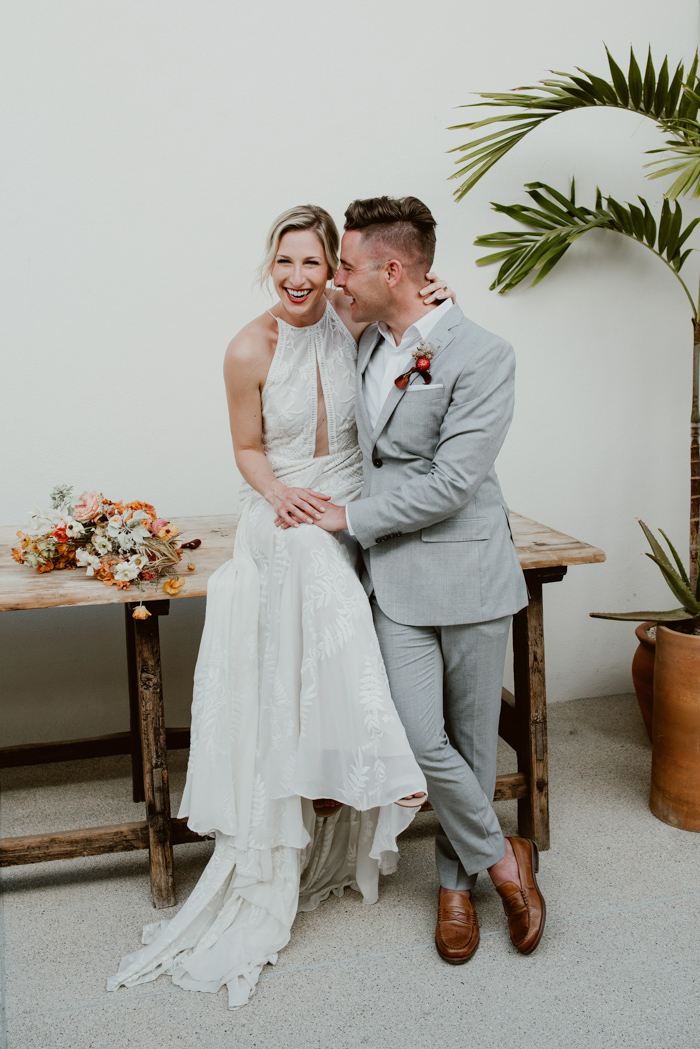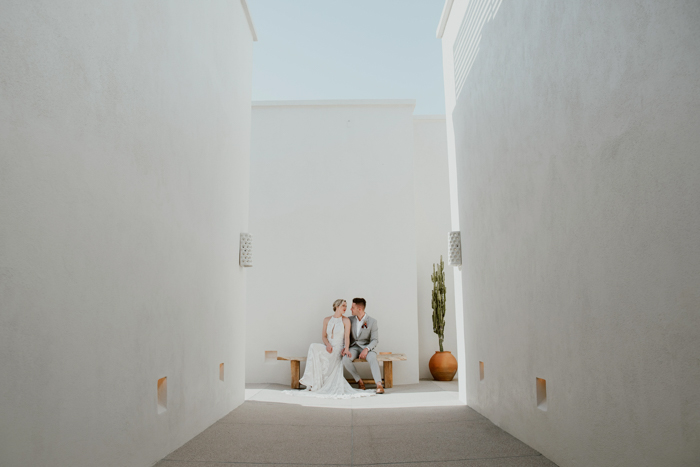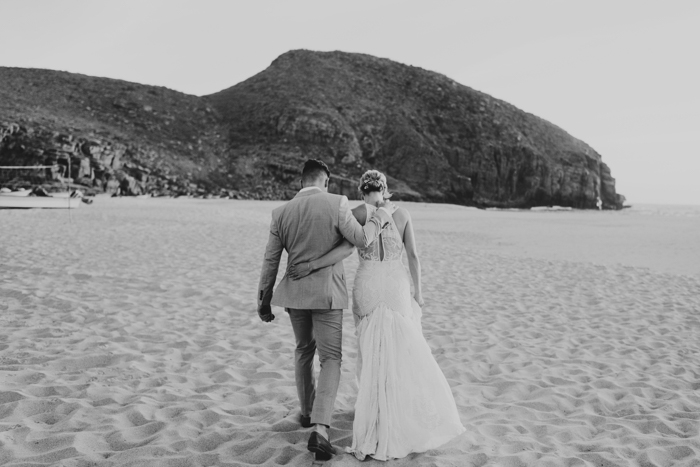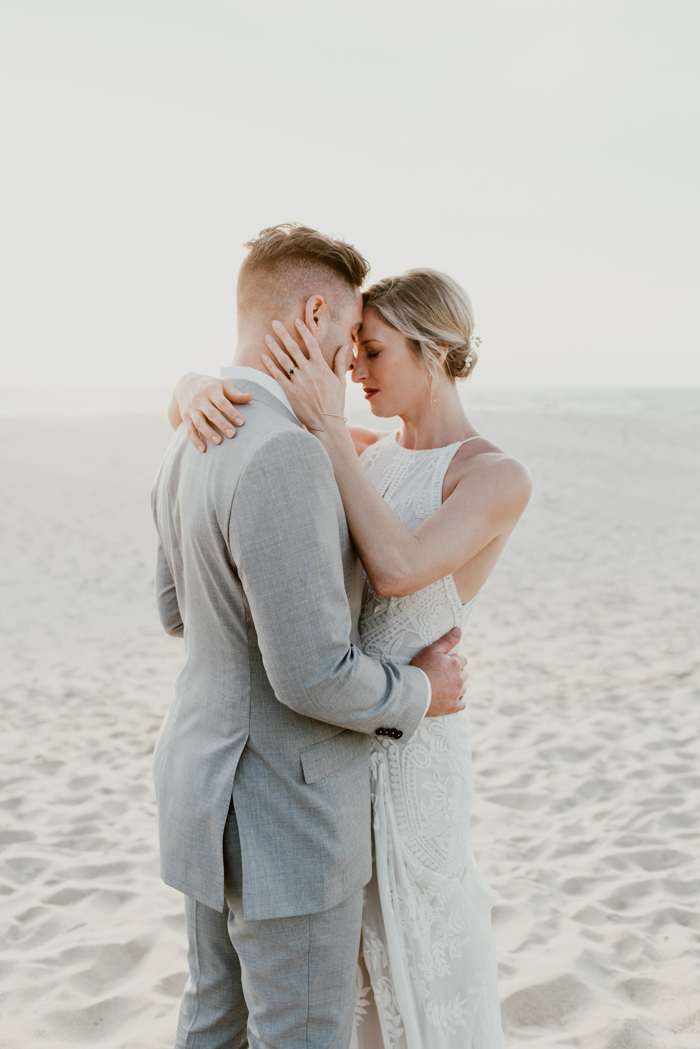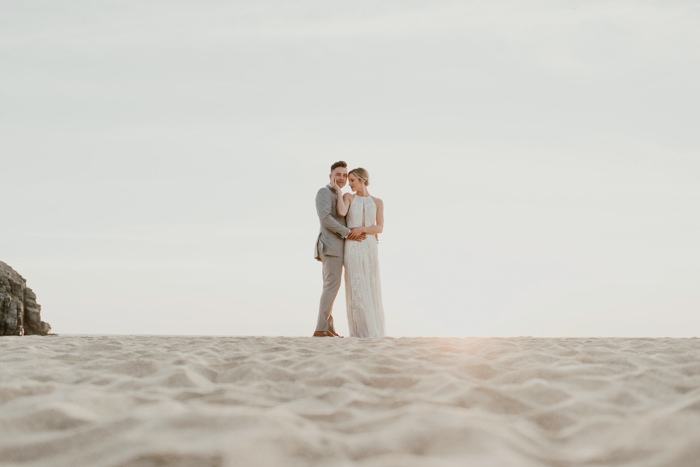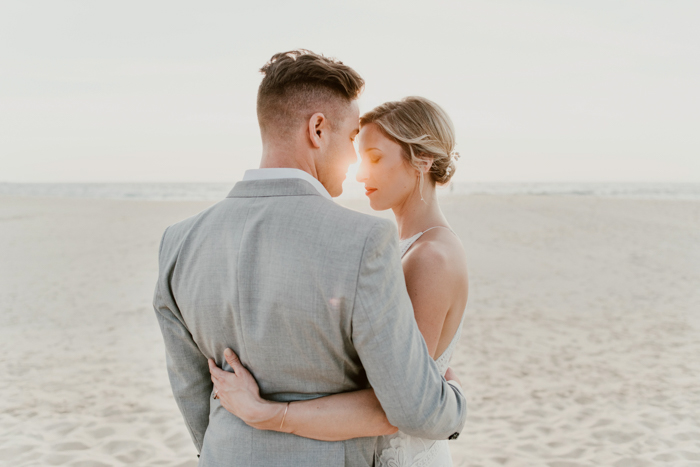 We didn't worry too much about the color palette because Hotel San Cristobal was so beautiful. I always envisioned a wedding venue that did the work for us. Aside from the flowers and our reception tablescape, we didn't add anything to the already-perfect venue!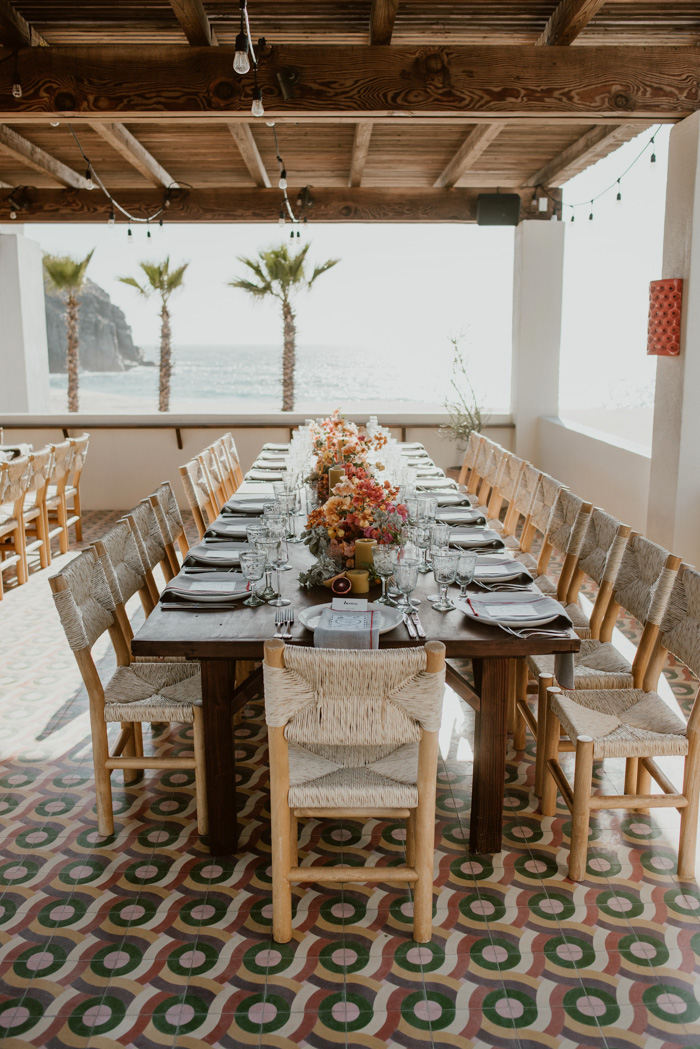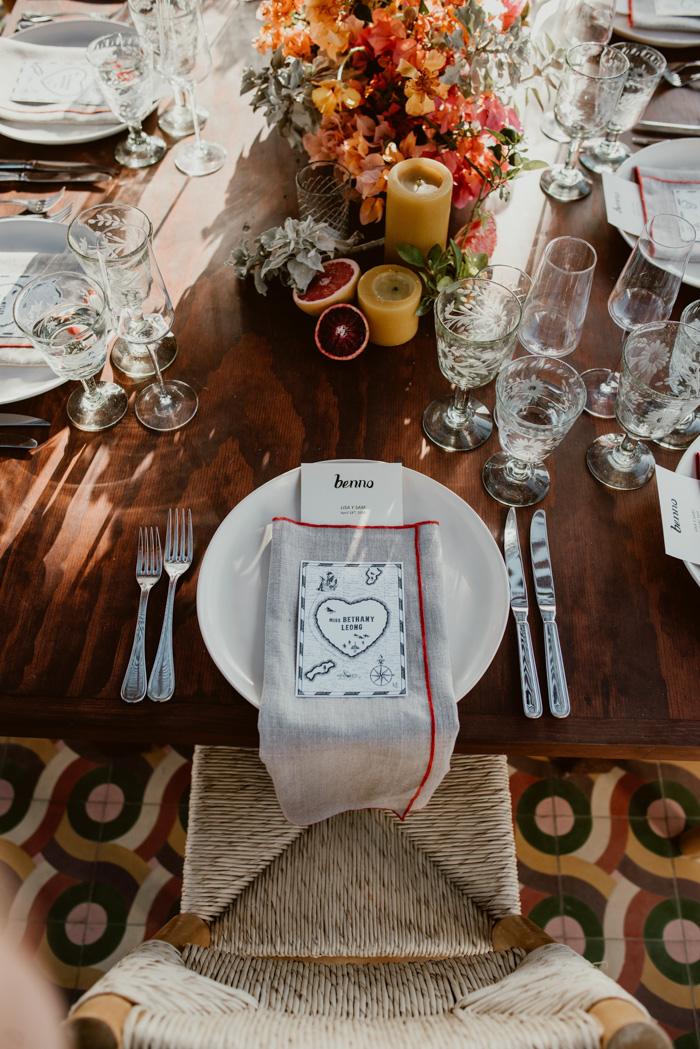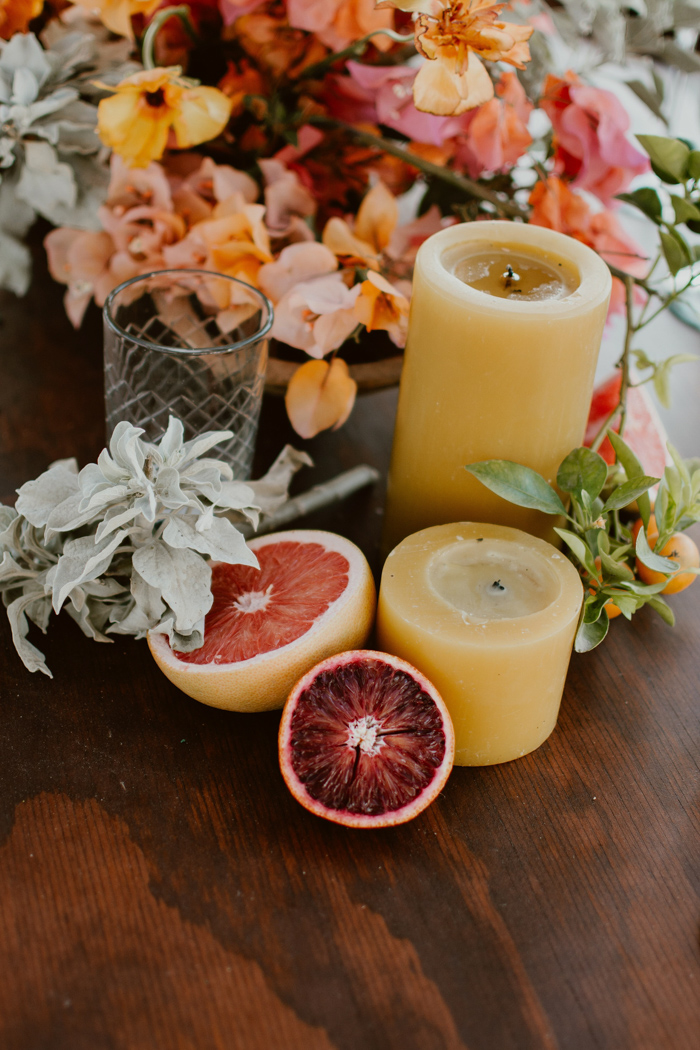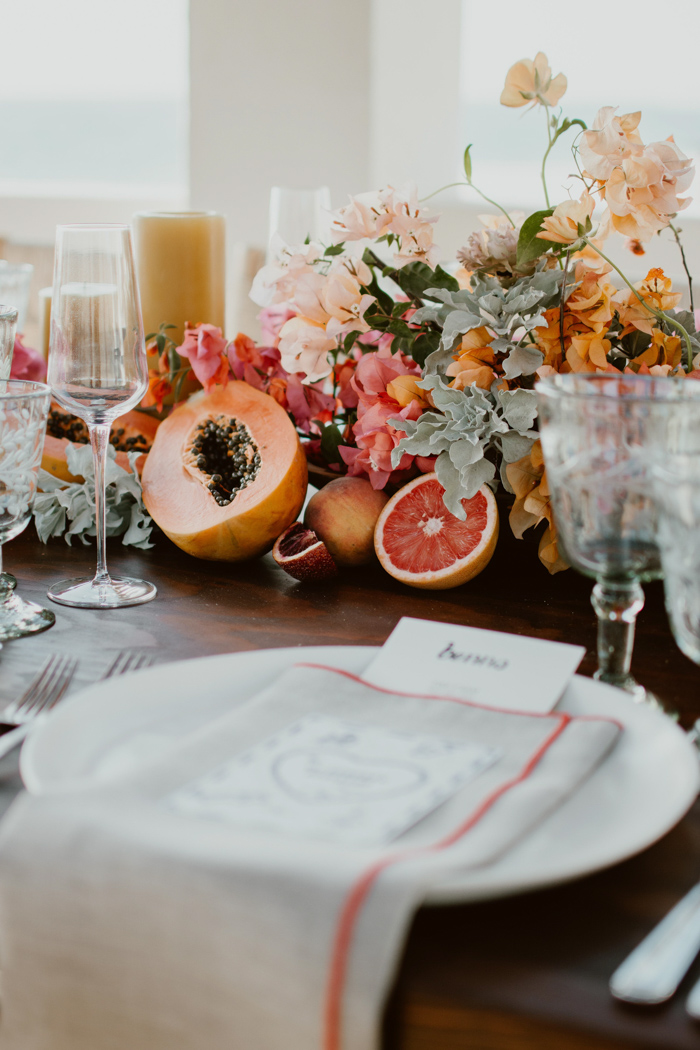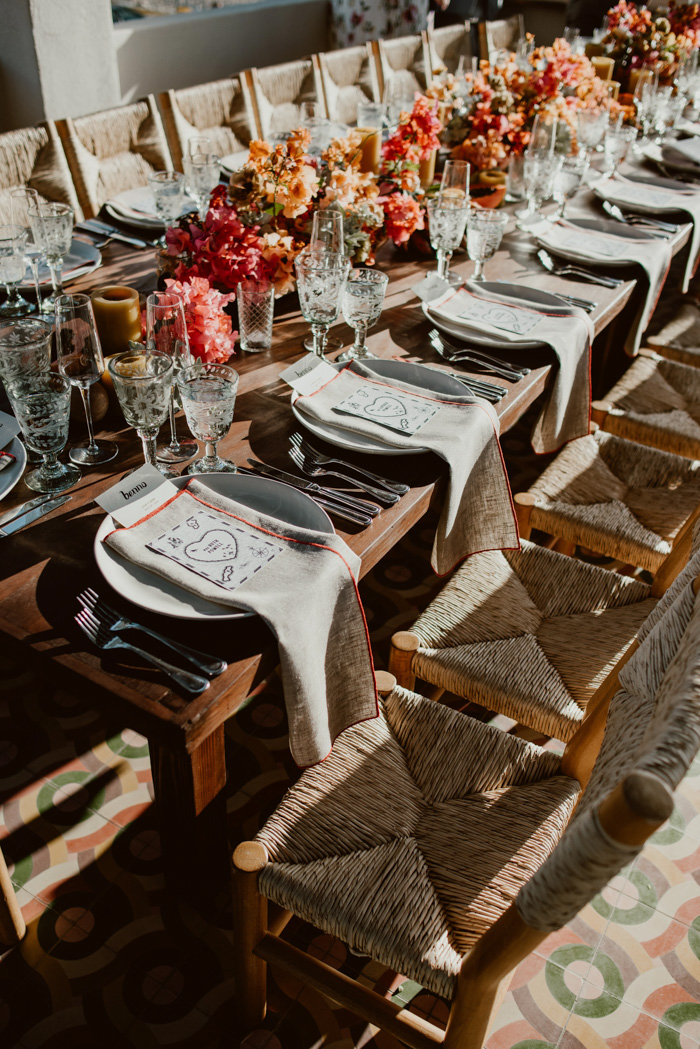 We realized pretty quickly that we couldn't do everything ourselves. There were some things that just needed to be handed off to other people, who could find a solution faster. We also realized that it wasn't a burden, but actually a privilege for your friends and family to feel even more involved in the day.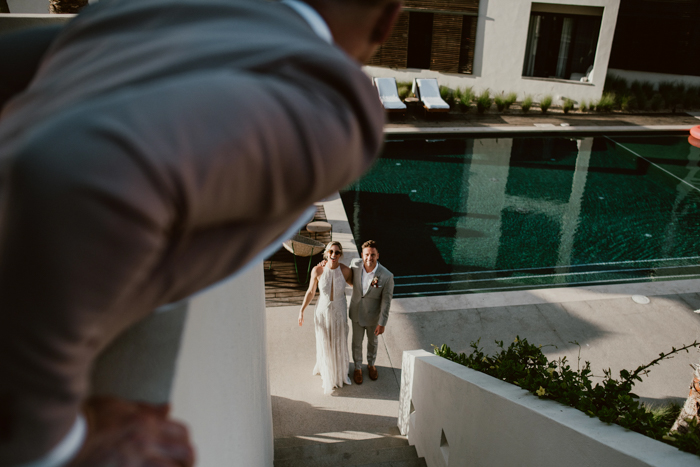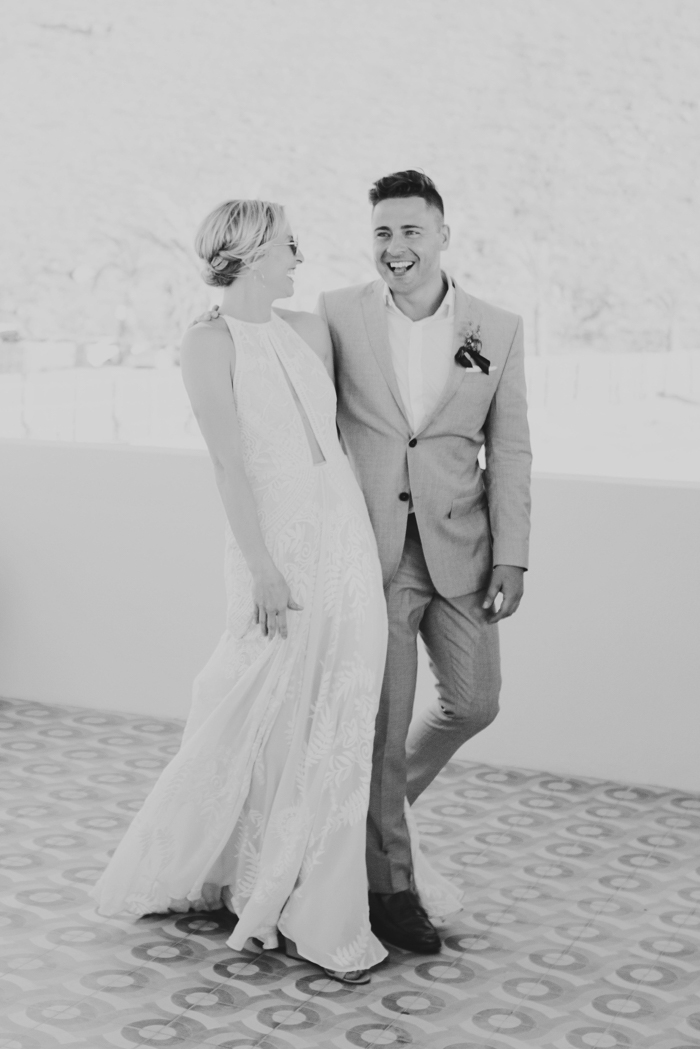 From the bride: Walking into the chapel was by far my favorite moment. In my memory, I looked at every single person in the chapel – those who have shaped our lives so significantly – and then my eyes landed on Sam standing so calmly at the front. Time somehow stood still and flew by at the same time! I also really enjoyed our reception. We sat at long, family-style tables and it just felt like the best dinner party! We were passing around dishes of the most amazing food, laughing at speeches and stories of the week and watching the sunset over the ocean. It doesn't get much better than that!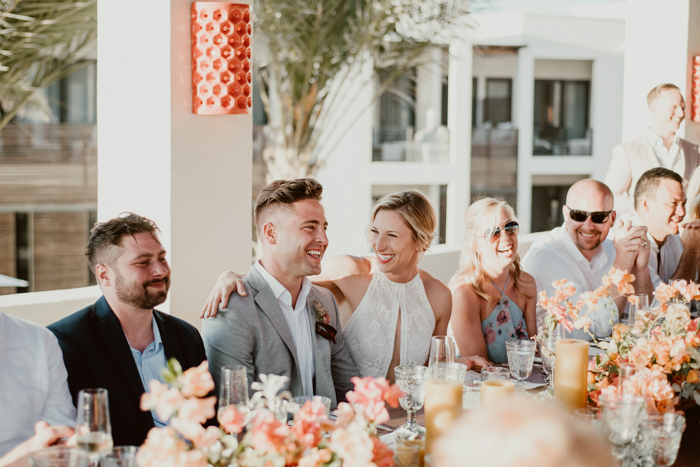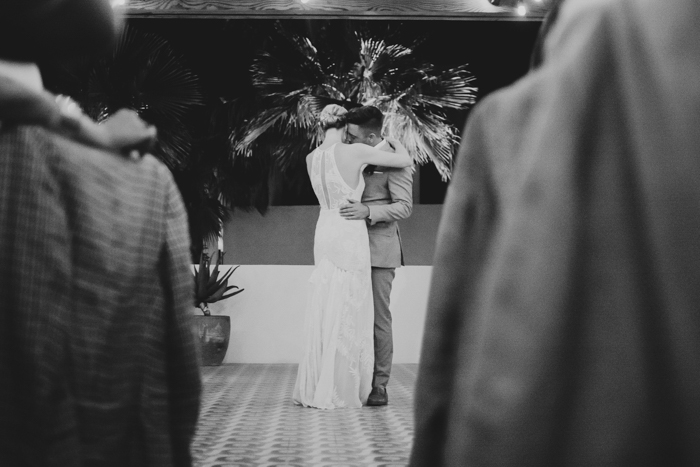 Our biggest congratulations to Lisa and Sam, and a special thanks to Los Ébano for sharing this gorgeous Hotel San Cristobal wedding with Junebug! Now let's keep that wanderlust going with our list of the best destination wedding location for 2019!