Raise your hand if you love springtime! As we're all sitting in our living rooms with our hands raised, let's take a second to appreciate this wonderful time of year. With the blooming flowers and vibrant colors that come after the cold winter months, it's easy to tell why so many couples like to get married during this season. If you're one of those couples and want to mix it up with a fresh take on your spring wedding, this blog post is for you!
Spring Wedding Ideas
1. Floral Hair Accessories
There's no better time of year than spring to add some blooms to your bridal hair look. There is a variety of ways to include this into your look, whether it be adding flowers to your braid, rocking a flower crown, or donning an intricate floral tiara. Wanting a more understated look? Opt for hair clips or pins.
Shop floral hair accessories: White Ivory Gardenia Hair Pins; Pearl Crystal Floral Bridal Comb; Colorful Dried Floral Wedding Hair Set; Flirting With Spring Floral Hair Pins
2. Pastel Color Palette
Spring goes hand-in-hand with a pastel color palette. If you're not sold on the idea of lots of color, add subtle pastel colors to your decor. Think pastel linens paired with neutral florals or vice versa. You can also keep all of your linens and flowers neutral and incorporate color into your bridesmaid dresses and groomsmen accessories. The options are endless.
3. Add a touch of spring to your outfits
We love a good floral or pastel pant, tie, or dress pattern. If you want to add a touch of these elements to your wedding day look, there's no better time than springtime.
Recommended Reading: The Dreamy Unconventional Colorful Suit Roundup
4. Bring it all outdoors
What says spring more than a garden wedding? Take advantage of the beautiful weather and lush greenery by hosting your special day outdoors. The more greenery you have at your venue, the less you have to decorate, which we call a win-win. Just be prepared for rain. You know what they say–April showers bring May flowers.
5. Line your aisles with flowers
Speaking of hosting your wedding outdoors, take it a step further by lining your ceremony aisles with flowers. It offers a natural yet beautiful look and elevates your garden wedding in an instant. It can also be done at pretty much every venue–from the mountains to your backyard.
6. Plan a flower toss exit
We love the flower toss ceremony exit. It's fun, photographs beautifully, and your guests are sure to love showering you with pretty little blooms after saying your "I do's." It also happens to be far more sustainable than rice or confetti.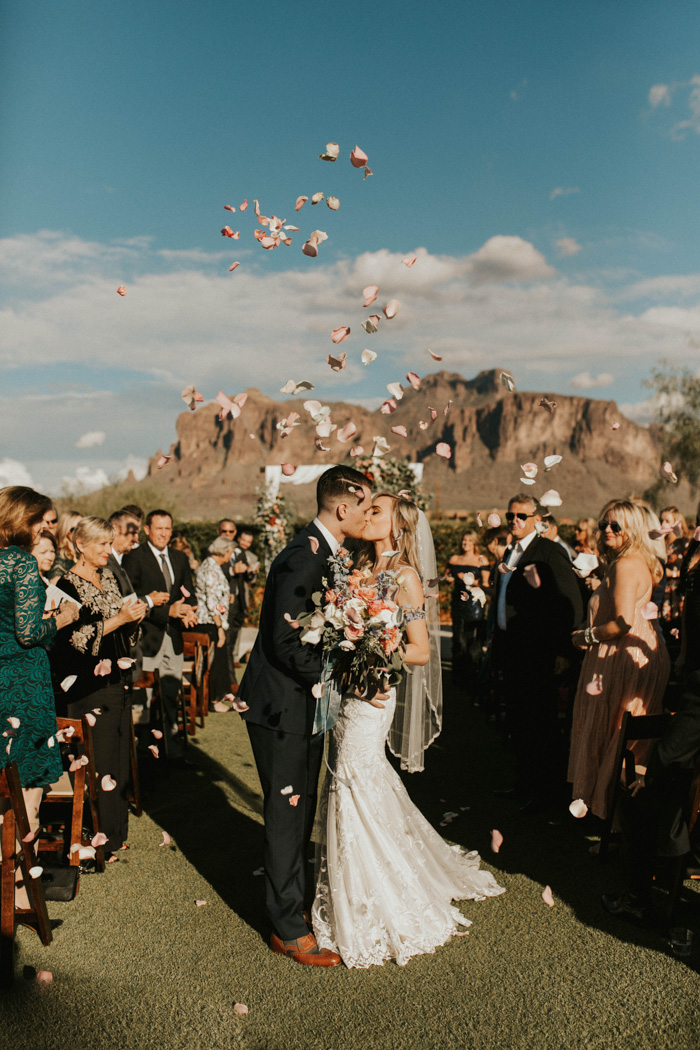 7. Gift springtime-inspired favors
Wedding favors are always a tricky subject. On one hand, you want to gift your guests something as a thank you for celebrating your love with you while on the other, you don't want to spend money on something that will inevitably get left behind. That's why we love the idea of handing out seasonal favors such as wildflower seeds or mini plants.
8. Serve fresh cocktails
When creating your signature cocktail, opt for garnishes that are the epitome of spring. Whether that's a delicate flower or in-season fruit, serving fresh cocktails with these subtle details during your cocktail hour is the perfect way to tie in the season in a small yet noticeable way.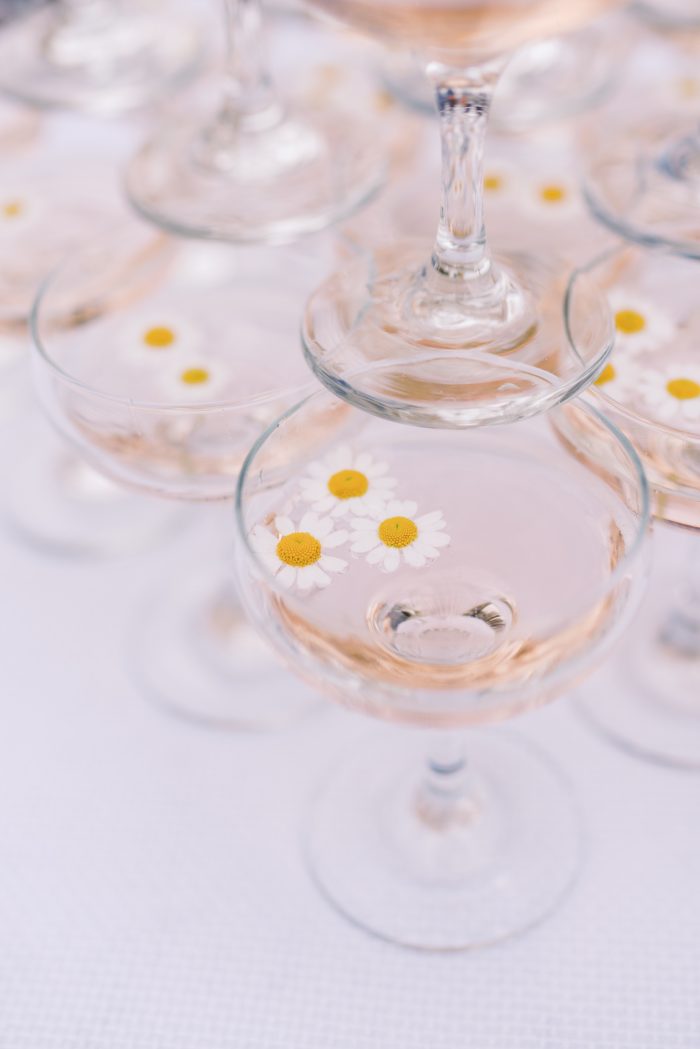 Now that you've got a few spring wedding ideas in your back pocket for your big day, it's time to start thinking about what your bridal party is going to wear. Lucky for you, we've rounded up the best spring bridesmaid dresses that will help further tie in the season!