Happy Friday everyone! I have to say that I am officially in love with today's Real Wedding. This darling couple, Julia and Ben, went for a casual, fun and food filled wedding that was totally their own. They chose to incorporate all the things that were important to them, and left out anything that didn't feel authentic and like an easy fit. From the looks on their faces in this first lovely image by Belathée Photography, I'd say they chose right!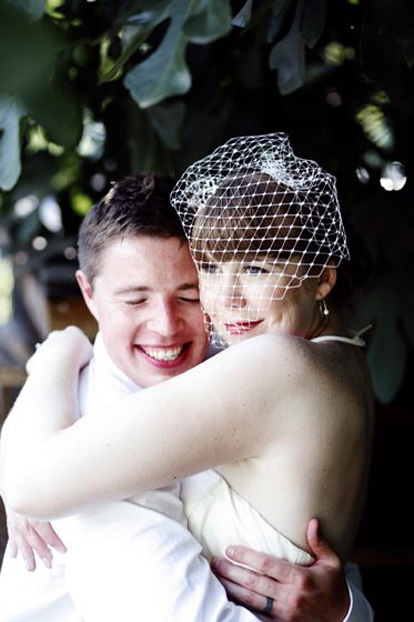 Without intending to officially have a wedding color palette, as the planning went on gray, white and yellow naturally emerged as their "colors". Julia made her own veil and the flowers for her bridesmaids' hair, and then chose fantastic jewelry and accessories from Etsy seller Medowbelle Market and creative jeweler Nervous System.

As a wedding gift a number of Julia and Ben's friends picked the wedding flowers at a local farm and put together all of the bouquets and arrangements. They also surprised the couple by buying an assortment of colorful lollipops to use as wedding favors since Julia had decided against them in the beginning, but was regretting her decision on the wedding day. So sweet, and as Julia said, "beyond generous". The wedding ceremony took place in the bright, airy and modern Georgetown Studios and involved lots of audience participation. Julia's step-father played guitar and performed Such Great Heights by the Postal Service (adapted by Iron and Wine) and the whole audience pronounced them man and wife.

The wedding reception was held at The Corson Building, an amazing Seattle area restaurant dedicated to bringing the community together with incredible organic and local food. It was truly a celebration of all things delicious, and Julia and Ben were thrilled that they chose to host their reception there.

Thank you, thank you, thank you for sharing your wedding day with us Julia and Ben! What a treat!
To see all of the talented wedding professionals who contributed to this wedding, please visit our Real Weddings section.
To plan your own Seattle area or Southern California wedding check out our Plan Your Wedding hot list!