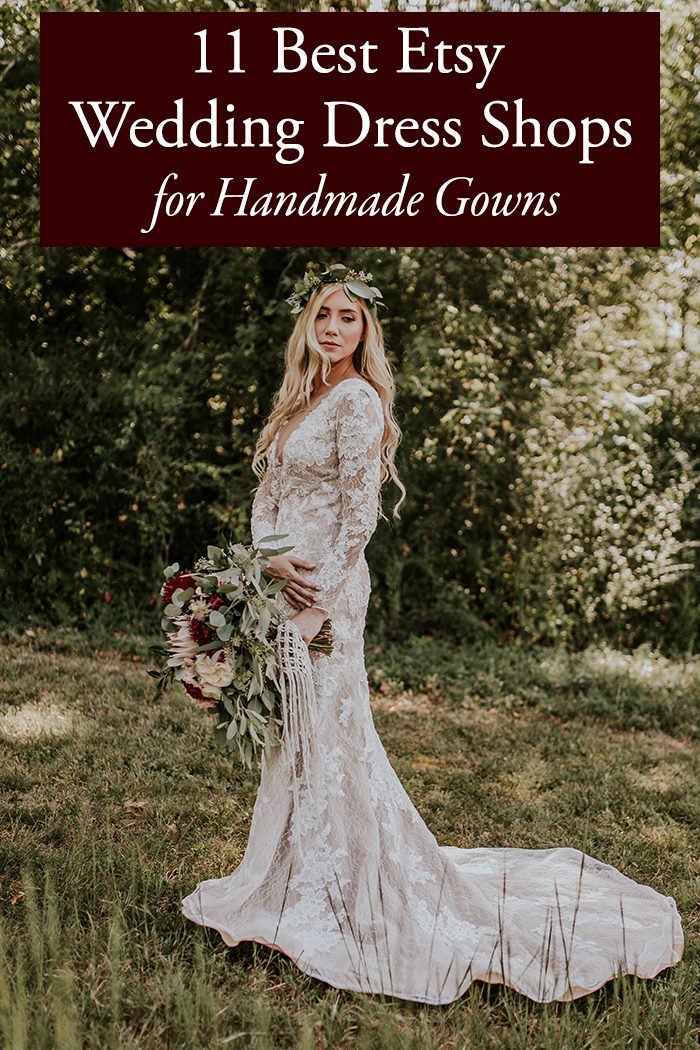 photo by Vic Bonvicini Photography
As more brides are taking to Etsy to find each perfect detail for their wedding, more designers are opening shop in hopes of providing exactly what brides are looking for. Now, more than ever, finding a wedding dress doesn't have to involve making an appointment or even leaving your house. Etsy now helps connect thousands of brides per year with their dream gown thanks to some seriously talented designers! Sifting through search results isn't exactly the most fun way to find your gown, so we've rounded up the 11 best Etsy wedding dress shops for finding a handmade gown as unique and beautiful as you are.
Check out our top 11 Etsy wedding dress shops for handmade gowns
From the Designer: "KALA KALA is a unique designer collection of bridal gowns, promising to unleash beauty, glamour, simplicity and comfort in each dress. The range represents affordable elegance, with each piece embodying a harmonious balance of quality materials paired with fresh original designs. The KALA KALA Bride is a free spirit, looking for unconventional simplicity and elegance."
Price Range: $$-$$$
Sizes: XXS-L, Made to Order
Shipping From: United States
From the Designer: "We are two passionate young designers based in Saint Petersburg, Russia. We are in love with our beautiful northern city and it's dreamy romantics. Outstanding architecture, strong mixture of European traditions and unique Russian culture, magnificent history of ballet and art — this is the list of things that inspire us every day. We create our wedding dresses thinking of equally unique bride. She is free, feminine and ready to mix hard and soft in her personal style.
Every single gown is handmade in our own studio in Saint Petersburg. From sketch to final stitch we do everything by ourselves. We always make sure to pick the best quality materials, order our laces from Europe and like to experiment with fabrics which are not so common for bridal dresses."
Price Range: $$-$$$
Sizes: Made to Order
Shipping From: Russia
From the Designer: "Flora & Lane strives to bring simple, delicate and romantic gowns that make every bride swoon. Our team works as a close-knit family to bring affordable, one of a kind dresses that are assembled in small quantities and delivered with great passion. Some will include carefully hand selected items and some will enclose pieces that are handmade to the very detail. Our gowns are a mix of feminine and soft silhouettes that are truly unique and one of a kind. We pride ourselves to go above and beyond to make your journey to the altar an unforgettable experience. On your wedding day, we hope that you will walk down the aisle with the biggest smile and dance till dawn in our effortless gowns. Flora & Lane bride is an easy-going, ethereal girl who is looking for a balance between glamour and sensibility while maintaining a classic feel."
Price Range: $$-$$$
Sizes: Made to Order
Shipping From: United States
Bonus: Offers At-Home Try-On
From the Designer: "Every one of our wedding dresses is especially designed to be fashionable and lovely, but also non-ordinary and unique. We test and fine-tune each model to make them perfectly comfortable. We personally pick each type of fabric and each piece of décor to ensure the highest standards.
All of our gowns are created in the atmosphere of beauty and harmony. For us, the birth of a wedding dress is a sacred act inspired by warmth, light and love! And we believe that the right emotions are an essential part of a perfect wedding dress!"
Price Range: $$-$$$
Sizes: 0-20, Made to Order
Shipping From: Russia
From the Designer: "Luna helps make fairytales come alive in beautiful ethical handmade wedding dresses for the modern bride. Using luxurious natural and organic materials and stylish design, the Luna look combines elegance with comfort, opulence with simplicity, and tradition with fashion. Gorgeous fabrics are personally selected from world-loving sources that ensures a conscious-free mind and an awe-inspiring body. With a romantic heart in classic sophistication and an expert eye on feminine fun, the Luna collection dances with magic and mystery as the Luna bride sparkles with individuality and independence. For the optimum feel and look on the ultimate day, choose from Luna bridal, Luna bridesmaid and let us make your dream dress come true."
Price Range: $$$
Sizes: Made to Order
Shipping From: United Kingdom
From the Designer: "I've always loved to create and I was swinging between painting and clothes design. I am kind of a romantic and I'm inspired by the vintage looks. At first, I did this as a hobby, for me and my friends. Until when, at some point, I woke up to realize that this is my path. It's a family business and we are all enjoying this very much! Each of our creations is made with passion. And we are so happy when we find someone to love them as much as we do! It's such a rewarding feeling.
My fashion philosophy? Forget about trends. Keep it simple. Wear what you like and what you feel it represents you. And don't let the dress wear you. Always choose a dress that will highlight you and not vice-versa. And you will shine!"
Price Range: $-$$
Sizes: Made to Order
Shipping From: Romania
From the Designer: "Cassandra started designing clothing in 2014 when she designed and made her own wedding dress. She loved it so much that she has decided to make it her career. She lives in Kansas City with her 1 year old daughter."
Price Range: $$
Sizes: Made to Order
Shipping From: United States
From the Designer: "MYWONY (My Wood Nymph) is a modern line of made-to-order wedding dresses with thorough attention to high-quality standards, unique handwork and detailing, perfect fits and feminine silhouettes. Founded to create for the less-traditional free-minded spirit bride, who wants to stay herself at her special day. We make the brides dreams come true since 2012."
Price Range: $$-$$$
Sizes: US 2-12, Made to Order
Shipping From: Ukraine
Price Range: $-$$
Sizes: US 0-16
Shipping From: China
Bonus: Accepts returns on non-custom dresses
From the Designer: "Angellure Bridal is a third Etsy shop of a young bridal label Angellure, specializing in quality handmade wedding dresses, veils and other bridal accessories, women's and bridal robes. I am happy to invite you to my Etsy store of quality and unique bridal gowns. I hope that you find the wedding dress of your dreams in my shop.
I am in love with making custom orders, so don't hesitate to contact me, if you want something special to be made especially for you."
Price Range: $$
Sizes: XS-XL, Made to Order
Shipping From: Ukraine
From the Designer: "I started my way from opening a bridal shop in 2011 . When i was searching for the dresses for my shop i understood that there is very small chance to find the good quality wedding dresses with good prices and modern, fashion design. So i decided to creating my own vision of wedding dresses. I am creating the wedding dress according trends and wishes of my brides. All dresses are absolutely handmade and made to order. Wedding dresses are created with love and with using the best quality fabrics and materials."
Price Range: $$
Sizes: Made to Order
Shipping From: Russia
Looking for more Esty wedding goods? We've got you covered!
Etsy Wedding Favors Your Guests Actually Want to Take Home
The Best Etsy Bridesmaids Proposal Gifts for Popping the Question to Your Girls
The Best Etsy Save the Dates to Announce Your Wedding
The Most Stylish Etsy Flower Girl Dresses