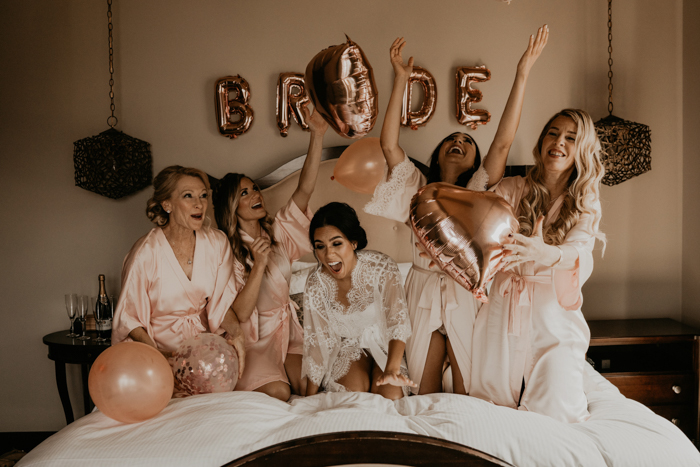 photo by Henry Tieu Photography
COVID-19 made us press pause on a variety of 2020 plans, but we're here to help you fast forward to an unforgettable virtual bachelorette party! While it may not involve a trip to Cabo with the girls, these virtual bachelorette party ideas are full of fun bonding experiences to quench the connection you've been craving in quarantine.
Our 10 virtual bachelorette party ideas include:
Home Spa Day
Virtual Wine Tasting
Online Workshop or E-Course
Chick Flick Costume Party
Trivia Night
Virtual Tarot Reading
Craft Party
Interactive Cooking Show
Virtual Dance or Yoga Class
Decades Dance Party
Read on for all our tips to pull off these quarantine bachelorette parties along with some fun favor picks from the Junebug team!
1. Home Spa Day
Isn't what we all need right now a little rest and relaxation? While a day at the spa may not be on the agenda, a home spa day will be a welcomed way to celebrate in quarantine! The Maid of Honor can ship each "guest" a few beauty and wellness essentials, queue up some relaxing tunes, and lead the group in their new beauty routine.
Shop some of our home spa favorites: DIY Gel Nail Kit ($62.99); Assorted Face Masks ($22); Skincare Headbands 9 Pack ($14.99); Moisturizing Foot Mask Pack ($25.99); Jade Roller ($14.95); Beauty Refrigerator ($60) — this would be a great gift for the bride!
2. Virtual Wine Tasting + Home Wine Tour
Wine tasting is a classic bachelorette party activity and one you can totally do from home! To recreate the experience, send everyone a wine tasting flight sampler kit and a few bottles of your favorite vinos. Some wineries are even providing wine kits to make the experience virtual, so look into your favorite local wineries for their current offerings. Looking to spice up the occasion? Do a home wine "tour" where guests drink a different win in each room of the house and every room is assigned a topic of conversation. For instance, the living room prompt could be favorite movies from your childhood and the bathroom prompt could be bath vs. shower. Drink up!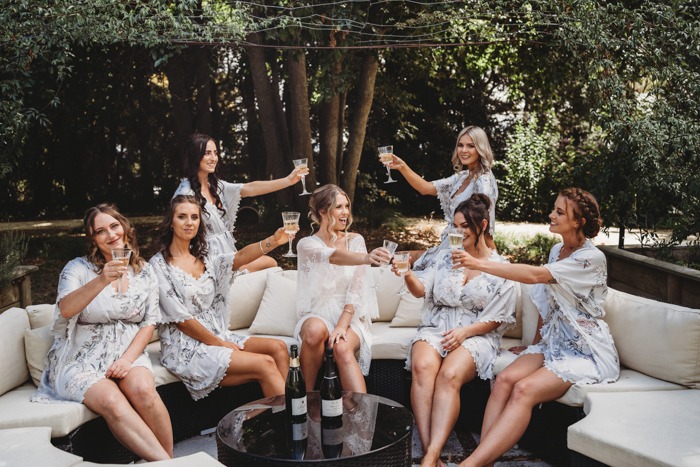 photo by Proshot Photography
3. Group Workshop or E-Course
Learning a new skill together as a group can be a fun bonding experience that sticks with you for years to come. World-renowned artists, writers, and leaders in a variety of industries share their expertise in easy-to-follow virtual courses on platforms like Skillshare and MasterClass.
Here are some of our favorite classes being offered on Skillshare right now:
4. Chick Flick Costume Party
Lean into the theme of sisterhood and do a virtual watch party of the bride's favorite chick flick! Every guest can dress up as her favorite leading lady, like Cher from Clueless, Elle Woods from Legally Blonde, Regina George from Mean Girls, or Mia Thermopolis from The Princess Diaries. Pro tip: have everyone set the movie to the exact same second and then hit play. Also ask everyone to mute their video chat unless they have funny commentary so the sound of the movie isn't playing through everyone's speakers.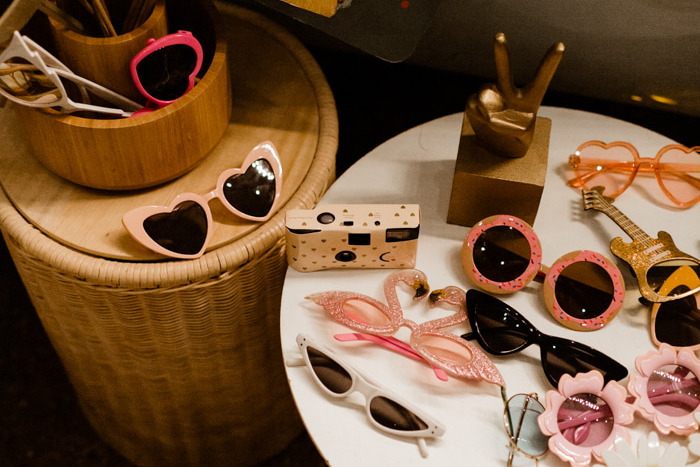 photo by Brooke Taelor
5. Trivia Night
Looking to step up the Zoom game night? Plan a trivia night that's specific to your bride and all her favorite things! To really personalize the experience, you can create a Jeopardy-style game with categories based on the bride's own life. Not feeling confident in your trivia-making abilities? Look for a trivia game for her favorite TV show and throw a themed party around it!
P.S. Check out these cute virtual backgrounds by Zoom!
Some of our favorite TV show trivia games: Friends Trivia Game ($9.99); The Office Trivia Game ($31); Sex and the City Trivia Game ($22.90); Parks and Recreation Trivia Game ($10)
6. Virtual Tarot Reading
Is your crew a little "woo woo" these days? Hire your favorite tarot reader to do a virtual reading for the group and learn what the future has in store according to the cards.
Thinking about learning tarot on your own or want to gift your guests their own deck? Check out our favorite decks: OK Tarot: The Simple Deck for Everyone ($34.95); The Wild Unknown Tarot Deck and Guidebook ($23.83); The Modern Witch Tarot Deck ($22.46); Mystic Mondays Tarot: A Deck for the Modern Mystic ($18.31); The Starseed Oracle: A 53-Card Deck and Guidebook ($22.49)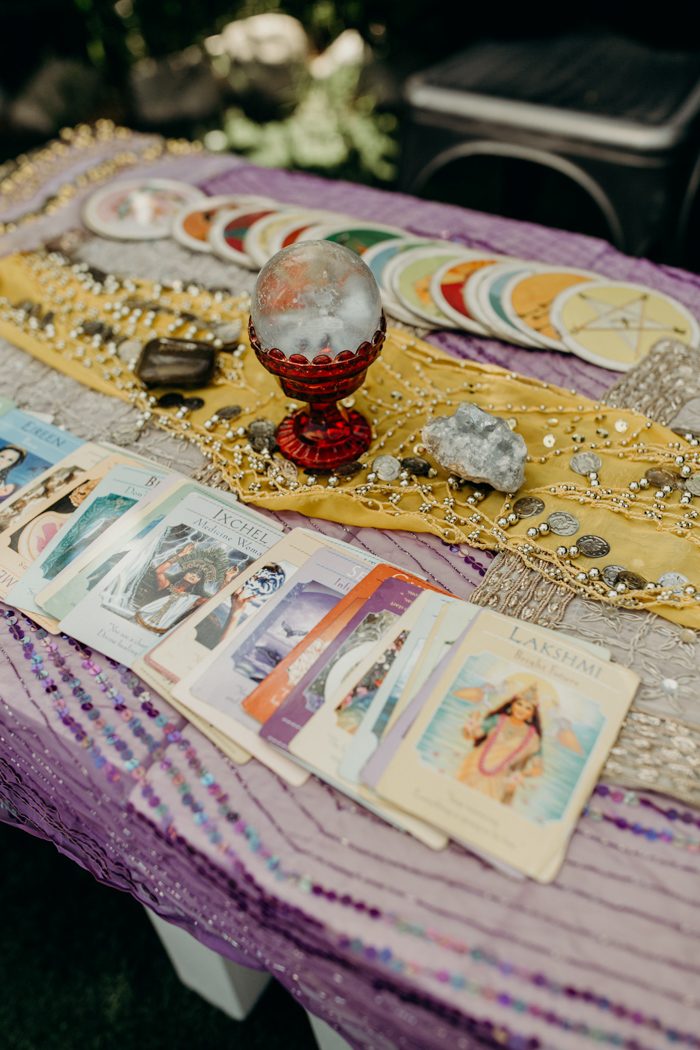 photo by Joe + Kathrina
7. Craft Party
Break out the scissors and glue — it's time to get crafty! Whether you go DIY Painting with a Twist and paint tipsy portraits of the bride or make something you can all hang in your home (hello, built-in party favors!) like a wall hanging or macramé plant hanger. P.S. This could also be a great way to help your bride knock out some wedding DIYs!
Shop our favorite DIY kits: Small Weaving Loom Kit ($32.99); DIY Macrame Wall Hanging Pattern with Supplies ($29.29); Sunset Embroidery Kit ($29.25); DIY Macramé Plant Hanger Kit for Beginners ($28.50); Cacti Embroidery Kit for Beginners ($16)
8. Interactive Cooking Show
Is one of your friends an excellent cook? Make them the host of their very own cooking show! Send an ingredient list for a dinner dish or dessert to your guests and have the "chef" walk everyone through the steps to make it via video. Everyone gets to learn to make something new in their own kitchen and enjoy the dish afterward! Bonus: Check to see if your local caterers are offering virtual cooking classes so you can learn from an expert!
Looking for a few favors to send your guests? Here are some pretty kitchen essentials we love: Rose Gold Measuring Cup and Spoon Set ($24.97); Rose Gold Whisk ($12.99); Cute Spoon Rest ($26); Patterned Spatulas ($10); Floral Apron ($32)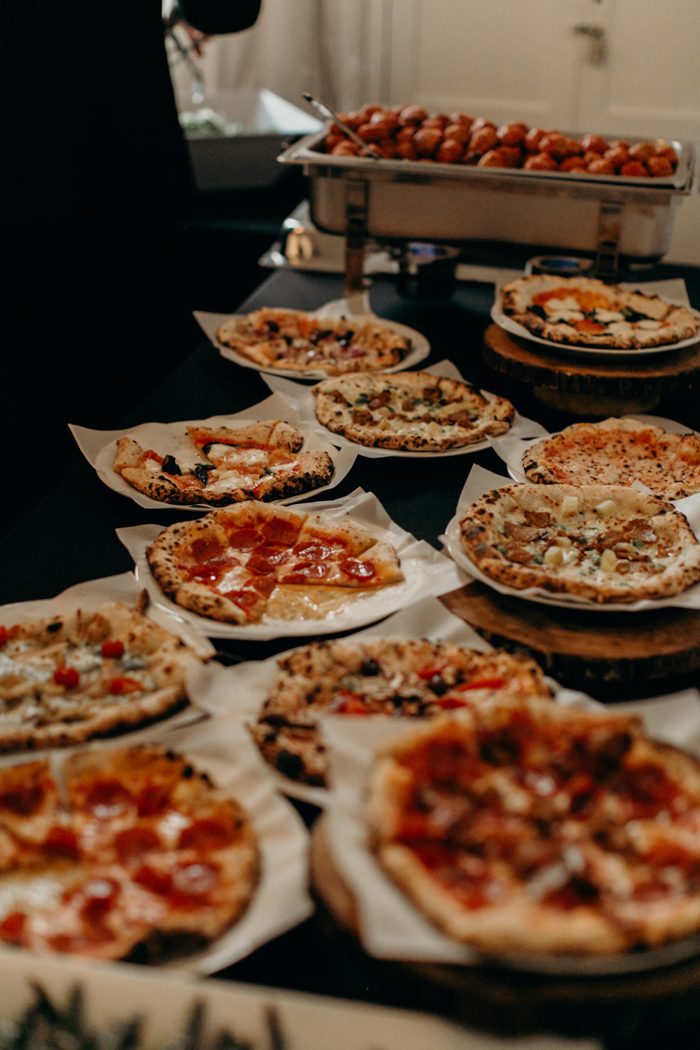 photo by Joe + Kathrina
9. Virtual Yoga or Dance Class
Buds who sweat together, stay together — even virtually! Have you ever wanted to learn the choreography to your favorite Ariana Grande song? You can all learn it together using a YouTube video via screenshare over a video call. Yoga more your speed? Corepower Yoga is offering their classes online for free and there are tons of YouTube yogis (we love Yoga with Adriene!) you can use to find a class that fits everyone's skill level. Looking for something a little silly and super fun? Sweat to the oldies with retro Richard Simmons videos — don't forget your brightly colored sweatbands!
Shop some of our favorite workout gear to celebrate in style: High Waist Bike Shorts ($48); Pink Dip Dye Pullover Sweatshirt ($72); Lightning Synergy Crop Top ($58); Love Tie Dye Tank ($58); High Waist 7/8 Leggings ($68); Easy Cropped Tank ($24.95)

RECOMMENDED READING: Bridal Loungewear for Comfy Wedding Planning at Home
10. Decade Costume Dance Party
Is your bride bestie a big fan of the '70s or is she more of a '90s chick? Ask your gang to get dressed up in their best decade-of-choice outfit and dance the night away to a playlist of the decade's greatest hits. Take things to the next level with a disco ball or strobe light to really set the mood. Bonus: Lots of DJs are offering virtual services right now so you can get the party started with the help of an expert!
RECOMMENDED READING: Wedding Getting Ready Playlist to Dance to With Your Girls
Don't forget to dress up for your virtual bachelorette party! We've got your back with all the bachelorette outfits a bride needs for an amazing weekend.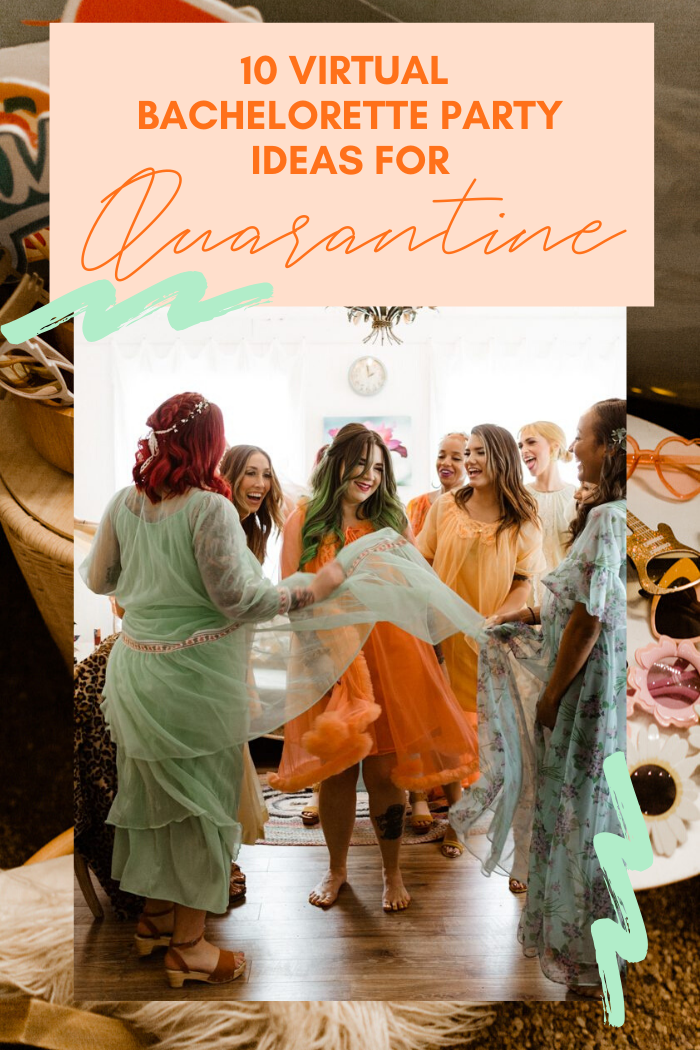 photo by Brooke Taelor