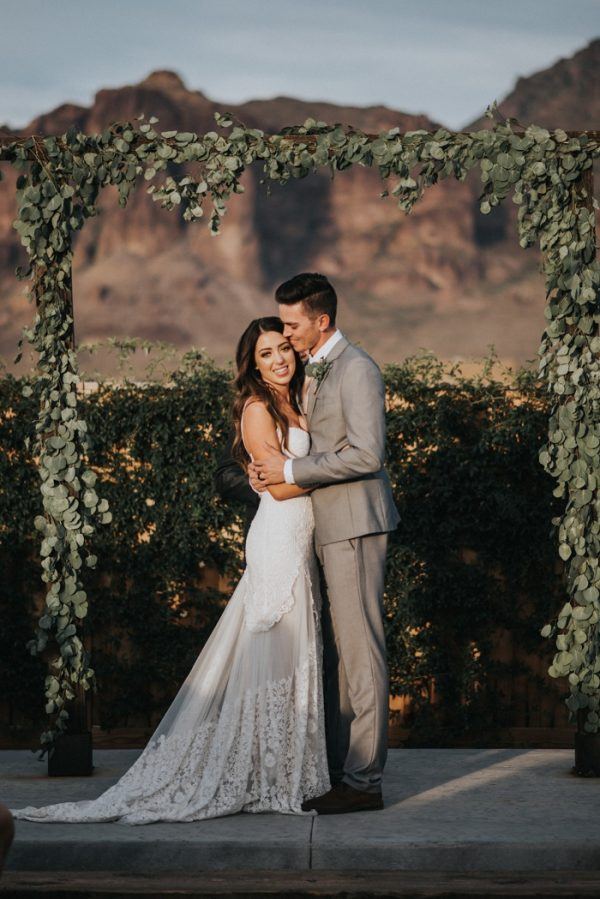 Megan and Garrett's Arizona wedding was a beautiful blend of boho vibes, a muted color palette, and so many cool desert details! The couple had gotten engaged about 100 yards away from The Paseo, located in a stunning spot that backs up to the Superstition Mountains, so they decided to continue their tradition with the area and tie the knot there. Event planners Sage & Stem and florist Florals By Sadie kept in mind the couple's design focus of minimalist, earthy, timeless, and desert vibes by designing a gorgeous space full of gauzy fabrics, eucalyptus garlands, and edgy details like geometric shapes and metallic textures. Megan and Garrett are long-time friends of Jonnie + Garrett Wedding Photographers, and you can really feel the love in the resulting photos that the photography team captured of their day!
The Couple:
Megan and Garrett
The Wedding:
The Paseo, Apache Junction, Arizona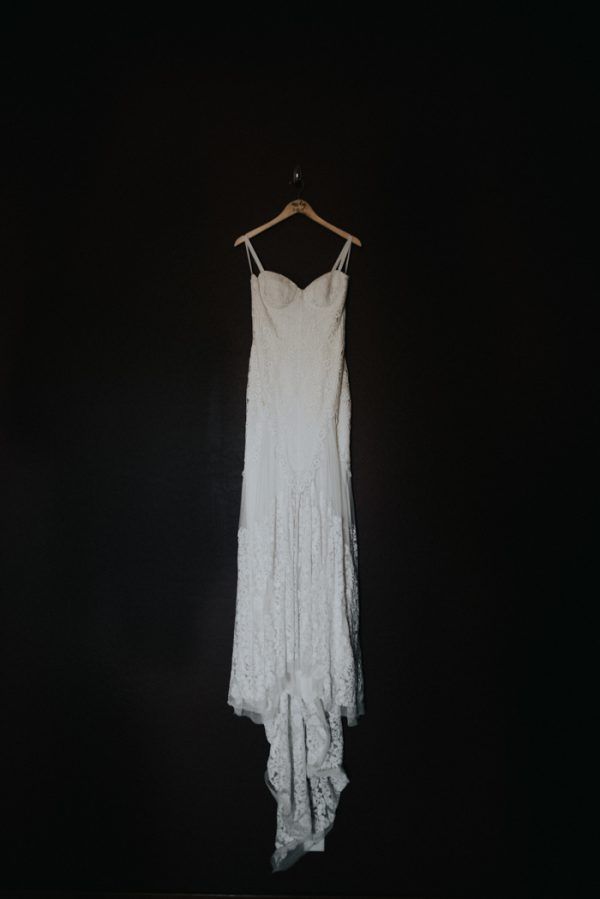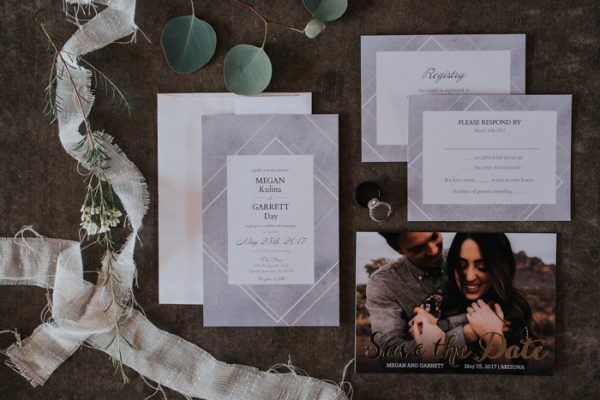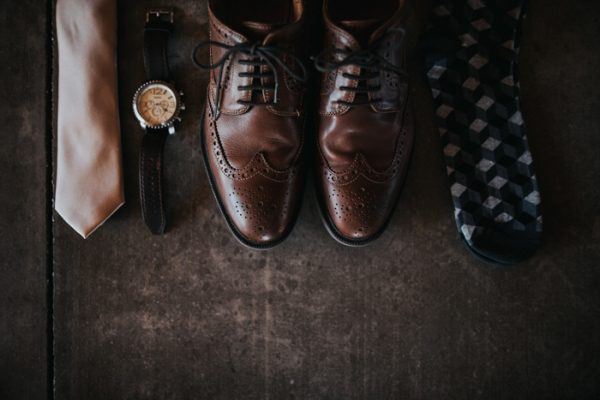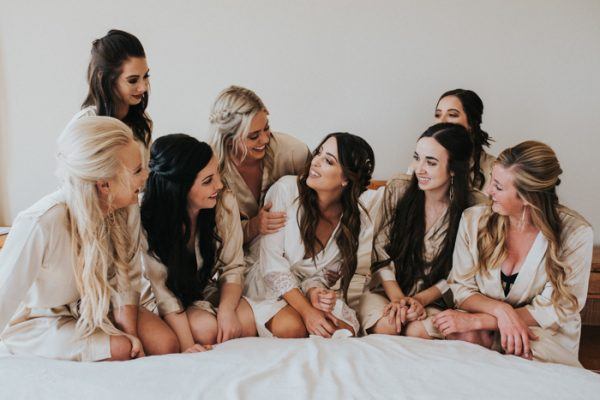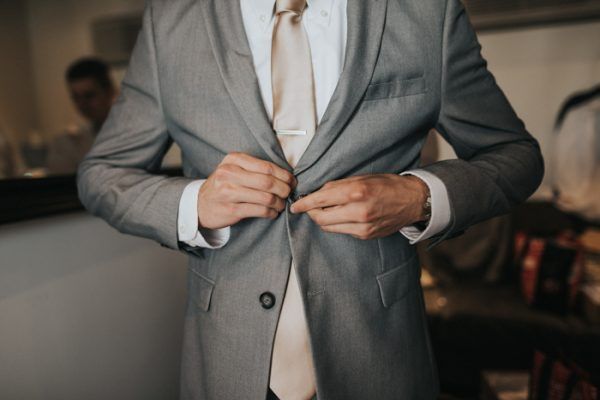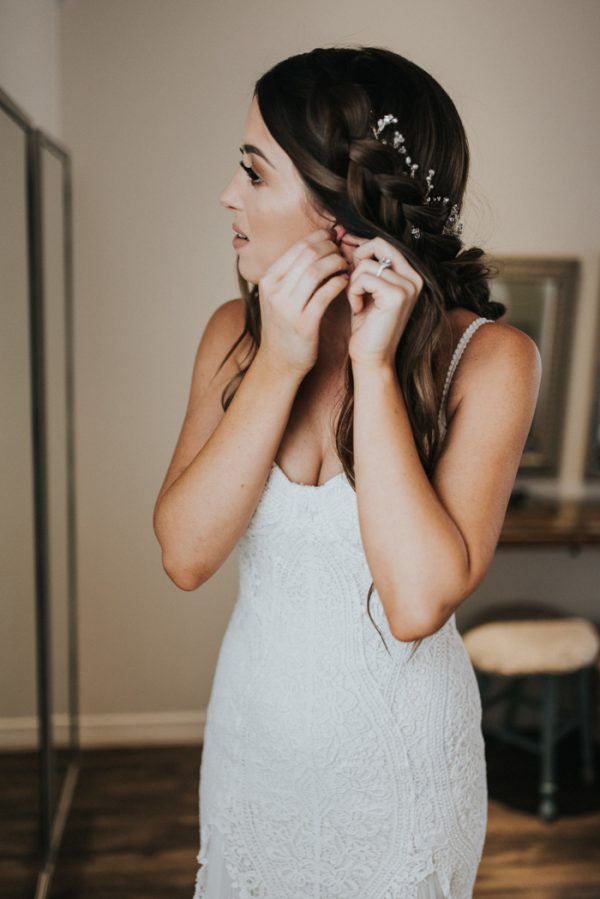 I just remember reading my letter from him, which I could hardly read through all of my tears (Um hello babe, didn't I tell you that I had to spend so much money on my makeup, basically cried off even before the ceremony! haha!) He titled it "I CAN'T WAIT" and listed every single thing that he couldn't wait to do/experience together on our wedding day and for our future together that as husband and wife. I remember my heart feeling so warm and loved. As I folded up my letter I remember Jonnie saying, "Now, are you ready to go see your man!?"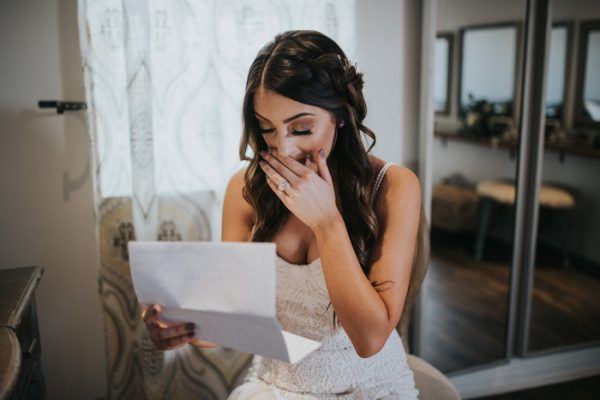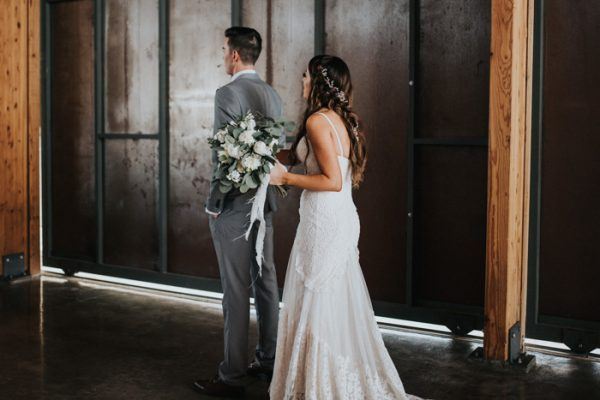 I remember I was so anxious and nervous for the whole morning but right when I saw Garrett I felt calm and peaceful. I remember walking up to him with his back turned with tears still running down my face thinking this is MY sweet husband. The person that I am going to love forever and ever and ever. As he turned around I will never forget his face and the hug he gave me. I know people say its bad luck to see your groom before the ceremony, but man was the the most special experience we had together on our big day.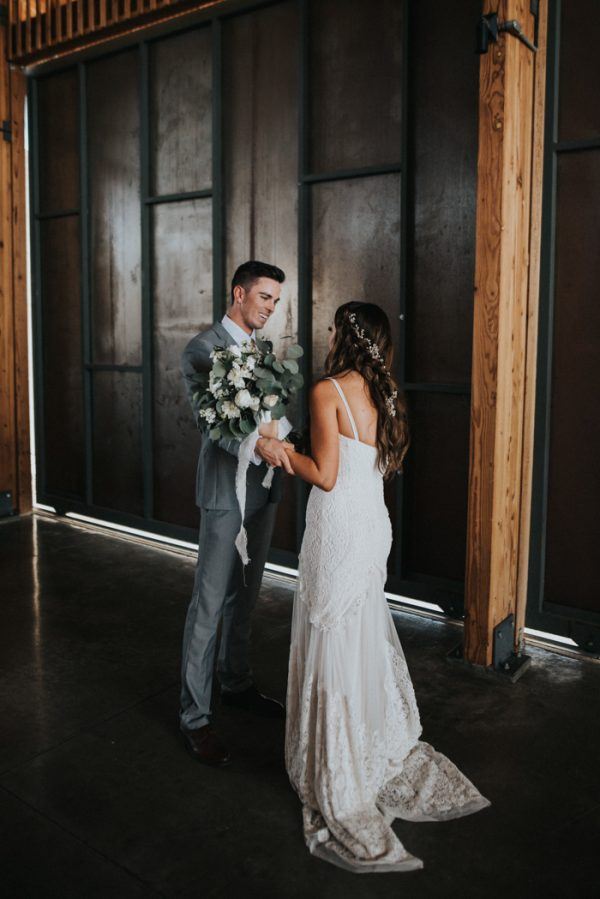 From the groom: It happened so fast I just remember turning around and being speechless at how beautiful she looked in her dress and all done up. As soon as we were done with our first look, the bridal party came in and we did some group shots. I don't even remember anything else that was going on, I just remember not being able to take my eyes off my beautiful new bride.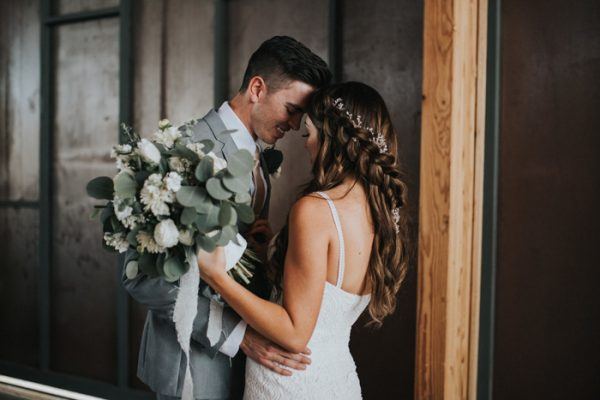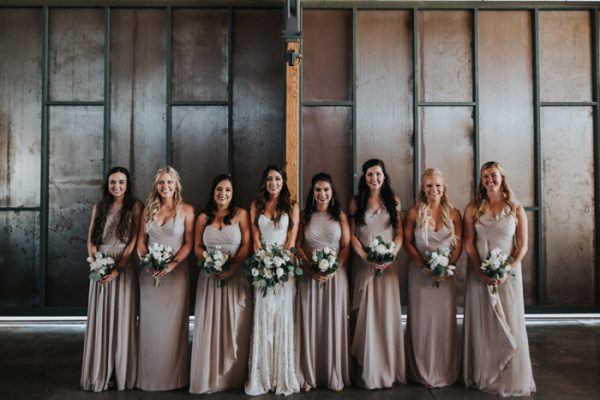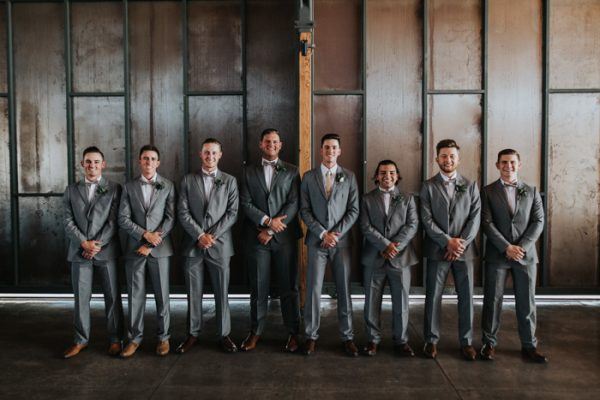 The bridesmaids wore long taupe colored gowns. I didn't pick a specific style because hello we are not all one shape. I just wanted them to feel comfortable. I love the idea of same color, same length, and different styles. It keeps it cohesive while giving each of them the freedom to their own style. And dang, they looked amazing! They wore simple rose gold earrings and neutral colored shoes.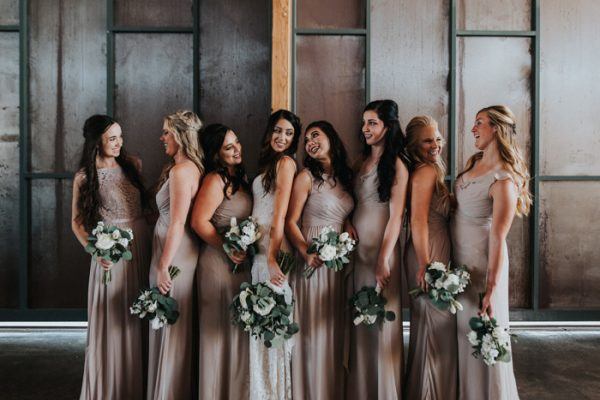 The groomsmen all wore light gray fitted suits with brown shoes, their bowties were actually custom made with the exact color of the girls bridesmaids dresses. Crazy story: two of the groomsmen showed up with dark charcoal gray suits the MORNING of the wedding instead of light gray. So instead of the boys going shooting as previously planned, they all piled into a suburban and went to the mall to hunt down light gray fitted suits. One of Garrett's groomsmen (Austin) is 6'6″ so the mall didn't have his size ANYWHERE. Another one of his groomsmen (Zach) has an uncle who is Arizona State Senator who is of similar size to Austin. So when the mall failed, Zach called his uncle in desperation and after some convincing the whole groomsmen party piled back in the car and went and raided this state senator's closet until they found a similarly colored suit for Austin to wear. Crisis averted! Oh ya, Austin ripped the Senator's pants while getting down on the dance floor. This is a story we will never let him live down.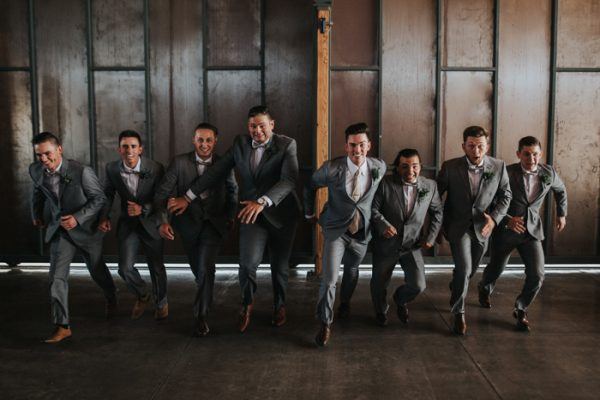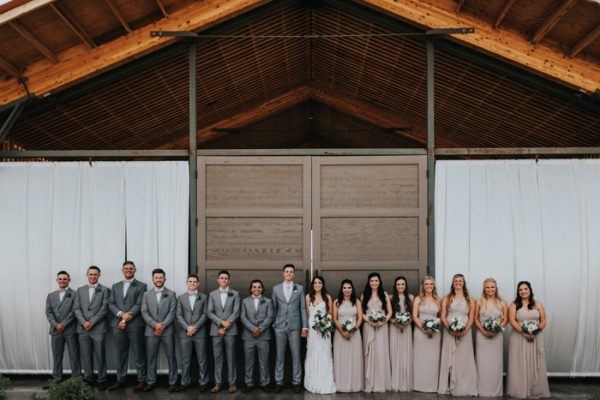 All of my style inspiration came from staying cohesive with the rest of our wedding design. Neutral, boho, and simplicity. Beauty in the details. I love, love, loved my dress. I wore Rue de Seine's (talk about an amazing designer!!) Arrow gown purchased from Lovely Bride in Scottsdale. (The CUTEST bridal salon ever, would so recommend every AZ bride to go here). I feel like my dress was the thing completed our "desert boho" vision. It totally matched the vibe of our venue/decor. As soon as I tried it on I knew it was the one. Every dress following it I compared to "my dress". I did decide to alter the straps to a simple over the shoulder strap for more support/comfort during dancing. The dress honestly spoke for itself and didn't need any added belts. My train detail was to die for! I loved the unique lace pattern it had so much dimension and detail.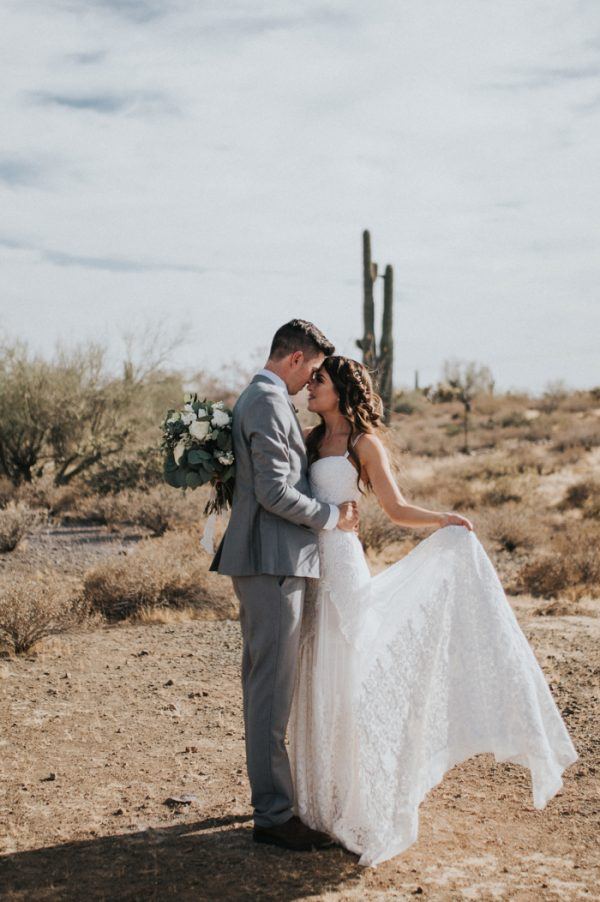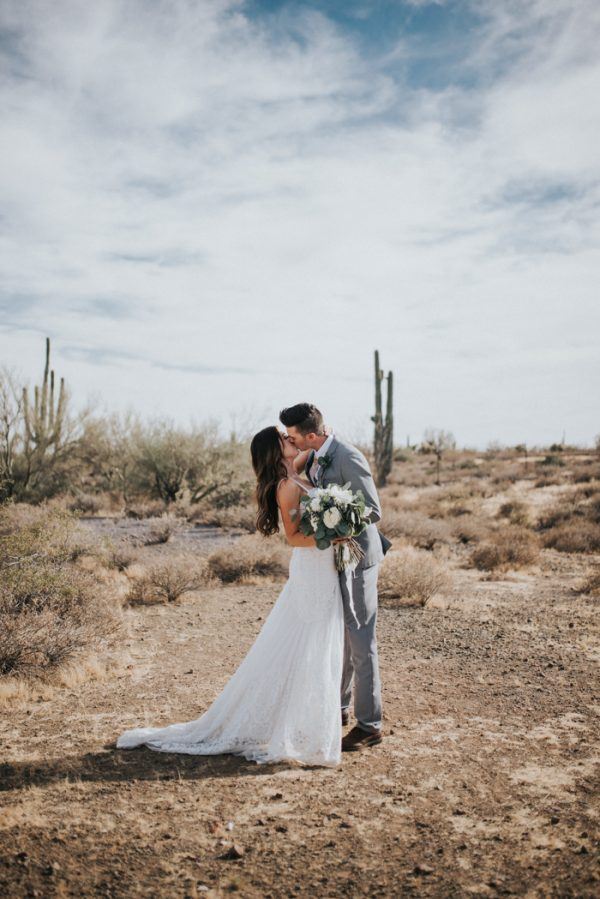 Keeping it all in perspective was the most important part of planning. Keep it simple and easy breezy. Wedding planning can be stressful and you can want to have every detail be absolutely perfect but at the end of the day its all about you and your partner joining lives together as one with all of your loved ones beside you.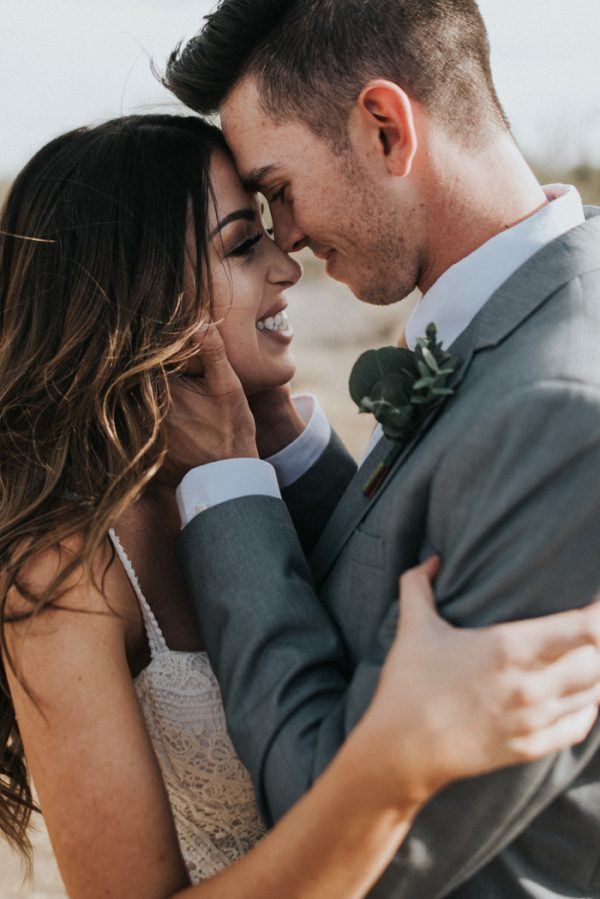 Enjoy every moment. Every single moment, interaction, hug, conversation. Soak it ALL up. Our day went fast, I look back on our wedding photos and I am so grateful our photographers captured the details so wonderfully, the day happens so fast and its hard to take in every single tiny detail that we had spent months agonizing over. Remember that at the end of the day you are marrying your honey and that is something to be celebrated and enjoyed! Every detail is so special but not the main point of the day!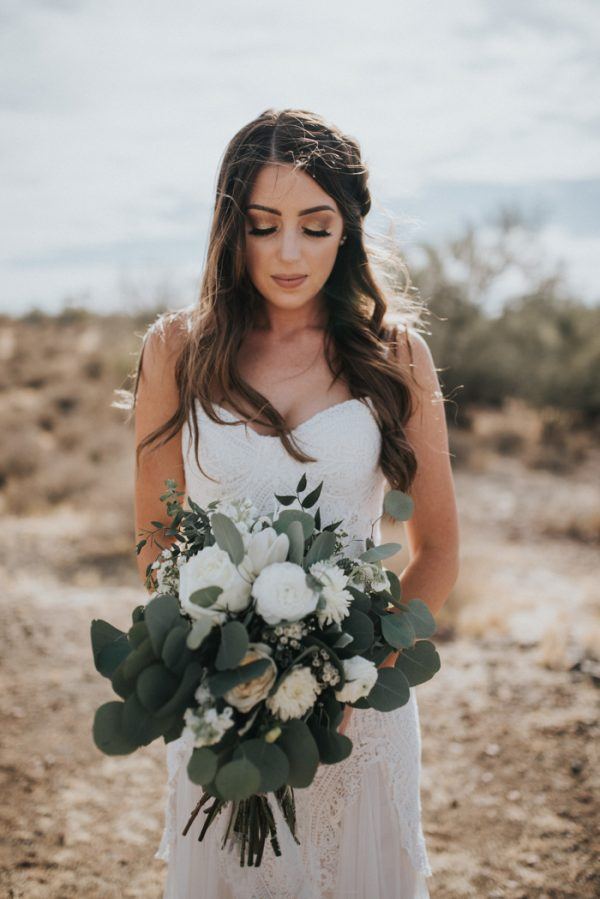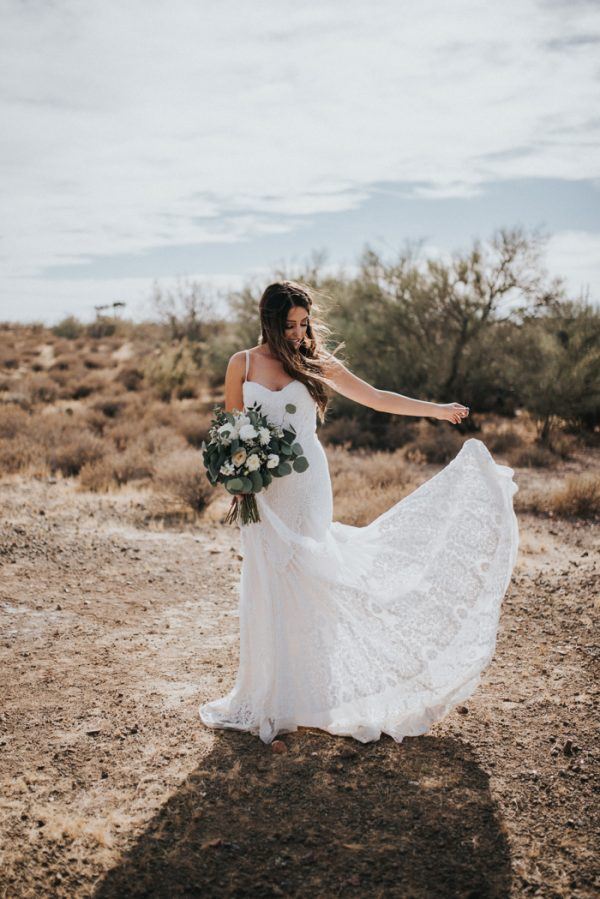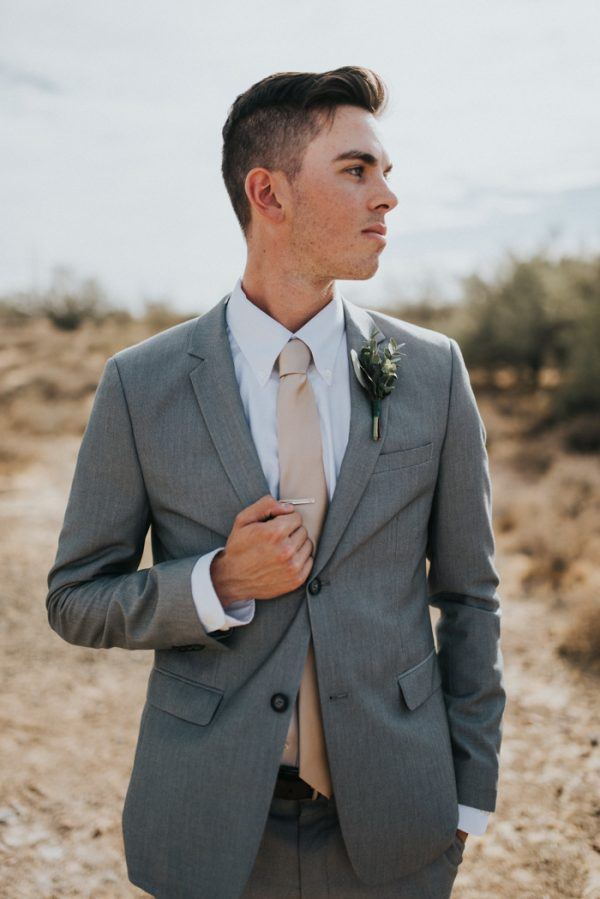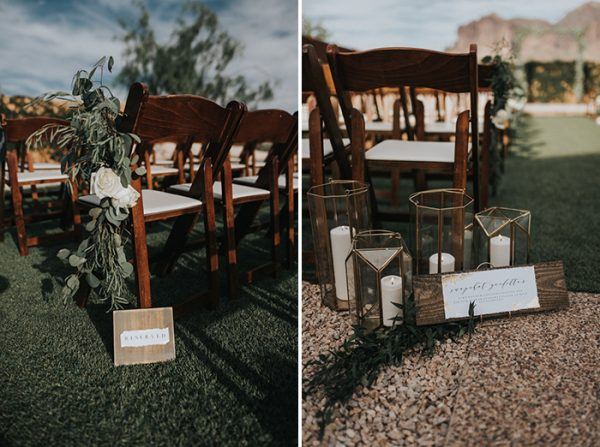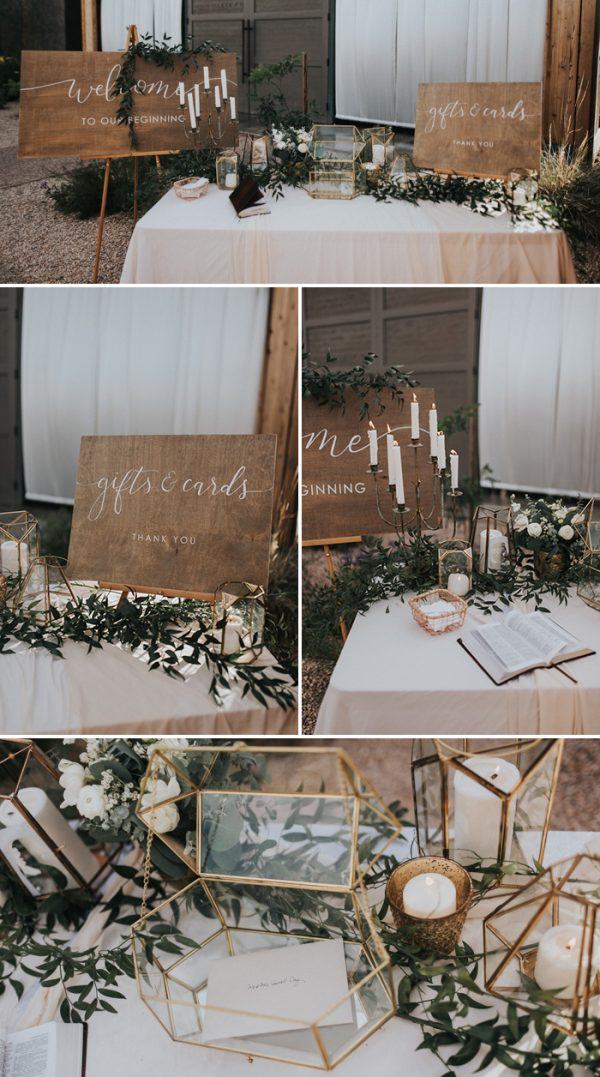 SHOP THIS LOOK: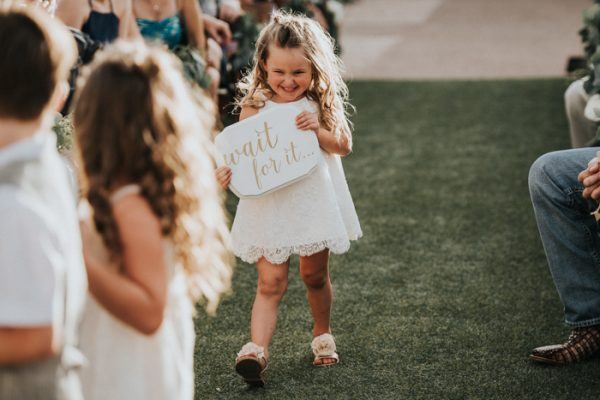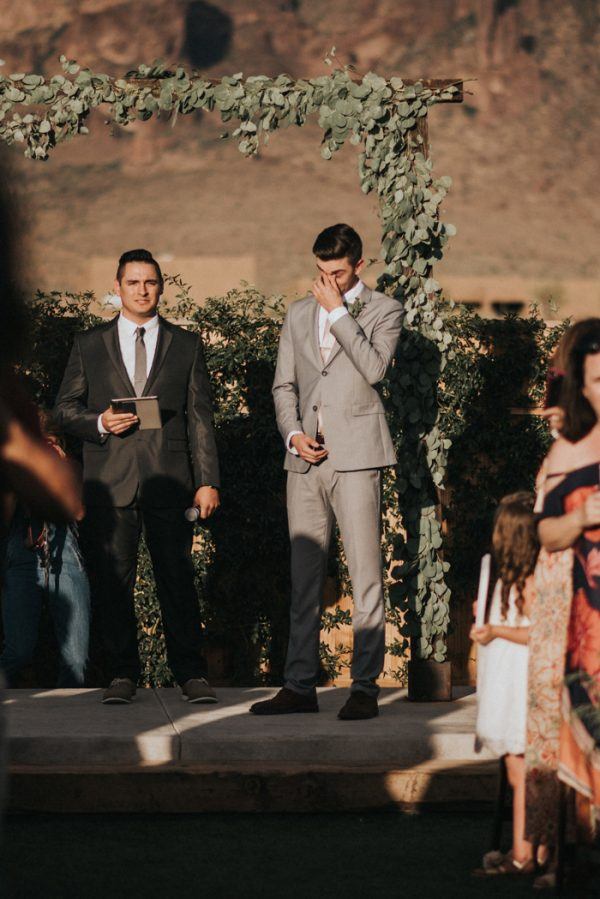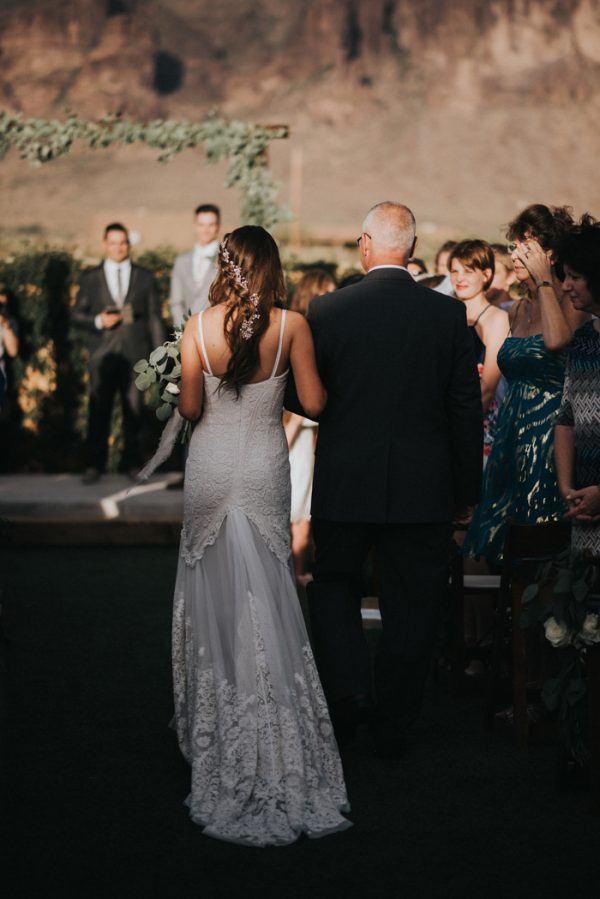 Our venue backed up to the Superstition Mountains. Garrett had proposed to me about 100 yards east of our wedding venue (we had no idea at the time that it was so close!) it only seemed fitting to continue the celebration of us joining together at a venue near where he proposed! Now the Superstition Mountains are a place we will cherish and can go visit and relive some of our most special memories.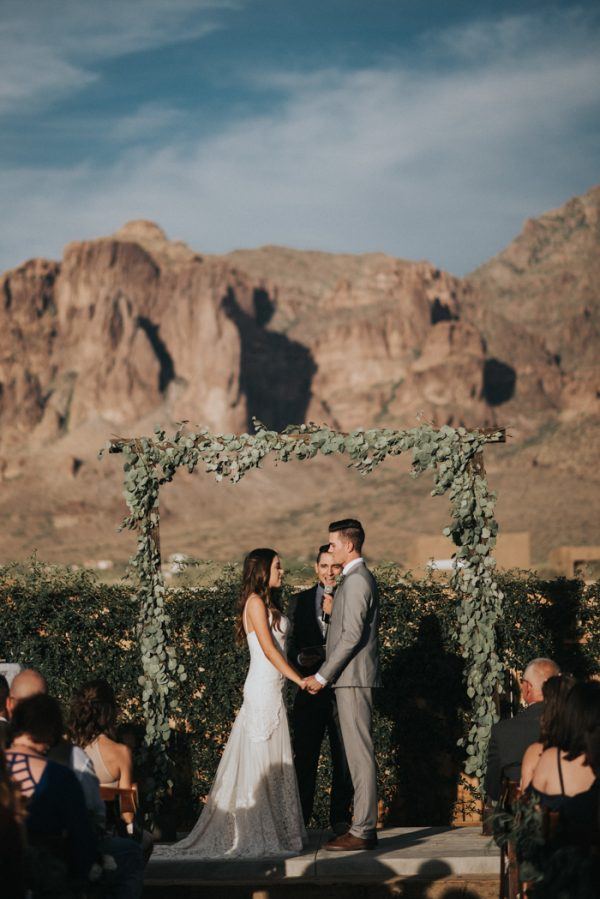 Prior to our wedding, we had met with a pastor of our church do pre-marital counseling with the both of us. This was a great way to get to know him and for him to get to know us. As well as allowed him to speak wisdom into our marriage. From our conversations there, he made a custom ceremony fit specifically to us and intertwined parts of our discussions into our ceremony.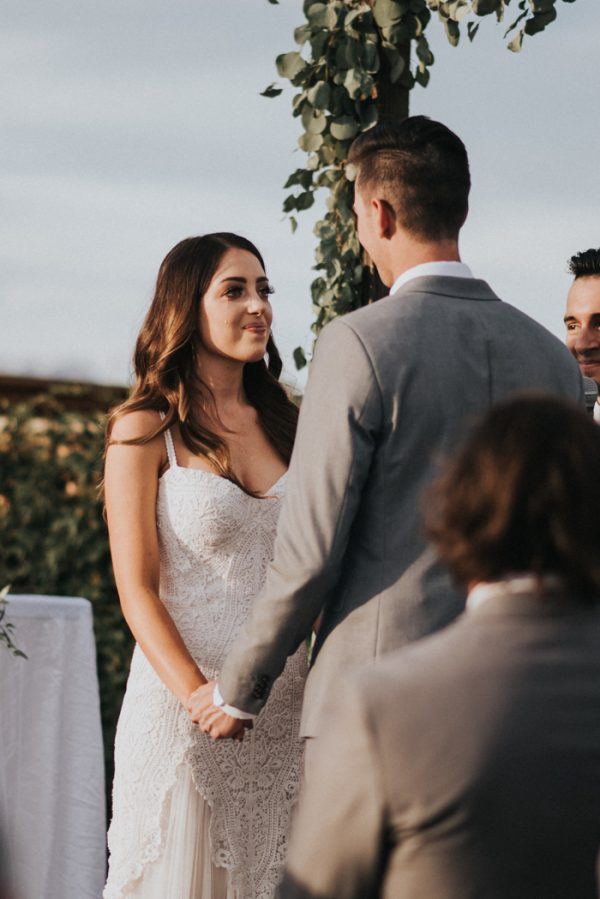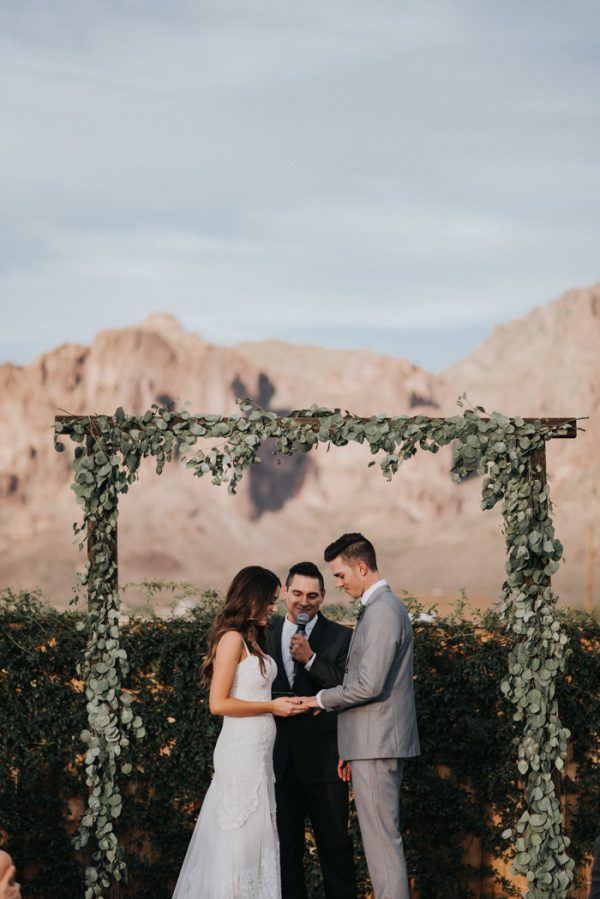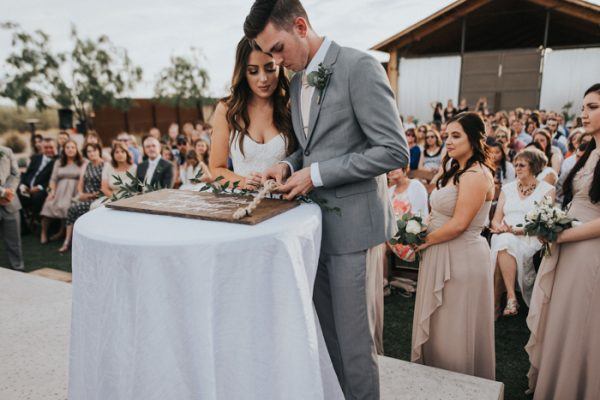 We believe marriage cannot be all that it is designed to be without a solid foundation in Christ. We wanted to show a visual representation of this importance during the unity portion of our ceremony. Though unity candles are great and meaningful, we wanted a visual display that we could hang in our home for years and year. We ordered a custom board off Etsy from Gracefully Made Art. The board referenced the verse Ecclesiastes 4:12– "Though one may be overpowered, two can defend themselves. A cord of three strands is not quickly broken." Our board said, "a cord of three strands is not easily broken." To us, this was a perfect visual of what marriage should be. Attached to our board were three rope strands that we braided during our ceremony symbolizing the interlacing of husband and wife, God, and community into a cord of three that together, cannot easily be broken. Without the support of God and the church community husbands and wives can fail. The strength and stability come from the interlacing of each of these elements.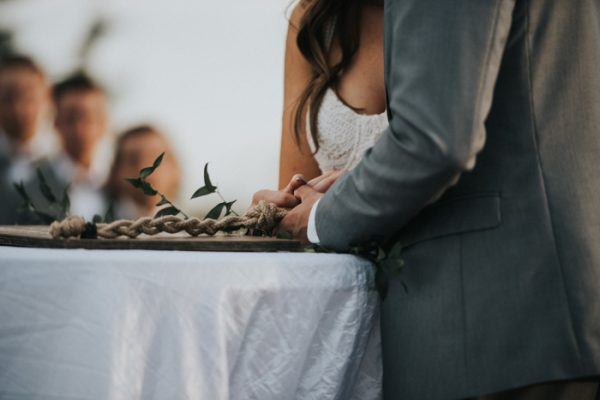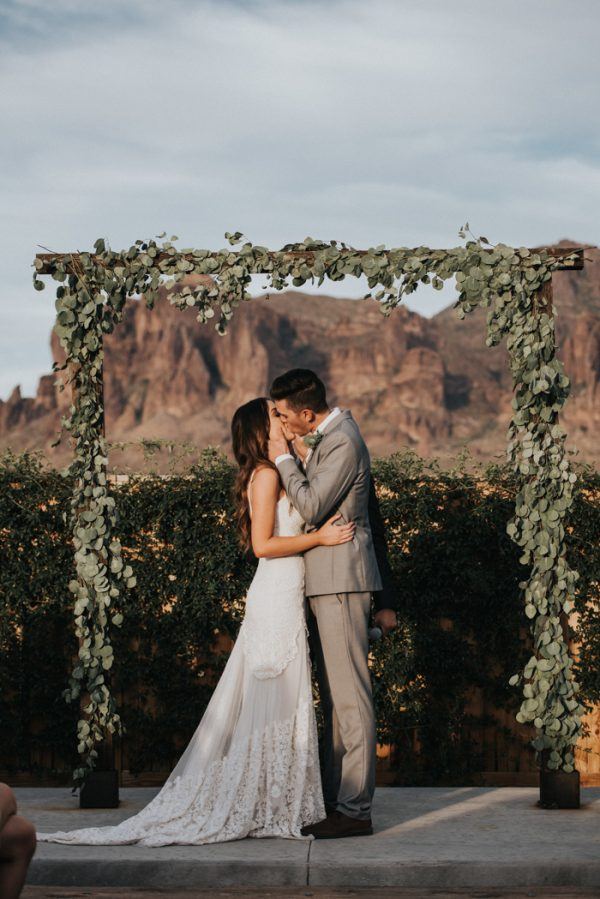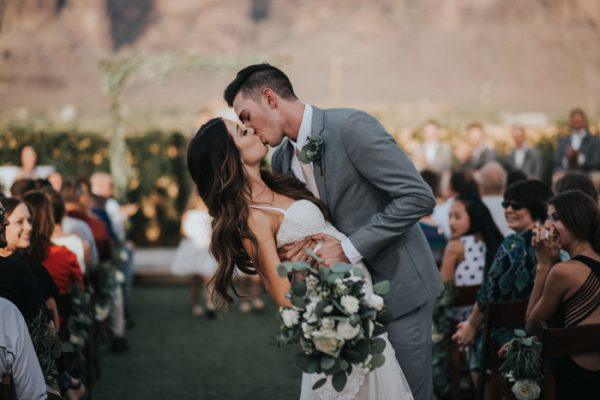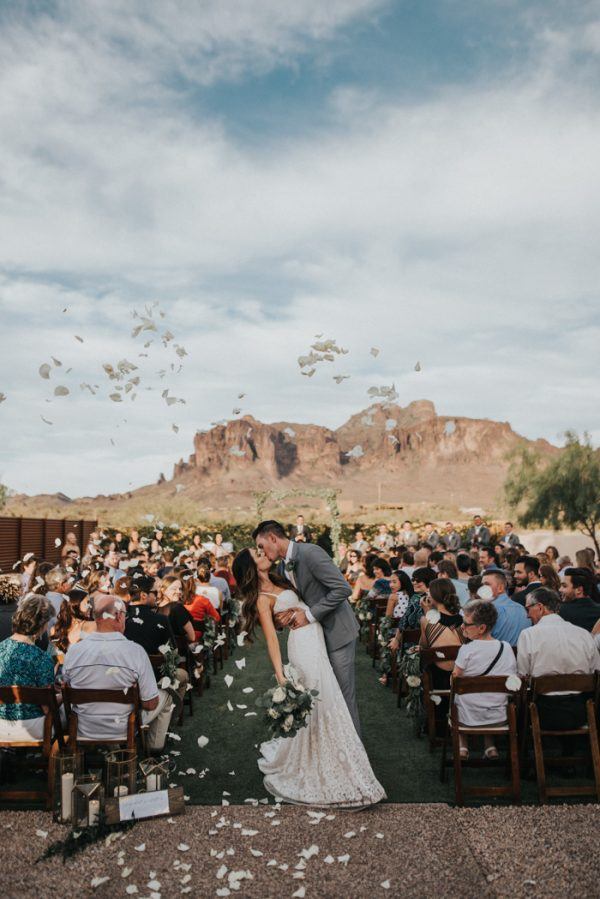 We wanted our wedding to have a timeless feel. Wedding photos are images that we will want to display in our home for forever, neutrals and the desert will never ever ever go out of style. They will never clash. We know that our wedding photos will always be a nice addition to our future home!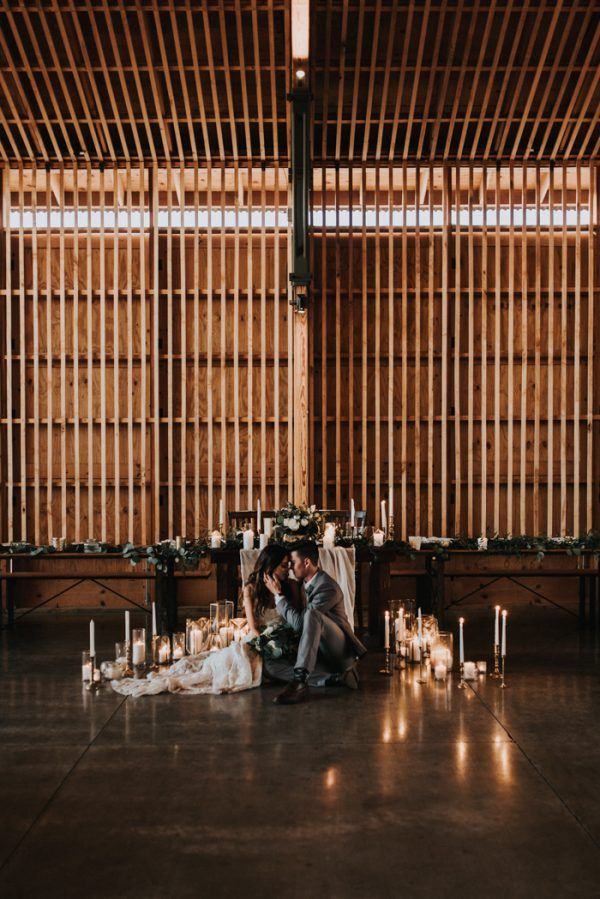 Jonnie + Garrett are long time friends of ours. We were actually the first couple they ever shot when they first started! With that history, we knew that we wanted to have them shoot our wedding. We knew they were gonna be great to work with but holy cow, they even exceeded all expectations. They were extremely organized leading up to the wedding as well as day of. They captured each moment genuinely. Nothing is worse than a photographer saying, "Okay now stand there and smile", Uh no, Jonnie + Garrett are wizards at capturing the raw emotion in each tear, smile, touch, and embrace. They never missed a beat and were completely in control of the larger group shots.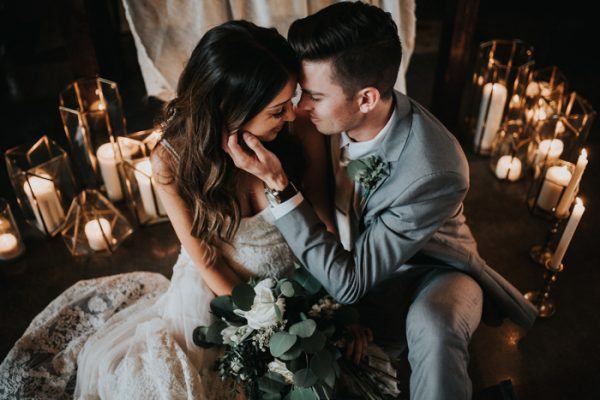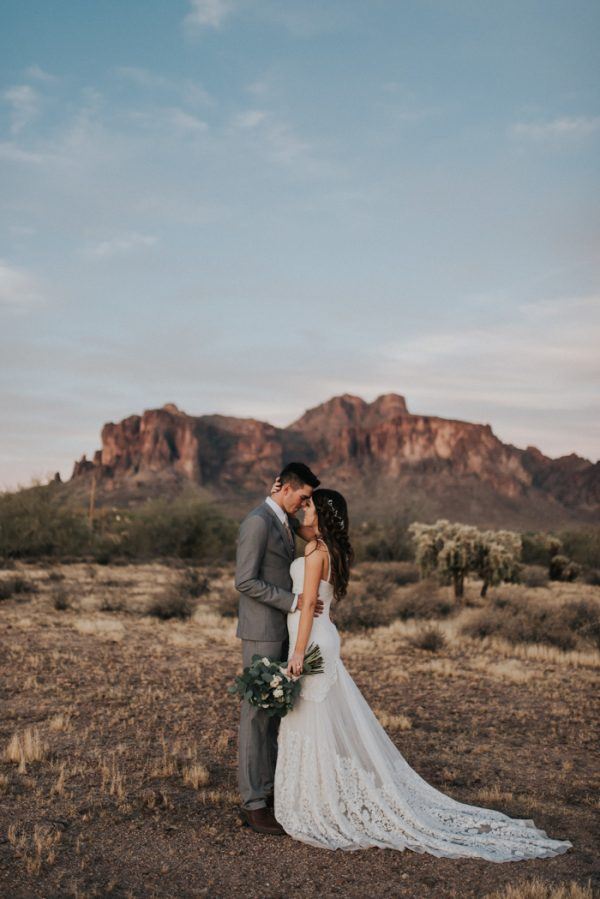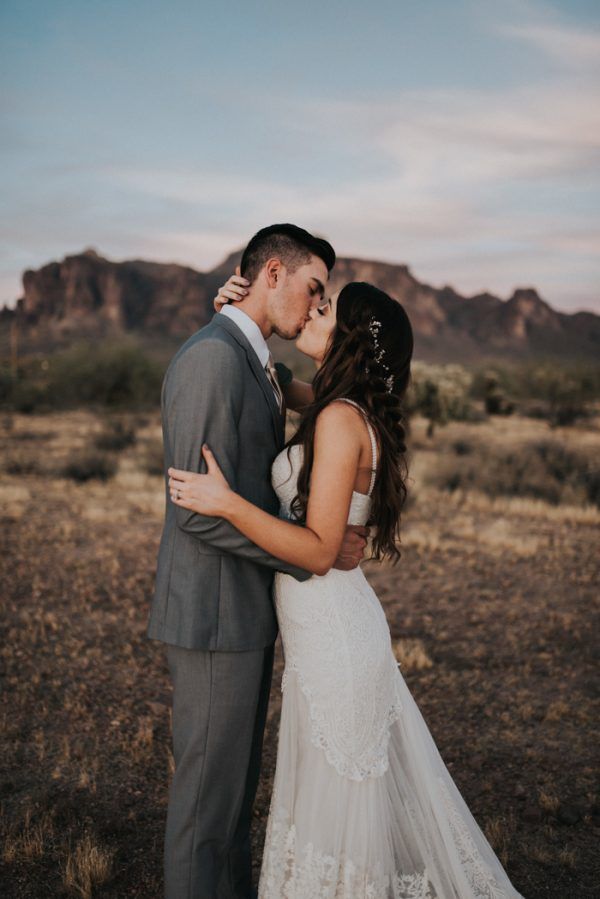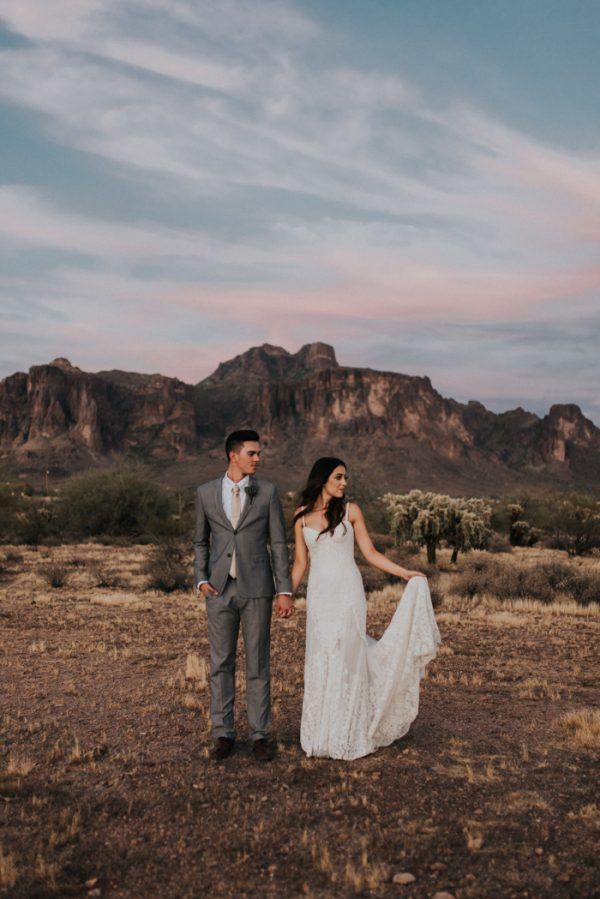 We wanted our wedding to be timeless and let the beauty of our venue speak for itself. When planning, the words we had in mind were a "desert boho" vibe. Keeping with neutrals, bringing in metal accents, and a TON of greenery. Our keywords for inspiration were: minimalist, timeless, classic, desert vibes, earthy. To us there is nothing more distracting to the eye that a neon colored bowtie and accents. We wanted the beauty of the Arizona desert and our love to shine through our photos. Having a muted palette let Jonnie and Garrett capture images that we will never look back on and think, "ahhh what were we thinking!?".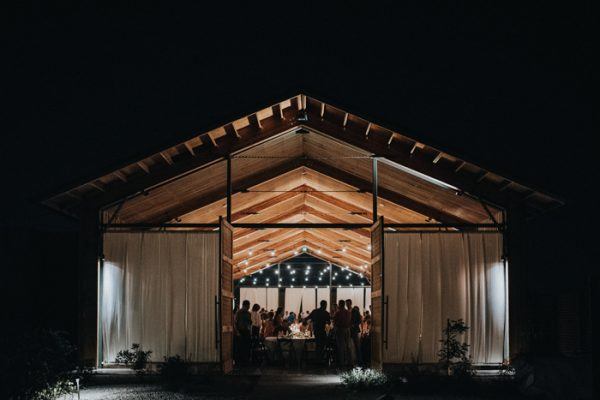 Garrett and I are both 100% fueled by coffee. It was wayyy too hot to have a coffee bar at our wedding so we thought a cool way to incorporate it into our wedding would be to give it to our guests as a "thanks for coming" treat. We ordered custom bags off Etsy from Poppy & Erie that each held a few ounces of coffee. The bags said "The Perfect Blend, Garret & Megan, and our wedding date."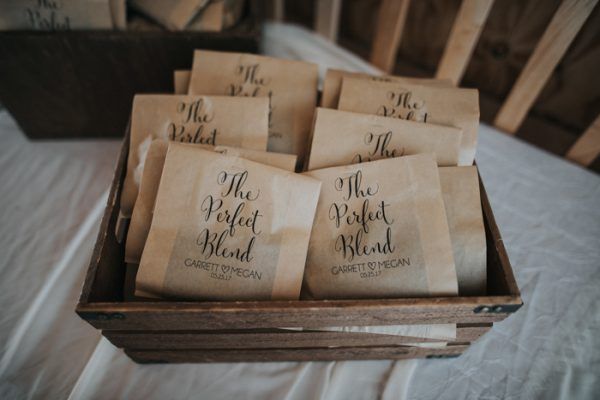 Bridal Party Processional: Love Someone by Jason Mraz
Bride Processional: Processional by Josh Garrels
Recessional: Anything Could Happen by Ellie Goulding
First Dance: Wanna Be That Song by Brett Eldredge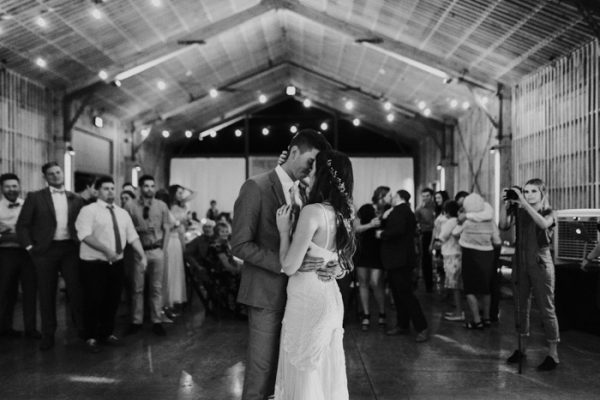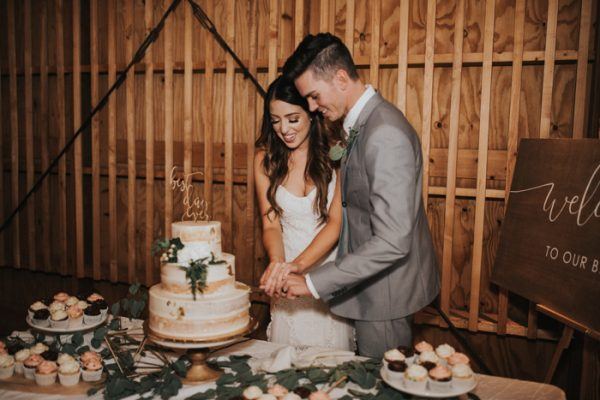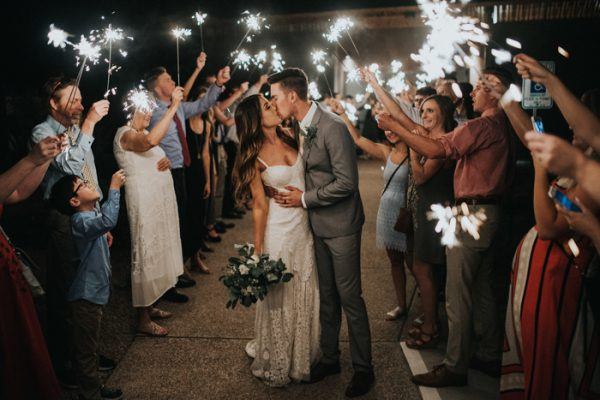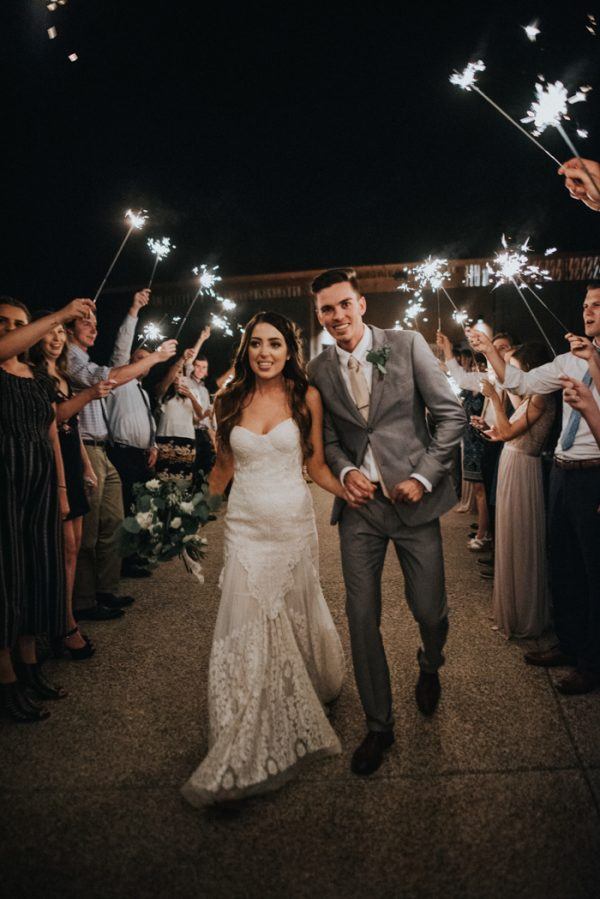 A heartfelt congratulations to Megan and Garrett, and a special thanks to Jonnie + Garrett Wedding Photographers for sharing their day with us. Love this photography team's style? Take a look at their very own wedding that was featured on Junebug and has edgy chic campground vibes!