Surrounded by a beautiful pastoral setting with 100-year-old oak trees and green fields as far as the eye can see, Katie and Nathan were married at the 19th century Swift Level Farm estate in Lewisburg, West Virginia. The entire magical day was captured by Emily and Bobby of The Oberports.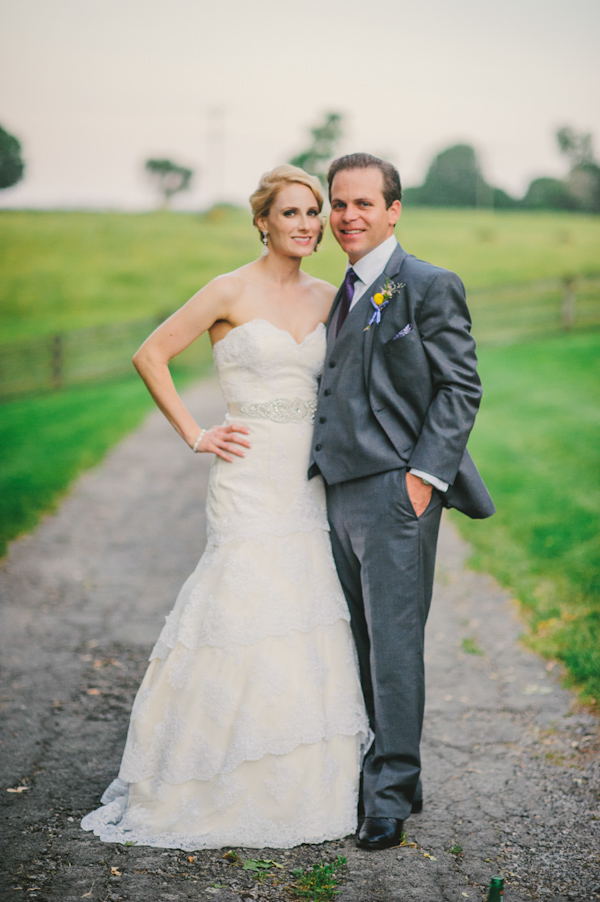 The Couple: Katie and Nathan
The Wedding: 6.15.2013 – Swift Level Farm, Lewisburg, West Virginia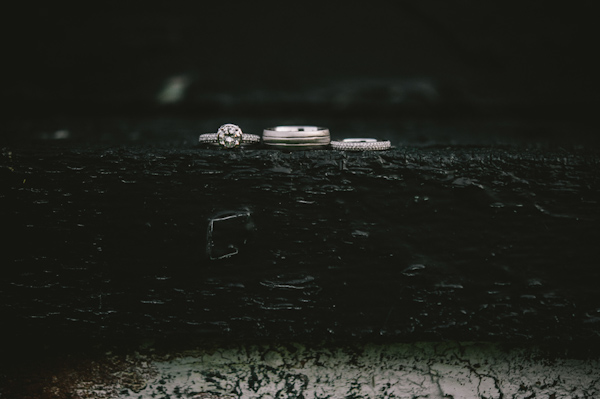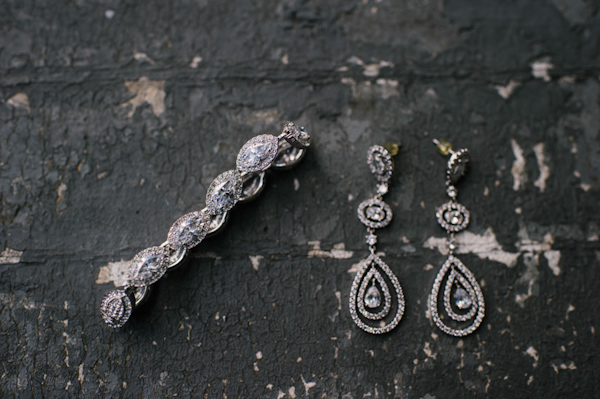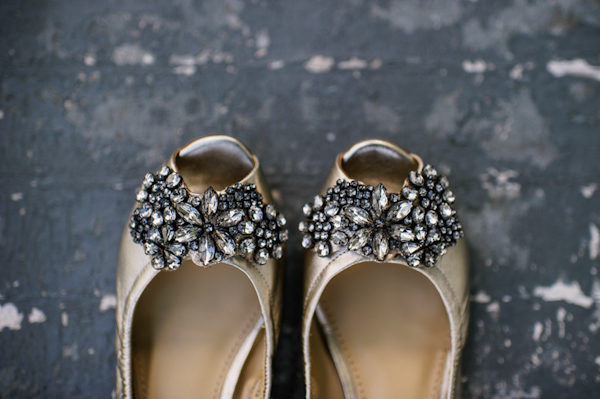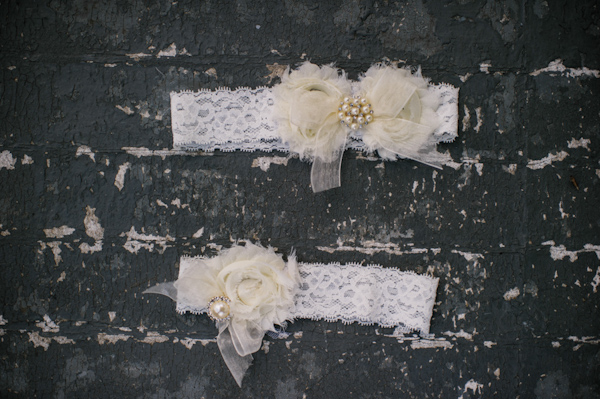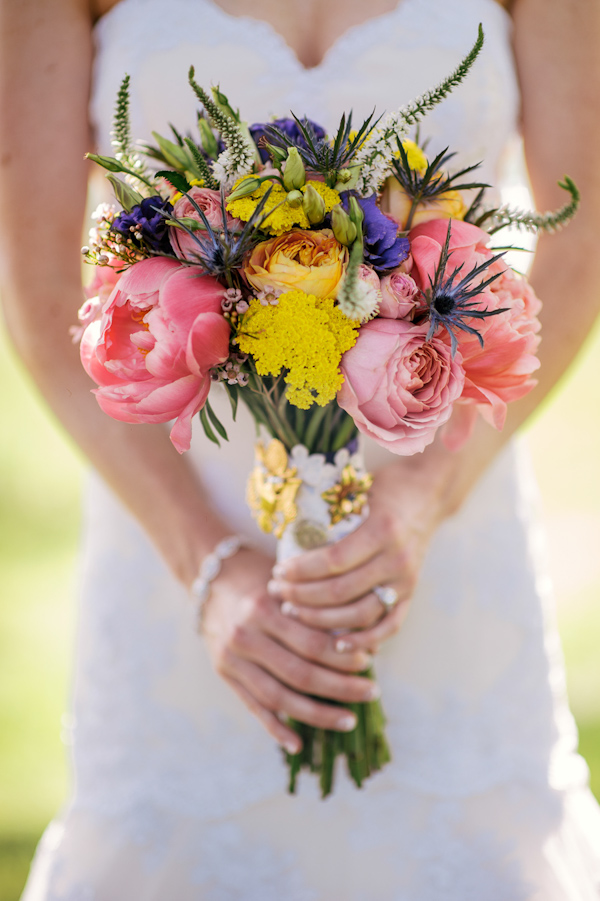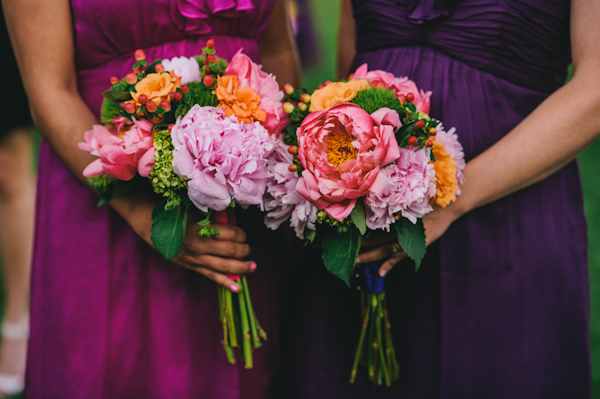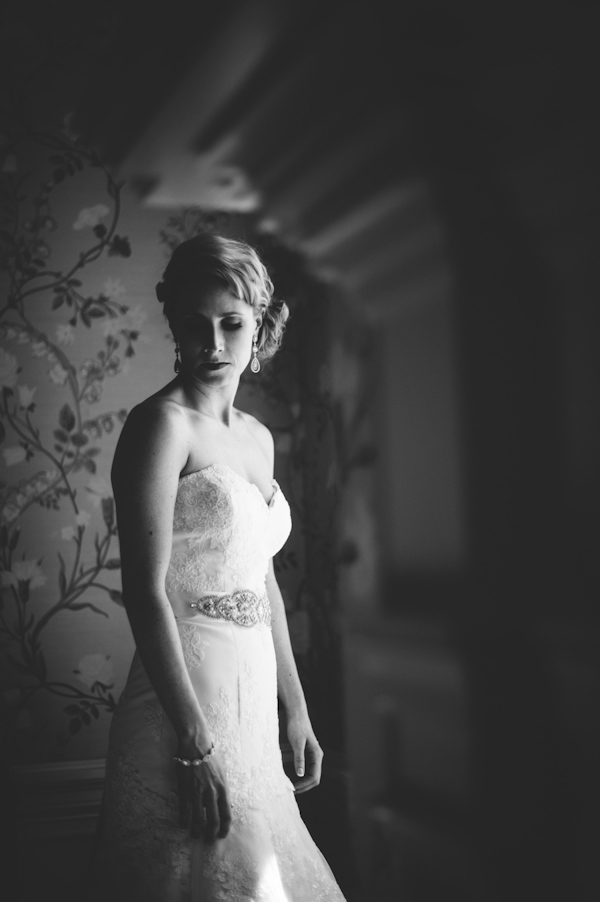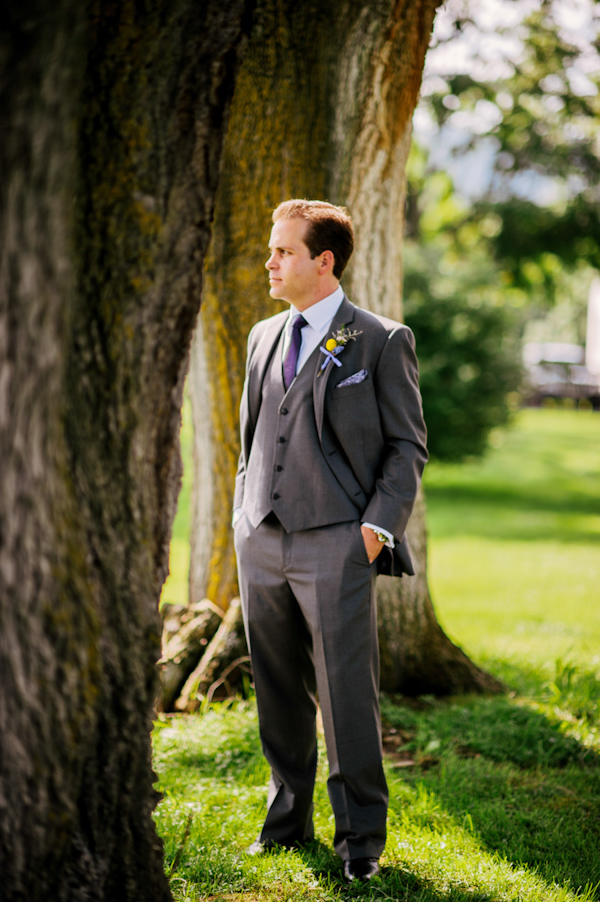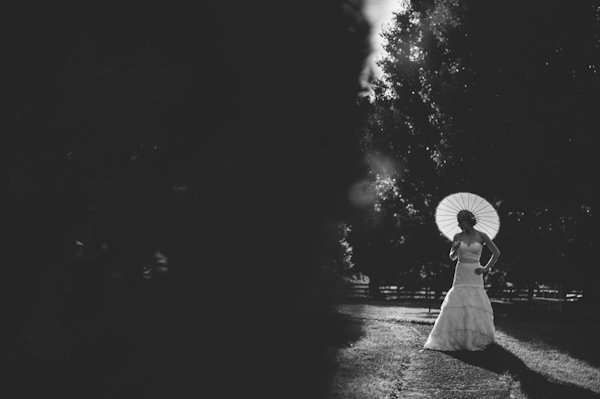 The Goals: Our most important goal starting out was finding a wedding planner. I knew planning a wedding from the other side of the country was not going to be easy. After doing our research, we flew back to West Virginia where along with my parents we met Belle Manjong of B. Belle Events. After the first meeting we knew we had found the best wedding planner possible! I was the bride with lots of ideas and expensive taste, so it was important to have a planner to keep me on track.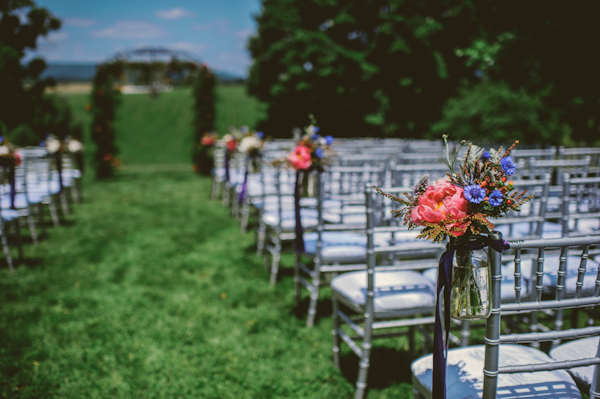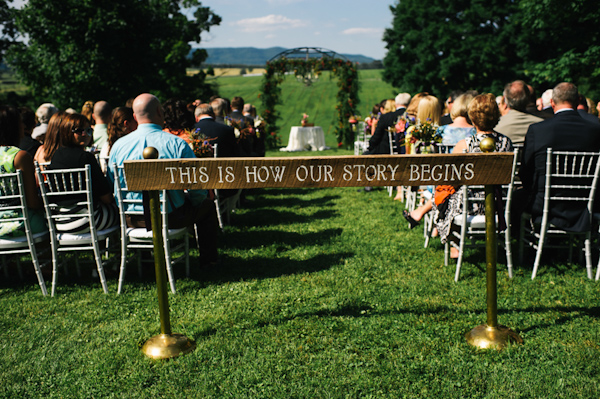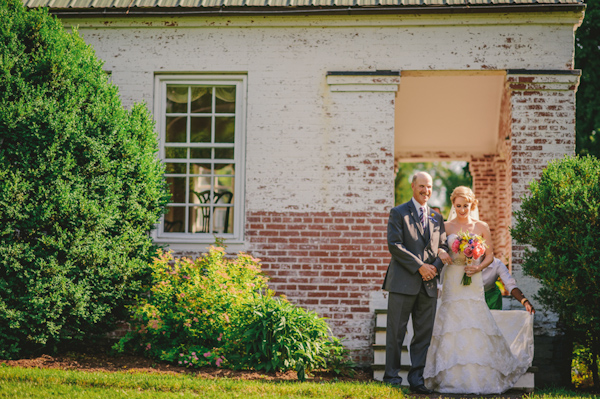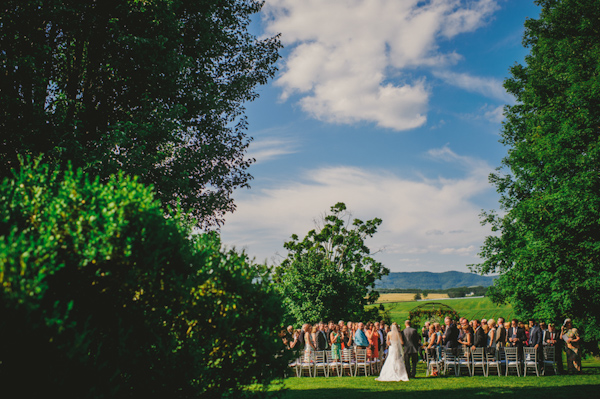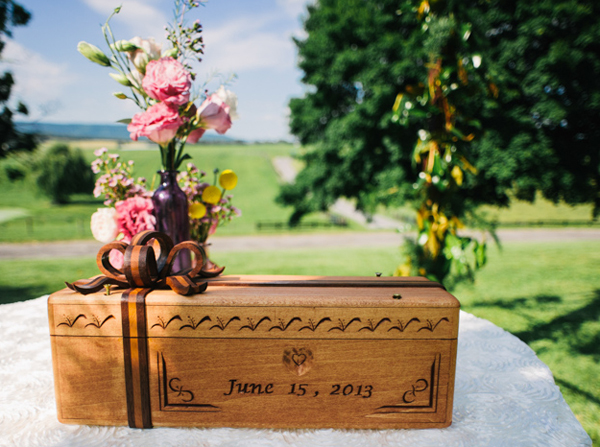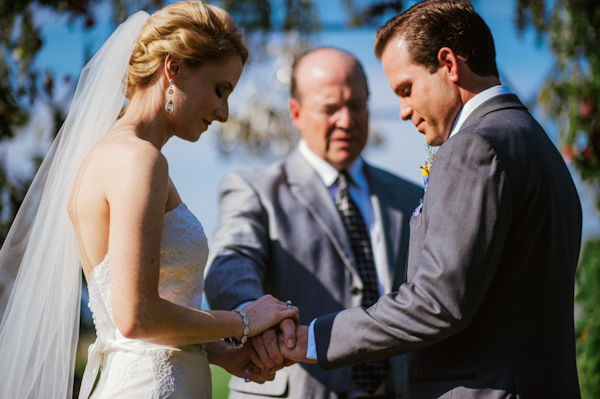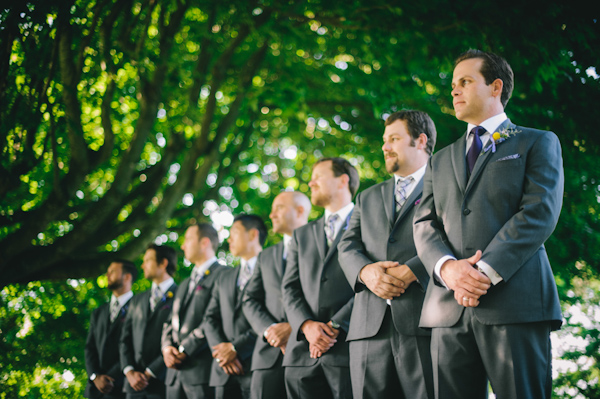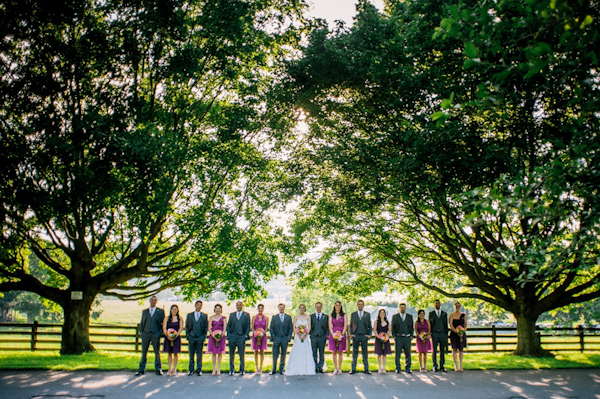 The Design: It was important to both of us to get married back in West Virginia as most of my family is still there. I love where I was born and raised and will always refer to West Virginia as home! When hunting for a wedding venue we knew we wanted to be surrounded by the things you don't find near our current home of Southern California. After talking with our planner about our vision she suggested we consider a farm in the Lewisburg area. We looked at several venues during our trip but once I saw Swift Level Farm I fell in love with the beauty that the surrounding nature offered. It was everything we were looking for, with the large green fields, the rolling mountains, beautiful ancient trees, the smell of crisp clean air, the openness and peace and quiet.
Lewisburg turned out to be the perfect place to host our wedding. We kept our out of town guests in mind while planning. We knew traveling from California wasn't going to be easy so we wanted a location relatively easy to get to. Lewisburg is rich in history and with the beautiful historical Greenbrier hotel ten miles from our venue, our guests were able to enjoy many outdoor activities as well as stay in the fabulous resort.
One of my favorites things about the farm was that we had access to the Main House which dates back to 1828. All of my bridesmaids and I stayed in the house the weekend of the wedding. It was so fun to be able to spend that time with the girls and the best part was that everything came to us, we didn't have to travel anywhere the day of the wedding. My California girls especially loved waking up in the farmhouse as it was so peaceful out unlike the city. I cannot rave enough about the wonderful hospitality that we received and of course the amazing views of the farm and lush valley that we woke up to along with the birds chirping.
My father enjoys wood carving so we incorporated some of his work into our wedding. We did a wine box and love letter ceremony using a wooden box that my dad made from scratch and hand carved for us. It's a beautiful reminder that we have sitting on our fireplace mantel where we plan to open it on our fifth anniversary! He also made us a beautiful wooden frame from old barn wood which he then carved our wedding date into. We hung it from a tree and used it as our photo booth for our guests to enjoy. We look forward to framing one of our wedding pictures in it soon.
When deciding on a color palette I wanted something that would pop with all the greenery we were going to be surrounded by. Purple tones seemed to do just that so I went with a magenta and eggplant. I also wanted a variety of flower colors to be used in the bouquets and table arrangements. We had a rustic feel that fit in with the farm but with a pop of color. For our table arrangements my planner was able to find us some beautiful wooden crates that we used with mason jars filled with a variety of flowers. We used a mixture of farm tables and round tables under our tent along with a variety of gorgeous linens. I mentioned to Belle that I wanted to use mix-matched China for our sit down dinner, so she spent a year collecting a nice variety for our special day.
Our guests received burlap welcome bags when they checked into their hotels filled with biscuit mix and homemade jam. Living in California, biscuits are something you don't find very often on menus and they are something I miss and always reminds me of West Virginia.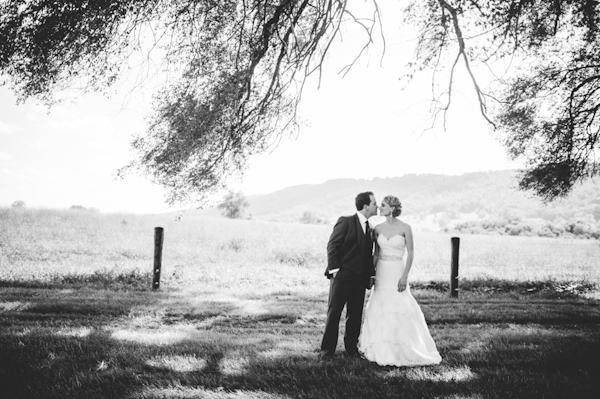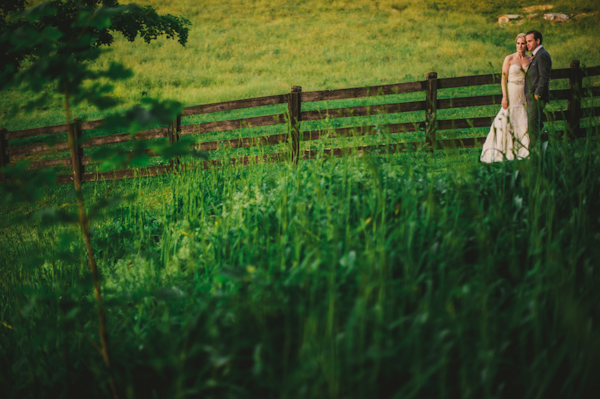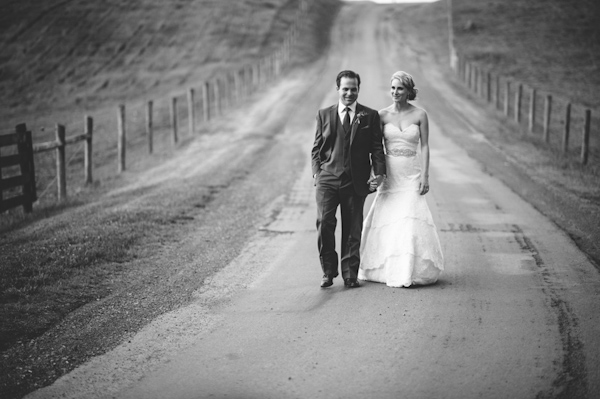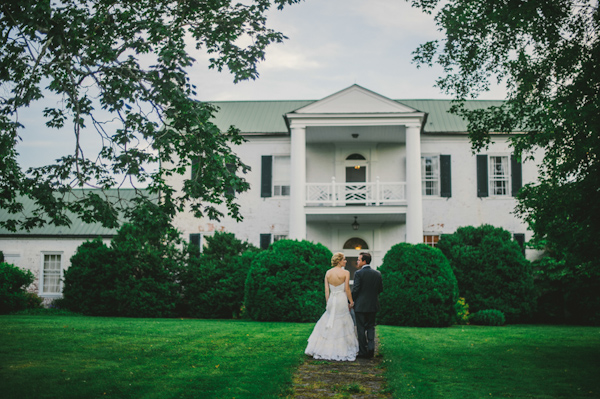 The Look: My wedding gown was made of Alençon ivory lace with an elongated bodice, strapless sweetheart neckline, scalloped tiered skirt with a beautiful chapel train. I thought the lace fit perfectly with our venue and the feel of our rustic outdoor wedding. I chose a different sash than the original one from the dress. I fell in love with a Martina Liana satin ribbon sash that had a gorgeous beaded applique; it definitely completed my dress. I also fell in love with the earrings that I found. I spotted them on a bride from a previous wedding blog and then saw them months later in a magazine, which I used as my "something new".
For my "something old" I wrapped lace from my mother's wedding gown around my bouquet and fastened it with brooches from my late grandparents. My aunts gave me my grandpa's Army Crest Officer's pin from his military cap from World War II and two of my grandmother's brooches. It really meant a lot to me and I thought of them several times throughout our day!
When shopping for bridesmaid dresses I wanted to find a designer with several different style options. It took awhile for me to find the perfect shades of magenta and eggplant that I wanted but I was so pleased when I did. It was nice letting my girls choose the style they felt most comfortable in.
I really enjoyed shopping for my bridesmaids gifts, which I gave to them over a bridesmaids luncheon at The Greenbrier the day before. I found beautiful handmade robes that I ordered in a variety of colors. It was fun to have something to wear while we were all getting ready together. I also found earrings that went well with both color of dresses. I felt that both of these were things that they would all use again!
The guys wore charcoal gray suits by Vera Wang. We shopped for ties that had both of my bridesmaid colors in them. This was a little tricky to find but we lucked out; we also found similar ties with different patterns for our fathers.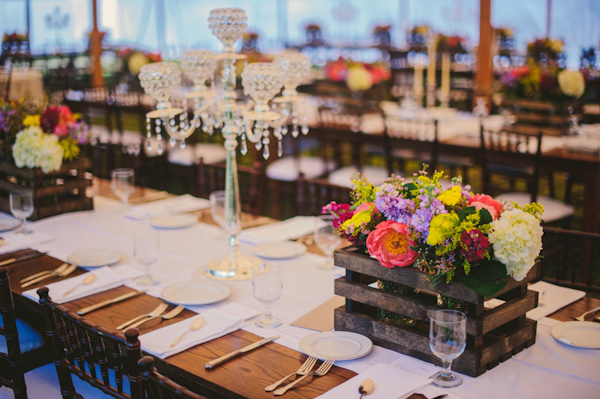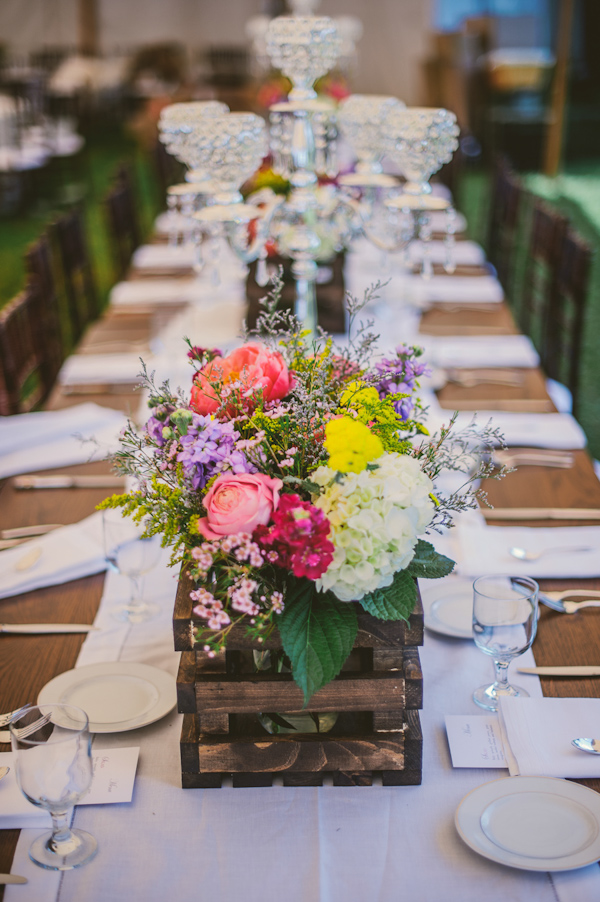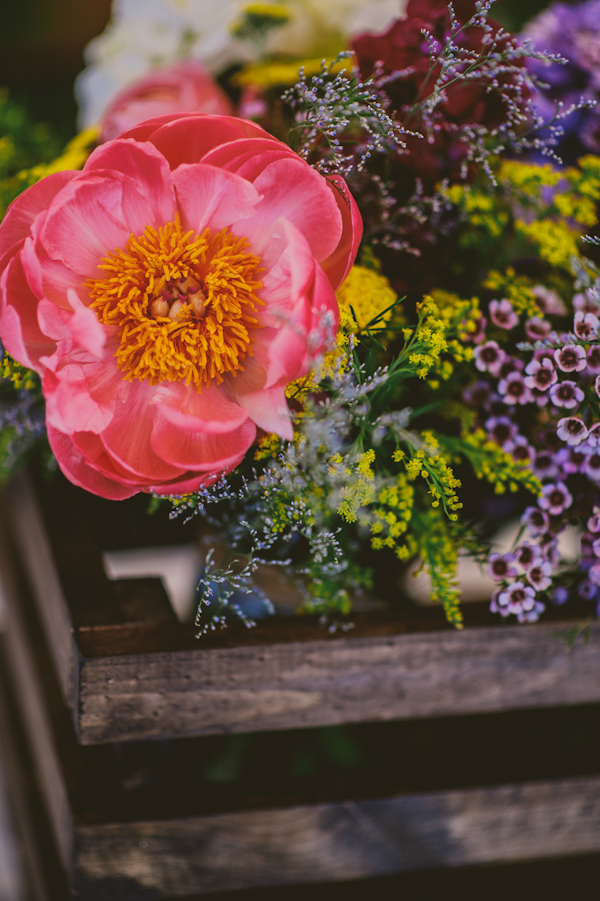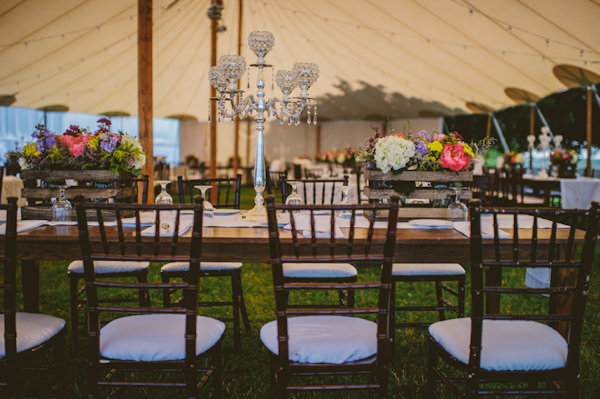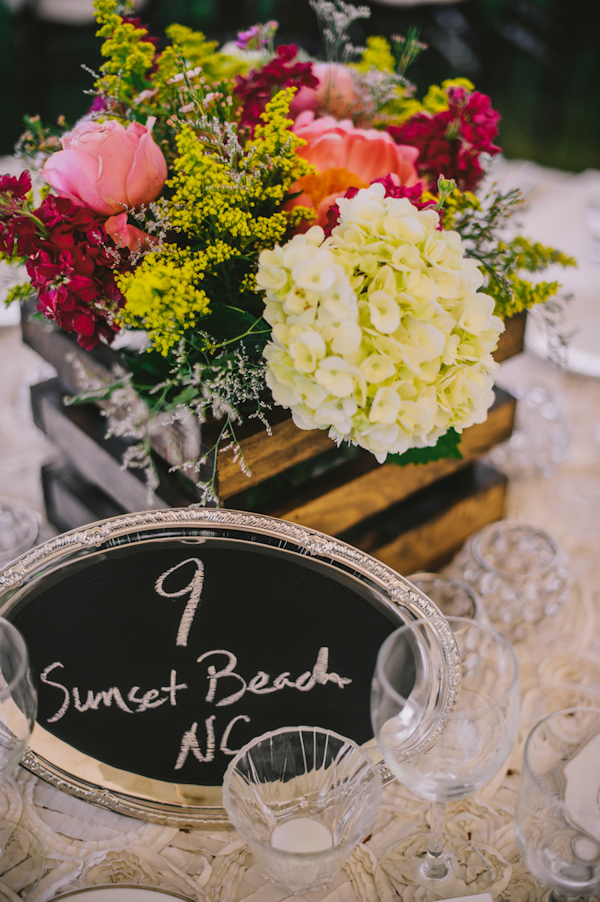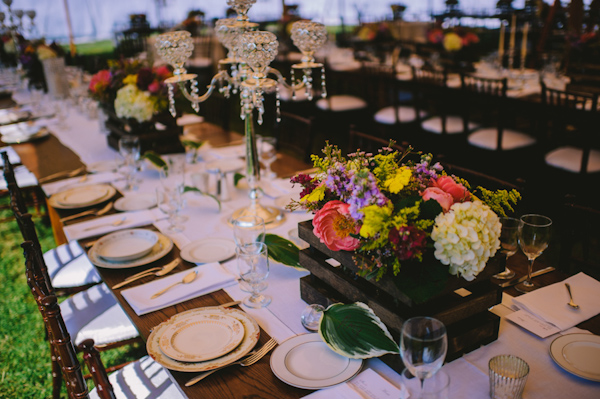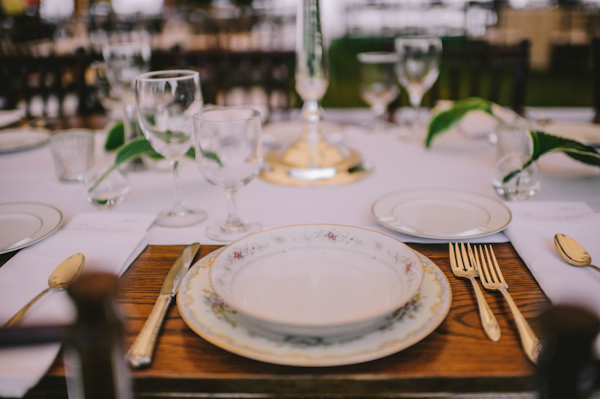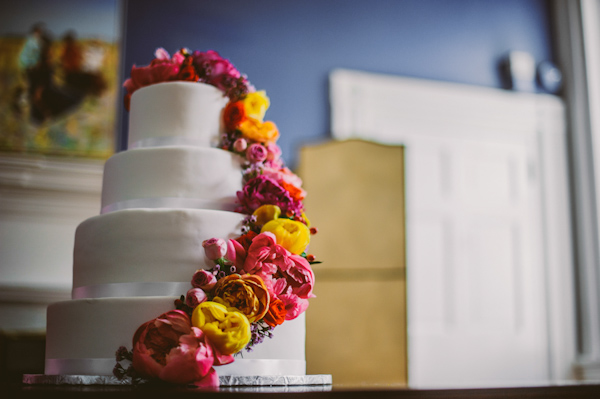 The Moments: Thinking back we have several favorite parts of the day. First of all, we were truly blessed with a gorgeous day filled with just the right amount of sunshine as it wasn't too humid. We had a monsoon a few days beforehand, in fact a lot of our out of state guests had complications with their flights because of the weather. But needless to say the weather on our day could not have been more beautiful! I will forever be grateful for that considering all of our wedding took place outside.
Doing the first look was definitely a wise choice of ours as it helped ease both of our nerves and it was nice to spend some alone time together before the day took off. Another favorite moment was right towards the end of dinner when our photographers came over and had us step away for some pictures before the sun set. It was nice to step away for about ten minutes and take it all in. I can still remember walking back up to the reception area and what a great feeling it was to see all of our loved ones mingling, dancing and having a fun evening.
Our first dance was another moment that puts a smile on my face thinking about it. Nate is a huge Dave Matthews fan so we had the perfect first dance song. He's not a guy who likes to dance so I know his mother and I definitely enjoyed it.
Even though our reception was tented I wanted the dance floor out in the middle, so we could dance the night away under the stars and be surrounded by the fireflies. Towards the end of the night our DJ played "Country Roads" and all our guests gathered around us on the dance floor in a circle while everyone sang on top of their lungs; such a sweet sweet memory!
Our wedding planner then surprised us at the end of the evening with sending off paper lanterns. They called for the two of us to be the only ones on the dance floor while she gathered everyone on the side and they all starting lighting their lanterns. We all stood there in awe as we watched each lantern carry off into the dark night sky. Our venue was the perfect setting for that with all the surrounding pastures and valley. It was the perfect ending to our magical day!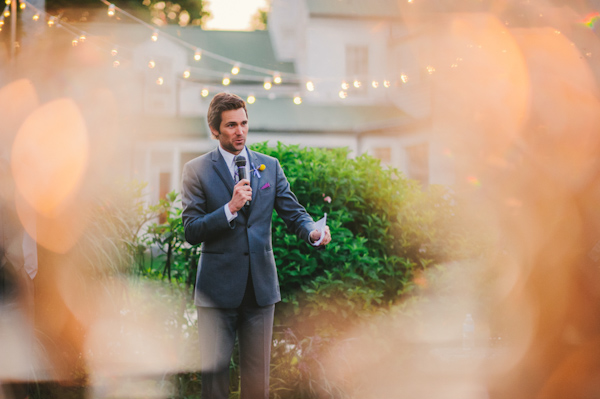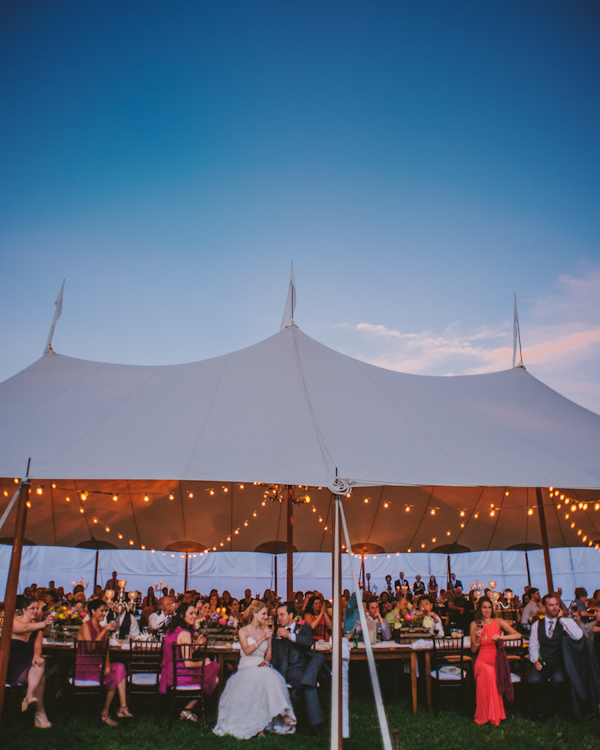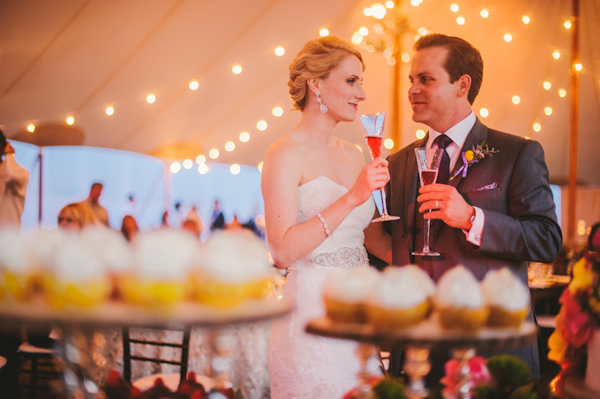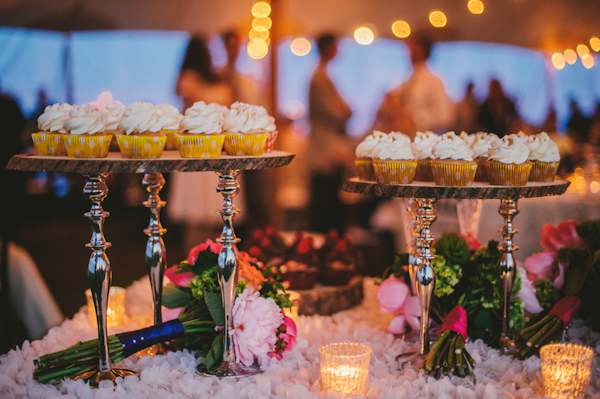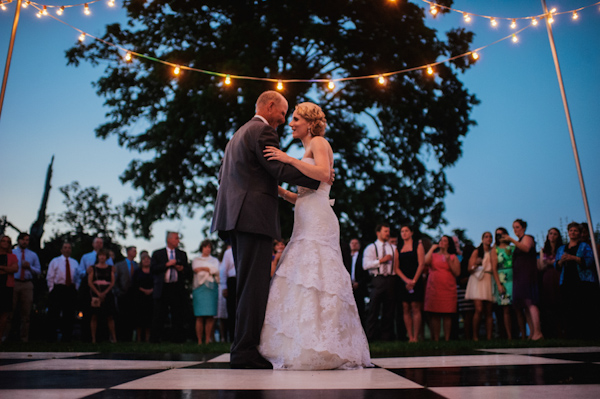 The Advice: Stay true to yourself throughout the entire process and incorporate things that mean the most to you as a couple even if it's not traditional. I would definitely recommend hiring a wedding planner especially if you are planning from a distance! Don't cut your budget too much when it comes to photography! Over the past few months I realize more and more just how important that decision was. It's the one thing that you will look back at over and over and share with your loved ones. I am so grateful for Emily and Bobby because they truly captured our day perfectly and have been such a pleasure to work with! Our biggest wedding planning success was hiring B. Belle Events and The Oberports because our day would not have been what it was without them! And of course throwing such a wonderful party and showing all the out of staters just how beautiful my home state of West Virginia is!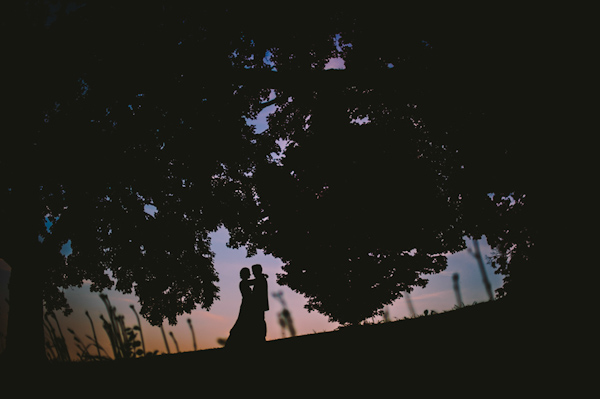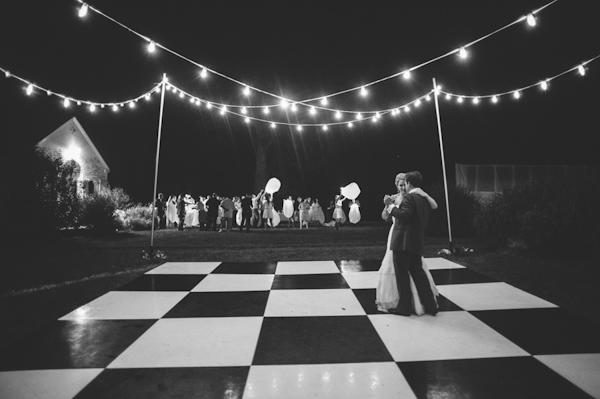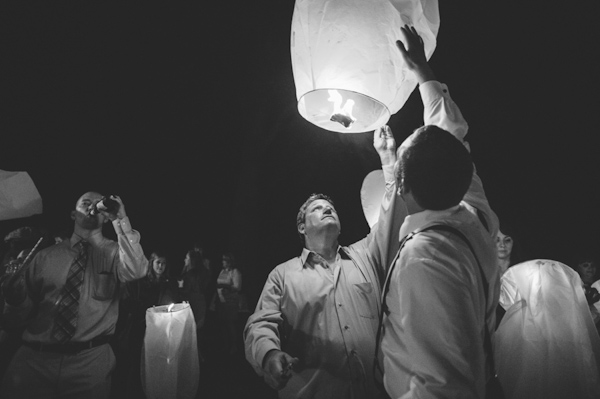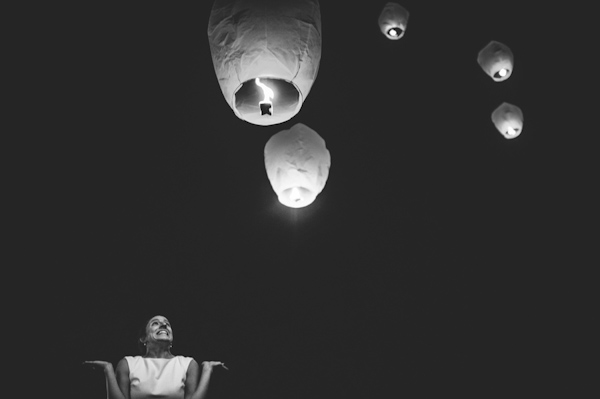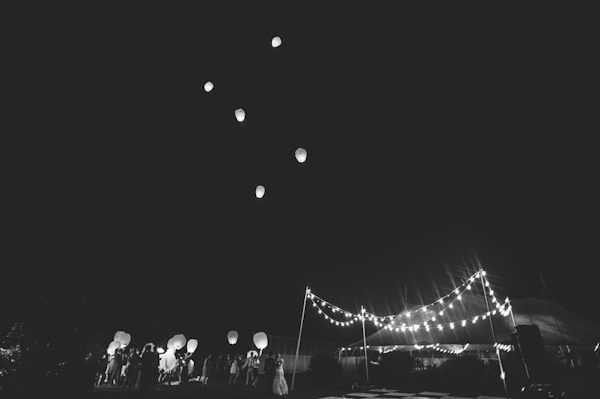 The Wedding Team:
Photographer: The Oberports
Event Planner: B. Belle Events
Ceremony and Reception Venue: Swift Level Farm
Videographer/Film Maker: Josh Nibert
Officiant: Jim Mike Ward
Invitation Designer: Bella Figura
Catering: Stella's of Lewisburg and Meticulous
Florist: Gillespies Flowers and B. Belle Events
Cake: Petra Newkirk of Cakes by Appointment
Dessert: Lil' Bit of Heaven Cupcakes
Wedding Dress: Tara Keely via Blush Bridal Couture
Bridal Accessories: Martina Liana via Blush Bridal Couture (sash), Vera Wang via Neiman Marcus (shoes) Nardi via Nordstrom (bracelet), Tejani Jewelry (earrings), Hair Comes the Bride (hair comb), Nana Rose Designs (garters)
Bridesmaids' Apparel & Accessories: Amsale (dresses), Silk & More (robes), Beaded Treasure (earrings), The Wedding Chicks (tote bags)
Flower Girl Dress: Fashion Touch
Thank You Gifts: Molly & Mom (handkerchiefs)
Groom's Apparel & Accessories: Vera Wang via Men's Warehouse (tuxedo), Hugo Boss via Nordstrom (tie), White Truffle Studio (cuff links)
Groomsmen's Apparel & Accessories: Men's Warehouse (tuxedos), Calvin Klein (ties)
Hair & Makeup: Erica Burdette, Makeup Artist and Haleigh Harold, Hair Stylist
DJ: Woody Woods & Gee
Live Music: Randraiz Wharton and Laura Evans & Co.
Dance Instruction: Jillian Forbath
Rings: Jewelry by Mardo
Thank you Katie and Nathan for sharing your beautiful countryside estate wedding with us!
Love this cheerful summer color palette? Check out the never-ending color combinations in our all new Junebug Weddings Photo Gallery!