If you haven't had a chance to checkout our guest blog post about wedding veils and other bridal hair accessories over at Wishpot.com yet, here you go! It was a such a treat to write- any time I get to concentrate on a fashion filled topic like wedding veils, I'm a happy girl!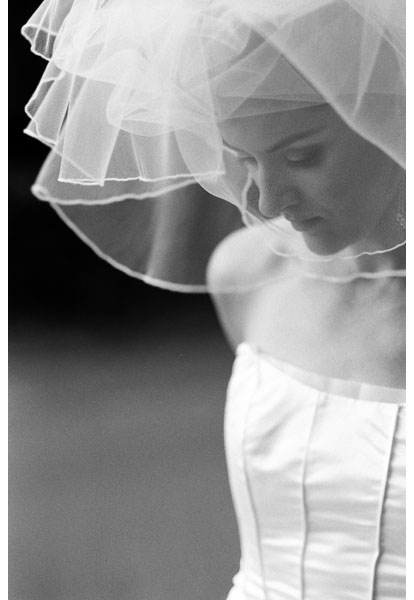 Image by Positive Light Photography, dress and veil by Kiko House of Couture
To veil or not to veil
The wedding veil is a quintessential bridal accessory. Those airy white layers and that lovely crowning halo create a magical transformative feeling the moment you put one on. Nothing says wedding quite like it! Wedding veils have been used throughout history to symbolize cultural and spiritual beliefs, and while some brides today wear a veil as a symbol, most brides wear one to make a fabulous fashion statement. Veils come in all shapes, lengths and styles and if you wear one youll want to choose the style that best accentuates your dresss features and adds a finishing touch to your look.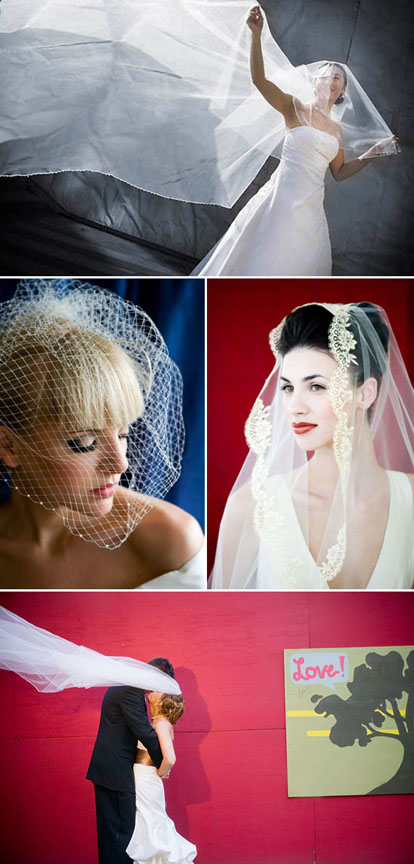 Top row: Image by J. Garner Photography
Middle row: Images by Junebug Weddings, French Net Blusher by Erica Koesler available at All About Weddings, mantilla veil with scalloped gold edge from Luly Yang Couture
Bottom row: Image by J. Garner Photography
Classic veils fall to your elbow, your fingertip, to the floor or in a long train stretching out behind you, and can be made of a variety of fabrics and embellishments. A great classic veil alternative is the Mantilla veil, with its lovely lace edges and romantic Spanish influence. A fun retro inspired option that lends lots of personality to any look is the cage or birdcage style veil. Made of netting or very light tulle it beautifully frames your face and is perfect for a fashion forward bride.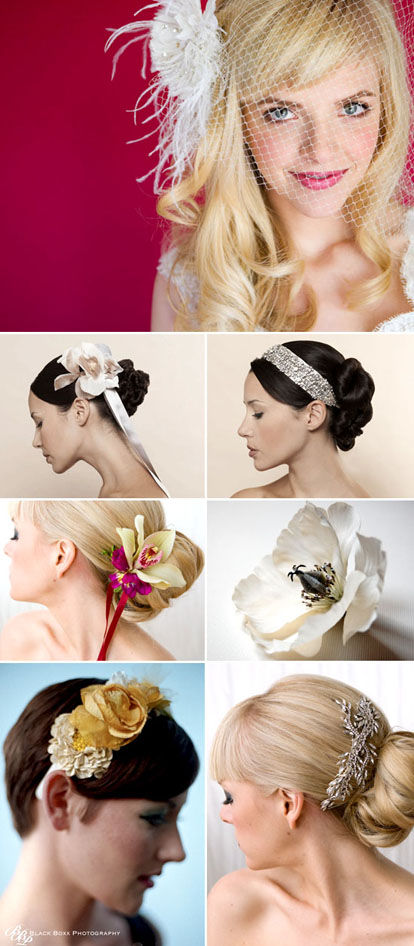 Top row: Image by Junebug Weddings, Ivory French net blusher with flower accent by Erica Koesler available at La Belle Reve
Second row: Velvet and silk orchid holly flower and Swarovski crystal encrusted Belinda headband by Jennifer Behr
Third row: Image by Junebug Weddings, fresh hair flower by Juniper Flowers, Devotion Silk Wedding Hair Flower by Mikiye Creations on Etsy.com
Bottom row: Yellow floral headband by Twigs & Honey by Myra Callan on Etsy.com, jeweled hair comb from Luly Yang Couture
If a traditional bridal look with a long flowing veil just isnt for you, there are an infinite number of other options for fabulous bridal hair accessories! Real fresh flowers tucked into your hair always look pretty and feminine and will never go out of style. (Be sure to purchase extra blooms and keep them available throughout the day in case the one youre wearing wilts and you want to freshen up.) Tiaras and other jeweled hairpins add sparkling glamour and formality, while headbands made of any material make for a sweet and youthful look. Fabric flowers and other creative designs can combine all of these accessories into one, and could be a fantastic DIY project for any crafty bride. No matter what you choose, stay true to your style and have fun with the process. Youre sure to look and feel amazing when your wedding day arrives!