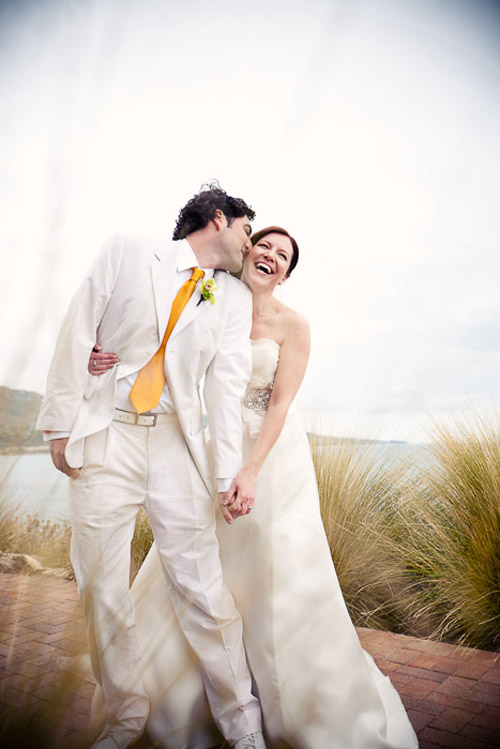 The Couple: Joya and Emre
The Wedding: 3.26.11 – Terranea Resort, Rancho Palos Verdes, CA
What three adjectives that best describe your wedding? Unique, fun and heartfelt.
The feelings expressed on our wedding day, not only between Emre and myself but also from our friends and family, were all so incredibly warm and sincere. We really tried to personalize each aspect of our day and to think out of the box when it came to entertaining our guests. We wanted to create a vibrant but inviting atmosphere for everyone and in return we felt surrounded by a lifetime of love and friendship that we will cherish always!
What inspired your personal wedding style, and how did you incorporate your style and personalities into your big day? We are big architecture and design aficionados, and have a particular fondness for the Art Nouveau and Craftsman movements. I also have a love for vintage styles, especially when it comes to clothing, music and dance. When we first got engaged, we knew that Terranea was the place for us as it not only had a gorgeous location on the ocean but it conveyed a true old – and grand – California feel.
I started incorporating our style by designing our Save-the-Date postcard, in which I chose my favorite Arts and Crafts font and used a scan from a real 1920s postcard back. Emre and I both work at NBC, and I wanted to incorporate a peacock into our invitation suite, but also wanted to use the same font and style of our save-the-date postcards. I found the exact design I was looking for on Etsy, and hired Mali Chi from Hello & Co. on the spot. I worked closely with Mali on all the stationery designs, to stay faithful to our motifs and color palette. As both of our families live far away (mine in Canada, and Emres from the East Coast and Turkey), and we ourselves have lived in various cities around the world, we decided to continue the postcard theme with our escort cards. We bought almost 50 different vintage postcards on eBay and named all of our reception tables after cities we lived in, or that held a special meaning for us (such as Vancouver, where we got engaged during the 2010 Winter Olympics). We wrote personal stories for each of the cities and addressed them to each guest, and made sure each table had an assortment of different postcards so they could compare and share. We set them out in old wooden card catalogs set amongst a vignette of vintage decor that included an Art Deco velvet green fainting couch, old lamps and used books.
We also added smaller rustic touches to the day, like weathered signs and antique frames, our initials handcarved in wood and a custom ringbearer book stack. This love of vintage style was also reflected in our music choices: we had a swing quintet play 1920s and 30s music for our cocktail hour and part of our reception, I surprised Emre by singing a special song, Youre A Heavenly Thing, just for him, and then a DJ capped off the night with modern fare.

Tell us all about your wedding music video! Initially we wanted to do a concept video that we planned to show at our reception but our ideas required a lot of resources and time, neither of which we had in the final months leading up to our wedding. So we brainstormed with our videographer David Robin and the idea of a music video shot on our wedding day came up.
The bar for participation would be low since we just needed people to lip-synch a few lyrics and/or dance to to the song. We knew our friends and family would love the idea, and it would a great gift to give back to them as a unique memory of our day. We had very specific criteria for choosing the music: 1. Big song with lots of energy, and a fun and easy chorus, 2. Singing parts for girls and guys, 3. Relevant lyrics fitting with a wedding, and not R-rated, and, 4. Timeless song that won't be dated when we watch this 10 years from now. The Time (Dirty Bit) by The Black Eyed Peas met all these conditions, in addition to being a newly released song and one we didnt tire of listening to again and again.
We divided up the lyrics amongst our bridal party, family and friends so they were manageable, we hired a choreographer to teach us some simple moves that our bridal party could perform at our reception, and we informed all our guests beforehand about the plan to film on the day. We shot all day leading up to the wedding, immediately after the ceremony (in fact, we recreated our recessional so we could lip-synch to the song!), and all throughout the reception. We assigned all the spoken word dirty bits to those individuals who would be the unlikeliest of stars: JP Reynolds (our officiant), John Reynolds (our hot jazz guitarist and friend), Emres father Ziya, and finally my father Gordon (who filmed his part at a urinal!).
We couldnt have been more thrilled with the outcome thanks to David Robin and his team, and the 100% support we got from our wedding coordinator Amber Gustafson and the staff at Terranea Resort.

Looking back, what are the moments, decisions or memories that you love the most about your wedding? Finding our wedding coordinator (Amber Gustafson of Amber Events) was the first best decision we could have made! We are both extremely busy with our careers, and having someone to guide us — especially someone whose taste so beautifully mirrored our own — made the entire year of planning a joy and devoid of stress (well, 95% of it hehe).
Choosing to have our wedding at Terranea really set the tone for day, in terms of look and feel. We had great memories of staying there before our engagement, and always thought it would be our perfect venue.
Taking the time to choose a photographer who gets us, and whose style compliments our own. We began working with Callaway Gable Photography last summer on our engagement session and that really put us at ease come our wedding day. They are so detail-oriented and were so much in-tune with our vision for the day. Looking at our photos now we couldnt have asked for a more perfect portrayal of who we are and what the day meant for us, our family, and our friends.
Doing a first look before our ceremony took so much stress out of the day for us, and really let us relax that much more and spend time with our guests.
Deciding to shoot the music video was one of the best decisions we could have made. We knew how ambitious the project was (and how much our coordinator would have to go the extra mile to accommodate it) but we were determined to make it work, and have fun doing it – and we did! Once our friends and family saw the completed video, it truly became the most talked-about highlight of our day!
What was your wedding color palette? Apple Green and Pumpkin Orange. Green is my favorite color (and the color of my eyes) and orange is Emres favorite color. They also worked perfectly with our design ideas and the spring season!

A behind the scenes view from event planner Amber Gustafson of Amber Events: "After planning all of the details of their wedding day together for almost a year, Joya and Emre told me about this music video idea just a few weeks before their wedding. While they storyboarded who would lip-sync which portions of the song, I worked with the videographers and photographers to lay-out a timeline that would not only allow everyone to get what they needed for the wedding day itself, but also this music video. We were producing a wedding and a music video all in the same day. No pressure, right?!
Joya and Emre had sent an email out to their guests ahead of time giving them the heads up, and also wrote a note in the program asking them to get up and sing to the camera after the ceremony. They did their recessional three times, actually: the first one was their official "we're married!" walk down the aisle, and the second two were directed by David Robin, the videographer.
Potential inclement weather on the wedding day put yet another stress factor on the 7 cameramen, 4 photographers, and 4 wedding coordinators orchestrating this, but with team work we all made it happen. We think it was worth it!"
The Wedding Team:
Photographer: Callaway Gable Photography
Event Planner: Amber Events
Film Maker: David Robin Films
Ceremony and Reception Venue: Terranea Resort
Officiant: JP Reynolds
Invitation Designer: Invitation Suite, Menus, Program – Hello & Co., Save-the-Date Postcard – Bride
Catering: Terranea Resort
Florist: Hollyflora
Cake: Vanilla Bake Shop
Wedding dress: R-Mine
Bridal accessories: Shoes – Nina, Organza Hairpiece – Jennifer Behr
Bridesmaids apparel: J.Crew
Groom and groomsmen apparel and accessories: Suits – Jos. A. Bank, Lego Cufflinks – Retro Classy Cufflinks on Etsy
Hair and make-up: Bridal make-up – Jeannie Jones, Bridal Hair, Bridesmaid Hair and Make-up – Design Visage
DJ: DJ Nahchey
Live music: Ceremony – Pat Maki Players, Reception – John Reynolds & Friends
Dance instruction: Christina Haggerty
Favors: Party Booths
Rings: Tiffany, Pinnacle Gems
Rustic Wedding Sign: GoJumpInTheLake on Etsy
Vintage Wood Letters: sERINasCustomShop on Etsy
Ringbearer Book Stack: thedaintywoods on Etsy
Wedding Card Holder Birdbox: CleggFarmCreations on Etsy
Thank you so mcuh for sharing your day and your hilarious music video with us Joya and Emre! And kudos to the whole wedding team who worked hard to bring this day to life!
To find more inspiration for your our personal wedding style, don't miss our all new and gorgeous wedding image gallery! To plan your own Southern California or Seattle area wedding, browse our Plan Your Wedding Hotlists! And to find a dream wedding photographer for your wedding anywhere in the world, be sure to check out Junebug's World's Best Wedding Photographers Hotlist!