As one of the premiere wedding planners in Southern California, Lisa Gorjestani of Details Event Planning exceeds expectations for celebrities and a host of discerning clientele. Today we are thrilled to bring you a glimpse of what makes Lisa stand out from the crowd and some of her great ideas for transforming your reception space into a place your guests will never forget.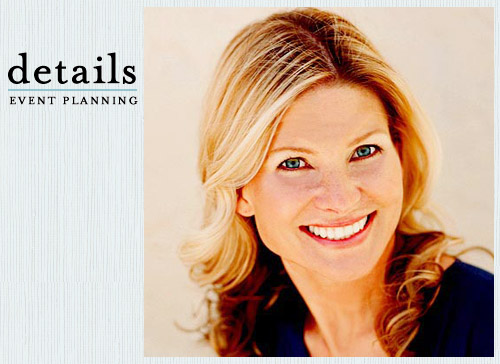 Junebug: Lisa, your passion for what you do is obvious. What drives you the most and makes you work so hard?
Lisa: I love everything about my job, but I live for the moment when I look out on the dance floor and see smiles all around. I know the day has unfolded perfectly and that my goals have been accomplished, and it is so rewarding. By the time that moment comes, Ive become friends with the bride and groom and many of their friends and family members, so it really matters to me deeply.
Junebug: What creative ideas are you most excited about right now?
Lisa: I work a lot at private estates and I absolutely love employing out of box ideas to create one-of-a-kind spaces. This year I designed an informal wedding at a pier in Malibu and it inspired me to start looking at spaces in a whole new way. Throughout the year Ive explored incorporating decor into existing surroundings to create unique event spaces.
Junebug: Of the weddings you've done recently, what three stand out for you most?
Lisa: The first one is a 200 person event held on a private estate near Santa Barbara. The estate had expansive views of the ocean and a large polo field. Rather than creating an obvious outdoor layout for this property we extended the living room out to the patio and connected the decor so it became very intimate. Everybody felt close and connected. We complemented the formal, elegant interior of the home using silk Duponi tablecloths with overlays, tons of candles, gold Chiavari chairs, and outdoor chandeliers to match those already in the home.

Lisa: The next one would be in Malibu, where we used a beautiful bridge connected to a private home and vineyard to create a warm, welcoming reception for 60 people. The multi-course dinner party catered by Café Delfini featured an extraordinary Italian menu. The couple I was working with wanted the decor to harmonize with the environment so they choose a flax, natural linen tablecloth. Each seat had a place card with a photograph of the guest seated there, from a memorable time spent with the bride and/or groom.

Lisa: Then, if I have to choose just three, I would say the last one would be another private estate wedding in Santa Barbara for 230 guests. The ceremony was held in a courtyard overlooking the beach of the main house, and the cocktail hour was held in the pool and patio area with a backdrop of beautiful blood orange groves and a tiered infinity pool. For dinner, the guests were taken by the Santa Barbara Trolleys to a lovely circular part of the property where we used two hexagon shaped tents to set off the space. This couple wanted their dinner to be very quiet, intimate and focused on toasts, so when it was over we brought the energy up luring the guests to the tennis court dance floor with the music of four a cappella singers.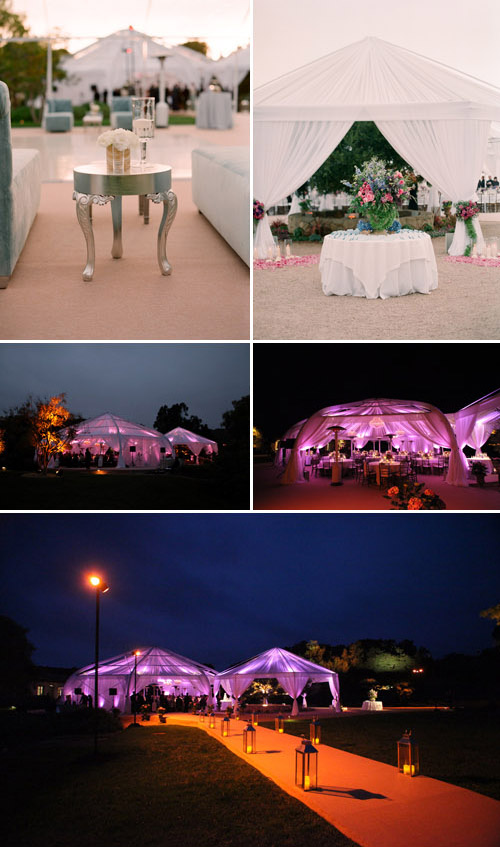 Junebug: From your photos, its obvious youve had a lot of experience. How many years have you been a wedding designer?
Lisa: Ive been designing weddings for the last 14 years. I got my start from planning parties in the restaurant business. The more events I did, the more people began to notice, and my work and business just took off.
Junebug: Do you travel a lot to plan destination weddings?
Lisa: Yes, I travel frequently. I am comfortable planning weddings anywhere and Ive planned several in Mexico, Hawaii, and all over California.
Junebug: What trends do you see on the horizon?
Lisa: Right now when it comes to trends, I love mixing metals; gold, silver, and bronze. The combination creates a classically elegant, yet modern feel.
Junebug: If you were getting married today what cake flavor would you choose?
Lisa: Chocolate Fleur de Sel. Love it!
Junebug: What are your favorite flowers?
Lisa: I love gardenias and peonies but I only use them when they fit in exactly with my clients vision. The bouquet is always important to a bride, so I let her make her own call.
Thank you so much Lisa! As always your ideas are fresh and inspiring. For more informaiton on Lisa and Details Event Planning, be sure to check out her website and blog.
Readers, did you, or are you, creating a one of a kind space for your wedding? Wed love to hear about it!
(First and third sets of wedding images by Elizabeth Messina, second set of wedding images by Starla Fortunato)