I'm thrilled about sharing today's post for a couple of reasons – 1. I absolutely adore the stylish gentleman and wedding planner I was lucky enough to interview, Mark Niemierko, and 2. I get to tell you that he is one of the first new members of our Worlds Best Wedding Planners and Designers Hotlist that's launching next month!
After the success of our World's Best Wedding Photographers Hotlist this past year, we're excited to respond to countless inquiries from wedding planners around the world asking us to launch a similar Hotlist for them, and to bring you a trusted recommendation list of the most talented, passionate, and experienced wedding professionals available to make your wedding vision come to life!
If you are a bride or groom, and you would like to recommend professionals for our new Hotlist we welcome your suggestions. Please visit our recommendation page to share your advice. If you're an outstanding wedding planner or designer and you would like to join our network, please visit our application page to learn more. We look forward to meeting you and learning about what makes your business one of the best!
Now, without further ado I am thrilled to introduce one of the first new members of the Junebug Weddings World's Best Wedding Planners Hotlist, the one and only, Mr. Mark Niemierko. Based in London, Mark and his team are well known and well respected as planners who set trends by creating spectacular weddings filled with personal style, and the utmost in thoughtful service. No detail is left undone, and every guest, family member, bride and groom is left feeling cared for and at ease. At Niemierko, they truly think of everything so you dont have to. I sat down with Mark recently to learn from his experience and to hear about how he approaches wedding planning. Take a look!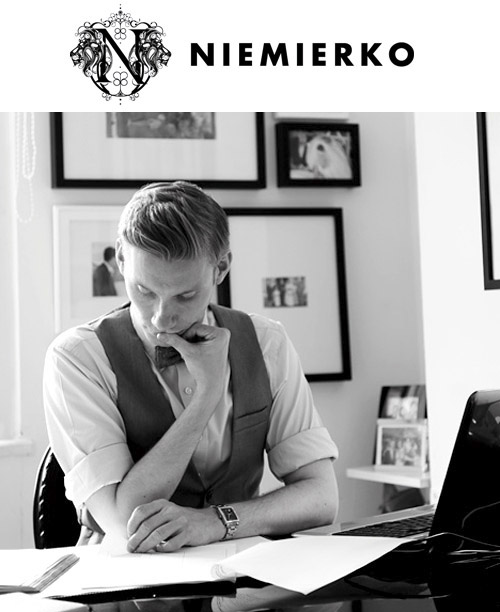 Christy: Mark, please tell us a little bit about your background and how you came to be a wedding planner.
Mark: I started my wedding planning company 7 years ago. Prior to that I worked in Film and TV production with various roles from Production Runner to Head of Operations at a Production Company. As well as Film PR which also involved organising the odd event or two.
Christy: What are the things you love most about your job?
Mark: The couples. Seriously working in London Im so spoilt. I hardly ever marry just an English couple, London is such an international city that my couples come from all over the world and I tend to marry couples with totally different cultures. Russian and India, Burmese and Irish, American and Swedish. You name it. Working with such interesting, fun and cultured couples means my job could never get boring.

(Images above and video below by Allora Visuals of an art deco chic wedding at Claridge's Hotel, London)
Christy: When working with a soon-to-be-married couple, where do you like to begin the wedding planning process? How do you guide your clients toward the right wedding decisions for them?
Mark: First off we need a venue, location. So I need what I call the Four Fundamentals from them. Date. Number of guests. Location. Budget. I also need an overall guide on what style of wedding they want (evening, day, summer, spring, winter etc). And what type of ceremony religious or non-religious. I really find planning weddings should be a naturally progression sure I need certain points answered from my couples, but I dont like to pressure them. I like it to feel like a natural and effortless planning process to them, whilst I am actually ticking things off my list!
Christy: Is there a piece of advice that you always find yourself telling your clients? What's the best advice you've received as a wedding professional?
Mark: Firstly Brides and Grooms need to remember the wedding day isnt about them. Theres already enough focus spoilt on them and it is fundamentally their big day. A lot of couples forget that to create a good, memorable wedding, the key is atmosphere. The key ingredient to good atmosphere is guests. Keep your guests happy with good service, food and wine and the wedding will go down as the best in history.
I think the best advice I was ever given was never to assume. Dont assume every couple wants to tick every traditional wedding planning box. There are no rules anymore weddings are more personal than ever, and a couple should be allowed to personalise their wedding whatever way they want, even if its not to your taste.
Christy: What are some of your favorite wedding venues in the London area?
Mark: So many. Claridges is a firm Niemierko favourite. Aside from the welcome the staff give the decor and understated Art Deco elegance of the hotels ballroom is a huge appeal to couples.
One Mayfair and One Marylebone are also great grand but also fun venues. Converted churches so if you really wanted to you could have your dance floor on the alter!
The Dorchester for its all out wow glamour and splendour. Theyve just reopened their ballroom after a large refurbishment. Its also the home of my Academy!
Number Sixteen. The chicest boutique hotel in South Kensington with a private (almost secret) garden. Just perfect for an intimate wedding.

(Images above of a modern English Niemierko wedding, photos by Keith Appleby)
Christy: Any hidden gems or fabulous wedding finds in your area that more people ought to know about? Locations, planning ideas, fantastic businesses or otherwise?
Mark: Cat Hammond of Paper Cloud Creative. She designs and oversees the printing of all Niemierko couples invitations. Shes not that well known yet but having worked at some of the biggest names in print in London shes highly experienced and creative. I adore her, shes an essential member of Niemierkos key suppliers.
Allora Visuals. A great Videography duo who I discovered a year ago. They make all Niemierkos behind the scenes wedding videos you see here. They also do wedding videos for couples. Certainly worth having on a wedding day to capture the day.
Wellington Arch at Hyde Park Corner actually can hold a private event space at the top only for 20 people. But its a wonderful location… and of course you can get a sneaky peek over the Queens back garden wall!
The Apartment at The Connaught Hotel is the ideal and dream Bridal Suite in my opinion. The hotel is just wonderfully furnished after a refurbishment a few years ago. It also has the best bar in London! The Connaught Hotel Bar, the martini trolley comes to your table to allow you to oversee the mixing of your drink!
The Rockabellas are a female trio act based on the 20s and 40s yet also sing modern day songs such as Beyonces Crazy in Love. Seriously great fun and whenever we have used them theyve been the highlight of the wedding!
Christy: You're not only a wedding planner but an educator as well. Tell us about your Niemierko Academy and why you decided to begin offering this learning opportunity?
Mark: Wedding planning is still very new to the United Kingdom. Its also an industry some arent treating as a business. New York, and America overall, is very lucky to have experts and pioneers such as Marcy Blum, Preston Bailey and Colin Cowie who have so much experience and knowledge… yet have no issues with sharing that and being ambassadors for their industry.
Some planners in London and the UK really arent being honest with themselves in that they arent running a business. More a hobby. Im not overly popular for stating these thoughts previously. But I think, get real. How are you going to pay your rent when you are planning a wedding for £2,000!
Plus I want to ensure quality throughout the industry… and ensure I have quality competition. Currently when I quote a couple they could go off and meet another planner who is a fourth of the price. Theres just no guide on how to run your business and from experience I really can give that advice having made mistakes over the last seven years!
Weve only had two academies so far so 20 students in all. And Im so pleased with how they are all doing. I love seeing their websites take shape and their careers evolve. I really want the Academy to build a fab network of likeminded individuals who can call on me or each other for questions, advice or reassurance throughout their wedding planning careers.

(Images above and video below by Allora Visuals of an elegant autumnal wedding at The Grove Hotel, Hertfordshire)
Christy: What is the best thank you you've ever received from a client?
Mark: Ive been very lucky and received some of the most wonderful and lavish gifts from Brides and Grooms. Including some wonderful hand written notes. But I think the most rewarding thank you, is keeping in touch with couples years after their wedding, and being invited into their homes and meeting their children. Its great to keep in touch with some of my clients, and in some cases for them to become good friends.
Christy: What can't you live without?
Mark: Ruby Grace, Annie Mae and Edward. My two nieces and nephew.
Thank you Mark! We're so honored to get to work with you, and we love hearing your perspective on wedding planning (not to mention your dapper look and fabulous accent, of course).
You can learn more about Mark Niemierko on his website and blog, and about how to become a member of our World's Best Wedding Planners and Designers Hotlist, on our application page!