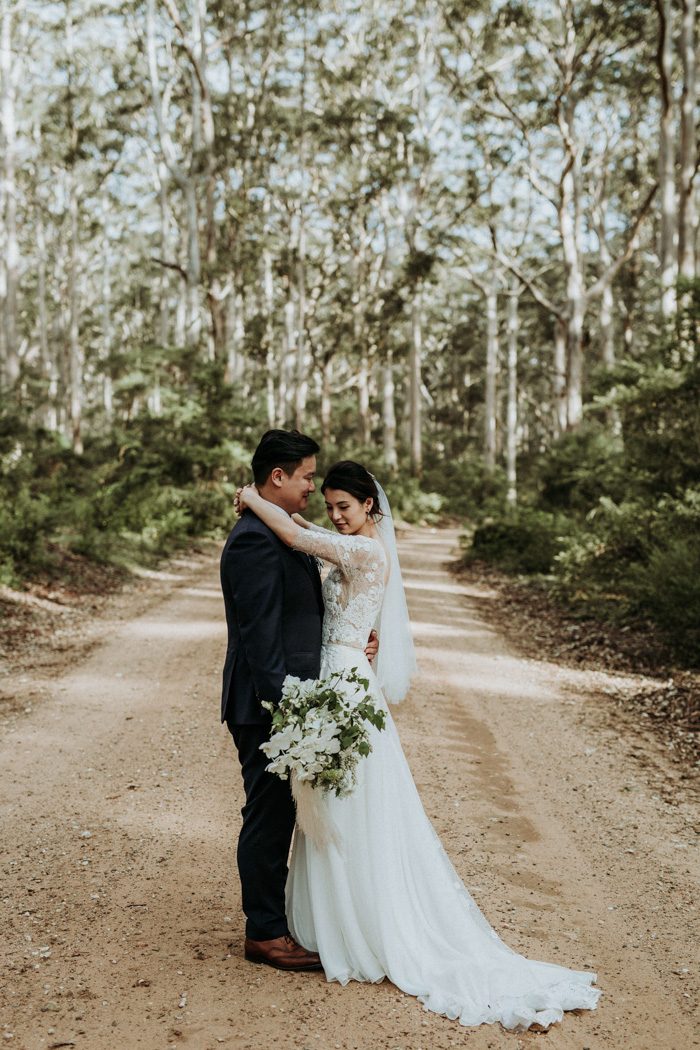 Eleanor and Alvin's Boranup Forest wedding was full of epic surprises from beginning to end! The couple asked their guests to meet them at a decoy location and then bused them into the forest to keep the ceremony location a secret. But then Eleanor and Alvin got an even bigger surprise from the owners of Leeuwin Estate when a helicopter showed up to take them on a sunset trip above the coast and the forest before arriving at their reception. As you can imagine, this wedding was full of joy and energy, which Black Bird Tale managed to capture in impeccable detail. It was also full of exceptional decor and florals, including some of the prettiest cascading arrangements that Natural Art Flowers created and hung from the rafters of the clear marquee reception tent.
The Couple:
Eleanor and Alvin
The Wedding:
Boranup Forest and Leeuwin Estate, Margaret River, Western Australia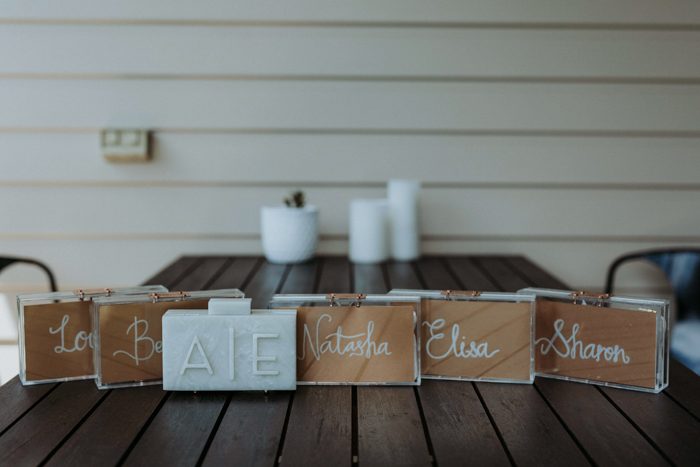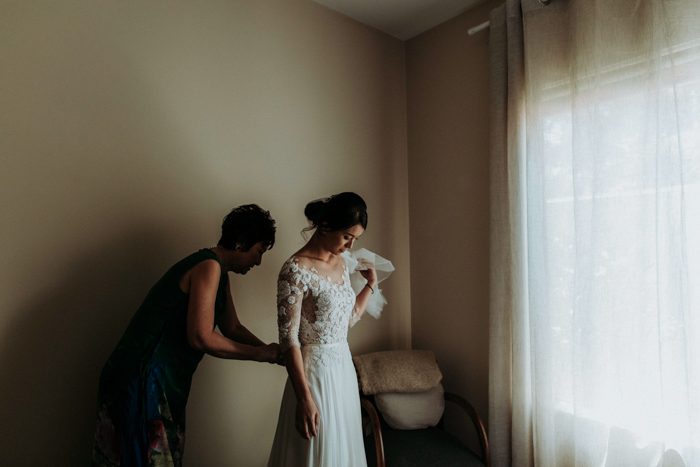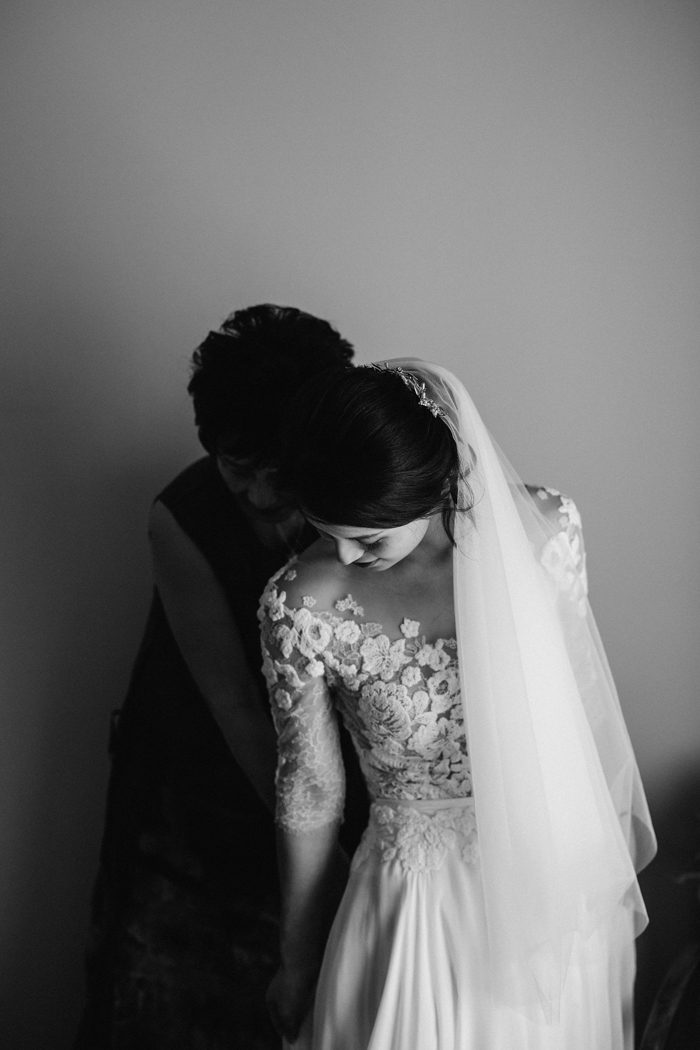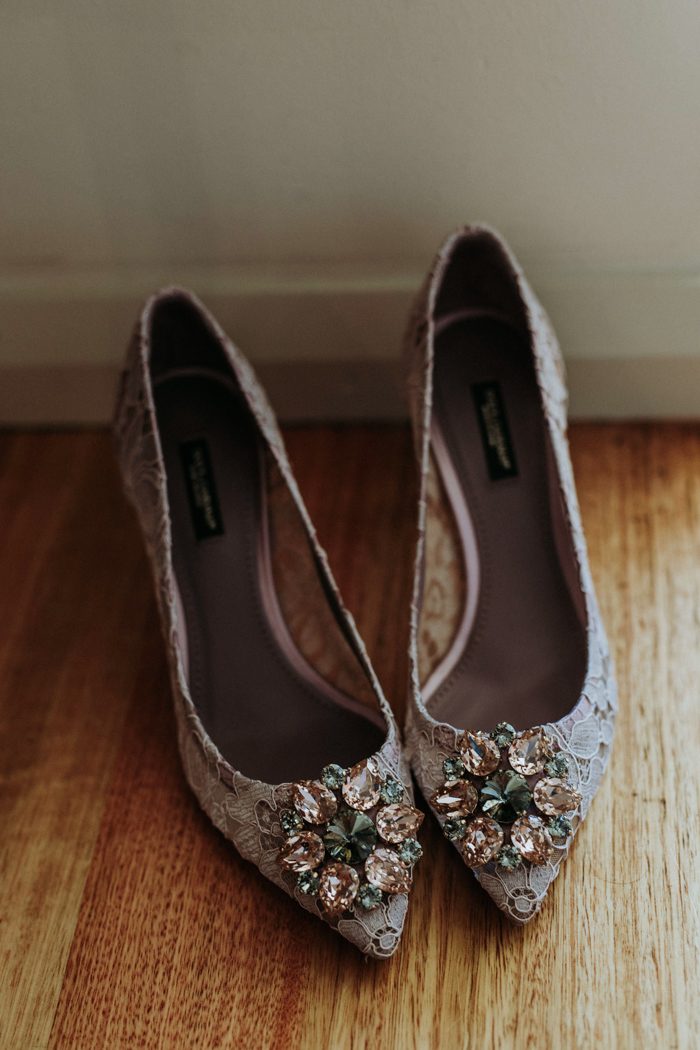 SHOP THIS LOOK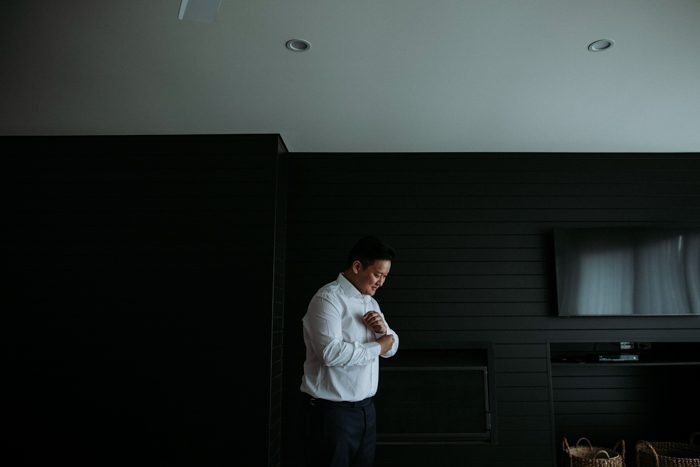 From the groom: I opted for a navy three-piece suit for the day and a classic black tuxedo for the evening. I paired these with a watch given to me by my parents, a red and blue striped tie, a tie-pin from my in-laws, and brown leather shoes from one of my favourite shoemakers – Church's. All our accessories (old and new) were given to us by our parents and have plenty of sentimental value.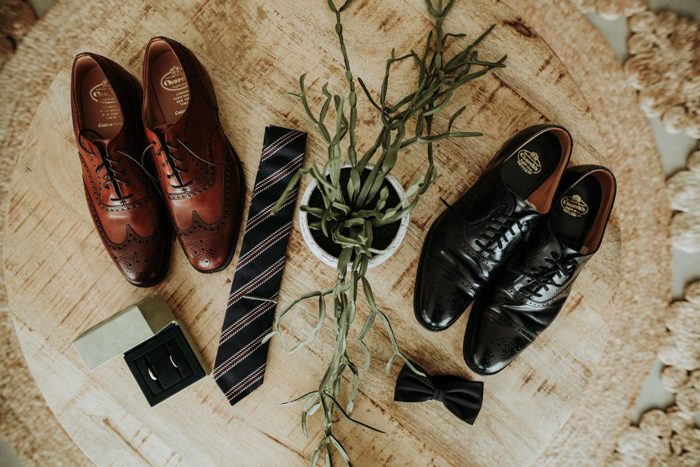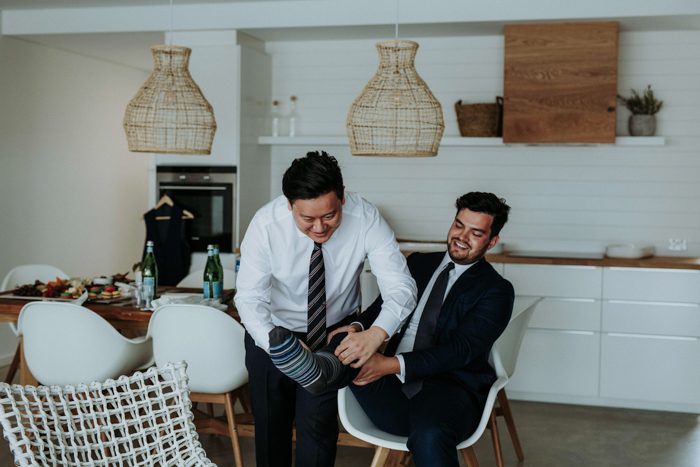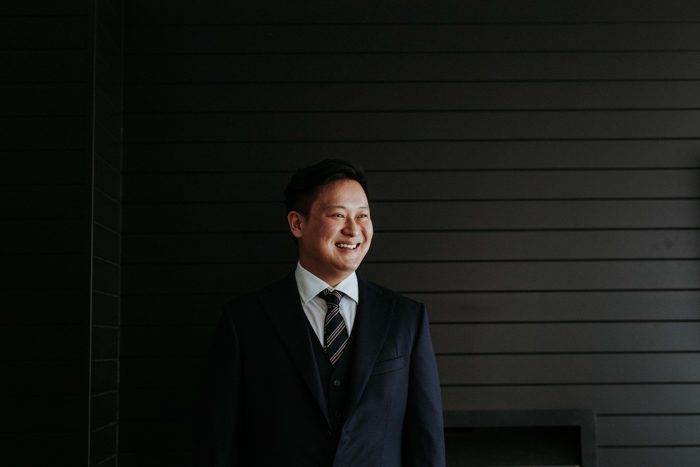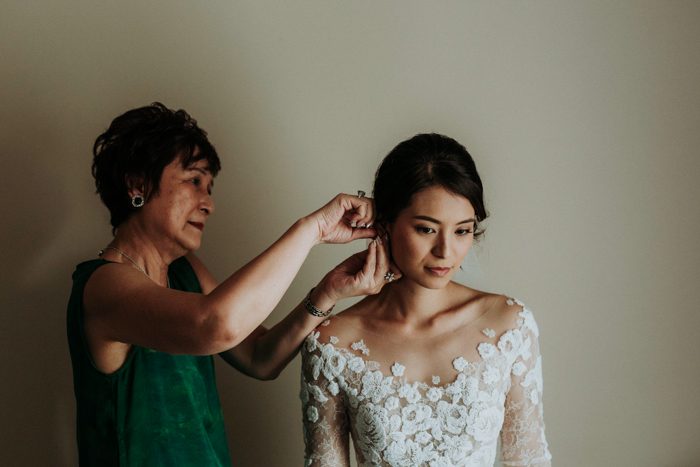 From the bride: When browsing through the web for potential wedding designers, I came across a dress made out of the most beautiful crochet lace that I knew I wanted on my wedding dress. I approached the designer with an idea in mind, and she crafted a timeless and unique two-piece gown that is just as comfortable as it is stunning. Since my gown was a two-piece, she also made me a pair of white pants I could change into for the after party. I paired the dress with a set of jade earrings my mother gave to me when I was 14 and light mauve heels. In the evening, I wore a diamond necklace given to me by my in-laws.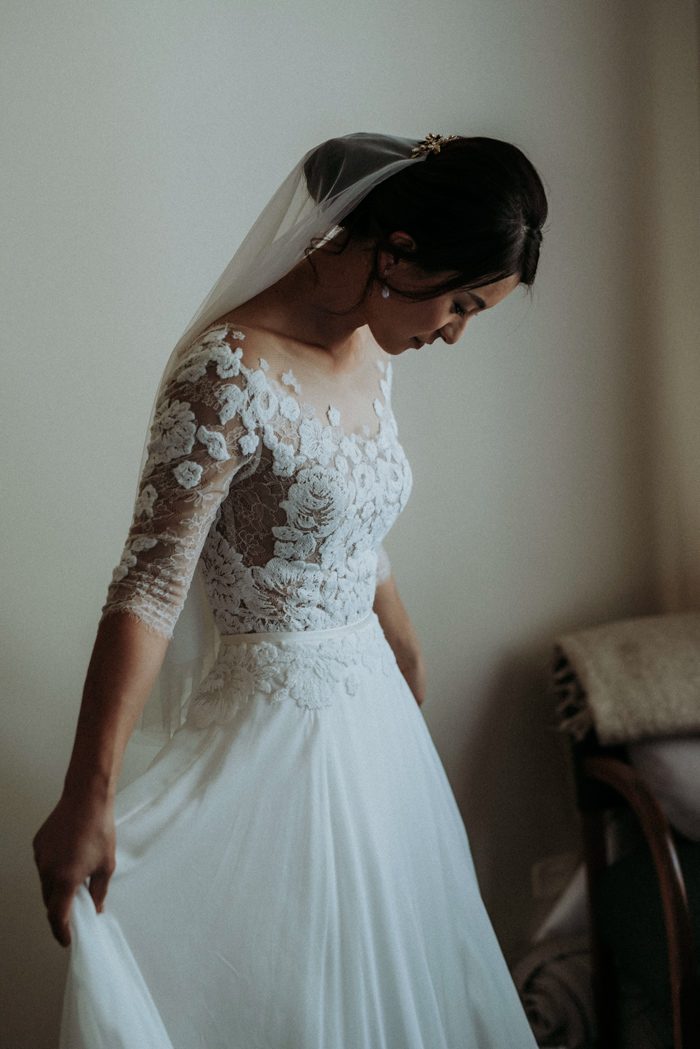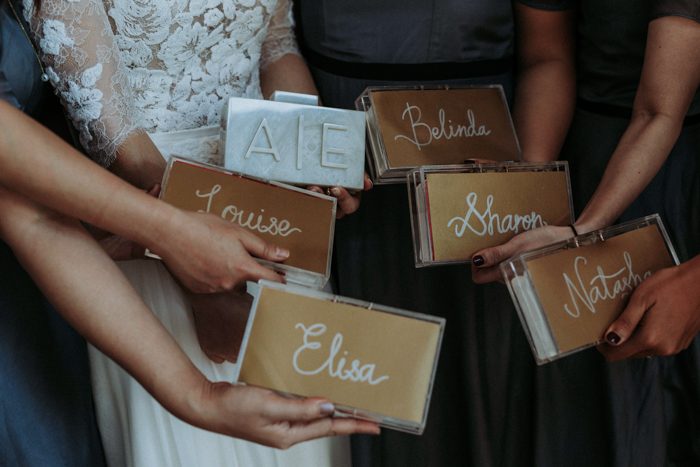 When we decided to have our wedding in Boranup Forest, we thought it would be fun to keep the ceremony venue a secret and surprise guests on the day. We gave specific instructions to guests to meet at a designated spot at a specific time and hired buses to shuttle them to the venue. They then had to take a 200m walk further into the forest before reaching the clearing where the ceremony was set up. I don't think any of them expected a wedding in the woods amongst the towering Karri Trees. What they didn't realize is that we actually hinted a little drawing of the Karri Trees on our invitations.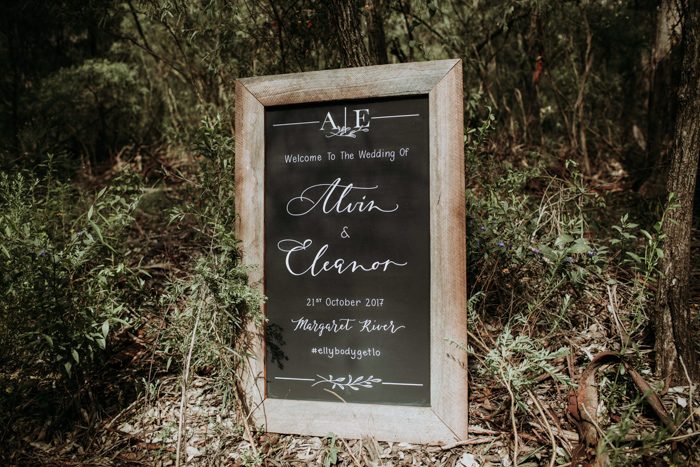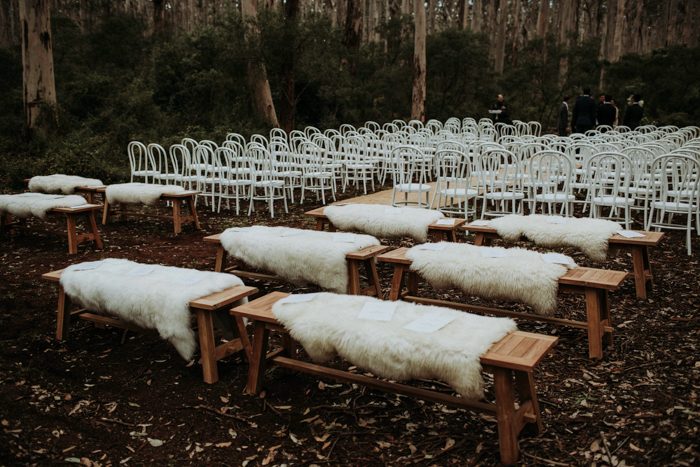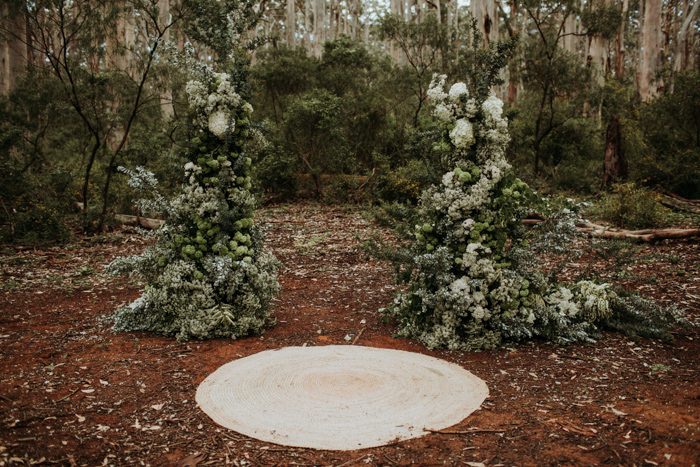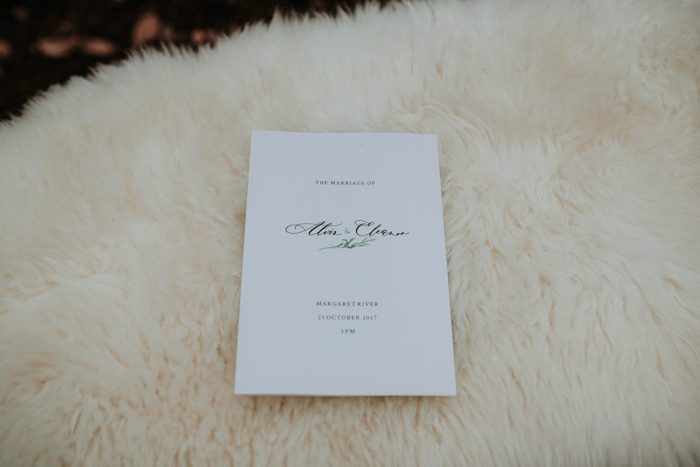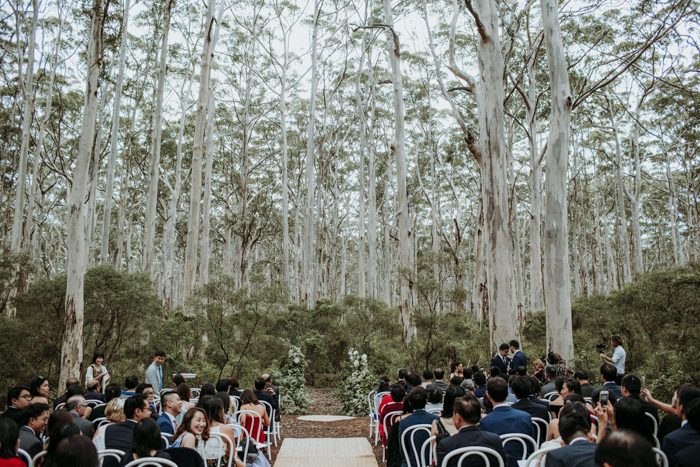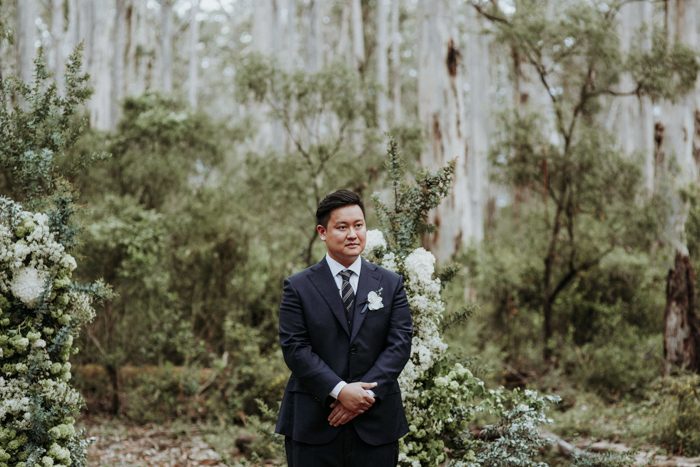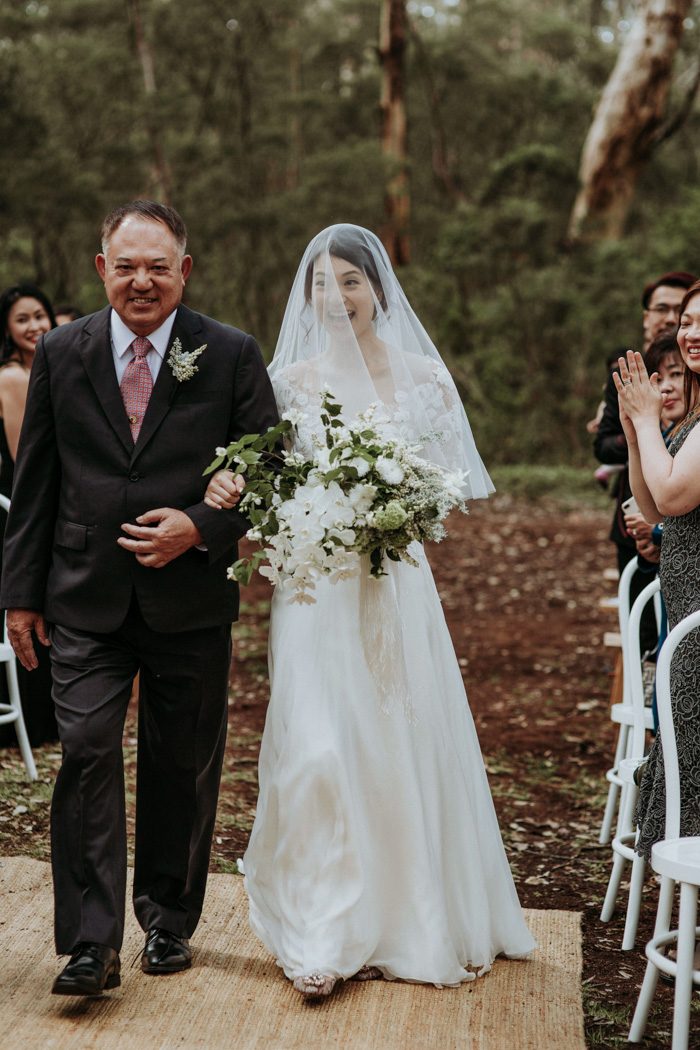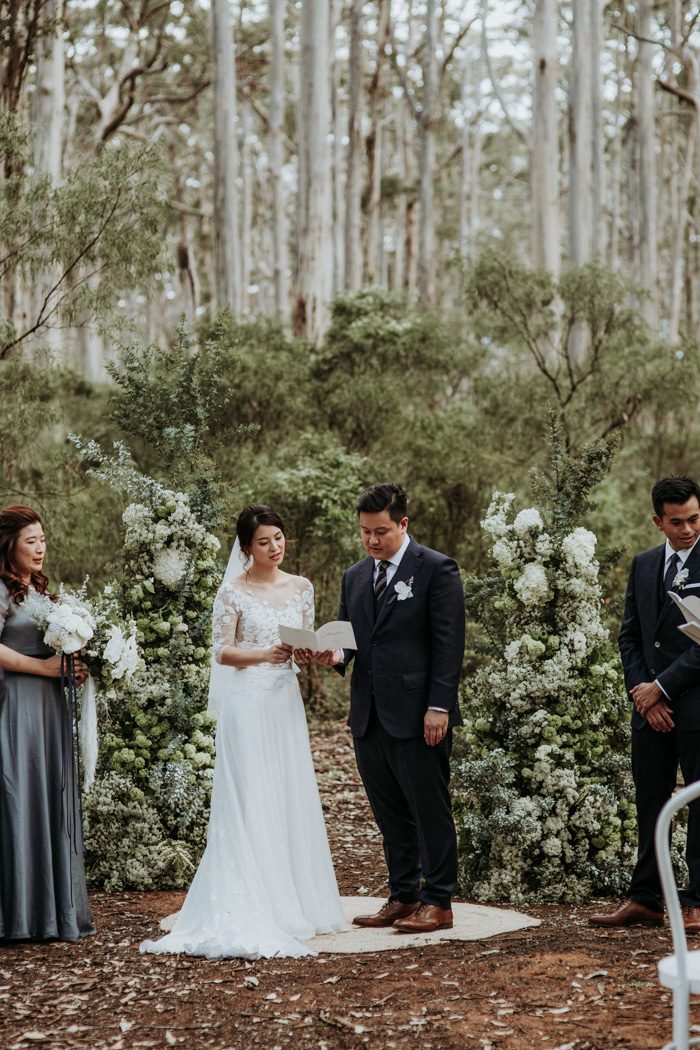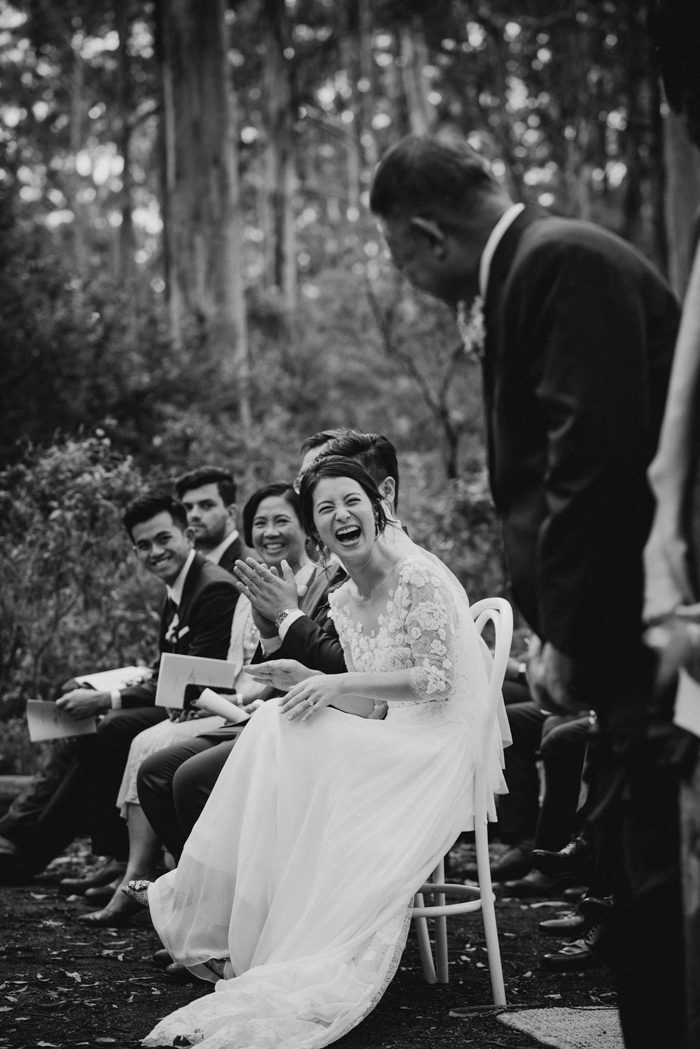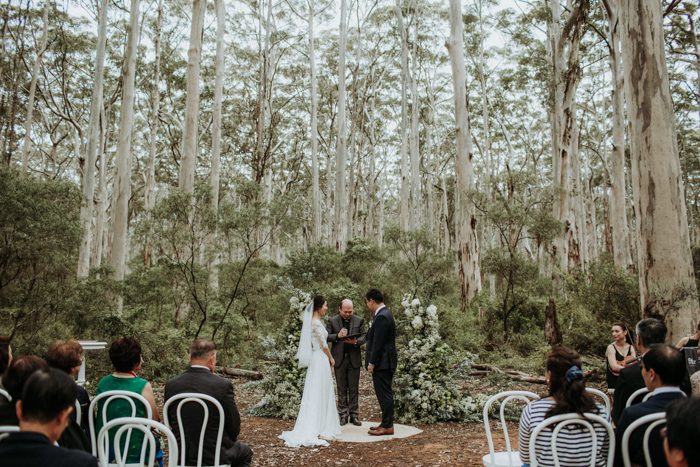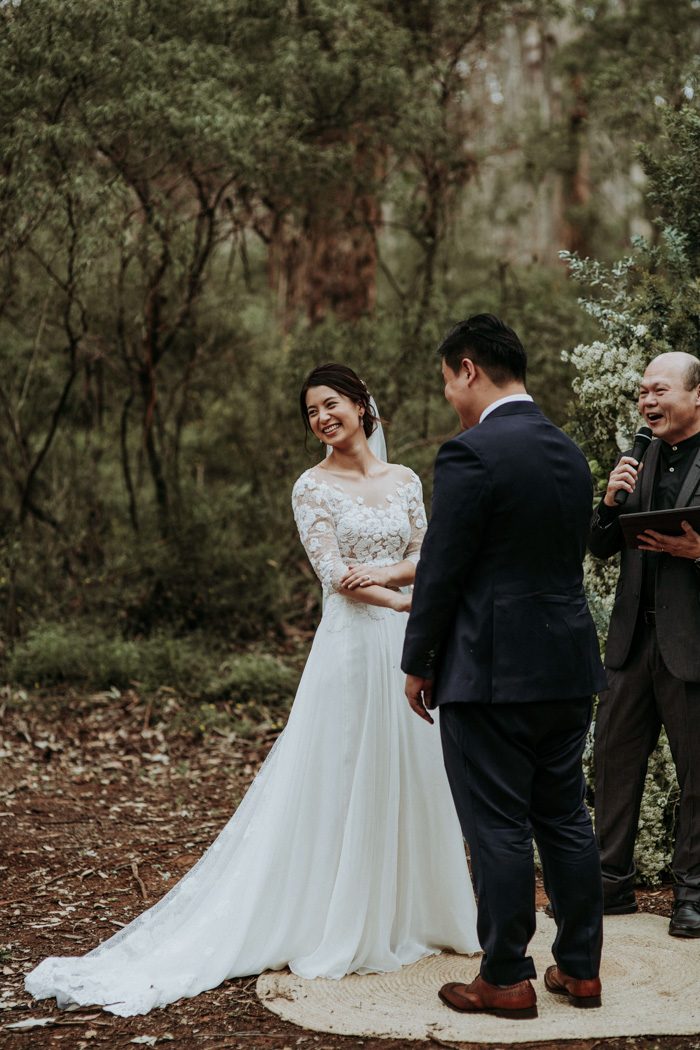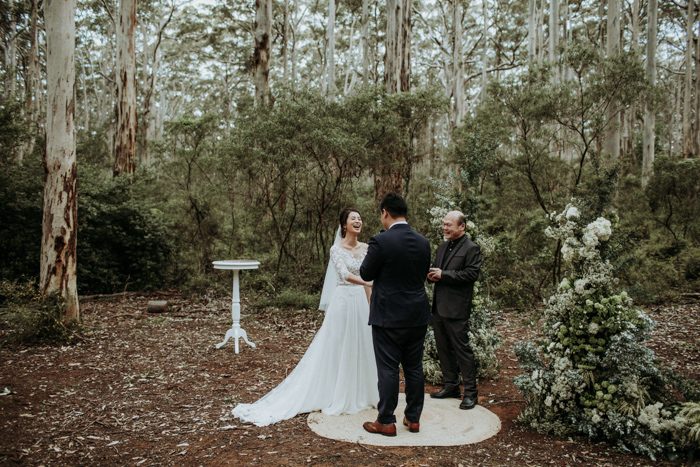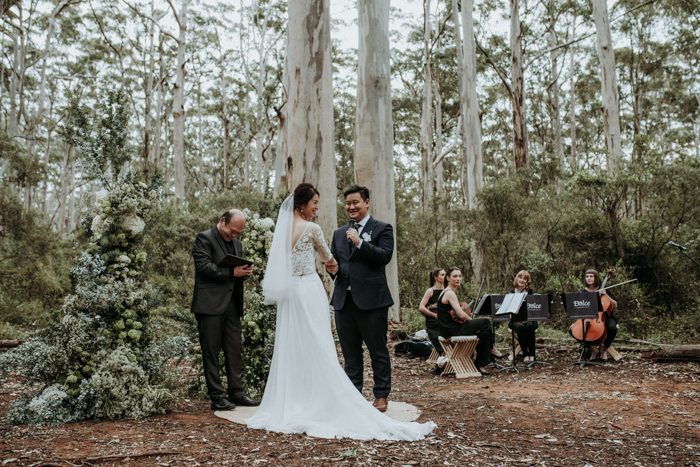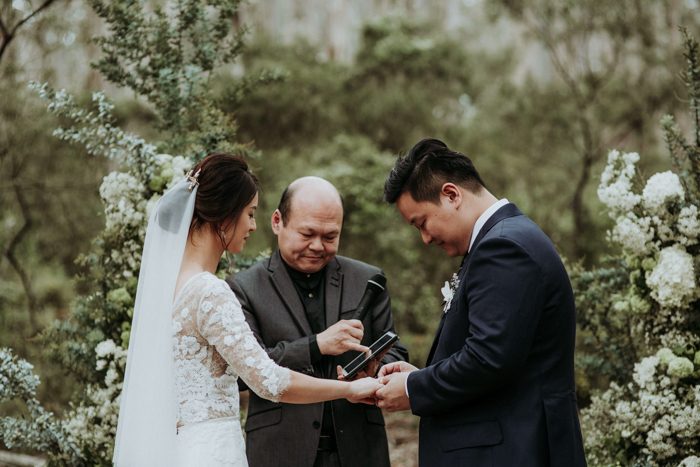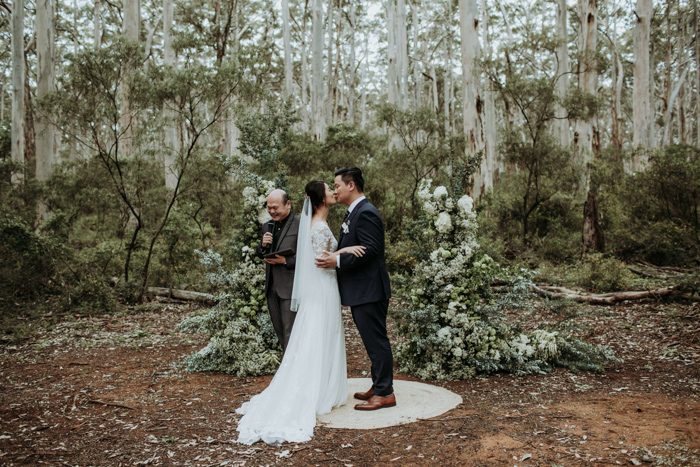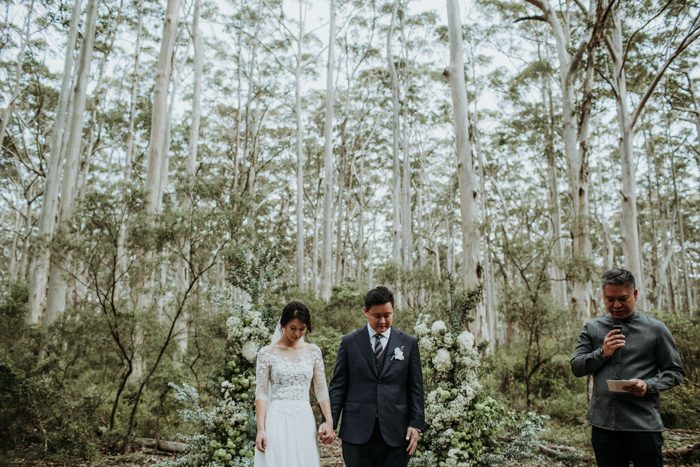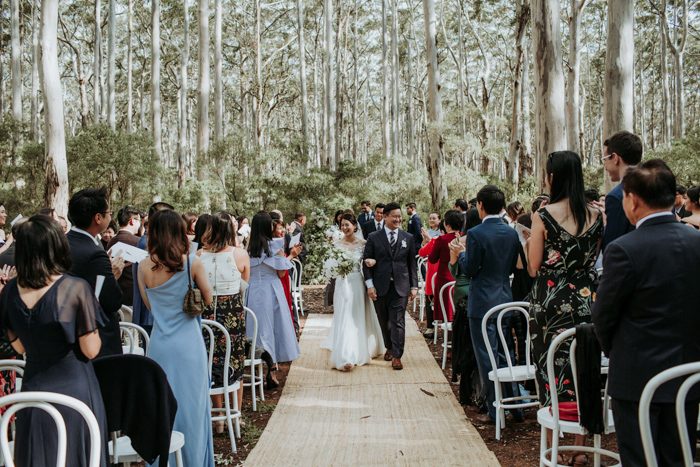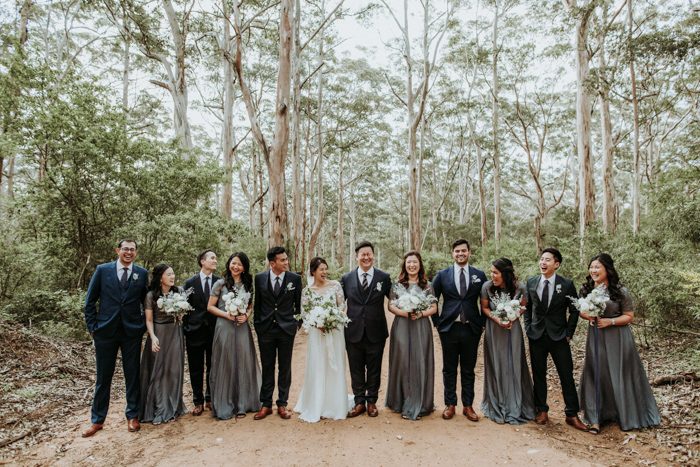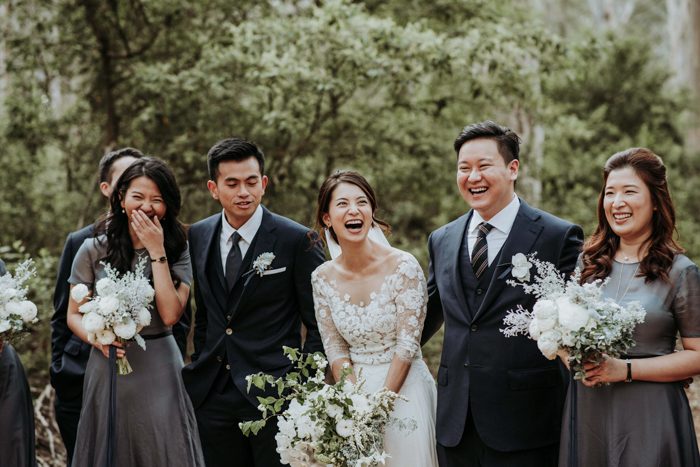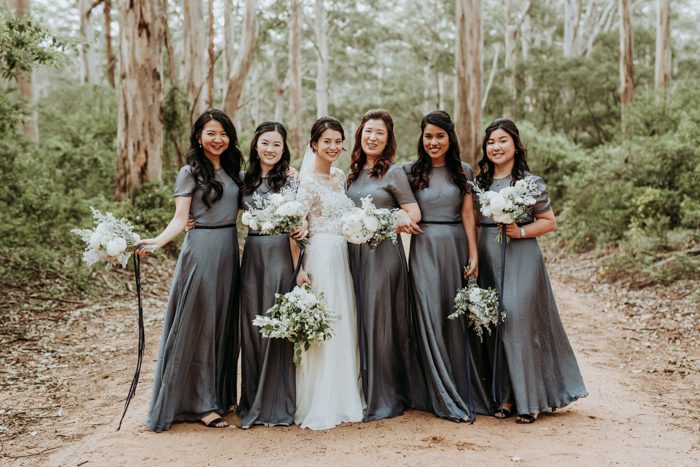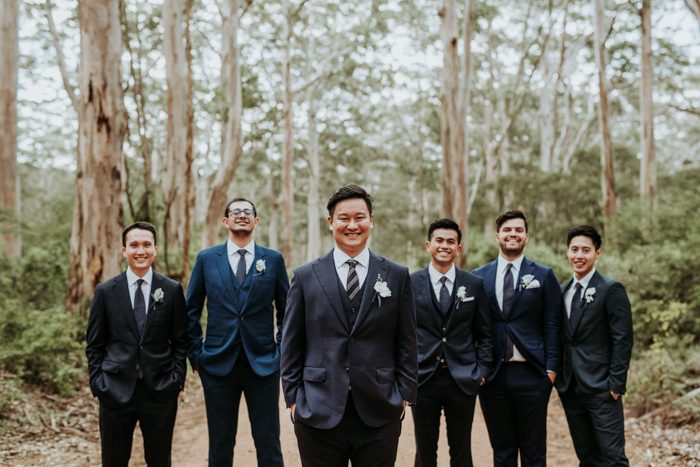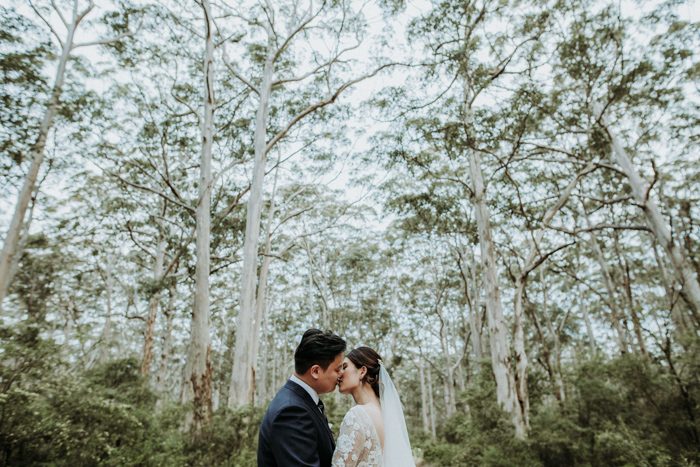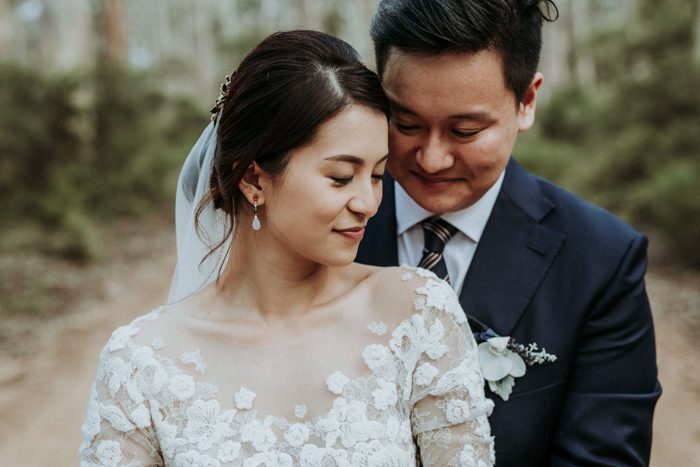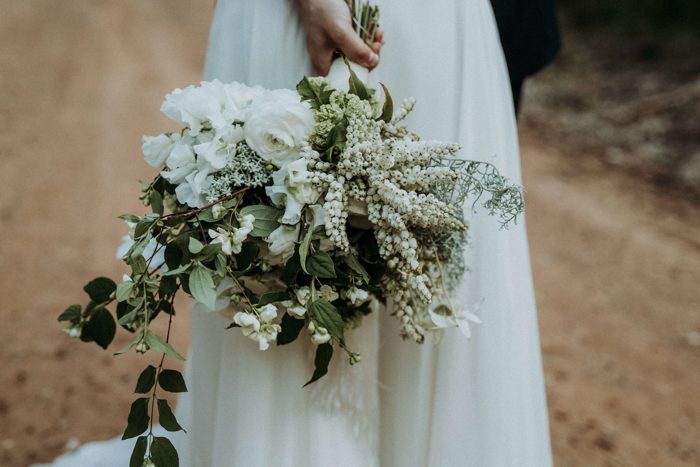 After the ceremony, the two of us went to the beach to take several portrait shots and when we were done, our photographer told us that there was just one last venue she wanted to take us to for some final shots. We were then led to a large field where we found a helicopter parked. She revealed that the helicopter was for us and we didn't believe her at first. Turns out, Leeuwin Estate (our reception venue) organized the helicopter ride as a surprise for us and our vendors were all in on it! We were treated to the most amazing aerial view of the sunset against the coastline and Jackson (the pilot) even did a loop around Boranup Forest to look for our ceremony spot before we arrived to Leeuwin Estate in style. It was pretty epic and our guests were in hysterics!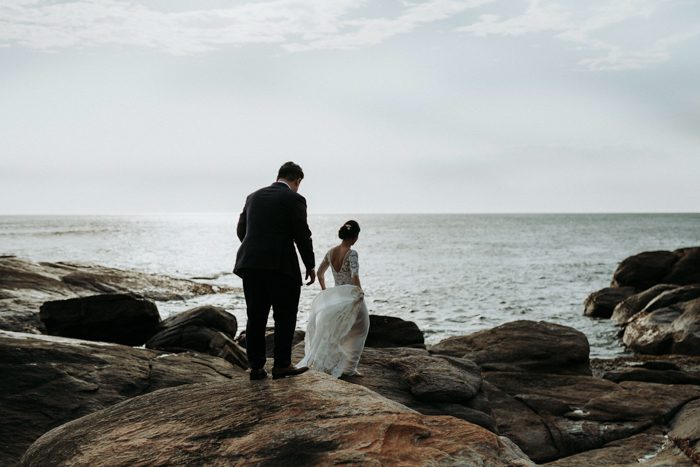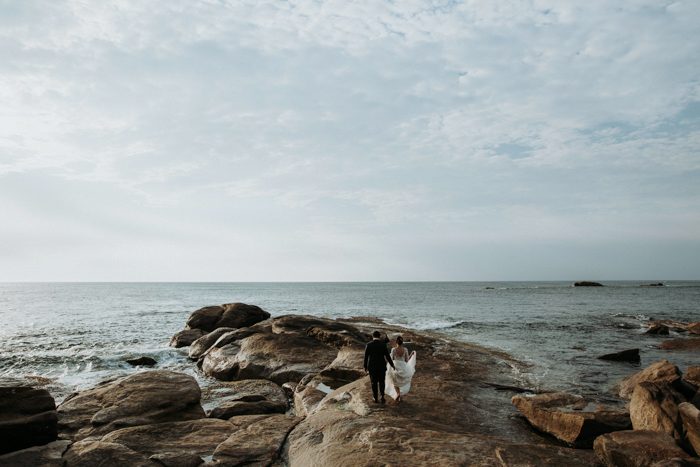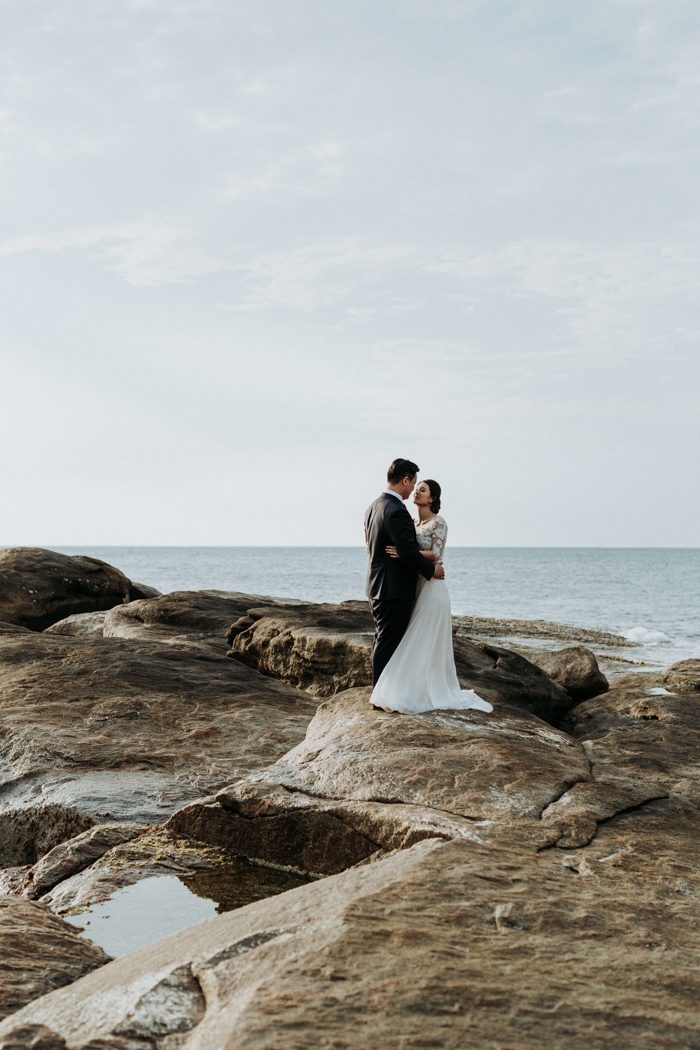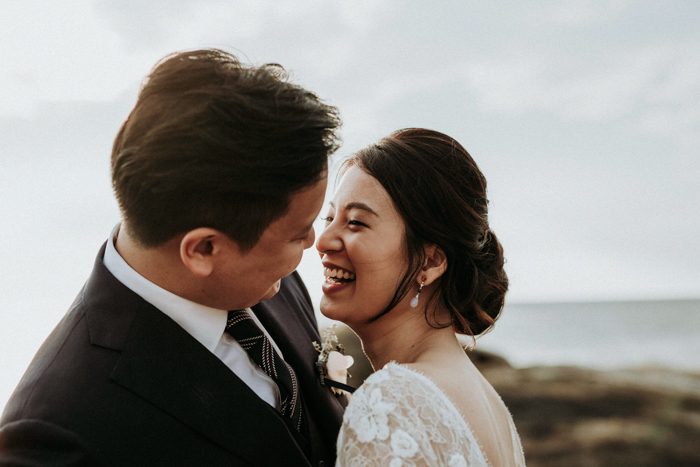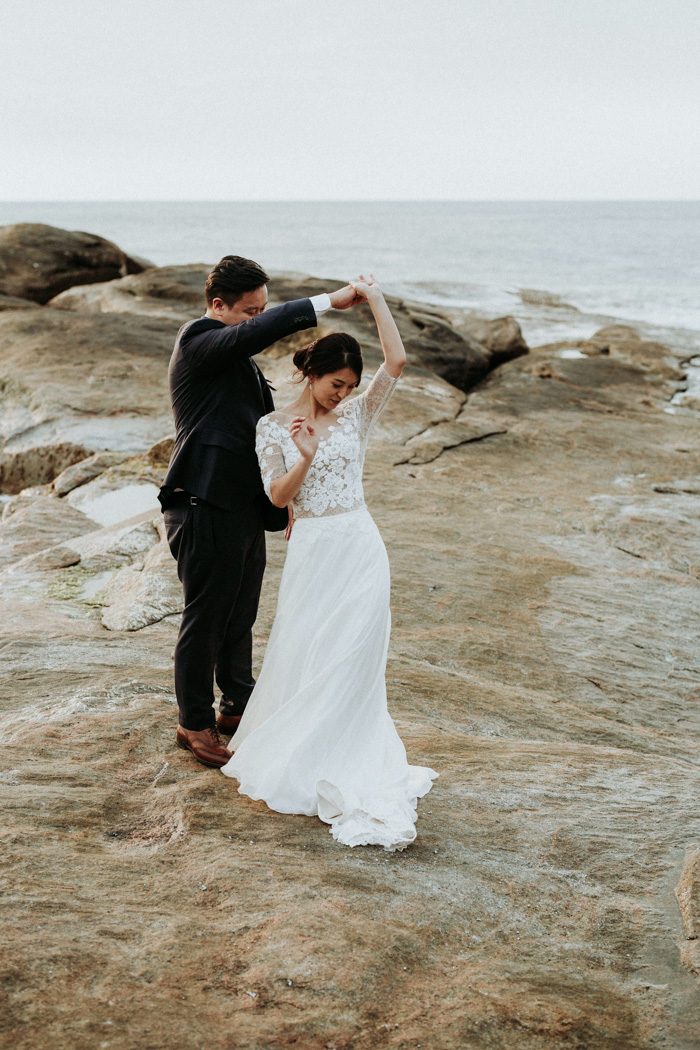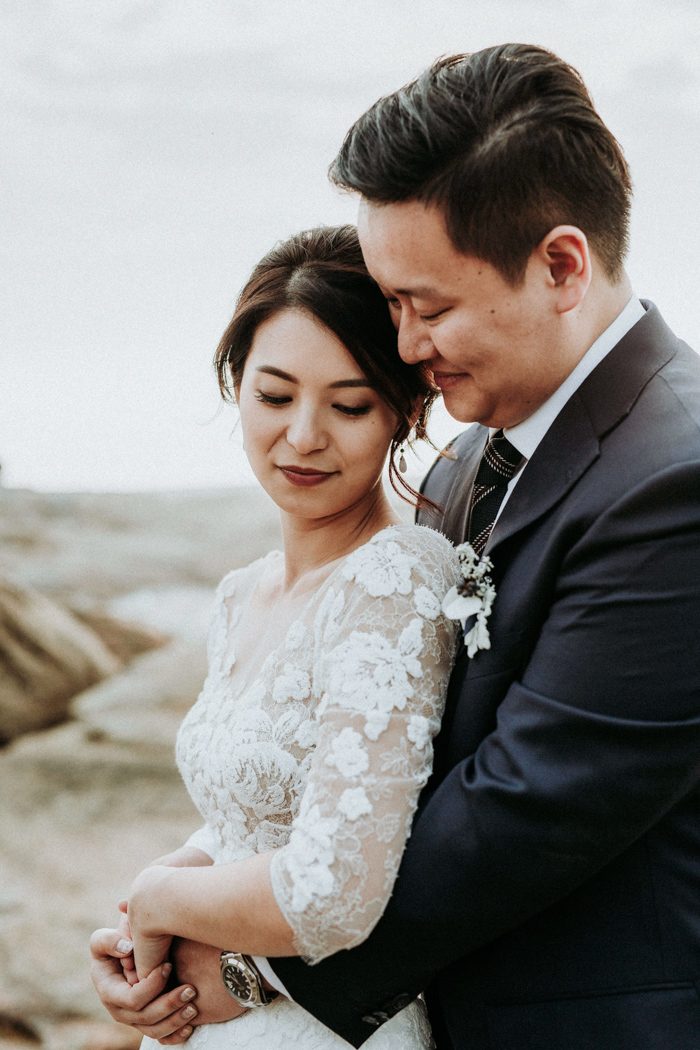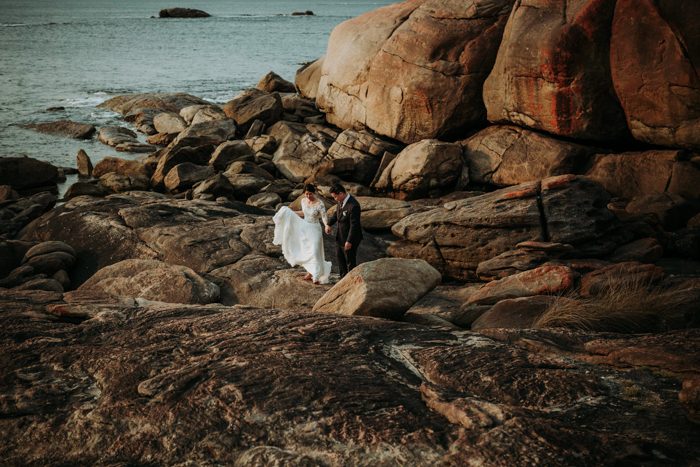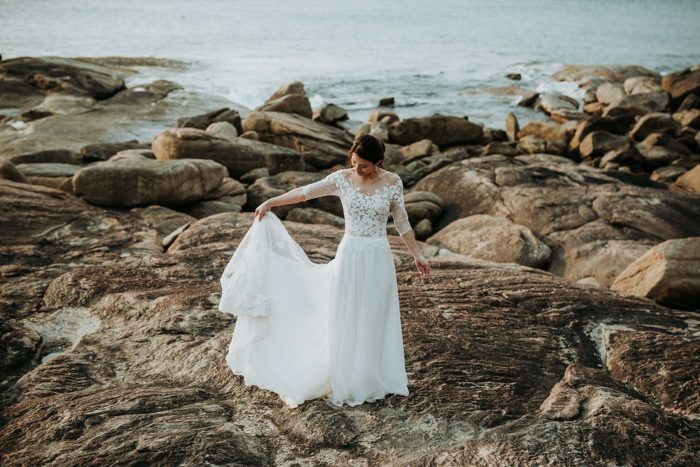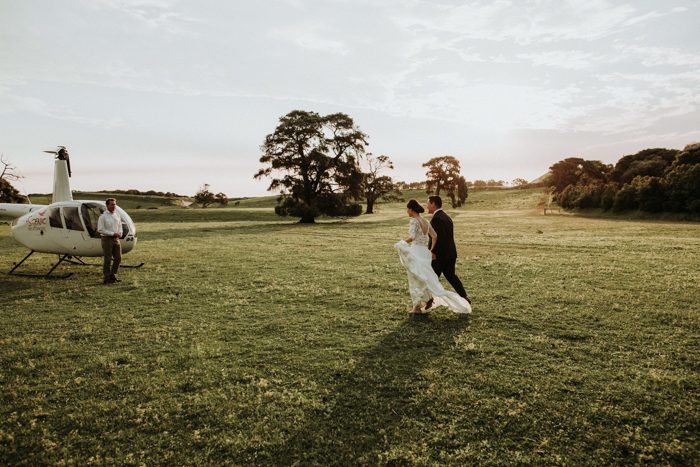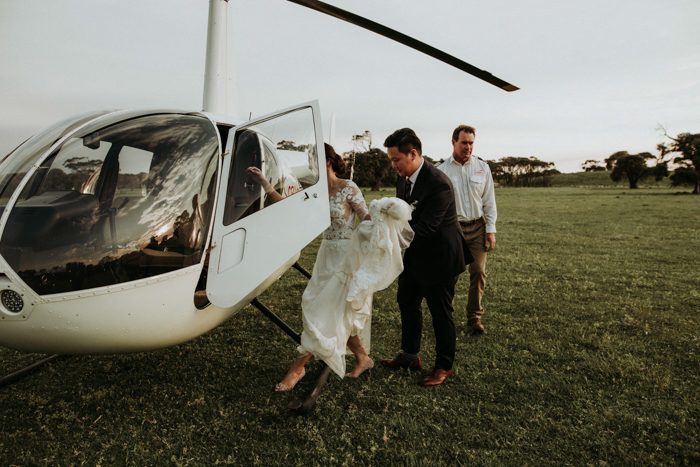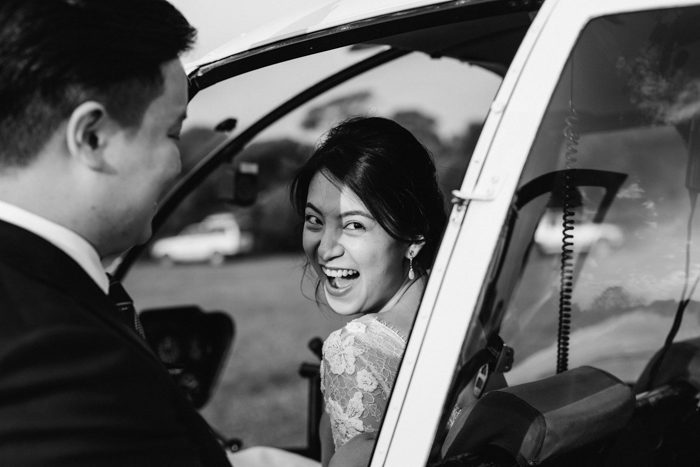 Because we had a spring wedding, we capitalized on the beautiful scenery that Margaret River provides and chose outdoor venues with lots of wood and greens. We wanted the styling elements to complement the killer setting we already had in hand and opted for a clean, elegant, and eclectic look. We love the idea of contrast and went for a lush white ceremony set up in the middle of the forest , a clear marquee with lots of fairy lights in the middle of a lawn overlooking the field and trees, and a black tie wedding right in the midst of nature.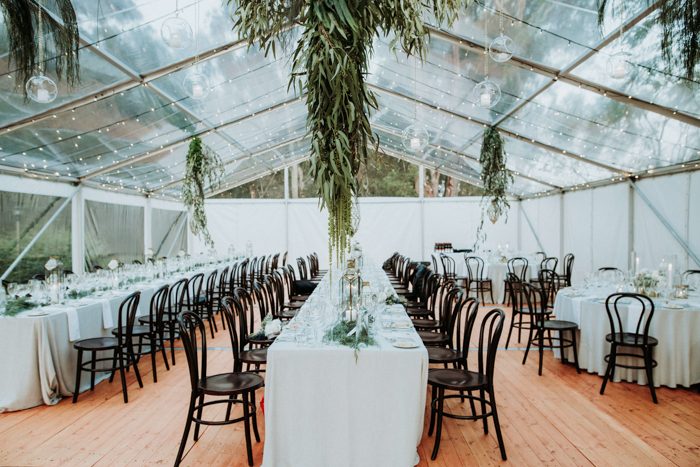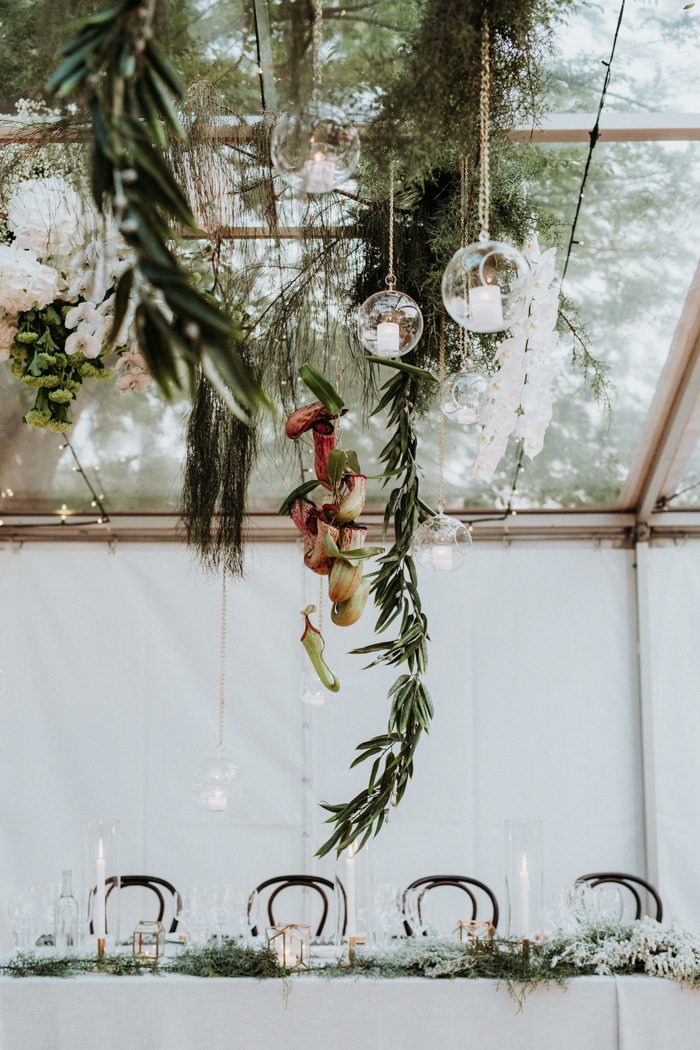 Our best advice to couples planning their wedding is to take the time to source and get to know your vendors because it is important to trust the team of people you engage (especially if you are planning a destination wedding). We also strongly encourage couples to convey what they want to vendors, but also leave room for vendors to work their creative magic, which brings us back to the point of engaging vendors you are confident in. That way, you get to be surprised when you see your wedding day come together.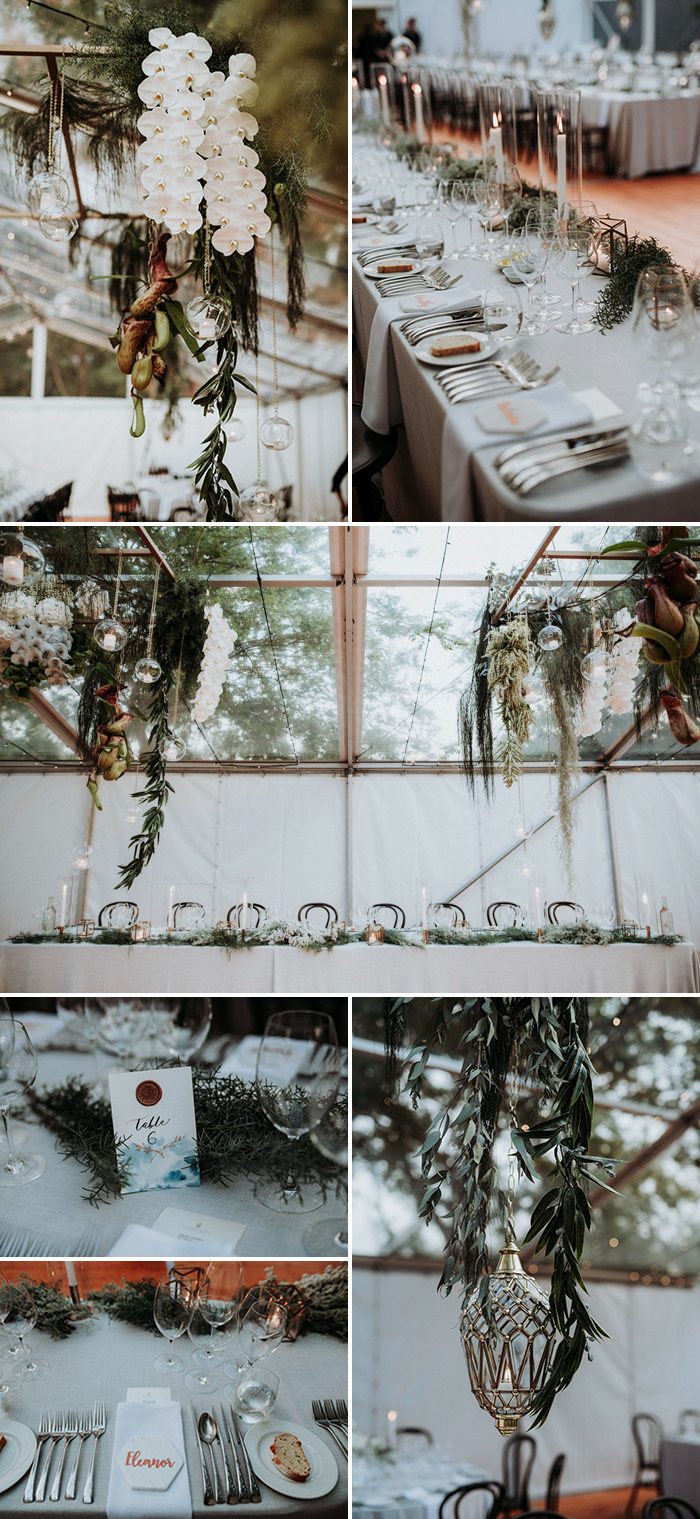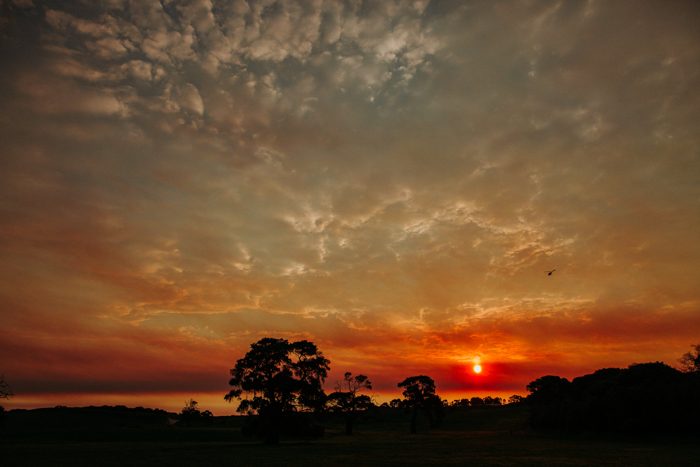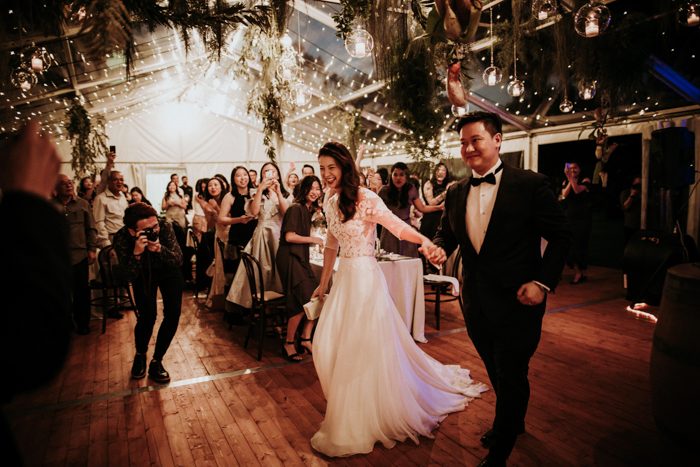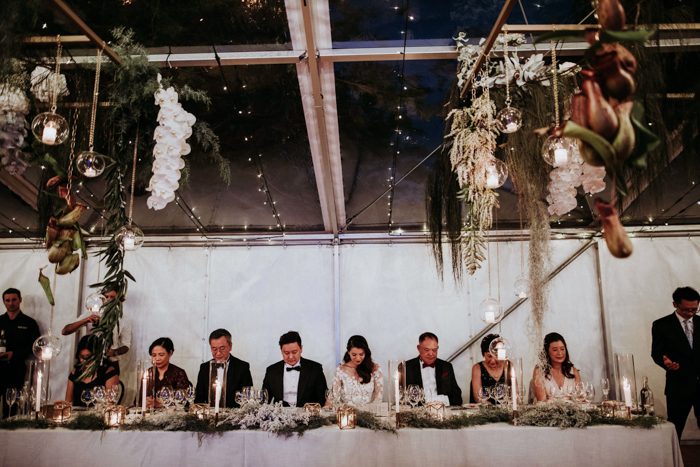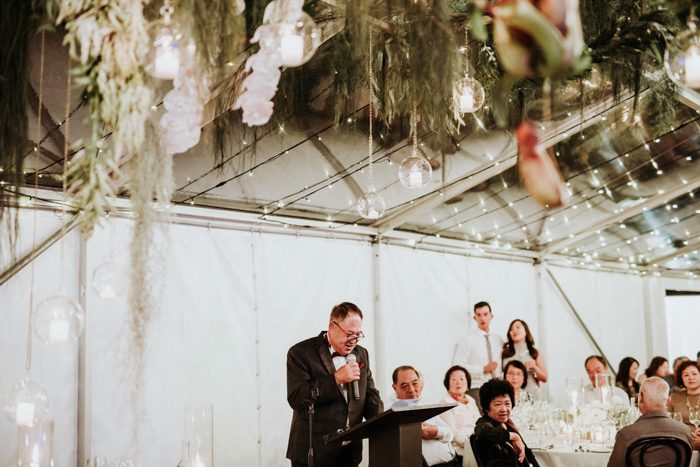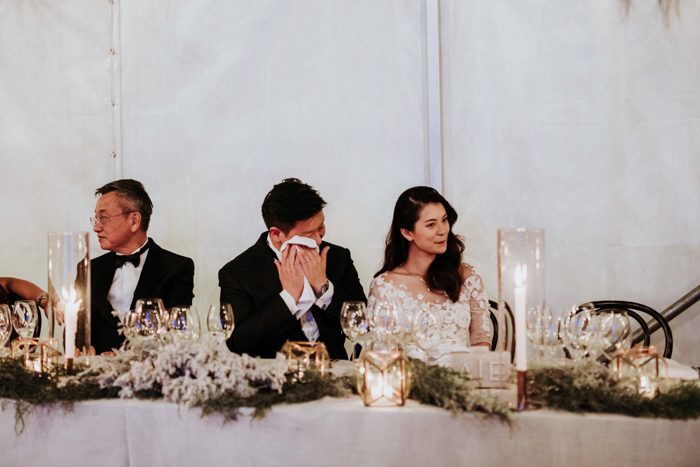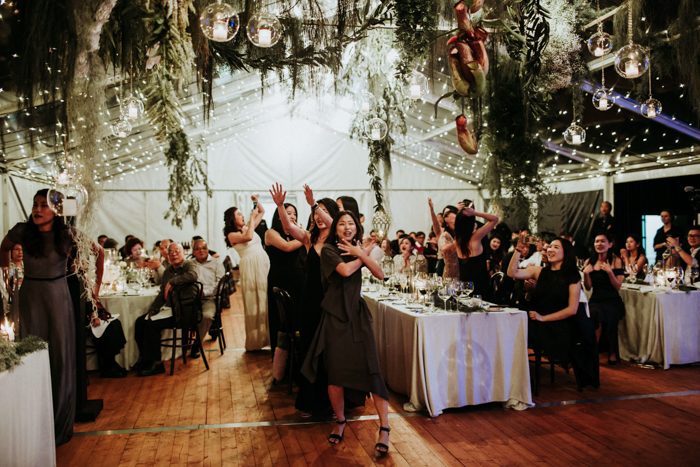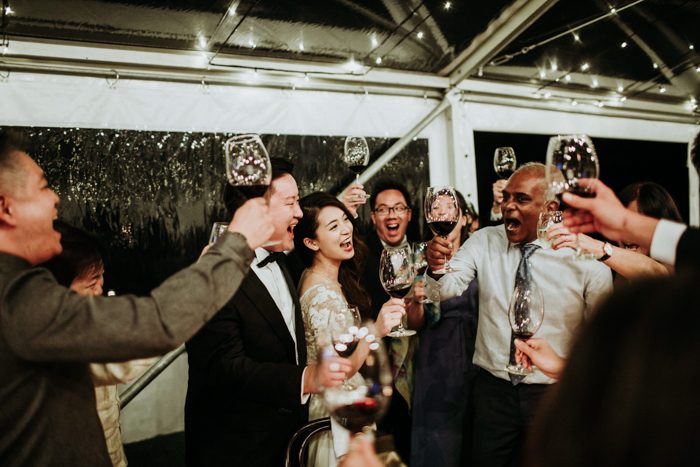 Congratulations to Eleanor and Alvin, and a huge thanks to Junebug member Black Bird Tale for sharing this gorgeous forest wedding with us! Looking for more stunning floral inspiration? Check out the epic florals in this Portland wedding inspiration at The Rookery Bar!