Your guests' first glimpse into your wedding day will be delivered to them via mail in the form of a save the date. This single element has the power to show your loved ones what your whole wedding experience will be about. From this one piece of paper will come an invitation, ceremony programs, seating cards, menus, and more. Choosing a design aesthetic that fits both your personalities as a couple and the theme of the day is important to create a sense of consistency throughout. Here is some inspiration for pretty paper for your wedding day.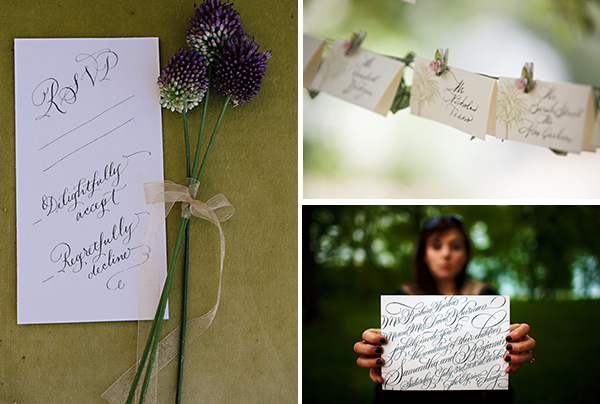 Images by Jennifer Ballard Photography, Melissa Musgrove Photography and Kevin Weinstein Photography
Calligraphy is a big trend right now from chalkboards to table numbers, and especially on wedding invitations. You may decide to hire a calligraphist to design your paper goods, or there are lots of workshops you can attend to learn the beautiful art of handwritten calligraphy yourself.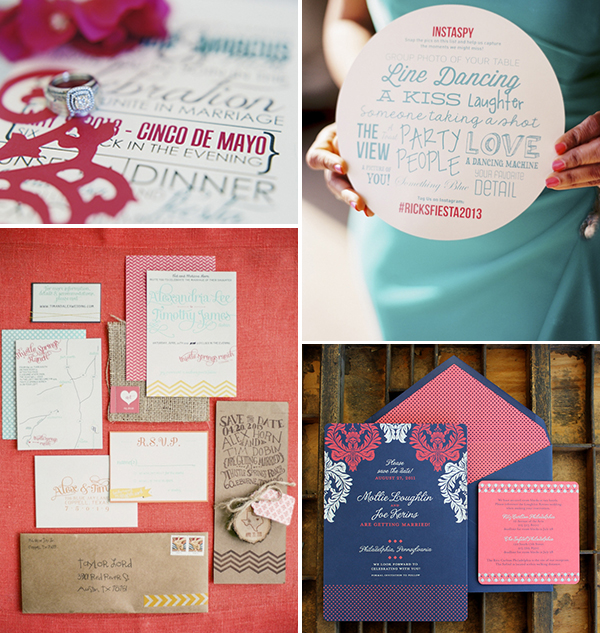 Images by Jillian Mitchell Photography, Curious & Co., and Taylor Lord
Colorful accents in your save the date cards and invitations excite the recipients while also letting them know the color palette for your day. This is a fun way to let your guests start to visualize your wedding. If you're still deciding on your color scheme, our color palette picker is a great way to see how different combinations look together and how they can be incorporated throughout your day.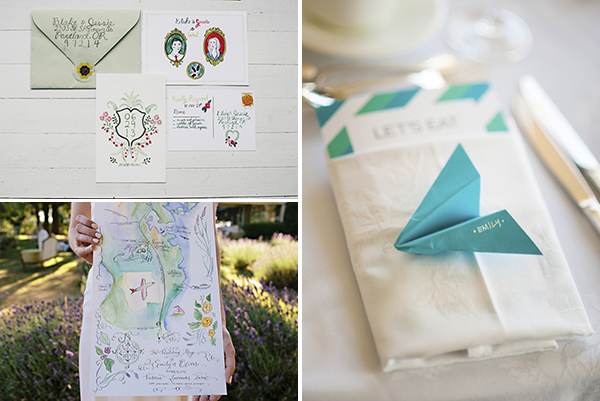 Images by Michéle M. Waite Photography, Stone Photo, and Jennifer Ballard Photography
Personal touches are the best way to set your paper goods and your wedding apart from anyone else's. Using elements created by you personally not only shows off your style as a couple, but gives something extra special to your guests that you put not only thought, but also time into. Hand-drawn illustrations and handcrafted pieces go above and beyond the average wedding.
We love seeing how the way a wedding looks on paper can inspire the entire affair. For more wedding inspiration, check out our DIY wedding décor inspiration.