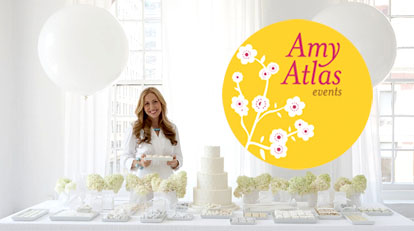 Dessert tables and candy buffets are super fun add-ons to wedding receptions of any size or style. They can be used as alternatives to traditional wedding cake if cake just isn't your thing, as additional sweets if your sweet tooth is a major priority, or as take home favors to delight your guests on their way out the door. In the last few years they've really been gaining popularity, but no one is doing them quite like New York's Amy Atlas Events! Often focusing on color themes to match the event's color palette, Amy creates dessert tables that are true works of art. Her attention to detail is spot on and each label, ribbon, dish, stand, table cloth and paper liner adds to the total look. What talent! Be sure to visit Amy's website to learn more about her services, and to get you started here are a few fantastic color palettes from her website gallery…
A white bridal shower brunch…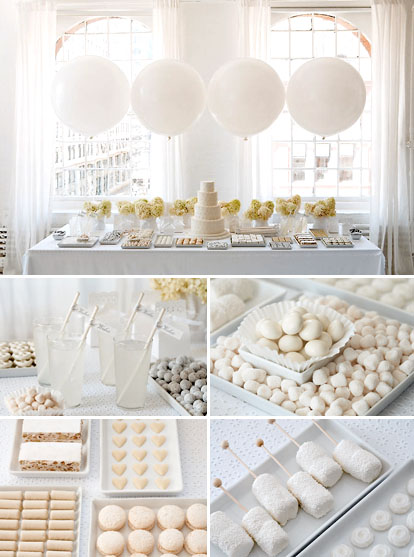 A multicolored old fashioned candy shop…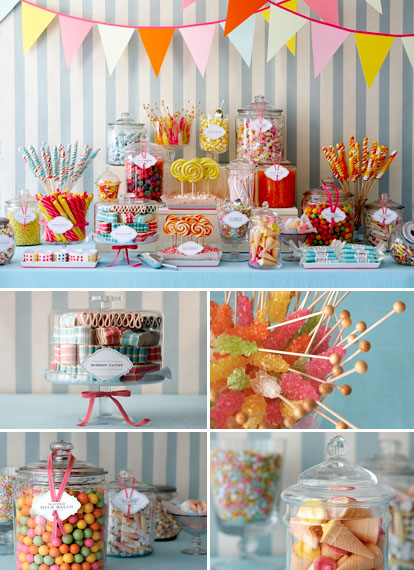 A black, white and yellow graphic modern event…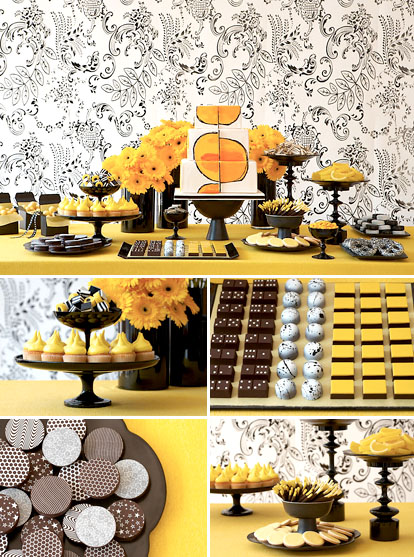 A fanciful pink and red birthday party…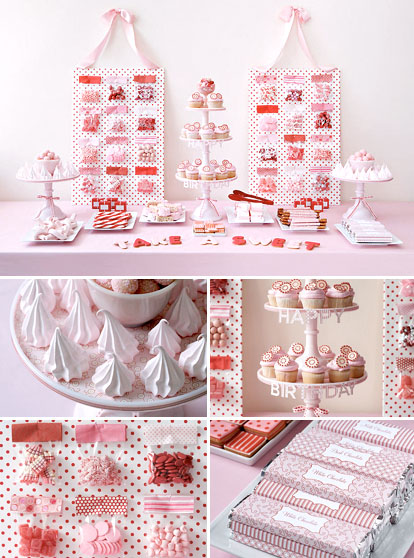 Planning your own DIY candy buffet? Here are a few of our top tips to make it a success:
Candy buffets are as much decorations as they are yummy favors, so youll want to have enough candy to create an abundant presentation.
A varying selection of large and small glass vases, bowls, and platters makes a charming candy buffet presentation.
Choose five to ten varieties of candy and purchase several pounds of each depending on the size of your wedding and the look youre going for.
Dont go under one-quarter to one-half a pound of candy per person, or you many run too low.
Small Chinese foodstyle take-out containers, vellum or clear plastic envelopes tied with ribbon, or pretty tins make excellent take-home containers for your candy buffet.
Include a small metal scoop in each large candy jar for easy use.
Label each kind of candy, especially those containing nuts, so your guests can choose wisely in case of health concerns.
Hard or wrapped candies work well in warmer climates, but the best choices are candies that you personally love and think your guests will appreciate.
Possible treats for great candy buffets include jelly beans, licorice ropes, M&Ms, gummy candies, sour gummy candies, malted milk balls, lollipops, saltwater taffy, hard candy sticks, rock candy, vintage candy necklaces and bracelets, gum balls, gumdrops, conversation hearts, chocolate kisses, and chocolate-covered cherries, almonds, pretzels, and espresso beans.