The most common realization after your wedding is over is that it happened so fast. Yes, there were months of wedding planning. But the big day is just that—a day. Then you wait for the images from your wedding photographer. When they arrive you're filled with excitement and reminiscent of the joy you felt that day. Your wedding photos are then printed and placed in a book. Your wedding day is neatly catalogued and organized before being placed on a bookshelf in your living room. Or, you can have hand-painted wedding artwork with our friends at Paintru.
What Is Paintru
Paintru is our favorite way to elevate your wedding memories. As their name suggests, they paint. But they don't just create any ole paintings. They turn your cherished memories into commissioned hand-painted works of art. Working with a network of incredibly talented artists (they actually feature the world's largest artist network!), Paintru helps you relive your wedding day forever.
Whether you're looking to display engagement photos at your wedding, you've settled on a wedding moment that you're ready to hang prominently in your home, or are looking for an amazing wedding gift for the slew of weddings already on your calendar, Paintru has you covered.
How To Commission Hand-Painted Wedding Artwork
Working with Paintru is seriously easy. We promise this will be the easiest artwork or gift you've ever bought! Their website breaks down the process of ordering custom art into four simple steps—with only two steps that you complete.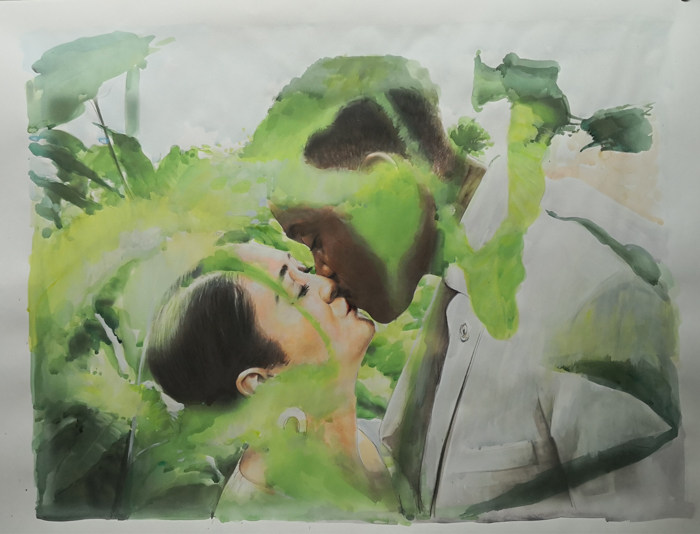 Step 1. Upload
Once you've chosen the image that you'd like painted, you upload it onto their website. Images can be .jpg, .jpeg, .png, or .tiff up to 100MB. After you've uploaded your image, let them know if you'd prefer an oil or watercolor painting. There's a section for notes regarding the style where you can also provide additional direction to the artist. For example, if you have a wedding landscape you'd love in Monet's impressionist style or you're interested in a more simplistic illustration-style watercolor–Paintru's artists can paint them all!
After you've chosen your painting size, you'll see some upgraded framing options. Make your selections and then checkout. It's that easy! There are even financing options available through a partnership with Affirm.
Step 2. Paintru Paints
Paintru will match you with an artist based on your preferred painting styles and any requests you've made during the checkout process. Once you're matched, they'll get started painting. This step takes 10-14 days.
Step 3. Review The Art
While the paint is wet, you'll receive a photo of the painting for your review. They offer unlimited revisions, so you can rest assured that you'll be receiving art you'll love.
Step 4. Your Art Is Shipped
Your painting is prepped for shipping and begins its journey to you. Once it arrives, it's ready for display. Prepping and shipping typically takes five to ten days.
Step 5. Sit Back And Enjoy
Okay, we said there were only four steps but we think this one is the best part. It's time to sit back and enjoy the masterpiece created from your images. This step lasts as long as your museum quality artwork does, so get comfortable.
5 Types of Wedding Artwork We Love
Wedding Landscapes — Whether it's walks on the beach or mountain top vows, this style of wedding artwork creates an exciting piece you'll cherish forever
Honeymoon Travel Landscapes — After you've returned from your honeymoon, these paintings will help you remember the best vacation of your life
Wedding Florals — What's better than a mass produced painting of floral arrangements hanging in your home or office? A one-of-a-kind painting of florals from your wedding day
The Details — Never forget the small touches that you spent months planning with a gorgeous artwork to commemorate it
Just Married Moments — Relive your first kiss as a married couple, the first dance as you spun around the room with tears of joy in your eyes, or anything in between
Get Started Today
A custom wedding painting is an incredible way to remember your wedding artfully. Because they make it seriously easy to order, Paintru is accessible to anyone, anywhere, and anytime. We particularly love the idea of paintings of wedding florals—check out completed versions here and meet the artists behind the work. Then, get started with your own wedding artwork today and use code JUNEBUG15 for an exclusive discount.