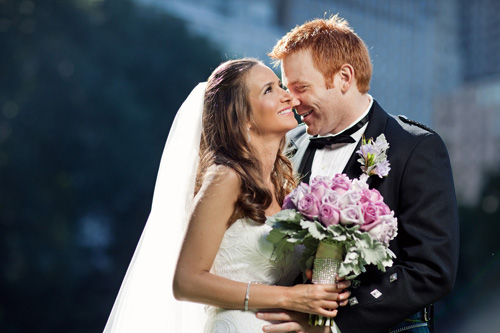 If you have a weakness for tartan plaid or a classic New York wedding vibe, then today's wedding of Crystal and John is going to get your heart racing! Photographed by Jason Groupp these wedding photos beautifully illustrate Crystal's story of her meaningful and magical wedding day.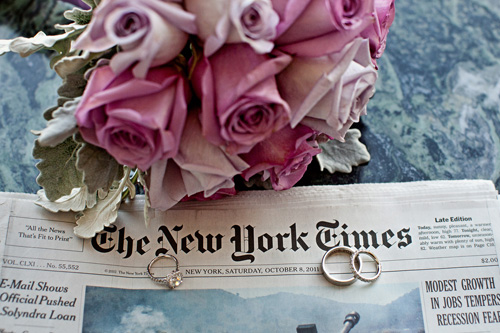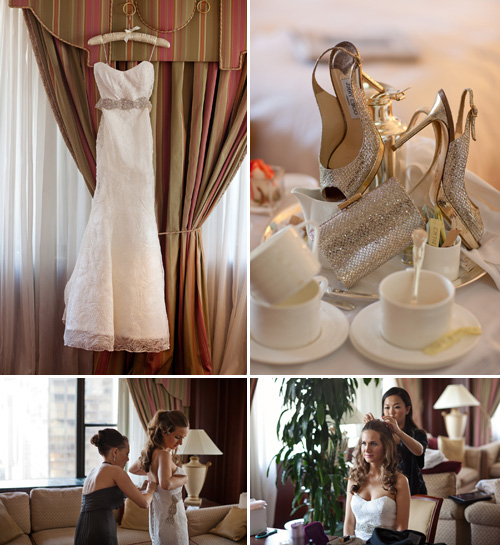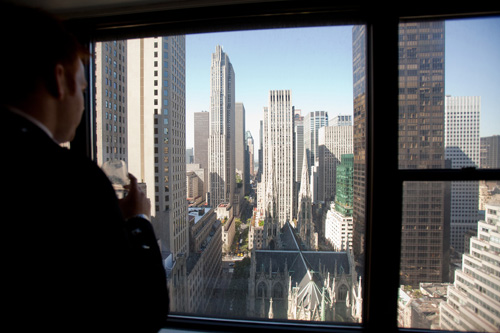 When you imagined your wedding day, what was most important to you? When it came time to plan our wedding we decided on New York City because it was where we met and fell in love, and also because it was a central point for our friends and families; Johns friends and family from Scotland and my family in Florida and California. The vision for my wedding was classic New York City, with Scottish elements. We wanted to have a wedding with fantastic food, a great band, romantic flowers and a beautiful venue. I searched a few different venues, and when I came across The New York Palace Hotel, I looked no further. It was one of the first hotels I saw when visiting New York City as a kid and I always thought it was one of the most beautiful hotels Ive ever been to. We held the ceremony and reception at The New York Palace and 110 guests attended. All in all, everything went perfectly and it felt like a beautiful dream.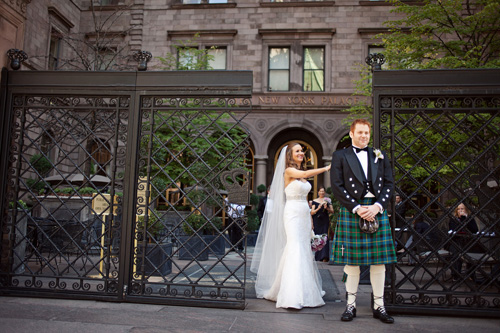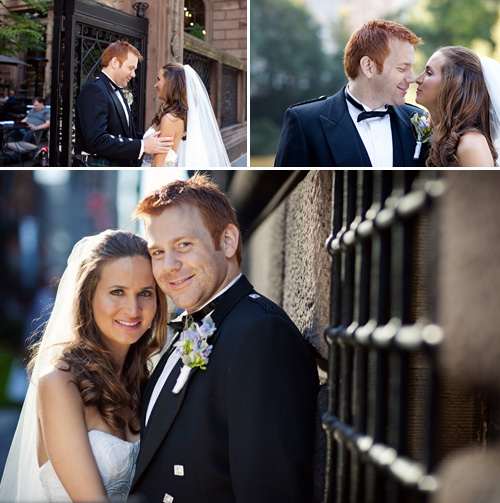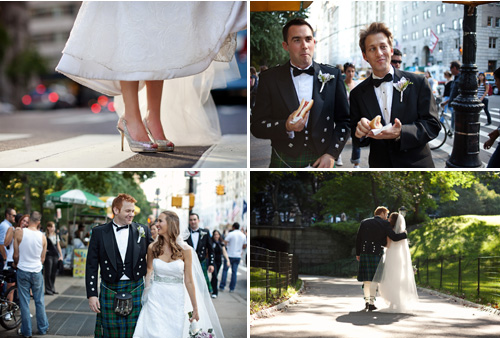 What colors, concepts and personal inspiration did you incorporate into the decor of your wedding day?Our wedding was romantic, classic, and traditional. When it came to the decor, I wanted a soft, romantic feel for the ceremony, with only lavender colored flowers and candlelight in the room. My bouquet from Ariston Flowers was a mixture of lavender colored roses and dusty miller, and had Swarovski crystals wrapped around the stem. For the reception we chose a mixture of lavender and white colored hydrangeas, roses, and orchids for the centerpieces. They were a mixture of high and low arrangements to add contrast, and they all incorporated hanging crystals and candlelight. We chose the New York Place because it was a classic New York City venue, where our out-of-town guests could enjoy a bit of classic New York City. We incorporated Scottish traditions into our wedding with the Scottish piper, traditional Scottish kilts, and Scottish ceremony programs, which had a soft lavender colored celtic knot and green plaid tartan ribbon, to match Johns kilt.
I loved our invitations which were designed by Postscript Brooklyn. We picked a lavender colored Brooklyn Bridge theme for the invitations suite, which fit perfectly with our classic NYC wedding. We used the same theme for our menus, and a NYC street corner, in a lavender color, for our escort cards.
Our cake, created by Ron Ben-Israel, was vanilla with blackberry filling and praline cream with praline crunch. The cake went beautifully with the decor. Ron incorporated the lavender colored roses with dusty miller to match the ceremony and reception. He also added crystals around the cake which he matched exactly to my crystal belt. The cake was one of the best tasting cakes I've ever had.
We added a photo booth from The Modern Photobooth Inc. to the wedding at the last minute, and it was a huge hit. The props were great and the images were so clear and crisp. Our guests really had fun with it and it was so great to see the hilarious images the next day!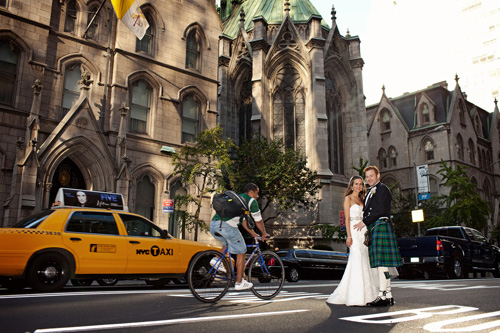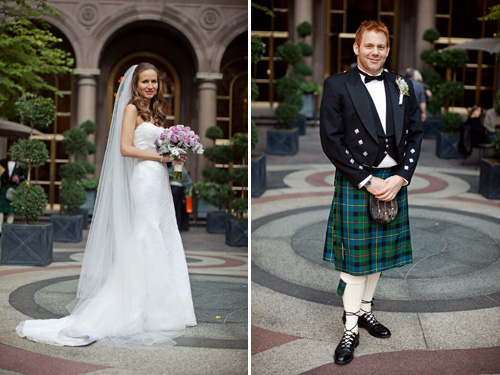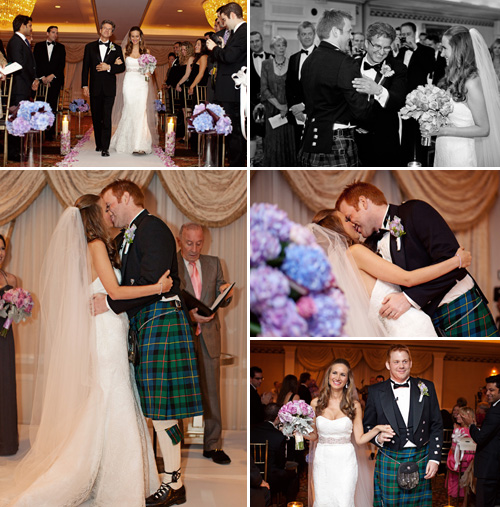 Tell us about your personal bridal style and what inspired it?I wanted a form fitting fit-and-flair gown, that also had detail and a little crystal. When I tried on the Alberta dress by Anna Maier-Ulla Maija at Gabriella Bridal Salon, I fell in love with it! The crystal belt I wore added just enough glamour to make the look really special.
The wedding party was formal, yet soft and elegant with dark gray Amsale dresses from Bella Bridesmaid contrasting with the lavender colored bouquets and green kilts. Crystals were added to the wedding party bouquets to add extra glitz and glamour.
What moments stand out to you most when you look back on the day?John and I had our first look in the Palace Hotel courtyard. When I tapped his shoulder to turn around, the moment was surreal. We spent the day taking photos with our families in Central Park. It was such a treat having the whole day to soak in the wedding with each other and our families.
Leading up to the wedding we spent countless hours and many lessons at Wedding Day Dance preparing for our first dance (to Dream A Little Dream Of Me by Louis Armstrong), but I was still nervous we were going to make mistakes. When the time came, the dance went flawlessly. When John picked me up for our last move of the dance, and I heard all the applause, I knew it was successful and our guests loved it! People say their wedding is the best day of their lives, but I didnt really believe it until our wedding day.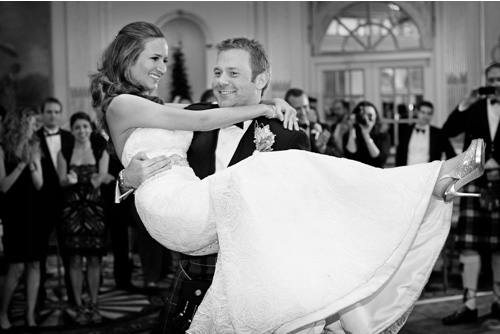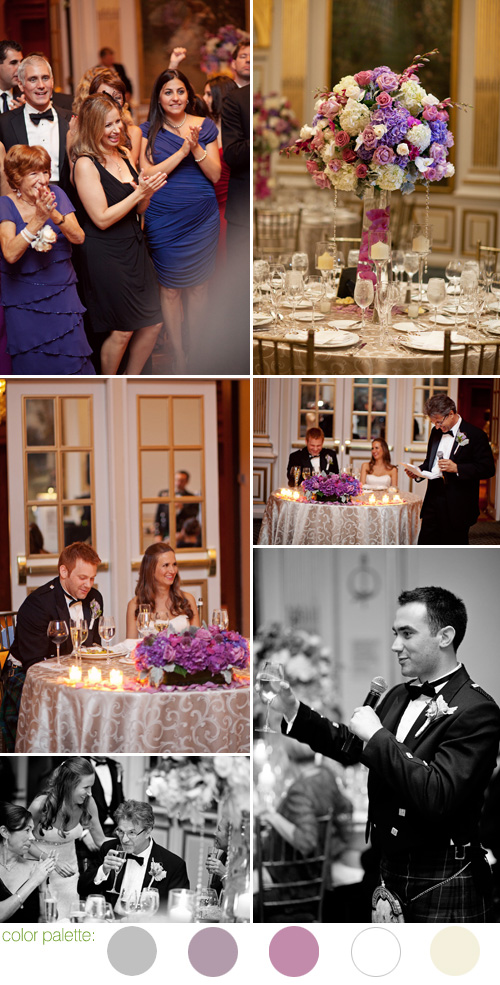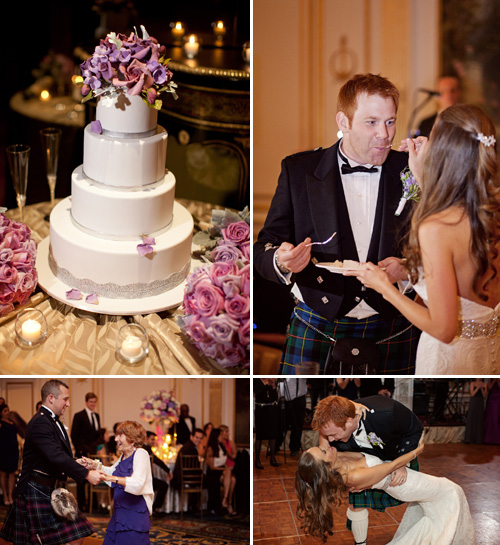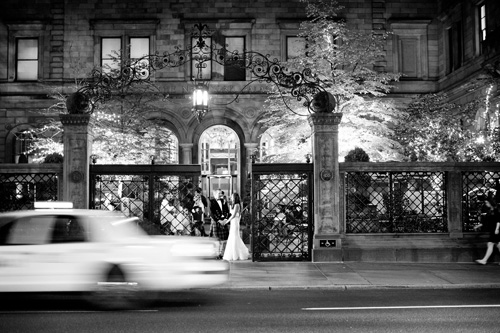 Thank you Crystal and John!
To learn about all of the wedding professionals who contributed to this day, be sure to visit Crystal and John's page in our Real Wedding Library!
To plan your own wedding in Seattle or Southern California, check out our Plan Your Wedding Hotlists. To find a dream wedding photographer and planner for your wedding anywhere in the world, don't miss our World's Best Wedding Photographers Hotlist and World's Best Wedding Planners and Designers Hotlist!