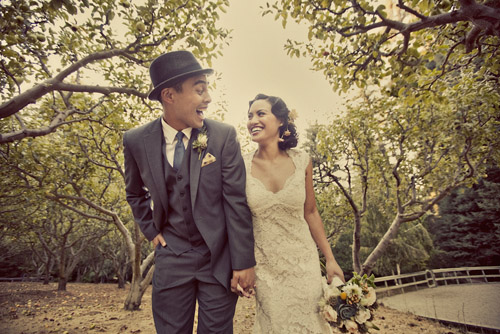 This is one of those weddings that the more I learn about it the more in love with it I become! Creative couple JoAnn and Jonathan deeply infused their personal styles into their wedding, but with such ease that the celebration looks like it must have been an absolute joy to attend. An ultra-imaginative and ultra-fun affair, photographed by the equally inventive photography team of Junebug members Paco and Betty!

The Goals: JoAnn and Jonathan chose the beautiful private estate of Nestldown in the Santa Cruz Mountains to create a wedding that was relaxed, creative and fun for everyone in attendance. Their main inspiration was simply to represent their relationship and personalities in the many aspects of their wedding day. "From the music played at the ceremony and reception to the food being served, we wanted our guests to feel as if they were spending time with us in our own home for a night."

The Design: The overall aesthetic of JoAnn and Jonathan's wedding had a vintage flair to it, inspired by the couple's love of fashion from the 1920s-50s, as well as details that celebrated their love for cooking, food, music and spirituality. With help from wedding planners Details by Design Events they created such an incredible atmosphere!
The wedding invitations were designed to represent the letters they sent to each other at the beginning of their relationship. "We used to mail each other letters all the time, even though we lived pretty close by, so the design was an air mail theme. Our intention was to make the recipient feel like they were looking through a box of keepsakes, like the boxes we kept our letters in. Inside they found custom made movie ticket stubs, post cards, photo booth pictures, and a personal "handwritten" letter."
At the wedding they used a rich wedding color palette of ivory, charcoal gray, eggplant purple, mustard yellow, teal and navy blue. The centerpiece flower arrangements were made with the help of their aunts and mothers and were displayed in vintage cans and homemade log vases decorated with customized cooking inspired labels. Their wedding favors were place cards that included recipes from their kitchen, and to make it a perfect outdoor meal the menu was picnic inspired. "Guests passed around platters of fried chicken, bowls of mac and cheese, corn on the cob, and coleslaw while being served glasses of sangria, frothy Belgian beers, along side the bottles of wine and champagne being poured at the table."
The Look: Both JoAnn and Jonathan wanted their fashion looks to be classic, so JoAnn wore a stunning lace sheath wedding dress from Monique Lhuillier and Jonathan wore a three piece suit with signature Converse, of course. JoAnn accentuated her vintage inspired style with an amazing hairstyle that included finger waves and fresh flowers – so gorgeous!

The Moments: JoAnne and Jonathan created a non-traditional wedding ceremony that was very personalized, honored all who have supported and influenced their lives, and truly represented their spiritual beliefs. The ceremony was officiated by Father Josh Favaolora of the White Robed Monks and included many meaningful readings – an excerpt from "The Alchemist" by Paulo Coelho, "Parting" a poem translated by Bruce Lee, "Evening" a poem by Pablo Neruda; and the special songs Rise by Eddie Vedder and (Nice Dream) by Radiohead.
At the reception, the Gypsy Jazz band Gaucho serenaded the guests, fun games were included at each table, an ice cream truck arrived to serve sweet treats as an alternative to wedding cake, and their cousin, a professional Chocolatier, made a table of chocolates and goodies for dessert that was so amazing nothing survived before dinner time!
JoAnn and Jonathan loved so many parts of the day, like having all of their loved ones together in one place, speaking their wedding vows to eachother and dancing their first dance to Shiny & New by Mayer Hawthorne, but looking back they each had favorite moments. For JoAnn it was right after the ceremony when they finally had the time to sit alone together, sipping champagne while watching their guests head to the reception. For Jonathan it was seeing JoAnn in her dress for the first time. Very sweet indeed.
The Pros: To learn about all of the wedding professionals who helped create this wedding day please visit JoAnn and Jonathan's page in our Real Wedding Library.

Thank you for sharing your amazing wedding with us JoAnn and Jonathan!
To plan your own Southern California or Seattle area wedding, check out our Plan Your Wedding Hotlists, and to find a dream wedding photographer for your wedding anywhere in the world, don't miss our World's Best Wedding Photographers Hotlist!