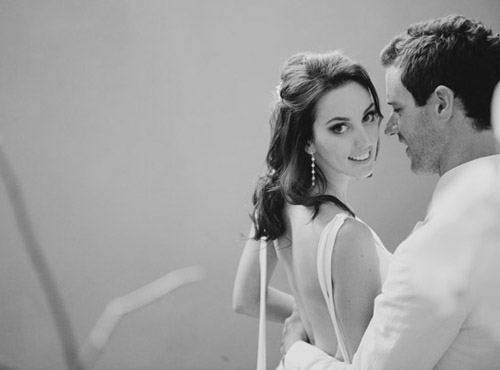 Today's lovely New Zealand Real Wedding of Claire and Brad's was held on a balmy evening in late summer, and was captured in exquisite detail by photographer Kate MacPherson. Brimming with vintage-chic style and lots of personal touches, this tea party-inspired wedding is simply gorgeous! Who wants to go to New Zealand with me?

The Goals: Claire and Brad wanted their wedding day to be an intimate affair, surrounded by their closest family and friends, in an organic, outdoor setting.
The couple chose Mantells, a 1920's era building with European-style architecture in Auckland, New Zealand for their wedding venue. Its design and decor were the perfect blend of old and new for their vintage-chic wedding. The personal ceremony, officiated by Brad's father, was held in a pebbled open-air courtyard, and the reception took place in the dining room of the venue. It had an open plan kitchen and two lounge-like areas so guests could easily relax and chat.
The Design: Claire chose a wedding color palette of cream, white and powder blue with hints of gold, and then incorporated everything – from the groom's socks to the vintage dessert tea cups – into that color scheme. Tables were dressed with votive tea-lights and herb pots tied with baby's breath, and napkins were folded with bands of vintage fabric decorated with cherubs. Flower arrangements were kept loose and organic in retro crystal vases.
After dark, the courtyard was lit with candles, and featured a dessert table where vintage crystal cake stands and teacups were filed with cupcakes and other sweet treats. Claire and Brad wanted their wedding cake to remain understated and simple, so they chose a chic three tiered ivory design, tied with an ivory ribbon.

The Style: The look for the bridal party was floaty and feminine with a sexy twist. Claire's backless silk slip gown from Phillipa Lepley Couture was based on a 1920's silhouette, and "hugged in all the right places." With the gown's Chantilly lace overlay, silk satin ties, and low back, Claire kept her accessories simple and pared down. Instead of wearing a veil, she placed a few sweet peas in her hair. "The train and the back were statement enough!"
The bridesmaids wore soft summery looks with a subtly retro feel. To balance their ultra-feminine blue-gray dresses from Whistles, Claire chose higher than average heels and sexy up-dos for her girls, and gave them each a pair of vintage pearl earrings she collected from flea markets.
The groom was casually elegant in a cream Paul Smith suit with Dries Van Noten shoes, and the groomsmen wore pale blue-gray suits from TopShop with Paul Smith shoes.

The Moments: "There were so many!", says Claire. "After the ceremony you feel this incredible rush of euphoria – the nerves completely subside. We had a toast together and shared this look of, 'we've done it.'"
"We were very lucky to have a run of really incredible heartfelt speeches and toasts. They were unique, funny and thoughtful. My dad spent six months rehearsing and engaged the services of a public relations and communications director and friend, to ensure that his was spot on!"
Even the groom gave a once-in-a-lifetime speech. Says Clair, "Brad's not much of a show pony, and even less of a singer, but on our wedding day, he decided to pull out the trump card and and sing to me in the intro to his speech. I nearly died when he rose up from his chair and started serenading me with 'It Had to be You', word for word, while leaning on the table."
The Pros: To learn about all of the incredible wedding professionals who helped to make this wedding a reality, please visit our Real Weddings section.

Thank you so much for sharing your lovely vintage inspired wedding with us Claire and Brad! Readers, don't miss Claire's wedding inspiration blog no-frou-frou!
If you're planning a wedding in Southern California or Seattle, don't miss our trusted Plan Your Wedding Hotlist, and to find your dream wedding photographer for weddings anywhere in the world, be sure to visit our World's Best Wedding Photographers Hotlist!