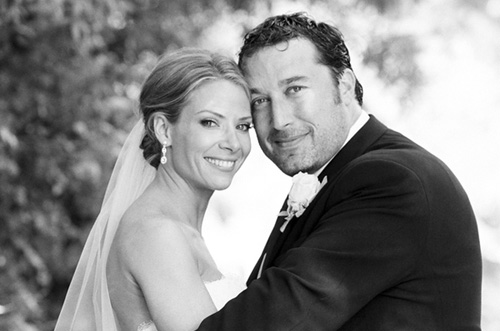 After a whirlwind surprise proposal in Maui, Christine and Steve planned a wedding that was filled with love, joy and gratitude for family and friends. I adore the way they balanced their priorities and hosted an event that was as stunningly beautiful as it was meaningful. It's a treat to look at these wonderful photos from photographer Yvette Roman, and to read about how they approached their wedding planning with the team at La Fete Weddings!

The Goals: "Our most important priority for our wedding day was to be surrounded by loved ones. We envisioned an intimate celebration so we could truly appreciate the experience with our family and friends." The world-class venue Bacara Resort & Spa allowed Christine and Steve to host an intimate wedding with 65 of their closest loved ones, while experiencing the very best aspects of stunning Santa Barbara. What a location!

The Design: Old Hollywood glamour was the inspiration for their wedding theme, and because of Christine's love of Chanel they incorporated the designer's classic looks into different elements of the reception. Wedding colors of lilac and gray were chosen because lilac was Christine's mother's favorite color and Christine grew up with a lilac tree outside her bedroom window. Wedding planner Colette Lopez and her team at La Fete Weddings worked with the wonderful florist Camilla Couture Floral & Event Design to create an atmosphere that was glamorous, soft and romantic. Wedding invitations and logo were created by Tracy from Lazaro Press & Design, and a square wedding cake with the signature Chanel quilted look and camellia flowers was created by the culinary team at Bacara Resort & Spa. Guests danced the night away to the unique performaces of 11H Entertainment, and took home wedding favors of Shutterbooth photo booth photos, and yummy cupcakes decorated to represent things that Christine and Steve love.
The Look: Christine wanted a bridal look that was understated and elegant, and that complimented her petite frame. The Chantilly lace Monique Lhuillier trumpet cut gown she chose was simply exquisite and made her feel as though she were "wearing a piece of art." Christine and Steve each had one attendant standing with them, along with a junior bridesmaid, flower girls, and ring bearers. "We asked the maid of honor and best "man" (a woman) to pick dresses in our color scheme that they loved, even the junior bridesmaid and flower girls picked out their own dresses. Their smiles walking down the aisle meant more to us than what they were wearing."

The Moments: Christine and Steve created a highly personalized and spiritual wedding ceremony to honor their families and respective Catholic and Jewish backgrounds. I love all of the the thoughtful and meaningful ideas they incorporated. Upon entering the ceremony, guests dropped fresh herbs at the chuppah with quiet blessings, and each herb's symbolism was explained during the ceremony. Rosemary to ensure devotion and love, thyme for courage, marjoram to increase happiness. "We stood on the herbs, therefore our loved ones wishes and blessings, the entire ceremony." Before Christine and her father walked down the aisle, they took a moment to remember her mother who had passed away 6 years earlier. With a piece of her mother's wedding dress fabric wrapped about her bouquet, she says she was able to "hold onto both her parents." And one of the most unique wedding ceremony ideas? The celebrant Saral had her back to the audience so that Christine and Steve could look out over all of their loved ones.
For their reception entrance Christine and Steve performed a choreographed dance to Jennifer Lopez's "On the Floor," and it went perfectly. "After such an intimate and sentimental ceremony we wanted to start the reception with a fun surprise for our guests." Love it!
And when we asked what their best wedding planning decision had been, the answer was simply, "Marrying each other." Too true!
The Pros: To learn more about all of the many talented wedding professionals who helped create this wedding day, please visit Christine and Steve's page in our Real Wedding Library!

Thank you so much for sharing your wedding day with us Christine and Steve!
Readers, to plan your own wedding in Southern California or Seattle, check out our Plan Your Wedding Hotlists, and to find a dream wedding photographer for your wedding anywhere in the world, don't miss our World's Best Wedding Photographers Hotlist!