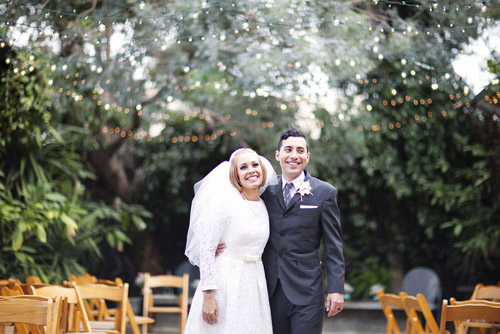 The Couple: Emily and James
The Wedding: 5.14.11 – Huron Substation – Los Angeles, California
What three adjectives that best describe your wedding? Personal, relaxed, handmade
What inspired your personal wedding style, and how did you incorporate your style and personalities into your big day? I knew I wanted a vintage dress and James wanted a suit in a 1960s cut, so we let those two things be our initial style inspiration. Location was important and we fell for the Huron Substation right away. I wanted to make sure that the decorations complemented the atmosphere and didn't take away from the raw beauty. Since I love crafts, I bought fabrics, along with my mother giving me a basket of vintage lace, and started looking what designs I could make with it! We based our invitations on the little post-it note drawings James and I leave for each other. Lucky for me, James was able to draw and design them, as well as the stickers for the favors.

Looking back, what are the moments, decisions or memories that you love the most about your wedding? We picked the perfect venue for us and it really made a difference. I felt almost like we didnt have to do anything to it to create a lovely day. The photo booth was a great choice as well. Everyone loved it (even the most reserved family members got in there!) and the book of all the photos we received after the wedding is such a fabulous keepsake. We knew what we wanted and we stuck to it! Im so glad we did because at the end of it all we both felt like we wouldnt have changed a thing. We wrote our own vows and Ill never forget hearing Jamess sweet, personal and emotional words for the first time as we stood in front of our loved ones.
What was your wedding color palette? Natural and neutral colors as a base, with teal, spring green, yellow, and blue accents.

Wedding Team:
Photographer: Fresh In Love Photography
Ceremony and Reception Venue: Huron Substation
Officiant: LA Wedding Woman
Catering: Guss Barbeque / Auntie Ems Kitchen
Florist: L.A. Flower Mart
Groom and Groomsmen Apparel and Accessories: Thick As Theives
Makeup: Jayme Kavanaugh
Transportation: Jeffery Valet
Favors: Botanical Paperworks
Site Management: TACT Event Management
Rental: Party Unlimited
Photo Booth: Magnolia Photo Booth Co.
Thank you Emily and James! What a lovely wedding!
To find inspiration for your our personal wedding style, don't miss our Wedding Image Gallery!