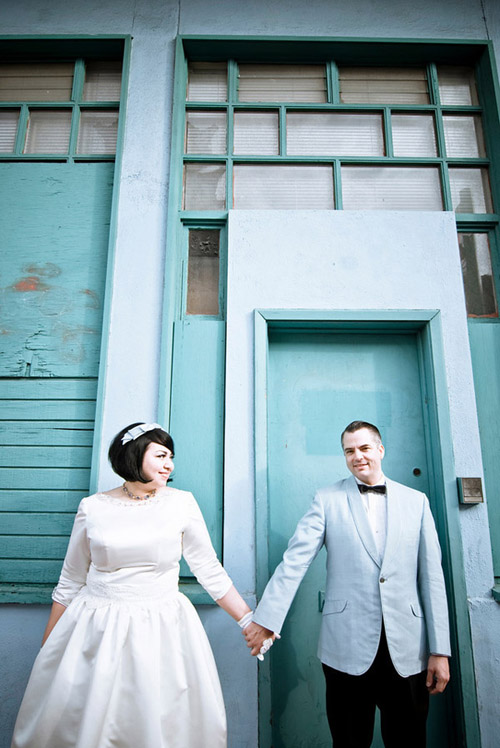 The Couple: Rosa and Doug
The Wedding: 12.4.10 – Don the Beachcomber, Huntington Beach, CA
What three adjectives that best describe your wedding? Emotional, vintage, fun.
What inspired your personal wedding style, and how did you incorporate your style and personalities into your big day? Our wedding was ALL about our personal styles! Both Doug and I are lifelong vintage enthusiasts. We love all things 60s waaaay before Mad Men. It wasn't us to try to be cutesy or retro, rather it was us to incorporate all the things we love into our big day. Our home, our wardrobes, the music we listen to…it's all 1960s. Our wedding attire Doug in a vintage tux and me in a custom made dress, made from a 1963 pattern, our vintage accessories, the amazing tiki-themed invitations our friend Lili Chin designed just for us, and the music played at our wedding…everything was very us."

Looking back, what are the moments, decisions or memories that you love the most about your wedding? Doug and I tossed around the idea of eloping, mostly for budget reasons. But I am so glad we didn't. We knew if we went through with a wedding, it would have to be something we both enjoyed. We had a pre-ceremony cocktail hour in which yummy tiki drinks were served. We had a great officiant who was funny, cracked jokes and basically set the mood. A great 60's surf band played as we walked down the aisle and friends DJed and played JUST the music we liked! No stuffy string quartet or cheesy wedding deejays here! From the moment the planning started, Doug and I had one goal: that guests walk away saying that was fun! I believed we achieved that.
We had made plans to have our first look photo session in a nearby park before the ceremony. We were running an hour behind schedule and we were all so stressed! Those seconds leading up to us seeing each other in our wedding attire for the first time were the most nerve-wracking. When we finally did see each other, we were overwhelmed with emotions. We wiped away tears and just held each other for what seemed like forever. This was definitely our moment.
Wedding color palette: Baby blue, marigold/mustard yellow, and ivory.

The Wedding Team:
Photographer: Julie Pepin
Ceremony Venue: Don the Beachcomber
Reception Venue: Don the Beachcomber
Officiant: Alan Katz
Invitation Designer: Lili Chin
Catering: Don the Beachcomber
Florist: Centerpieces were DIY, bouquets were by Sanctuary Design
Cake: Kings Hawaiian Bakery
Wedding dress: Dolly Couture
Bridal accessories: All vintage 1960s pieces purchased on Etsy and eBay
Bridesmaids apparel and accessories: Custom made by Michelle Tan
Groom's apparel and accessories: Vintage 1960s tuxedo jacket purchased online, all accessories were all vintage as well
Groomsmen apparel: Ben Sherman
Hair and make-up: Hair by Tanya Ramirez of Untamed Instincts, make-up by Brenda Morales
DJ: Friends of the couple
Live music: The Glasgow Tiki Shakers
Brides rings: Brilliant Earth
Thank you so much Rosa and Doug! What a wonderfully personal wedding!
To find inspiration for your our personal wedding style, don't miss our wedding image gallery!