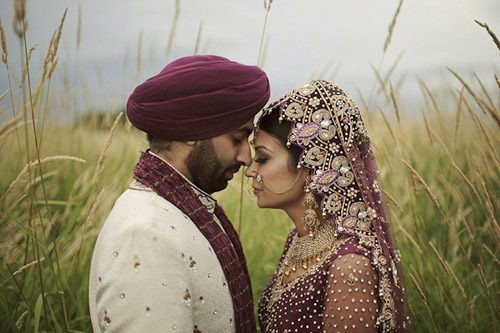 Photographers Cole and Jakob of Nordica Photography had never photographed a Sikh wedding before working with couple Susan and Jag, and the weekend provided not only a wonderful artistic challenge for them as photographers, but a rich cultural experience they would never forget. I love the way they described it all on their blog…
Susan and Jag didnt want the typical, traditional indian wedding photos. They wanted something else, something different, which is why they got in touch with us in the first place. We had never done a Sikh wedding before, so our fresh vision was exactly what they were looking for.
Their wedding brought us into a culture that we knew very little about: Sikh. We sat in their temples, ate their food, listened to their music and immersed ourselves in their world. But we approached this very unique wedding experience the exact same way we approach weddings in Iceland, Mexico, Sweden, Vancouver or anywhere else.
Because no matter the location, no matter the culture, its always about the same thing: telling the story, the way we see it.
We were told before this wedding that Indian weddings were incredible, and they truly are. We cant wait to do more.
An amazing wedding captured with truly unique imagery! What a pleasure to get to see it all! Read on to learn all about the wedding itself from the beautiful bride, Susan…

When you imagined your wedding day, what was most important to you? We can't really say that one thing was important than the other. We wanted the entire experience to be special so we gave careful thought and attention to each aspect of the wedding. However, if forced to pick, having the wedding ceremony and reception on two separate days was extremely important. Sikh weddings can be taxing in terms of the time required for the wedding ceremony and the traditional and cultural ceremonies that follow. Follow that with a wardrobe/hair/makeup change and a reception. This can be a little too much to squeeze into one day, so we wanted to divide the Wedding and Reception on a Saturday and Sunday of a long weekend so that we weren't rushed and could take the time to enjoy every moment.
We were also very happy with all of the vendors we worked with. We are extremely happy with how the venue, decor, photography, videography, etc. turned out. We don't have a single complaint about the people we worked with. With regards to our wardrobes, the vendors we worked with, the color palette we chose… we went with our gut on all of our decisions, and it worked out perfectly!
What three adjectives describe your wedding best? Joyous, glamorous, lively.

What was your personal bridal style like and what inspired it? The morning look was based on a traditional Indian bridal style. I decided to go with purple because I wanted something different than the more traditional and commonly used red outfits. The evening style was based on a more western vintage look accompanied by Indian jewelry. I loved that we had the best of both worlds with a more traditional look in the morning followed by a western-inspired look in the evening.

Tell us about your wedding color palette and decor design? For the reception our wedding colors were purple, lavender, black and silver. We wanted to have a gothic-inspired theme which would provide an amazing backdrop for a joy-filled evening.
We had our invitations printed in India. We went with what is traditionally used for Indian weddings.
My husband is a huge fan of the Pittsburgh Penguins and I wanted to surprise him with something during the event. So I had a cake created with the team colors, two penguins on the top, and two hockey sticks across the front. Corny maybe? Buy he was happily surprised and I feel that it gave a colorful uniqueness that you don't see with most wedding cakes.

What moments stand out to you most when you look back on the day? Getting prepared in the morning and having the surreal feeling that it was our wedding day, the wedding ceremony with the exciting and nervous energy surrounding it, and the hours and hours of dance mania at the reception! One of the most romantic moments was during our drive away from the wedding ceremony as this was our first opportunity to spend some time alone and discuss our experiences and feelings about the wedding and the days and traditional ceremonies leading up to it.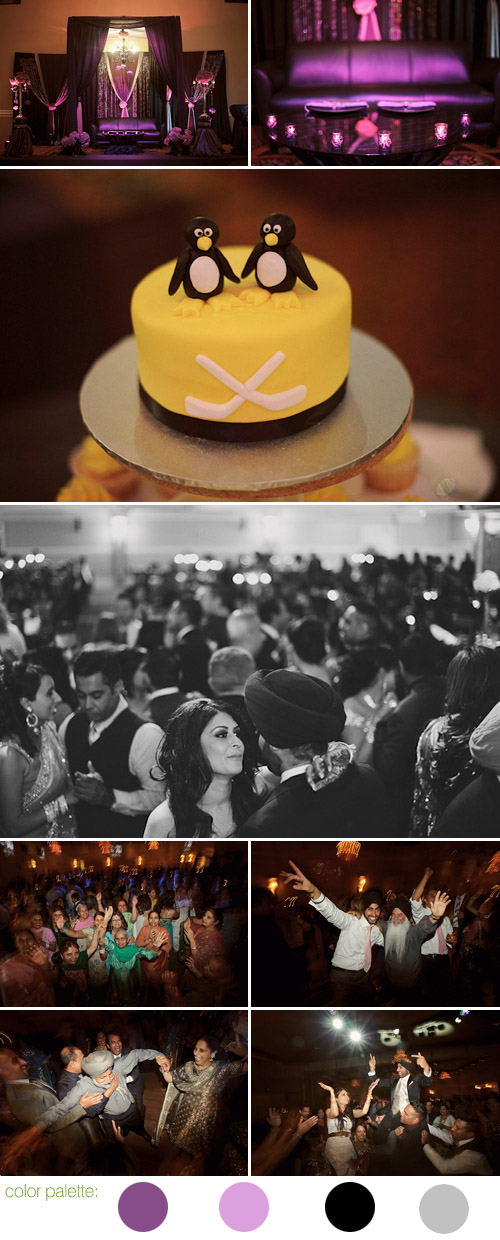 Thank you so much Susan and Jag! Your wedding was spectacular and we're honored to have the opportunity to learn more about it!
Readers, to learn all about the wedding professionals who worked on Susan and Jag's wedding, be sure to visit their page in our Real Wedding Library. You can see many more images from this wedding on the Nordica Photography blog!
To plan your own wedding in Southern California or Seattle, check out our Plan Your Wedding Hotlists, and to find a dream wedding photographer for your wedding anywhere in the world, don't miss our World's Best Wedding Photographers Hotlist!