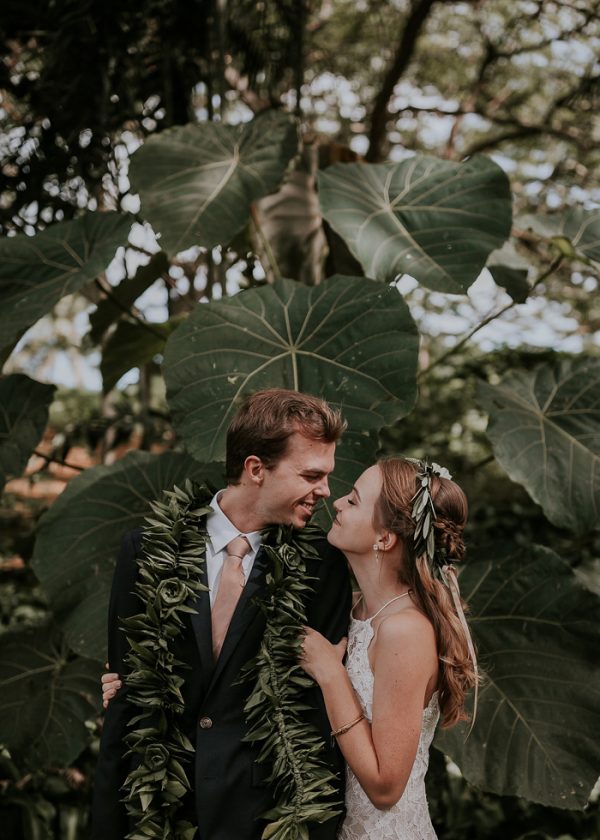 Carissa and Will's wedding at Kualoa Ranch combines tropical Hawaiian vibes with totally romantic details! The couple are residents of Oahu and, for their wedding, they wanted to showcase their favorite parts of Hawaii's landscape: the majestic Ko'olau mountains and the natural serenity of their venue's greenery. Photographer Olivia Strohm Photography masterfully captured every detail of this couple's wedding, including their eight (yes, eight!) wedding cakes and their beautifully bottled home-brew beer!
The Couple:
Carissa and Will
The Wedding:
Kualoa Ranch, Oahu, Hawaii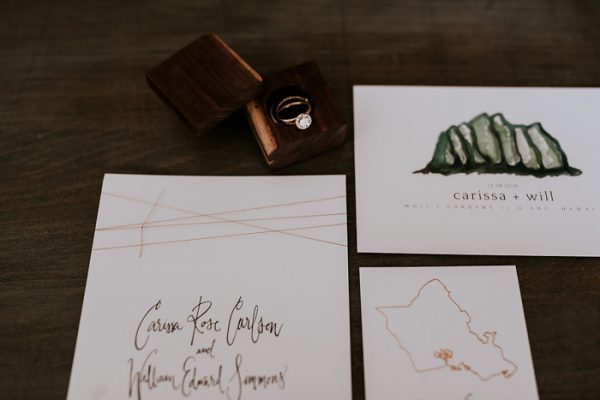 When you think of Hawaiʻi, beautiful beaches may be first to mind. Although we love the beaches on Oʻahu (the island where we live), we wanted our friends and family traveling from afar to see our favorite parts of the island. We wanted to choose a venue between Oʻahu's Windward and North Shores, dominated by the majestic greenery of the Koʻolau mountains and the calm sacredness of Hawaiʻi's native lands, and Moliʻi Gardens at Kualoa Ranch was an absolutely perfect venue choice. Located on historic Moliʻi Fishpond, one of the islands' largest native fishponds, with a stunning mountainous backdrop, the space offered so many options to be creative with our ceremony.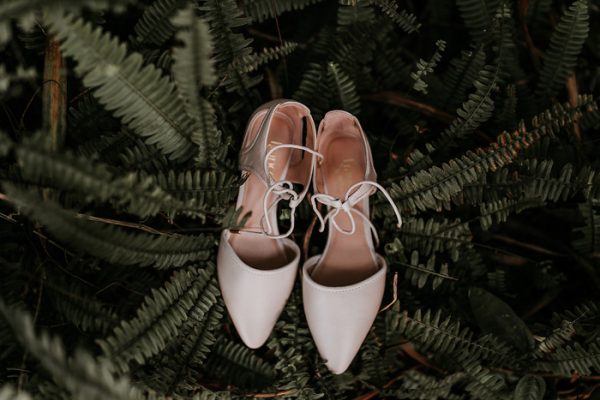 From the non-traditional bridal entrance down a tropical greenery-covered staircase to a reception dinner held on the upper lawn beneath a gigantic tree and picturesque mountains, the venue's natural beauty spoke for itself. Logistically, this also allowed us to keep the decor and details simple, as the land had already provided so much for us.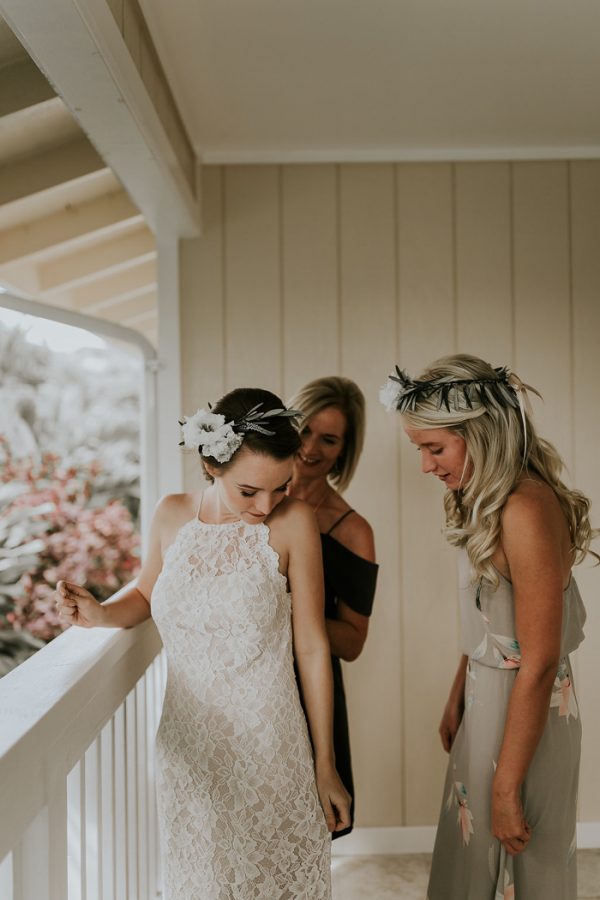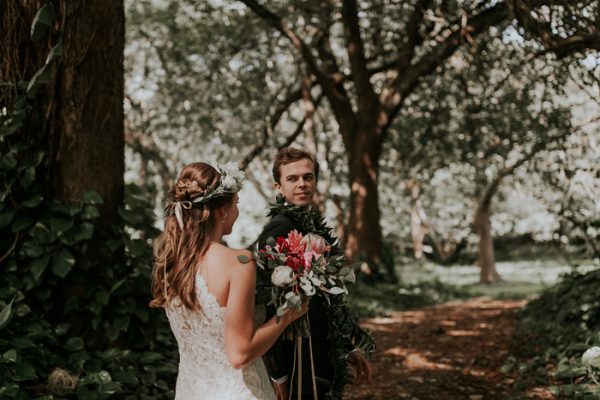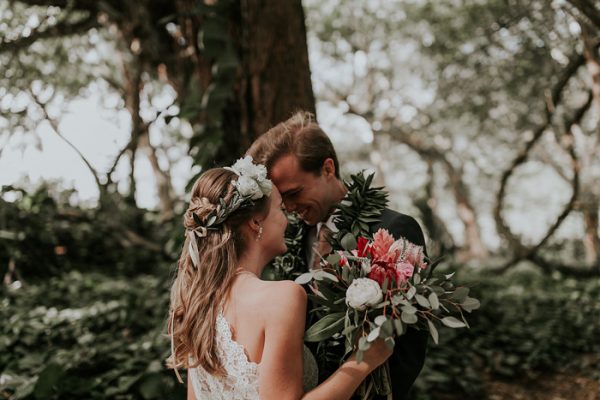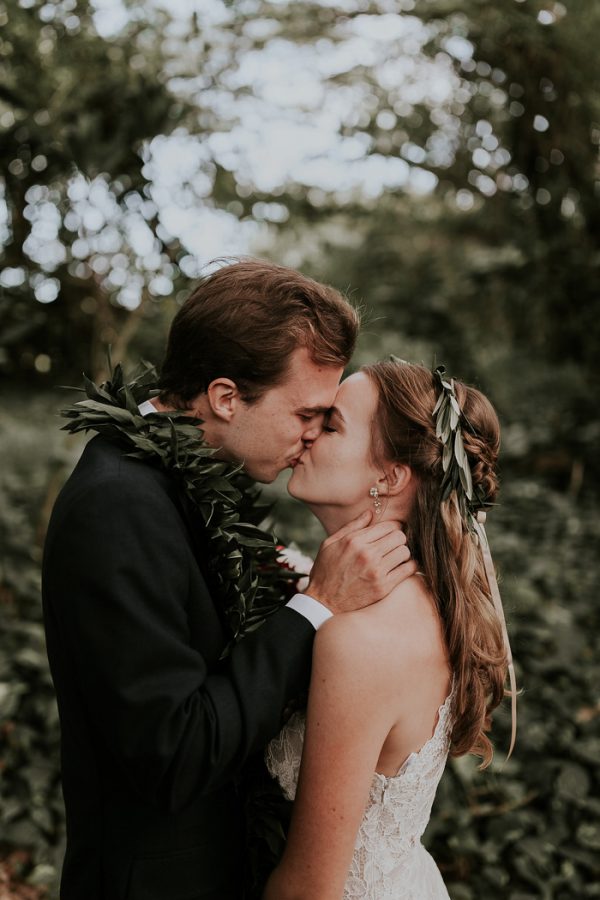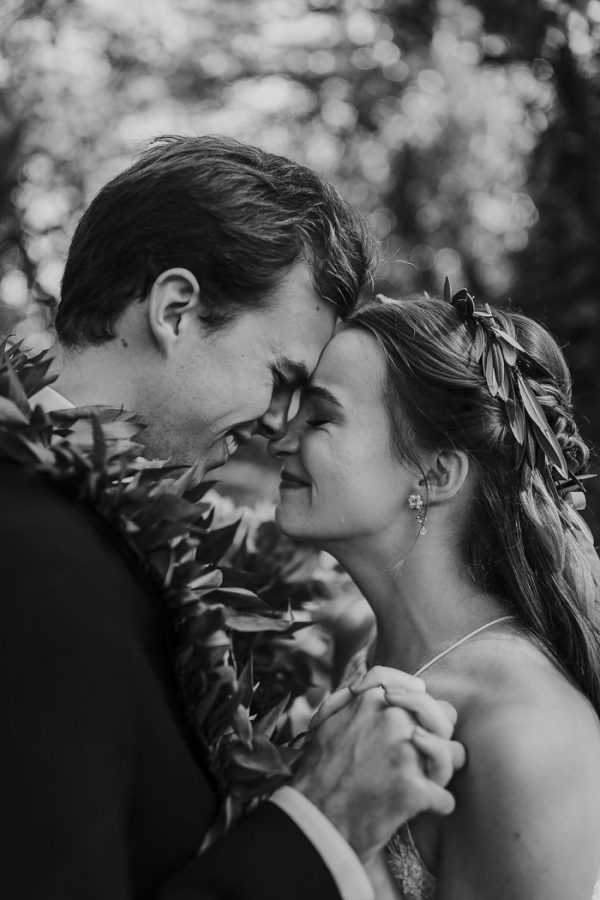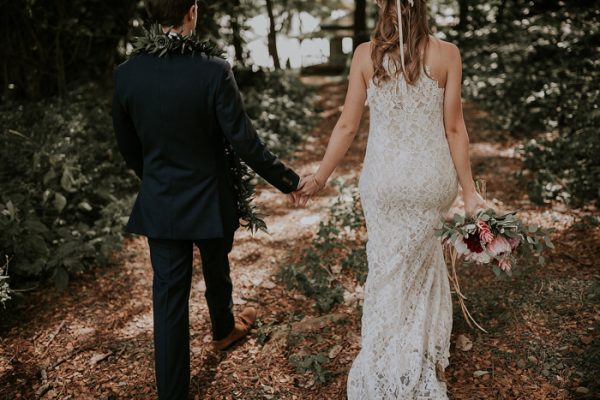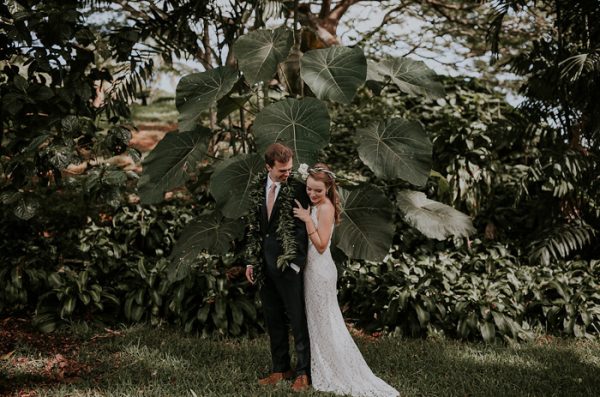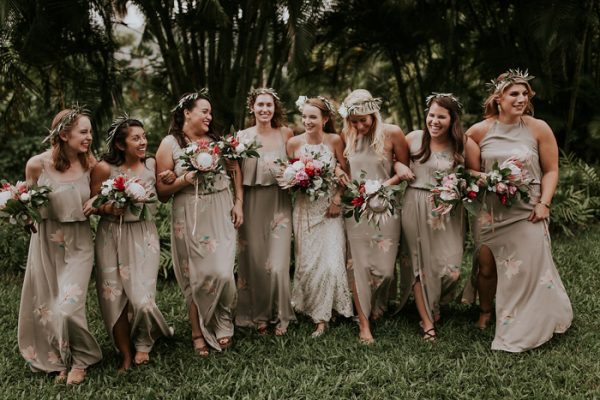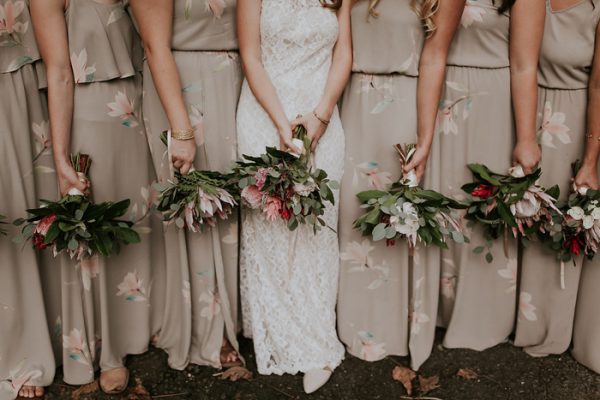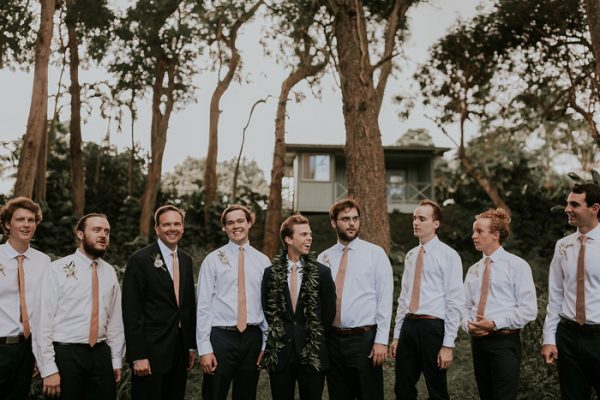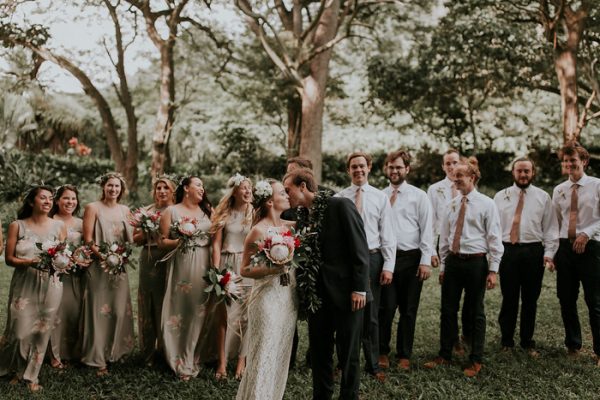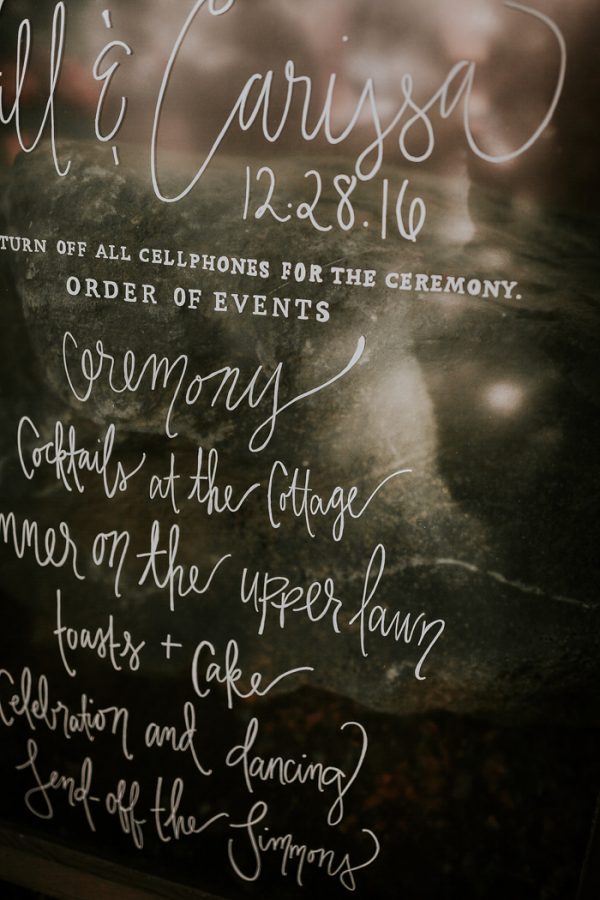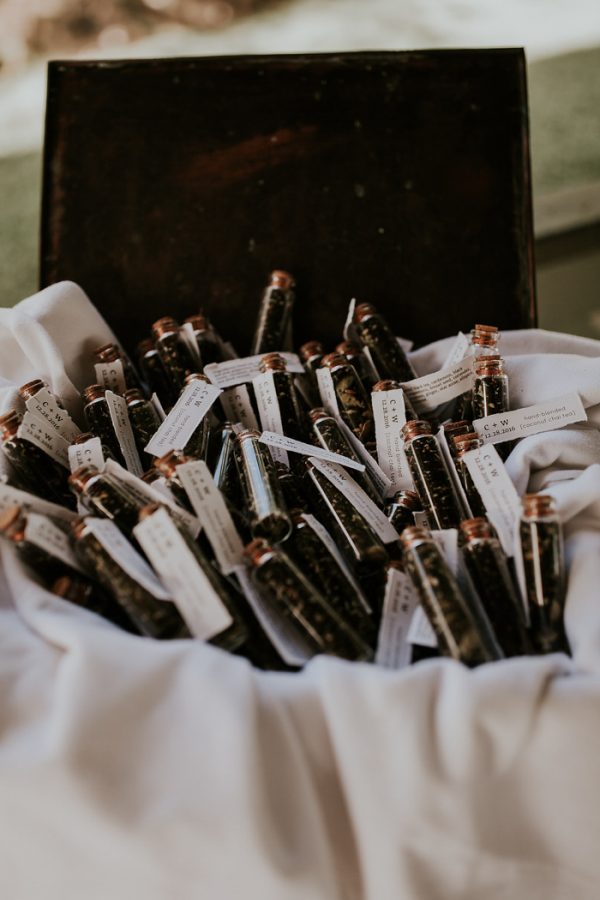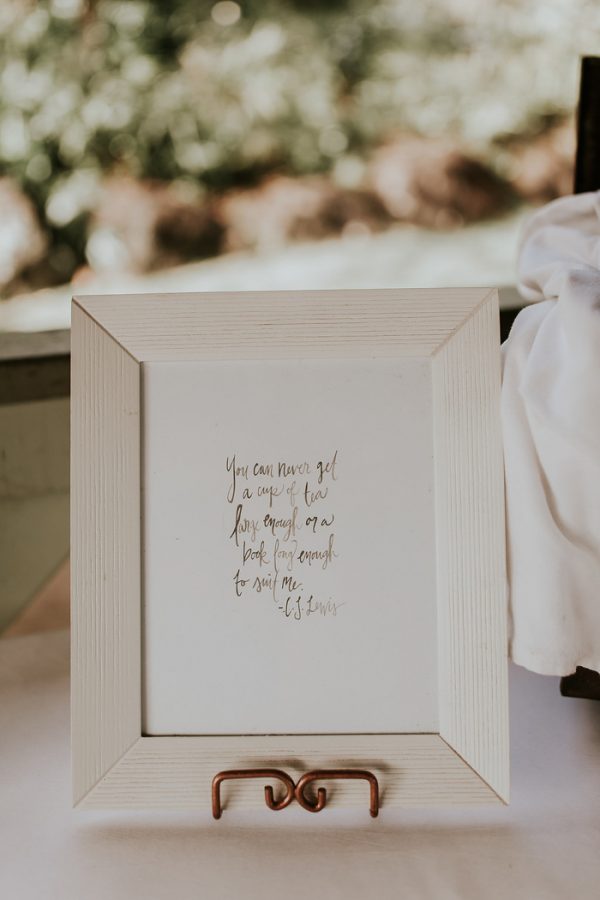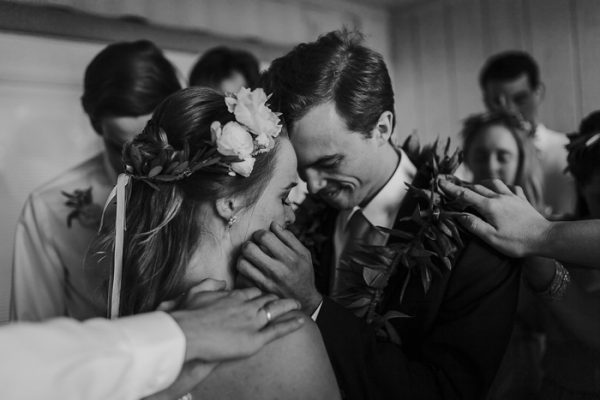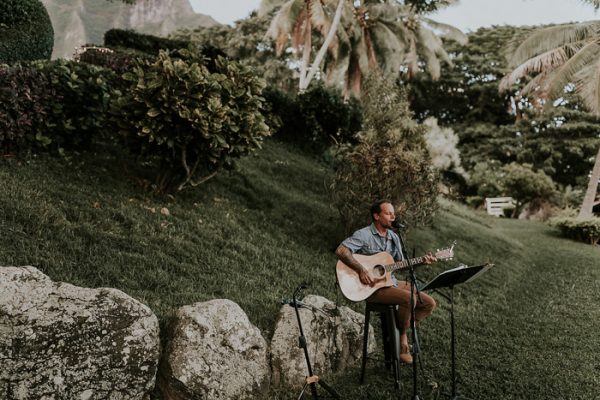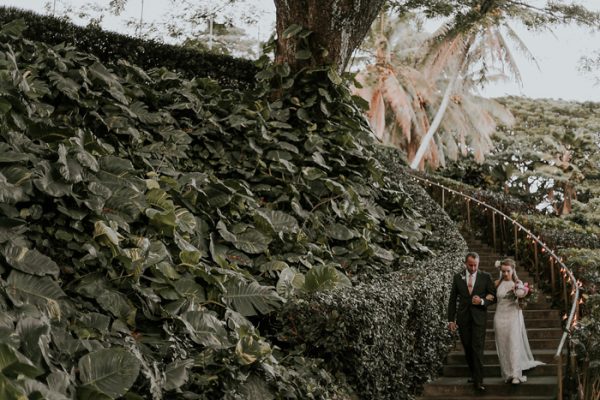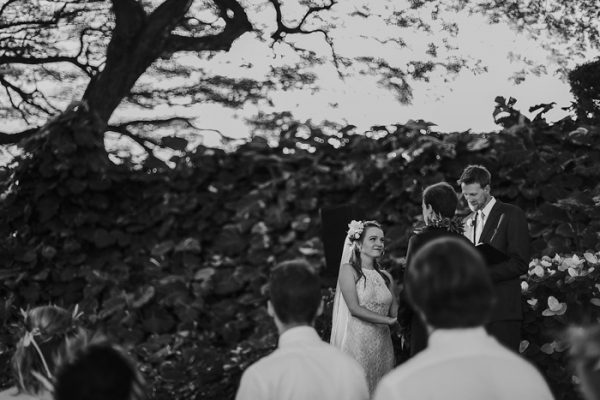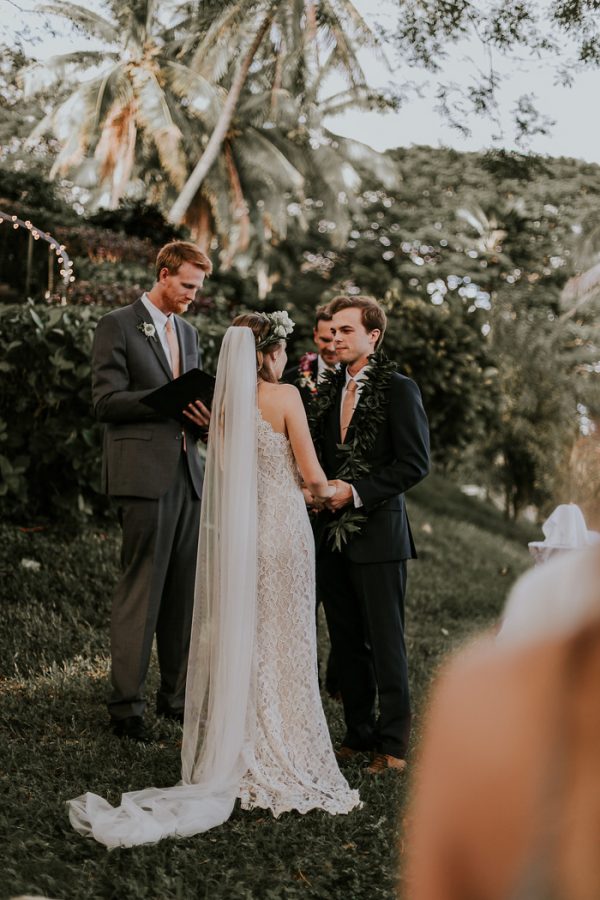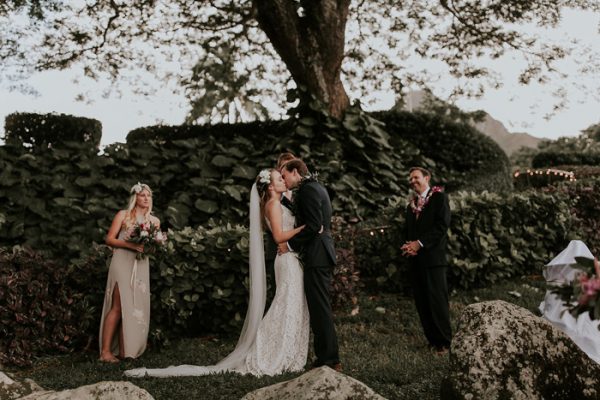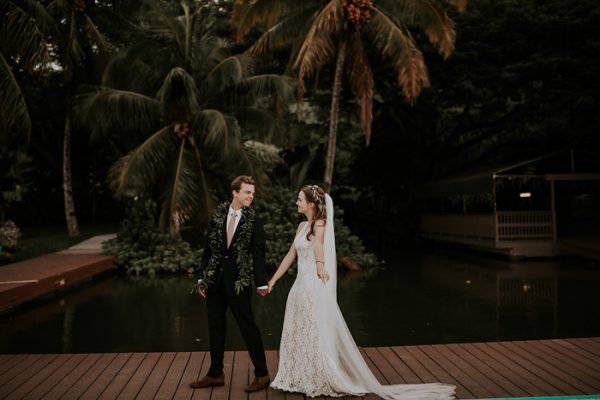 Documenting our wedding day's events was also at the top of our priorities. The day went so quickly, and we cannot overemphasize how much we treasure the memories solidified in picture and film. We had an unbelievably talented crew shooting our wedding day—what's more, they're now our dear friends. Cheers to them!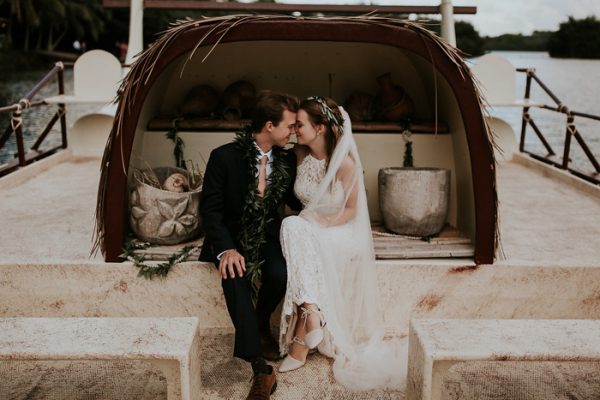 On a practical note, don't let the wedding industry standards pressure you into decisions you don't want to make. As a bride, I felt so bombarded at first by the pressure of having to choose a dress a certain amount of time in advance, and we felt the same thinking we "had to" book a caterer by a specific date (contracts notwithstanding, of course). Make the decisions you want, and ultimately, when your wedding day arrives, enjoy, enjoy, enjoy. Enjoy the surprises, the hiccups, and all the perfect moments, because you don't want to remember a day full of regrets.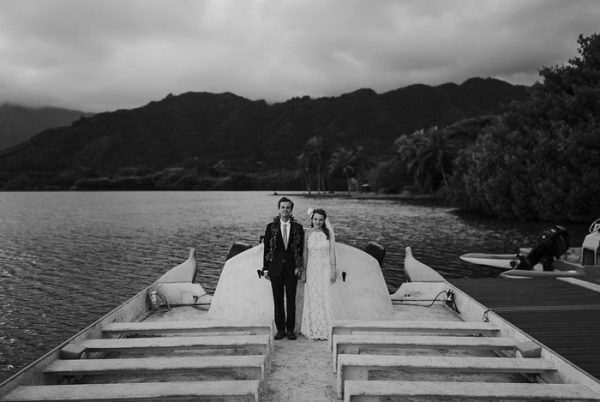 Grooms: just nod your head, even if you're not sure what they're talking about. (On a more serious note—partners, don't be afraid to get involved, even if wedding stuff isn't your thing. You might contribute in ways you didn't expect would be helpful, and at the very least, you can definitely help alleviate the often-unfair pressure surrounding weddings.)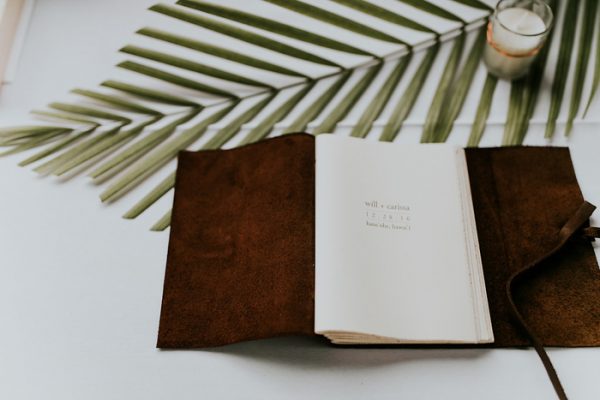 From the homebrewed beer to the invitations, every part of our wedding was a team effort. The calligraphy on our wedding invitations, save-the-dates, and signs was created by the bride herself, who enjoys crafting her penmanship in her free-time. The homebrew labels were custom-made by the bride's brother, using his Photoshop skills and printed by a local printer. The groom even created a custom chai tea blend for guests to take home.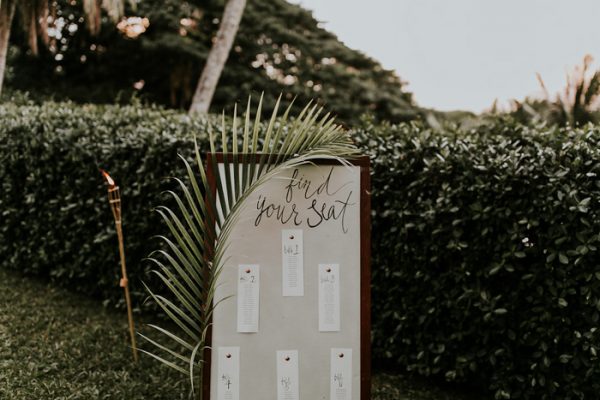 Copper frames holding hand-drawn table numbers were made by the bride's aunt and uncle; reclaimed redwood runners for long, family-style tables were cut and finished by another brother-of-the-bride; even foliage hand-picked by the mother-of-the-bride from her yard was featured. Everyone—whether bride's side or groom's—had a part in making this day more incredible than we could have imagined.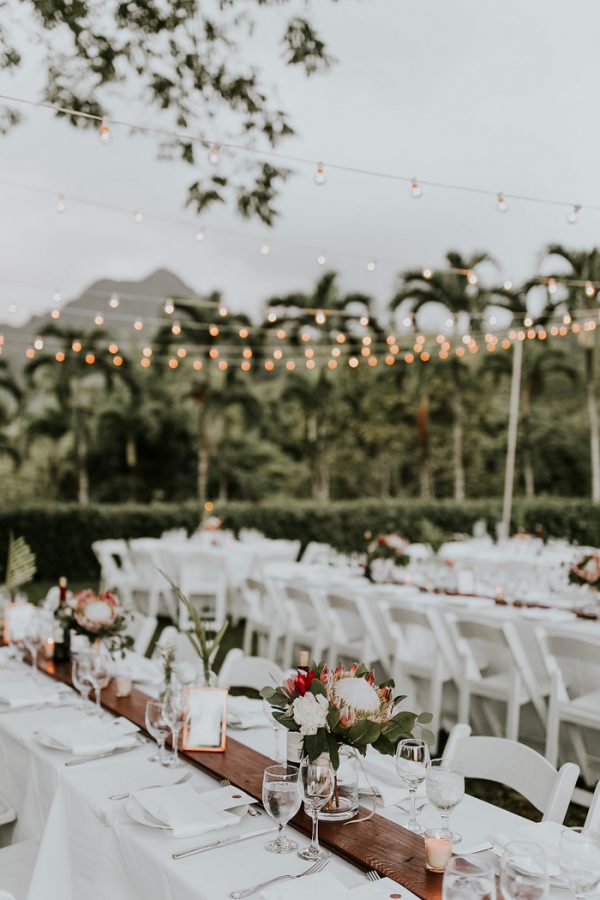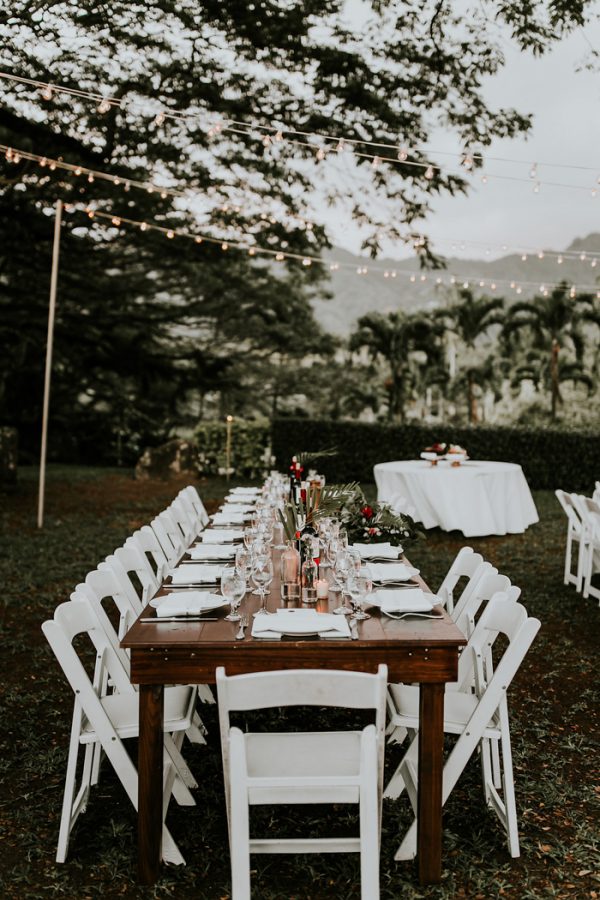 We planned all the little details together, which made the process so much more fun and engaging. That said, there were few details that mattered more to us than the food. Our caterer was absolutely incredible, the bride's father brewed the best beer on earth, and we had close friends mix cocktails for our guests. We also had eight impossibly delicious cakes: one for each table, which we cut with guests following dinner. One favorite menu item were the beers homebrewed by the father of the bride himself. He worked three to four months prior brewing three varieties (hundreds of bottles total): a liliko'i (passionfruit) blonde ale, a milk stout, and an American pale ale.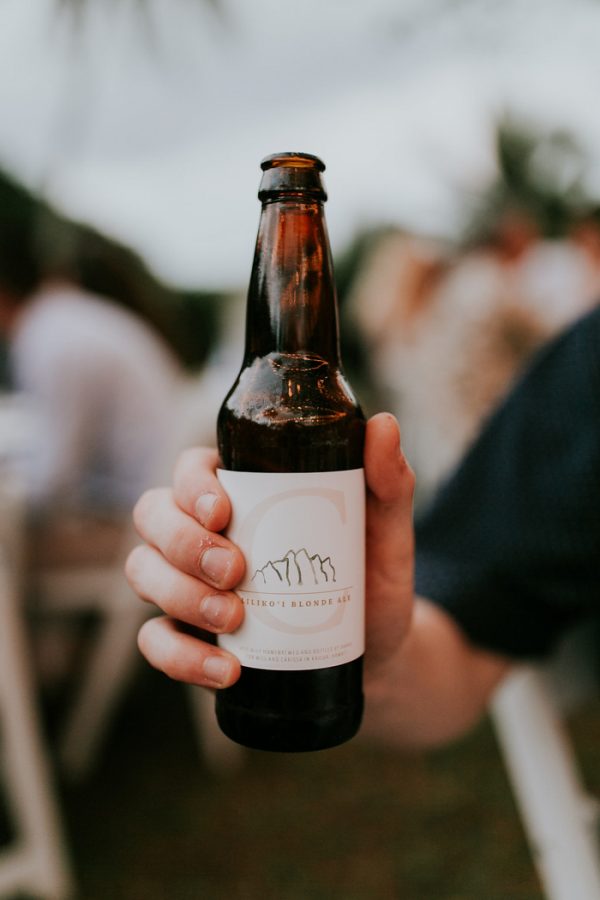 The most memorable part of our day was the cake-cutting. We placed a small cake at each of our guests' tables as centerpieces (if you look at SIFT Hawai'i's cakes, you'll see why!). After dinner, we walked around to guest tables to welcome our guests and celebrate them, cutting each of their cakes. We heard so often how difficult it is to engage all of the guests at a wedding, but this allowed us to have personal time with each guest and enjoy the delicious cakes at each table! (Yes, we ate eight different types of cake on our wedding day. If you're currently wedding planning… need we say more?) Our favorite cake? SIFT Hawai'i's gingered almond butter frosting!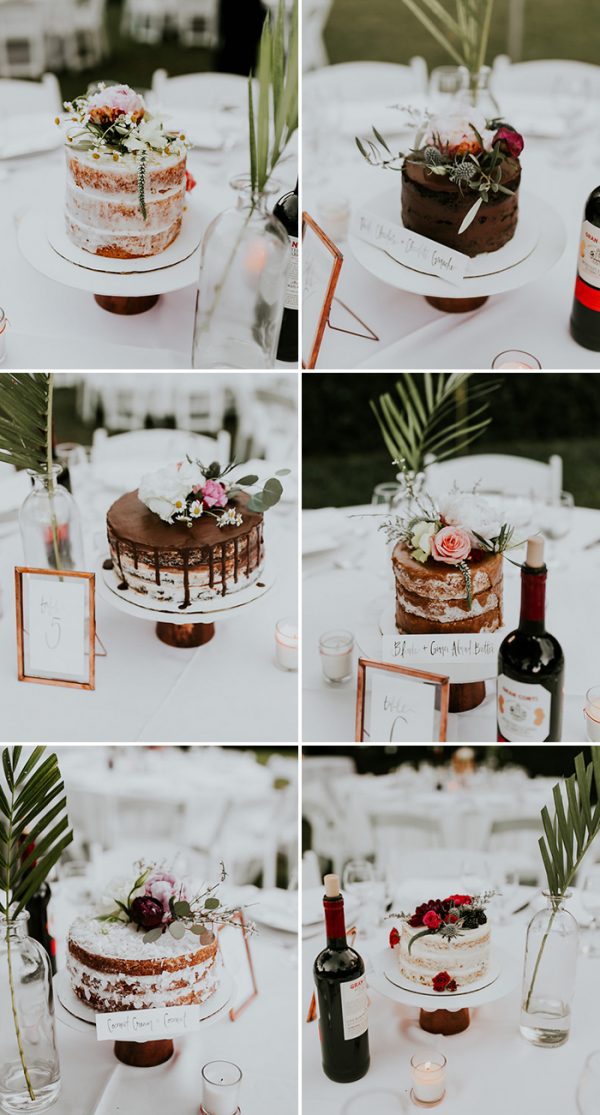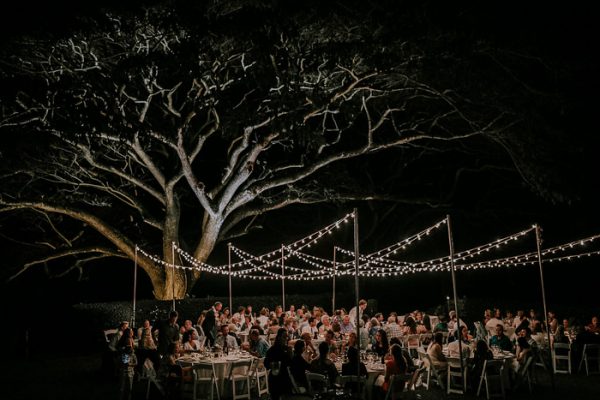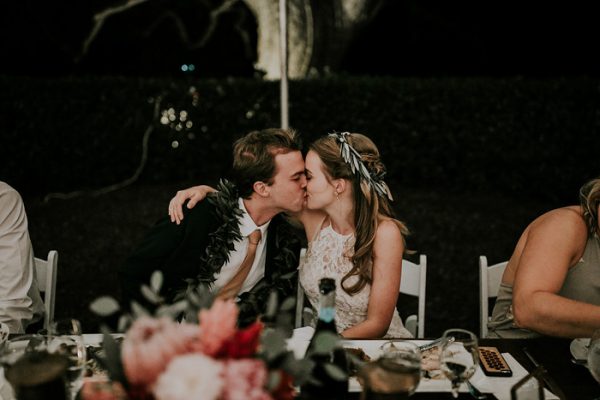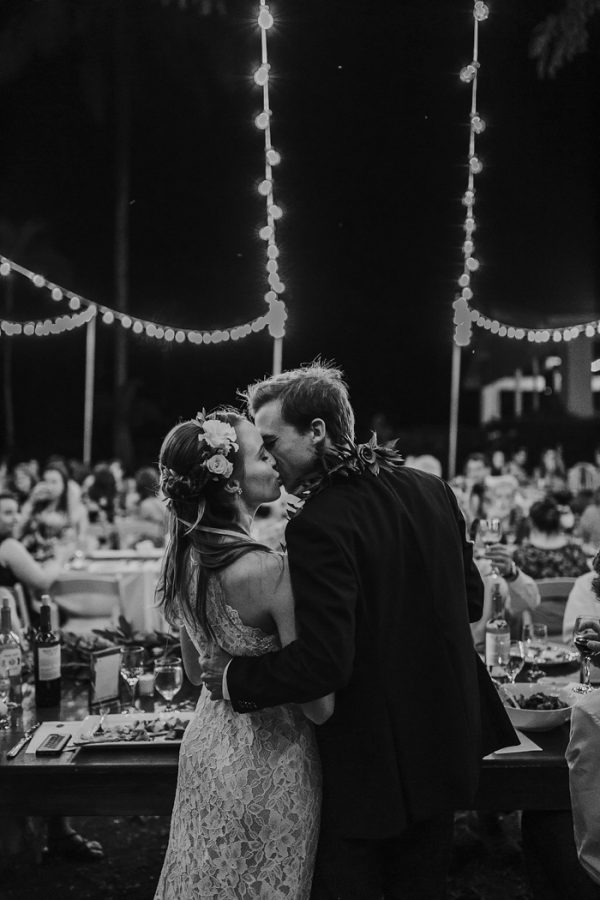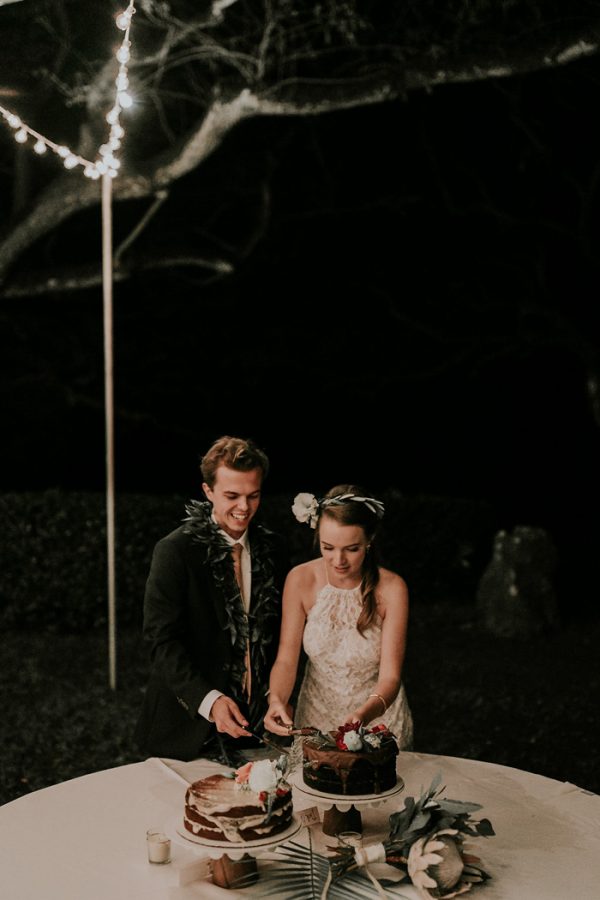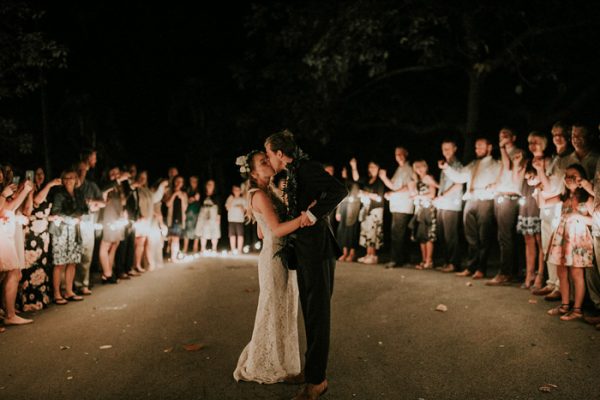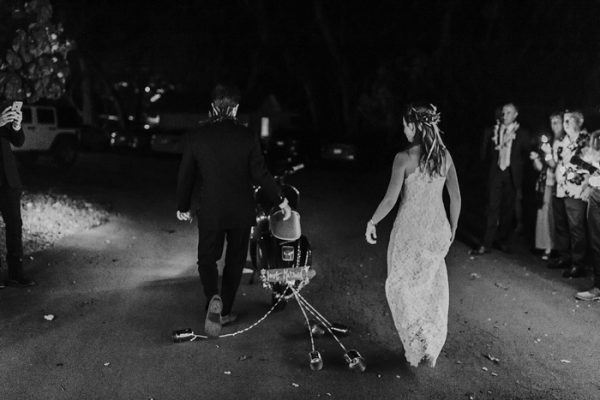 Congratulations to Carissa and Will, and a special thanks to Olivia Strohm for sharing their special day with us! Want more Hawaiian wedding inspiration? Then you've got to see this Olawalu Plantation House that marries Hawaiian tradition with New England charm!