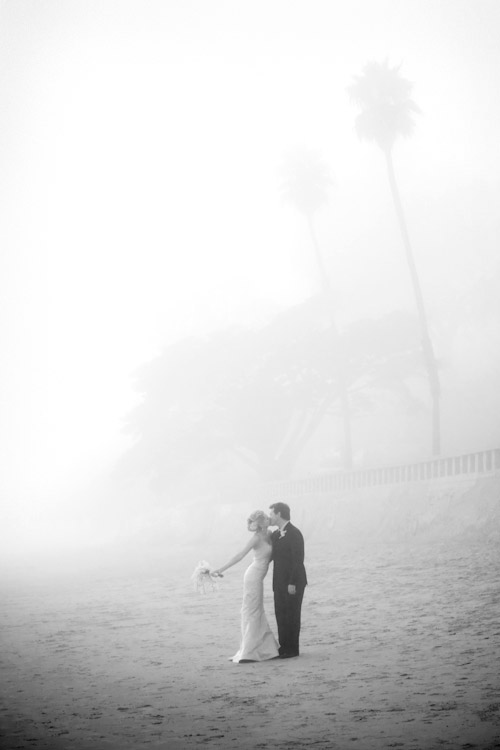 Today's California beach Real Wedding of Kathryn and Ryan is ultra-stylish and ultra-fun, with a bride who's as cute as a button! It took place at the Four Seasons Resort in Santa Barbara, California, was photographed by Robert Evans Studios, and is making me crave the sand and sunshine!
The goals: Kathryn and Ryan's goal for their wedding was to host an event that was outrageously fun for their guests! They had a raging band, a great open bar and they made sure that their loved ones were constantly entertained.

The Look: Kathryn wore a gorgeous strapless wedding gown and accessories from Monique Lhuillier for the ceremony, and then changed into a sweet white mini-dress for the reception. Her bridesmaids wore white dresses with black sashes from Vera Wang, and Ryan and his groomsmen all wore custom black suits.

The Moments: The most romantic and memorable moments of the day for Kathryn included walking down the aisle and seeing Ryan for the first time, and listening to both her Dad's speech and her husband's vows. "They were incredible, not a dry eye in the house!"
The Details: Kathryn and Ryan chose a striking black, white and green wedding color palette that was beautifully used by wedding coordinator and designer Kristin Banta to create the look of the event. Nearly all the décor was black and white, and the vibrant greens were incorporated using flowers from R. Jack Balthazar. Kathryn's mother contributed some sentimental details – she generously made handkerchiefs for Ryan's mom and step-mom that were embroidered with "Tears of Joy", and she gave Kathryn a six pence to wear in her shoe, that she had worn on her own wedding day.
The Pros: To learn about all the wedding professionals who made this day possible, be sure to visit our Real Weddings Library!

For help planning your own Southern California or Seattle wedding, don't miss the trusted recommendations in our Plan Your Wedding hot list!