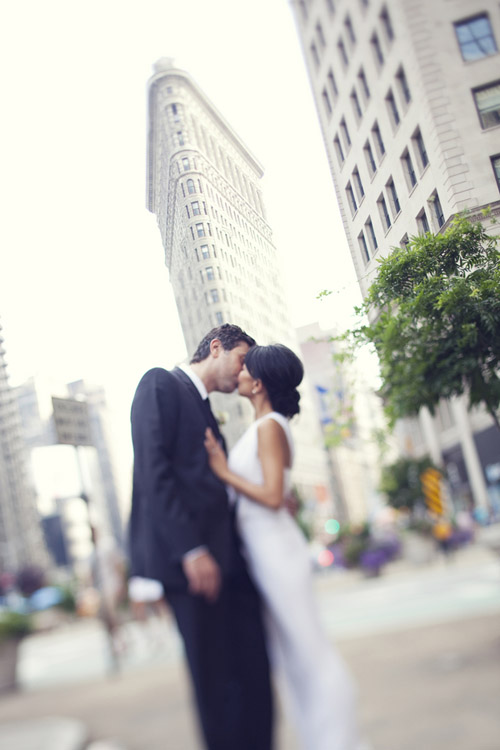 Today is a New York City kind of day, between the amazing urban roof-top wedding you see here, and the "day in the life" engagement shoot over on Photobug, we're heading into the weekend celebrating the modern energy that emanates from the Big Apple and all its creative inhabitants.
Tina and Greg's super stylish rooftop wedding in New York embodies all the things they love about their city and about their lives together. From fantastic fashion details (Tina is a fashion stylist) to food from local businesses they frequent (cupcakes from their first date location) to traditional Filipino traditions (to honor Tina's family heritage) their wedding was all about celebrating their unique lives and love!

From Tina: My husband and I live in New York City and it is our first love. We wanted our wedding not only reflect our personality, but we wanted to include NYC as the backdrop to our wedding ceremony and reception, "Urban Chic" was our theme. We decided right from the start that we wanted our reception to be more of a party, rather than a traditional sit down wedding reception. Much like a cocktail party you would go to on a NYC rooftop in the summer and our reception was exactly that. The evening sky lit up by the New York City skyline and the Empire State Building shining in the foreground was the perfect setting to our evening.
We also wanted to capture the urban feel of the city in our wedding photographs. One of the best decisions was having Jami Saunders photograph our wedding because she really succeeded in doing just that. We took pictures at some of the most iconic places in the city (Flatiron Building, Madison Sq Park, the streets of NYC). Everything we did in terms of the wedding reception was local and personal to us and again, very "New York". We selected Billy's Bakery for cupcakes (where we had one of our first dates), a reception on the rooftop of the New York Hilton Fashion District (we lived in Chelsea for years, I went to FIT around the corner), and Tiffany for the engagement ring and wedding bands (no explanation needed :).
Since I am a wardrobe stylist the selection of my wedding dress, my husbands suit, and the bridesmaids dresses and accessories came with ease. My dress was the fist and only one I tried on! Also, on our guest list were some of NYC finest producers, makeup artists, hair stylists, set designers and prop stylists all willing to help and help they did! It made for a very successful and flawless wedding day.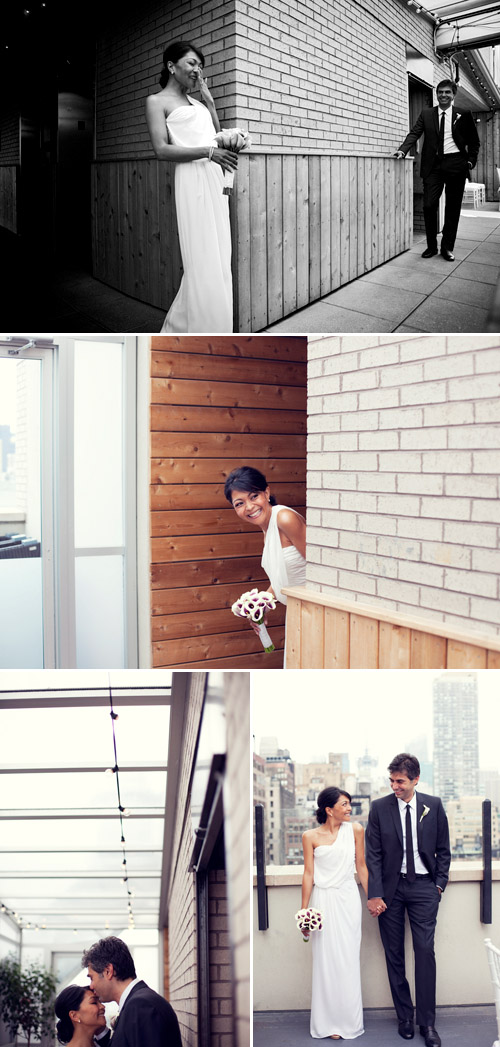 The Wedding Team:
Photographer: Jami Saunders Photography
Ceremony and Reception Venue: Rare View Chelsea at the New York Hilton Fashion District
Hair Stylist: Craig Honeycutt
Invitation Designer: Hello!Lucky
Wedding Dress Designer: Oscar de la Renta
Makeup Artist: Craig Honeycutt
Shoes: Jimmy Choo
Jewelry: Alexis Bittar
Personal Stylist: Tina Latonero
Tuxedo and Mens Attire: Burberry London
Bridesmaid Dresses: Helmut Lang
Bakery: Billy's Bakery
Thank you so much Tina and Greg!
To find inspiration for your personal wedding style, be sure to check out our wedding photo inspiration gallery!