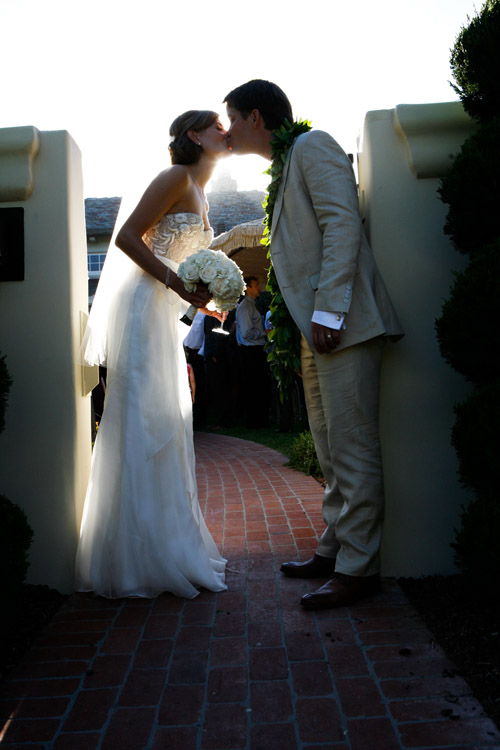 Today's beautiful Santa Barbara real wedding, designed and coordinated by Colette Lopez of La Fete Weddings and photographed by Barnaby Draper Studios has been a delight to learn about and see! Couple Katie and Wakefield created such a thoughtful, personal and happy affair that we're going to let Katie do the talking today… with her spirit and joy no one can tell her story like she can!

When you imagined your wedding day, what was most important to you? We both wanted to create a day that was unforgettable but also informal and intimate, despite the relatively high guest count. Our goal was to make our guests feel at home and we wanted them to really enjoy celebrating with us and to feel like they could kick off their shoes.
I am a personal chef and Wakey loves all things culinary so good food was a must for us, as well as good wine. Duo Catering and Events went above and beyond with their fantastic hors d'ouvres, entrees and even some tasty late-night snacks to keep the party going strong.
Live music was also something we wanted. Colette recommended the Dwight Kennedy Band and we couldn't have been happier – they kept the dance floor in full swing!
Our overall goal was to create a party built on our individuality, not necessarily what was typical or expected for a wedding. For us, much of why WE had so much fun was because all of our guests had so much fun!
In retrospect what was your best decision? Oh, man, that's hard to chose…we were so happy with how everything turned out. Colette was fantastic to work with and every vendor she recommended was stellar. From start to finish we loved it all, but I think if I HAVE to pick, it's that we had it at my parent's house. Having it at home really helped us create that individuality and intimacy that we couldn't have achieved at any other venue. I loved the idea that weekend after weekend other weddings wouldn't be set up and taken down again and again. That place will only be ours and we think that is so special.

Did you have a stylistic theme or color palette for your wedding day? My husband grew up in Honolulu so we wanted to bring some tropical touches into the day, but without making it a "tropical-themed wedding". The ceremony was under large oak trees and we hung huge strands of orchids from the branches – it was such a perfect mix of Santa Barbara and Honolulu. There was a big tropical influence in the food, as well.
For the reception colors we used oranges and French blues. The inspiration came from an orange bouquet of flowers I saw in a market sitting next to a bouquet of blue hydrangeas, and I thought it was such a great contrast. For the cocktail hour in another area of the yard we used bright colors that were inspired by tropical flowers. There were brightly colored table cloths and vibrant tropical flowers throughout.
Tell us about your invitations, favors and wedding cake. For the save-the-dates we did thin pieces of post card-sized wood that had a coconut trees etched into them as well as the wedding info. We thought they perfectly described what we wanted the day to be – unique and special but also informal. For the favors we did small boxes of macaroons, and the top of each one had each guest's name printed with their table number – two birds with one stone! We had a small wedding cake to cut but the main attraction for dessert was a beautifully arranged assortment of bite-sized treats from My Sweet and Saucy. Everything was so good!

What were your personal bridal style and wedding party style like and what inspired them? I wanted a simple look but with a bit of flair. I think my only real inspiration was going through the process of looking for the dress and accessories – I didn't have a picture in my mind of exactly what I wanted but when I saw everything I knew. My main goal in picking out bridesmaids dresses was to find something that each girl would feel really good in. Everything was outside so we went with a nice light chiffon that caught the breeze in a great shade of blue. I wanted them to look effortlessly gorgeous, and they did!
What moments stand out to you most when you look back on the day? This one is hard to answer. I could go on forever. Seeing Wakey for the first time was so special and very emotional. All of the toasts were great, and were a perfect mix of funny and sentimental. My dad and I had briefly practiced our dance and it actually went pretty well! We had so much fun and there are a bunch of photos that I love from the dance.
Wakey and I had many of our own moments but something that was special for me was something that the flower girls held as they walked up the aisle. They each held a small picture frame containing a photo of my cousin, Denise, who had passed away about 2 months prior. She was only 38 and it was such a tragedy, so to have her "there" that day was very emotional.
We had a photo booth that we filled with all sorts of kitschy tropical props for guests to dress up in, like a coconut bra, grass skirt, Hawaiian shirt, snorkel gear, pineapples, giant sunglasses, etc. It made for a lot of hilarity and so many funny stories the next day! It's so hard to pick favorite moments, once I get thinking about the day there were just so many!

Thank you so much Katie and Wakefield! What a fantastic wedding day!
To see all of the many wedding professionals who contributed to this event, don't miss Katie and Wakefield's wedding in our Real Wedding Library!
To plan your own Southern California or Seattle area wedding, check out our Plan Your Wedding Hotlists, and to find a dream wedding photographer for your wedding anywhere in the world, don't miss our World's Best Wedding Photographers Hotlist!