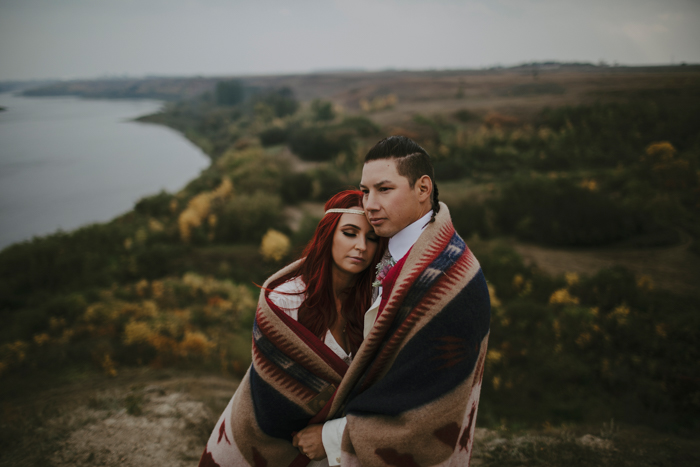 Between the 20-foot tipi towering over the banks of the Saskatchewan River and all the reverent homages Angela and Cullan paid to their ancestors throughout their wedding weekend, this Ojibwe wedding was truly unforgettable. The couple's ceremony took place within the sacred Wanuskewin Heritage Park and featured traditional Ojibwe wedding ceremony rituals performed by the groom's father. The next day, the couple took their guests to The Red Pony Stands Ojibwe Horse Sanctuary for a reception that stayed true to their wild, free-spirited vibes and included portraits with a revered breed of pony that has deep significance to Canada's indigenous tribes. Our hats off to Angela and Cullan for creating such a nuanced and sentimental wedding day and to Stick Productions who caputed it all!
The Couple:
Angela and Cullan
The Wedding:
Wanuskewin Heritage Park and The Red Pony Stands Ojibwe Horse Sanctuary, Saskatchewan, Canada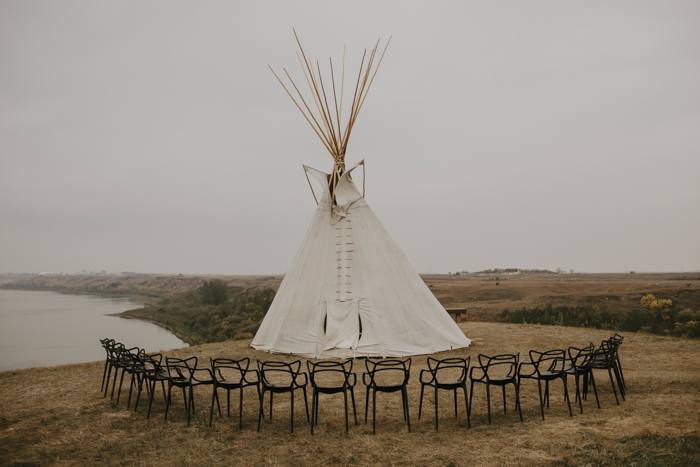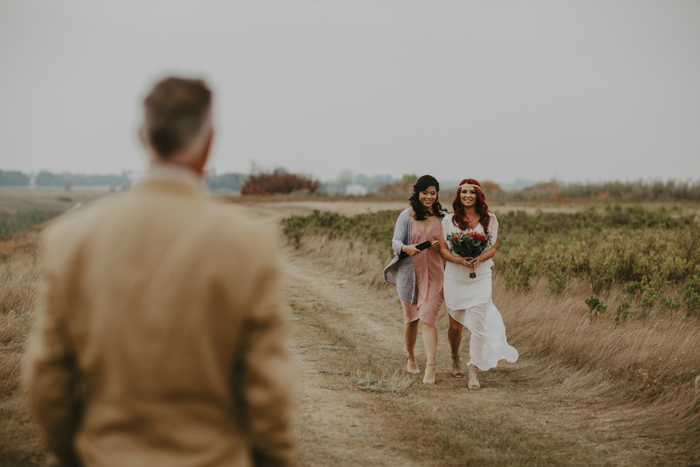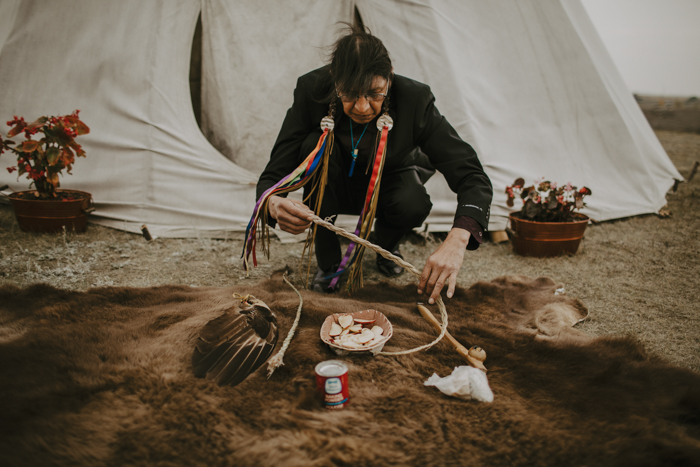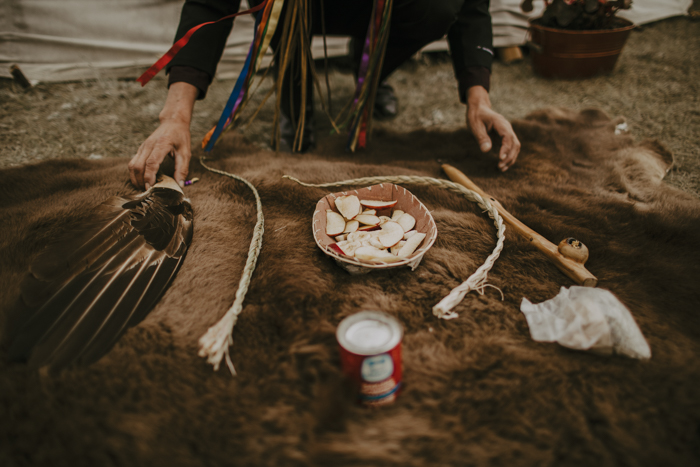 The most important aspect of planning our wedding was incorporating our Ojibwe traditions into a contemporary wedding ceremony to reflect our shared spiritual and cultural values. The father-of-the-groom officiated the wedding ceremony on our behalf, which included a traditional pipe ceremony and cultural protocols passed down from our grandparents and great-grandparents. The wedding ceremony was conducted entirely in the Ojibwe (Anishinaabemowin) language, including our vows.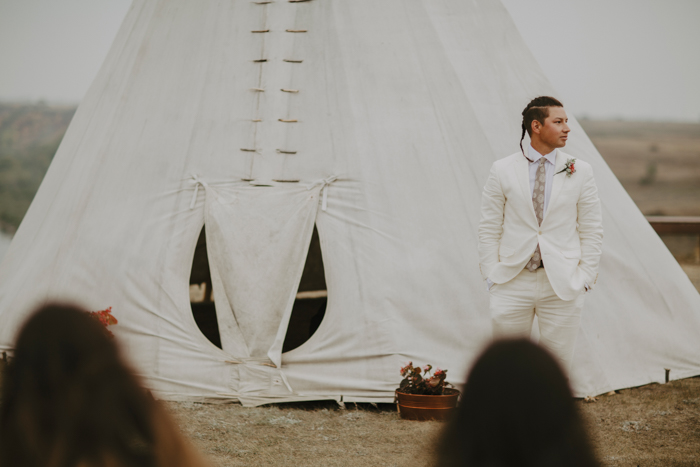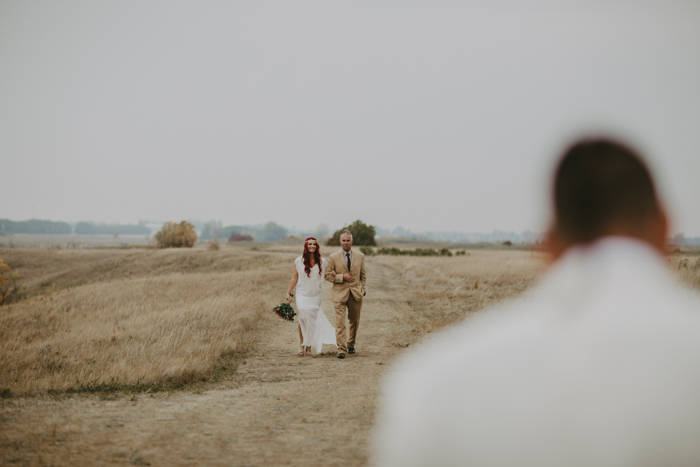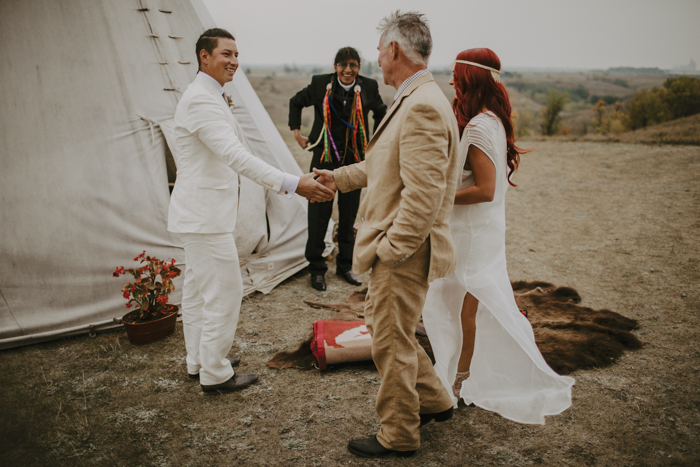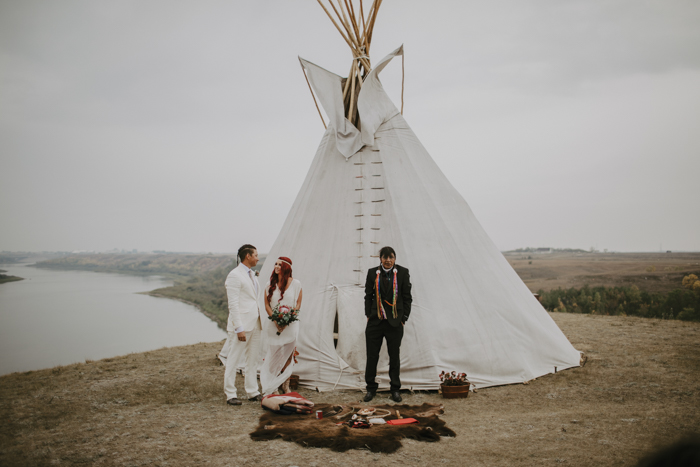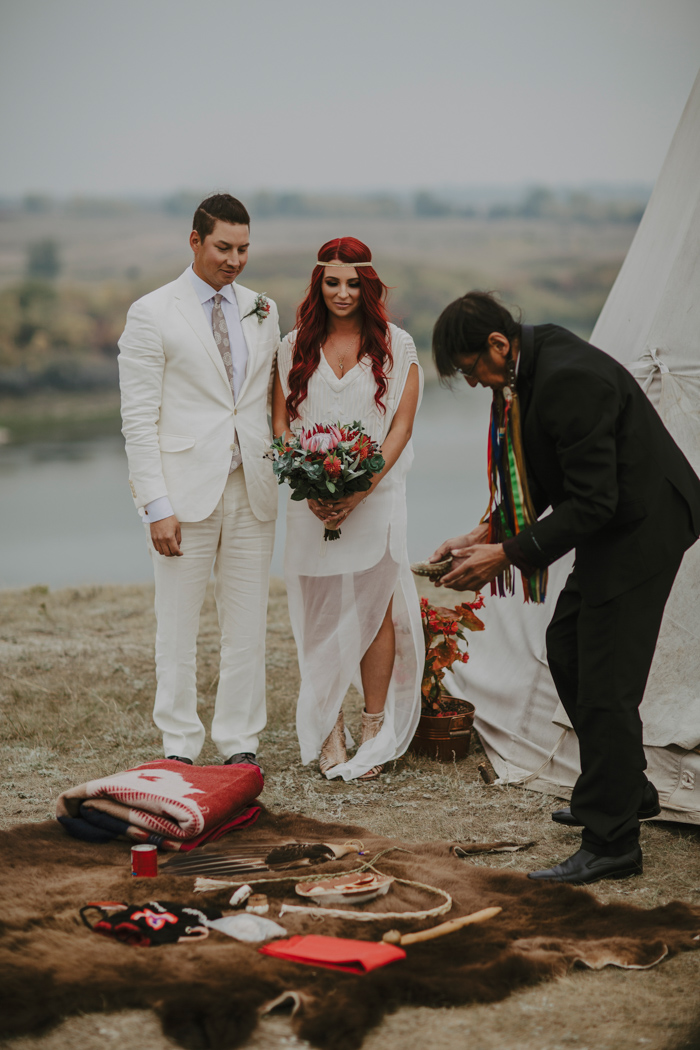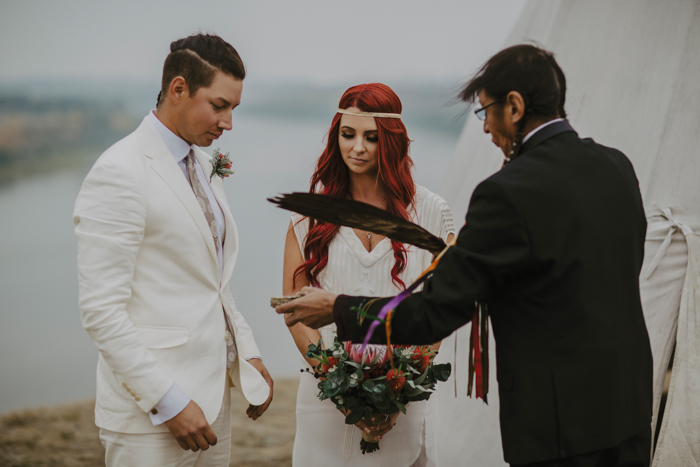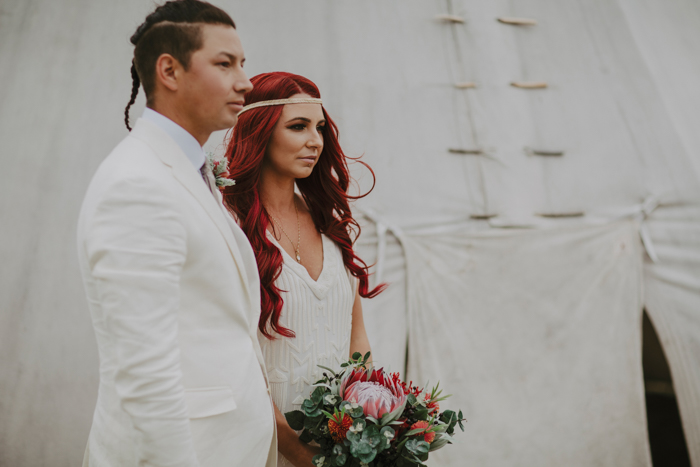 The most memorable part of our wedding day was seeing the 20-ft tipi for the first time set up at the edge of the ridge as we drove up to our venue the morning of our ceremony. It overlooked the Saskatchewan River and was surrounded by the gently changing colors of fall. That afternoon, all our guests walked the historical trails, passing by sacred buffalo jump sites to reach the tipi and our ceremony location. These are the same trails that our Ancestors walked many, many years ago. As soon as we arrived and the ceremony began, the wind picked up and it started to rain. Unexpectedly, we all quickly gathered inside the tipi to continue our ceremony where we exchanged our vows, traditional bundles, and rings. The weather significantly changed the atmosphere of the ceremony to a much more intimate one, being with the ones we love all soaked and huddled together in that tipi. We will never forget that moment; it stood tall and proud in support of our commitment to each other.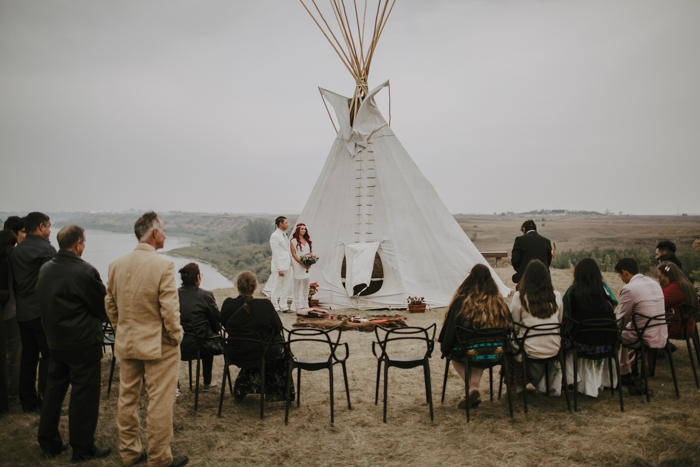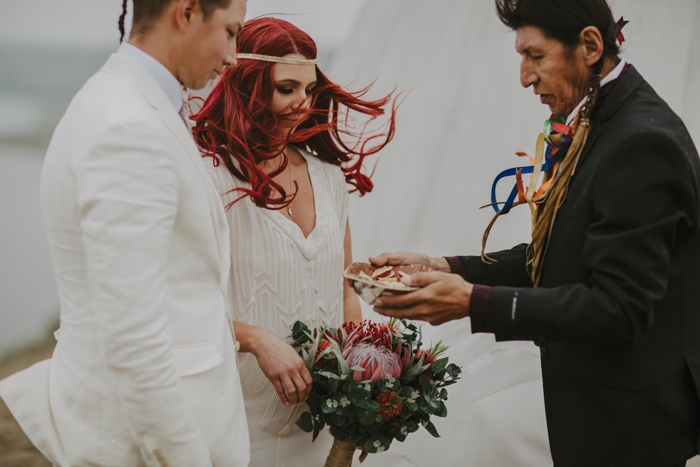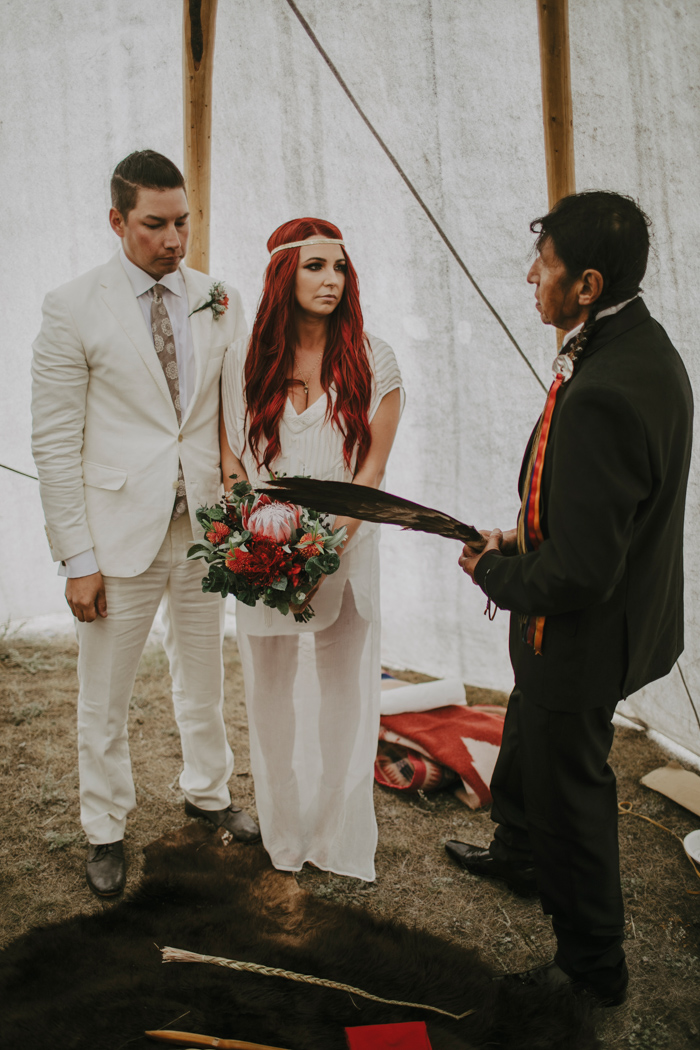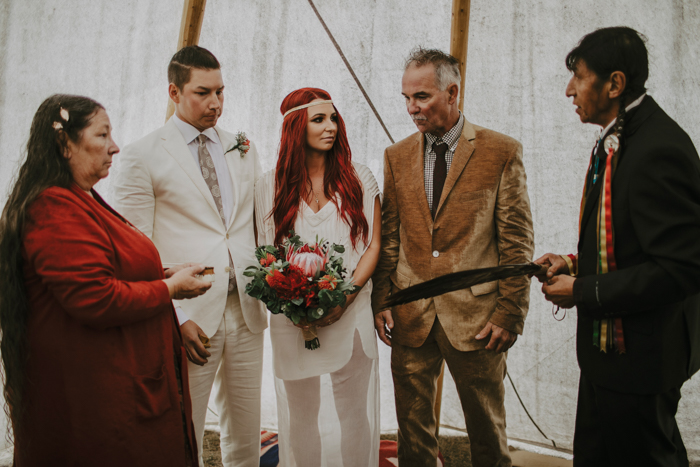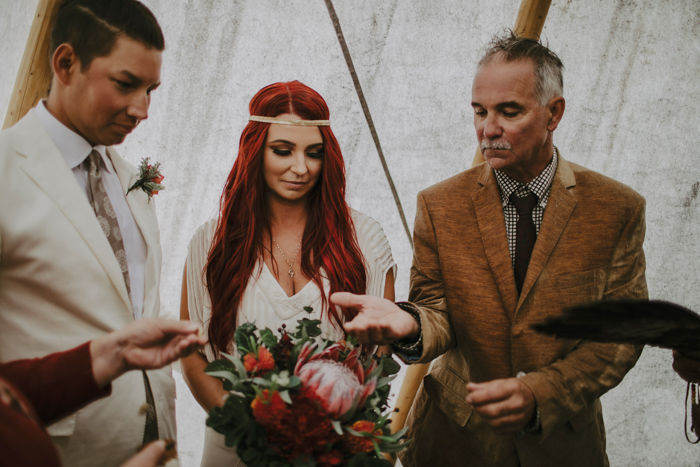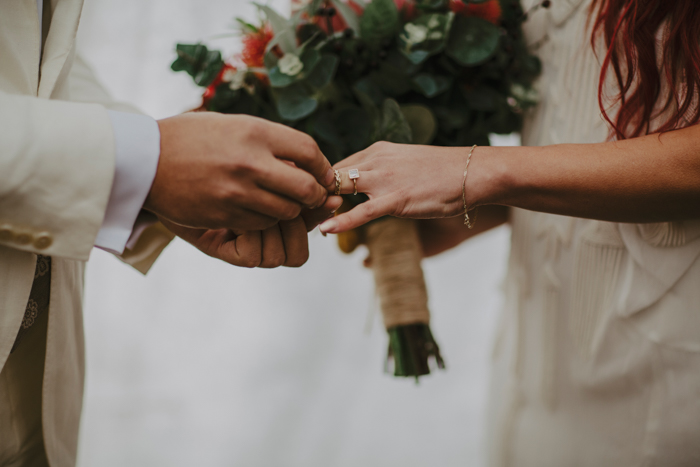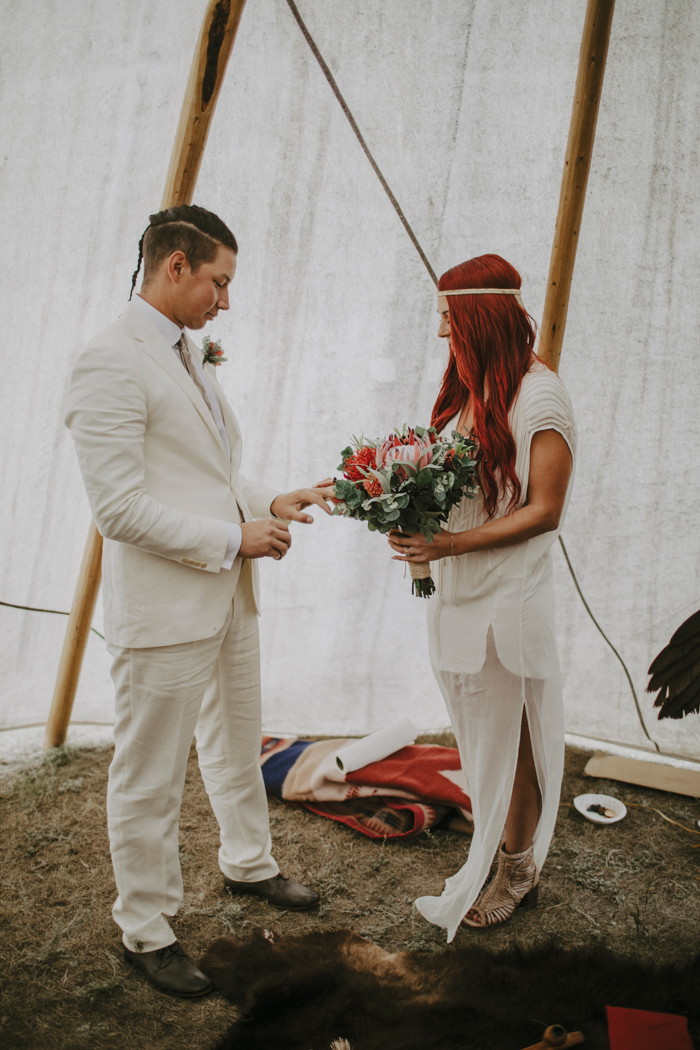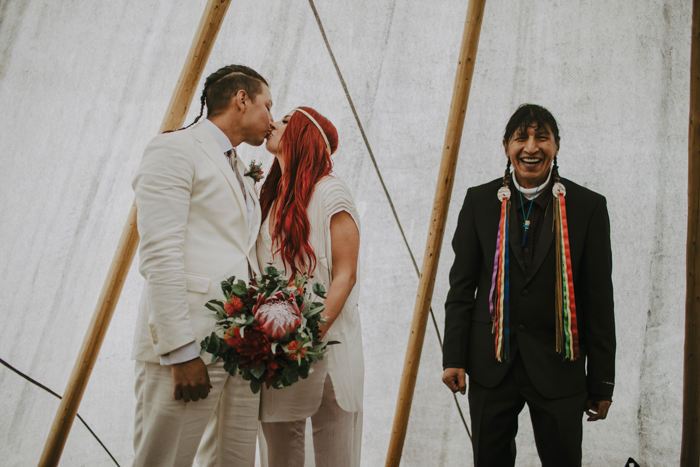 Our wedding attire reflected both Indigenous and contemporary influences with intricate native-inspired beading on a sheath-style dress and a gold herringbone beaded headpiece for the bride, and bison-carved cufflinks and Ojibwe-style floral tie for the groom. Our wedding rings were woven into a sweetgrass braid by an Ojibwe metalsmith from a single gold strand and were presented in tiny Ojibwe-quilled birch bark basket during the ring exchange ceremony.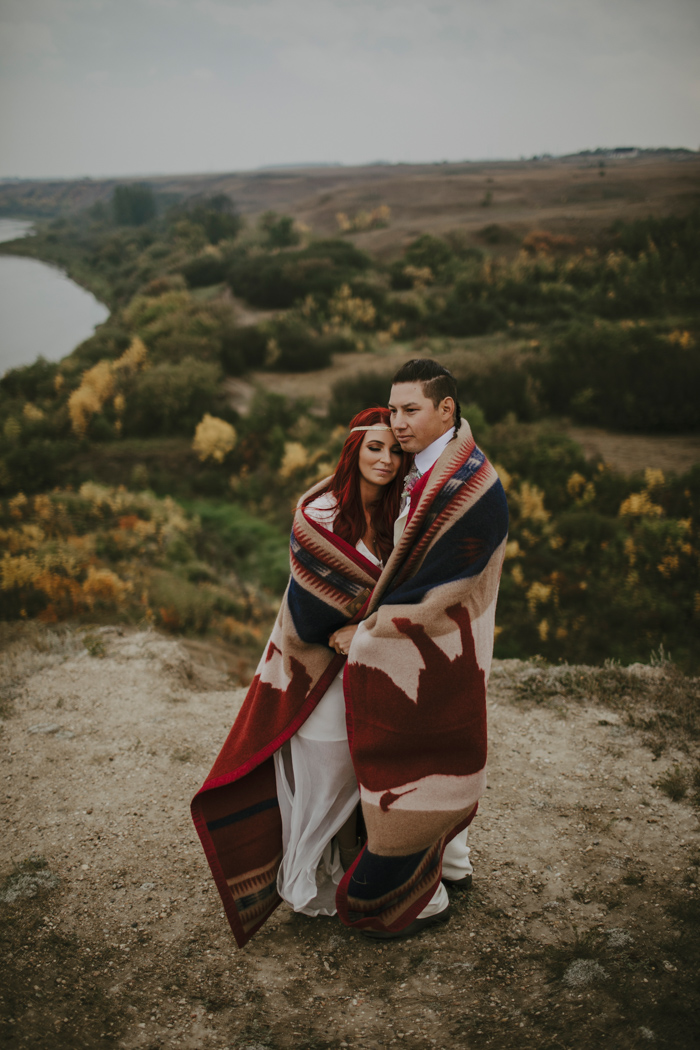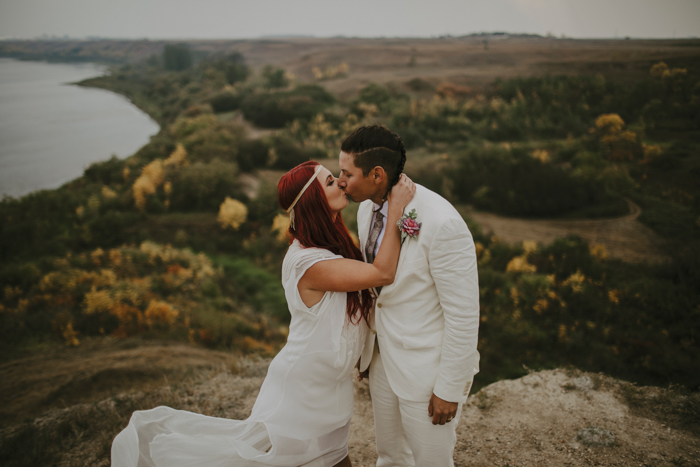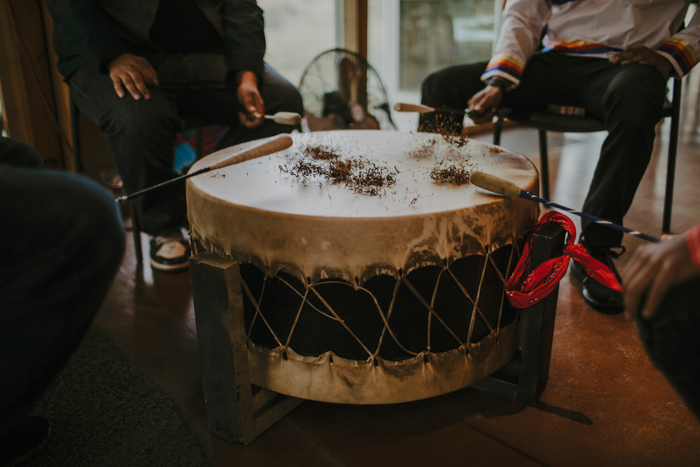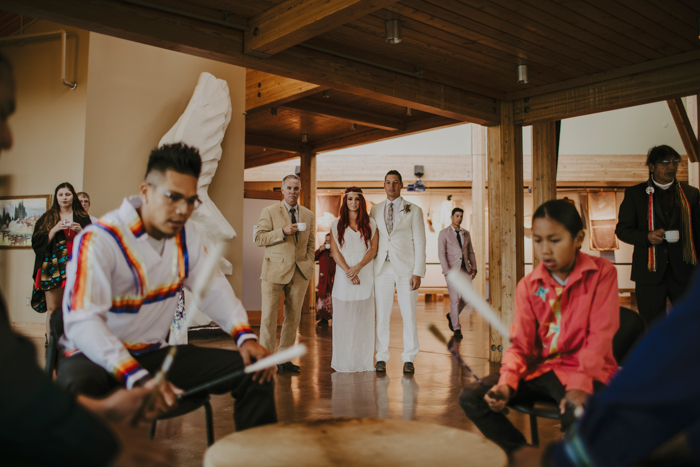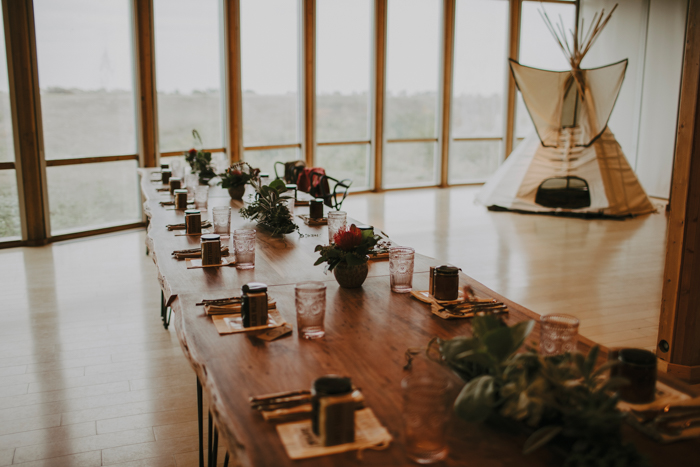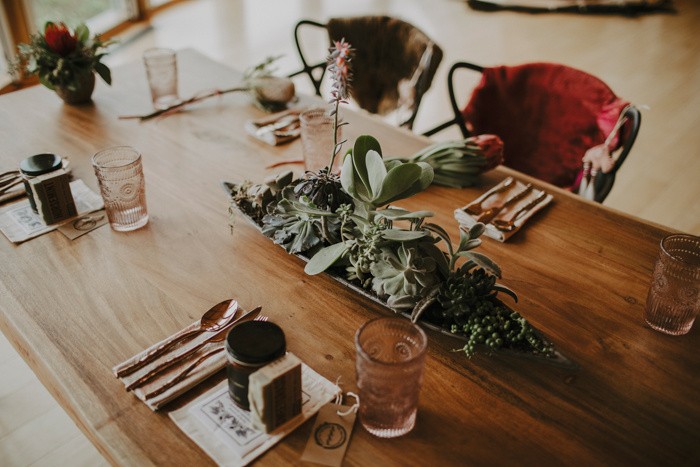 For an all-natural ambiance, all our guests received a tobacco and vanilla, oak and moss, or spruce and amber soy candle hand-poured in an amber-glazed mason jar with a canvas gift bag. Each candle was paired with an organic soap bar handmade with wild sweetgrass, desert sage, horsemint, or cedarwood plants. A package of heritage seeds was given to each guest containing blanket flower, false indigo, rocky mountain bee, or swamp butterfly flowers native to the Canadian Prairies to be planted as a lasting reminder of our wedding day while simultaneously helping the environment.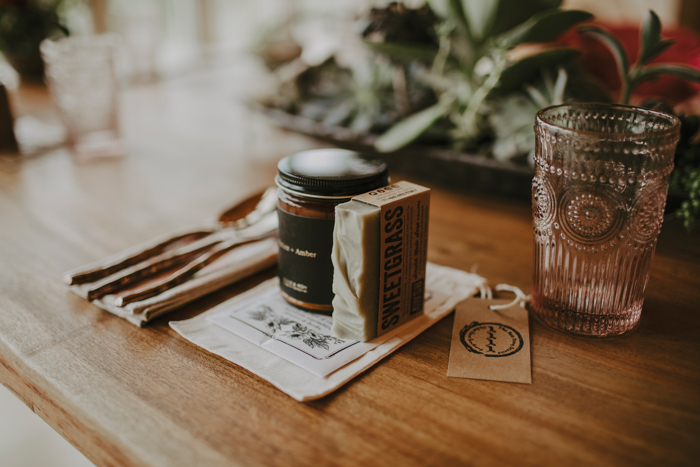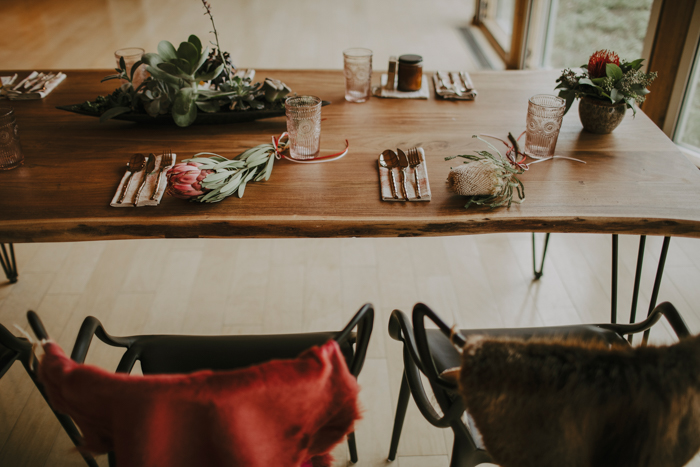 We felt very fortunate to have found our photographer and event planner, both of who were able to beautifully capture the essence of our special day. Our photographer, Adam Reiland of Stick Productions, was so personable and engaged in our wedding that he actually participated in the cultural aspects of our wedding ceremony with all of our guests, such as the smudging ceremony. We feel that it is an extremely rare quality for a photographer: to be able to blend that artistic and technical skill set with a such a caring and polite demeanor to the point where he becomes a welcomed wedding guest.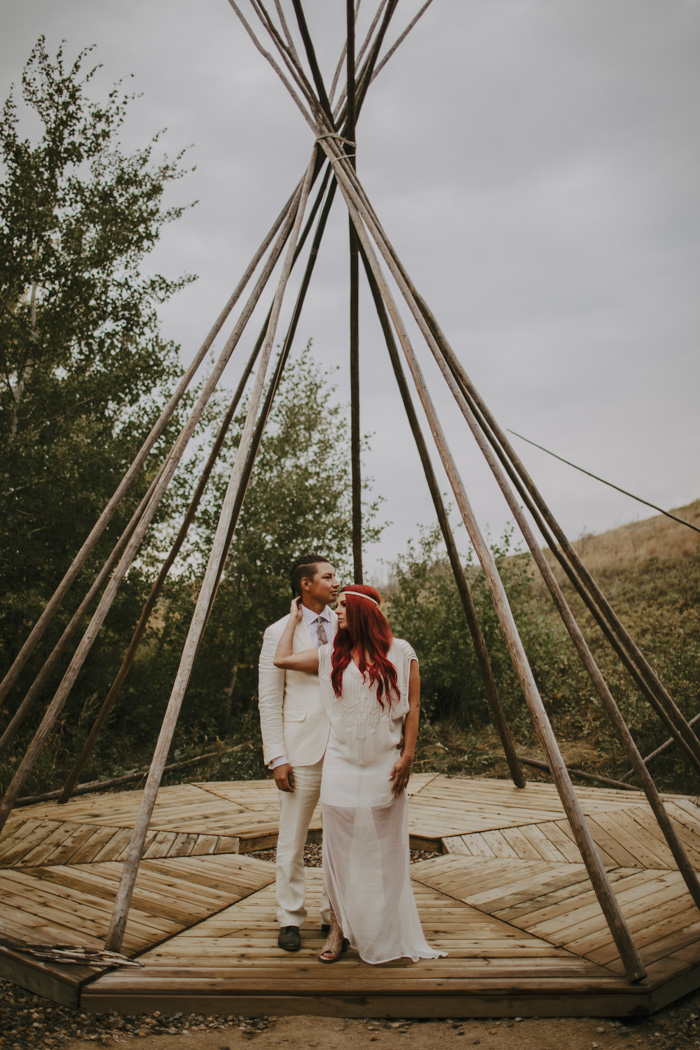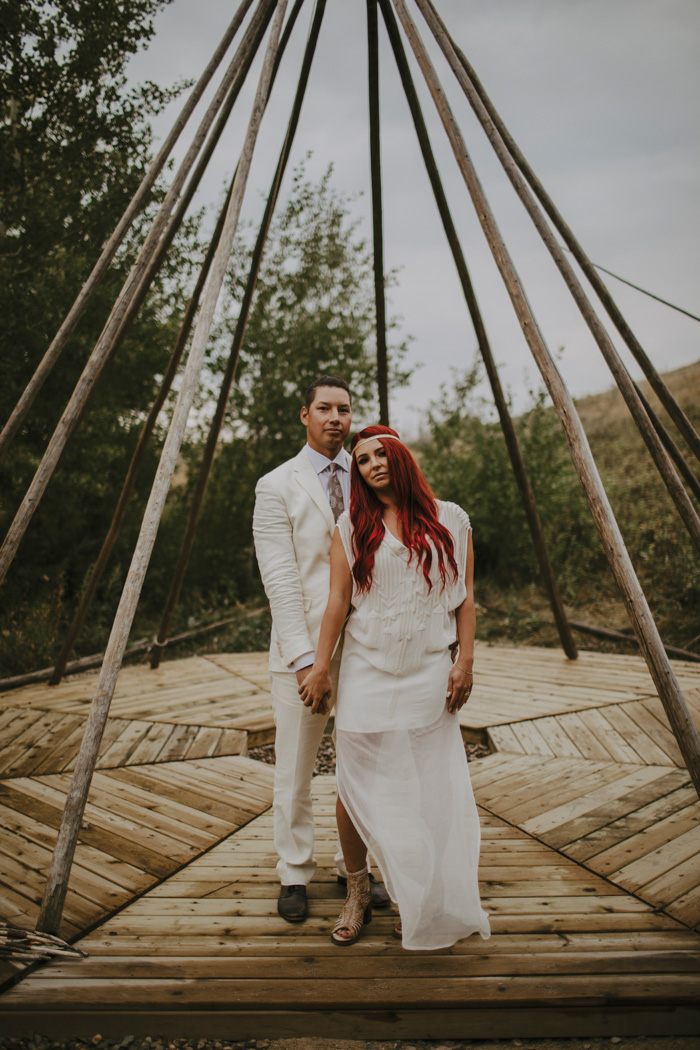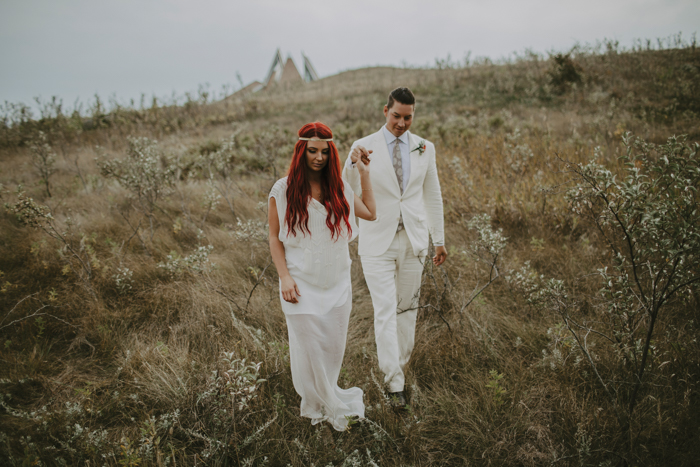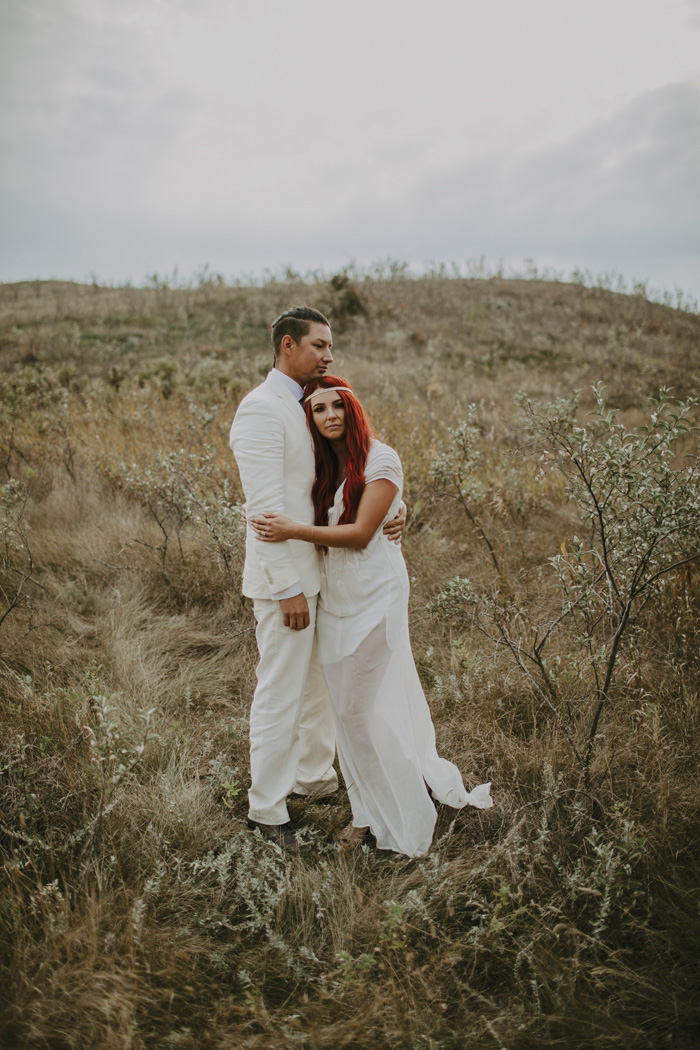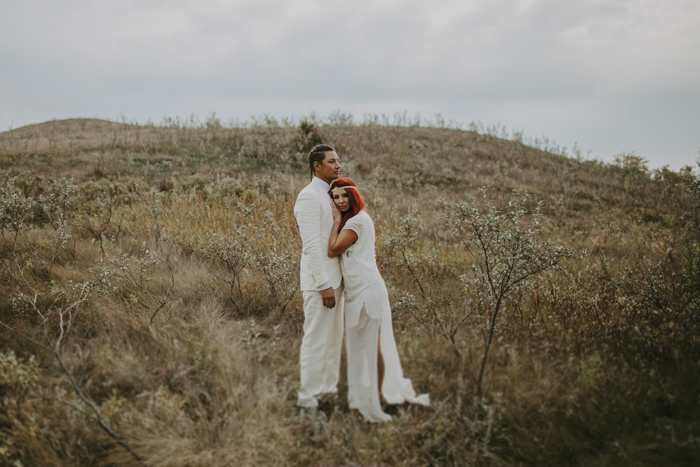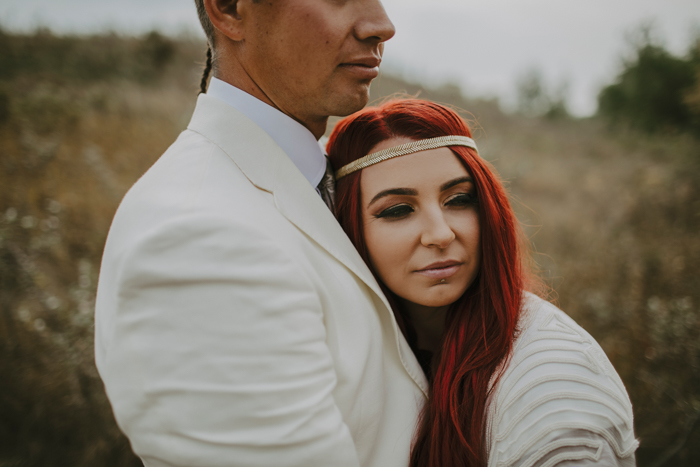 It was of utmost importance that our two-day wedding was held at places of deep cultural significance to us. Our wedding ceremony took place at Wanuskewin Heritage Park (Cree for "Gathering Place"), a National Historic Site and sacred location where, six thousand years ago, the peoples of the Northern Plains hunted buffalo, gathered foods and herbs, held ceremonies, and shared stories of a strong connection to the natural world. Our wedding guests were able to walk in the footsteps of an ancient nomadic hunter-gatherer society and learn their story from tipi rings, rock cairns, pottery fragments, and plant seeds found at the site during monumental archeological digs.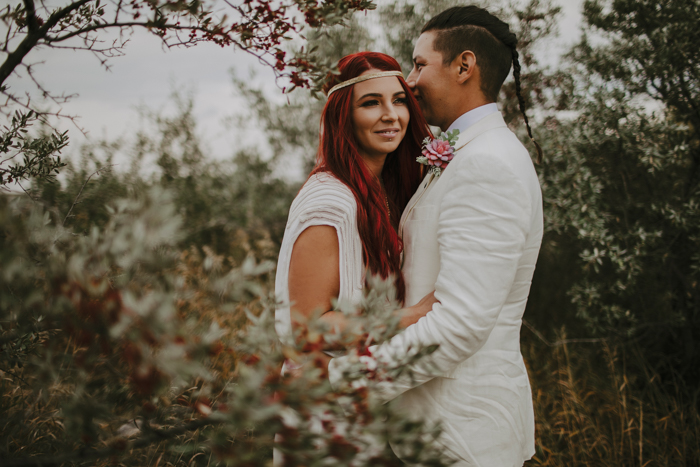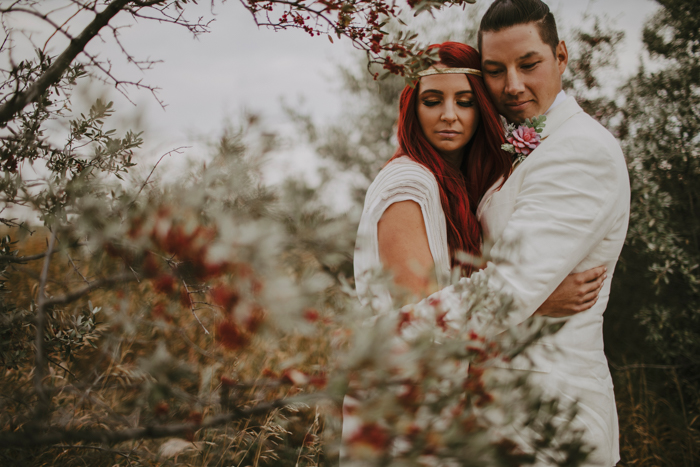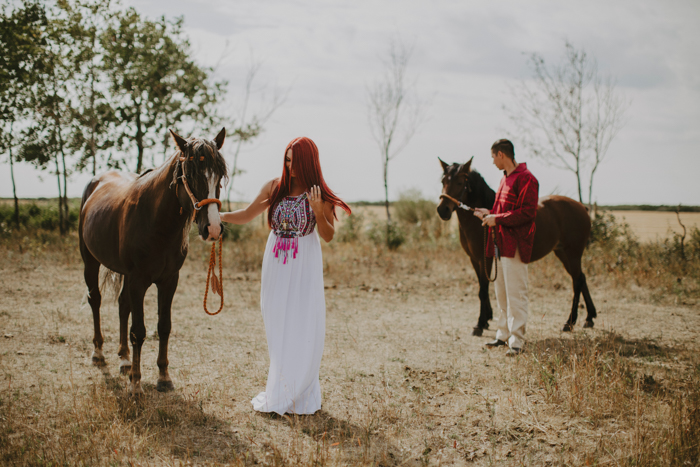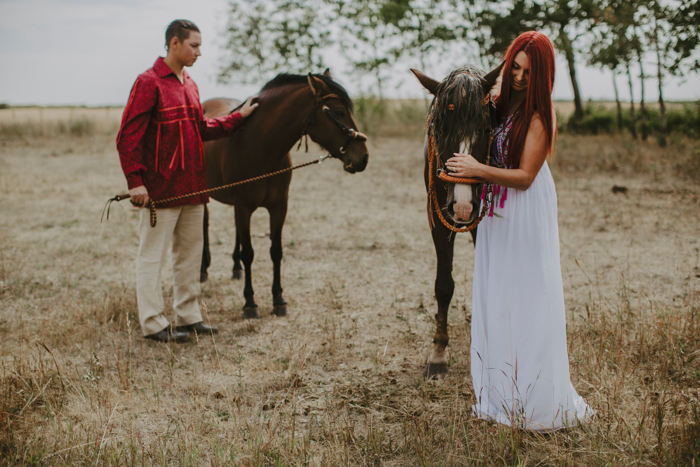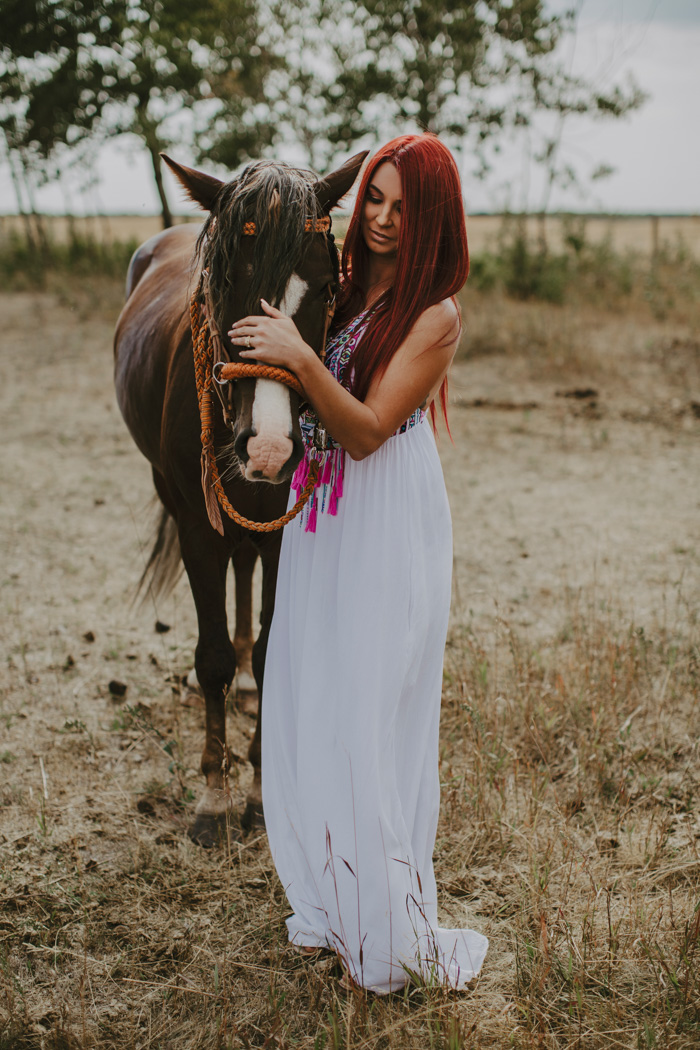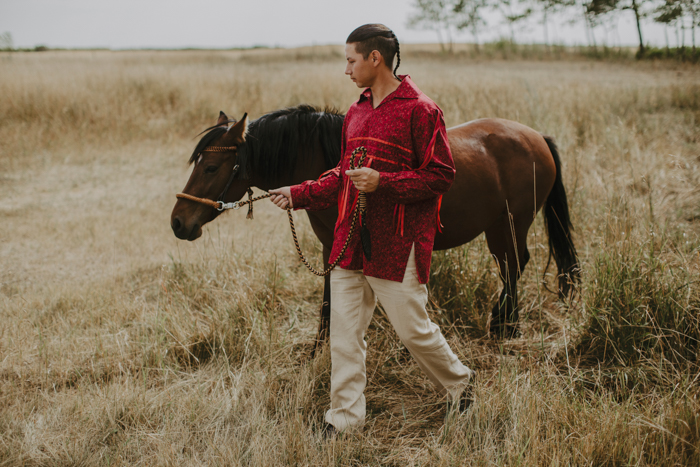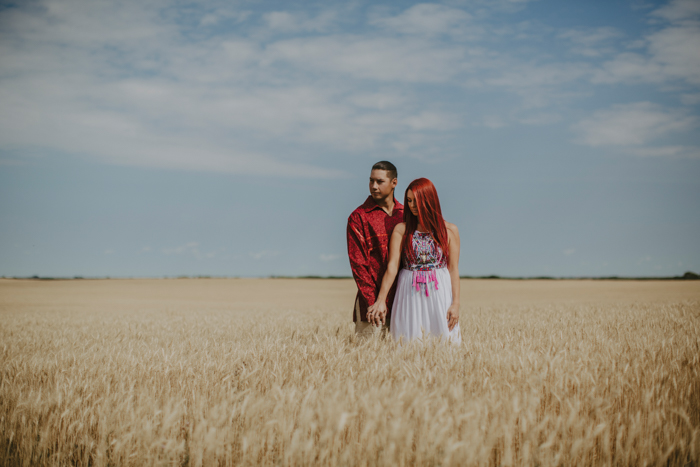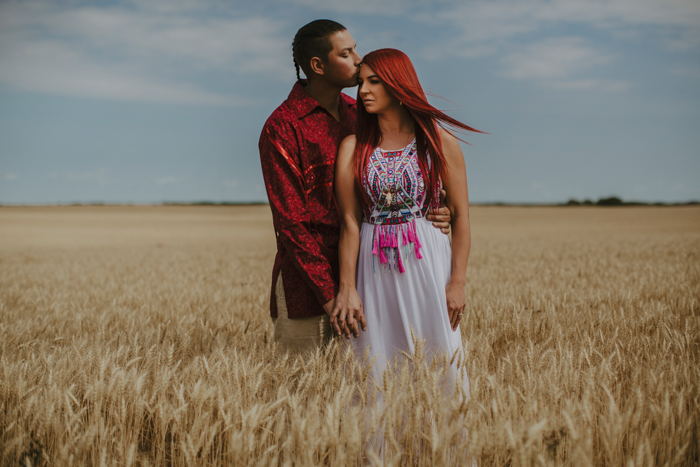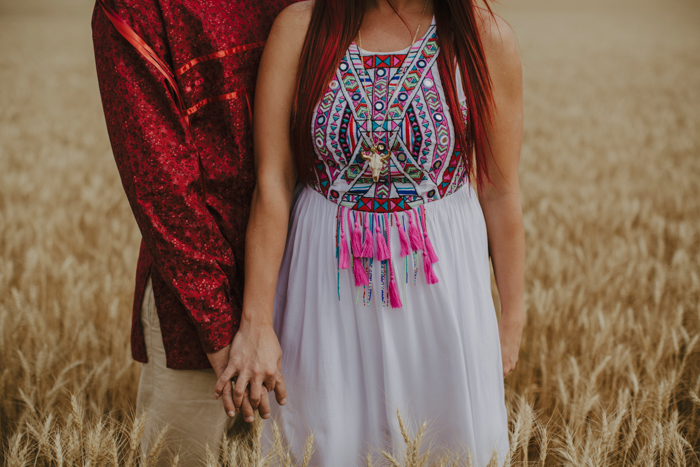 The wedding reception was held the following day at our acreage, The Red Pony Stands Ojibwe Horse Sanctuary. Nestled in the rolling hills at the edge of the beautiful Qu-Appelle Valley, The Red Pony Stands Ojibwe Horse Sanctuary is home to the critically endangered Lac La Croix Indigenous Pony, a breed of horse of cultural importance to Indigenous peoples of Canada that dates back to pre-colonial contact. For our honeymoon, we stayed in our 20-ft Cree-style tipi under the warmth of a buffalo robe and fell asleep to the thundering hooves of our four-legged relatives.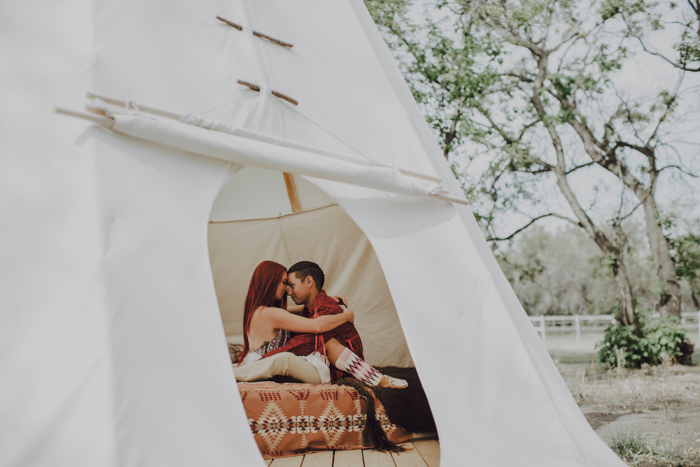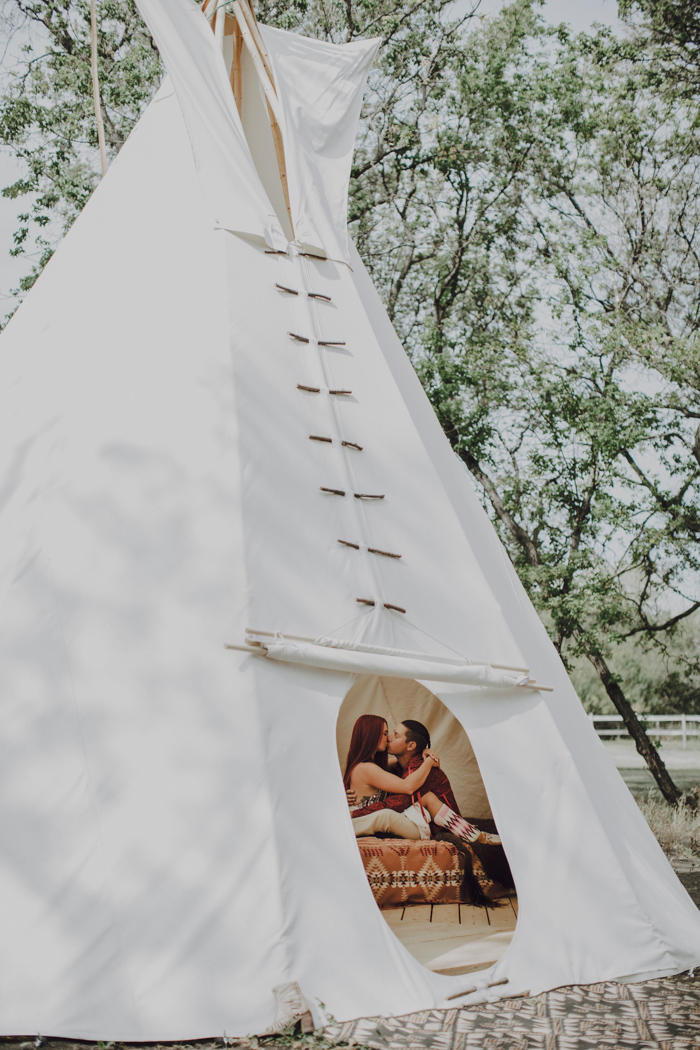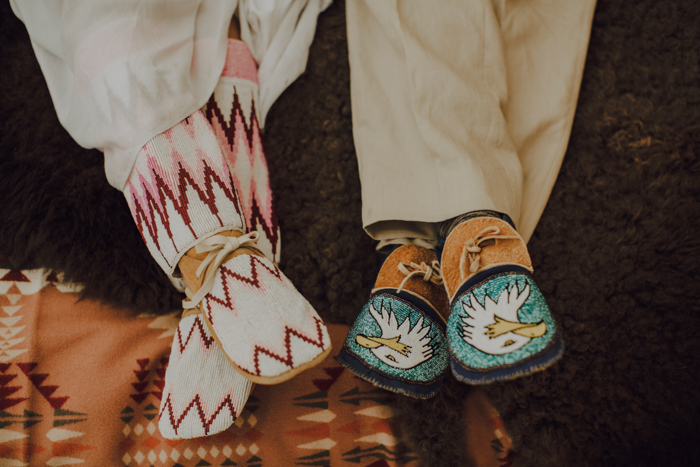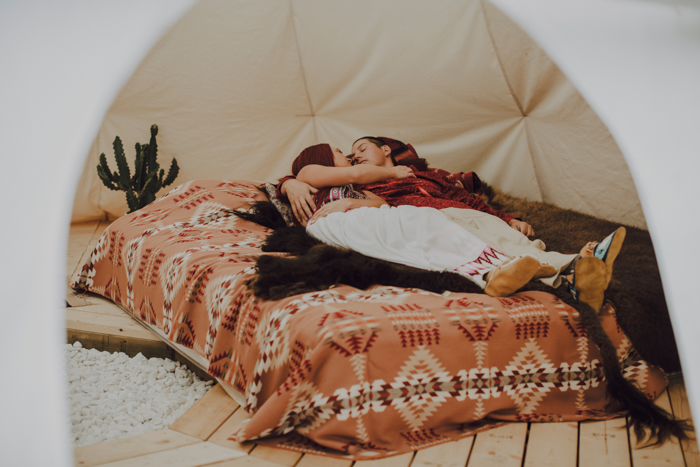 Congratulations to Angela and Cullan, and a big thanks to Stick Productions for sharing this beautiful Ojibwe wedding with Junebug! Love the idea of using a tipi in your wedding decor? Then you have to see this wildly romantic wedding at Wind Wolves Preserve!