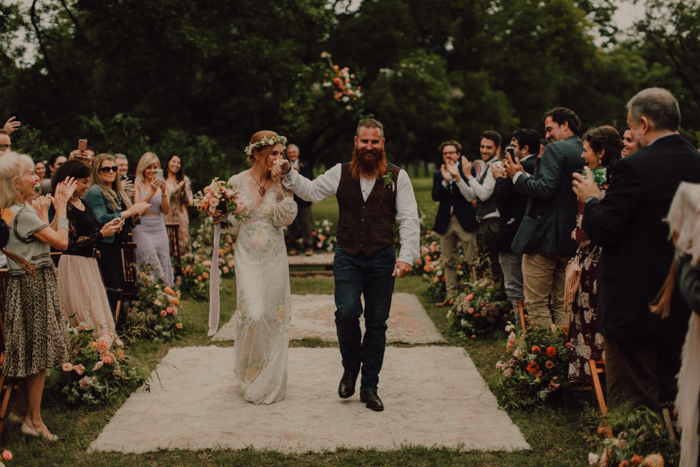 We're currently contemplating how we go about making music festival weddings a trend for the rest of eternity…and how we get invited to all of them! Stephanie, EJ, and their entire team of talented vendors created a wedding weekend festival set in the middle of a ranch, complete with Ferris Wheel, glamping tents, hot air balloons, and helicopter rides! Farthing Events created an earthy vibe for their actual wedding day, combining lush florals designed by Eversomething with hand-painted details from the talented bride for a totally natural feel. After the fireworks show and a good night's rest on the grounds, the group was back up and at it for a day of music, rides, and food trucks. Cody & Allison Photography and Wild Light Films could not have been a more perfect choice to capture this epic wedding weekend and make us feel like we were right in the middle of this Lovefest!
The Couple:
Stephanie and EJ
The Wedding:
Valley Park Ranch, Tulsa, Oklahoma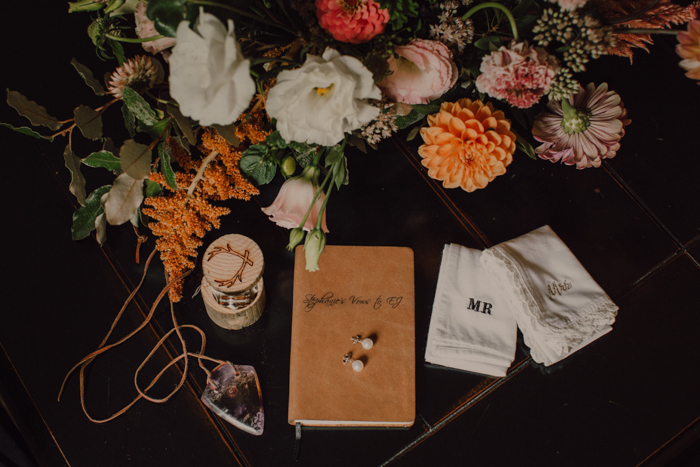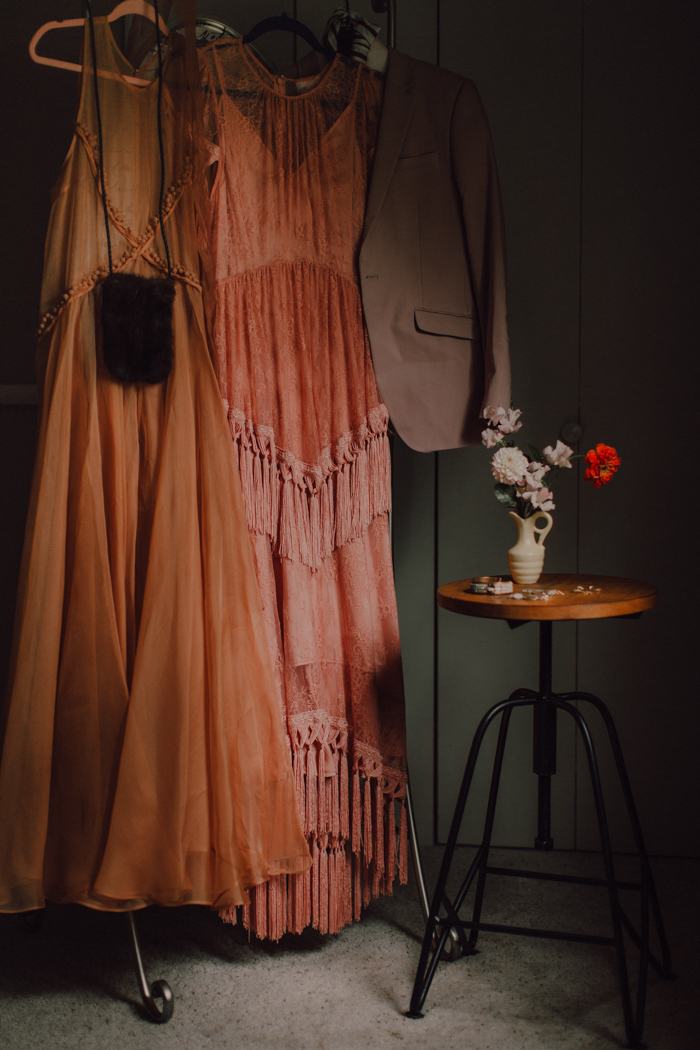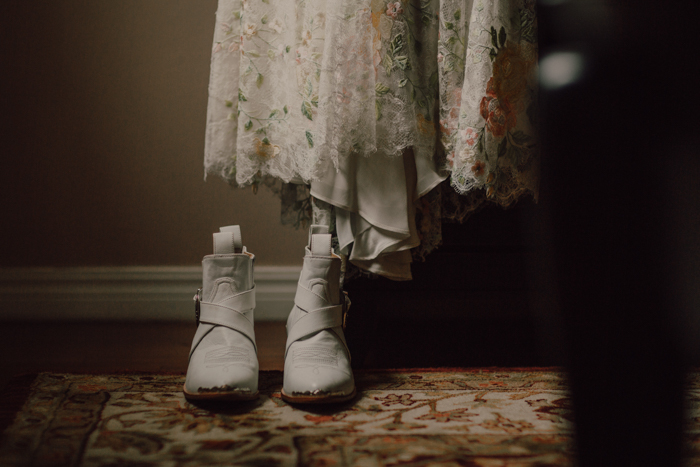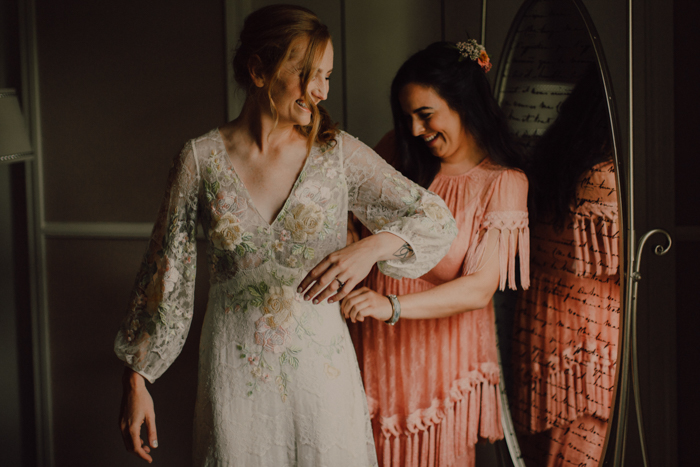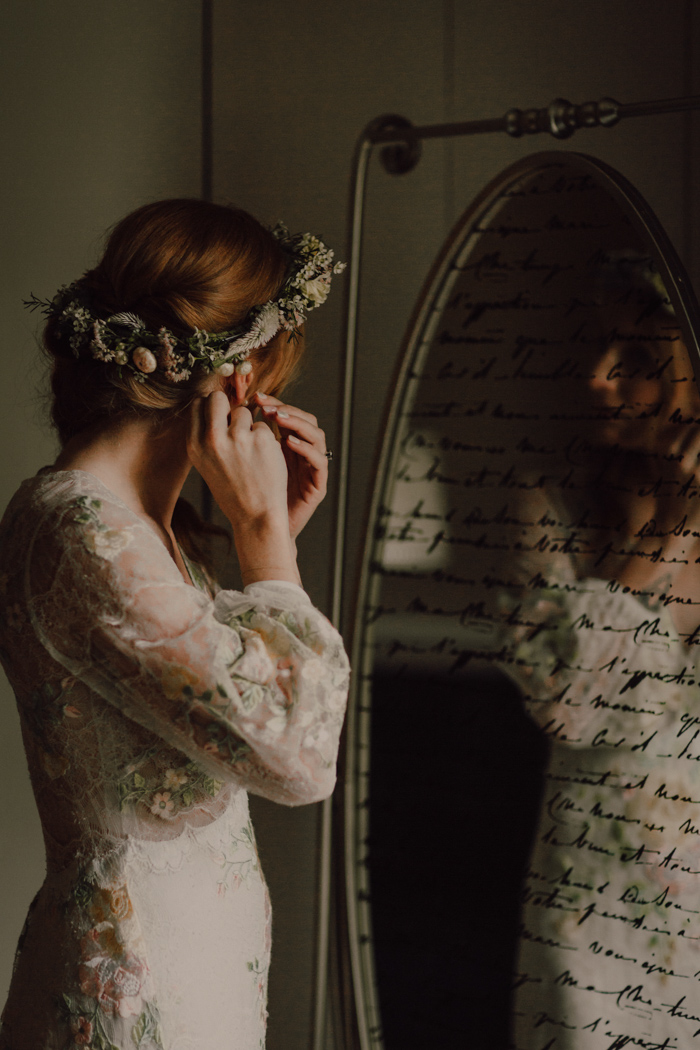 The most important thing to us both was to make the wedding reflect our unique story. We only wanted traditions that meant something to us and to create new ones that expressed our idea of what it means to become a family. EJ spent months preparing the ranch and making custom cheese boards from scratch since he loves woodworking. I knew people from all over the world would be meeting for the first time so I put an extra effort into seating strangers who I felt would be a great match. Overall, we just wanted everyone to fall in love with the experience.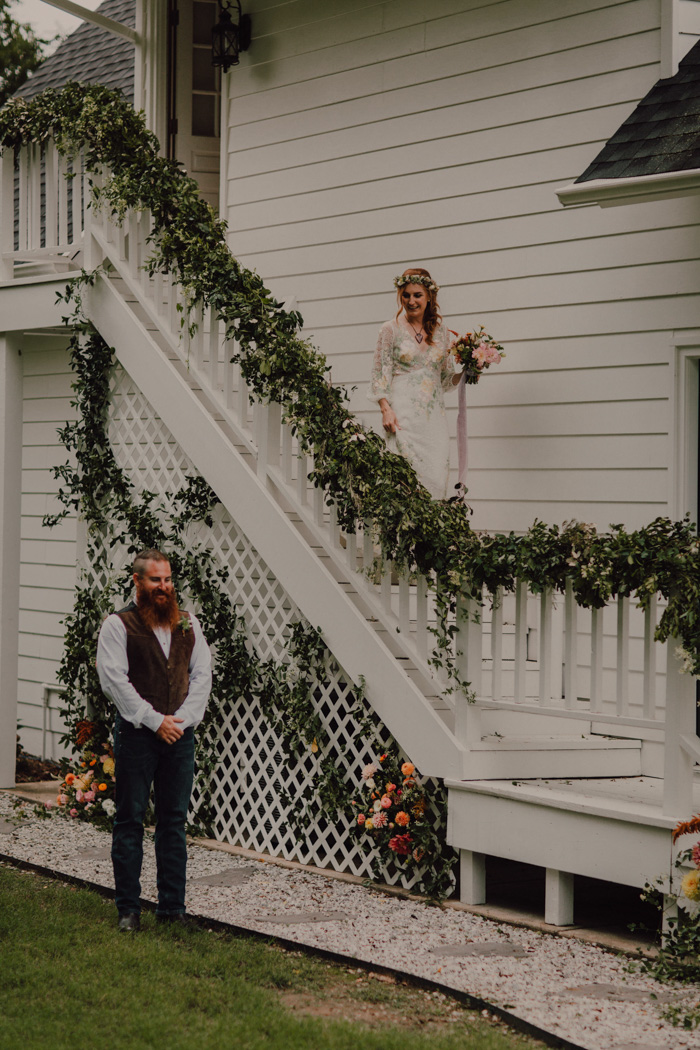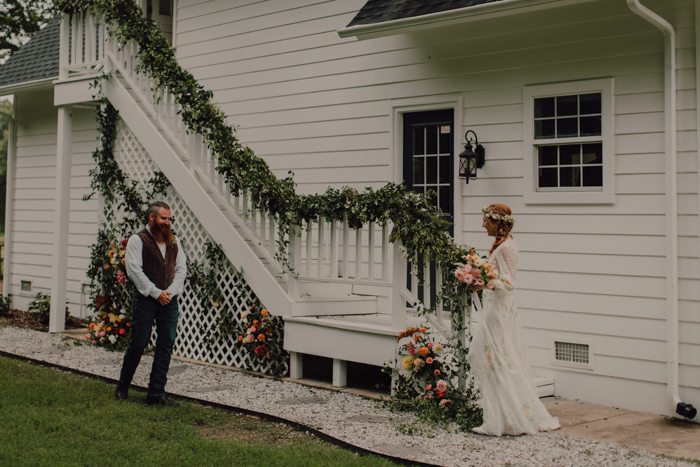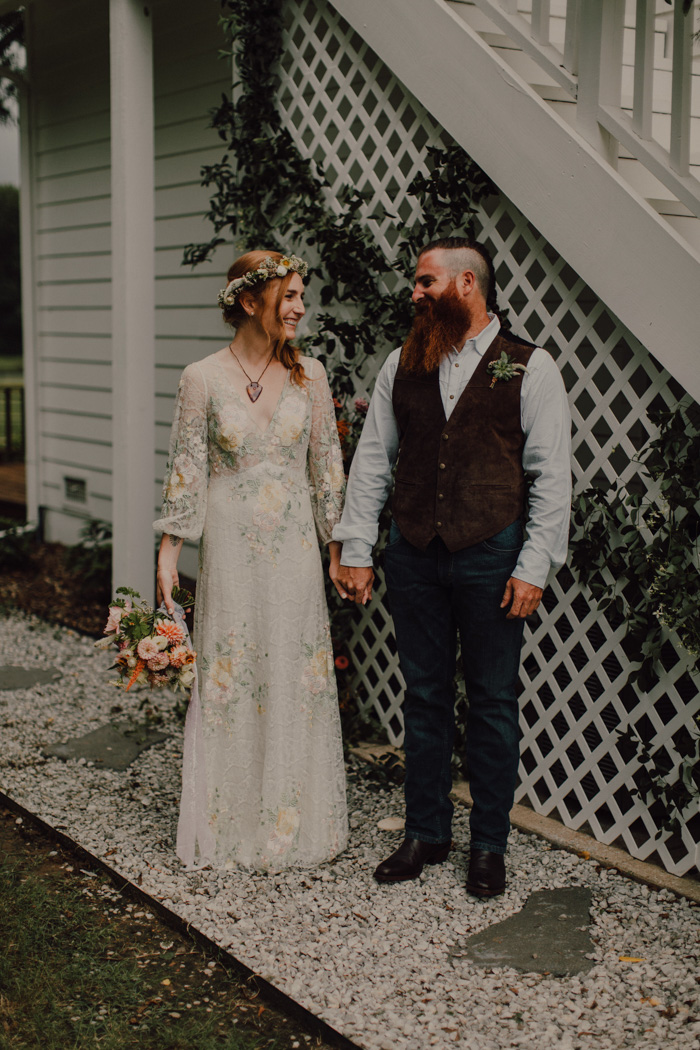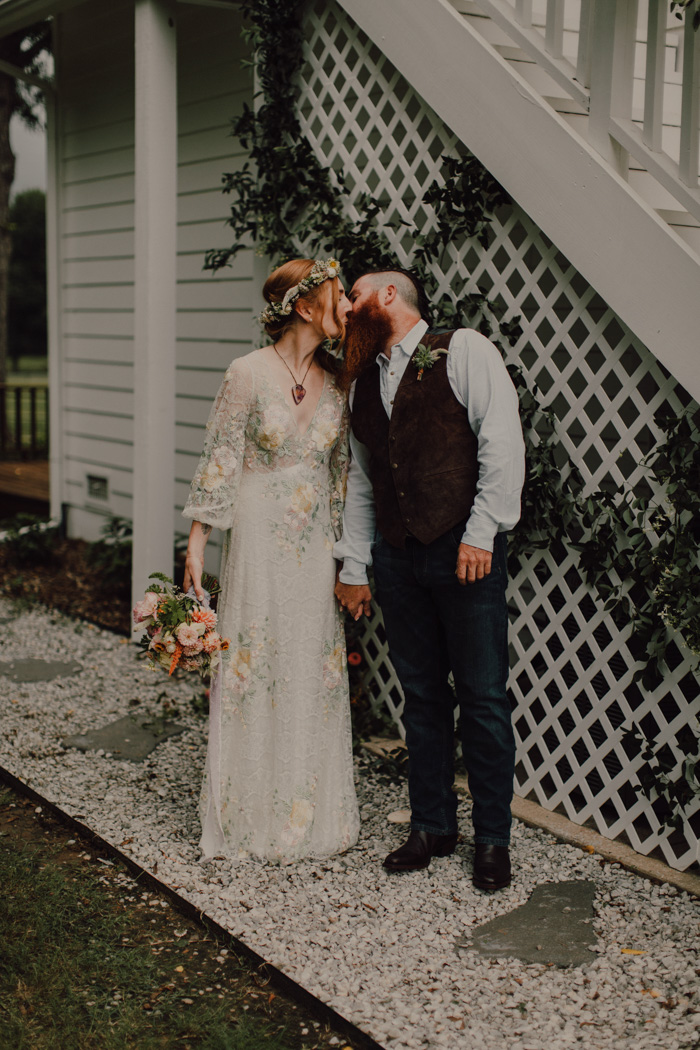 I always loved the way Jenny from Forrest Gump looked on her wedding day. I knew I wanted sleeves to cover up my tattoos for a more classic but romantic look. I saw my dress online one day but never looked into where it was being sold. I went to a bridal boutique with my girlfriends not expecting to settle on anything. When our advisor brought out the dress, I said: "That's the one!" I tried on a few others just to see but, when I put this one on, I knew.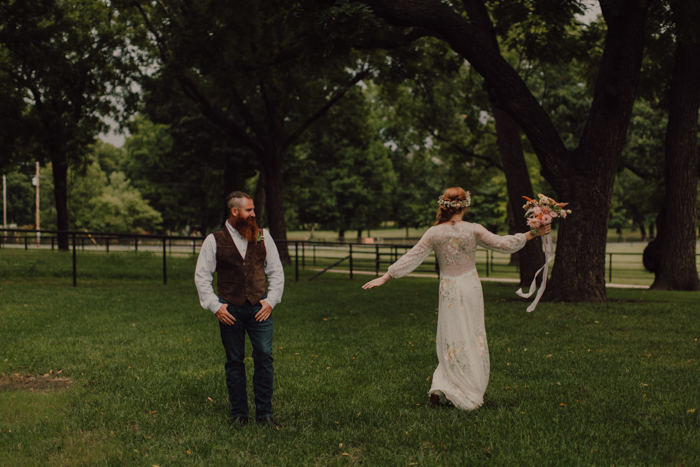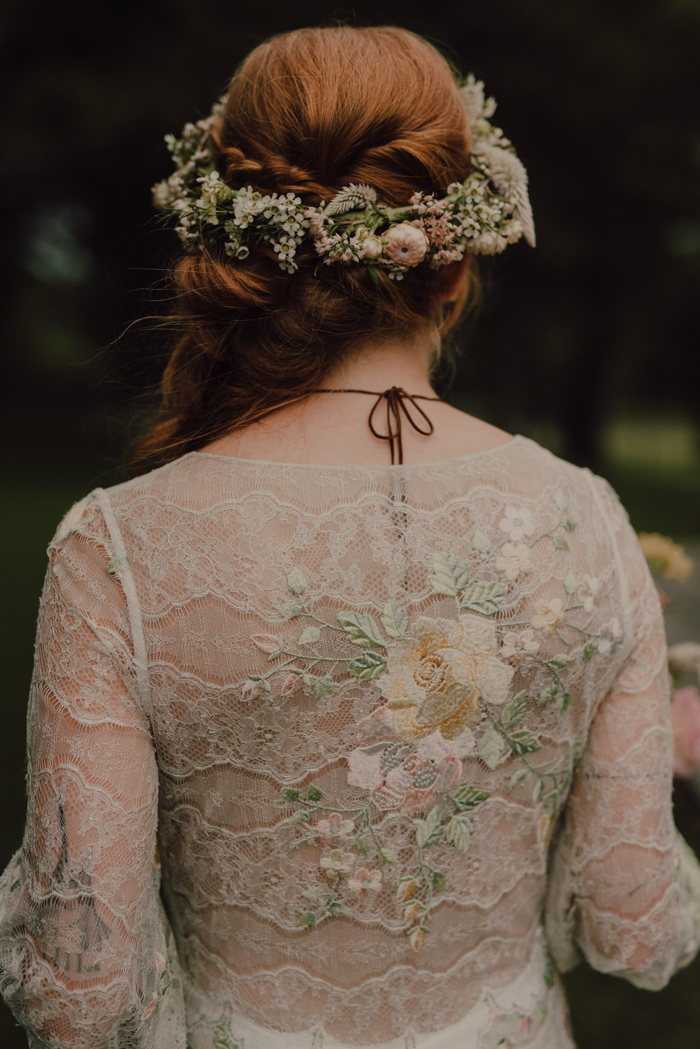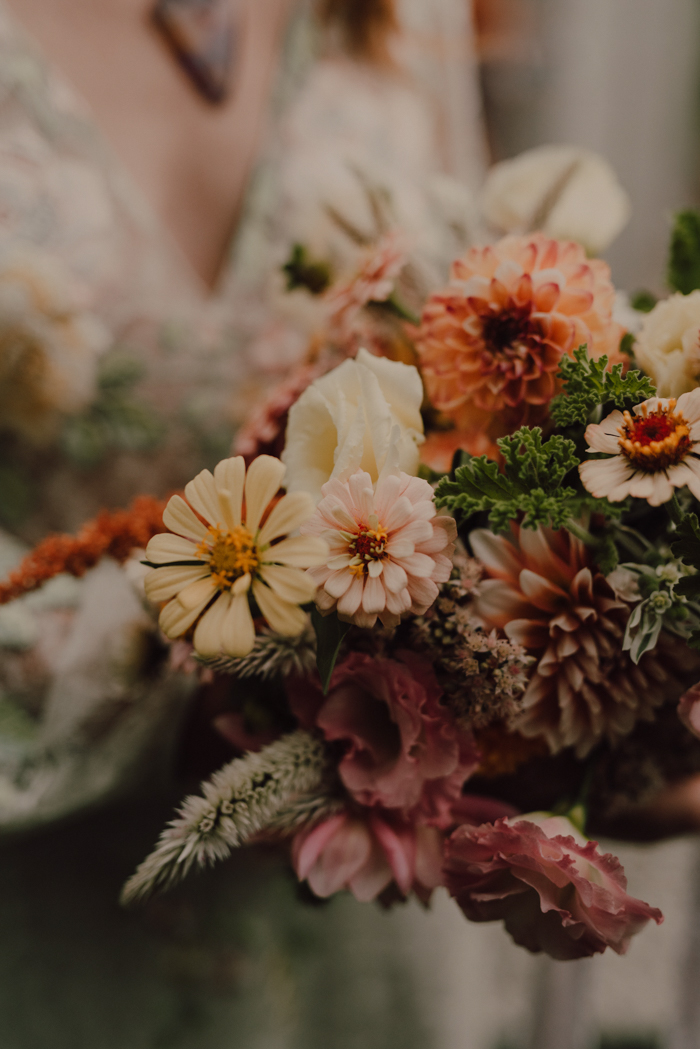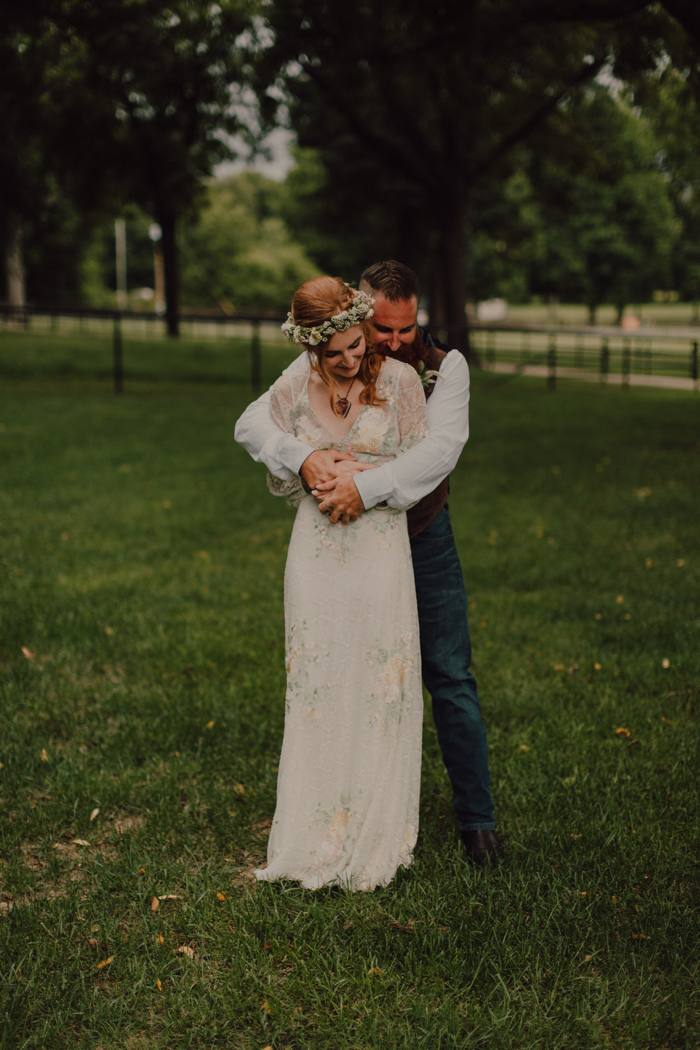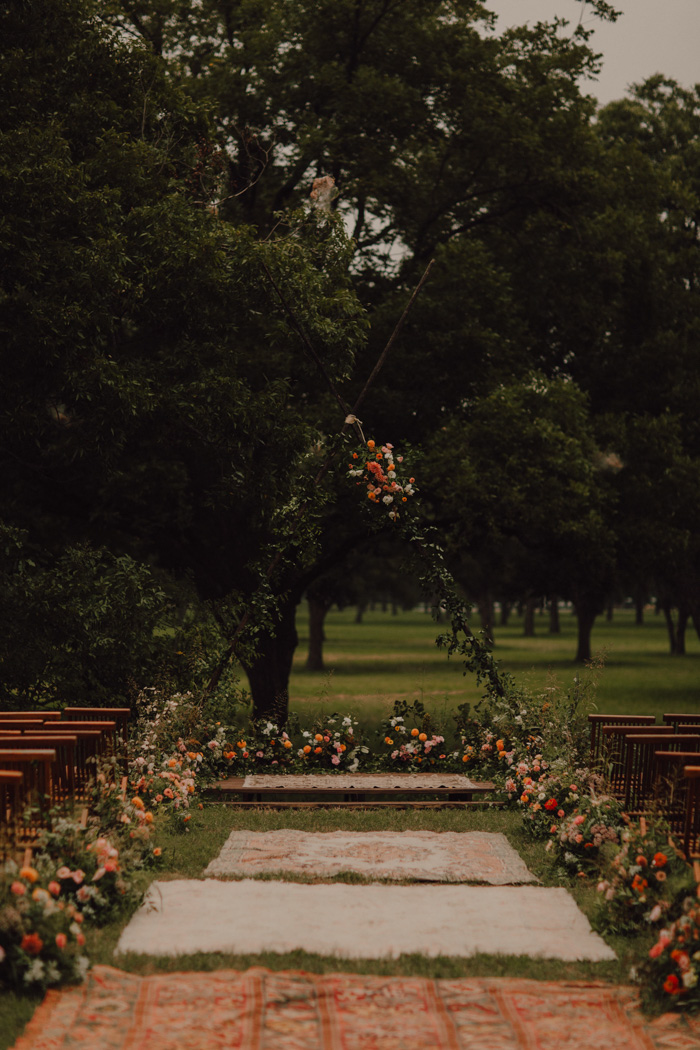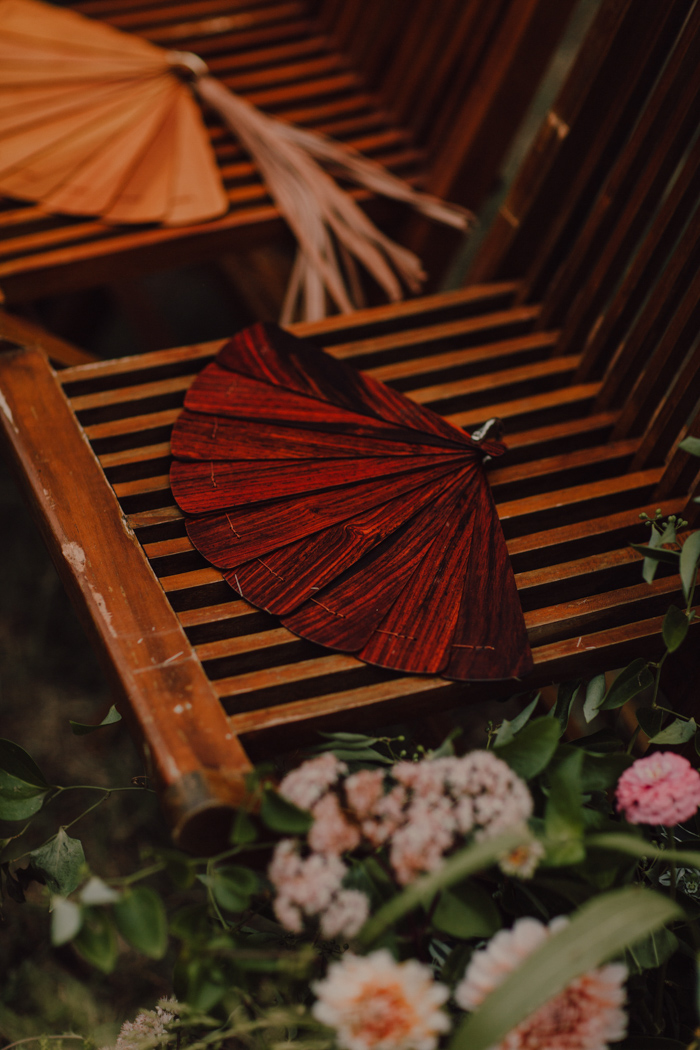 Groomsmen's Processional – "Game of Thrones Main Theme"
Bridesmaids' Processional – "Beauty and the Beast"
Bride's Processional – "Bittersweet Symphony" by The Verve
Recessional – "Your Song" by Elton John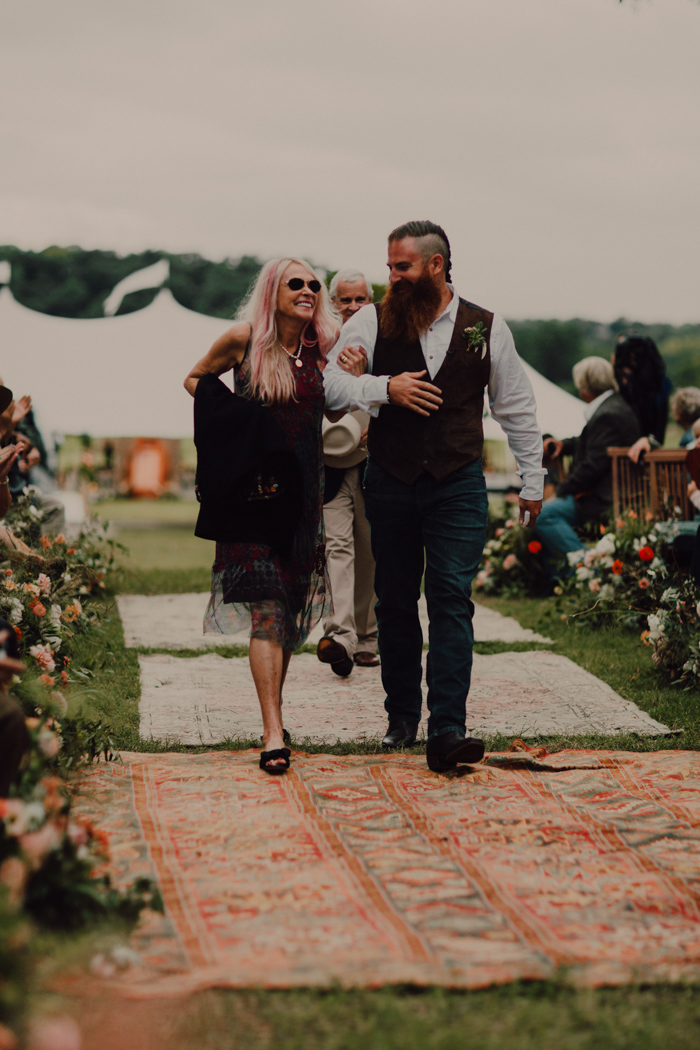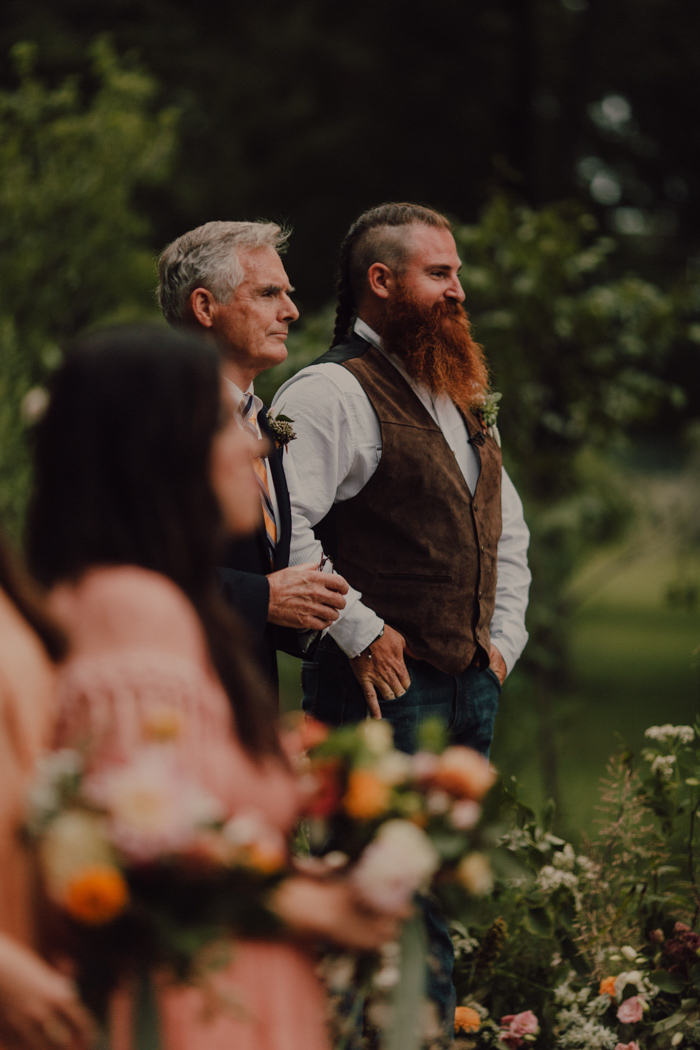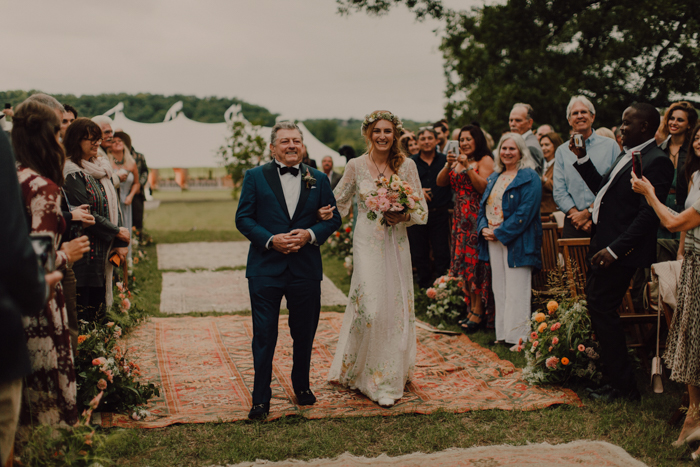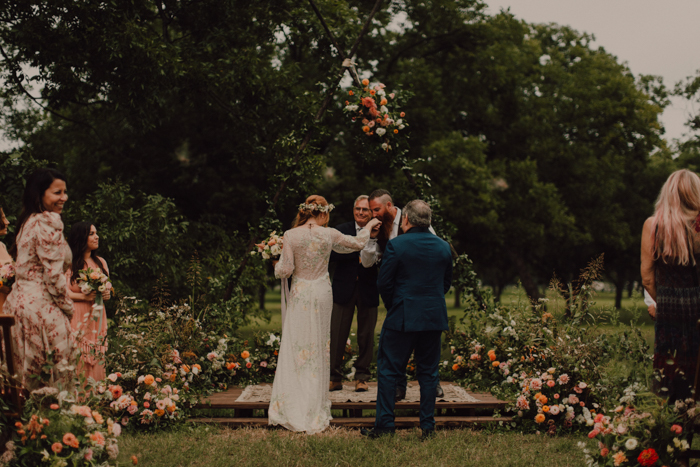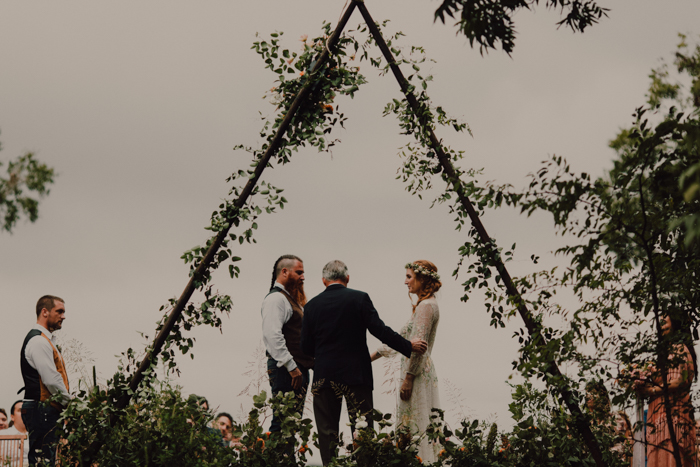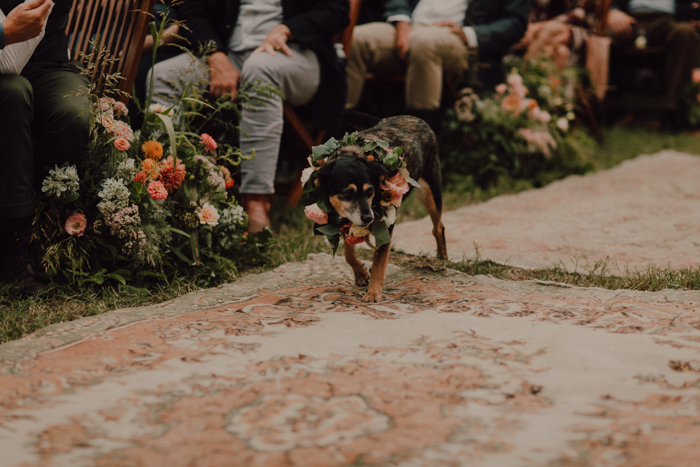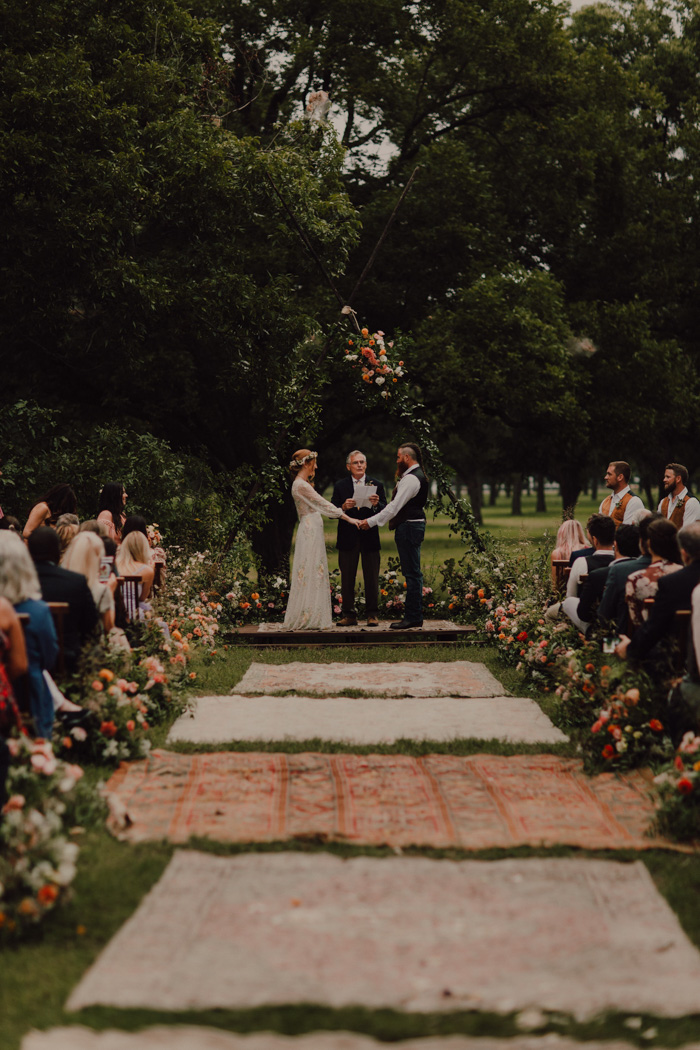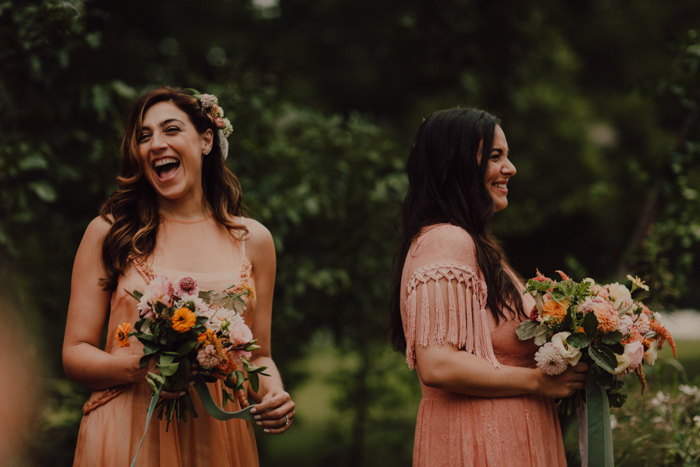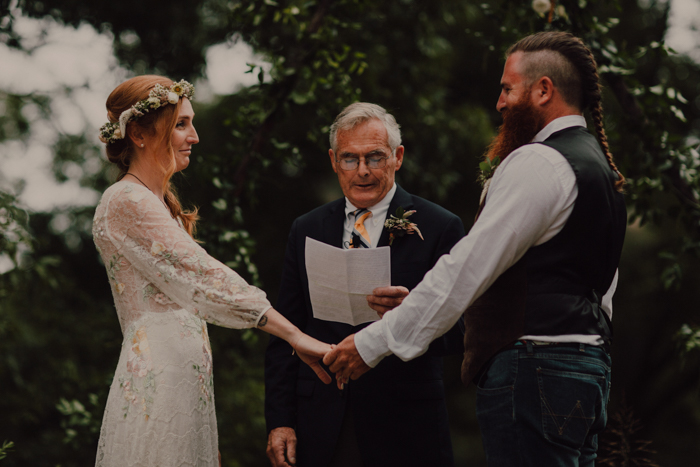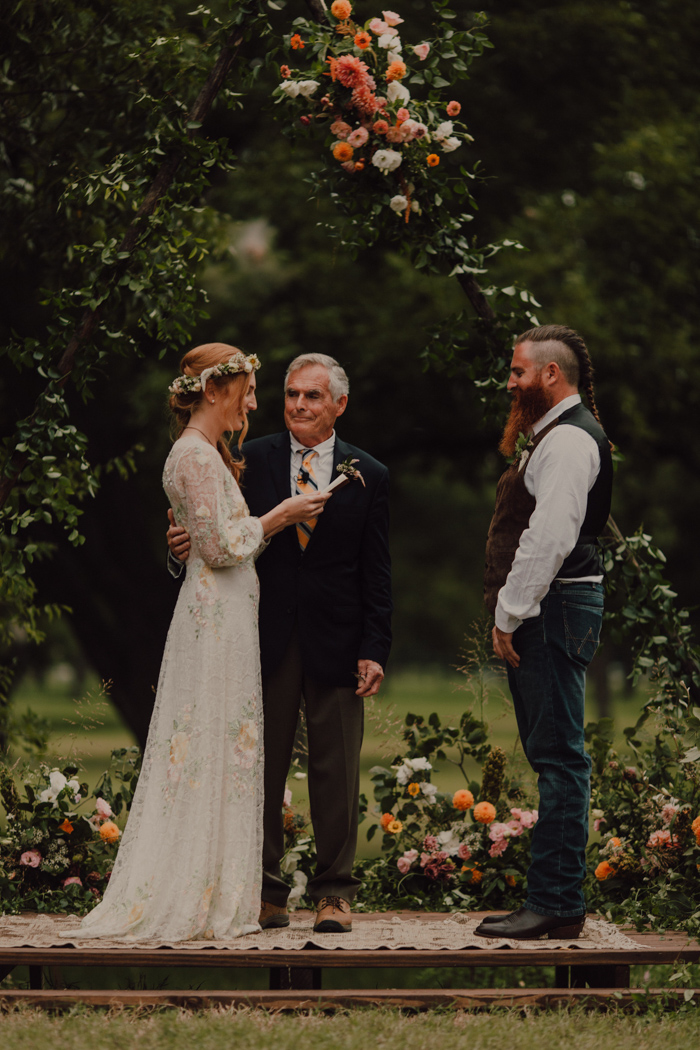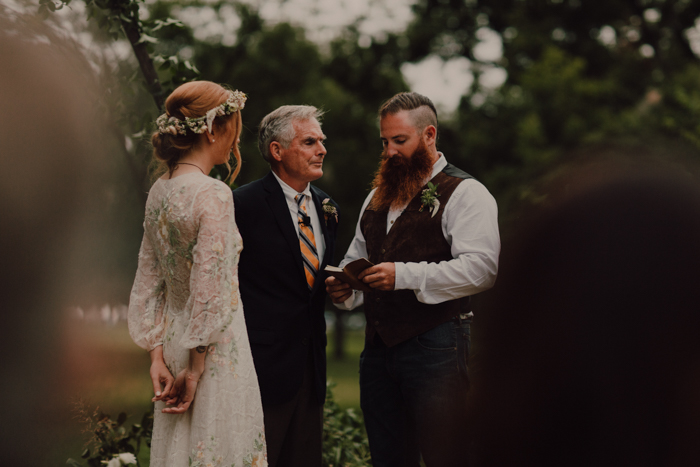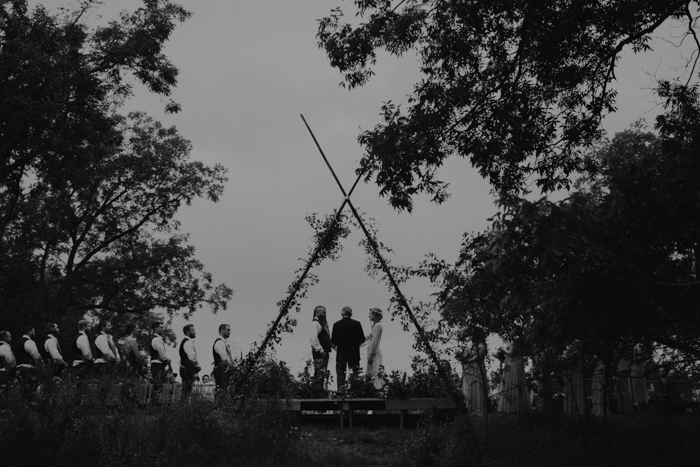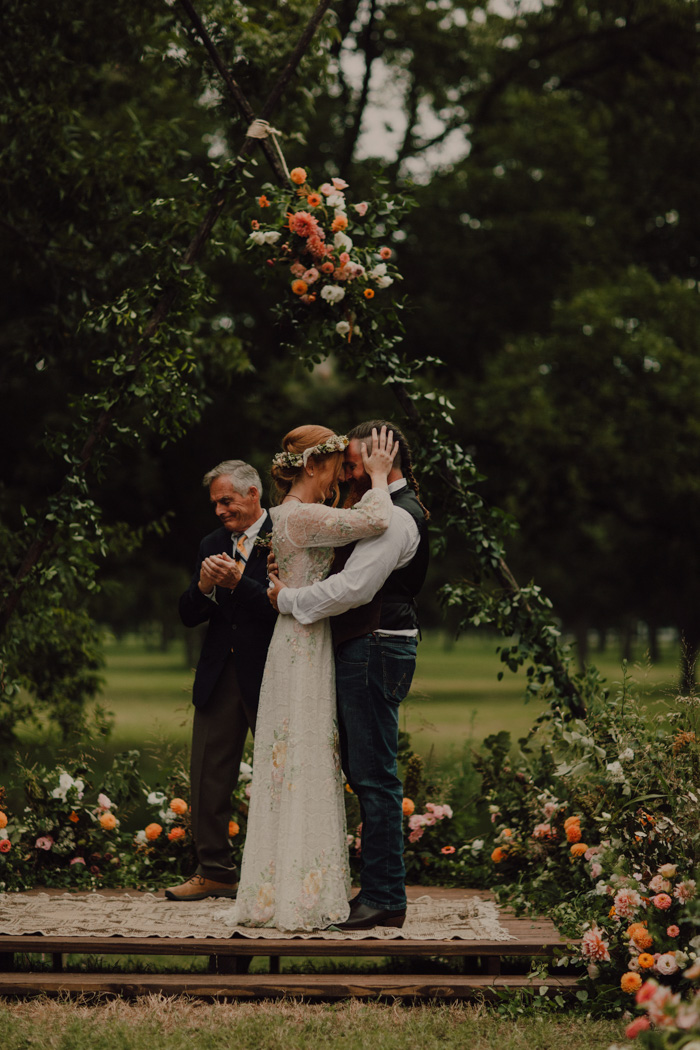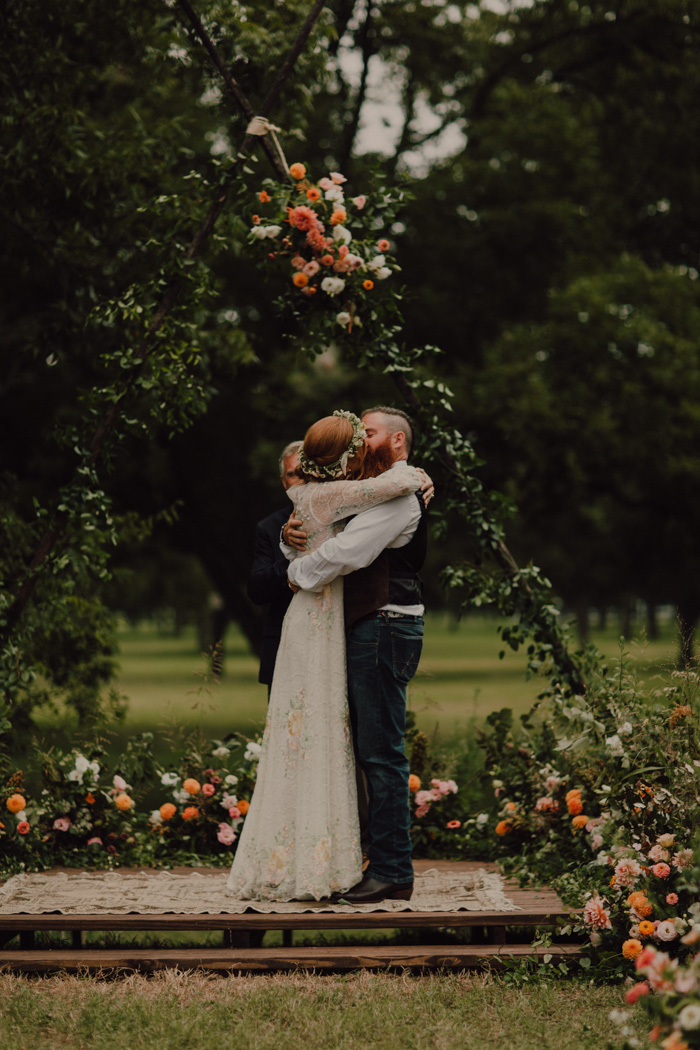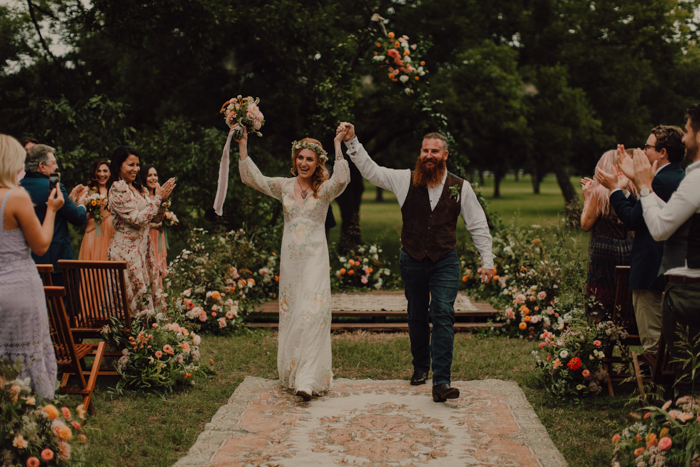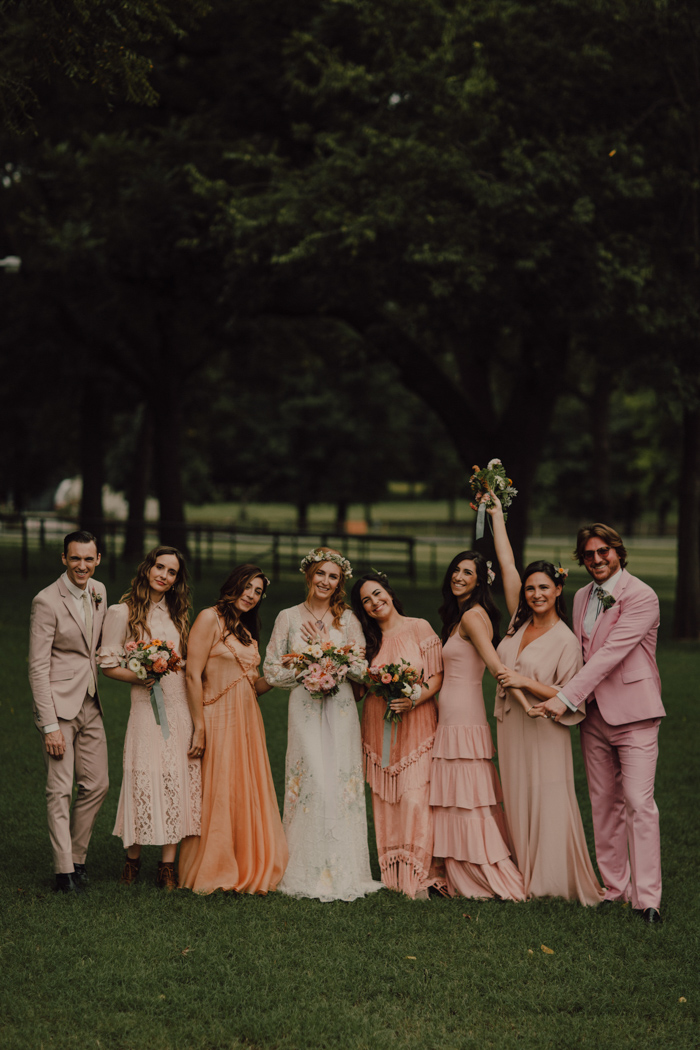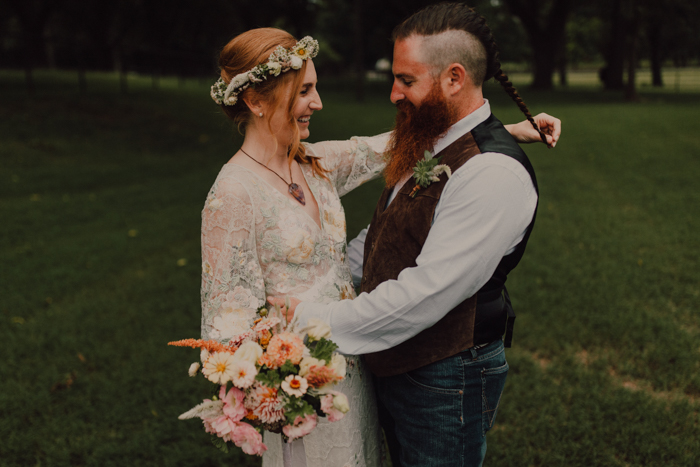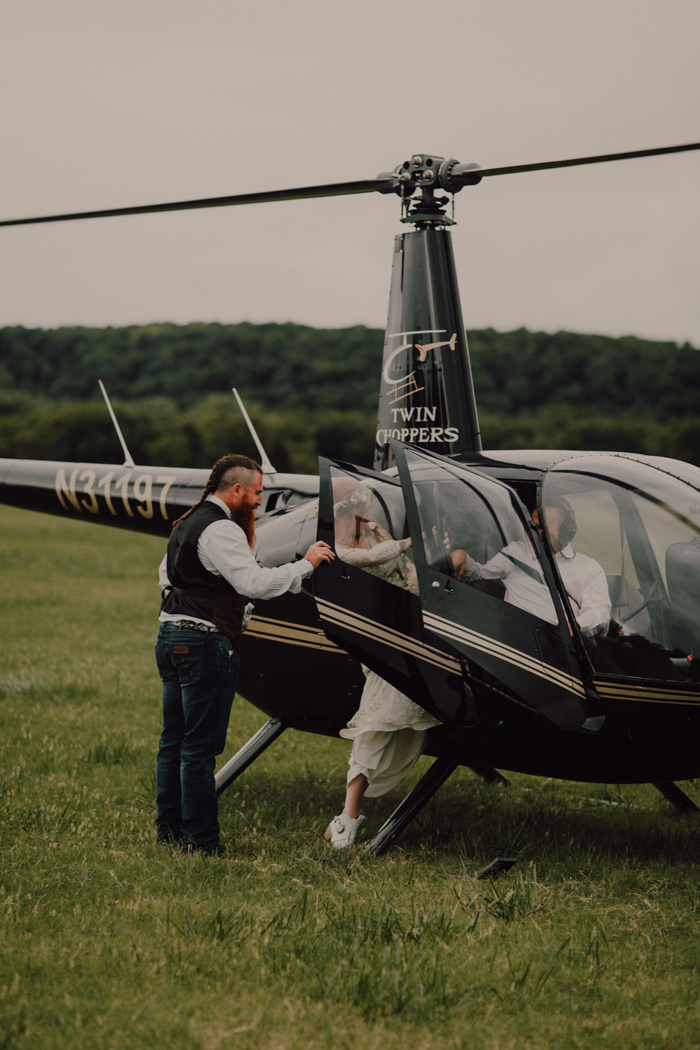 Our advice: If you don't want to be stressed out then choose professional vendors with great reviews and photos you connect with most. Give up control after you have fully expressed your vision and let them work their magic — that's what you're paying them for! If you loosen the grip on every tiny detail, then you'll be even more excited to see the outcome. You will be more present on your big day because you won't be freaking out about little things that don't matter and no one will remember.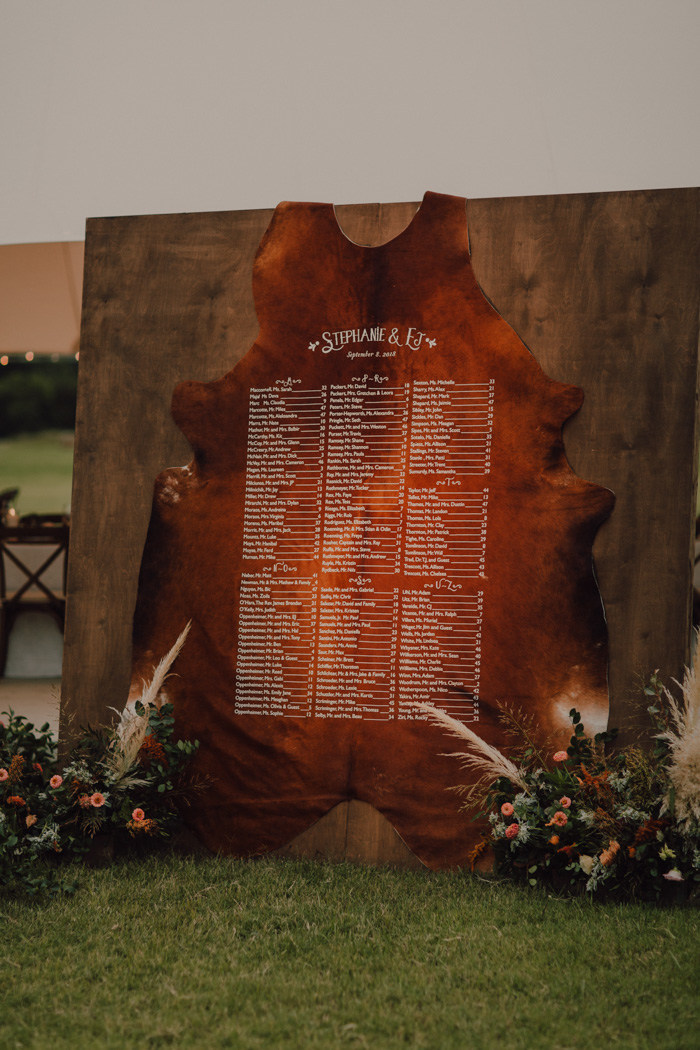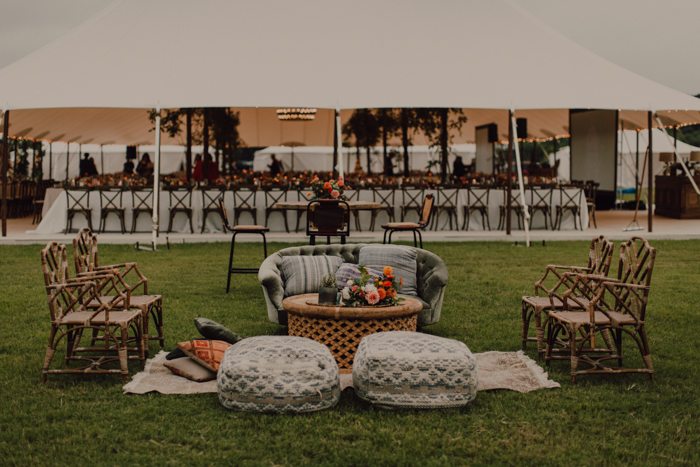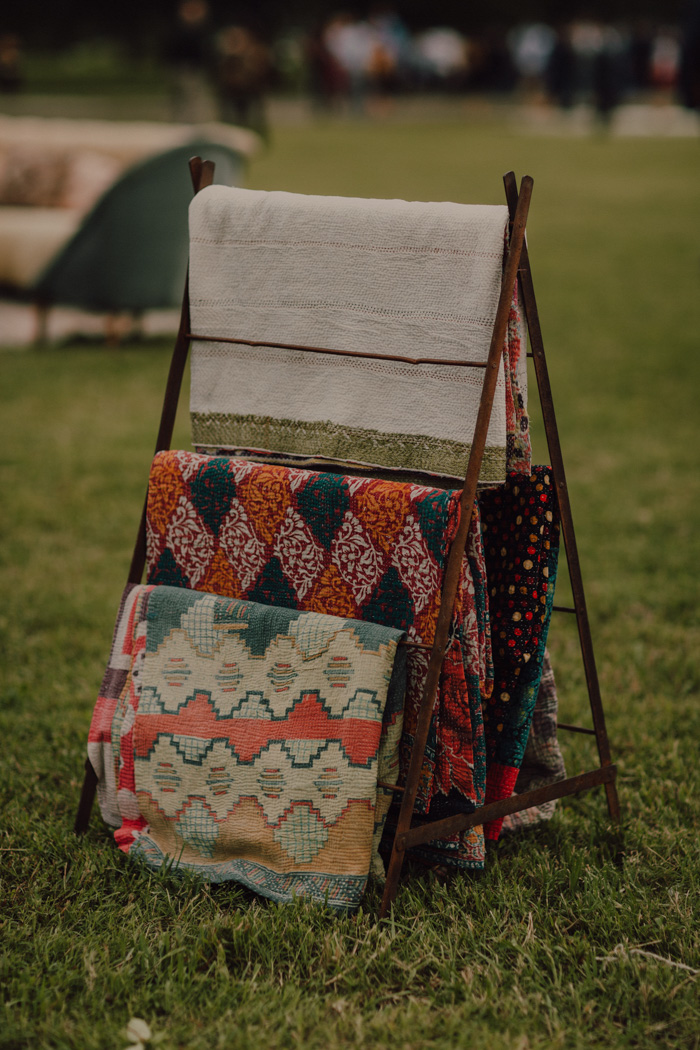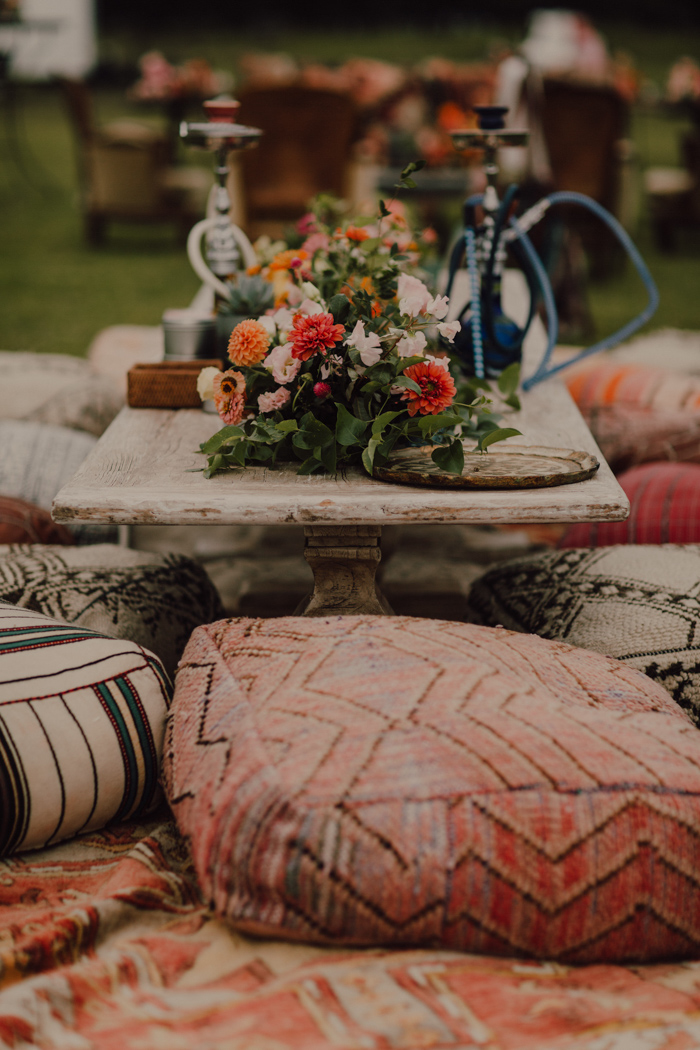 I went to NYU with EJ's sister and she told me on a trip together that I would really like her brother since we were both into hunting and fishing. We became Instagram friends and for three years EJ tried to get me to come to Oklahoma to meet him. I was working with a company on a potential TV show about hunting, and I asked EJ if we could feature him and his ranch for the show. He agreed and I showed up to meet him with 3 camera guys. They mic-ed us the moment we met and filmed the first 3 days of our meeting. The footage turned out mostly to be us awkwardly flirting with each other and 100% falling in love. My film crew edited a version of the footage to be an 8-minute video of us on the ranch — exactly where the wedding was — running around and falling in love.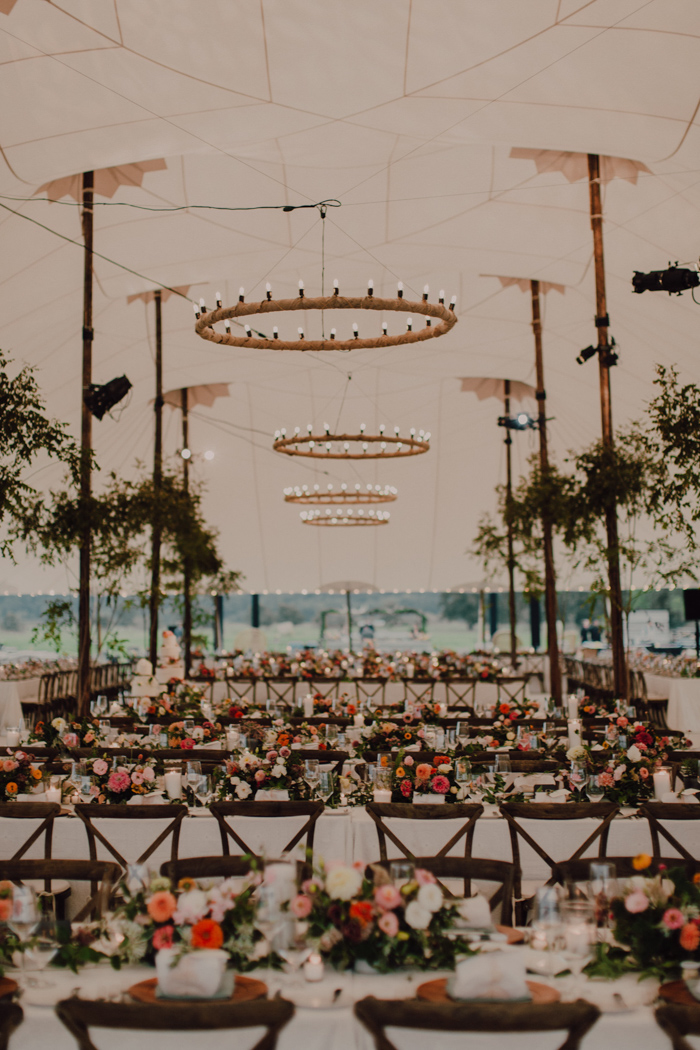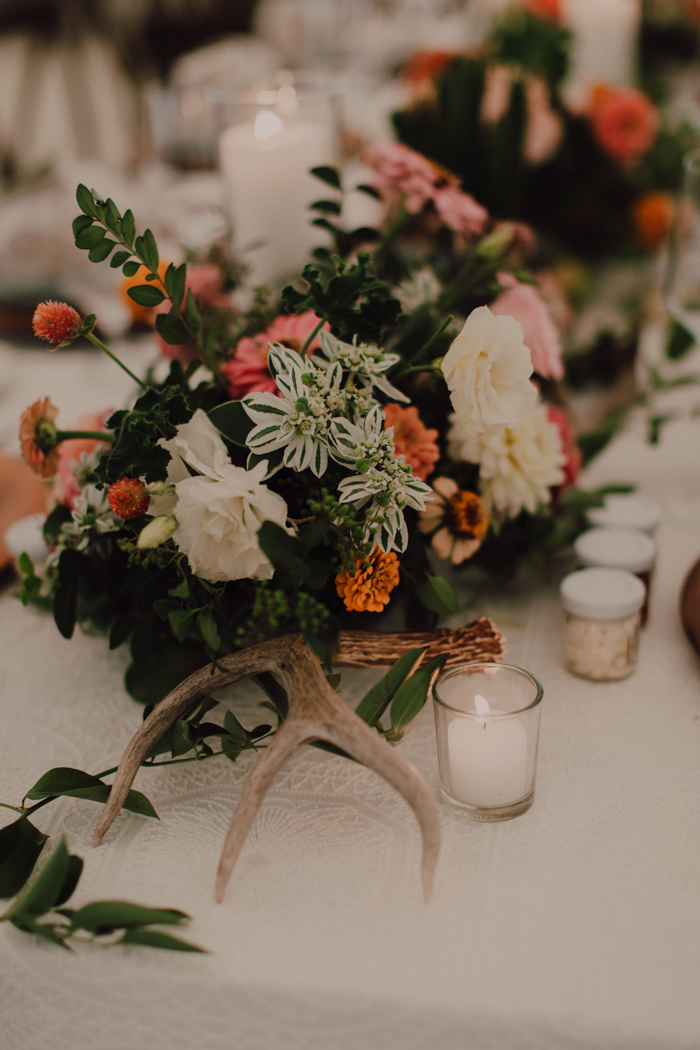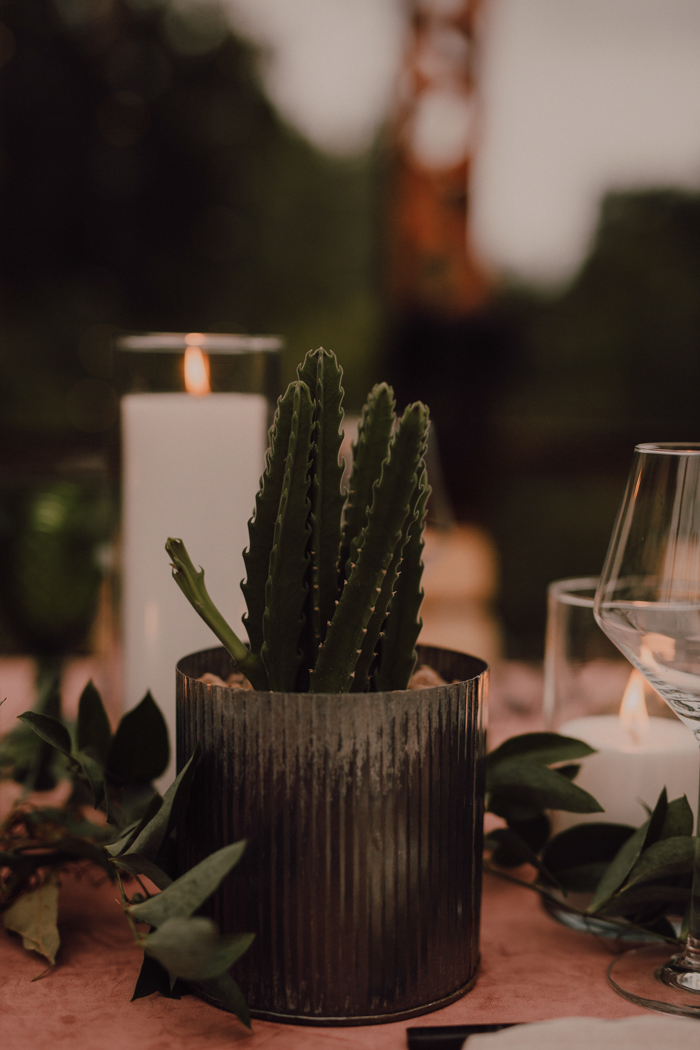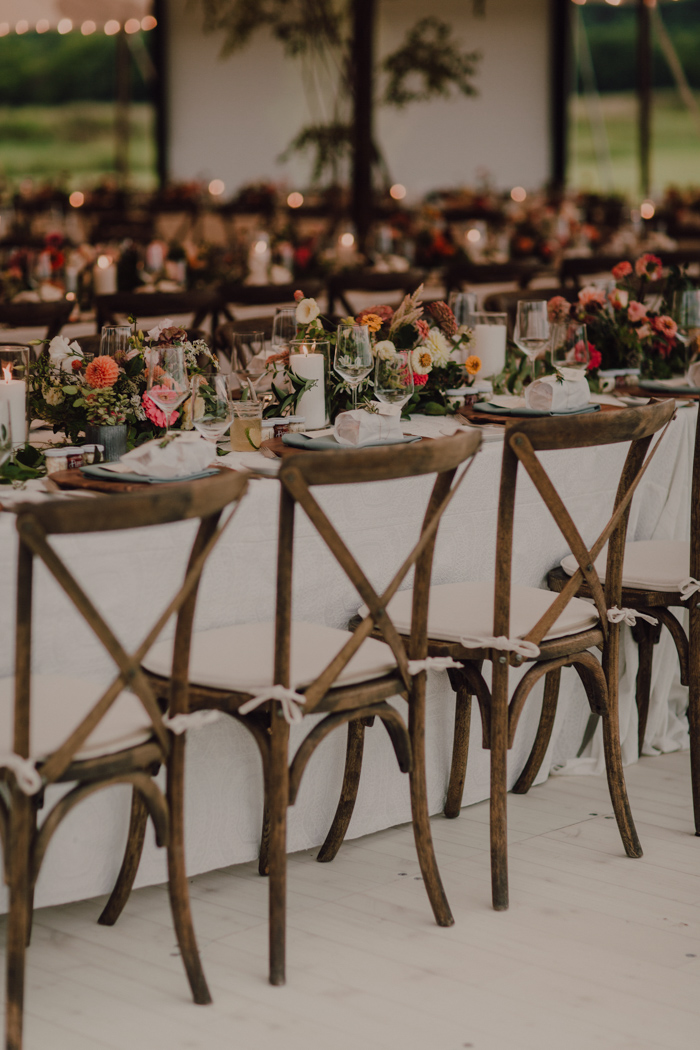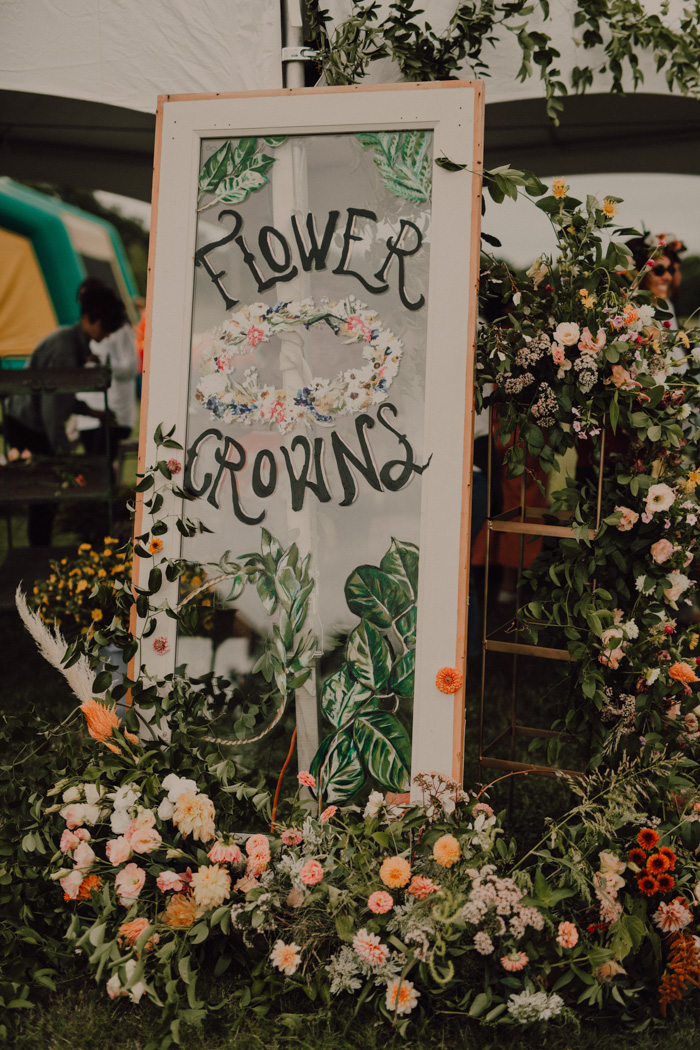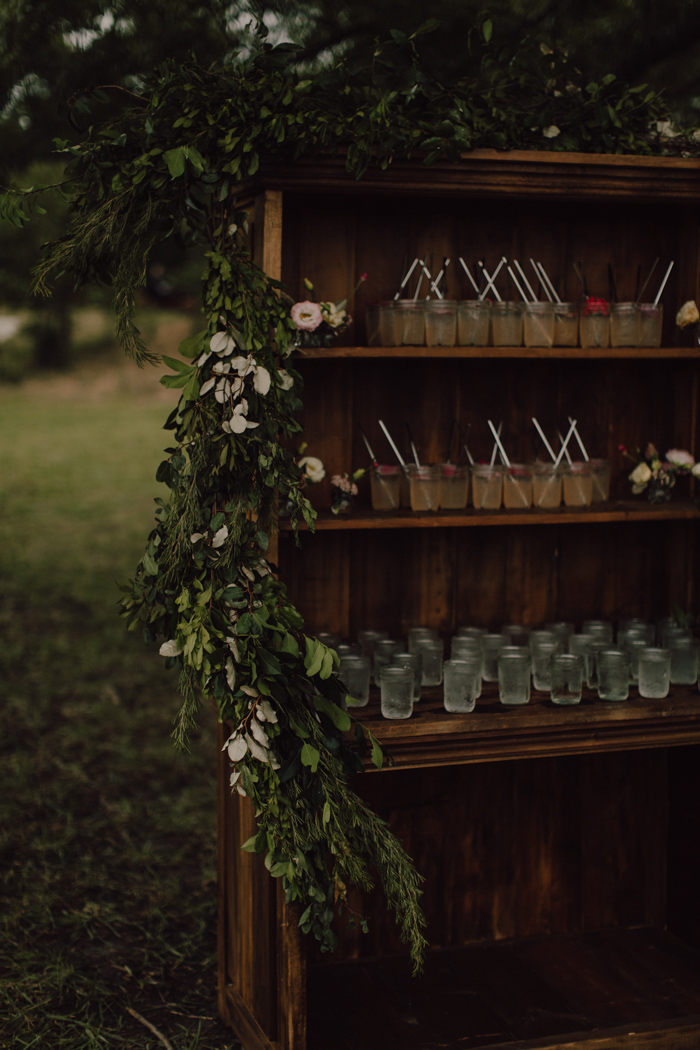 When everyone sat down to dinner, we told the guests what they were about to see and showed them the video projected on two screens on each side of the tent. My friends were crying and couldn't believe we had such a special time captured so beautifully on film. It was funny, quirky, and romantic. EJ ended up having a whole plan to make me fall in love with him and it was all caught on camera — from the necklace, he carved for me months before we met to him lifting me up in the bucket of his tractor with a cooler and some cushions to watch the sunset and kiss me. When EJ proposed, he mowed "STEPHANIE WILL YOU MARRY ME < EJ" in 10 acres of his ranch and took me up in a helicopter to see it. His brother filmed it and we added it to the movie. It was a huge surprise for everyone at the wedding, and an even bigger surprise to know my first date with my husband would get to be shown to all my friends and family at our wedding.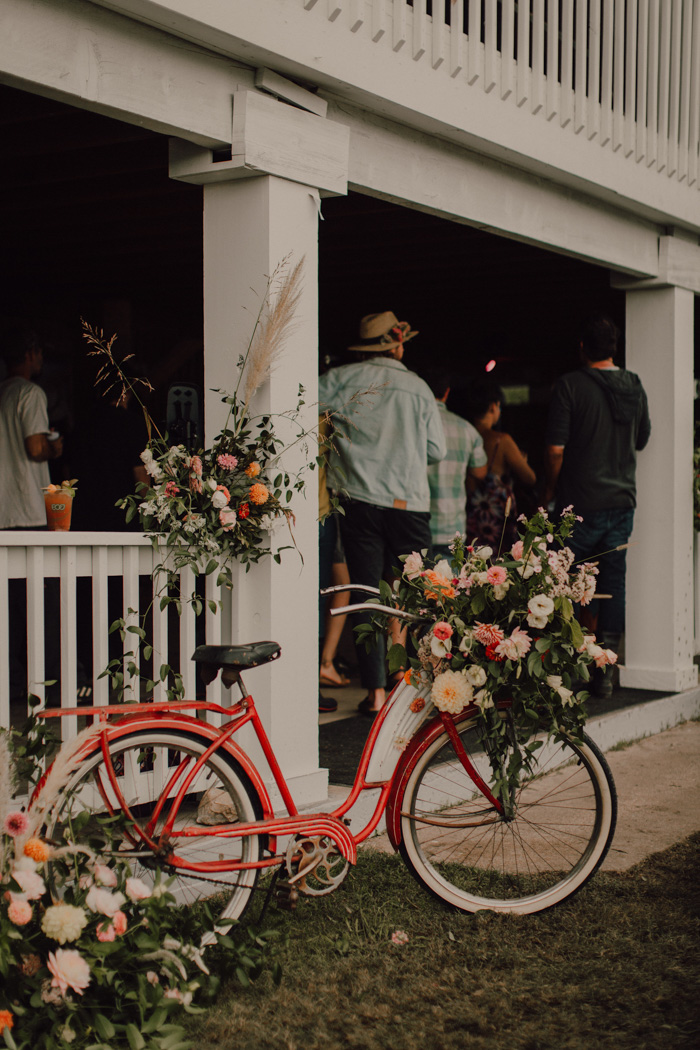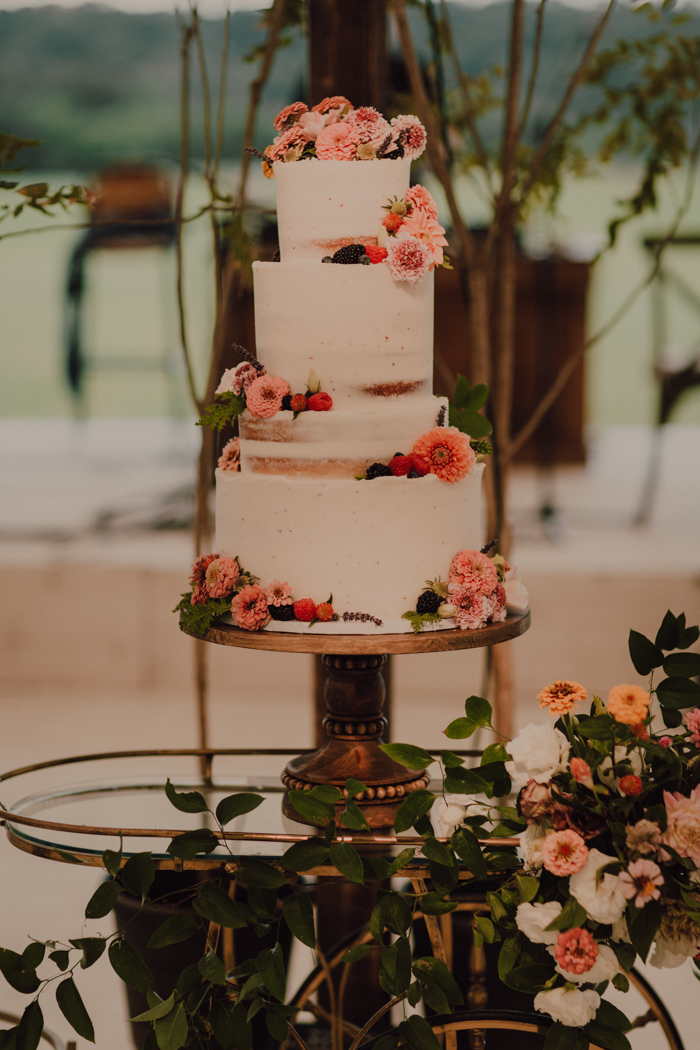 EJ also mowed "LOVEFEST" into the field for the festival for people going up in the helicopter to see. He is incredibly talented with a mower and it was nice to show off his skills!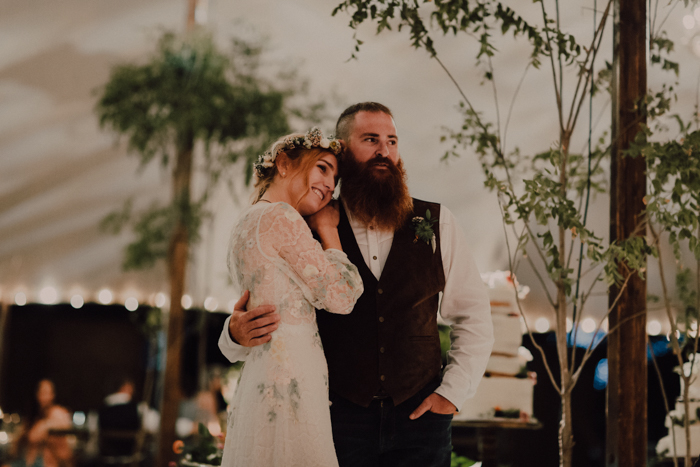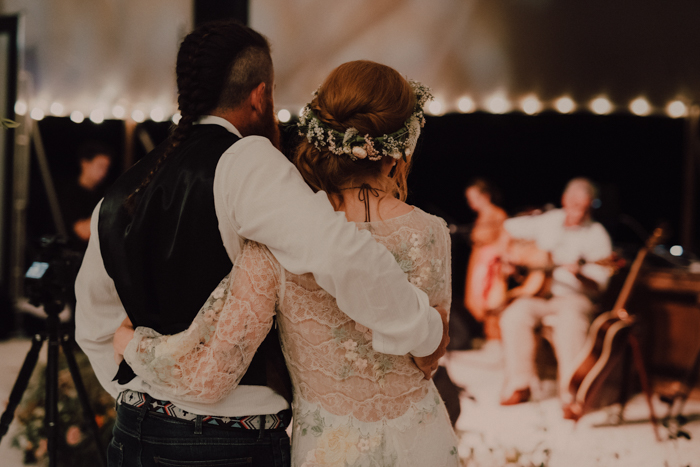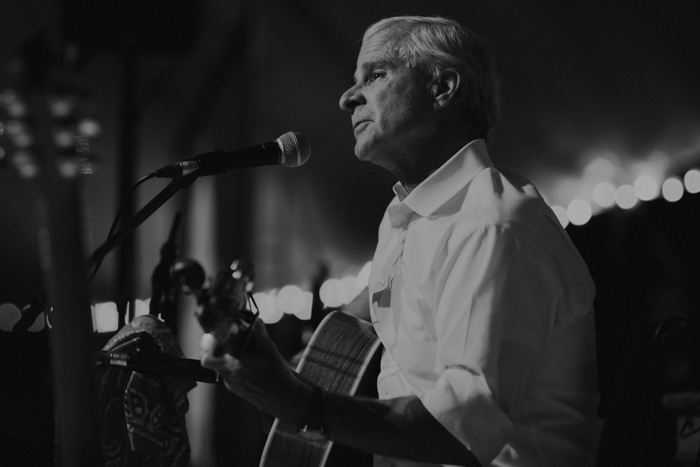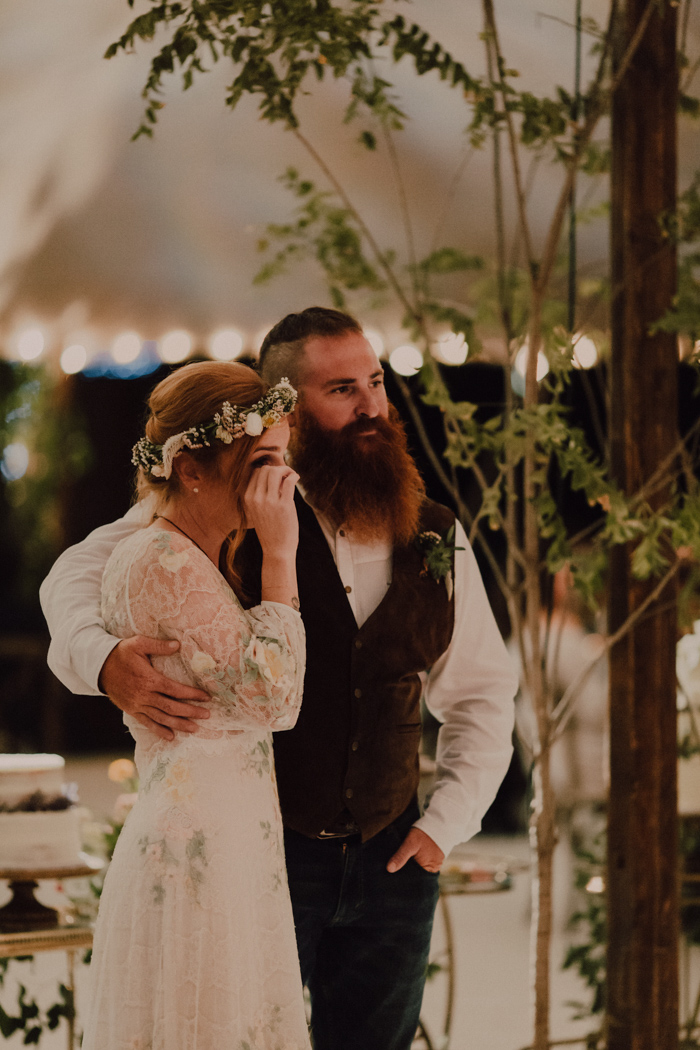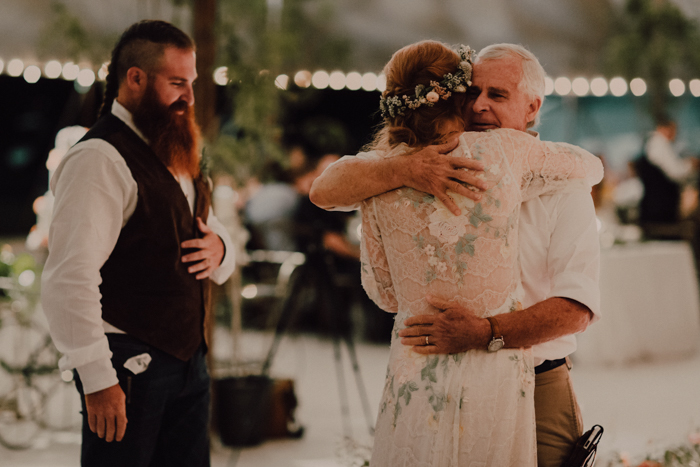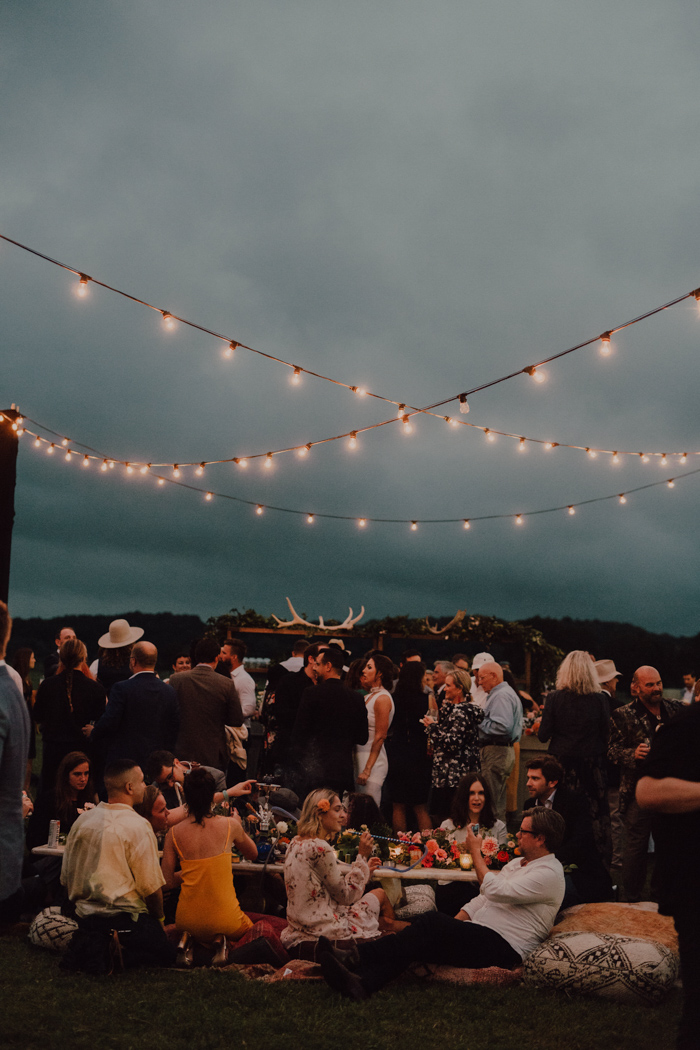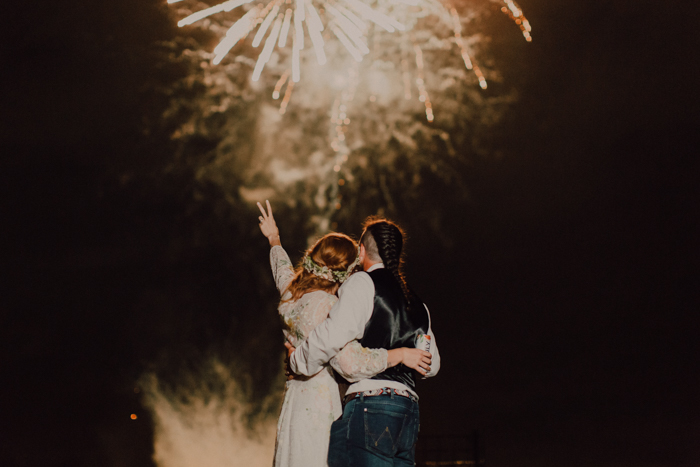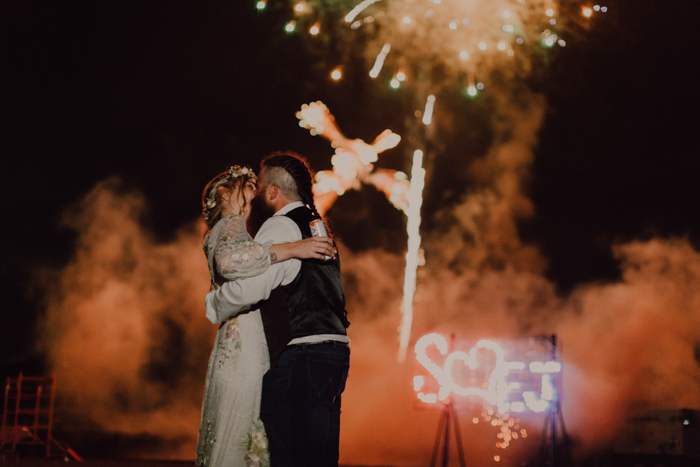 The morning after our epic wedding that went till dawn, we woke up to the sound of live music already starting at our music festival just outside our RV. As I walked out, I saw friends who fell in love with each other from the wedding night debauchery the night before. They were creeping out of their glamping tents in disbelief we were still in this beautiful countryside together and the party wasn't over. I saw the helicopter starting its rides, the mini Ferris Wheel moving, all the food trucks smelling delicious, and the entire wait staff smiling ear to ear with all the guests and loving getting them drunk again the next morning. The outfits people brought to a music festival wedding in Oklahoma were incredible! I was so proud of my friends and in love with my new husband and life.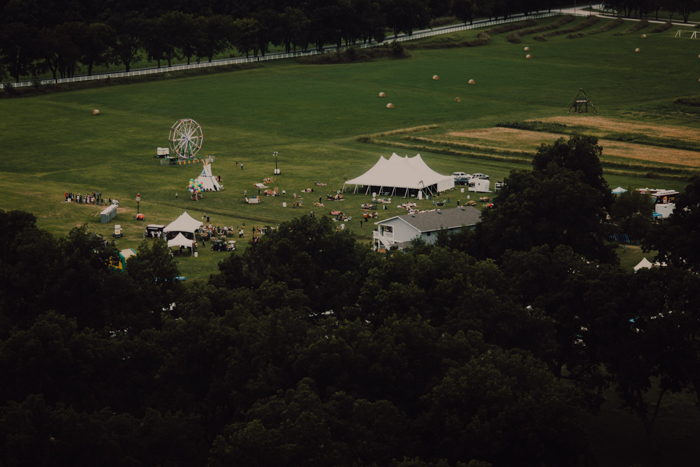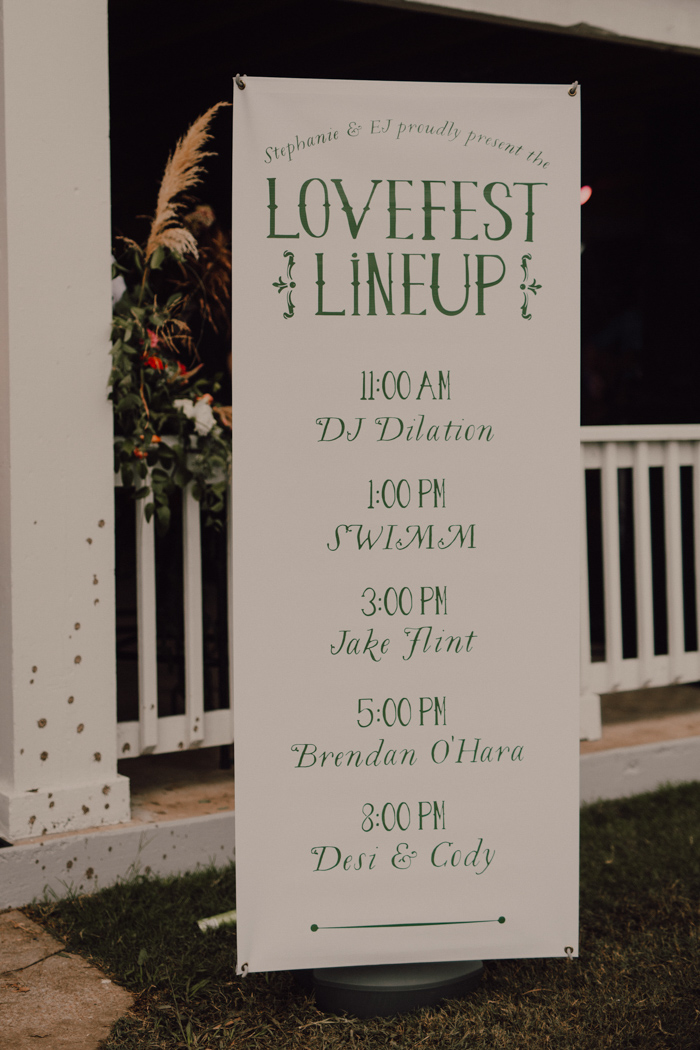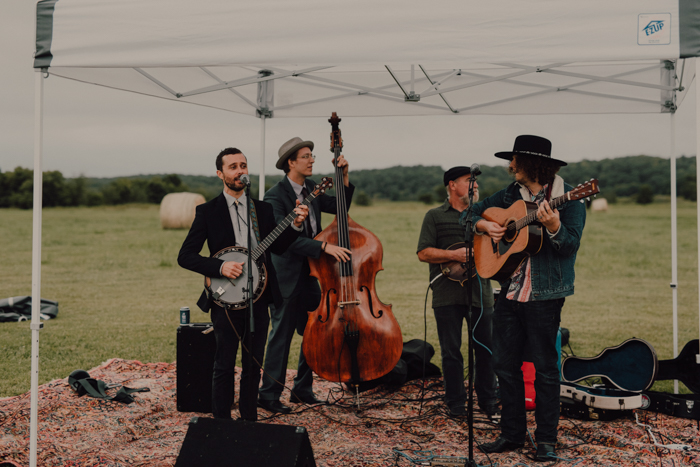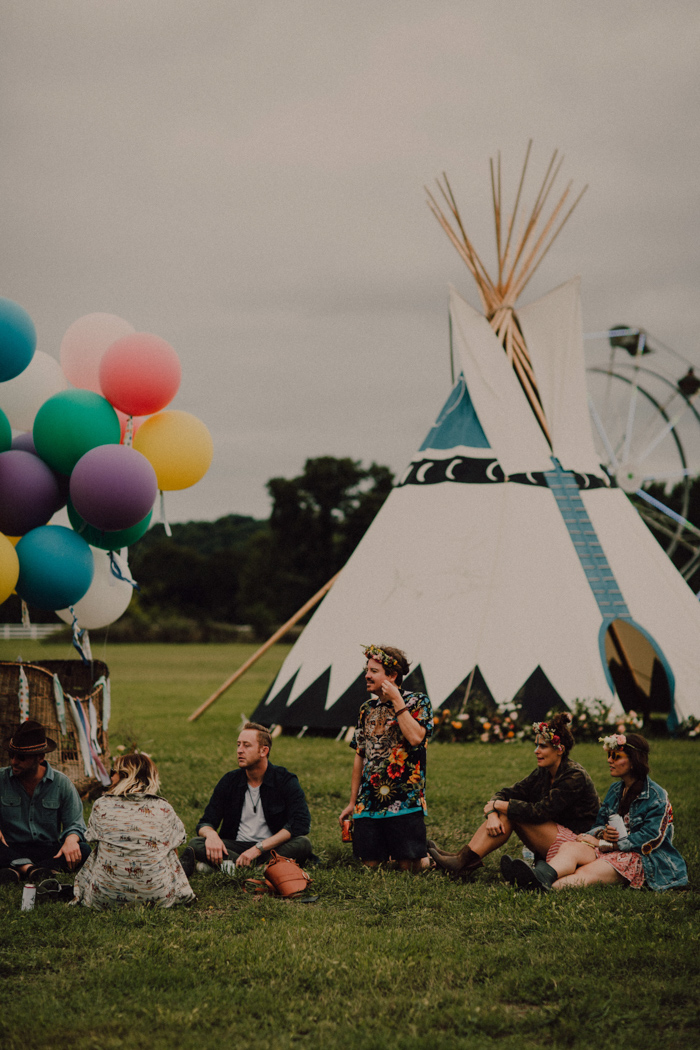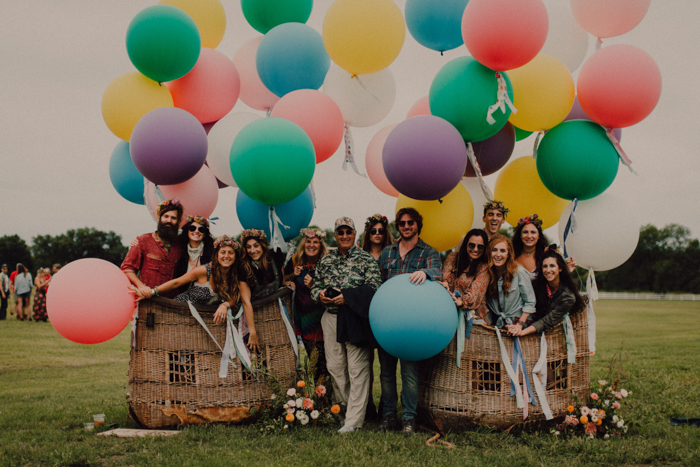 During the music festival, EJ's father played a set in between some of the bigger bands. He plays nostalgic old cowboy songs with so much class and romance. He had the biggest crowd of the day and everyone was completely silent during his set. He sang straight to me and EJ and we cried our way through it. When he finished, the entire tent of over 70 people had a massive group hug and we knew no one would forget this experience – it was #Lovefest!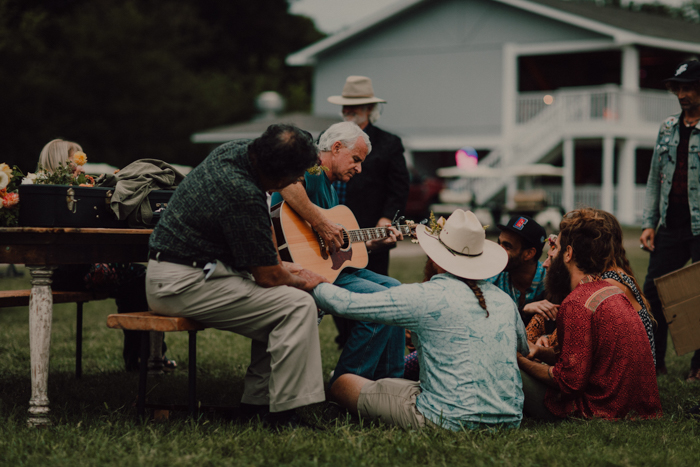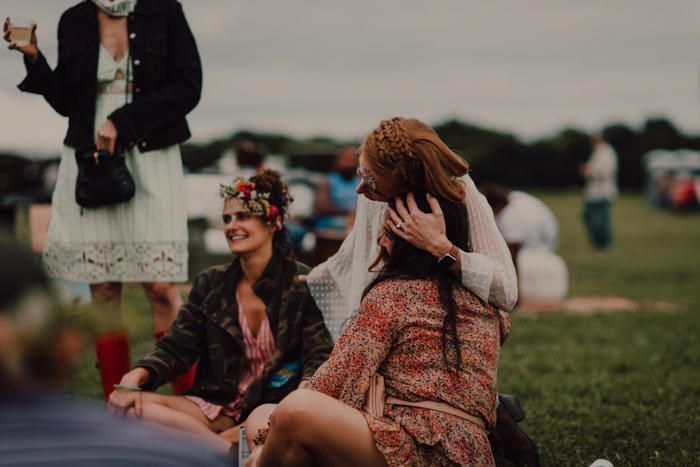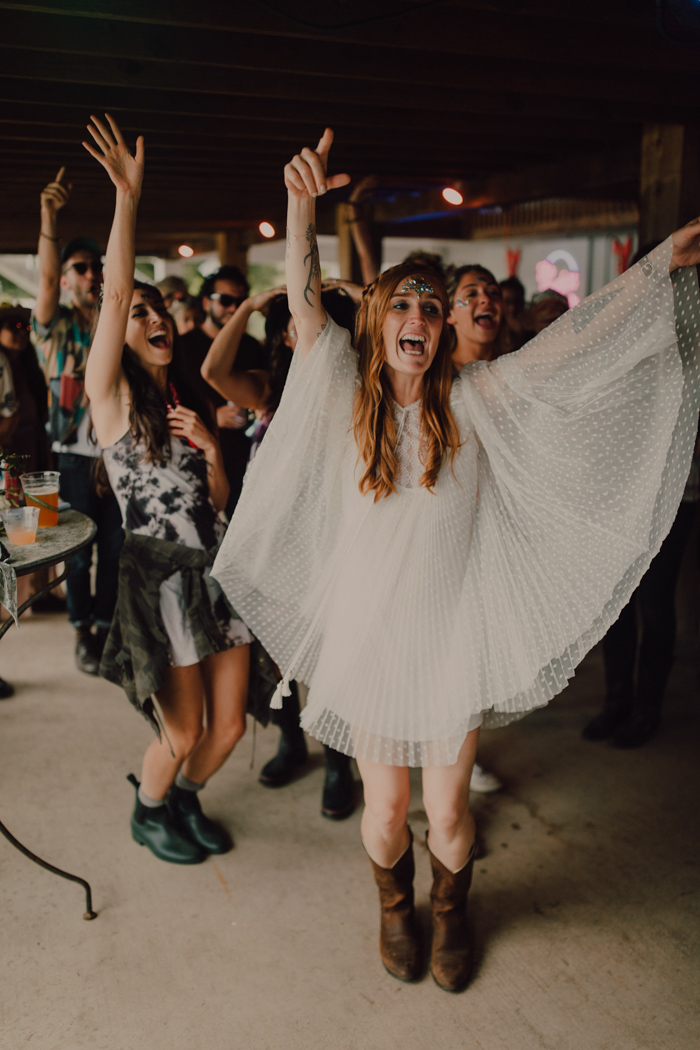 Congratulations to Stephanie and EJ, and a big thanks to Junebug member Cody & Allison Photography for sharing this music festival wedding! Want to see more from these talented photographers? We're obsessed with the use of burgundy and velvet in this emotional Flagstaff wedding!