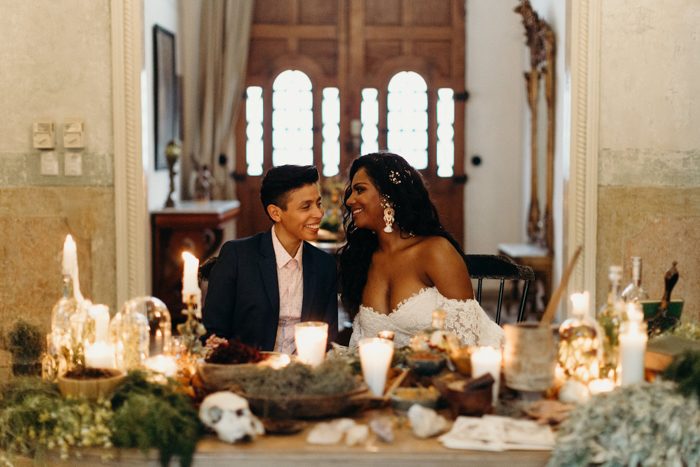 With dramatic florals and a spooky sweetheart table, Asia and Ana's Tulum elopement was something out of a mystical dream! When it comes to style, this couple has got it going on — we love Asia's lacy, boho Tadashi Shoji dress and Ana's custom Bindle & Keep suit. If you're into witchcraft inspired decor, you've got to see the sweetheart table that stylist and floral designer Maria Limon created for the couple's romantic candlelit dinner. From a beautiful Shamanic ceremony to the coolest, moody couple's portraits, we can't wait for you to see every photo Memory Box Photography captured of Asia and Ana's inspiring Tulum elopement!
The Couple:
Asia & Ana
The Wedding:
Tulum, Mexico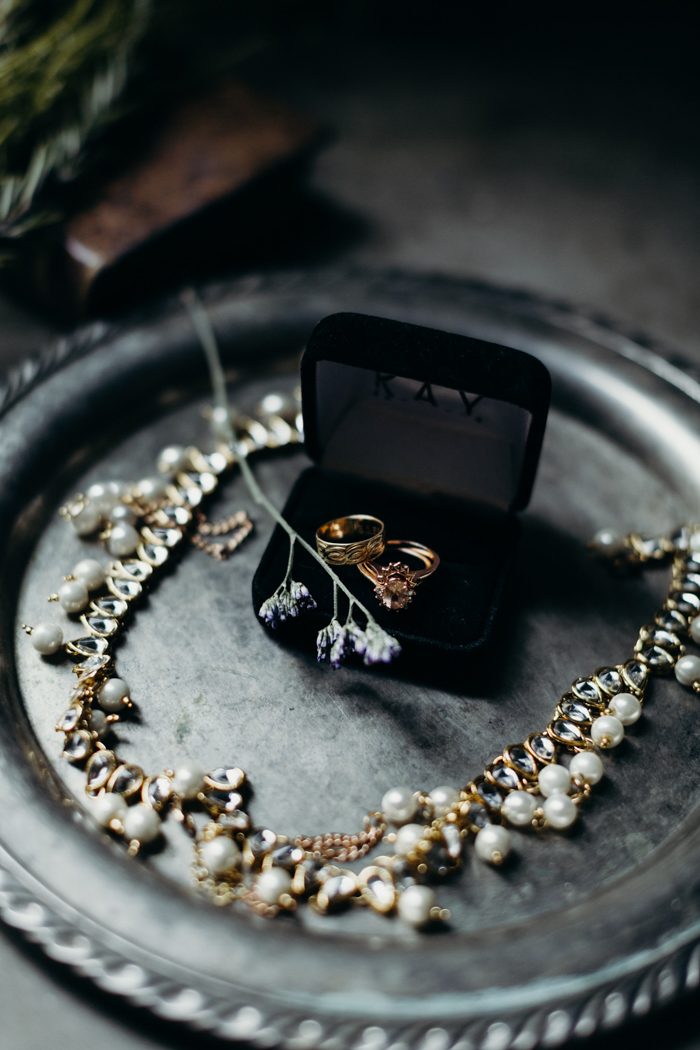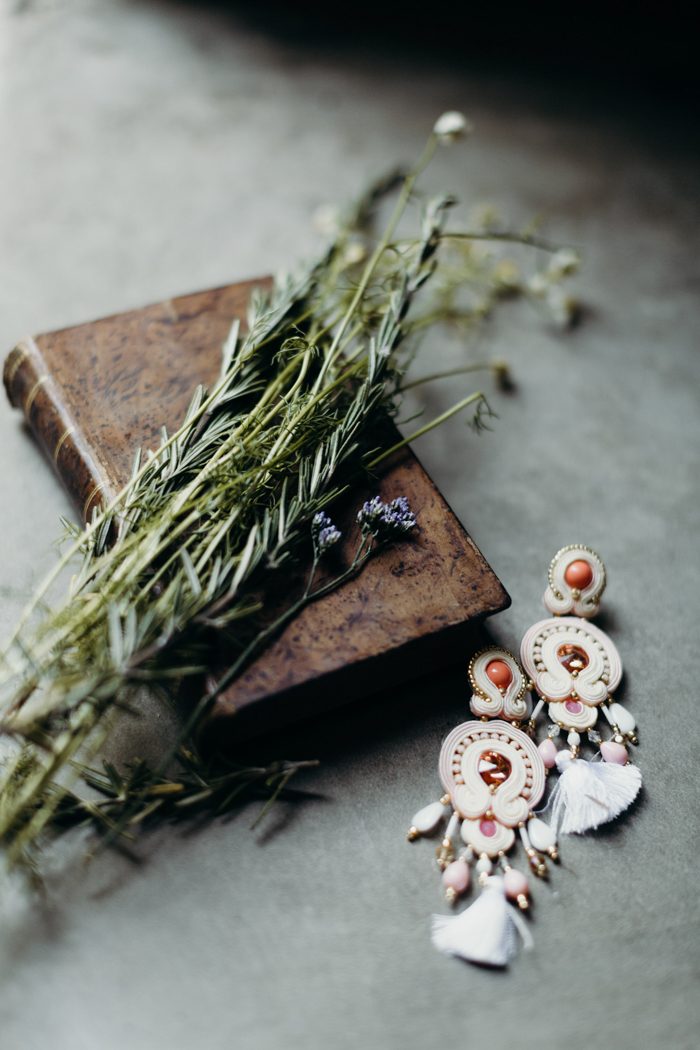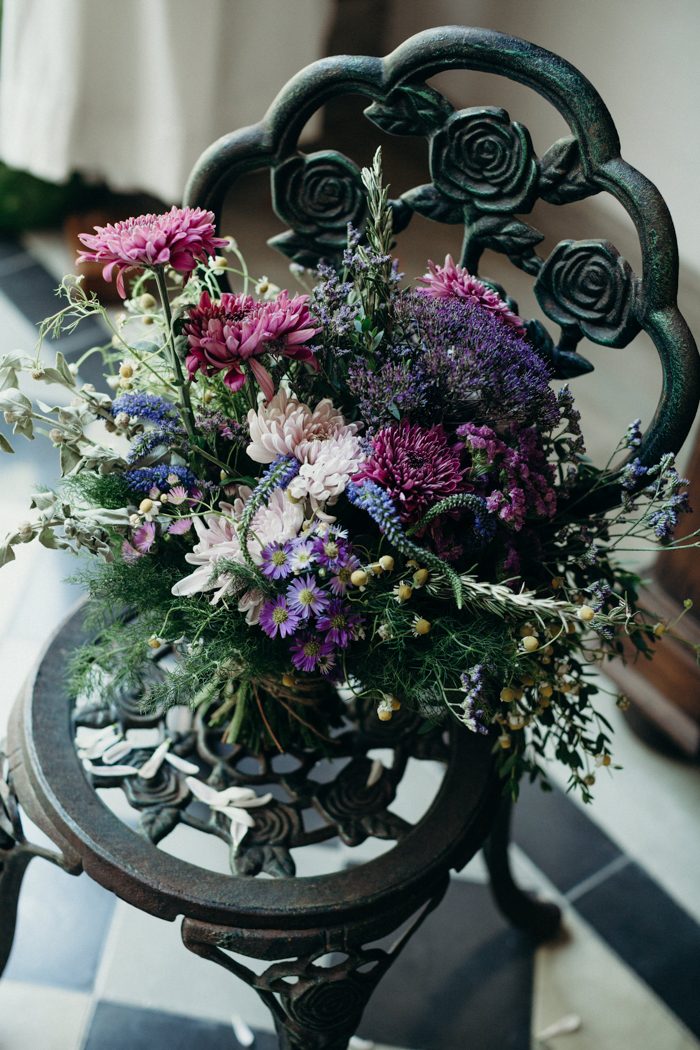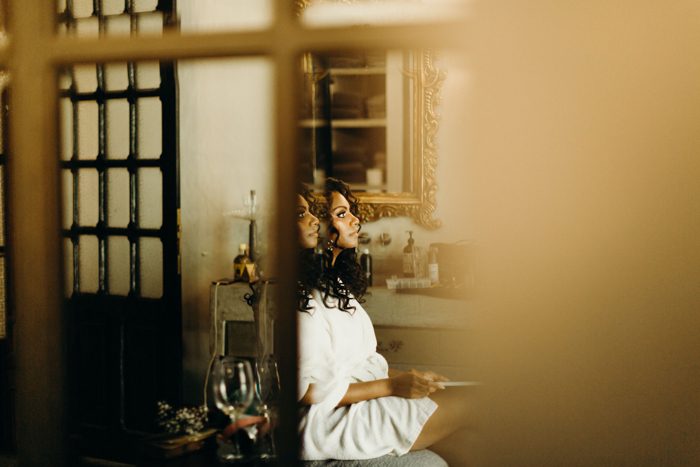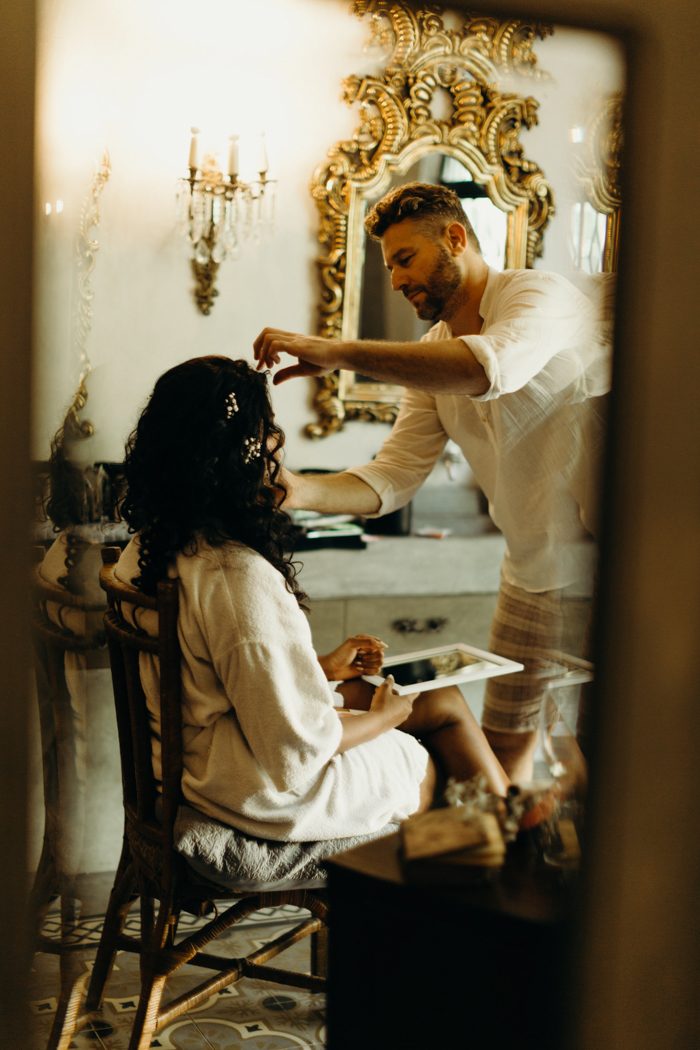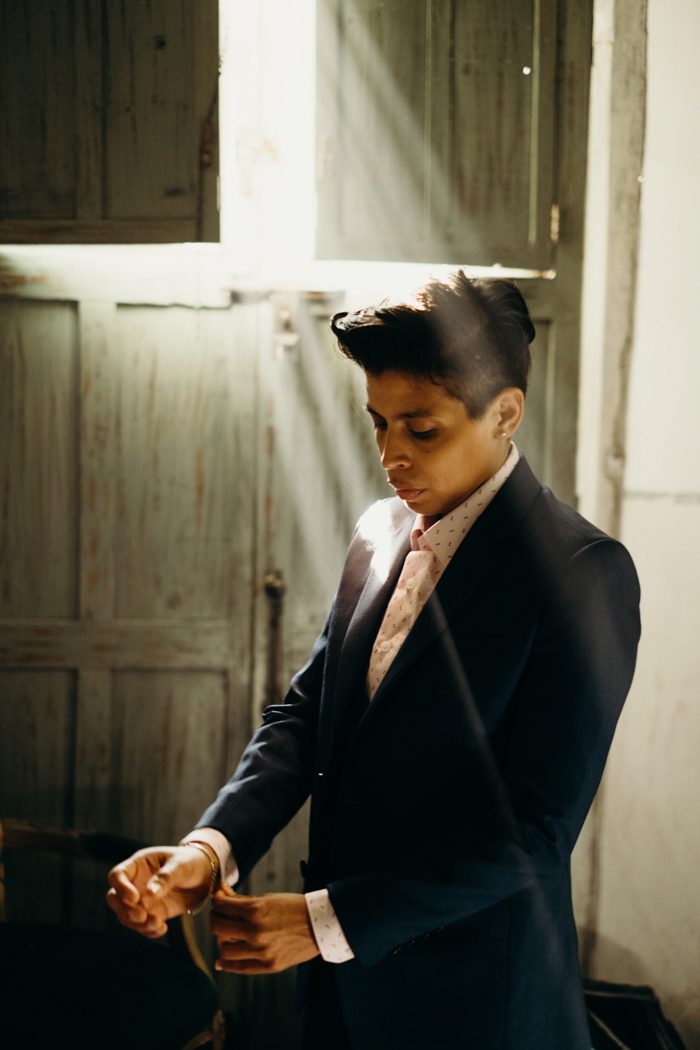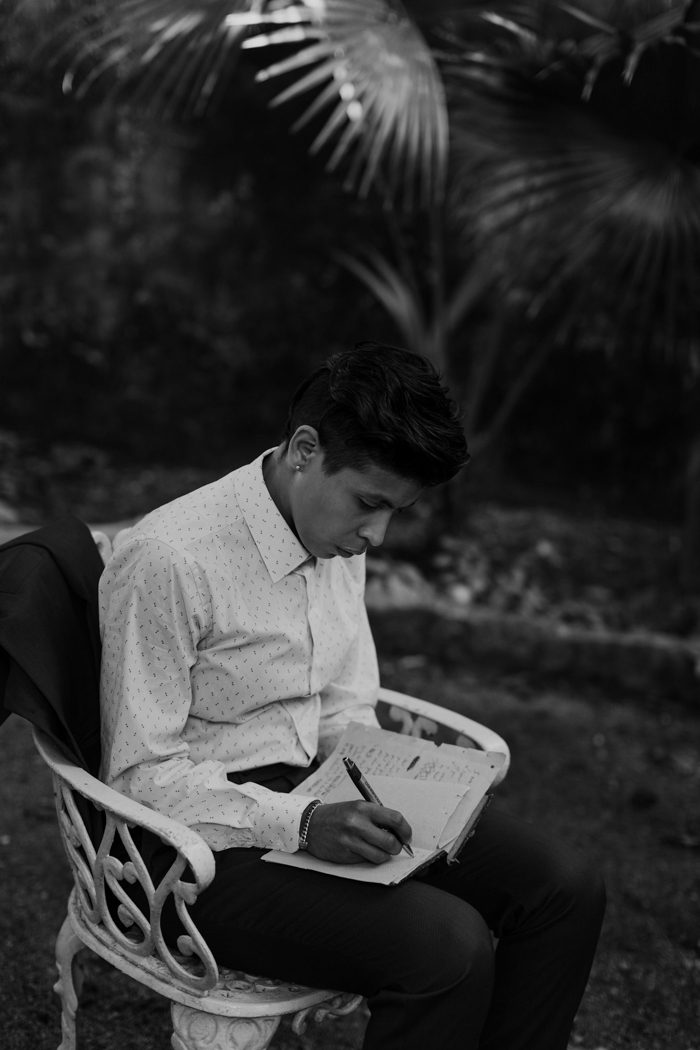 It was most important for us to be the total focus of our wedding. Doing and choosing things that made us happy. We wanted to incorporate things that meant something to us and felt authentic to us as a couple. This was the main reason we chose an elopement as opposed to the traditional wedding.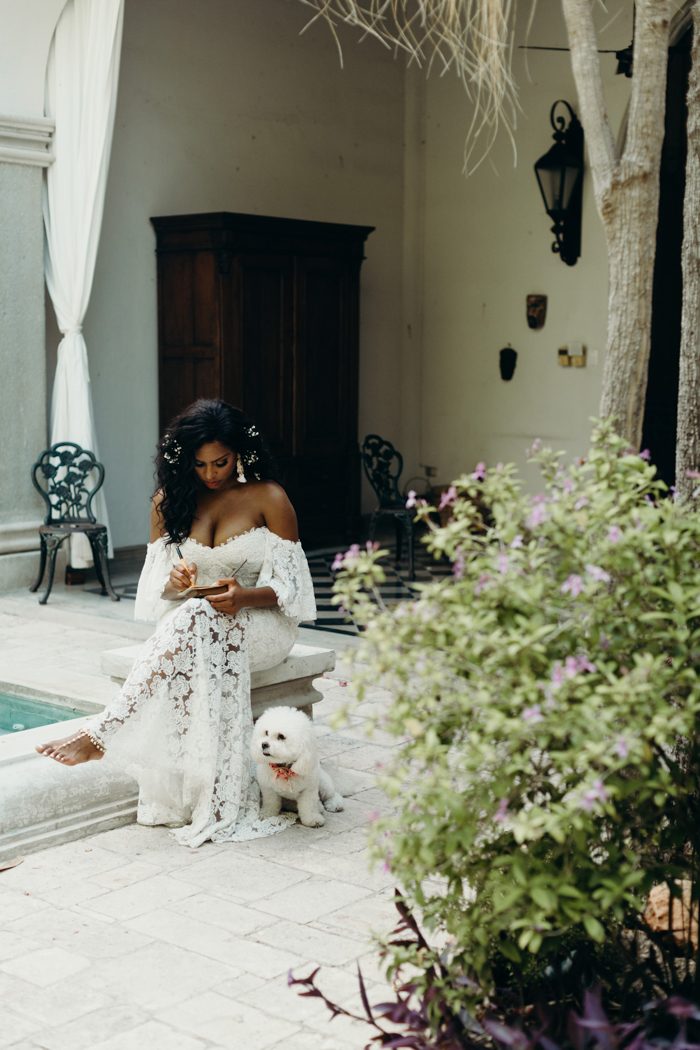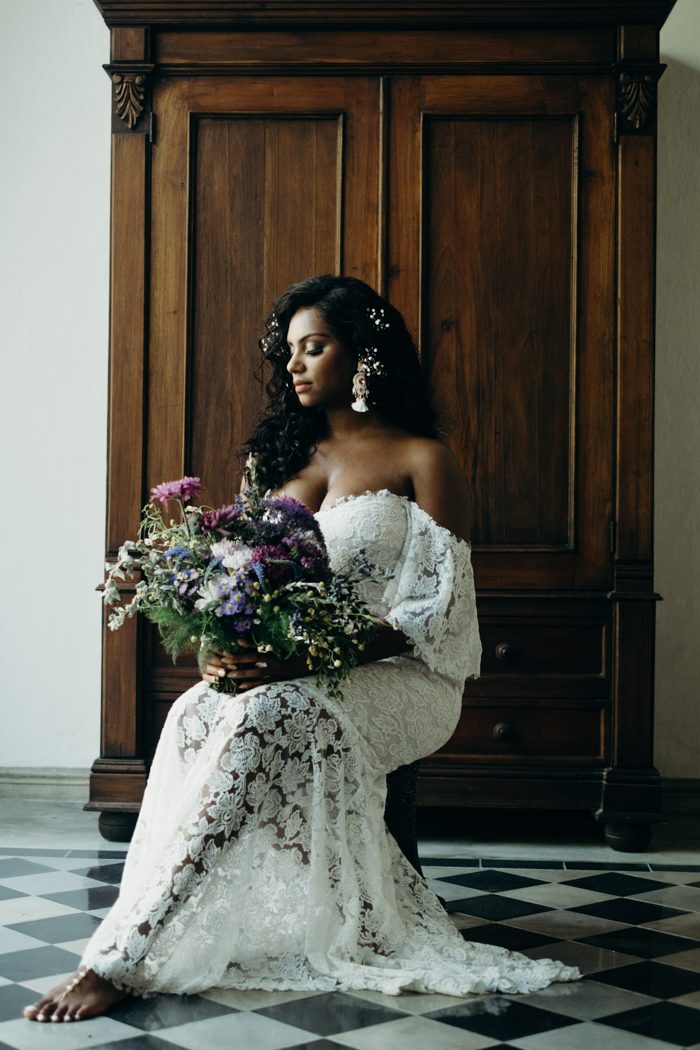 We had a sound healer at our wedding that played various healing instruments while we got ready and during the ceremony. This offered an idyllic soundtrack to the day and no doubt relaxed us. After our team was gone we played our favorite playlist on Spotify and danced.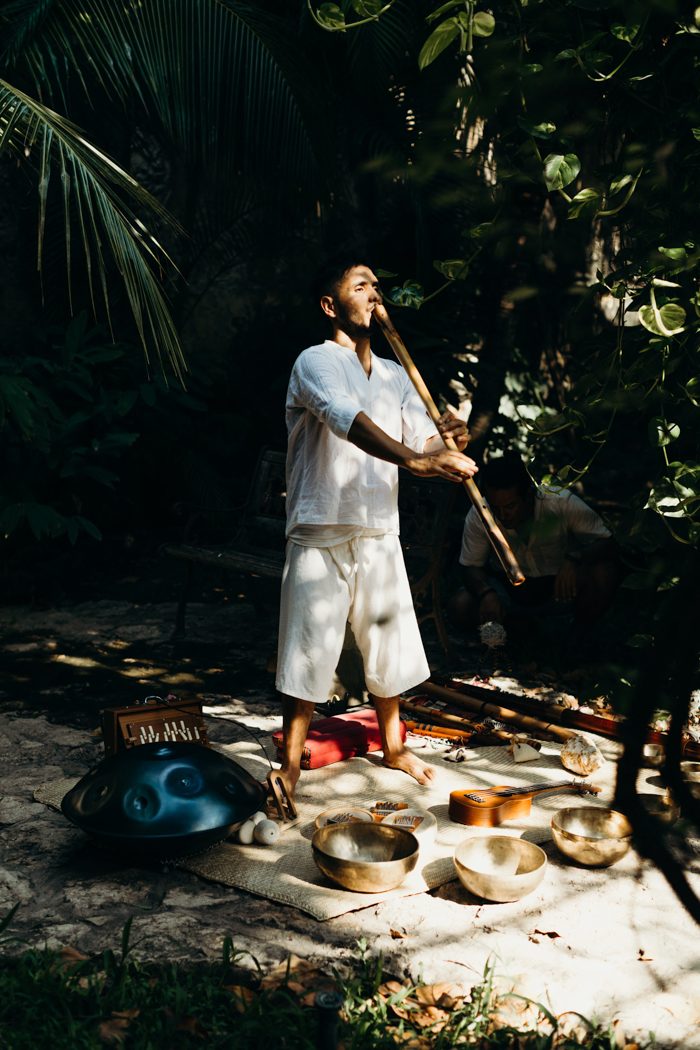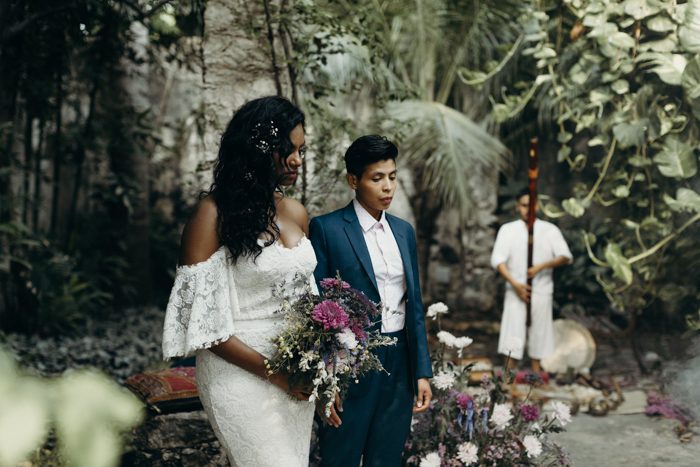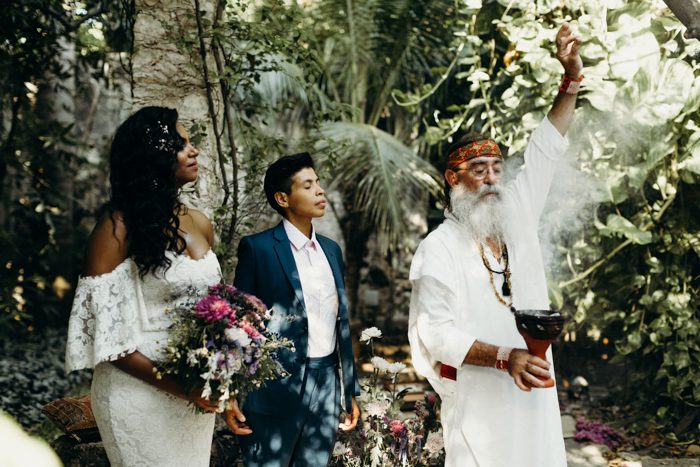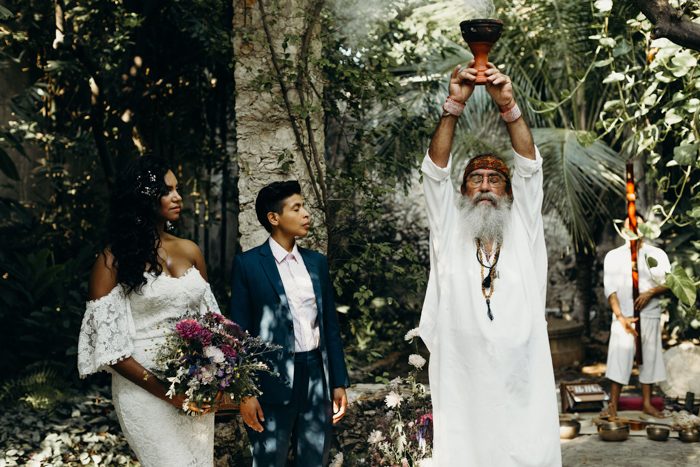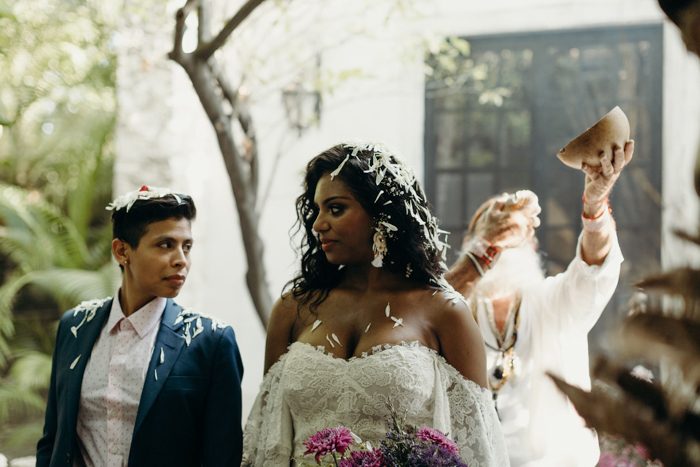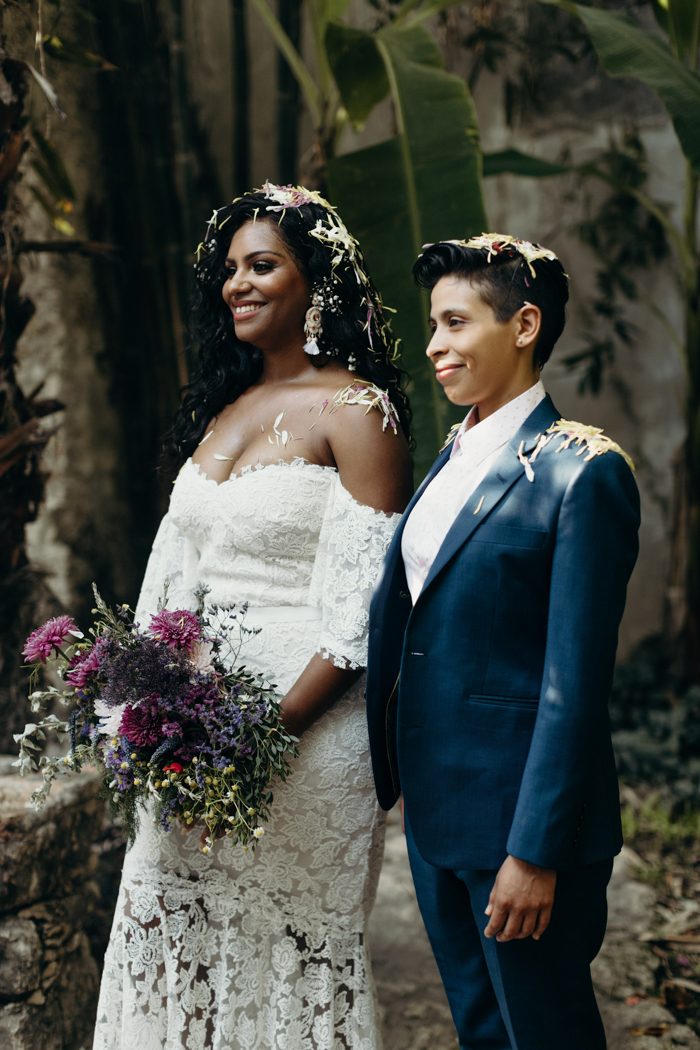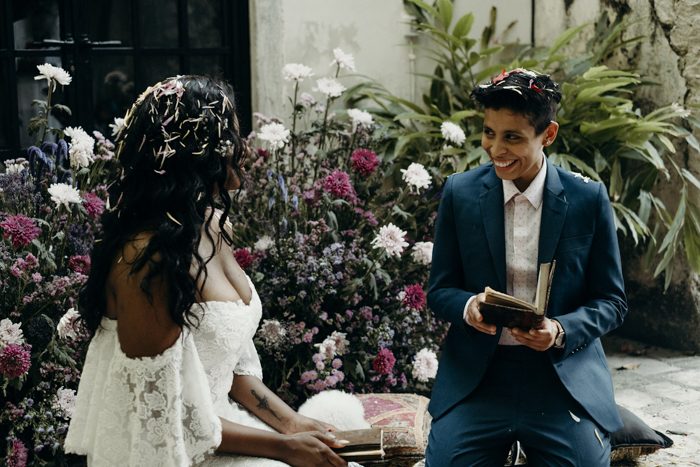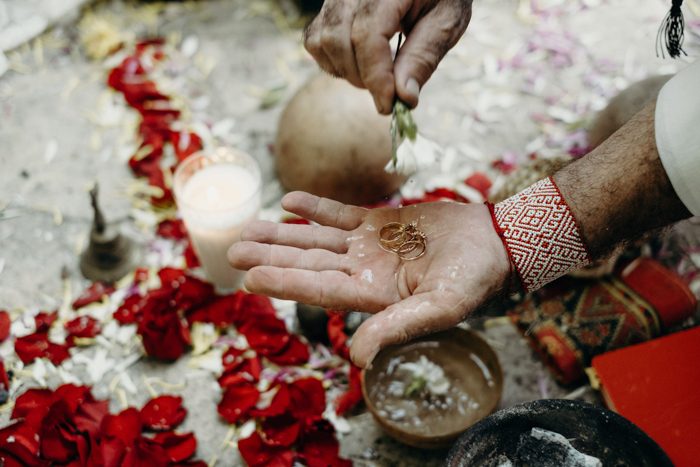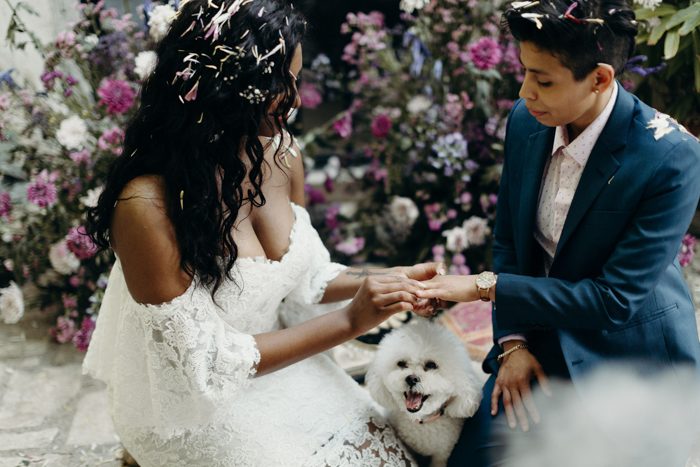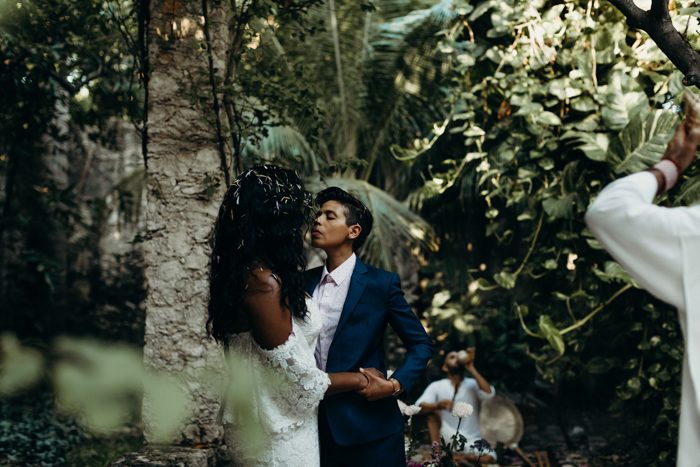 One of the most memorable parts of the day was the shamanic ceremony which allowed us to stop and acknowledge the higher powers recognized through the four directions. Through this process, we acknowledged and gave thanks to all of the natural powers working in our favor making it all possible. It was a beautiful hybrid experience of meditation, gratitude and connection that's hard to describe.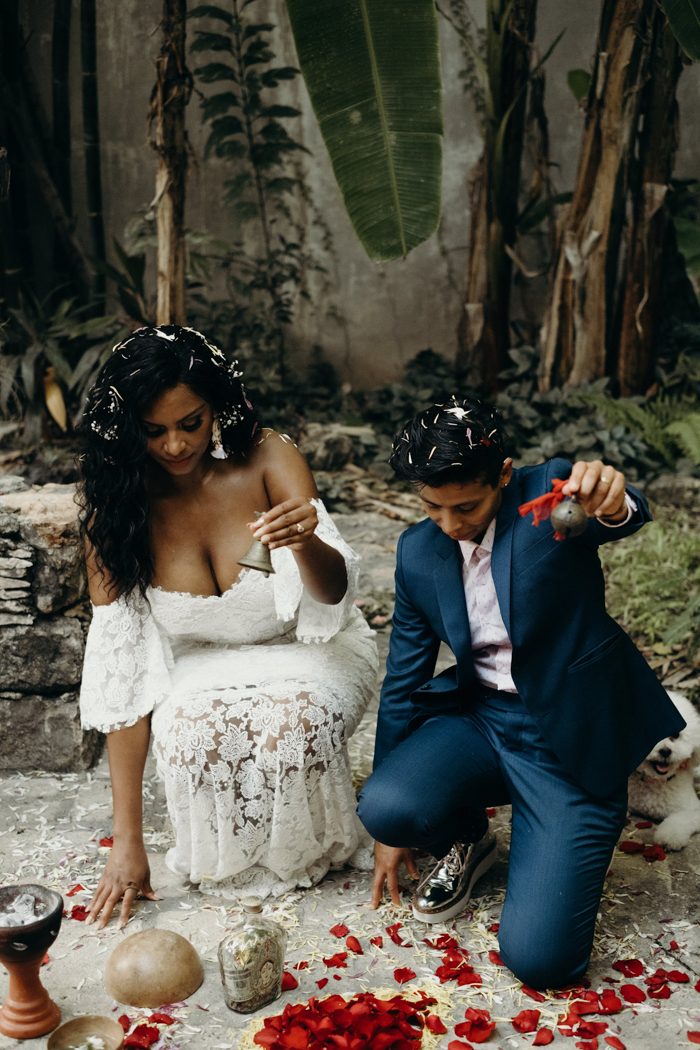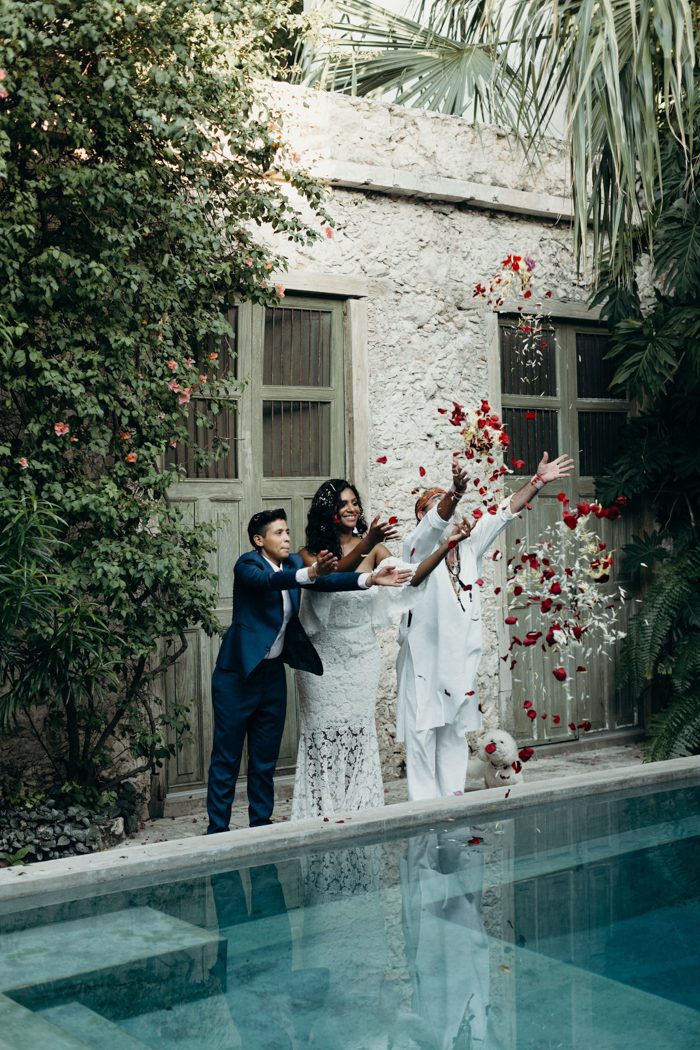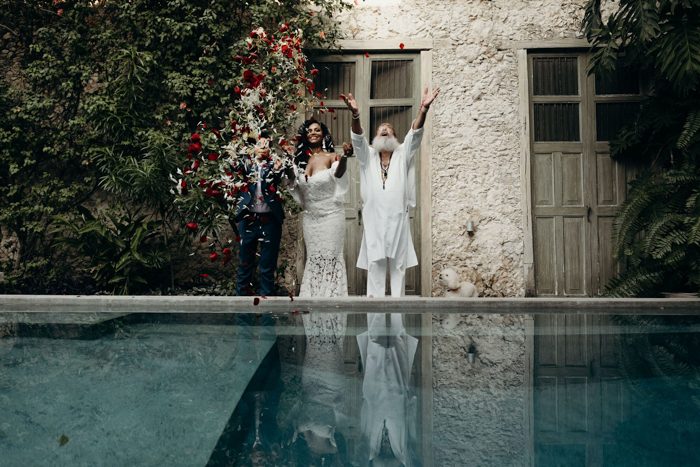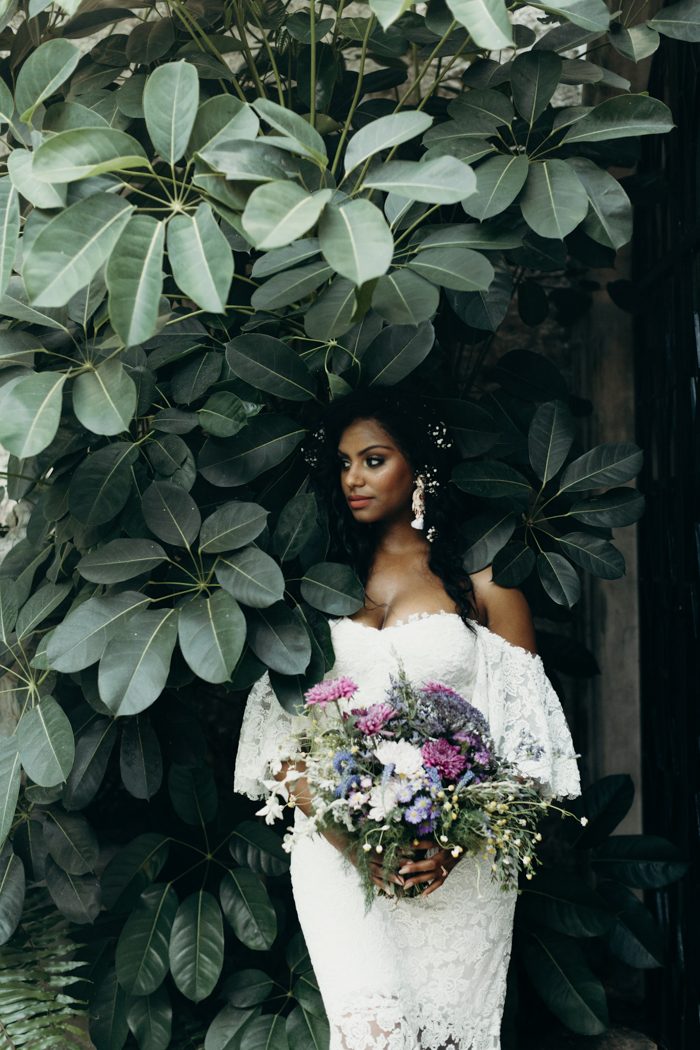 Asia's dress was a simple vintage boho style dress and was barefoot foot jewelry. The inspiration was something comfortable lacy and effortless. Ana's suit was custom made by Bindle and Keep. Finding a suit for women that fit the way she wanted is difficult so having a suit made just for her with all the elements she wanted was key. Her inspiration was a clean-cut, elegant and trendy. Nina ( our dog) had a cute flower collar to match our florals.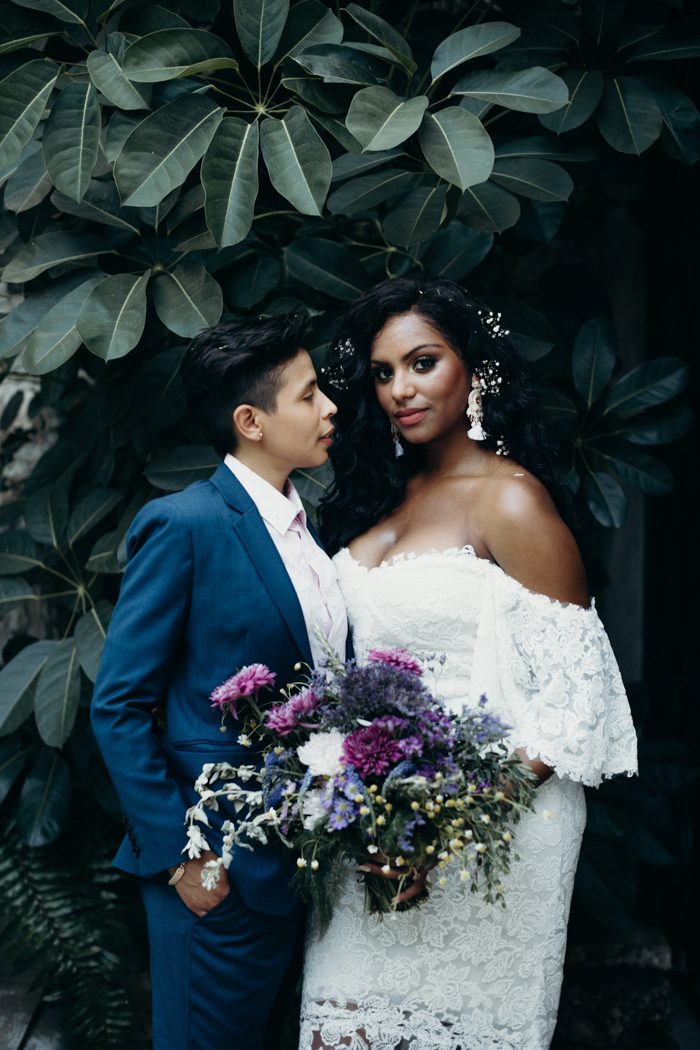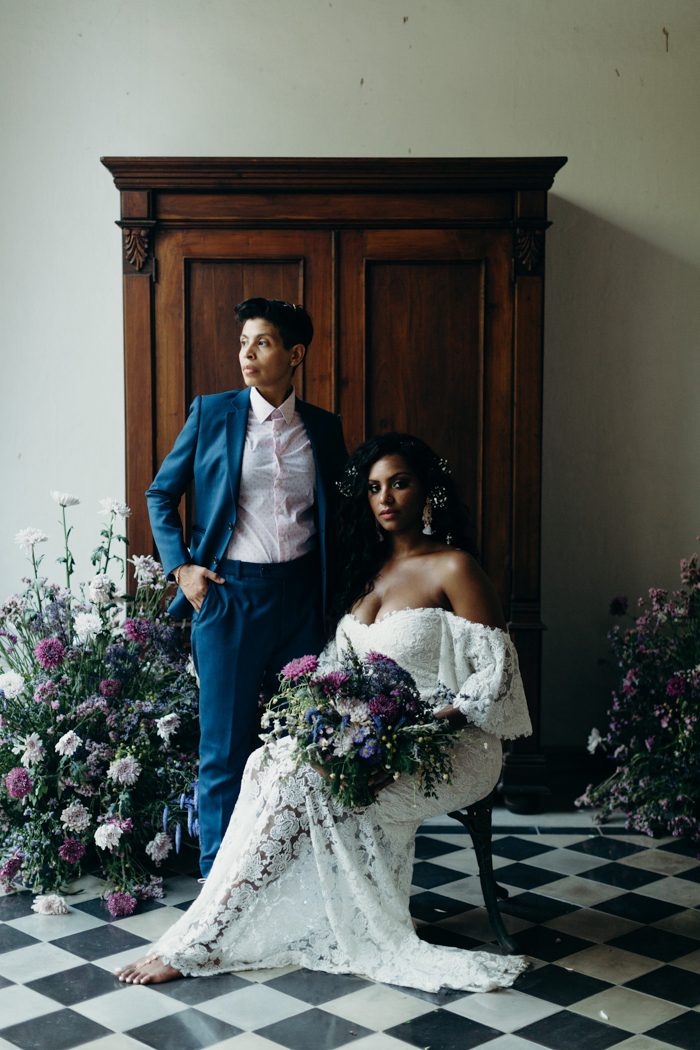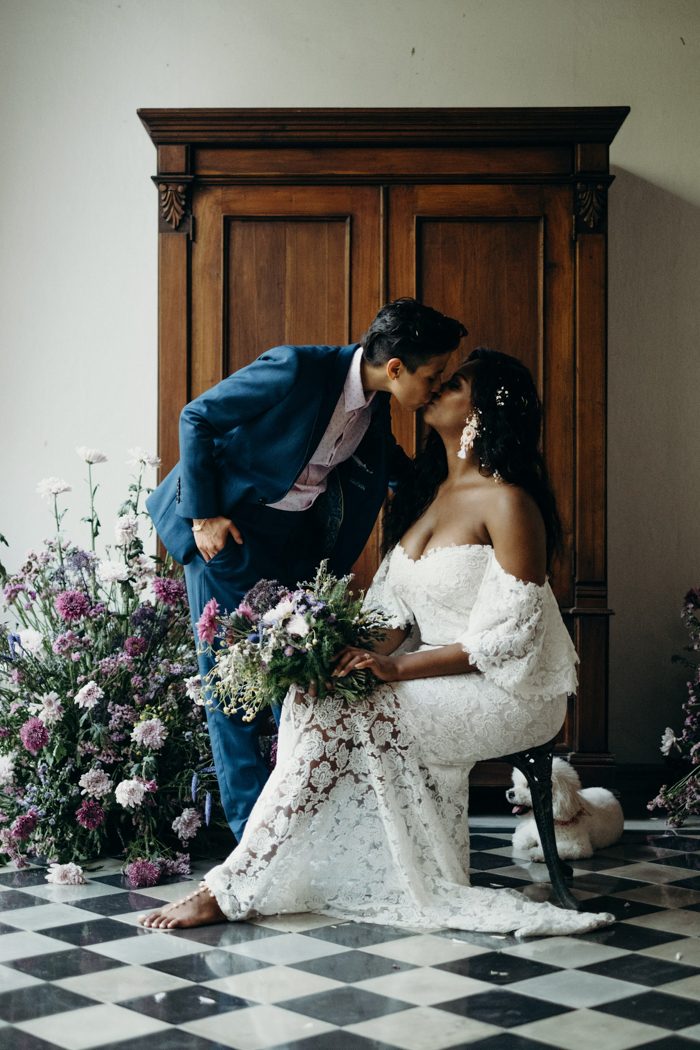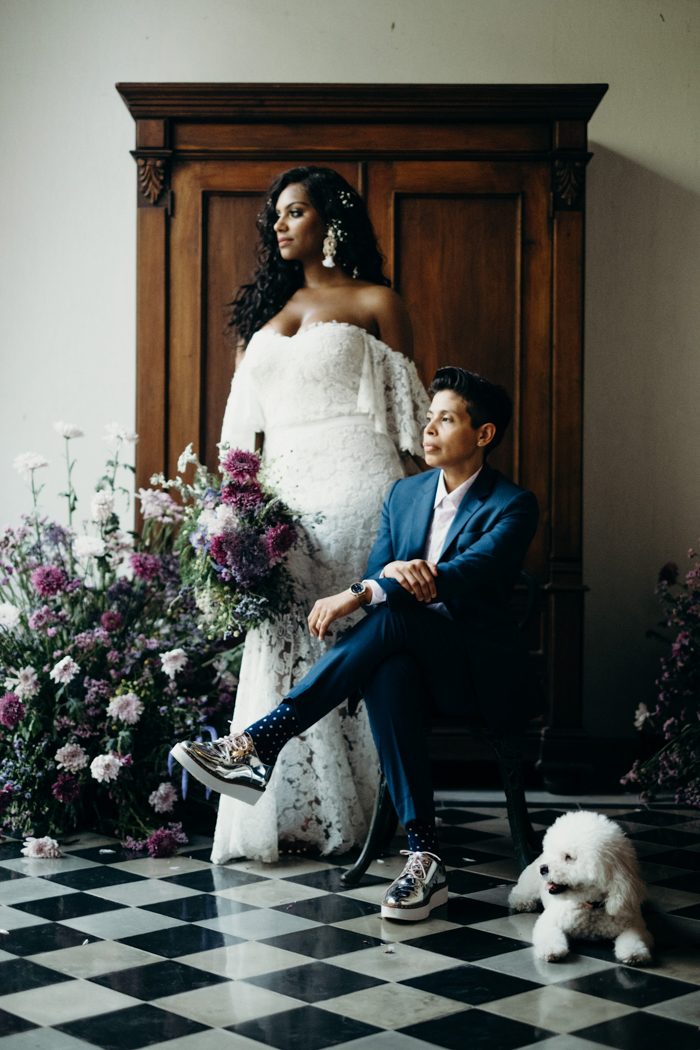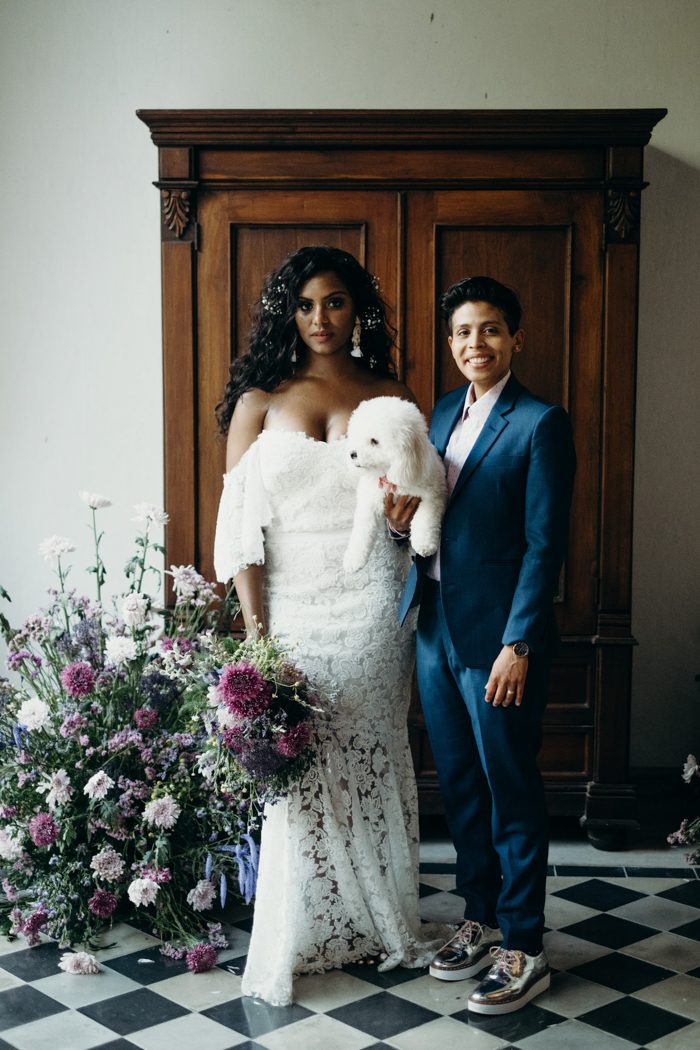 Wedding planning advice from the couple: First, hire wedding planners and then let them do their job. We had a great team but still managed to allow ourselves to stress a bit by not fully letting go of control. So let go and trust you chose a great team. Second, decide who your wedding is for. If it's for you and your spouse then each decision should reflect that, be vigilant of compromises you are making to satisfy other people.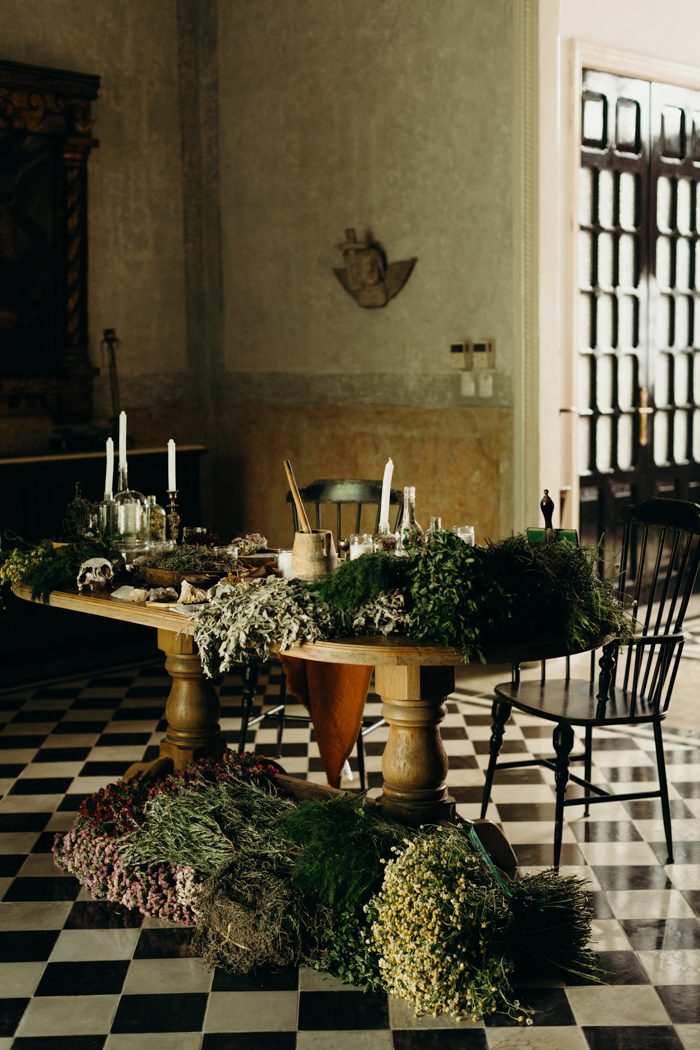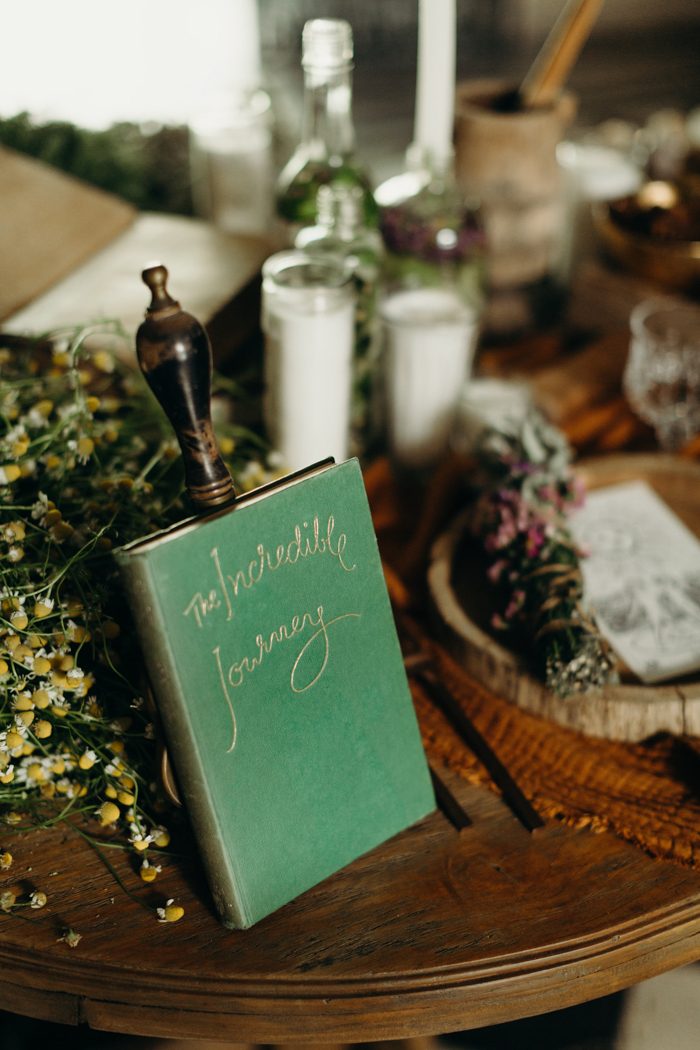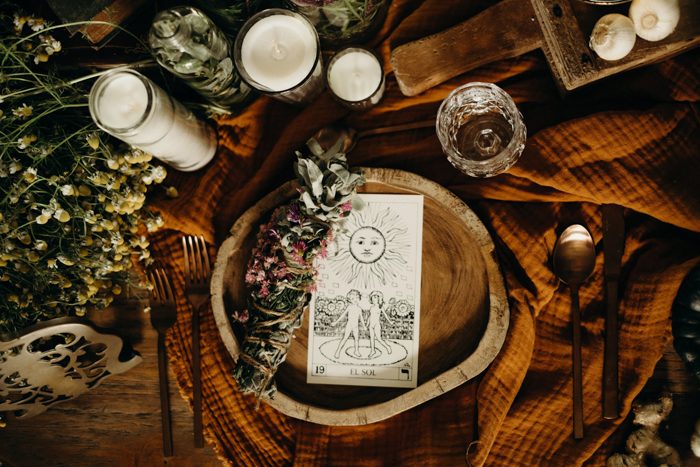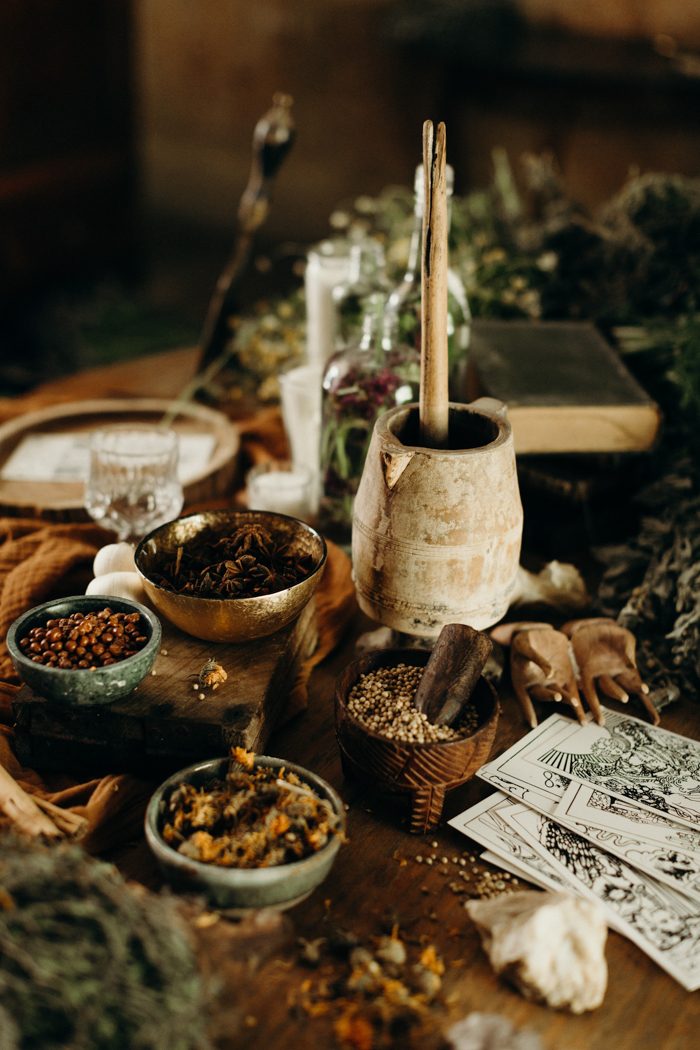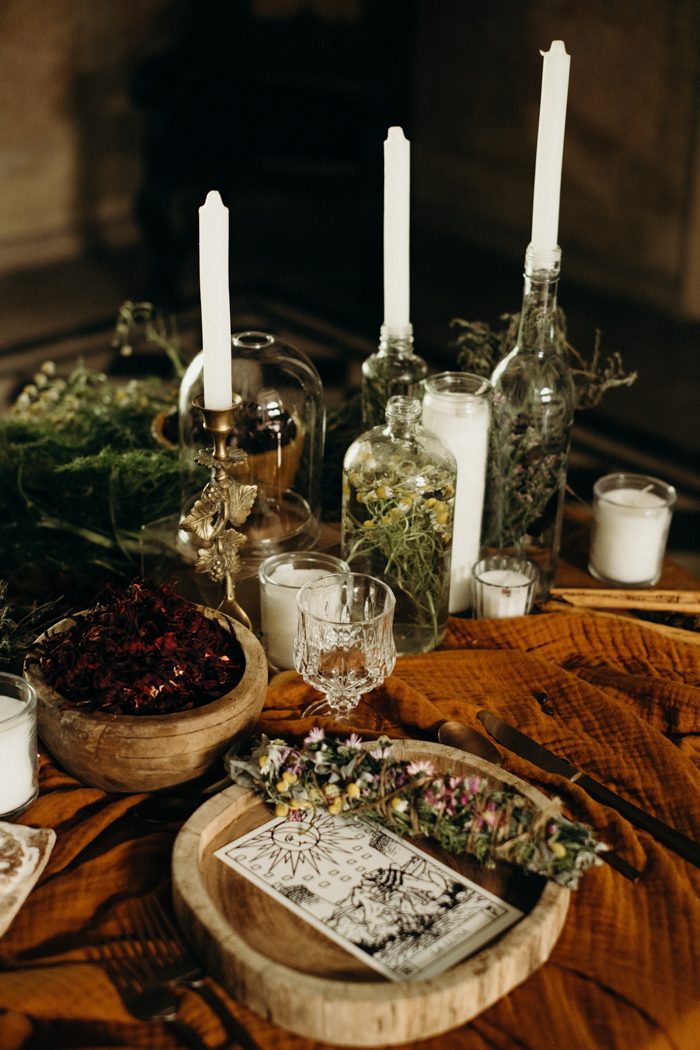 We wanted something we hadn't seen before or that often at weddings. We already knew we wanted a vintage feel and that we would be doing it in Mexico so we wanted an earthy, botanical, bohemian but elegant vibe. We chose this because our lives and relationship evolution has really been themed around healing, alchemy and connecting to nature. So this elegant, witchy, bohemian style just fit perfectly to express that. Also, our dating anniversary is on Halloween so this also seemed to fit the theme.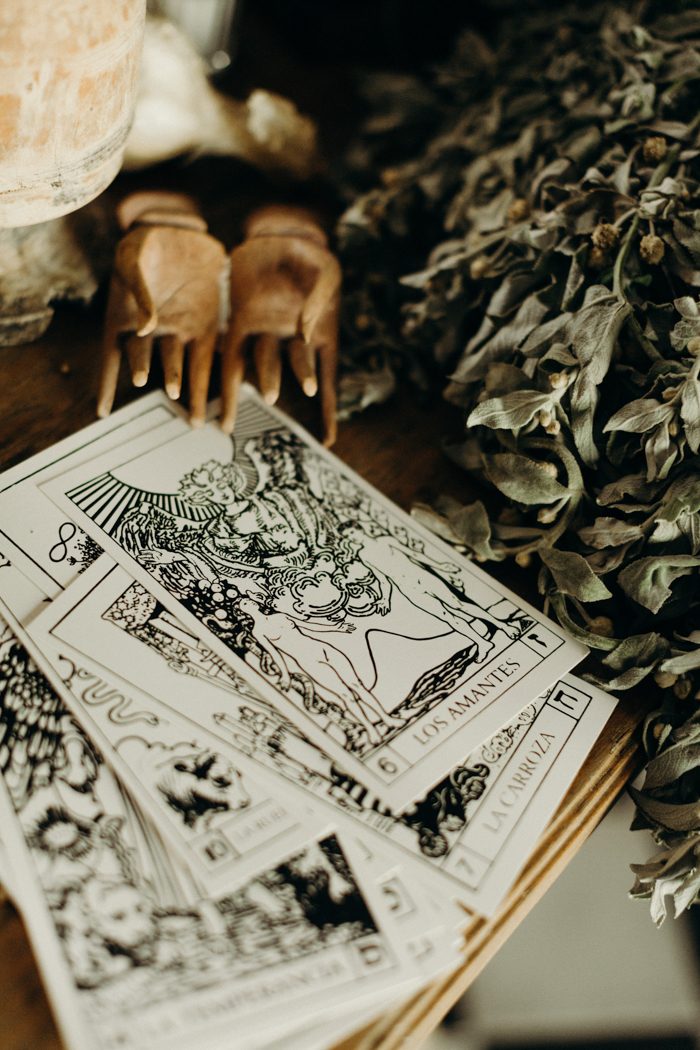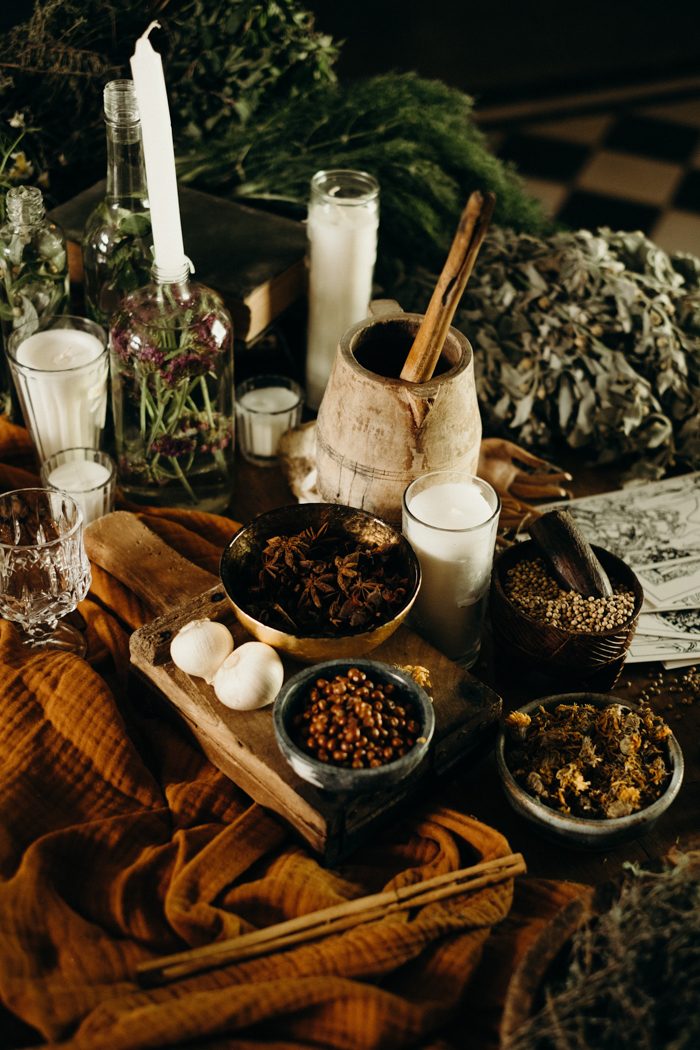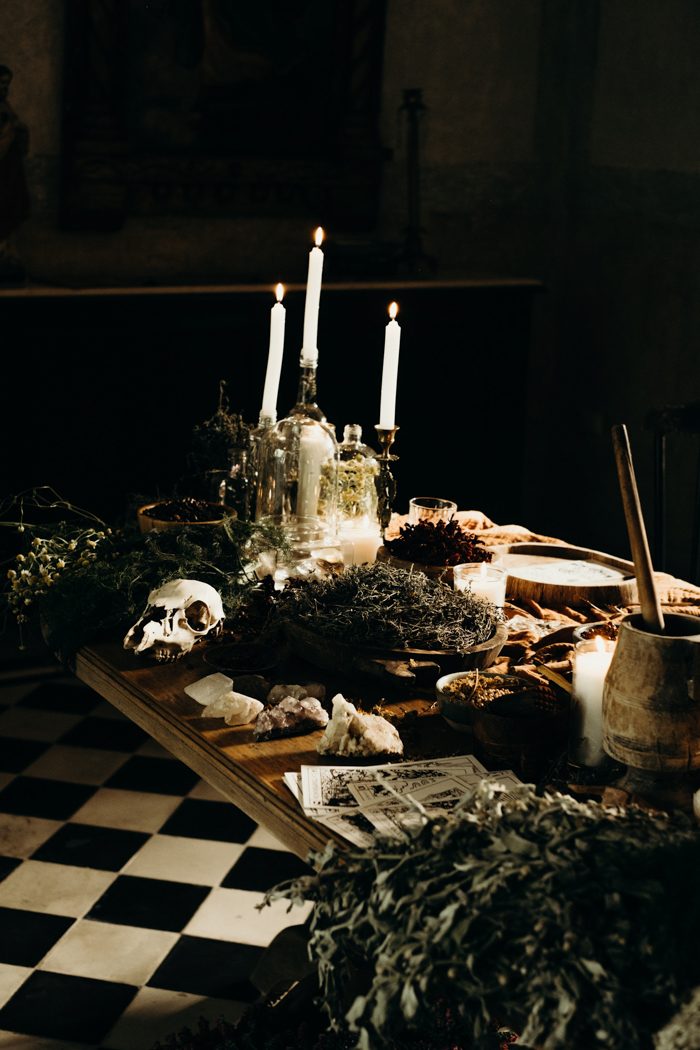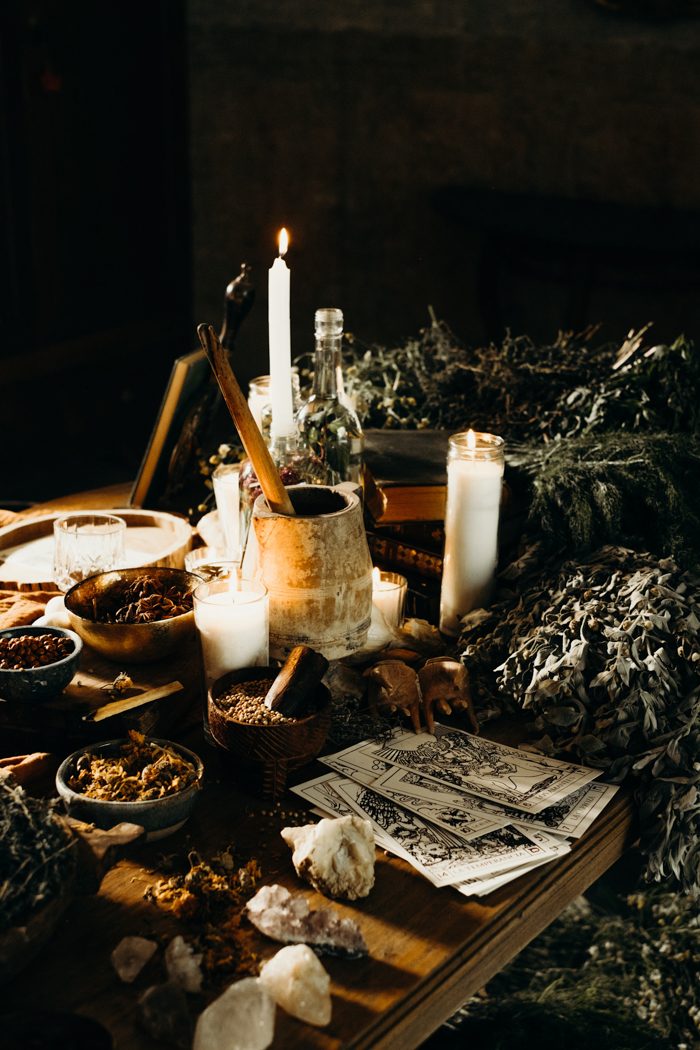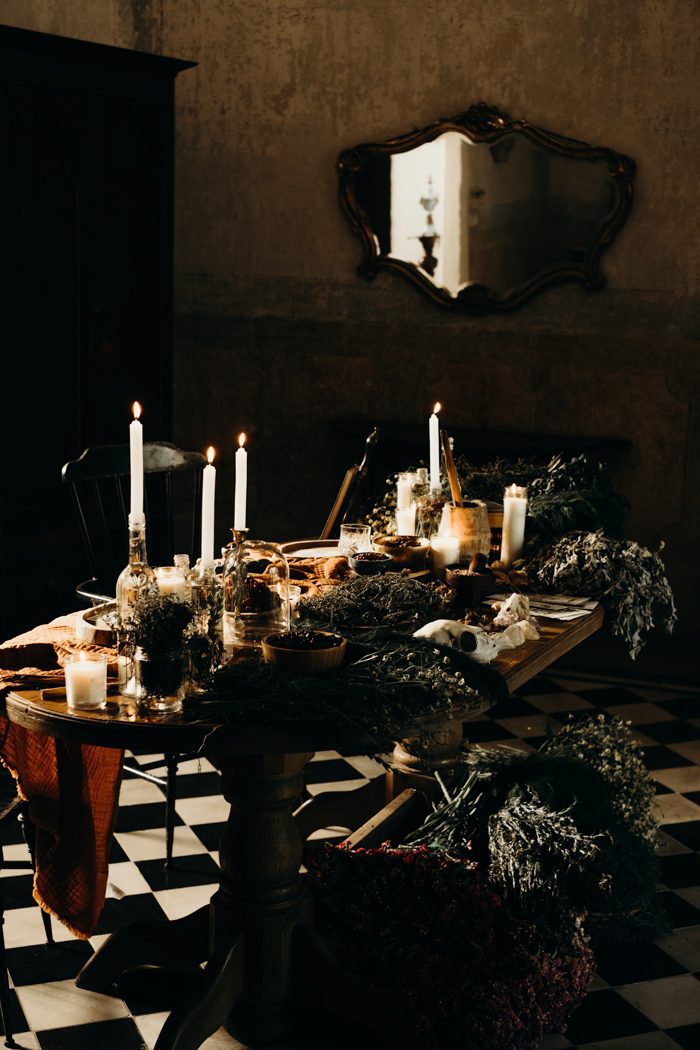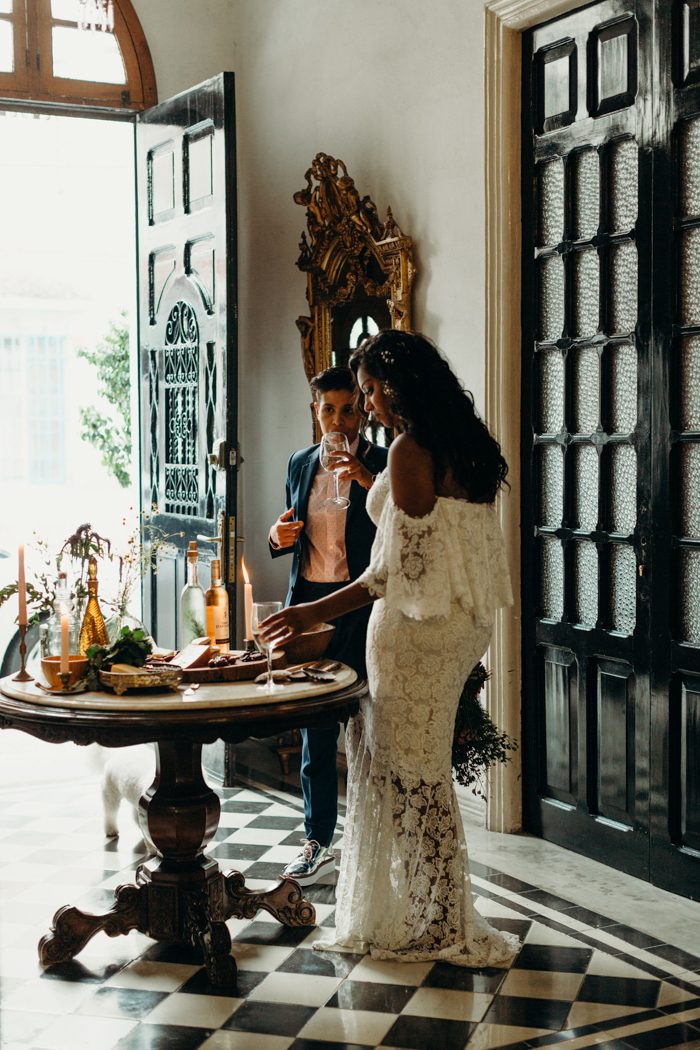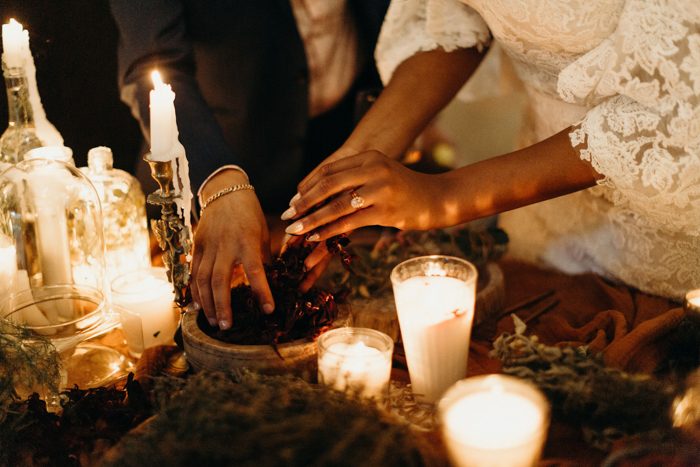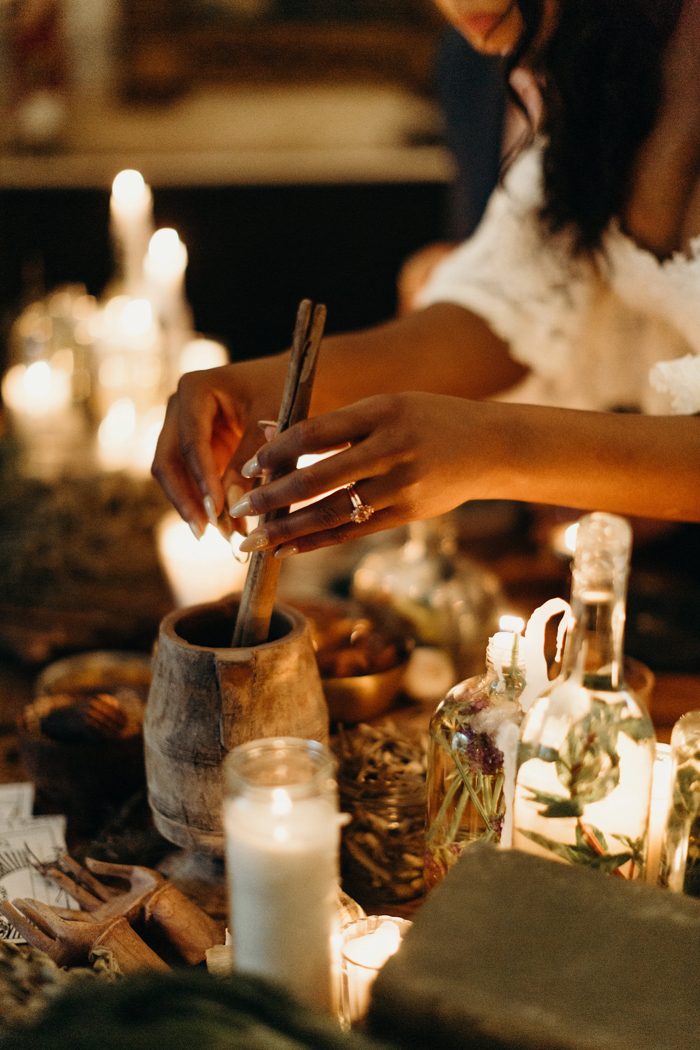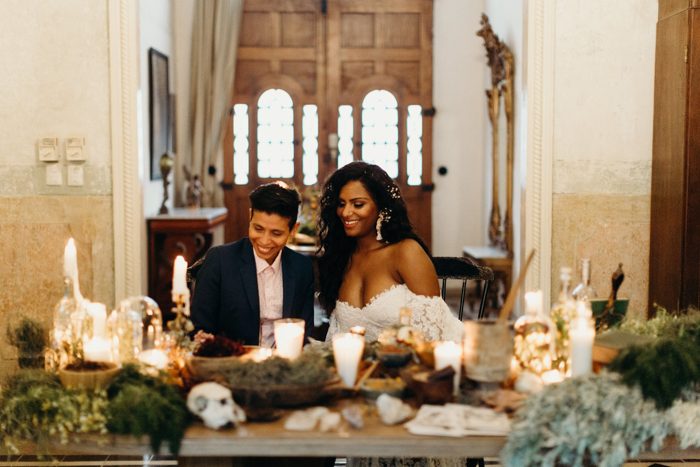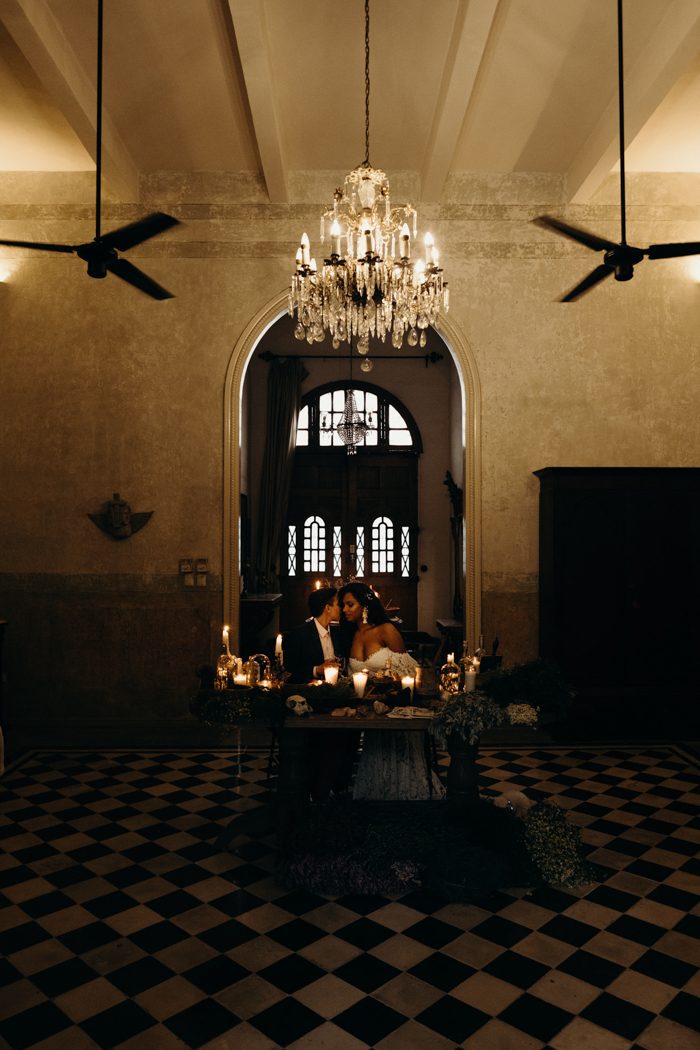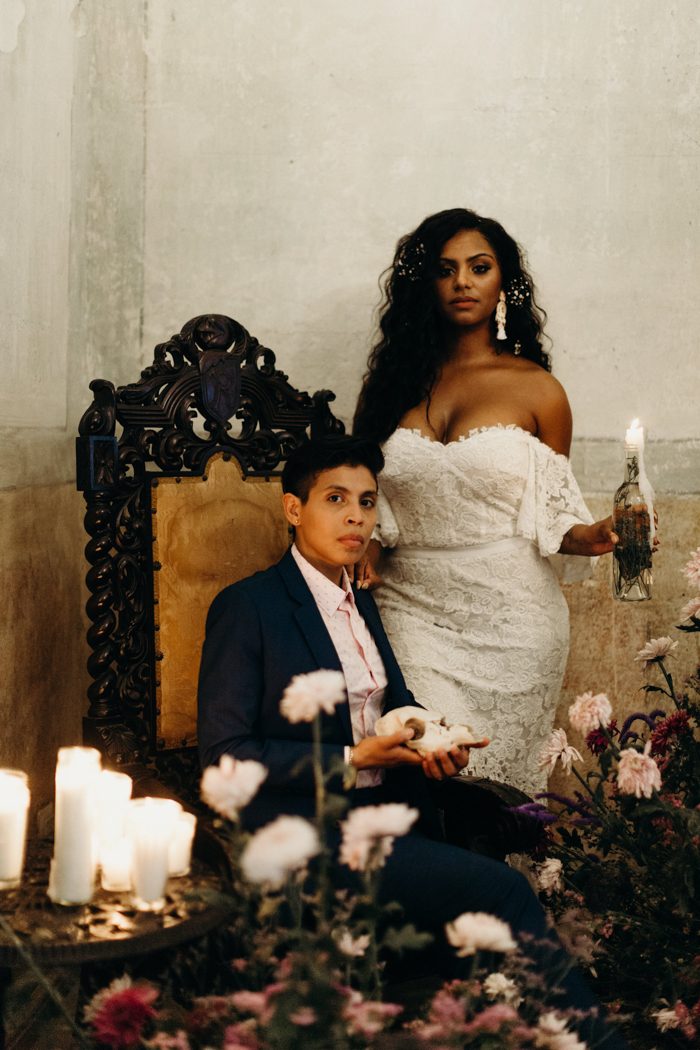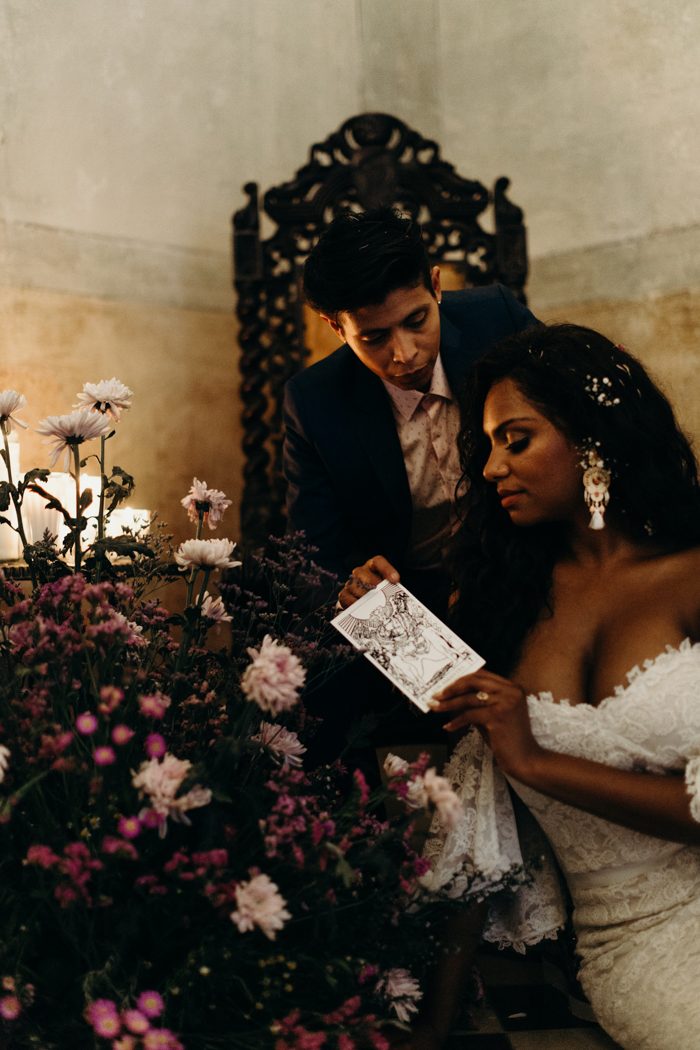 Maria Limon is seriously a genius. She truly styled everything and more than we imagined to perfection.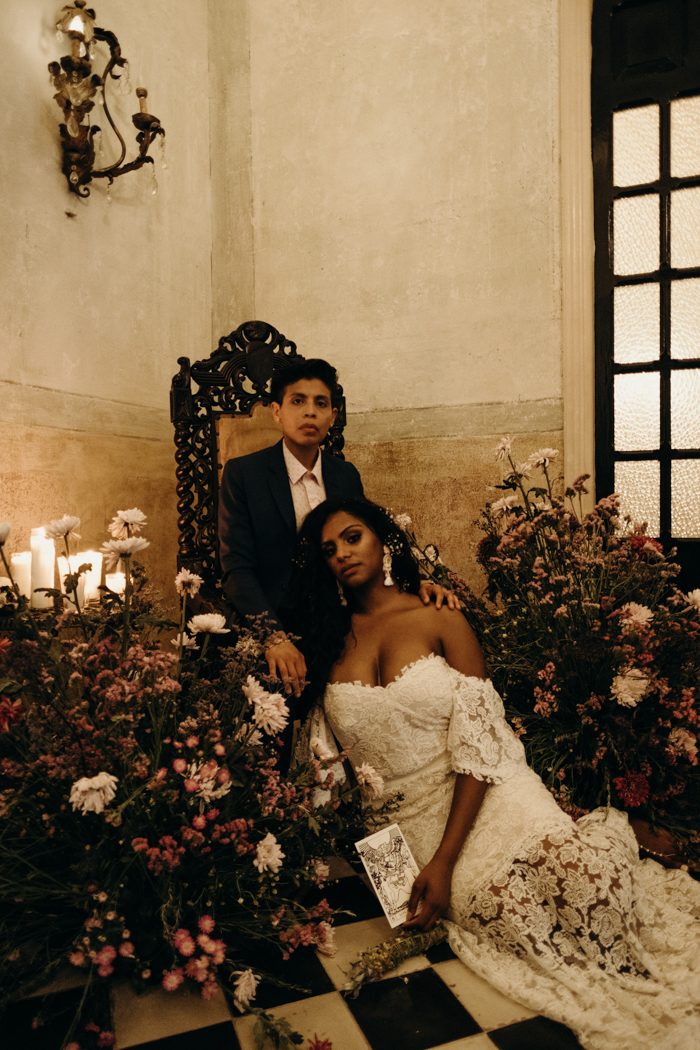 Congratulations Asia and Ana, and thank you for sharing your rad Tulum elopement with Junebug! Into these Tulum vibes? You've got to see the tropical elegance in this 16 Tulum elopement!