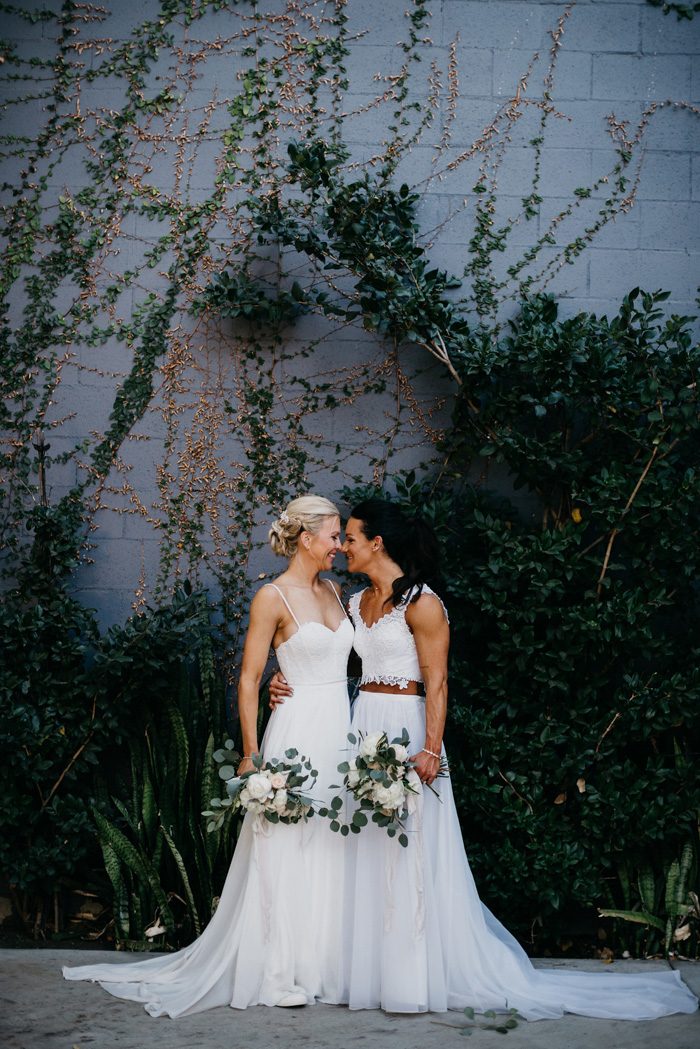 After their plans for a beach wedding were disrupted by a natural disaster, Andrea and Erin relied on the wedding planning expertise of Laurel & Fey to recreate their dreams into a gorgeous Lombardi House wedding in just 3 months! Using a neutral palette of blush, grey, and cream with copper accents and handmade details, they transformed the quaint LA venue into a modern rustic fairytale location where they could relax, dance, and indulge in their favorite foods with their favorite people. Both brides killed the bridal style game in two totally unique yet equally elegant wedding gowns, sleek updos, and matching cream and blush bouquets created by Brass Fern House. Between the expert design, the heartfelt moments, and the creative eye of Lindsay Vann Photography who captured it all, this Lombardi House wedding will keep you smiling from beginning to end!
The Couple:
Andrea and Erin
The Wedding:
Lombardi House, Los Angeles, California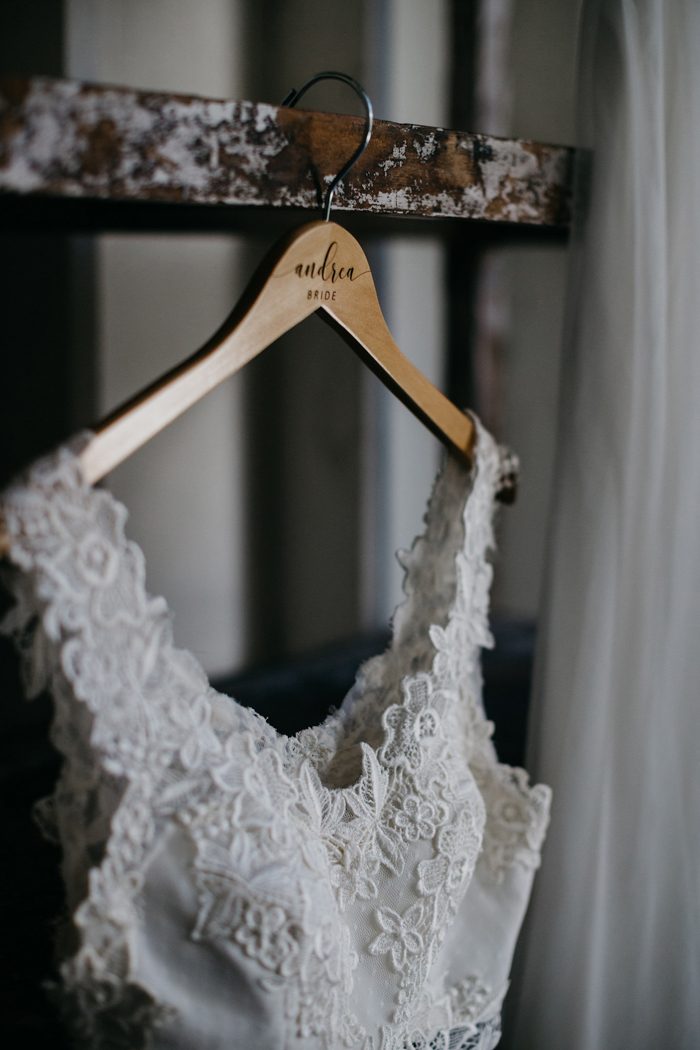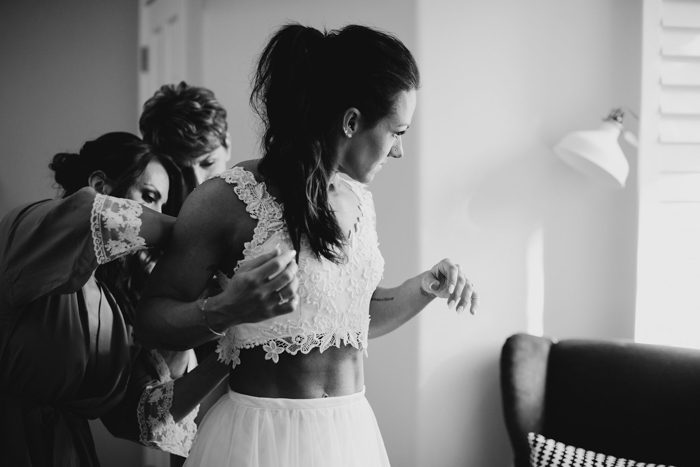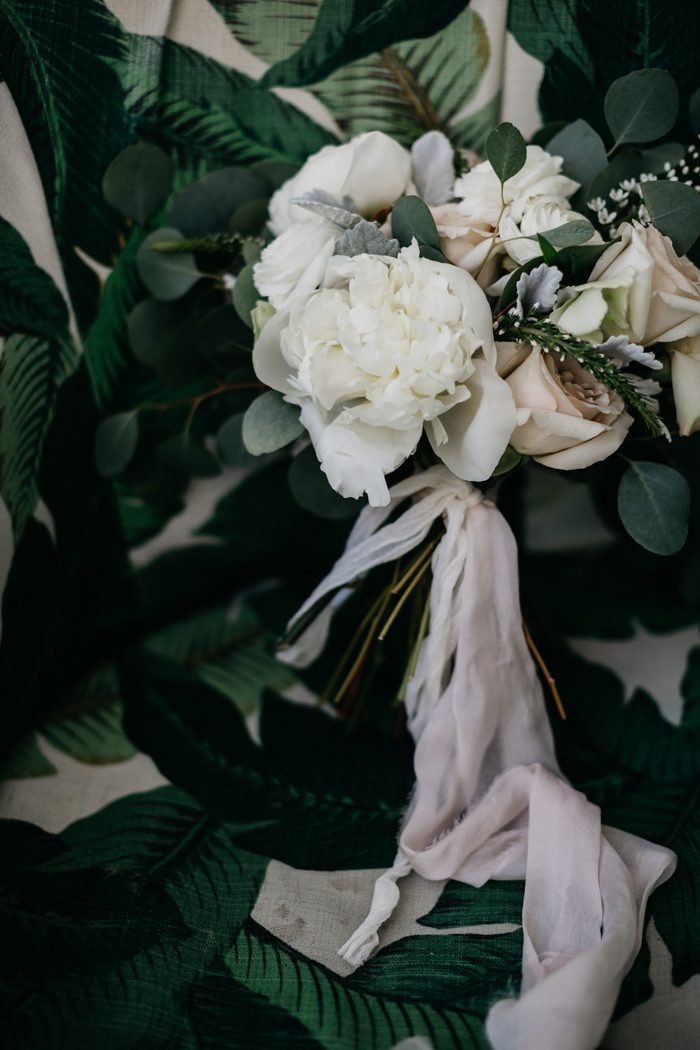 We had originally planned our wedding to take place in St. Thomas. However, Mother Nature had other plans. Just three months before our wedding date, two hurricanes devastated the US Virgin Islands, forcing us to relocate. With less than three months to replan an entire wedding, the most important thing to us was that our family and friends had the most amazing time.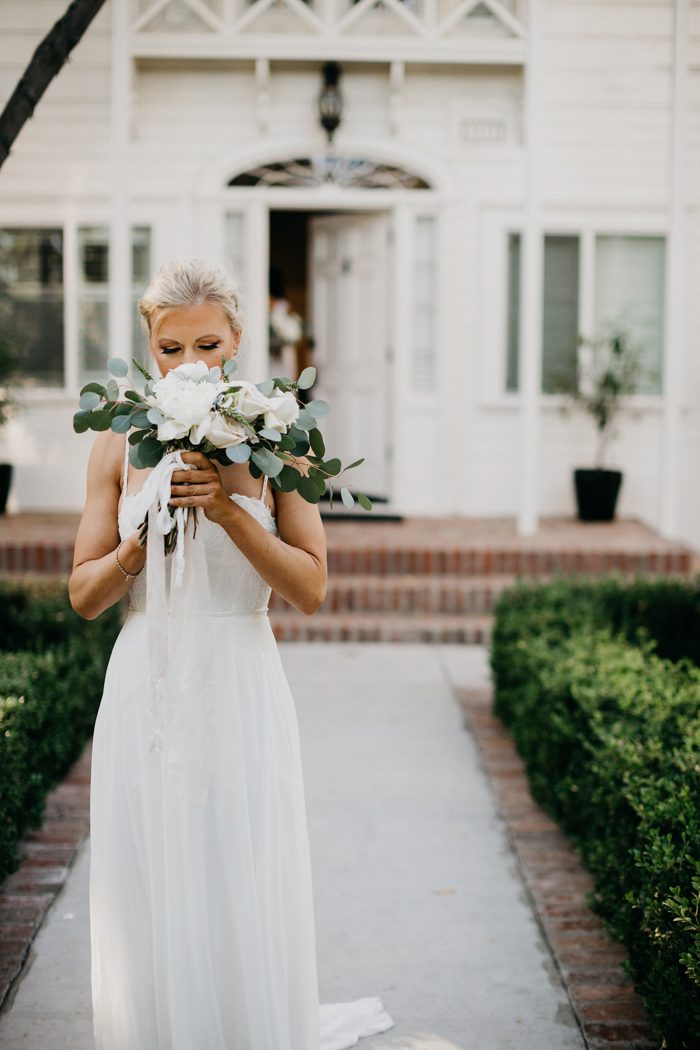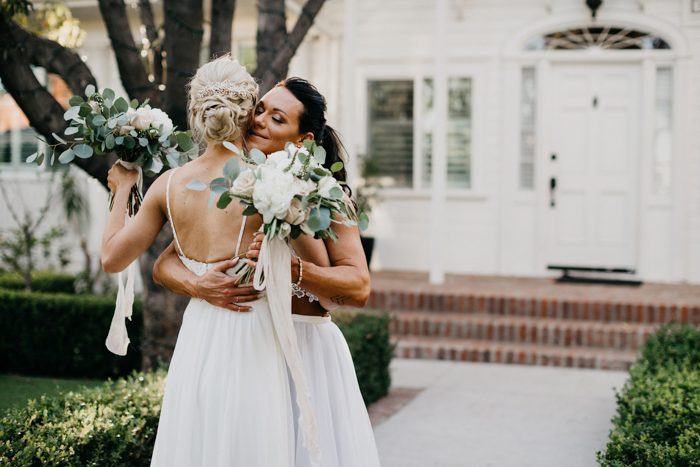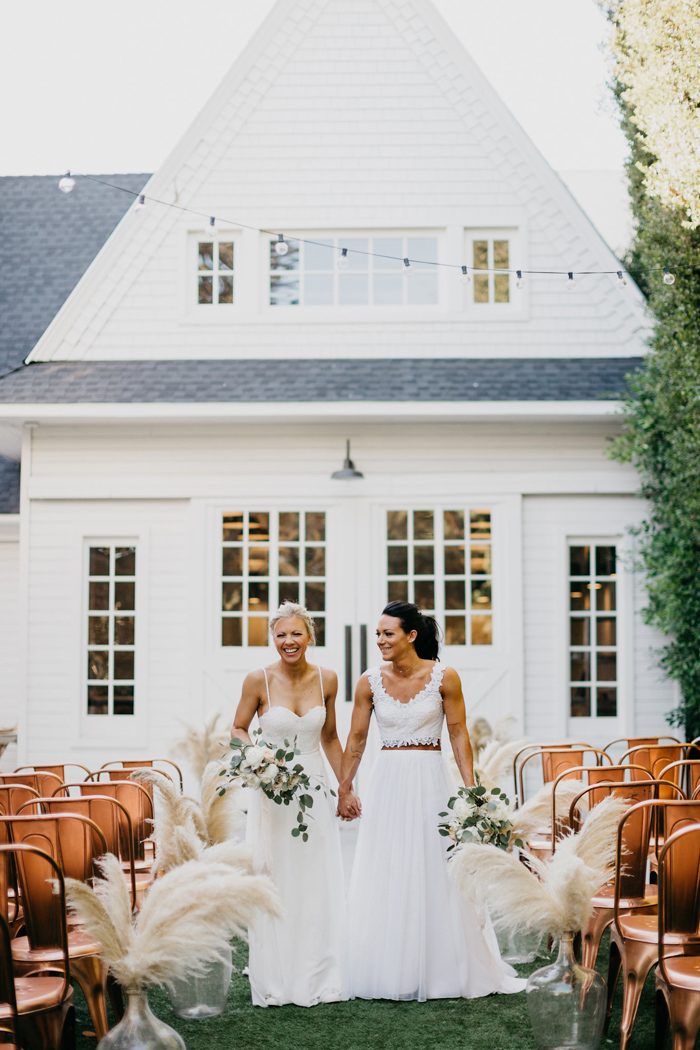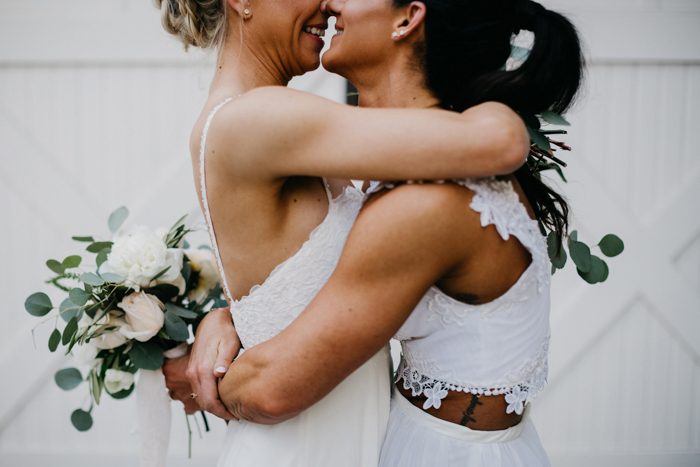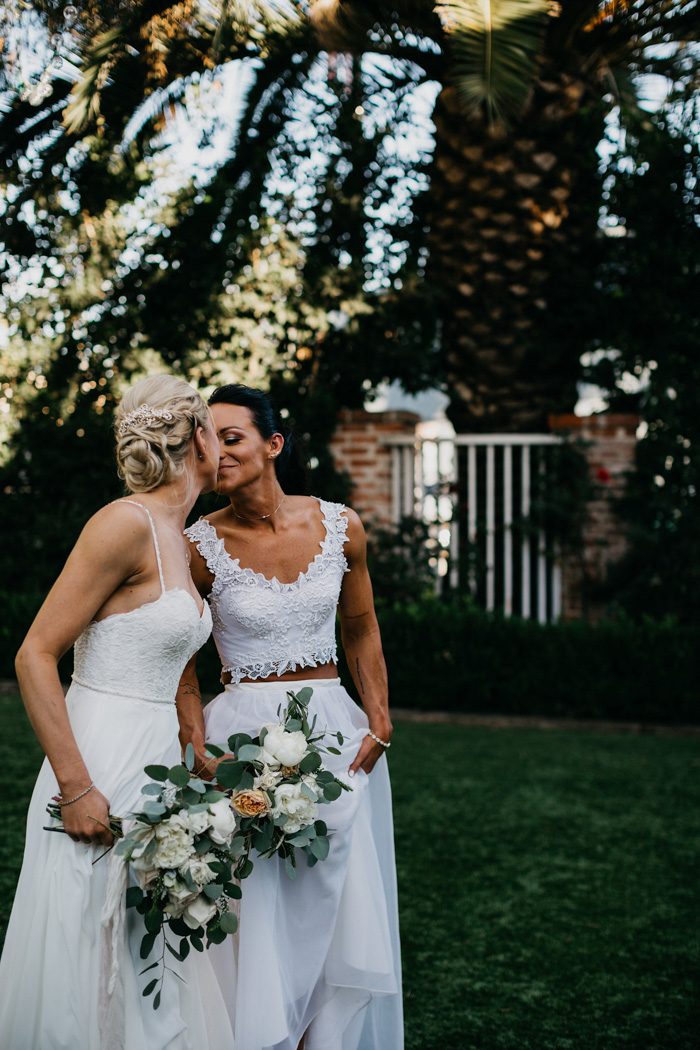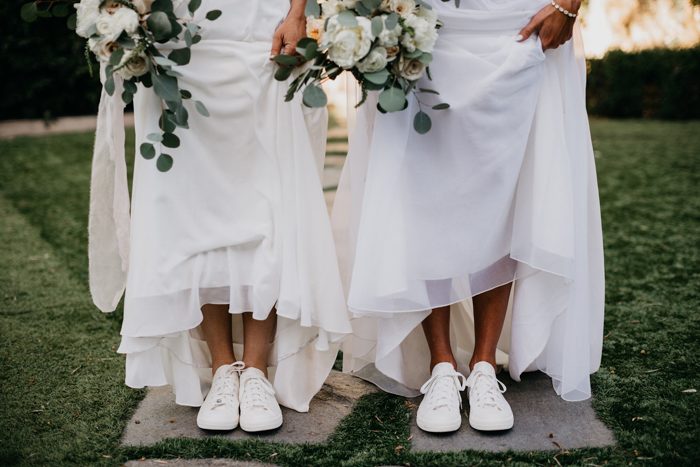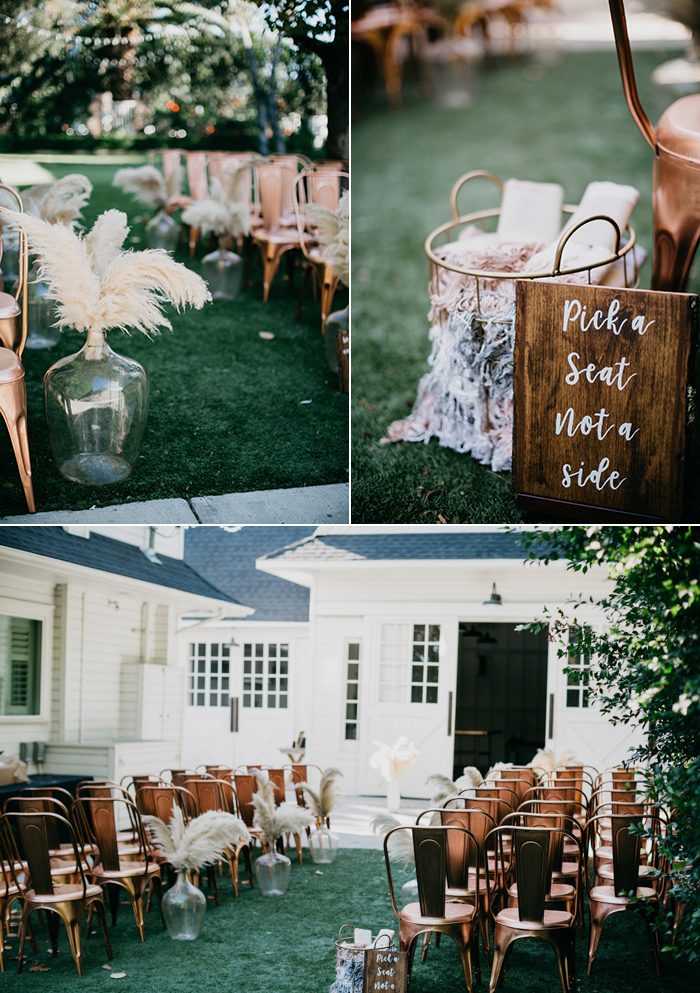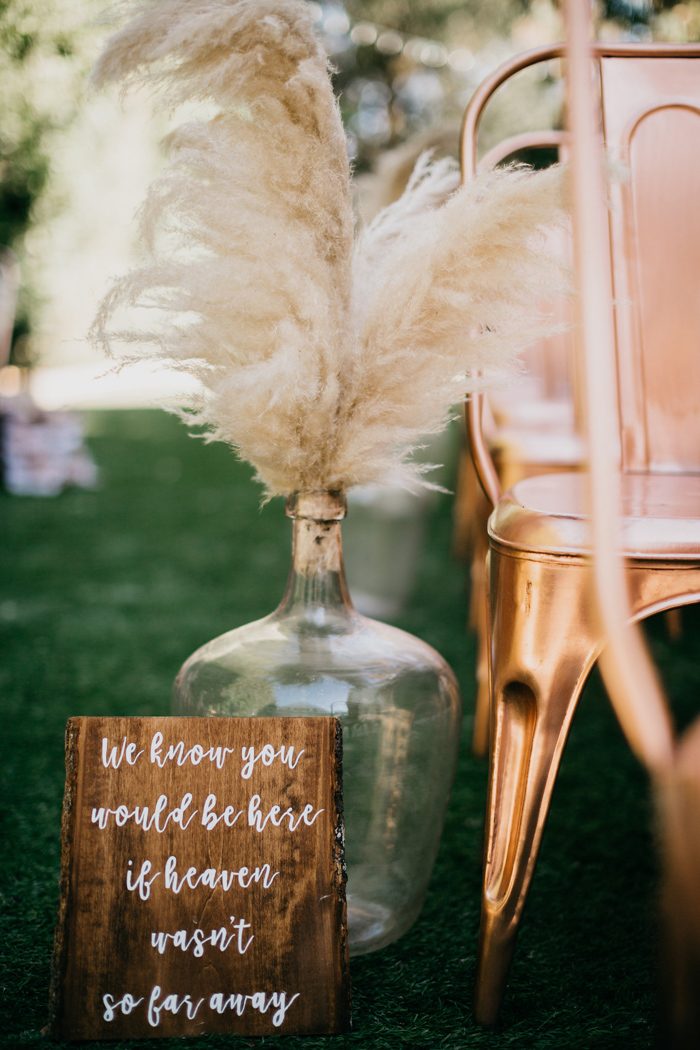 SHOP THIS LOOK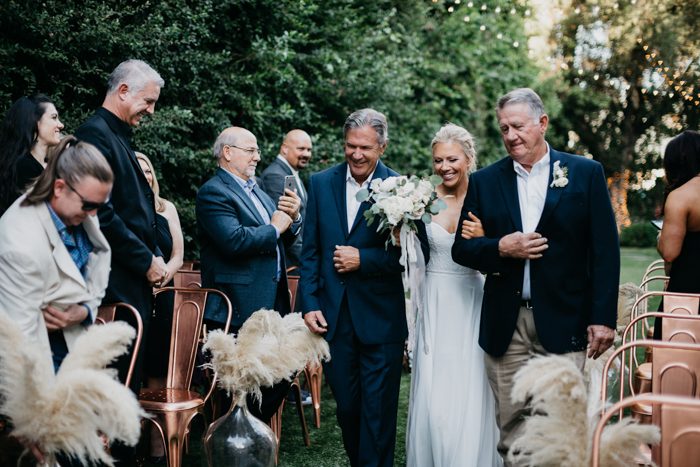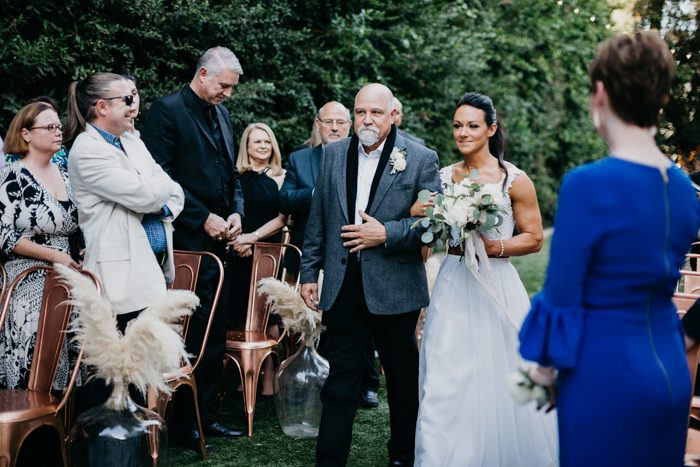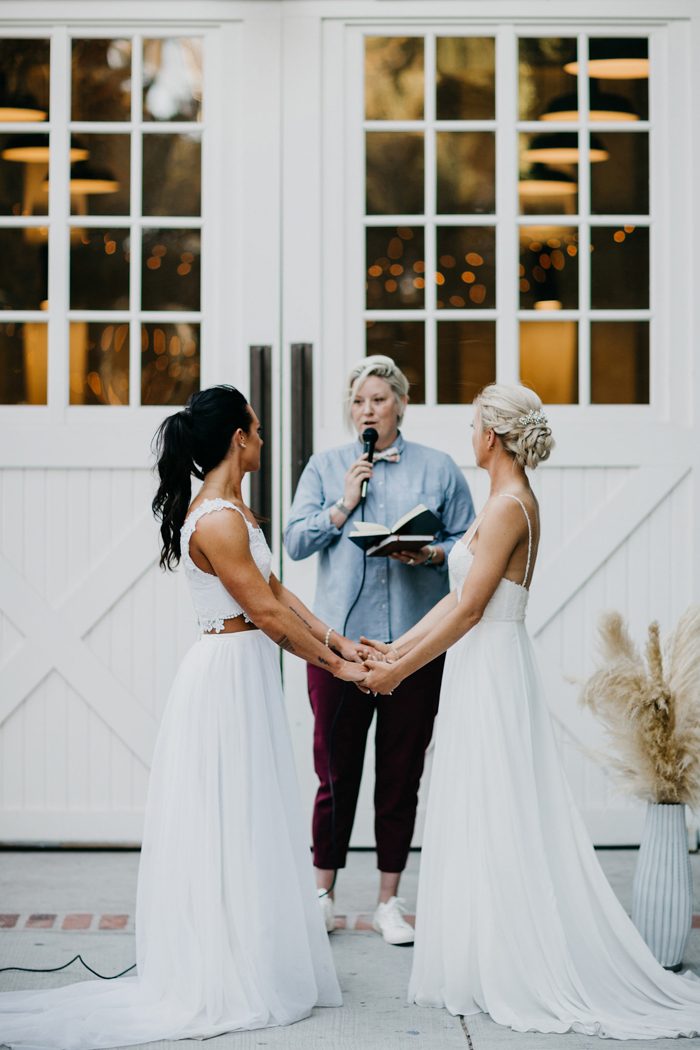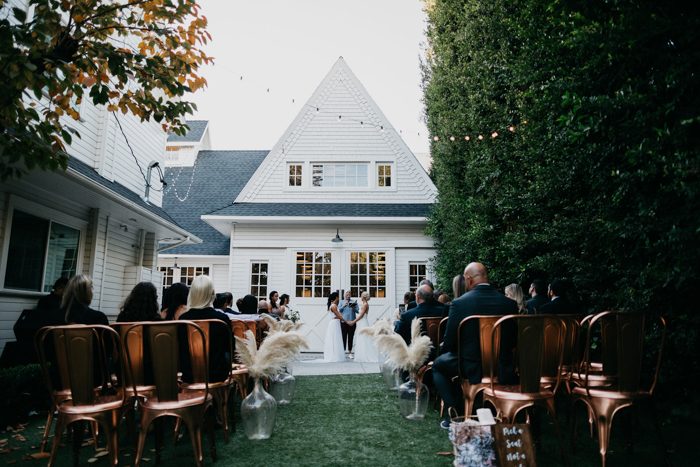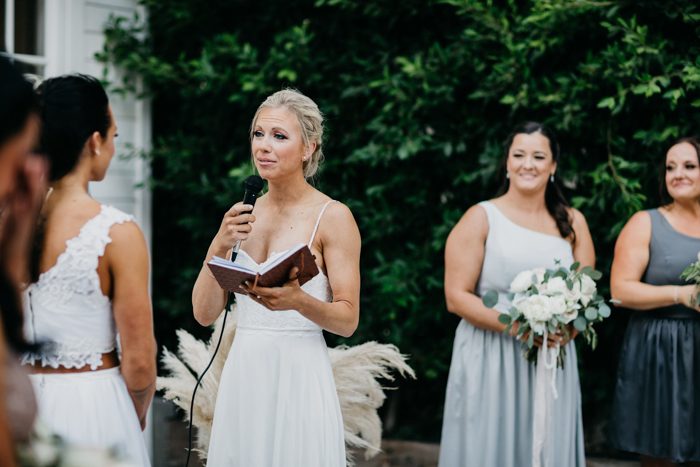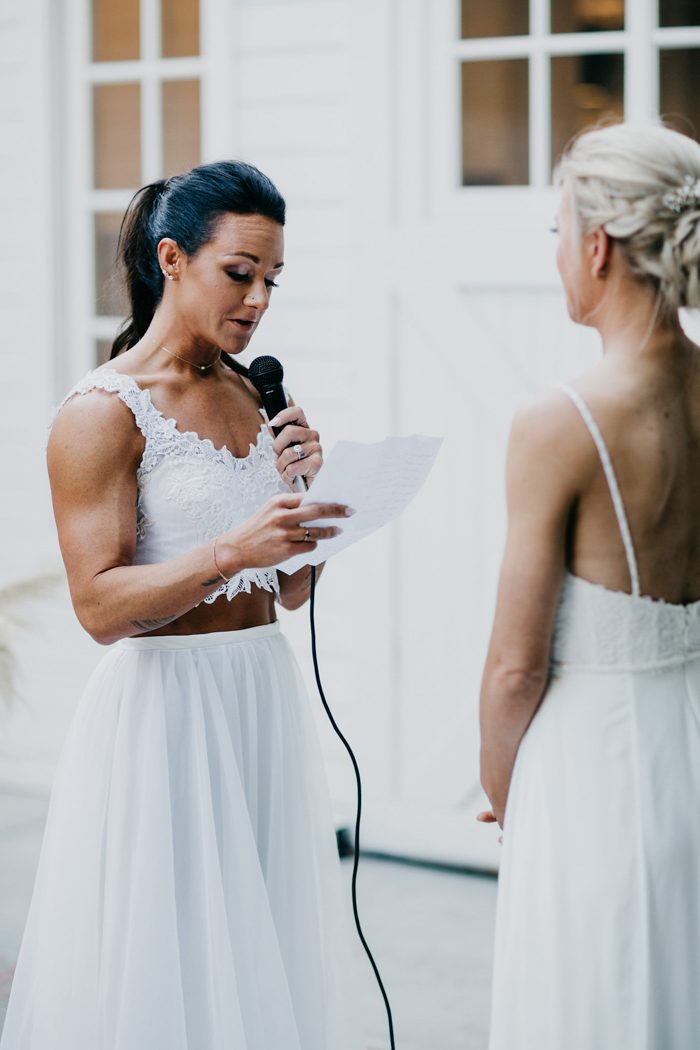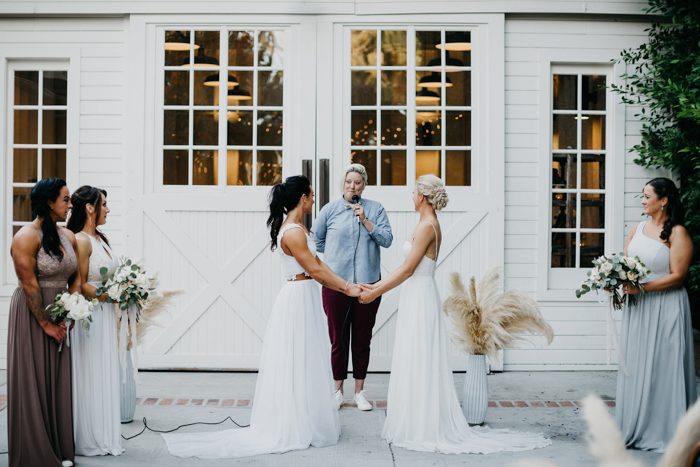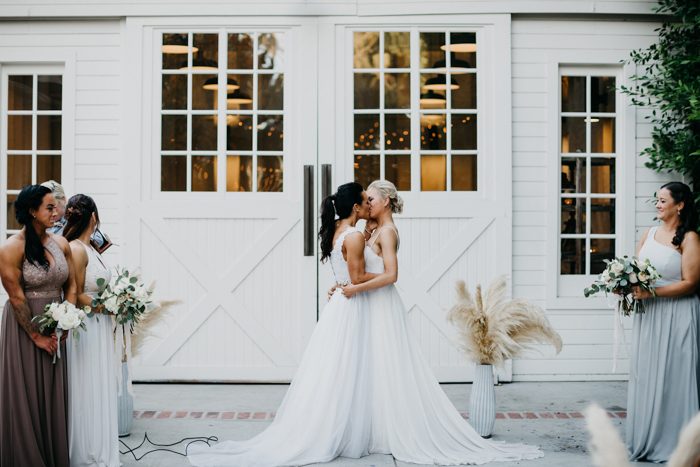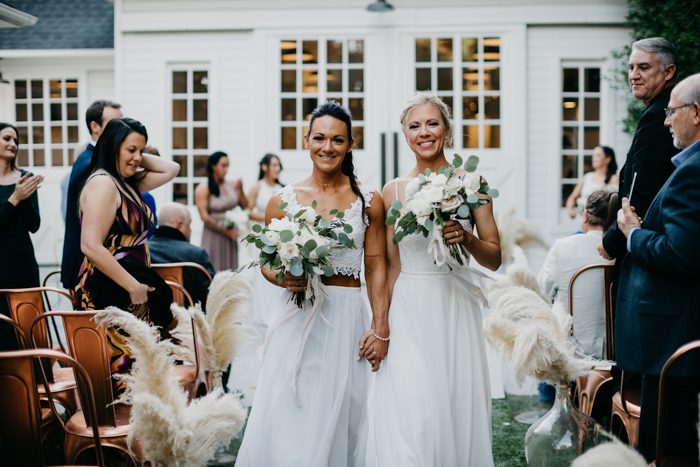 Originally, our wedding was to take place on a beach where it would be sunny and 80 degrees at the time of the ceremony and reception. Changing the location to LA, where it was a bit on the chilly side at night, presented a slight challenge and I wasn't exactly sure what the new vibe would necessarily be. Luckily, the overall design and colors didn't need to change! We went with a modern rustic style and a neutral color palette of greys, cream, and a light blush along with copper accents. It went perfectly with the venue!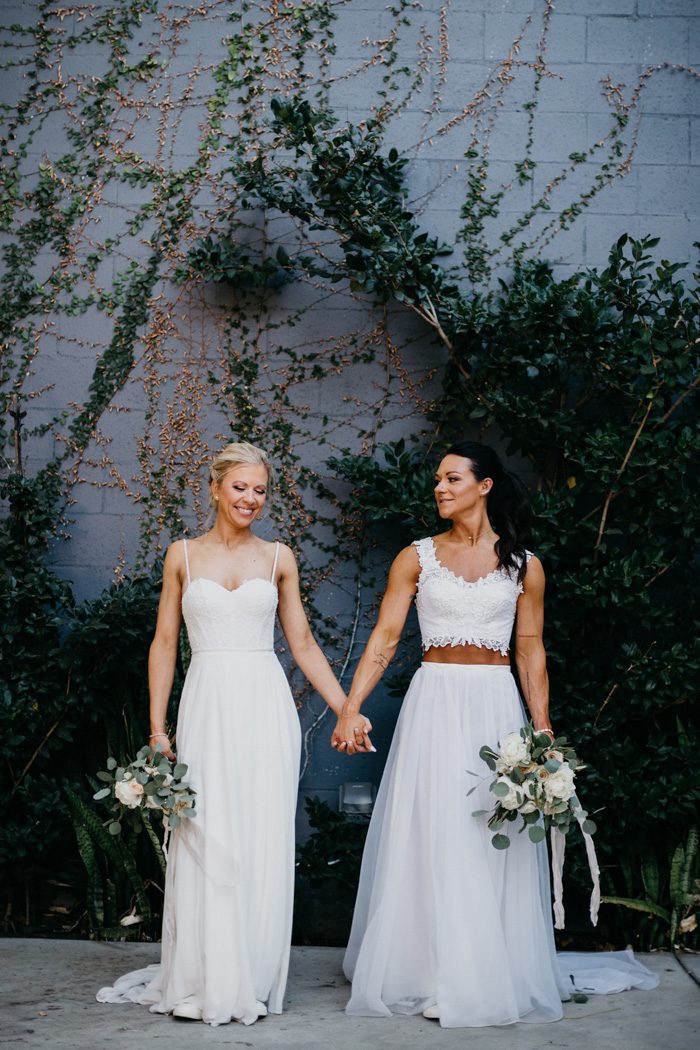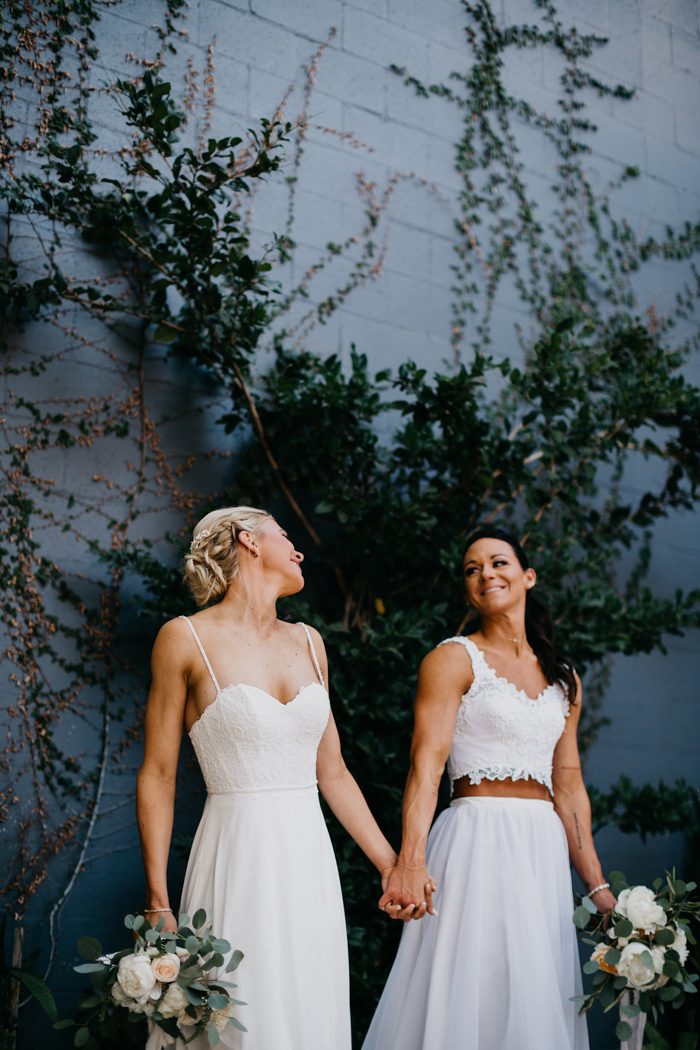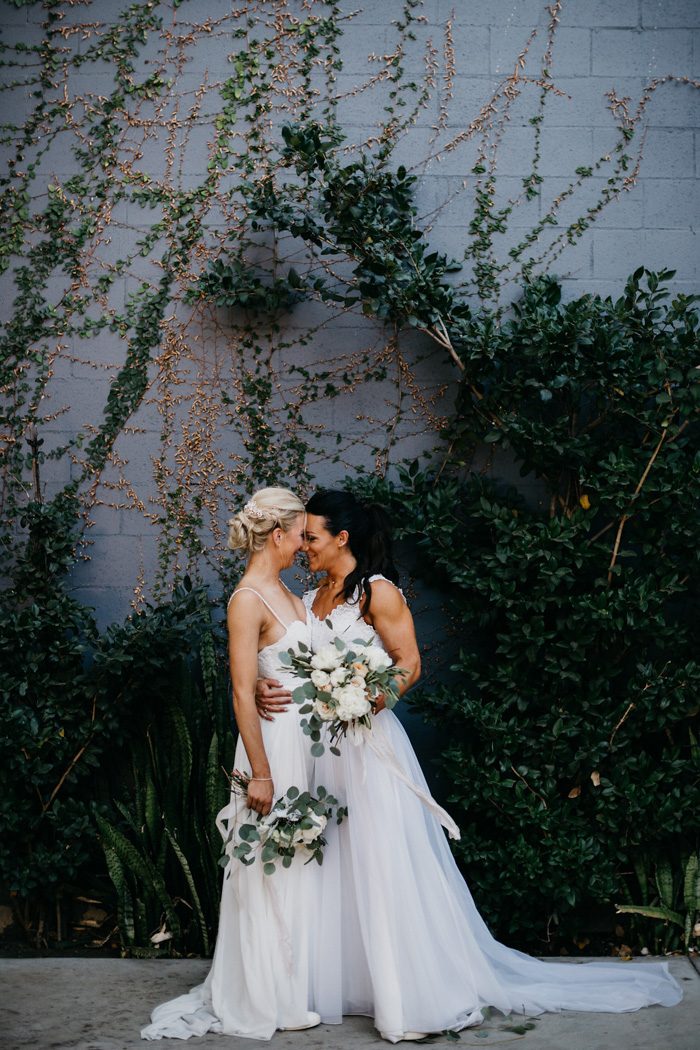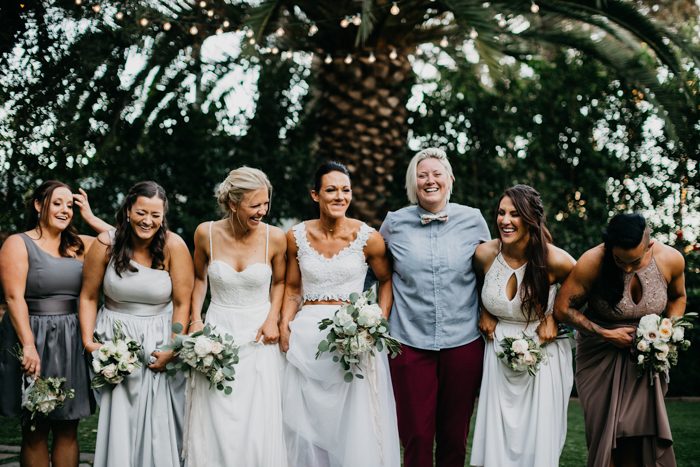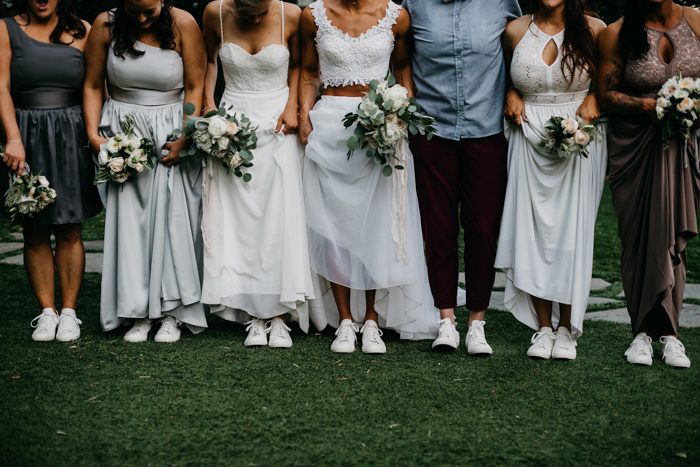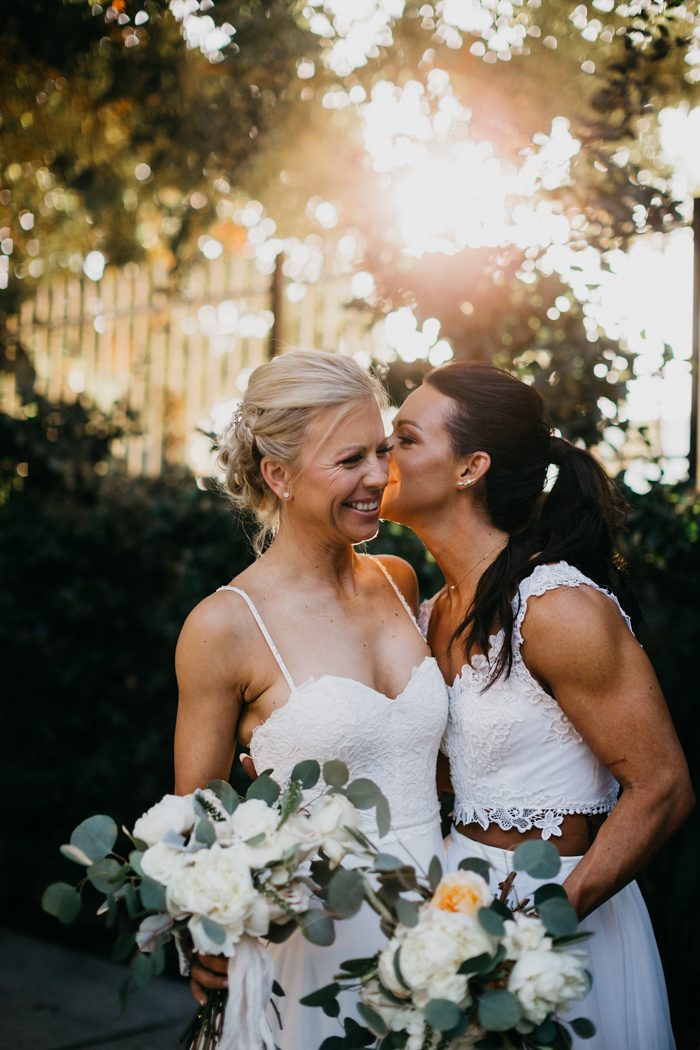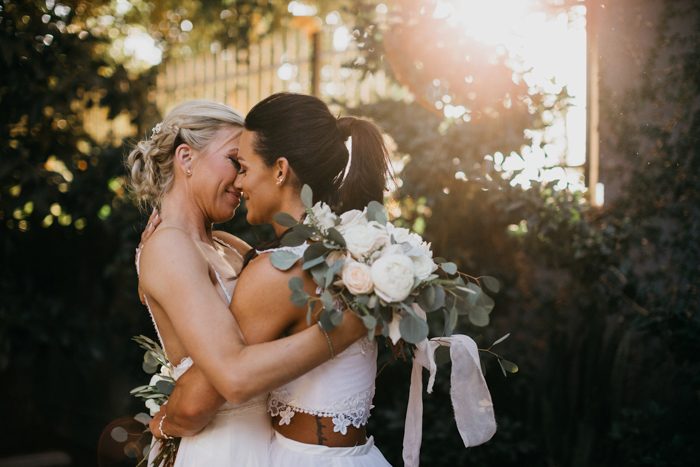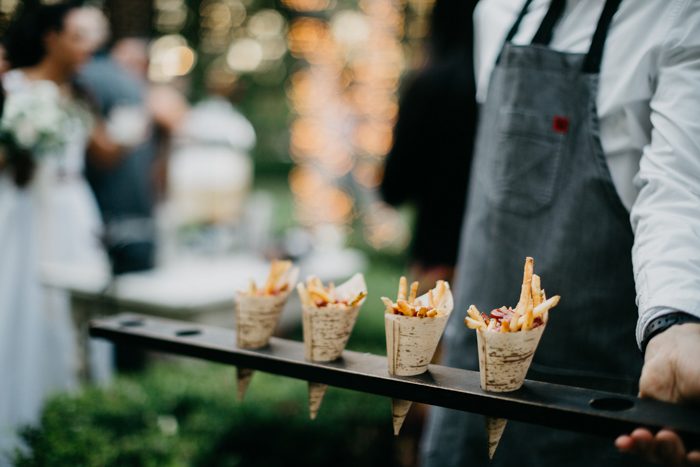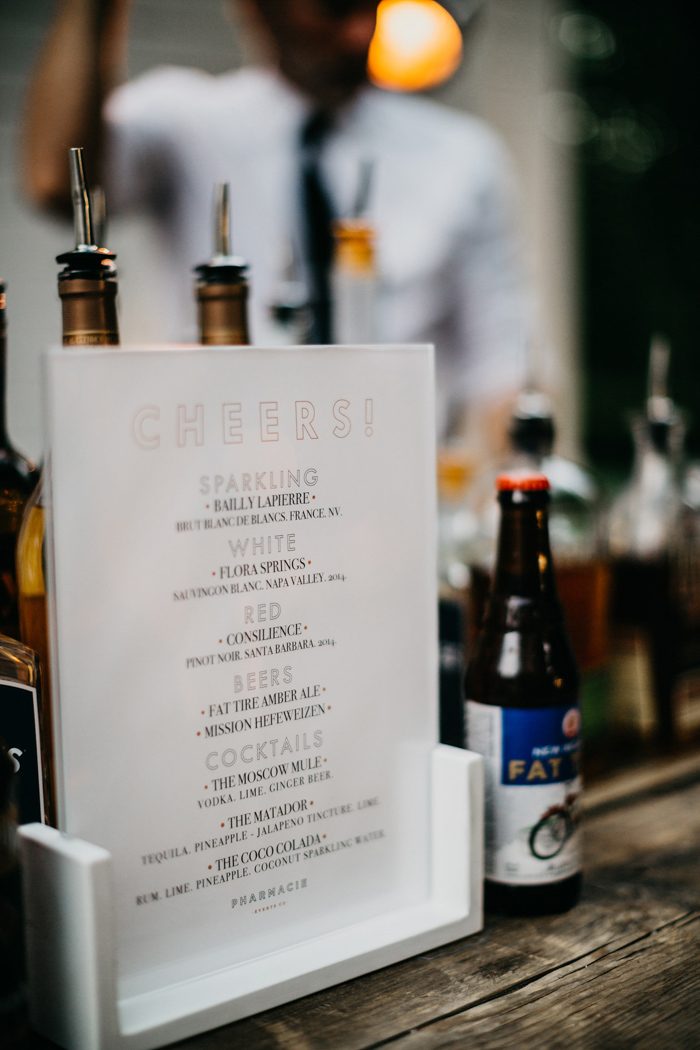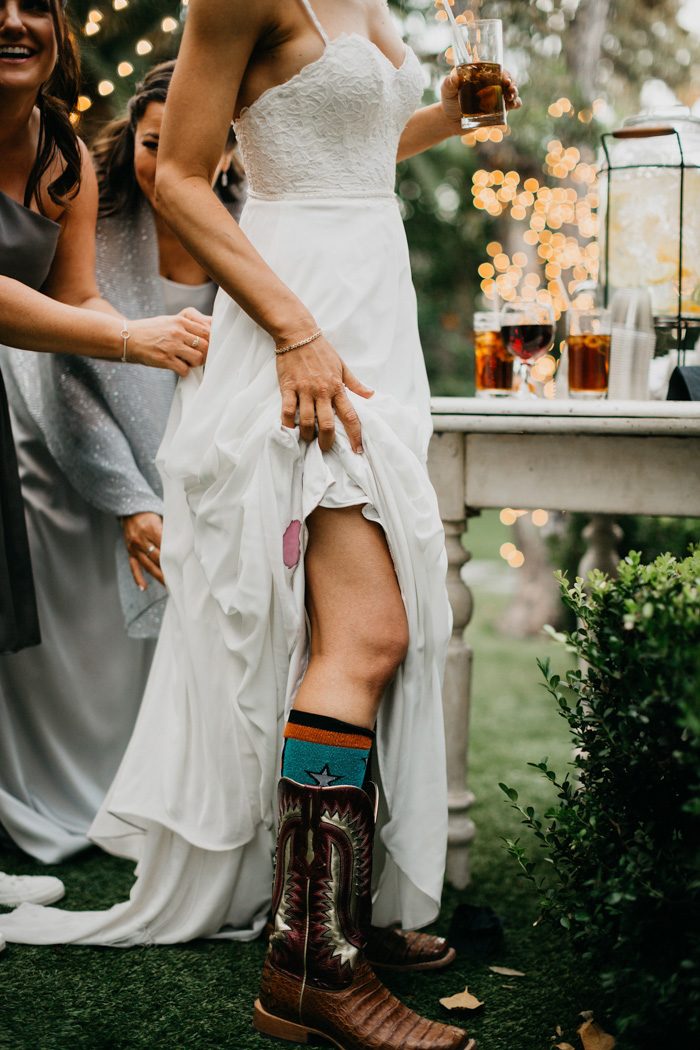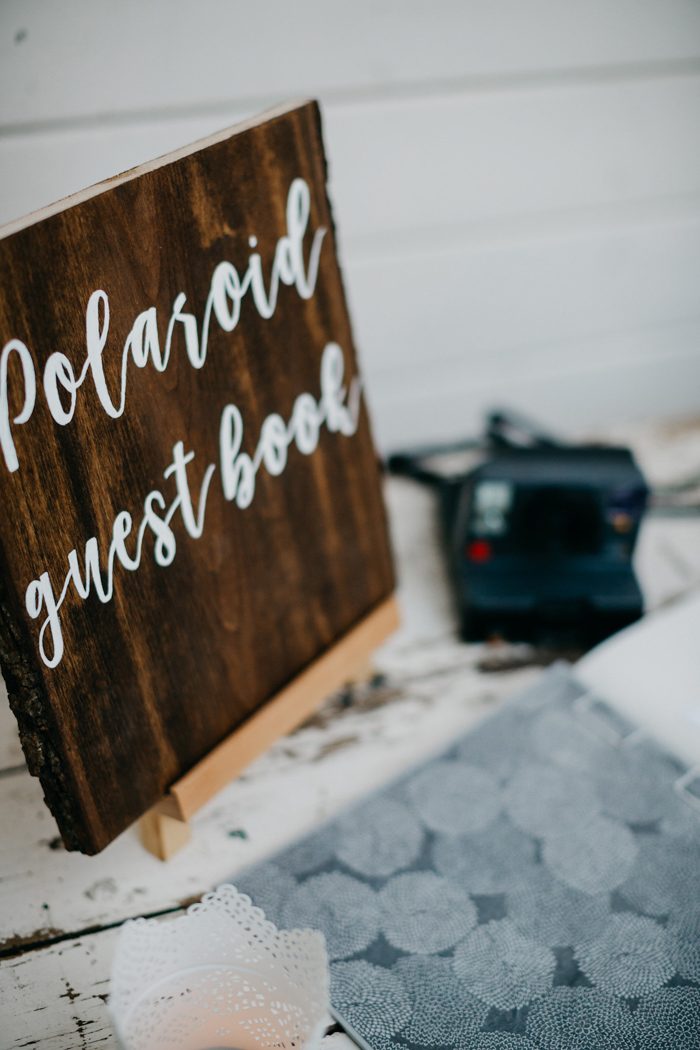 I think the best advice I can give would be to research wedding planners. Look at their website to get a sense of their style, speak to them on the phone, and read reviews before making the decision on who to go with. Find someone who you believe will be the best at depicting your style and transforming your vision into a reality.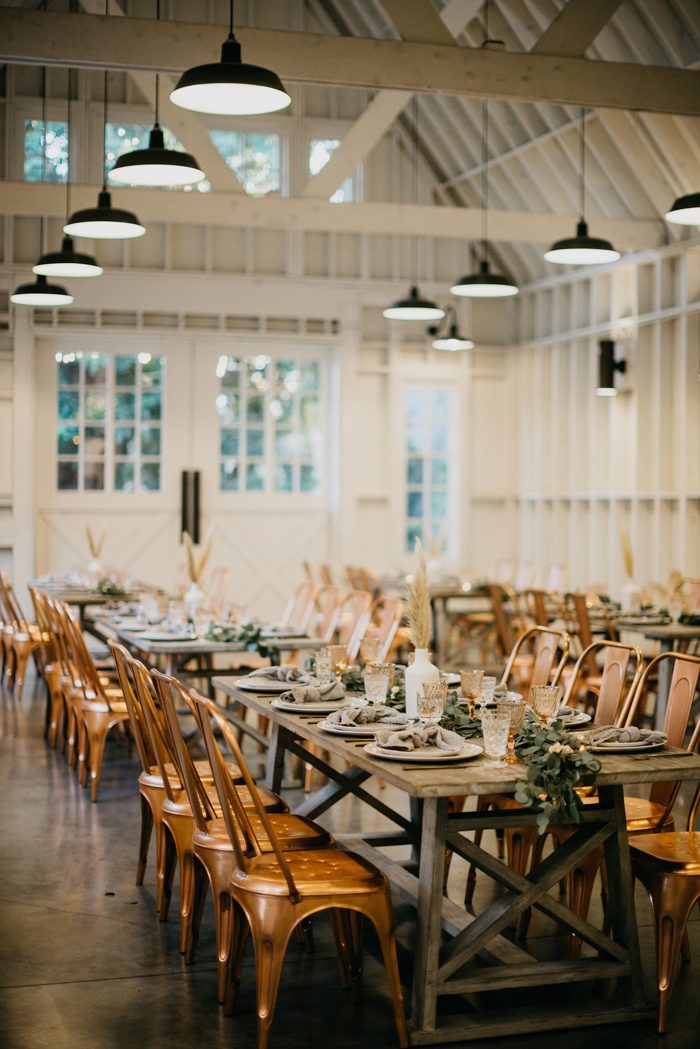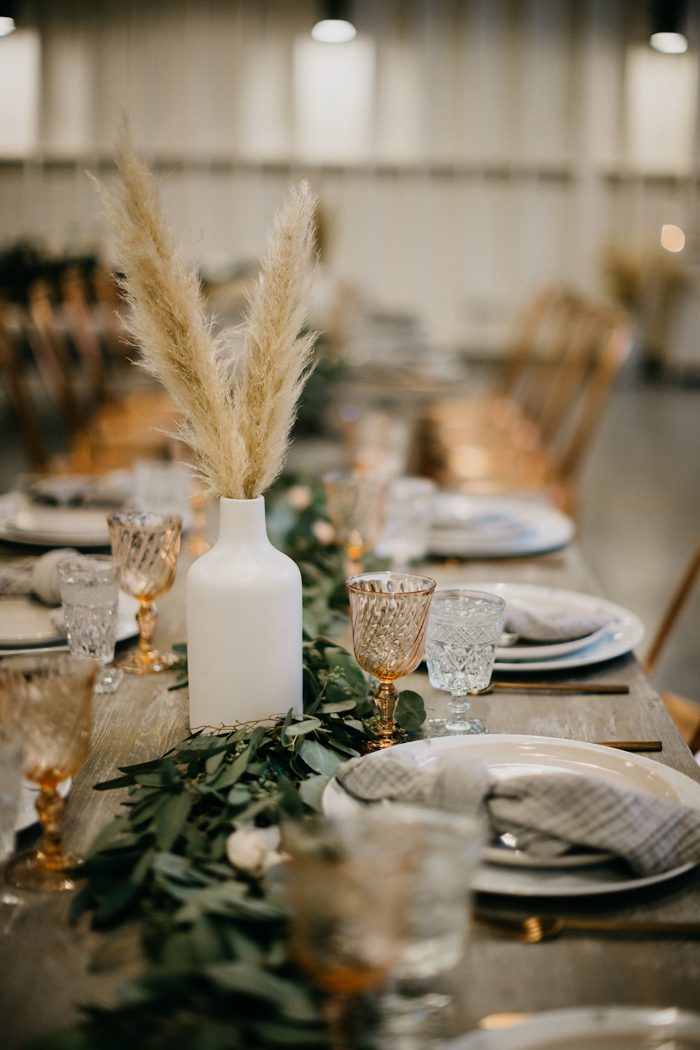 SHOP THIS LOOK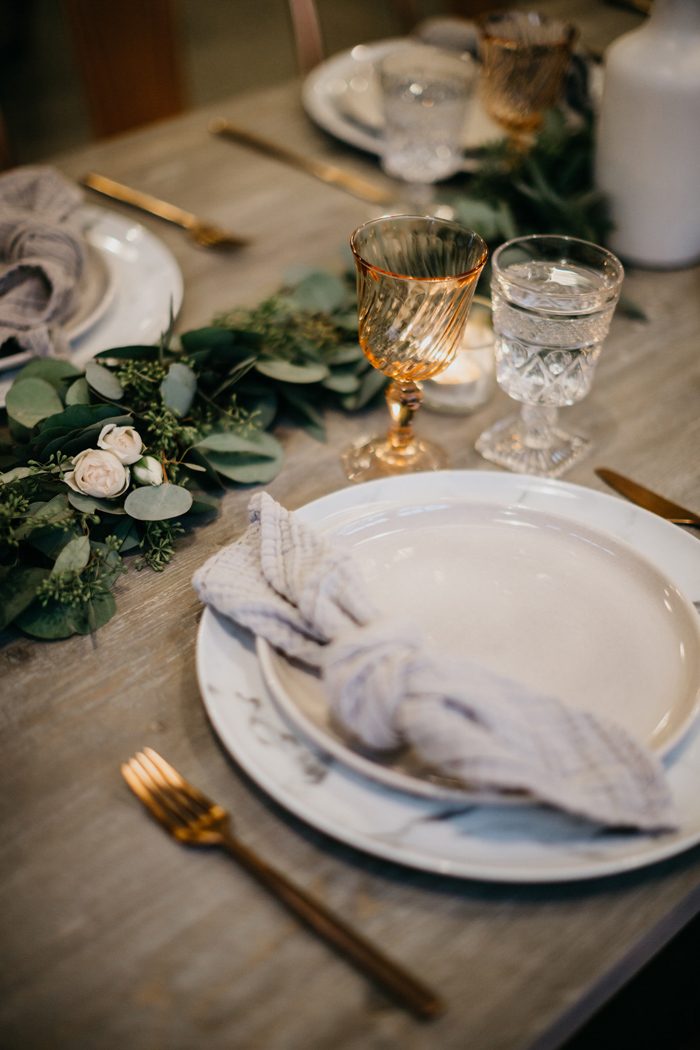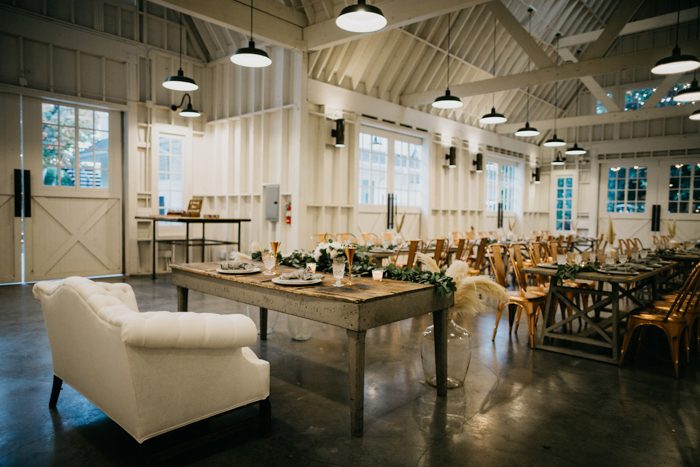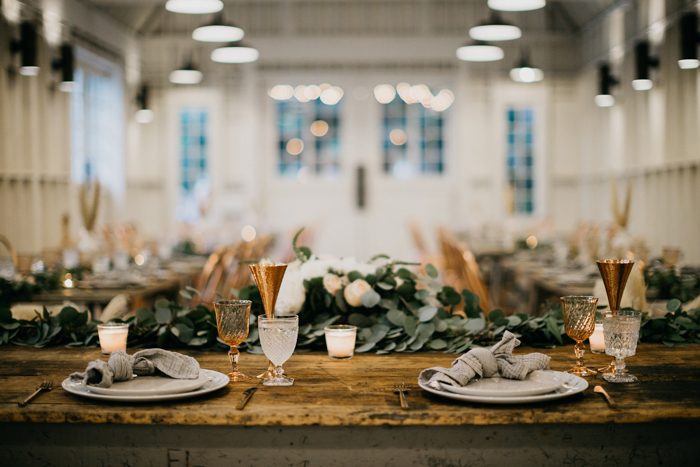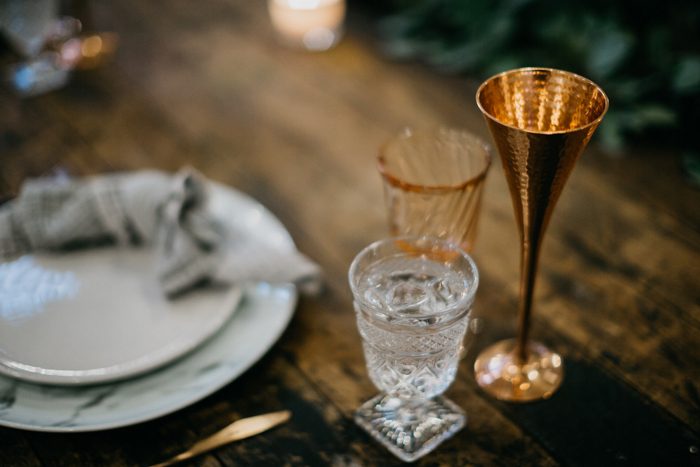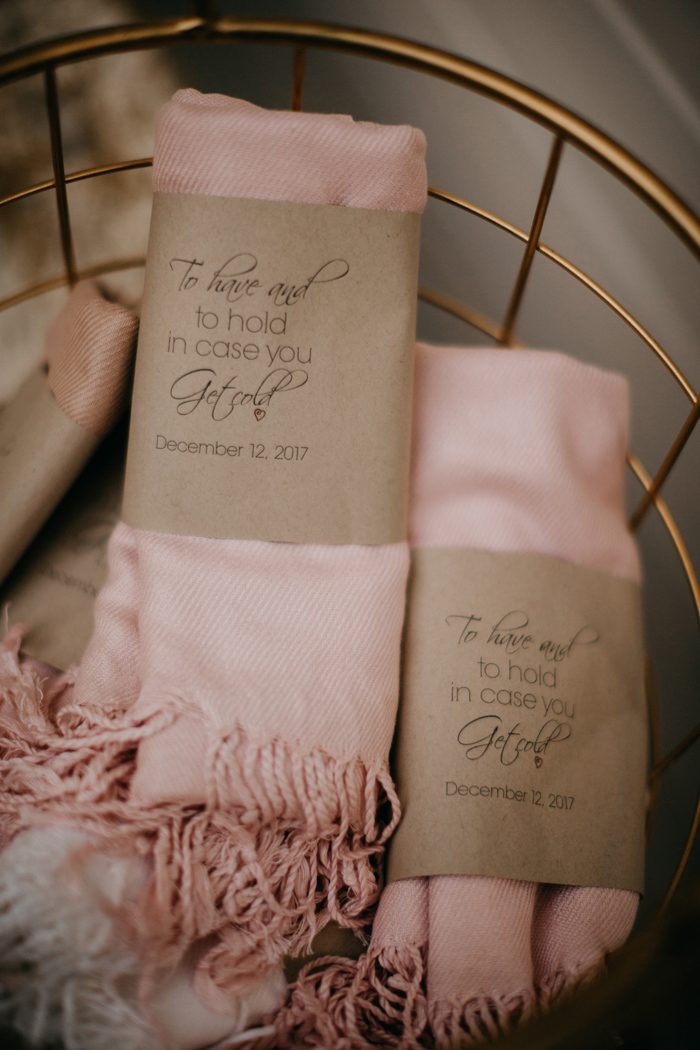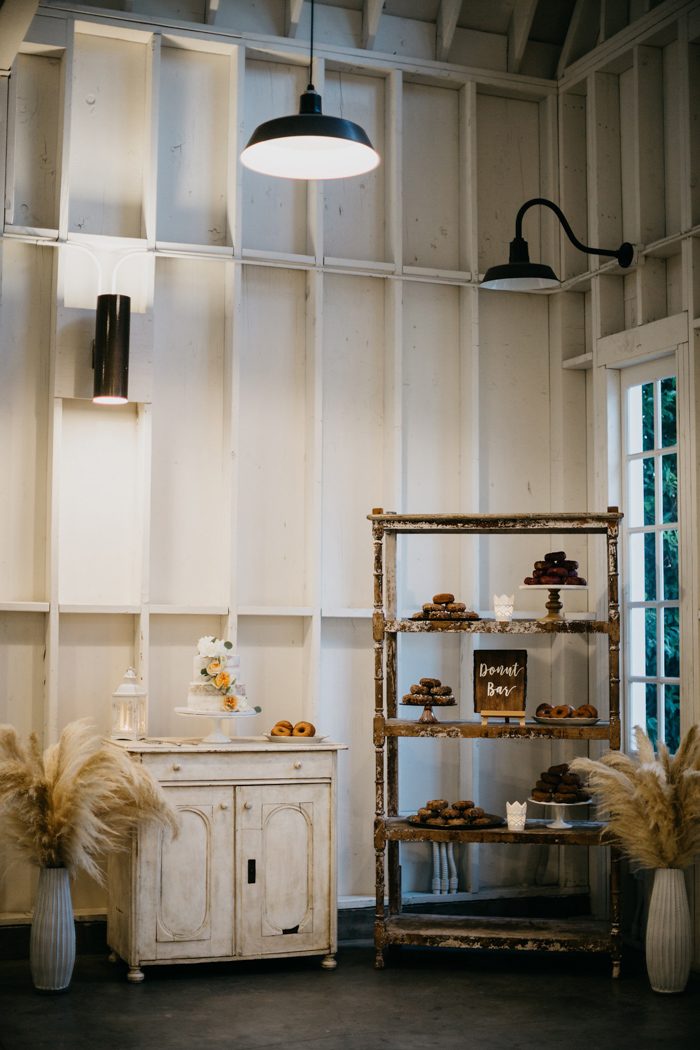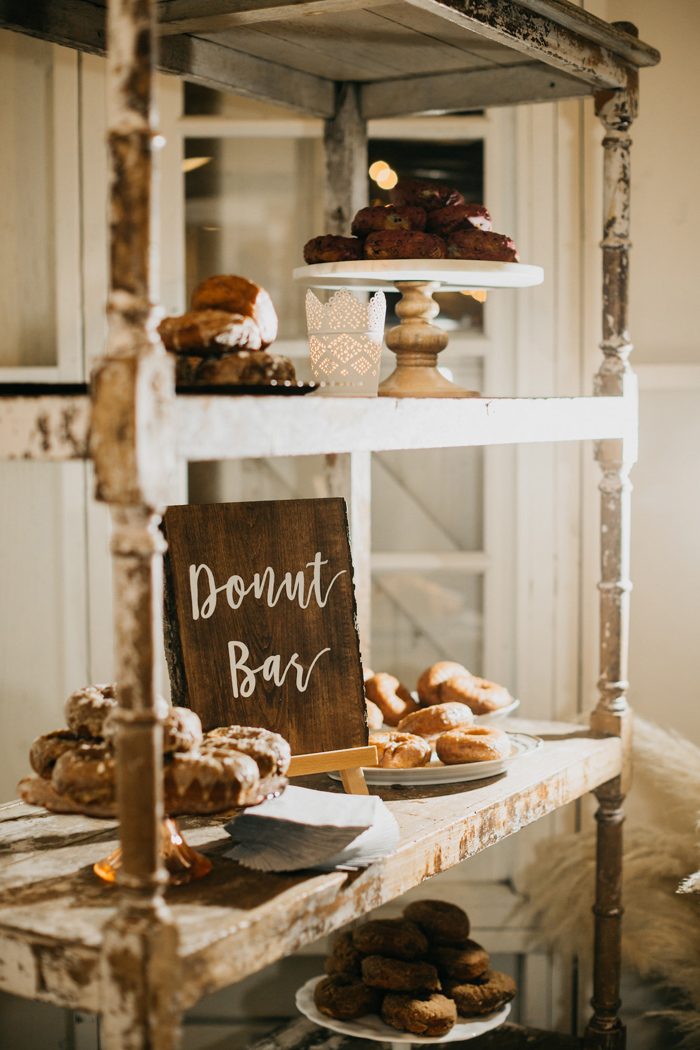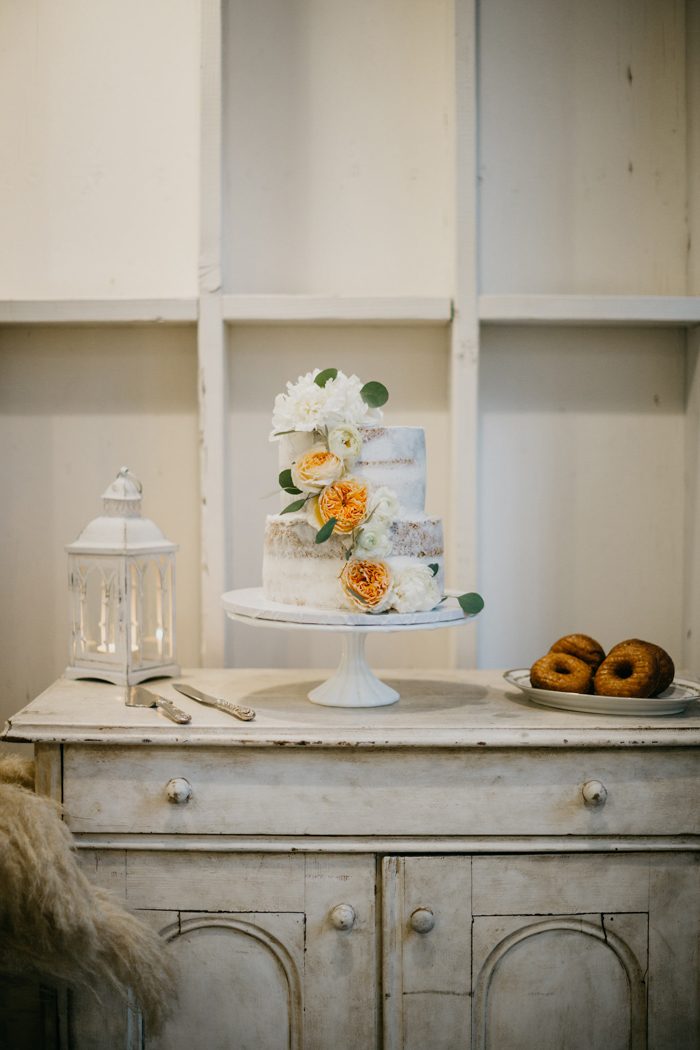 Our entire day was a magnificent dream that came to life. It was perfect! Aside from marrying my love, the most memorable part of the day would have to be seeing all of our friends and family, under the night sky, dancing the night away. The stress of changing all travel arrangements and re-planning an entire wedding seemed to completely disappear. Having it all come together seamlessly (thanks to our wonderful wedding planner) and seeing the smiles on everyone's faces made the day even that much more special.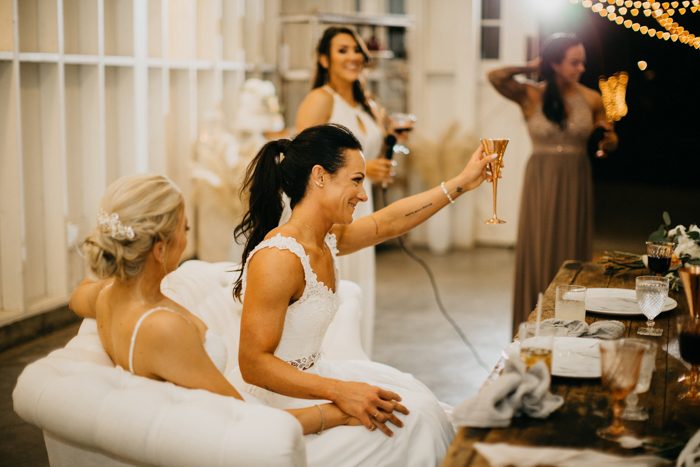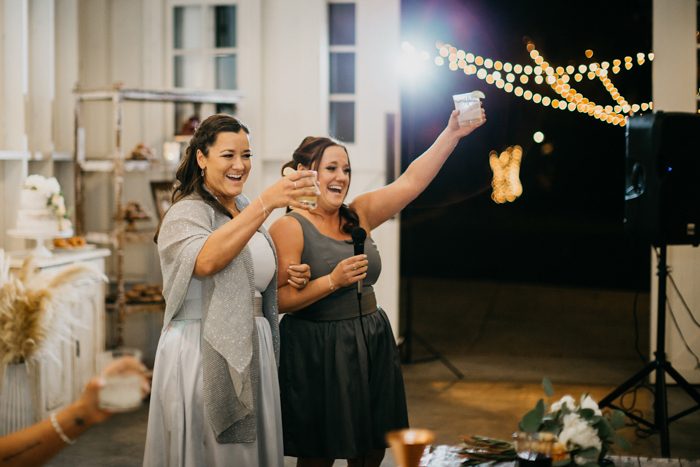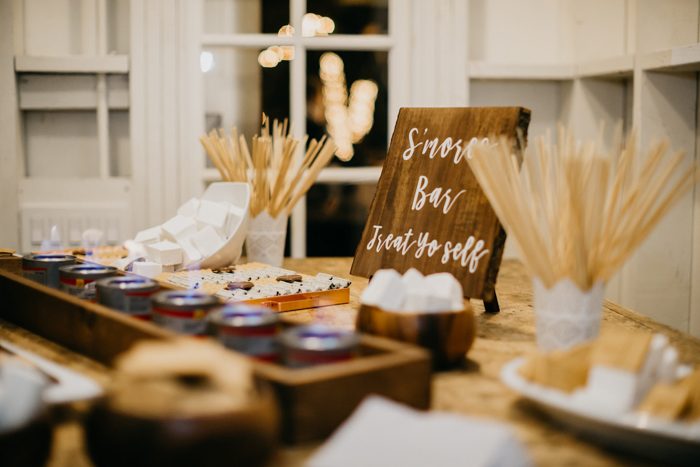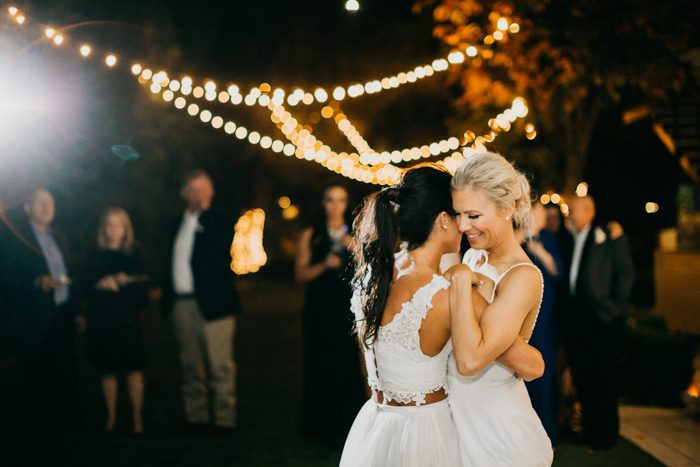 Our biggest congratulations to Andrea and Erin, and an extra special thanks to Laurel & Fey for sharing this gorgeous Lombardi House wedding with Junebug! Looking for more rustic wedding inspiration? This modern rustic wedding proves there is no place like home for getting married!