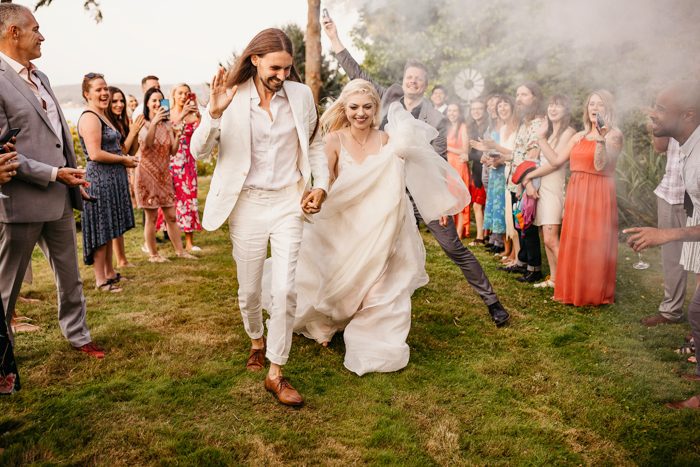 Earthy tones met an eclectic sense of style in Mel and Lee's Whidbey Island wedding at Deception Pass State Park. The Whidbey Party Girls helped the couple bring their dream wedding day to life with whimsical, gemstone-themed florals by Moon Bloom Floral, curated rentals from the couple's very own company, Modern Nest Northwest, and the coolest little touches like Negronis served in tiny bottles at the ceremony! Mel brought all the boho bride vibes with her Sarah Seven dress and the most unique rings from Hello Ring. We're swooning over every colorful, joyous, and romantic moment Jacquelyn Portolese Photography beautifully documented. From beginning to end, this Whidbey Island wedding was a total curated masterpiece that stole our hearts!
The Couple:
Mel & Lee
The Wedding:
Deception Pass State Park, Whidbey Island, Washington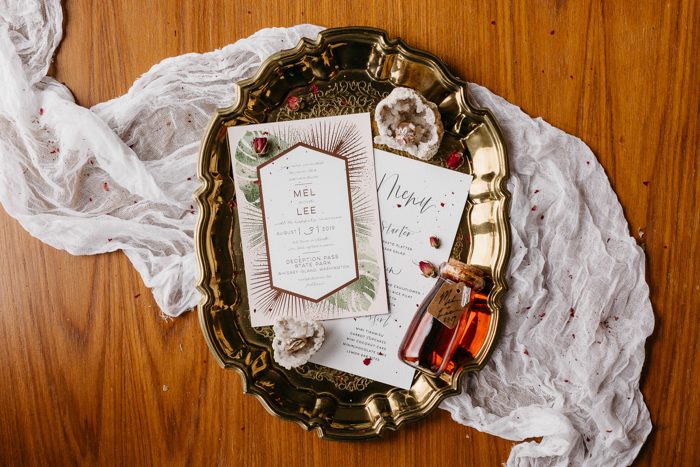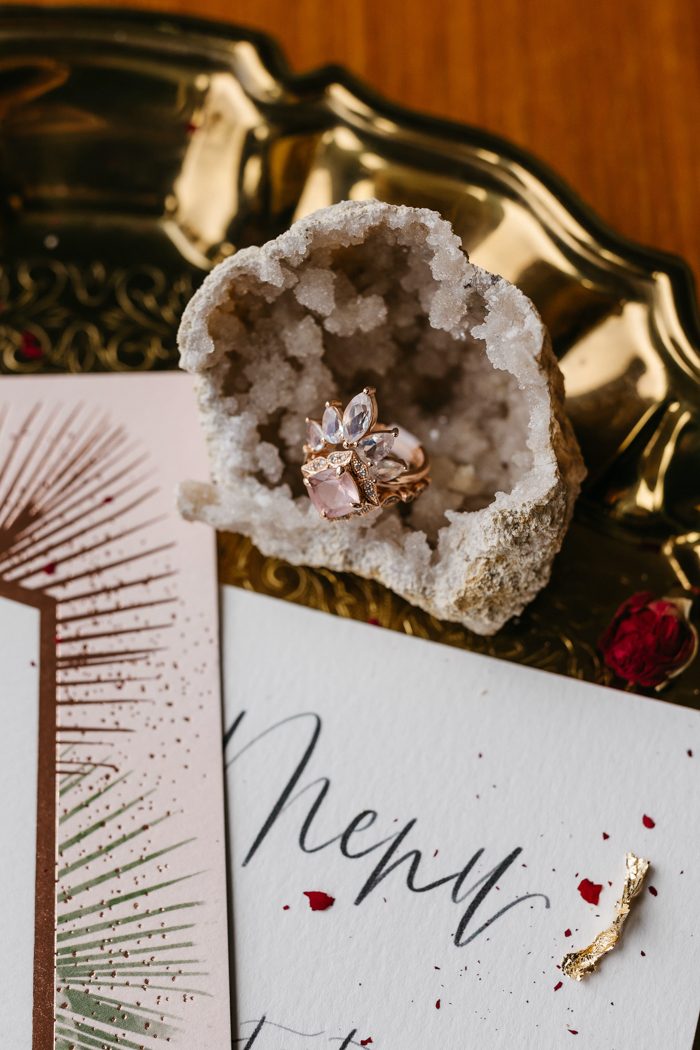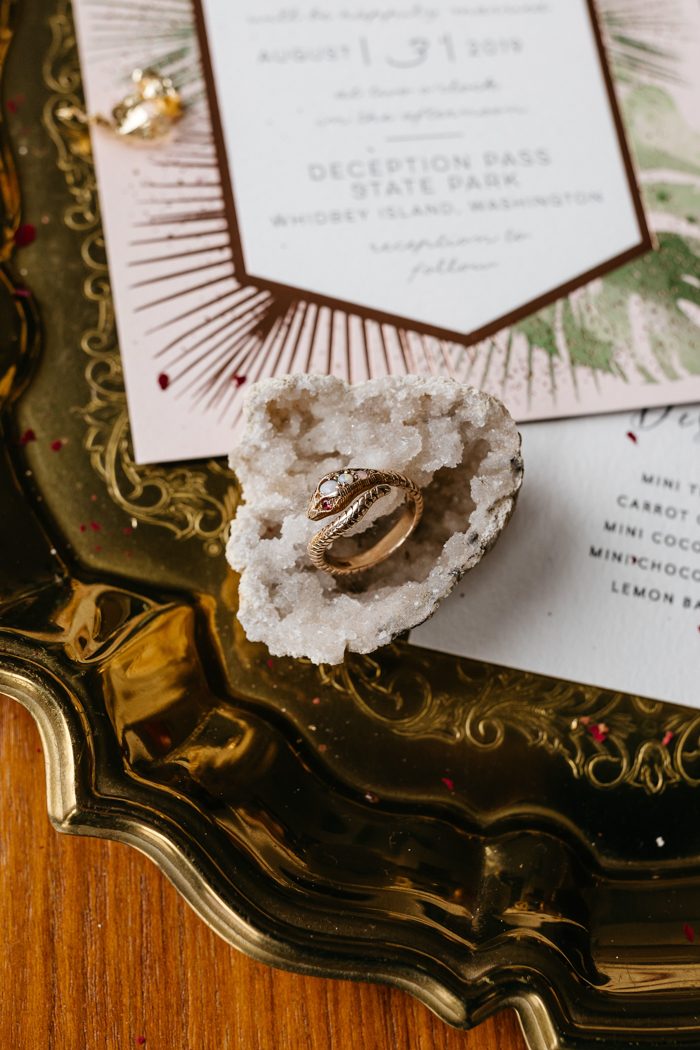 Wedding planning advice from the couple: Start early, and give yourself at least a year. Hire a wedding planner, they are invaluable and worth every penny. The average couple has no idea how many moving parts go into a wedding, and trying to do it all by yourself can take away from one of the most special periods of your life. The day goes by in a flash and the memories are priceless. No one has ever regretted having too many photos. You only get to do this once, so it should be just the way you want it. Lastly, do what feels right and true to you as a couple, and remember through it all, you're both on the same team.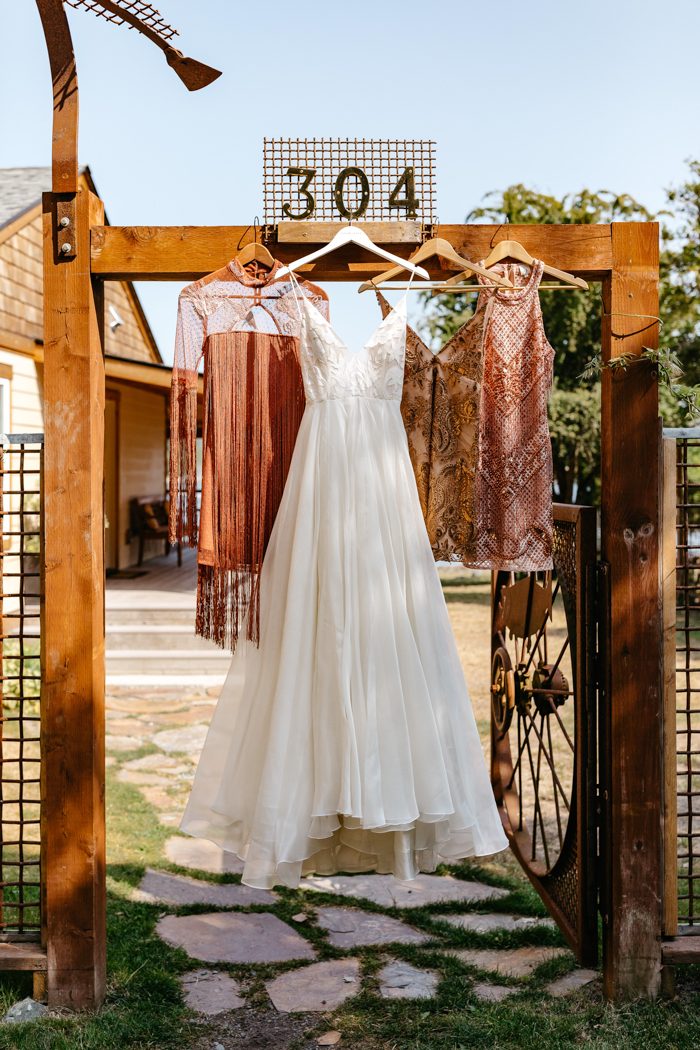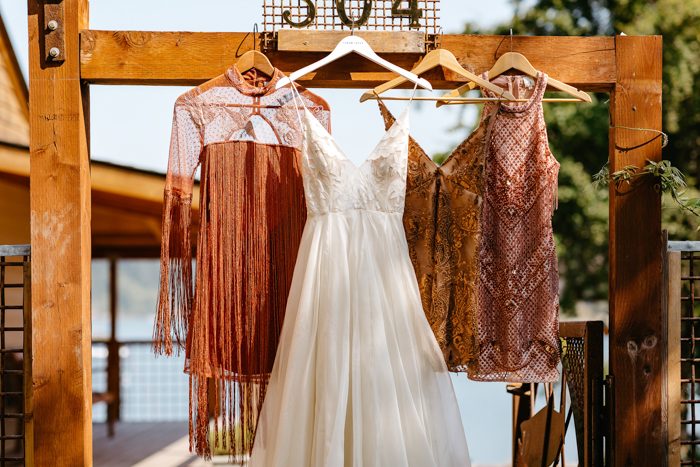 I told my bridesmaids to choose any dress they wanted in the champagne and rose gold color range. I wanted them to feel comfortable and have their own personality shine through. They found some amazingly beautiful dresses that went together perfectly, and we hadn't even seen all the dresses together till the morning of the wedding.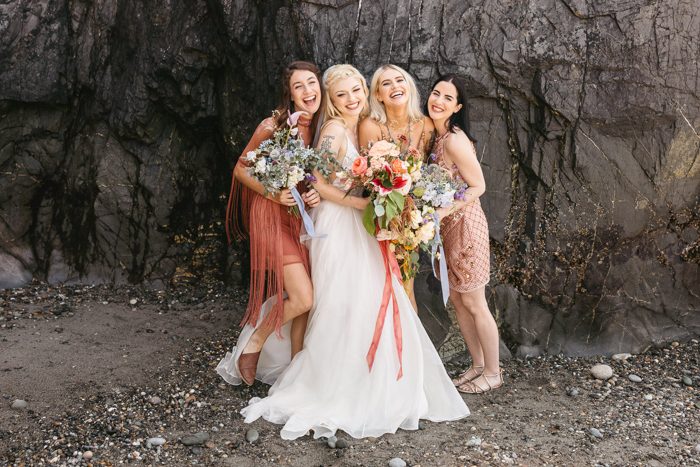 Shop This Look: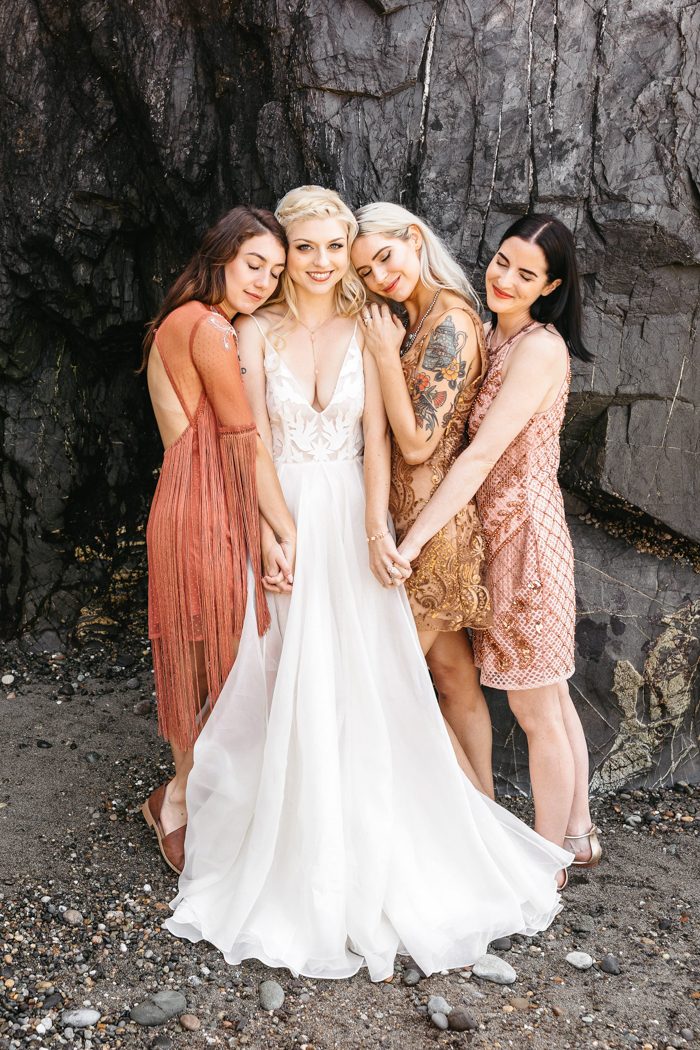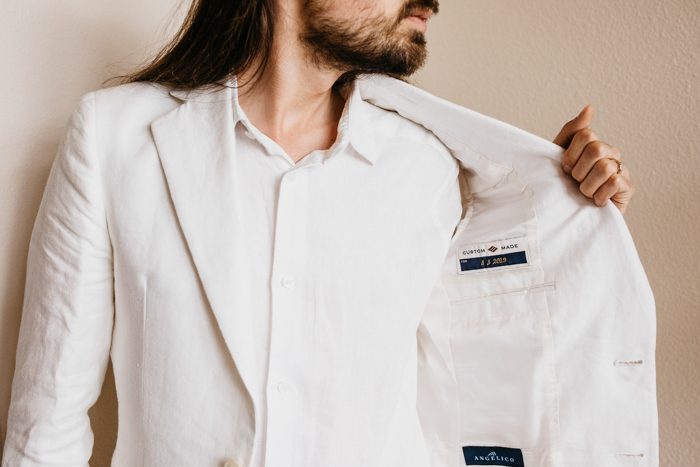 Lee knew from the beginning he wanted to be rocking Italian chic style in an all white linen suit. Turns out those are pretty hard to find! So he ended up having Mens Warehouse custom make his suit from scratch, and surprised me by having our wedding date embroidered on the lining.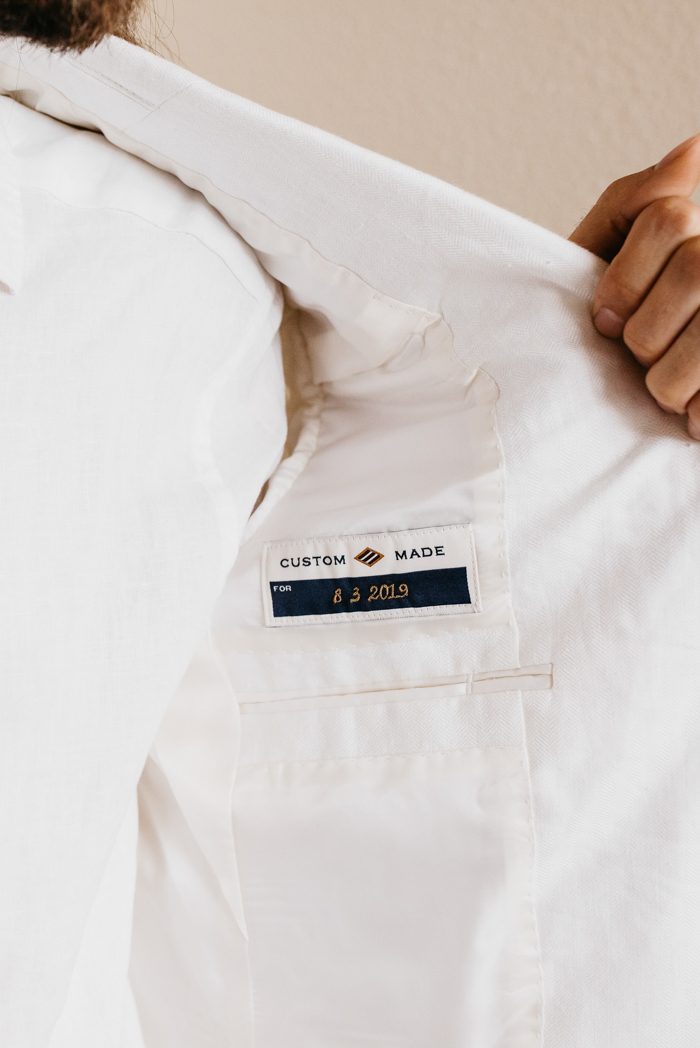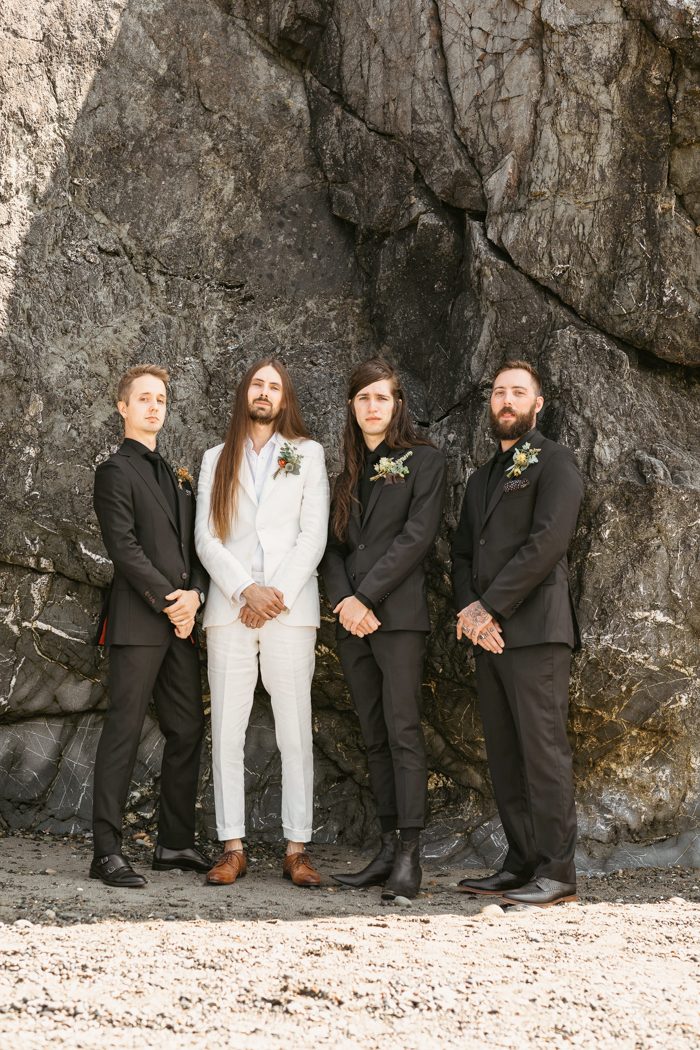 I surprised Lee with my processional song, keeping it a secret till the moment it was time to walk down the aisle, which wasn't easy timing wise! It was a song he had introduced me to in our first month of dating, and it instantly became "our song." He broke down crying when he heard the first chords, it was such a special moment.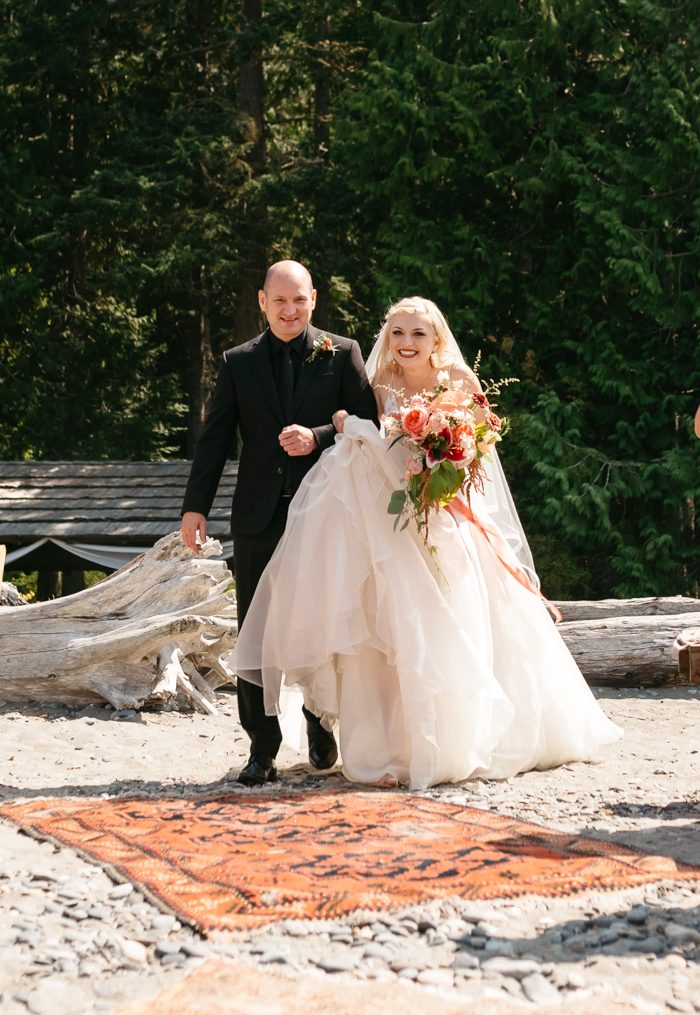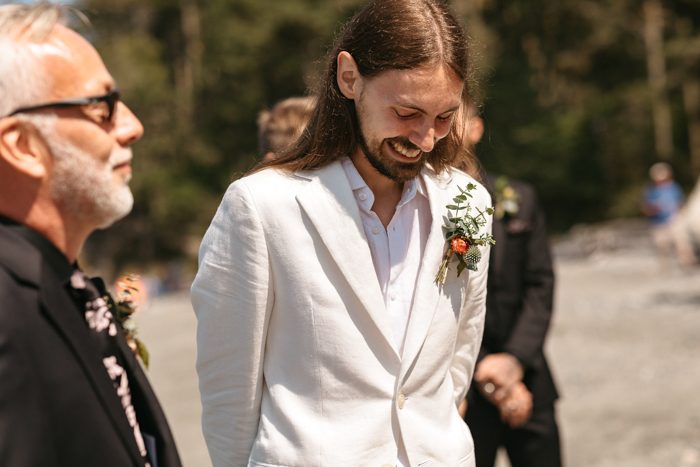 Whidbey Island was where we first had our first trip a few weeks into dating. We both grew up in the pacific northwest, so having an outdoorsy wedding was a no brainer. We both spent time on Whidbey as kids, so it has always held a very special place in our lives and in our families lives. We had a very specific vision for a venue, which ended up being split into two locations to accommodate our wishes. We wanted amazing views, outdoors all day, beach access, forest access, and maybe a garden too. It was a pretty tall order for our wedding planner. After touring countless venues, we walked out onto the beach at Deception Pass with its stunning backdrop of the bridge and Lighthouse Point, and we looked at each other and silently agreed, that was going to be the place we'd be getting married.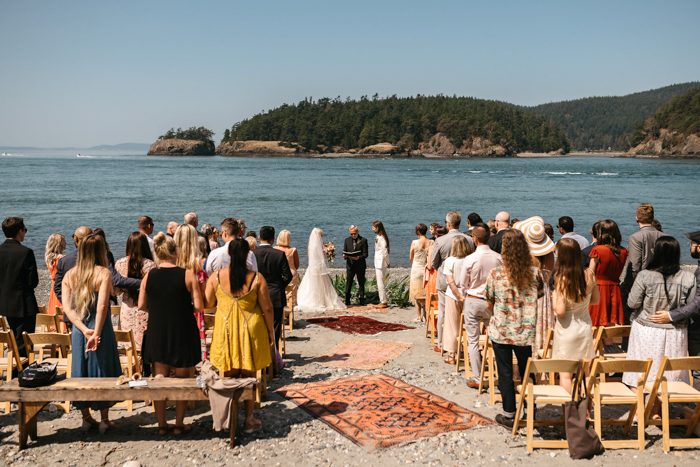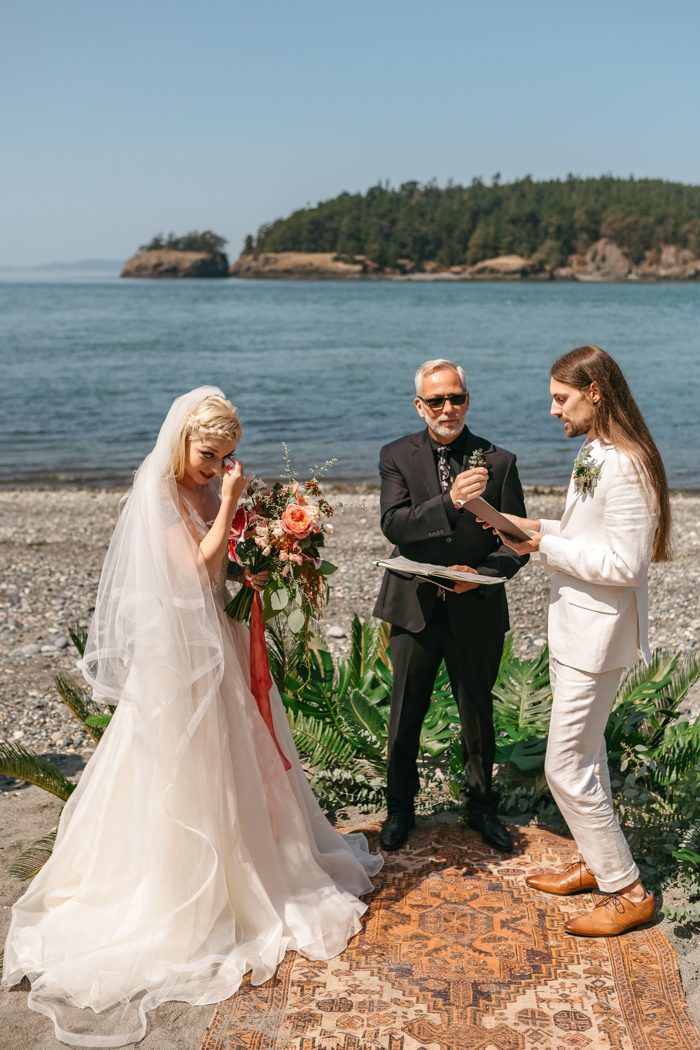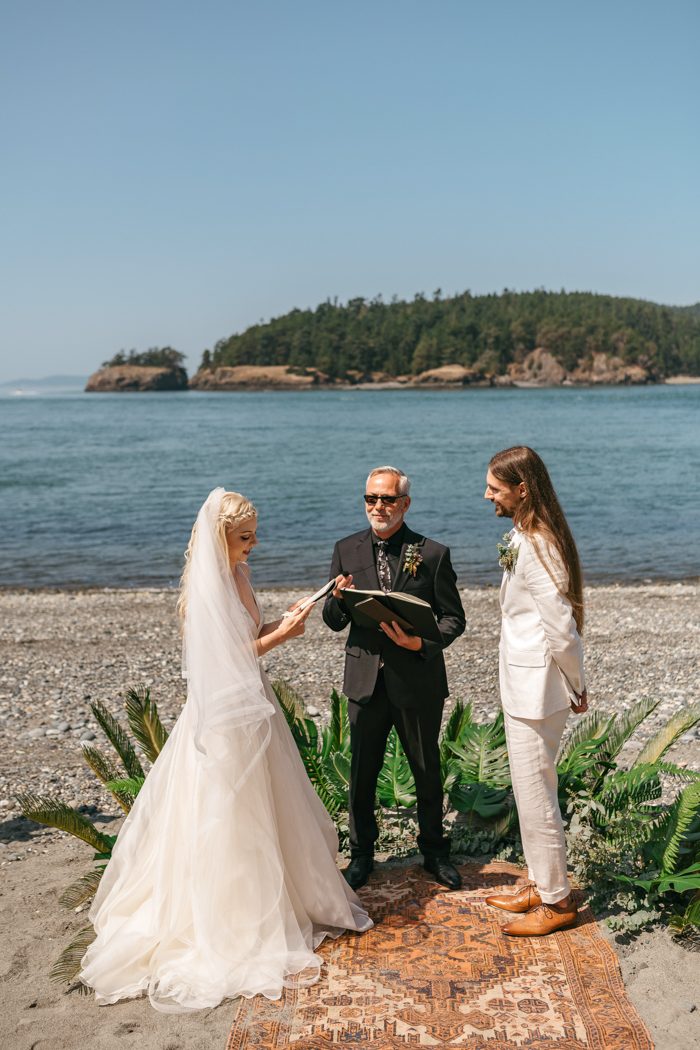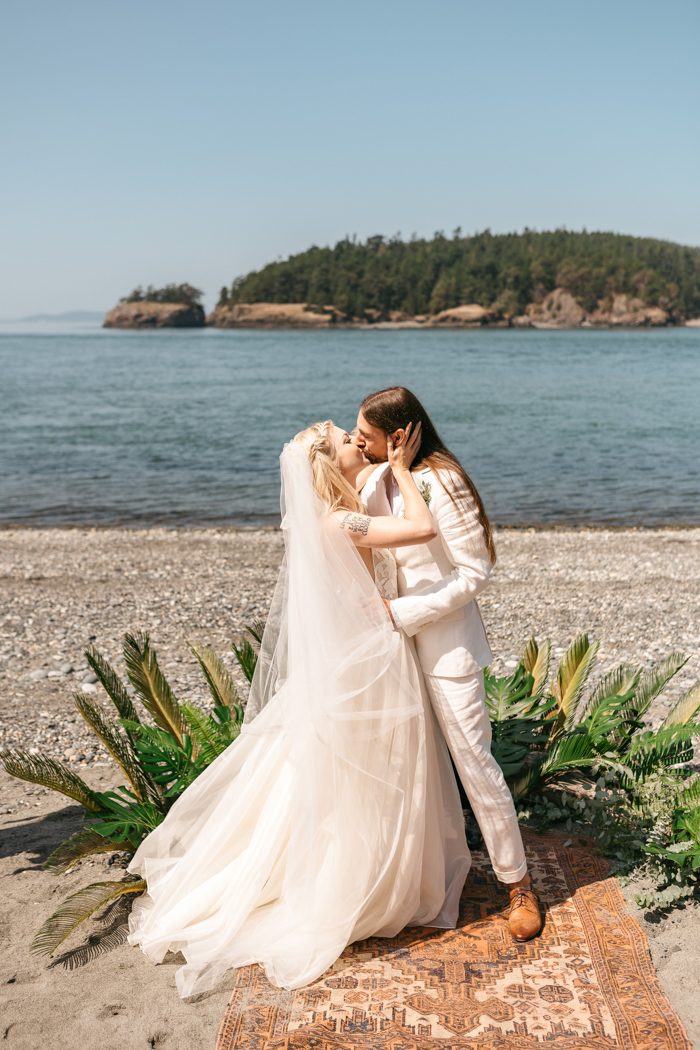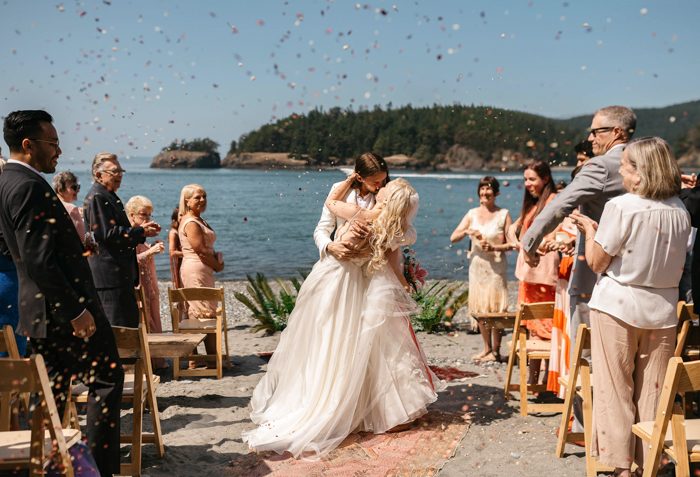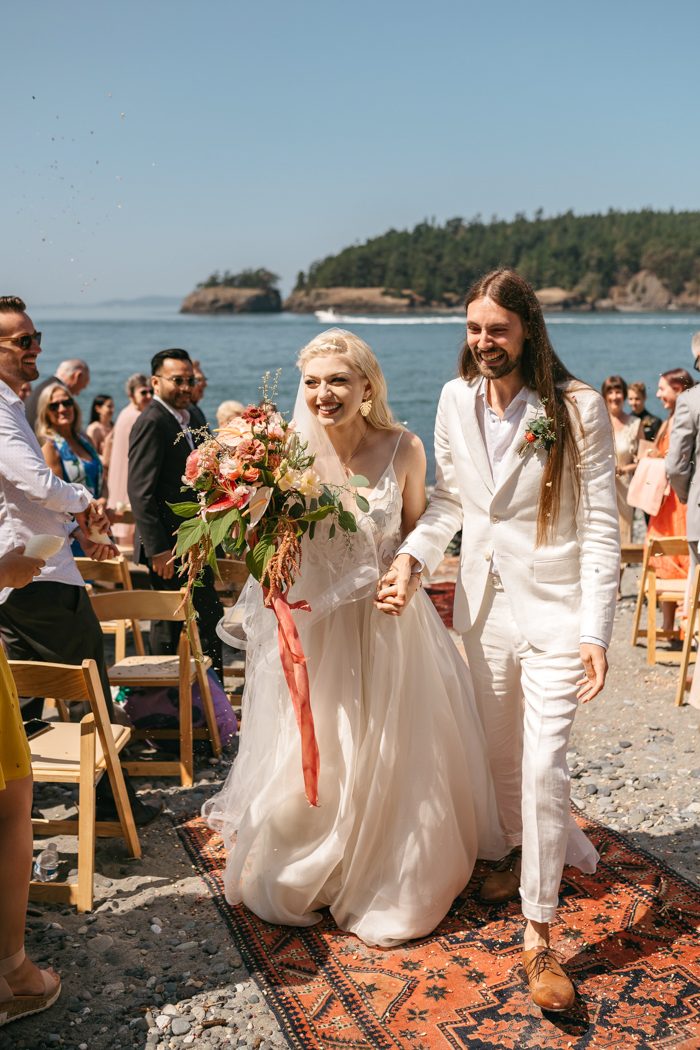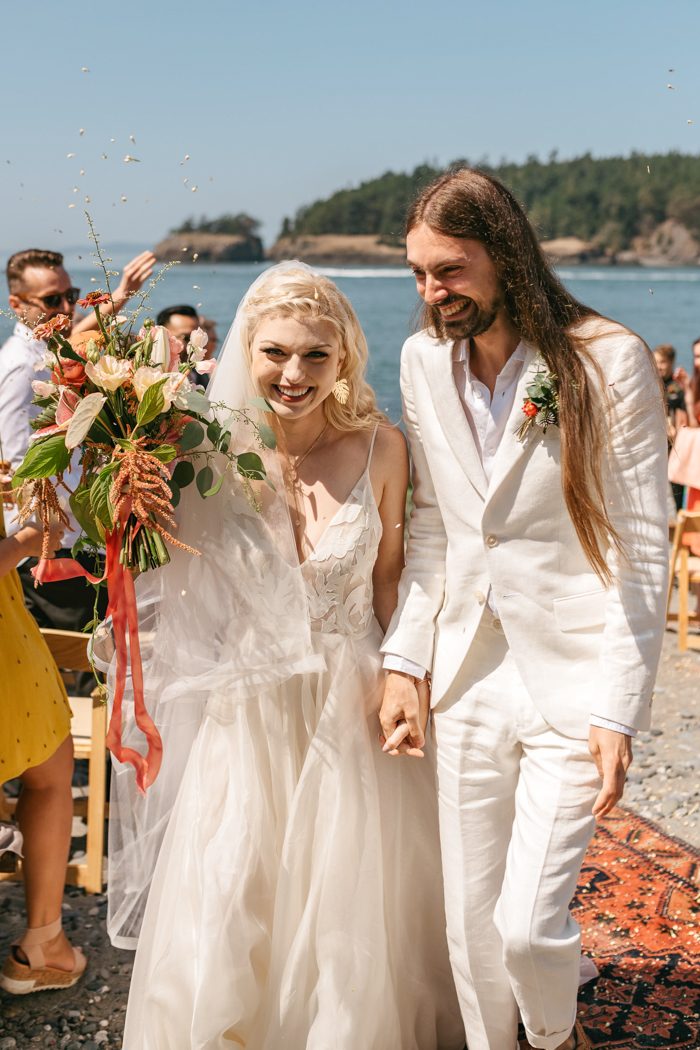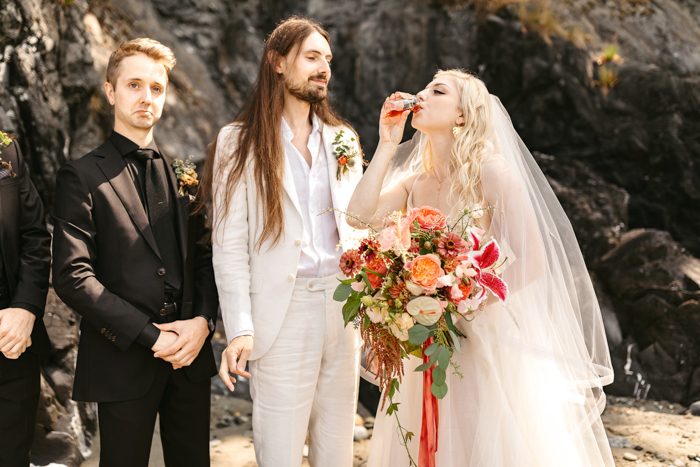 Lee is a bartender and loves making cocktails. We were engaged in Italy and pretty much lived off Negroni's and Aperol Spritzes while we were there. We wanted to give our guests a taste of Italy as a little prefunk to our ceremony, so Lee batched 80+ miniature bottles of Negroni cocktails and set them out at the beach for guests to sip on before the main event. Mel decorated the bottles with tiny quartz crystal points and tags to personalize them. They were a big hit with our guests.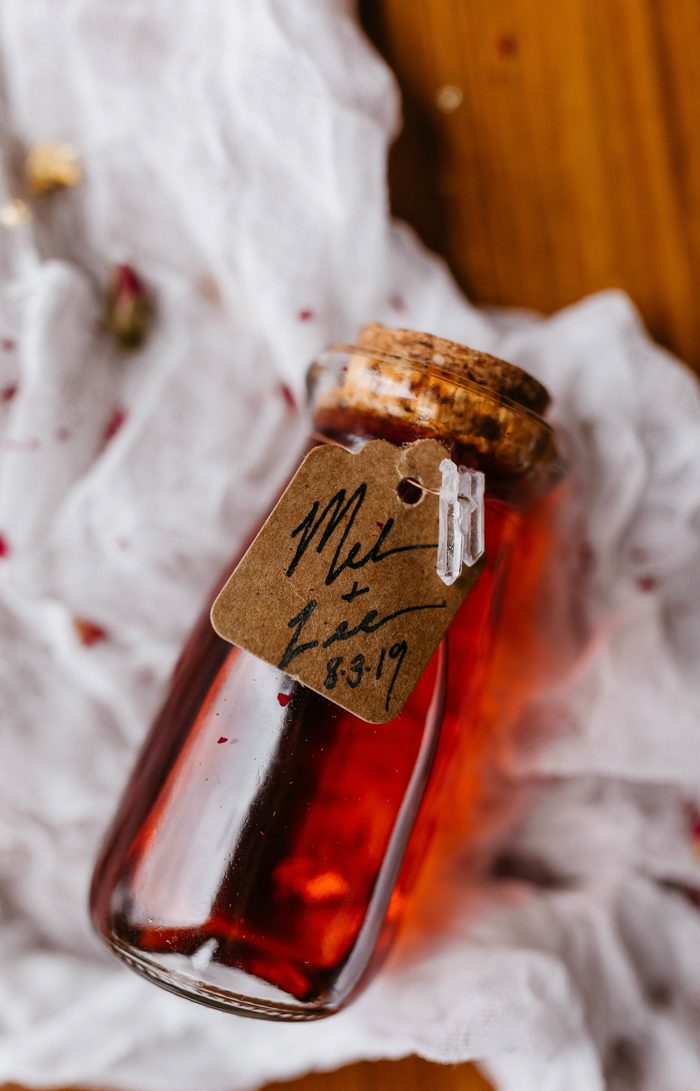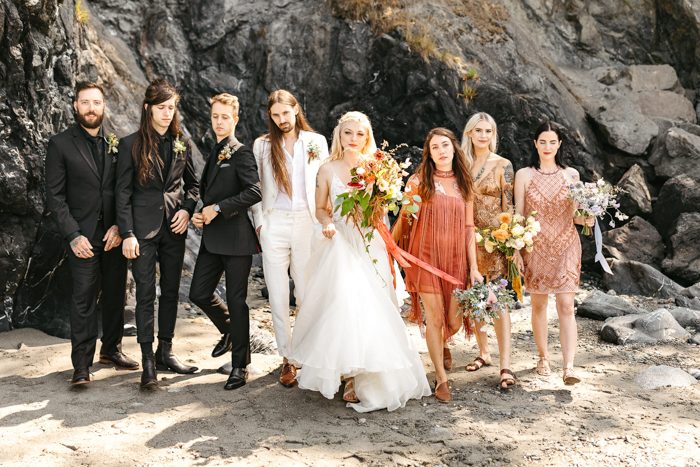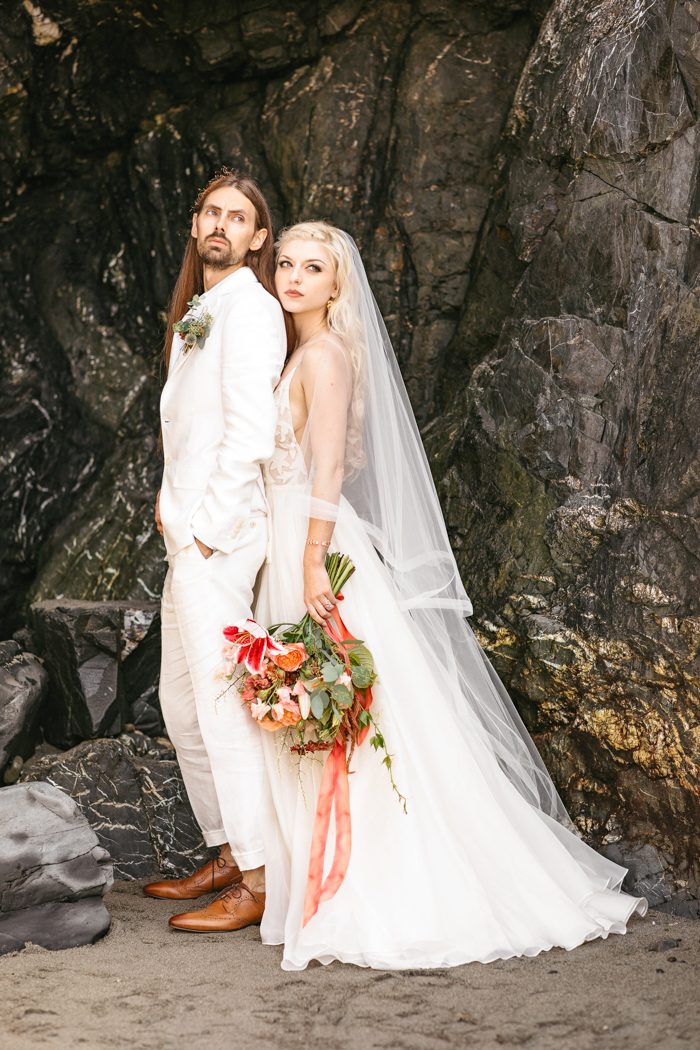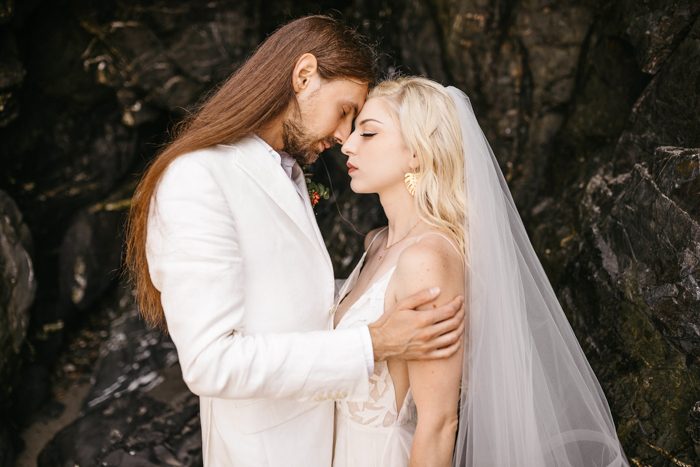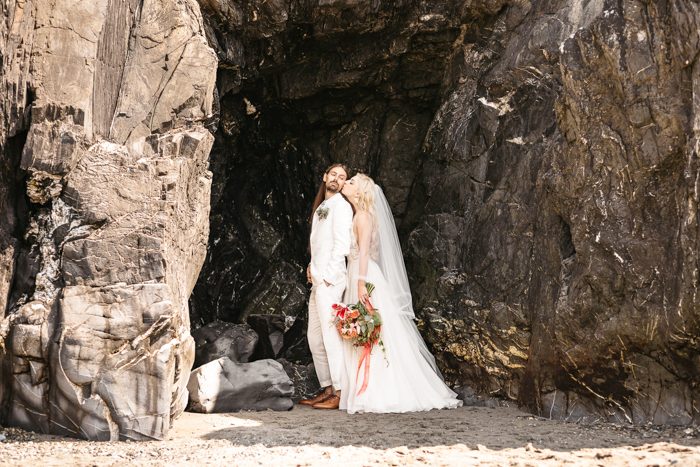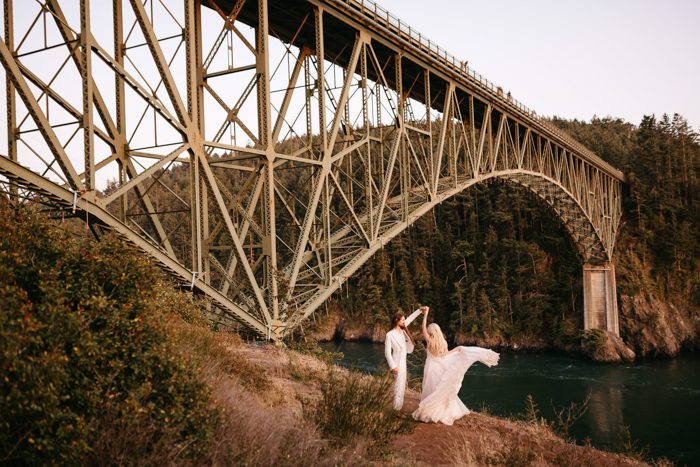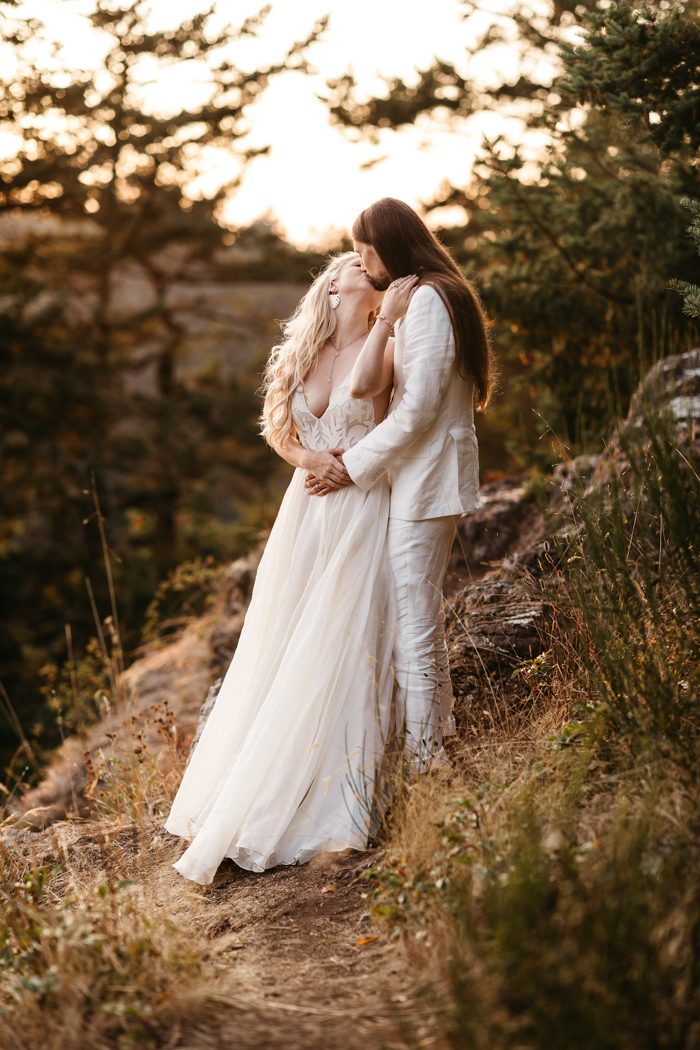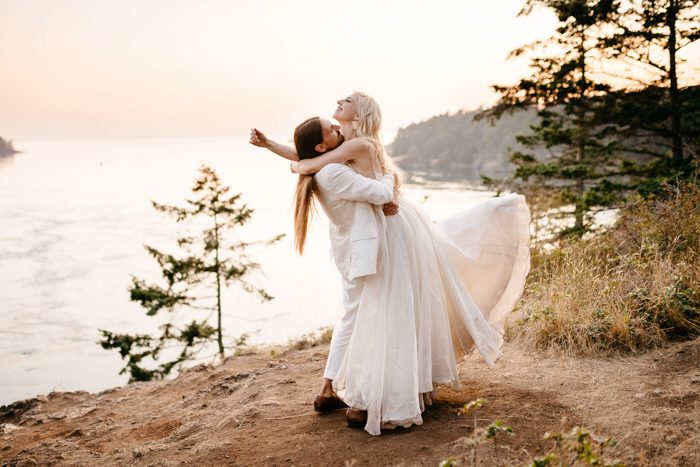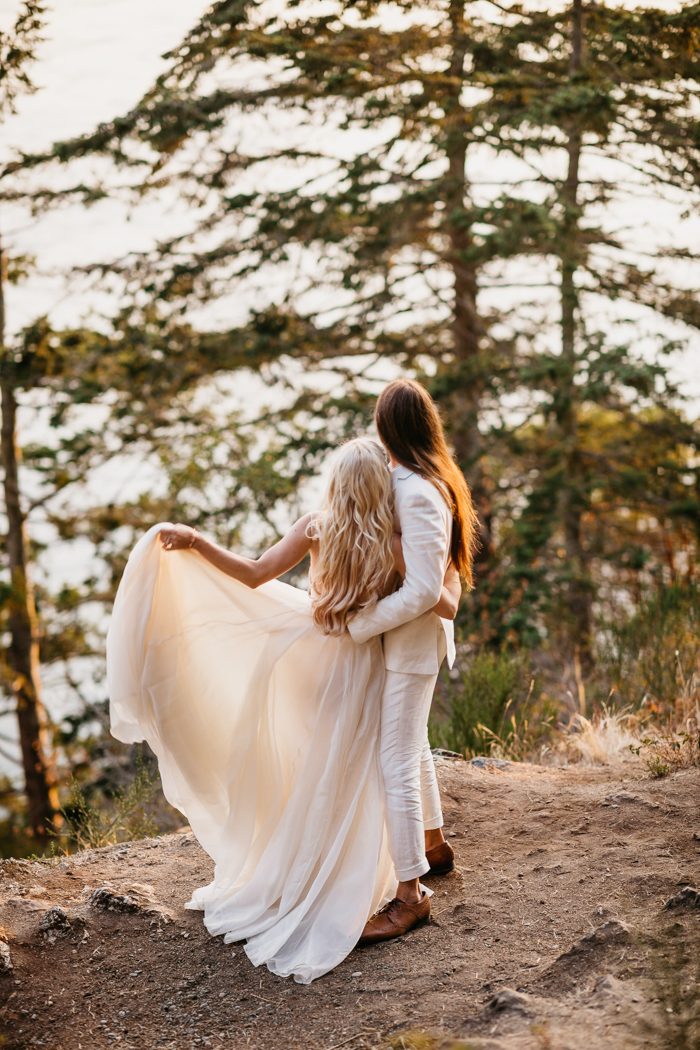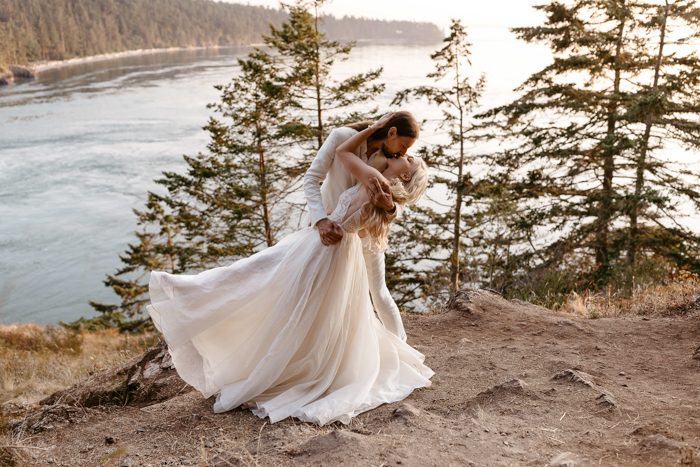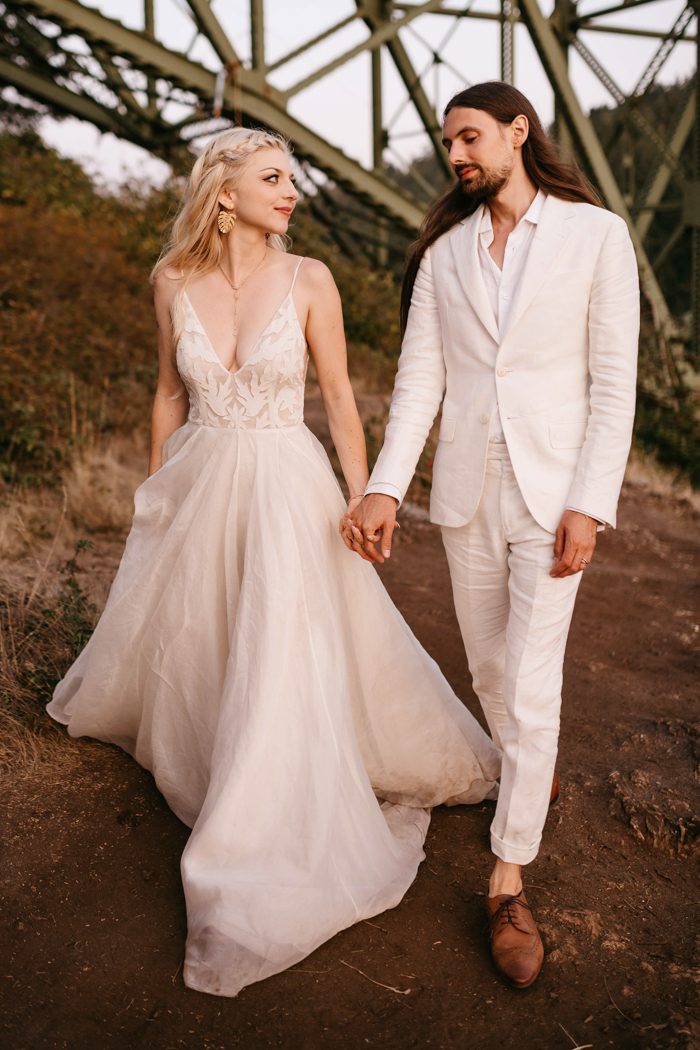 After our sunset portrait session underneath the Deception Pass Bridge, we walked back up to get on our shuttle and found the whole bridge had been closed to one lane of traffic for overnight construction. We were expecting the road crew to shoo us off the bridge with a stern warning, but instead they all wanted photos with us! They held off traffic for us to run across the bridge, entirely free of cars. Being that it's a major highway, and the only road on and off Whidbey Island, it was an incredibly surreal once in a lifetime opportunity, and the perfect end to the day. Jaki and Kamra captured that moment beautifully, without any planning, all while running to catch up with us.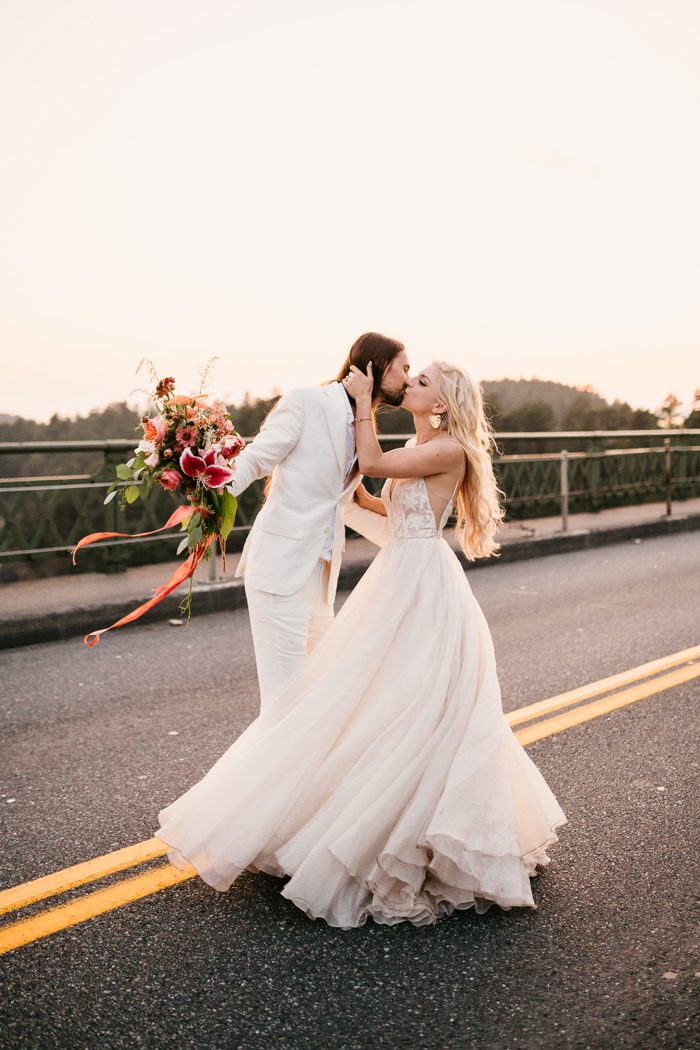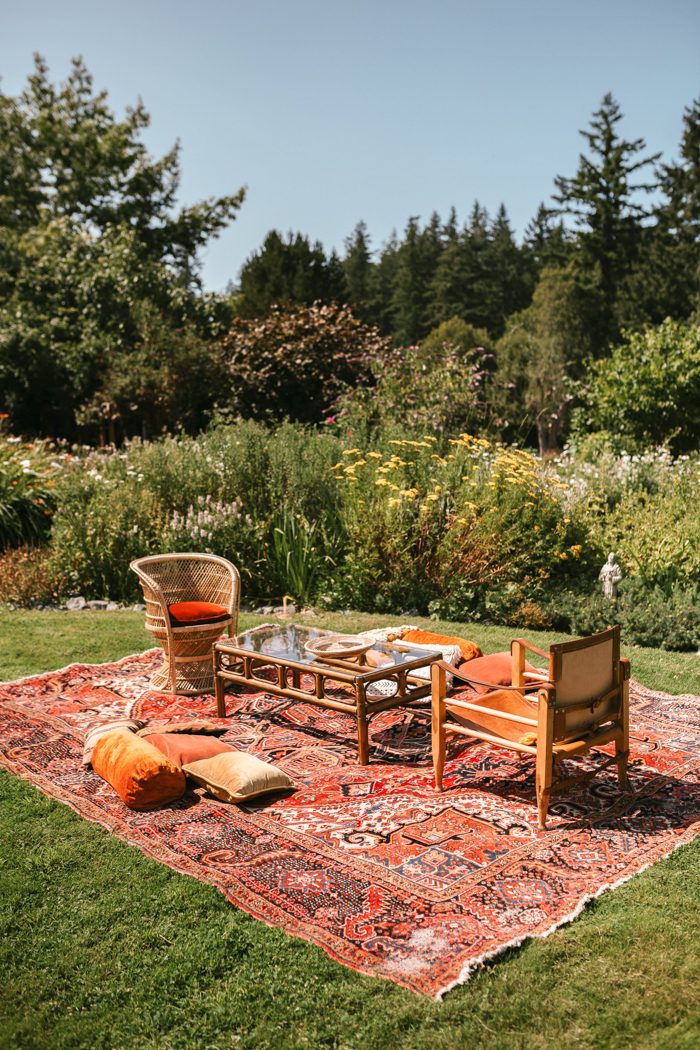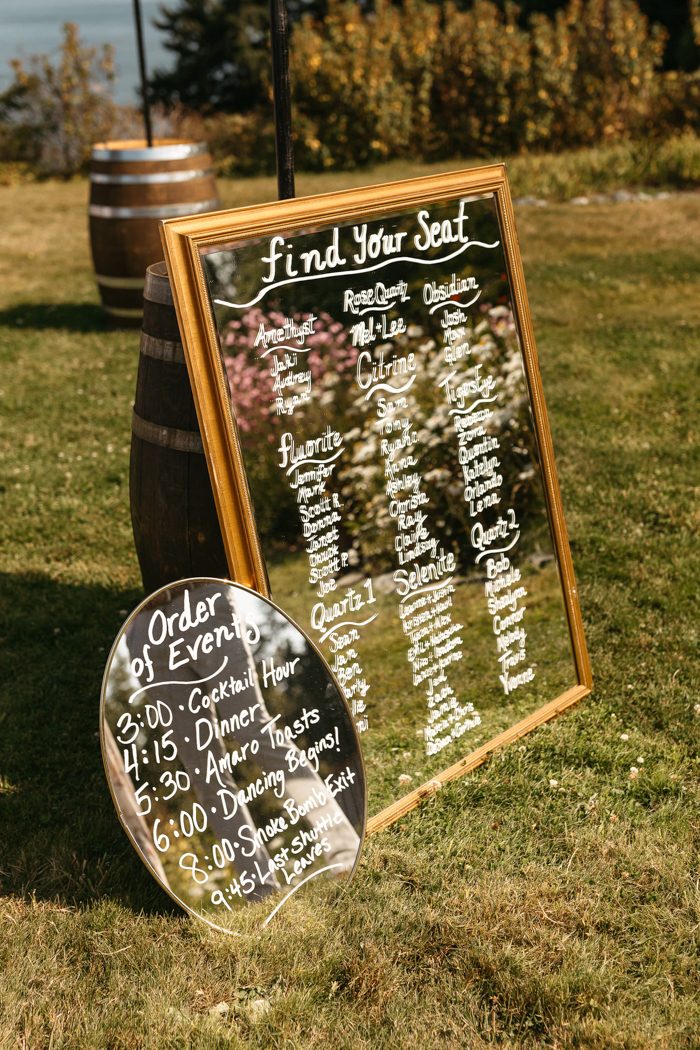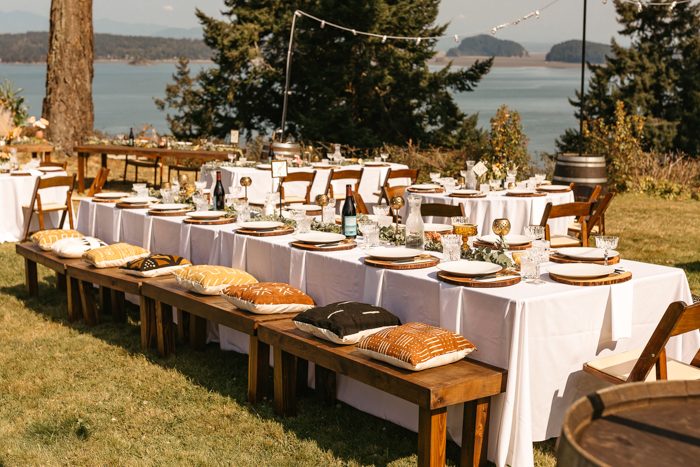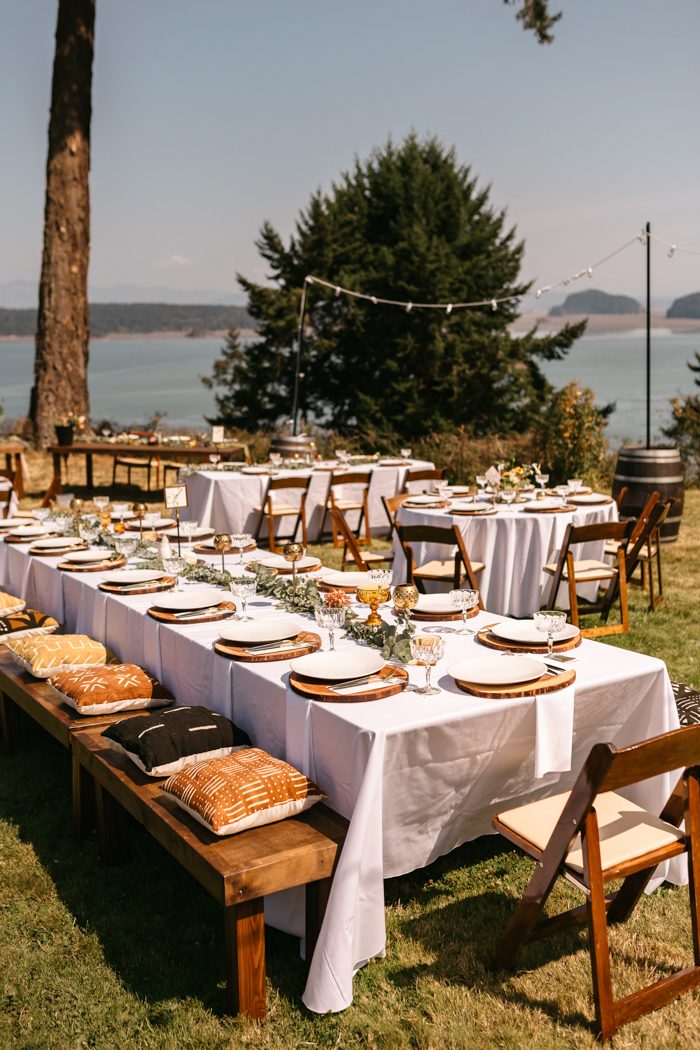 We wanted to include as much of "us" as possible. We started our business, Modern Nest Northwest, selling mid century and boho vintage furniture and housewares two years ago, so it was important that we bring that into our big day with pieces we already had in our house. We wanted it to feel like a relaxing vacation for ourselves and our guests, with a ton of personal touches and details to remind us what the day was all about. It also gave our friends and family a look into our business and our design aesthetic.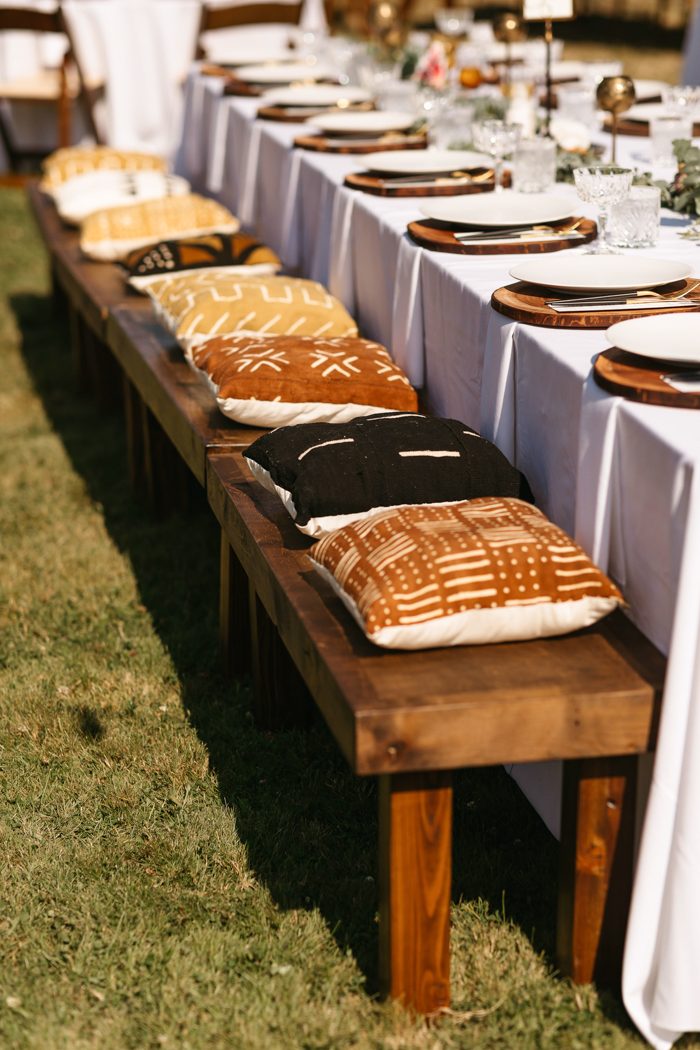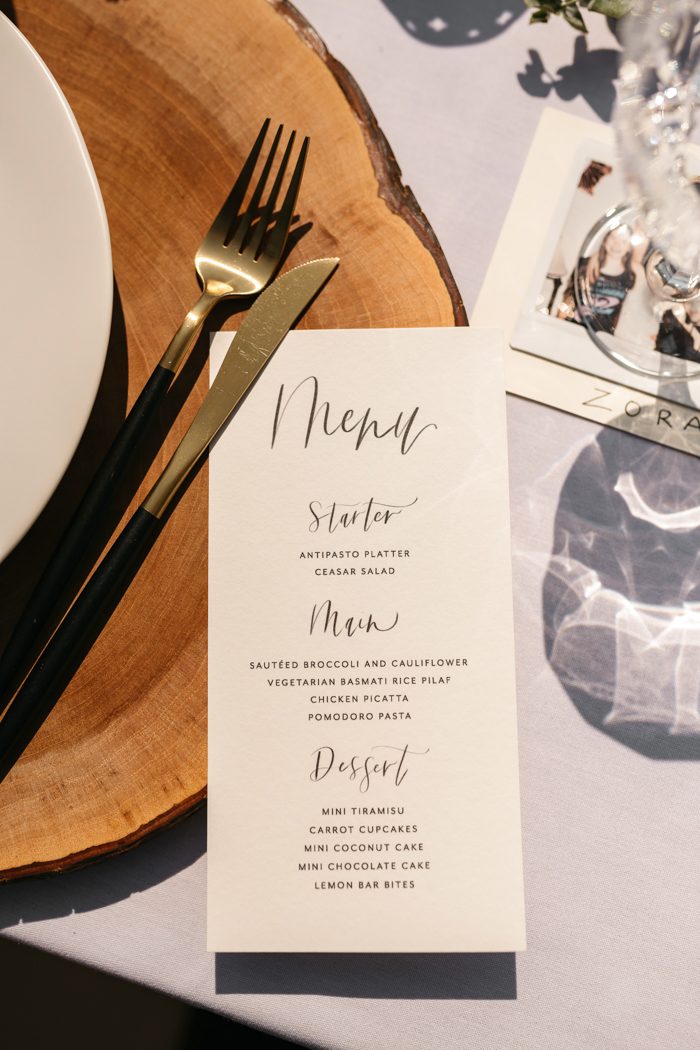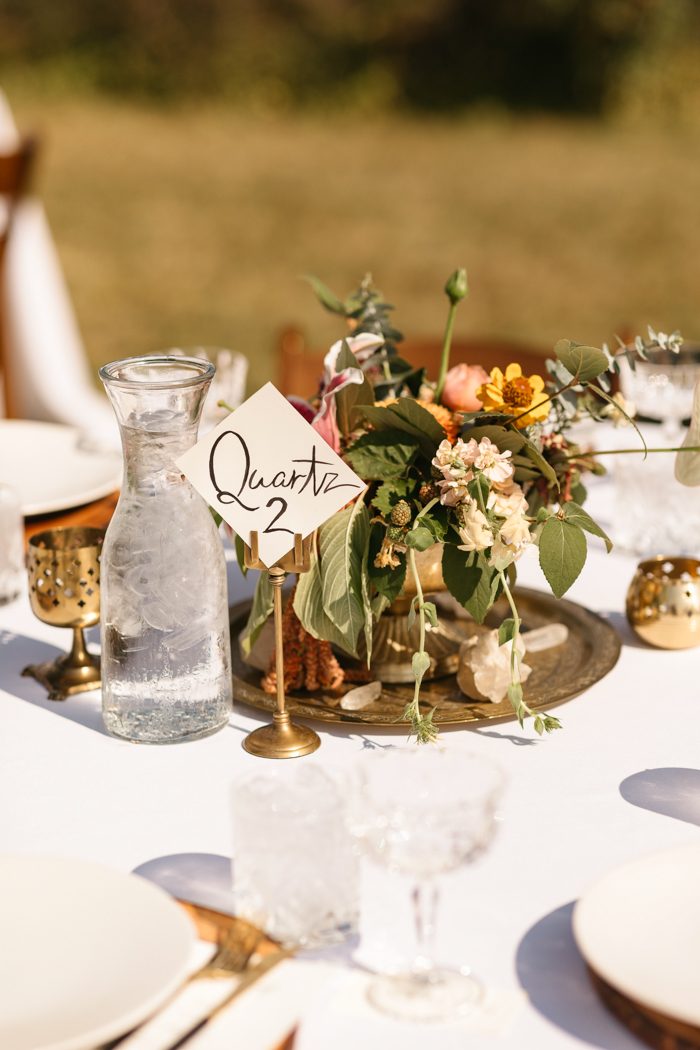 We didn't want to focus so much on "matchy matchy" colors, but more of an eclectic blend of earth tones, monochrome and neutrals, and using natural elements where ever we could. We themed each table around a certain crystal to utilize Mel's large crystal collection. Each table had a different set of crystals on it (the head table had rose quartz, bridesmaid table had amethyst, etc.) and our amazing floral designer based her arrangements around the colors of the crystals. We pre-designed each table scape on our own kitchen table, then took photos of it and placed them in a box with the corresponding decor for our event planners to set up on the day of.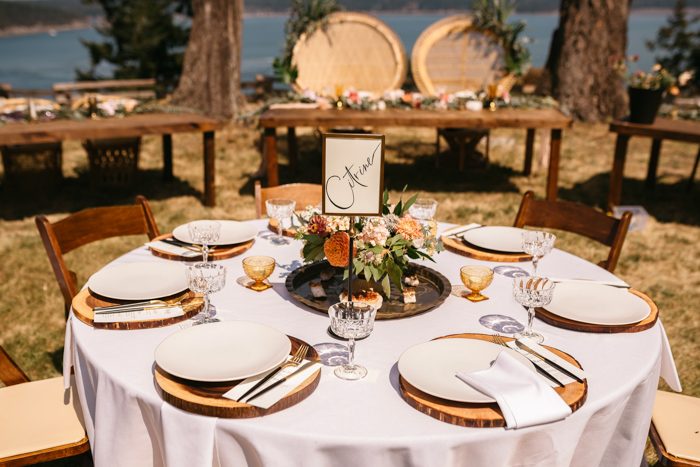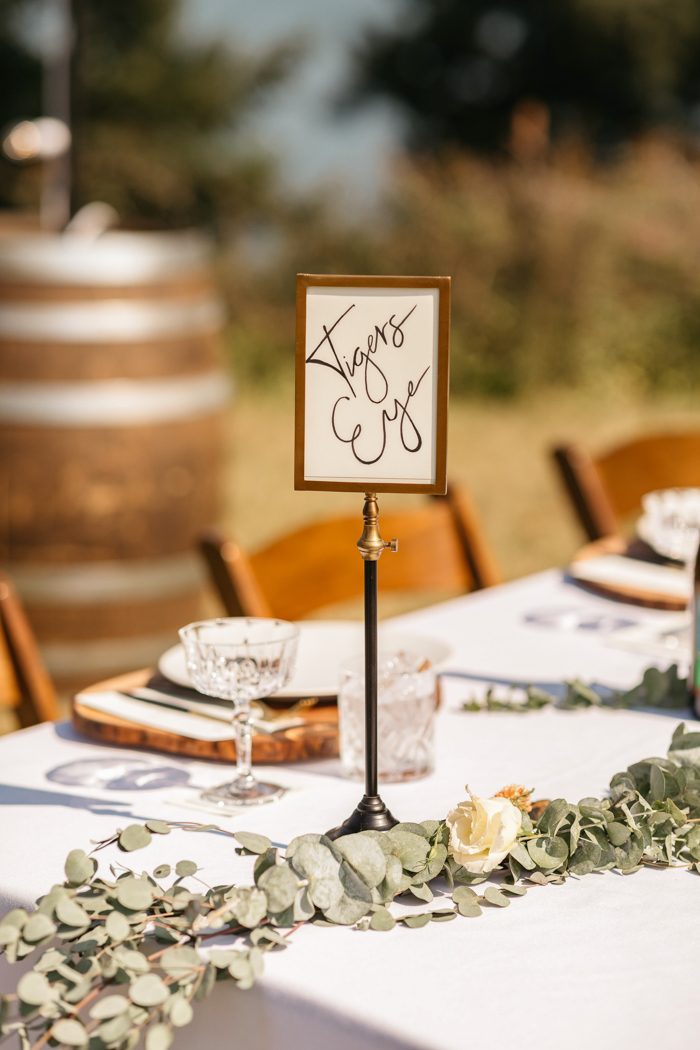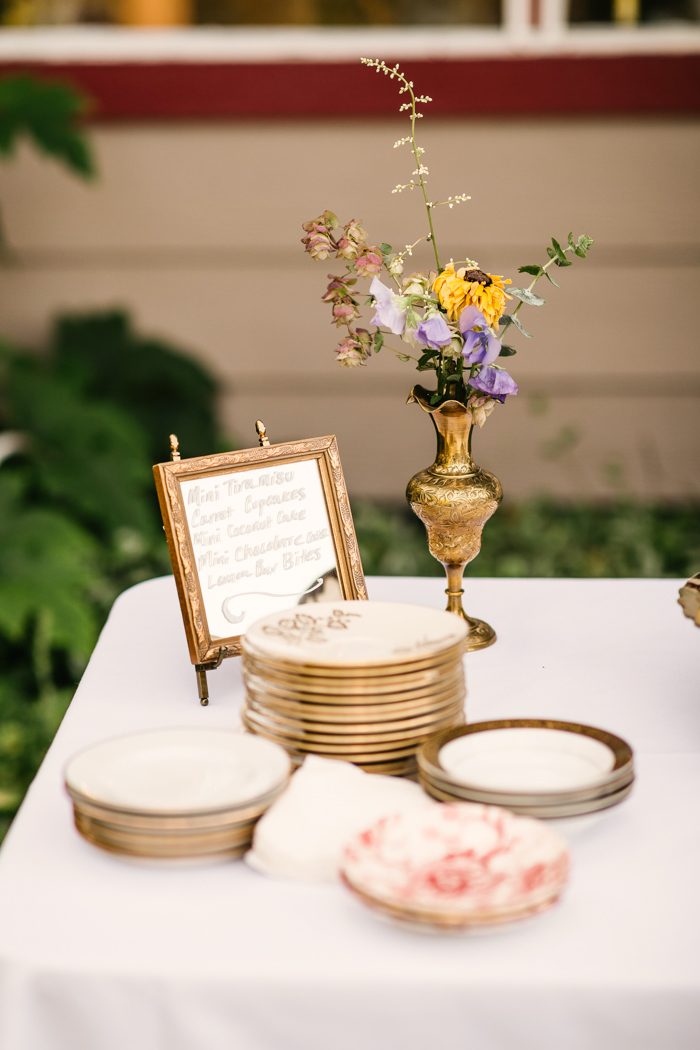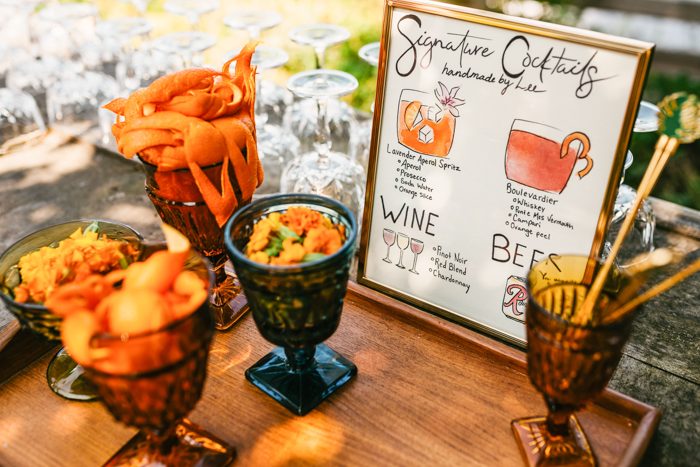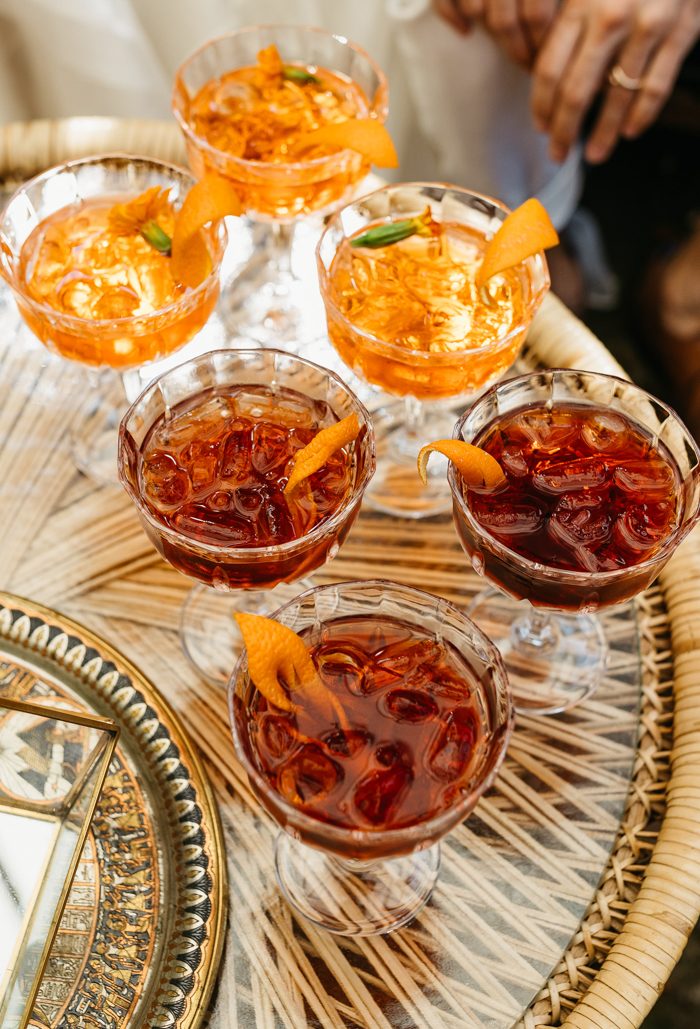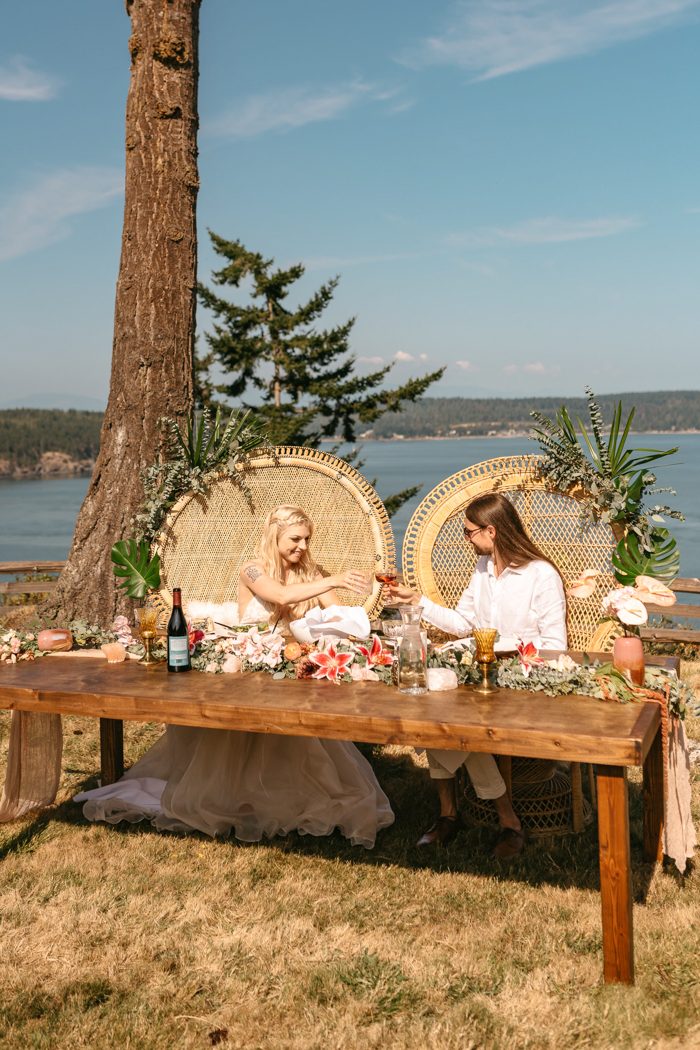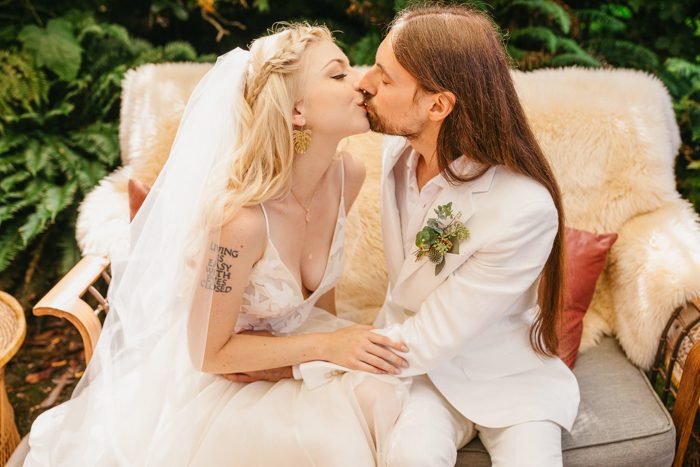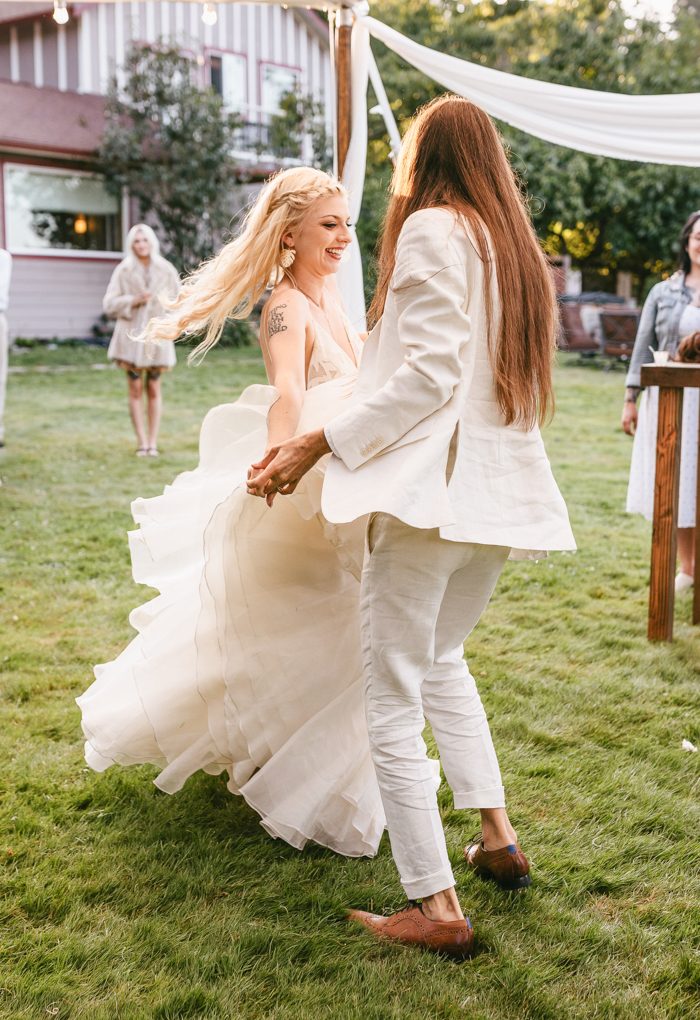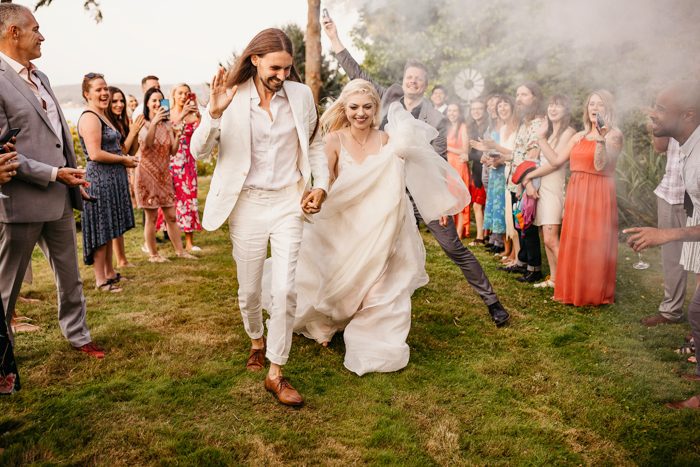 Congratulations to Mel and Lee on their Whidbey Island wedding, and many thanks to photographer Jacquelyn Portolese Photography for sharing it all with Junebug! Love these eclectic, earthy vibes? We think you'll enjoy seeing how this couple made their Big Jackfish Lake wedding feel intimate with earthy eclectic vibes.