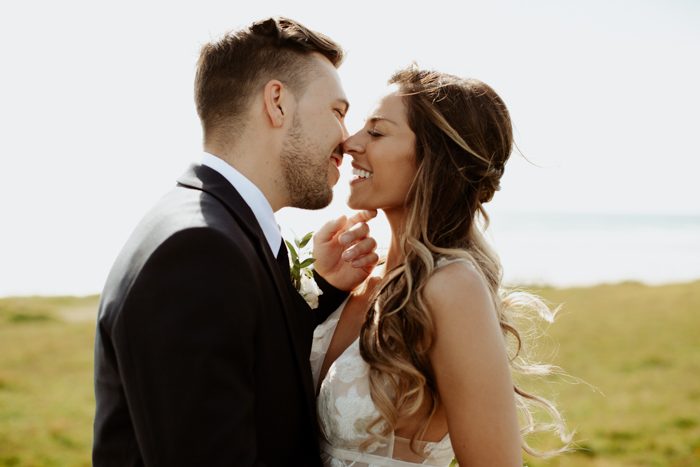 After Ariel and Cedric's wedding venue was tragically destroyed in the California wildfires, the two decided to plan a dreamy France destination wedding that incorporated traditions and culture of the location. Staying true to her Californian roots and style, Ariel looked absolutely breathtaking in a Willow by Watters gown that moved effortlessly from the couple's stunning portraits by Dani Purington to their rad dance party! We are also loving the simple, yet glamours floral design by Etamines Fleurs, and can't wait for you to see all of the amazing details from this France destination wedding—including a totally awesome Champagne saber by the groom!
The Couple:
Ariel & Cedric
The Wedding:
Private Residence, Plonéour-Lanvern, France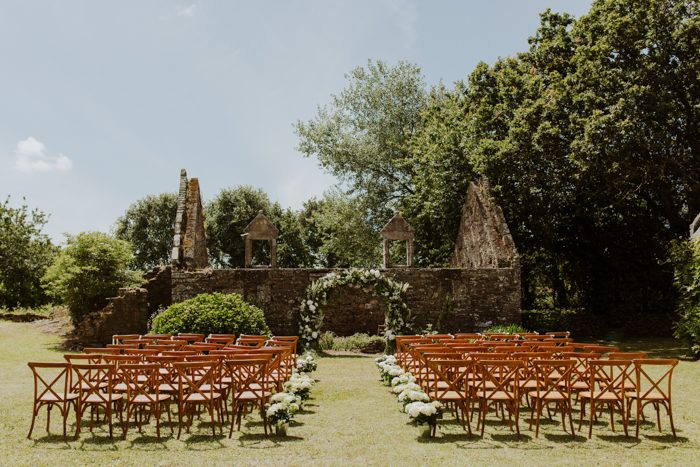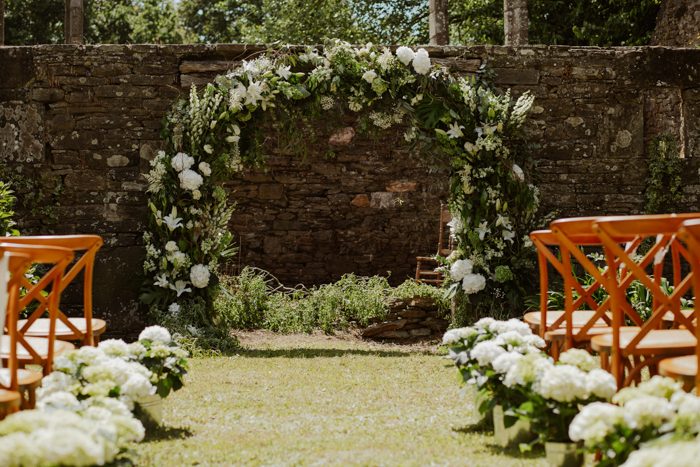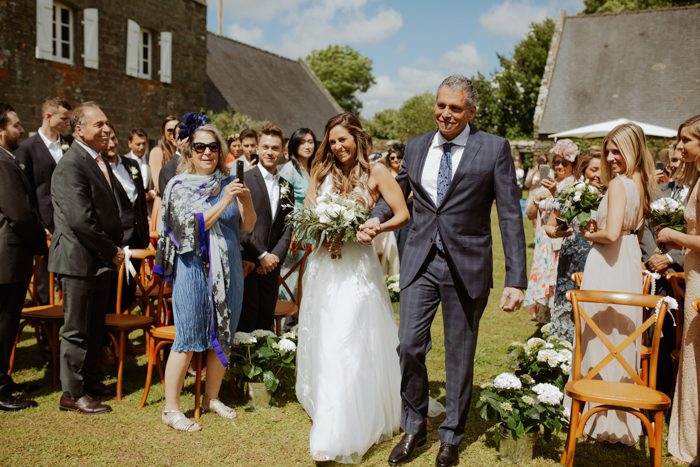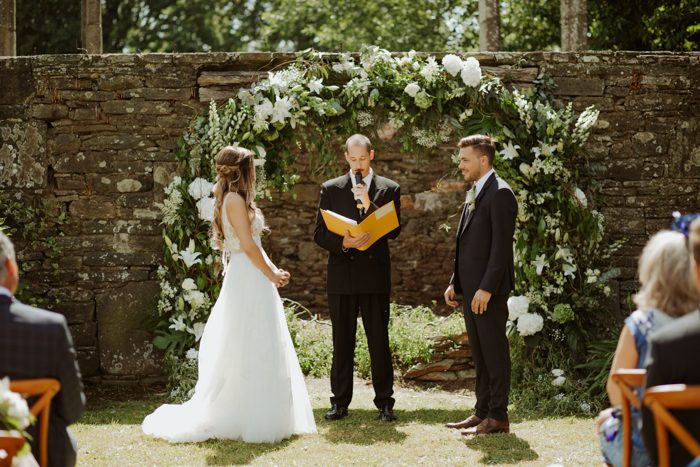 In November 2018, we learned that our venue had been destroyed by the fires that ravished Malibu. We were heartbroken, both for our future wedding plans and for the owners of the property who we had come to adore. When that happened, all I could think was, I don't think I can plan another wedding in California. We decided, let's do something completely different. Cedric's family has a stone manor from the 12th century in Northwestern France in a region called Brittany. He had traveled there often as a child and I had visited it once with him when we were in college. I remembered just how magical it was and how it would be the perfect place for us to start our next journey together. There is a ruin on the property named La Maison Des Enfants (The Children's House). It had always been our plan to restore the ruin, and we decided, why not now? We moved from NYC to France in May 2019, quickly pulled together the final wedding details, got married under the archway of La Maison, and have since been living at the property, working to reconstruct the Children's House.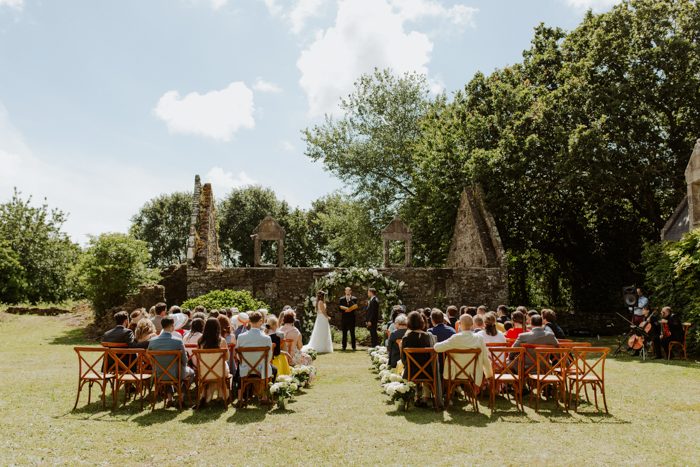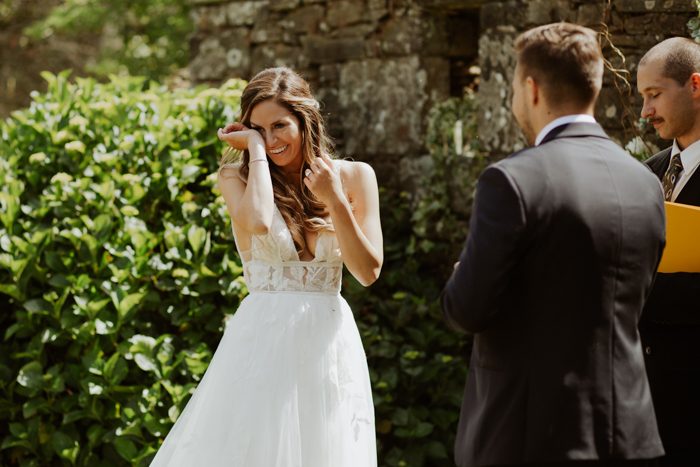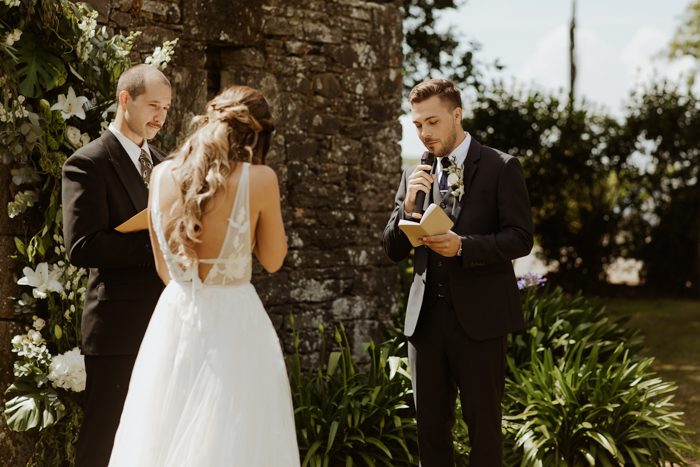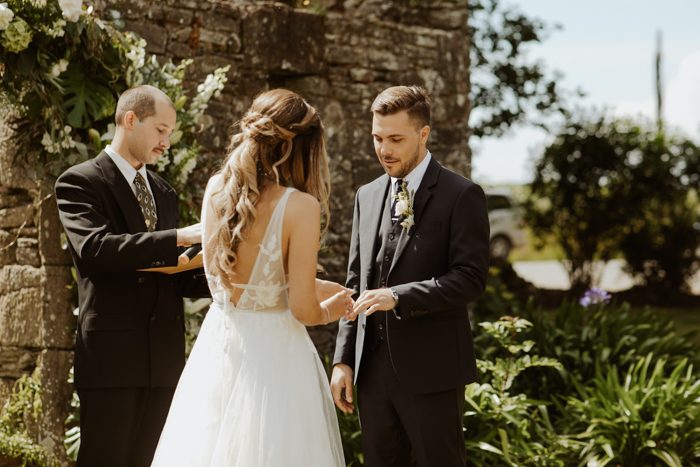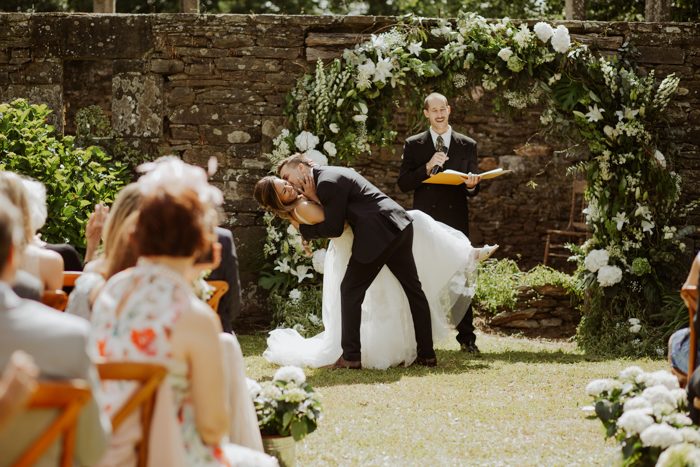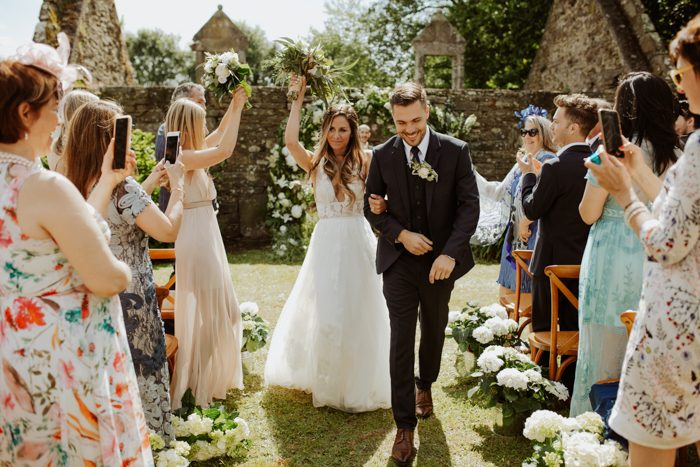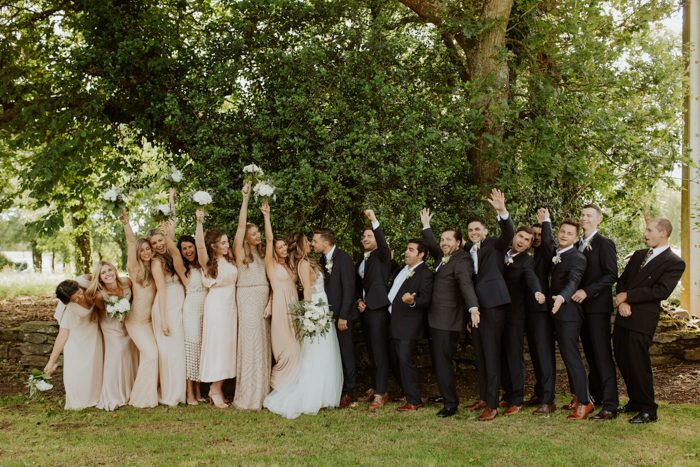 Our photographer was simply the best. She captured all of the moments we had hoped she would, and even more. While I wanted the traditional "after-ceremony" pictures with Cedric, Dani somehow captured so many amazing unplanned first-looks with my family and friends.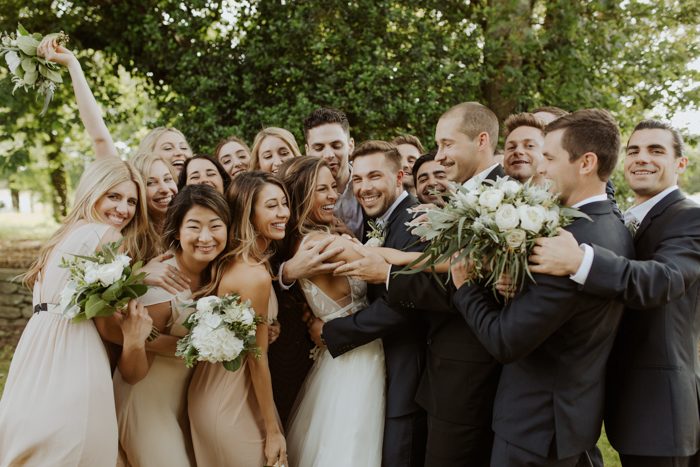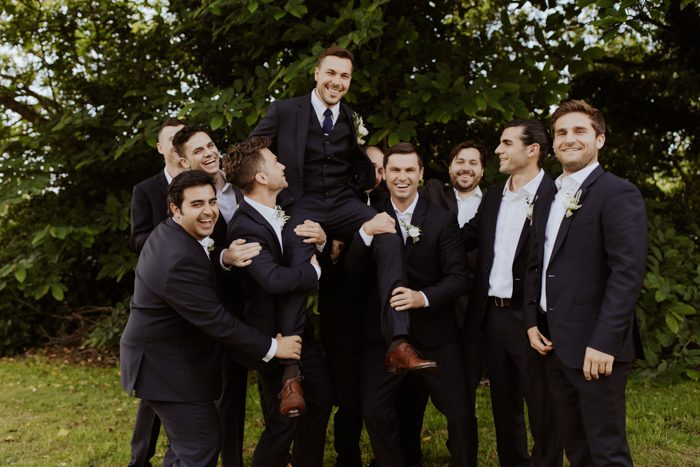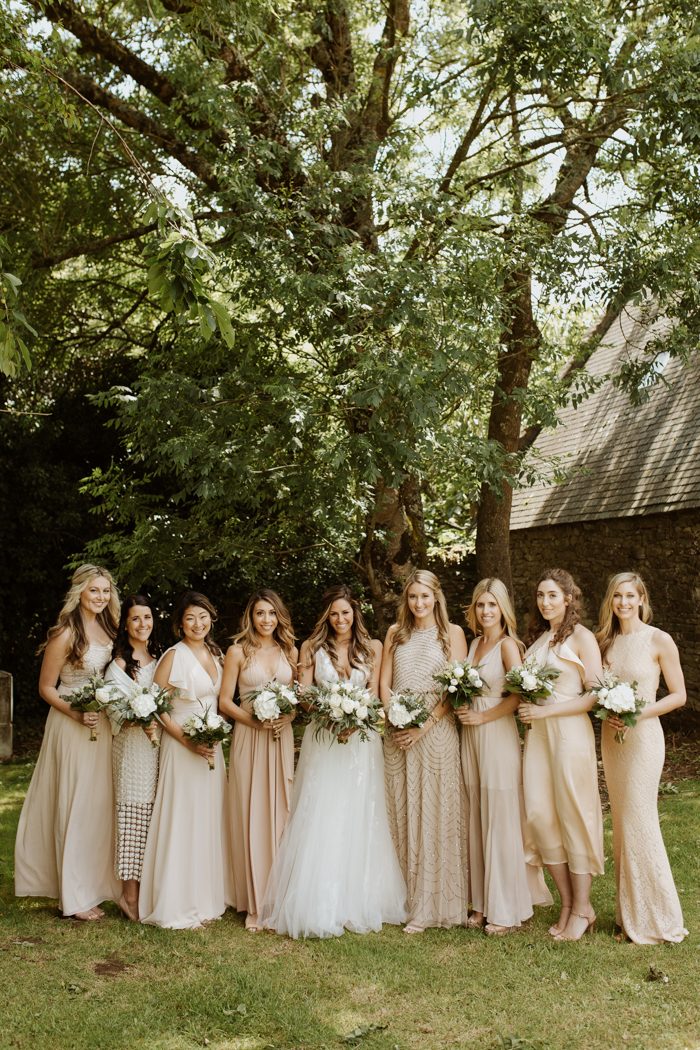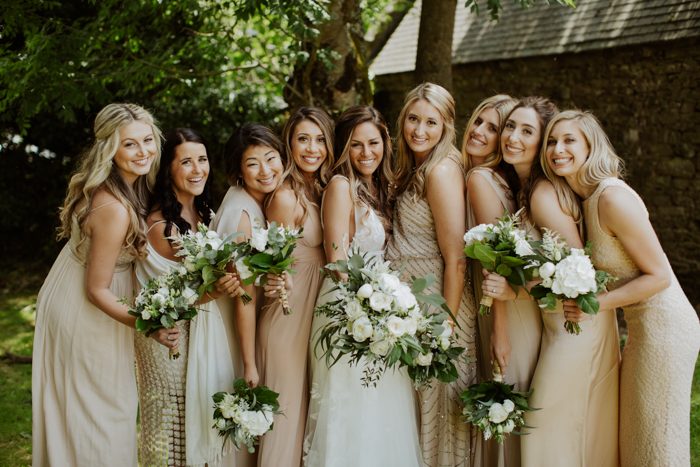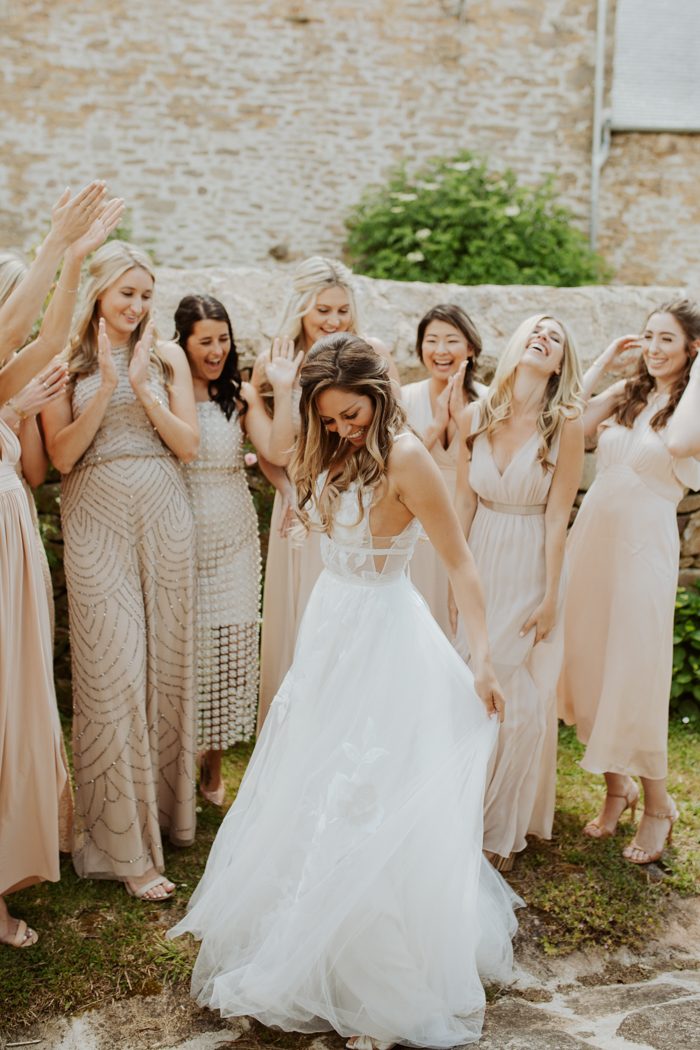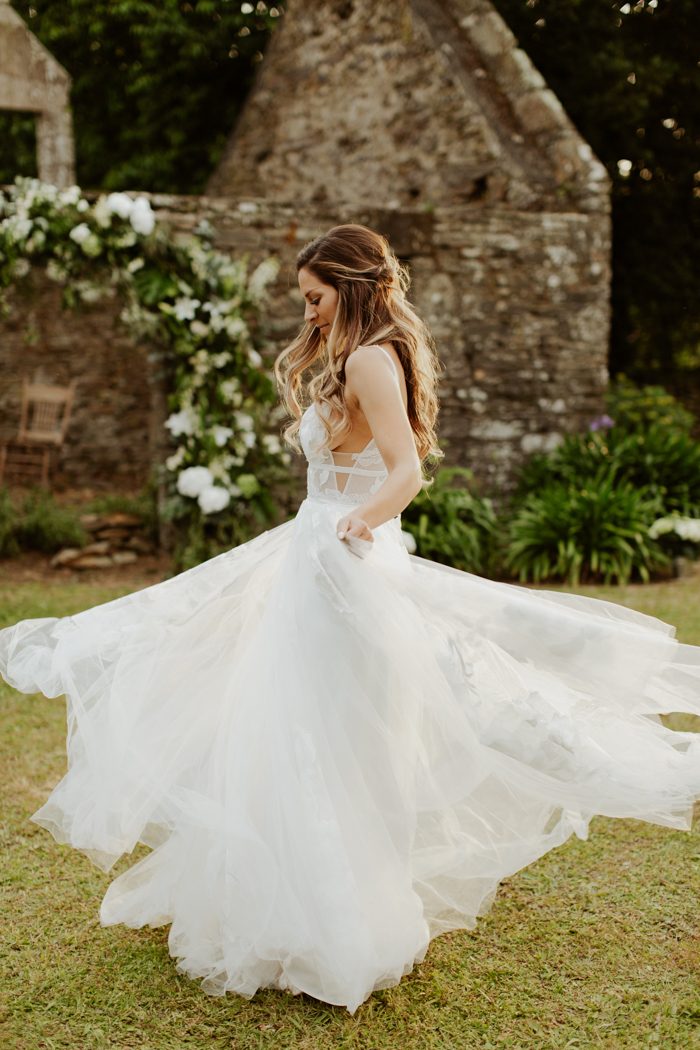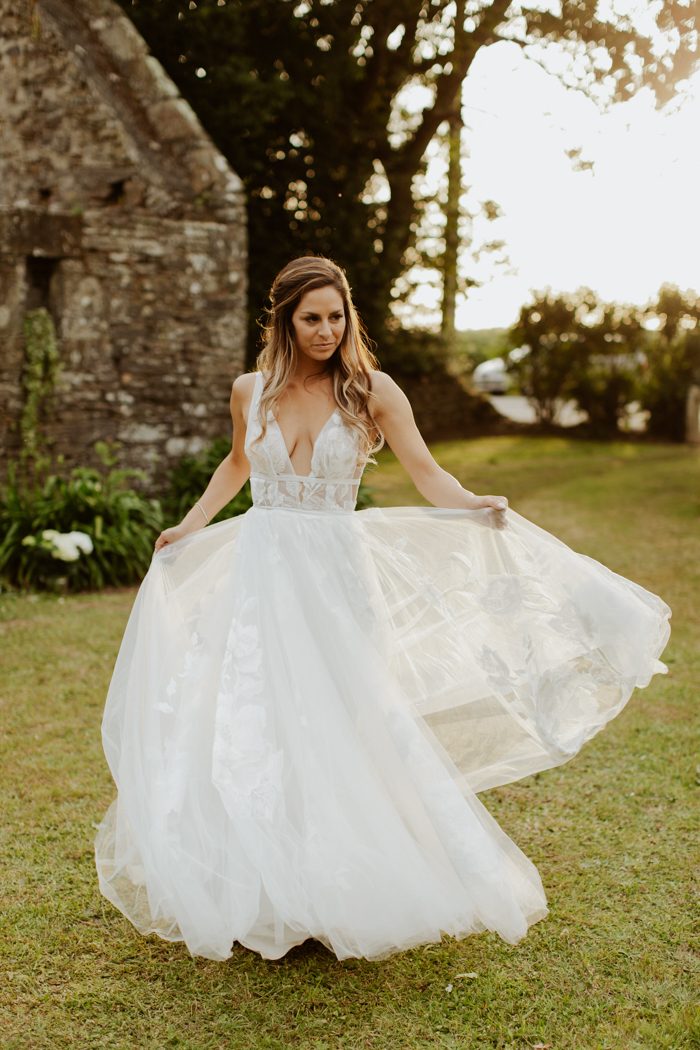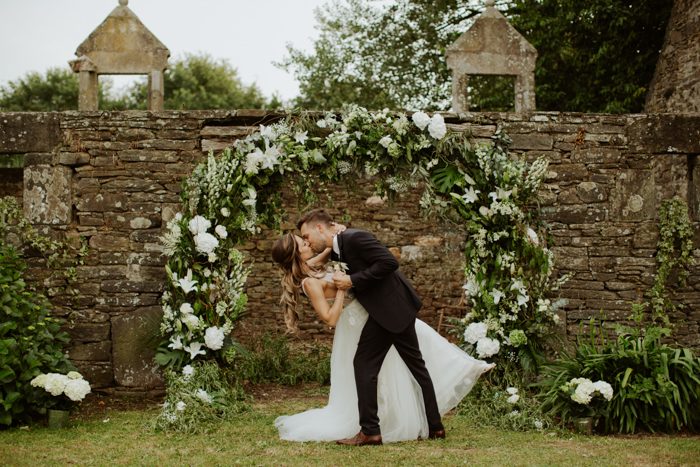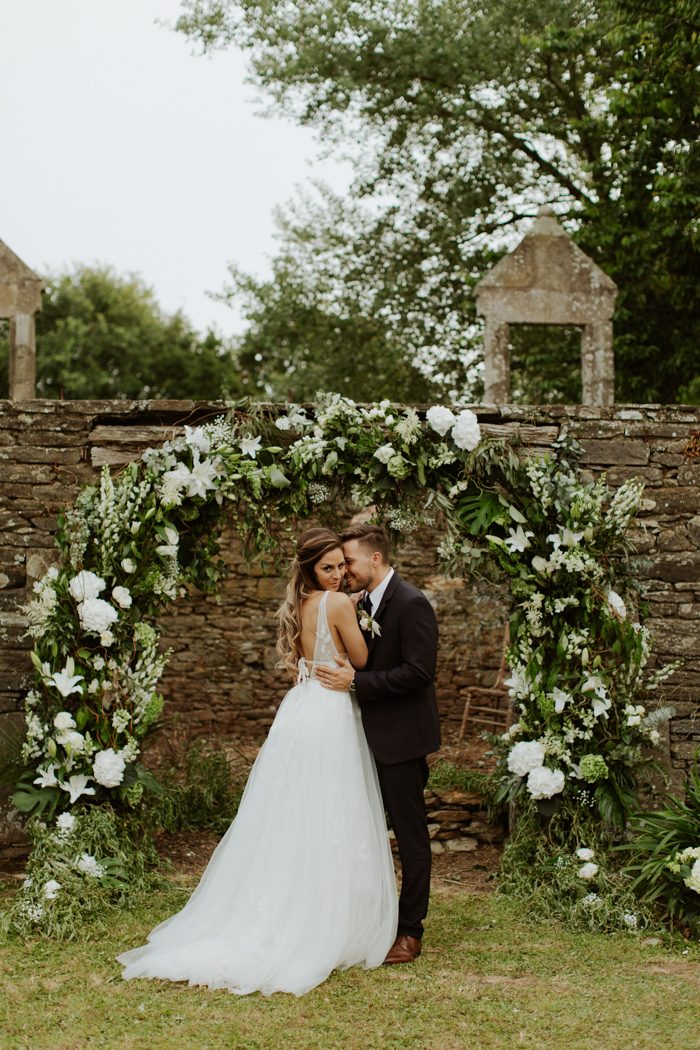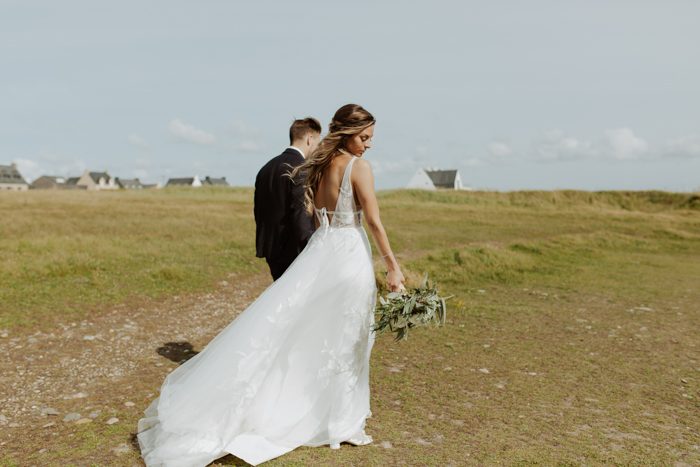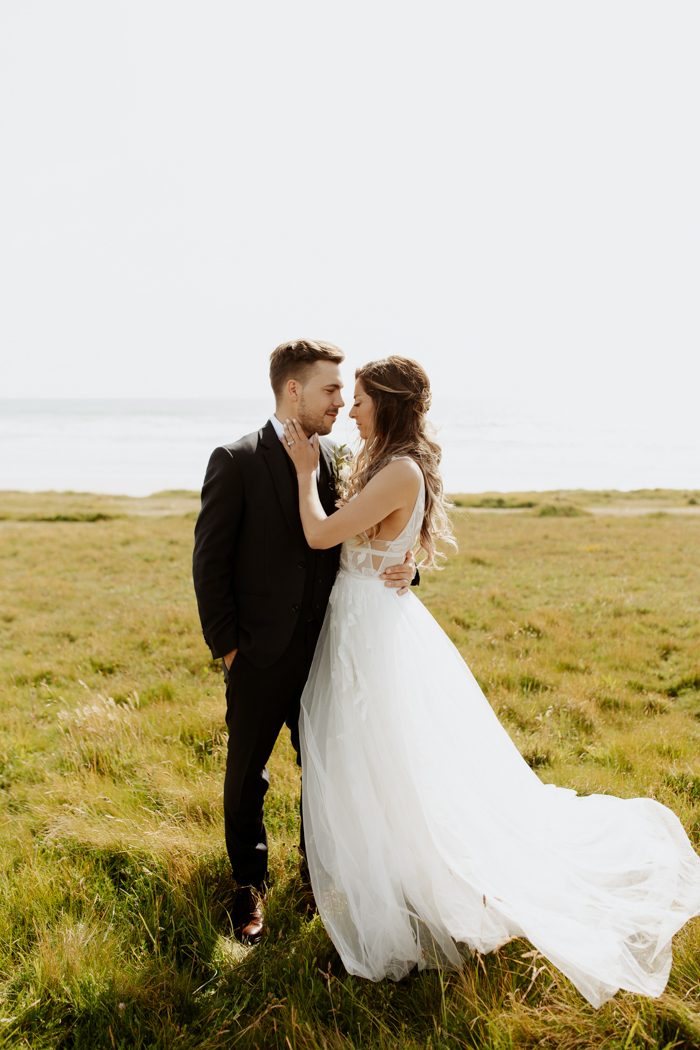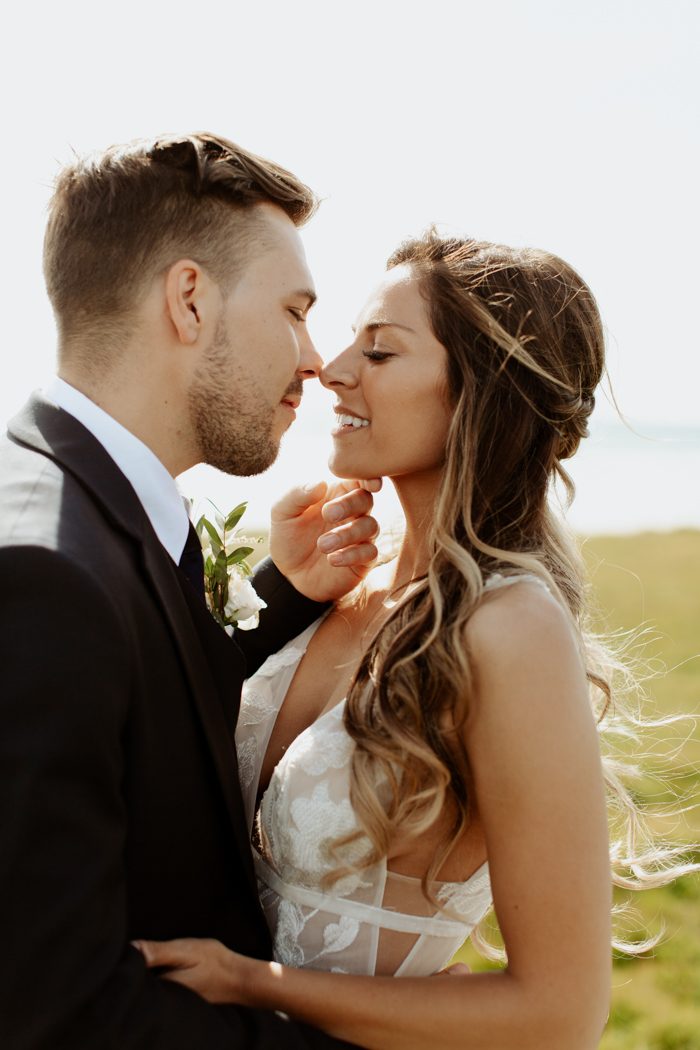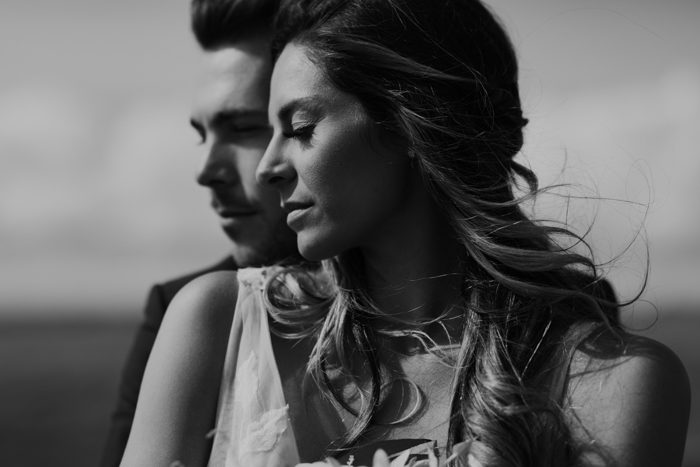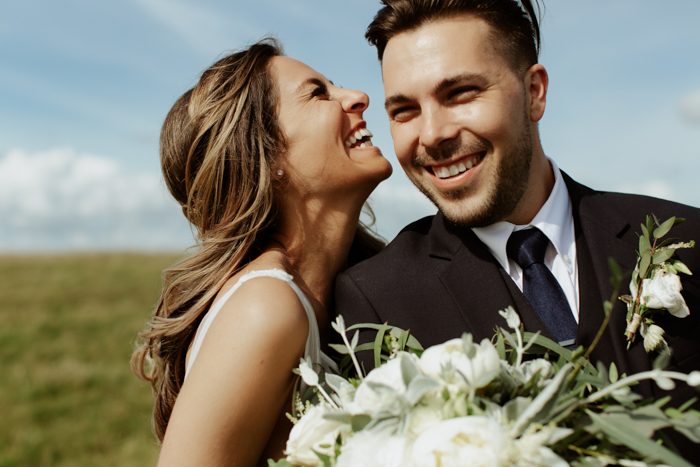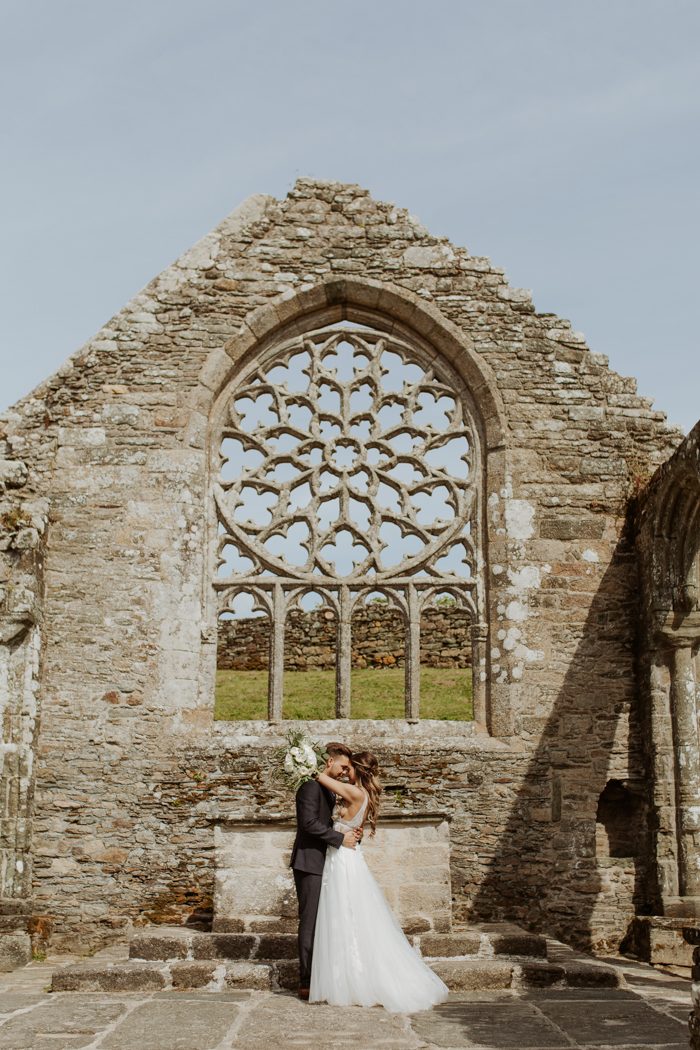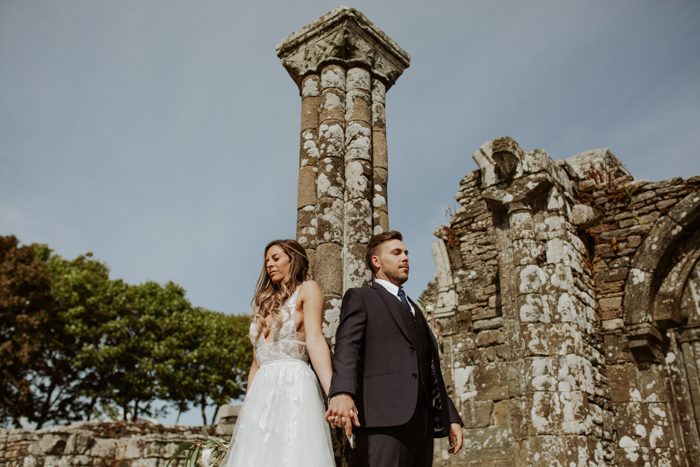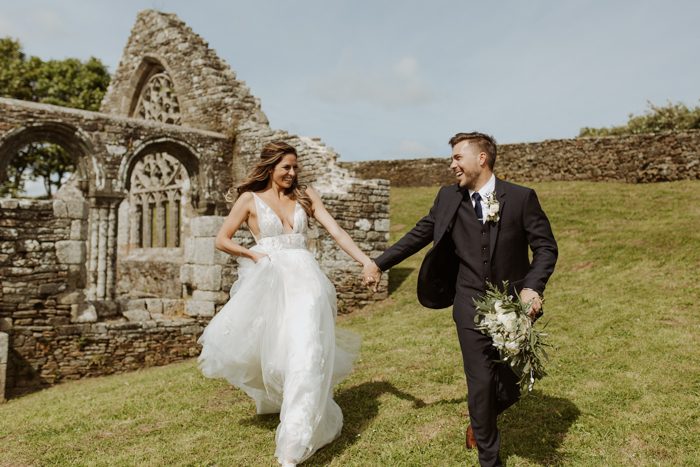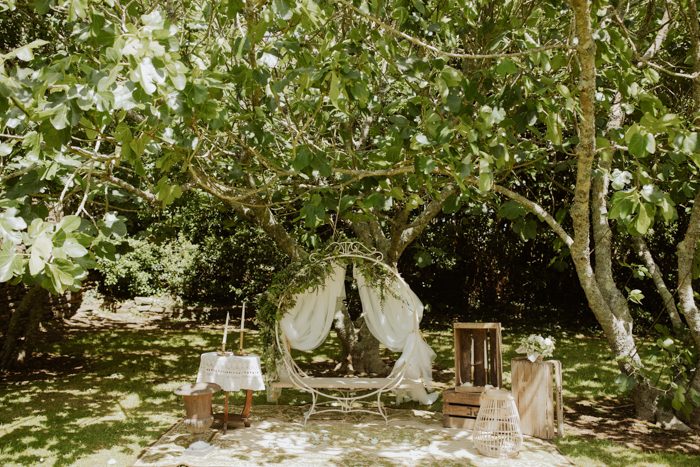 Wedding planning advice from the bride: Consider a wedding planner! Planning a wedding is so exciting, but I think I could have avoided some of the stress if I had hired a wedding planner. Even if the vendors spoke English (and NONE of them did), there are so many aspects that go into that one day that having someone to organize it all and think of things I didn't would have been a huge help!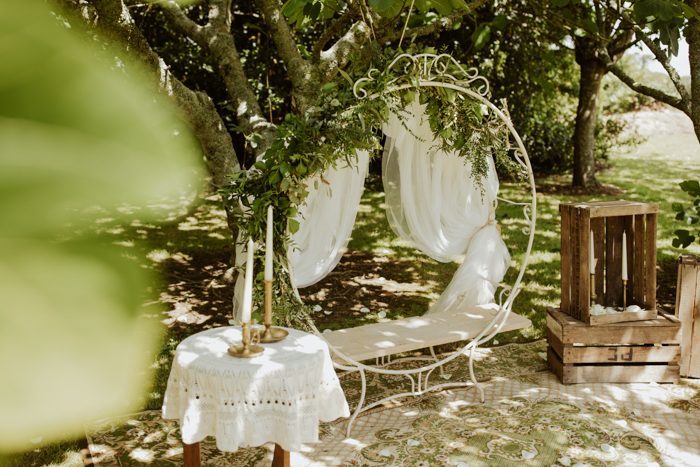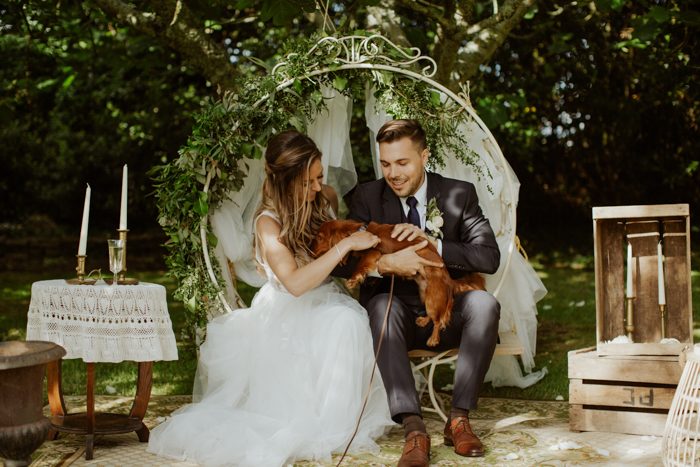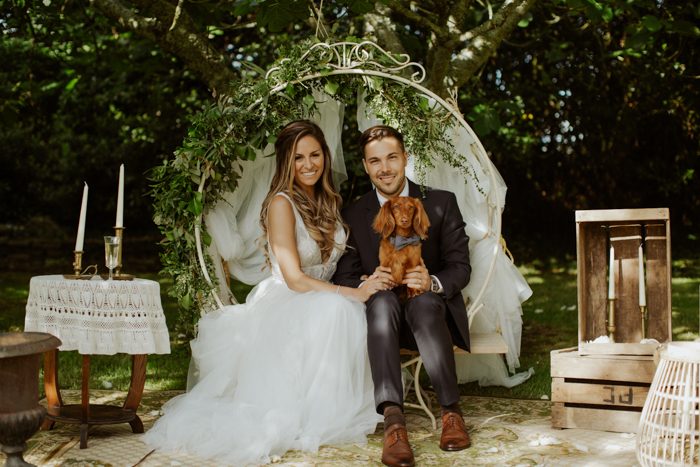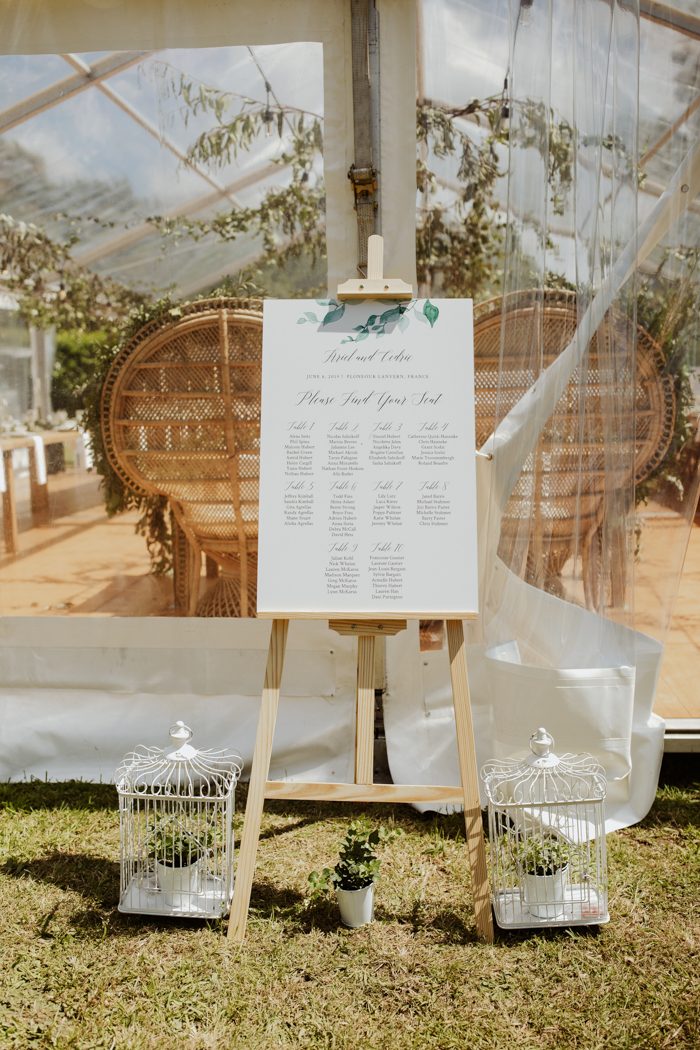 We wanted to give our guests something from the region to take home with them. Cedric and I visited a local honeymaker (miellerie). It was a husband and wife who harvested honey in small batches for the local town. When we told them we would need honey for about 100 people they were shocked, but assured us they could swing it. Well, they surely did. They harvested and jarred honey for all of our guests and it was delicious! My mother-in-law and I wrapped each jar with burlap and twine and voilà!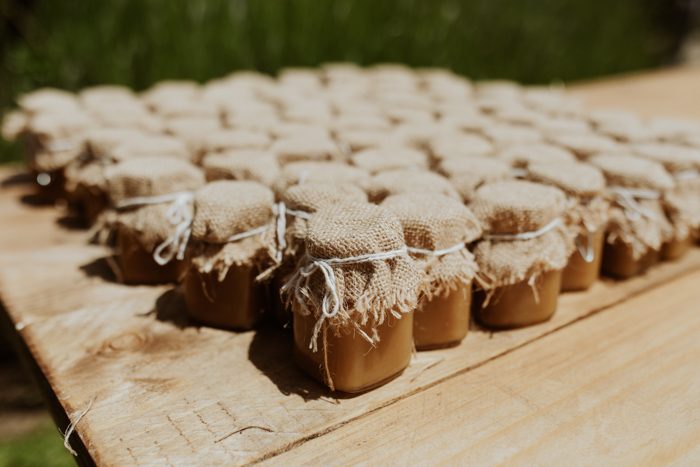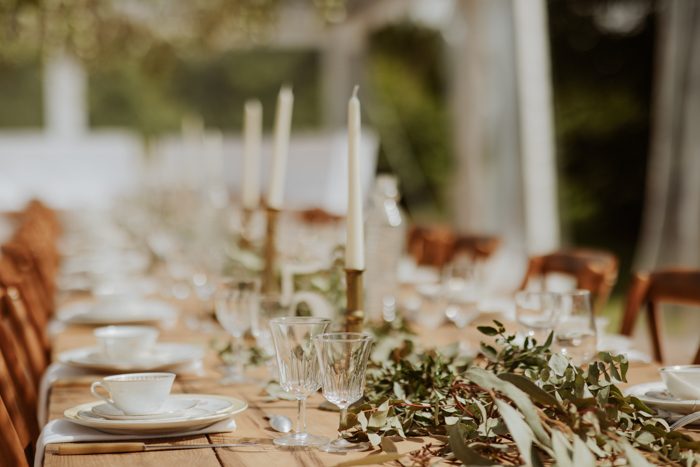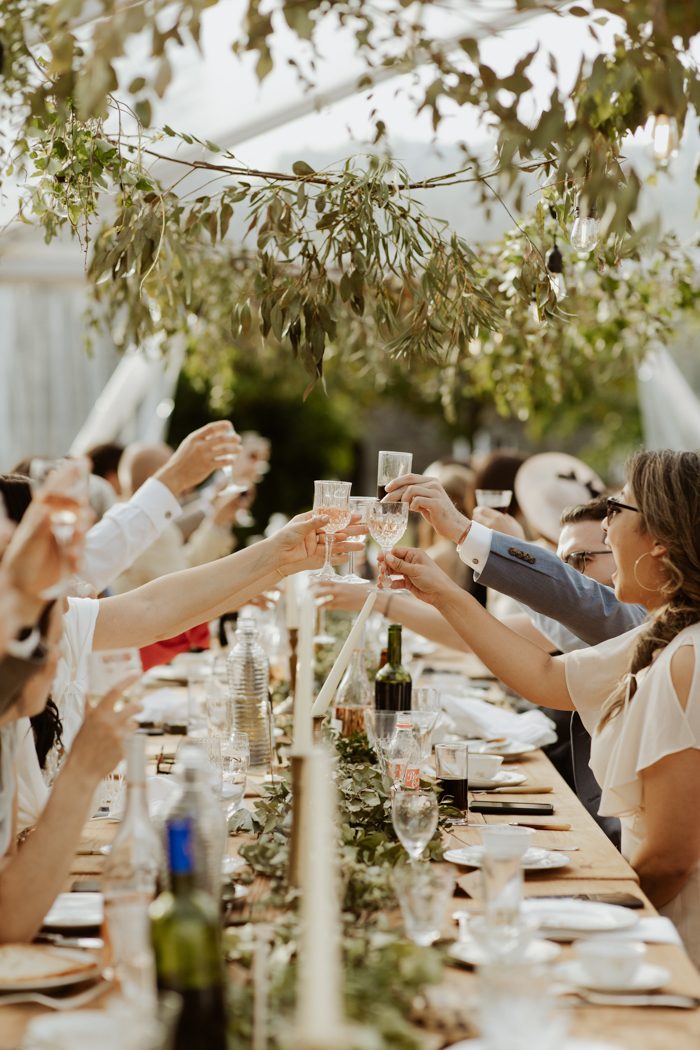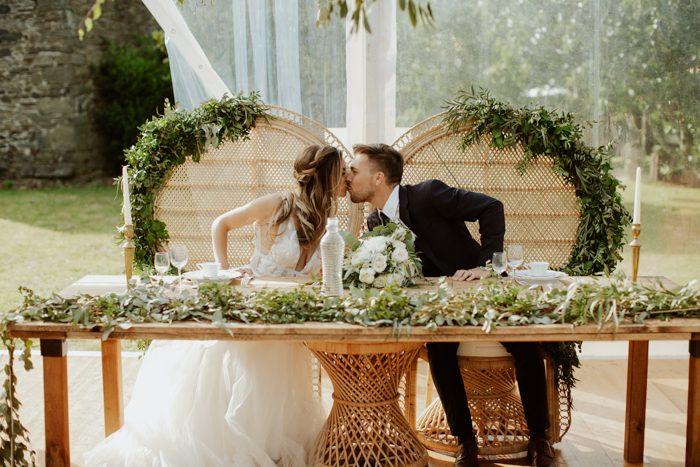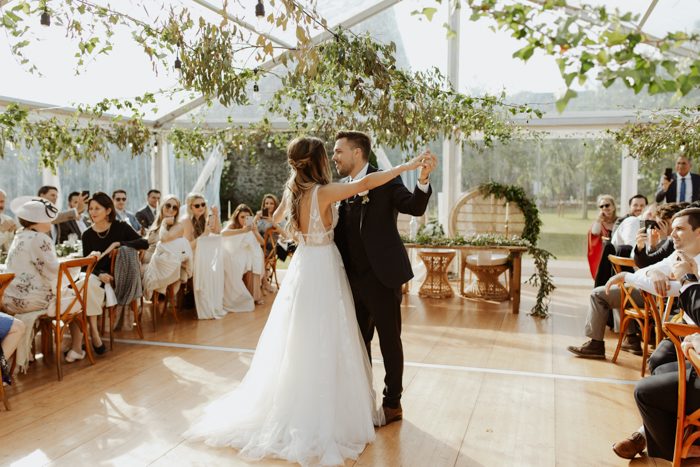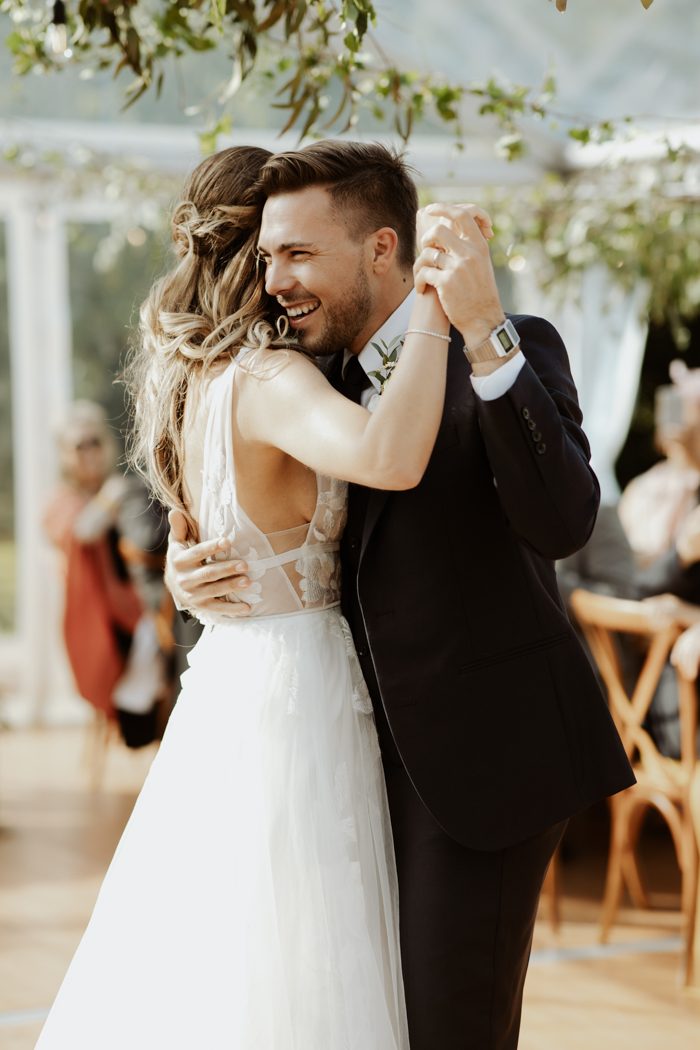 When planning our wedding, it was important to us to incorporate the traditions and culture of where our wedding was held (Brittany, France), while staying true to my Californian roots and style. Our welcoming cocktail was a kir royale (Champagne with Crème de Cassis), typical for our European guests but an even bigger hit with our American friends. To segue into the dancing part of the evening, Cedric sabered the champagne, in true Napoleon style. Instead of a traditional American cake, we opted for a Pièce montée (a tower of cream puffs drizzled in caramel).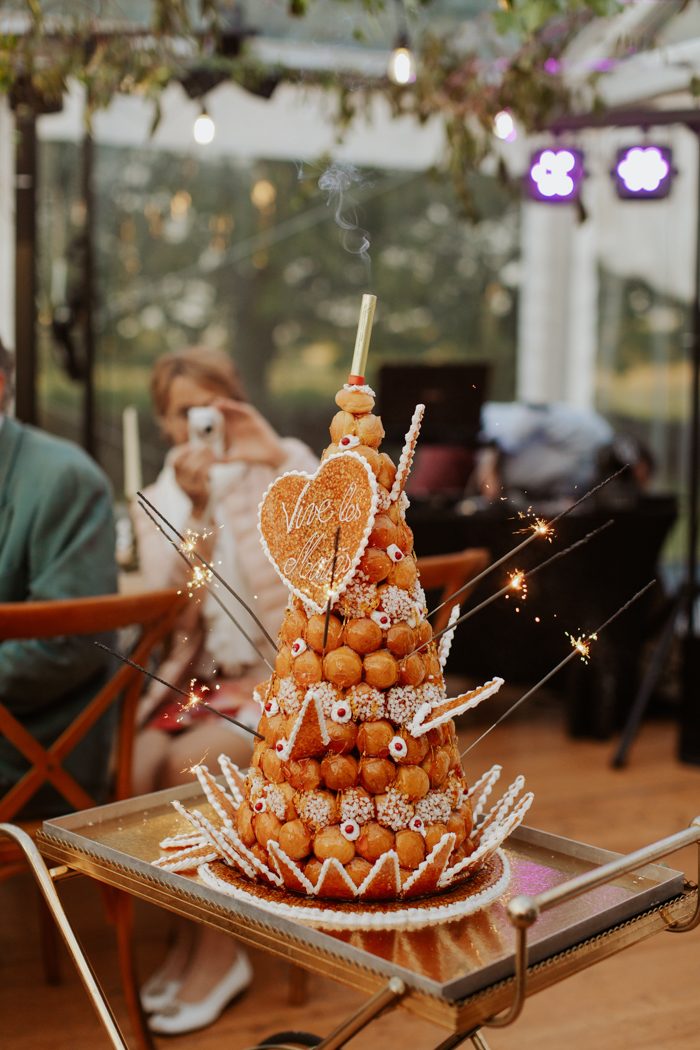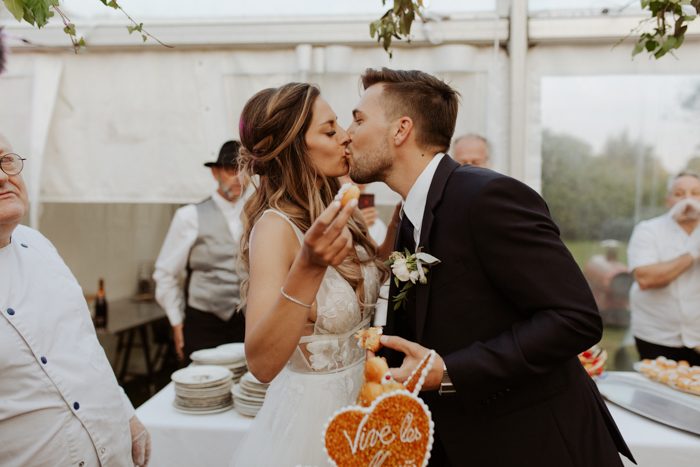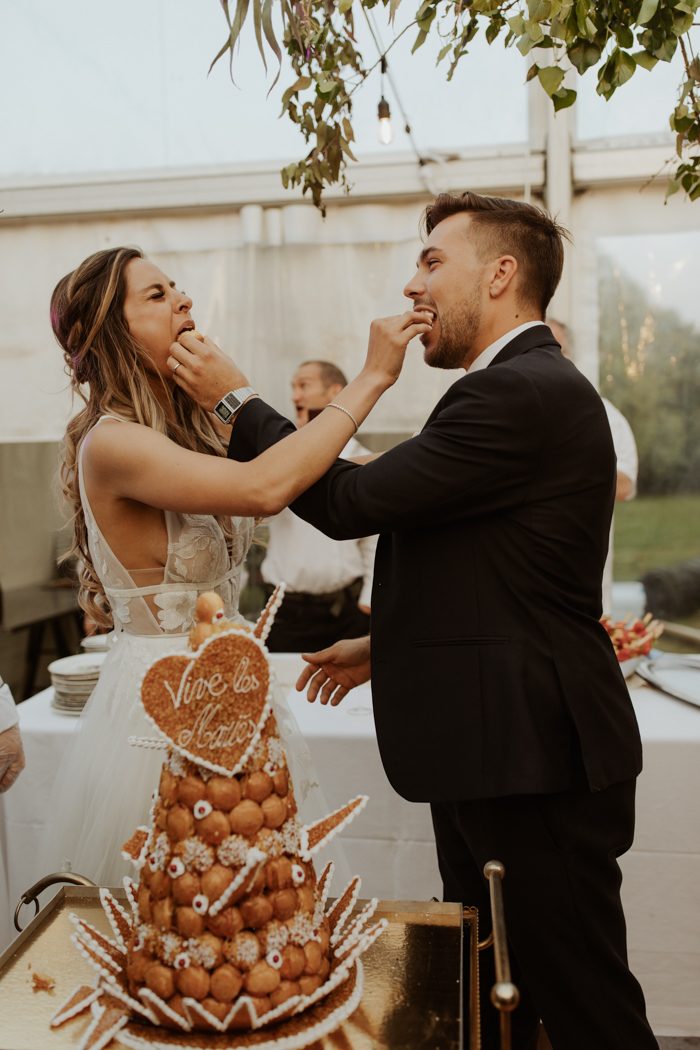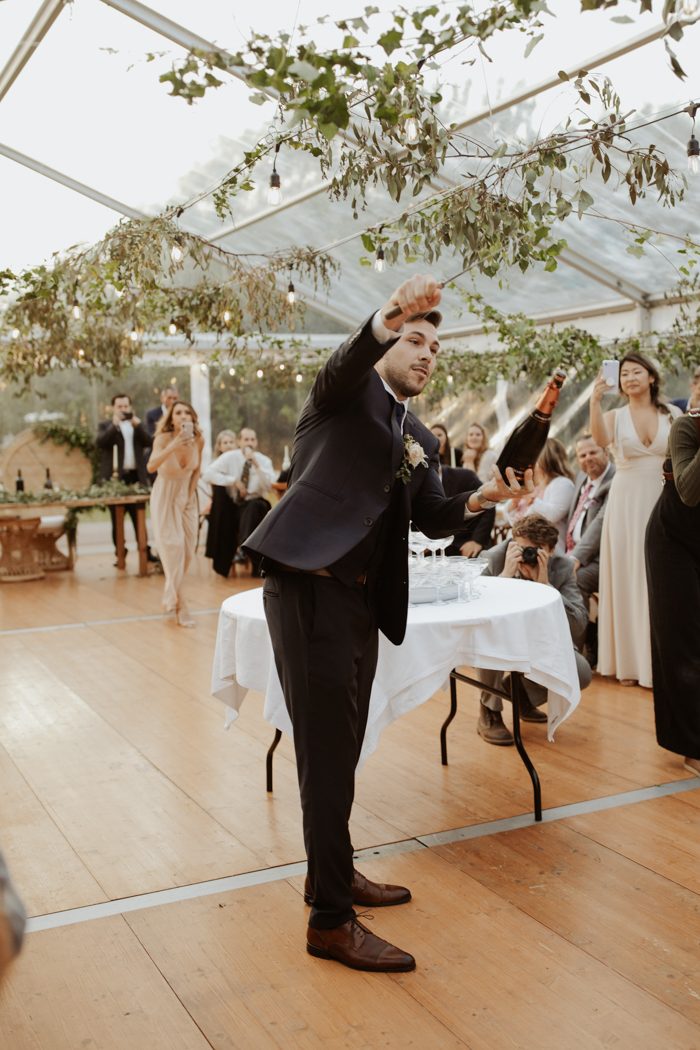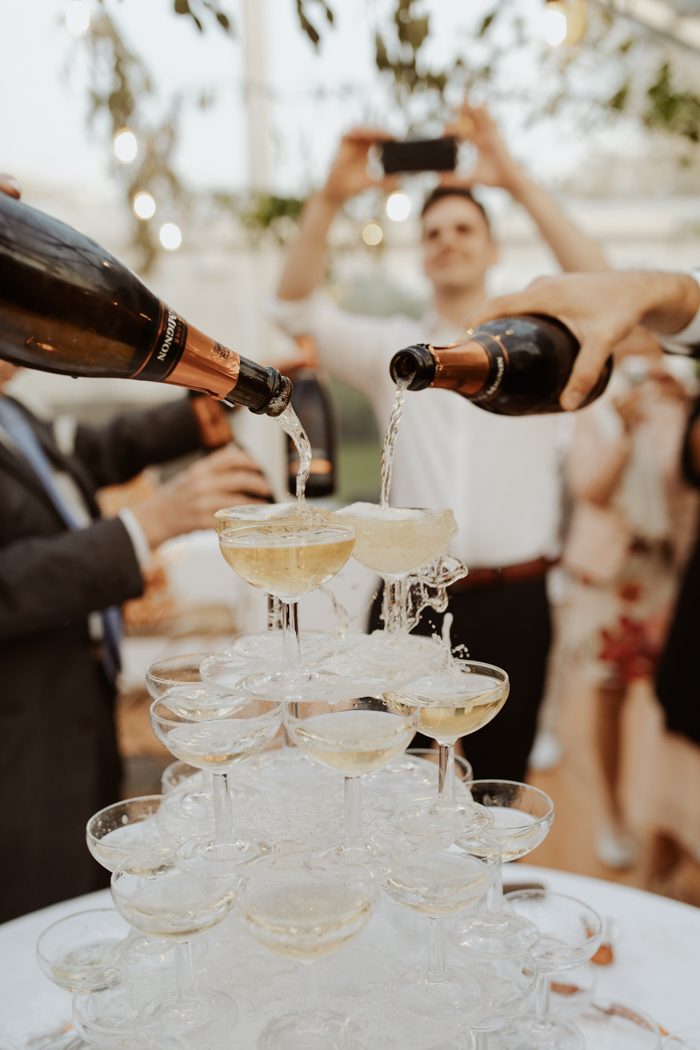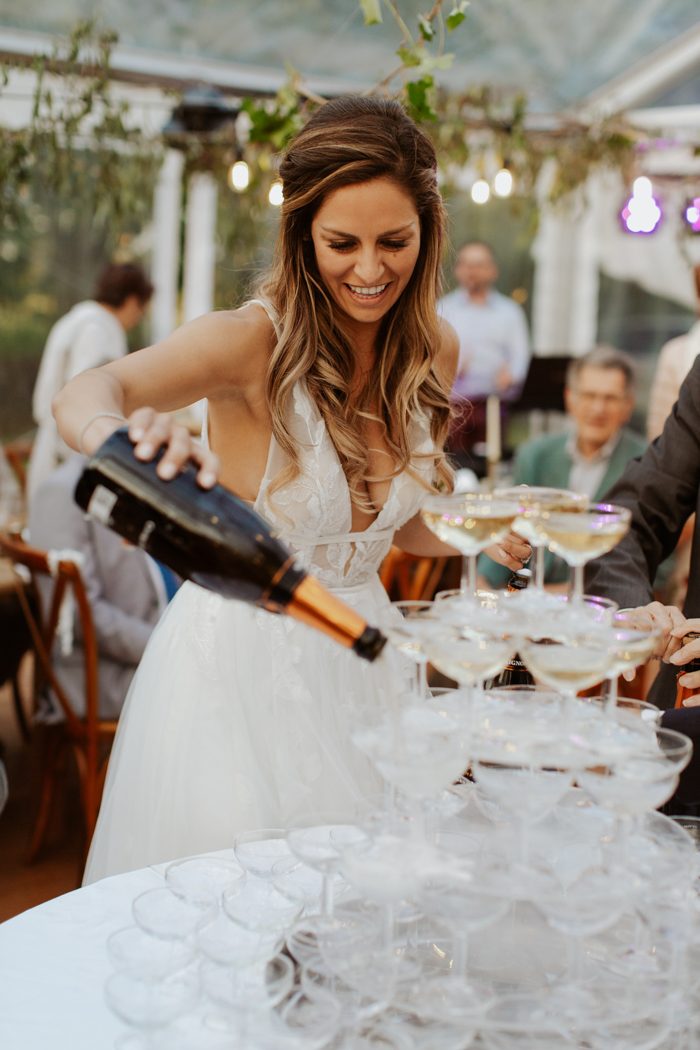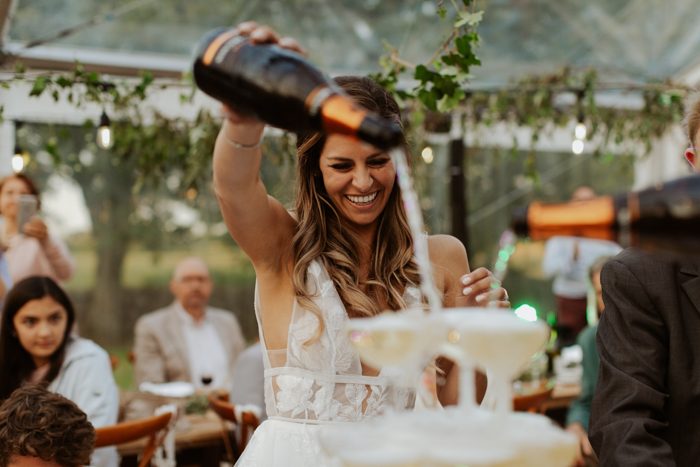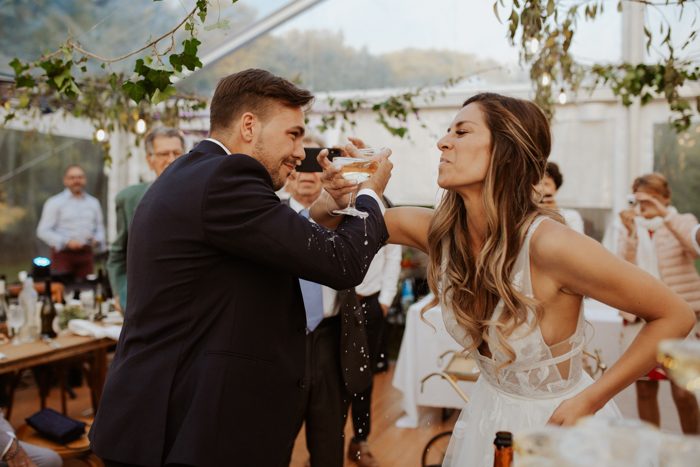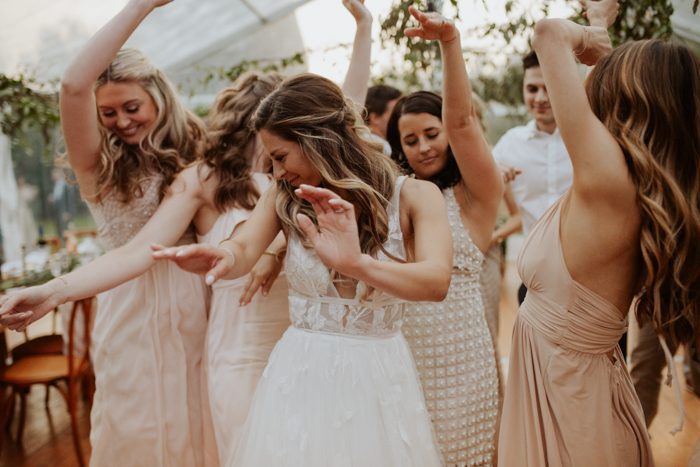 The most memorable part of the day was dancing with all of our best friends under the stars. Once the adrenaline began to wear off, we realized just how incredible it was to be surrounded by all of our loved ones in a place that meant so much to Cedric and his family, and now to me.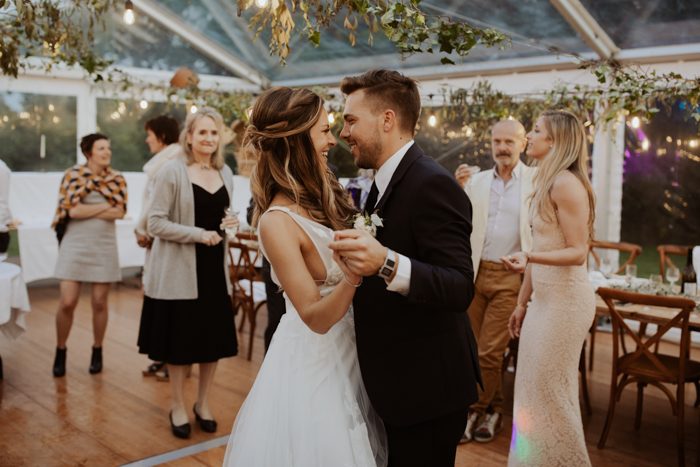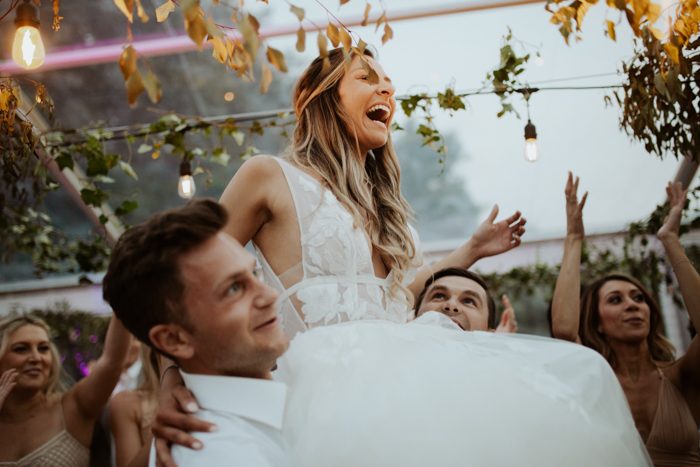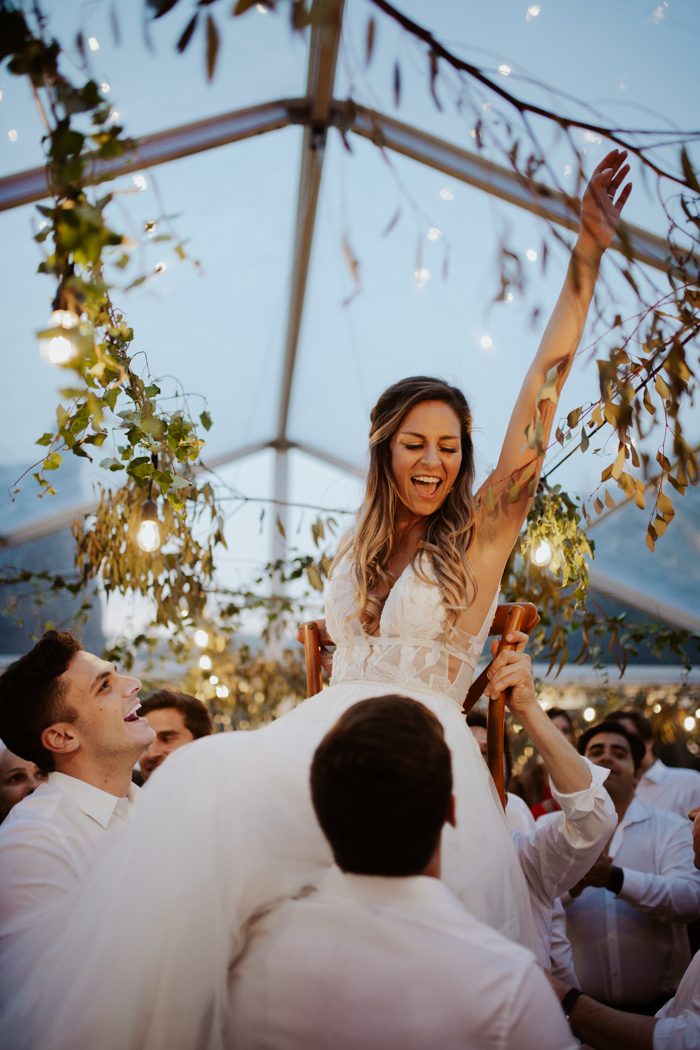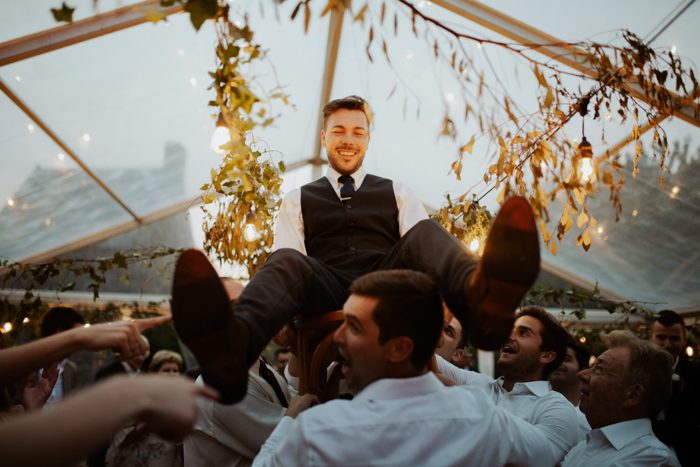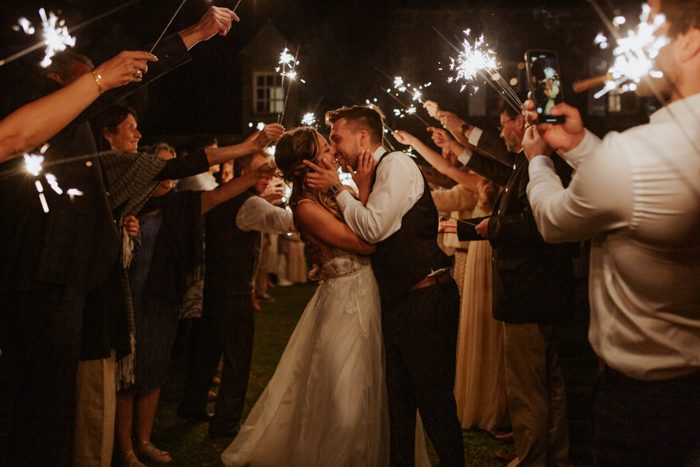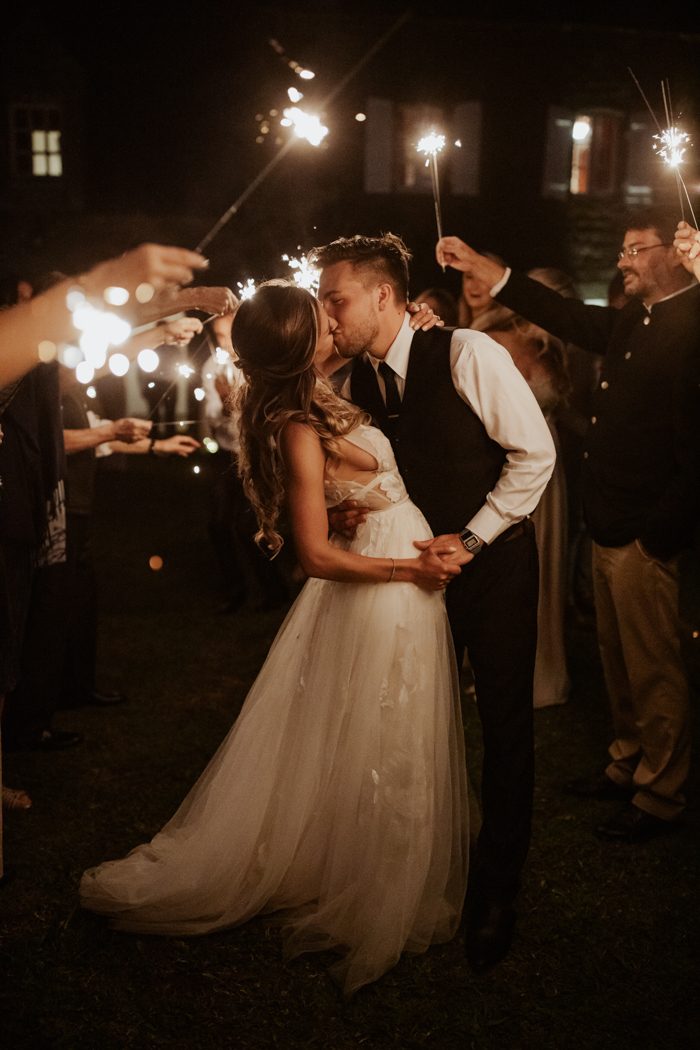 Many congratulations to Ariel and Cedric, and a huge thank you to Junebug member Dani Purington for sharing their incredible France destination wedding with us! Loving Dani's work? Check out this romantic rustic San Diego wedding at BRICK Liberty Station.