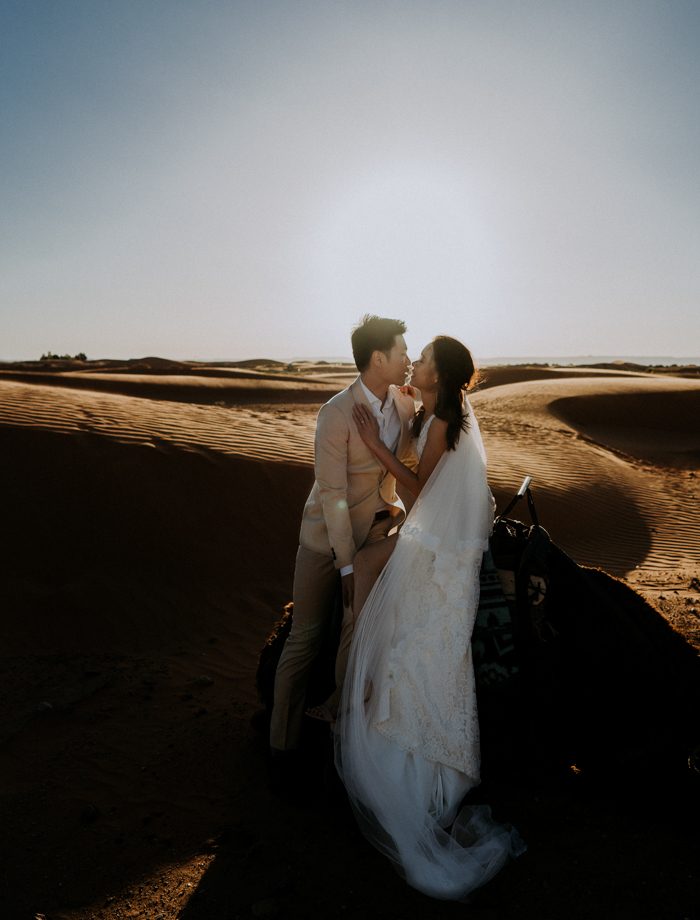 Hiuman and Victor's non-traditional Sahara Desert elopement has us believing that there may not be a more magical, mystical, and romantic place to tie the knot than Morocco. Although the couple actually fell in love in Morocco, their photographer, Tu Nguyen Wedding, created the itinerary for their unbelievable pre-elopement journey, which included plenty of roadside stops to enjoy the vast desert landscape, wandering through medinas, and a camel ride across the sand dunes. On their actual wedding day, the couple got ready separately and then — after an epic camel-back entrance by the bride — came together for an intimate ceremony in the middle of the desert that was as emotional as it was visually captivating. If you're looking for traditional wedding photos, you won't find them here. But we guarantee you'll be wanting to book a flight to Morocco immediately after seeing the ease, joyful energy, and incredible scenery Tu Nguyen Wedding captured so effortlessly!
The Couple:
Hiuman and Victor
The Wedding:
The Sahara Desert, Morocco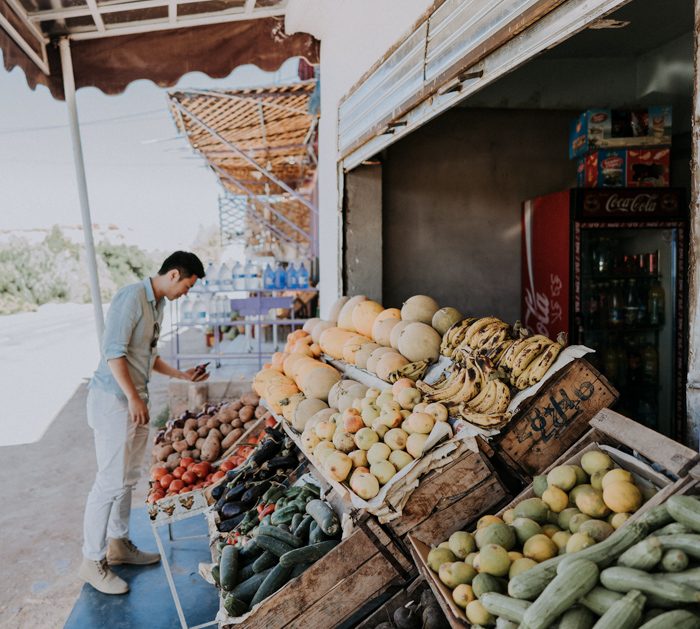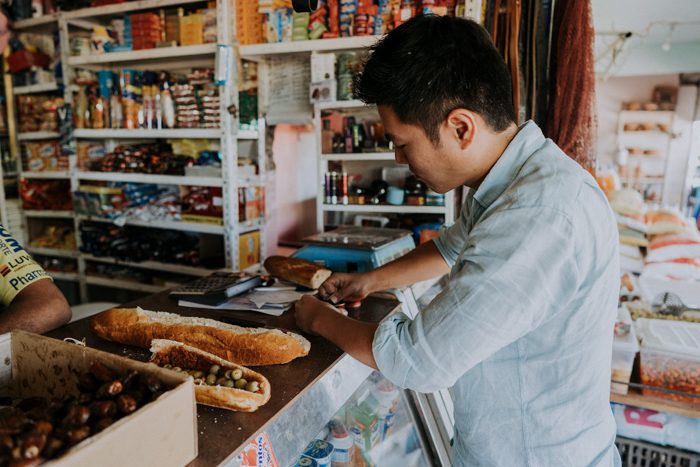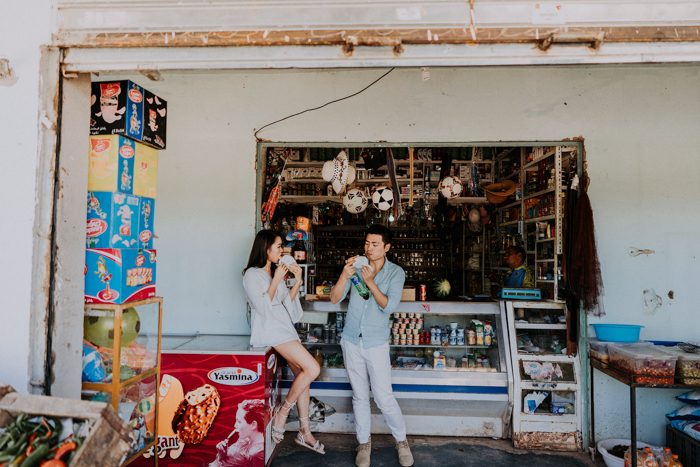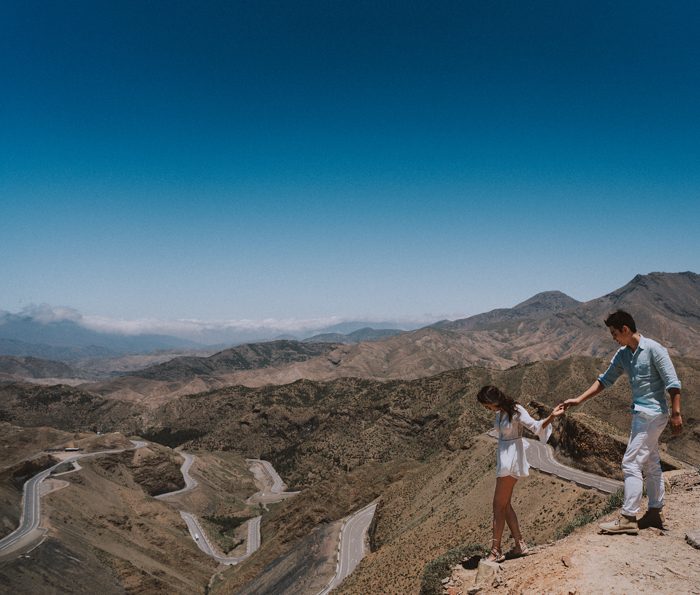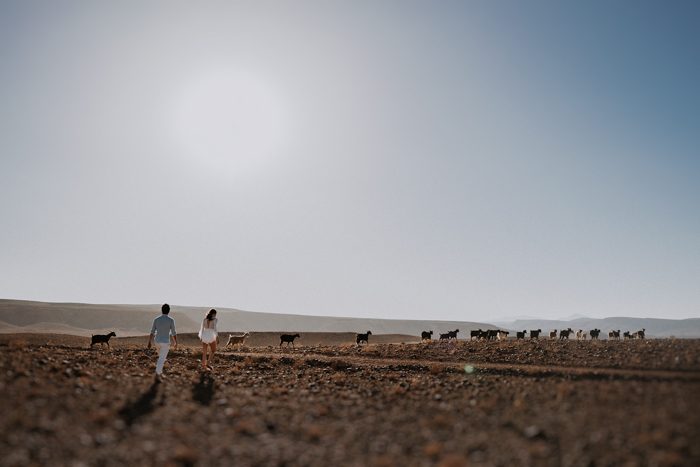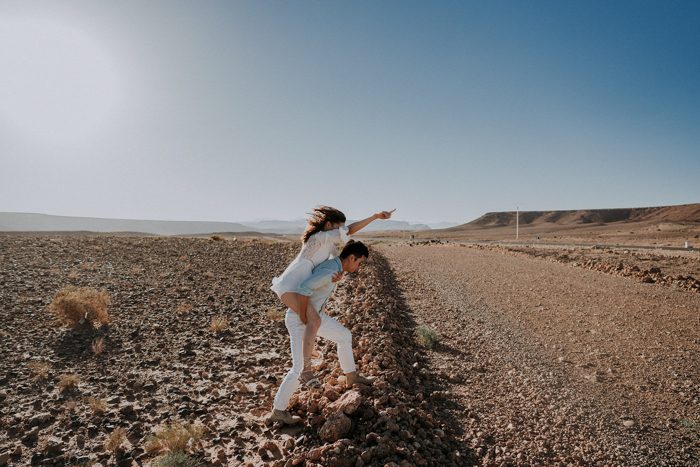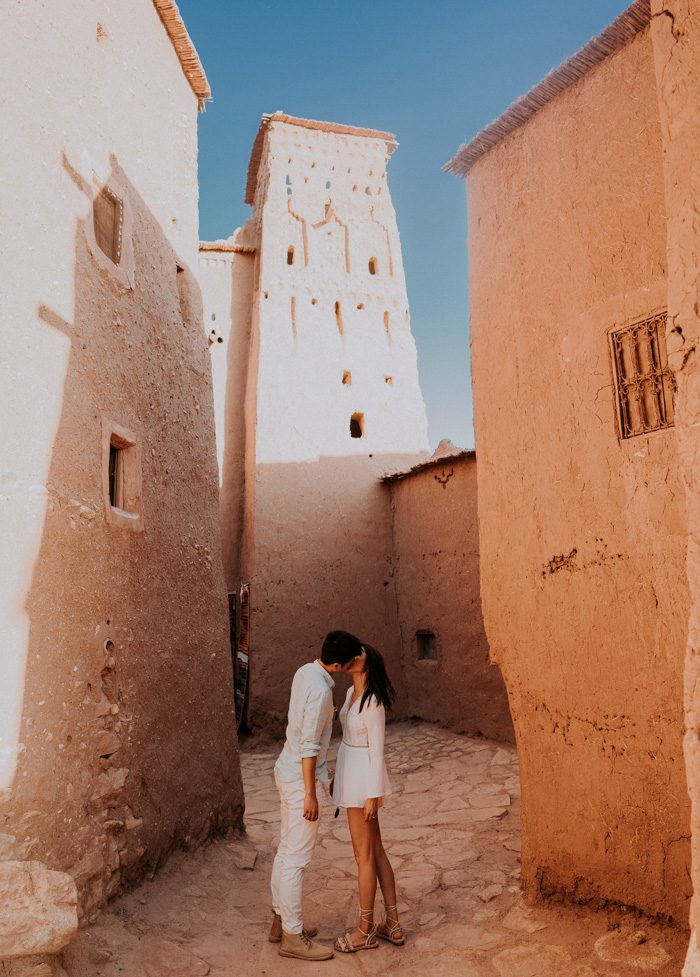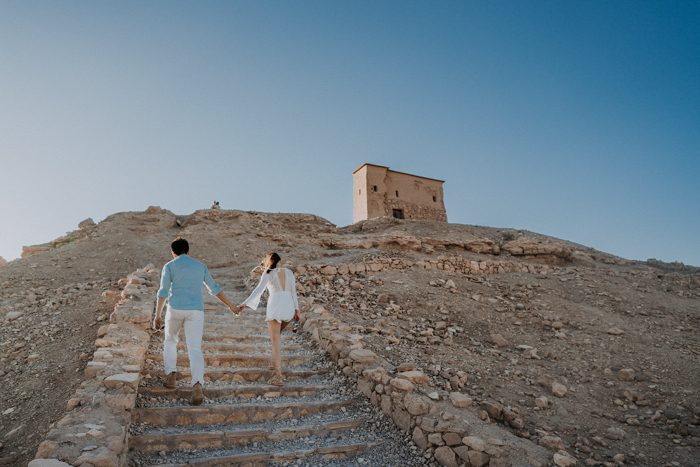 We chose Morocco because we love the culture, the colors, and the vibes there and, most importantly, we started our love there. I still vividly remember the night scene: The moonlight shined on the black cat walking on the Medina wall. We couldn't find our way back to the hotel in the Medina because some of the alleys were shut at night. When I started to panic, Victor held my hand tightly (for the first time ever). Since then, he has been holding my hand.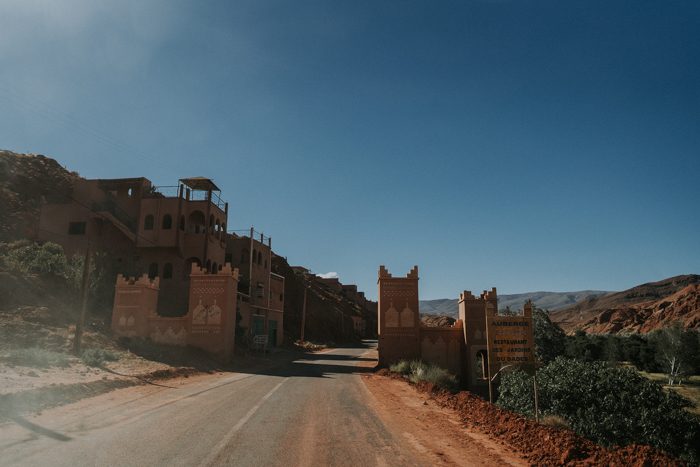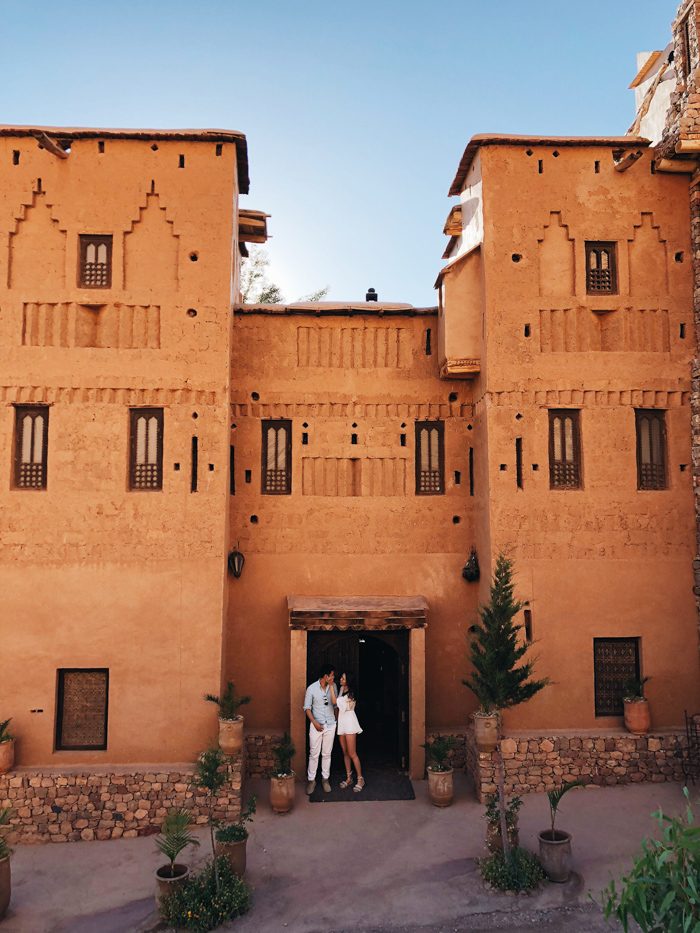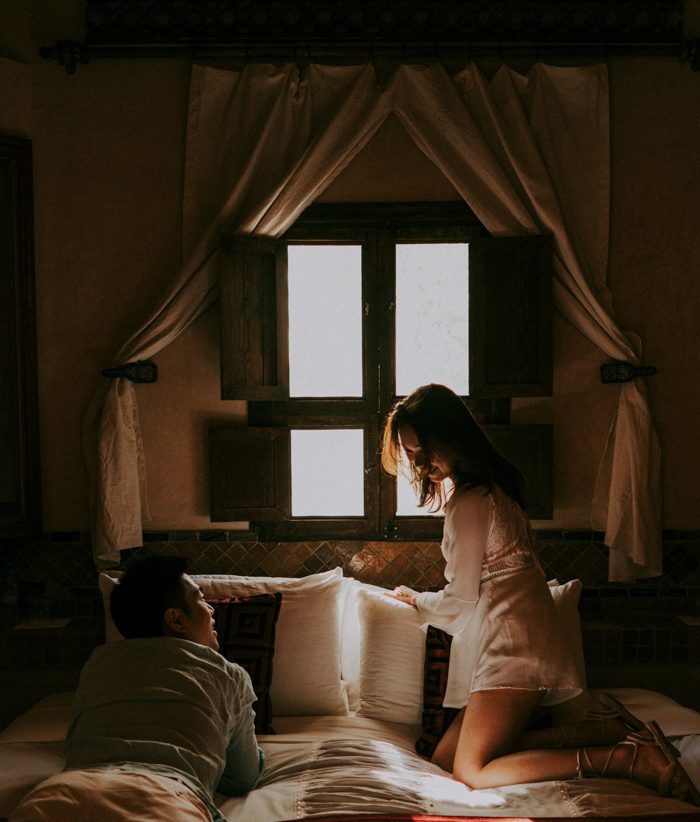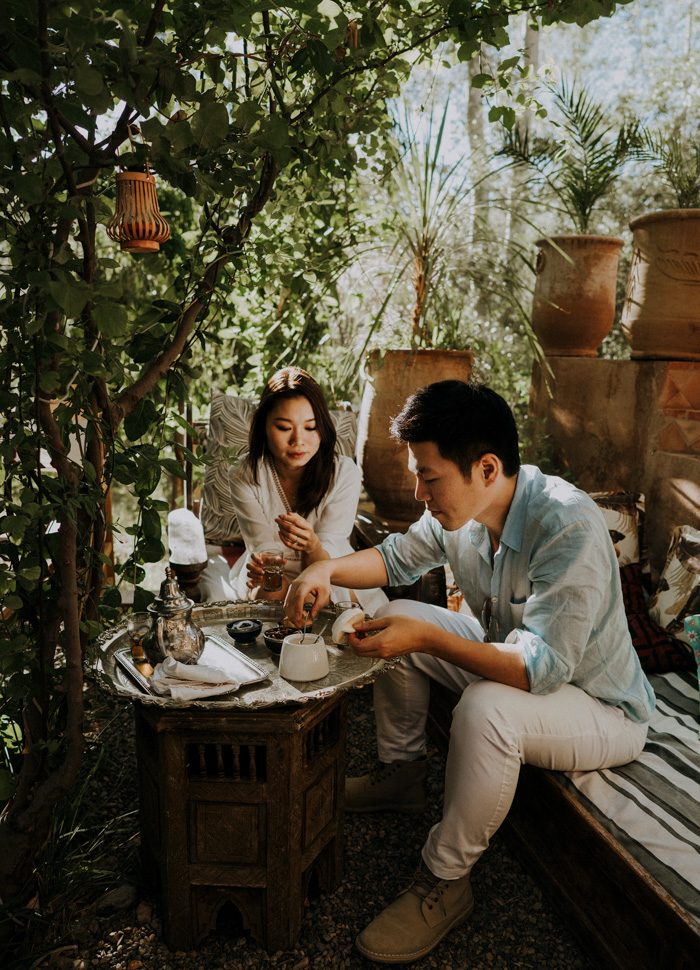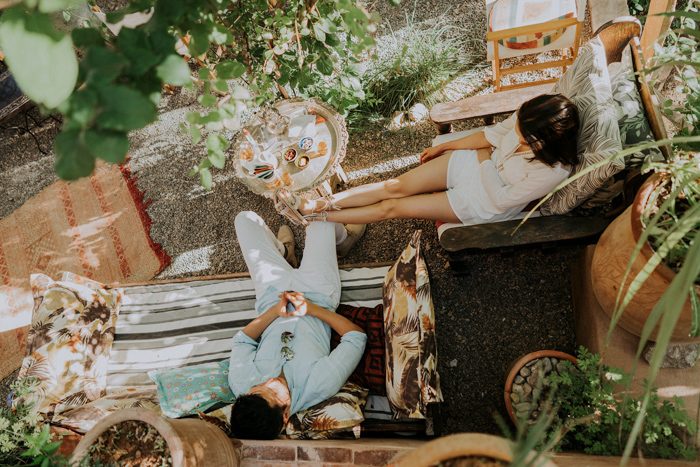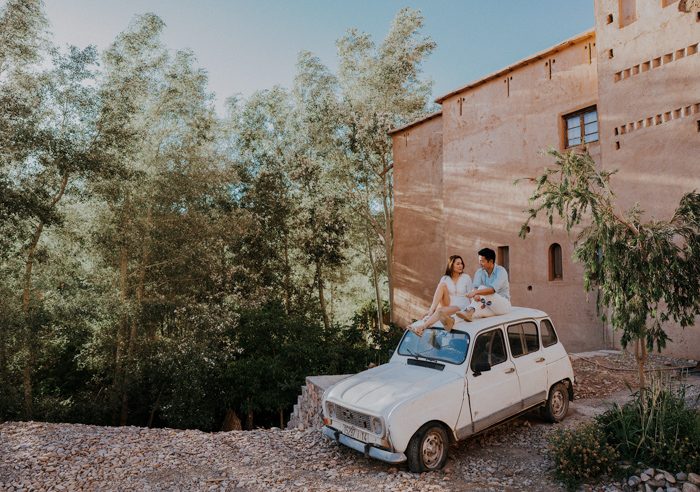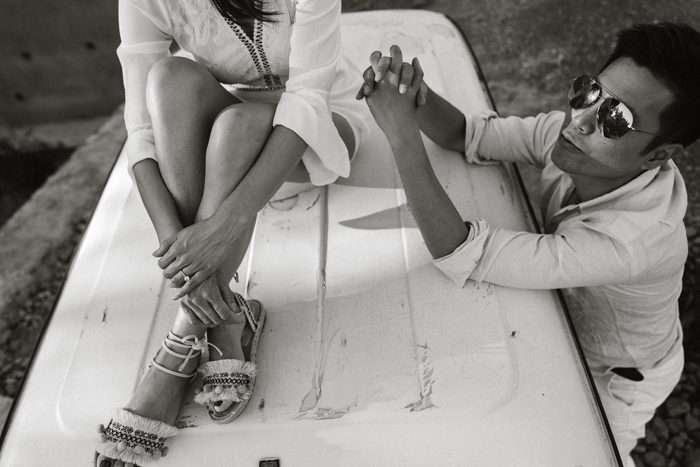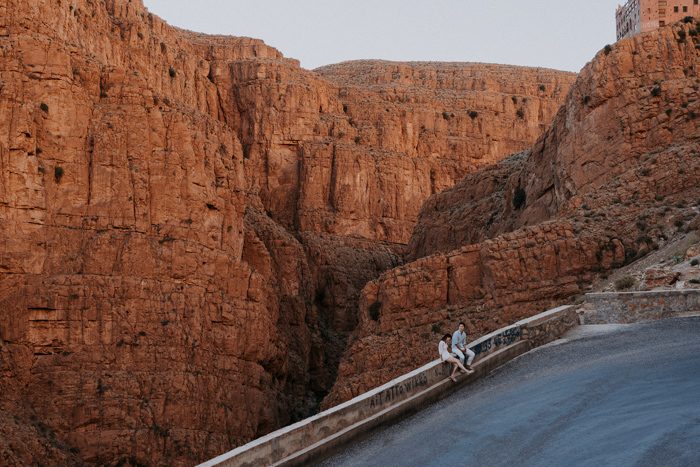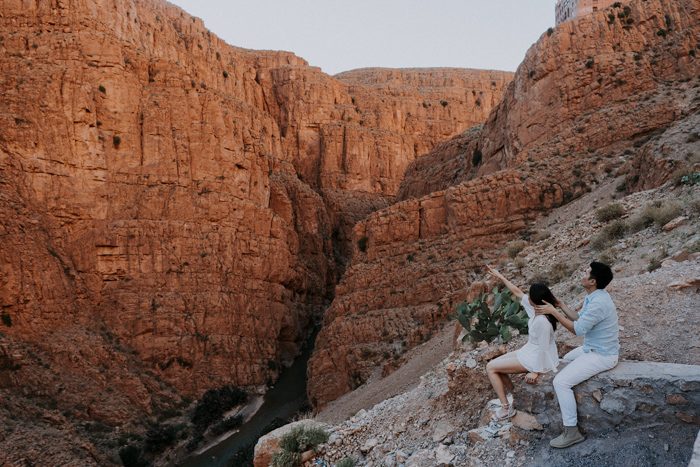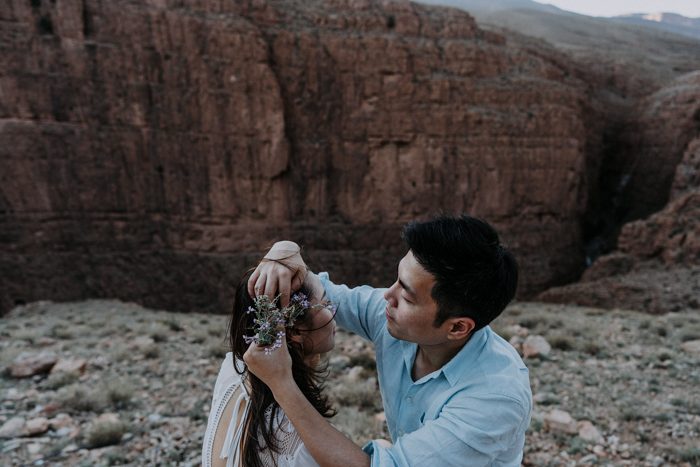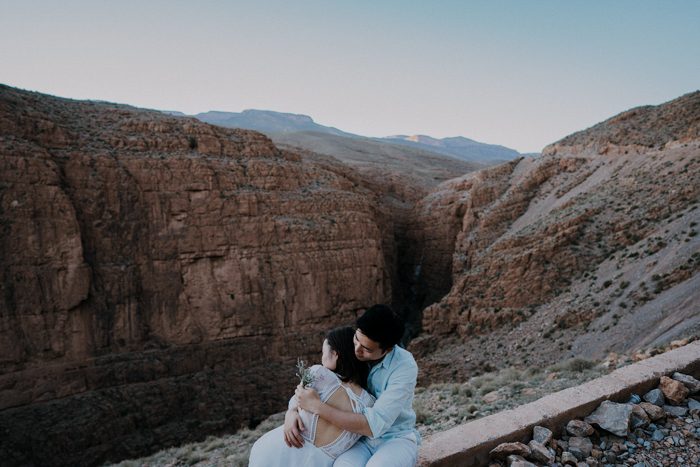 We just love our photographer so much! He was completely spot on and clicked with us when we asked him about taking photos in Morocco. He came up with an amazing itinerary, which saved us so much time. He was not just a great photographer but a very talented storyteller, as well. He observed everything and captured the most natural and happy interactions between us. He didn't ask us to pose at all and simply let us interact as usual and enjoy the magnificent scenes in Morocco. So, in every photo, the emotions and love just linger. We would highly recommend him to any couples who want unique and romantic wedding photos!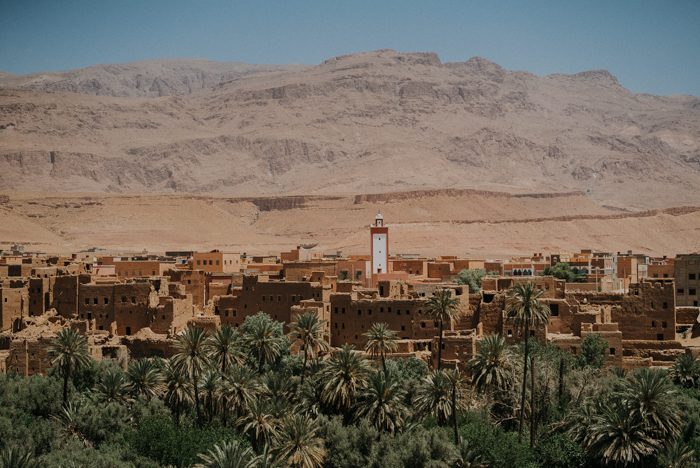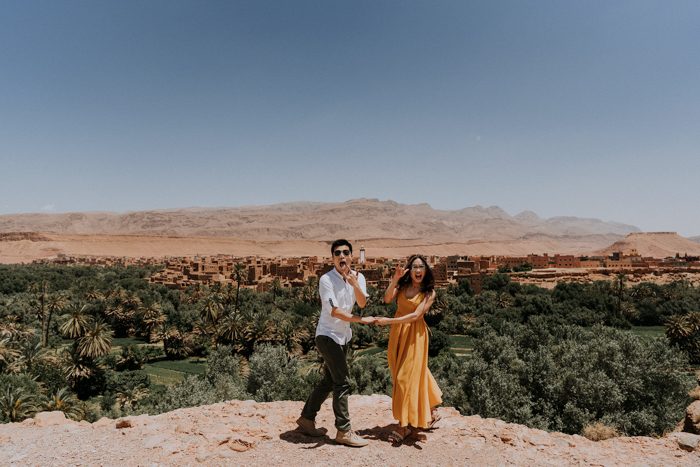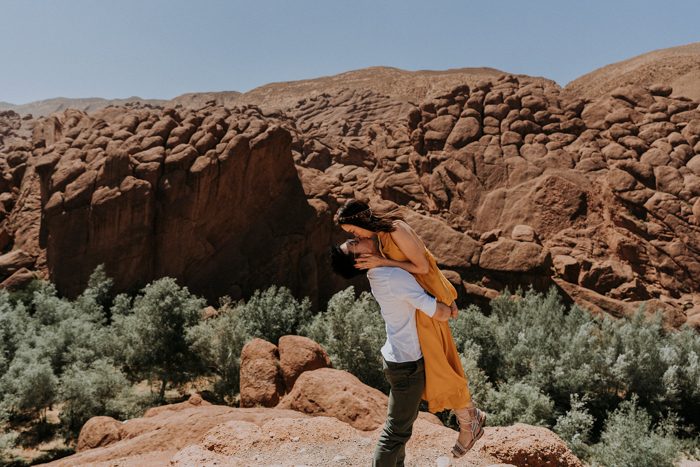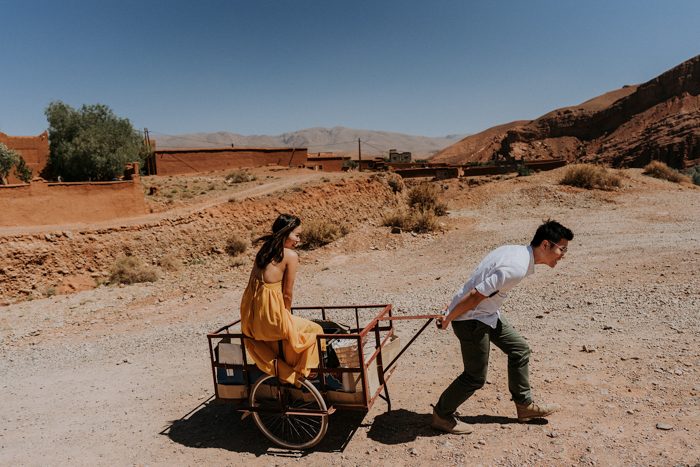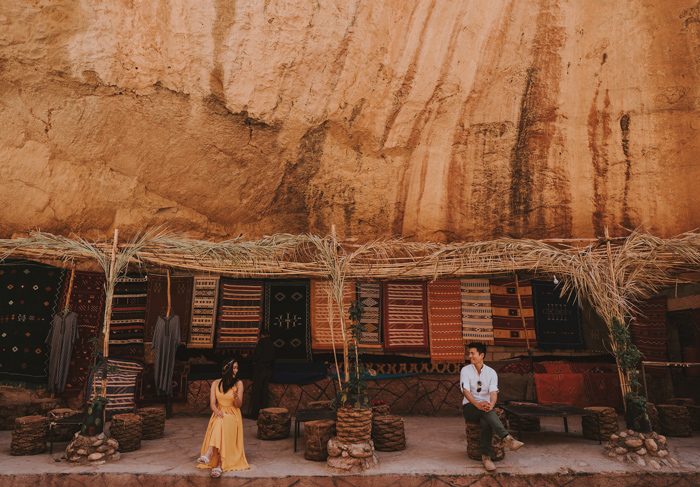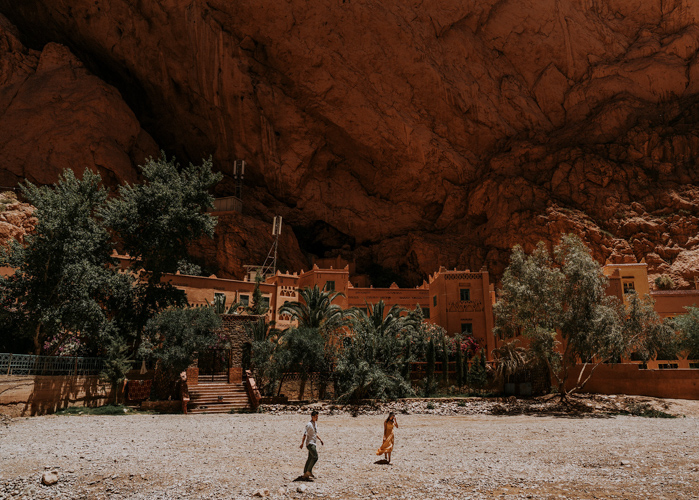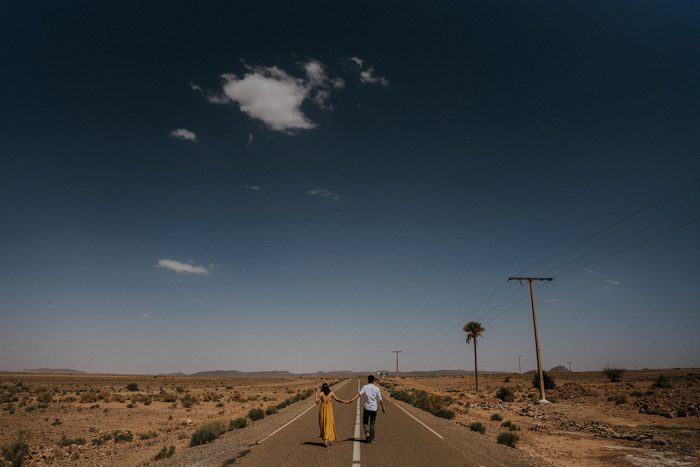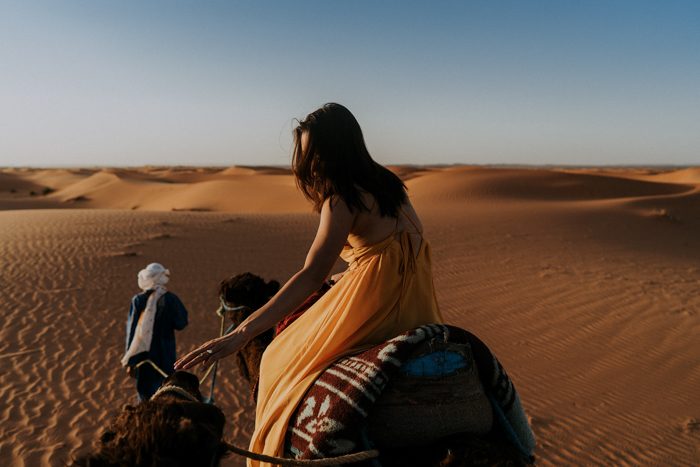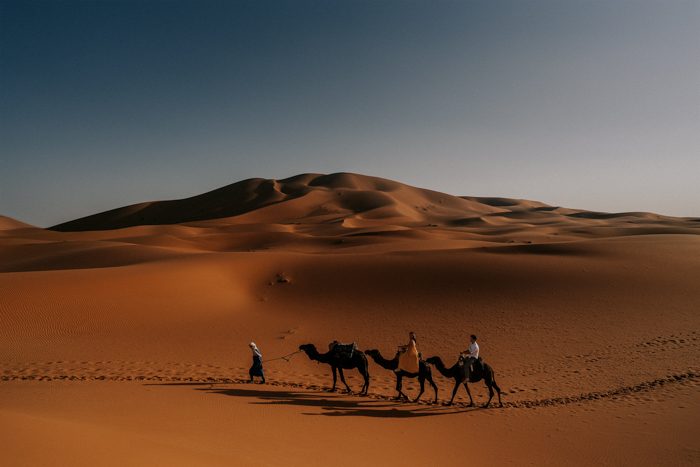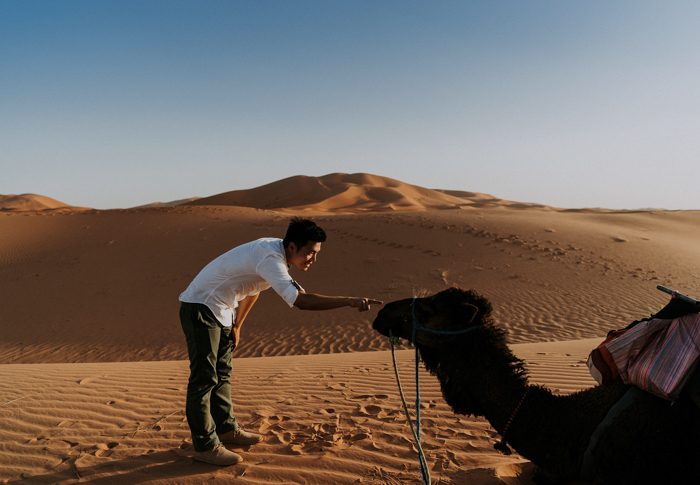 My favorite photo is the one of me slowly walking on the sand towards my Mr. Right because it reflects our story so well. We respect each other, but we also respect our own space. That's why we don't have any big drama in our story. What we have is respect, love, and comfort. Our journey has been steady and comfortable, and I know he is the one that I want to continue my life journey with forever.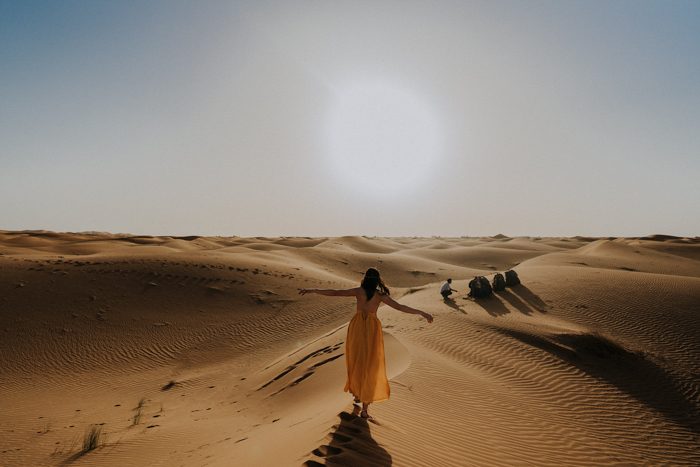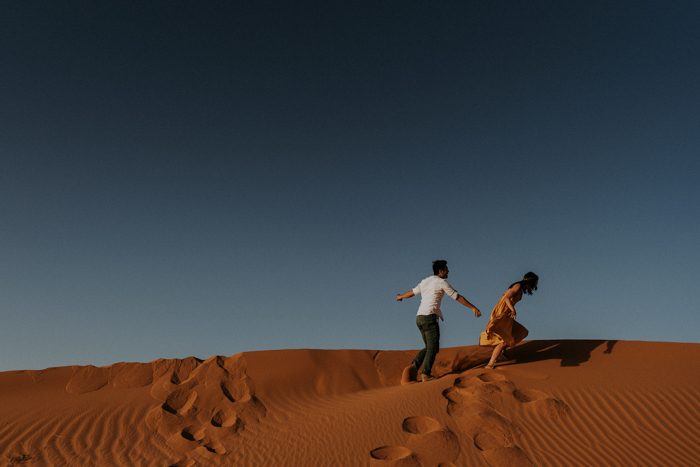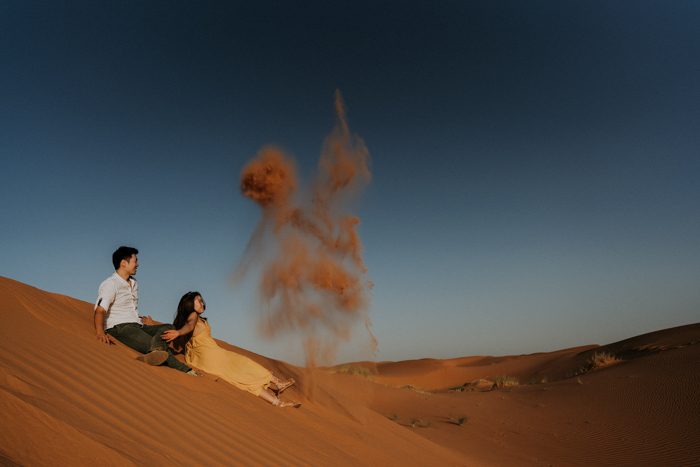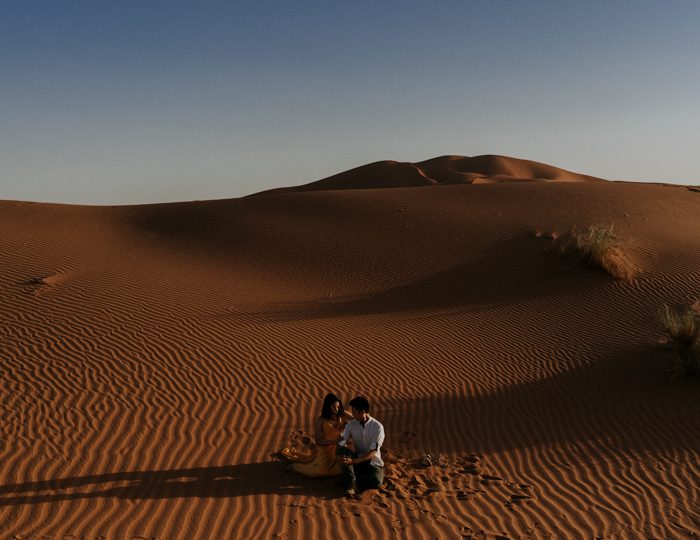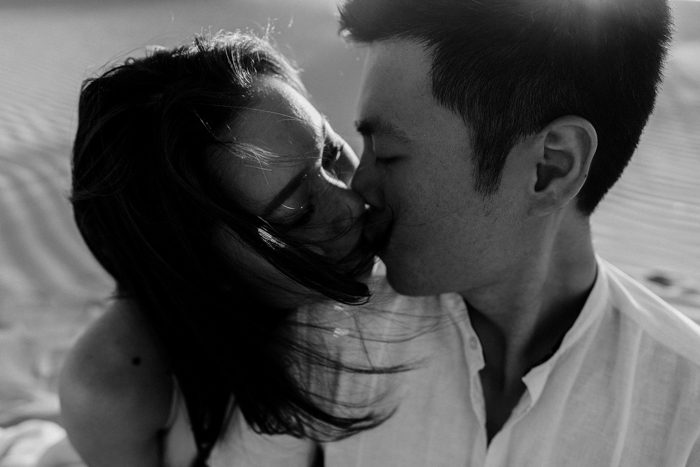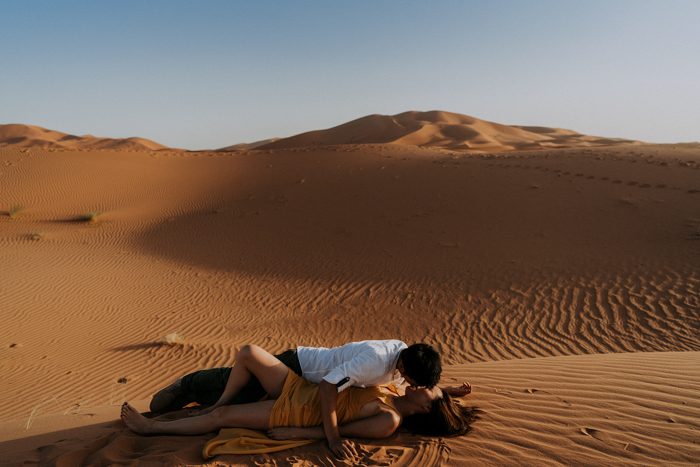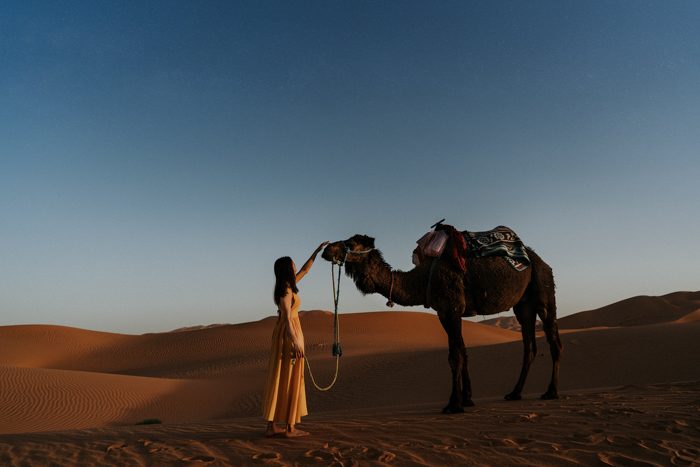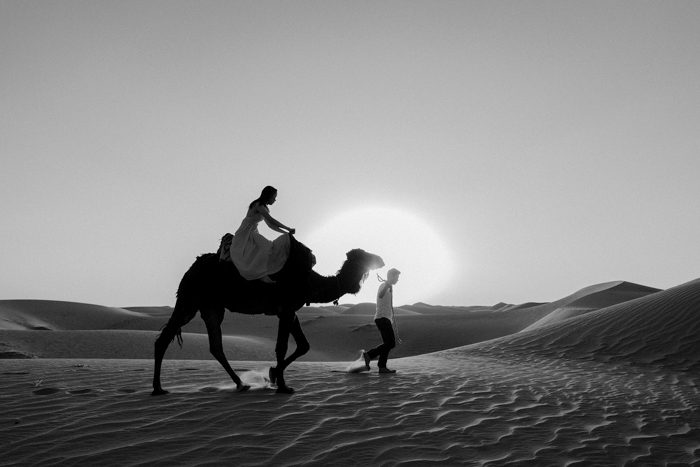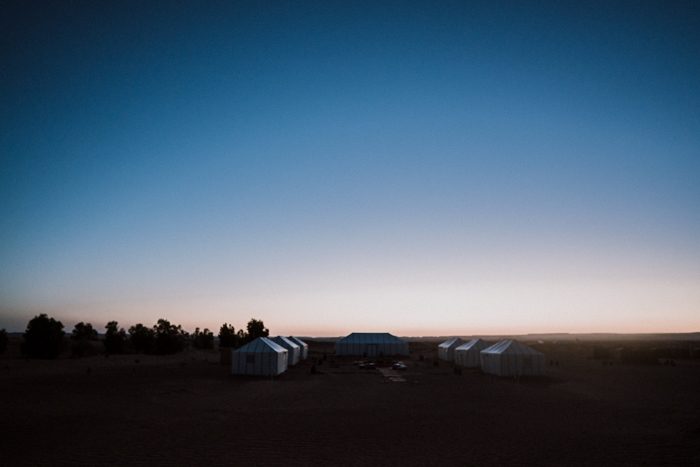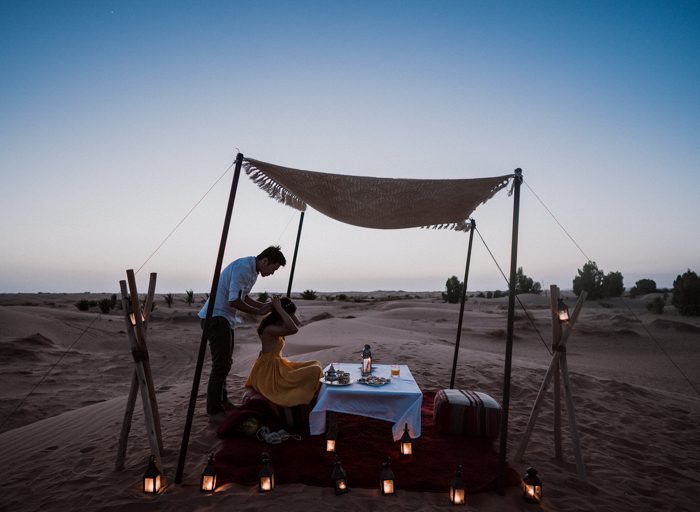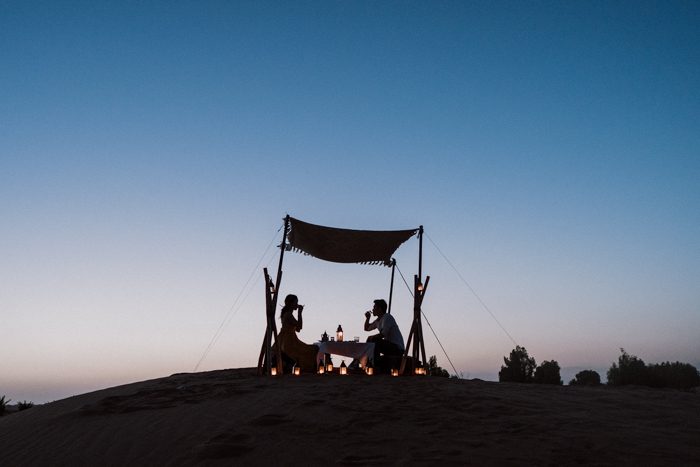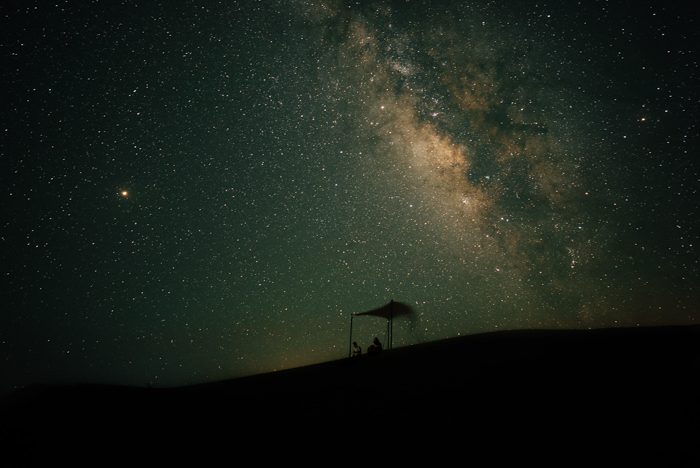 The sunrise in the Sahara on the morning of our wedding was just too beautiful to forget. We woke up before dawn and got dressed up in separate rooms. Victor went to the wedding site first, then the camel came to give me a ride to the site. The ride was slow and peaceful, but my heart was racing. When sunlight started to fill the sky, I saw my dream man standing on a red carpet. Although I knew what we going to happen, the moment I saw him with Moroccan music playing in the background was totally unforgettable and touching. We felt the moment and scene only belonged to two of us that we wholeheartedly shared our love and gratitude for having each other in life. At last, we exchanged rings as a promise to be lifetime partners for each other.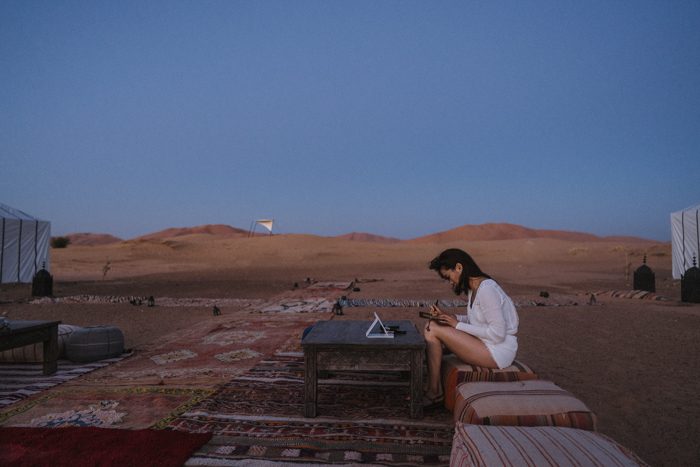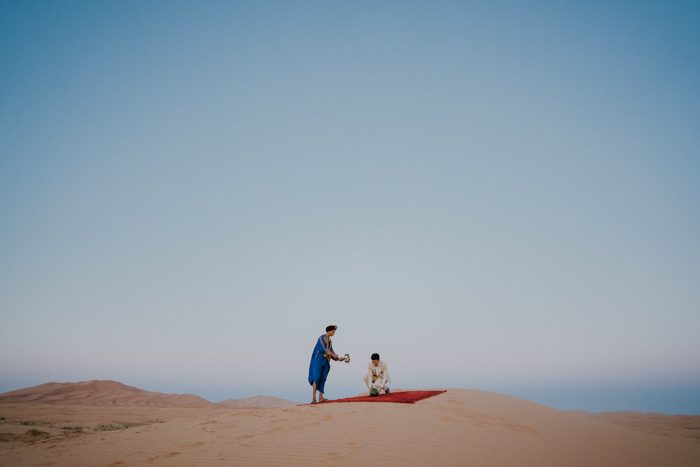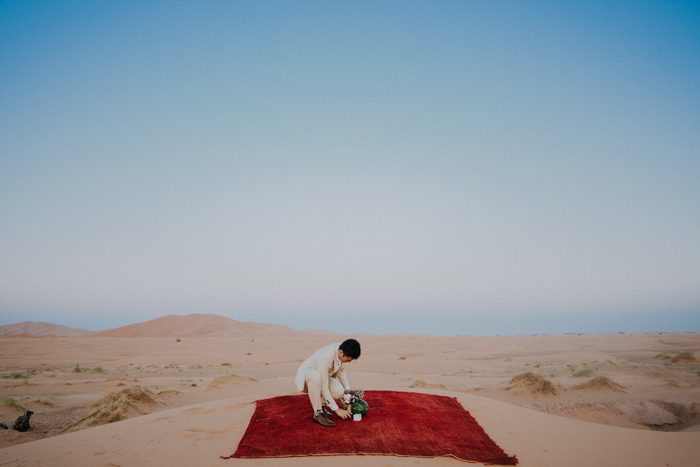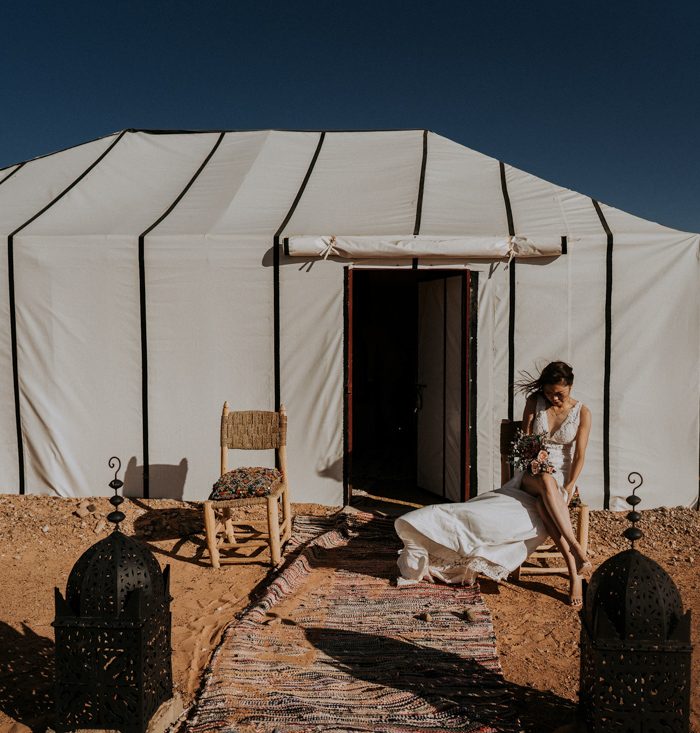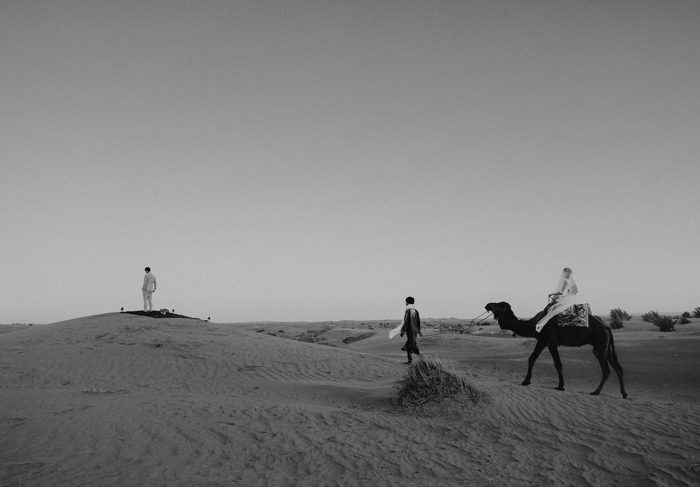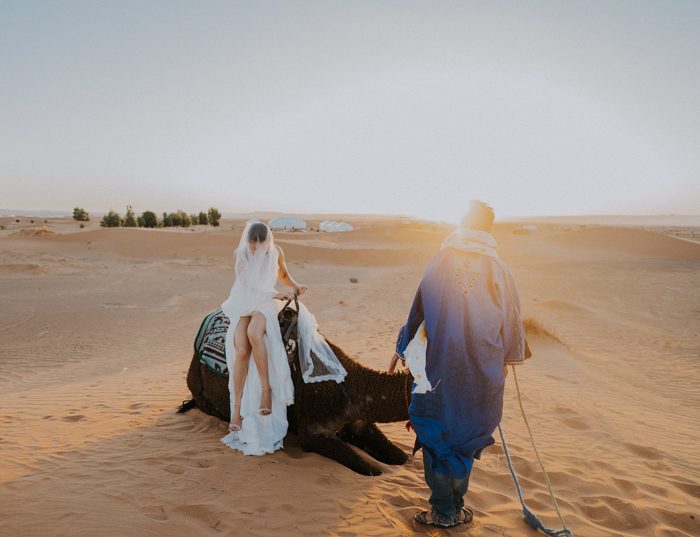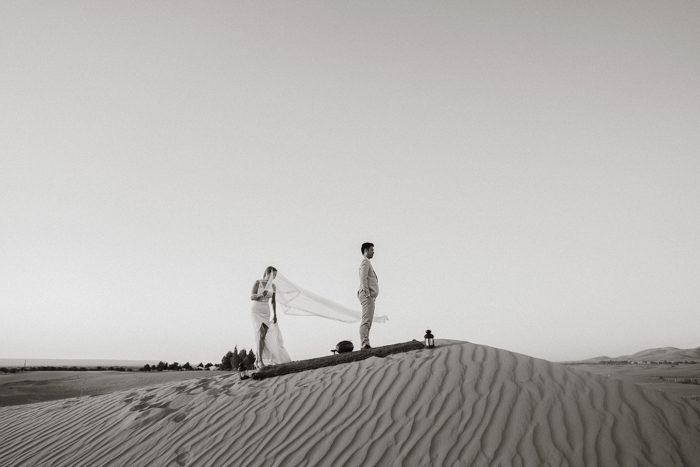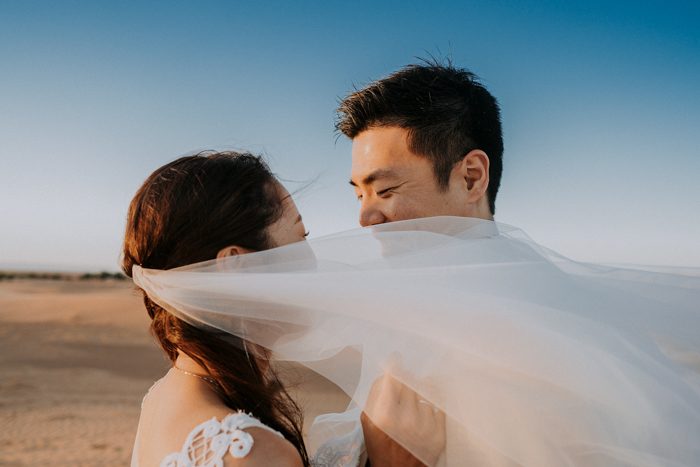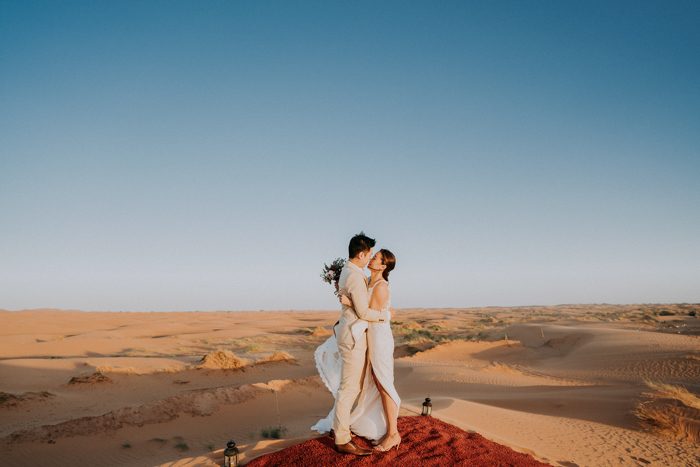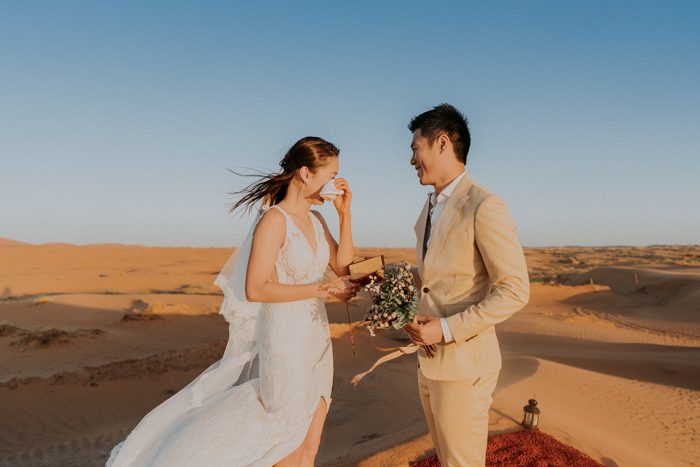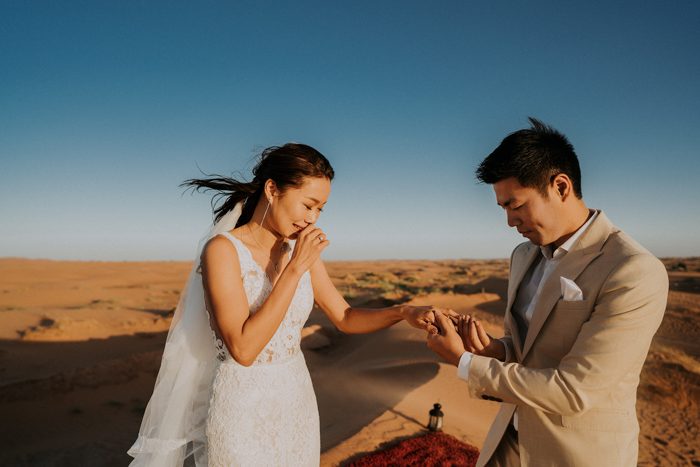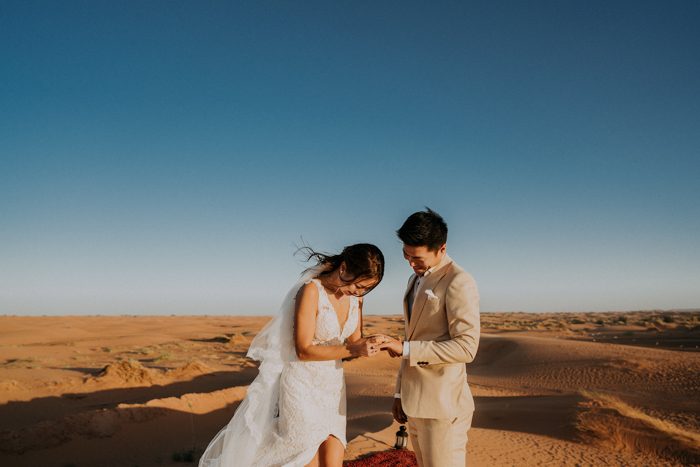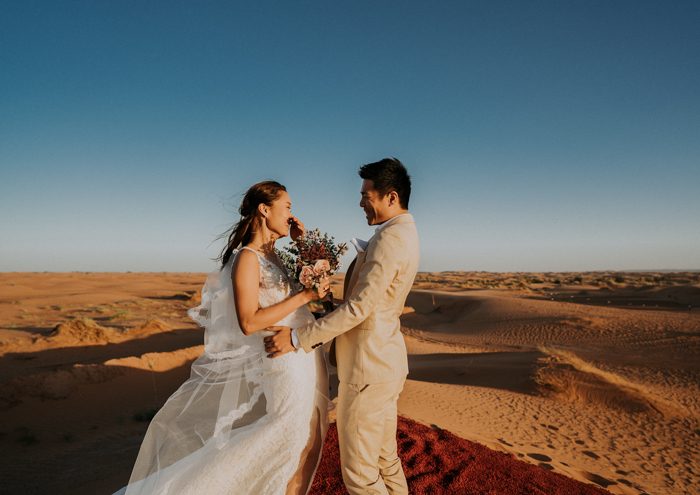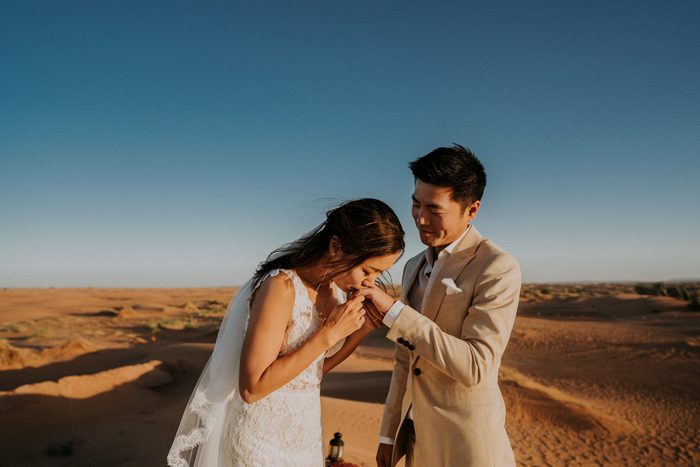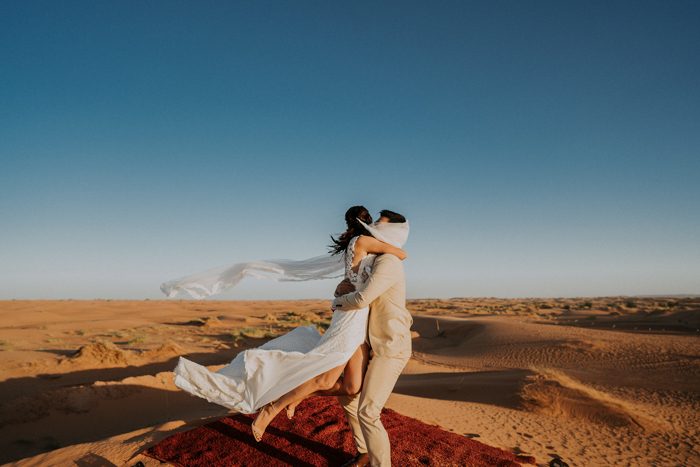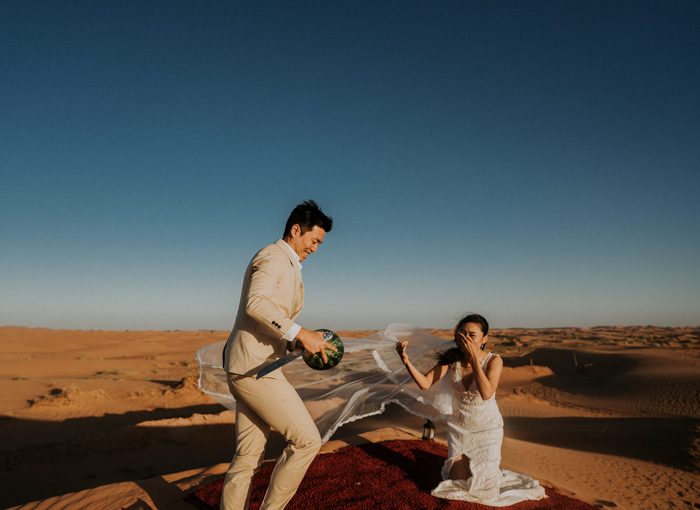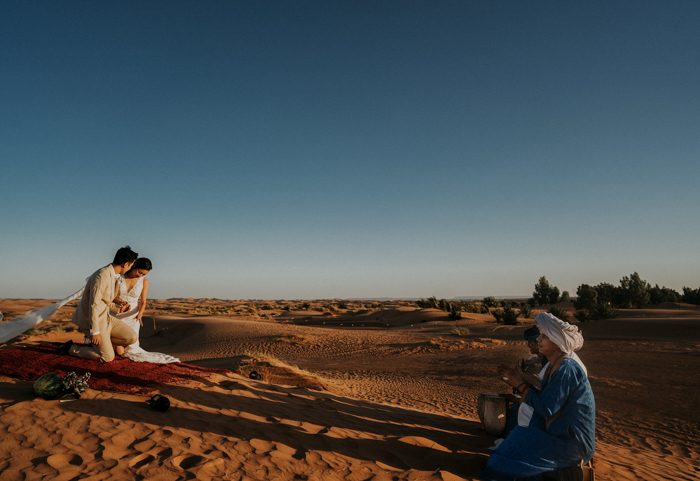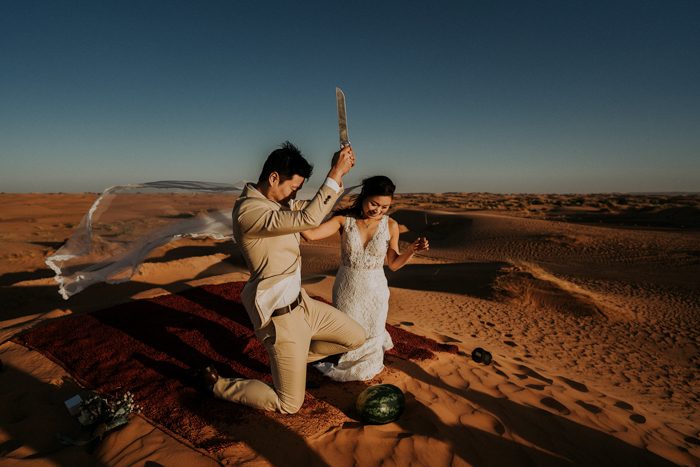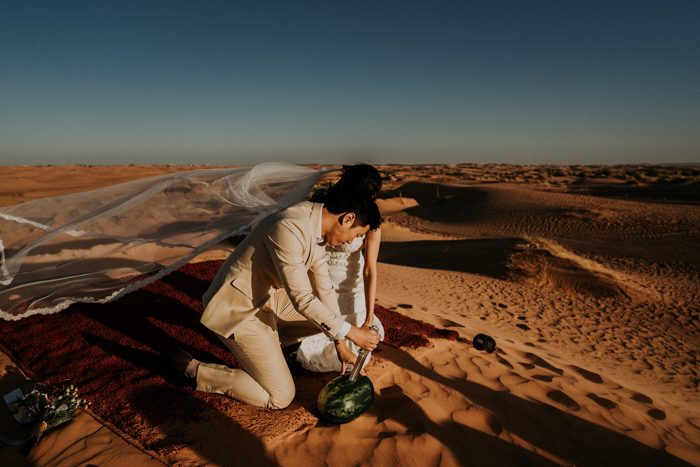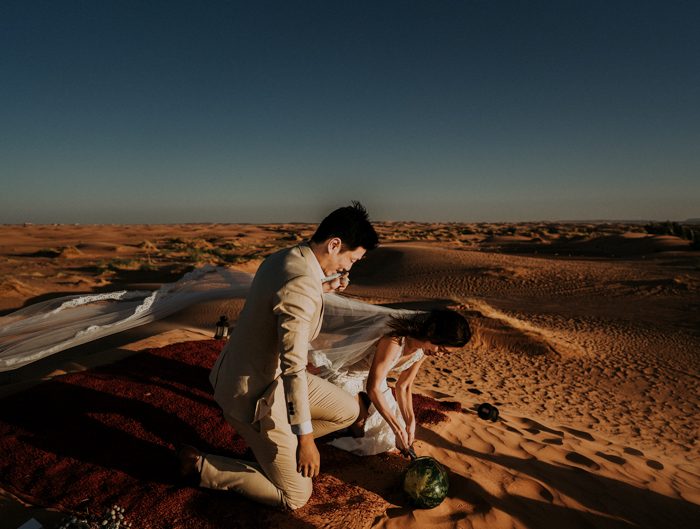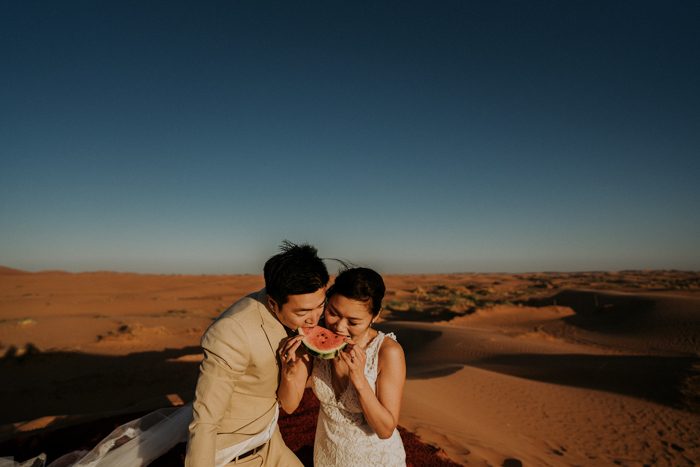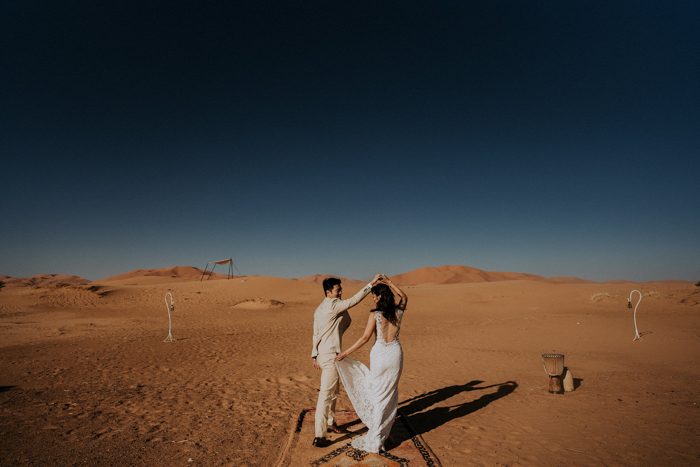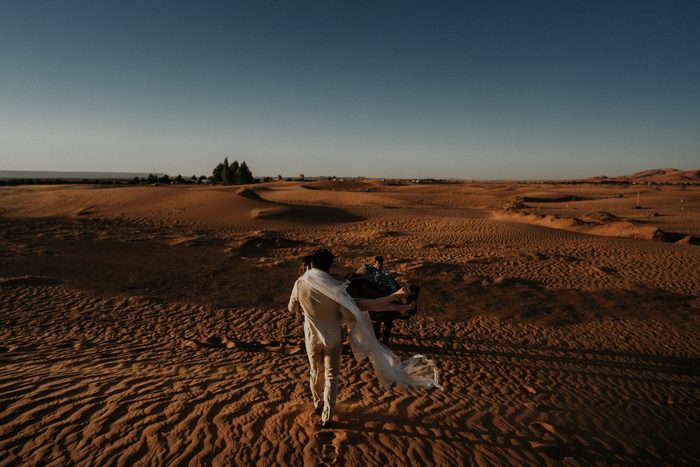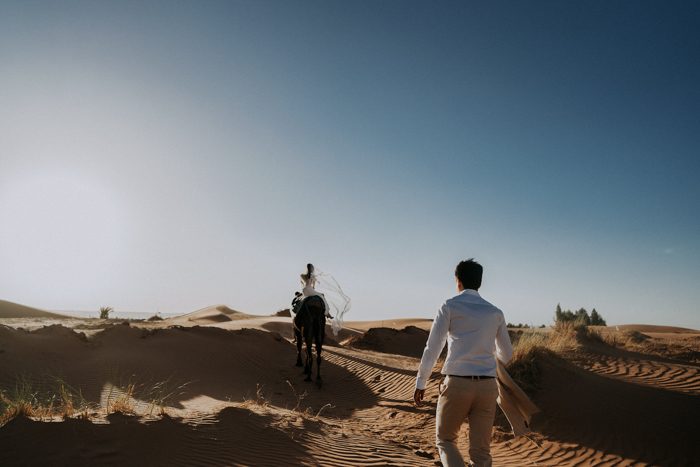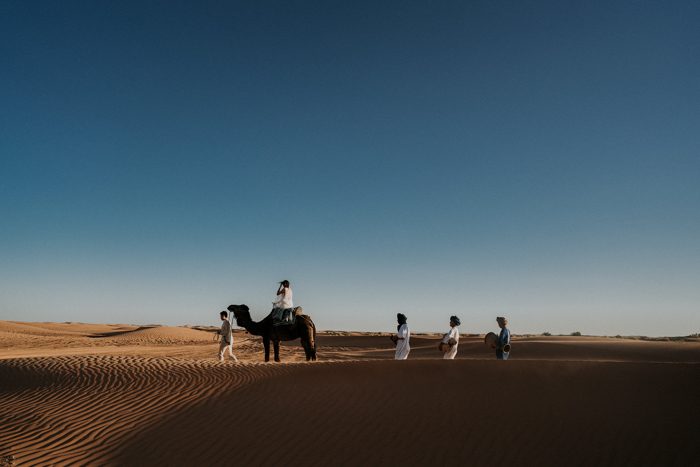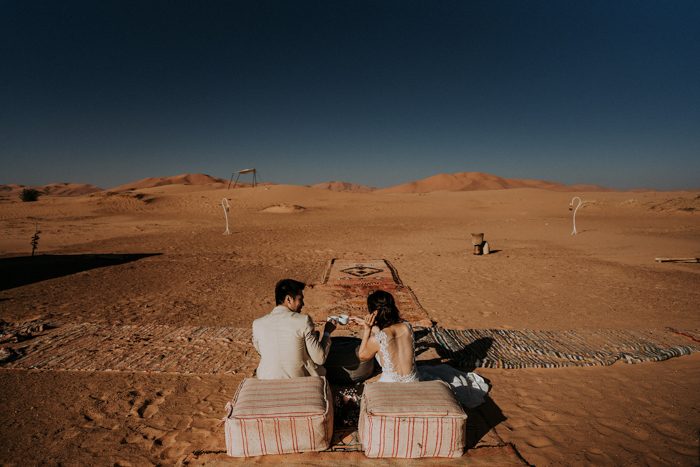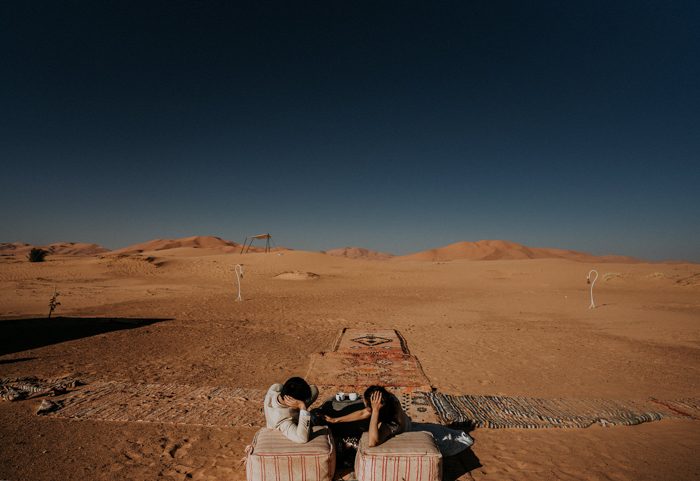 Congratulations to Hiuman and Victor, and a huge thanks to Junebug member photographer Tu Nguyen Wedding for sharing this unbelievable Sahara Desert elopement with us! Want to keep feeding your wanderlust? Get ready to fall in love with Hawaii with this positively mesmerizing blush and gold Kaua'i destination wedding at Hanalei Bay!