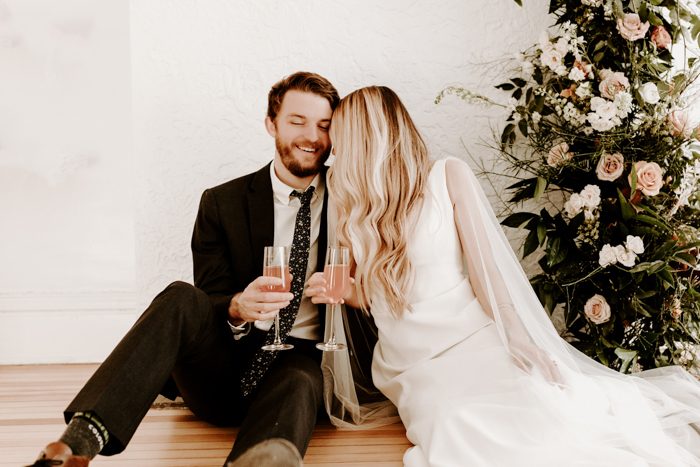 photo by Karra Leigh Photography
Your wedding may be "The Big Day," but there it's also the beginning of so many more milestones to celebrate! We've rounded up our favorite traditional and modern wedding anniversary gifts to help you honor your first 10 years of marriage. Feeling stumped by what paper, copper, wood, or aluminum gifts to give your boo? Don't worry, we've got you covered with presents as special as they are practical for each and every year you're together.
1st Year
Traditional: Paper
Coloring Books
Wedding Vow Art
Modern: Clock
Wall Clock
Watch
2nd Year
Traditional: Cotton
Macramé
Cotton Robes
Modern: China
China Dining Set
Porcelain Serving Platter
3rd Year
Traditional: Leather
Leather Jackets
Leather Toiletry/Cosmetics Bags
Modern: Crystal/Glass
Candles
Glass Decanter
4th Year
Traditional: Fruit/Flowers
Floral Wall Art
Fruit Bowl
Modern: Appliances
Air Fryer
Robot Vacuum
5th Year
Traditional: Wood
Cutting Board
Salad Serving Set

Modern: Silverware
Silverware
Silver Cheese Knife
6th Year
Traditional: Iron/Candy
Cast Iron Cookware
Spiked Candy
Modern: Wood
Wooden Table
Wooden Rocking Chair
7th Year
Traditional: Copper/Wool
Copper Barware
Wool Blanket
Modern: Desk Set
Journal
Desk Organizer
8th Year
Traditional: Bronze/Pottery
Bronze Jewelry
Ceramic Planter
Modern: Linen/Lace
Linen Sheets
Lace Robe
9th Year
Traditional: Pottery/Willow
Ceramic Vase
Rattan Furniture
Modern: Leather
Leather Travel Bags
Leather Boots
10th Year
Traditional: Tin/Aluminum
Apple Watch

Aluminum Luggage

Modern: Diamond Jewelry
Diamond Ring, Necklace, Bracelet, Earrings
Looking for some nontraditional wedding anniversary gifts? Check out our favorite Valentine's gift ideas that are perfect for newlyweds for more inspiration!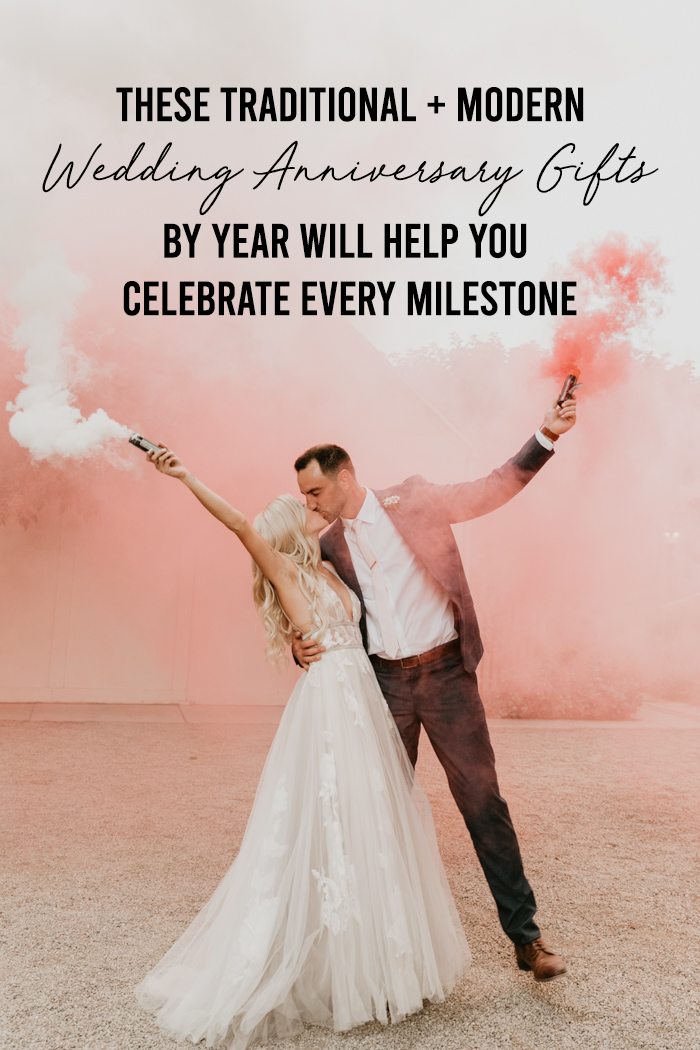 photo by Jessie Schultz Photography