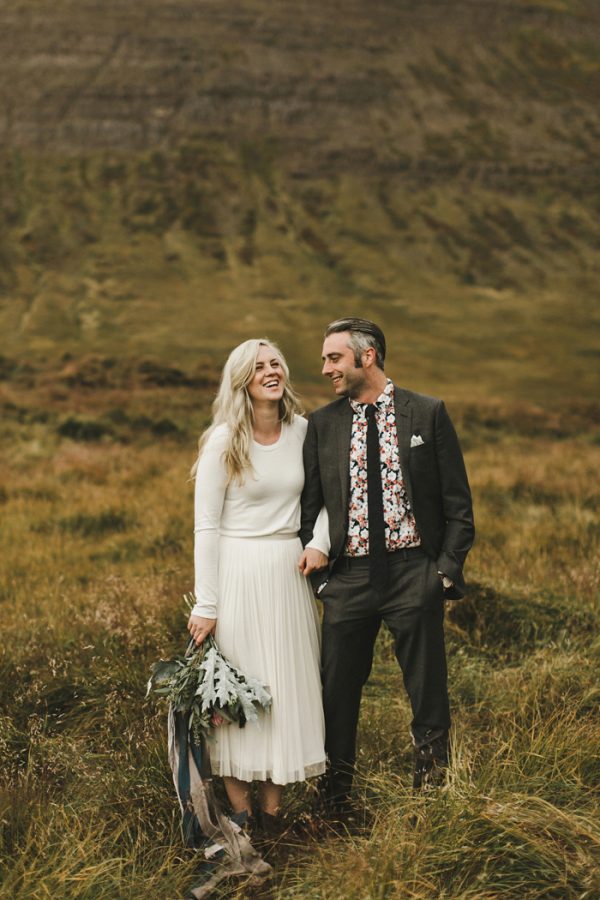 Iceland is typically known for its natural, dramatic landscapes, but this Iceland elopement gives us a peek into the charmingly colorful town of Reykjavík as well! Eva and Kyle knew they wanted intimacy and exploration for their secret elopement, so they chose to have a destination city hall ceremony in Reykjavík and to read their vows in Iceland's wilderness. Eva and Kyle didn't shy away from color in their styles: Eva beautifully paired a vibrant red kimono as well as a denim jacket with her bridal separates, and Kyle wore a cool floral shirt. We are completely captivated with how Hello Tomorrow Films and Shari + Mike Photographers captured the couple's playful elopement, including their breathtaking trek along Iceland's mossy mountains.
The Couple:
Eva and Kyle
The Wedding:
Sýslumaðurinn í Reykjavík, Reykjavík, Iceland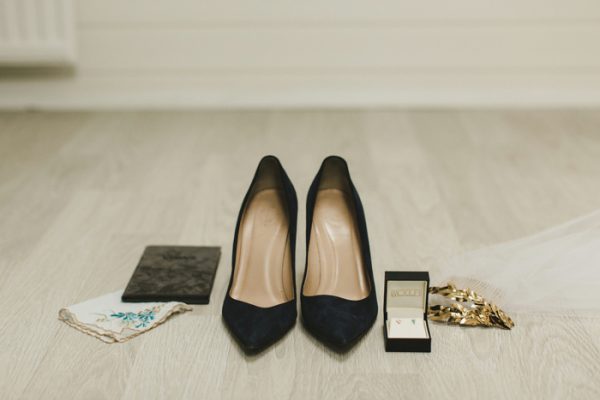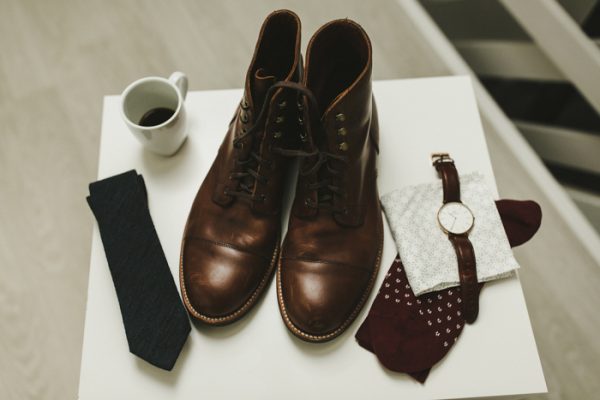 We didn't have a processional, a recessional or a first dance song because of how simple the day was. Instead we got ready together and our song that morning was Chateau Lobby #4 (in C for Two Virgins) by Father John Misty.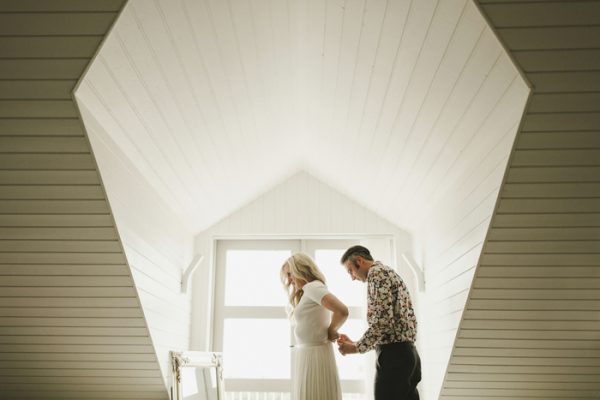 Our elopement was all about making it legal, but we both thought that signing the papers to say we were officially married was an incredible once-in-a-lifetime adventure, so we wanted to make it as much fun as possible. We were inspired by vintage city hall weddings and the groom's dream destination (he's a meteorologist), Iceland. We wanted to have a simple City Hall wedding, so styled everything around that – a short skirt and a simple top for her, a brightly patterned shirt for him, pylsa (Icelandic hotdogs) for dinner, and a few simple accessories to catch the wind – a veil, and lots of ribbons.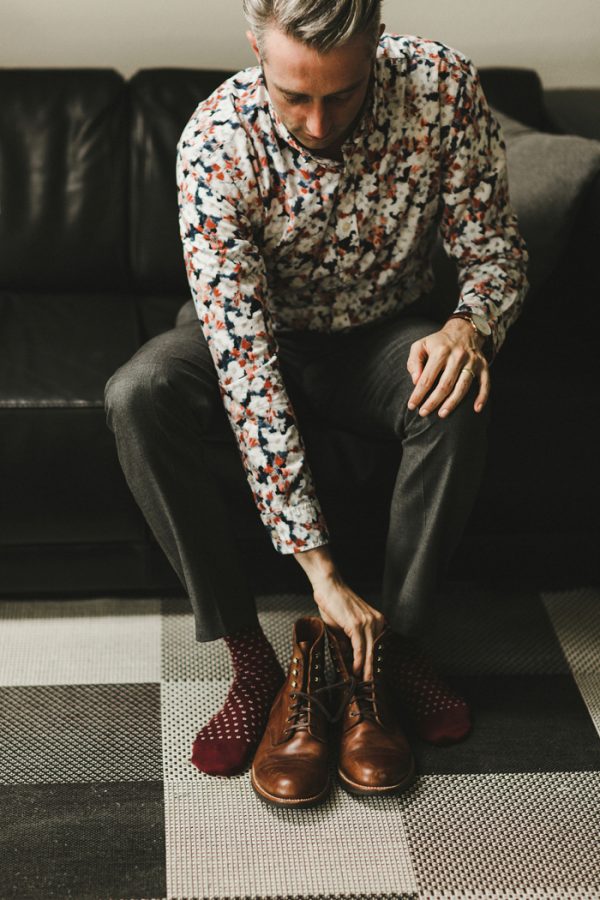 We also added an old, borrowed and blue handkerchief, a few bottles of craft beer, a bouquet we picked up on the day, and a grey suede vow book. We wanted to laugh, and love and explore, to enjoy the brightly coloured city, the mossy mountains, to chase some sheep and pet some horse noses, find waterfalls, watch as the scenery changed over and over and as the sun set. We wanted to find magic in the loving of each other and the landscape, and that's what we did.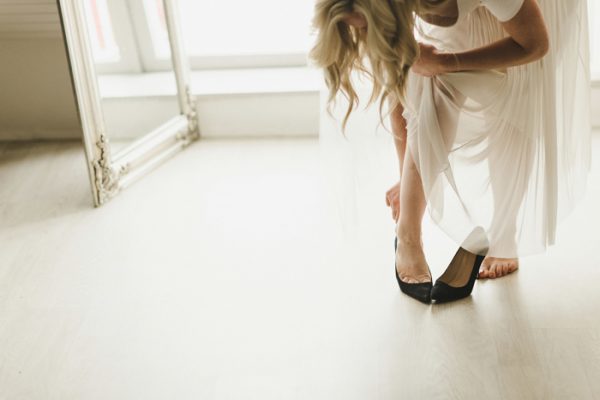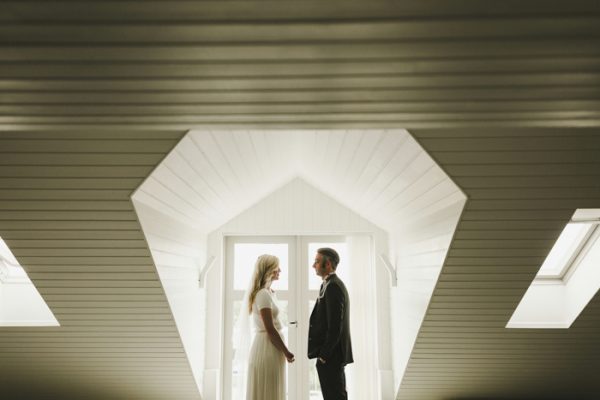 We had a few close calls of almost letting it slip that we were running off to Iceland to get married because we were so excited and wanted to tell everyone! But, before we put anything into motion, we decided we wanted to skip the communal build-up. We thought it would be better to avoid the questions that come with the excitement of sharing in someone else's wedding. We wanted it to just be about us, and this incredible journey we were going on (the literal journey around the world, and the journey of being legally bound to each other forever.)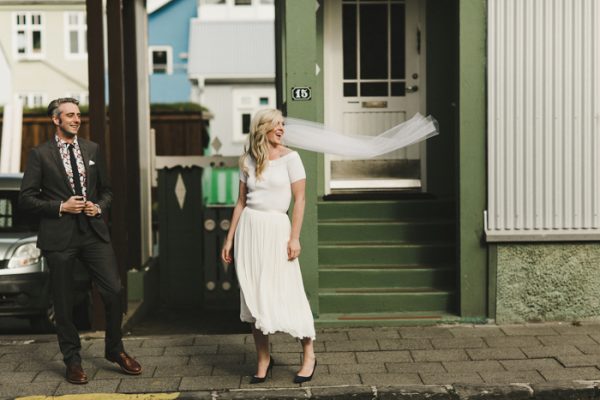 However, we also knew we wanted to share all the joy and love with our community after the fact, so making sure we had someone there to document it was an infinitesimally close second. We have since shared the photos and video with our friends and family at home. Through that, we were able to relive and revel in our community's love and support over and over again, while still keeping the elopement just about the two of us.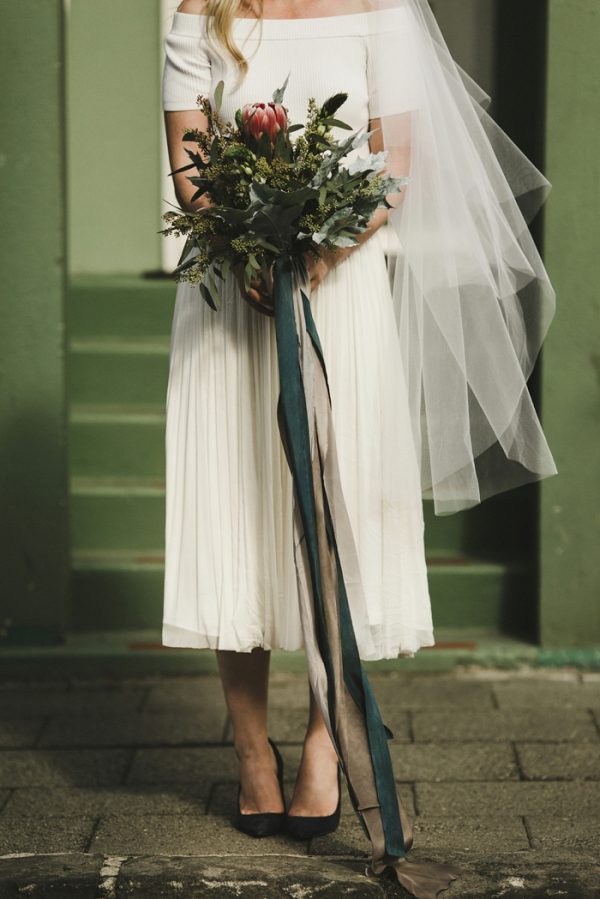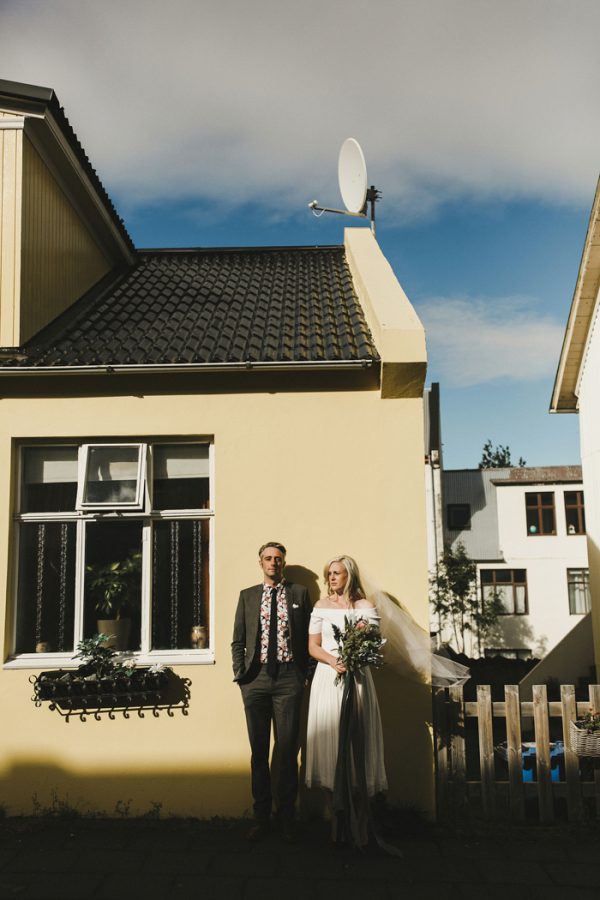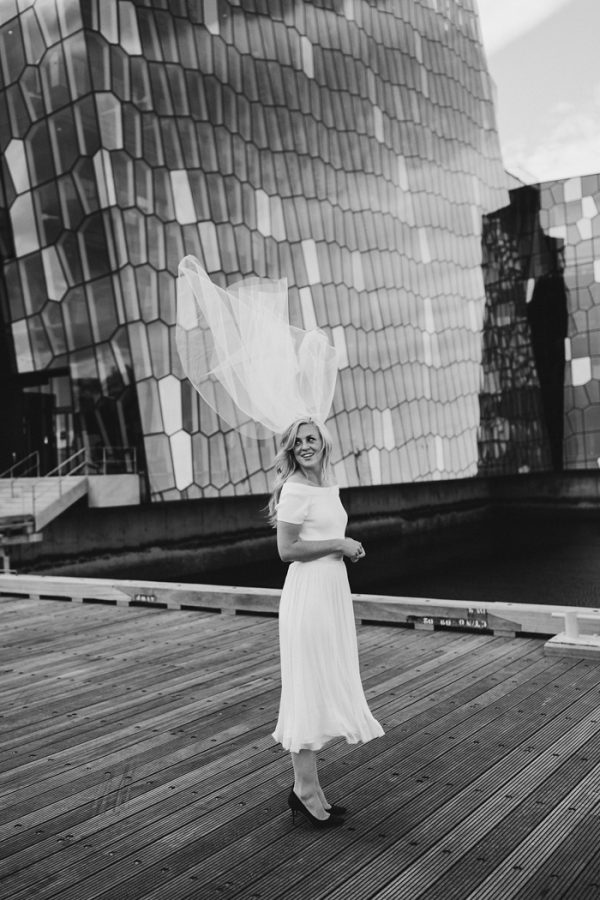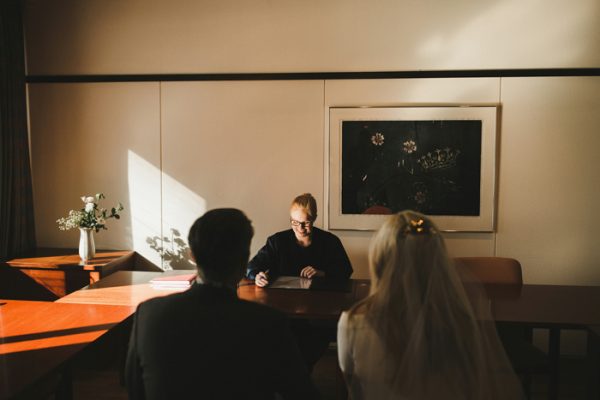 We both feel the most memorable moment was when our celebrant started to talk – the irony being that that's also the most difficult part of the day to remember. We were both so overcome with emotion that neither of us can remember anything specific she said. We can, however, remember that she was perfect.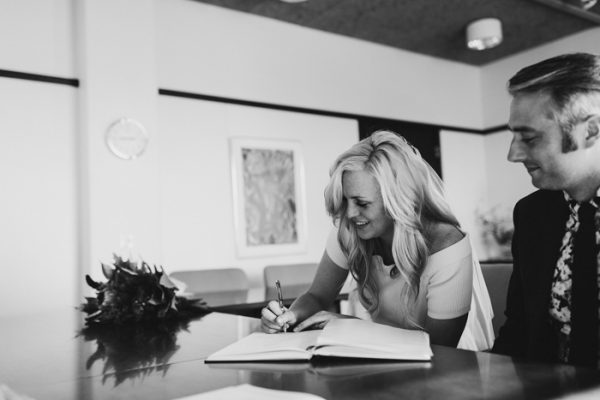 Prior to arriving we hadn't worried at all about what she was going to say as we knew that later in the day we were going to say our personal vows in a field. We expected that we were just going to get the standard speech without any personalization and we were OK with that. But, her address talked about responsibility to our love and our community. It covered all of the things we wanted to promise to each other, and it was beautiful. This was the moment that stuck with us most and also passed us by in a blur at the same time. It was deeply special and emotional.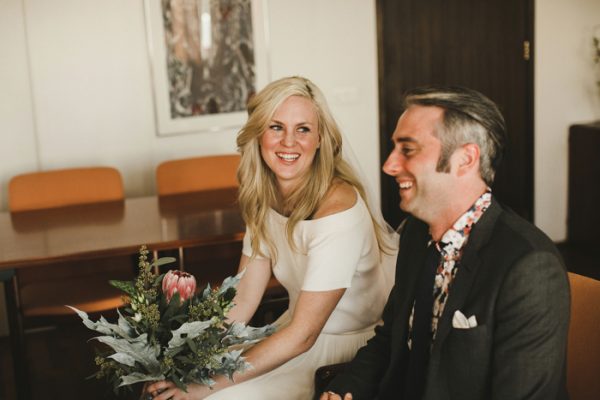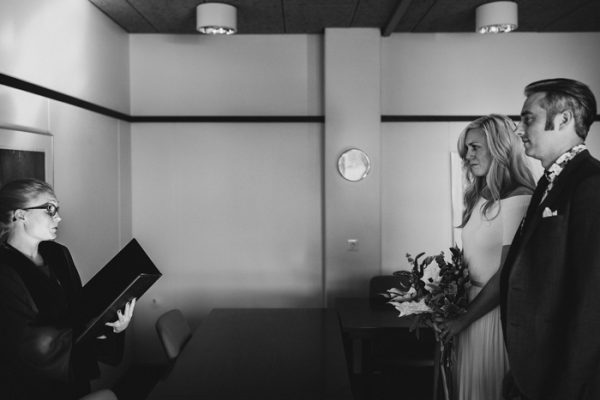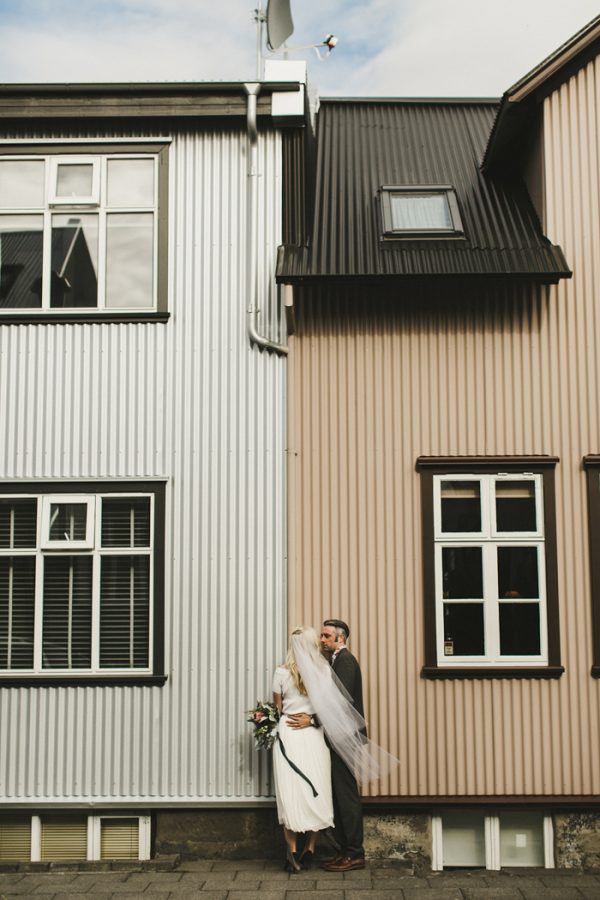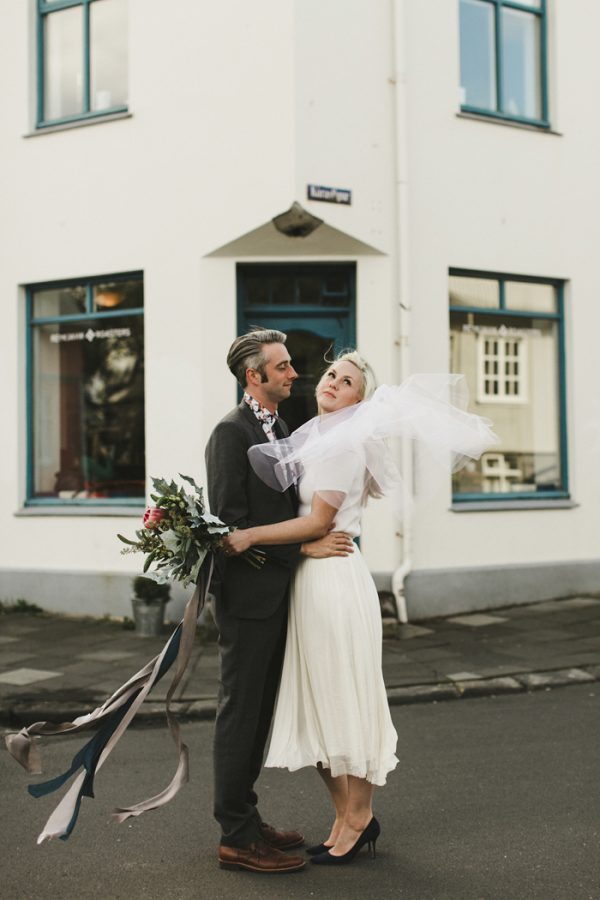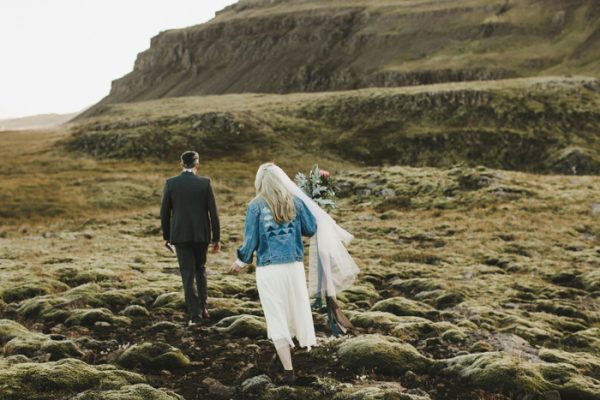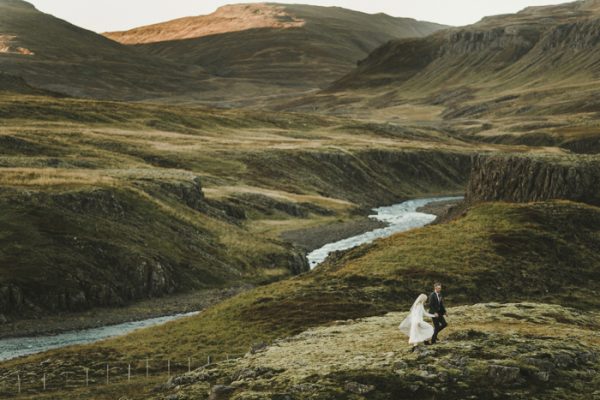 When we wrote our vows we started by writing love letters to each other. When we read them we realized we had both used the word "fun" over and over, and in our personal vows we promised to have fun with each other as often as possible. We both think the other is just the most fun and interesting person, and we wanted our elopement to be a super awesome continuation of that. So, that's our advice – have fun!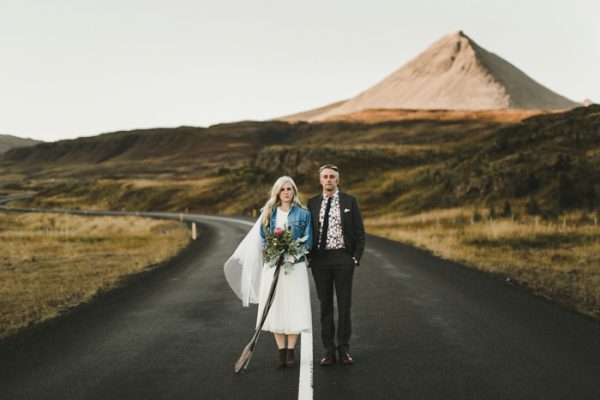 Some mandatory wedding things might be a bit tedious, like sending the correct paperwork off, but other than that, if it's not fun, don't do it. Wedding planning doesn't have to be a nightmare. Instead, invest your time in what makes you happy, brings you joy, and is fun to do together. Having fun together is probably why you love each other anyway, may as well celebrate that!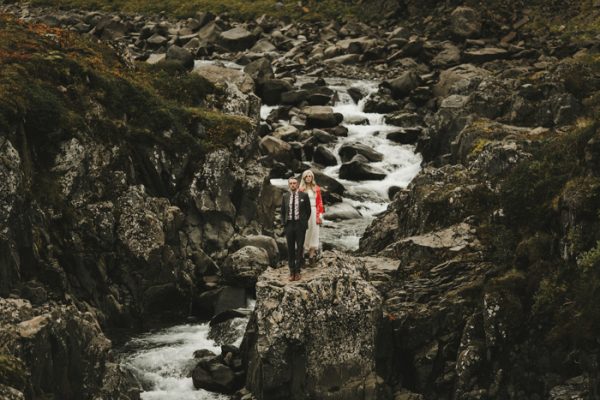 Our photographers and videographers were the absolute best! They were everything to us that day: hair stylists, mirror holders, bouquet selectors, guests, and witnesses. They held our hands as we climbed over fences. One of them did parkour over a glacier stream. They laughed and cried with us.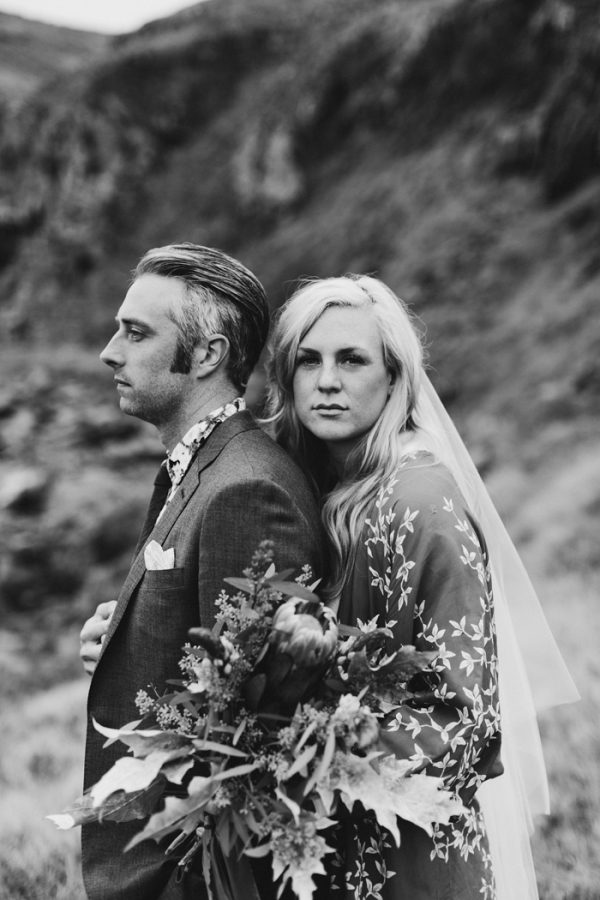 We both love exploring the world and looking for beauty in the ordinary, and we got to explore an incredibly wild land with people who are professional beauty seekers. They had us explore cracks in mountains and moss covered houses and find waterfalls we never would have, had they not been there.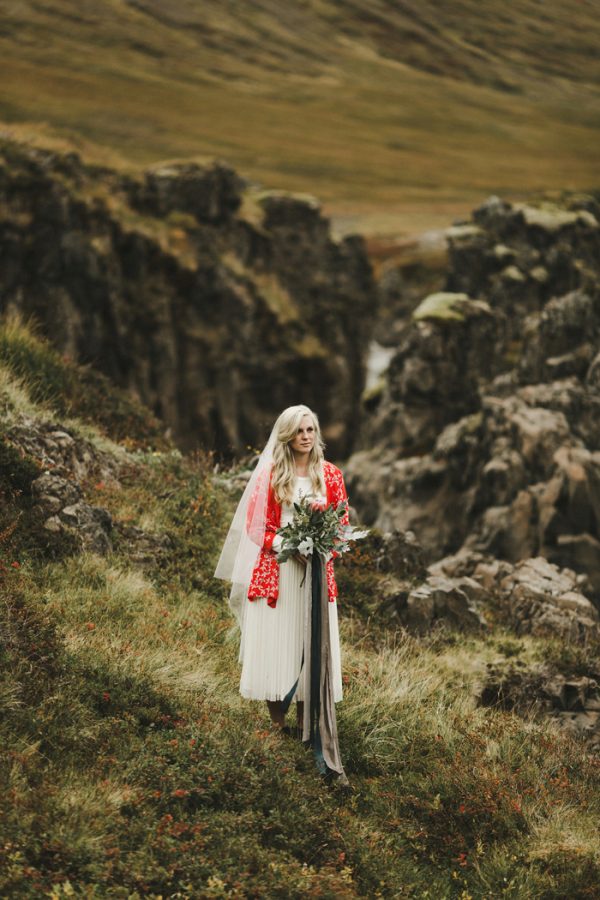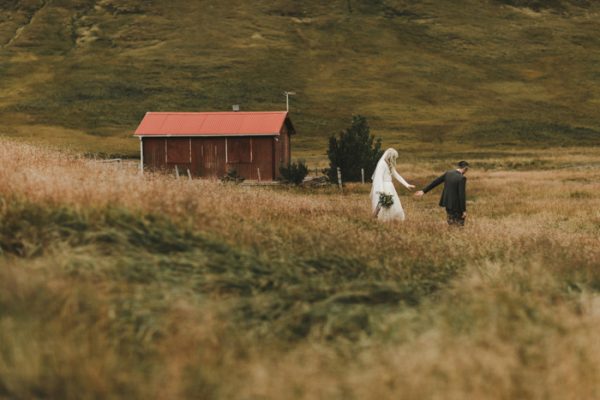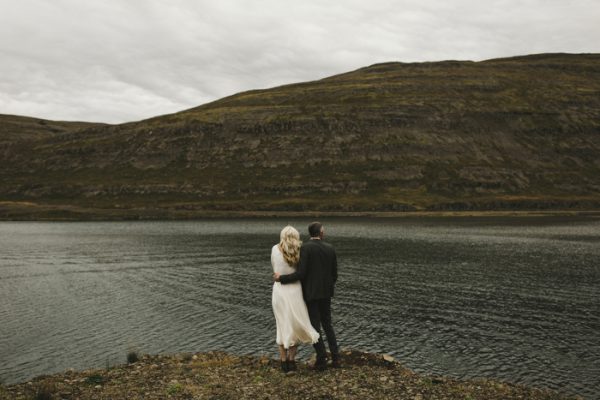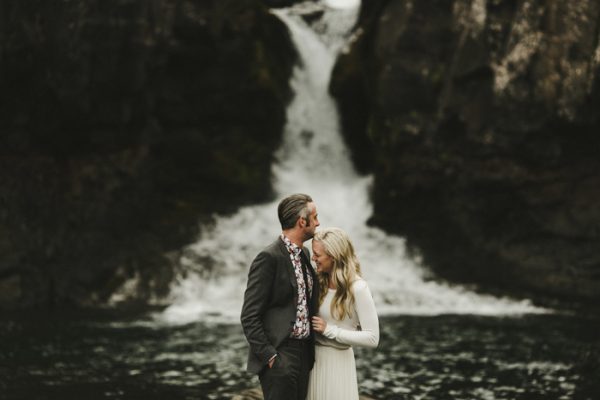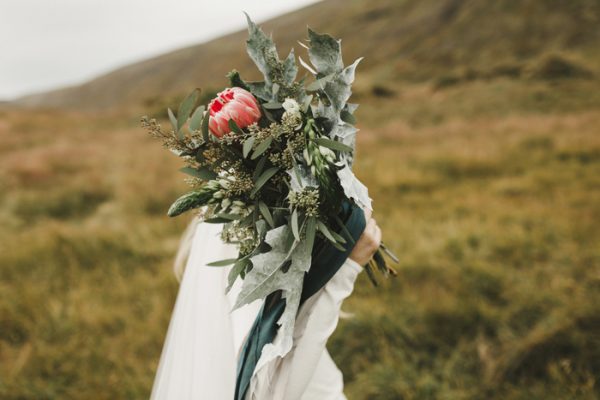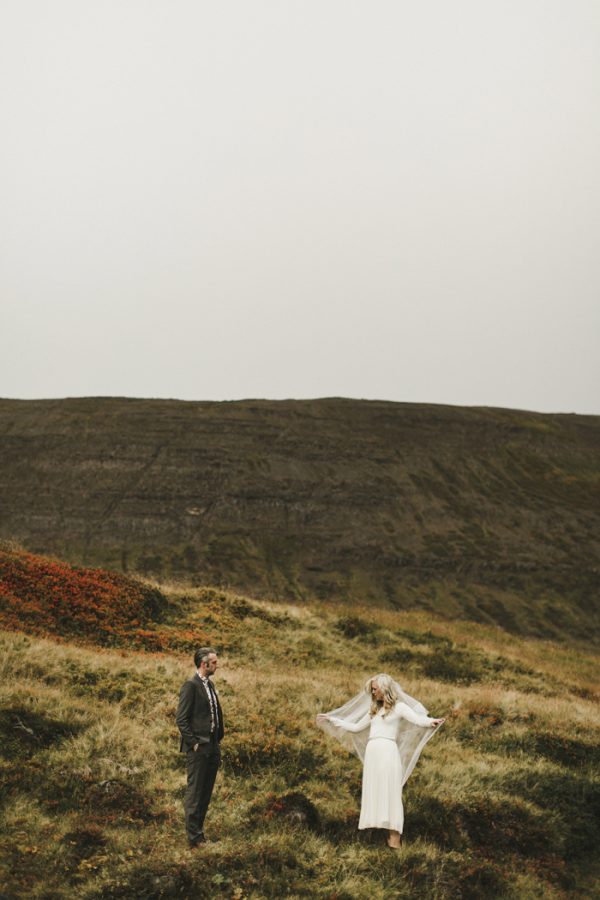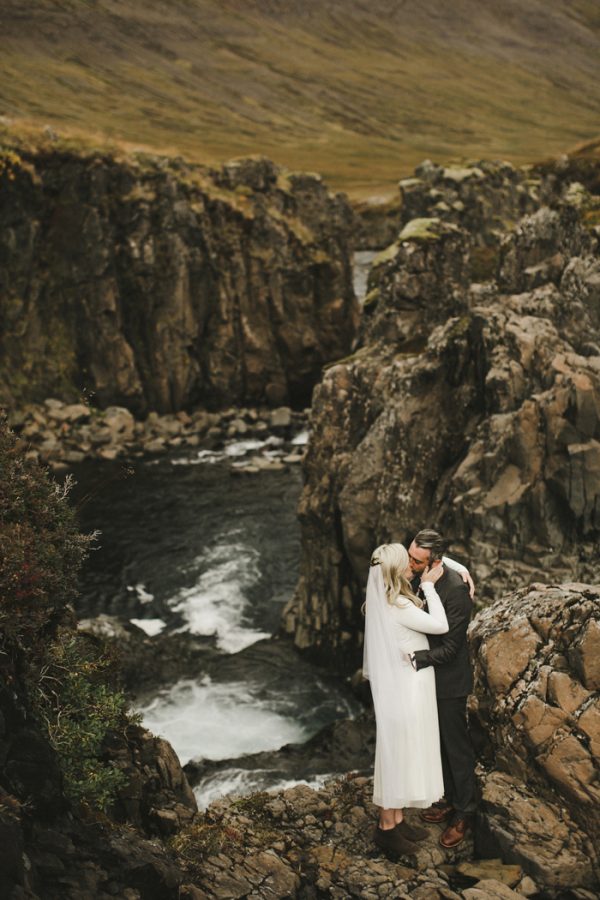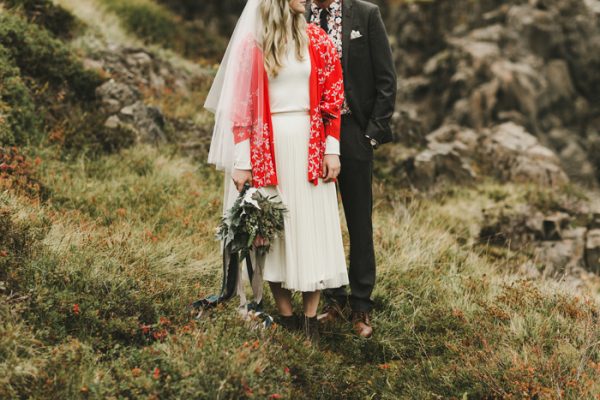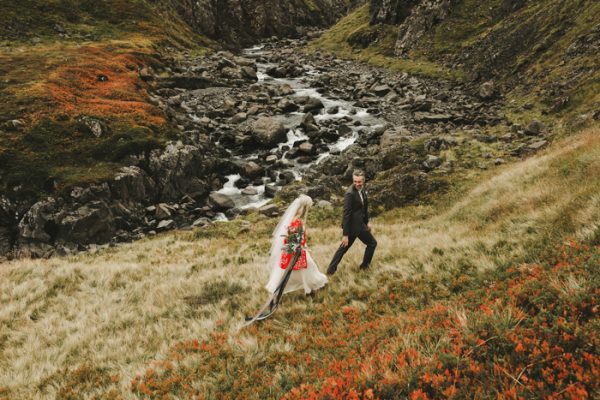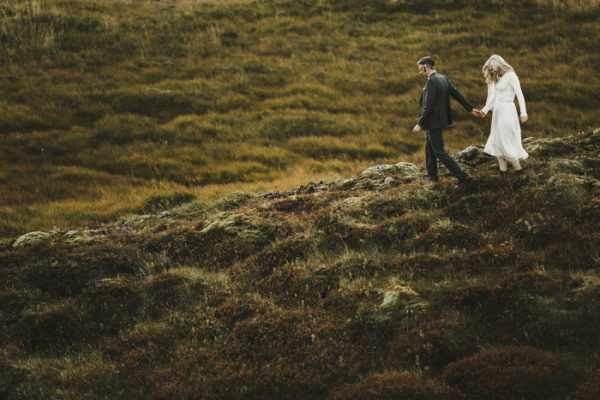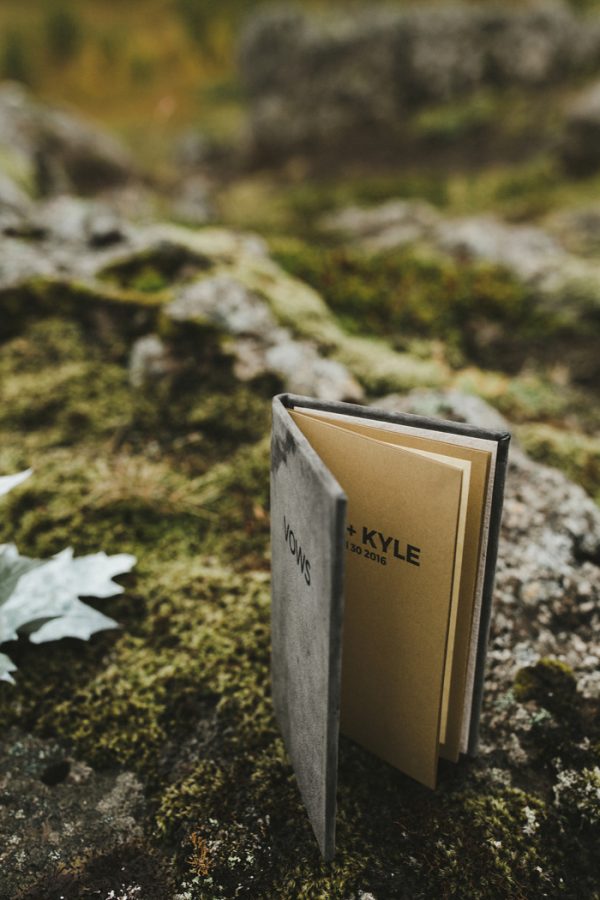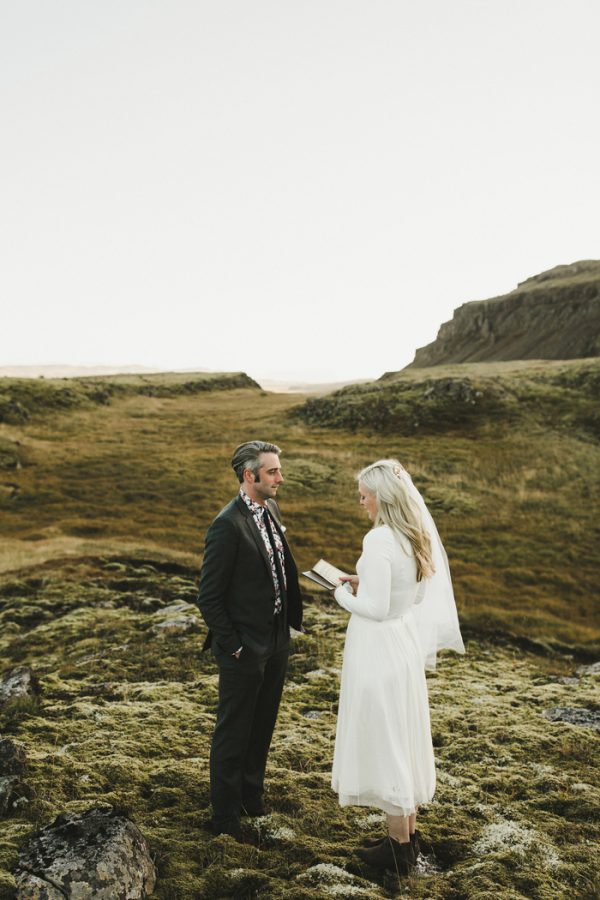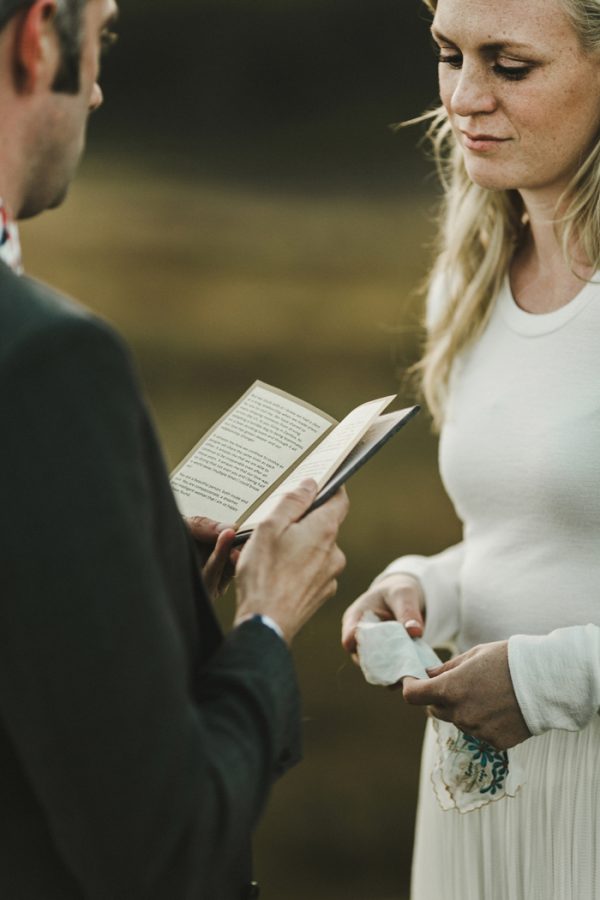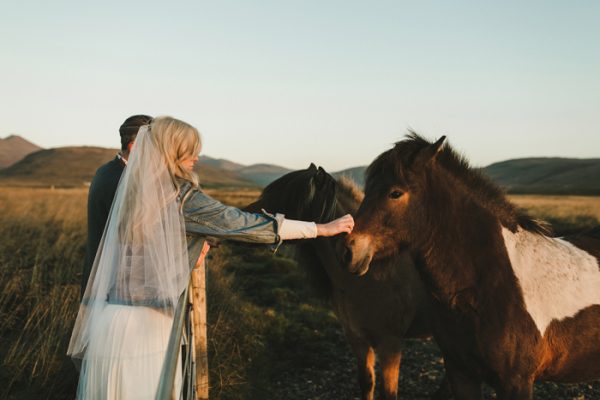 Our photographers and videographers made us feel comfortable to take moments just the two of us, and they captured them. There was a sweet moment when the sun was setting and we were in a field and we kissed. It felt like we were the only two people in the whole world, and yet, somehow, it ended up in our photos. At the same time they were so excited for us and ready to share in every moment. They made us feel as though we were surrounded by a massive community of love even though it was just four of them.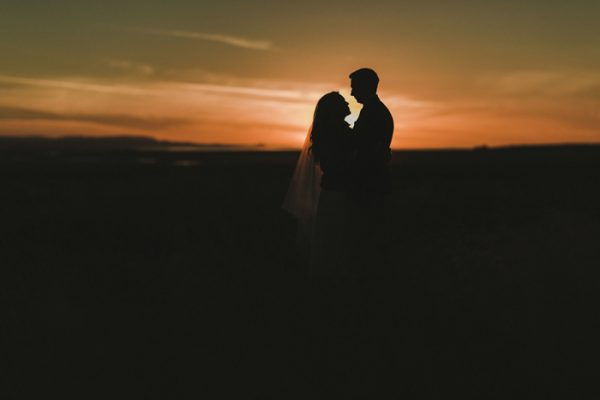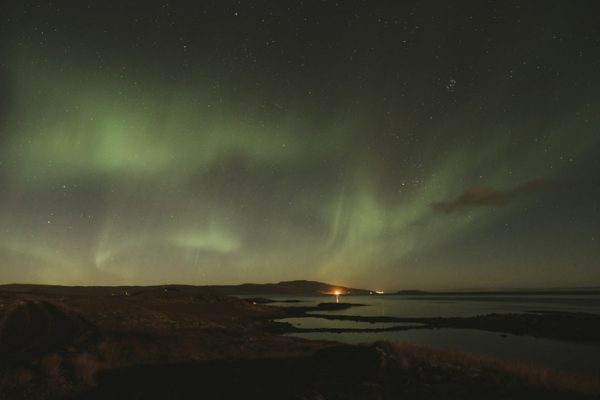 The Wedding Team:
Photography – Shari + Mike Photographers
Ceremony Venue – Sýslumaðurinn í Reykjavík
Floral Design – Upplifun
Videography – Hello Tomorrow Films
Bridal Look – BHLDN, Club Monaco, Aritzia
Bridal Accessories – Rain People, True Value Vintage, Joanna Delaney, Jennifer Behr, Mociun, J. Crew, Dolce Vita
Groom's Apparel – J. Crew, Club Monaco
Groom's Accessories – Beaux Ties, J. Crew, Daniel Wellington
Vow Books – Mule Mother Books
Ribbons – Silk & Willow
Beverages – Borg Brugghús
Congratulations to Eva and Kyle, and a special thanks to Junebug members Hello Tomorrow Films and Shari + Mike Photographers for sharing their wedding with us. Love this wedding's vibes? Then you've got to see this delightful lakefront wedding in Whistler, BC that will give you butterflies, also shot by Shari + Mike!