The incredibly kind and talented Joan Spitler and Leigh Grode, also known as The Cake Divas, believe in food for everyone. From ten-tier wedding cakes for celebrities and members of high society to delicious brownies for the homeless, they bring a little bit of sugar and a whole lot of love to everyone they meet.
We were thrilled to spend the day with them at Mindy Weiss's Most Ridiculous Wedding Event Ever and to have a chance to chat with them about what makes their work so unique…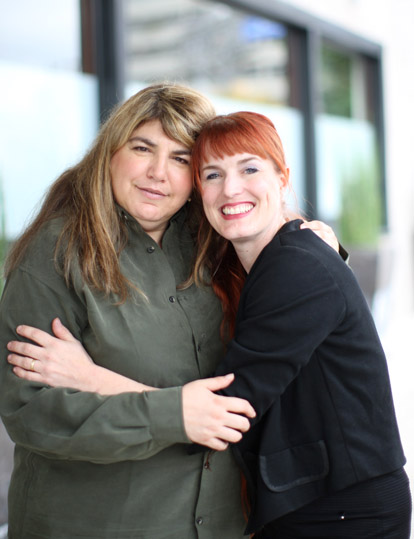 Q: Lee, for the last few years you ladies have been at the pinnacle of your art. How did your journey first begin?
A: Joan is an extraordinary artist who excels at everything she puts her hand to. When we met she was a baker for an established cake company and the more she fell in love with creating cakes the more disillusioned she became about the way most companies were doing business. After finding wedding cakes that had been left in the refrigerator too long and even a couple of cakes that were never delivered on the wedding day, she came home to me and said Lee, there has to be some way I can start a business myself. We stayed up all night brainstorming and when we hit on the name Cake Divas we were off and running. We put everything we had into starting our company, beginning in the corner of a catering kitchen on one small table. Every time we sold a cake we bought another pan or another set of tips and we just kept expanding. Now we have our own full kitchen and a thriving business doing what we love.
Q: What keeps you going and keeps you inspired?
A: Well, coffee keeps us going on the 12 to 16 hour days we often put in, but what inspires us is beauty, flawless production and feeding people with food that is artistic and fulfilling inside and out. The secret ingredient we put into every cake is a heart-felt love for our work and the people we work with.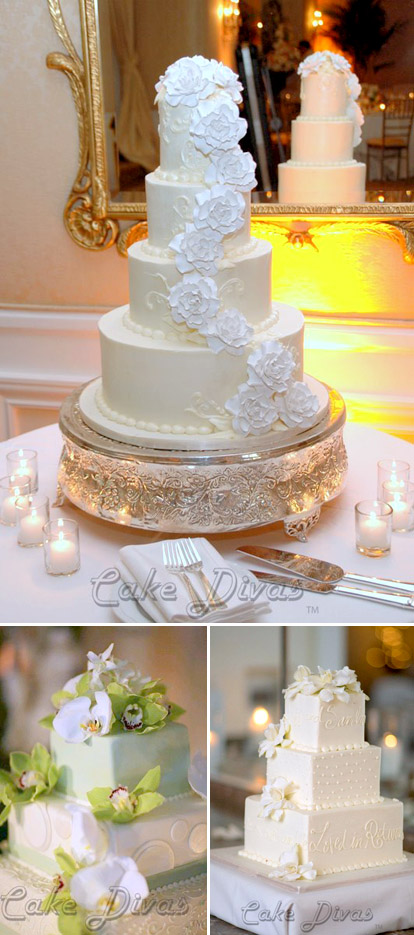 (Images via The Cake Divas)
Q: What do you want our readers to know to help them make good decisions about their wedding cake and dessert?
A: Dont be afraid to ask for exactly what you want, check to see if your location charges a cutting fee, and remember to bring your fiancé into the process. Going to a cake tasting is a fun way to spend time together and your cake should be something you both love. Be sure to get flavors youll both adore.
Q: If you were getting remarried today what cake would you choose for your wedding?
A: We would choose one tier of moist white cake with toffee crunch filling and the rest would be banana, banana, bananas!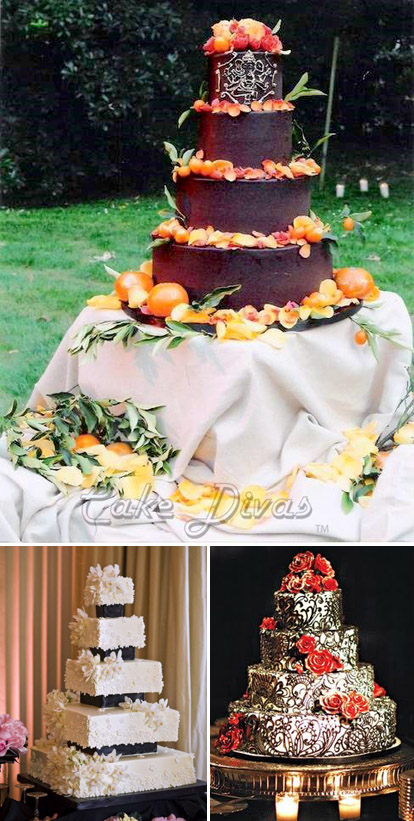 (Images via The Cake Divas and the Cake Lava blog)
To find out more about The Cake Divas check out their website and be sure to watch Leigh as one of the judges on TLC's The Ultimate Cake Off!