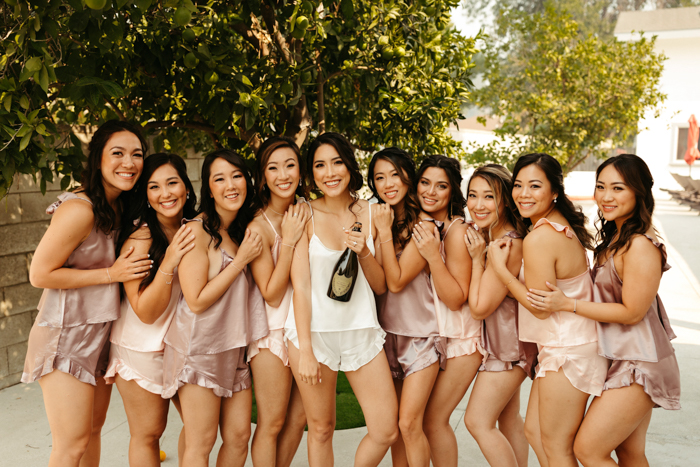 Photo by Lauren Mihae Photography
It's not every day you get to ask your best friend to stand by your side at your wedding, so why not make the occasion as special as can be? Before picking out bridesmaids dresses for the lovely ladies in your life, check out these bridesmaids proposal gifts that will have them saying "I do" before you can even pop the question!
Check out our top 10 bridesmaid proposal gifts:
Jewelry
Who doesn't love to celebrate with a little bling? From knot-inspired earrings to monogrammed bracelets, here are our favorite jewelry picks from Etsy.
Colorful Personalized Keychain
Dainty Lowercase Initial Bracelet
Personalized Nameplate Necklace Set
Rose Gold Sailor Knot Earrings
Custom Morse Code Name Necklace
Bride Squad Leather Jacket Pin
Tie the Knot Personalized Bracelet
Gold Plated & Cubic Zirconia Knot Earrings
Drinkware
Are your girls really into coffee or are you more of a mimosa squad? No matter the drink of choice, there's a pretty, personalized cup or mug for your bridesmaids to have and to hold.
Personalized Diagonal Champagne Flute
Personalized Skinny Tumbler with Straw
Engraved Hello Gorgeous Rose Gold Coffee Mug
Personalized Stemless Wine Glass Set of 5
Personalized Name Blush Floral Mug
Custom Name Waterbottles with Stainless Steel Lids
Custom Bridal Party Campfire Mugs
Custom Stemless Rose Gold Champagne Flute
Candles
How do you tell your bestie that she's the light of your life? With a custom bridesmaids proposal candle, of course! Choose your favorite scent and packaging and don't forget to personalize a sweet message for your sweet friend!
Custom Can't Say I Do Soy Mason Jar Candle
Without You Scented Bridesmaid Candle
Light in My Life Bridesmaid Label – Candle Not Included
Scented Will You Be My Bridesmaid Jar Candle
Will You Be My Bridesmaid Candle Label – Candle Not Included
Will You Be My Bridesmaid Monogram Candle
Wood Wick Vanilla Bridesmaid Candle
Cozy Clothes
Get your bridesmaids prepared to get ready in style with these bridesmaids robes, socks, tees, pajamas, and more!
Satin and Lace Bridesmaids Robes
Can't Say I Do Without You Socks
After This We're Getting Pizza Tee
Floral and Lace Bridesmaids Robes
Cards
Last, but not least, don't forget to say a few words! While you're thinking of what to write on the inside, fall in love with the outside of these bridesmaids proposal cards.
Floral Watercolor Bridesmaid Proposal Card
Now Act Surprised Bridesmaid Proposal Card
You're Like Really Pretty Bridesmaid Proposal Card
Ugly Dress Bridesmaid Proposal Card
Printable Leaf Bridesmaid Proposal Card
Be My Bridesmaid Proposal Card
Gold Handwritten Bridesmaid Proposal Card
Obviously Bridesmaid Proposal Card
Floral Can't Say I Do Bridesmaid Proposal Card
Gold Foil Bridesmaid Proposal Card
My Life Would Suck Bridesmaid Proposal Card
Looking for more bridesmaids proposal gifts? Check out these cute and clever bridesmaid gift ideas!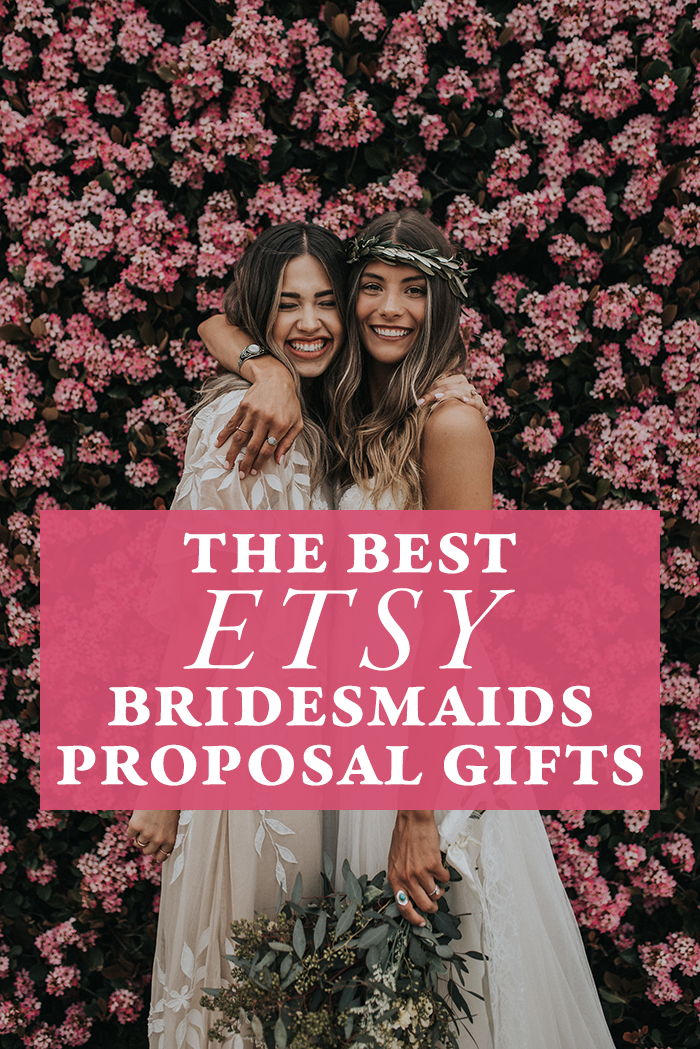 photo by Jonnie & Garrett