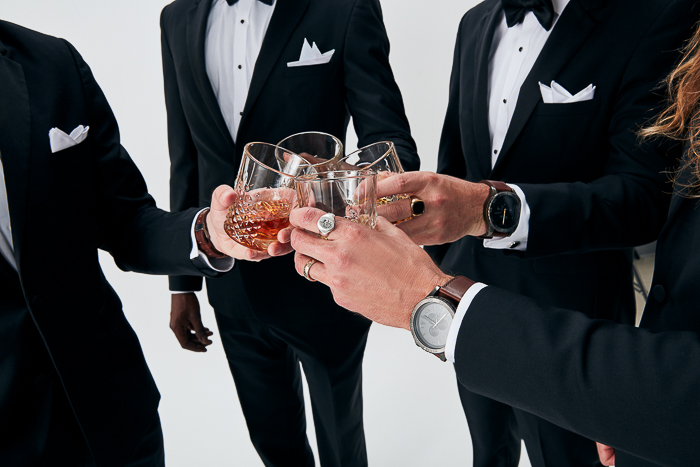 There's a lot that goes into wedding planning. You spend countless months making sure that your big day is perfect. Throughout the planning process, there's one group of people that make it their goal to ensure you stay level-headed. Your best friends, your family, your closest confidants–your wedding party! Your groomsmen are there with you through it all, so let's talk about how you can show them they're appreciated.
Choosing the perfect gift for your groomsmen can be challenging. With so many options out there, how do you pick? And once you find the right gifts, how and when do you gift them? That's where Nixon comes in. With various watch styles–from analog to digital to chronograph–there's something for everyone. You can make the gift even more thoughtful by having it engraved or custom-made. Nixon even offers free engraving promotions throughout the year. You heard us right. Adding that special thank you note you have in mind is potentially free.
So if you're ready to surprise some of the most important people in your life, keep scrolling to see a thoughtful groomsmen gift idea that they're sure to love and all the details you need to pull it off.
Why Nixon Makes The Perfect Groomsmen Gift Idea
When you're spending the money on a gift for your wedding party, you want to ensure that it is something that they're going to use and appreciate every day. And what better gift than a watch that they can rock every day, no matter what they're wearing? From sleek black and gold options to a timeless leather band, finding a style that suits each of your groomsmen has never been easier.
Time Teller; 2. Sentry Leather; 3. Corporal Stainless Steel; 4. Spectra Watch
What Reviews Are Saying
If you're anything like us, you like to read some of the reviews before spending your money on a product. As you should! You want to feel confident in your purchase, especially if you're gifting it to someone. That's why we wanted to share what Nixon buyers are saying about their watches.
"The watch is absolutely perfect! I got it very fast, even though I got it engraved. The engraving is very clean and detailed. The watch isn't heavy nor too big, which I feared it would be when I was purchasing it. Since I got it, I haven't stopped wearing it, and I have gotten a ton of compliments as well. It's good for going out and dressing up, it's good to wear to work, and it's even perfect to wear if you're just lounging at home." –Alexis R. on the Sentry Chrono
"I love the minimalist design of this timepiece. Very sleek and attractive. For me, it has a nice retro look to it. From the color to the simple smooth lines. Very comfortable. I don't think you could find a better, more attractive watch for the price." – Luke M. on the Time Teller
"Just the right size. Love the sturdiness of this watch. My wife actually bought it for our anniversary and raved on how wonderful the customer service was! I love the watch, the size, the look of class and toughness." –Joshua J. on the Corporal Stainless Steel
Loving these reviews and ready to get shopping already? We don't blame you! You can shop Nixon's wedding gifts now.
What To Get Engraved
If you're looking to take your gift to the next level and you want to have it engraved, but you're not sure what to write, consider one of these options:
Their first or last name
Their nickname
A quote they always reference
A heartfelt thank you
An inside joke
Their initials
Remember that this is a gift, not a wedding favor. That means that you want it to be personal and sincere. No matter what you decide on, you can see the engravable watches here.
How To Gift The Watches
Now that you've picked out a few of your favorites for your groomsmen, it's time to think about how to gift them. Since they already come in high-quality watch boxes, there's not much you have to do on your part. You can choose to add them to a gift bag with other items you may have purchased or simply place a bow on top of the box and give it to them as is.
Unlike bridal parties, groomsmen's gifts are not typically given to the wedding party on the day of the wedding. In fact, they're usually presented at the bachelor party or rehearsal dinner. However, it's entirely up to you. If you want them to wear the watch on your wedding day, there's nothing wrong with opting for the day of.
They Also Make Great Anniversary or Wedding Gifts
Of course, we can't mention Nixon without mentioning that they're also perfect for an anniversary or wedding gift–for both men and women. If your bride-to-be loves a timepiece, surprise her with one of the many beautiful women's options they carry on your wedding day. Or give her the gift of time with your wedding date engraved on the back for your first anniversary.
So what are you waiting for? It's time to surprise your groomsmen with this incredibly thoughtful groomsmen gift idea from Nixon!