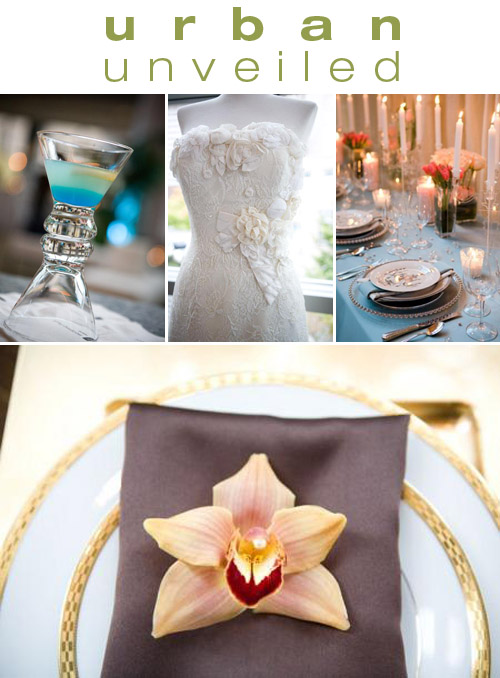 Coming up on October 14th is Seattle's annual Urban Unveiled boutique wedding show, and we at Junebug are excited to be sponsoring the event again this year! It's a lovely evening full of delicious cocktails and treats, inspirational wedding design and fashion, and many of the very best wedding professionals in the area. It's a great chance to have a fun night out while getting to know more about the products and services available for your wedding day.
Now, as sponsors we get a few perks, one of which is the opportunity to give away free tickets! Hooray! We have 10 to give away today, and we would absolutely love to meet some local Junebug readers at the show, so I'm going to make this easy. The first 5 people to e-mail me will get a complimentary pair of tickets to Urban Unveiled 2010! With the stipulation that you find the Junebug team that night and come say hello, of course. (Be sure to include your mailing address and return e-mail, and please note that wedding professionals are not eligible for this giveaway, couples planning their weddings only)! UPDATE: The 5 sets of tickets have now been given away. Thanks everyone!
For those of you not in Seattle, we asked Jesse and Travis of True Colors Events, the hosts of Urban Unveiled, a few questions about their experience as wedding planners and their advice on making the most of attending a wedding show like this one. Read on!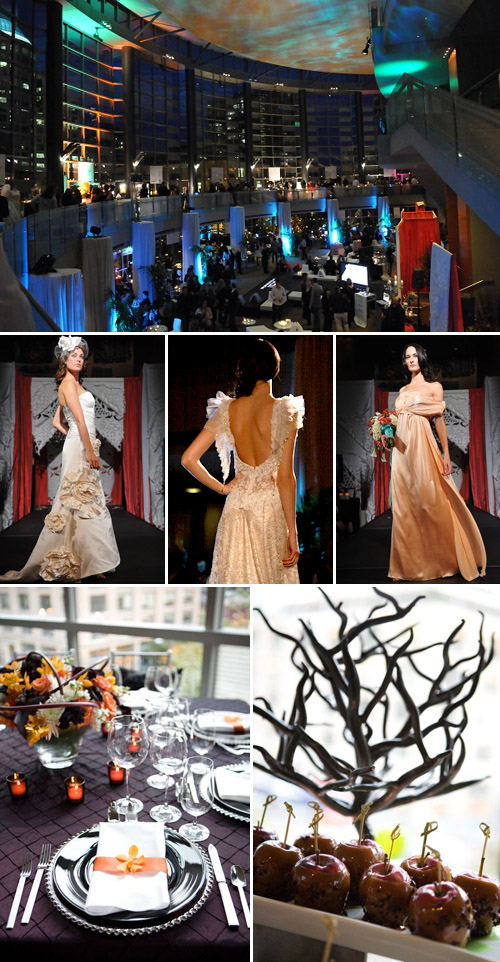 Junebug: When attending an intimate boutique wedding show like Urban Unveiled, what are some things to keep in mind to make the most of the event?
Jesse and Travis: Urban Unveiled is an opulent celebration for those getting married, to bring them together with the creative partners who can make their wedding dreams come true. There is incredible food, amazing drinks, to-die-for desserts, an awe-inspiring fashion show created by the legendary Luly Yung, and an opportunity to win amazing gifts in the "Art of Giving" raffle. At $25 per ticket, there is no other way to get that amount of entertainment for your dollar in Downtown Seattle!
No matter the size of the wedding show you are attending, make sure your have a way to take notes because it can be easy to forget the name of a vendor. Take a business card from the vendors you are interested in, and write notes on the back of the card, or take pictures of items that inspire you on your phone or with your camera. And an extra tip – after taking a picture of something you like, make sure to take a picture of the company's banner or business card, so you know who created it and how to find them in the future.
Junebug: What are you most excited for at Urban Unveiled 2010?
Jesse and Travis: One of the things we are very excited about is this years theme. The theme is always a big part of the event, and in the past we have drawn inspiration from diverse and rich themes such as "Modern Marie Antoinette," "Hollywood After Party," and "South Beach Chic." This October 14th, we are thrilled to bring "Woodland Glamour" to Benaroya Hall. We feel that the look of this years event will most closely reflect Pacific Northwest style, or those with a natural but chic sensibility. We hear people use the term "understated elegance" quite a bit when describing the look they want to create for their event. Maybe you could consider this "overstated-understated elegance." One of the foundations of Urban Unveiled has been to show brides and grooms what is possible, and to reach beyond the norm. We, and all of the talented vendors who participate in the show, are there to inspire you and assist you on the journey of planning your own events.
Junebug: What are some fun ideas and creative trends you're looking forward to seeing in the weddings of 2011?
Jesse and Travis: We are never ones to get caught up in color trends or specific styles. In our wedding planning business, True Colors Events, we really want focus on helping brides and grooms find what describes them as a couple. One of our priorities is that every single guest, no matter how close they are to the couple, should walk away from the event knowing the bride and groom better than when they came, and that's done by personalizing the event differently for every couple.
That said, here are some general shifts we are seeing in weddings that we are excited about..
We are delighted that more and more couples are recognizing the significance of lighting at their event. Great lighting can really set the tone and mood of a reception.
We love that more couples are focusing on truly documenting their day by hiring videographers. The quality and caliber of videography today is just amazing, and this may be the only day in your life that all of the people you love are together in one room. Isn't it worth capturing?
In addition, we are finding that brides and grooms are hiring their photographers for longer periods of time to make sure they have a chance to capture all of the day's special moments. Its nice when photography can happen at a comfortable pace, and not feel rushed. Also, for an increasing number of women, we have been doing "first look" pictures between the bride and her father, before she goes off to see the groom for the first time. These can be really touching and special moments.
Finally, one trend that we are in L-O-V-E with for any reception that wants to focus on a party atmosphere, is passed desserts. Toward the end of the night at a lot of events, the focus is on the dance floor, so why not bring treats to them instead of making them leave the party to get a tasty bite? That burst of sugar will keep them kicking and keep that dance floor packed!
Junebug: What is the one piece of wedding planning advice that you find you're always giving to the couples you work with?
Jesse and Travis: When we start working with a couple, we remind them that the process of planning a wedding is a journey. Regardless of how long they have been together, during this journey they will learn quite a lot about each other, and their families. We are there to guide them through the process and our goal is to have a lot of fun along the way. But we also note that there may be challenges. They may be related to finances, family issues, or disagreements regarding design choices, but we assure them that every couple has something come up along the way and in dealing with the issue, they have the opportunity to learn how to negotiate with one another, establish how they deal with finances, and/or work on their new family dynamics. These are truly foundations to a solid marriage.
Junebug: After all the weddings that you've been a part of, what moments still get you every time?
Jesse and Travis: Anytime a father of the bride or father of the groom cries during the toasts. If he gets emotional, we tear up.
Thank you Jesse and Travis, and thanks to Sharlane Chase Photography for the above images! And Seattle readers, we hope to see you on October 14th!